If you told me a few years ago that I'd be replacing most of my Nalgene Bottles with Klean Kanteens, I'd have said you were crazy.
But here we are.
Even though I'll always have a soft spot for Nalgene (they've treated me very well over the years), Klean Kanteen Bottles are better in just about every way except price.
When comparing Nalgene vs Klean Kanteen, Nalgene Bottles are easier to use, a bit lighter, and a little less expensive, but that's where the advantages end. Klean Kanteen Bottles are more durable, better for your health, better for the environment, have more options, and have about the best thermal insulation of any reusable water bottle on the market.
While I prefer Klean Kanteen Bottles over Nalgenes in most cases, a lot of that has to do with my own priorities and preferences. After all, most of my friends at the climbing gym still prefer Nalgene Bottles.
So let's take a look at how Nalgene Bottles stack up to Klean Kanteen to help you make a more informed decision for yourself.
Price And Value
One of the biggest factors for anyone looking to buy a water bottle is the price and the value.
Obviously the less you can spend the better but this needs to be balanced with value and quality.
I'd personally rather spend a little bit more on a water bottle that is really good and going to last me a long time than to save $10 only to have to buy a new water bottle pretty quickly.
Nalgene
Nalgene Bottles are notoriously budget-friendly, costing only about $12 for their base model and rarely more than $20.
It's hard to find a quality water bottle for less.
Making matters better, all Nalgene Bottles come with an incredibly generous lifetime warranty that covers defects as well as damage. The only things not covered are damage from fire, freezing, and chewing. Buying a Nalgene is essentially buying it for life.
When it comes to cheap and affordable water bottles – honestly no one does it better than Nalgene. If you're on a tight budget then 100% this is the water bottle to go for. The only other alternative may be the CamelBak bottles (see my Nalgene vs CamelBak comparison).
You can't go wrong with a Nalgene bottle. They are affordable yes, but they are also incredibly durable and great water bottles that last years.
Klean Kanteen
Klean Kanteen Bottles work as well as (and often better than) any insulated stainless steel bottle on the market.
But they're not priced like it.
You can find Classic Klean Kanteens for just a few dollars more than a Nalgene. Given for this you're getting a similar sized (only slightly smaller) water bottle but one that's fully insulated so can keep drinks cold or hot and it's made from stainless steel instead of plastic and this makes the Klean Kanteen Classic a huge bargain in my mind.
Even the newer and more premium Klean Kanteen Bottles like the TKWide with a twist out straw lid are still less expensive than comparable stainless steel bottles.
But if you want one of these it's going to cost you 2-3x the price of a similar sized Nalgene bottle. Still, for the quality and the insulation I do think it's worth the extra cost.
Winner: Tie
My coworkers and I do a $20 white elephant gift exchange every Christmas and, since I discovered Klean Kanteen, I haven't had to think about what I'm bringing.
It's about the best $20 you could spend.
That being said, Nalgene's awesome lifetime warranty is hard to deny. In terms of overall value, it brings Nalgene Bottles right in line with Klean Kanteen in my opinion.
Thermal Insulation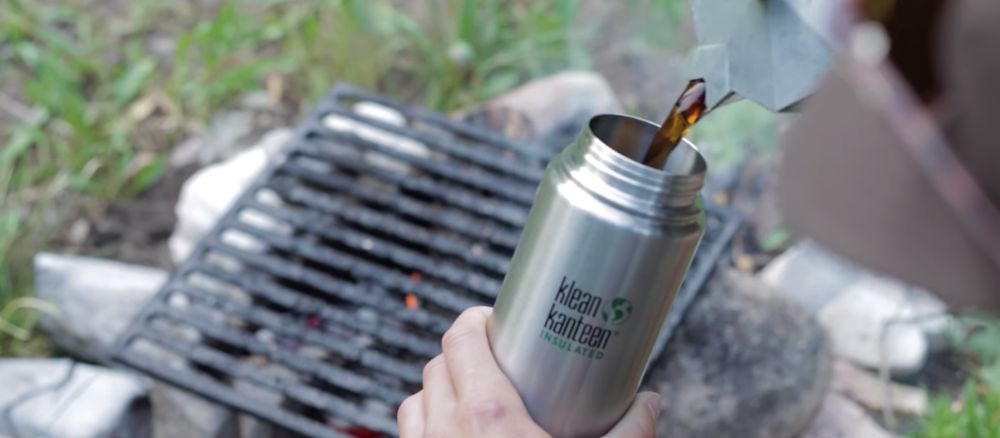 No one like lukewarm water on a hot summers day and very few people want to drink lukewarm coffee that cooled down extremely quickly.
For me, when I go on hikes or go to the beach I'll almost always grab an insulated water bottle over a non-insulated one. It's just so nice to have cold water hours later.
Nalgene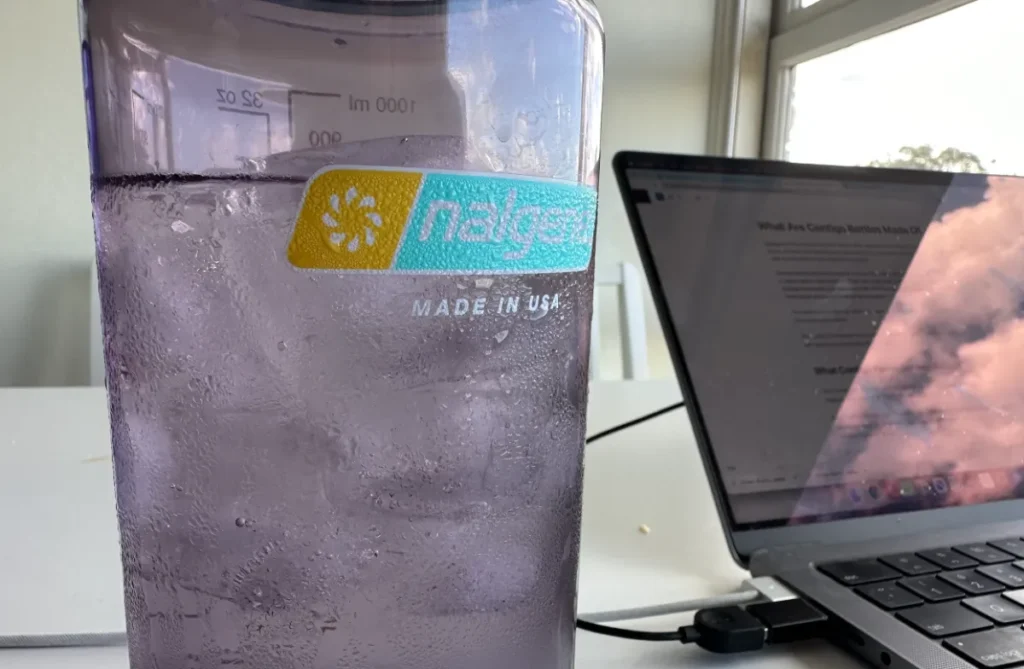 Unfortunately, Nalgene doesn't make insulated bottles, instead choosing to focus on functional, extremely durable, lightweight bottles.
Even their stainless steel bottle is non-insulated. Sometimes that can be a blessing as well as a curse.
Mine has kept me warm in my sleeping bag or under my jacket more times than I can count and the iced bottle has kept chocolate and yogurt cold on hikes. However, it's also led to me drinking water way hotter than I would ever like and the Nalgene bottle sweating and spreading water all over my table when I'm working.
If you're looking for an insulated bottle this is NOT the bottle for you.
Klean Kanteen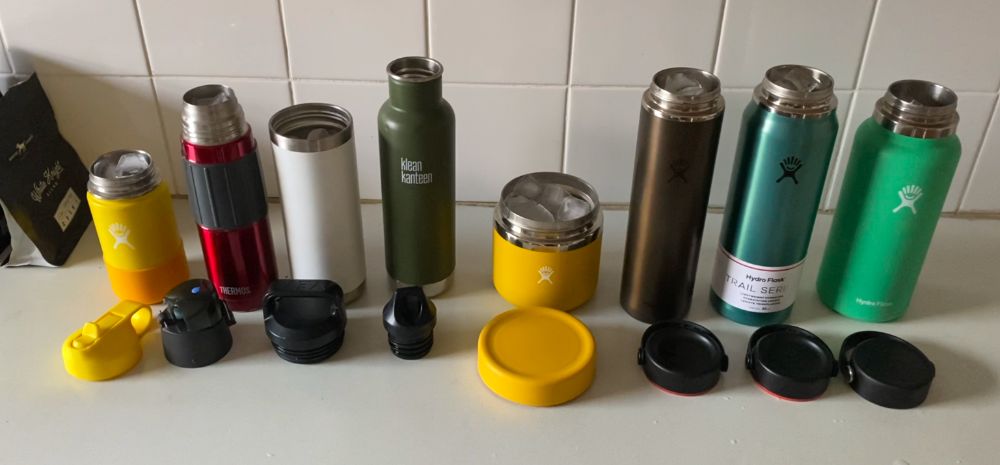 When I bought my first Klean Kanteen, I filled it with ice water, spent a day on the beach, and set it on my counter when I got home. Two days later, when I picked it up for a cleaning, I was completely shocked to still find ice inside.
I knew Klean Kanteen was known for ice retention, but had no idea how great they really were. That was until I pitted it up again popular brands like Hydro Flask and Yeti.
The 20 oz Klean Kanteen kept water longer than the similar sized Hydro Flasks and Yeti bottles and kept ice as long as a much larger 32 oz Hydro Flask. It kept ice for 3 days! That's the equivalent of a high-end cooler like Yeti…in a tiny water bottle.
The Classic Klean Kanteen uses Climate Lock double-wall vacuum sealed technology to keep drinks hot for 16 hours and cold for 41.
As if that wasn't enough, Klean Kanteen upped their game even further with their newer line of TKWide Bottles. Taking the same Climate Lock technology and adding their new TK Closure internal thread design, TKWide Bottles can keep drinks cold for a whopping 66 hours.
Taking it a step further (because of course they did), Klean Kanteen's TKPro Bottles use their Climate Lock and TK Closure technologies and add a 360° pour through cap that adds even more thermal protection — keeping drinks hot for 38 hours and cold for 100!.
That's almost four whole days.
Winner: Klean Kanteen
Is it even a competition here?
Klean Kanteen is the clear winner in terms of thermal insulation, and not just over Nalgene.
Of all the bottles I own, my Klean Kanteen keeps drinks cold the longest — longer than Hydro Flask, Yeti, and all the other premium stainless steel bottles I've used. And it's not even that close.
While Klean Kanteens may not be as stylish as Hydro Flask or Yeti Bottles, when it comes to insulation they can't be beat.
Features And Options
When it comes to life I'm a pretty unique character and I like my water bottles to reflect that. I also have 3 kids who are wildly different and who also like to fight over who's water bottle is who's.
Having unique options means that each of us can have a water bottle that is distinctly "us" and that we love.
Nalgene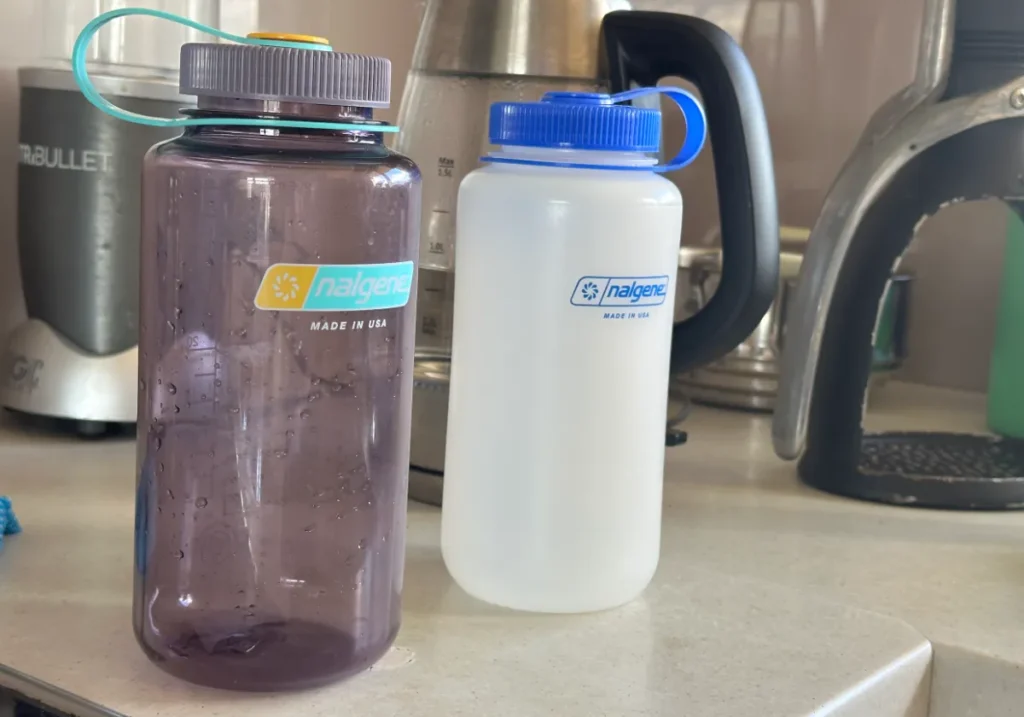 Nalgene keeps things pretty simple, offering three basic bottle styles in sizes ranging from 10 to 64 oz — with the 32 oz being by far the most popular.
Their standard Nalgene Sustain Bottles, available in either wide or narrow mouth, are rugged plastic bottles intended for everyday use.
Ultralite Nalgene Bottles, weighing in at only ⅕ of a lb, are intended for camping, climbing, backpacking, and any other activity where a low weight is important.
Stainless Steel Nalgene Bottles are one of the few non-insulated stainless steel bottles on the market, and are great for boiling water or using as a hot water bottle on the trail.
When it comes to lids, the standard Nalgene cap is a simple wide mouth cap with a screw-off top. Lids that provide a narrower drinking spout and slide out straw are also available and compatible with any wide mouth Nalgene.
But overall, other than choosing between wide mouth and narrow mouth there isn't that many different features to the Nalgene bottles.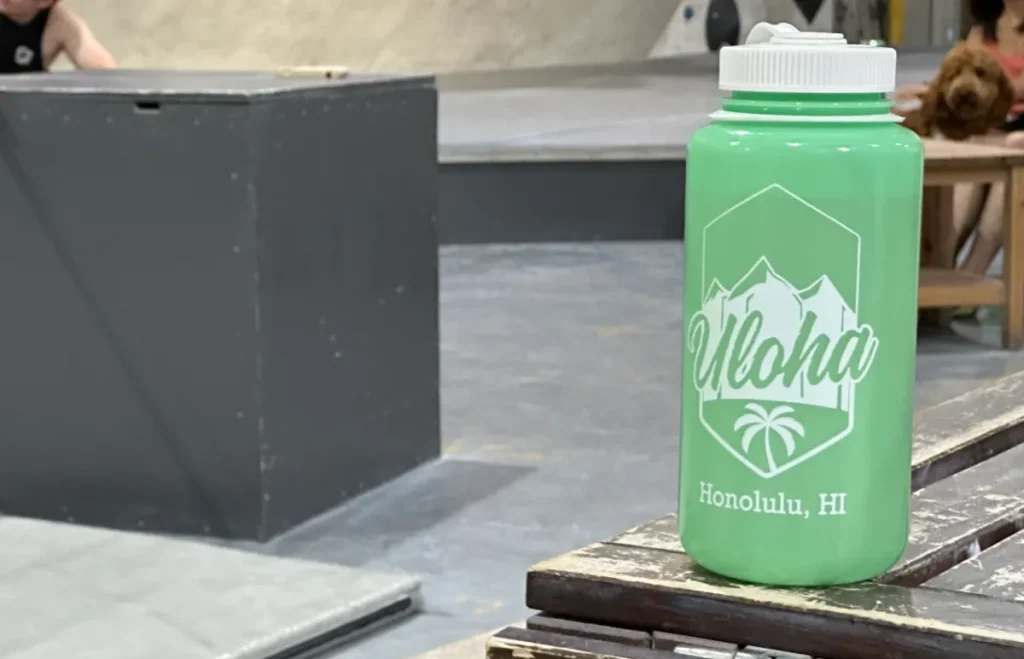 However, in colors they do excel and have an EXTREMELY WIDE variety of color options and there are even limited runs of special bottles like my friend's Aloha Nalgene she got from her trip to Hawaii.
While it seems everyone at the climbing gym owns a Nalgene…I'm yet to see someone with the exact color variation that I have. This makes ever Nalgene unique in it's own way.
Klean Kanteen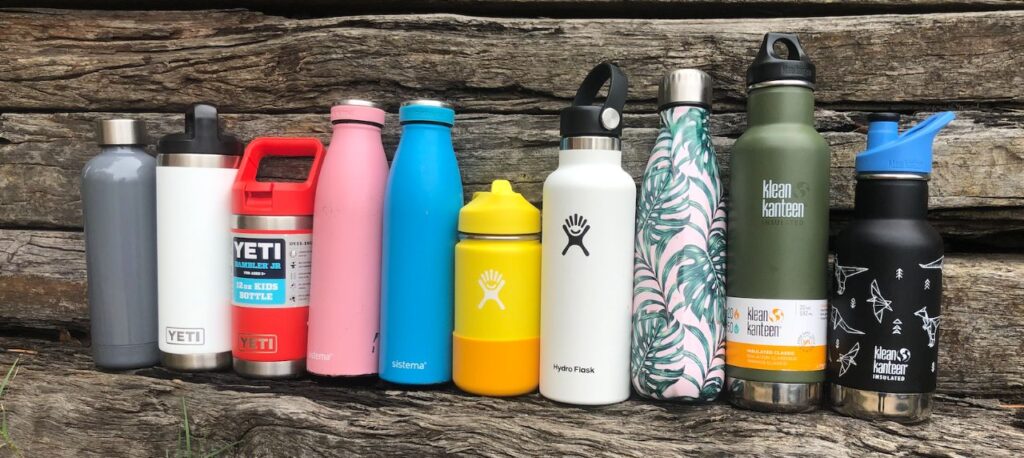 Like Nalgene, Klean Kanteen offers three styles of bottle — the Classic, TKWide, and TKPro.
The Classic Klean Kanteen is a simple insulated stainless steel bottle with your choice of a sports cap, twist-off cap, pour-through cap, or kid's sippy cap. Available in narrow or wide mouth, with the smaller sizes fitting comfortably into a bike's bottle cage.
The TKWide Bottle offers improved insulation (see above), internal threads that make drinking more comfortable, and a choice of five lid options:
The TKWide Loop Cap is a twist-off lid with an ergonomic steel handle.
The TKWide Twist Cap features a twist-out straw.
The TKWide Chug Cap has a narrow chug spout with a twist-off cap.
The TKWide Café Cap transforms your bottle into a to-go coffee mug.
The TKWide Straw Cap features a removable stainless steel straw that slides into a sealing silicone cap.
And lastly, the TKPro Bottle that has the best thermal insulation of any bottle on the market and a 360° pour through cap that lets you pour into a twist-off cup lid for easy drinking.
While Klean Kanteen's color options are a bit limited (at least compared to the ridiculous number of Nalgene colors), there are still enough to make your bottle feel 'you'.
Winner: Tie
Klean Kanteen Bottles aren't as flashy as other premium stainless steel bottles, but a diverse selection of caps, epic thermal insulation, and quality construction place them among the best bottles I've ever owned.
However, if color choice is important to you the Nalgene is actually the best option here.
Durability And Longevity
When investing money into a water bottle you want to make sure you're buying a bottle that is going to last.
A bit more money spent now for a bottle that will last you years longer will actually save you money in the long run.
Nalgene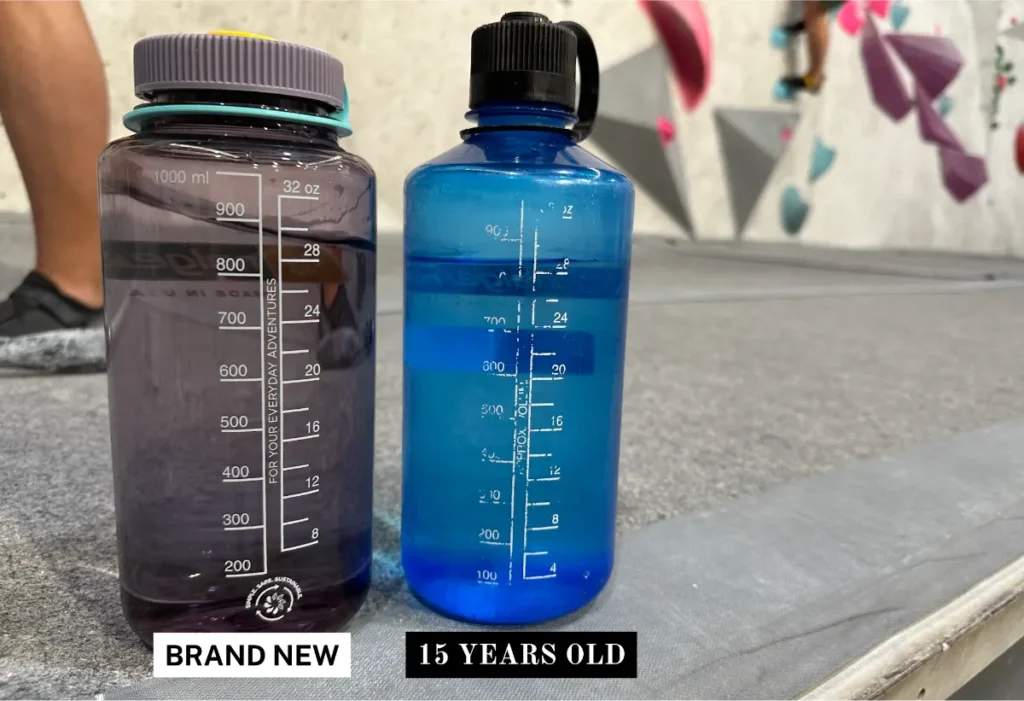 I have a couple Nalgene Bottles that are well over five years old and still kicking. In fact, it's not even that rare to hear of ten or fifteen year old Nalgenes going strong (we'll call them senior Nalgenes).
My friend has a Nalgene that is 15 years old and despite the measurements on the side being a bit worn the bottle is still in amazing condition and even has the original cap. Broken Nalgene caps are usually the most common issues with senior Nalgene bottles but they are easily replaced by Nalgene for free (they have an amazing lifetime warranty).
While no plastic bottle will be as durable as a stainless steel bottle, Nalgenes are about as tough as plastic bottles come and are backed up by the best warranty in the business.
Honestly, it's insane. Even if you break your Nalgene and it's completely your faulty Nalgene will replace it free of charge. For a $10-$15 water bottle this lifetime warranty means that your Nalgene can literally last you you're entire life without you ever having to buy another water bottle.
Though, more than likely, you'll never actually need to use the warranty. I routinely beat the crap out of my Nalgene Bottles and have had to make exactly one warranty claim for damage in fifteen years.
Plus the bottles are so cheap it's often easier to go out and buy a new Nalgene and find some other use for my old Nalgene bottle than it is to do a warranty claim.
Klean Kanteen
Being made of stainless steel, Klean Kanteen Bottles are even more durable.
These things are tanks.
I've dropped mine down rocky switchbacks, down the stairs, and onto the sidewalk more times than I can count. It has a few dings and dents, but it's no worse for wear and continues to insulated and keep my drinks extremely cold.
However, Klean Kanteen only have a 1 year warranty on their bottles which is a big negative compared to Nalgene as well as other insulated brands like Hydro Flask which offer a lifetime warranty on their bottles.
Even Yeti offers a 3-year warranty on their bottles. In fact, Klean Kanteen's warranty is one of the worst of all the premium water bottle brands.
Winner: Nalgene
My Klean Kanteen has proved to be one of my most durable water bottles — even compared to many of my other stainless steel bottles that have chipped paint or have lost insulation from my abuse.
However, my Nalgene bottle has lasted just as long and the fact so many people have "senior Nalgene" bottles that are entering into multiple decades of their life and the amazing lifetime warranty Nalgene offers I've got to give the longevity award to Nalgene.
If Klean Kanteen had a better warranty that the 1-year they offer then this would be a tie because Klean Kanteen bottles are extremely durable.
Health And Water Safety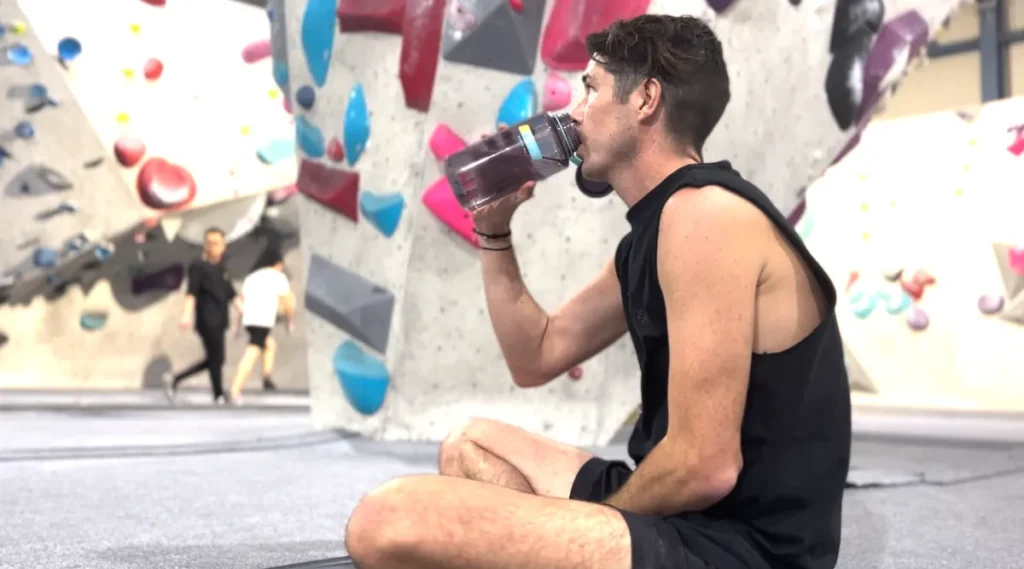 When the BPA news broke in 2008 and it became clear that water bottles were in fact leeching harmful chemicals into our drinks it made a big impact on me.
I really want to live an extremely long time and part of the reason I drink so many bottles of water is to stay healthy. I want a bottle that is going to be as healthy as the water I put in it and that means for me…I tend to avoid plastic where possible or use it more sparingly.
Nalgene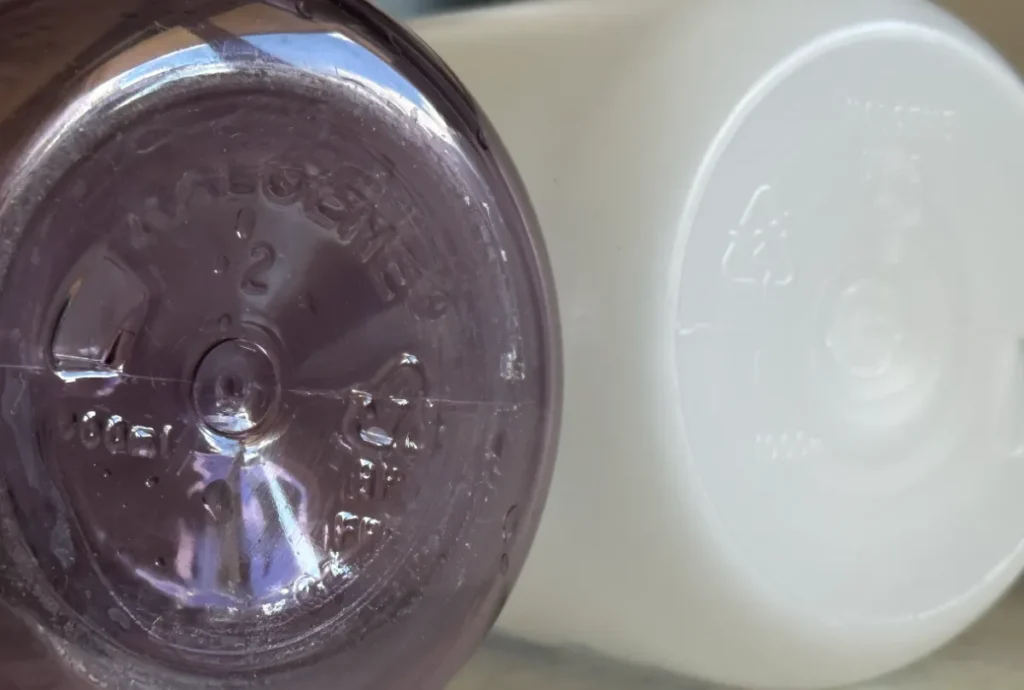 Nalgene Bottles are made of either Tritan Plastic or HDPE, both of which have been approved as safe for use with food and drink by the US Food and Drug Administration and are free of any known or suspected harmful compounds — like BPA, BPS, BPF, and phthalates.
That being said, it's worth noting that some particularly cautious consumers are hesitant to use plastic for food or drink storage because of harmful compounds that have been found to leach from plastic in the past.
I'm pretty comfortable using plastic Nalgene Bottles for certain things. After all, with the research currently available, Tritan is as safe to use with cold drinks as any plastic bottle could be.
I draw the line at hot drinks however. Even though Nalgene Bottles can handle boiling water without physical damage, heat encourages more chemicals to leach from the plastic and so I'll never ever drink hot drinks from plastic bottles.
I'll only use cold drinks that I drink relatively quickly (within a few hours) otherwise I'll replace the water. This is because the longer your drink is in the bottle the warmer it can get as well as the more chemicals can leach into your drink.
Klean Kanteen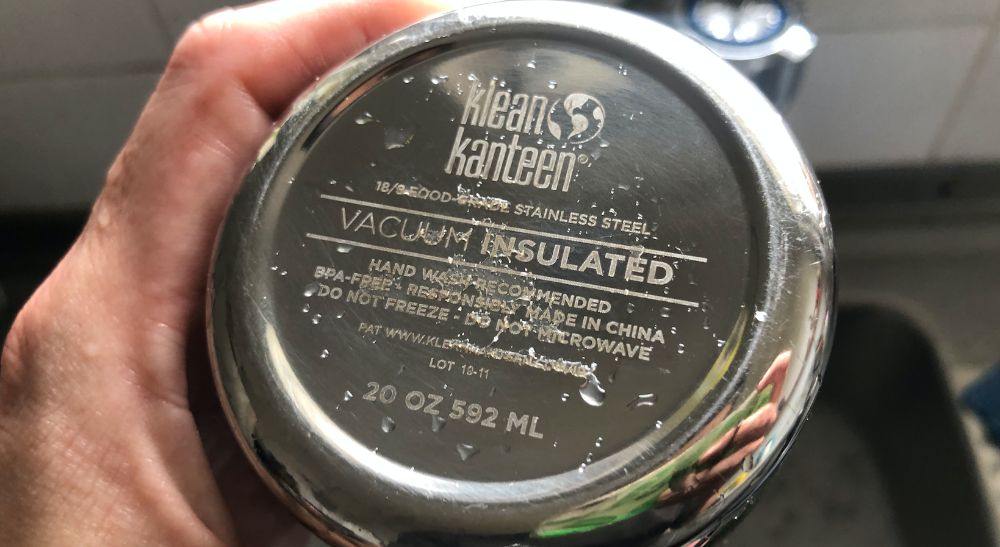 Stainless steel, on the other hand, is one of the safest materials available for food and drink storage. I did a deep dive into whether or not stainless steel bottles are safe to drink from and from all of the scientific research I looked into it seems like stainless steel is incredibly safe.
In my personal opinion it's up there with glass and ceramics in terms of safety.
Klean Kanteens are made of high-quality 18/8 food grade stainless steel, which doesn't retain or impart flavors with no possibility of leaching chemicals into your drink.
Winner: Klean Kanteen
Even though I'm comfortable drinking from both Nalgene and Klean Kanteen Bottles, Klean Kanteen takes the edge in terms of water safety because there are no question marks surrounding the safety of stainless steel bottles.
I do make an effort to drink from stainless steel or glass bottles whenever possible. After all, I try to drink more water for the sake of my health, so why risk it?
Weight And Portability
When I go hiking with my kids 10 times out of 10 I'm carrying the heavy bag with the bulk of the stuff in it and so weight can become a big consideration for me.
I want a water bottle that is lightweight and won't be too heavy to carry around.
Nalgene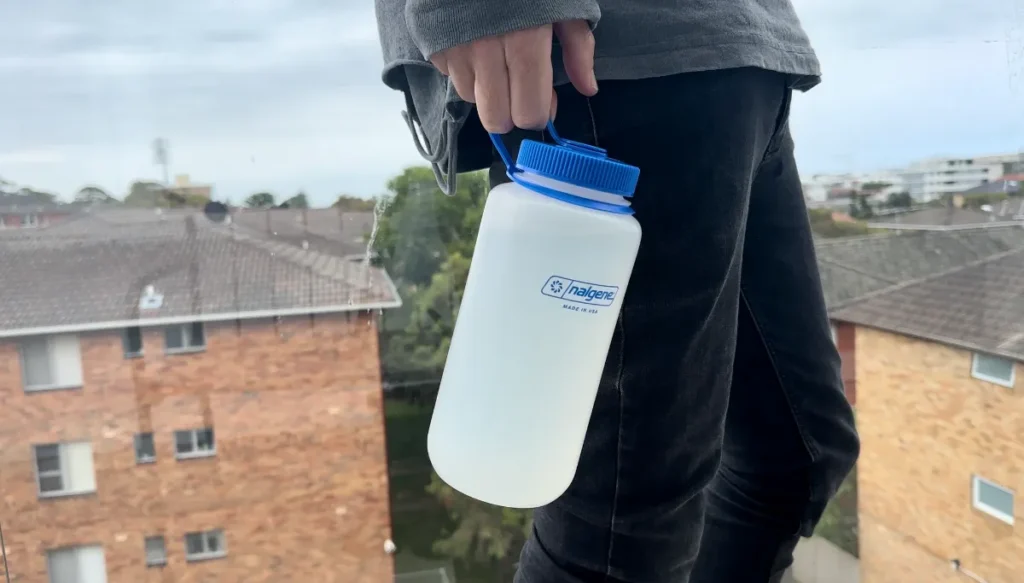 For hiking, backpacking, and climbing, Nalgene's Ultralite Bottle (weighing only ⅕ lb) is a staple for me.
But for everyday use, Nalgene Bottles can be a bit chunky and tough to carry and they don't fit in car cup holders. The lid strap isn't actually meant for carrying (though I still find myself doing it all the time) and will break if you make it a habit.
Luckily, insulating sleeves, DIY bottle holders, and third party lids with built-in handles are easy solutions.
Klean Kanteen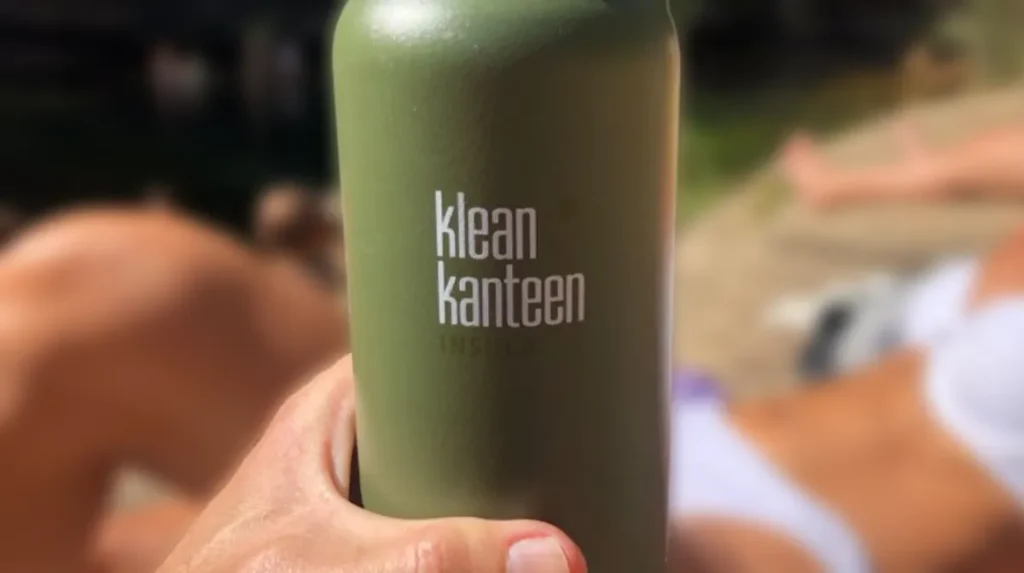 Klean Kanteens are surprisingly lightweight for stainless steel bottles, with the Classic Klean Kanteen actually being about the same weight as a standard 32 oz Nalgene (granted it holds less water).
Built-in ergonomic handles (on most of their lids) make carrying much easy than an out-of-the-box Nalgene.
That being said, larger Klean Kanteen Bottles can get a little heavy, especially for kids and they are definitely heavier than Nalgene when I'm taking them on the trail.
Winner: Nalgene
When every ounce of weight matters, an Ultralite Nalgene is hard to beat. But for everyday use, I find Klean Kanteen's built-in handles and bike bottle cage-friendly sizes to be really convenient.
Ease Of Use And Maintenance
When it comes to maintaining my bottles and keeping them clean I have to admit I'm pretty lazy.
I'll make a smoothie and then leave the remnants of the smoothie in my drink bottle for days before I decide to finally tackle the task of cleaning the now caked on and smelly smoothie.
When buying a water bottle I want to get one that is easy to clean and take care of.
Nalgene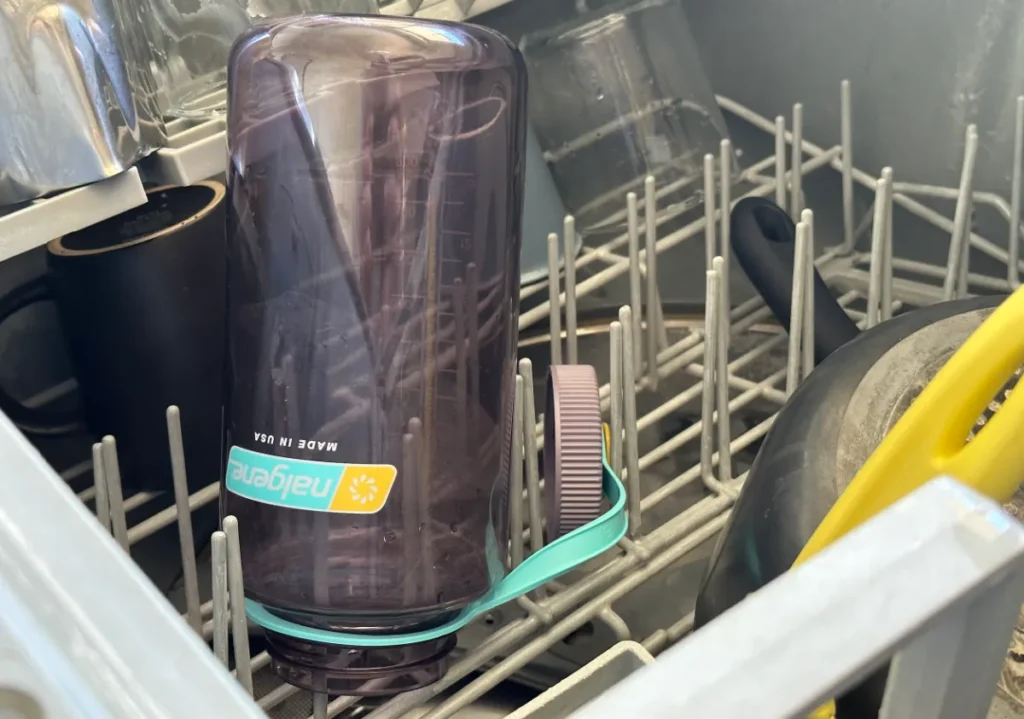 Thanks to their simplicity, Nalgenes are some of the easiest bottles to wash and maintain.
A straightforward washing routine, the fact that they're dishwasher safe, and a gasketless design makes cleaning a breeze.
Just be sure to wash daily to prevent odors and mold (or if you're only drinking water, every few days will do).
Klean Kanteen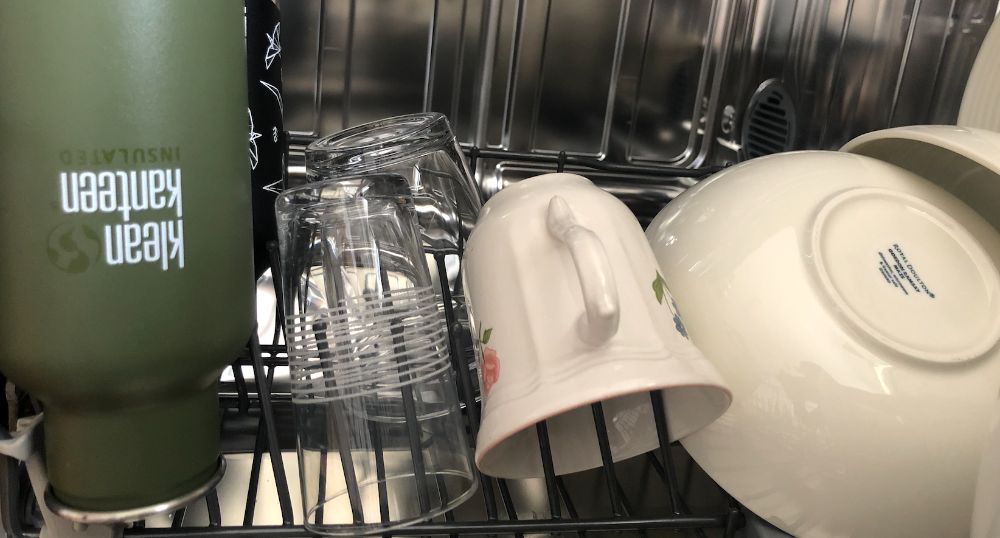 Like all stainless steel bottles, Klean Kanteen lids are sealed with a gasket that makes cleaning and maintenance slightly more time-consuming.
To get a deep clean and prevent mold from growing, the gasket has to be removed, scrubbed, dried, and replaced routinely. You'll also need to replace the gasket every few years because it will wear out much faster than the bottle.
But ultimately, it's still pretty easy to clean (or klean?) a Klean Kanteen. Even washing the gasket only adds a couple minutes and replacements can be ordered directly from their website.
Klean Kanteen bottles are also dishwasher safe which means I don't need to hand wash my caked on smoothie I can just throw the bottle in the dish washer and it's then good to go.
Winner: Nalgene
While washing a Klean Kanteen is really no big deal, it's still more involved than washing a Nalgene.
When I'm in a rush or feeling particularly lazy, it can make a difference.
Environmental Impact
Last but not least the environmental impact and the way the company operates is an important considerations when choosing a water bottle.
After all, using a reusable water bottle is an excellent way to minimizing your negative impact on our planet.
Nalgene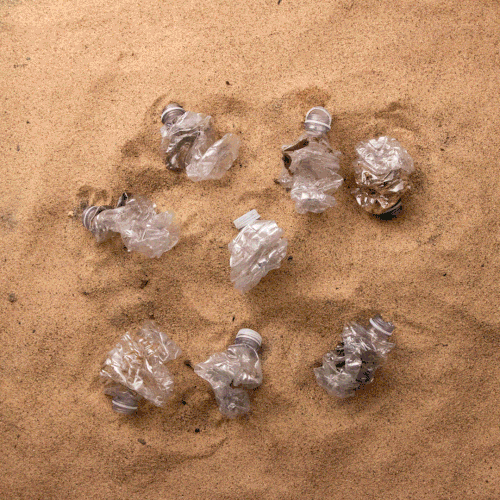 Nalgene does all they can to practice sustainability.
From swapping to Tritan Renew plastic in 2020 (plastic made of 50% certified recycled material) to the Nalgene Water Fund that promotes access to clean water for the needy (with over $400k already raised), Nalgene is taking all the right steps.
That being said, plastic bottles are substantially worse for the planet than stainless steel bottles.
They create toxic run-off during production, are difficult to recycle, and often end up in landfills, where they break down into damaging microplastics.
Klean Kanteen
Stainless steel is one of the most environmentally friendly materials for water bottles.
It's infinitely recyclable, doesn't release toxic run-off when produced, and can be sourced from scrap materials.
Did you know that 95% of Klean Kanteen bottles are made from 90% recycled materials?!
This results in a 40% reduction in steel greenhouse gas emissions, 30% reduction in the energy demands to make their products and a 60-80% reduction in ecosystem impacts.
Klean Kanteen are the first in the industry to use certified recycled stainless steel for their bottles and they are paving the way for other companies to follow suit creating a more eco-friendly and sustainable future for us all.
If that's not enough, they also donate 1% of proceeds ($3.7 million to date, step it up Nalgene!), to help make the world a more sustainable place.
Winner: Klean Kanteen
While you can't fault Nalgene for trying and they are doing a great job to minimize single use plastic bottles, Klean Kanteen Bottles are substantially better for the environment.
After all, there's only so much a company producing plastic bottles can do.
Nalgene vs Klean Kanteen: Which Bottle Is Better?
While Nalgene Bottles are great in their own right, Klean Kanteen Bottles are the same or better in almost every single way.
They're better for your health, better for the planet, more durable, offer more features, and have the best thermal insulation of any bottle I've used.
I still use my Ultralite Nalgene for camping and climbing, but for just about everything else, my Klean Kanteen does a better job.