Polar Bear coolers are great coolers, one of the more affordable options and one of the best soft coolers for ice retention. However, like all coolers they aren't perfect.
If you're thinking of buying one, it's helpful to know the problems they have so you can see if it'll be a good cooler for you.
The biggest problems with Polar Bear coolers are that the cheaper models aren't watertight, they don't have the best design and the base scuffs easily. They also aren't made in the USA and are only backed by a 3-year warranty.
This isn't to say the Polar Bear coolers are bad, because they aren't. I just think it's good know about the pros and the cons of a product before investing your hard earned money into it.
Below I'll show you the biggest downsides of Polar Bear coolers, whether or not these problems a big deal or just minor inconveniences, and I'll give a couple alternatives that may fit you better.
1. The Cheaper Models Aren't Watertight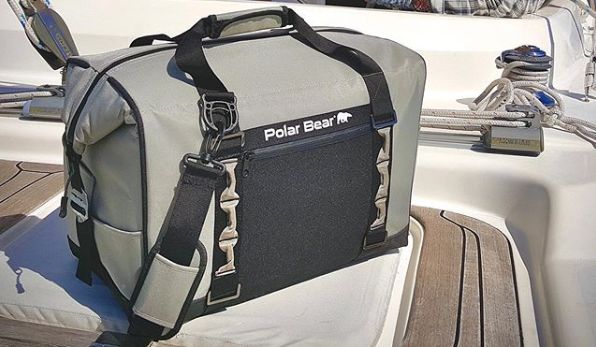 A common question about Polar Bear coolers is whether or not they're watertight. The answer is yes and no.
Polar Bear's soft-sided coolers come in two different models, the Original and Deluxe (or tarpaulin).
Unfortunately, the Original model isn't completely watertight. Ice melt is prone to leak from the heavy-duty zippers.
If that's a big concern for you, don't fret. The Deluxe model is equipped with a very effective leak proof zipper. Mine hasn't had any leaks yet over a couple years of hard use.
Polar Bear's hard coolers aren't watertight either, but to be honest that's a problem with RTIC, Yeti, and other high-end hard coolers as well.
2. The Design Isn't Extremely Beautiful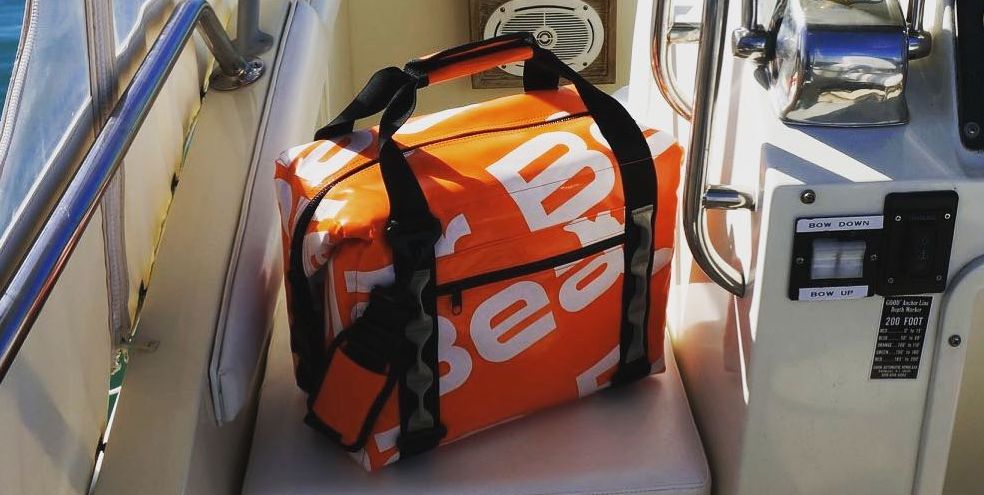 While this isn't a major concern for most, Polar Bear coolers certainly aren't going to win any awards for fashion.
The form is pretty basic and the colorways are perhaps a bit too bold. But if bright colors and big gaudy letters are your thing, you might love it.
For me, it's just not my style. I much prefer a basic design like the RTIC soft pack coolers.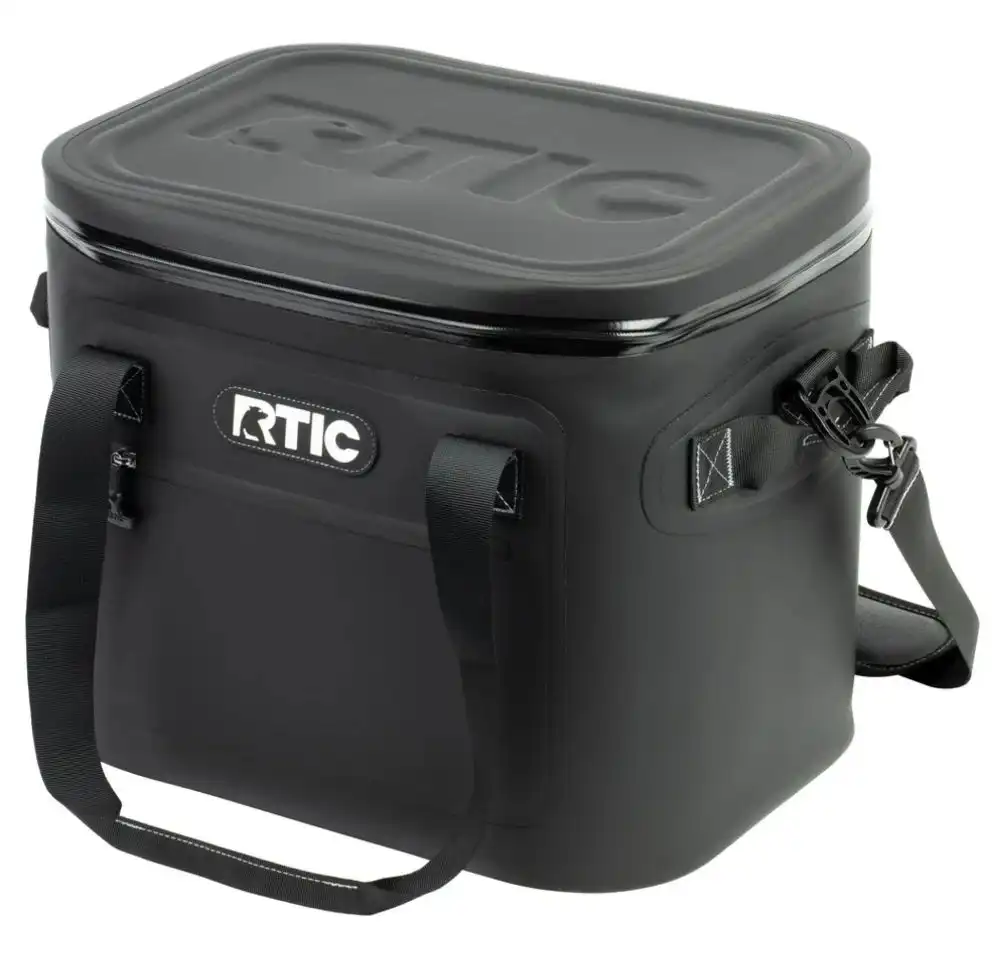 RTIC Soft Pack Cooler
The RTIC Soft Pack Cooler is one of THE BEST insulating soft coolers on the market, keep ice for 2-3 days at a time.
It's lightweight and durable with a tough nylon exterior and features a waterproof zipper and external pocket for small dry items. Comes in 12, 20, 30 and 40 can sizes and is extremely affordable compared to other similar brands.
See Latest Price at RTICOutdoors.com
See Latest Price at Amazon

3. Build Quality Is Good But Not Great
Don't get me wrong, Polar Bear soft coolers are well constructed with quality fabrics, heavy-duty zippers, and solid stitching.
But admittedly, the build quality doesn't quite match that of more premium coolers, like the Yeti Hopper or Engel HD30.
At the end of the day, you get what you pay for.
Polar Bear coolers still outshine just about every other cooler in the same price range when it comes to quality and function (even better than some more expensive models).
And you certainly won't run into the same build-quality problems like Ozark Trail coolers and other budget models.
4. Base Is Reinforced But Can Scuff Easily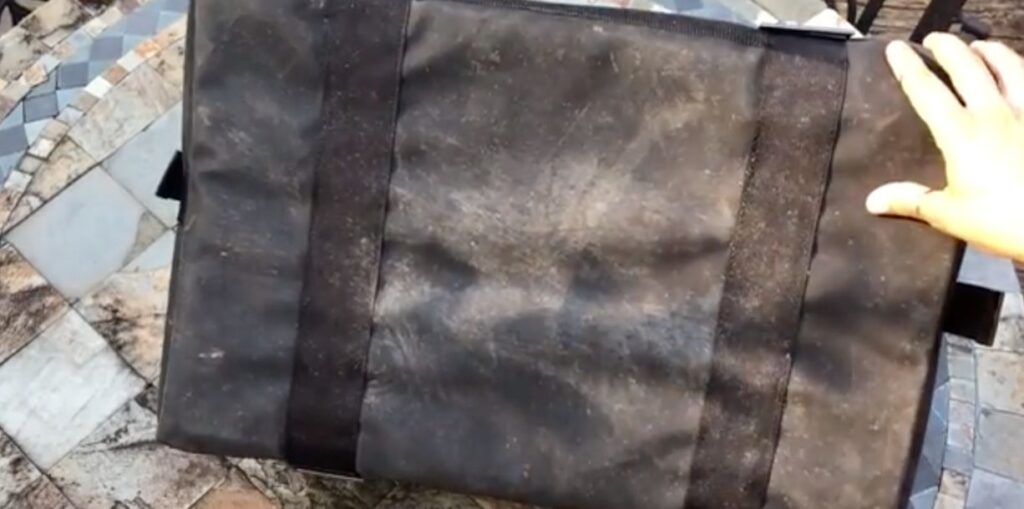 Another common complaint with Polar Bear coolers is that the base scuffs pretty easily with normal use.
But again, this is mainly an issue with aesthetics. The base is still solid and well-reinforced.
Performance will not be affected with regular usage but with heavy usage this could potentially get damaged.
5. Only a 3-Year Warranty
Polar Bear coolers only come with a 3-year warranty. But to be fair, that's the same as Yeti coolers and triple the 1-year warranty of the Engel HD30.
While a longer warranty would be nice, you'd be hard pressed to find one. I know I haven't been able to.
6. NOT Made In The USA
And lastly, Polar Bear coolers aren't manufactured in the USA — which may be a deal breaker for some.
The sad reality is that it's getting harder and harder to find quality products still made in the States and this is especially true for soft coolers. While there are 20 or so hard coolers made in the USA there are only about 5 soft cooler brands that actually manufacture their coolers locally in the USA.
Are These Problems Deal Breakers?
While Polar Bear coolers are far from perfect — no cooler really is. Even premium coolers like the Yeti Hopper and Engel HD have faults.
If you want a cooler with top-end build quality, made in the US, that looks amazing sitting on the beach, maybe a Polar Bear cooler isn't right for you.
If you just need a solid cooler that keeps your food and drinks cold for a really long time, a Polar Bear cooler should be a perfect fit.
Honestly, it's one of the best soft coolers on the market and keeps ice longer than any other soft cooler except the Engel.
It's Difficult To Fault Polar Bear Coolers Too Much
At the end of the day, Polar Bears coolers have a lot going for them despite their flaws. They're affordable, retain ice for a really long time, are easy to use, and have some nice added features.
Check out my Polar Bear soft cooler review for more info.
About Half The Price of a Yeti
Polar Bear coolers are an amazing bargain.
While the quality of the Polar Bear Deluxe soft cooler is a small notch below the Yeti Hopper or Engel HD line, the performance is on par and the price is much lower.
Read my full Polar Bear vs Yeti soft cooler comparison.
Some Of The Best Ice Retention For Soft Sided Coolers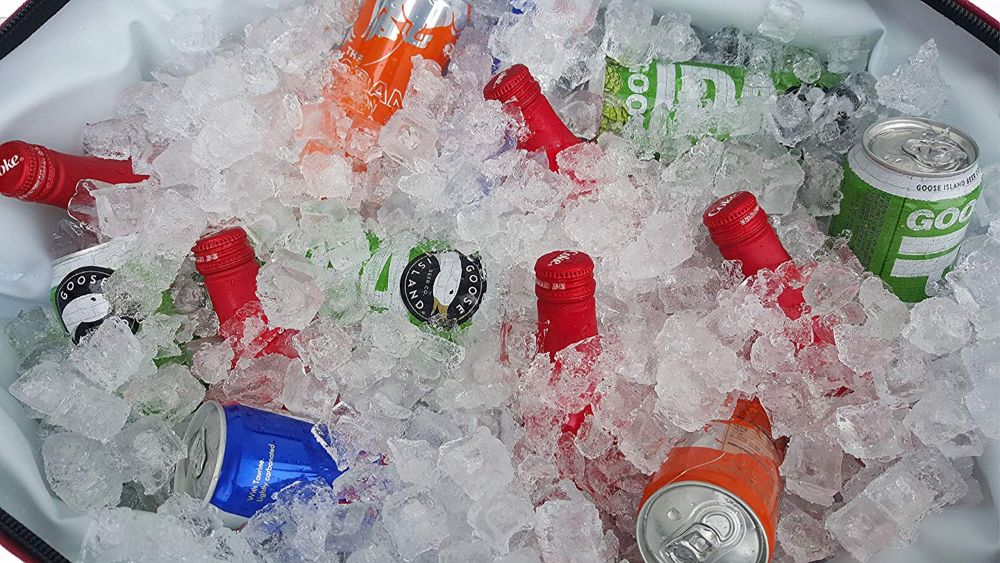 The main reason the Polar Bear cooler is so good is because of how well it retains ice — three to four days, sometimes even longer. That's on par with a hard sided cooler, yet it weighs way less.
Thanks to a full inch of insulation, the Polar Bear soft cooler has some of the longest ice retention of any soft cooler on the market. A full day longer than the Yeti Hopper.
The only soft cooler that retained ice longer in my testing was the Engel HD30, but more on that below.
Zipper and Opening Is Easy To Use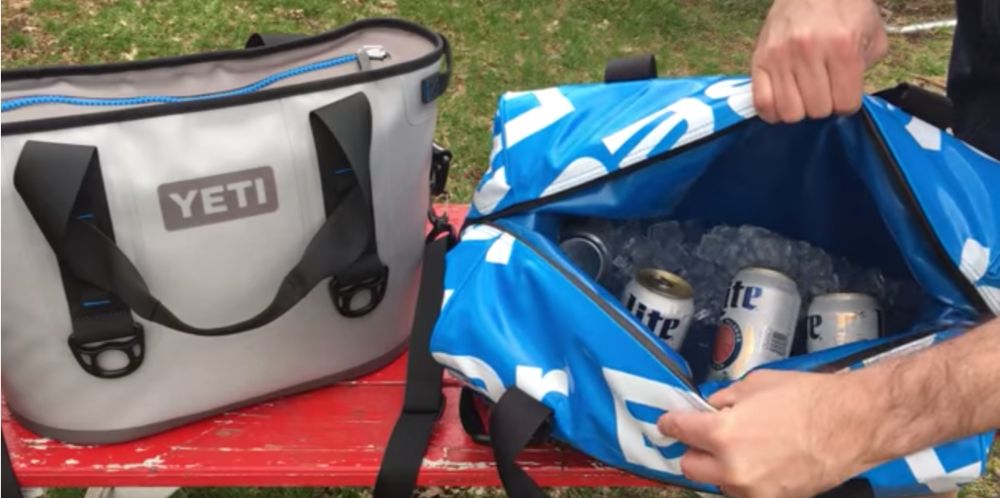 While the design of the Polar Bear soft cooler is simple, it's also really functional.
The zippers are durable, high-quality, and zip smoothly. The opening is large enough to easily dump in a bag of ice or pull out a drink without feeling like you're wrestling with your cooler.
Built in Bottle Opener and External Pocket
Polar Bear didn't skimp out on added features either.
A built-in bottle opener will save you more than a few times when you've forgotten to bring one.
A convenient external side pocket is a great place to stash small items (like the bottle opener I always forget).
Coolers Similar To Polar Bear
If any of the above problems are a dealbreaker for you, there are a couple alternatives that may be a better fit.
Engel HD30
The Engel HD30 will cost you more than a Polar Polar Bear cooler, but if maximum ice retention is your biggest concern, it's the best on the market.
In our testing, the HD30 kept ice for as long as 4.5 days or more, a bit longer than the Polar Bear Deluxe and 50% longer when compared to the Yeti Hopper 30.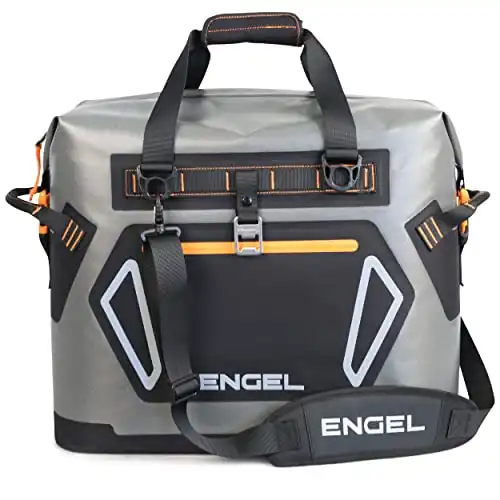 Engel HD30 - 32 Quart Heavy-Duty Soft Sided Cooler Bag
This is hands-down THE BEST soft sided cooler for ice retention. It'll keep ice for 3-4 days at a time with its patent pending vacuum valve technology. Features a waterproof inner lining and zipper and super strong 840-D nylon exterior that is scratch and puncture resistant.
Backed by a 1 year warranty and sold for an affordable price this is one of (if not THE) best soft cooler on the market.
Buy Now at Amazon
Read My Review

Yeti Hopper Flip
When comparing my Yeti Hopper Flip to the Polar Bear Deluxe, I was pretty surprised by the result.
My Polar Bear kept ice for longer, was a bit easier to use, and was considerably less expensive.
But that's not to say the Yeti Hopper Flip is a bad cooler. Far from it, in fact. It's still durable, well-constructed, aesthetically pleasing, and will keep ice for two or three days.
If you just want a Yeti, the Roadie is a good alternative to the Flip. It's larger and less portable but holds ice comparably to a Polar Bear Deluxe.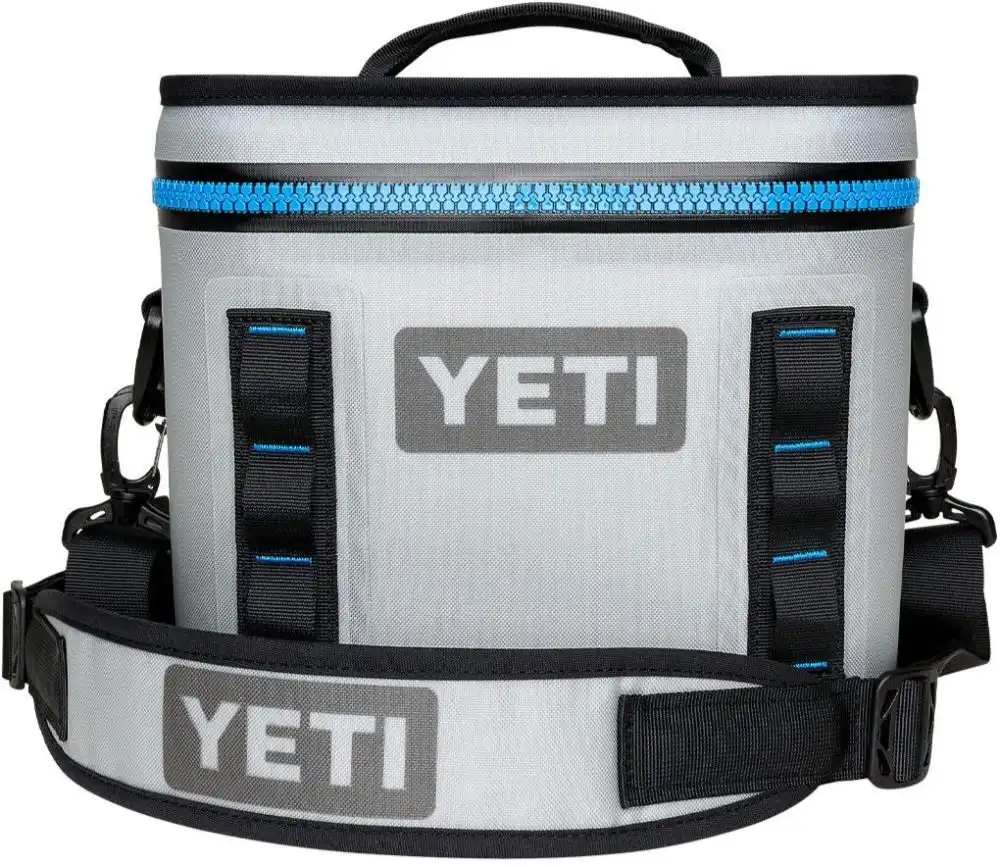 Final Thoughts
Polar Bear soft coolers, especially the Deluxe models, are affordable, durable, and have some of the best ice retention of any soft cooler out there.
But Polar Bear coolers do have their problems:
The Original model isn't watertight.
They're not very nice to look at.
The build quality is good but not great.
The bottom scuffs easily.
They only include a 3-year warranty.
They're not made in the USA.