Polar Bear coolers are an affordable alternative to the Yeti Hopper line of soft sided coolers. They have a wide opening design which makes them easier to load and access and they have better ice retention than Yeti by about a day.
Two Types of Polar Bear Coolers: Original and Deluxe
There are two main types of Polar Bear coolers. The cheaper nylon version that only holds ice for 24+ hours which they call their "Original" version and the more expensive waterproof tarpaulin design which holds ice for 3+ days which they are now calling the "Deluxe" version.
Polar Bear Original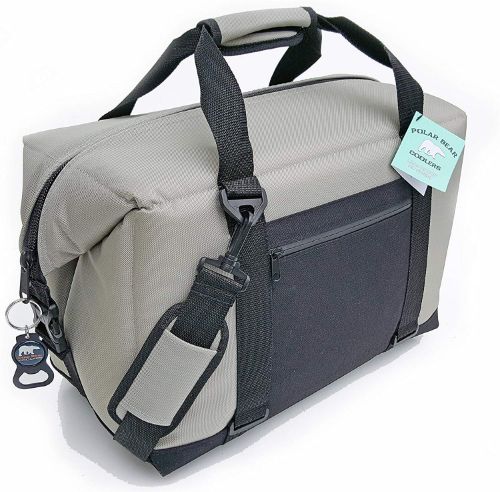 Sizes: 6-can, 12-can, 24-can, 48-can + backpack
Exterior: 1000D Nylon
Ice Retention: 24+ Hours
Price Range: $40-$150 (see details at Amazon)
Polar Bear "Deluxe"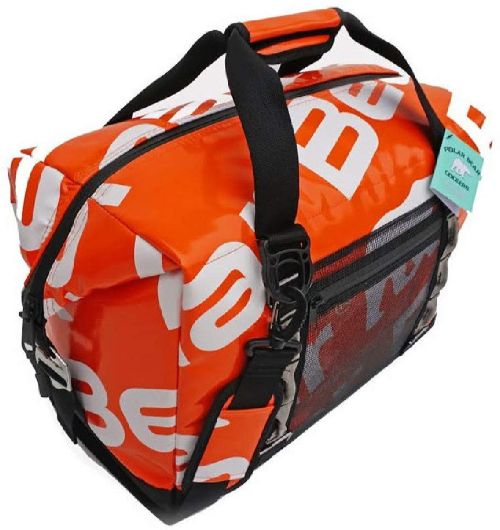 Sizes: 12-can, 24-can, 48-can + backpack
Exterior: Heavy Duty Tarpaulin
Ice Retention: 3+ Days
Price Range: $130-$230 (see details at Amazon)
For this Polar Bear vs Yeti soft sided cooler challenge we are going to compare the Polar Bear Deluxe (previously known as H20) to the Yeti Hopper coolers as these are the closest in comparison.
The Polar Bear Original is a much cheaper soft sided cooler and isn't designed to compete with the Yeti. It has less insulation, only keeps ice for about a day and isn't waterproof. The Deluxe is a much closer comparison for the rest of this article we'll be looking exclusively at that.
Polar Bear Is About Half The Price of Yeti
Price is a major reason you should consider a Polar Bear cooler over the Yeti Hopper cooler. You can save yourself a lot of money by going with this brand.
Polar Bear coolers are nearly half the price of Yeti, saving yourself $100+ depending on what cooler size you choose.
For those on a budget this makes a lot of sense, and even if money isn't an issue the Polar Bear coolers are still worth looking at as you'll see they actually perform better than the Yeti too.
Below you can see a price comparison between the Polar Bear Deluxe coolers and the Yeti Hopper coolers. This will give you a good idea of the price differences between the two brands.
You can also click the price links (my affiliate links) to see the products on Amazon and confirm the pricing, as I found different colors have different prices and some are cheaper than other.
Polar Bear Deluxe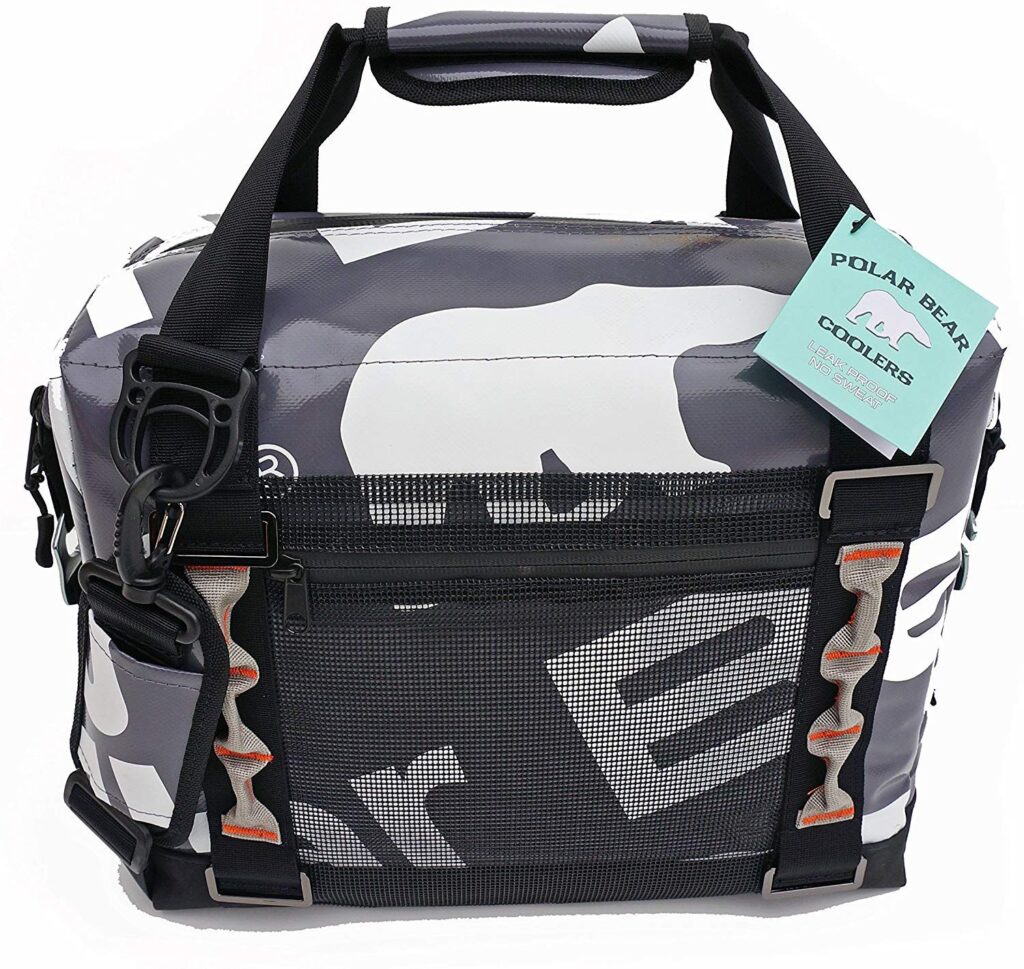 Polar Bear Deluxe 12-Pack:
---
Polar Bear Deluxe 24-Pack:
---
Polar Bear Deluxe 48-Pack:
---
Polar Bear Deluxe Backpack:
Yeti Hopper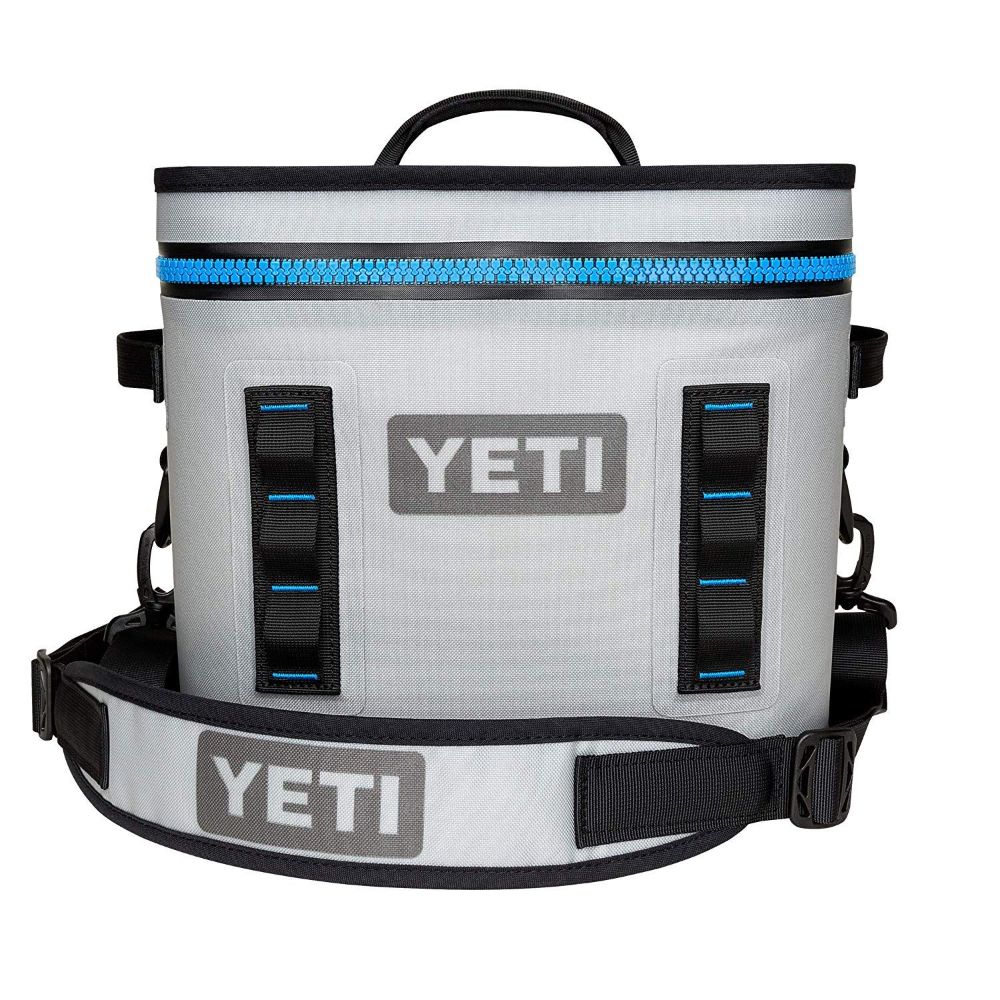 Yeti Hopper Flip 8:
---
Yeti Hopper Flip 12:
---
Yeti Hopper Flip 18:
---
Yeti Hopper M30:
---
Yeti BackFlip 24:
Polar Bear Keeps Ice a Full Day Longer Than Yeti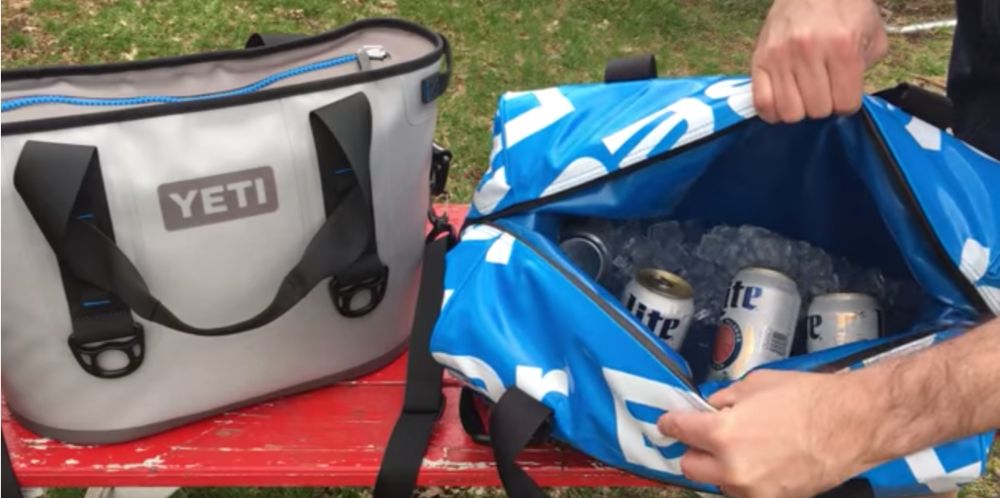 I was very surprised to discover that, despite being over $100 cheaper, Polar Bear coolers actually keep ice LONGER than Yeti coolers.
And they don't just keep ice a little bit longer, they keep ice significantly longer. In some cases up to a full day longer.
You can expect 3-4.5 days of ice retention out of your Polar Bear coolers, whereas the Yeti Hopper coolers will only hold ice for approximately 2-3 days. The ice retention is so good that these soft sided coolers rival some hard sided coolers in how long they can hold ice.
The below video shows an ice test between the Polar Bear 24-Can and the original Yeti Hopper cooler and you can see that H20 lasted about 4.5 days which was roughly a full day longer than the Yeti Hopper.
The new Yeti M30 has more insulation than the originally Hopper and apparently can keep ice for 25% longer, but even still the Polar Bear is likely to outperform the Yeti when it comes to ice retention
1-Inch of Insulation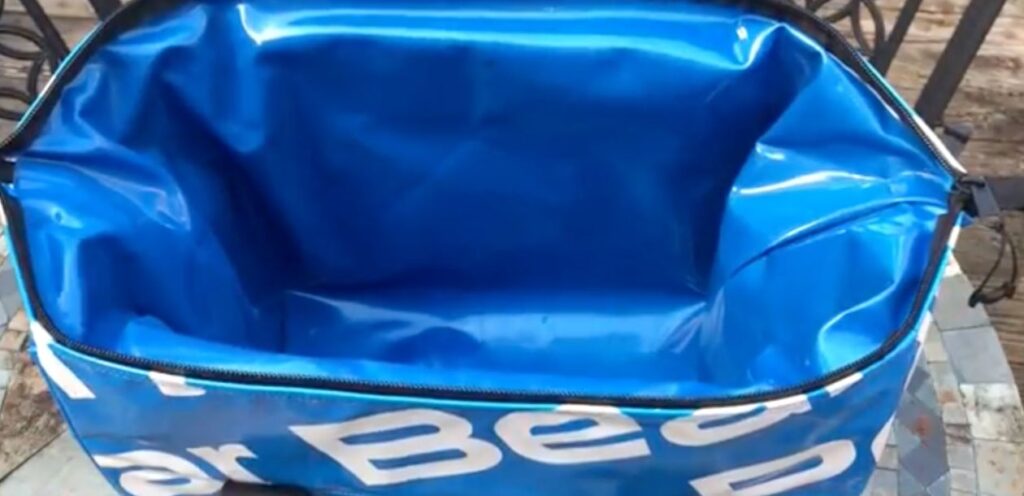 Polar Bear coolers have 1-inch thick closed cell insulation in the walls, base and lid of the cooler. There is a patent pending on their insulation so I'm not sure if they use a different or better technology to Yeti and other brands, but obviously it seems to work given how long the cooler can hold ice.
Yeti coolers only have 0.75 inches of closed cell insulation in the walls, but they have 1.5 inches of insulation in the lid.
The extra insulation around the walls of the cooler may be what allows Polar Bear coolers to keep ice a full extra day longer when compared to Yeti.
Polar Bear Coolers Are Easier To Use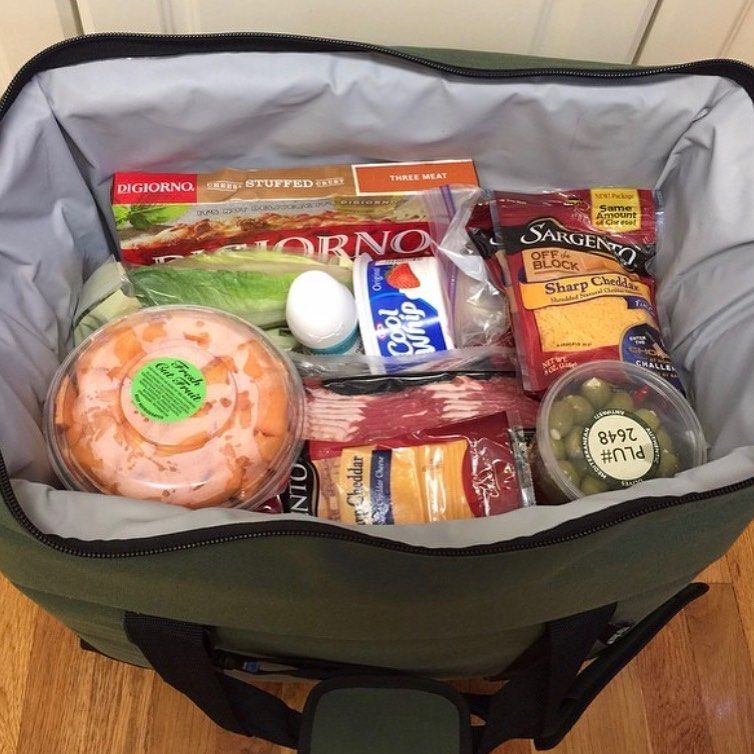 Ease of use is something that is important to a lot of people. When it comes to ease of use I do think the Polar Bears are slightly easier to use.
The YKK10 zippers on the Polar Bear feel easier to open than the Yeti and the way the cooler is designed allows for the top to open right up giving you full access into the cooler.
The Yeti Hopper Flip and BackFlip coolers have a wide hinged lid that gives you full access into the cooler but the zipper is harder to open and close. The Hopper M30 design has had a lot of complaints about being hard to keep open because the magnetic seal just automatically closes on you.
Polar Bear coolers also have an external pocket for storing a few items you want to keep out of the main body of your cooler. Yeti has the HitchPoint grid but you need to spend an extra $50 to get the SideKick Dry pouch if you want a pocket whereas Polar Bear has it built right in.
Polar Bear Coolers Aren't As Beautiful As Yeti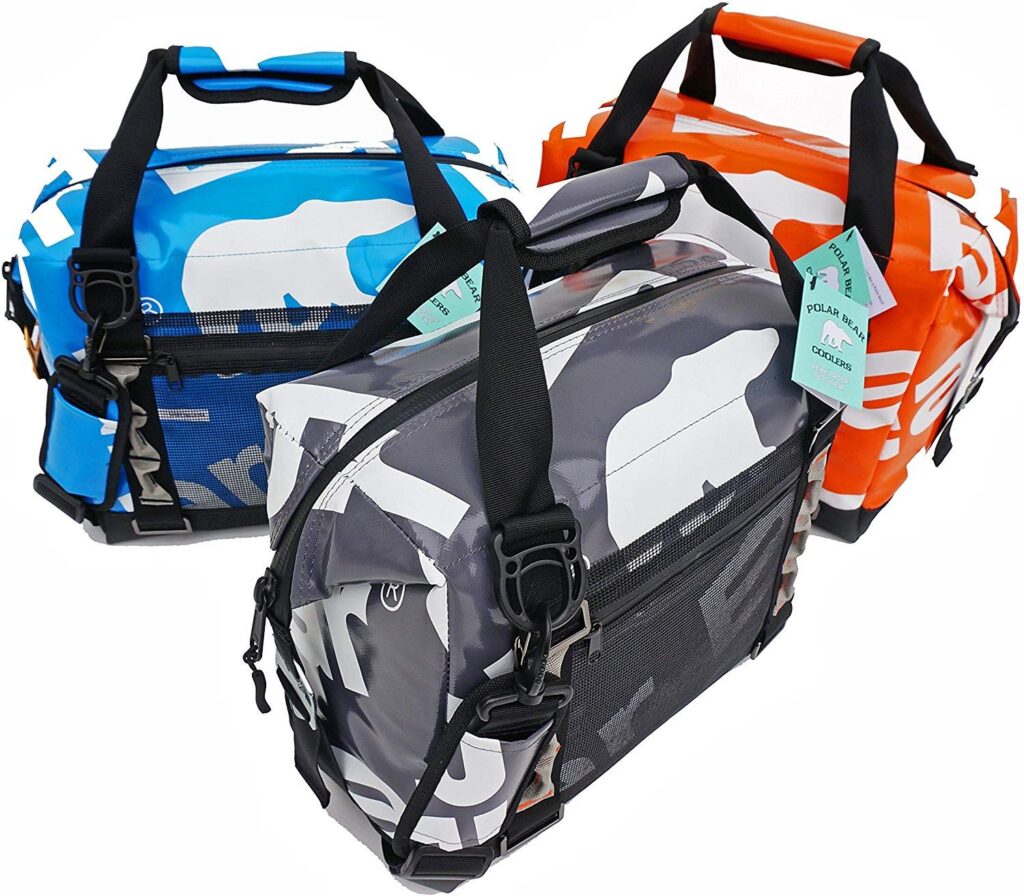 While I like the shape and form factor of the Polar Bear there is no denying that the color schemes they offer can be quite intense.
A bright blue, a bright orange and a grey and white. Each with huge "Polar Bear" writing on it and a silhouette of a polar bear. The writing is also so large that it is cut of so you can't read it properly. It makes it look like a cheaper and poorer quality cooler than it actually is.
I'm not a huge fan of this design choice and I much prefer the basic colors of the cheaper nylon versions. I wish Polar Bear offered a charcoal, black or other basic designed cooler.
Yeti on the other hand have, in my humble opinion, some of the best designed coolers on the market.

Their branding is on point and their design is always simple and elegant.
Design always comes down to personal preference so you may not agree with me on this one. Beauty is in the eye of the beholder after all.
Yeti Build Quality Is Better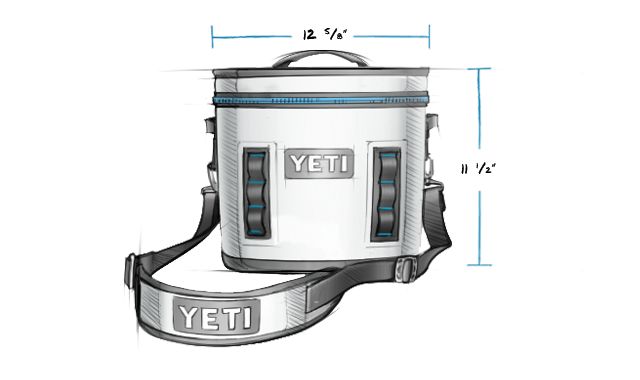 Both of these coolers are extremely high-quality and ultra durable. They should last you years of use without breaking.
The Polar Bear Deluxe coolers have an exterior that is made from a high performance tarpaulin which is thick, tough and tear resistant. It's also 100% waterproof
The Yeti Hopper coolers are made from an 840-denier nylon that is TUP laminated which makes it tear resistant and it is also completely waterproof.
Both coolers have a strong reinforced base to handle the wear and tear of constant use, no matter what ground you put it on. Yeti's base seems a little thicker than Polar Bear's but not by much and the Polar Bear is thick enough that I'm not worried about it breaking anytime soon.
So overall both are really well made and have a durable construction. Yeti feels slightly better, but not significantly.
Both coolers are backed by a 3-year warranty so if anything happens to them you are covered and the company will either repair or replace your cooler for you.
Click here to see Yeti cooler specs and prices at Amazon
The Two Coolers Have Many Features In Common
While the design of the two coolers looks different they share a lot of the features you would expect from a high-end cooler.
Leak Proof Zippers
Both coolers have leak proof zippers to keep the water in and to stop it leaking out if the cooler gets knocked over or if the water inside sploshing around when travelling.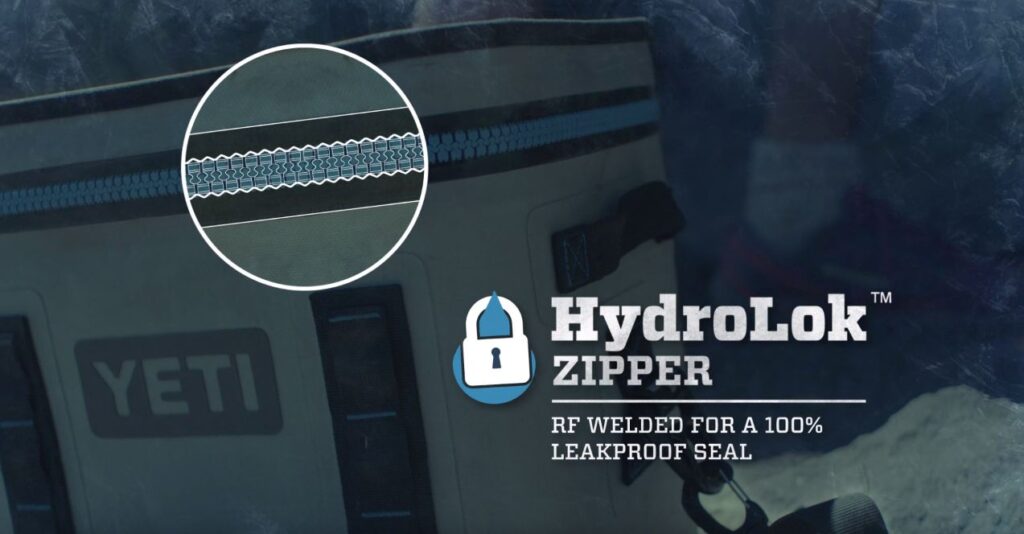 Yeti use a thick "HydroLock" zipper that is 100% watertight.
Polar Bear have a YKK10 zipper with splash protection. Some customers have reported that it drips a little bit of the cooler is completely tipped over but you shouldn't have any issues with normal use.
Fabric Loops For Carabiners or Accessories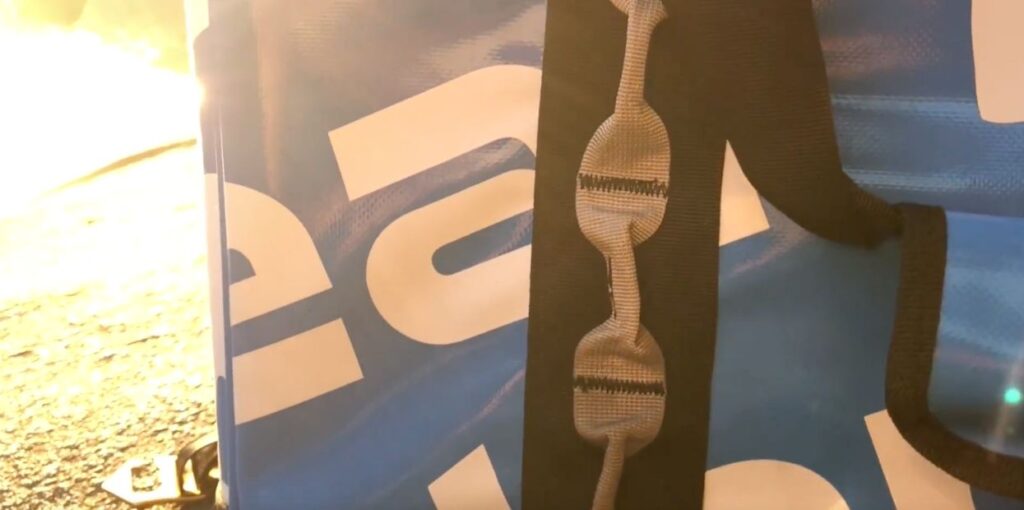 Polar Bear coolers have 12 daisy chain fabric loops for attaching carabiners. 6 loops on either side.
Yeti has it's HitchPoint grid system which is similar to that on the Polar Bear. You can attach carabiners to this or you can also attach specifcally designed Yeti accessories.
Tie Down Points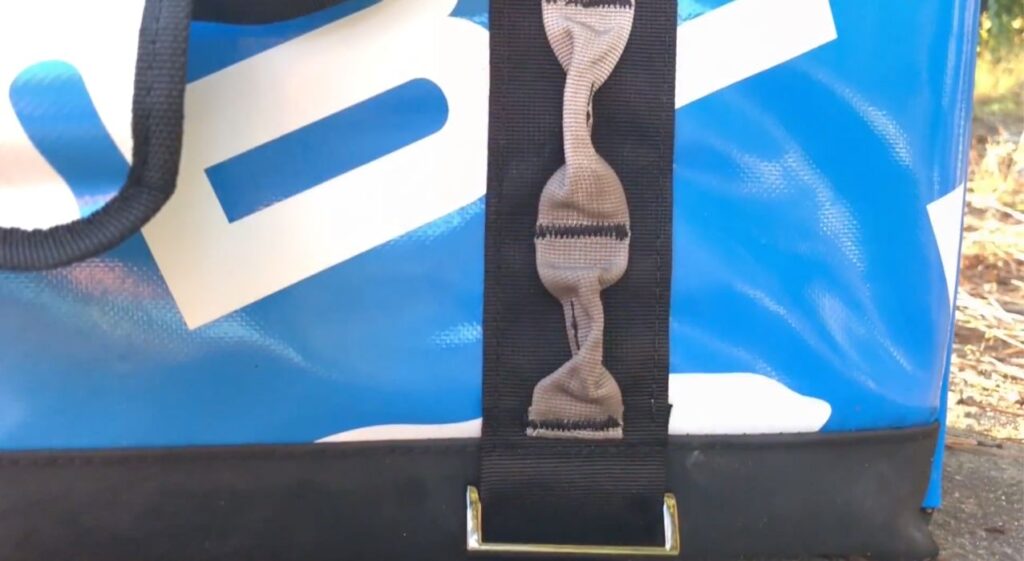 Both coolers have tie down points so you can strap the cooler to you car, truck, boat, kayak or whatever vehicle you have so it won't move around or tip over.
Waterproof Exterior
Both coolers have a 100% waterproof exterior. If you throw them in the river they will float and won't take it any water.
Food Grade Liner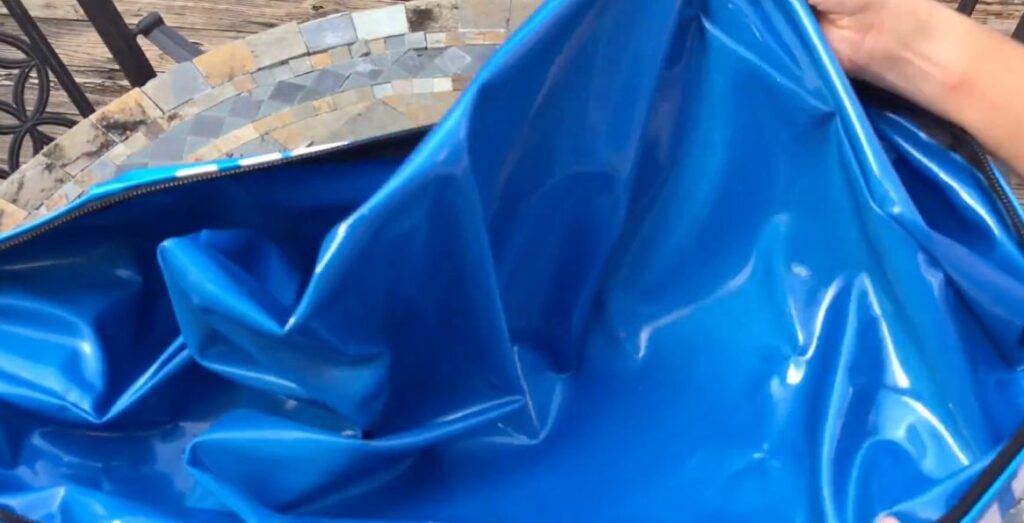 Both coolers have an FDA-approved food grade liner so you don't have to worry about any nasty toxins getting into your food.
The liner on the Yeti cooler is fixed into place but the liner on the Polar Bear cooler is loose and can be pulled out for cleaning/drying.
Detachable Shoulder Strap (or Backpack Strap)

Both coolers come with a detachable shoulder strap or backpack straps for the backpack version.
The should straps are padded for comfort and make it easy to carry the cooler hands free.
The Yeti BackFlip also has a sternum strap as well as a detachable hip strap which the Polar Bear backpack doesn't have.
Carry Handles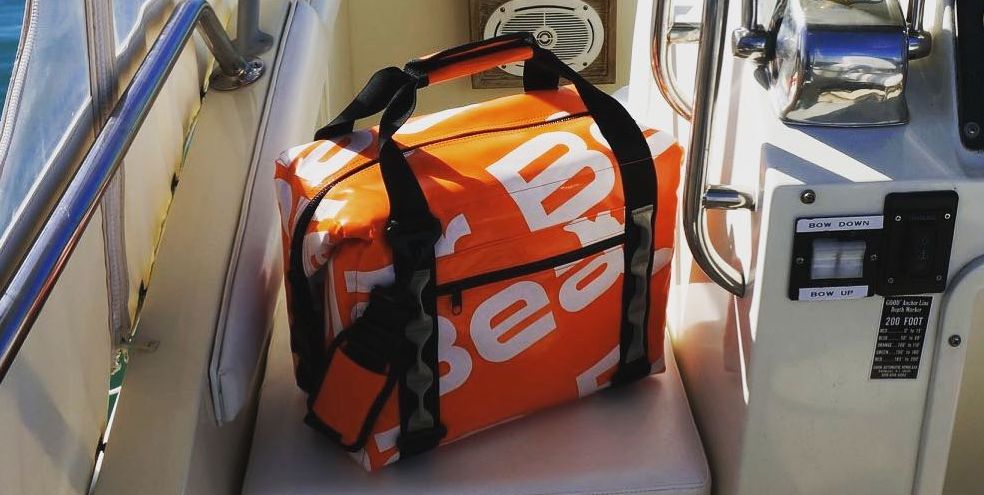 Both coolers have carry handles for easy carrying.
Yeti coolers have a single carry handle on the top lid of the cooler as well as two side handles for dual hand carrying when it's fully loaded.
Polar Bear coolers have side handles that meet in the middle like the handles of a duffel bag.
Polar Bear Has Some Unique Features Yeti Doesn't Have
Polar Bear coolers have a couple of additional features that Yeti coolers don't have:
External Pocket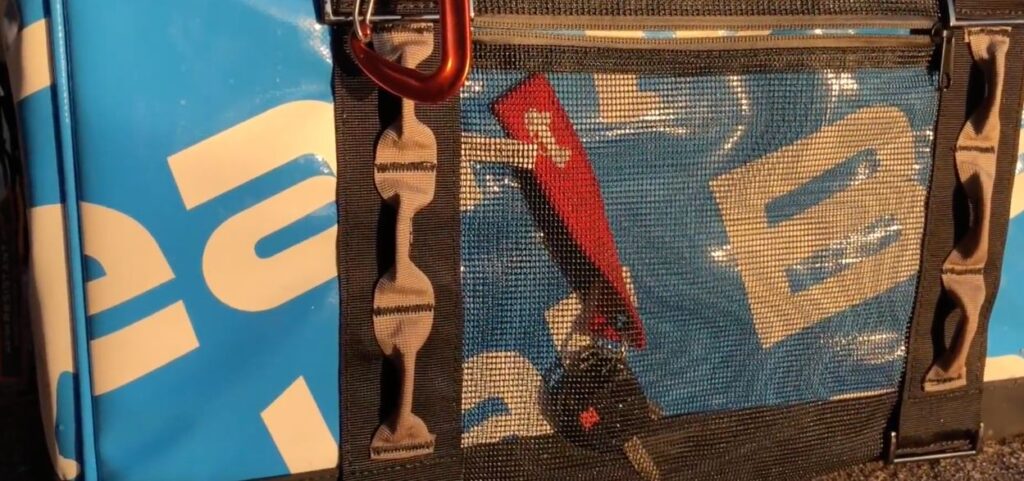 Polar Bear coolers have a small external pocket for keeping items like your keys, phone on wallet.
The duffel style coolers have a mesh pocket while the backpack cooler has a fully enclosed pocket.
Built In Bottle Opener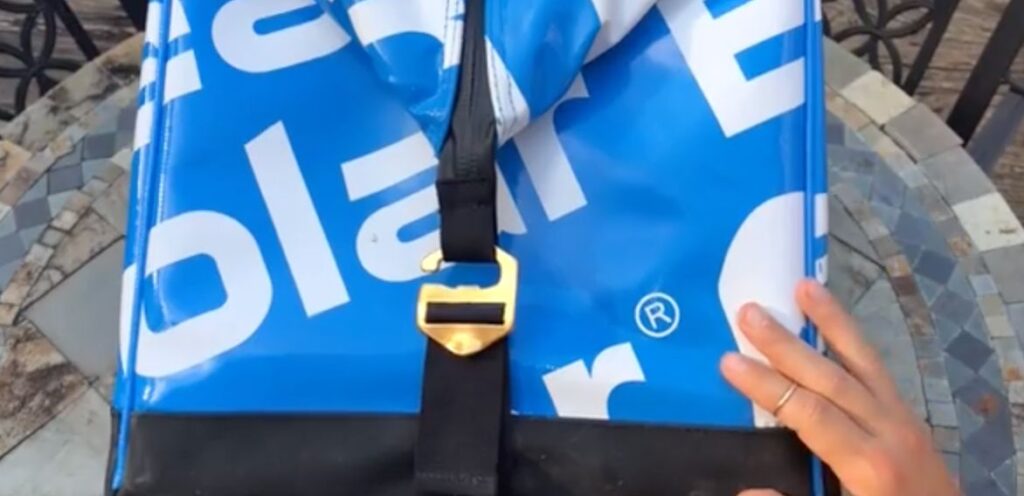 The hook on the side which helps tuck away the zipper and keep the bag nice and tight is made from stainless steel and also doubles as a bottle opener.
Other Soft Sided Coolers Worth Considering
Honestly both of these coolers are great and you would likely be really happy with either one. But if so some reason you're not feeling either the Polar bear or the Yeti and you want to explore what else is out there here are a few high-quality options that I've personally reviewed and would be happy to recommend.
Engel HD30: Best For Ice Retention
If you're looking for the soft sided cooler that has the best ice retention then the Engel HD30 is the cooler for you.
Apart from the Polar Bear no soft sided cooler really comes close to this in terms of ice retention. It's ice retention beats a bunch of high-end roto-molded coolers which is absolutely insane. Click here to see just how long the Engel HD30 can hold ice.
This is also a really durable cooler, made with the same type of fabric as the Yeti. It is waterproof and puncture resistant and while it doesn't open up as much as the Polar Bear you can still access the inside fairly easily.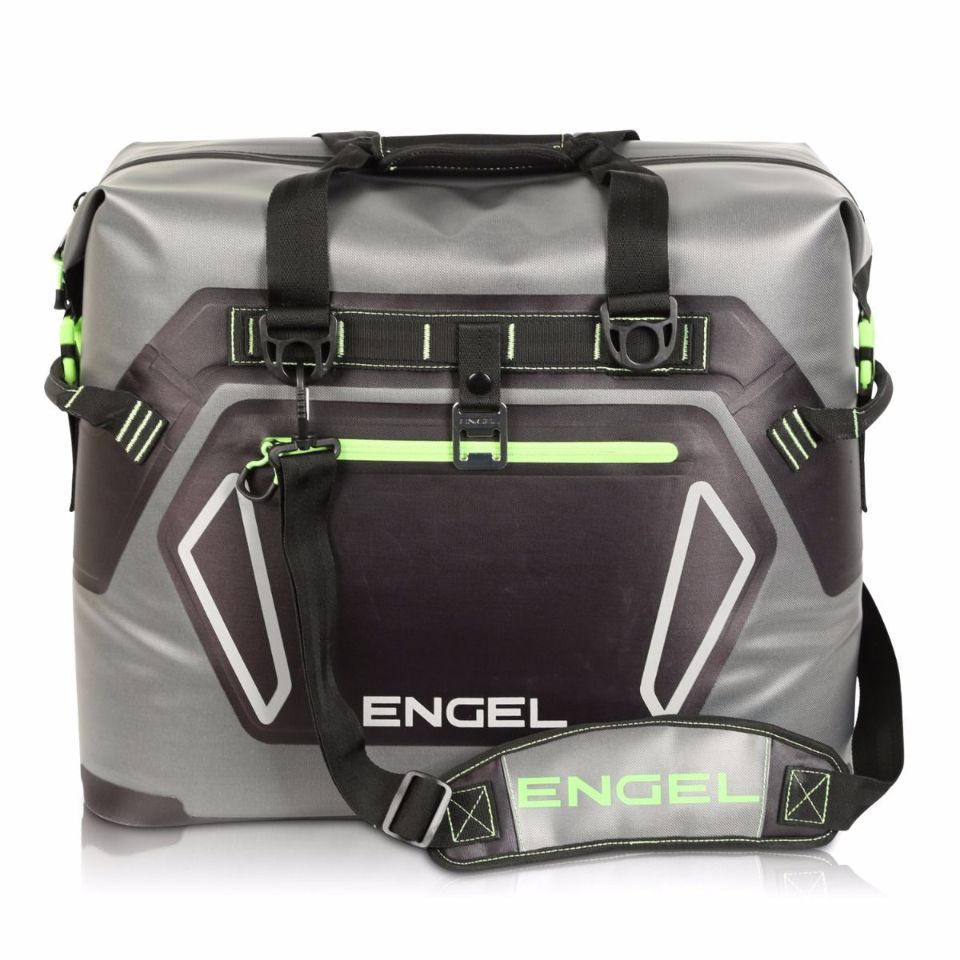 See the latest price of Engel HD30 coolers at Amazon
Grizzly Drifter
The Grizzly Drifter is my favorite pick for the best value for money soft sided coolers. I like the design, I like how well it is built and how durable it is and I also like that the outside has multiple pockets for carrying extra items.
It's rugged and durable and made by a company that is known for creating quality coolers. It has similar ice retention to the Yeti but sells for less than half the price. Click here to read my full Grizzy vs Yeti soft cooler comparison.
The major downside with Grizzly coolers however is the fact that they don't have a leak proof zipper.
The zipper on the Grizzly is heavy-duty but if you tip the cooler on it's side water does leak out through the zipper.
But if this isn't a deal breaker for you then this is an amazing value for money cooler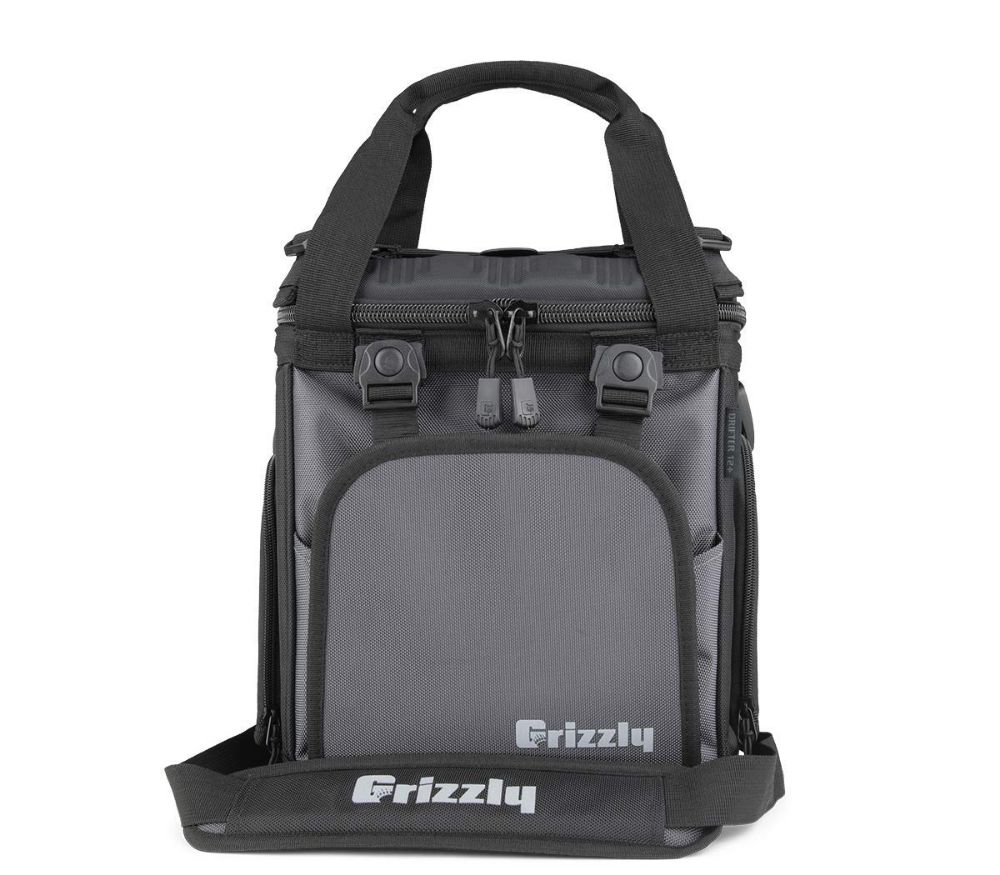 See just how cheap Grizzly coolers are at Amazon…you'll be surprised
Pelican Coolers: Very Similar To Yeti
If you're looking for a cooler that is very similar to Yeti then the Pelican range of coolers are extremely similar to Yeti. Their design and pricing is similar, as is their ice retention.
They do have some extra features like easy-close buckles as well as pockets and a bottle opener. See what the Pelican soft coolers offer that Yeti Hopper coolers don't.
Pelican are known for creating extremely high quality products and the Pelican soft sided coolers are one of the most durable soft coolers on the market.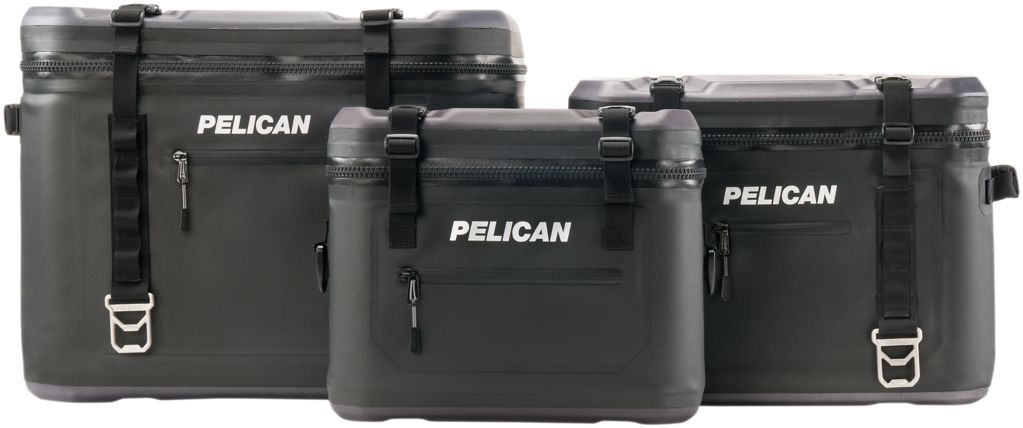 See the latest price of Pelican coolers at Amazon
Polar Bear vs Yeti Hopper: Which Soft Sided Cooler Should You Buy?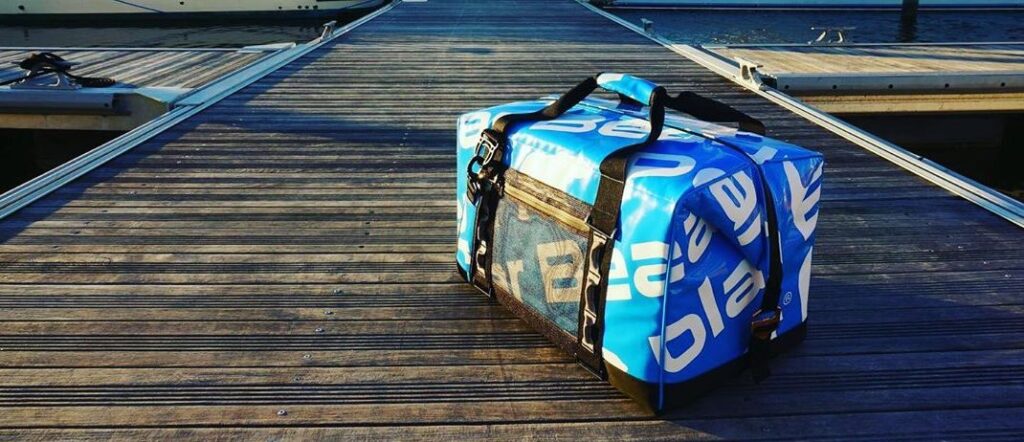 Both Polar Bear and Yeti make high-quality coolers that can store ice for days and are rugged and durable enough to last you years.
The Polar Bear coolers offers better ice retention and also a huge financial saving when compared to the Yeti. So for the budget conscious shopper I would definitely recommend the Polar Bear over the Yeti Hopper.
But the Yeti Hopper has better branding and design, which is something I personally care about. If you have the money and don't need more than 2-3 days ice retention then the Yeti is a great option.
Ultimately which cooler you should buy depends on which one suits your needs and budget better. Both are great coolers that I would be happy to recommend.
If you're interested in buying a Polar Bear or Yeti soft cooler or wants to see all the prices and other customer reviews then simply click my affiliate links below to see the latest price at Amazon.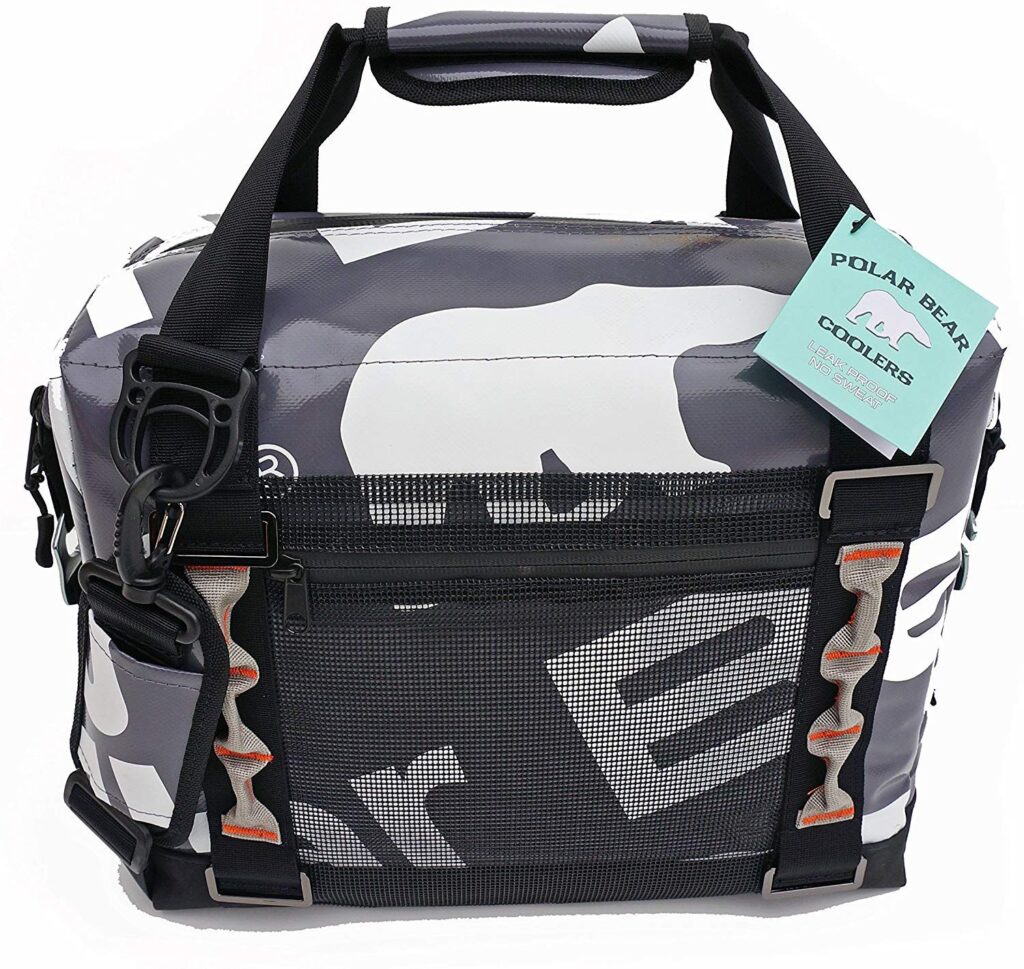 See latest price for Polar Bear soft coolers at Amazon