Igloo is a popular brand of cooler that many people opt to buy because of their ranges' pleasing, rugged aesthetic and the fact that they will set you back less than half the price of other well known, premium brands such as Yeti.
Purchasing an Igloo cooler is a great choice for shoppers on a budget but with such a big price difference at play compared to Yeti coolers you can't expect the same level of quality. The lower price point goes hand in hand with some compromises that you need to be prepared to make.
Here is a comparison of the Igloo Trailmate vs Yeti coolers for example, as well as a list of problems I found with Trailmate coolers.
If you are in the market for a cooler and are considering the Igloo brand, you need to be aware of a few potential pitfalls before you pull the trigger.
Igloo coolers are great budget coolers but are not the best quality you can get. Igloo coolers are not roto-molded, have no gasket in the lids, and only a 1 year warranty. Most Igloo coolers cannot lock and don't have the best ice retention. However, none of these issues need to be a deal breaker for the average user.
Igloo coolers offer fantastic value for money and look as good as any top end brand. They are also made in the USA which is a major plus for some buyers who prefer to support brands that manufacture locally instead of overseas.
Igloo coolers have a variety of positive features but however minor the drawbacks that come with the low price, I feel it's prudent to be informed rather than finding out later about something that you would personally consider to be a deal breaker.
For me personally, none of the issues I'm about to outline would be enough to prevent me from buying an Igloo cooler, but here they are for you to consider.
1. They Tend To Be Cheaper Cooler, But Aren't The Best Quality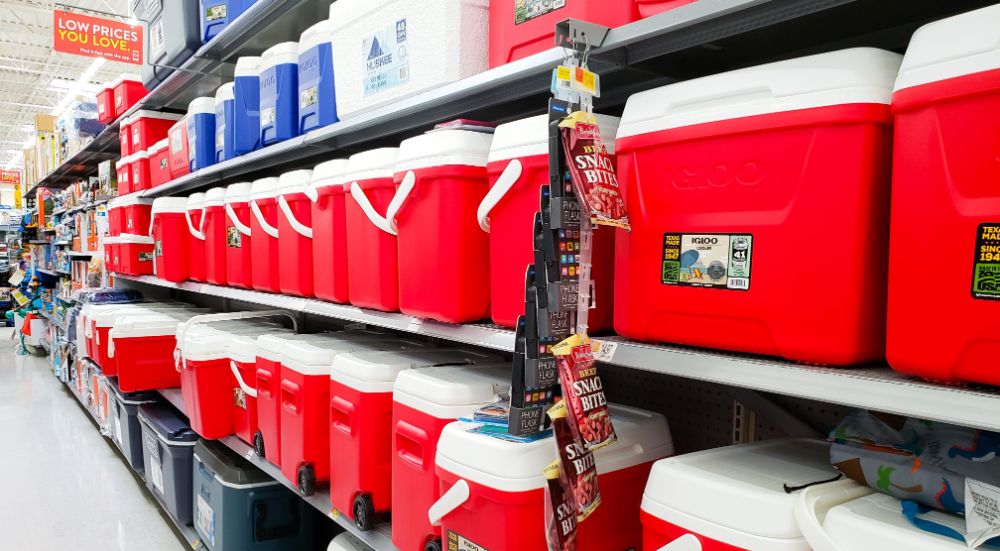 Compared to other brands like Yeti, Igloo coolers are the much cheaper option but you will be sacrificing on build quality for the cheaper price tag.
Their cheap $40-$60 coolers have much less insulation and use a more brittle external plastic that is more prone to cracking and deterioration by sun damage.
Their BMX range is their cheaper Yeti competitor and offers a durable cooler with good ice retention for a fraction of the price of other expensive roto-molded coolers. It's still not quite a durable being blow molded instead of roto-molded. But it can still take a beating.
It's up to you to decide if the extra price is worth it for the premium brand or if it doesn't make enough of a difference to you.
If you are looking for a list of the cheapest Yeti alternatives then the Igloo BMX is your best option or if you just need something cheap for a picnic or day trip down to the beach then any Igloo cooler will do.
2. They Only Have a 1-Year Warranty
This might seem like a bit of a red flag but I wouldn't read too much into it.
Igloo has been manufacturing coolers since 1947 so they must be doing something right to have achieved such longevity as a company. Most Igloo coolers will last a lot longer than 1 year and honestly most of them are so cheap that over a 1 year warranty is overkill.
An exception to this is the BMX range as well as some other stronger and more durable coolers that have a 3 year warranty.
Yes, Yeti offers a 5 year warranty on their coolers but that has probably been baked into the price.
Igloo targets the budget consumer and if they were to offer a longer warranty period the cost would work its way into the overall price, defeating the point.
3. They Aren't Roto-Molded (or as Durable)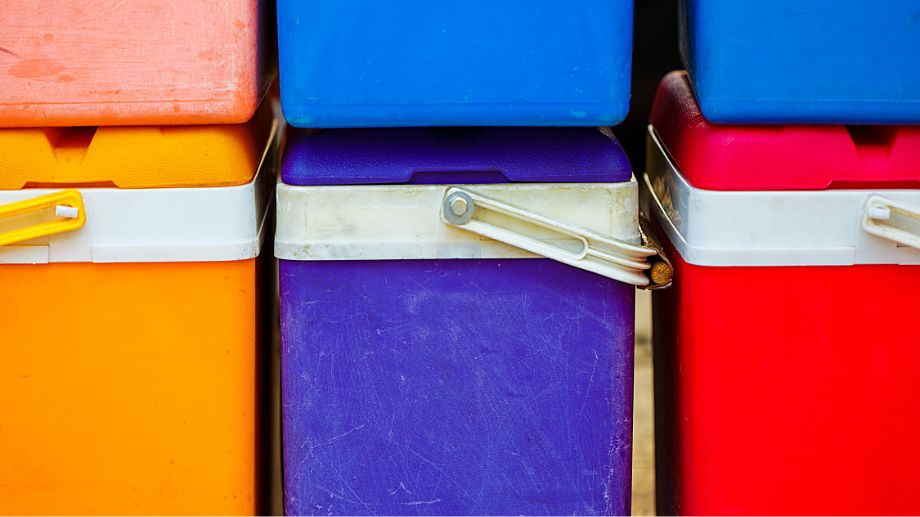 I suggest this comprehensive article for further reading about how coolers are made but when it comes down to it there are two manufacturing techniques that you need to know about. The hollow plastic shape of a cooler is achieved by either blow-molding or roto-molding.
Blow molding is when a blast of air pressure is forced into a tube of molten plastic, forcing the plastic to expand and conform to the shape of the mold that it is in. This is a cheaper method to mass produce the coolers and results in a thinner shell which is more prone to cracking.
Roto-molding on the other hand involves using powdered plastic inside the mold which is then rotated and heated at the same time. The powdered plastic melts as the centrifugal force spreads it evenly around the mold, creating a thicker shell which is less likely to break.
Blow-molded plastic is more brittle and prone to breaking whereas a roto-molded cooler is much much tougher and very difficult to break. They are also more prone to deterioration through exposure to the sun's harmful UV rays.
4. Ice Retention On Most Of Their Coolers Is Pretty Poor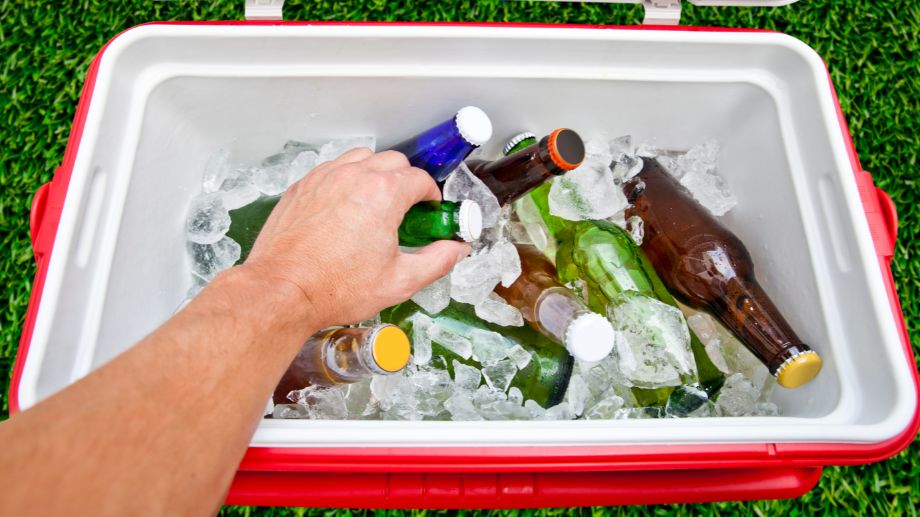 Because of the manufacturing process and the materials used in most Igloo coolers, they tend to not keep ice as long as the more expensive brands.
Most Igloo coolers will keep ice for around 24 hours or maybe up to 2-3 days in really good conditions, but overall they aren't great at keeping ice for longer periods of time and they will struggle to keep food frozen in the cooler (unless you use something like dry ice).
If maximum ice retention is your main concern when buying a cooler, here are the 11 best coolers for ice retention.
5. Most Igloo Coolers You Can't Lock (And Aren't Bear Proof)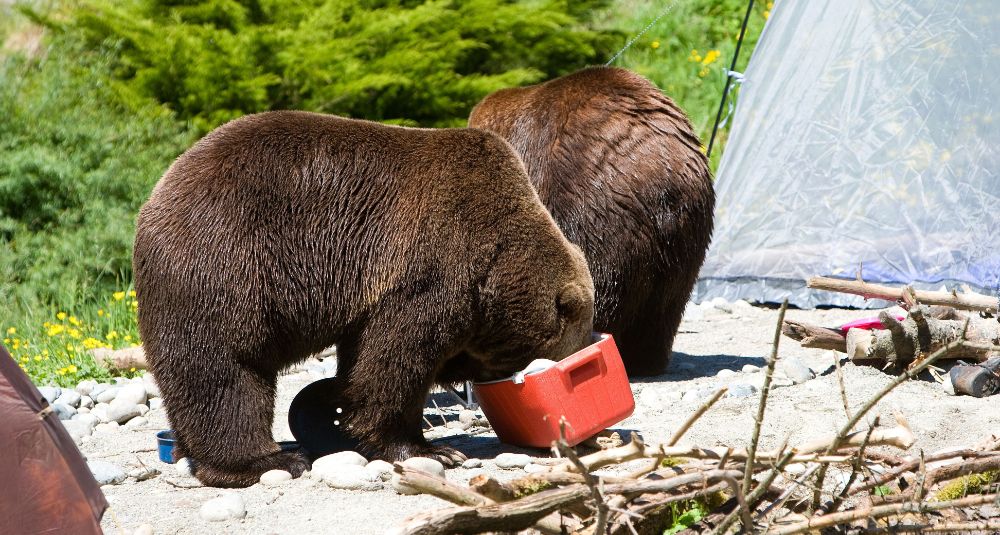 If you are camping out in an area that could be home to inquisitive wildlife, having a cooler that can lock might be useful to secure your food and water.
Igloo coolers are neither bear proof, nor do most of their models have locks on them. Generally speaking most people aren't going to try and run off with a cooler that is $40 or $50 but if having peace of mind by locking your cooler is something you're after Igloo coolers aren't your best best.
There are 6 ways to lock a cooler that doesn't have a lock to help sidestep this issue but they usually require some alternations to your cooler which will void the warranty.
These locking ideas also don't help with bears. So if you're in bear country and want your food to stay safe (and to encourage the bears to leave your campsite) then you'll likely want to invest in a bear proof cooler.
6. Hinges On Most Of Their Range Are Plastic and Break Easily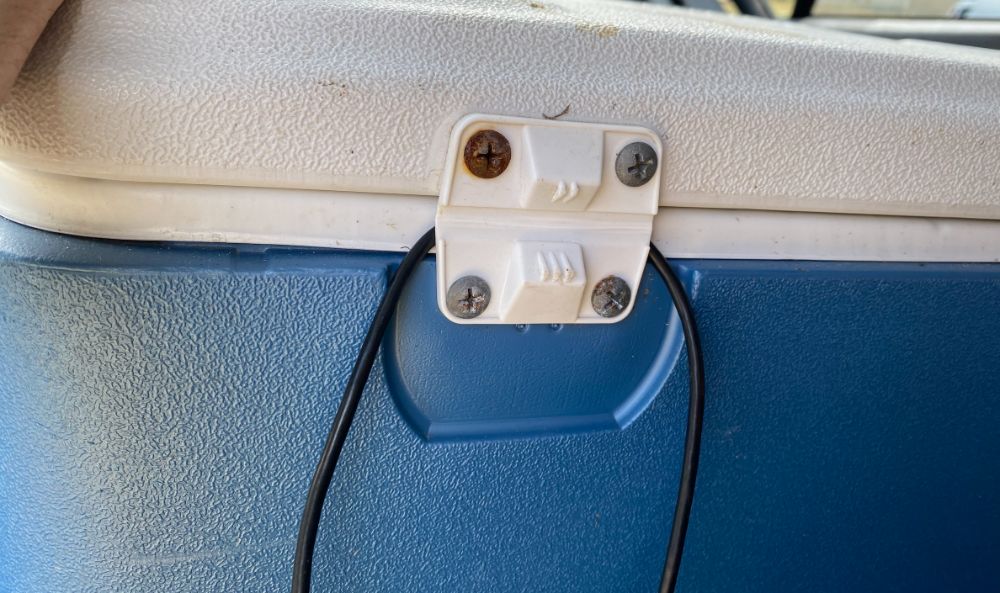 One of the compromises you can expect to make for the lower price point is having a cooler with plastic hinges. Like the Coleman cooler shown above many Igloo coolers have small plastic hinges that tend to be pretty flimsy and are prone to breaking over time – especially with constant use and exposure to the sun and outside elements.
If you ask me, plastic hinges are no big deal but in cases where they are exposed to a lot of direct UV light, they can become brittle over time.
Some Igloo coolers like the Igloo Trailmate (read the review) have hinges that are hard to replace and if it's outside of the usual 1 year warranty you might have trouble fixing it.
7. The Carry Handles On Most Of Their Range Are Thin Plastic and Break Easily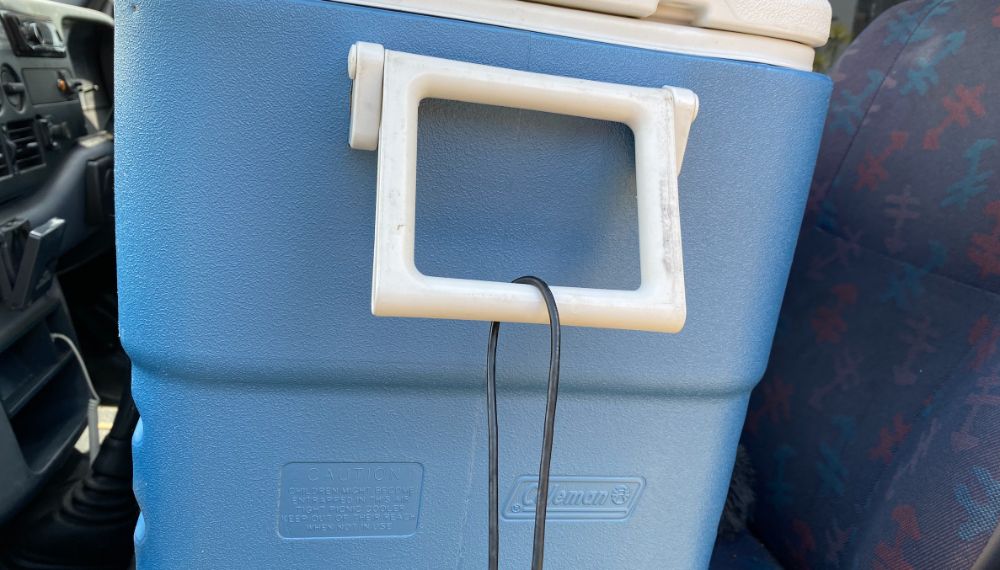 The carry handles on Igloo coolers are another potential weak point to be aware of. They are relatively thin compared to premium brands which could become an issue when repeatedly carrying particularly heavy loads in the cooler.
Like the Coleman cooler shown above many Igloo coolers have thin handles like this that can pop out or break.
8. No Rubber Gaskets On The Lids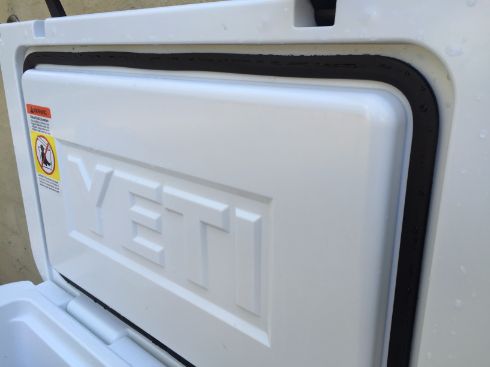 The better a cooler is insulated the better it is going to perform in terms of keeping ice for longer. Some premium brands incorporate rubber gaskets around the inside of their lids, which forms a tight seal, locking in the cold more effectively.
Budget cooler brands (with Igloo being no exception) do not use rubber gaskets in their lids which is one of the reasons for them not keeping ice as long.
Even the Igloo BMX, which is arguably one of their most premium coolers and has the best ice retention of their range, doesn't feature rubber gaskets around the lid.
This can allow warm air in and items will melt faster. However, even given this issue the Igloo BMX does have similar ice retention to coolers like Yeti, RTIC and Lifetime coolers. It's not quite as good but it's pretty close for a small fraction of the price.
9. No Non-Slip Feet
Non-slip feet made of hard rubber prevent your cooler from sliding around when it is resting on a flat, sleek surface like on a boat or in the back of a pick-up.
Igloo and other budget brands are not equipped with this feature meaning they'll slide around a lot more in the back or your truck or in the trunk if your car.
Many models don't offer tie down slots either so the only way to secure them properly is through tying down the handles or packing other stuff around them.
10. Very Few (If Any) Cooler Accessories
Some of the premium cooler brands like Yeti have a wide array of accessories to compliment the coolers they offer.
Igloo does offer some accessories like ice, baskets and seat cushions, but nothing like the ranges of extra goodies offered by Yeti.
11. Lid Isn't Watertight And Can Lead To Splashing When Carrying
As a result of not having a locking mechanism or a rubber gasket for the lid, splashing can sometimes occur when carrying the cooler or having the cooler in your car with with water in it.
The can cause you or your stuff to get really wet and isn't ideal.
You can drain the water out before moving it around but this could negatively affect how cold your items stay so you may not want to do this.
Are These Problems Deal Breakers?
No, I would not say that any of the issues mentioned above is a deal breaker for me.
No cooler is going to be perfect and if you are shopping on a budget you need to expect to make a few compromises in exchange for getting such a great price.
Igloo coolers have been around for more than 70 years and continue to make great budget coolers that are well worth their cost.
Igloo is Still a Great Choice for a Cooler on a Budget
Igloo is a proud American brand that has been manufacturing good quality products at an affordable price for over 75 years.
Igloo also has some more premium products in their range too. For a cooler that is lightweight but also rugged with extra features and advanced insulation take a look at their BMX range that goes for around $100.
Their top end coolers, the IMX collection, will keep your ice for longer than anything else in their range. The IMX has advanced insulation and a lockable lid with marine-grade latches as well as some other luxury features like a bottle opener, cup holders and a wire basket for dry storage.
Coolers Similar To Igloo Worth Considering
If you are looking for value for money here are some other options to consider
Lifetime Coolers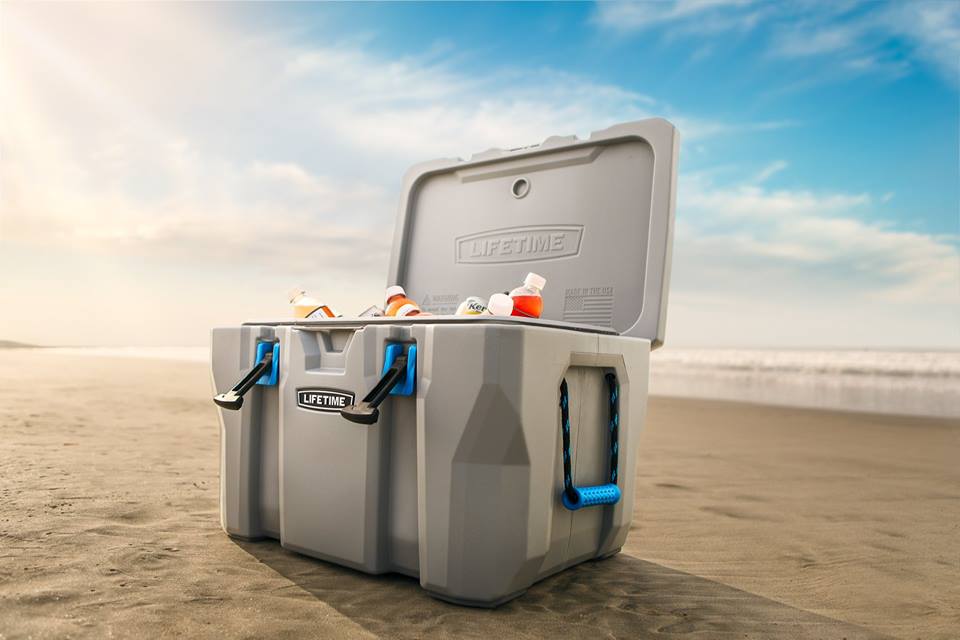 Lifetime coolers are almost as good as Yeti coolers in a lot of ways but come with a price tag of only around $100 ($150 cheaper than the closest Yeti competitor).
These are similar in quality and price to the Igloo BMX coolers with a few added features like non-slip feet and a freezer grade gasket around the lid.
Lifetime coolers are roto molded and bear proof. They come with a 5 year warranty and can retain ice for 7-8 days in the right conditions. They are also made in the USA just like Igloo coolers.
Here is a detailed comparison of how Lifetime coolers stack up against the famous Yeti brand.
Canyon Coolers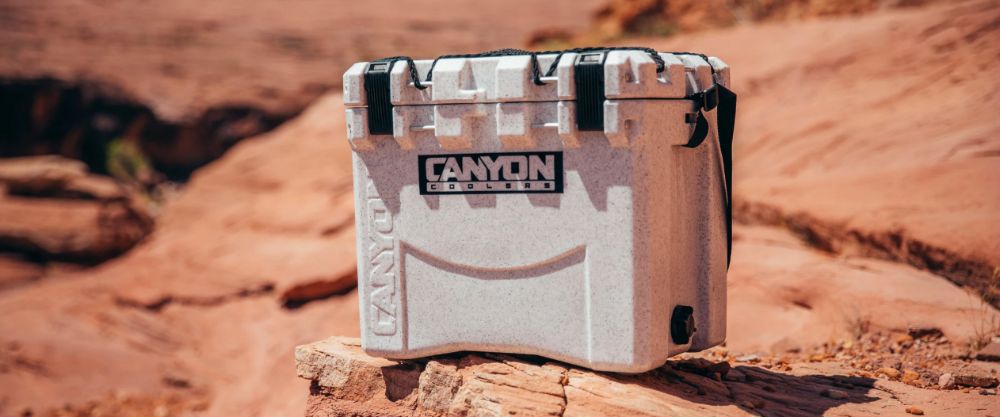 Canyon coolers are another brand of roto-molded coolers that compares quite favorably to the Yeti coolers out there.
If you want a high quality cooler and piece of mind then Canyon is the brand to go for. They offer the best lifetime warranty of any cooler brand on the market and their customer service is great.
With prices starting from $140 some even say that this brand is superior to the more expensive Yeti brand.
Canyon coolers also come with an amazing lifetime warranty which really says something to me about the confidence they have in their build quality and design.
In Summary
If you are in the market for a budget cooler, the Igloo brand is a good choice for a non roto-molded brand. The cheaper price comes with a few minor disadvantages that we covered here but nothing mentioned would keep me from grabbing one if I am looking for a bargain.