When comparing the Igloo Trailmate vs the YETI cooler they have a lot of differences. Overall the Yeti is tougher, more expensive and performs better in ice retention tests. The Igloo Trailmate is more affordable and has more features including wheels, cup holders, a butlers tray, bottle opener and fishing rod holders.
In this comparison post we'll look at the differences between the Yeti and the Trailmate and look at what makes each of them special. Both are good coolers, but in very different ways. By the end of this post you should have a good understand of which cooler is right for you.
So let's get into it and look in detail at the Igloo Trailmate vs Yeti Tundra coolers.
Price: Trailmate Is Half The Price
For a lot of people price is going to be one of the most important things to look at. Neither of these coolers are "cheap" coolers, both being premium in their own way. But even still the Igloo Trailmate is approximately half the price of a similar sized Yeti, saving you hundreds of dollars.
The below price comparison shows you the current price of the Igloo Trailmate 70-Quart cooler compared to the similar sized Yeti Tundra Haul, which also has wheels and is about 65-Quart.
IGLOO TRAILMATE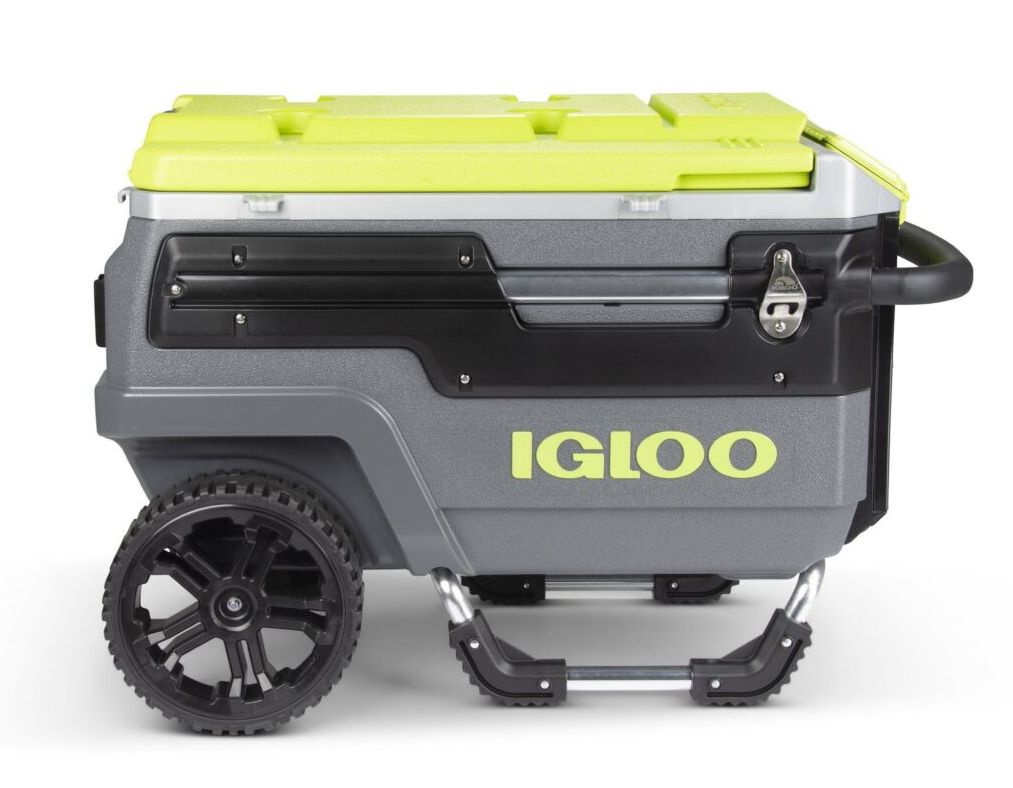 Trailmate Journey:
---
Trailmate Marine:
YETI COOLERS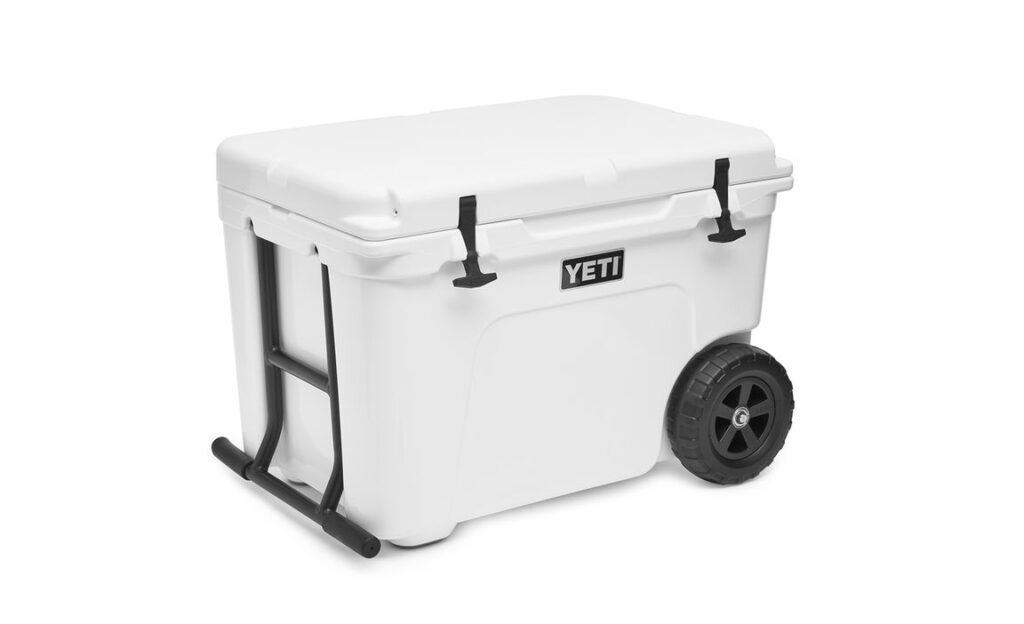 Yeti 45 (37.8-Quart):
---
Yeti Tundra Haul (65-Quart):
---
Yeti 75 (74.8-Quart):
As you can see the Igloo Trailmate is about half the price of the Yeti Tundra Haul as well as the Yeti 75 cooler.
This means by purchasing the Igloo you'll save yourself a couple of hundred dollars.
The question now is, what do you get in this cheaper cooler and is it better value for money when compared to the Yeti? Or is it just a cheaper cooler that isn't as good?
Ice Retention: YETI Is Better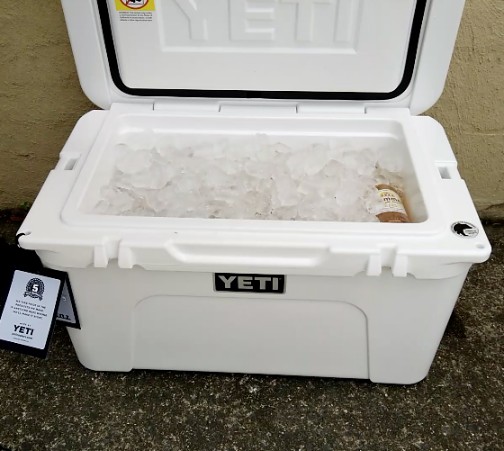 Yeti coolers are roto-molded with thick insulation giving it amazing ice retention compared to a regular cooler.
In good conditions a Yeti cooler can keep ice for 10+ days (as my Yeti ice test proved) and in regular conditions it will keep ice for about 5 days.
I personally own a Yeti 45 and have used it while living in my van and can attest to it's solid ice retention if you take the right steps to keep ice longer.
The Igloo Trailmate claims 4 days of ice retention. Some ice tests like this one show that it can hold ice for up to 8+ days, but that is when it is completely full of ice.
Looking through customer reviews you can see that a lot of customers are reporting that the Trailmate struggles to hold ice for a full day.
This is likely due to a number of factors:
Insulation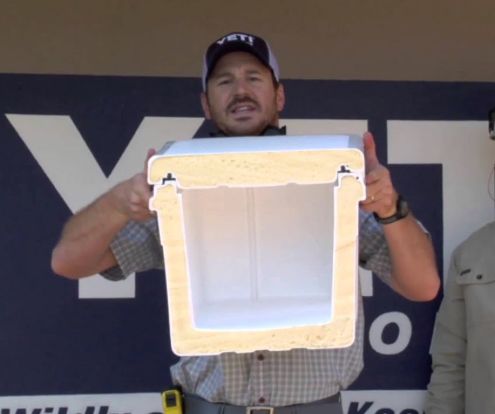 The Trailmate doesn't have as much insulation as Yeti. Yeti coolers have 2 inches of insulation in the sides and 2.5-3 inches of insulation in the lid.
There are no specs available showing the thickness of the Trailmate's walls or lid or even whether or not the lid is insulated at all.
Many cheaper coolers actually have no insulation in the lid all. They are just hollow plastic filled with air.
Regardless, I am certain that Yeti coolers have a lot more insulation than the Trailmate coolers.
Rubber Gasket and Latches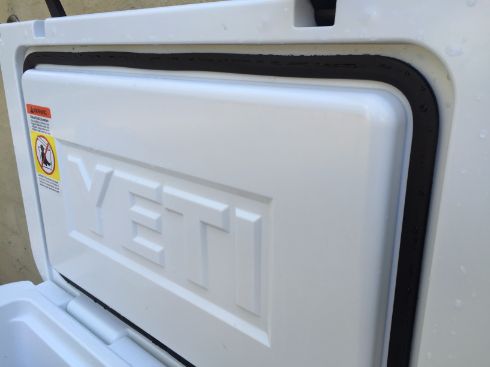 The Yeti has a freezer grade rubber gasket running around the lid as well as t-style rubber latches that allow you to pull down the lid and keep it tight against the main body of the cooler.
This helps to keep the warm air out and the cold air in, adding to ice retention.
The Igloo Trailmate doesn't a rubber gasket or latches for the lid. It is simply held in place by the friction of the plastic.
This means it's not air tight and this negatively affects the ice retention.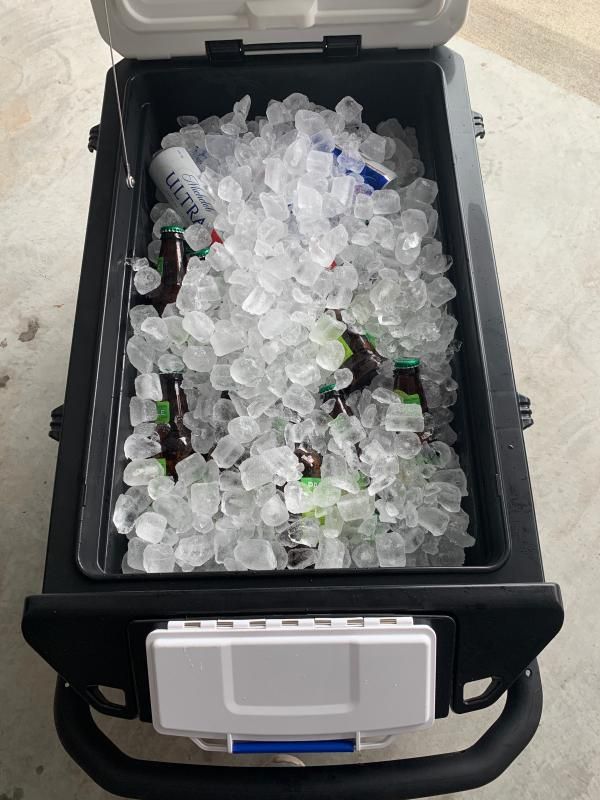 The Large Size
The Igloo Trailmate has a 70-Quart capacity which is quite large for a day trip, even for a family of 4.
It is also very expensive to fill up completely, or even halfway, with ice.
This means most of the time people will be using it with a bag or two of ice and the majority of the cooler will be empty. Given it doesn't have as thick insulation as the Yeti this will lead to the ice melting faster and is likely why many customers have been reporting that it keeps ice less than a day or two.
Build Construction: YETI Is Much More Durable
The build construction of these coolers are extremely different with Yeti have a much more durable build all around when compared to the Igloo Trailmate.
It isn't that the Igloo Trailmate is poorly built but it's that the Yeti is just so well built.
The Yeti is designed to last for years in the harshest of conditions and is backed by a 5-year warranty. The Igloo is designed for more casual and careful use and only has a 1 year warranty.
There are a few things that make the Yeti so much stronger than the Trailmate.
Roto-molded Construction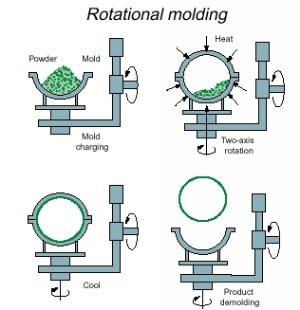 Yeti coolers are made using a manufacturing process called roto-molding, whereas the Igloo Trailmate coolers are made using a blow-molding process.
Roto-molding is slower and more expensive but it leads to the plastic being much thicker and stronger than blow-molding. See my article on what are Yeti coolers made of.
The shell of Yeti coolers is extremely thick, which is why it can handle being thrown around, driven on or even attacked by a bear. Trailmate cooler's have a thinner plastic shell which is easier to break so you need to be more careful with them.
Strong Hinges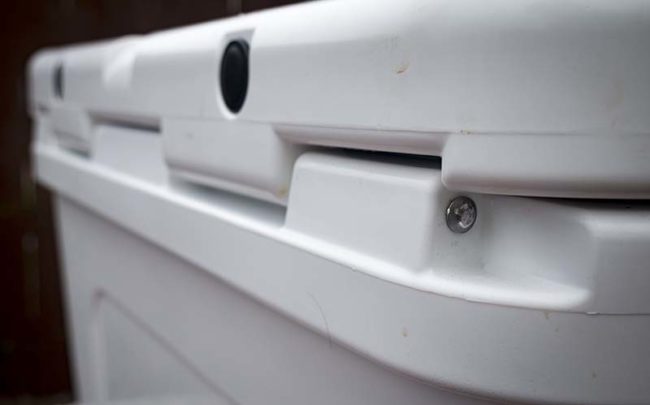 The Yeti hinges are molded into the lid and body of the cooler and then connected with a single piece of stainless steel. This makes them extremely strong and hard to break.
The Igloo Trailmate lid opens with a hinge on the smaller side, rather than the widest side like most coolers.
The plastic hinge it uses cannot handle much force at all. The lid is stopped from opening too far by a metal wire, but many customers have reported that the hinge does have a tendency to break. This is one of the main problems with Trailmate coolers.
5 Year Warranty
With their stronger construction Yeti coolers come with a 5-year warranty while Igloo coolers only come with a 1-year warranty.
Igloo Trailmate's Build Quality
In saying all this I want to make clear that the Igloo Trailmate isn't a poor quality cooler. It is still built well for a cooler of it's type and will last years if you treat it well.
Replacement parts are also quite cheap if something does happen to break. You can pick up a new hinge for under $10. Click here to see.
Features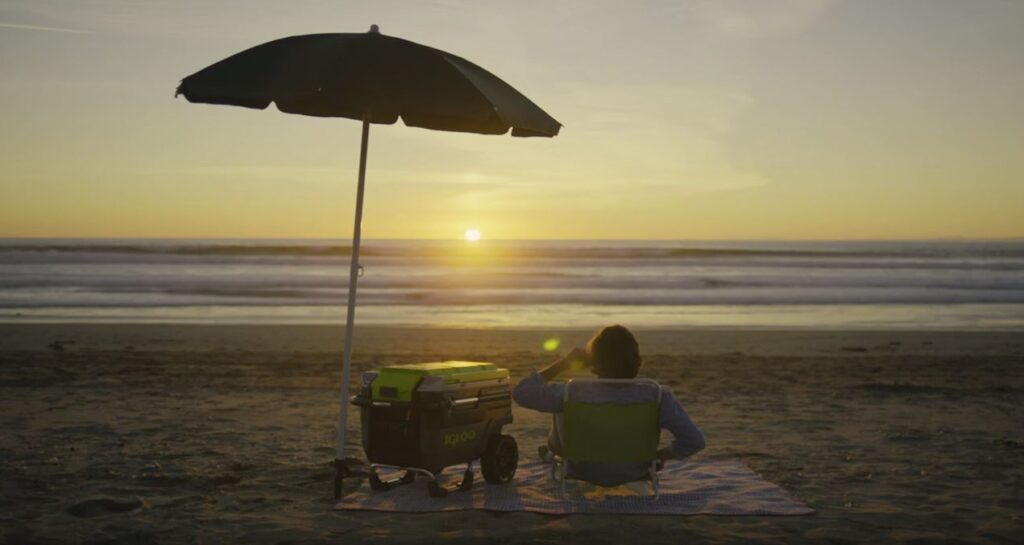 So far we know that Igloo Trailmate coolers are cheaper than Yeti but that Yeti coolers hold ice longer and are more durable.
But it is the huge amount of features the Trailmate cooler has that has so many people loving this cooler and choosing it over the Yeti.
The Trailmate comes packed with many features you won't find in any other cooler on the market. Along with the RovR cooler it is one of the most feature packed coolers out there.
So let's have a look at the main features and what makes it stand out from Yeti.
10-Inch All Terrain Wheels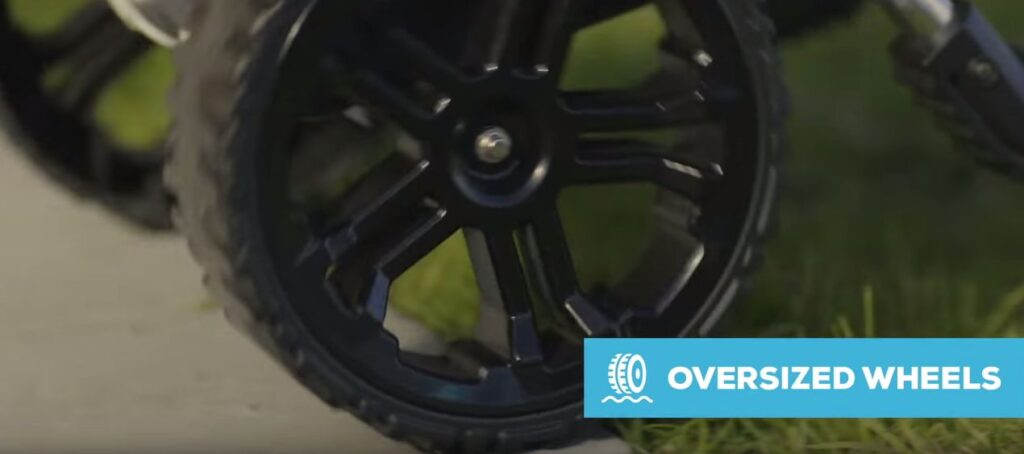 The wheels on the Trailmate cooler are absolutely huge and are the biggest wheels I have ever seen on a cooler.
These are much bigger than the wheels on a Yeti cooler and it makes it easy to pull the cooler on not only roads and footpaths but also makes it easy to pull on grass or even across soft dirt or sand.
The wheels have s strong plastic frame and rubber treads.
The Yeti wheels are smaller but are stronger and more durable that the Trailmate's wheels and have a single piece tyre that is impact and puncture resistant.
Aluminium Glide Handle

The Glide handle on the Trailmate is a unique design. It slides out from the cooler and is quite long, making it easy to carry the cooler without it clipping the back of your heels.
It locks into place both in the open and closed positions and has a central button to unlock it and slide it out for use, or away for storage.
It's wide enough for multiple people to use and is padded for easy carrying.
The Yeti Tundra Haul has a pull up metal handle that allows you to pull the cooler along without being directly in front of the cooler.
Both handles work well enough and do the job they are meant to do. But the Trailmate allows you to use the handle to create an extra preparation space.
Butler Tray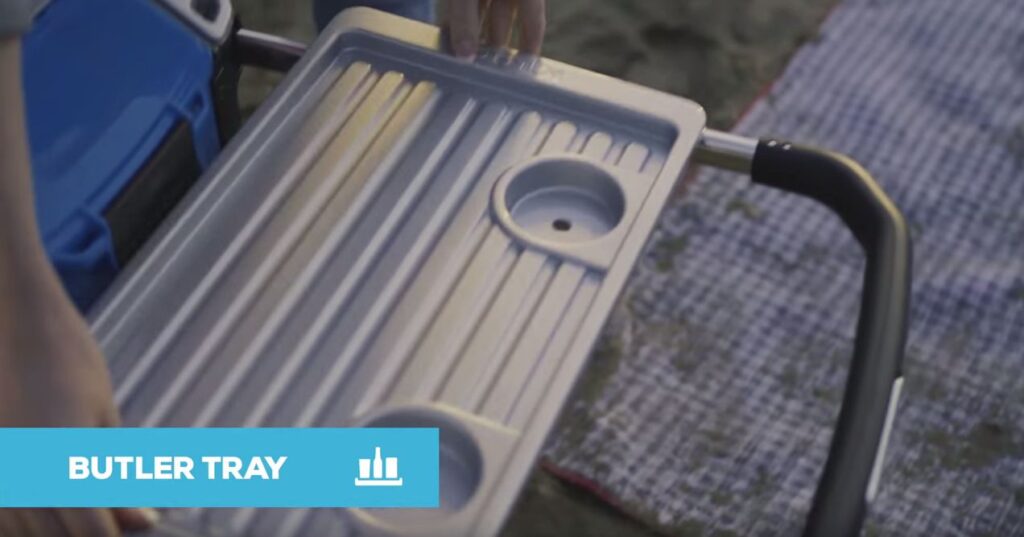 Attached to the inside of the lid of this cooler is a little butler tray. When the Glide handle is extended the butler tray sits in the handle giving you a table with 2 cup holders to prepare and serve food on.
This is a really nice feature and makes preparing that picnic lunch or serving sandwiches or drinks so much easier. The Yeti doesn't have anything like this.
Skid Rails/Rubber Feet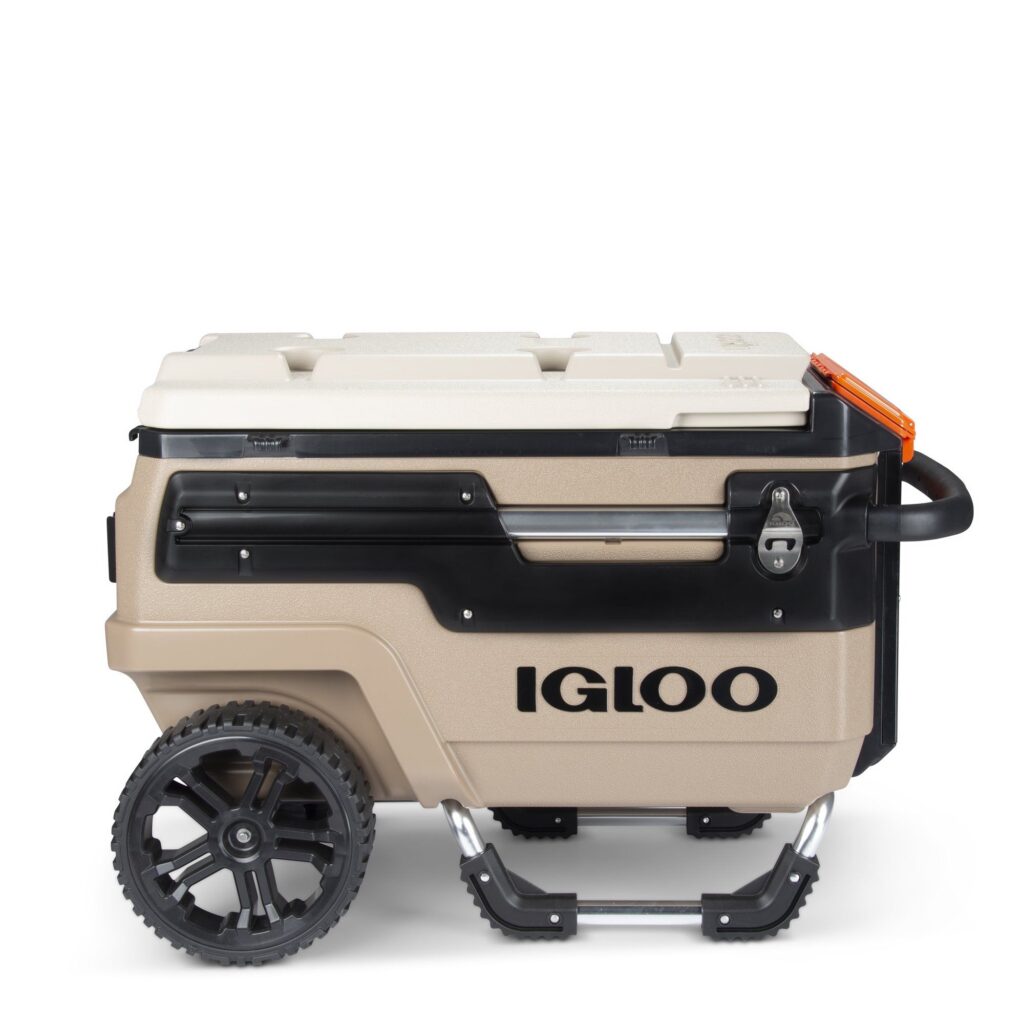 Along with the large wheels the Igloo has large skid rails on the bottom of the cooler to keep it level.
The skid rails have non-slip rubber feet to stop the cooler from moving.
This also helps to raise up the cooler off the ground reducing ice loss from the heat on the ground.
Dual Bottle Openers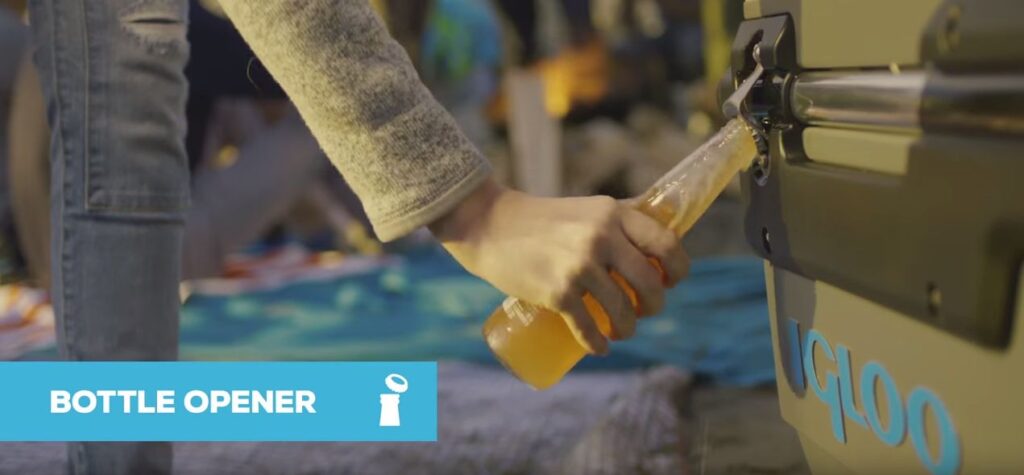 Yeti coolers don't have any built in bottle openers, which is something I always found frustrating as they aren't hard to add and a lot of coolers have them.
The Trailmate has 2 built in bottle openers, one on each side of the cooler.
This cool feature means you never have to worry about where your bottle opener is or whether anyone brought one with them.
Bungee Chord Loops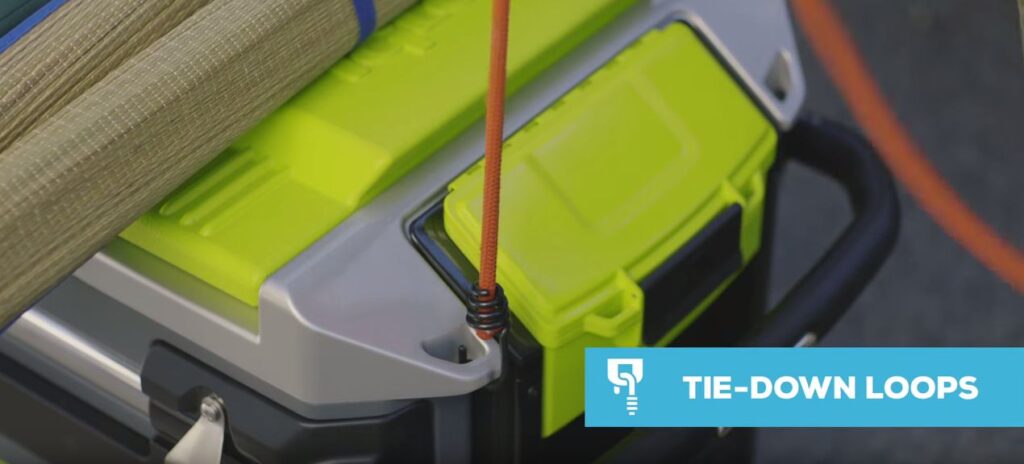 The lid of the Trailmate has moulded bungee chord loops. This can be used with bungee chords so you can attach extra items to the top of your cooler.
The lid of the Trailmate is wide and so, when used with the bungee chords, you can haul a lot of extra items on top of your cooler. Saving you the need to carry them.
Yeti doesn't have anything like this.
Cup Holders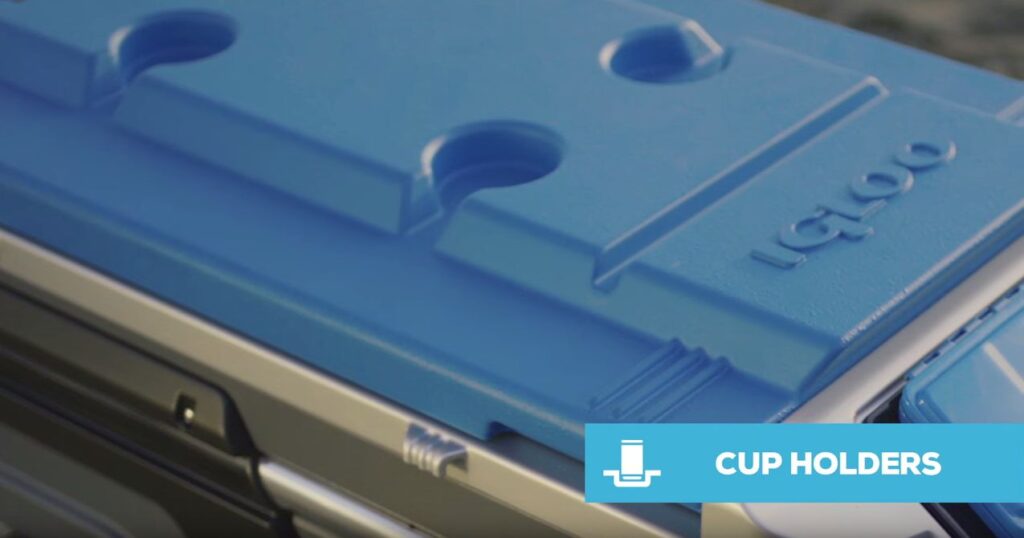 The lid of the Trailmate has 4 moulded in cup holders with drainage spouts so you can store cans or bottles without them falling over.
I own a Coleman Xtreme and leave it outside and the cup holders do fill up with water when it rains and then get dirty. So having these cup holders so they naturally drain is a great idea.
Yeti coolers don't have any cup holders.
Mobile Device Holder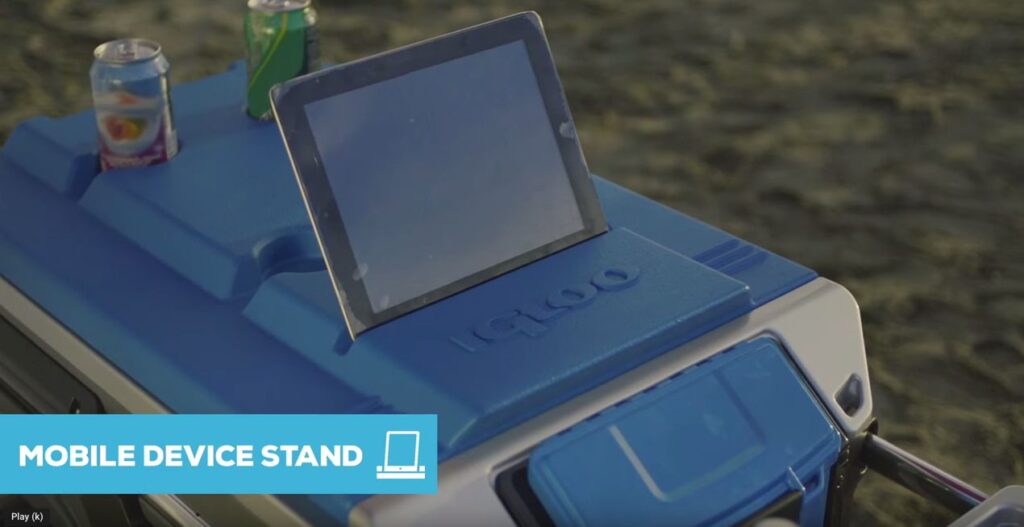 Moulded into the lid of the Trailmate cooler is a mobile device holder. This is a nifty little feature that I haven't seen in any other cooler.
Great for setting up your phone or tablet, either to watch something yourself or to entertain the kids when they need a little bit of downtime.
Again, Yeti doesn't have this feature. In fact, I don't think any coolers on the market other than the Trailmate have this feature.
Detachable Waterproof Dry Item Storage Box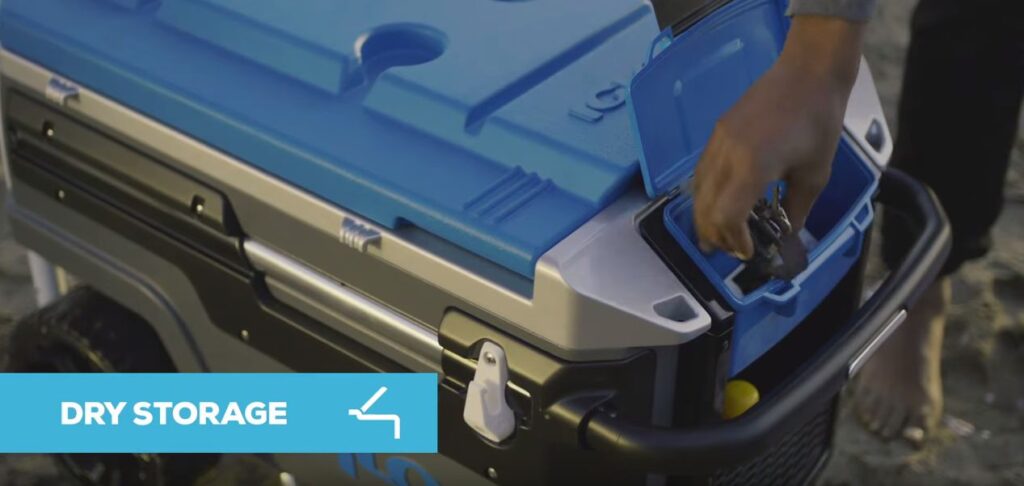 This is one of my favorite little features of the Trailmate. On the front of the cooler is a removable waterproof dry storage box.
A great place to put your phone, wallet, keys or anything else you don't want to get wet when you are down at the beach, camping or wherever your adventure takes you.
External Storage Pocket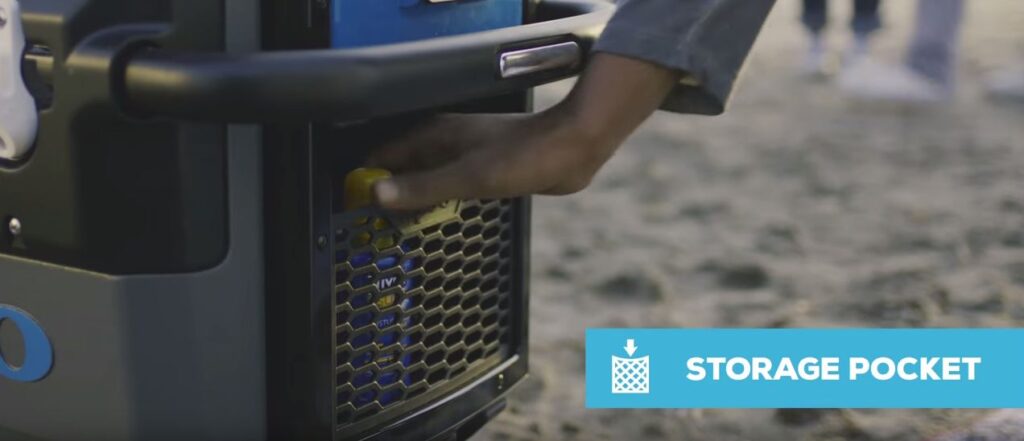 The front of the cooler also houses a larger external storage pocket for keeping extra items.
You might want to keep sunscreen in there, insect spray, sandwiches or even your flip flops. Great little compartment that makes the cooler more practical.
Yeti doesn't have any external storage features.
Fishing Pole/Umbrella Holders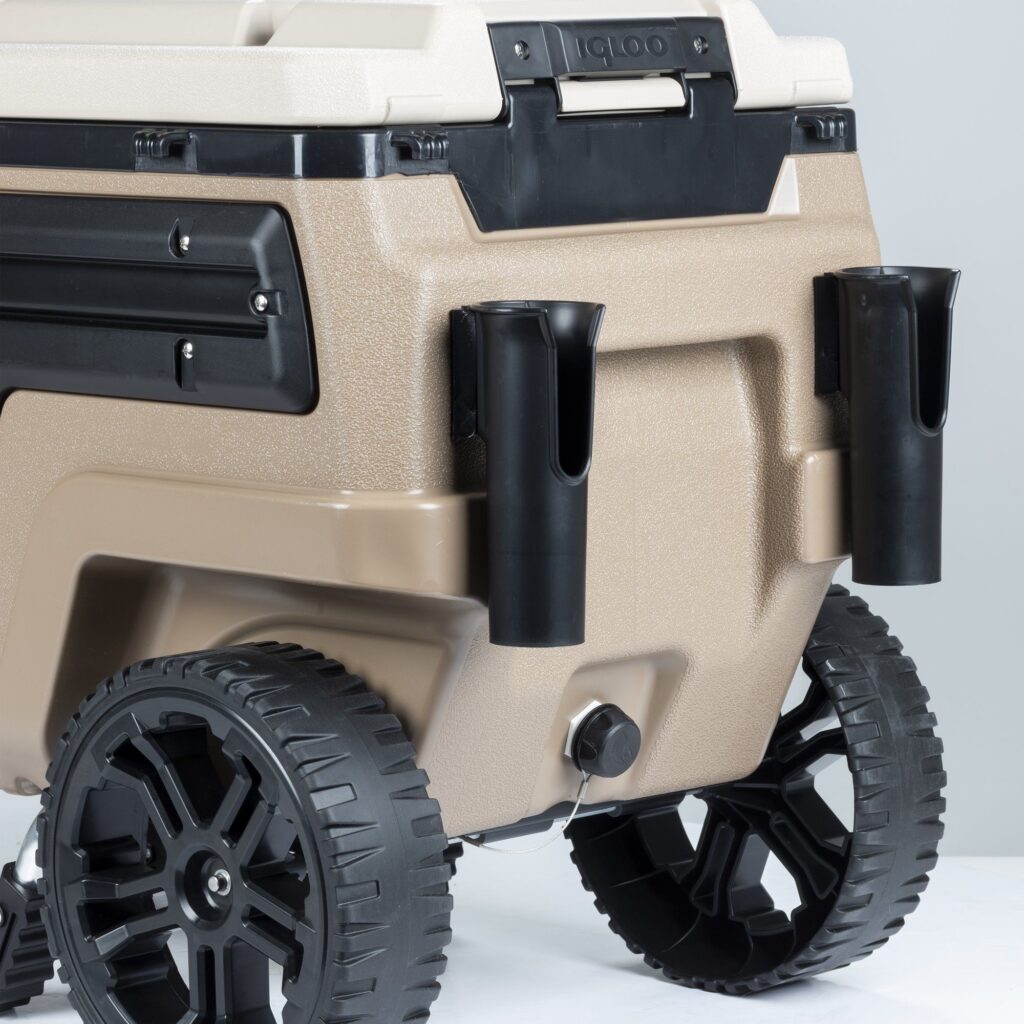 At the back of the Trailmate there are two accessory slots that have two fishing rod/umbrella holders on them.
Yeti does have fishing rod holders as an accessory but you need to purchase it separately and they aren't cheap. See Yeti fishing rod holders at Amazon.
Igloo: Proudly Made In The USA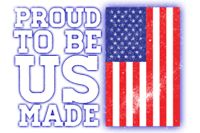 Igloo coolers are proudly made in the USA in their giant factory in Katy, Texas. If you're buying an Igloo cooler you can know that it was made locally and is helping create jobs in the USA.
Yeti coolers are not made in the USA. Yeti makes the majority of their hard sided coolers in the Philippines and their soft sided coolers/tumblers in China. Learn more about where Yeti products are made.
Who is Igloo?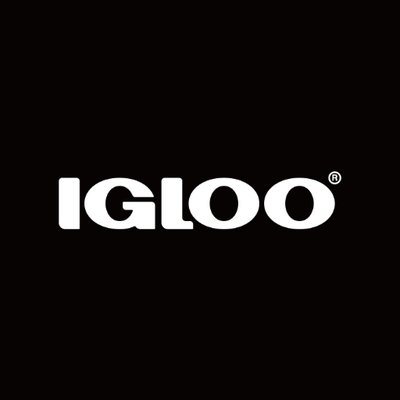 Igloo are one of the biggest cooler brands in the world and have been around since 1947 according to Wikipedia.
They are located in the small town of Katy in Texas and they have a giant warehouse that makes millions of products every year.
Every Igloo Cooler is made in the USA, which isn't something you can say for Yeti.
Igloo have pioneered many coolers starting with a beverage cooler in the 1950's and the first plastic coolers in the 1960's. They also launched the first wheeled cooler in the 1990's and the Trailmate cooler was a new addition to their line in 2016.
Igloo are known for making affordable plastic coolers. Which is different to Yeti who is know for making high-end and extremely high-quality and durable products.
Problems with Igloo Trailmate Coolers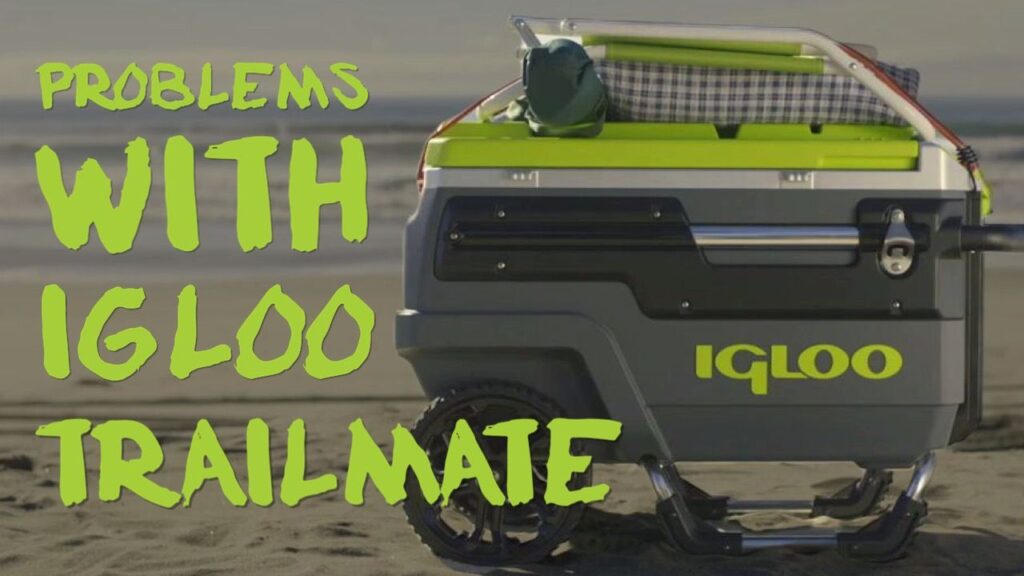 The Igloo Trailmate cooler has a lot of great features, but as mentioned it isn't as durable as the Yeti, nor as well made. This means it has some problems.
I did a full writeup on the problems with Igloo Trailmate coolers if you want more details but here are a few key things to be aware of:
Some Quality Issues
Some customers have complained about the cooler being delivered to them broken in one way or another, or the cooler breaking easily.
From my research the areas most likely to have issues are the hinge (which breaks easily), the wheels/axel as well as the Glide handle which can get stuck in the closed position no matter how hard you press the release button.
It's Not Roto-Molded
We've mentioned this already but the Trailmate isn't roto-molded. This means it isn't as durable as some other coolers in it's price range so you need to treat it with more care.
No Carry Handles
While it has the Glide handle for pulling along there is no carry handle for lifting the cooler in and out of the car or your storage area.
The "Marine" version fixed this with the addition of a little swinging handle, but this is not extremely strong and has been seen to break.
Overall I don't find the problems with the Igloo Trailmate that bad that I wouldn't recommend buying it. But I do think it's important to be aware of the issues so you know what you are spending your money on.
Where Can You Buy Igloo Trailmate Coolers?
One of the great things about Igloo is that they have huge distribution all across the USA, as well as the world.
Many big box stores hold Igloo products as well as more specialty and hardware stores. So finding a Trailmate locally to purchase shouldn't be too hard.
Amazon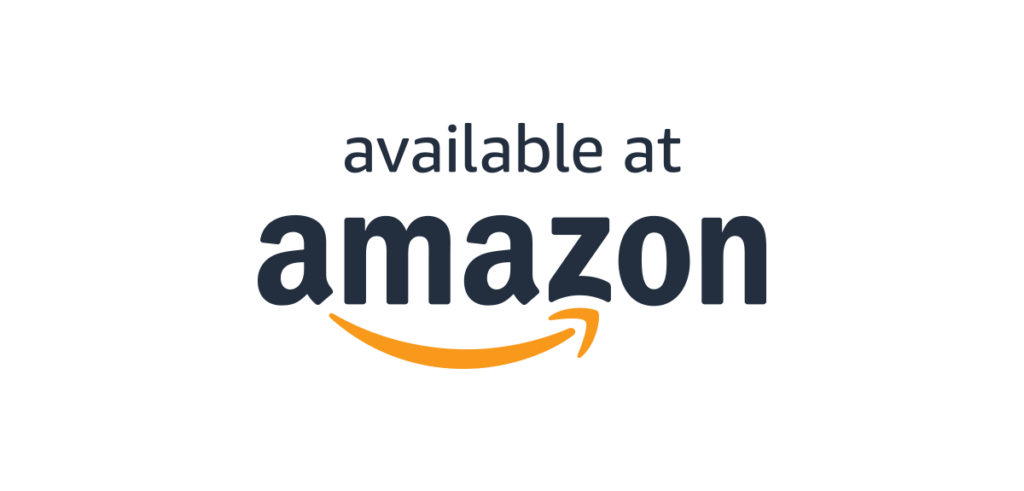 You can also purchase Igloo Trailmate coolers from Amazon, which can sometimes save you money.. Click my affiliate link below to see the latest price on Amazon:
See the latest price and details of the Igloo Trailmate at Amazon
Walmart

The Igloo Trailmate is also available at Walmart, so if Amazon don't have stock or if you find a better deal at Walmart then you can buy them from here.
At the time of writing this Walmart's price was a bit higher than Amazons. But they have been know to offer deals so as you're reading this it may be cheaper. Click my affiliate link below to see the latest price at Walmart.
See the latest price and details of the Igloo Trailmate at Walmart.com
Benefits of Trailmate over Yeti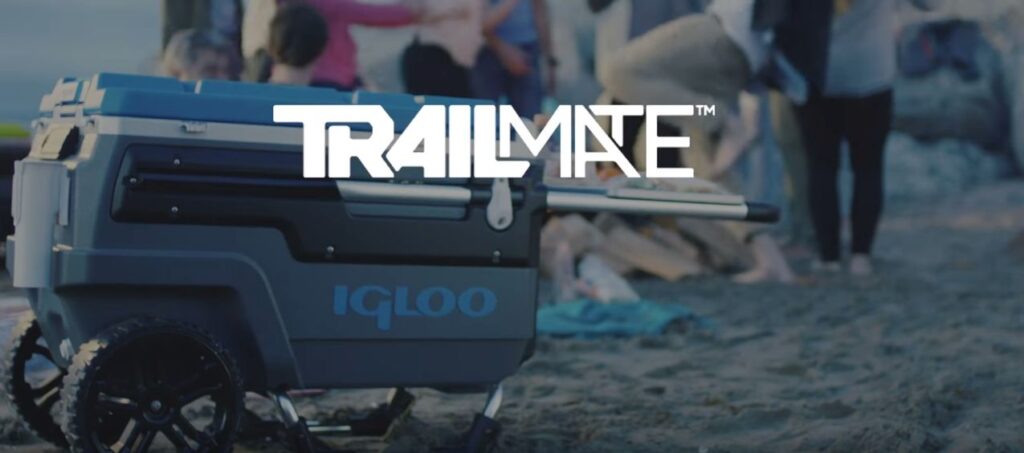 The major benefits of the Trailmate over the Yeti is it's features. It just has so many extra features that the Yeti doesn't have.
Everything from cup holders, to mobile device holders, to those big wheels, storage pockets and the butler tray. It feels like the Igloo has it all and if you're after a cooler with lots of features then this is the cooler for you.
The price is also a big factor when choosing your cooler and the Trailmate is much cheaper than the Yeti.
Benefits of YETI over Trailmate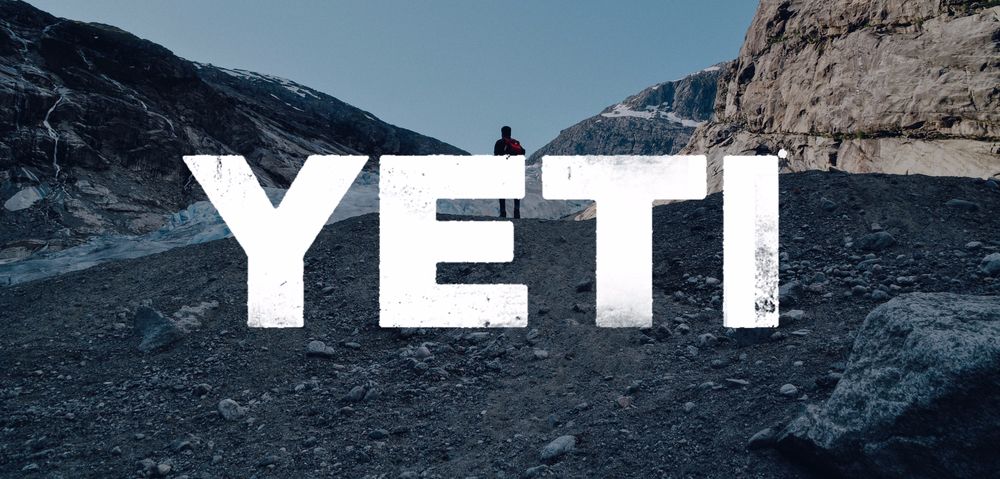 The Yeti has some big benefits over the Trailmate even though it doesn't have as many features.
It's tougher than the Trailmate in so many ways. The external body, the hinges, the wheels, the handle. Everything on a Yeti is built tough and built to take a beating and still last years.
It's ice retention is much better than the Trailmate, being able to keep ice for up to a week or for a few days if you only use a smaller amount of ice. The ice retention on the Yeti's is pretty great.
Yeti has quickly become a lifestyle brand for people who love the outdoors and love adventure. Buying a Yeti is like buying a popular brand as people recognise it and respect it.
Yeti's are great coolers, thousands of people can attest to that. It's up to you if you think it's the cooler for you.
My Recommendation: Trailmate For Short Adventures, Yeti For Long Ones

I find it hard to say "this cooler is better than that one" in this comparison of the Igloo Trailmate vs the Yeti coolers because they are both so different.
The Igloo Trailmate has so many features that make it perfect for a day at the beach with friends/family or for a shorter camping trip where you're going to use all the features. It really is the best beach cooler out there.
The Yeti on the other hand is stronger and holds ice for so much longer. I've used my Yeti in my campervan and it's a much better cooler than the Trailmate for this job because the extra features aren't needed but the ice retention is.
So really which cooler is better depends on what you intend to use it for. If you'll be moving it around a lot and using the features then 100% go for the Trailmate. If it's mostly sitting still and you don't need all the bells and whistles then a Yeti will be better suited to you.
Buy Igloo Trailmate or Yeti Coolers
If you're interested in purchasing an Igloo Trailmate or a Yeti cooler then I will leave links to them on Amazon below so you can see more details.
These are affiliate links so if you purchase through them I massively appreciate it as it helps the site.
IGLOO TRAILMATE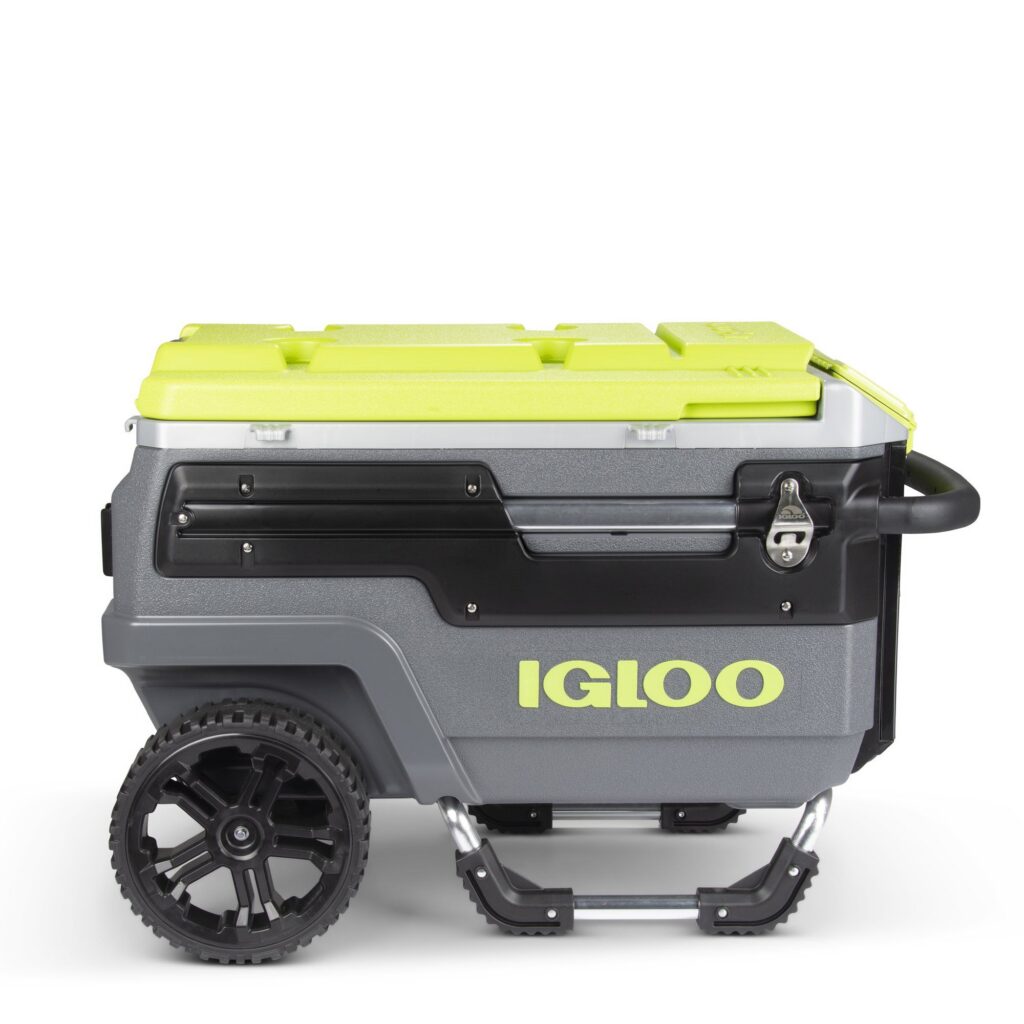 Trailmate Journey:
---
Trailmate Marine:
YETI COOLERS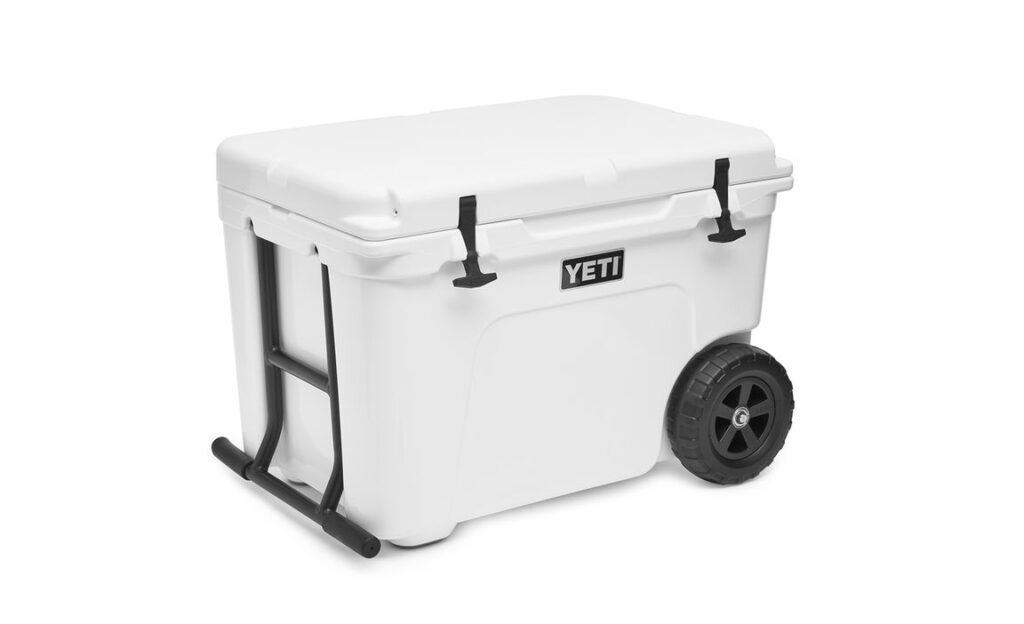 Yeti 45 (37.8-Quart):
---
Yeti Tundra Haul (65-Quart):
---
Yeti 75 (74.8-Quart):
Other Cooler Recommendations
If neither the Igloo Trailmate or the Yeti is really speaking to you as THE cooler for you then there are some other good options on the market for you to consider.
Here are some other coolers with similar features to the Trailmate that you may want to consider. Where I've done a full review I'll link up to it.
RovR – Feature Rich Wheeled Cooler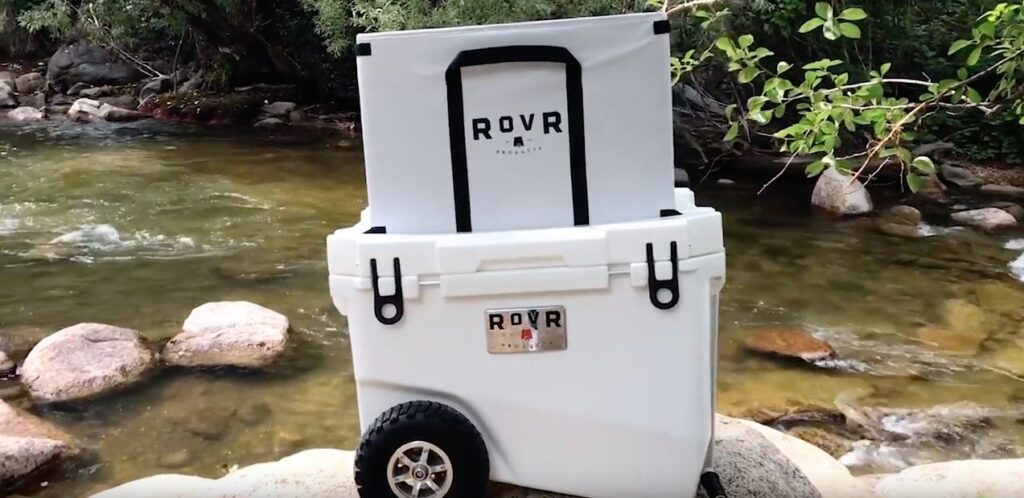 If the Trailmate and the Yeti had a baby then it would be the RovR.
The RovR is a feature rich wheeled cooler, like the Trailmate, but with the strength, durability and ice retention of the Yeti.
It's got so many features – from a storage box on top of the cooler, to bottle openers and even has the ability to be attached to a bike.
It's got great ice retention and is backed by a 5-year warranty.
Read my full RovR cooler review
See the latest price for the RovR cooler at Amazon
Ozark Trail – Cheap Roto-Molded Wheeled Cooler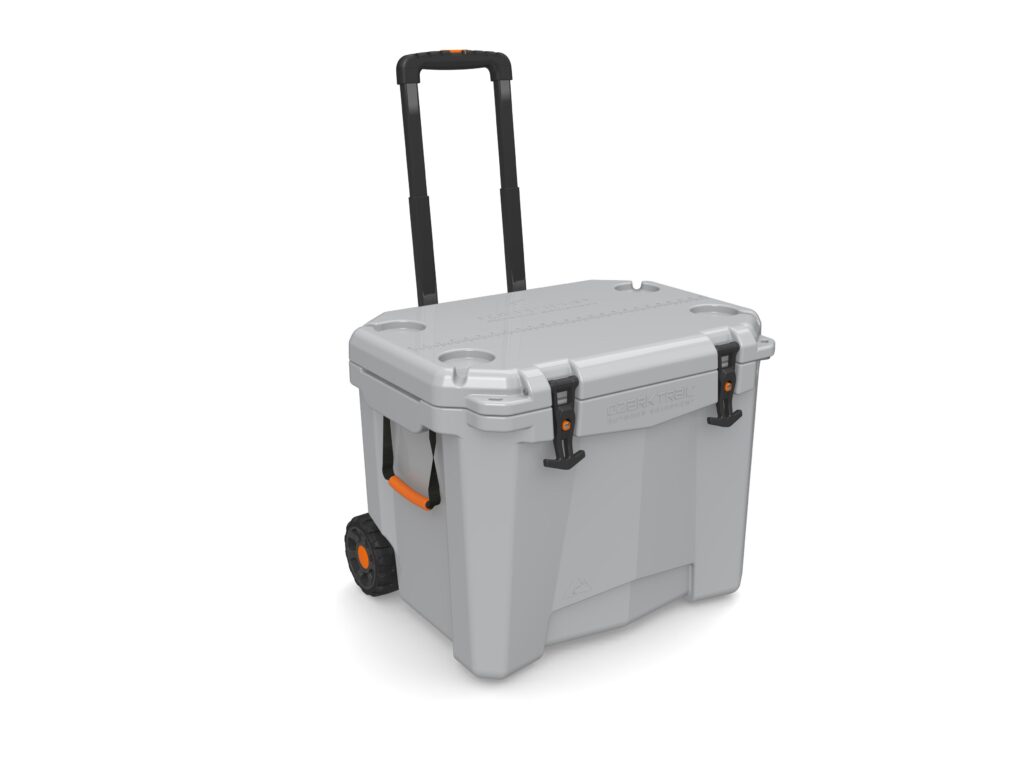 The Ozark Trail wheeled cooler is one of the cheapest roto-molded coolers with wheels.
It doesn't have as many features as the Trailmate but it does have moulded in cup holders in the lid.
The build construction is stronger and more durable than the Trailamte, but it's not quite as strong as the Yeti and it's ice retention isn't quite as good either.
However, it is very affordably priced and is about the same price as the Trailmate.
Read my Ozark Trail vs Yeti comparison review
See the latest price for the Ozark Trail 60-Quart Wheeled Cooler at Walmart.com
Coleman Xtreme – Budget Option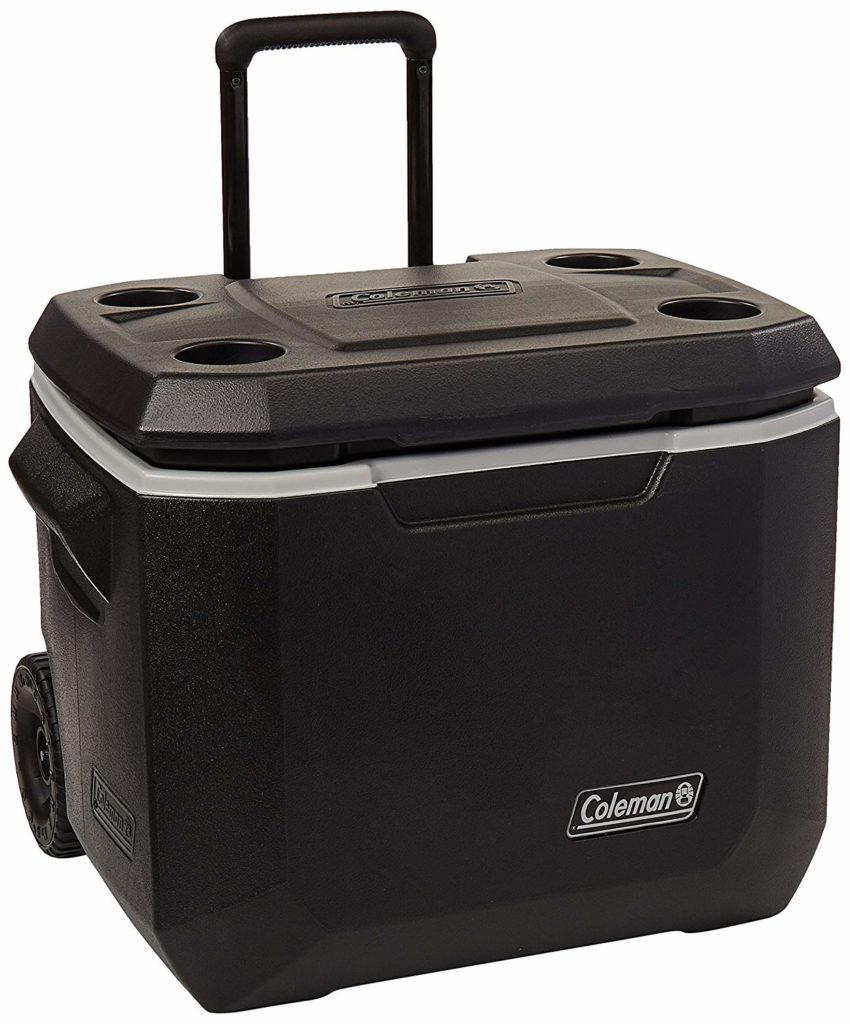 The Coleman Xtreme is a great budget cooler that won't break your bank. It's not as fancy as any of the coolers mentioned above, but it's also way way cheaper – usually sold for around $50.
It comes in multiple sizes, has wheels as well as molded in handles.
The lid has 4 cup holders and it can keep ice for around 5 days in good conditions.
This is (in my opinion) the best budget cooler on the market at the moment.
Read my Coleman Xtreme vs Yeti comparison review
See the latest price for the Coleman Xtreme Cooler at Amazon