For decades, Nalgene have been one of if not THE most popular reusable water bottle, especially in the outdoor community. And it's no surprise, they're affordable, durable, and really easy to use.
But in recent years, a lot of competitors have come out with amazing (and expensive) water bottles. Yeti, known first for their epic coolers then their tumblers and drinkware, is one of the major brands that put vacuum insulated drinkware on the map.
I've owned both Yeti and Nalgene bottles for years and use both of them regularly. Plus a lot of my friends and gym/climbing partners have either Yeti or Nalgene bottles and rave about whichever one they own.
If you're tossing up between these 2 brands and deciding which one to buy it can be tricky to know where to spend your money. So how exactly do Yeti Bottles stack up to Nalgene and which one is the better buy?
Long story short, Yeti bottles are better than Nalgene bottles because they are vacuum insulated and keep your drinks cold or hot for hours at a time (which Nalgene do not.) Plus they are made from a very durable kitchen grade stainless steel (not plastic) so they are likely healthier to drink from in the long run. However, they are a fair bit more expensive and weigh more than Nalgene bottles.
Nalgene Bottles are more portable, easier to clean and maintain, and come with an insane lifetime warranty that fully covers defects as well as damage THAT YOU DO YOURSELF, meaning the bottles will literally last you for life!
Both Nalgene and Yeti Bottles have advantages, but overall Yeti Bottles are better for everyday use thanks to their thermal insulation, insane durability, and wider range of options.
That being said, Nalgene Bottles are still better for hiking, backpacking, climbing, and any other activity where weight is a factor. Ultralite Nalgene Bottles weigh only ⅕ lb whereas Yeti Bottles are among the heaviest on the market.
Ultimately, the best bottle for you depends on your own priorities, budget and preferences.
So let's take a closer look at just how Nalgene and Yeti Bottles compare, to help you make a more informed decision about your next water bottle.
Best For:

Budget shoppers looking for a lightweight, simple, super durable plastic water bottle.

Best For:

Shoppers looking for an ultra-durable insulated water bottle that can keep drinks cold or hot for hours at a time
Best Value
Best For:
Budget shoppers looking for a lightweight, simple, super durable plastic water bottle.
Best Performance
Best For:
Shoppers looking for an ultra-durable insulated water bottle that can keep drinks cold or hot for hours at a time

Price And Value
One of the biggest considerations for a lot of people is going to be price and this is one of the areas where Nalgene and Yeti are completely different.
If you're on a tight budget then the decision on which bottle is best for you may be decided by cost alone.
Nalgene
Nalgene Bottles are well known for being affordable, with basic bottles costing no more than $10 or $20. A pretty reasonable price for a bottle that will more than likely last for years.
But in terms of overall value, what really sets Nalgene apart is their ridiculously generous lifetime warranty.
Not only are defects insured, but any damage not related to fire, freezing, or chewing is also fully covered. This means if you break the bottle yourself (eg. by dropping it off a cliff) Nalgene will still replace the bottle for you. It's an insane warranty and makes one of the best value bottles in the world even better value in my opinion.
Nalgene will replace your broken bottle without needing to send it in or provide proof of purchase, with all shipping charges covered to boot. You'll likely need to send through photos of the damage though for proof.
I've had a couple broken Nalgenes replaced over the years with no difficulty and my friends at the climbing gym who have managed to break one of theirs (which is actually pretty tough to do) have had no problems either.
Top notch customer service from a top notch company.
When it comes to value for money water bottles Nalgene aren't the absolute cheapest on the market. But they are extremely cost effective and their value far exceeds what you pay.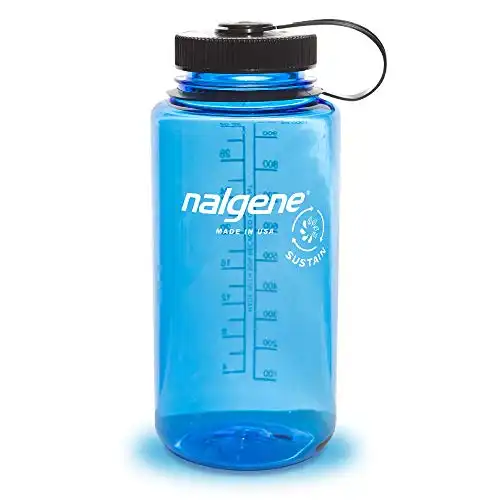 Nalgene Wide-Mouth Water Bottle (32 oz)
Made with BPA-free Tritan Renew plastic these Nalgene bottles are made with 50% recycled plastic.
This is the best selling water bottle that has been around for 30 years (and likely to last you 30 years). Suitable for warm and cold beverages (-40 to 212ºF) this is marked with milliliters and ounces for easy measurement.
Buy Now at Amazon

However, while they are an affordable option Nalgene bottles do lack some important features that Yeti bottles have.
Yeti
Most Yeti Bottles will set you back somewhere between $30 and $60 (with their new plastic bottles being in the $25 to $30 range). A Yeti bottle of a similar size to the Nalgene 32 oz is going to set you back roughly 3x to 4x as much money.
While the price tag is certainly on the premium side, so are the bottles.
Most Yeti Bottles are made of stainless steel, and they feature vacuum insulation which will keep your drinks cold for days and hot for 12+ hours.
But even compared to many other stainless steel bottles on the market, Yeti's stand out for their high quality craftsmanship (they just feel premium) and their bottles are also more durable than other premium brands, plus they are dishwasher safe (but more on that below).
The Chug Cap lid also offers the best of both worlds with a wide mouth for easy filling and cleaning plus a narrow chug mouth for easier spill-free drinking.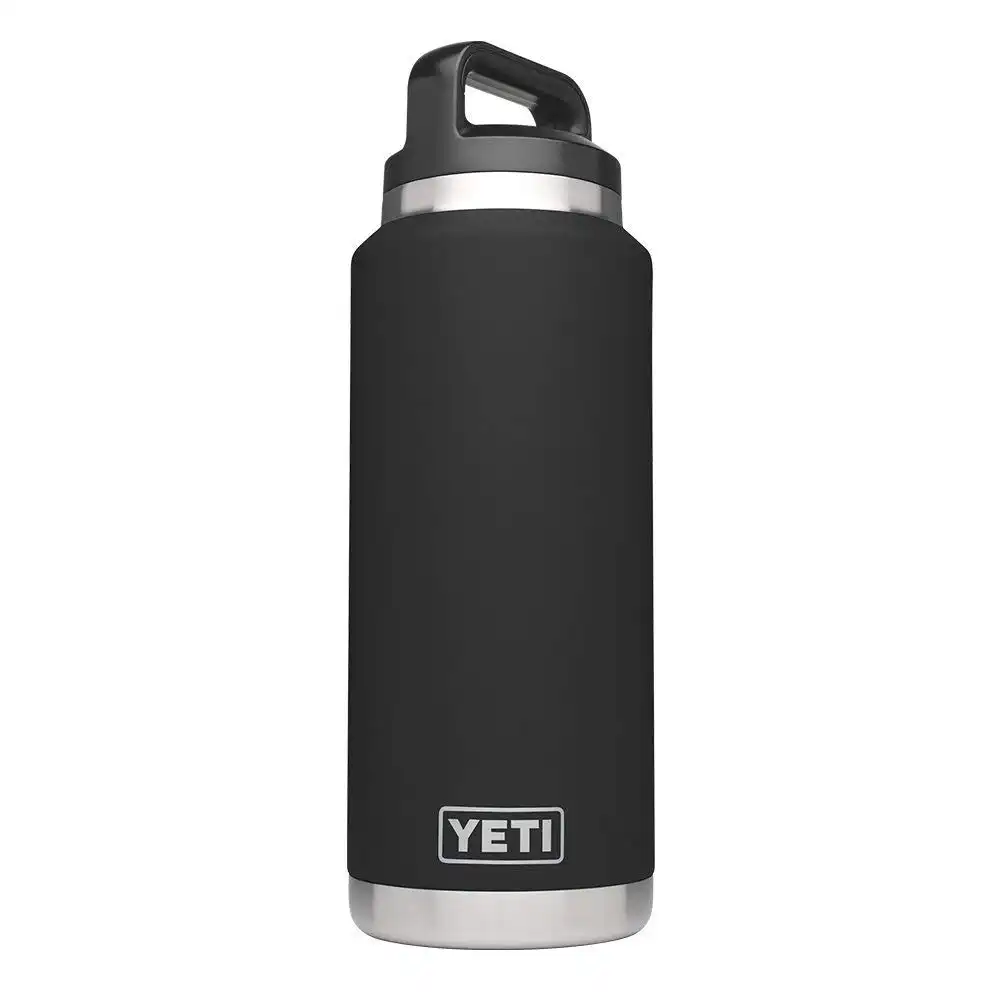 Winner: Nalgene
Yeti Bottles, despite costing three to four times more than Nalgenes, are still a decent value for the money just because of how high-quality they are.
But considering that Nalgenes are much cheaper and come with the absolute best lifetime warranty (of ANY product) I've ever heard of, Nalgene easily takes the edge in terms of overall value.
It's crazy that a $10 investment can get you a water bottle that will effectively last your entire life.
Durability And Longevity
When you're investing money into a water bottle (whether it be $10 or $50) you want that water bottle to be able to last you a long time. The longer it can last you the better value it is.
There's no point getting a great water bottle with amazing features only to have it break 3-6 months down the line. You want your water to still be kicking it 10-20 years down the line and doing just as good of a job as it did on day 1.
Nalgene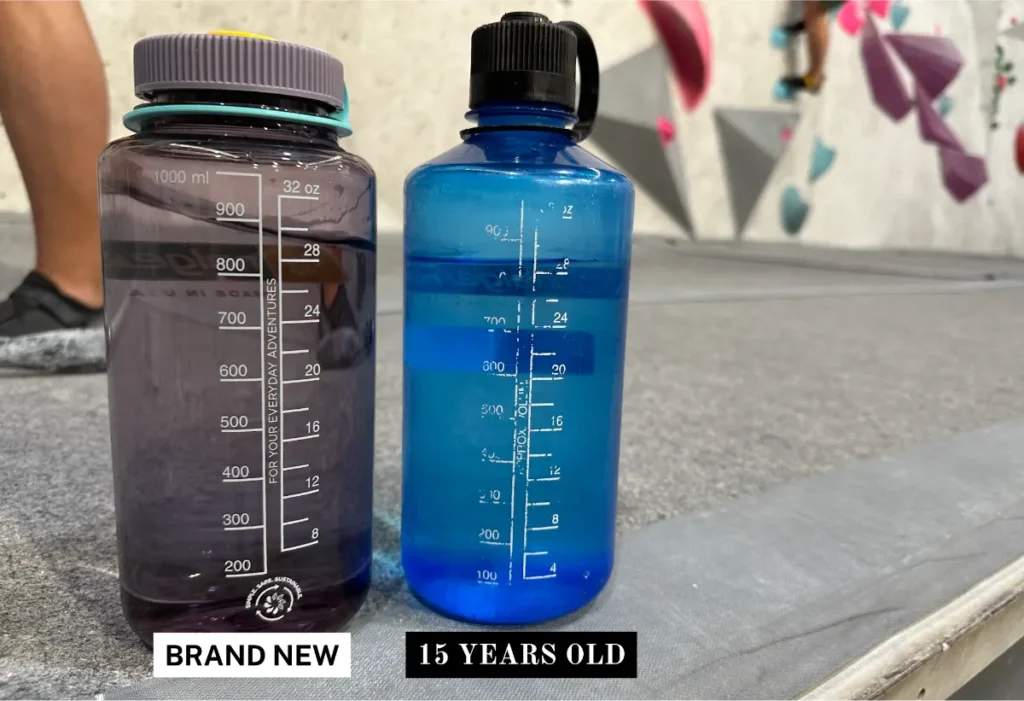 Nalgenes are no slouch when it comes to durability. They have long been known for how tough their bottles are and they are surprisingly durable for bottles made of plastic.
In the many years I've owned them, I've only managed to break two. And if you saw how I treat my bottles, you'd realize what an accomplishment that really is.
One of my close friends has a Nalgene that's well over 15 years old and is still going strong — granted, the fill lines are wearing off and the bottle is a bit cloudy.
But still, 15 years and counting for a plastic bottle is kind of crazy and it really doesn't look that much worse than a brand new Nalgene bottle.
You've also got stainless steel Nalgene bottles which, while not insulated, are incredibly durable. They are made from single wall surgical grade stainless steel that is extra thick to reduce the changes of dent and damage.
These are perfect emergency bottles for hikers and people wanting to be able to boil water and cook food in their Nalgene. They also make great Nalgene hot water bottles to keep you warm on those cold nights camping.
Plastic Free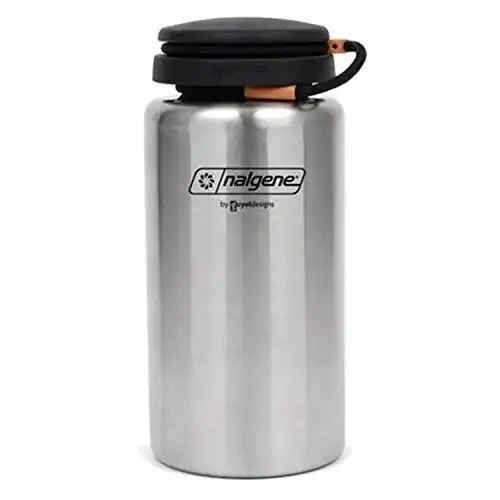 Nalgene Stainless Steel Water Bottle (38 oz)
Made from single wall surgical grade 316 (18/10) stainless steel and featuring the same size threads as the regular Nalgene widemouth this is the perfect bottle for those wanting the lifetime warranty and durability of a Nalgene without the plastic.
Comes with a rope pack loop lid attachment.
Buy Now at Amazon

Combined with the fact that Nalgene will replace your bottle if it breaks, even when it's completely your own fault, Nalgene Bottles are tough to beat in terms of longevity.
Yeti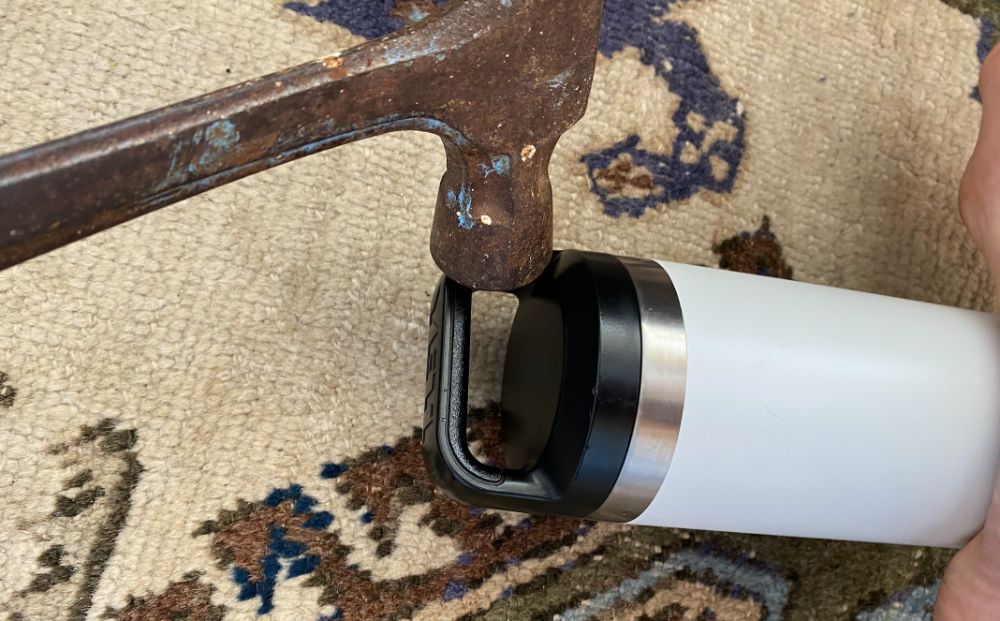 Tough to be beat, but not impossible.
Stainless steel Yeti Bottles are, without exaggeration, one of if not THE toughest bottles on the market.
While any stainless steel bottle can take a beating, none of mine have endured the abuse better than my Yetis. While I can't prove it, it definitely feels like the Yeti bottles are made from thicker and stronger stainless steel than competitors like Hydro Flask.
Mine have survived some nasty falls off of rock walls, down stairs, and even once rolled off the second floor of a parking garage onto the sidewalk below with nothing more to show for it than a few minor dings and dents.
Compare that to my white Hydro Flask which dented fairly easy and got absolutely destroyed by my kids somehow.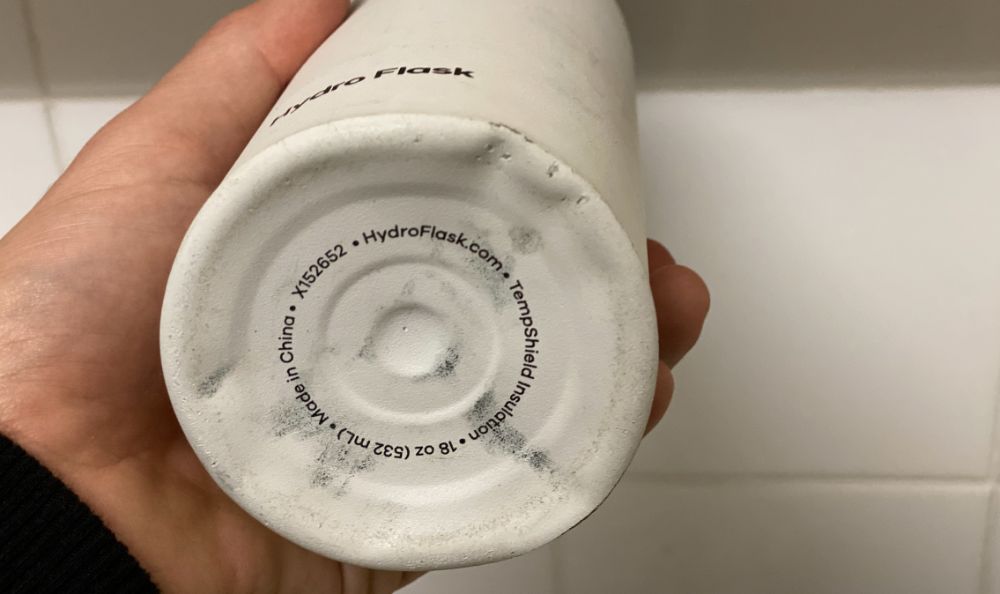 But what really makes Yetis stand out from other stainless steel bottles is how well the vacuum insulation holds up. Through all the abuse and regular cycles through the dishwasher, mine still insulate as well as the day I bought them.
I can't say the same for my other premium stainless steel bottles (looking at you Hydro Flask).
Yeti's new line of lightweight plastic bottles just launched earlier this year, so it's a bit early to judge them in terms of durability and their price is so much higher than Nalgene's that I don't really see the value in them at the moment.
So far I've had no problems and all signs point to them being on par with plastic Nalgene Bottles. But only time will tell.
Winner: Yeti
Despite Nalgene's incredible lifetime warranty and surprising durability, Yeti takes the cake in terms of raw durability.
They're simply the toughest stainless steel water bottles you'll find. And it's not even that close.
Thermal Insulation
No one likes drinking lukewarm water. There's little worse than going for a bushwalk on a hot summers day, reaching your destination and going to have a nice refreshing drink only for it to be completely warm.
You still drink it anyway because you're thirsty, but it's far from enjoyable.
Having a water bottle that has vacuum insulation means it can keep drinks ice cold for over 24+ hours, even in hot summer weather.
I love this because it means I can have refreshing cold water all day long or I can keep tea or coffee hot on colder days.
Nalgene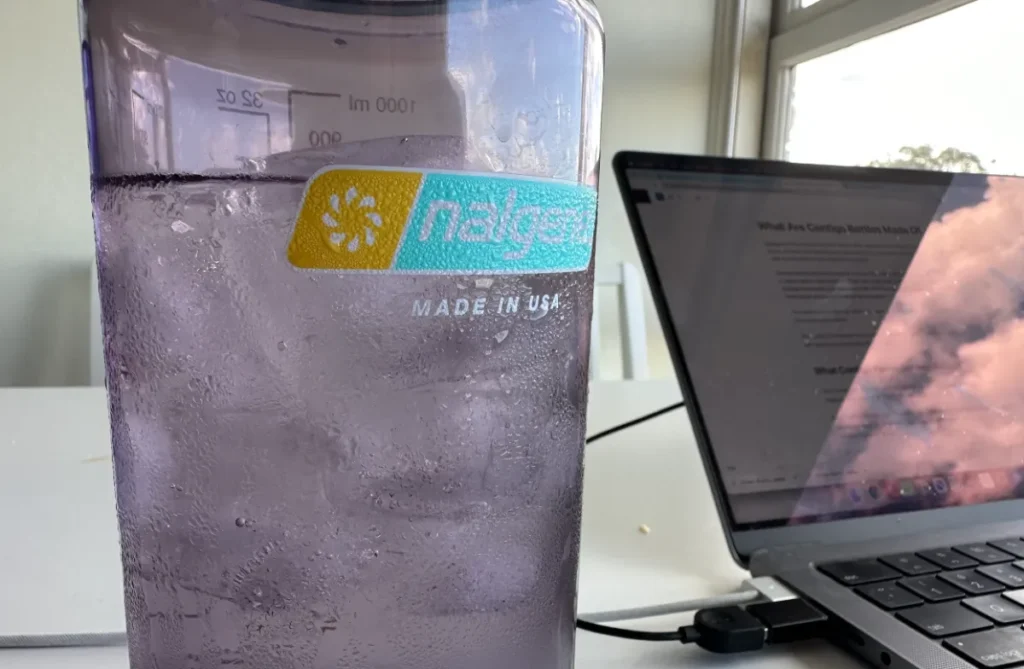 Nalgene makes simple, functional water bottles. As a result, none of their bottles (not even the stainless steel ones) are insulated.
But consider it an intentional design decision, not a flaw.
After all, non-insulated bottles have some advantages. They're lighter weight, can be used as hot water bottles to stay warm on the trail, and, as far as their stainless steel bottles go, can be used to boil water in.
That being said, non-insulated bottles only keep drinks cold for a couple of hours and will sweat on warm days. I have to keep my Nalgene away from my computer if I fill it with iced water because it sweats so much it makes the table wet.
Ultimately, when it comes to insulated vs non-insulated bottles, it depends on your own priorities. For me, insulated is always better, unless I am trying to cut down on weight or know I'll be drinking the water quickly.
Yeti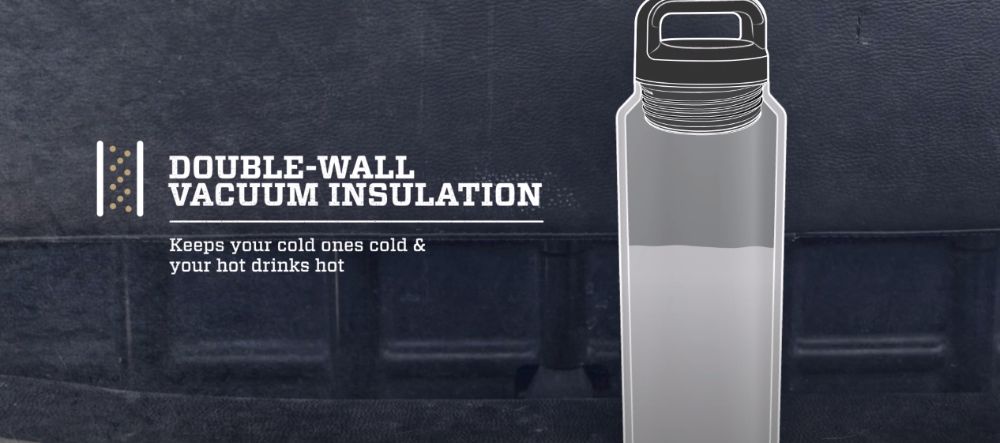 Stainless steel Yeti bottles are made of dual-wall vacuum-insulated stainless steel that keeps drinks cold all day and hot for hours. Vacuum is the best insulator and so these bottles are so good at keeping things ice cold they can work almost as well as an expensive Yeti cooler.
While it's far from the best insulation you'll find among stainless steel bottles (Klean Kanteen wins that award easily), it's more than good enough for everyday use and the bottle will keep my drinks icy cold for the entire day and into the next day.
If I fill my Yeti with ice water in the morning, I'll still have ice to dump out at the end of the day.
And much like Nalgene, Yeti's plastic bottles aren't insulated.
Winner: Yeti
Yeti wins by default for offering insulated bottles at all. Nalgene doesn't have any insulation and this is a big downside for the bottles and one of the main reasons you might want to invest a lot more into a Yeti bottle.
Though if top-of-the-line insulation is a priority, even Yeti Bottles may not be your best bet.
Features, Options And Functionality
When looking for a water bottle having a variety of options to choose from can be a really good thing because it means you can get a bottle that is most suited to you.
Nalgene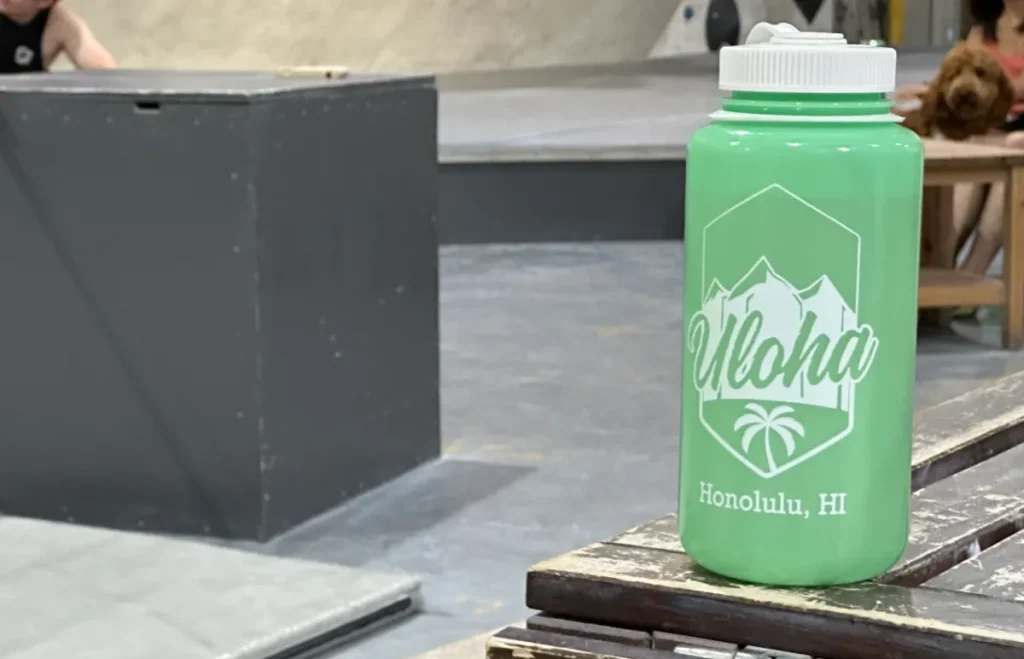 While they've added a few new options and updated the plastic their bottles are made of, Nalgene have, in large part, stuck to the formula that made them so popular to begin with — simple bottles with basic, twist-off lids.
Nothing fancy, just great bottles that do their job. And honestly, this is one of the things that makes Nalgene bottles great. They are super simple and do what they do really really well.
Nalgene do offer an extremely wide array of color options when it comes to their bottles. At my climbing gym it seems almost everyone has a Nalgene bottle but I'm yet to see someone with the exact color Nalgene as me.
There are also limited edition Nalgene bottles, like my friend's bottle she got from her trip to Hawaii (I'm pretty sure it glows in the dark too). The wide array of choice makes every Nalgene bottle unique.
Aside from their classic bottles (in either wide or narrow mouth), Nalgene offers one of the few non-insulated stainless steel bottles on the market, a ⅕ lb Ultralite Bottle, and a few different lid options.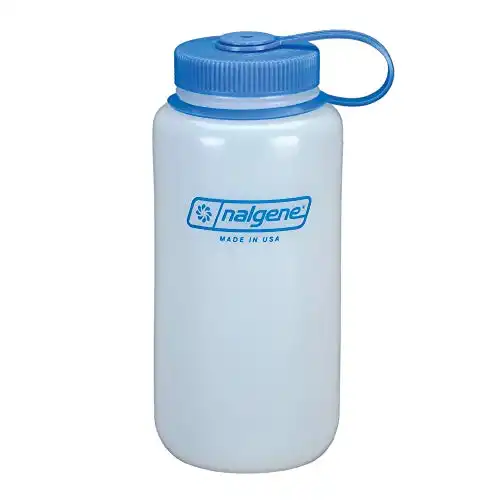 Yeti
Yeti has a much wider range of bottle options compared to Nalgene. More sizes, more lid options and while their color range is smaller it is constantly changing so there's always new unique colors to choose from.
The Rambler is Yeti's original and most popular line of bottles, available in vacuum-insulated stainless steel, in sizes ranging from 12 to 64 oz.
Rambler Bottles have several lid options that drastically change the functionality of the bottle — including caps with a chug spout, flip-out straw, magnetic top, and a built-in 5 oz cup.
There's a lid option for every preference.
I usually stick to the chug cap, whereas my partner prefers the 5 oz cup lid. Then there's our kids, who will basically only use the straw cap.
Aside from Rambler Bottles, Yeti offers their new line of Yonder Bottles — leak-proof, lightweight plastic bottles, equipped with a two-piece cap that offers a narrow mouth chug spout for easy drinking while maintaining all the benefits of a wide mouth bottle.
In addition to their water bottles, Yeti offers a range of stainless steel tumblers, barware, and coffee mugs that are just as durable and just as well-made as their bottles.
Winner: Yeti
While there's nothing wrong with keeping things simple, Nalgene Bottles are perhaps a bit too committed.
Yeti doesn't necessarily offer anything groundbreaking, but they take the edge in terms of features and functionality thanks to their wider range of sizes, lid options, and insulated bottles.
Maintenance
Like most people, I'm pretty lazy when it comes to washing and maintaining my water bottles.
3-day old dried and caked on smoothie is a regular for me. So having a water bottle that is easy to clean and maintain is an absolute MUST.
Nalgene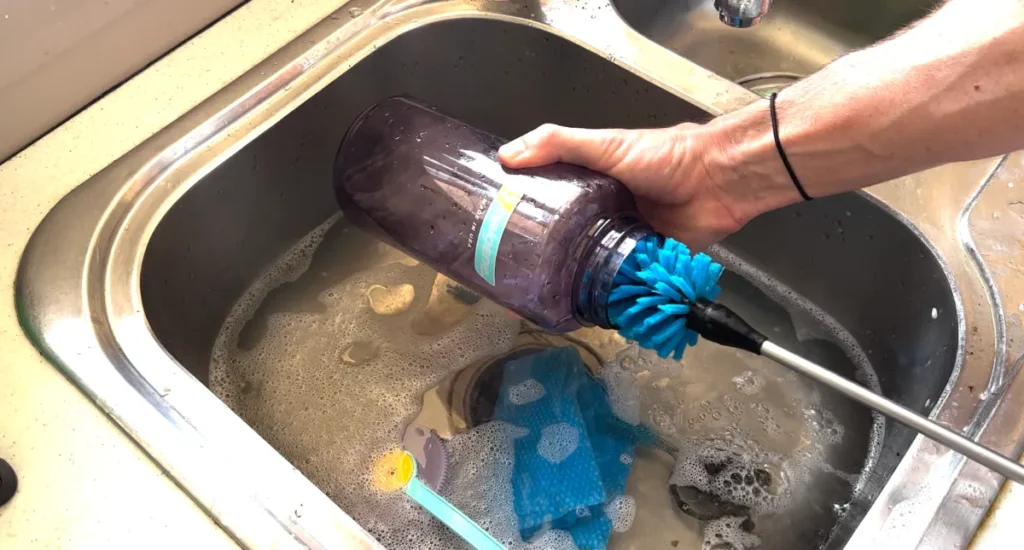 Because Nalgene Bottles are so simple, they're very easy to maintain.
Step one: wash daily by hand or in the dishwasher (or semi daily if you procrastinate like me).
Step two: If extremely dirty, place in dishwasher.
End of list.
With no gaskets, straws, or moving parts, wide mouth Nalgenes are the easiest bottle on the market to care for — and if you know a few tricks, narrow mouth Nalgenes aren't too far behind.
Yeti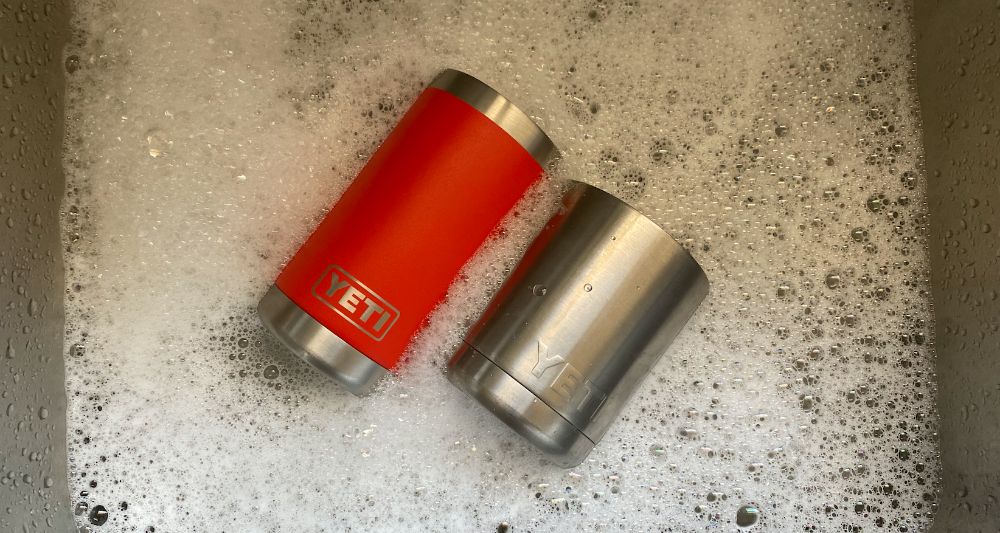 While you don't need a masters in engineering to maintain a Yeti either, there is a bit more to it.
The gasket needs to be removed from the lid and each crevice, straw, and moving part of the lid needs to be carefully scrubbed to prevent mold and mildew from growing.
A bottle cleaning set can make it an easy but slightly time consuming process.
If I'm feeling particularly lazy, I tend to avoid bottles that I need to hand wash. But luckily, unlike many other vacuum-insulated bottles, Yetis are dishwasher safe (and lazy-day-safe as a result).
Winner: Nalgene
Nalgene squeaks out a narrow victory in terms of ease of maintenance thanks to the simplicity of their bottles.
To make caring for either a Nalgene or Yeti even easier, you can use bottle cleaning tablets to make it as simple as filling the bottle with water, popping in a tablet, and waiting 15 minutes.
It doesn't get much easier than that.
Weight And Portability
When I go for bushwalks with the kids I'm always stuck with the heaviest bag and carrying most of the stuff. So cutting down on weight wherever possible can save my shoulders and back a lot of pain.
| Bottle | Weight (grams/ounces/pounds) |
| --- | --- |
| Nalgene 32 oz (Wide Mouth) | 182.8 g / 6.45 oz / 0.40 lbs |
| Nalgene 32 oz (Narrow Mouth) | 166.9 g / 5.89 oz / 0.37 lbs |
| Nalgene 32 oz Ultralite | 108.6 g / 3.83 oz / 0.24 lbs |
| Nalgene 32 oz Narrow Mouth (1995 version) | 175.7 g / 6.20 oz / 0.39 lbs |
| Yeti Rambler 18 oz | 544 g / 19.2 oz / 1.2 lbs |
| Yeti Rambler 26 oz | 635 g / 22.4 oz / 1.4 lbs |
| Yeti Rambler 36 oz | 680 g / 24. oz / 1.5 lbs |
| Yeti Rambler 46 oz | 816 g / 28.8 oz / 1.8 lbs |
| Yeti Rambler 64 oz | 1,043 g / 36.8 oz / 2.3 lbs |
Nalgene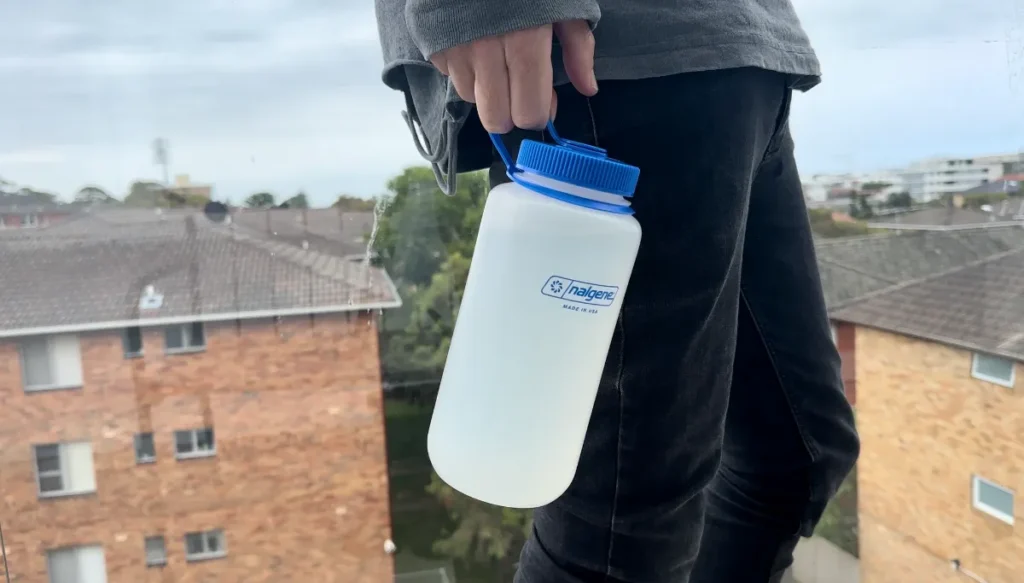 Nalgene Bottles are big and a bit annoying to carry, especially once you realize that the lid strap isn't actually meant for carrying.
They are super fat which means they don't fit in even the largest car cup holders but overall there are pretty lightweight.
Their 32 oz Tritan Bottles only weigh about 0.4 lbs and 32 oz Ultralite Bottles weighing about half that.
Adding a carrying handle isn't too difficult either, with plenty of third-party lids that have built-in handles and several quick and easy options to make your own bottle holder.
For portability and weight these are some of the lightest (durable) reusable water bottles on the market.
Yeti

Not only do Yeti bottles cost 3-4x as much as Nalgene bottles they also weigh 3-4x as much and are one of THE HEAVIEST water bottles on the market.
It turns out durability does have a cost.
The 36 oz Rambler, for example, weighs 1.5 lbs — three-and-a-half times more than a 32 oz Nalgene.
Yeti Bottles, on the other hand, have several lid options with built-in handles that makes them easier to carry than Nalgene bottles that lack handles and they have a taller and slimmer form factor as well which makes them easier to drink from.
If lowering weight is a priority for you then Yeti is absolutely not the bottle to go for. Because of this I rarely (if ever) take Yeti bottles on hikes with me. However, I'll gladly take them to the beach, climbing gym or anywhere local where a bit of extra weight doesn't phase me.
On the bright side, maybe carrying one is a good workout?
Winner: Nalgene
While I wish Nalgene Bottles came equipped with a built-in handle to make carrying more convenient, there are options to make it easier.
But no matter what you do, you can't make a Yeti any lighter.
Health And Water Safety
For me, health and safety is a big consideration when it comes to the water bottles I like to drink out of.
After the discovery and news in 2008 that the water bottles we had all been drinking out of were leaching the harmful endocrine-disruptor BPA into our drinks I've been skeptical of all plastics and careful to avoid it where possible.
Nalgene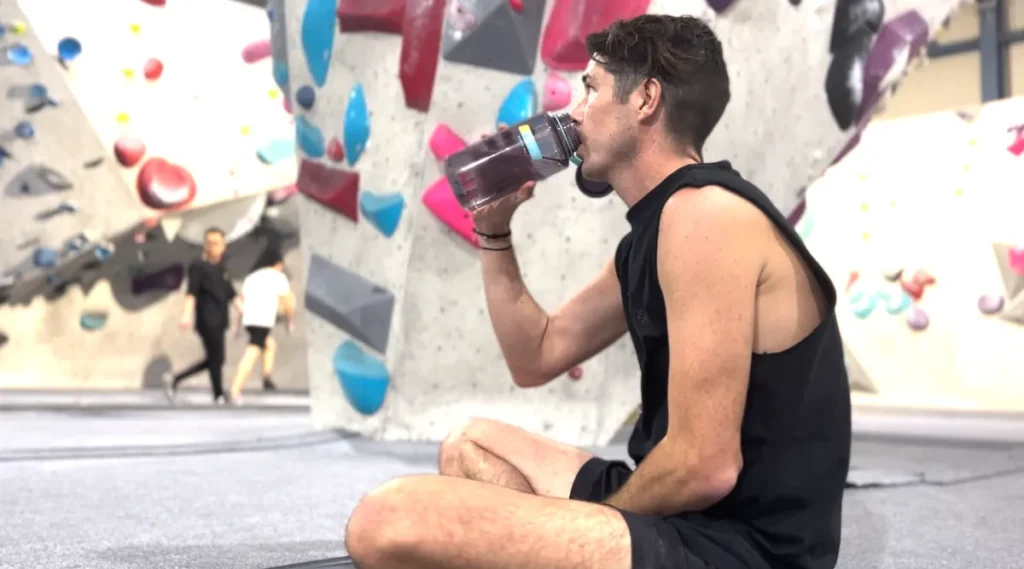 Modern Nalgene Bottles are made of either Tritan Plastic or HDPE. Both of which are free of BPA, BPS, BPF, phthalates, and all other potentially harmful compounds.
But the bad news is, it seems that every few years new compounds in plastic are found to be harmful.
While there's always potential risk drinking from plastic bottles, with the research we have available Nalgenes are about as safe to drink from as any plastic bottle could be.
I still use plastic Nalgene bottles and feel fairly safe drinking out of them however to be safe I never drink hot drinks from my plastic Nalgene bottles and I discard water older than a few hours to avoid any potential leaching that could happen.
Yeti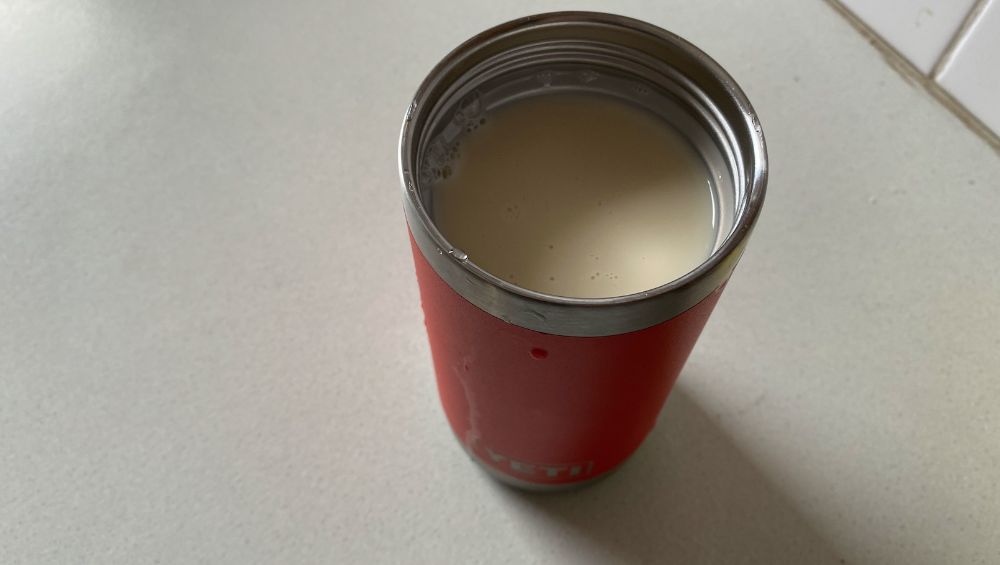 Stainless steel bottles, like Yeti Ramblers and Nalgene's stainless steel bottles, are among the safest bottles to drink from — since stainless steel contains no leachable harmful compounds, even when scratched, heated, aged, or worn.
Yeti Ramblers are made of high-quality 18/8 stainless steel, which won't impart or retain flavors and odors. Stainless steel is up there with glass and ceramics as one of the safest materials to drink from so I feel extremely confident when using my Yeti bottles.
I happily fill them with boiling water or hot tea or coffee and leave it in there for hours with no concerns. Maybe in future different health advice will come out but for now Yeti definitely seems like the safer option.
Needless to say, Yeti's plastic Yonder Bottles share the same potential risks as plastic Nalgene bottles. I actually couldn't find any details on exactly what type of plastic Yeti use to make their bottles, but they do state they are BPA free.
Winner: Yeti
With a wider range of stainless steel options, Yeti is the clear winner in terms of health and water safety.
While you're more than likely fine drinking from plastic bottles, a stainless steel Yeti or Nalgene can provide some additional peace of mind.
I've been shying away from plastic bottles for daily use. After all, I'm drinking lots of bottles of water to improve my health.
Why take the risk?
Environmental Impact
Many of us are choosing reusable water bottles to both save money on buying water but also to reduce our environmental impact by avoiding purchasing disposable water bottles.
Nalgene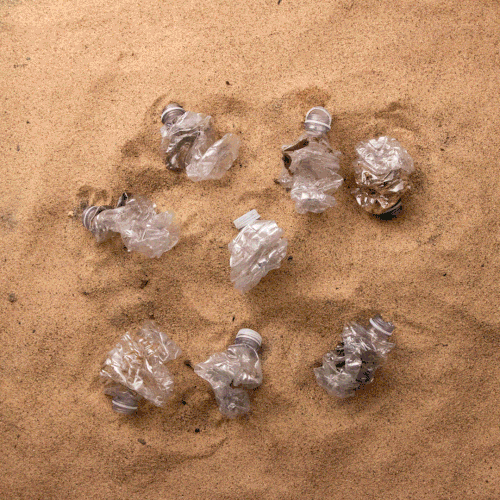 Nalgene was founded in the 1940's and became popular in the 1970's on the principle that popularizing reusable water bottles would greatly reduce the number of single-use bottles clogging our landfills.
An idea far ahead of its time.
That being said, the standards for sustainability have changed over the years.
While reusable plastic bottles are infinitely more sustainable than single-use bottles, they're far from the perfect option.
Plastics create toxic byproducts during production, are notoriously difficult and inefficient to recycle, and break down into damaging microplastics if not recycled.
Nalgene did recently make the switch to Tritan Renew in 2020, a plastic that is made from 50% recycled materials. This reduces their overall environmental impact and makes them an eco-friendly water bottle to buy.
Yeti
Stainless steel, on the other hand, doesn't create toxic run-off during production, is infinitely recyclable, and is typically made largely from recycled materials.
It's one of the most environmentally-friendly materials available.
Winner: Yeti
If you want to minimize your carbon footprint, a stainless steel Yeti (or Nalgene) is the way to go.
Yeti edges out Nalgene here, thanks to their wider range of and larger focus on providing sustainable stainless steel bottles.
But if you really want a water bottle that is as eco-friendly as possible then Klean Kanteen now make their water bottles from 90% recycled stainless steel. Making them one of the most eco-friendly bottles on the market. See my Klean Kanteen vs Nalgene comparison.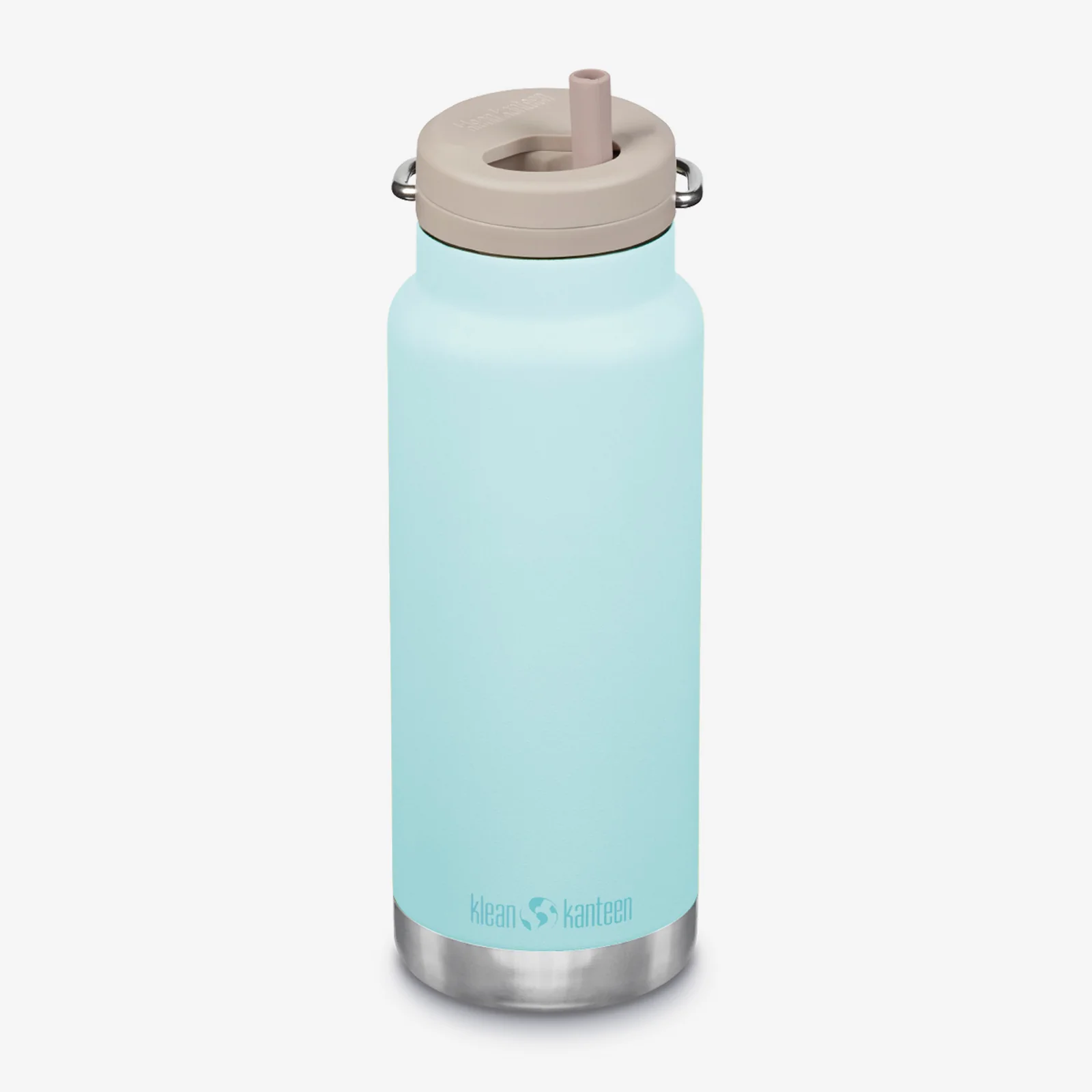 Nalgene vs Yeti: Which Bottle Is Best?
I used Nalgene Bottles everyday for years and still think they're great bottles for what they are.
That being said, I've recently started moving away from plastic bottles — both because they're potentially worse for my health and because the insulation and durability of stainless steel bottles is just too much to ignore.
My Ultralite Nalgene is still a staple on the trail and at the climbing gym (I can't turn down the ⅕ lb weight) and I still use a regular Nalgene for smoothies because they're so easy to clean (into the dishwasher it goes).
But for everyday use Yeti Rambler Bottles just offer… more.
If you've got the budget for it and weight isn't an issue then I would recommend the Yeti bottles over the Nalgene.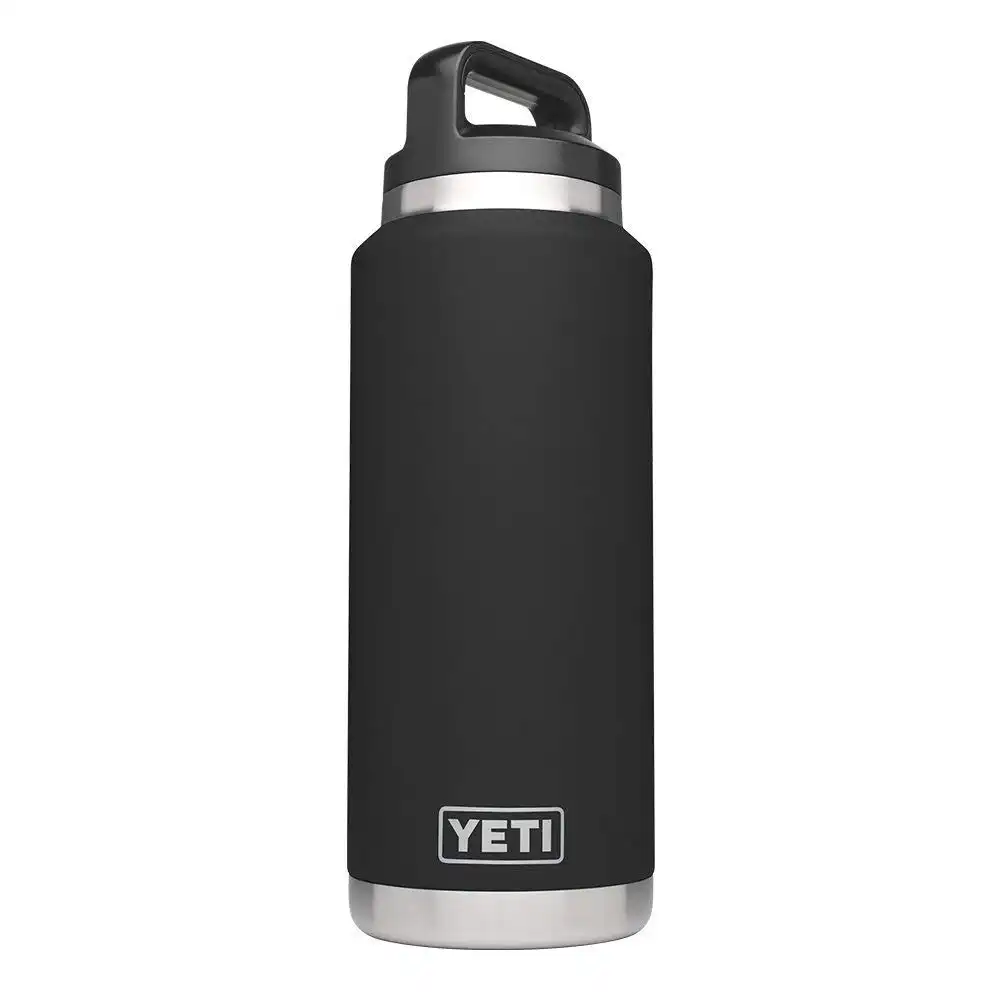 Yeti bottles are extremely durable and the fact they keep drinks cold or hot all day long plus they are made from safe stainless steel makes them an obvious choice for me most of the time.
However, if you are budget conscious or want to save on weight then Nalgene bottles are my favorite plastic reusable water bottle.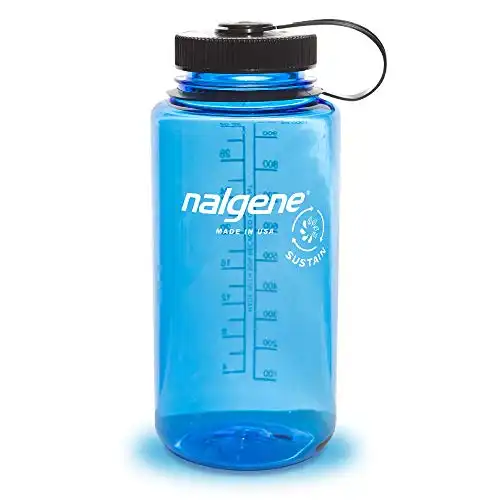 Nalgene Wide-Mouth Water Bottle (32 oz)
Made with BPA-free Tritan Renew plastic these Nalgene bottles are made with 50% recycled plastic.
This is the best selling water bottle that has been around for 30 years (and likely to last you 30 years). Suitable for warm and cold beverages (-40 to 212ºF) this is marked with milliliters and ounces for easy measurement.
Buy Now at Amazon