TOURIT is a popular competitor to Yeti when it comes to soft sided coolers. Their coolers are very prominent on Amazon offering what looks like a very similar cooler for almost half the price.
But are TOURIT coolers any good and when it comes to comparing the TOURIT Voyager coolers vs the Yeti Hopper soft sided coolers which one offers the better value for money?
Sizes and Form Factors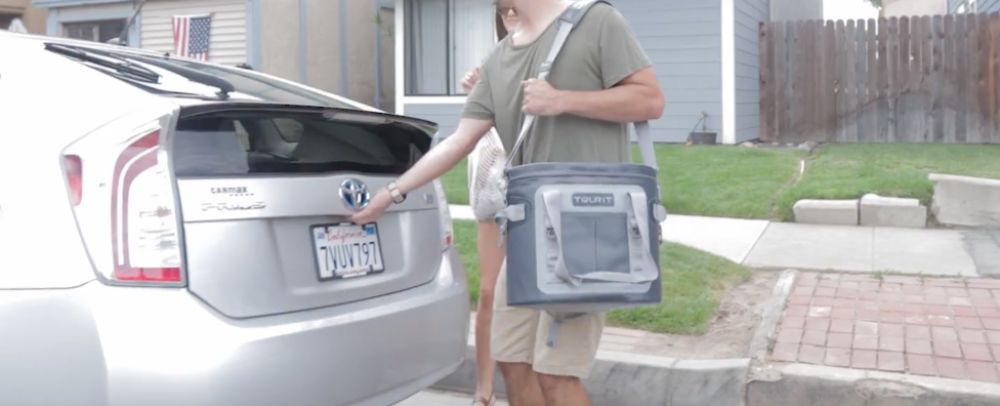 TOURIT soft sided coolers come in 3 different sizes and 2 different form factors. They have the Voyager 20 and 30 which are oval shape coolers with a shoulder strap and the Voyager Backpack which is, as you would expect, a backpack cooler.
The name of the coolers however does NOT relate to their quart capacity but rather how many cans they can hold without ice.
Yeti coolers also relate to how many cans they can hold, but at a 2:1 ice ratio.
Below you can see a comparison of TOURIT Voyager coolers compared to Yeti Hopper coolers and their actual capacities in Quarts.
TOURIT Voyager 20: 17.1 Quart
TOURIT Voyager 30: 24.2 Quart
TOURIT Voyager Backpack: 22.1 Quart
Yeti Hopper Flip 12: 13.6 Quart
Yeti Hopper Flip 18: 18.4 Quart
Yeti BackFlip 24: 21 Quart
See all sizes and prices of TOURIT soft coolers at Amazon
Price: About Half The Cost of a Yeti
One of the big draw cards of the Tourit line of coolers is they seem to offer similar specs to Yeti but they sell for a fraction of the cost.
Not everyone wants to fork out $300 to buy a cooler so being able to spend about half as much for what seems to be a very similar cooler makes sense to a lot of people, and I can see why.
If you are budget conscious then price and value needs to be a huge consideration.
So exactly how much cheaper are TOURIT coolers when you compare them to Yeti coolers of a similar size? Well below you can see a price comparison chart of TOURIT vs Yeti soft cool prices.
You can also click the price links (my affiliate links) to see the products on Amazon and confirm the pricing, as I found different colors have different prices and some are cheaper than other.
TOURIT Coolers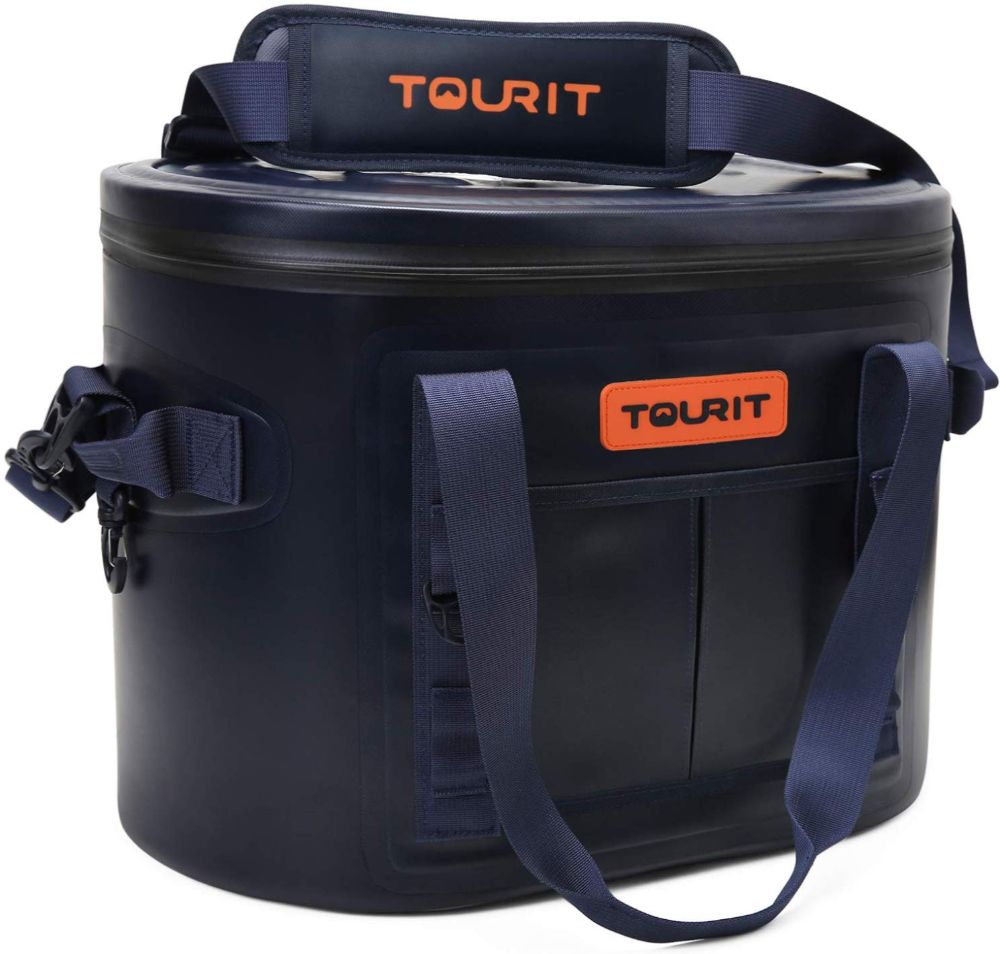 TOURIT Voyager 20:
---
TOURIT Voyager 30:
---
TOURIT Voyager Backpack:
Yeti Hopper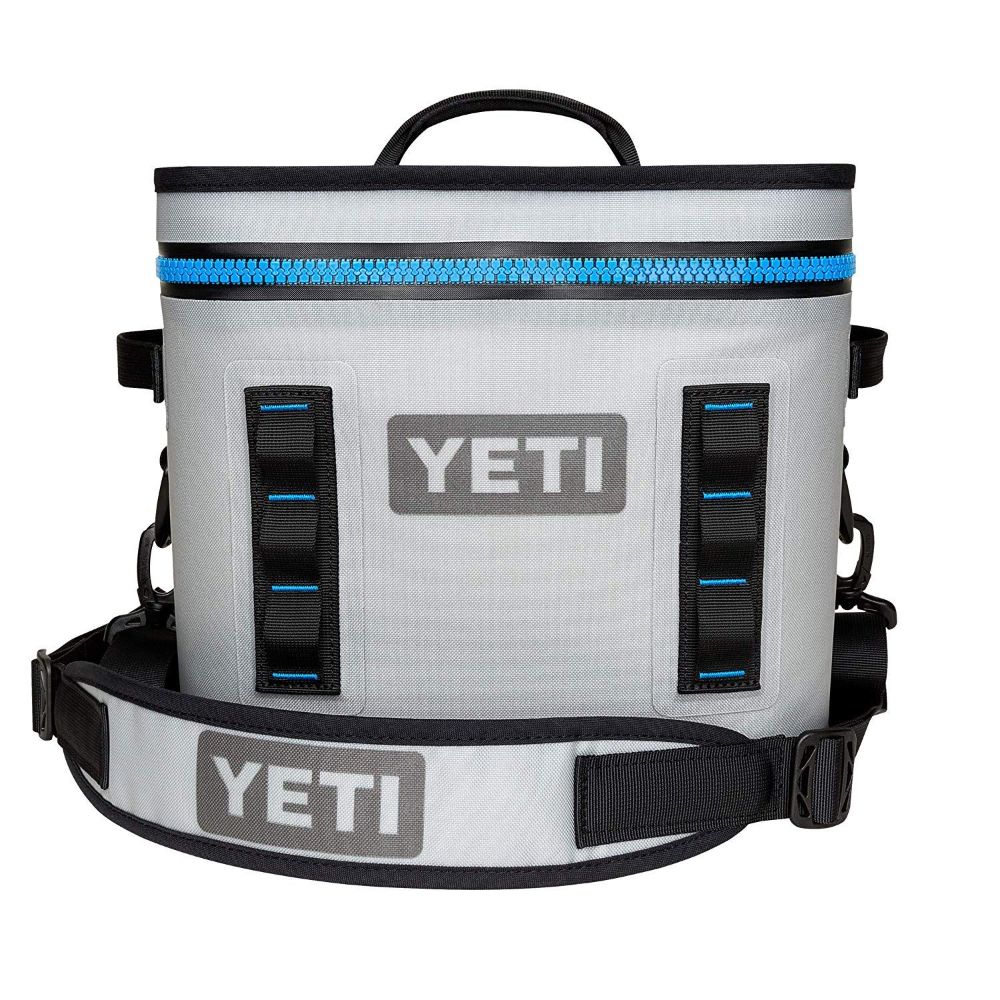 Yeti Hopper Flip 12:
---
Yeti Hopper Flip 18:
---
Yeti BackFlip 24:
Ice Retention Is Just as Good As Yeti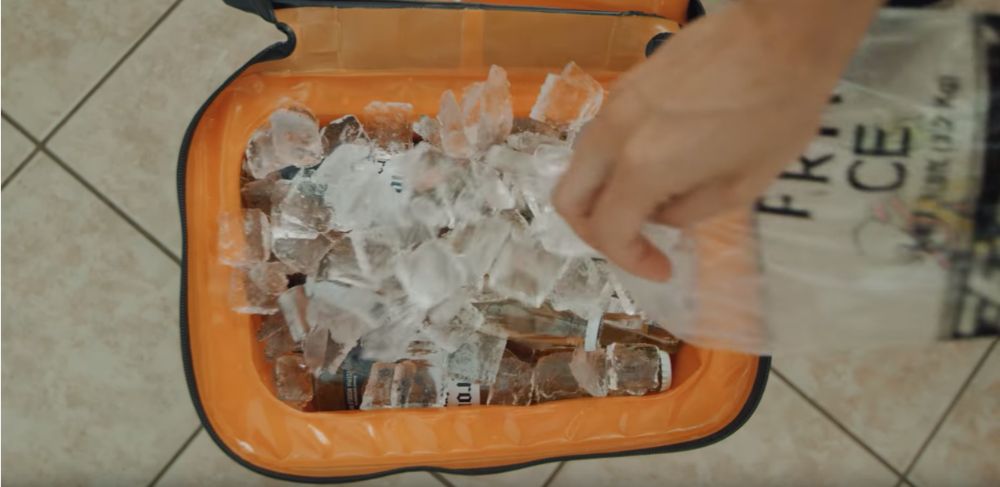 Surprisingly TOURIT coolers actually perform just as well if not better than Yeti soft sided coolers and can hold ice for slightly longer.
While it's not a huge difference you will likely get a few more hours of ice retention out of a TOURIT when comparing it with a Yeti.
This is because TOURIT coolers have more insulation in the lid as well as more insulation in the walls.
TOURIT has 2 inches on insulation in the lid – compared to Yeti's 1.5 inches of insulation in the lid. They also have 1.2 inches of insulation in the walls – whereas Yeti only has 0.75 inches of insulation in it's walls.
More insulation keeps out more heat which leads to better ice retention.
You can expect 2-3.5 days of ice retention on a TOURIT cooler and 2-3 days for a Yeti cooler. As I said the difference isn't huge but if you want the cooler with better ice retention then go for the TOURIT.
Who Is TOURIT And Can You Trust This Brand?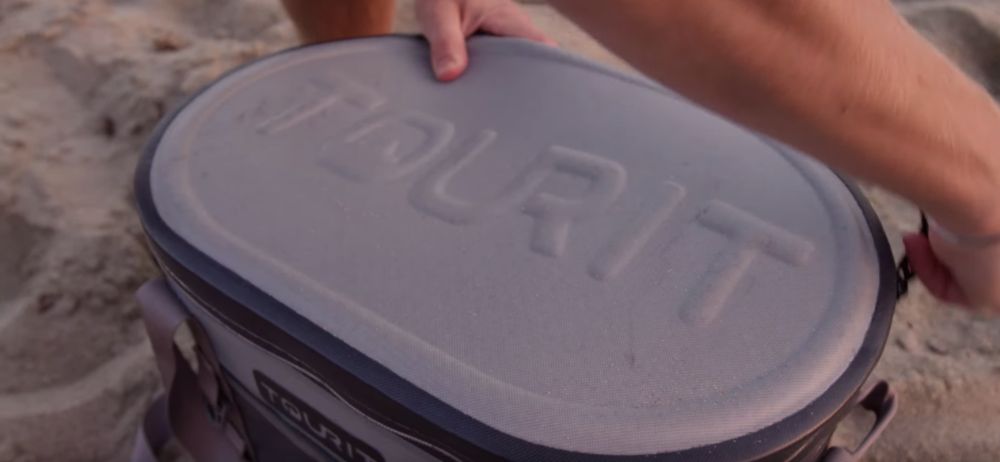 Before we start looking at build quality and comparing features of these coolers I want to talk quickly about the brand TOURIT.
We all know the brand Yeti. It was started by 2 brothers who basically created the high-end cooler industry and it has since grown to become a lifestyle brand worth BILLIONS (yes with a B) of dollars.
What about TOURIT though? What do we know about this brand?
Well turns out very little. Their website tells almost nothing about them, nor does their facebook page or marketing. They seem to sell almost exclusively from Amazon.
I did a little digging and found out they seem to be based in Hong Kong and just import coolers into the USA. Click here to learn more about this secretive company and where they make their coolers.
Build Quality Isn't As Good as Yeti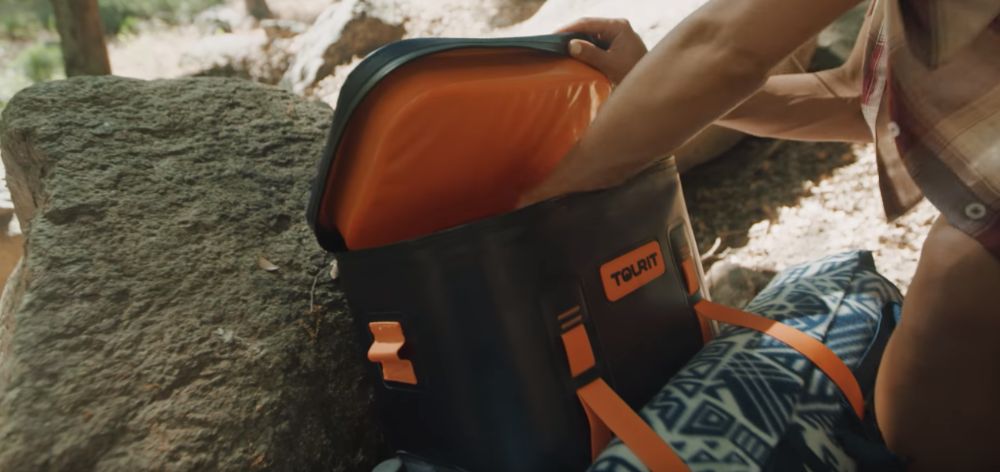 One of the downsides with buying a TOURIT instead of a Yeti is that the build quality of the TOURIT, while good, isn't quite as good as the Yeti cooler.
The exterior of both coolers is made of a heavy-duty nylon that is TPU laminated to make it waterproof as well as puncture resistant. Yeti openly talk about using the tough 840-denier nylon but I could not find any information on exactly what TOURIT use. I would expect it to be slightly lower quality than Yeti though.
The zipper of the TOURIT is also more prone to breaking or losing it waterproof seal when compared to a Yeti. Click here to read my full writeup of the TOURIT coolers including my thoughts on their zipper.
It's a different type of waterproof zipper and it's a similar rubber design that Ozark Trail use on their soft sided coolers. The majority of customer complaints about the TOURIT is that the zipper either broke off within the first year or use or that the rubber seal degraded or split meaning the cooler is no longer leak proof.
So when it comes to build quality I am confident in saying Yeti coolers have a higher standard of build quality and will be more durable over the long run and less prone to breaking.
Click here to see the latest prices of Yeti soft coolers at Amazon
Yeti Offer a 3-Year Warranty. TOURIT Offer a ??? Year Warranty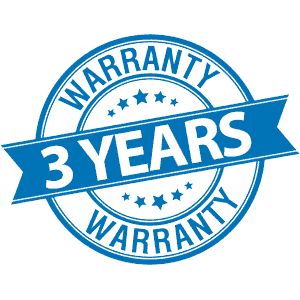 While we're talking about durability and longevity it's important to mention that Yeti offers a 3-year warranty on all of their soft sided coolers. So if anything happens to your cooler within the first three years Yeti will either repair or replace your cooler free of charge.
TOURIT on the other hand make no mention of their warranty, neither on their Amazon listings nor on their website. I again had to do some digging and I got mixed messages with the company sometimes saying it offered a lifetime warranty, sometimes saying 3 years while it's seller profile on Amazon said 2 years. So I have no idea what warranty this company actually offers on it's soft sided coolers.
Both Coolers Have High End Features
Both of these coolers are premium coolers and have some high-end features that you would expect at this price point.
Let's start by looking at the features they have in common and then we'll have a look at the features that TOURIT has that Yeti is missing.
Leak Proof Zipper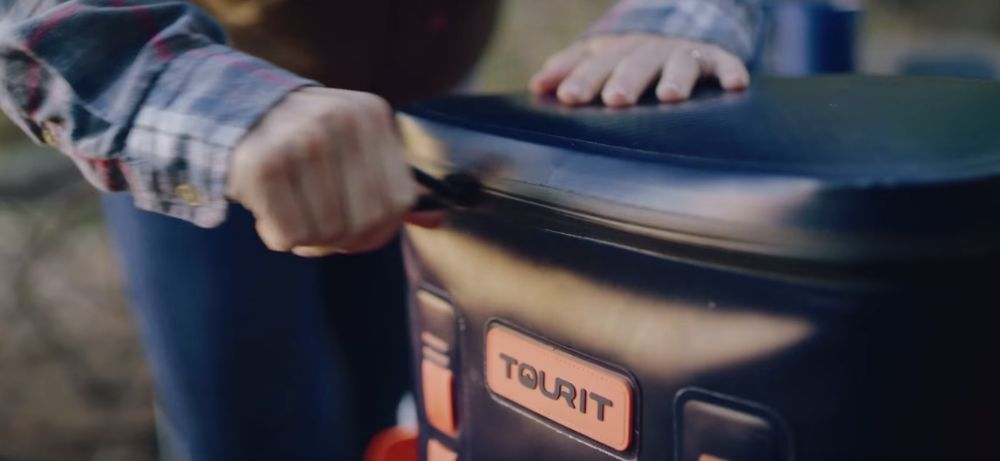 Both coolers come with 100% watertight and leak proof zippers. When closed the zippers won't let any water out.
This means no water will splash on you when carrying it and if it falls over in the back of your car it isn't going to leak water everywhere.
Both zippers require a decent amount of force to open with TOURIT's zipper being slightly easier to open but Yeti's zipper being more robust and less likely to break over time.

The only cooler in the lineup without a zipper is the Yeti Hopper M30 which has a magnetic closure system that allows for a wider opening without the hassle of zippers. But this opening isn't perfect either and has it's downsides. Read my full Yeti Hopper M30 review to see whether or not this is the best soft sided cooler.
Reinforced Base
Both coolers have a thick reinforced base on the bottom of the cooler where it receives the most punishment. This reinforced base can handle a lot more wear and tear and won't rip or break no matter what kind of terrain you drop it on.
Food Grade Inner Lining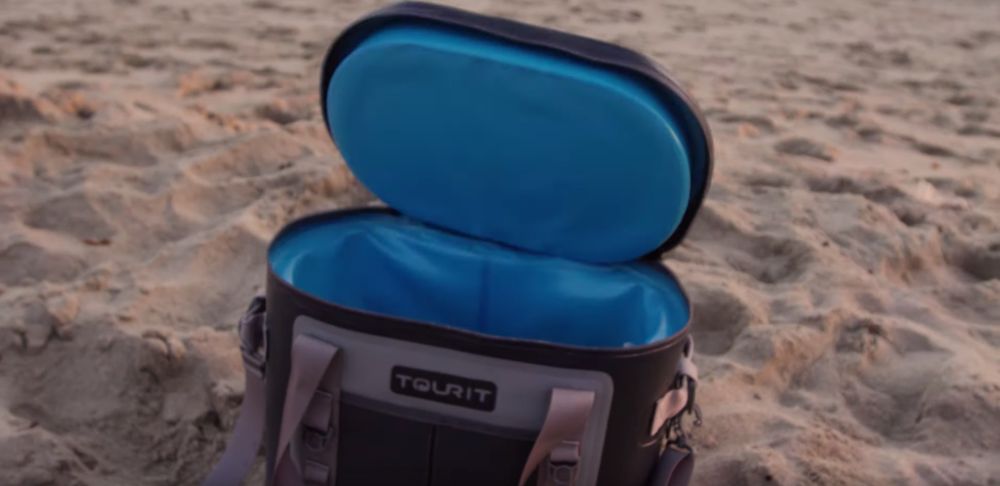 Both coolers have an FDA-approved BPA-free food grade inner lining that won't put any nasties into your ice or your food.
They do smell a bit when they are brand new which some people have complained about but this smell tends to lessen over time and most soft-sided coolers have it.
Removable Shoulder Strap (or Backpack Straps)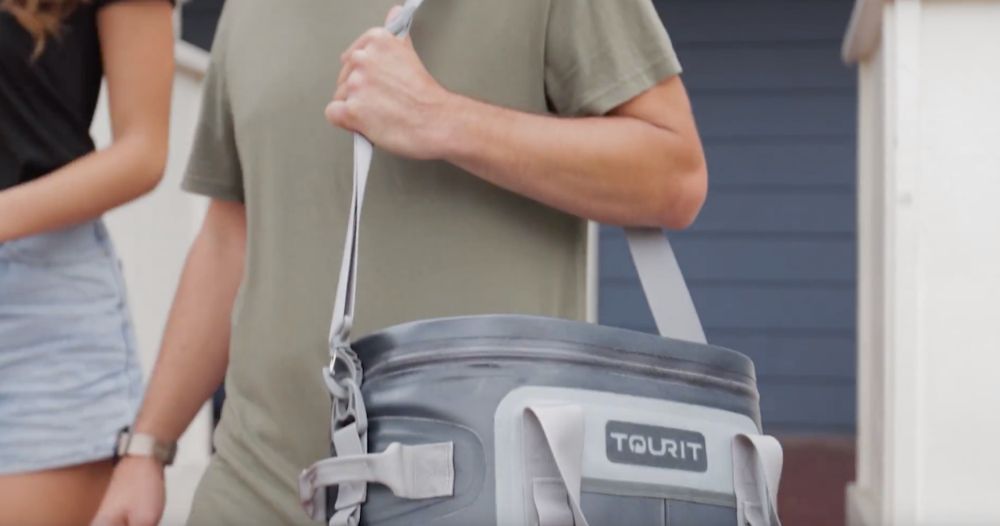 Both brands have a removable padded shoulder strap that allows you to carry the cooler hands free. Throw this over your shoulder and off you go.
The Backpack coolers have backpack straps instead of shoulder straps (obviously…thus why they are backpack coolers) and they are wide and padded offering good comfort and support.
Yeti backpack coolers also offer a hip strap and sternum strap for extra support when the cooler is fully loaded as it can get quite heavy.
Carry Handles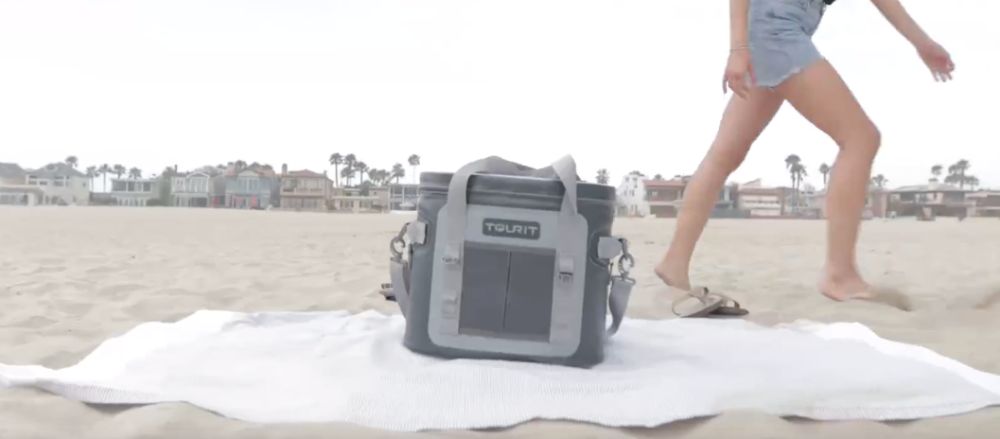 TOURIT coolers have 2 longer handles that meet in the middle for single hand carrying – kind of like a tote bag. They also have dual side handles if you want to carry it with two hands.
Yeti coolers have a similar setup but instead of the two longer handles that meet in the middle they have a strong single handle that is attached to the lid. They also come with dual side handles for carrying with two hands.
The backpack coolers also have a handle for carrying it around.
Tie Down Straps

Both coolers have tie down straps that allow you to strap down your cooler to you car, van, truck, boat, kayak or wherever you want. This ensures your cooler won't tip over or go anywhere.
Waterproof Exterior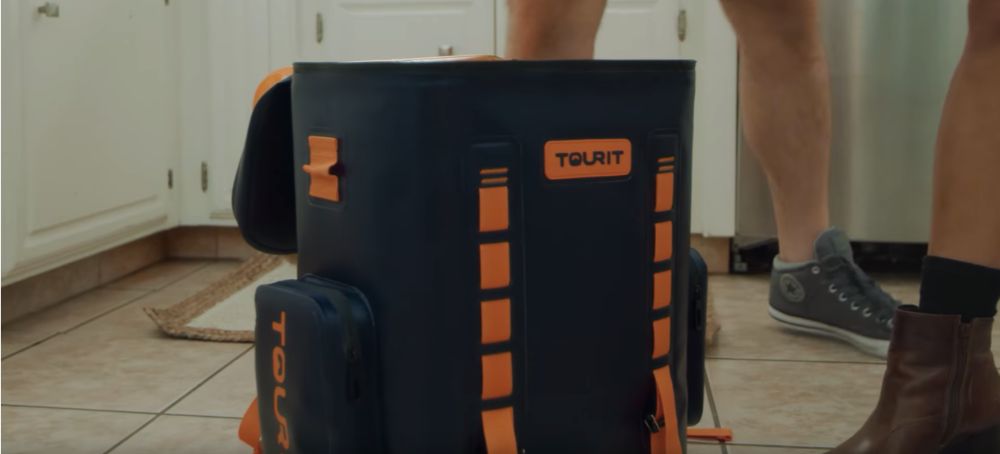 Both coolers are made from a heavy-duty nylon that is TPU laminated. This lamination makes the exterior of the cooler 100% waterproof. So you can leave it out in the rain or drop it in the river and it'll be fine.
TOURIT Has Some Features Yeti Lacks
TOURIT has gone ahead and added some extra features to their coolers that I wish Yeti had.
Front Pocket
The TOURIT has a small tight front pocket that isn't a zipper pocket. This is good for storing smaller items but it's not very large so you can't storage a great deal in there.
Yeti coolers don't have any pockets at all so while the TOURIT pockets aren't perfect they are better than nothing.
Rear Mesh Pouch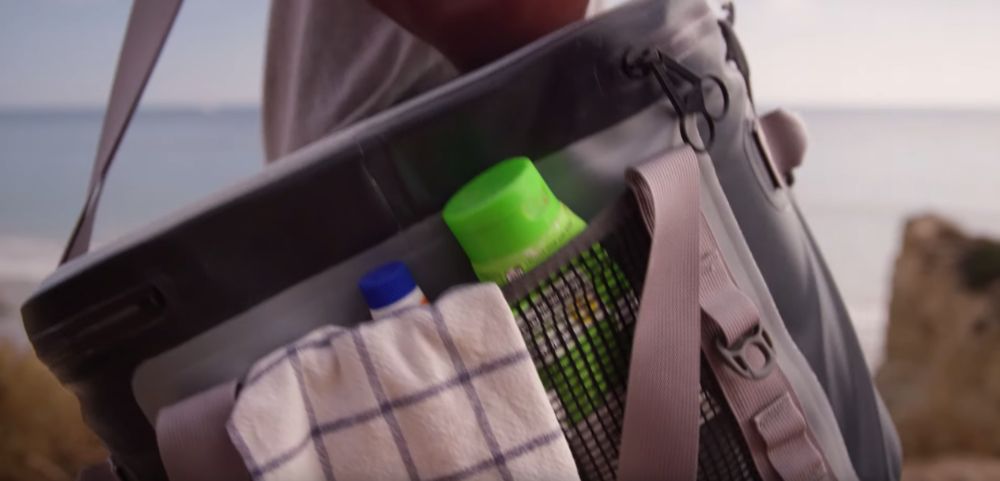 On the back of the cooler is a mesh pouch that is a similar size to the front pocket but a bit more stretchy. This is a useful pocket for things like sunscreen or little items you want to access that you don't want to put in the main body of your cooler.
Backpack Sided Pockets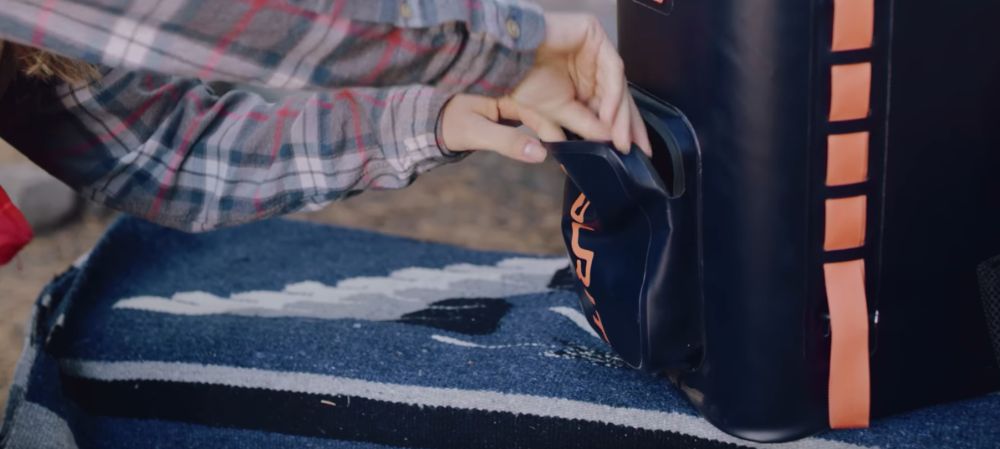 The TOURIT backpack has larger weatherproof side pockets which are great for items like your phone, wallet, keys or dry food.
Gear Straps For Towels/Rugs/Mats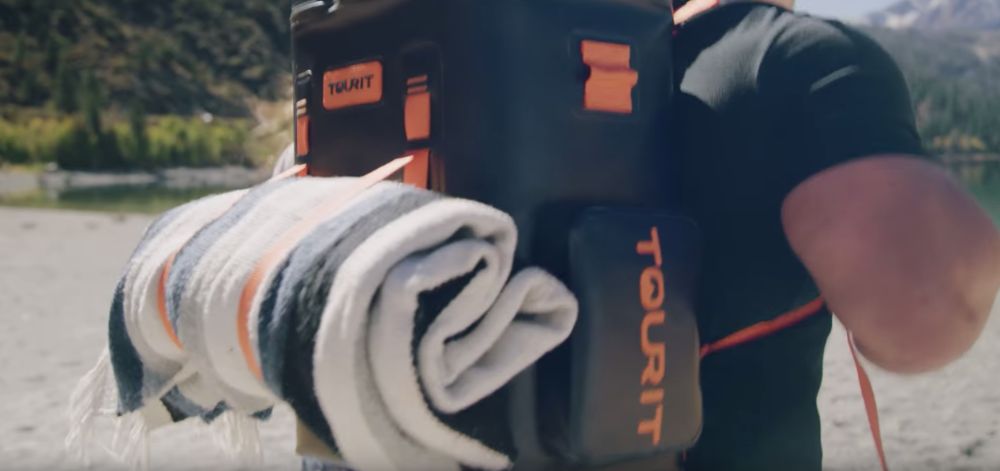 The TOURIT also features gear straps on the front of the backpack cooler. These straps are designed to hold items like a towel, mat or picnic rug so you can take it with you without having to use another bag to carry it.
Built In Bottle Opener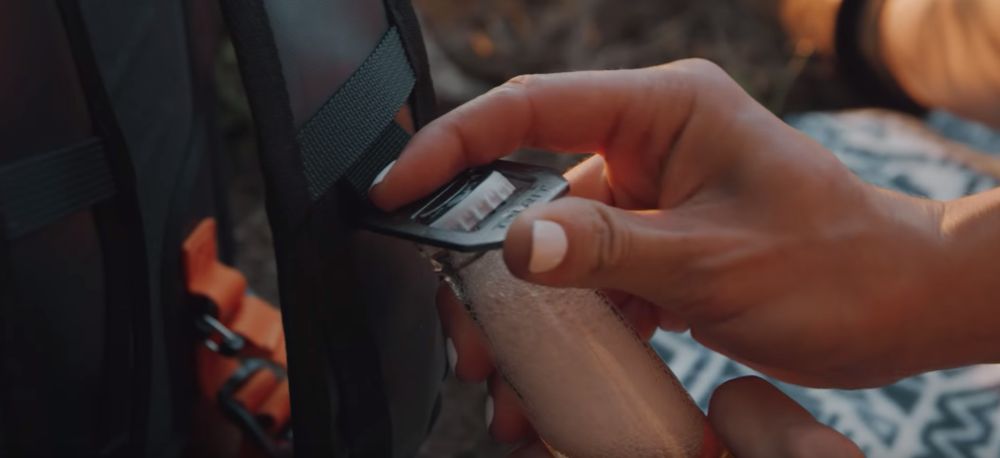 It's a small addition but all TOURIT coolers come with attached bottle openers that are fixed onto the exterior of the cooler.
They are made with stainless steel so they shouldn't rust and it means you never have to hunt around for a bottle opener again as you'll always have one handy.
Yeti Has The HitchPoint Grid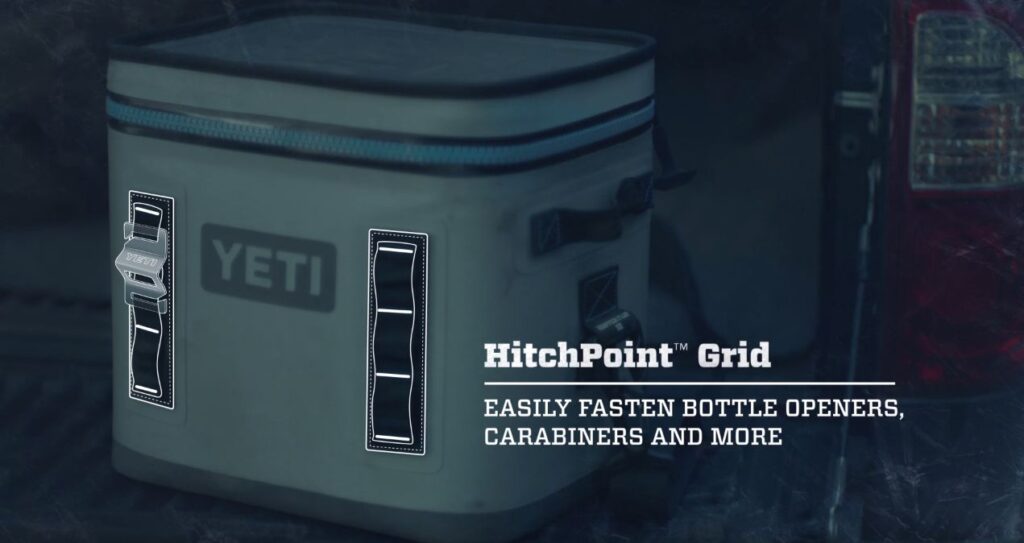 While Yeti doesn't have any external pockets nor an attached bottle opener it does have the HitchPoint Grid. This is a webbing on the outside of the cooler that you can use to attach accessories like the Yeti SideKick Dry waterproof pouch or a bottle opener.
Alternative Soft Sided Coolers Worth Considering
You may be feeling that neither TOURIT nor Yeti feels like the perfect cooler for you. Or maybe you like them but you want to see what other options are out there.
Well there are actually a whole bunch of good quality soft sided coolers. Ive reviewed most of them and below I've listed some of the best alternatives.
Grizzly Drifter: Best Value For Money

The Grizzly Drifter is one of the best value-for-money soft sided coolers on the market.
It's made extremely tough and durable and can keep ice just as long as the Yeti. It has multiple different external storage pockets that are much larger than the ones on the TOURIT and it sells for even cheaper than the TOURIT – at less than half the price of the Yeti. Click here to read my full Grizzly Drifter vs Yeti Hopper comparison.
The downside of the Grizzly Drifter is that the zipper is NOT waterproof like most other high-end coolers and it does leak water. But the positive in this is that the zipper is therefore easier to open and close and less likely to break.
I love this cooler and if you can get over it not being waterproof I think you're going to love it too. Plus it'll save you a lot of money.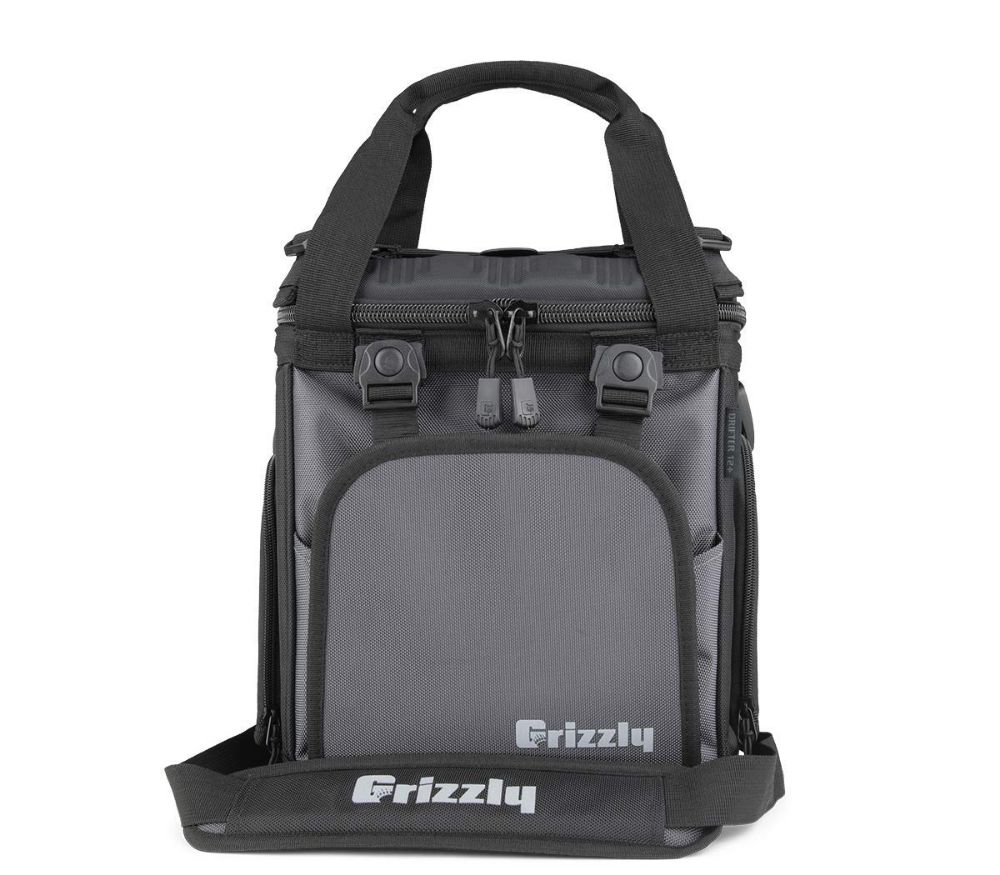 See just how cheap Grizzly soft coolers are at Amazon. So cheap.
RTIC Soft Pack Coolers: Almost Identical To TOURIT
RTIC Soft Pack coolers are the closest comparison the the TOURIT soft sided coolers. These coolers are actually so similar I wonder if they are manufactured by the same company.
RTIC coolers can hold ice longer than Yeti coolers but you do sacrifice a little bit on the quality compared to Yeti. Click here to read exactly how RTIC Soft Pack coolers compare to Yeti Hopper soft coolers.
The price on these coolers is really good as well and they actually come in even cheaper than the TOURIT. So if you're looking for a budget option to the Yeti Hopper coolers then RTIC is definitely worth considering.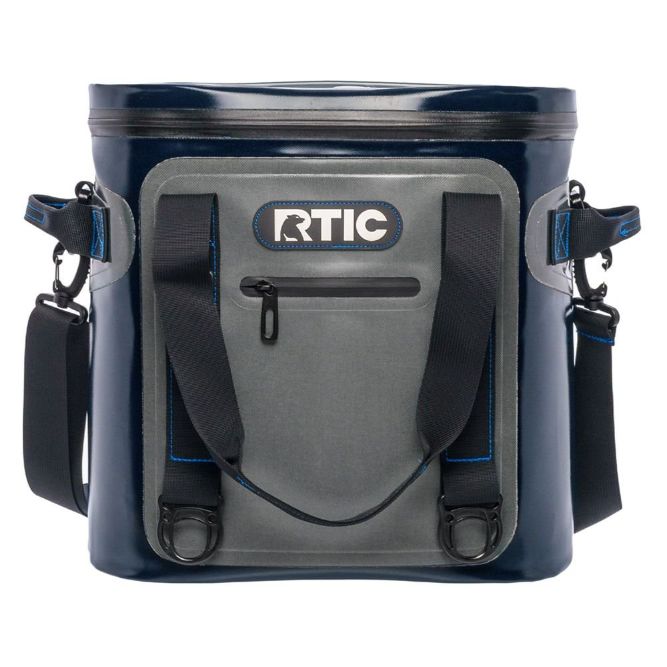 See how much you'll save on RTIC coolers at Amazon
Engel HD30: Best Ice Retention
If you're looking for a soft sided cooler with the best ice retention then the Engel HD30 is going to be the cooler for you. Nothing beats this cooler when it comes to ice retention for soft sided coolers.
This cooler can keep ice way longer than the TOURIT, Yeti or any other brand of soft sided cooler. Click here to learn exactly how long it can hold ice for and how it does it…you'll be shocked.
This cooler only comes in the one large size so if you want something smaller you'll have to consider another brand. But if you're happy with the size then this is a great cooler and it'll save you about $100 when compared to the Yeti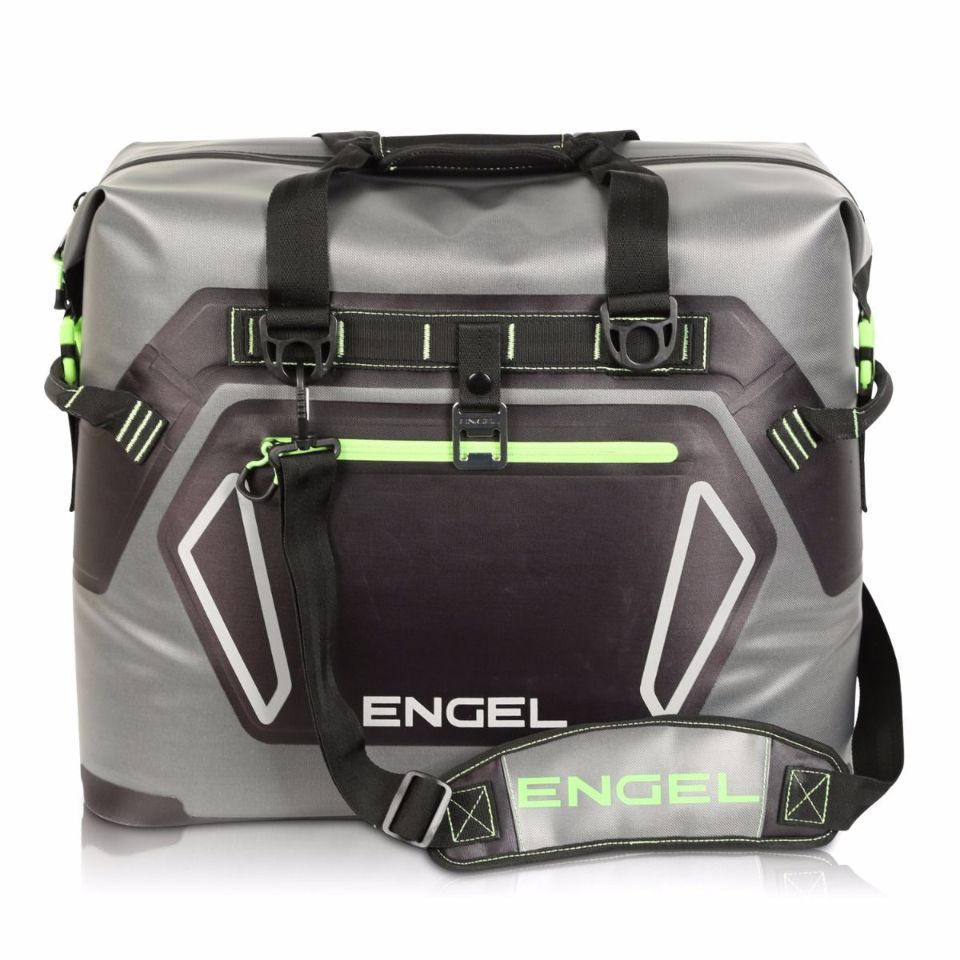 See the latest price of the Engel HD30 at Amazon
TOURIT vs Yeti Soft Coolers: Which Should You Buy?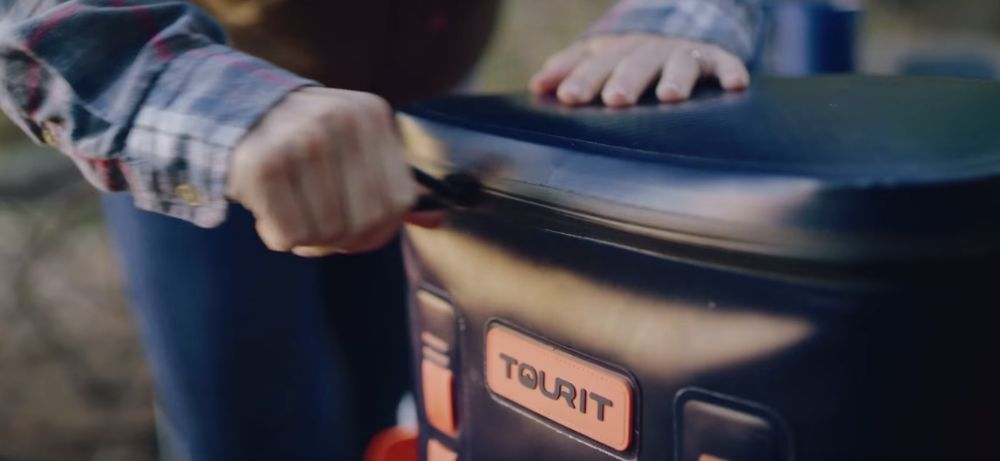 So you've seen the difference and similarities between TOURIT and Yeti soft sided coolers.
In short, TOURIT offer many of the same features with similar ice retention for a cheaper price but Yeti is still better quality and will likely last you a lot longer.
Neither cooler is better than the other and they both have their pros and cons. Ultimately which cooler is best for you will depend on what you value as well as what your budget is.
If you want to save some money and won't be heavily using the cooler then the TOURIT will likely suit your needs and be good enough.
If you want something that will last you longer or will handle more use or if you like the branding better then Yeti may be the cooler for you.
If you want to grab one of these coolers then simply click my Amazon affiliate links below to see the latest price of these coolers and to get them shipped out to you asap.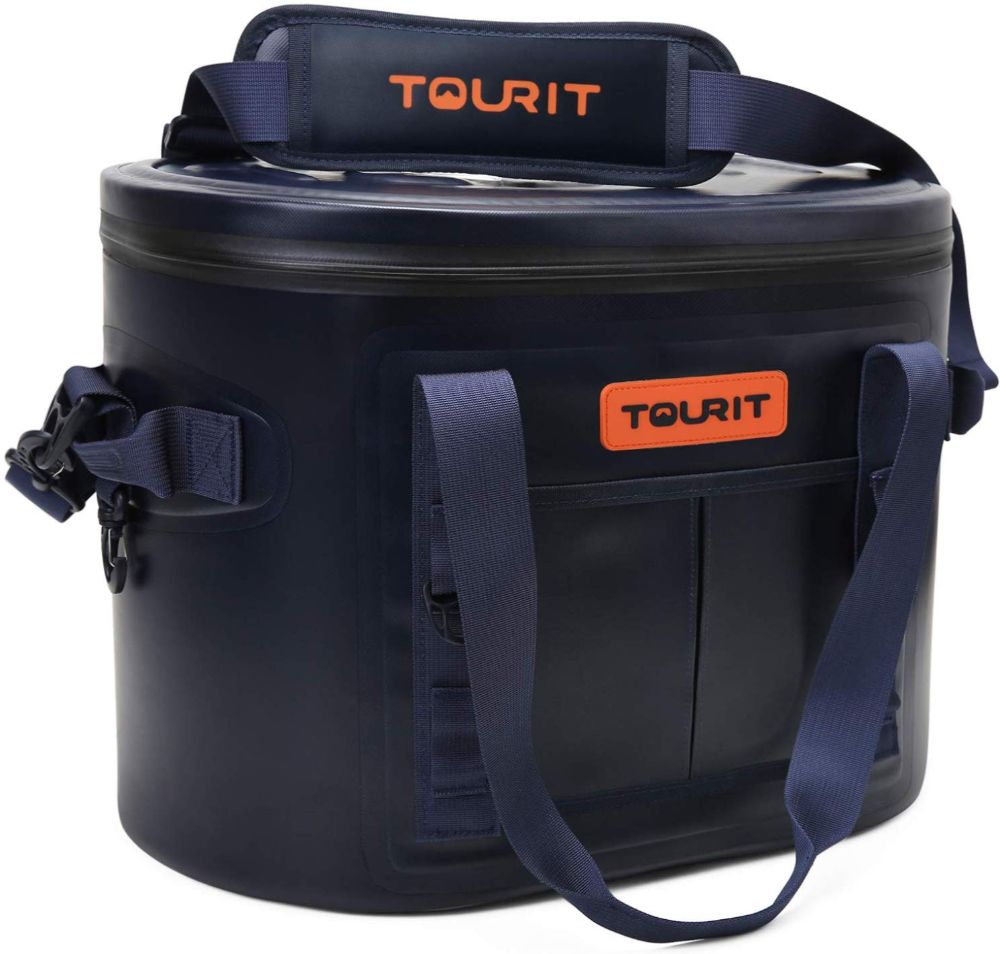 See the latest price of TOURIT soft coolers at Amazon