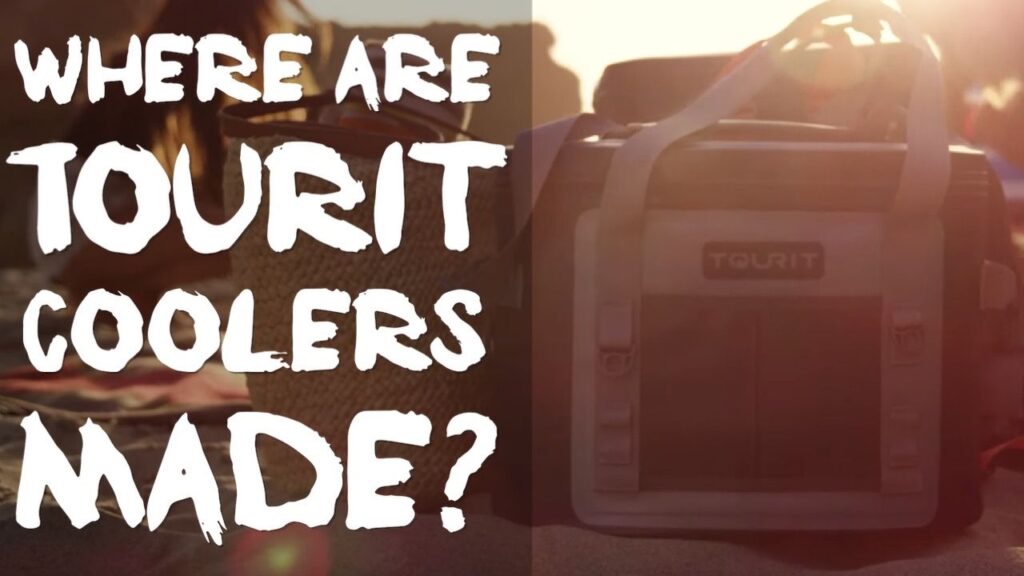 TOURIT Coolers are a popular alternative to Yeti Hopper soft sided coolers that are very popular on Amazon. But where are TOURIT Coolers made, are they any good and what is the warranty on these products?
Where are TOURIT Coolers and Bags Made?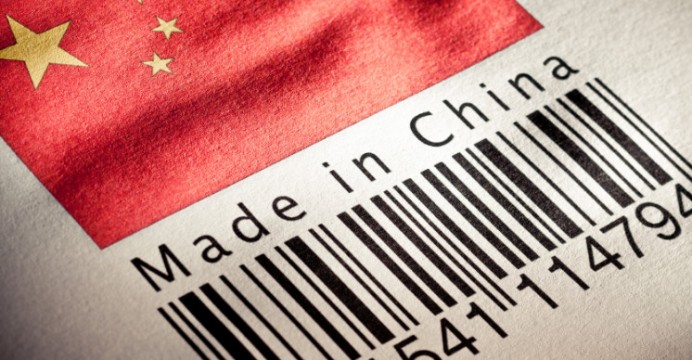 TOURIT coolers and bags are made in China
It's actually extremely difficult to find any information about TOURIT online. Their website, facebook page and Amazon store doesn't give much information at all.
I was able to find the answer to where TOURIT coolers are made in this Amazon listing for one of their soft sided coolers.
TOURIT coolers are made in China. The customer service response claims that is is because they were actually able to find higher quality ingredients overseas and they strictly control the quality during the production process.
However, I suspect that TOURIT is actually a Chinese company. Their Amazon sell account is called "DIAMOND STAR INDUSTRIAL US"
When I Google this company I found this contact page for TOURIT with an address and phone number based in Hong Kong. This contact page also has the same details. This Amazon.co.uk Seller Profile also has Hong Kong as the address of the company.
There's also this import data showing that in 2017 this company started providing exports from China to the US, which lines up with my other research.
So while it isn't actually stated anywhere other than that one Amazon response to a customer question I can pretty confidently say that I believe TOURIT coolers and bags are manufactured in China.
What is the Warranty on TOURIT Coolers?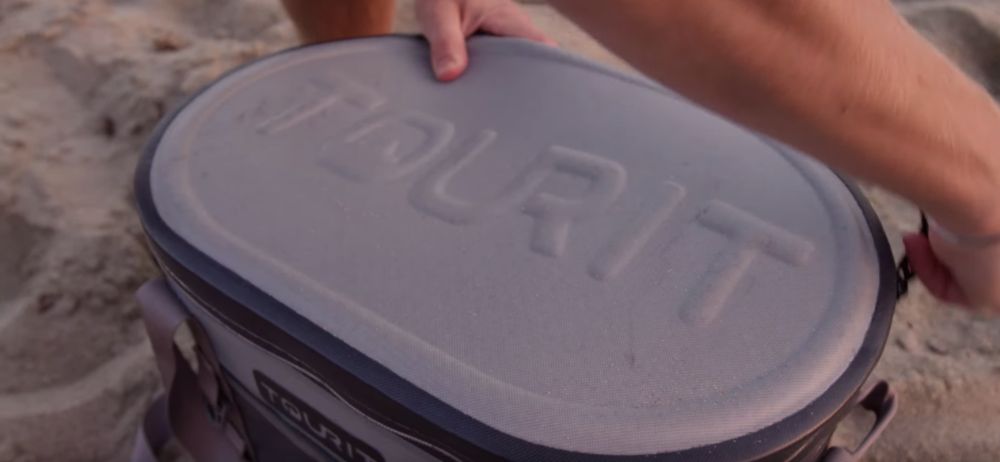 Understanding the Warranty of a product should be something that is simple and straightforward, but what the warranty is on TOURIT coolers is unclear. From the research I have done I found out that it could be 2 years, 3 years or a lifetime guarantee. But it's most likely to be 2 years.
Yeti coolers offers a 3 year warranty on their soft sided coolers and a 5 year warranty on their hard sided coolers. It's part of their marketing campaign.
Orca coolers offer a lifetime warranty on their coolers as do Canyon and these other coolers with a lifetime guarantee.
So what about TOURIT and why is it so hard to know what the warranty is?
For starters they don't list what warranty they offer anywhere on their website or in their Amazon listings. When you try to see the warranty details on Amazon you get a "Please contact the seller directly for warranty information for this product."
Then when the customer service team has responded to customers questions one response said they offered a lifetime warranty on their products and then another response said they offer a 3 year warranty.
Then their seller page on Amazon states they offer a 30-day money-back guarantee for ANY reason and then they offer a 24-month warranty for quality-related issues.
This is their official seller page and not just a response to a customer question, so I'm inclined to believe that a 2-year warranty is most likely.
Are TOURIT Coolers As Good as Yeti?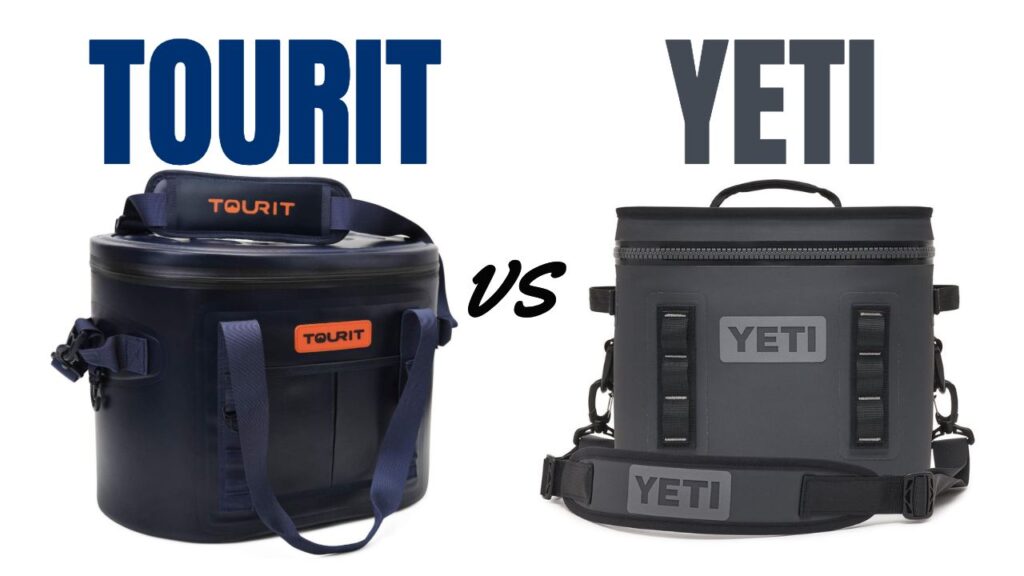 TOURIT Coolers can hold ice as long as Yeti soft sided coolers of a similar size however the build quality and durability is not as good as Yeti coolers.
Yeti coolers are made from a stronger and more durable material and the waterproof zipper on the Yeti is longer lasting than that on the TOURIT which seems to break for a lot of people within a year or even as quickly as within a few months.
Click here to see my full TOURIT vs Yeti Hopper soft cooler review to see which cooler is definitely better.
One benefit they do have over Yeti coolers is that they come with external pockets for holding items you don't want to keep in the main body of your cooler. This is a nice added feature that Yeti doesn't have.
TOURIT coolers are still good and they offer a significant discount when compared to the Yeti, but no they aren't quite as good as Yeti.
See the latest price of TOURIT soft sided coolers at Amazon
Do TOURIT Coolers Come With a Bottle Opener?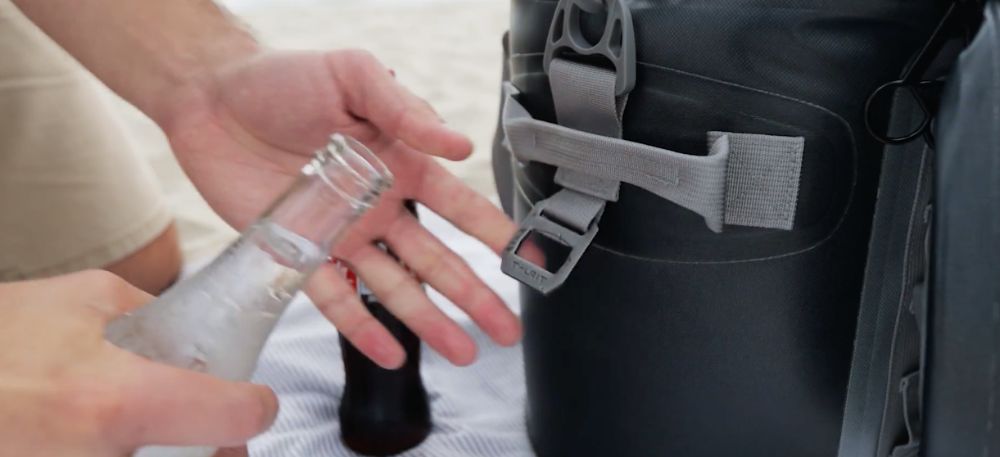 Yes TOURIT coolers all come with attached bottle openers on the exterior of the cooler.
This is a nice feature to have as it means you don't have to go hunting for a bottle opener as it's always with your cooler.
The bottle opener is made from stainless steel and attached to the cooler via a thick nylon strap.
Are TOURIT Coolers Leak Proof?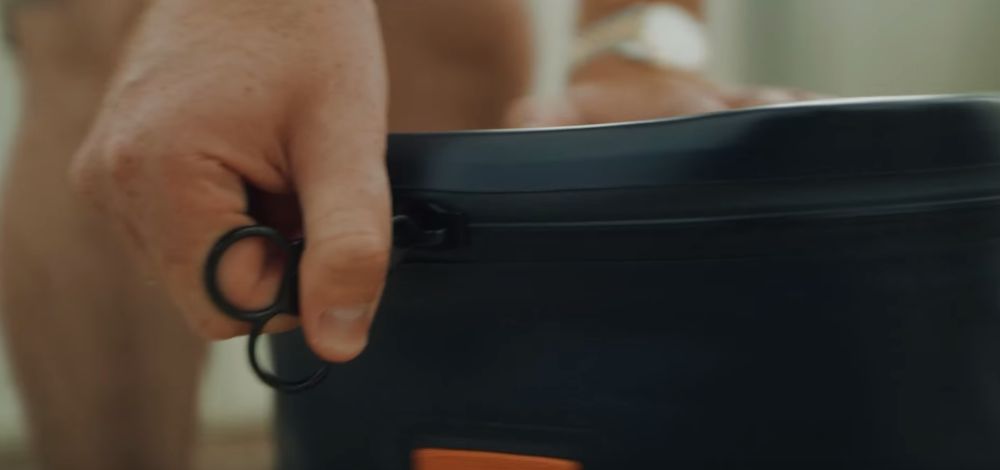 Yes, TOURIT coolers are 100% leak proof when the zipper is closed.
The zipper uses a rubber watertight seal that when closed won't let any water out.
The downside of this zipper is that it makes the cooler harder to opener. The zipper requires a fair bit of force to open and also needs to be lubricated so it doesn't break. TOURIT provide owners with this lubrication which you can then store in the front pocket so you don't lose it.
Looking at the customer reviews on Amazon you can see that the zipper is one of the main issues with the cooler. It has a tendency to break off and be unable to fix as well as the rubber having a tendency to split and tear, thus losing the waterproof seal.
Read my full review of the TOURIT coolers including my thoughts on their waterproof zipper
How Long Will TOURIT Coolers Hold Ice?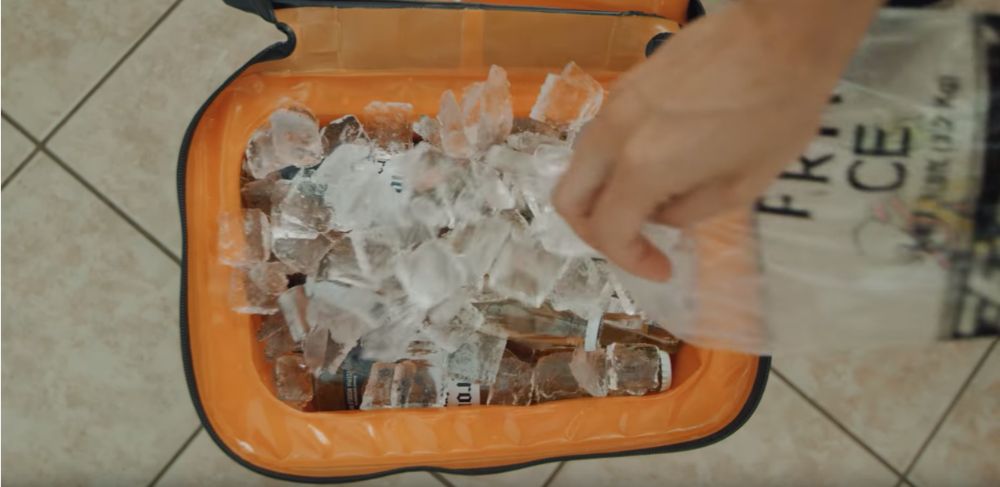 TOURIT coolers can hold ice for approximately 2-3 days with a 2:1 ratio of ice to drinks.
There have been a few ice retention tests done over at YouTube in a variety of conditions with some filling the cooler up completely while others only partially filling up the cooler with ice.
TOURIT coolers have 2 inches of foam insulation in the lid of the cooler and 1.2 inches of insulation in the walls of the cooler. This is what helps it to keep ice so long.
This cooler is actually a very similar design to the RTIC Soft Pack coolers that it makes me question whether the same manufacturer creates both the RTIC coolers and the TOURIT coolers.
There are a few reviews on Amazon of people saying it doesn't keep ice for very long, but these reviews are few and far between.
To ensure your cooler keeps ice the longest make sure you prechill your cooler before use, prechill the drinks you'll be putting in the ice and get ice that is as cold as possible as colder ice stays frozen longer.
How Many Quarts are TOURIT Coolers? TOURIT Cooler Capacities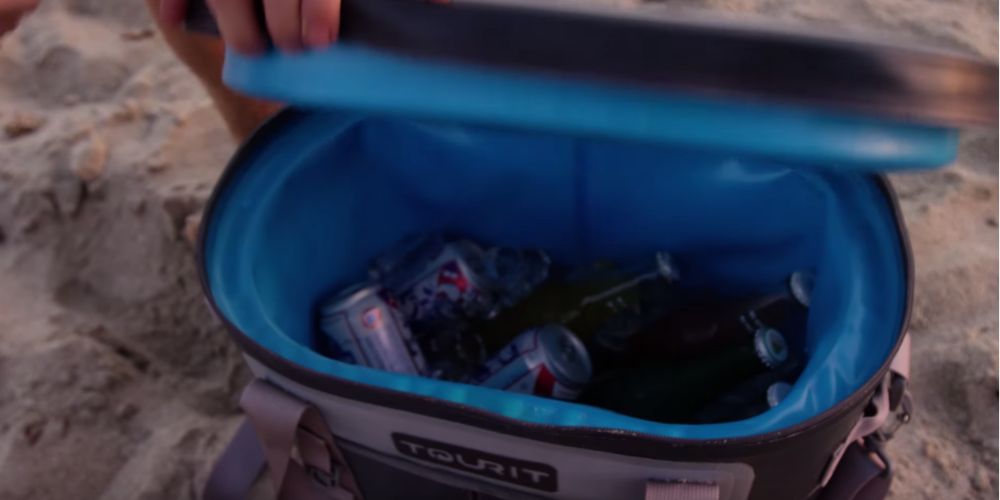 TOURIT coolers are named after how many cans they can hold WITHOUT ice. So the TOURIT Voyager 20 can hold 20 cans and the TOURIT Voyager 30 can hold 30 cans. But what is the quart capacity of these coolers?
Again like other stuff with TOURIT it's quite hard to find this information and their marketing images are sometimes blatantly wrong with Amazon spec images showing the Voyager 30 and the Voyager backpack both holding 17-Quart when they are both definitely larger than that and actually different sizes to each other.
I was able to find a customer service response to a question on Amazon and discovered the quart capacity of the coolers. You can see their capacity below:
TOURIT 20 Can – 17.1-Quart
TOURIT 30 Can – 24.2 Quart
TOURIT Backpack – 22.1 Quart
See all sizes of TOURIT coolers at Amazon
Where Can You Buy TOURIT Coolers?
As far as I can find TOURIT coolers are sold exclusively through Amazon or you can also buy their coolers and bags on their website.
TOURIT seem to be a Chinese brand that imports its coolers and sells them through Amazon.
Their coolers sell for a fraction of the price of competitor brands like Yeti, making them a cheaper alternative that – looking at how many reviews they have – a lot of people have gone for.
They aren't cheap and are still a premium cooler but they are cheaper than some other options out there and worth considering if you're on a budget.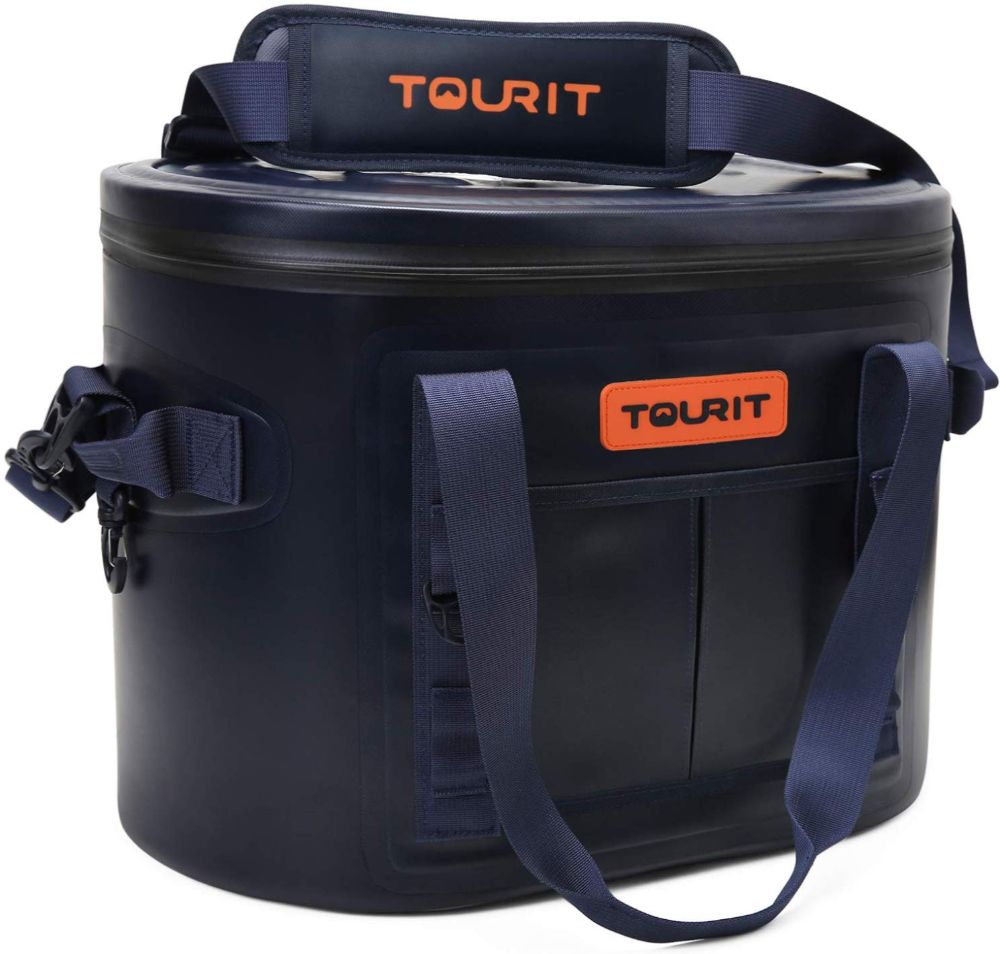 Click here to see just how cheap TOURIT soft coolers are at Amazon