Ever since Yeti Coolers exploded in popularity, many smaller brands have stepped in, trying to make a Yeti-like cooler that works just as well but at a more affordable price point.
Canada's Chilly Moose is one of those brands and, frankly, they've done a pretty decent job.
But how exactly do Chilly Moose Coolers stack up when compared to Yeti Coolers?
When comparing Yeti Coolers vs Chilly Moose Coolers, there are a lot of similarities. Both are roto-molded coolers, pressure-injected with about two inches of foam insulation, with a nearly identical build.
While Chilly Moose Coolers cost less than Yetis by about 25% across the board, Yeti Coolers have slightly better ice retention, better build quality, come in more sizes and colors, and are backed by some of the most generous customer service in the industry.
Chilly Moose Coolers aren't too far off from Yetis where it really matters and the lower price point is always nice. Ultimately, it's up to you whether or not the (smaller than I'd expect) savings is worth the small downgrade in all other areas. 
Color Options:

4-5 standard colors, 10+ heritage colors

Sizes:

12, 25, 35, 55, 75 Liters

Sizes:

24, 35, 45, 65, 75, 85, 105, 110, 125, 160, 210, 250, 350

Best For:

Affordability and Canadian Pride
Great Value
Sizes:
12, 25, 35, 55, 75 Liters
Best For:
Affordability and Canadian Pride
Highest Quality
Color Options:
4-5 standard colors, 10+ heritage colors
Sizes:
24, 35, 45, 65, 75, 85, 105, 110, 125, 160, 210, 250, 350
Price And Value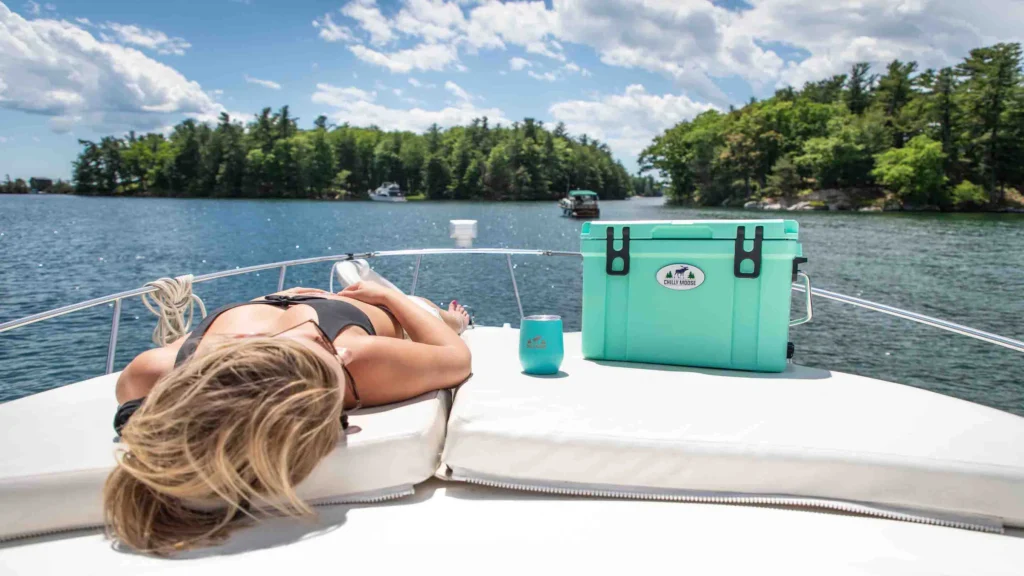 Price is the one area where Chilly Moose consistently beats out Yeti.
On average you're looking at around a 20% to 25% savings between a Chilly Moose and a comparably sized Yeti.
Their 25L Chilly Ice Box, for example, retails at $180 ($250 CAD), compared to the Roadie 24 at $250. The 55L Chilly Ice Box retails at $275, vs the Tundra 65 at $375. And Chilly Moose's largest cooler, the 75L Chilly Ice Box, retails at $375 compared to the Tundra 75 at $450. 
Swaying things even further in favor of Chilly Moose is that it's pretty common to find them on sale, whereas Yetis are rarely ever discounted because they always seem to sell out regardless. 
If you can find a Chilly Moose on a good sale like I did recently (I got mine for 20% off right from Chilly Moose's site), it's actually a pretty great deal.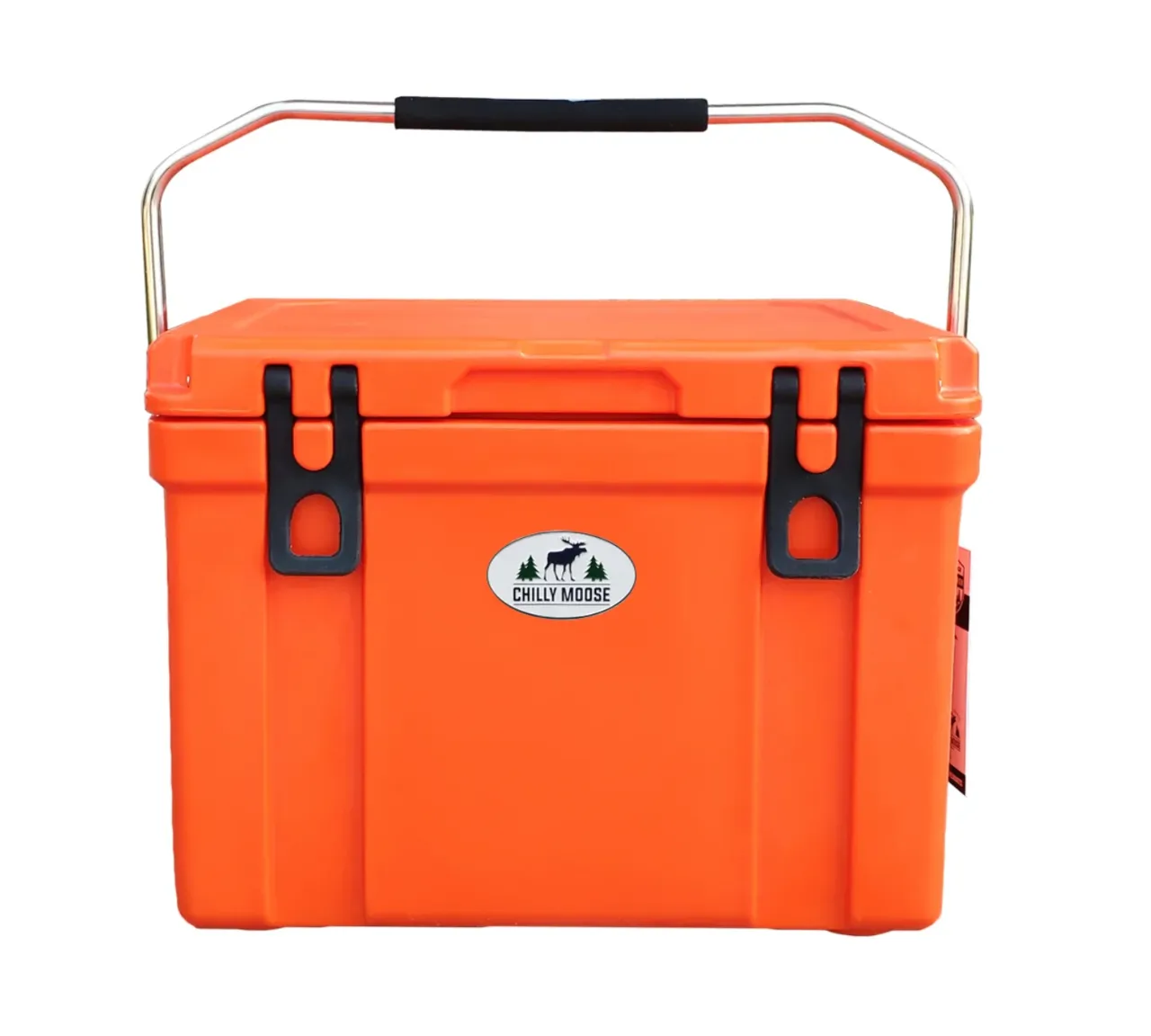 Chilly Moose 25L Cooler
The 25L Chilly Ice Box is a handy companion built to handle everything from a relaxing day on the water to the rowdiest dock party. Just the right size to pack all your day trip provisions or night time libations.
Heavy-duty rotomolded construction, virtually indestructible
Foam pressure-injected insulated walls for industry-leading ice retention
Form-fitted interlock lid system keeps the heat out and the cold in
Quick drain release valve
Heavy-duty stainless steel handle
Wildlife resistant construction
Designed in Canada. Responsibly produced in China.
See Latest Price at ChillyMoose.ca
Insulation And Ice Retention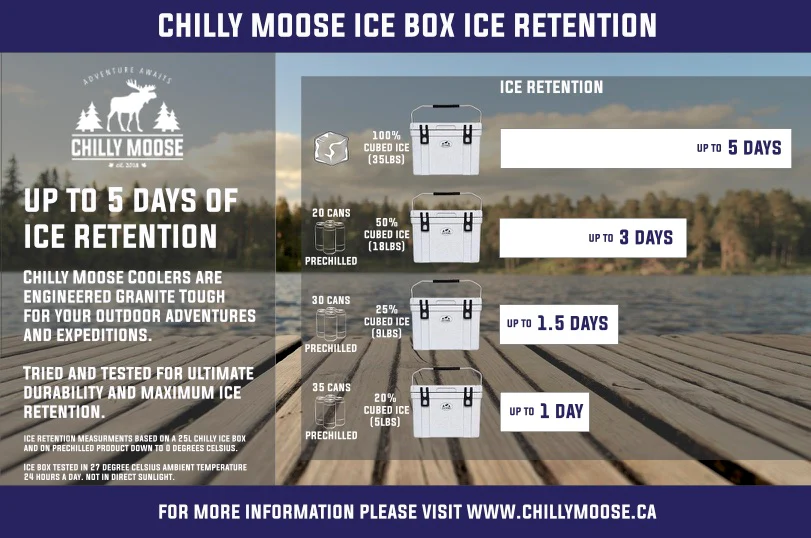 When it comes to ice retention, Yeti and Chilly Moose Coolers are quite similar. And it's no big surprise.
After all, Chilly Moose Coolers are about as close to Yetis in terms of build and insulation as any cooler on the market.
So close, in fact, that Chilly Moose was one of the companies Yeti took to court for patent infringement a few years back.
Both have roto-molded outer shells with about two inches of pressure-injected foam insulation and an interlocking lid with a freezer-grade gasket to keep the cold in and the heat out.
And the results mostly bear this out. They are both some of the best coolers for ice retention on the market – but not THE best. That title goes to brands like Orca and Kong.
Even though I've only had my Chilly Moose for a few months, the times I've taken it out, a drop-off in ice retention wasn't glaringly obvious.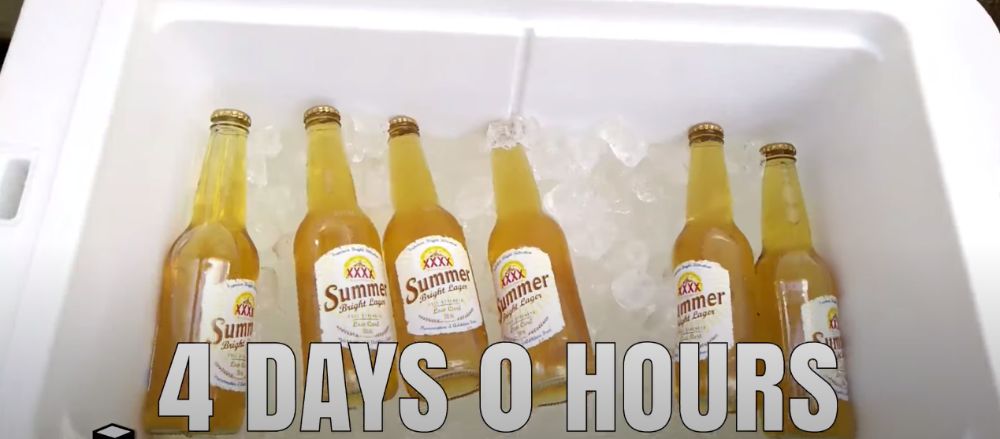 Generally, Yeti hard coolers are able to keep ice anywhere from four to ten days (and up to two weeks for the bigger models), depending on the size of the cooler and how it's packed.
Larger coolers normally keep ice for longer than smaller coolers because they can hold more cold thermal mass. And naturally, a cooler packed with more ice than food and drinks will keep cold longer as well. 
In field tests, the 75L Chilly Ice Box kept ice for about 100 hours (a little over four days), which is just a hair under the roughly 110 hours you'd expect from the Tundra 75. 
Ten hours might seem like a lot, but when we're talking multiple days at the end of a long weekend, it's honestly barely noticeable.
Durability And Build Quality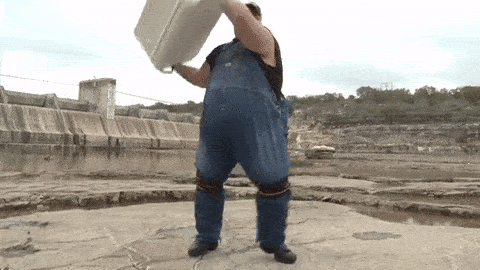 While I haven't had my Chilly Moose for nearly long enough to draw any definite conclusions about its durability, I can say that it feels sturdy, was certainly made with care and attention to detail, and has easily withstood the standard beating all of my coolers take on a camping trip with the kids. 
Below is a review from a customer where a bear attacked their Chilly Moose cooler trying to get into it. Despite the insulation being shot it's amazing to see how strong the cooler was and the fact that the bear couldn't get in.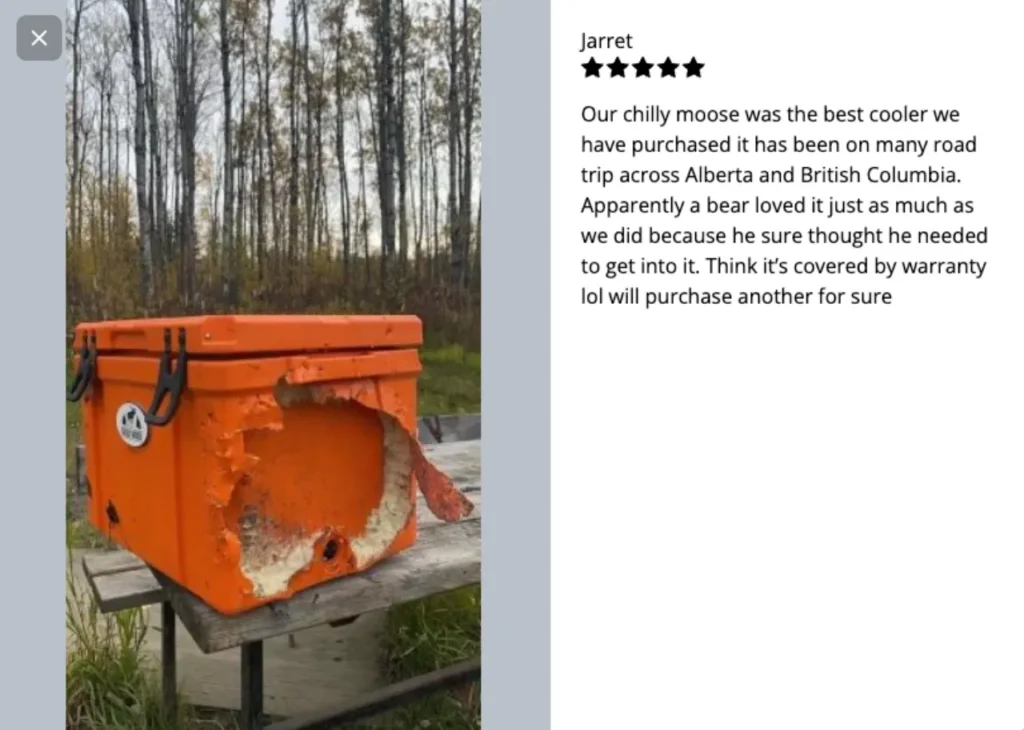 A common complaint from other Chilly Moose owners is that the rubber feet tend to detach from the bottom of the cooler.
Which isn't the end of the world, since Chilly Moose coolers are covered by a solid three year warranty (vs Yeti's five year warranty) and they're pretty easy to reattach anyway.  
Aside from that, only time will tell how well my Chilly Ice Box holds up. Here's to hoping it'll last for years (if not decades like many Yetis).
Features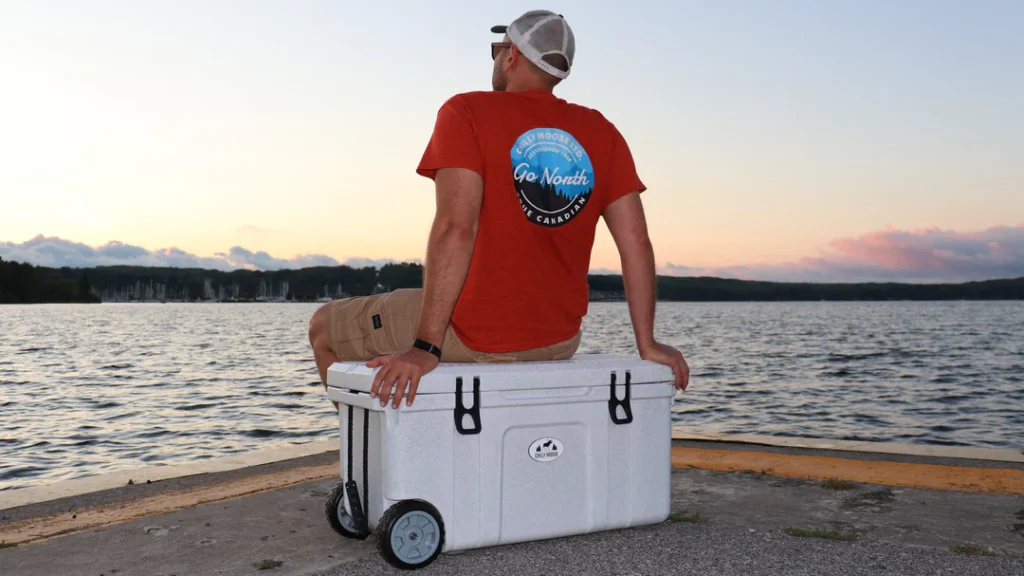 Feature-wise, it's pretty apparent that Chilly Moose modeled their hard coolers after Yeti's.
Aside from the similarities in build, both offer heavy duty rope handles, a drain release valve, slots for a tie down kit, a lock-compatible lid, and a wildlife resistant shell.
It's almost as if Chilly Moose bought a Yeti, slightly tweaked the body style, and tried to make an otherwise exact replica. 
Chilly Moose coolers do also offer wheeled versions of their coolers, but the price hike for a wheeled vs non-wheeled version is similar to the price hike you pay when buying a Yeti Haul or Yeti Roadie wheeled cooler vs a similar size Yeti cooler without wheels.
If you want a cooler that is essentially a Yeti in terms of features, you can't really get much closer than a Chilly Moose.
Sizes And Options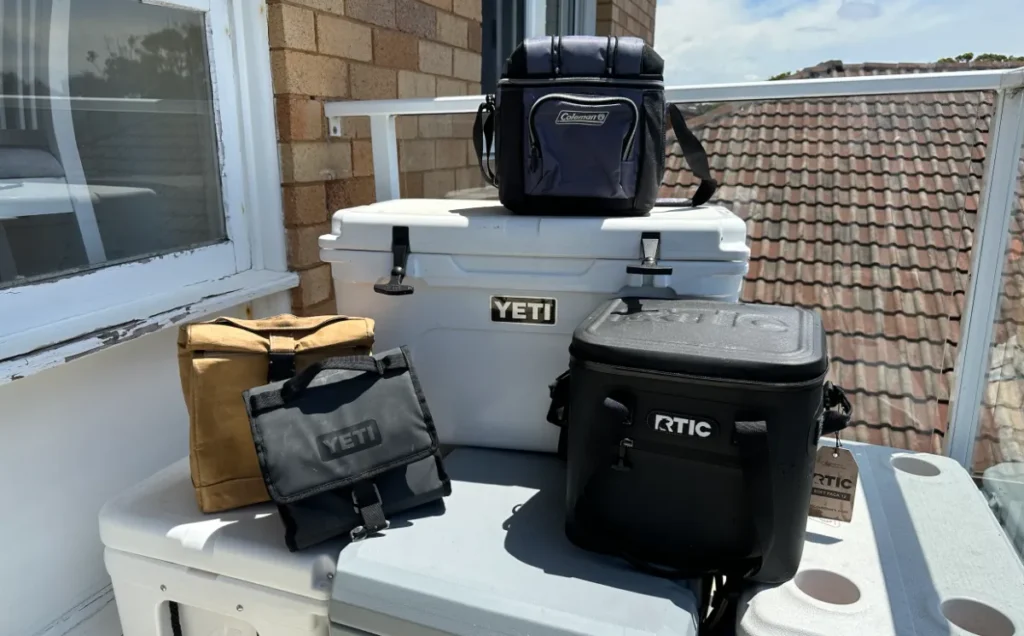 Being a much larger and more well established company, it's no surprise that Yeti blows Chilly Moose out of the water when it comes to the number of sizes and styles they carry.
While Yeti offers over 12 sizes, ranging from the Roadie 24 all the way up to massive Tundra 420, Chilly Moose offers a modest four — 25, 35, 55, and 75 liters.
And where Chilly Moose offers only standard hard coolers and a couple of wheeled coolers, Yeti offers both of those in addition to vacuum-insulated stainless steel coolers and my favorite soft-sided cooler on the market, the Yeti Hopper.
Are Chilly Moose Coolers A Good Alternative To Yeti?
Yeti Coolers are a bit polarizing.
Diehard Yeti owners swear by them and wouldn't be caught dead using a 'lesser' cooler. But to many others, they're just simply okay — overpriced with better alternatives for a fraction of the cost.
To me, the truth lies somewhere in the middle.
Sure Yetis are expensive, but at least you know that you're getting a dependable, solid product and great support if something happens to go wrong.
Chilly Moose makes decent enough coolers that are certainly more than just another cheap Yeti knock-off.
But the problem is, they're not cheap enough to me to make it worth the savings. At least to me.
I'd rather pay the extra $50 or $75 and get the real deal.
My choice: Yeti Coolers
I'd personally pick a Yeti cooler over Chilly Moose but that's just because I am yet to find a cooler that FEELS as nice as a Yeti cooler.
The branding is recognizable and I have had such a good experience with all my previous Yeti products.
That's not to say Chilly Moose isn't a great brand (it is) and if anyone wanted to choose that over a Yeti I would completely understand.
But for me, I'm slightly in favor of the Yeti.