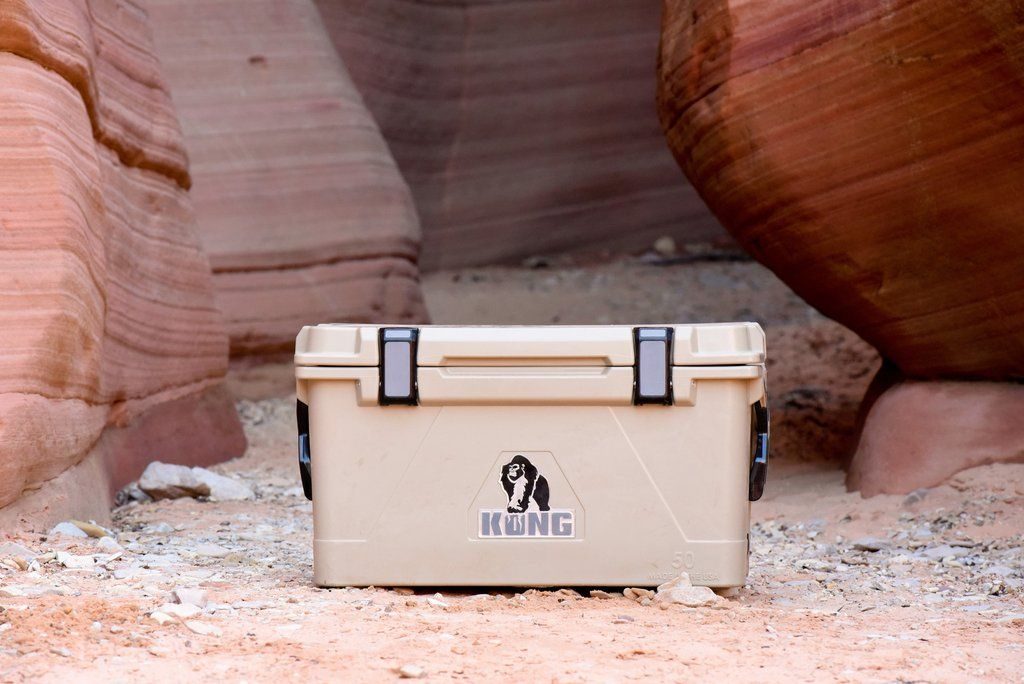 Kong coolers are a high quality product that's become popular among campers and adventurers. They've quickly become a popular cooler because they're exceptional for retaining ice and keeping contents cold and boast 100% USA craftsmanship and a lifetime warranty.
Yet, like all other coolers, Kong coolers aren't perfect and have some downsides as well.
Kong coolers are costly and have a bulkier design than other high performance coolers. They also have limited size options and distribution, making it challenging to find the perfect fit. If you're located outside the USA, Kong coolers may not be an option.
Understanding the pros and cons of Kong coolers will help you determine if it's the best option for you. 
This list isn't to say Kong Coolers are bad coolers (because they are actually one of the best coolers on the market) it's just to let you know the pros and cons so you know what you're buying and can make an informed decision.
1. They Are Expensive
One of the main problems with Kong coolers is the cost. This premium product is one of the most expensive coolers on the market.
The expense shouldn't be surprising as Kong coolers offer the best ice retention on the market. Kong coolers can keep ice for up to two weeks, depending on the temperature, cooler size, and ratio of contents to ice. 
While you can expect to pay a couple hundred dollars for a base model, Kongs are now more affordable than Yeti coolers. However, when they launched they were the same price or even more expensive.
I think the price is justified as the coolers do have a lifetime warranty, are as durable as you get and have the best ice retention of any cooler. However, when you can get coolers with similar performance and quality for cheaper it means Kong Coolers might not fit the budget of everyone.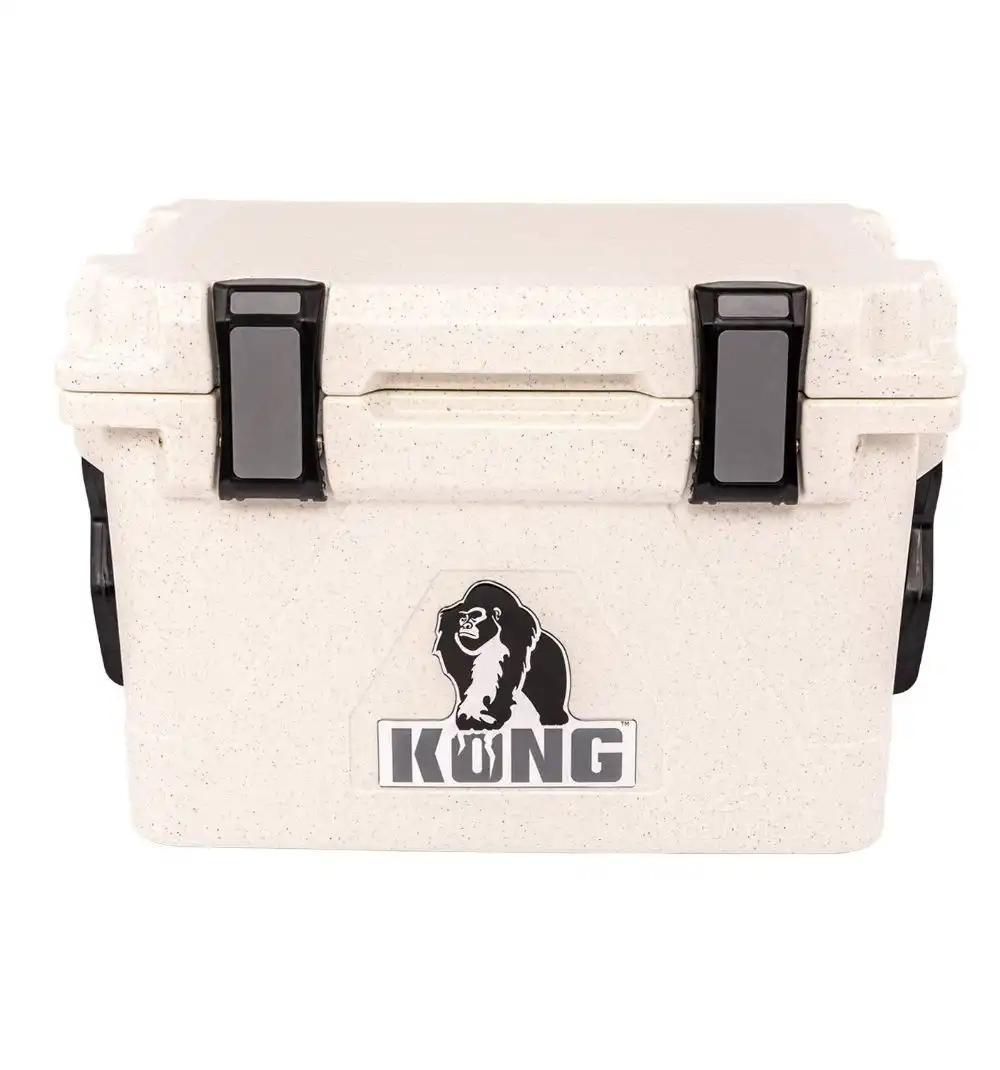 Kong Coolers
Made in the USA and backed by a LIFETIME WARRANTY, Kong Coolers are making waves at the best cooler for ice retention.
If you want a super durable cooler that will keep ice longer than any other cooler on the market then this cooler is for you.
See Latest Price at Amazon
2. They Are Heavy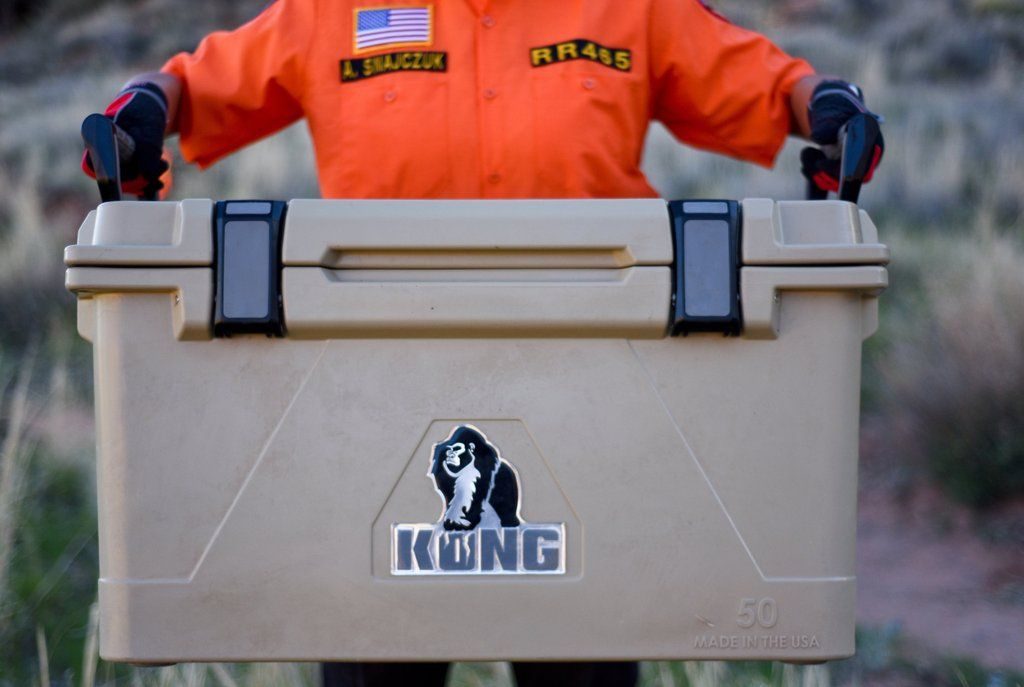 Like most roto-molded coolers, Kong coolers are heavy even when empty. These coolers tend to be slightly heavier than other roto-molded brands.
The weight of these coolers could be a concern when setting up at a walk-in site or transporting goods. However, it's the weight that contributes to ice retention and durability.
Here's a breakdown of empty Kong cooler weights by size:
20 quarts – 15lbs
25 quarts – 23lbs
50 quarts – 33lbs
50 quarts (wheeled) – 45lbs
70 quarts – 38lbs
110 quarts – 50lbs
Other roto-molded cooler brands are pounds lighter in each size range. This added weight could contribute to the superior ice retention with the Kong brand but it could also break your back.
It's worth noting that the Kong 20 has a shoulder strap, but could weigh 30lbs when fully loaded. While the strap is added for convenience, it's not overly ergonomic.
Kong offers several accessory options, including Kong Krush Guards to protect your hands from the heavy cooler lid while digging around. While this feature won't help you carry the Kong through the woods, it's a nice safeguard when children are present.
3. They Have a Bulky Design
The Kong cooler design is decent and the cooler looks nice but it isn't as slick and premium looking as some other coolers. It lacks the coloration and gloss of Yeti coolers – which come in a wide variety of colors. 
In addition to being heavy, the bulky design makes these coolers awkward to carry. You'll likely need one person to hold each handle to avoid serious back injuries.
Fortunately, appearances aren't everything. Kong performs better than the competition on ice tests, has been a trusted brand for 30 years, and is totally bear-proof.
4. The Have Limited Sizes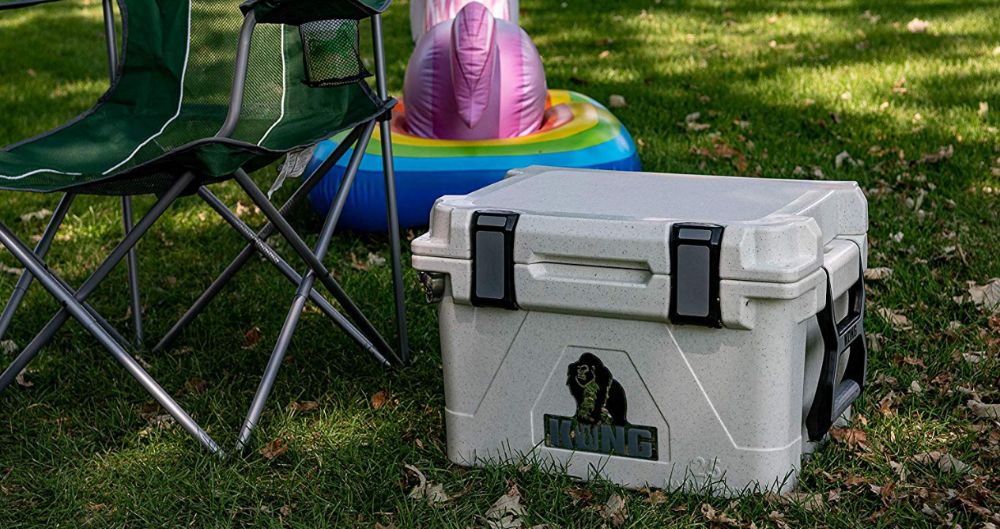 The Kong company is focused on doing a few things well rather than offering a broad range of products. Kong coolers only come in five sizes:
Kong 20
Kong 25
Kong 50
Kong 70
Kong 110
Kong currently offers five cooler sizes with significant gaps as the capacity increases. For example, Kong's two largest coolers are 70 quarts and 110 quarts with no option in between.
It would be nice to see a few more intermediary sizes, like a 35 or 90 quart option.
There's only one wheeled cooler option in the Kong lineup with a capacity of 50 quarts. As these coolers are so heavy, it would be nice to see a larger wheeled option for extended group trips. Yeti recently just released new Roadie wheeled coolers and other companies seem to be following suit.
The Kong 20 is designed for over-the-shoulder or single-hand carrying, which sets it apart from the other options.
5. Lack Of Distribution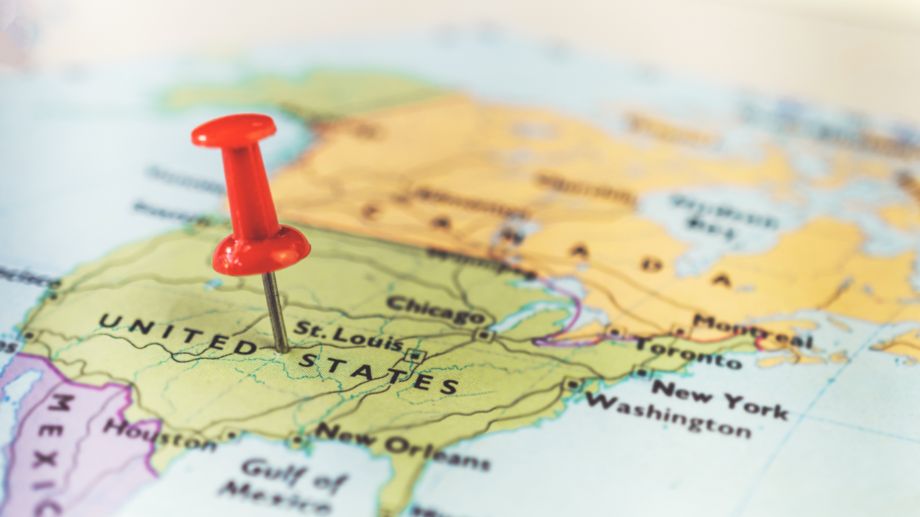 Kong coolers only ship within the continental US. They're also available at several retailers within the US and on Amazon.com. 
It's extremely difficult to get your hands on a Kong cooler internationally. International Amazon options are often limited or overpriced.
Some savvy shoppers have a friend or family member in the US pick up a cooler and ship it independently. While the international shipping costs may be substantial, this is an option if you're keen on a Kong cooler.
Are These Problems Deal Breakers?
Kong coolers are one of the best coolers available. While it's important to understand the disadvantages of this cooler before buying, nothing listed here is a deal-breaker.
The two overarching issues that might be deal breakers for some include the pricing and international shipping limitations.
Budgeting and spending more on a high-quality cooler is well worth the investment, but international shipping limits are difficult to work around.
Kong Coolers Are Pretty Hard To Fault For The Following Reasons
If you're a backwoods adventurer, Kong Coolers are worth the investment. Here are some notable features that outweigh the disadvantages listed above.
Ice Retention Up There With The Best
Kong coolers can retain ice for upward of two weeks. Even the smallest Kong cooler option will keep ice for at least six days.
While Yeti has more brand awareness and notoriety than Kong, its ice retention is lacking by a few days. Whereas large Kong coolers can retain ice for 14 days, Yeti tends to max out around 10 days.
What's more impressive is that the Kong cooler can even withstand hot, Florida temperatures for a week with minimal ice loss.
You can watch the video below to see an ice retention comparison among leading roto-molded cooler brands.
Best Coolers Showdown- Crowning A New Champion(s)
Kong Coolers Are Made In The USA

Kong coolers are manufactured in the USA with strict restrictions regarding integrity. This feature is ideal for those who want to support local and experience cost savings compared to international brands like Yeti.
The Kong company's philosophy is to cut out the middle man to support their lifetime warranty and customer service. It's these values that make it difficult to get a Kong cooler internationally.
They Are Backed By A Lifetime Warranty
Kong offers a limited lifetime warranty on its products making it one of the best coolers with a lifetime warranty. Other brands offer short-term warranties that expire quickly.
The limitations on the warranty pertain to normal wear and tear. If you use your cooler every summer for ten years and it starts to get scuffed up, you aren't covered.
Other limitations are around the attachments and accessories. The handles and latches have five-year coverage. Warping or sagging isn't covered as it's considered normal and doesn't impact the cooler's integrity.
Altering the cooler in any way also cancels the warranty. Kong is very transparent in their limitations and warranty terms; there's no fine print. 
Their Accessories Are Great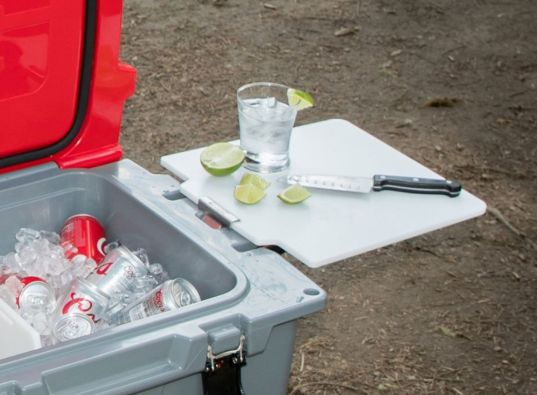 While cooler sizing is limited, the accessory options are not. Kong has several accessory options that modify and enhance the cooler's functionality.
One of the best accessory combinations is the Kong Kicker and Cut'N Trays. The Kicker is a mounted support device that adheres to the side of the cooler and supports the Cut'N Trays.
You can use Cut'N Trays for food preparation or as an extra surface for resting beverages and snacks. Most Kong coolers support three Cut'N Trays, though the wheeled Cruiser model only supports two.
Another noteworthy accessory is the Kong Bottle Biter. This mounted bottle opener is stainless steel for durability and shaped like King Kong's jaws for novelty.
Kong also offers traction pads, handle replacement kits, and dividers to suit any environment. As warranty coverage on handles is limited, the option to purchase an affordable replacement is appreciated.
They Come In Loads Of Different Colors
Kong coolers come in a few color combinations. The storefront offers several colors to choose from plus the option for customization in bulk orders.
Bulk orders are also eligible for custom graphics and logos in orders of over 100 units.
Coolers Similar To Kong Coolers
If you're an international customer or aren't convinced that the Kong is right for you, there are several other roto-molded options to consider. Let's explore two top Kong cooler alternatives. You can also see my Kong vs Yeti cooler comparison article for more details on this cooler.
Orca Coolers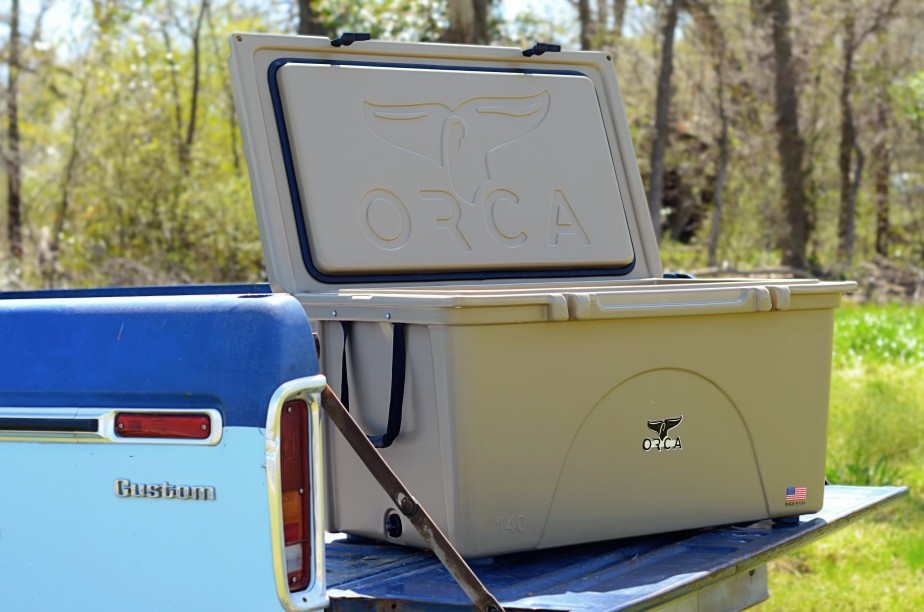 Orca coolers are comparable in ice retention and pricing to Kong coolers. These coolers are available in the US and Canada and internationally on Amazon.
The Orca cooler is similar in design to the Yeti cooler with more aesthetic features than the Kong. Orca is also manufactured in the USA and offers a limited lifetime warranty comparable to Kong.
Orca also offers a wide array of accessories to improve the functionality and convenience of your cooler and numerous color options. While an Orca cooler won't offer any cost savings, its availability and performance make it worth considering.
Made In USA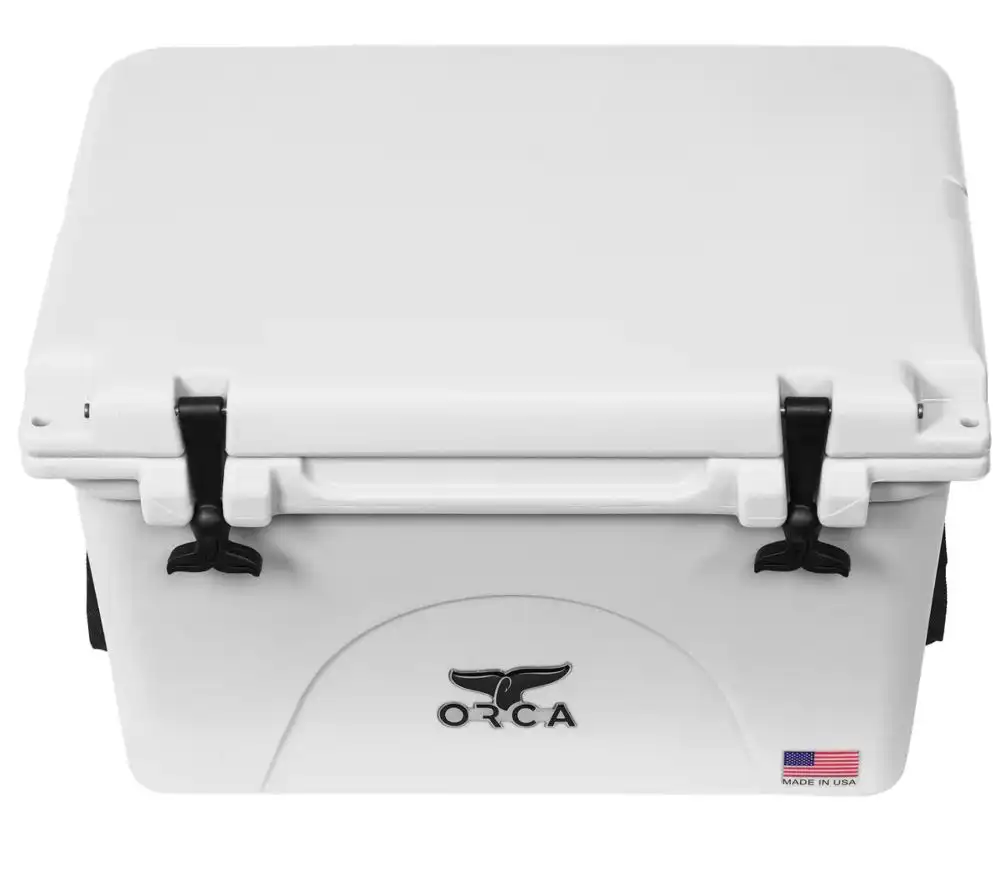 OtterBox Coolers
OtterBox is another USA-manufactured brand that offers comparable ice retention and pricing to Kong coolers. With an ergonomic design, OtterBoxes are easier to carry than Kongs.
OtterBox coolers also offer a variety of accessories that improve functionality and the user experience. Cutting board attachments, drink holders, and protected phone cases are a few notable features.
Unfortunately, OtterBox has a range of sizes and availability. The brand appears to be phasing out their cooler line, despite it being a top performer.
On the bright side, the apparent discontinuation of the brand means unbeatable discounted pricing.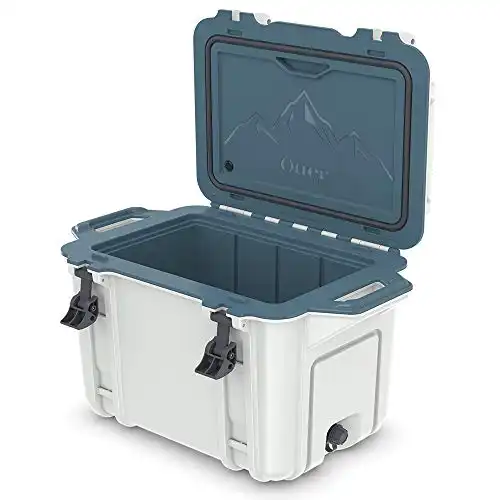 Are Kong Coolers Worth It?
Kong Coolers are a worthwhile investment if you take extended trips into the great outdoors. The expense is justified by its performance and durability. However, it's worth considering an alternative option if you're located outside the US.