Ember makes battery powered heated coffee mugs that keep you coffee at the exact temperature you want.
As a proud Ember owner I can truthfully say I absolutely love my Ember Mug. It's an expensive mug yes but for someone who is a coffee snob like myself it was totally worth the investment. Especially when your coffee is still hot on those cold winter days.
If you're looking to get an Ember Mug for yourself or as a gift you may be wondering whether you should get the smaller and more affordable Ember Mug or if you should spend a little bit more and get the larger but more expensive Ember Travel Mug.
It's a tough choice and an expensive decision so in this article I want to go through the differences between Ember Mug vs Ember Travel Mug in detail so you can decide which options is best for you. In short:
The Ember Mug comes in 10oz and 14 oz sizes and retails for $99.95 and $129.95. It has no lid but has a handle and is ceramic coated to stop the mug imparting any flavors. The Ember Travel Mug is 12 oz in size and retails for $179.95. It has a leak proof lid and double the battery life (3 hours vs 1.5 hours).
Ultimately what is best for you will come down to your budget as well as the way you like to drink coffee. So let's have a closer look at the Ember Mug vs Ember Travel Mug
Overview
Below is a brief overview showing the main specs of each mug so you can quickly see the major difference and then we'll get into talking about each difference specifically and which mug is best suited to the type of coffee drinker you are.
EMBER MUG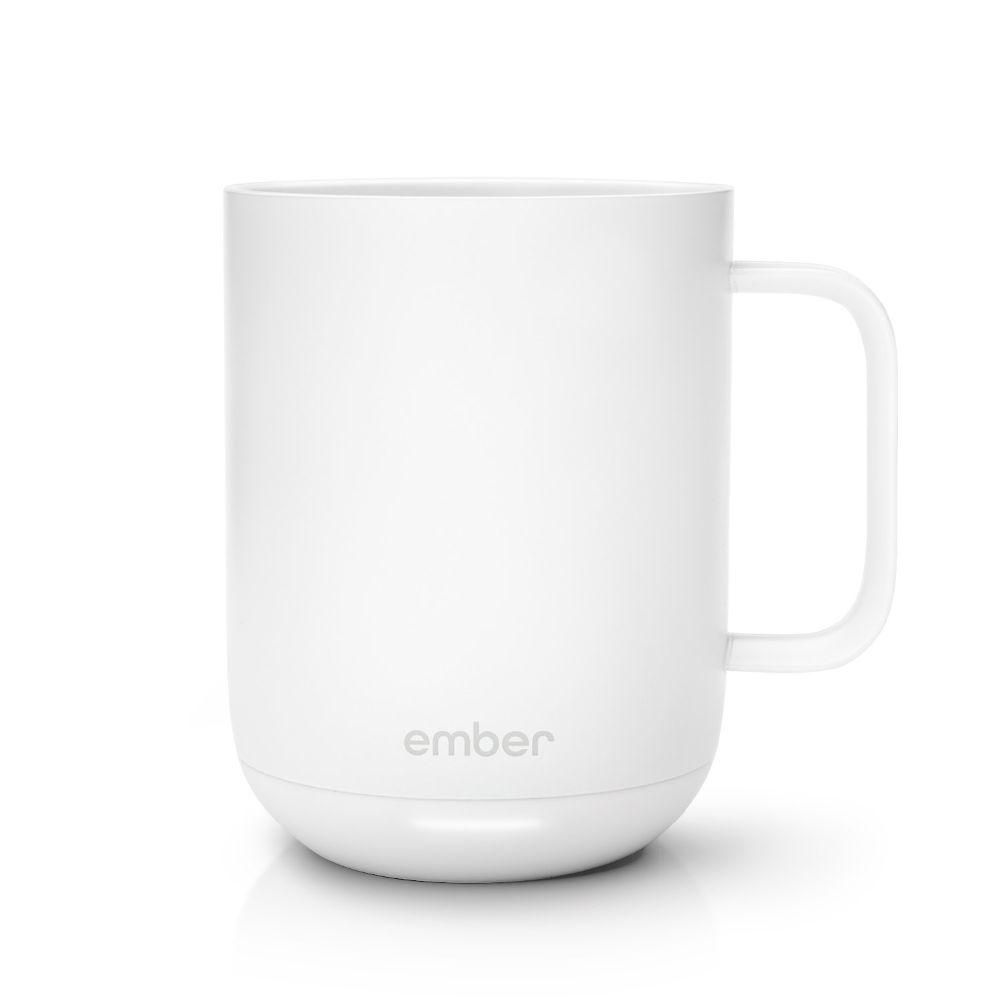 RRP: $99.95 ($129.95 for 14 oz)
Capacity: 10 oz (or 14 oz)
Battery Life: 1.5 hours
Colors: White and Black
(plus limited edition Copper, Silver and Gold)
Materials: Stainless steel with ceramic coating
You should buy this if:
– You drink your coffee mainly at home or at work
– You want a ceramic lining so no flavor is imparted into your drink
– 10 oz and 1.5 hours of battery life is enough for you
EMBER TRAVEL MUG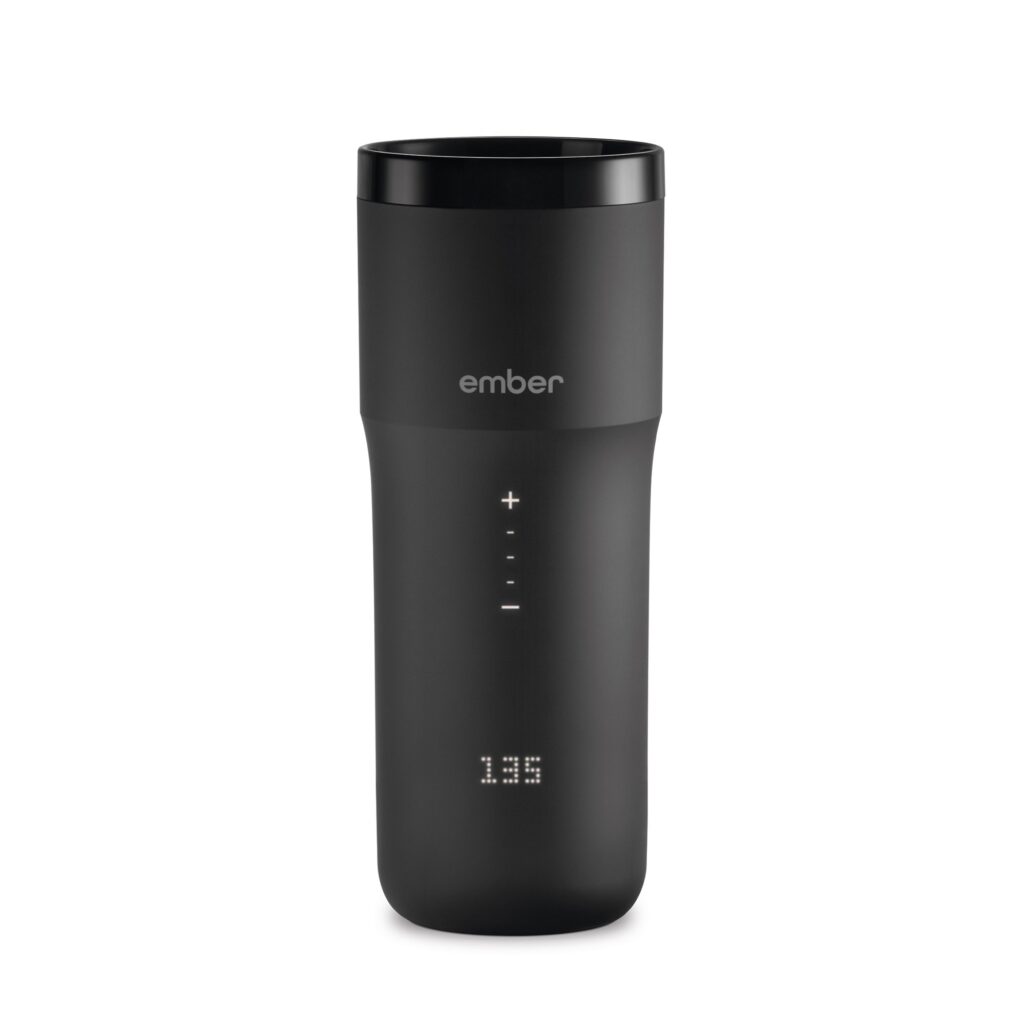 RRP: $179.95
Capacity: 12 oz
Battery Life: 3 hours
Colors: Black
Materials: Stainless steel with plastic exterior (no ceramic coating)
You should buy this if:
– You drink your coffee mainly on the road or on the go
– You want more than 1.5 hours battery life
– You need the larger 12 oz size because you like your coffee LARGE
– You want to be able to change the temperature without the app (for privacy reasons)
Price Points
The price point is going to be the big thing staring you in the face (it certainly was for me when looking to buy my Ember Mug).
The Ember Mug without a lid is so much cheaper but the more expensive travel mug is larger than the standard 10 oz and it has a lid and longer battery life. Below you can see the different price points:
Ember Mug 10 oz – $99.95 RRP (See latest price at Amazon)
Ember Mug 14 oz – $129.95 RRP (See latest price at Amazon)
Ember Travel Mug – $179.95 RRP (See latest price at Amazon)
Size and Capacity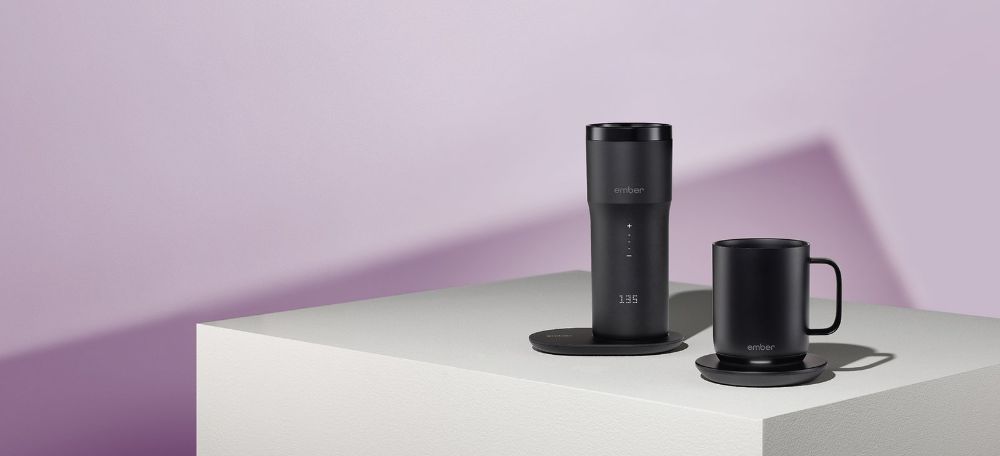 One thing I have seen people complain about a lot and one of the major problems with the Ember Mug is it's limited capacity.
This isn't an issue for me as I like to drink smaller 8oz coffees but for people who like larger coffees (eg. 16 oz or higher) the lack of capacity is a real issue.
The Ember Mug is only 10 oz in capacity or enough to fit a "small" coffee. The Ember Travel Mug is larger at 12 oz and can fit a "large" or "standard" coffee (depending on where you go). So that may be a reason to go with the Travel Mug over the regular mug.
However, Ember recently released that 14 oz Ember Mug which is the same form factor as the smaller 10 oz mug but obviously with a larger capacity. I'm not sure if this was a limited edition run or if they will continue to make them moving forward but you can still pick up the Ember 14 oz Mugs over at Amazon.
There are no Ember Mugs that can fit a 16 oz coffee or larger so if you're specifically after that then unfortunately you're out of luck and will need to buy an insulated coffee travel mug instead.
Leak Proof Lid and Form Factor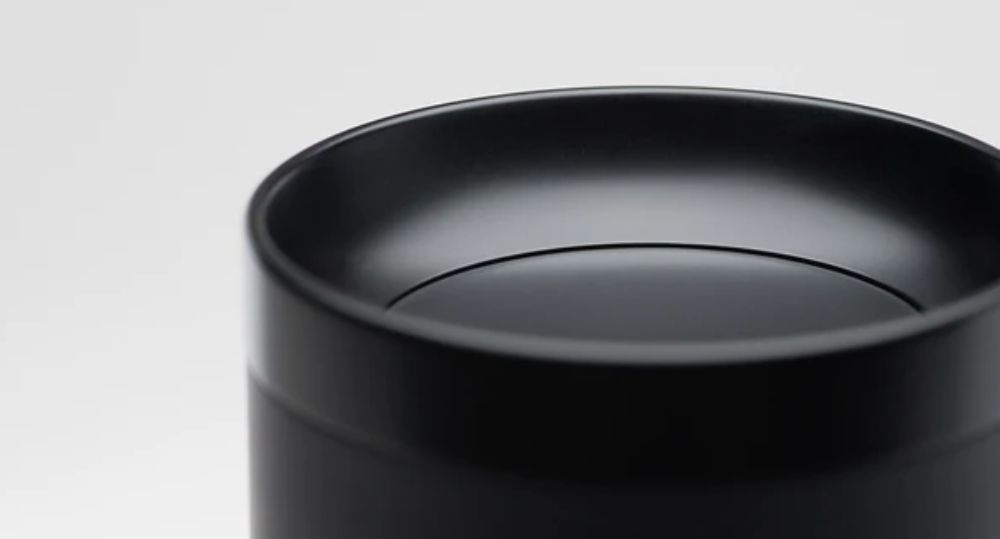 One of the HUGE benefits of the Ember Travel Mug over the Ember Mug is it's leak proof lid and portable form factor.
The smaller Ember Mug is short and fat with a big handle, making it basically impossible to fit in a car cup holder (unless you get a cup holder extender like I have).
Trying to take it in the car is a recipe for disaster and while I have done it a couple of times it's always been tricky.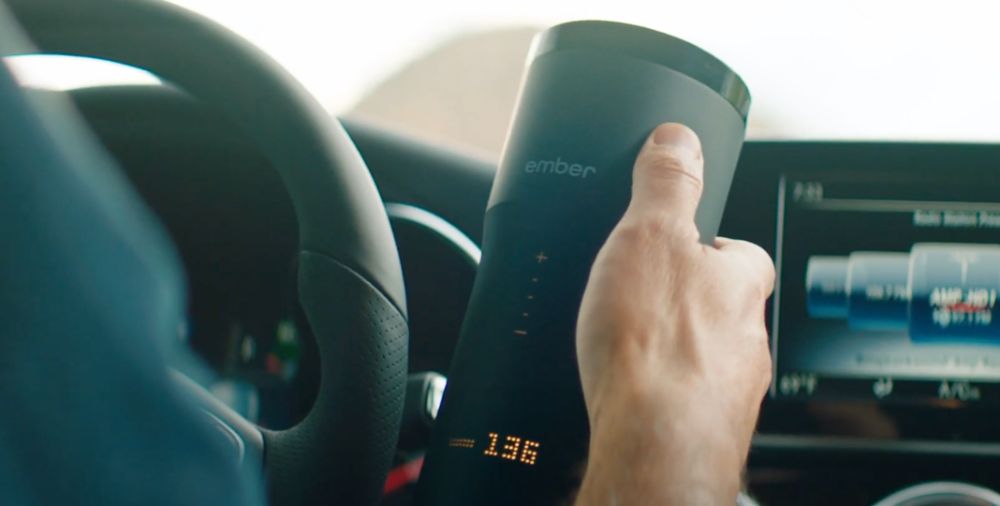 The Ember Travel Mug on the other hand is thin enough to fit into most car cup holders and it has a leak proof lid making it way less likely to spill when walking or driving.
If you drink most of your coffee from cafes on the go then the Ember Travel Mug is going to be the best option for you. See the latest price of the Ember Travel Mug at Amazon.
But if you're not having your coffee on the go and are mainly having it at home or at your desk at work then the tall slim form factor with a plastic lid isn't actually very desirable.
For me the way I looked at this decision was:
Where am I going to use this mug the most and am I willing to make sacrifices in certain circumstances?
So for me I was going to be using mine mostly at home for my morning cup of coffee and my evening tea as well as at work on my desk.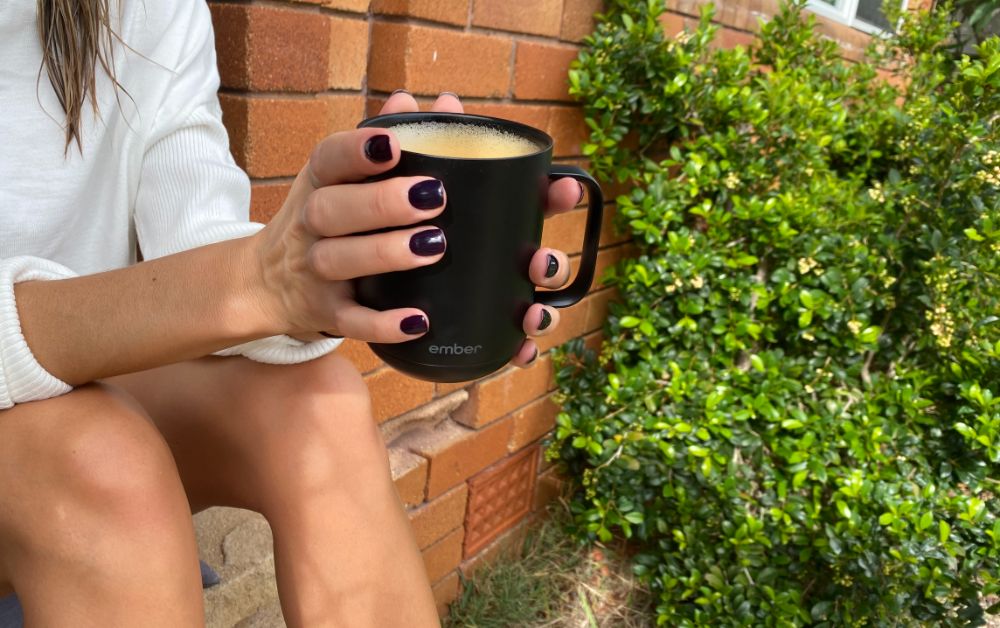 While I love to take coffee with me when I am taking the kids to school or running errands the truth is most of my coffee is drunk indoors. I don't want to drink from a travel mug with a plastic lid all the time and the taller form factor means the Ember Travel Mug is more likely to tip over.
While it sucks not being able to take my Ember Mug to school pickups and drop off it's a sacrifice I make so I can enjoy my coffee more at home. I just use a cheaper insulated coffee mug for my car drives instead.
Battery Life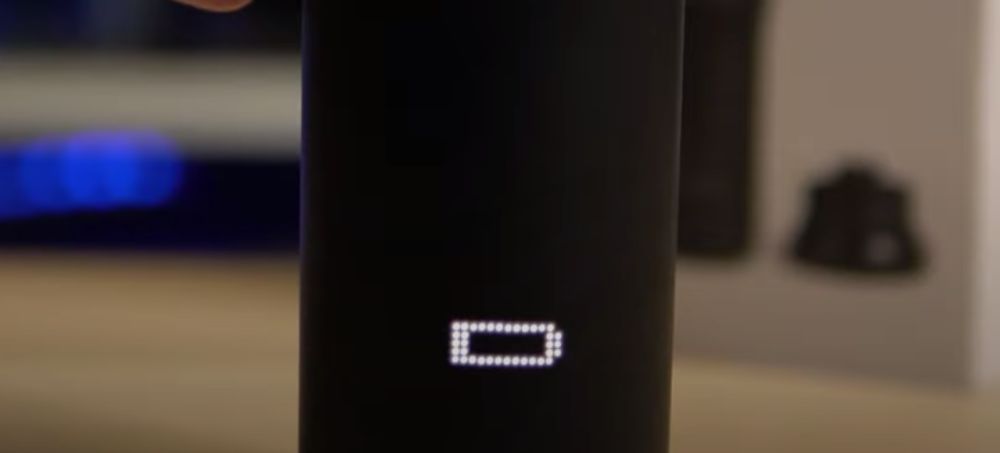 Battery life is another concern for some people. The Ember Mug has a 1.5 hour batter life while the Ember Travel Mug has DOUBLE the battery life at 3 hours.
For those doing a long commute or who like to take their sweet time drinking their tea or coffee this extra battery life might mean the difference between a warm cup vs a cold cup when it comes to your final sip.
However, both versions can actively keep a drink hot indefinitely while plugged into their charging stations so for me the 1.5 hours of battery life was more than enough to keep me going at home.
The Ember Mug and Ember Travel Mug also only takes around 2 hours to fully charge.
But if I was doing a long commute in the morning and evening I might want 1.5 hours of battery life for the way to work and 1.5 hours for a cup of tea on the way home. If this was my life I would definitely be getting the travel mug instead.
See the latest price of the Ember Travel Mug 2 at Amazon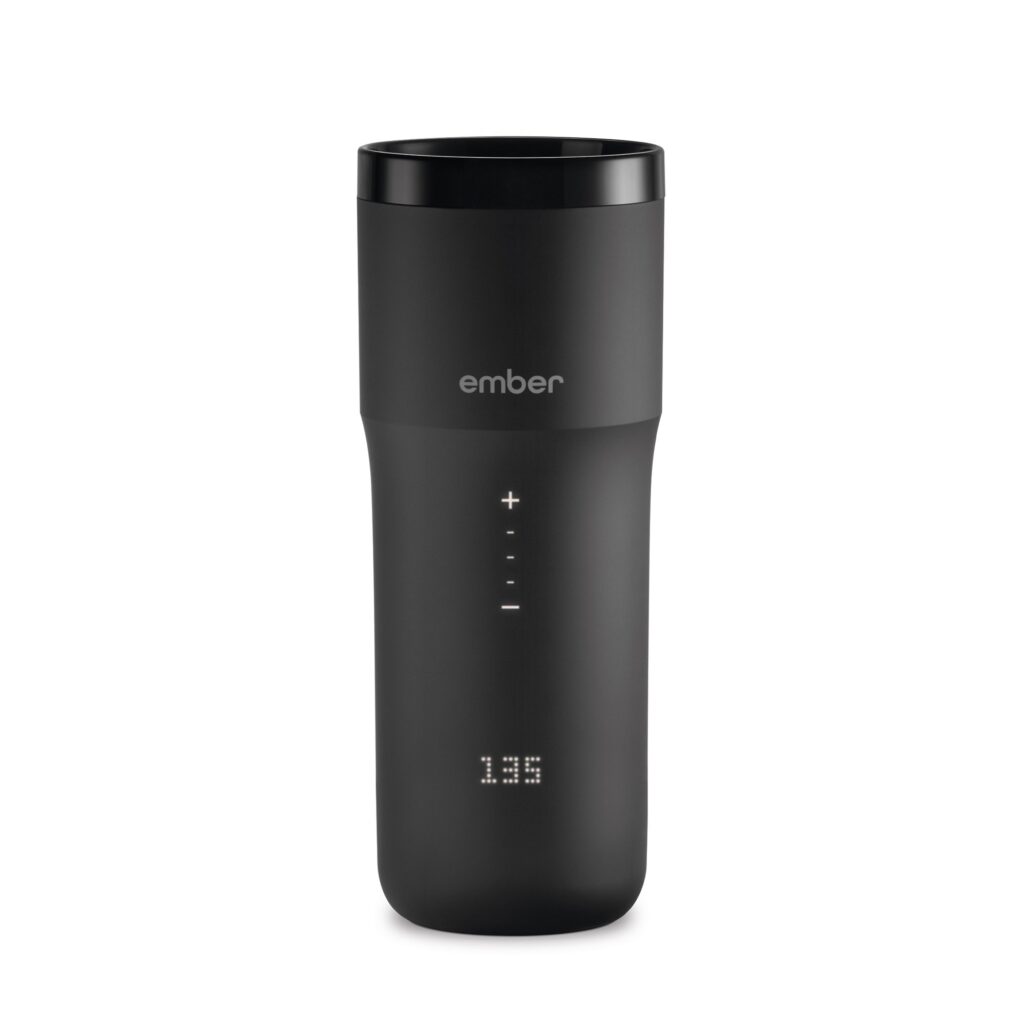 Color Options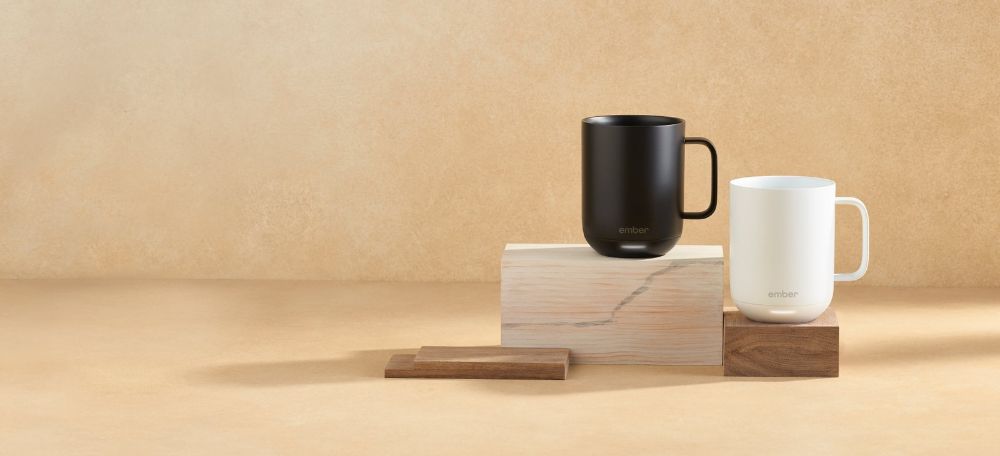 You can have any color you want as long as it's black
That's if you decide to buy the Ember Travel Mug that is. The travel mug only comes in black and no other color.
I don't mind this because I chose black anyway but the regular Ember Mug comes in black and white as it's standard colors so you can choose which color best suits you.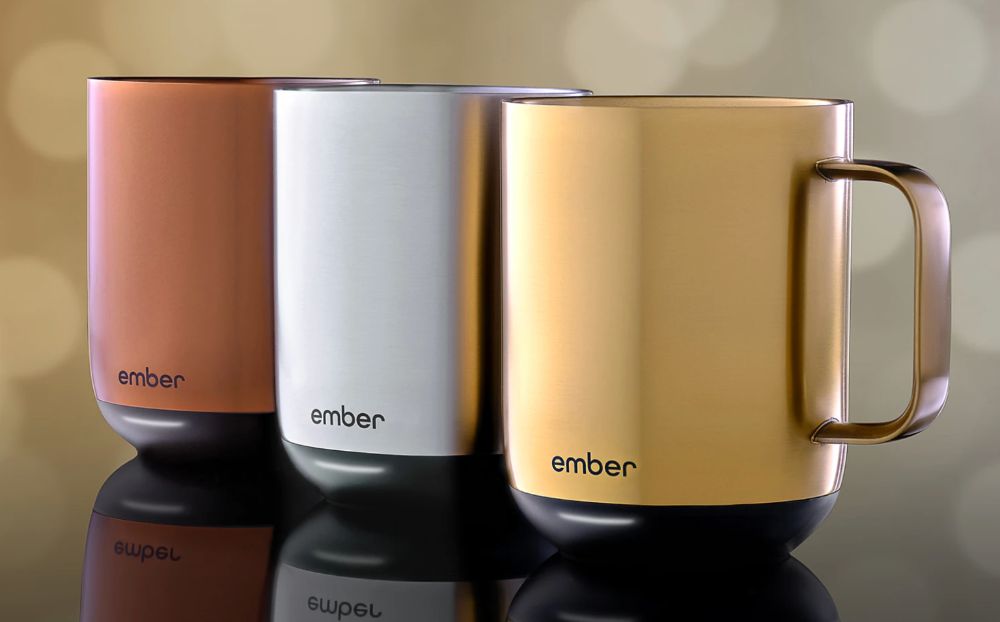 Also they do limited edition runs of metallic Ember Mugs in Copper, Silver and Gold which I have to admit are pretty darn sexy. I kind of wish I had a copper or a gold mug just for another excuse to tell people how expensive and cool my Ember Mug is.
See the latest price of the Ember Mug 2 at Amazon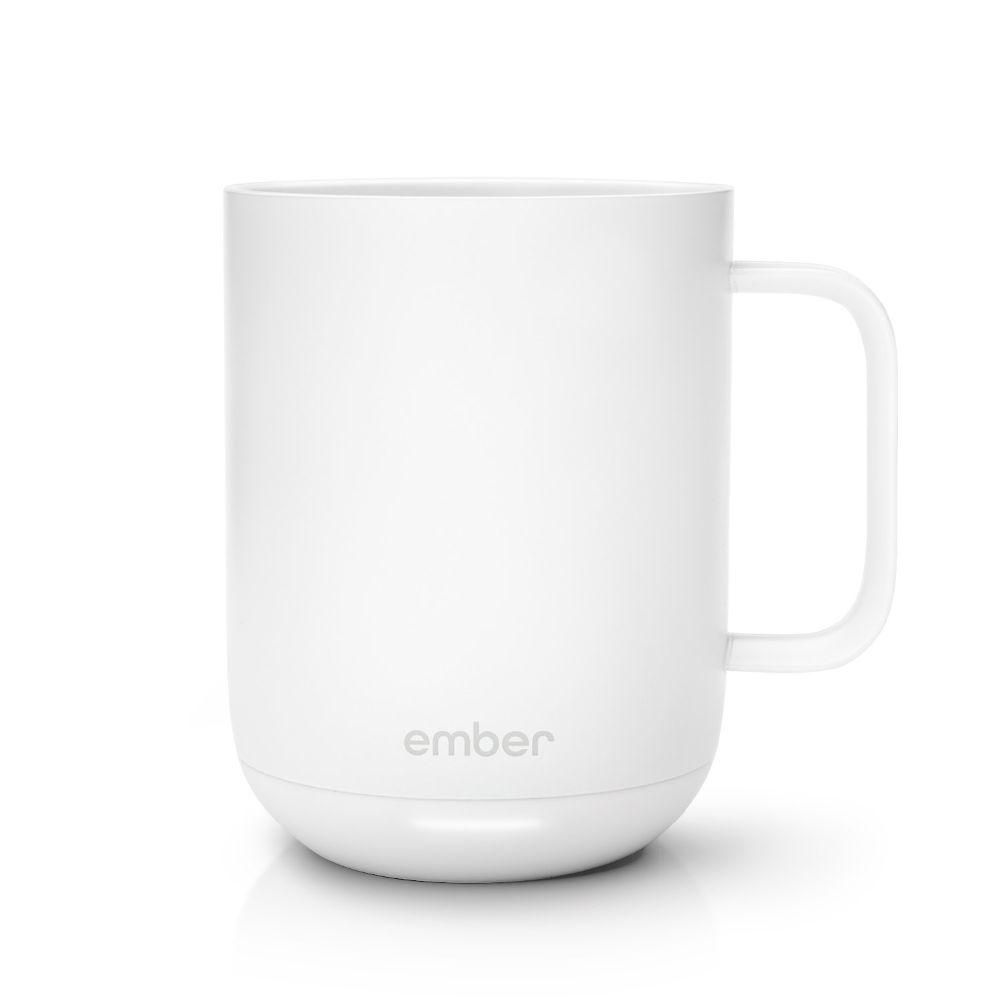 Functionality and Privacy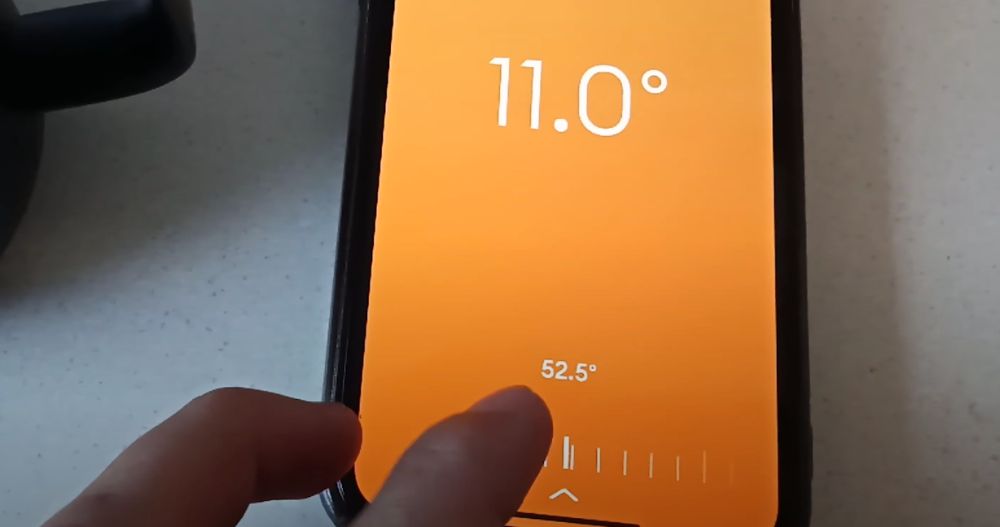 When it comes to using both the Ember Mug and the Ember Travel Mug they are super simple to use.
You simply fill them up with your drink and the mug will automatically recognize there is liquid in it and will work to keep your drink at the exact temperature you want.
However, the Ember Mug doesn't have any dial or buttons to change the temperature. You have to change the temperature through the Ember App otherwise it'll keep your drink at 135ºF (57ºC) out of the box or whatever you last set it to.
The app is simple to use and changing temperature is super easy. I don't personally find this an issue. The only thing that concerns some people is how Ember collects data on you through the app and your smart phone.
For those who are sensitive about their privacy they may want to avoid the app and this means being unable to change the temperature of their mug.
If you're buying this as a gift from someone older who isn't very tech savvy or someone who likely to live off the grid when it comes to mobile devices then this limits the functionality of the Ember Mug.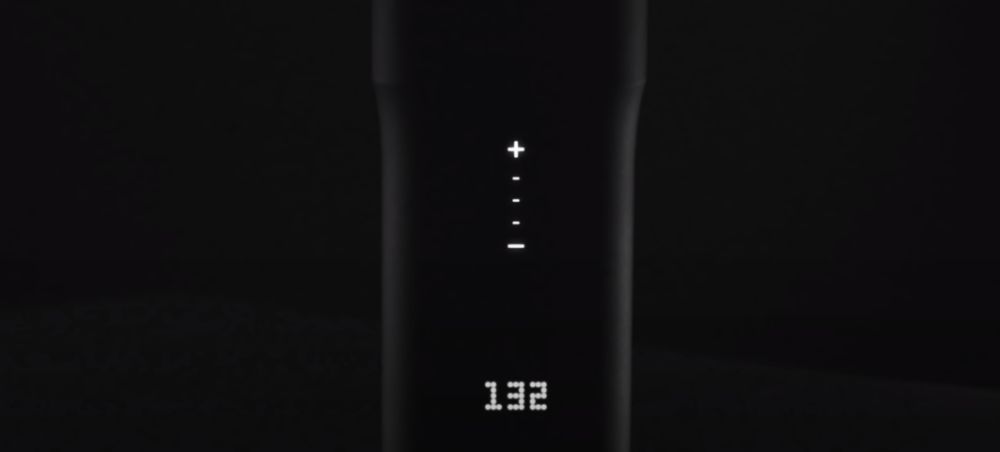 On the other hand, the Ember Travel Mug has manual settings where you can increase or decrease the temperature of your drink through the interface on the mug itself.
To do this simply click the logo and a PLUS and MINUS bar will appear which you can press to raise or lower the desired temperature of your drink.
So for those who are unable to or don't want to use the Ember App but still want to have temperature controls then you should definitely go with the Ember Travel Mug. See the latest price of the Ember Travel Mug at Amazon.
Other Features
We've covered most of the major things that will go into your decision as to which Ember Mug you should but. But there are also a few other small differences that you also may want to know about or consider.
Ceramic Coating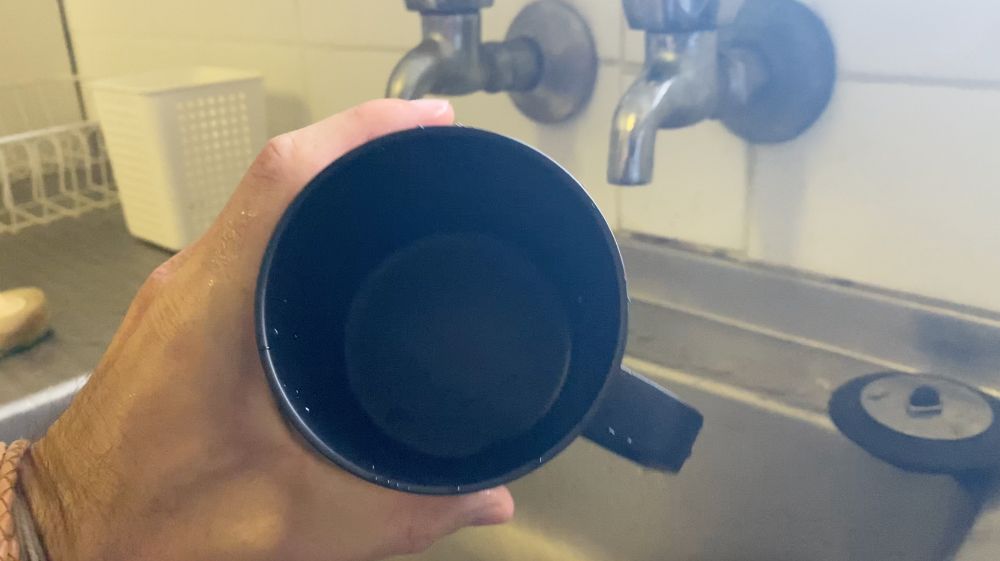 The Ember Mug is made from stainless steel as have a reinforced ceramic coating around the outside and inside of the mug.
This means that your coffee or tea never touches metal. However, the Ember Travel Mug doesn't have this coating and so has an exposed stainless steel interior.
This is perfectly safe to drink from and I don't even notice the difference personally but if you're someone who feels metal imparts flavors into your drink then you'll want to go with the Ember Mug that is ceramic coated.
Charging Coaster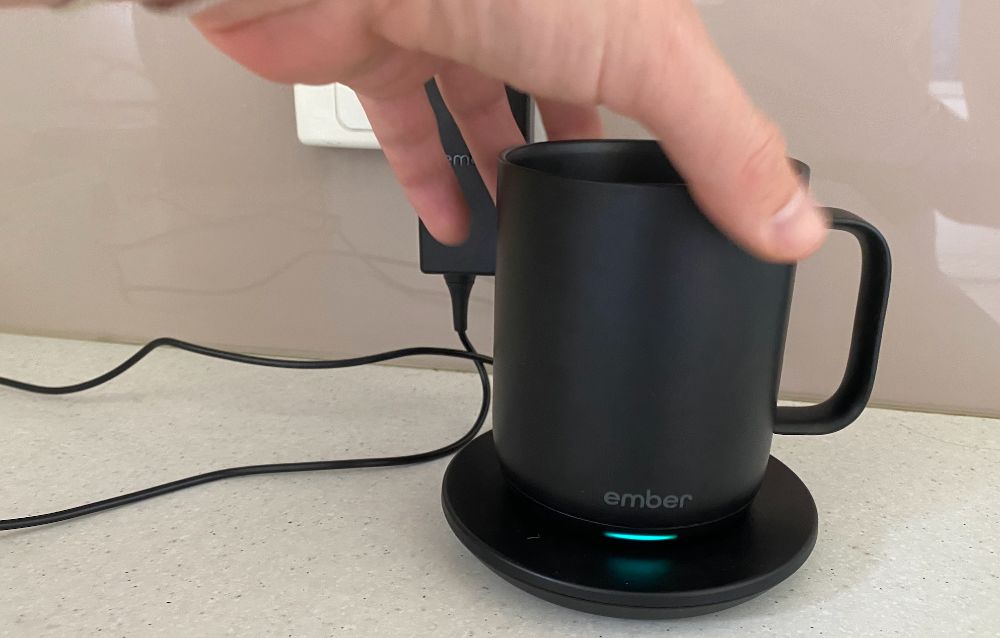 The Ember Mug and Ember Travel Mug each come with different charging coasters. They work exactly the same and are interchangeable with any Ember Mug 2 or Ember Travel Mug 2 but just look a little different.
The Ember Mug has a smaller perfectly round charger while the Ember Travel Mug charger is a rounded rectangle with the charging plate offset to the side.
Both look great and work great so it's not a huge issue, but something you may want to know about.
Alternatives To The Ember Mugs
If you're looking to purchase a battery powered coffee mug then you might want to consider some of the alternatives to the Ember Mug.
Really I only know of 2 alternatives I would happily buy myself and recommend but there are a few other options out there that offer different solutions to keeping your coffee hot. You can check out my full list of Ember Mug alternatives for all the details otherwise here are the 2 alternatives I would personally be happy to recommend.
1. Cauldryn Coffee Mug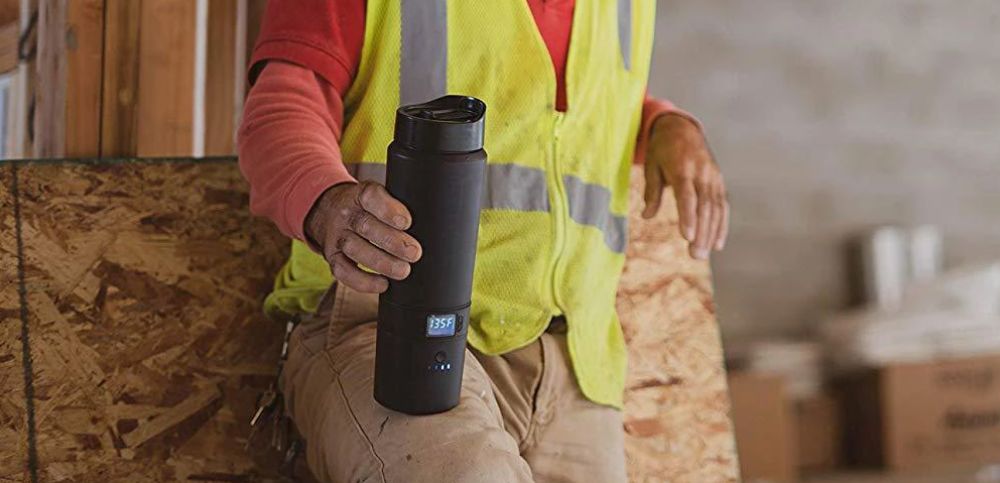 The Cauldryn heated coffee is the ultimate in terms of pure performance and long lasting battery life.
It can heat your drink to any temperature all the way up to boiling point and when keeping you drink at around 135-145ºF (57-63ºC) the battery can last a whopping 10 hours!!!
This is because the mug is vacuum insulated (like a Yeti tumbler). It also has a removable battery (so you can have a replacement if needed) and you can get a car charger for it also.
You can even replace the heating element with a blender attachment turning your Cauldryn into a small battery powered blender or cocktail or smoothies maker.
This is actually a phenomenal product and I highly recommend considering it.
It's not as elegant or beautiful or as simplistic as the Ember Mug but it's very functional and a great product.
See the latest price of the Cauldryn Heated Mug at Amazon
See the latest price of the Cauldryn Heater Mug + Blender at Amazon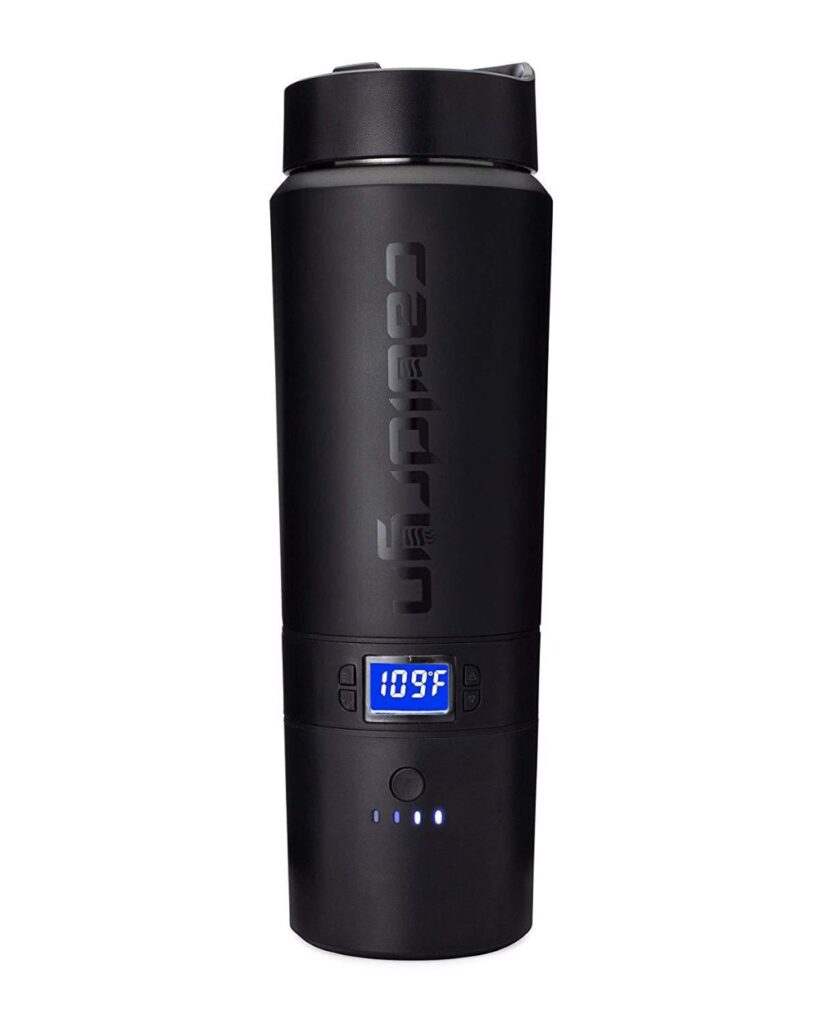 2. Glowstone Heated Ceramic Coffee Mug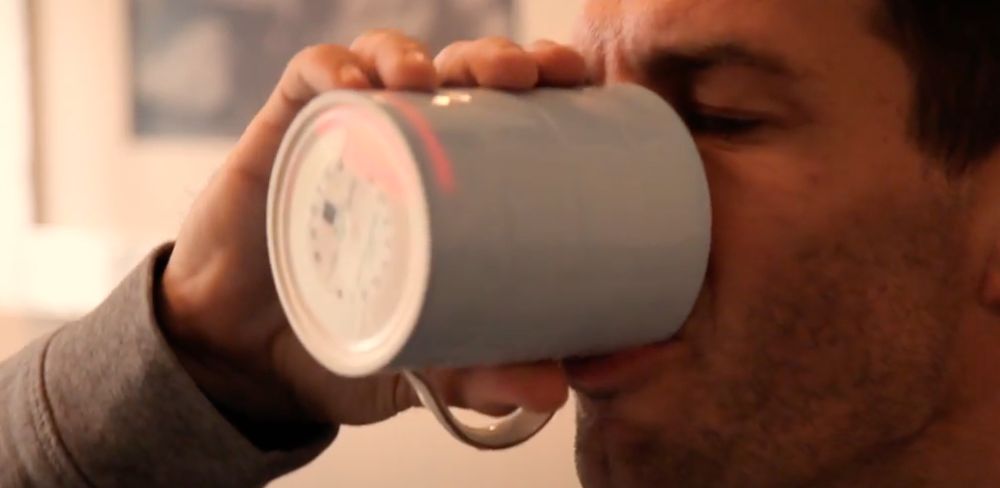 The Glowstone is another great alternative to the Ember Mug and it looks just like a regular household mug and is even made out of fine bone china which I absolutely love.
Something super cool about this mug is that it uses a standard Qi wireless charger (like you can use to charge your phone) and it's also completely dishwasher safe making clean up a breeze.
There are no temperature settings on this one but it'll keep your drink at around 60-65ºC (140-149ºF) for about 1 hours until it runs out of battery.
Personally this is a little hot for me so I wish you could change the settings but regardless I still love this mug and I'm planning to get my hands on one very soon.
See the latest price of the Glowstone Mug