I'm absolutely coffee obsessed. Having my coffee in the morning helps me start my day right, makes driving more enjoyable and makes me more productive and happy.
However, one thing I'm not a huge fan of is cold coffee. Sometimes I like to take my time drinking my coffee and I hate how quickly coffee gets cold in a regular travel mug or take away cup.
Luckily, there are a bunch of travel mugs it out there that are designed to keep coffee hot for an extremely long period of time.
The Cauldryn Battery Heated Travel Mug keeps coffee hot for 10+ hours which is longer than any other mug. The Burnout Mug keeps coffee hot extremely long if pre-heated and the Thermos Mug seems to be the best vacuum insulated coffee mug for keeping coffee hot.
Runner Up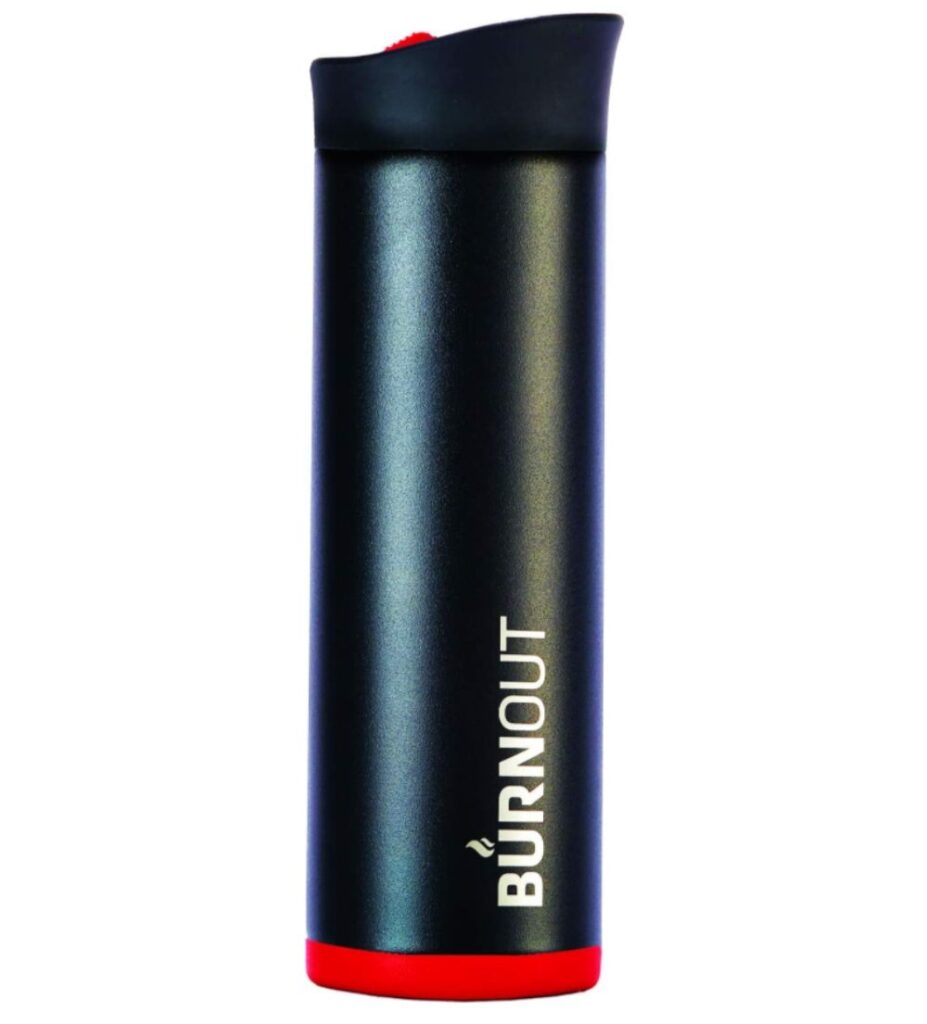 Yeti Rambler Tumblers
Capacity: 12 oz and 16 oz
KEEPS COFFEE HOT LONGEST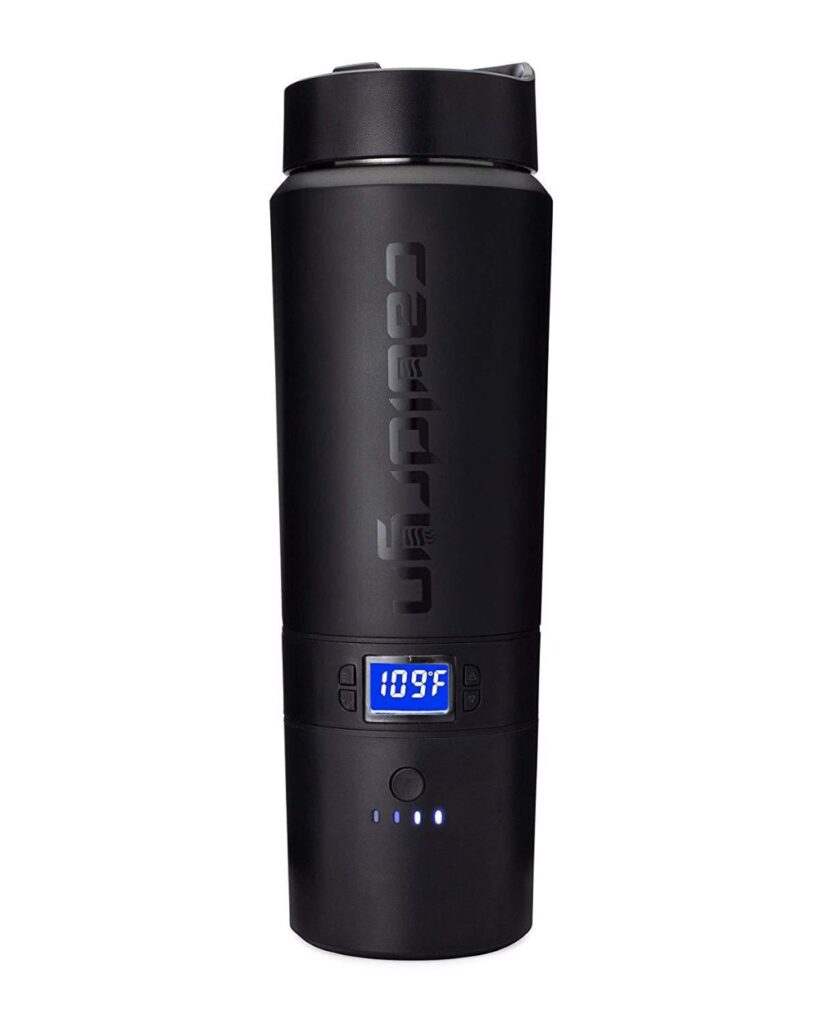 Cauldryn Battery Heated Coffee Mug
Capacity: 16 oz
Best Simple Vacuum Insulated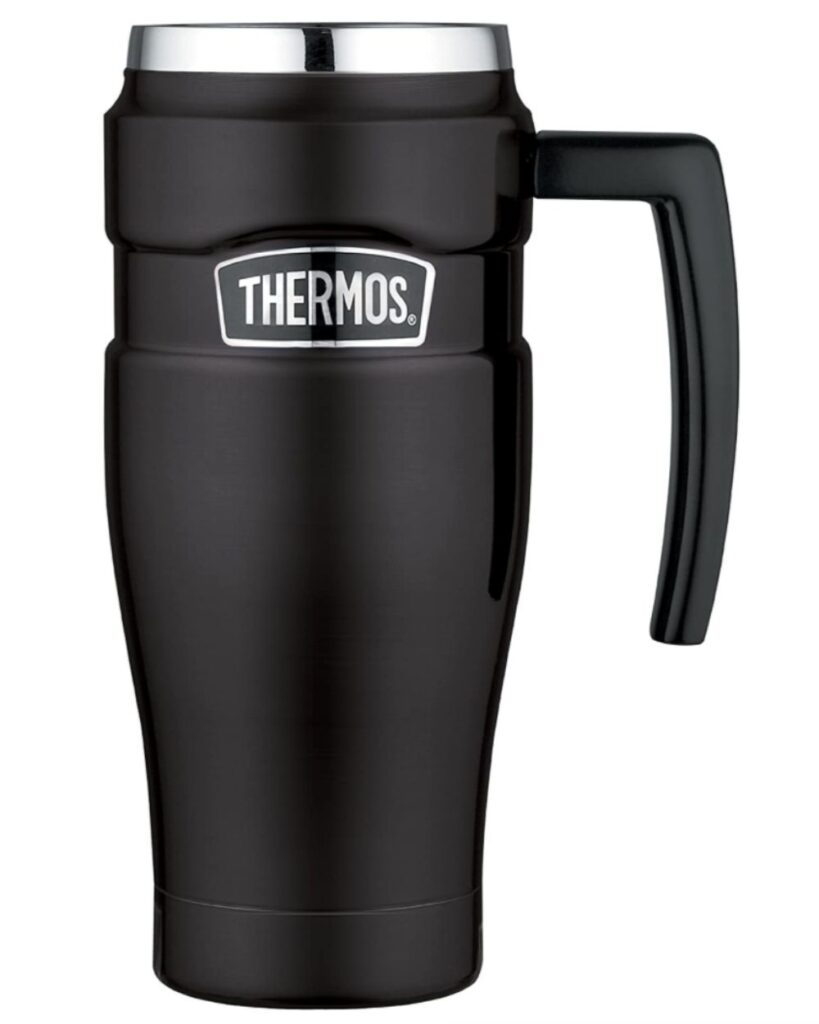 Thermos Tumbler
Capacity: 16 oz
Below are my picks for the travel mugs that keep coffee hot for the longest.
1. Cauldryn Heated Travel Mug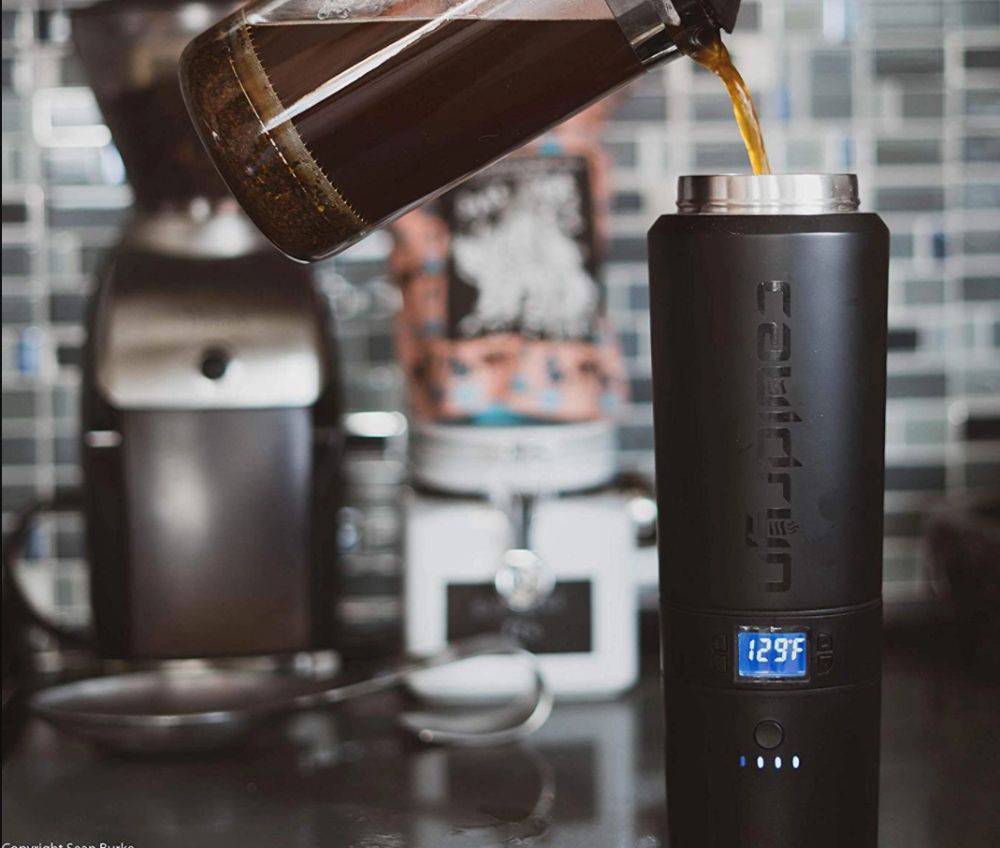 When it comes to keeping coffee hot for the longest nothing even comes close to the Cauldryn battery heated travel mug.
The main body of the travel mug is vacuum insulated so even without power it keeps coffee hot for hours at a time.
But the battery operated heating base is what makes this mug so unique and what allows it to keep coffee hot longer than anything else on the market.
In the base is a lithium ion battery and heating element that can keep coffee at a stable temperature for up to 10 hours at a time.
This bad boy even has the ability to take cold water or coffee and heat it up to boiling point! This means you could actually make coffee on the go with this mug. Super impressive!
It also has a temperature setting so you're able to choose the exact temperature do you want your coffee to be in the mug will maintain your coffee at that temperature for hours at a time.
Other vacuum insulated coffee mugs are unable to do this. They spend most of the time with the coffee is too hot, a small time where the coffee is exactly the right temperature, and then the coffee becomes too cold.
Because of the heating element in the Cauldryn this doesn't happen. They can maintain coffee at a perfect drinking temperature all day long.
It's a little pricier than some of the other mugs on this list. But if you're a serious coffee drinker I think it's worth the investment.
See the latest price of the Cauldryn Heated Mug at Amazon
See the latest price of the Cauldryn Heater Mug + Blender at Amazon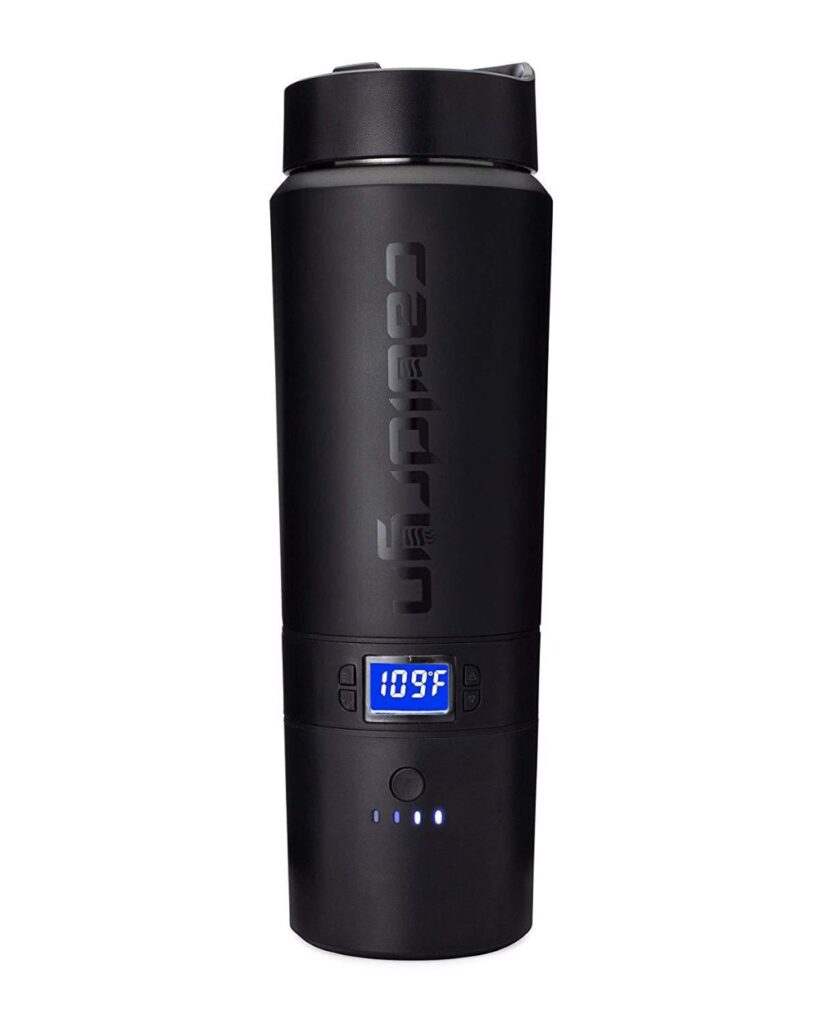 PROS:
Can boil water or keep it any temperature
Keeps coffee hot for up to 10 hours
Vacuum insulated
Modular design
Blender accessory
CONS:
Can be heavy with the battery pack
Expensive
Stainless steel may impart flavors into your drink
2. Burnout Coffee Mug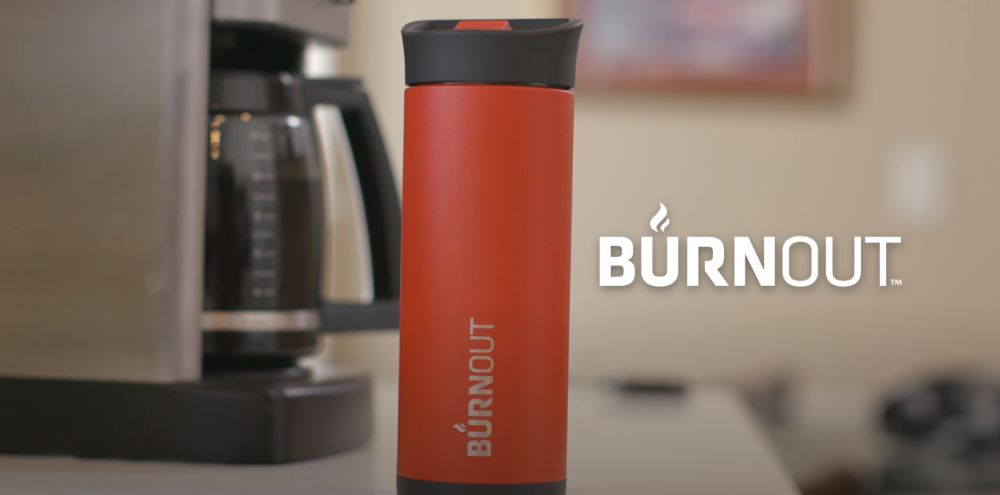 The Burnout Mug is a great example of a company that has pushed the possibilities of keeping coffee hot and keeping it at the perfect drinking temperature.
It uses vacuum insulation like the other travel mugs in this list but it also has a layer of phase change material that works to absorb heat and put that heat back into your coffee as it starts to cool down.
The Burnout Mug has triple walls with a vacuum on the outside and the phase change material on the inside.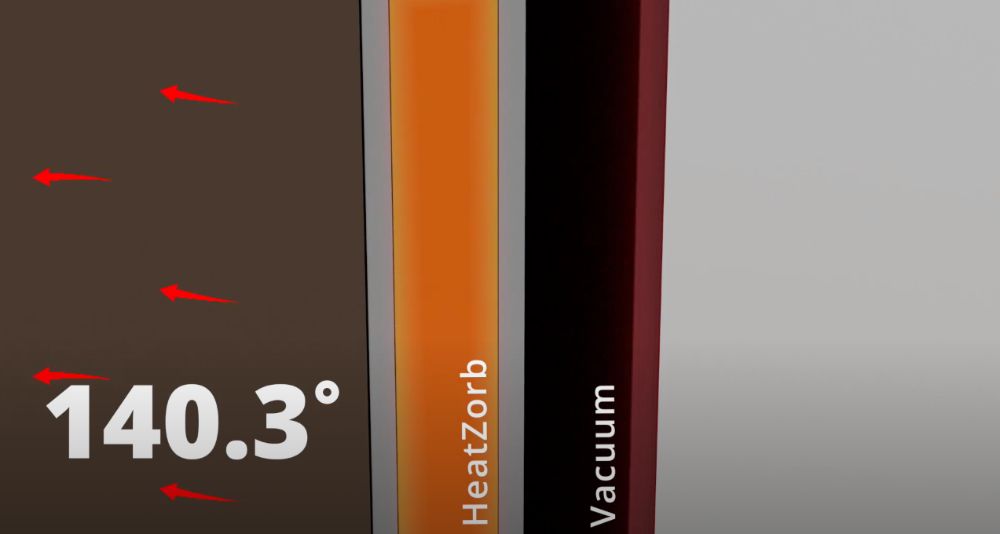 When you fill up the Burnout mug the phase change material absorbs the heat and turns from a solid into a liquid.
As your coffee cools down and reaches the optimum drinking temperature the phase change material starts to turn back into a solid and in the process it releases heat back into your coffee warming it up.
The Burnout mug can be used to quickly lower the temperature of boiling hot coffee and keep it at a great drinking temperature for hours.
Or you can preheat it with boiling water using the phase change material as a heat sink and this can keep your coffee hotter longer than other regular vacuum insulated mugs.
It comes in a 12 oz and 16 oz size and is about twice the price of a regular vacuum insulated mug like Yeti, Thermos or Hydro Flask.
This is for the serious coffee drinker who wants a perfect temperature coffee and wants to avoid the powered Cauldryn.
See the latest price of the Burnout Triple Walled Mug at Amazon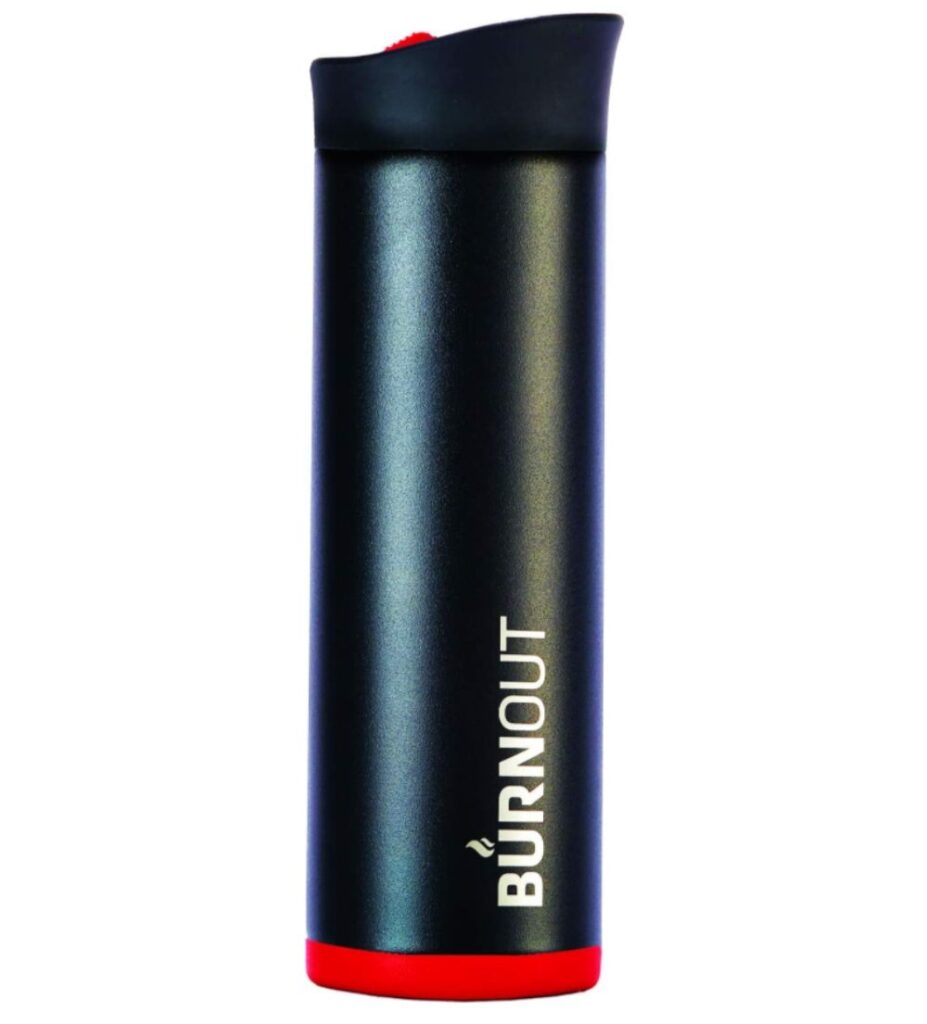 PROS:
Phase change material keep coffee at the right temperature
Can also act as a heat sink to keep coffee hot for longer
CONS:
More expensive when compared to regular vacuum insulated mugs
Can be quite heavy
Takes some trial and error to use it right
.
3. Thermos Coffee Mug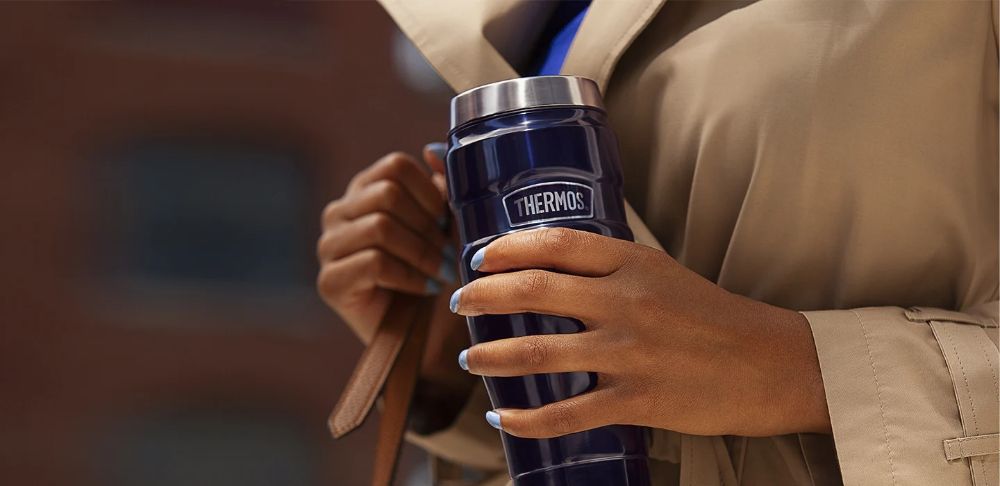 Thermos is one of the original brands in vacuum insulation and keeping drinks hot for a long period of time.
But I was quite shocked when I saw that Thermos was able to keep drinks hot longer than some of the other big brands out there like Yeti.
What I also love about the thermos travel mug is that the lid screws on tight and it's completely leak proof. This also improves it's ability to keep coffee hot as it's not letting any steam escape.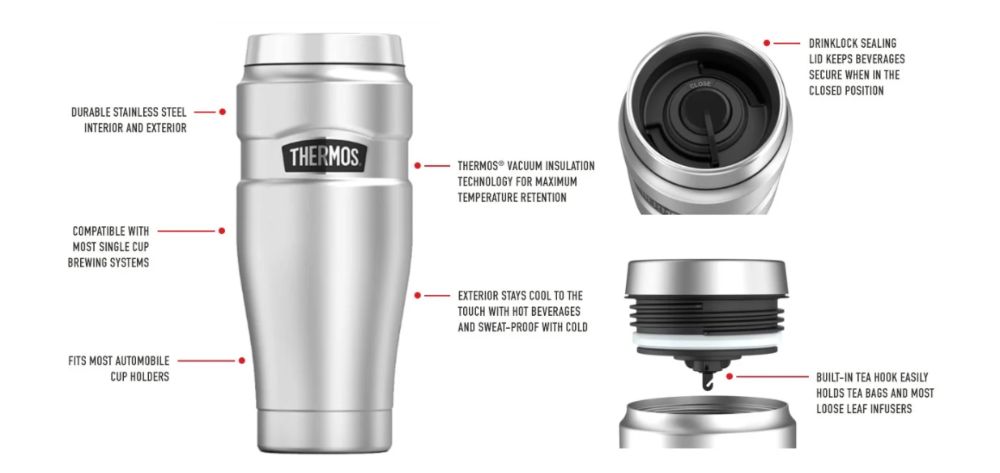 For the tea lovers out there it's also got a little hook on the inside of the lid for hooking your teabag onto.
When it comes to price it's in the middle of the range for vacuum insulated tumblers. They are the cheapest on the market but they also aren't the most expensive and in my opinion they offer good value for money.
I personally own a Thermos and can attest to its ability to keep things hot. My kids also absolutely love to use the Thermos.
See the latest price of Thermos tumblers at Amazon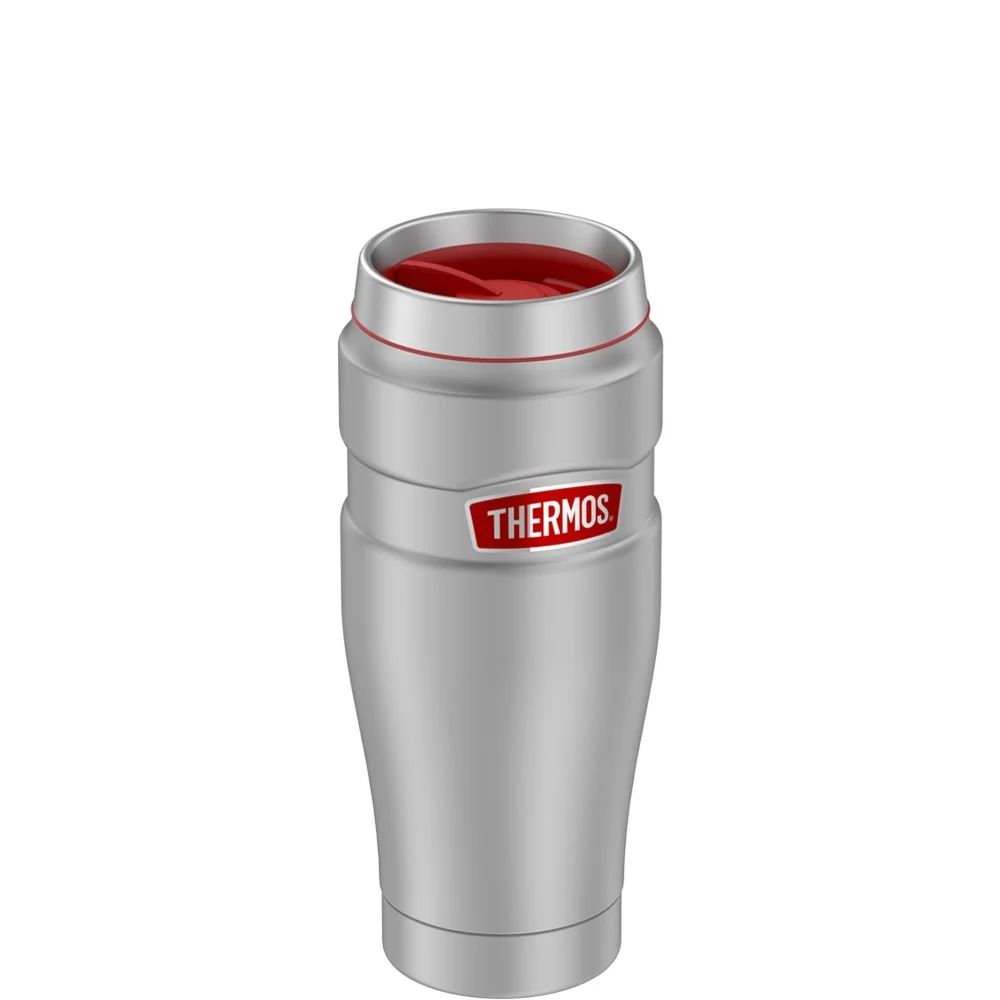 PROS:
Great at keeping coffee hot
Leak proof lid
Tea bag hook
Long lasting brand
CONS:
Not the most elegant design
4. Ember Travel Mug
The Ember travel mug is another battery powered heated travel mug that is able to keep coffee at an exact temperature for a long period of time.
It uses a lithium ion battery and a low powered heating element in the bottom to help keep coffee had a great drinking temperature.
It's not quite as powerful as the Cauldryn and isn't able to warm up water or coffee but it can keep already hot coffee hot for up to 3 hours. See my Cauldryn vs Ember comparison.
If three hours isn't long enough for you then when it's plugged into it's charger it can keep coffee hot indefinitely.
So if you're looking for a travel mug to keep your coffee hot during a commute but also one that you can keep at your desk all day then the Ember is a great option.
It's the most expensive travel mug on this list but it's also the most beautiful.
See the latest price of the Ember Travel Mug at Amazon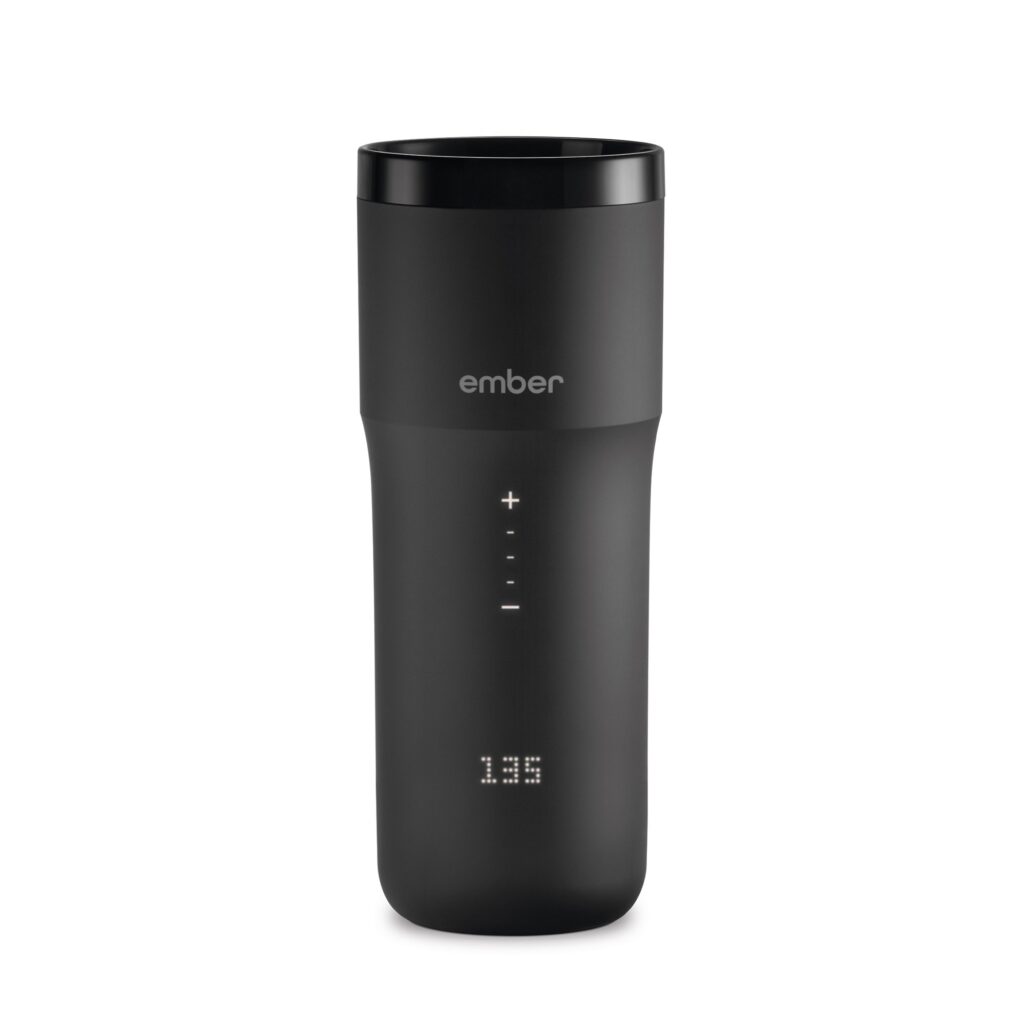 PROS:
Battery heated travel mug keeps coffee at an exact temperature for 3 hours
Keeps coffee hot indefinitely when plugged into the wall
Absolutely beautiful travel mug
Simple to use
CONS:
Can't warm up coffee, just keeps it hot
Expensive
5. Hydro Flask Tumbler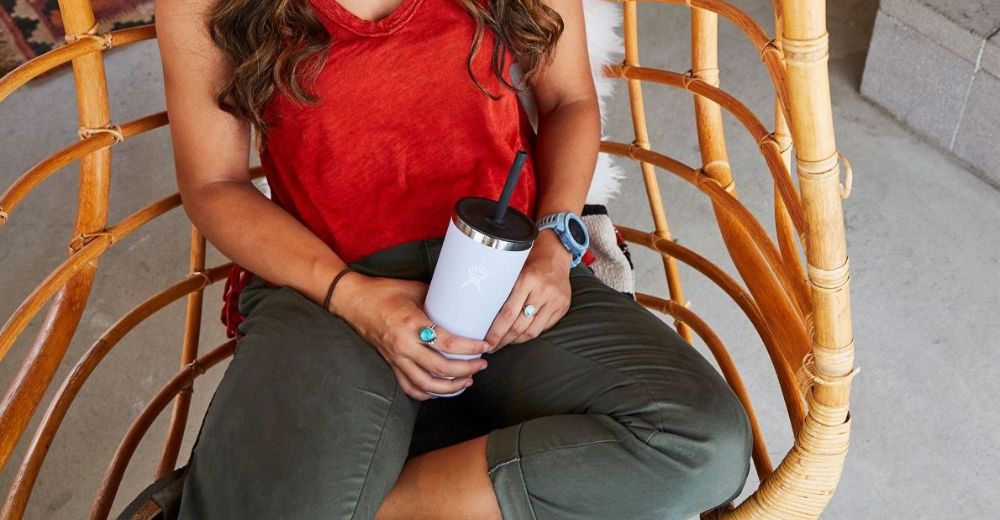 Hydro Flask are known for making high quality water bottles but I was surprised to find out how well their tumbler performed at keeping drinks hot and cold.
They ranked #1 as the best tumbler cup for ice retention and they also perform great to keep coffee and other drinks hot.
It has a tapered design and the base is thin enough to fit into most car cupholders. They come in a range of really bright and fun colors but one of the downsides of this tumbler is the lid is splash proof but not leak proof.
They are one of the more expensive vacuum insulated tumblers but they do come with a lifetime warranty and they also happen to be one of the lightest tumblers on the market.
See the latest prices of Hydro Flask tumblers at HydroFlask.com
(or compare to the prices at Amazon)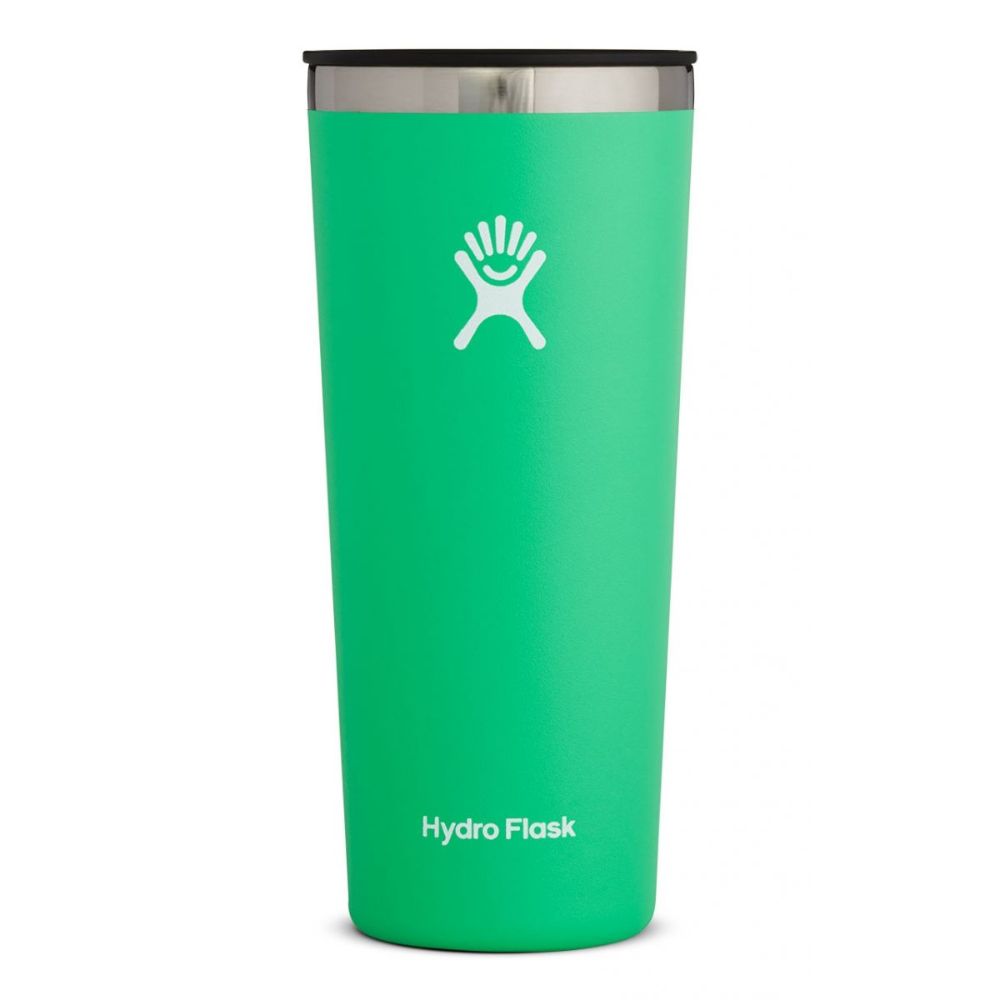 PROS:
Best ice retention out of any tumbler cup
Great at keeping coffee hot
Lifetime warranty
Fun colors
Lightweight
Tapered design means they fit in cup holders well
CONS:
One of the most expensive tumblers
Lid has an open spout so isn't leak proof
6. Simple Modern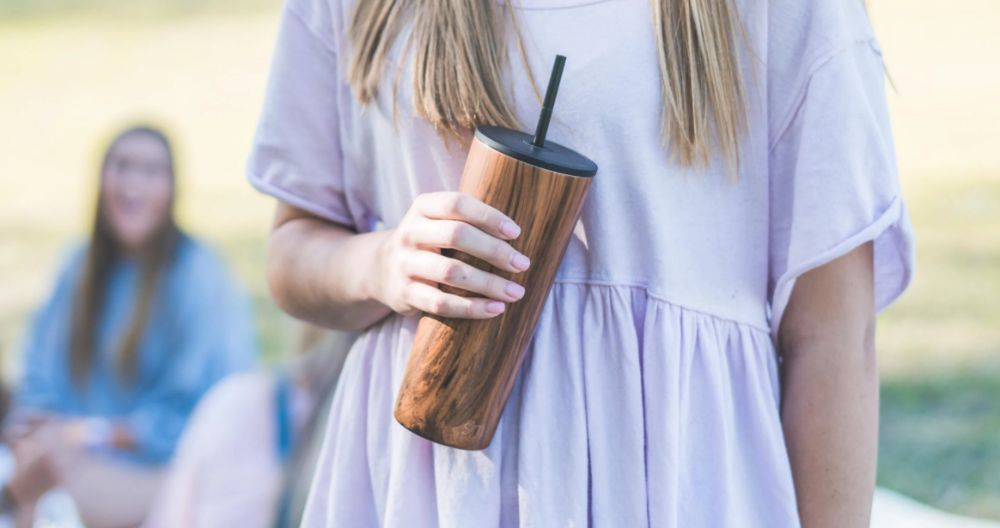 Simple Modern is a lesser known tumbler brand that seems to sell their mugs primarily through Amazon.
Again this brand surprised me with how well they are able to keep drinks cold and hot, outperforming big brands like Yeti in insulation performance.
The Simple Modern tumblers come in a variety of sizes and they have some amazing colors and patterns to choose from. Everything from two tone designs to prints that make the cup looks like wood or marble. These are some of the most beautiful insulated tumblers out there.
They also have a screw on leak proof flip lid which is great for coffee drinkers and it also comes with a straw lid.
They are a similar price to Thermos, not too cheap but not too expensive either.
See the latest price of Simple Modern Classic Tumblers at Amazon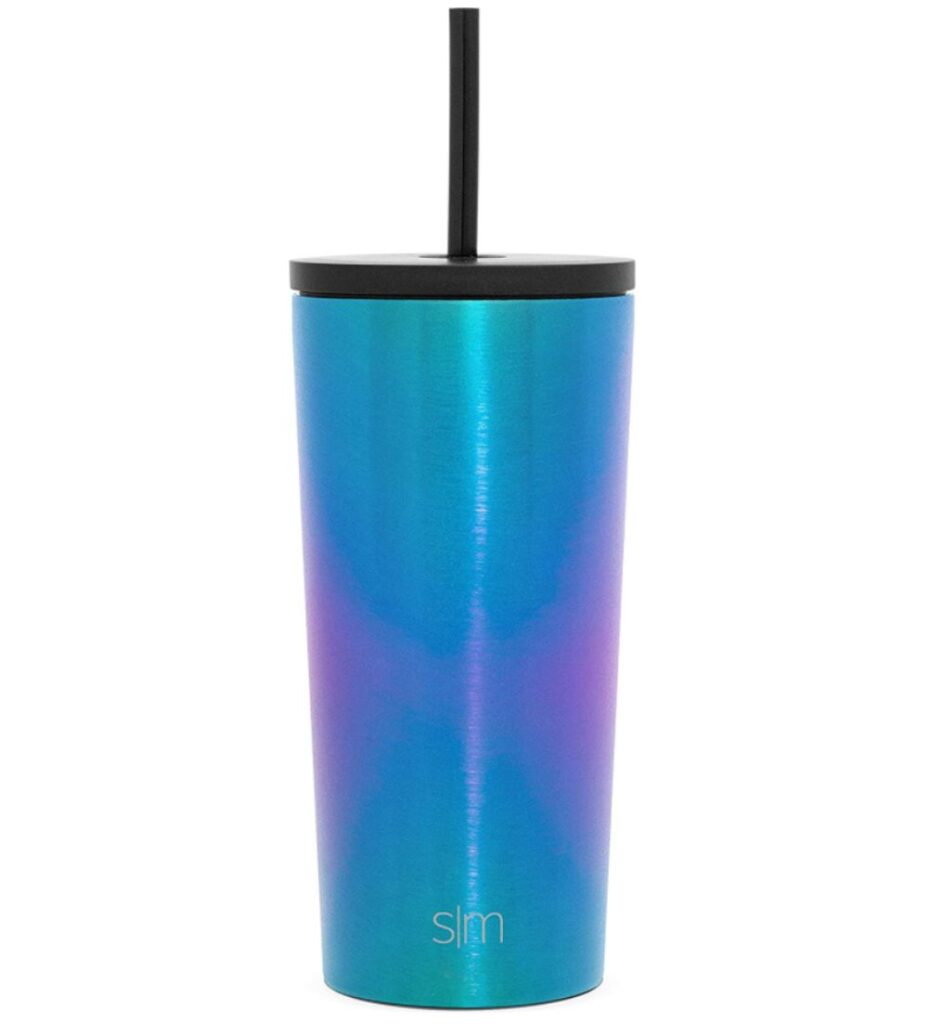 PROS:
Amazing selection of colors and designs
Can be completely leak proof
Comes with 2 lids
Fits into most cup holders
Company donates 10% of profits to helping others
CONS:
Only a 90-Day warranty
Brand relatively unknown
7. Yeti Tumblers

Chances are you've heard of Yeti as they're one of the most popular tumbler brands.
The Yeti insulated tumblers are absolutely great at keeping coffee hot and they come in a variety of different sizes and colors.
They are one of the most well-made and durable options on the market and they are also completely dishwasher safe which is a major plus for me.
I've owned multiple Yeti tumblers for over 4-5 years now and they are still going strong and still working just as well as they did the day I bought them.
The MagSlider lid works great however, it is important to note that it's not completely leak proof, only splash proof.
It's got a 5 year warranty and hands down one of the best build qualities in the industry.
See the latest price of Yeti Rambler tumblers at Yeti.com
(or compare to the prices of Yeti tumblers at Amazon)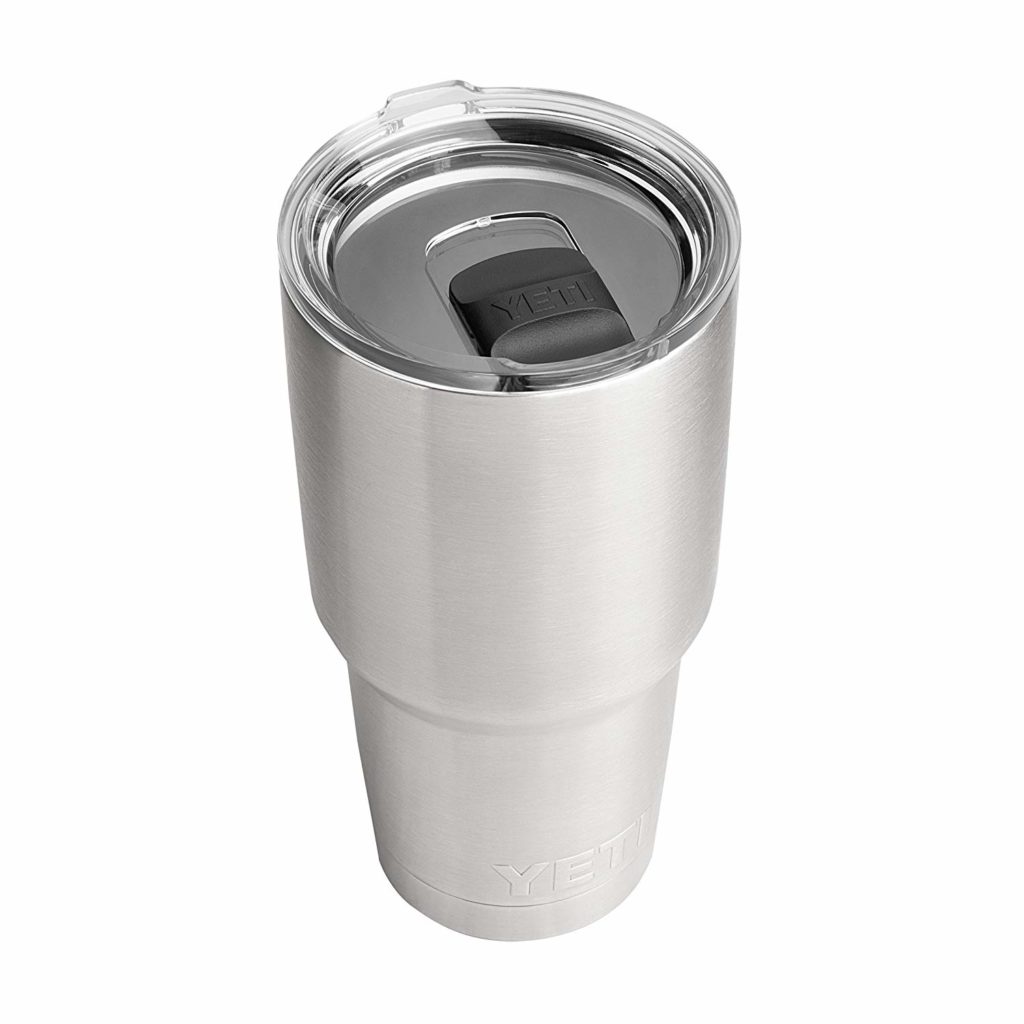 PROS:
Best build quality
Only dishwasher safe tumbler
Biggest and most well recognised brand
5-Year warranty