If you've spent any time reading my blog, you know that I spend a lot of days outdoors and away from the house…I also have a mild obsession with coffee. Whether I'm camping in my van, surfing at the beach, or just working on my laptop in a public place, I'm often on the go.
But I don't go anywhere without hot coffee. When I'm on the go, I can't just brew a fresh cup anytime, and even when I'm working from home I sometimes take hours to drink my coffee. So I have become an expert on keeping coffee hot for hours and hours.
To keep coffee hot for hours get a vacuum insulated tumbler cup or batter powered smart coffee cup that'll keep your coffee hot. Pre-heat your cup before making cofferr and seal the heat in with a good lid. Remember large volumes of coffee with stay warmer longer than smaller cups.
To see exactly how to put these tips to use, keep reading and find the best ways to keep your coffee hot for hours, no matter where you go.
1. Use a Smart Coffee Cup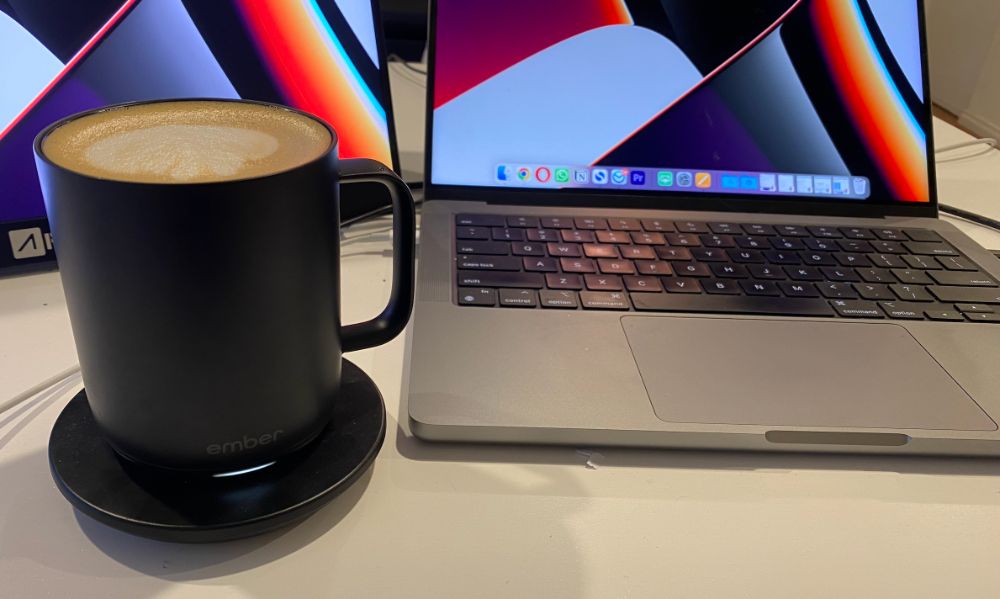 I love smart coffee cups – you can charge them before you leave the house and they will actually keep heating the coffee for several hours.
If you are staying at home, you can enjoy your coffee at the perfect temperature all day by keeping your smart cup docked and charging.
A lot of these cups offer app controls so you can adjust your coffee's temperature from your phone (but they have buttons so you can make changes directly on the cup, too).
This is a relatively new product category and at the moment there are a couple of trusted brands and quite a few dodgy ones that seem to pop up, release a bad product then disappear. So be careful when choosing which one to buy.
You can see my list of the 11 best smart coffee cups but currently my favorite brand of smart coffee cup is the Ember Mug 2, which offers a couple of great models. Trust me, they are worth the investment to keep your coffee hot for hours. If Ember isn't for you check out the best Ember Mug alternatives.
2. Use an Insulated Travel Mug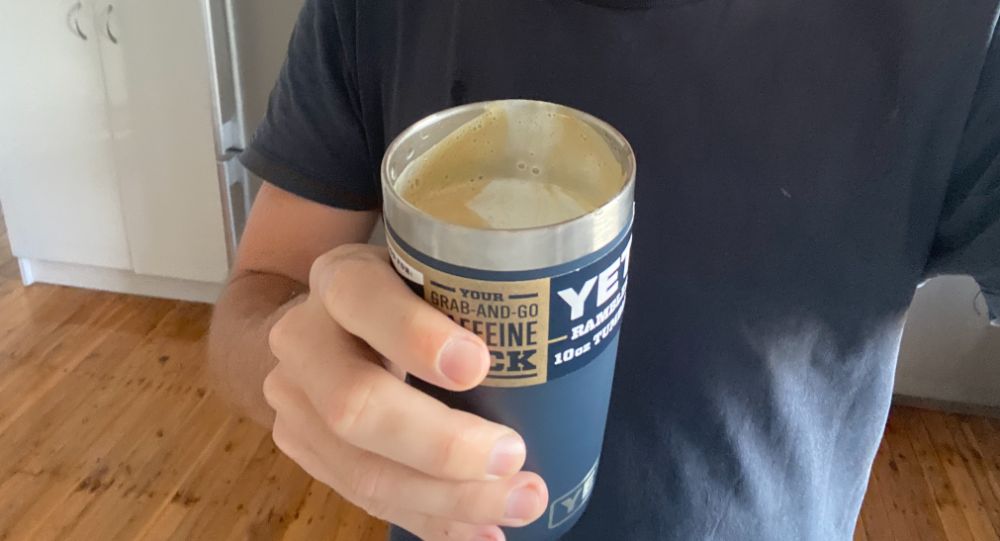 If you don't think a smart coffee cup is right for you (or you don't have the budget), the next best thing is a really well-insulated travel mug.
They don't actually add any heat to your coffee, but they are designed to hold in every bit of heat for hours.
The best technology for this is a vacuum-insulated mug, which uses a vacuum between its double walls to prevent heat from escaping.
Vacuum insulation is the most effective insulation so you want to go with something that is double wall vacuum insulated like the Yeti 10 oz Tumbler which seems designed specifically for coffee.
There are a whole range of brands of travel mugs that offer great vacuum-insulation, including Hydro Flask, Thermos, and my favorite, Yeti.
You have a lot of options for size and shape of mug, but I recommend you choose one with a tapered base like this 10oz Yeti Rambler because it will fit in most car cup holders. Or if you want a larger cup then check out the 30 oz Yeti Rambler Tumbler or the 20 oz Yeti Travel Mug which features a handle and a completely leak proof lid.
3. Keep The Lid Closed (or Add A Lid)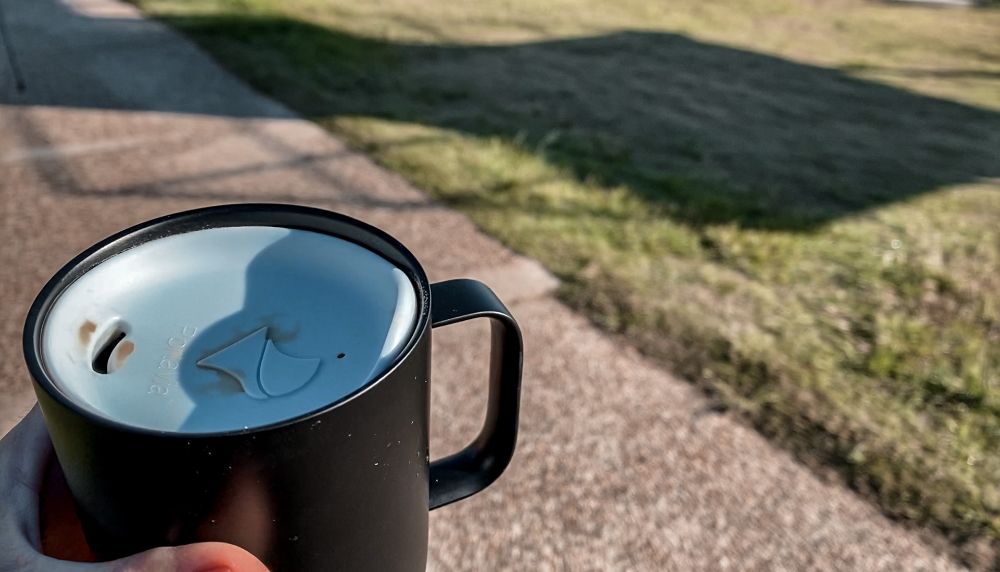 Any quality insulated mug or smart coffee cup is going to include a lid that's designed to keep the heat in. The lid is essential to trapping heat for hours, but it only works if it's closed.
This is because when steam escapes from your coffee it takes a lot of heat energy with it and this cools down your coffee much quicker than it otherwise would.
If your mug includes a sliding closure or flip-top, only open it when you need a drink and keep it closed otherwise. An amazing amount of heat can escape from even the small drinking hole.
If you're ever in a pinch and left without your lid, try to find something to cover your coffee cup with, like a small paper plate. Anything to trap the air and keep it from drawing the heat out of your coffee will make a difference.
Or if you are using a regular coffee mug or a heated mug with the Ember that doesn't have a lid then I personally use (and suggest) the PortaVia Universal Coffee Cup Lid. It's made from silicone and sits inside your coffee cup, it's the only Ember Mug lid I trie that I actually liked.
It stays on tight and is unobtrusive and you can even push it down so you can still drink directly from the ceramic of your cup and your lips never have to touch the silicone. It's also cheap and well worth the investment.
4. Add Insulation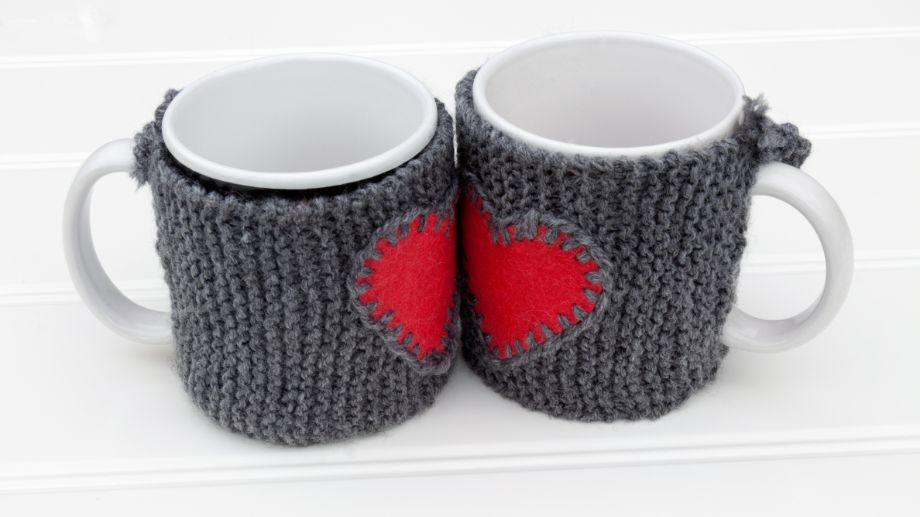 There are all kinds of coffee cups out there, from the high-tech insulated and heated models I mentioned above to disposable styrofoam cups. Some are more effective than others at keeping the coffee hot!
If you're worried about your cup's insulating ability or you really need to squeeze a few extra hours out of your coffee, try to add a fitted sleeve or mug cosy.
If you don't have one of these sleeves, try to wrap a scarf or other material around the cup.
5. Preheat Your Cup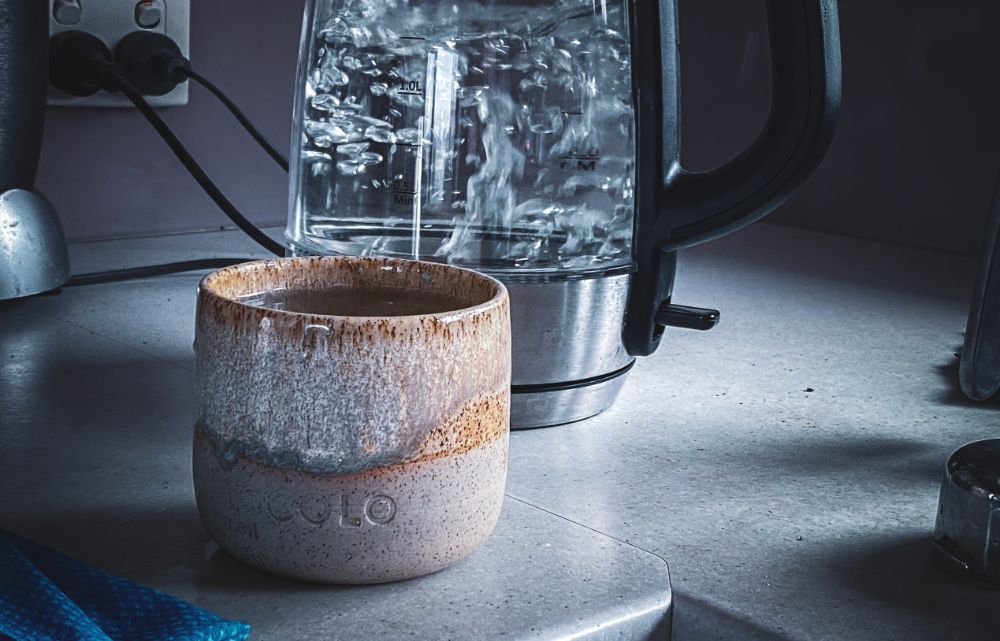 This is something I learned when working as a barista. Cold cups will instantly suck heat out of your coffee and cause the drink to get cold faster.
Pre-heating your cup is something you should always do (and I always do) when making coffee.
All coffee cups should be warmed up first, including insulated coffee cup. This just brings your cup up to temperature so it won't suck any heat out of your coffee.
Simply boil some water, pour it in the cup, and let it sit for 5 minutes. Dump your water out and add hot coffee to the cup.
You'll be surprised how much this helps!
Some insulated coffee cups like the Burnout Mug have a phase-change material inside it which warms up and then delivers heat back into your coffee as it cools down. When these are pre-heated they can help your coffee last a lot longer than it usually would.
6. Carry More Coffee
Since we are talking about storing heat, remember that the more heat you start with, the longer it will stay warm.
Just like how it takes a bath a lot longer to cool down than it does your cup of coffee.
This means that if you can carry a larger container of hot coffee, it will take much longer to cool down.
This is part of what makes the original Thermos canister work so well – keeping a lot of coffee warm and pouring a cup when you want it is much more effective than keeping a small cup of coffee hot.
So choose a larger Yeti mug or get a high-volume Thermos canister if you want your coffee to stay warmer longer.
7. Try a 12V Cup Heater For The Car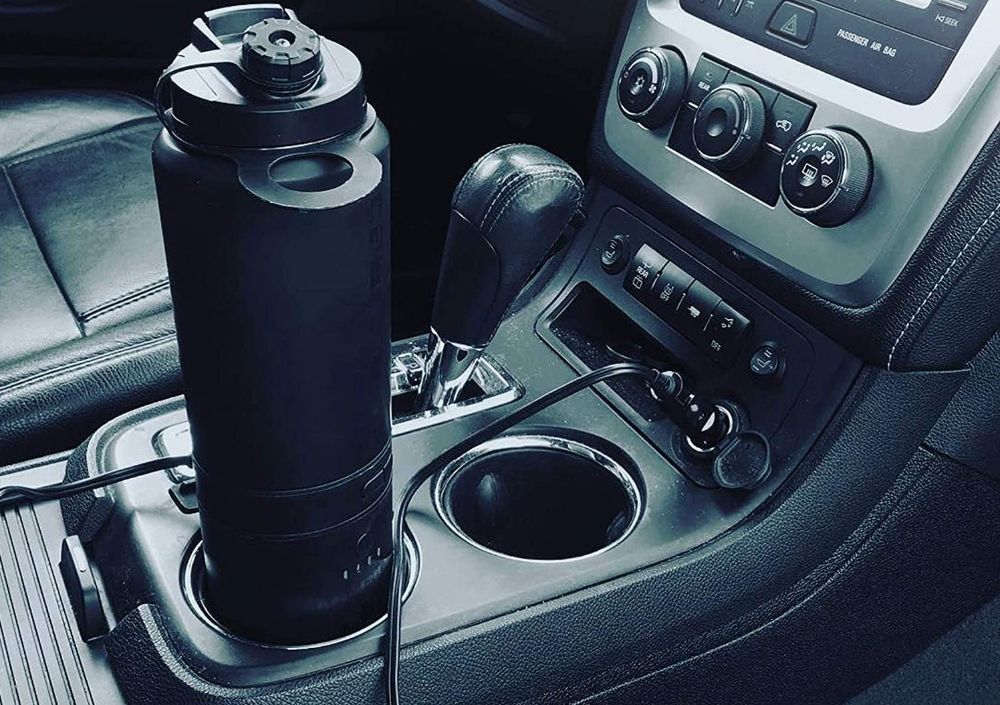 If you're traveling by car with hot coffee, there are heated travel mugs you can buy that plug directly into the car's 12V power source and can heat up drinks from cold or can actually keep them hot.
You have to be careful with these products as many are cheaply made, don't contain the correct fuses or wiring and can burn out or stop working rather quickly. Make sure to check the reviews.
The best option is the Cauldryn Mug which is actually a battery powered heated coffee mug but comes with a 12 V charger for the car. But this is a little pricey.
A cheaper alternative is the Wagan 16 oz heated coffee mug. It runs off 12 V power and is double walled (not vacuum insulated) and will keep your coffee hot for about 2 hours without power or indefinitely with power.
8. Use a Desk Coffee Warmer
If you aren't out on the go, but rather stuck at your desk, you can get a warming pad to keep your coffee hot for hours and hours at the desk.
Just plug it in, place your coffee in the warming area, and it will stay warm for as long as you're at your desk working.
It's great if you can find one with an auto shut-off, too, just in case you forget to turn it off before leaving the office. Read all my tips for keeping coffee warm at a desk.
The Best Inn Kits Smart Coffee Cup Warmer Set is a good option and works well (linked below) otherwise have a look at my list of the mug warmer for coffee cups.
Summary
There are a lot of ways to extend the life of your hot coffee. They won't all work for every situation, but find the combination that fits your lifestyle.
To recap the tips above:
Choose a good quality, insulated cup
Use a lid and keep it closed
Add insulation to the cup
Carry larger volumes of coffee
Use a warming device for the car or desk
Hopefully these tips will help you enjoy more cups of your favorite hot coffee wherever you go!