Whether your jumping in your car for the daily commute, driving the kids to school or maybe you just want to take your coffee with you then a good travel coffee mug is a must have companion.
But most coffee travel mugs don't have handles and while this isn't a deal breaker for me I know some people just prefer drinking coffee or tea from a cup with a handle.
My dad is one of these people so I wanted to look into the best travel coffee mugs with handles to see if there were any he might like.
I found quite a few good ones that I would be happy to recommend to him or anyone else.
The best travel coffee mug with a handle is the Thermos Stainless King. It's well priced, has best-in-class heat retention and is high quality. The Contigo SnapSeal offers the best value for money and the Ello Fulton is a good ceramic cup for those who don't want to drink out of metal.
Ceramic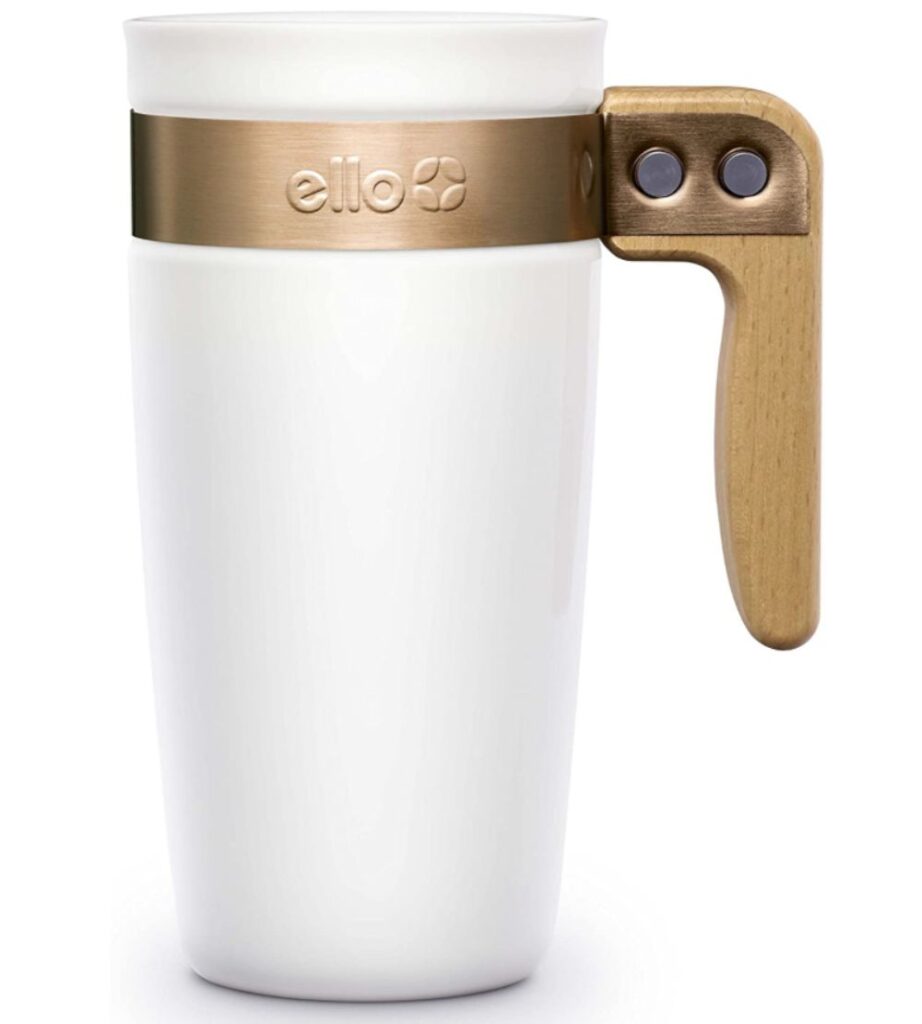 Ello Fulton
Price: See at Amazon
BEST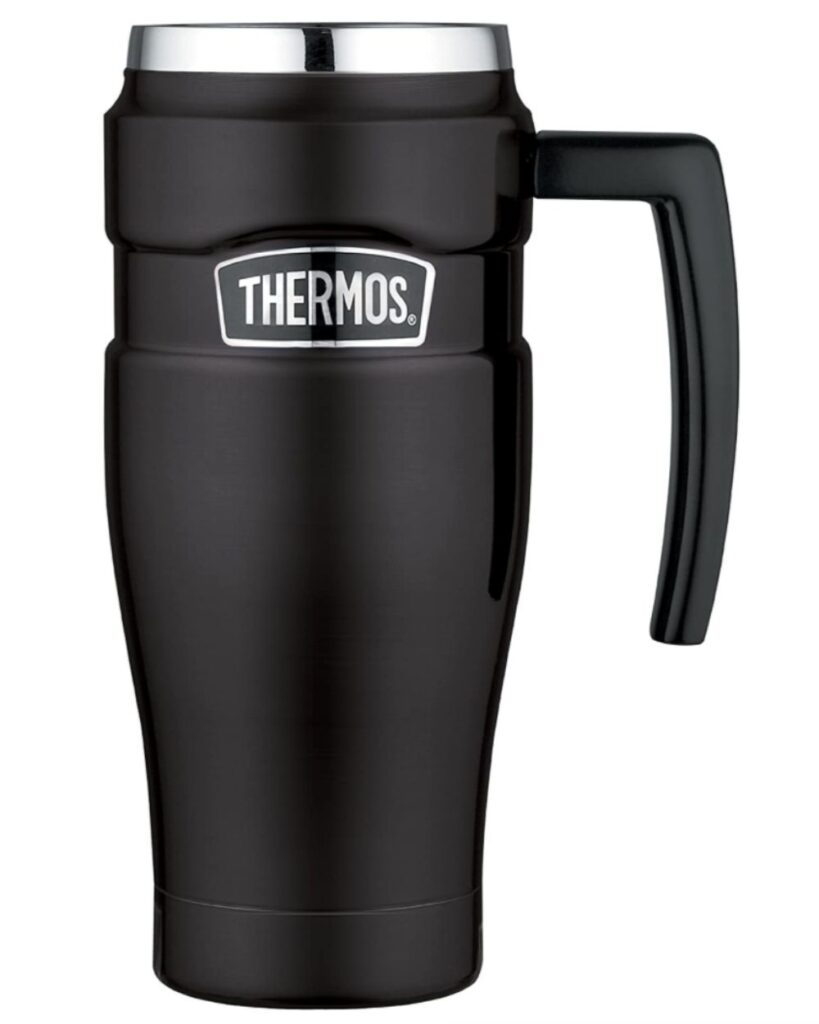 Thermos Stainless King
Price: See at Amazon
Value For Money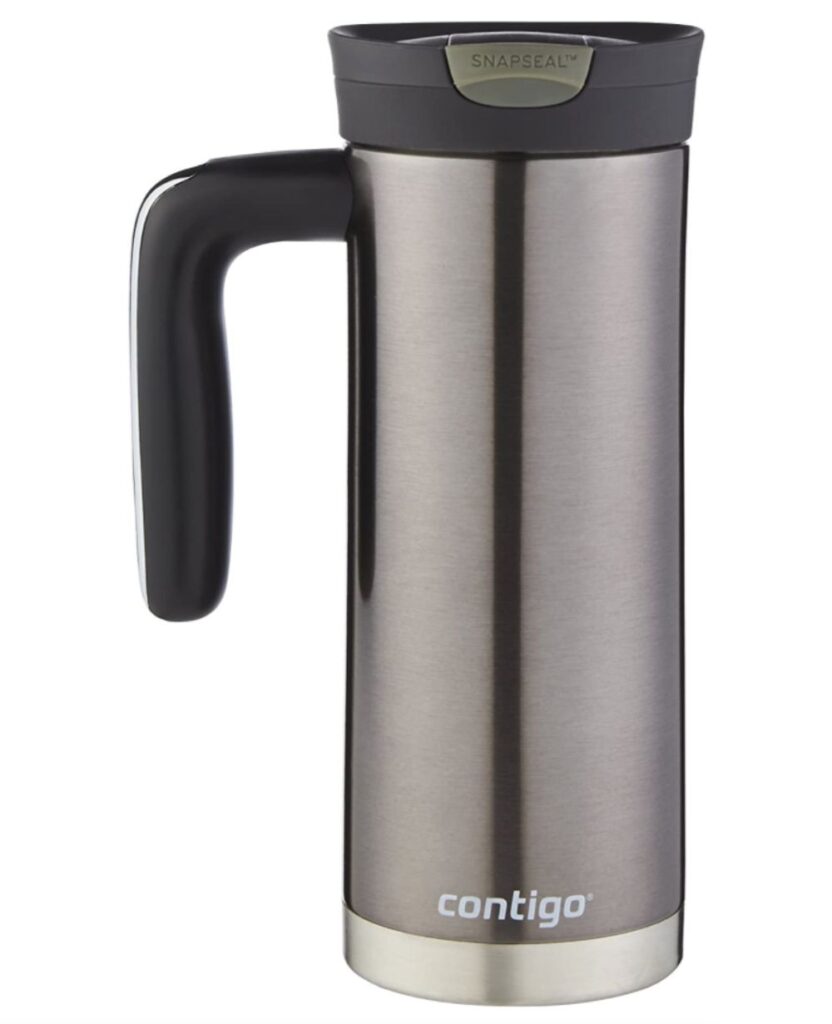 Contigo SnapSeal
Price: See at Amazon
My full list below ranks them in order from best to worst but I've also tried to outline some of the pros and cons of each and who they may be suited for.
Ultimately you should just choose the cup that best suits your needs. Affiliate links to all the cups are provides so you can easily buy it from Amazon or other retailers if you want.
1. BEST: Thermos Stainless King 16 oz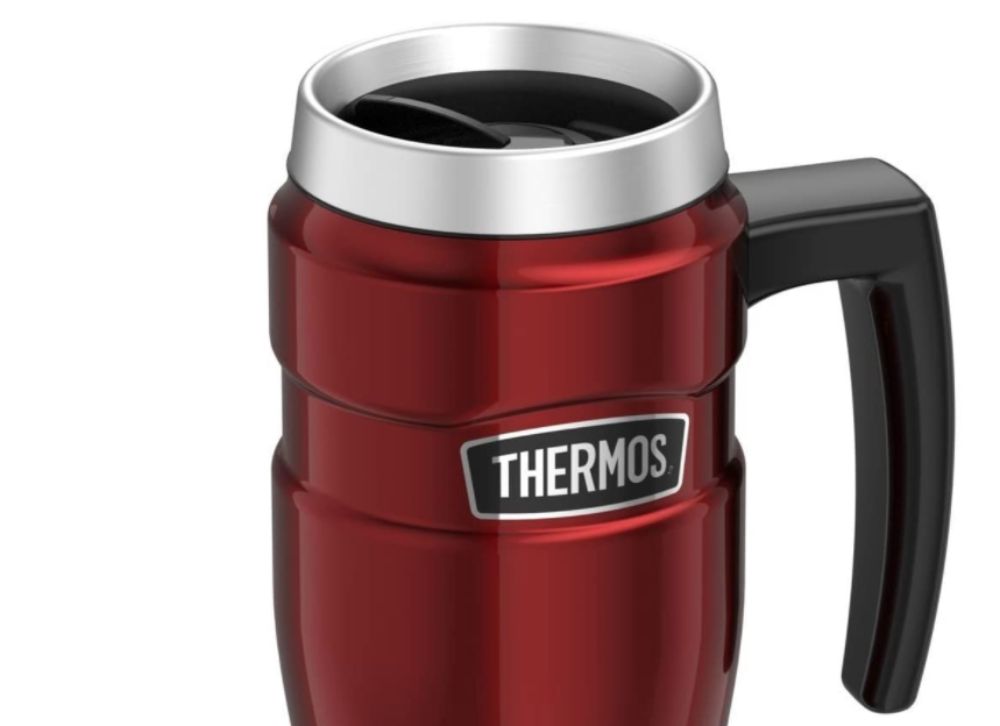 Thermos are one of the oldest brands in the insulating cup space and have been around long before it was the super popular product it has become today.
With all this experience thermos have made one of the best insulating tumblers out there. It actually ranked right up there as one of the best tumblers for ice retention and also the best tumbler for keeping coffee hottest for longest.
The vacuum sealed insulation keeps in the heat and it also features a leak proof and airtight lid that won't spill your drink and doesn't let any steam escape.
The "stainless king" version of their popular tumbler comes with a convenient carry handle that is high enough and sticks out enough that it can fit into a car cup holder easily.
I own everything from Yeti to Hydro Flask to RTIC and my kids always fight over who gets to use the Thermos cup. I didn't think it would be the favorite but for some reason it is.
This is one of the best travel mugs with a handle you can get and it's priced really well. Currently as I write this there is a huge sale on at Amazon but these come and go so it may not be as cheap as you're reading it.
Regardless it's still a great mug and I highly recommend it.
See the latest price of the Thermos King at Amazon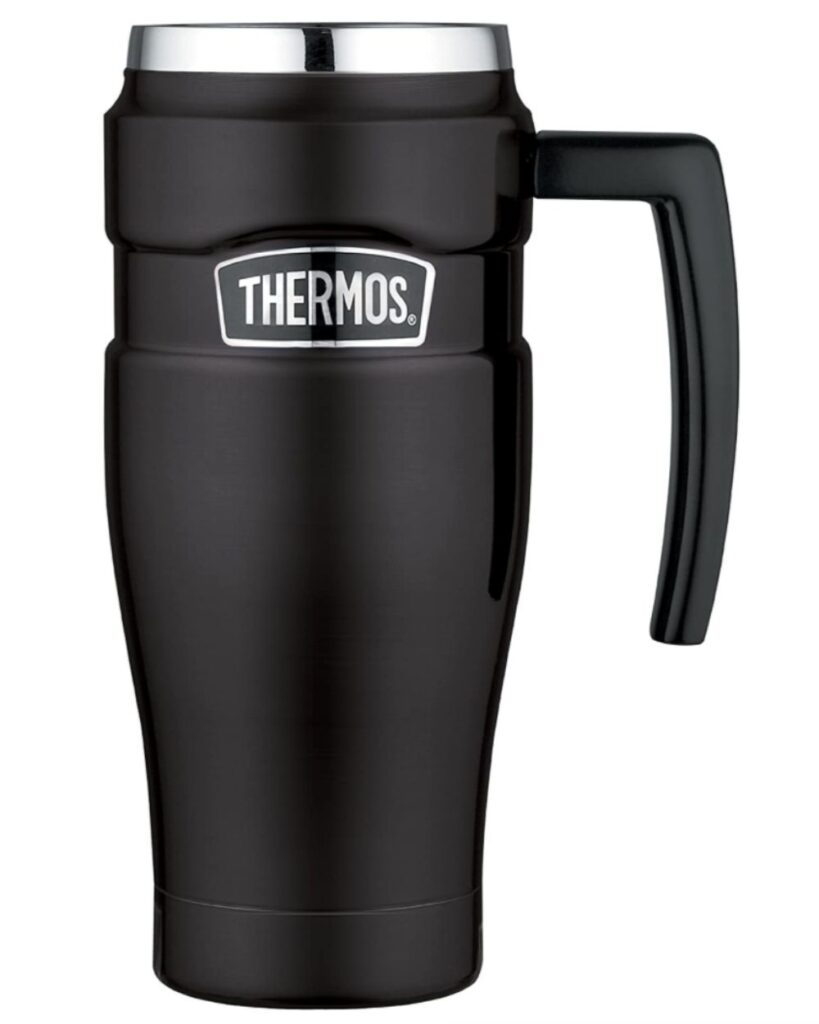 2. VALUE FOR MONEY: Contigo Snapseal Insulated with Handle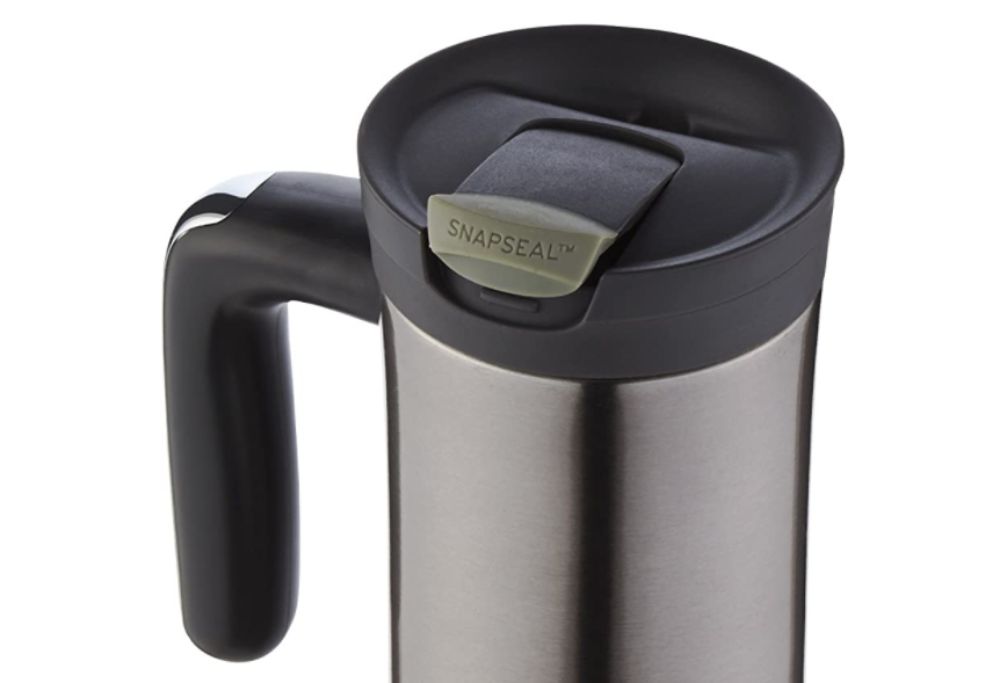 The Contigo SnapSeal it the most affordable travel coffee mug with a handle you can get.
But it's not cheap and nasty like some things you might find on Amazon or Ebay it's actually really good quality.
It's vacuum insulated and keeps drinks hot for around 4-6 hours. Not quite as good as the Thermos but not far off.
The lid mechanism is super easy to open and close when you want to drink or store your mug and it is also easy to clean which is important.
Contigo have designed their mug to work for both left and right handed drinkers allowing the lid to thread both ways so you can choose what suits you.
With a limited lifetime guarantee and a price this cheap if you're on a budget then this is the mug for you.
See the latest price of the Contigo Snapseal at Amazon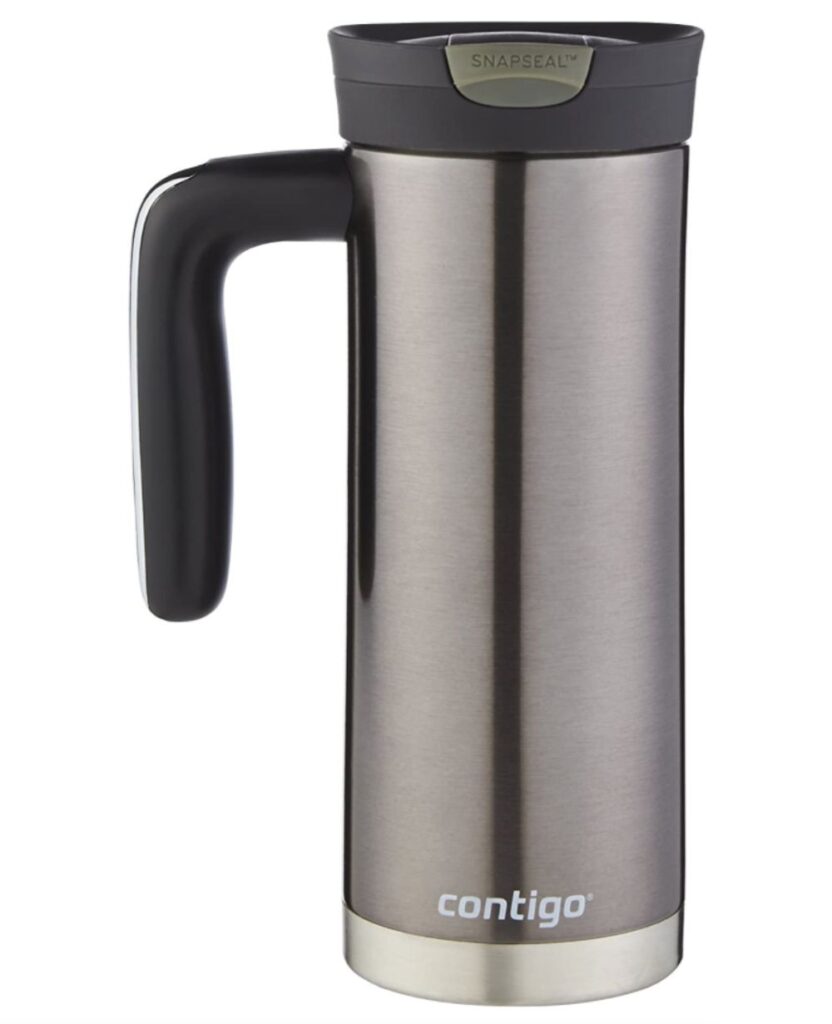 3. DISHWASHER SAFE: Bubba Hero with Handle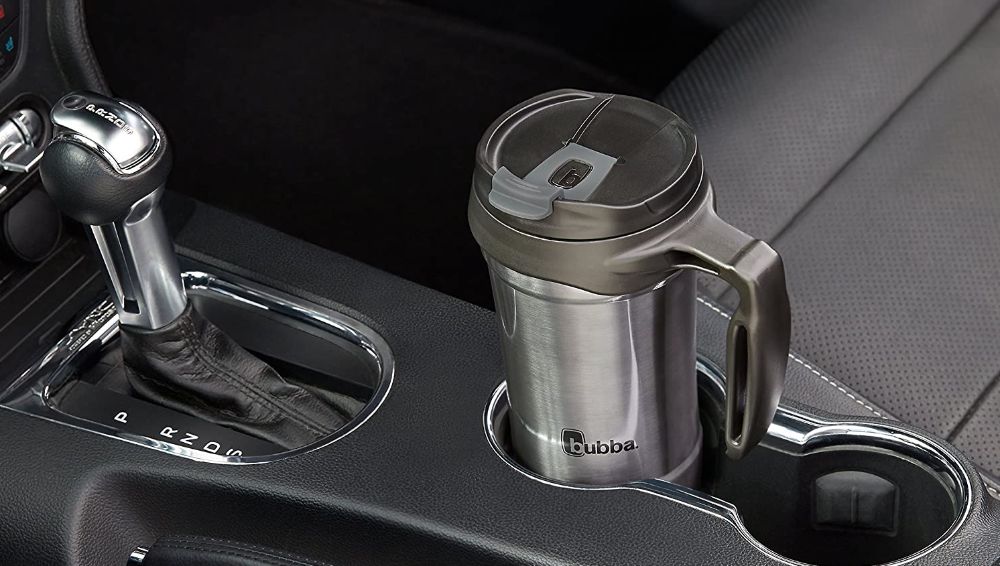 The Bubba Hero isn't the sexiest travel coffee mug on this list but it does have one big thing going for it that other mugs on this list don't have – it's dishwasher safe.
It's insulating like the other mugs, has a leak proof lid and has a nice high handle so it fits well into cup holder and is easy to hold.
But instead of having to hand wash it you can bring this home after a hard day's work and just throw it in the dishwasher with the rest of your dishes and have it clean in the morning ready to go again.
It's only slightly more expensive than the Contigo mentioned above but at the time of writing it was on sale and even cheaper.
This one suits the person who's like me and don't like cleaning and just wants to throw things in the dishwasher. It also suits people on a budget as it comes at a great price.
See the latest price of the Bubba Hero with Handle at Amazon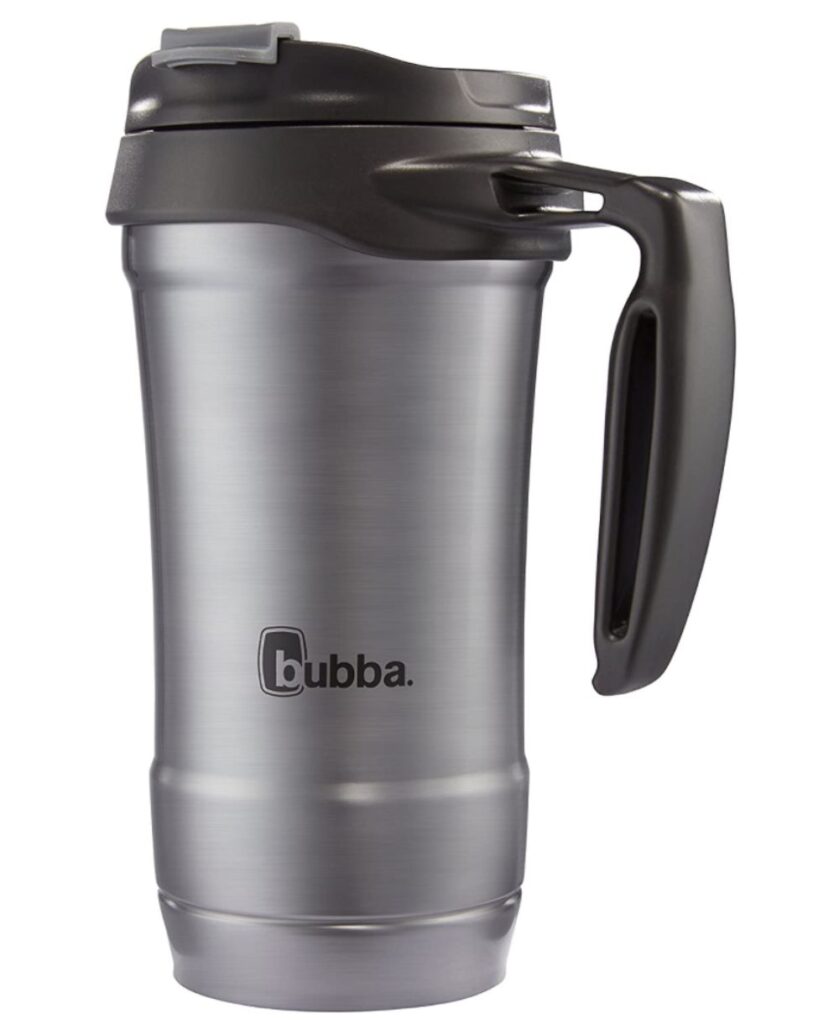 4. HEATED: Wagan EL6100 12V Heated Coffee Mug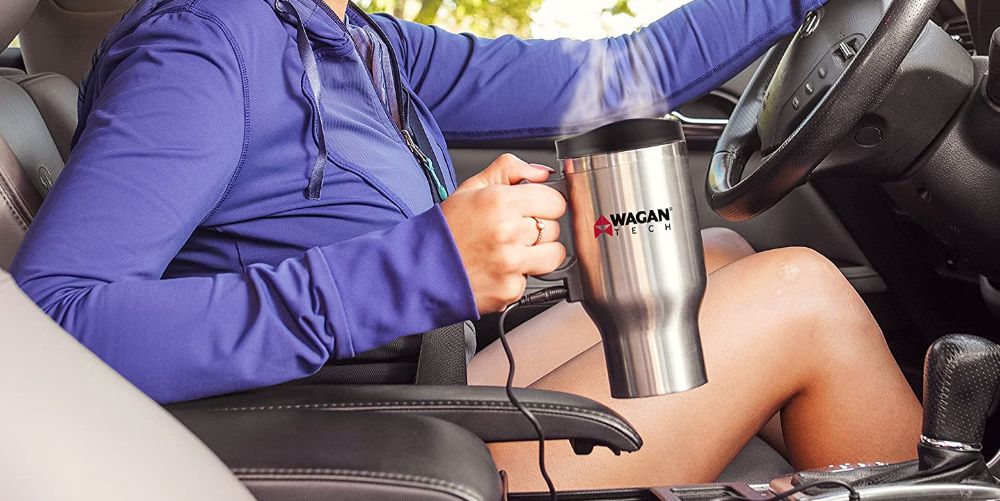 Instead of just relying on passive insulation to keep your coffee hot for the morning commute why not tap into your car's battery power and get a cup like the Wagan heated mug that actively heats up your coffee.
I will be honest here, most 12 volt heated coffee mugs for the car aren't built that great and aren't built to last and the Wagan is no different to this.
Some people love it and get years out of it while for other it breaks after just a few uses. So you're taking a risk on quality and durability with this one but for the cheap price it sells for it's kind of worth the risk.
Worst case and it stops heating you've still got a double walled travel mug with a handle that you can use even when it's not plugged in.
If you want to go for something more premium check out the Ember Mug or the Cauldryn which run off battery power (but don't have handles).
It's not vacuum insulated so it won't keep things hot for as long as some of the other coffee mugs with handles in this list, but it'll still keep it warm for a regular commute.
If you want something that actively heats your coffee or tea in the morning then this is a good option to consider.
See the latest price of the Wagan EL6100 Heated Mug at Amazon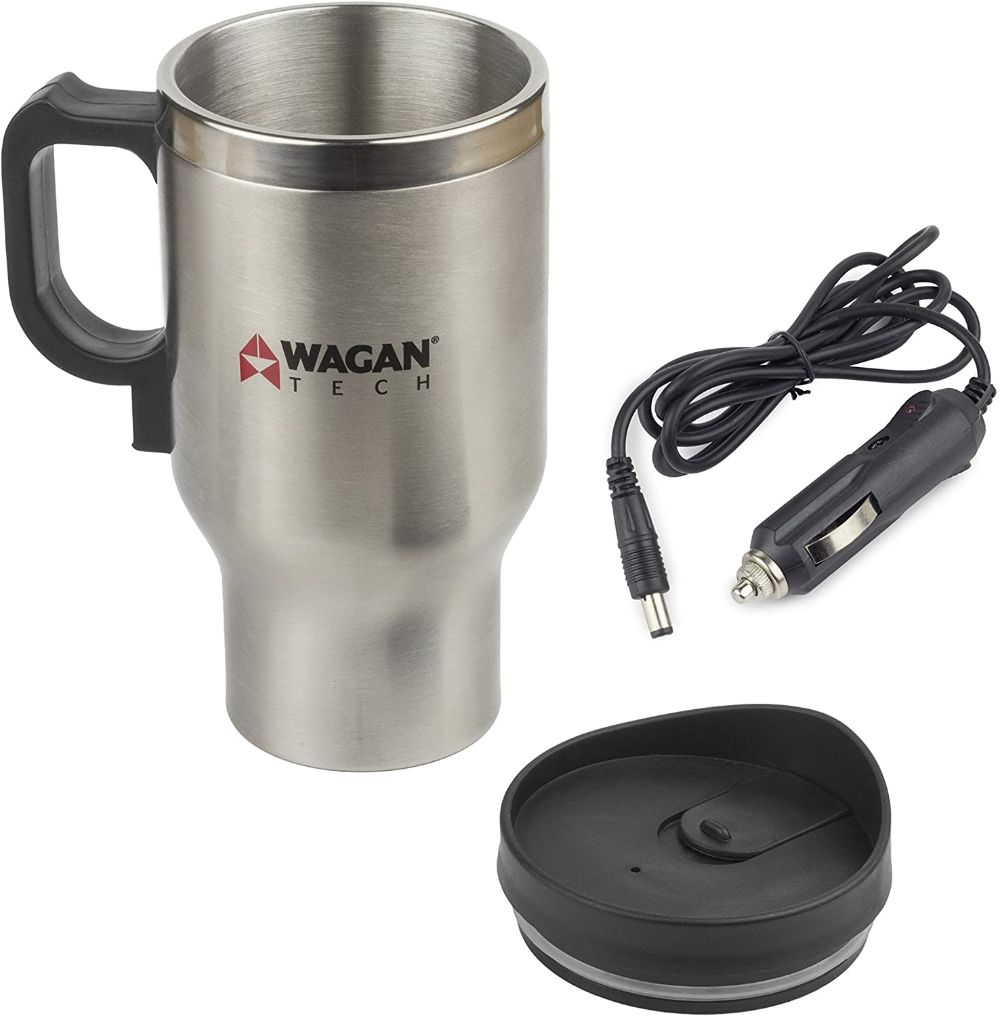 5. BEAUTIFUL: Ello Magnet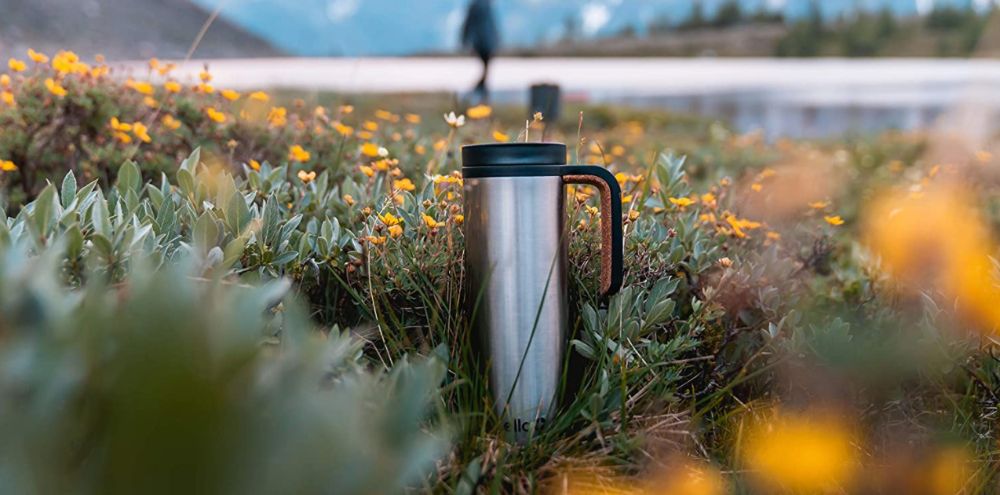 My partner is gorgeous girl who works high up in corporate and pays a lot of attention to her clothes, hair and overall appearance.
I don't say that to brag (ok maybe a little) but I say that to say that for some people having something beautiful to drink out of matters.
Whether you're in corporate or just want a stylish looking travel mug you can't beat the Ello Manet with it's matte black (or poseidon green) design and cork finishes.
The cork bottom stops it scraping and surfaces and is like a built in coaster and the cork on the handle makes it comfortable to hold.
The downside with cork is you need to be really careful washing it as if it gets wet for too long it can expand and start to break, so that's a downside of this mug.
It's not even much dearer than some of the other options on this list so I can see for some people this is going to be the obvious choice.
See the latest price of the Ello Magnet Mug at Amazon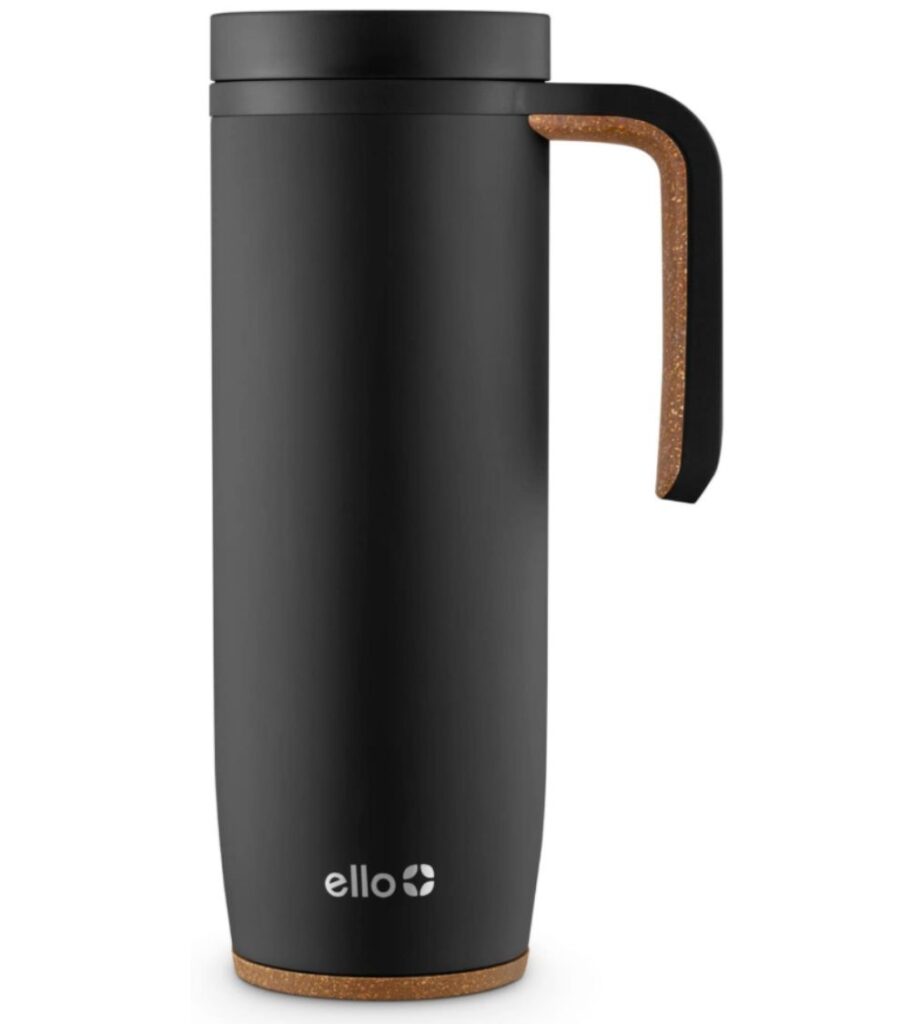 BTW I would buy this for my partner but I can't as she doesn't like drinking out of stainless steel as she feels it imparts flavors into her coffee. So the next cup would actually be the best one for her.
6. CERAMIC: Ello Fulton Ceramic Travel Mug with Slider Lid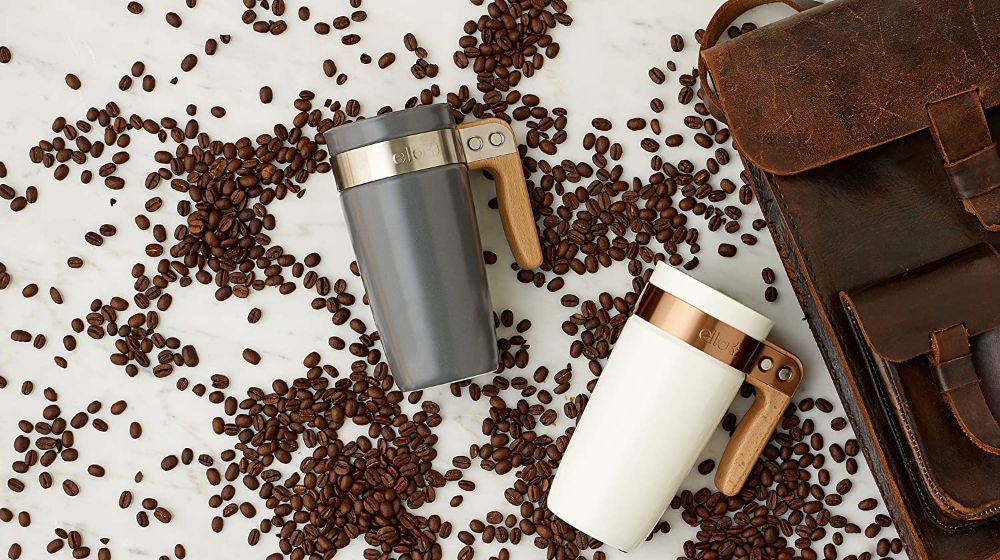 If you don't like drinking out of stainless steel or just prefer the look and feel of a ceramic mug then the Ello Fulton is a great ceramic travel mug that comes with a beautiful wooden handle attached to it.
I like that with this one they've designed the lid to be splash resistant but also allow you to drink directly from the ceramic and not from a plastic lid. Very nice feature.
Downsides to this mug are obviously it's fragility as well as the fact it isn't insulated and instead leak proof. But still a good travel mug for those keen on ceramic over metal.
See the latest price of the Ello Fulton at Amazon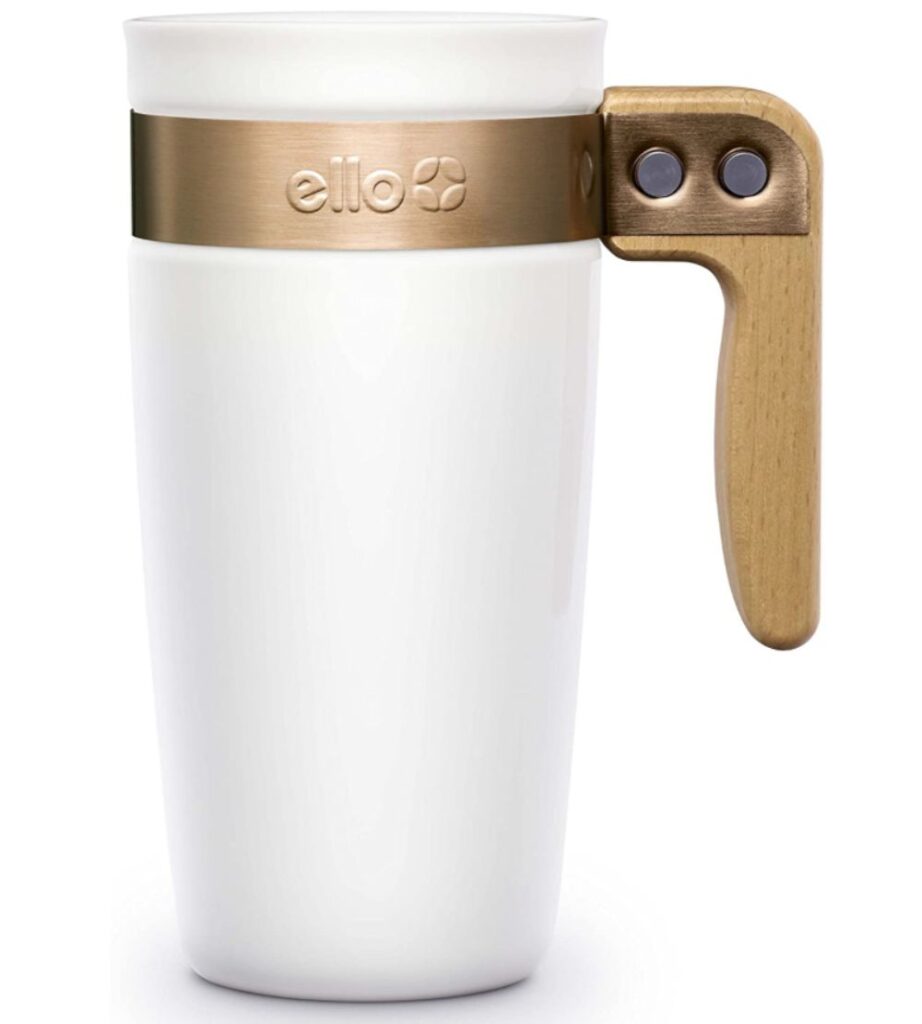 7. EASIEST TO USE: Contigo Autoseal Handled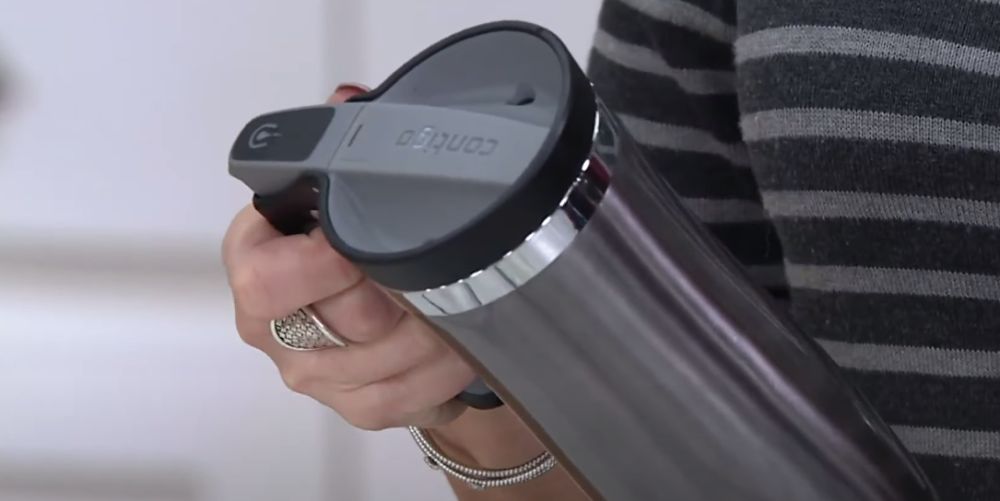 For the absolute easiest drinking experience while you're driving you can't go past the Contigo Autoseal with handle.
It's about $10 more than the Snapseal contigo but it has a one hand easy operation that automatically closes when not in use.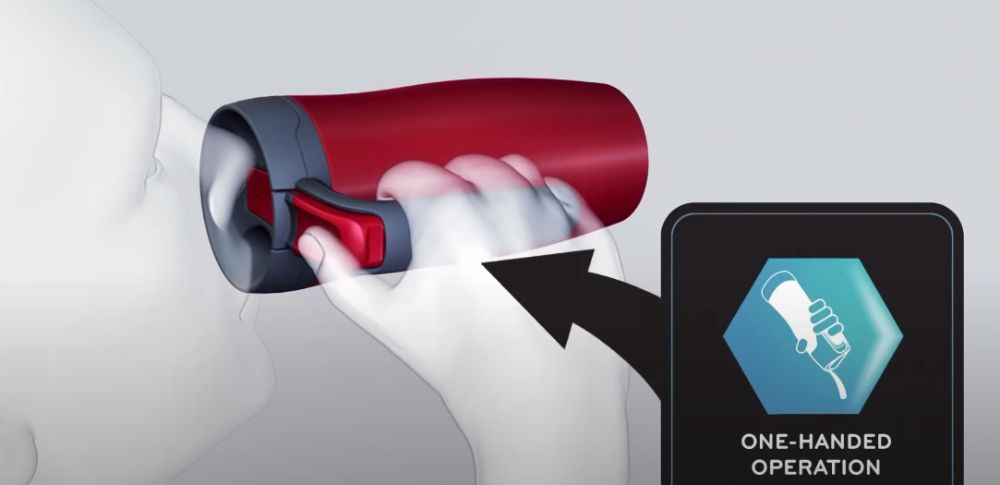 To use simply press the button on the handle and it opens up the lid and allows liquid to pour out.
It's also designed to work for both left and right handed people as you are able to drink from either side and the lid mechanism pops out and is easy to clean.
It's also leakproof and is able to be locked closed so you can throw it in your bag without worry about it opening up and spilling coffee everywhere.
It keeps drinks hot up to 5 hours and comes with a limited lifetime guarantee. If you're willing to pay a little bit more and ok holding your thumb down whenever you want to drink then the autoseal mechanism works great.
See the latest price of the Contigo Autoseal Mug at Amazon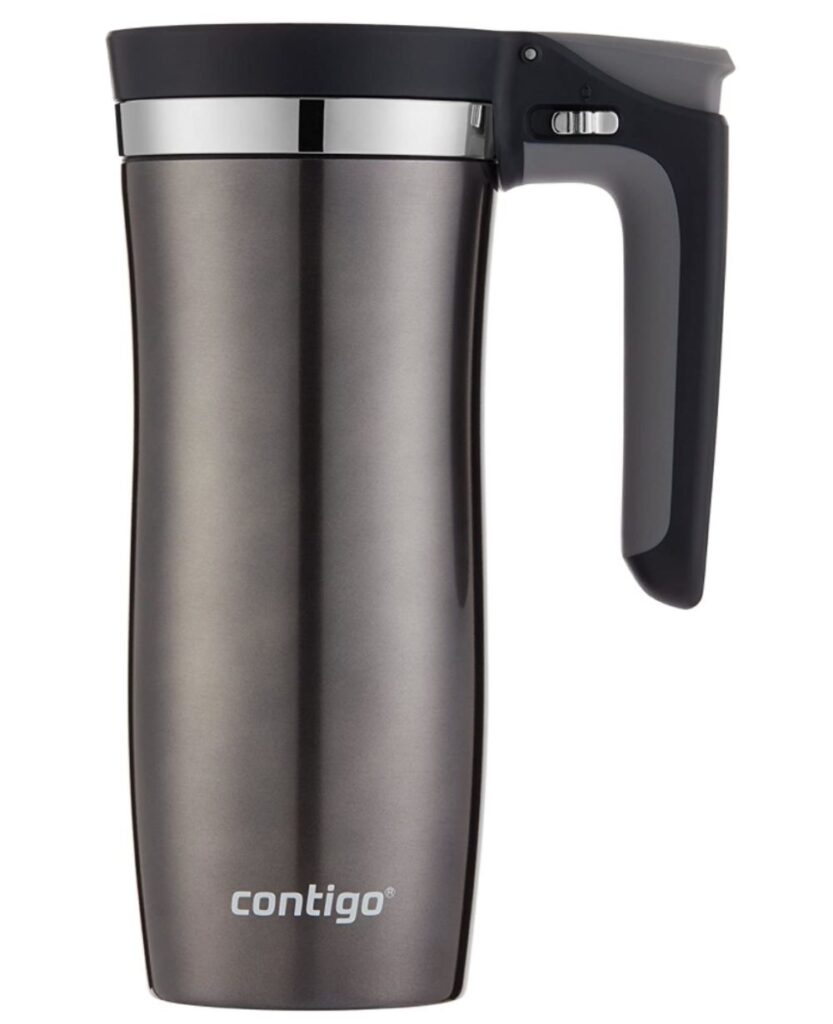 8. RTIC Travel Coffee Cup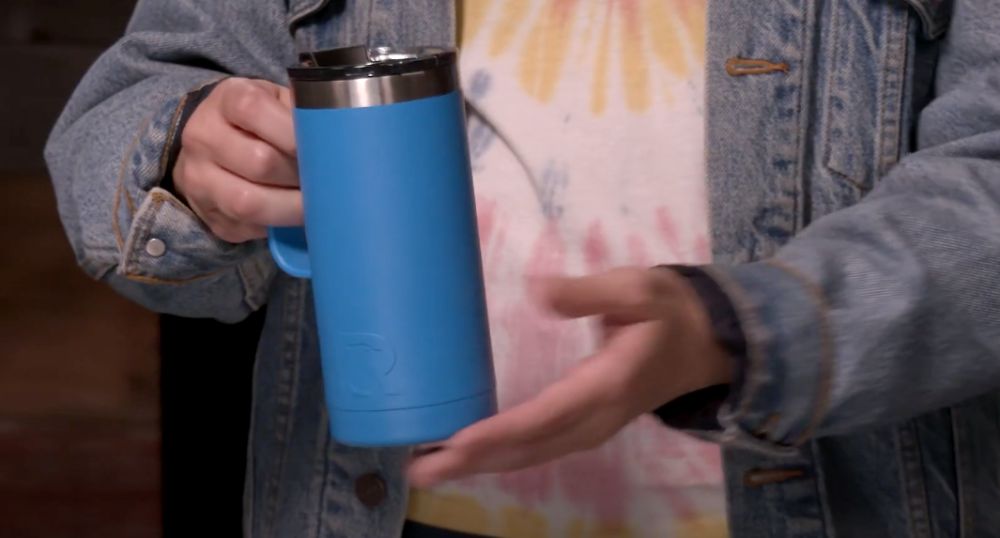 RTIC is a brand that has become popular because they sell products similar to Yeti but at a cheaper price.
I couldn't include the Yeti Mug in this list as it's way too wide and short for a car cup holder and isn't leak proof so wouldn't make a good travel mug. So the RTIC is stepping in to fill it's place.
It's got a good tall squarish design and it keeps coffee hot for hours. It comes with a leak proof lid but it's only held on by a gasket so I wouldn't go putting it in your bag or letting it roll around on the floor in your car.
The base is 3 inches which means it'll only fit into larger cup holders so if you've got a small cup holder in your car this isn't for you.
It's much cheaper from their website but you can also get it at Amazon
See the latest price of the RTIC Coffee Cup at RTICOutdoors.com
(or compare to the price of the RTIC Coffee Cup at Amazon)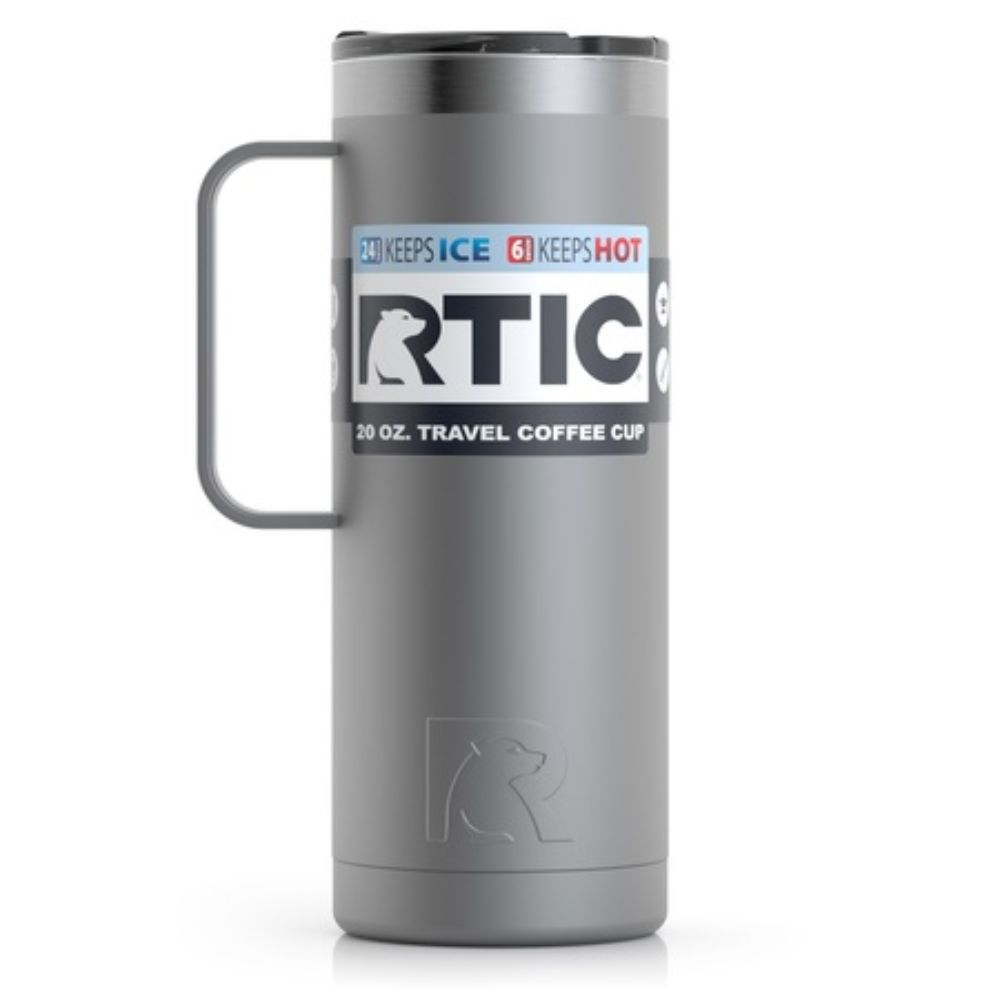 9. COLORFUL: Simple Modern Scout Mug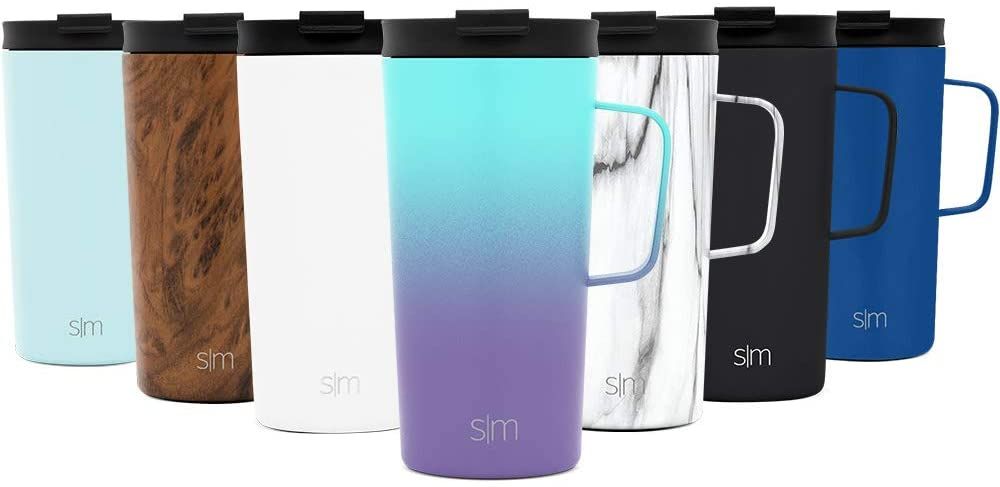 Simple Modern tumblers are super popular on Amazon and with their huge variety of color and size options I can see why.
You can get everything from single colors, to two-tone colors to cups that look like wood or marble. There are also some really funky design choices.
Their range of coffee mugs with handles have all these color options plus they insulate great and have a leak proof lid.
They come in 4 different sizes – 10oz, 12oz, 18oz, 24 oz – and are thin enough to fit in most cup holders.
The handle is made from thin stainless steel so it's not the most comfortable handle on the market, but it's not horrible to use either.
See the latest price of the Simple Modern Scout at Amazon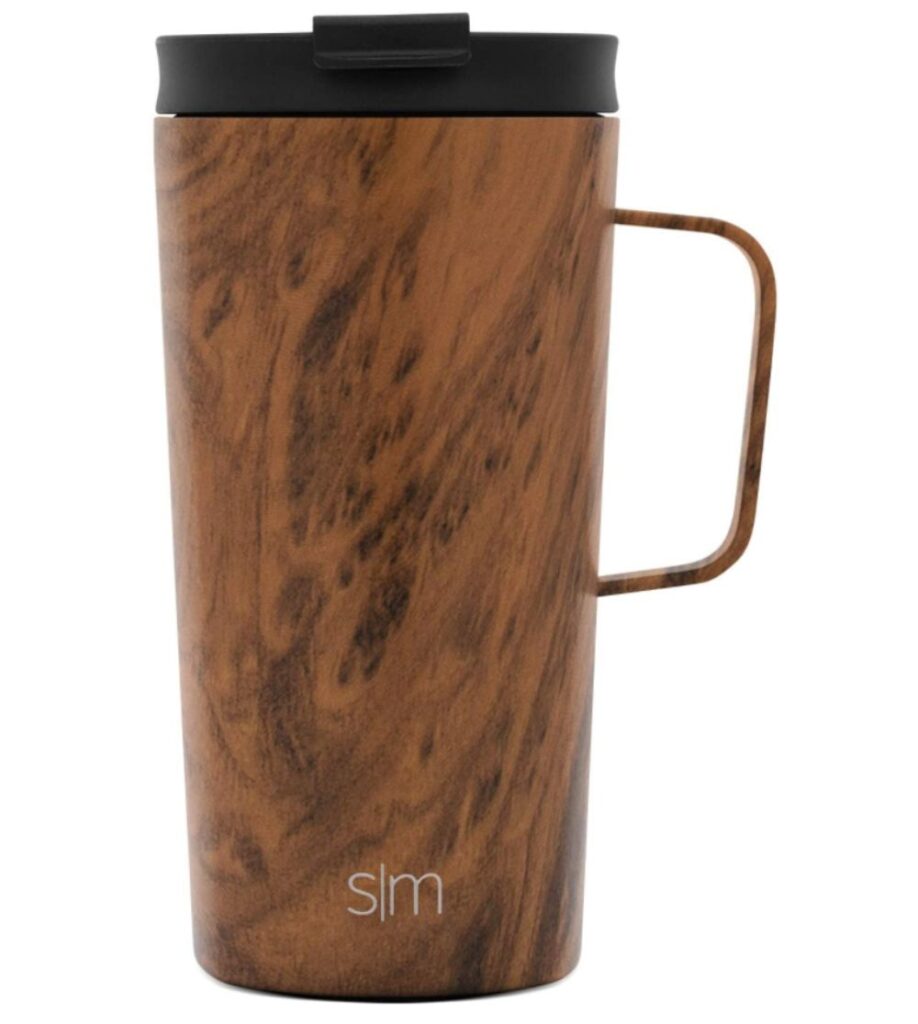 10. Haushof 24 oz Insulated Travel Mug
The Haushof isn't a brand of tumbler I am familiar with or have heard a lot about but it seems to be pretty popular and has a lot of positive reviews.
It's got double walled insulation to keep your coffee hot and a thin base which makes it perfect to fit into cup holders.
The handle is made from thick durable plastic and it's got a leak proof lid. Everything you need in a travel mug.
Currently it comes in just the seafoam green or black color and only the 24 oz size fits well into a cup holder. The 16 oz has a wider base so it's great for travelling with in the car but it's good for camping.
See the latest price of the Haushof Mug at Amazon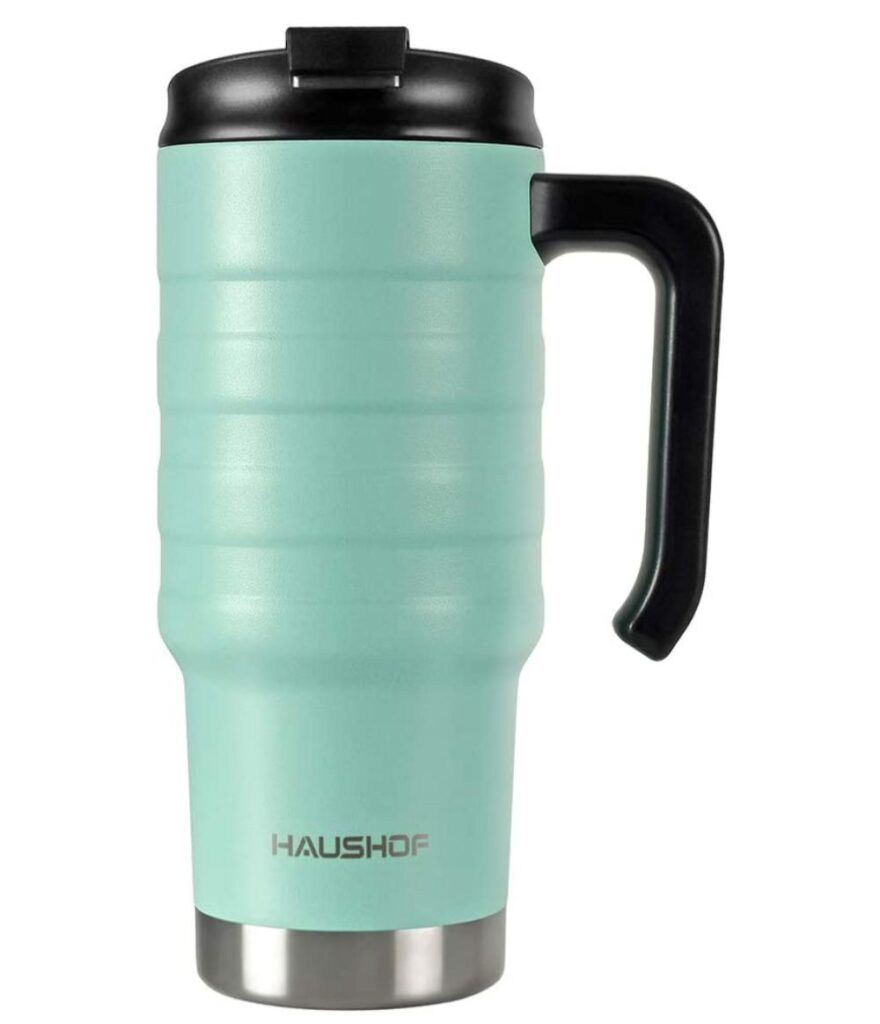 11. BIGGEST: Bubba Classic 34 oz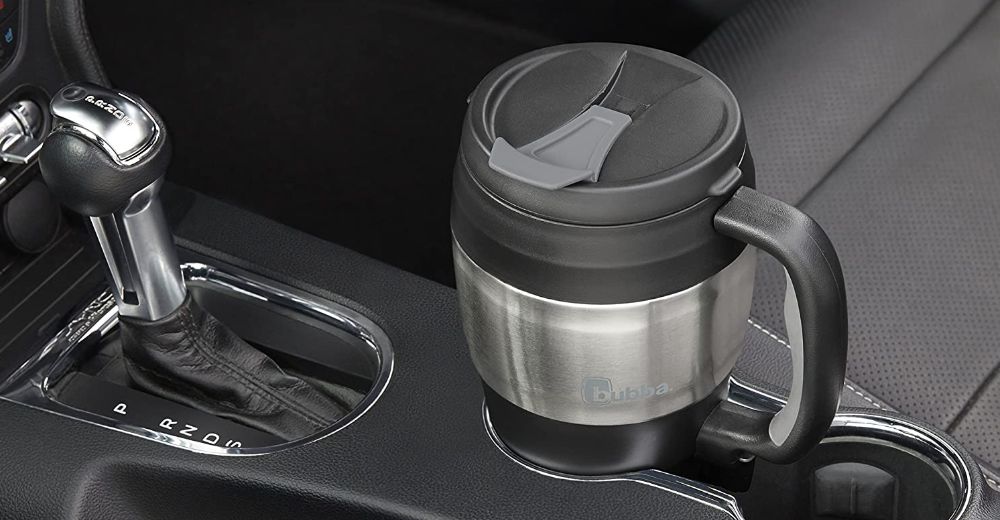 Last on our list is the GIANT Bubba Classic 34 oz coffee mug.
I have to be honest with you, I wouldn't personally drink coffee from this mug. Not because the mug is bad but just because mixing plastic and hot drinks has the potential to leech chemicals into your drink which I want to avoid.
But some people aren't worried about this so it that's you by all means check this out.
It's got a whopping 34 oz capacity but a base small enough to fit into most cup holders.
The inside and outside is plastic (BPA free) and it has foam insulation in between to keep your coffee hot during the commute.
It's super affordable and the handle has a soft touch grip making it easy to hold.
See the latest price of the Bubba Classic 34 oz at Amazon