The Ember Mug is a great way to keep your coffee, tea or other drink at the perfect temperature for hours. With how expensive it is you want to make sure you look at the different Ember Mug alternatives before you make your purchasing decision.
To be completely honest, there are limited alternatives to the Ember Mug. There are only a couple of decent battery powered heated mugs but there are also some cheaper alternatives that don't use power.
In this article I'll highlight what I think are the best alternatives to the Ember Mug and Ember Travel Mug and help you make a decision whether or not the Ember is right for you.
The best alternative to the Ember Mug is the Cauldryn heated travel mug. It is more affordable, has a massive 10 hours battery life and can bring drinks up to boil and even has a blender attachment. For a cheaper option go with the Yeti vacuum insulated travel mug, it doesn't have a heating element but keeps drinks hot for 6-12+ hours.
BEST ALTERNATIVE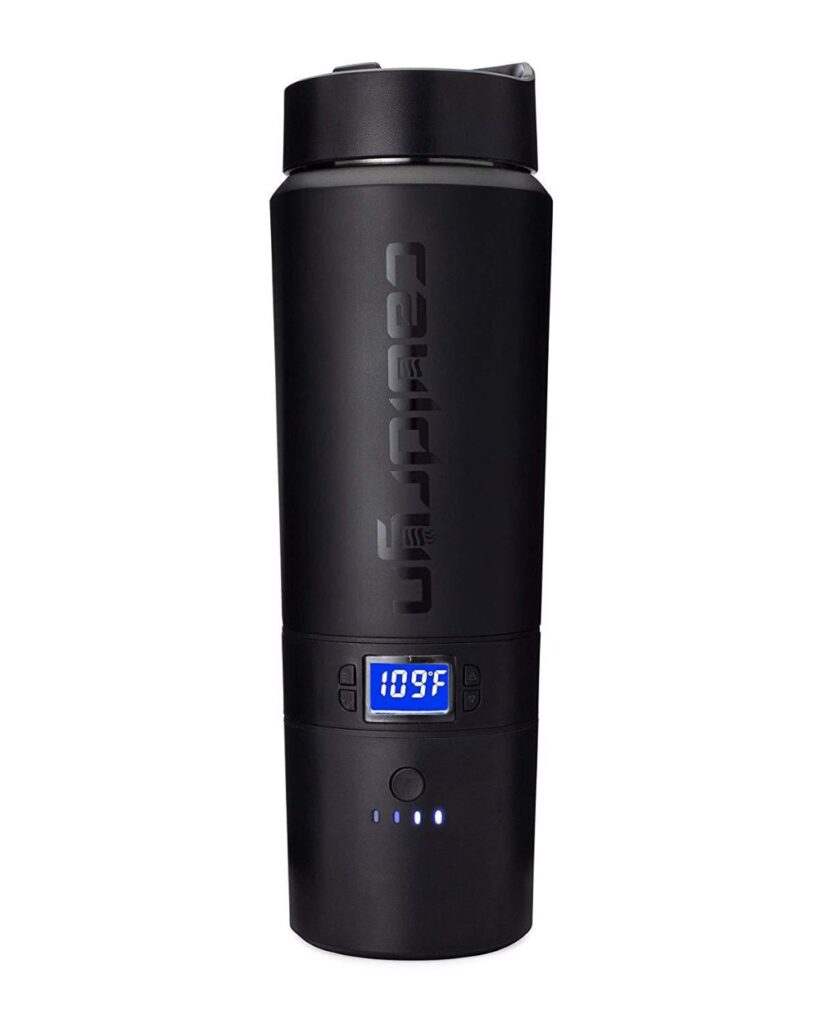 Cauldryn Travel Mug
Price: $89 – $149 (see latest price at Amazon)
Capacity: 16 oz
Battery Life: 10 hours
Temp Range: 0-100ºC (32-212ºF)
Vacuum Insulated: Yes
Colors: Black
Bluetooth: Yes
Accessories: Blender, Vehicle Adapter, Percolator, Coffee Lid
Best Unpowered Option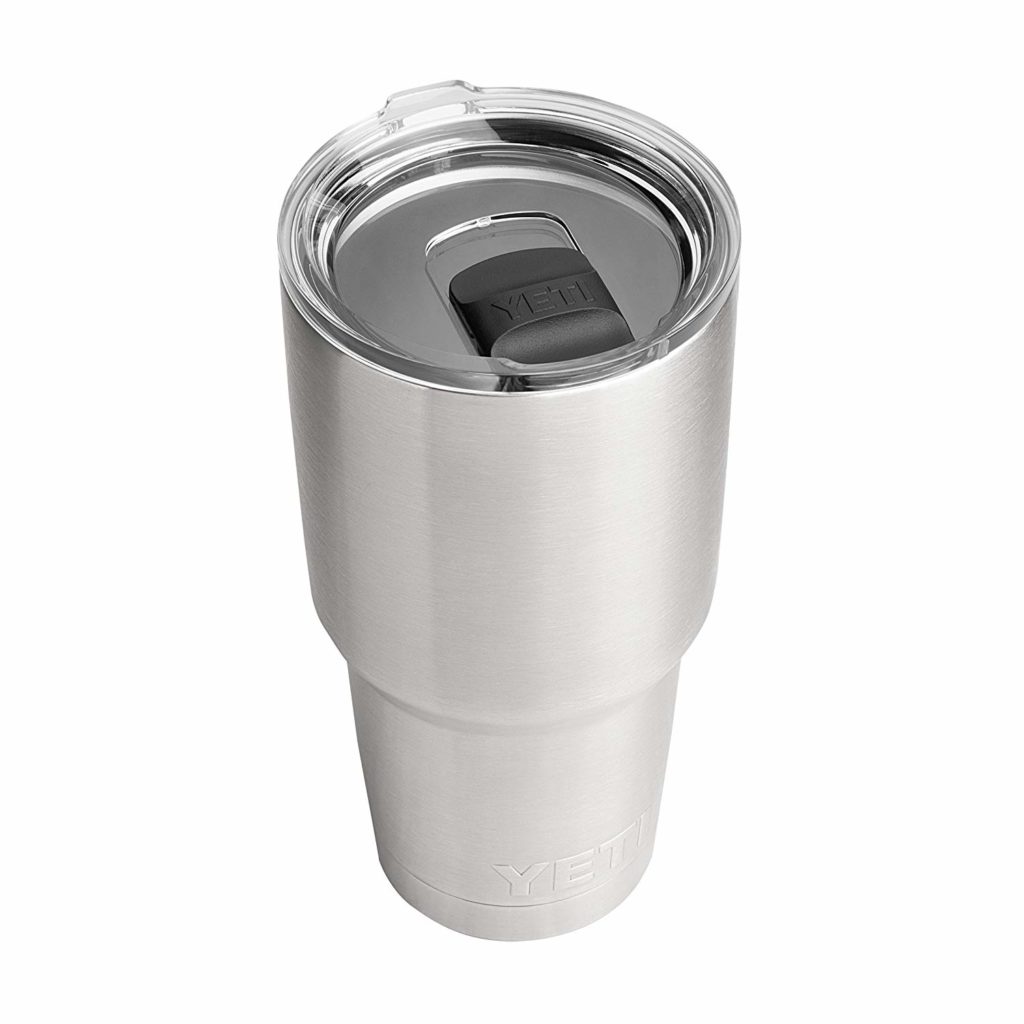 Yeti Rambler Tumble
Price: $20 – $40 (see latest price at Yeti.com)
Capacity: 10, 16, 20, 26, 30 oz
Battery Life: N/A
Temp Range: N/A
Vacuum Insulated: Yes
Colors: Lots of colors
Bluetooth: No
Accessories: See best Yeti tumbler accessories
First, What Makes The Ember So Special?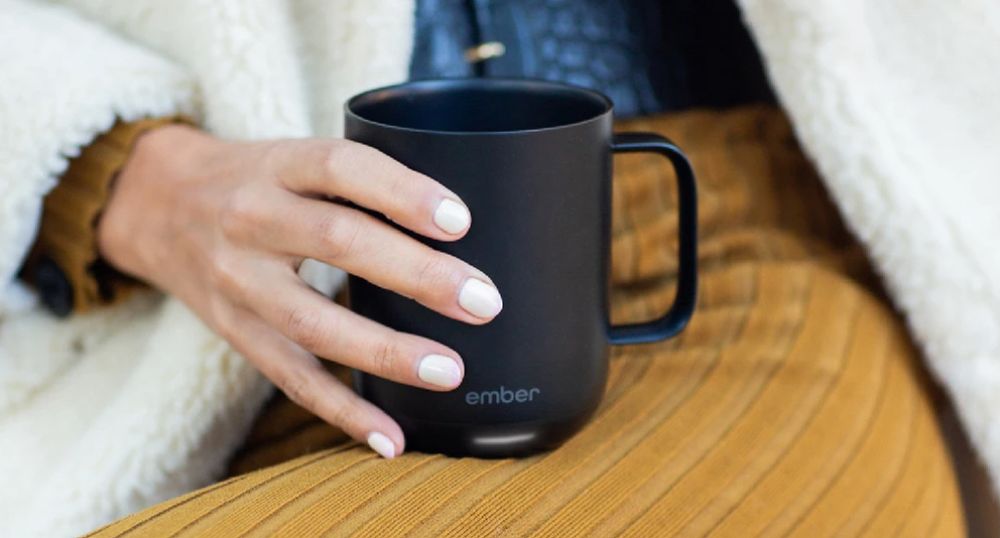 So we can make an accurate comparison let's first talk about what makes the Ember so special. That way when we look at the other brands we know what we are comparing it to.
The Ember Mug does work well at keeping your coffee or tea at the perfect temperature so any mug we compare it to will need to work similarly.
Heated Coffee Mug Maintains Temperature
The Ember Mug and Ember Travel Mug have a heating element in the bottom of them that is able to keep your drink heated anywhere from 120-145ºF (48-63ºC).
While it can heat up lukewarm water it's not great at heating up drinks and it's more designed to maintain the temperature of drinks that are already hot.
Battery Powered For On The Go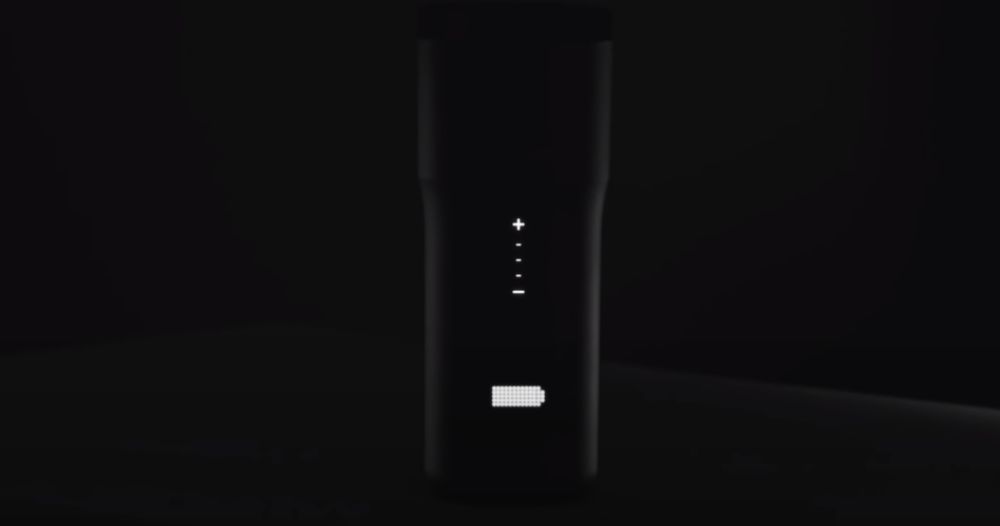 The Ember Mug and Ember Travel Mug are both battery powered so can keep your drink warm while on the go.
The Ember Mug 2 lasts 1.5 hours while the Ember Travel Mug 2 has 3 hours of battery life. The original Ember Mug 1 had less battery life than this at just 1 hour for the mug and 2 hours for the travel mug.
Ceramic Coated For The Best Flavor
If you're a serious coffee snob like me or maybe you're a tea lover one thing you don't want is your cup changing the flavor of your favorite drink.
Ember Mugs are made from stainless steel but they are coated with ceramic so that no flavors will be imparted into your drink.
Beautiful Design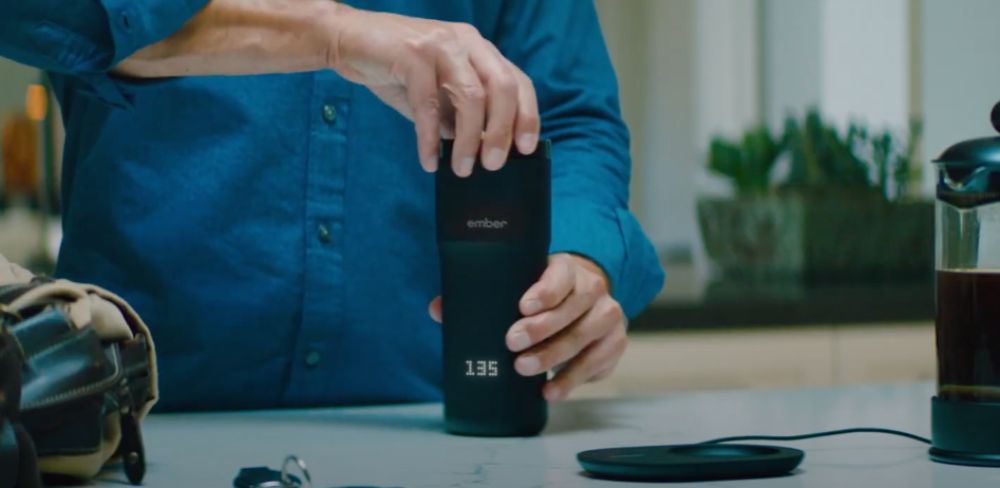 The team at Ember have obviously put in a lot of effort into their design. Their mugs are ABSOLUTELY STUNNING and look like regular coffee mugs. They don't look electronic at all.
Of all the different mugs that keep drinks hot the Ember is by far the most beautiful.
Price
While the Ember Mug is a great cup and works will at keeping drinks at that ideal temperature it doesn't come cheap.
At the time of writing the Ember Mug retails for around $99 on their website and the Ember Travel Mug for $179. However, they did seem to be a little cheaper on Amazon.
See the latest prices of the Ember Mugs at Amazon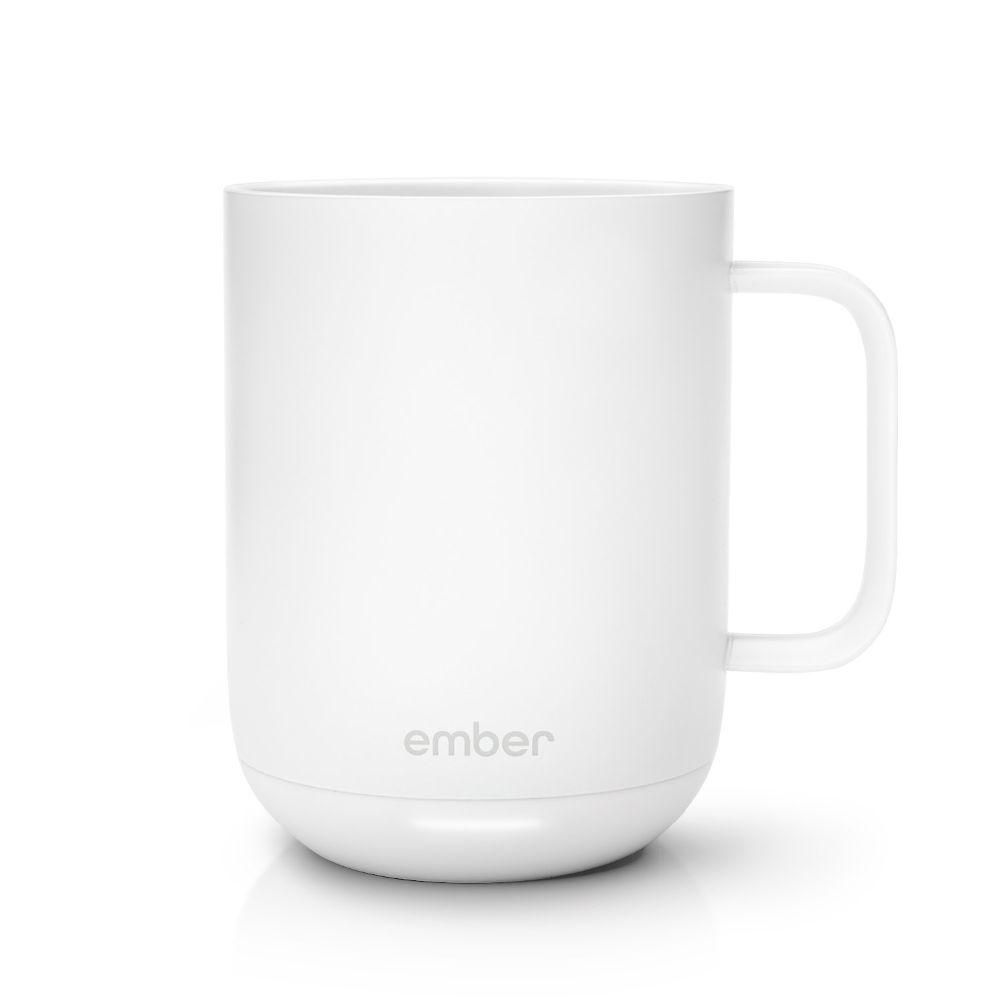 1. BEST ALTERNATIVE: Cauldryn Heated Travel Mug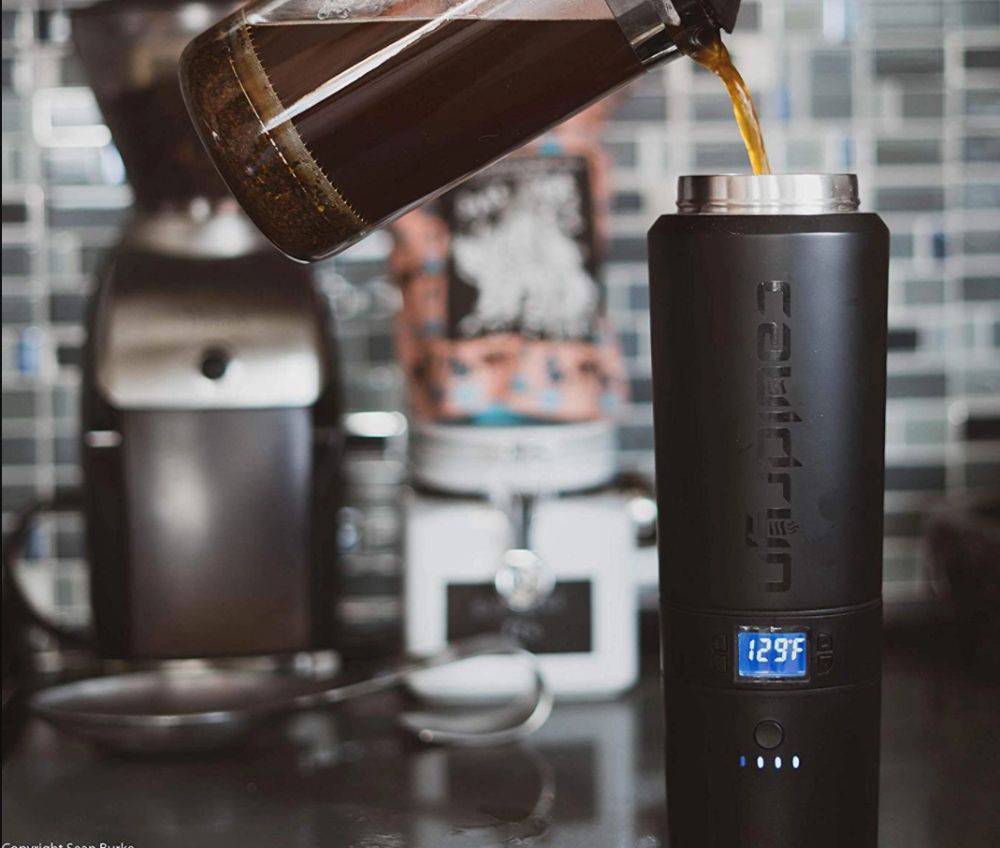 The #1 best alternative to the Ember heated mug is the Cauldryn battery powered heated coffee mug.
I would go as far as the say the Cauldryn is the only real Ember Mug alternative that I would actually consider purchasing. There just really aren't many good heated coffee mugs on the market.
It is similar the Ember in terms of functionality and actually outperforms it in a couple of very important ways, but then has some downsides when compared to the Ember.
You can read the full Ember vs Cauldryn comparison for more details but in short here is what mades the Cauldryn such a good alternative the the Ember Mug
Heat Up To Boiling Temperature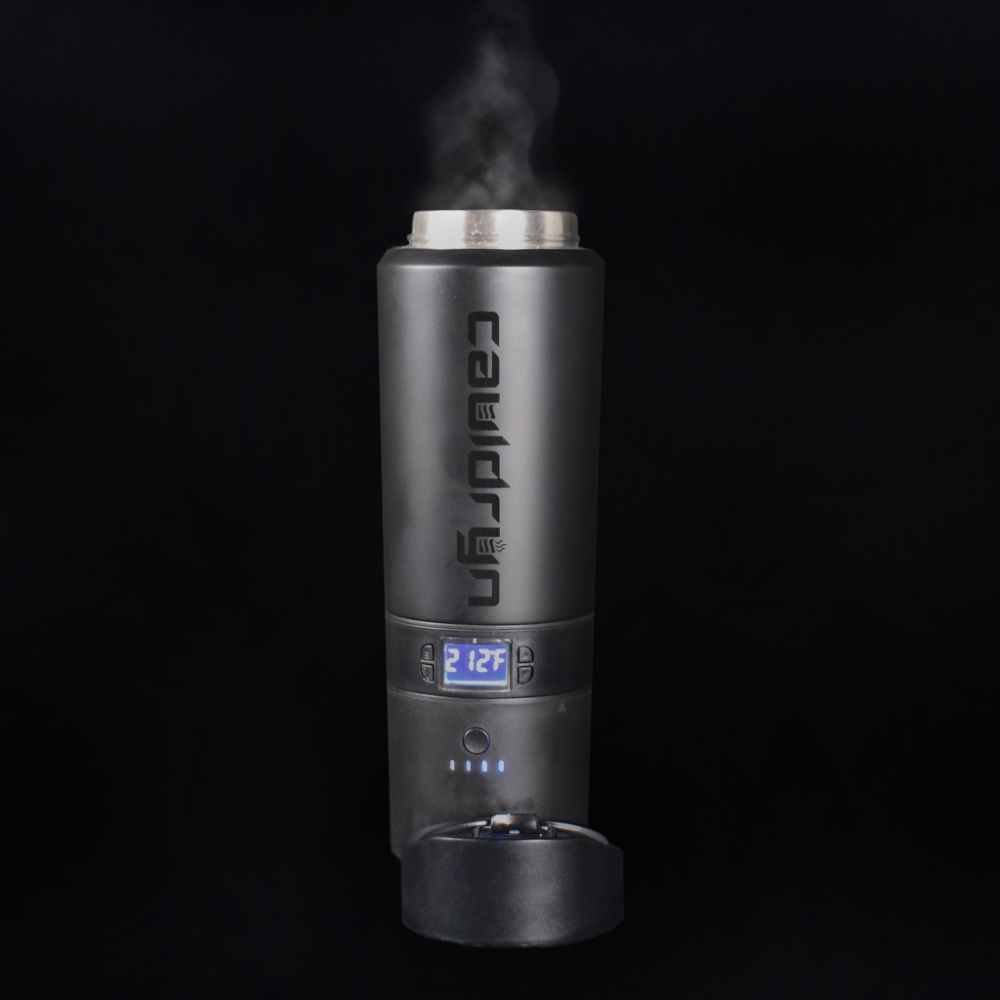 The Ember is able to keep drinks warm in a range from 120-145ºF (48-63ºC) but struggles to warm up cold drinks and actually won't work with drinks under 100ºF.
The Cauldryn on the other hand has the ability to heat water all the way up to boiling temperature – 212ºF (100ºC).
It can also hold your drink at any temperature you want between room temperature and boiling. So if you're looking for that 120-145ºF range for coffee and tea you can or if you want a hotter range for soups or to prepare a tea or coffee you can do that too.
The versatility makes the Cauldryn very useful for people going out and about and makes it a popular product among hikers keen to heat up some coffee on the go.
Up To 10 Hours Battery Life or All Day on Charger
Another area where the Cauldryn shines is in battery life. The battery can last up to a full 10 hours, whereas the Ember only lasts 1.5 hours for the smaller mug and 3 hours for the larger travel mug.
This likely has to do with the way the mug works and not how big the battery is.
The Cauldryn is vacuum insulated (the Ember is not) so once your drink reaches temperature it stays there a lot longer without power compared to the Ember which isn't vacuum insulated.
But regardless of how it works 10 hours is an incredibly long battery life and it'll keep your coffee hot all day long.
Blender Attachment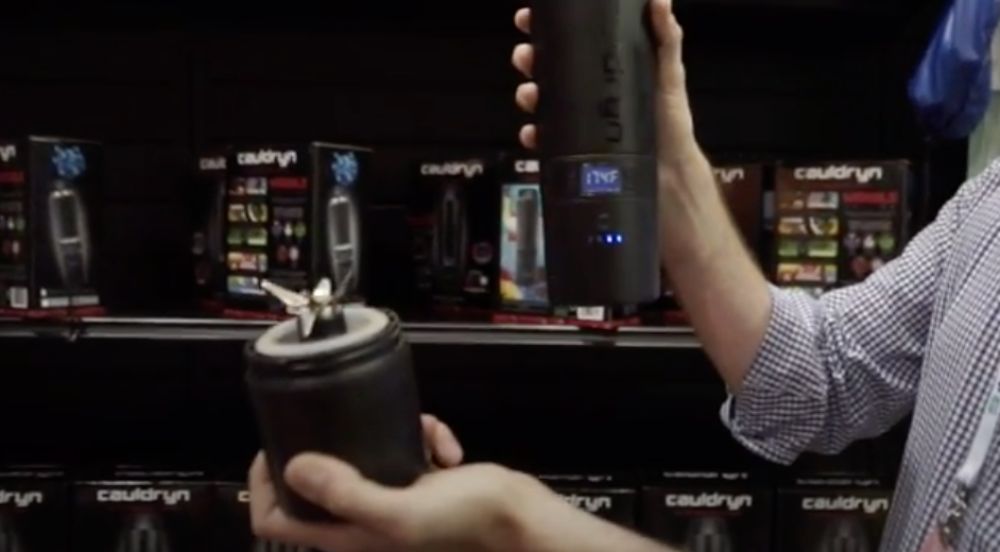 The Cauldryn is modular in nature and you are able to change out the heating element in the mug for a blender attachment.
You can then use the same battery pack for make smoothies or cocktails on the go. You can get the separately or buy it all in a set when you get your Cauldryn. You can get it from their website but I did find it at a discounted price on Amazon when I was writing this article.
See the Cauldryn Heated Mug + Blender attachment set at Amazon
Charging Base For The Wall or Car
Like the Ember Mug the Cauldryn also has a charging base to either charge your battery or power your Cauldryn to keep drinks warm.
They have a base for the wall so you can keep your drinks hot all day long at your home or office and they also have a charging base for the car (which Ember doesn't have yet).
Not Ceramic Coated
While the Cauldryn performs better than the Ember in terms of battery life and heating ability it isn't ceramic coated like the Ember.
For me I don't taste the difference drinking coffee from stainless steel, but some people swear it changes the flavor (my girlfriend is one of them). So this may be a consideration when choosing which cup to get.
Price
The Cauldryn is still an expensive cup but it's priced a fair bit cheaper to the Ember Travel Mug (which is it's closest comparison).
At the time of writing the cup retails for around $130 on Cauldryn's website but I actually saw it for much cheaper (under $100) on Amazon.
See the latest price of the Cauldryn Heated Mug at Amazon
See the latest price of the Cauldryn Heater Mug + Blender at Amazon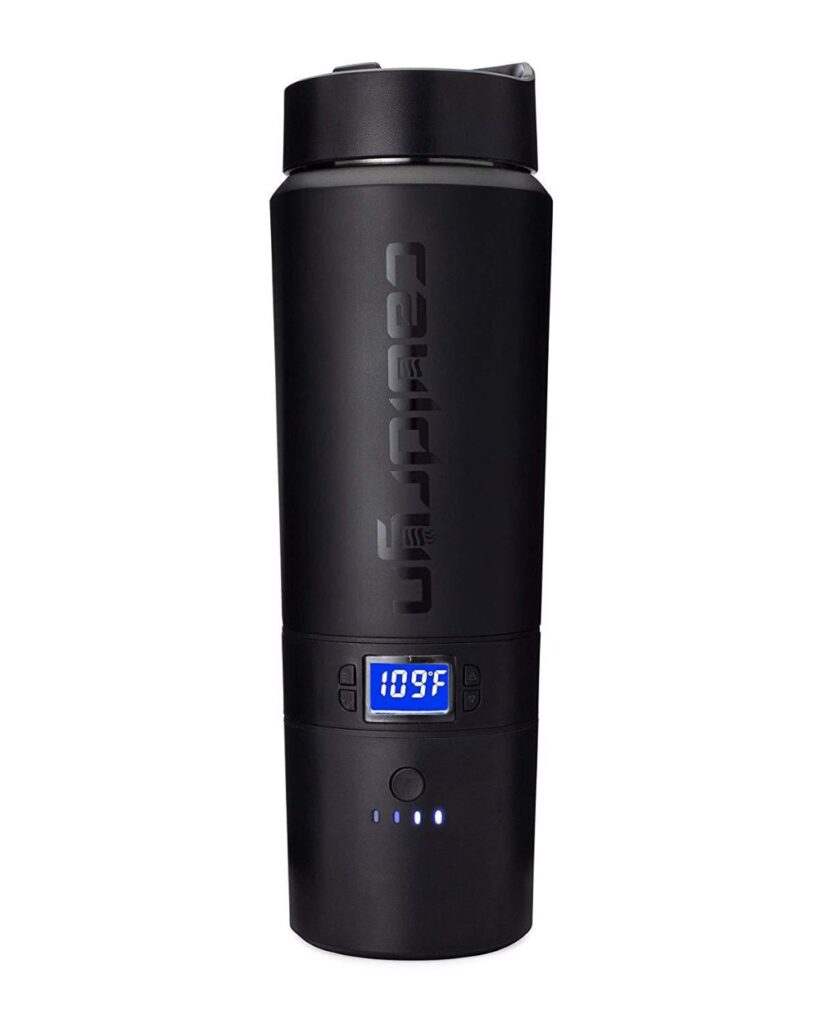 PROS:
Can boil water or keep it any temperature
Battery lasts for up to 10 hours
Vacuum insulated
Modular design
Blender accessory
CONS:
Not the most beautiful mug
Only comes in black
Light stays on when in use
Stainless steel may impart flavors into your drink
Glowstone Mug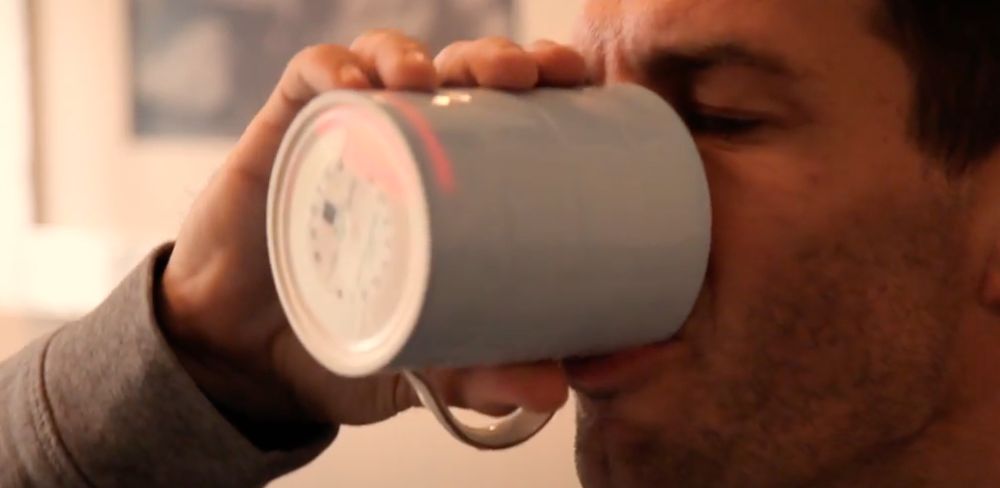 Second on the list is the Glowstone Mug which is the closest alternative to the smaller Ember Mug.
Rather than being made out of stainless steel and coated in ceramic the Glowstone mug is actually made out of fine bone china and looks just like a regular tea or coffee mug.
It doesn't have any temperature settings or bluetooth connectivity like the Ember does but rather just works automatically whenever it detects liquid.
It has a 1 hour battery life and keeps drinks at a 140-149ºF (60-65ºC) temperature. You cannot change the temperature on this mug so if you want it slightly cooler then you're out of luck.
It's from the UK so maybe it's more designed for tea drinking which they love over there vs coffee drinking which is usually enjoyed at a slightly lower temperature.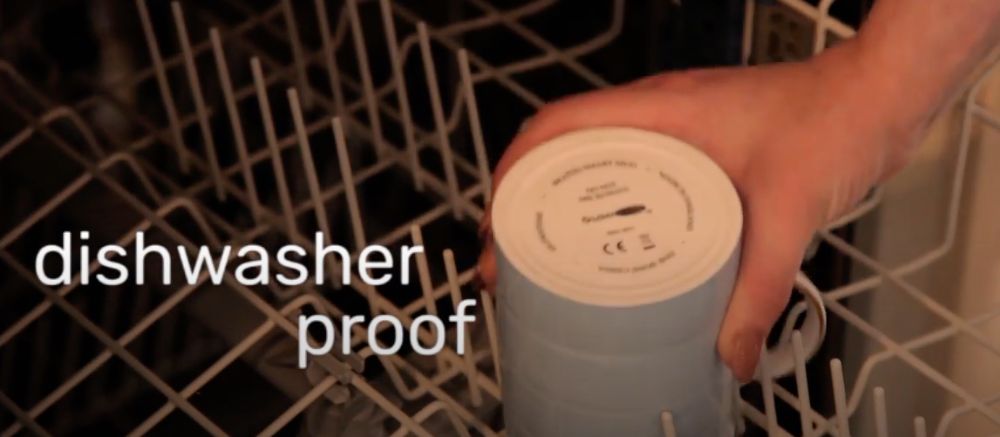 One of the cool things about this mug is that it uses wireless Qi charging which is the same type of charging mobile phones use. So you can use a mobile phone charger to charge it up.
It's also completely dishwasher proof, which the Ember and Cauldryn are not.
It's new to the market and it's quite expensive and currently I could only find it for sale from their UK website. But maybe in future it'll be cheaper and more widely available.
See the latest price of the Glowstone Mug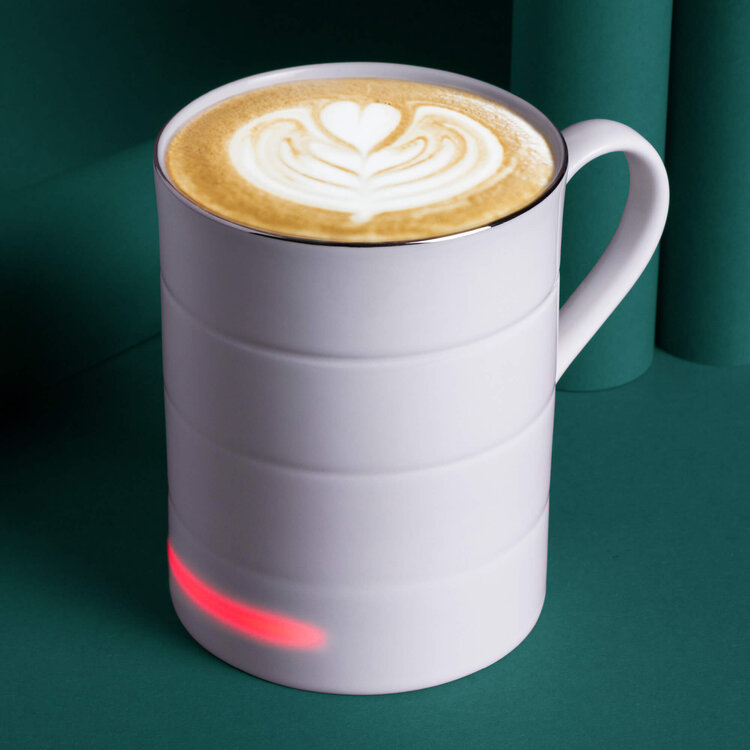 PROS:
Made from fine bone china
Wireless charging
Dishwasher safe
Looks and feels like a household mug
CONS:
Only available from a UK website
Expensive
Only 1 hour battery life
No temperature control
YeCup H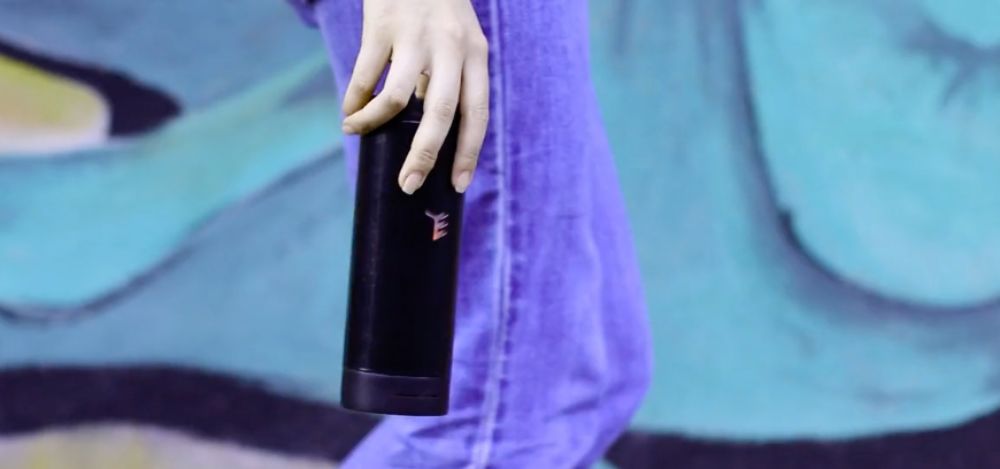 The YeCup started as a cup that was designed to both heat drinks AND cool them and launched on KickStarter. But when the original cup finally got into the hands of backers after years of development the cooling ability was pretty pathetic.
YeCup then released YeCup H which is a cheaper version of the original cup but only focuses on heating your drinks and doesn't worry about cooling them.
It's a pretty trendy looking cup with a logo that lights up and it connects to your phone via bluetooth in order to set the temperature.
Unfortunately I couldn't find any reference to the battery life of this mug and there is no description of what type of insulation it uses so it makes it very hard to recommend over the Ember which is similarly prices but more tried and tested.
Still it's another Ember Mug alternative if you don't like the Ember Mug and want to try a different brand.
See the latest price of the YeCup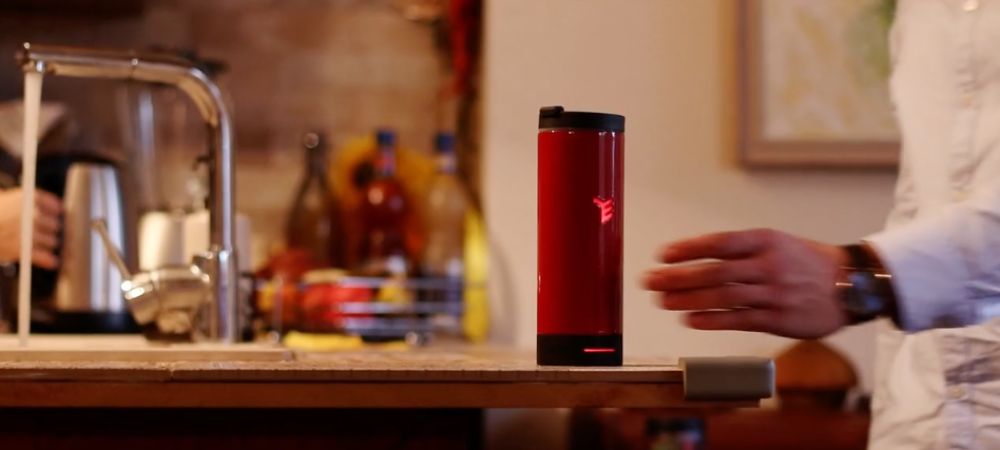 PROS:
Wireless charging
Charge your smartphone with YeCup battery
Logo lights up
CONS:
Only heats up to 70ºC (158ºF)
Unknown battery life
Discontinued Heated Coffee Mugs
In the last couple of years there have been a few brands of heated mugs that are similar to Ember that have come and gone.
Some launched on places like Kickstarter or Indiegogo only to never actually be shipped while others did ship for a time but were then discontinued and not sold any more. Here are a few of the bigger names that tried to compete with Ember but no longer exist.
The Smartshow Jimi S3 Ceramic Mug – Was sold on Amazon for a while but received many poor reviews. No longer available.
Muggo Mug (Ember Ripoff)
Jul Heated Mug – Launched on Kickstarted in 2017 and raised over $175,000 but didn't seem to get their product off the ground.
Car Powered Heated Travel Mugs
A cheaper alternative to the Ember Mug is a car powered heated travel mug.
These are much cheaper than the Ember but don't have batteries and are generally also much cheaper quality and don't look as nice.
Beware when buying these products and overall the quality just isn't there. Where the Ember will last you years many people complain that these break after just a couple of uses or a couple of months.
Still for the commuter who is looking to keep their coffee or tea hot during their trip this could be a good option. There are a couple of different brands to choose from:
4. Wagan EL6100 12V Heated Travel Mug with Anti-Spill Lid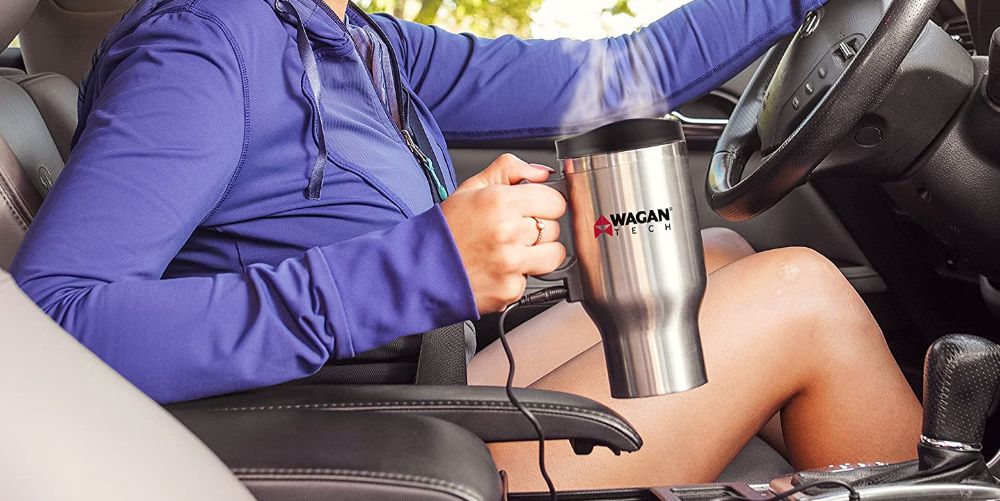 The Wagan EL6100 is the best value for money when it comes to 12 volt heated travel mugs and even still it has its issues.
It's made from double walled stainless steel. It's not vacuum insulated so it won't keep your drink hot for hours away from power but it's enough to not burn your hands when you pick it up.
Designed to keep drinks warm at around 145ºF (63ºC) it takes a LONG time to heat up cold water. So it's better to make your tea or coffee then take your cup with you for your commute.
Some people have complained it stopped working after a few goes or a few months while others are really happy with it. At only around $10 it's a good cheap alternative to the Ember that isn't nearly as good but would be useful for someone with a long commute who wants hot coffee for the entire trip.
See the latest price of the Wagan EL6100 Heated Mug at Amazon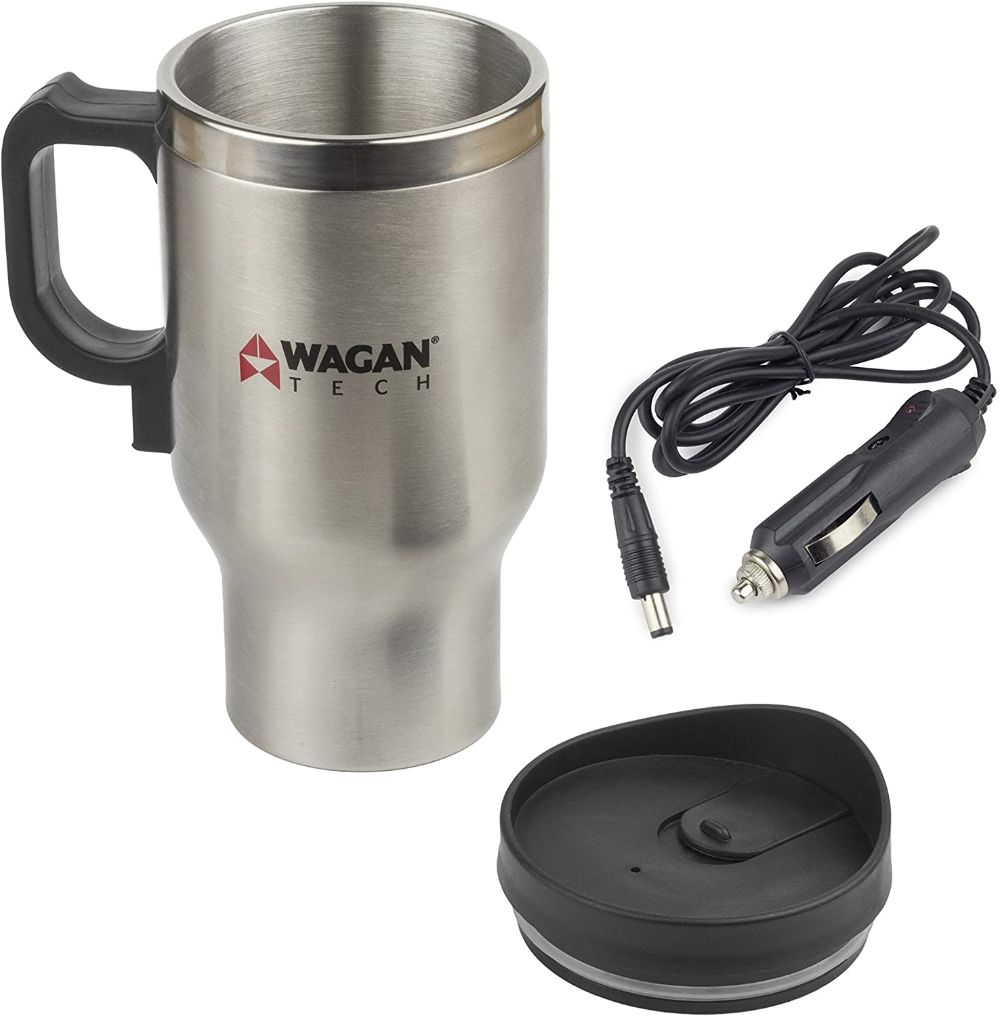 5. East Mount Smart Temperature Control Travel Mug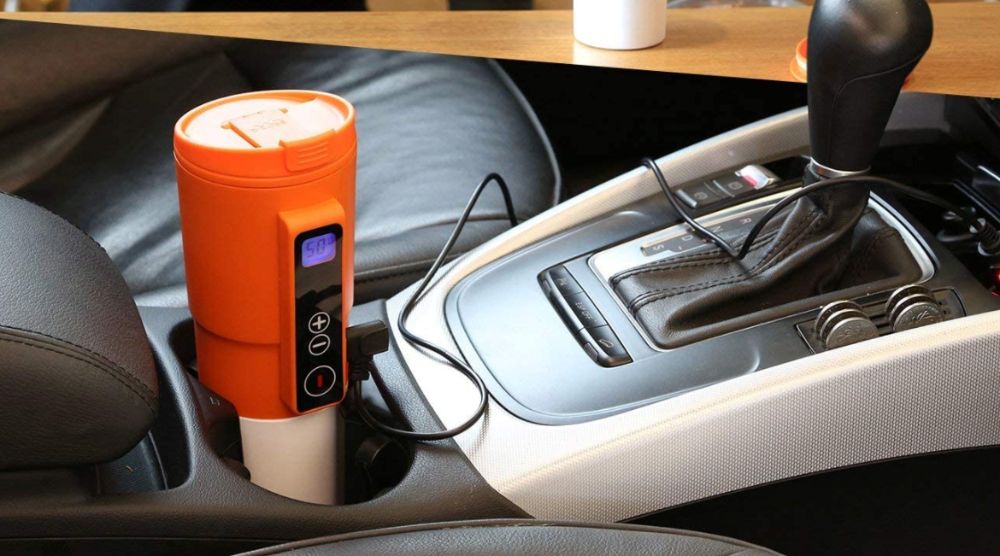 The East Mount heated travel mug is a bit more expensive than the Wagan but still a lot cheaper than the Ember Mug.
It has temperature control anywhere from 86-194ºF (30-90ºC) so you can maintain your drink at the perfect temperature and even keep it hot enough to cook noodles.
It's simply + and – design makes it easy to use and the temperature control has proven to be useful not just for tea and coffee but also for prepping formula or baby milk to exactly the right temperature.
The inside comes out for easy cleaning and so you don't have to worry about ruining the electrical components.
But again the quality in this isn't the best and it isn't the longest lasting product but for some people it's last a decent amount of time and does the trick.
See the latest price of the East Mount Temperature Control Mug at Amazon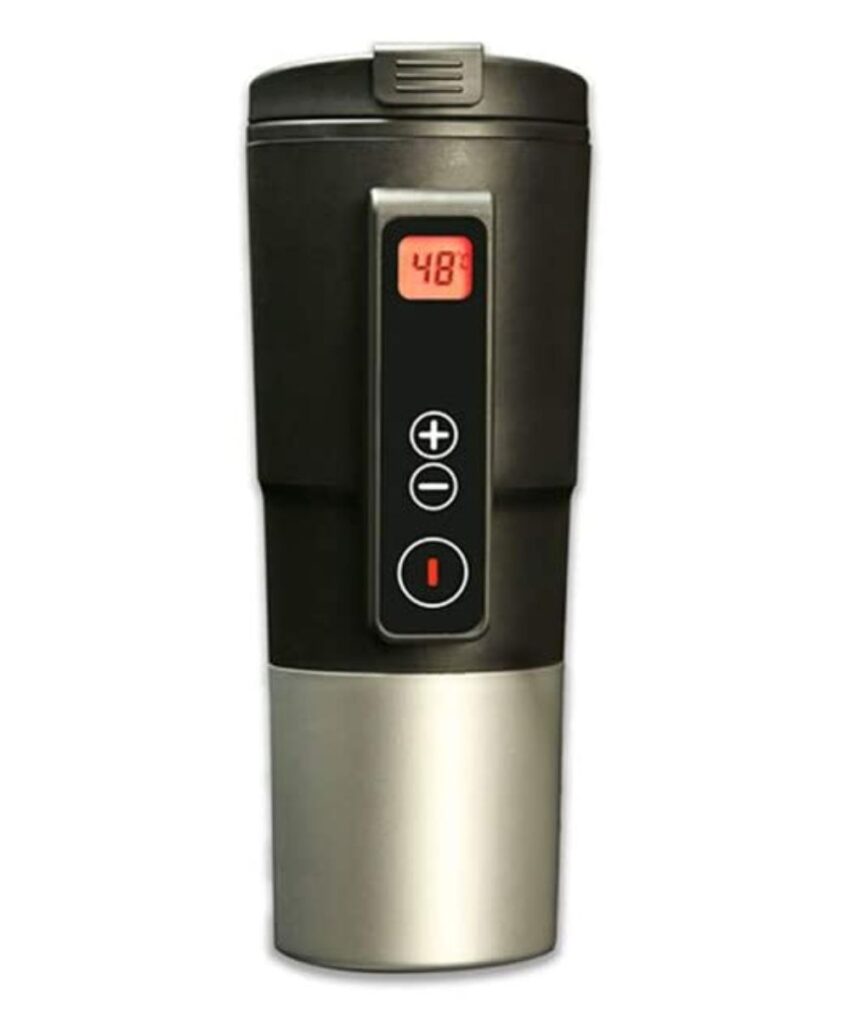 Coffee Mug Warmers
One of the things that makes the Ember Mug so good is that you can put it on it's charging coaster and it can keep your drink hot all day long, but then it also has a battery so you can take it with you.
However, if you're primarily going to be using it at home or at the office a charging coaster could be a cheaper alternative.
They are basically warming plates that you can put any ceramic mug on and it'll heat up the mug and thus keep your drink hot. They are fairly cheap too and there are lots of brands to choose from.
They can't warm up drinks and they don't keep drinks indefinitely hot. The drinks still cool down, just slower than they would without it.
Here are some of the best coffee mug warmers.
6. Cheap Option: Mr Coffee Mug Warmer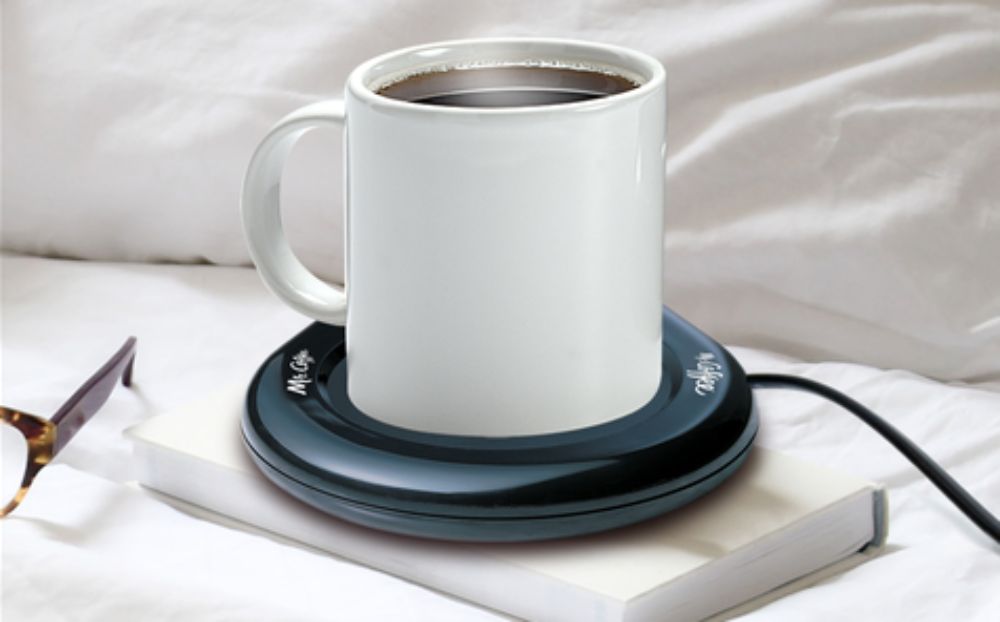 The Mr Coffee Mug Warmer is the most popular cheap mug warmer on the market.
It draws just 17 watts of power and has a warming plate that you put your mug on and it keeps your drink warmer for longer.
It doesn't heat up drinks and it's not strong enough to keep your coffee at hot as it starts. Your drink will still cool down over time but it'll give you 30-60 minutes where your coffee still feels nice and warm to drink.
See the latest price of the Mr Coffee Mug Warmer at Amazon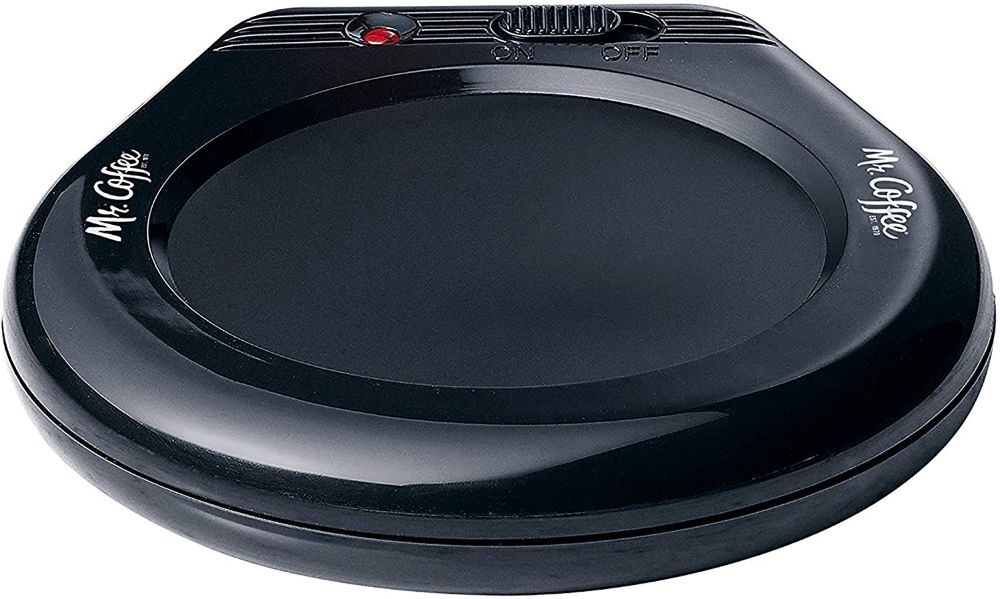 7. Best Rated: Smart Gravity-Induction Mug Warmer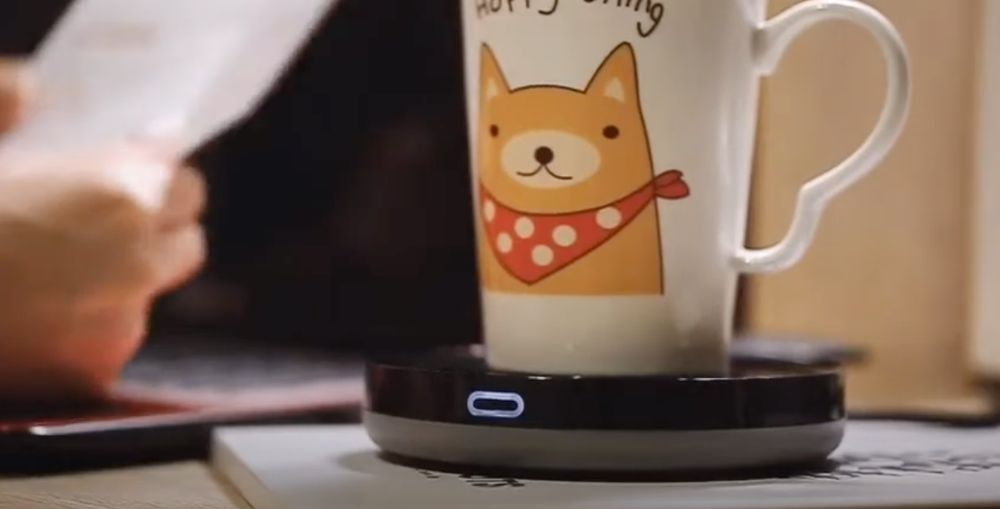 I had a look through all the different brands of mug warmers and this one had the highest rating with over 1,000 reviews.
Many people are saying that this is strong enough to keep your coffee as hot as when you made it for hours at a time. So it works much better than the Mr Coffee mentioned above.
It still only draws 19 Watts of power and a cool feature is that it doesn't need a switch, just place your coffee mug on there and it'll automatically turn on. It'll also turn off when you take your cup off.
It's a waterproof design which makes it easy to clean and keeps drinks at around 131ºF (55ºC). It's a bit more expensive than the Mr Coffee but still much cheaper than the Ember.
See the latest price of the Smart Mug Warmer at Amazon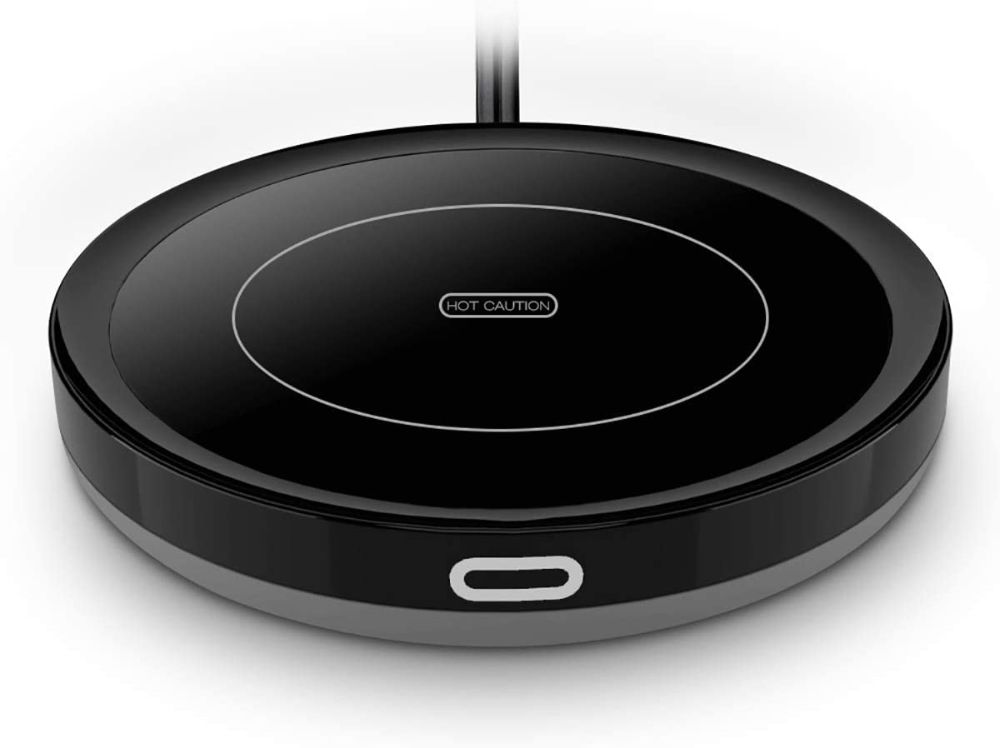 Unpowered Ember Mug Alternatives
Rather than relying on power to keep your coffee, tea or other drinks warm for an extended period of time there are a bunch of products out there designed to keep drinks warm without any power at all.
There are way too many options to list in this already long article but I'll highlight some of the best options if you want to keep your drink hot but don't want to bother with battery power or plugging things into your wall or car.
The benefit of these is that some of them are also much cheaper than the Ember Mug.
8. Burnout Mug: Keeps Coffee At The Perfect Temperature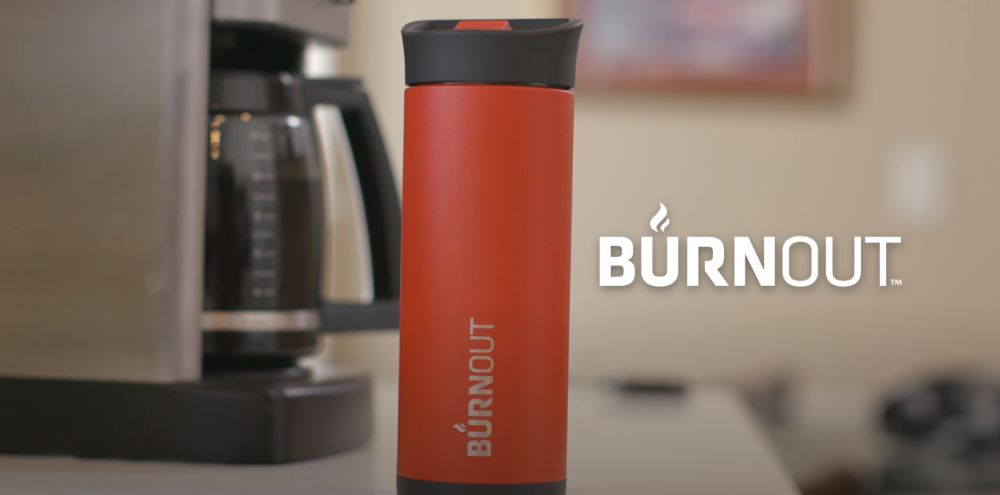 The Burnout Mug is probably the best unpowered alternative to the Ember Mug for keeping coffee or tea at the perfect drinking temperature.
It uses unique "phase change technology" as well as vacuum insulation to quickly cool down coffee to approximately 140ºF (60ºC) and then keep it around that temperature for most of the day.
It does this by having a triple walled stainless steel cup. Between the outer and middle wall is a vacuum which insulates against heat loss.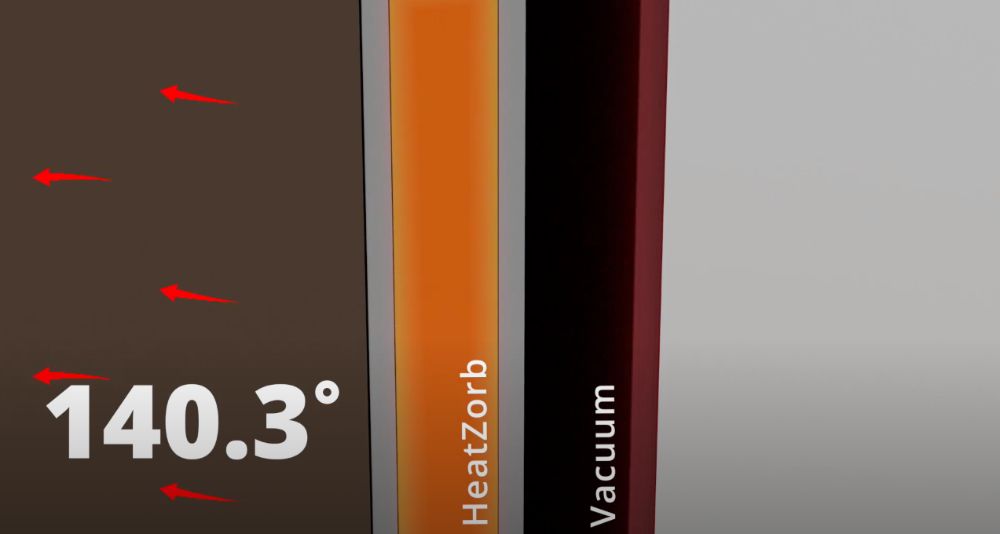 Then between the inner and middle wall is a material that at room temperature is a waxy solid, but when heat is applied to it it quickly absorbs the heat and turns into a liquid.
That is until it reaches about 140ºF where it stops rapidly absorbing heat and rather just maintains that heat.
This is how it's able to cool your beverage down to the perfect drinking temperature in just a couple of minutes and then keep it around that temperature for hours at a time.
It comes in a 12 oz and 16 oz cup and is a bit cheaper than an Ember Mug, but about twice the price of a regular vacuum insulated mug like the Yeti.
This is for the serious coffee or tea drinker who wants just the right temperature and who wants to avoid scalding their mouth.
See the latest price of the Burnout Triple Walled Mug at Amazon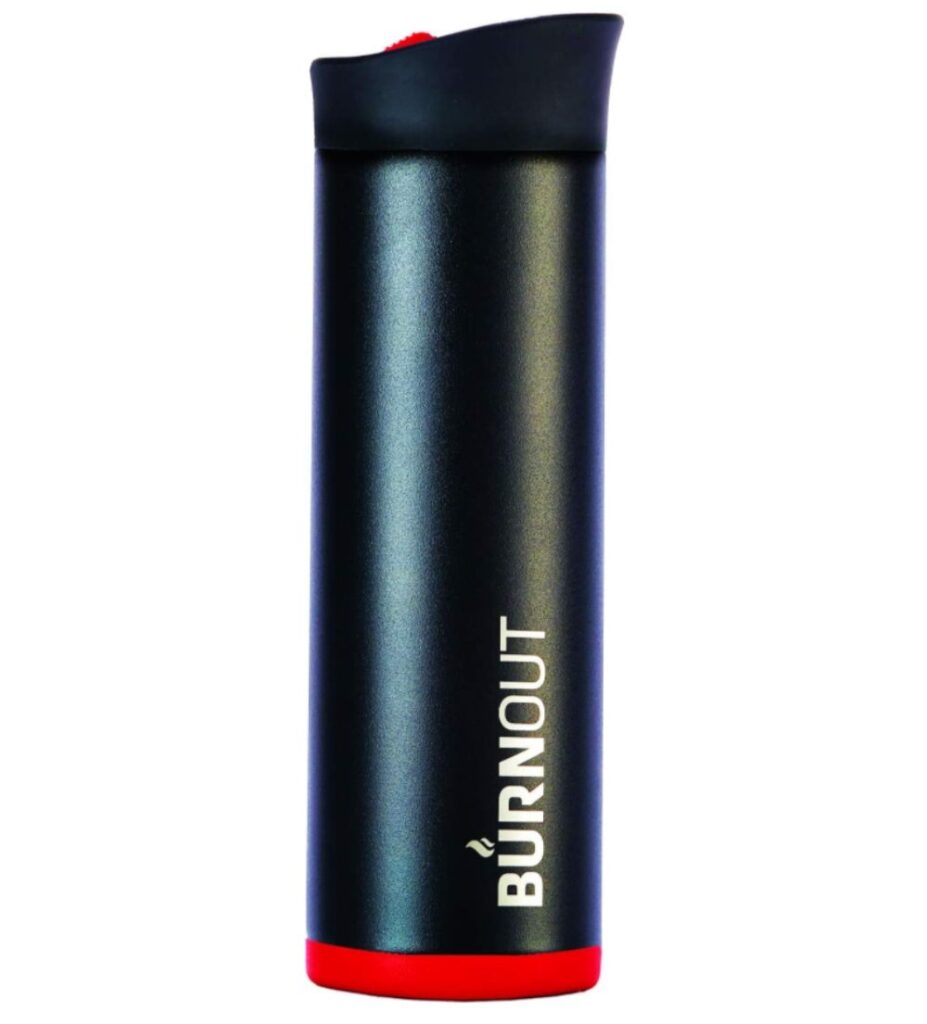 9. Yeti Tumblers (Or Similar)

Yeti Tumbler cups are double walled and vacuum insulated so they are great at keeping out heat or holding in heat.
Whether you get a Yeti or a cheaper brand like RTIC or Ozark Trail doesn't really matter as they are perform similar to each other but Yeti is the biggest brand and is the only one that is dishwasher safe. You can see my list of the best vacuum insulated tumblers for ice retention to see the best performing mugs.
It will keep drinks hot for 6-12 hours which is longer than the Ember mug, but the downside of this is that you can't control the temperature at all.
This means it'll keep drinks too hot for a long period of time and once it reaches perfect drinking temperature it'll only stay there a while before cooling down past that.
So it's not designed for that perfect drinking temperature like the Ember Mug (or the unpowered Burnout Mug) but rather just keep your drink at whatever temperature it is at as long as possible.
One of the benefits of the Yeti (and similar mugs) is that not only can they keep drinks hot all day but they can also be used to keep drinks cold too. They can hold ice for days at a time which can be very useful if you want to drink cold water all day long.
They are much much cheaper than the Ember Mug and come in a variety of sizes and colors.
See the latest price of the Yeti Tumbler at Yeti.com
(or compared to the price of the Yeti Tumbler at Amazon)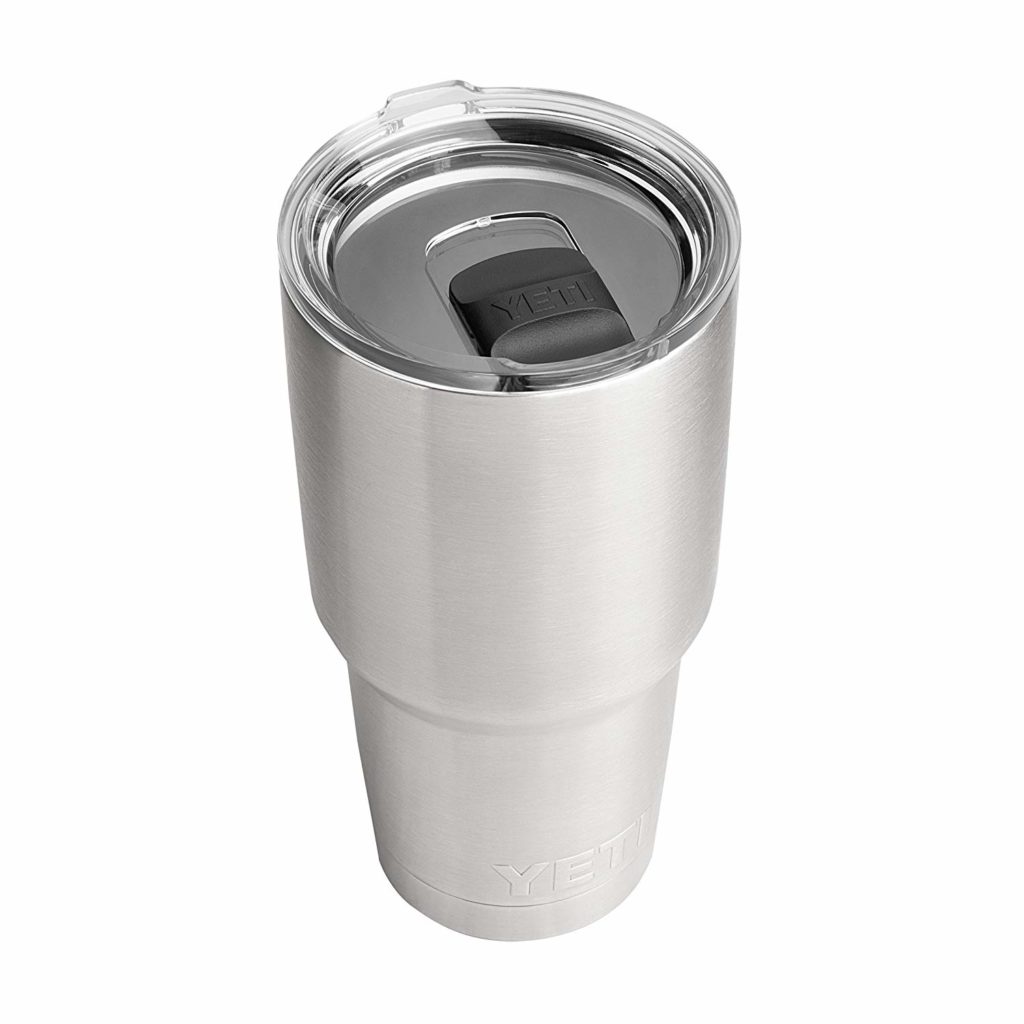 10. Insulated Ceramic Tumbler (Bubba)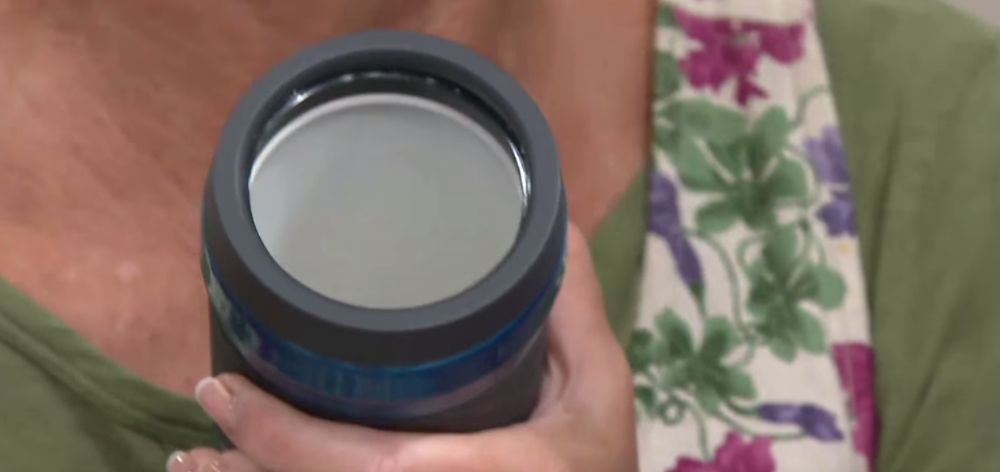 One of the awesome things about the Ember Mug is that it is ceramic plated which means it doesn't impart taste into your drink.
The Yeti tumblers mentioned above are made from stainless steel but have no ceramic coating so can sometimes impart metallic flavors into your drinks.
There are a bunch of different insulated tumblers that have a ceramic coating on the inside to stop this from happening.
The Bubba Insulated Tumbler with TasteGuard is a good one of these. It comes in a 12 oz and 16 oz size and will keep your drinks hot for hours but won't impart metallic flavors into your coffee or tea.
See the latest price of the Bubba Insulated Tumbler with TasteGuard at Amazon