If you've got a large water bottle, mug or cup that doesn't fit in your car cup holder then you know the frustration of trying to juggle it while you drive.
Luckily there are extra large cup holder adapters out there that allow you to turn your small car cup holder into a much wider and much larger one.
This allows you to fit your large water bottles, your large coffee tumblers and some of them even fit things like noodle cups so you can more easily eat food while you're on the road.
Below are some of the best extra large cup holder adapters that are available online.
The great news is that these products are all relatively affordable with most of them costing less than $20. So have a look through the list below and grab the one that you think suits you best.
1. PFCC Cup Holder Expander with Adjustable Base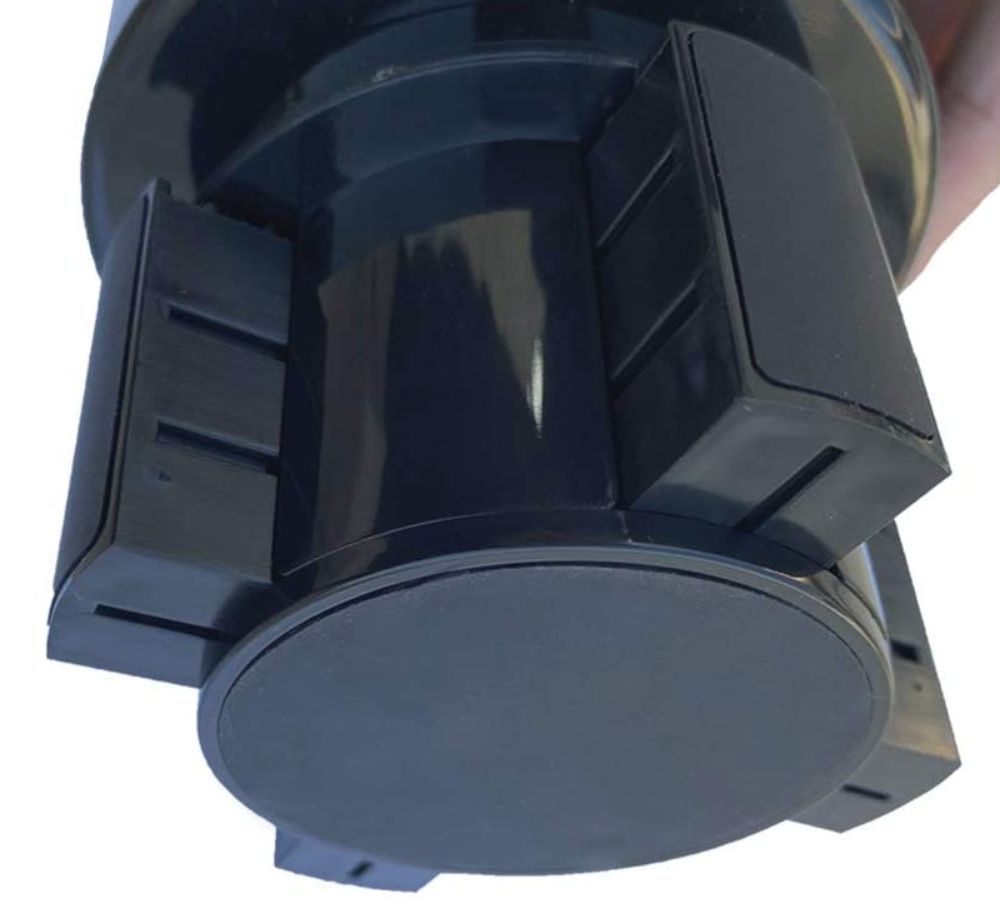 The PFCC Cup Holder Expander takes the idea of the Smart Kup but fixes the issue some people have with it not fitting tightly enough into their cup holder.
If your extra large drink cup holder adapter isn't firmly placed in your regular cup holder then your large cup or bottle can be a bit top heavy and cause the entire adapter to fall out.
To solve this problem with PFCC Cup Holder Expander has an adjustable base that expands and retracts as much as you need it to.
You simply twist the top of the adapter and it causes the base to expand or retract as your twist it.
It also features a rubberized top with tabs to more firmly hold your large cup or bottle into place without it spilling.
See the latest price of the PFCC Cup Holder at Amazon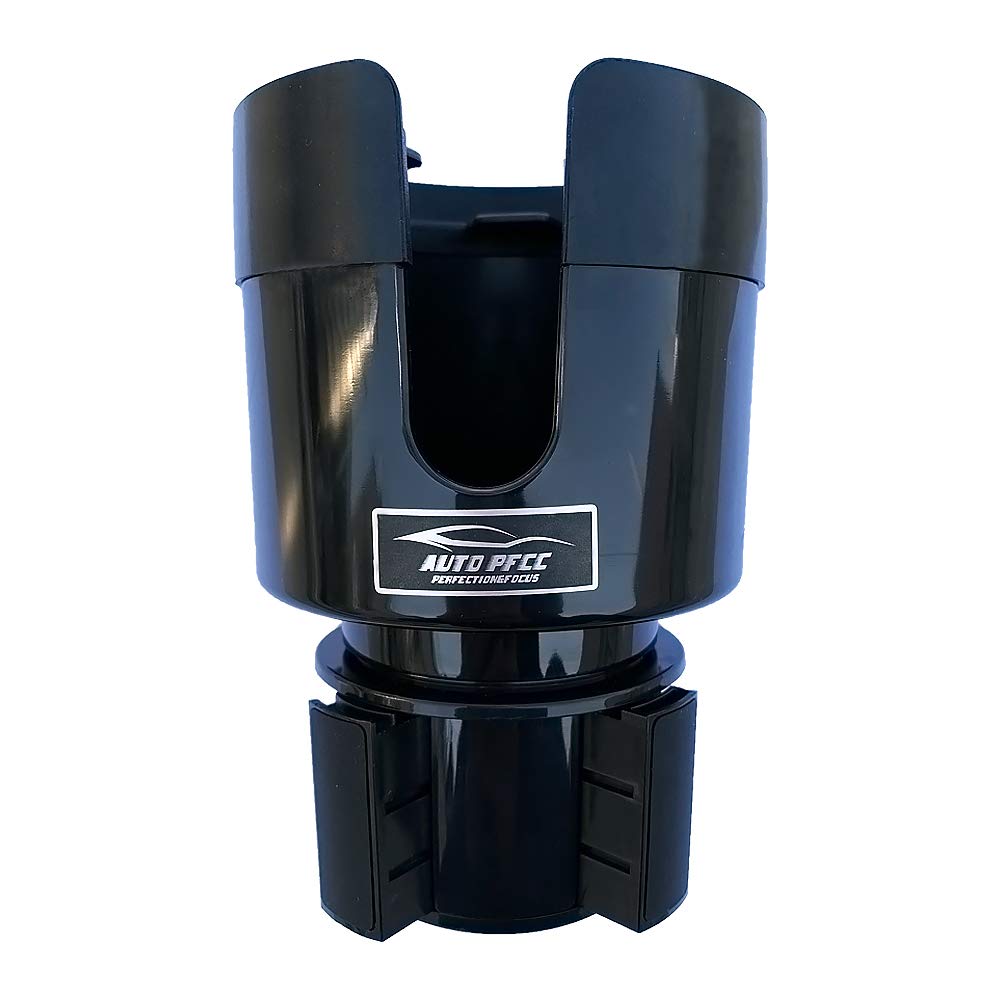 PROS:
Base expands to perfect size for your cup holder, reduces the chance of it falling out
Rubber tabs on the top help hold large bottles in
Spot for a mug handle
CONS:
Top may be too small for some bottles
Items can be extremely difficult to remove sometimes
2. SMART KUP: Simple and Strong

The Smart Kup is a simple extra large cup holder adapter with nothing really fancy about it.
It has a small base with 2 different widths so it can fit snuggly into both small and slightly wider/deeper cup holders and then a wide top for fitting extra large cups or bottles.
It's designed to be wide enough to fit bottles like the Hydro Flask 32oz and 40oz bottles but also has a gap in the side for fitting the handle of your mugs which is a handy feature.
While this cup isn't as feature rich as some of the others on this list it has no moving parts and thus is less likely to be flimsy or break.
The top and bottom can also be unscrewed if required.
It just does the job you need it to do and it does it simply and does it well without major issues. That's why I recommend the Smart Kup above everything else.
It's also super affordable.
See the latest price of the Smart Kup at Amazon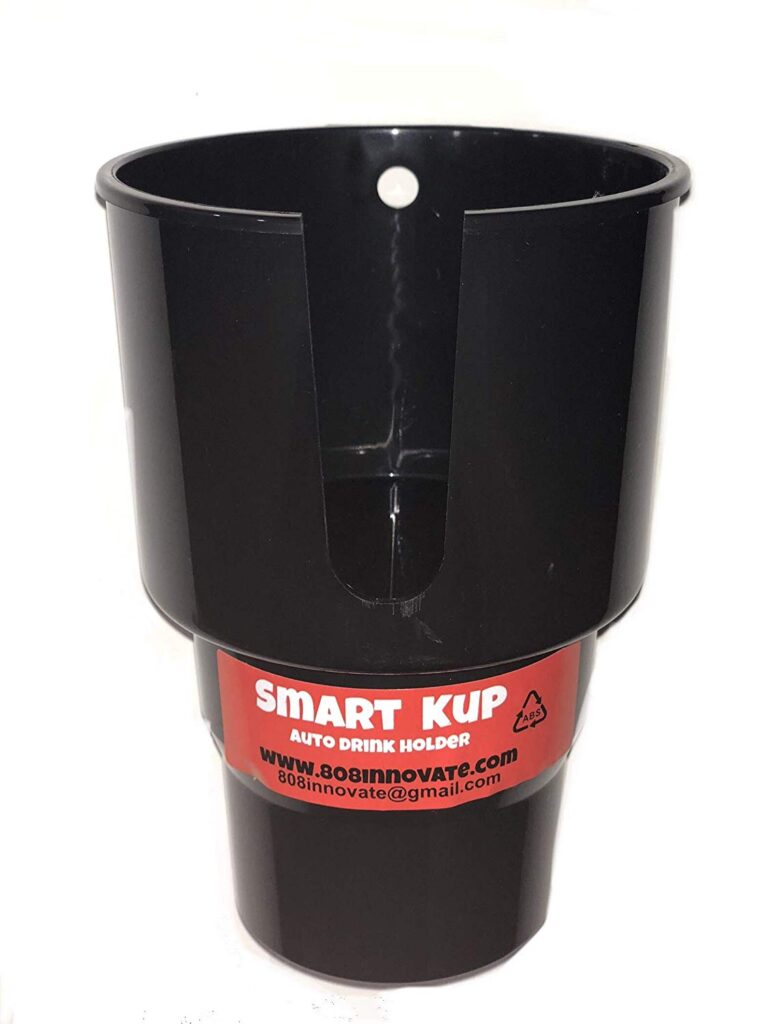 PROS:
Affordable
No moving parts so unlikely to break
Spot for mug handle
Fits multiple sizes of cup holders
CONS:
Base may not fit snuggly into all cup holders
3. Stand-Bi Car Cup Holder Expander Plus Phone Holder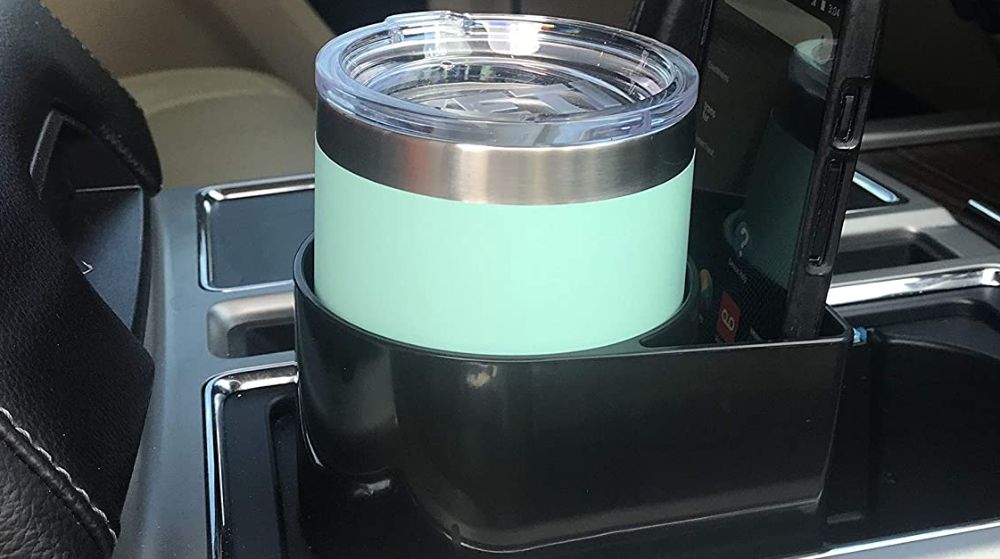 The Stand Bi cup holder expander both allows you to fit larger cups, mugs and bottles but what I really like about it is that it also has a spot to fit your phone.
Most cars don't have a spot to fit your phone and the cup holders in my car are too smaller for my iPhone. So I really like this feature.
You could also use the phone holder for other things like loose coins, credit cards, keys or any other knick knacks you want to store.
It also comes with a base place for a desk, spike for the beach but neither of these I would personally use.
There is also a foam sleeve so you can expand the bottom to fit into larger cup holders.
This one has a very high customer rating on Amazon with most people rating it 5-stars
See the latest price of the Stand Bi Car Cup Holder Expander at Amazon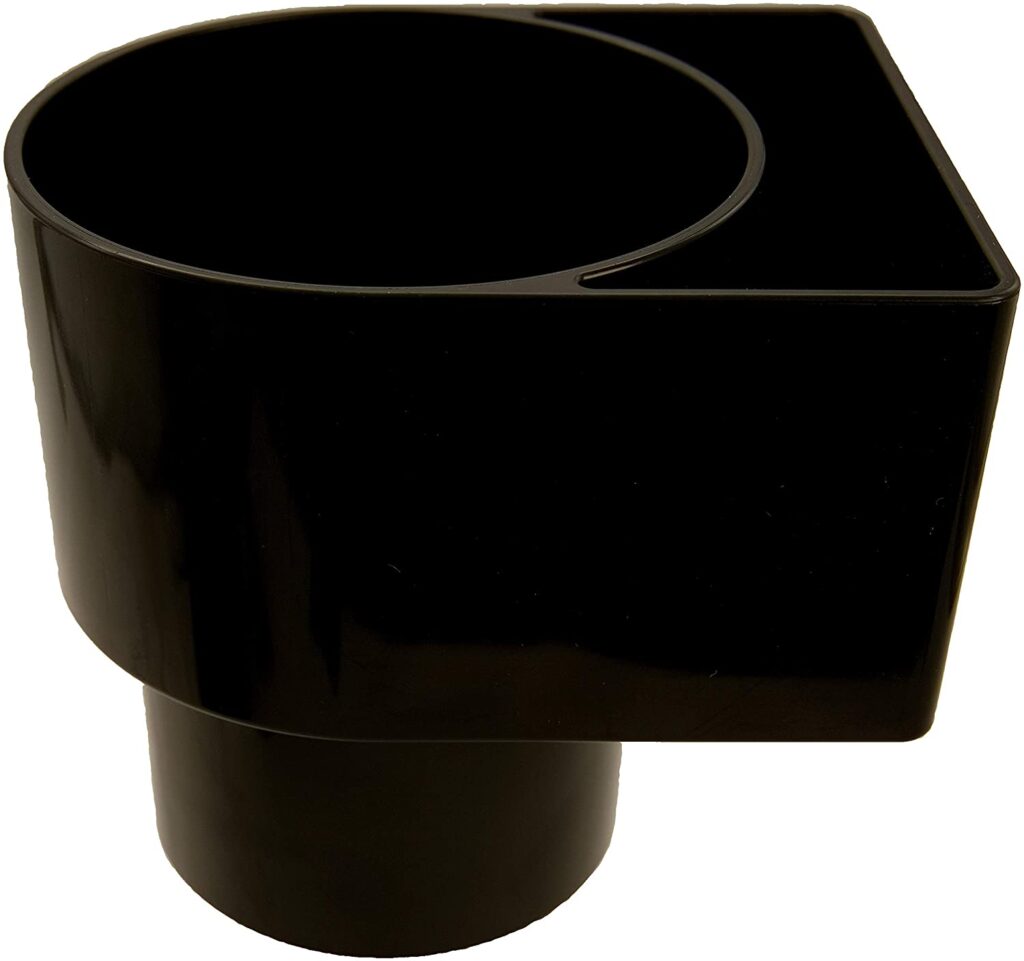 PROS:
Fits large cups/bottles
Has a spot for your phone
Simple construction
CONS:
No gap for mugs with handles
Spike/desk stand are mostly useless
4. Expander 360 Cup Holder Expander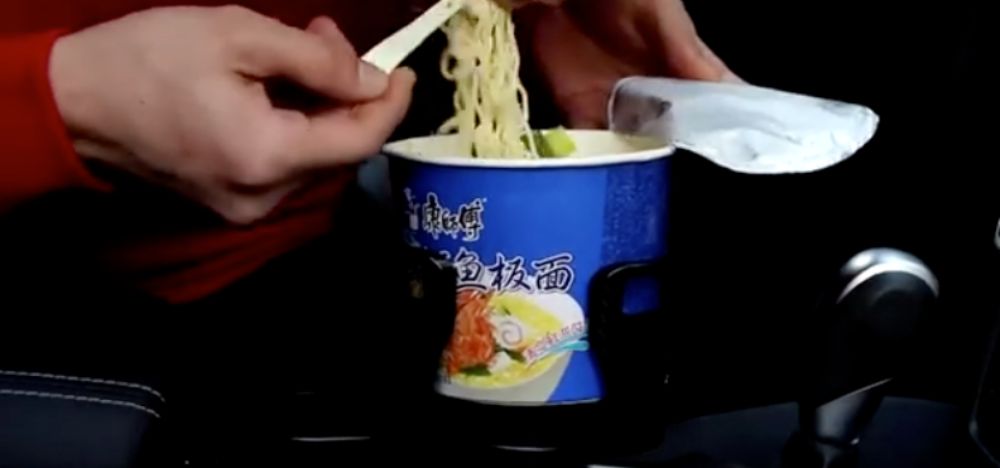 The expander 360 is a unique design where it both rotates out and turns a single cup holder into 2 cup holders but the top can also expand and contract to fit any sized bottle, cup, mug or even noodle cup.
It goes from 7.5cm all the way up to 15cm in diameter and comes with 16 pieces of buffer tabs so you can thicken the base to the correct size of your cup holder.
It can be a cup holder as well as a phone or tablet holder and is the only extra large cup holder expander on this list that can go big enough to fit noodle cups.
The downside is that it is a bit flimsy and large tall water bottles or tumblers won't work well in this.
See the latest price of the Expander 360 at Amazon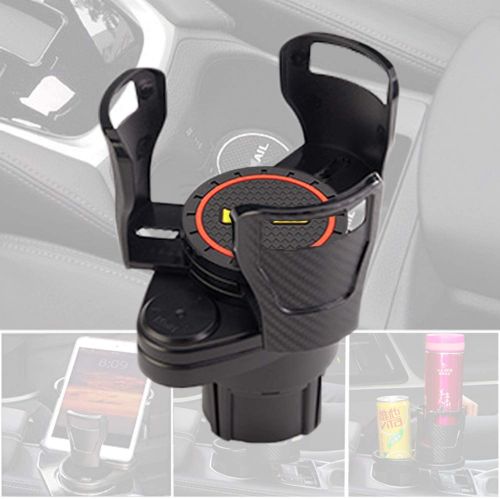 PROS:
Expands large enough for noodle cups
Can turn 1 cup holder into 2
Rotates for perfect positioning
Can also hold phones and tablets
CONS:
A bit flimsy
Not great for holding large tall bottles or tumblers
5. The Ledge Extra Large Cup Holder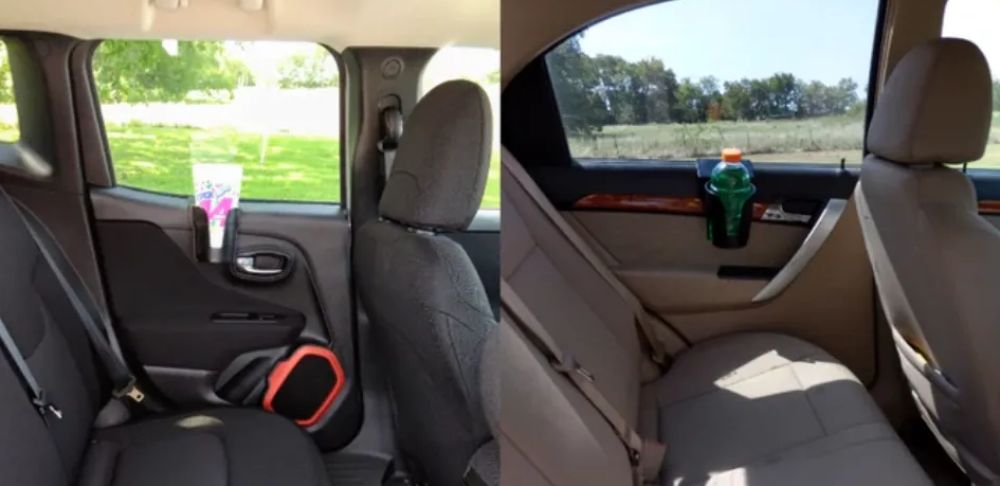 The Ledge is a very unique extra large cup holder. It doesn't expand an existing cup holder but instead adds one onto your car by slotting into the gap between your car door and the window.
The design is made for large style drinks and is deep enough (it's 5 inches deep) and strong enough to easily handle large stainless steel bottles like Hydro Flask or large tumblers like Yeti.
Installation of this one can be a bit tricky but once it's in it won't get knocked out by speed bumps or heavy braking. It also won't fall out as you open or close your door.
This product is also made in the USA which a lot of people love.
This product doesn't fit all cars but when it fits properly people really like them.
See the latest price of The Ledge cup holder at Amazon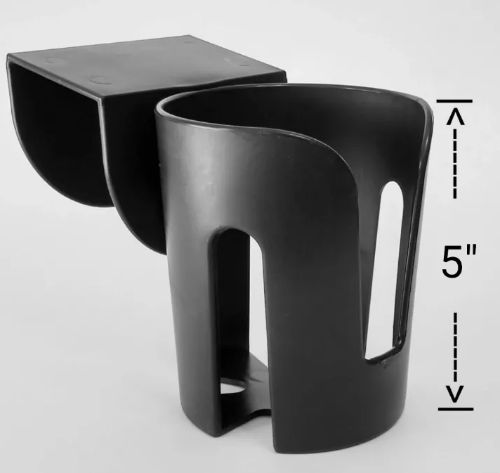 PROS:
Creates a new cup holder space in your car
Sturdy once installed
Fits large cups and bottles
Doesn't fall out easily
CONS:
Can be tricky to install
Plastic can be too thick for some window door jams
Can be a bit bulky
6. Iokone Side Pocket Console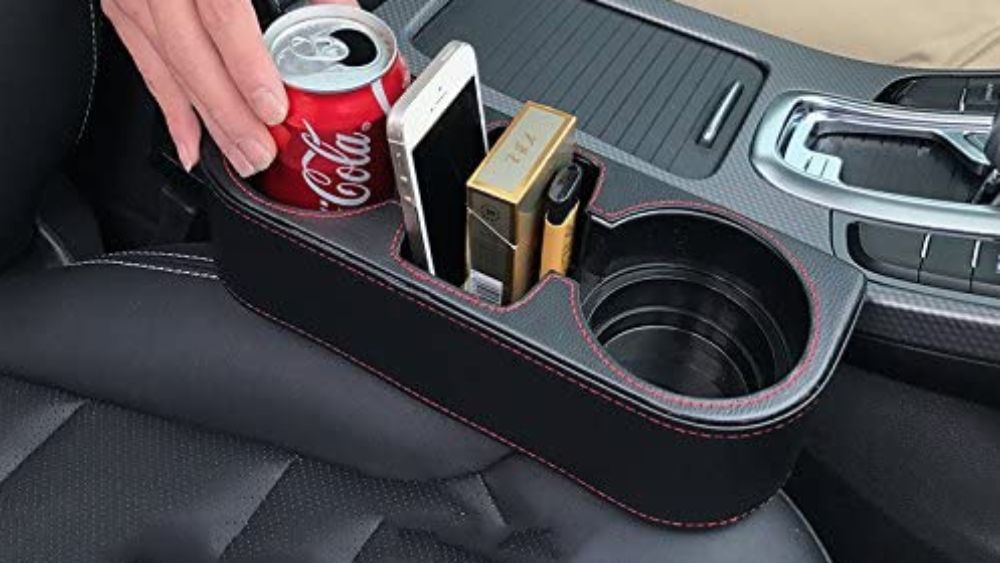 This large cup holder expander for your car squeezes between your center console and the seat of your car.
It features 2 cup holder which have staggered sizes to fit both small and large cups, bottles and cans.
It also features a center compartment for things link phones, coins, keys or anything else.
The downside of this is that it doesn't fit super tightly into all cars as some cars the seats are too separated from the center console. It also sticks out into the seat which can be annoying for your passenger.
See the latest price of the Iokone Side Pocket Console at Amazon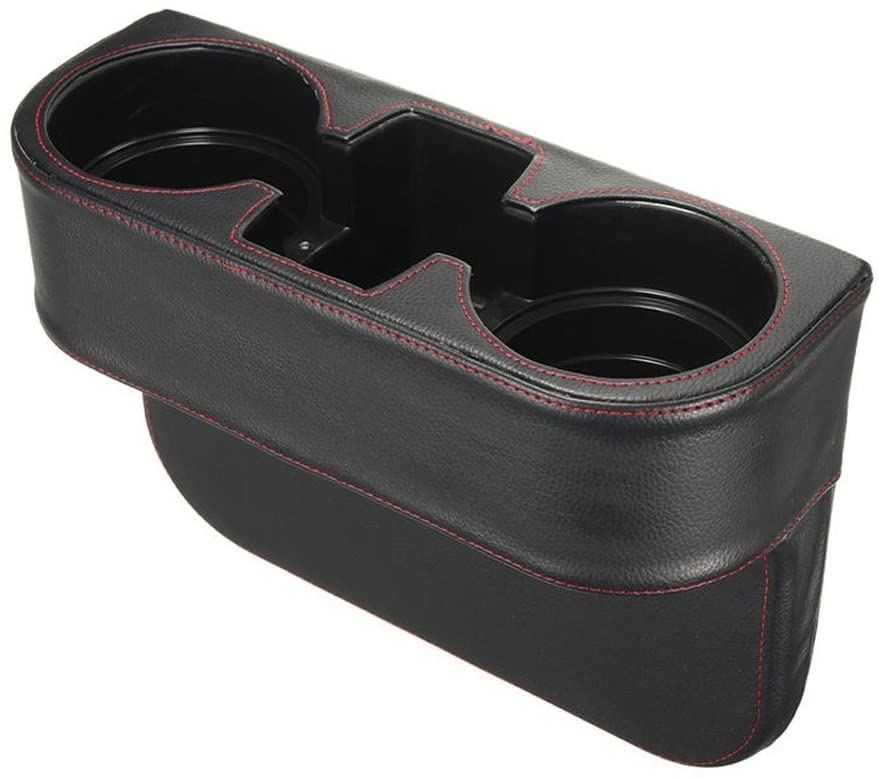 PROS:
2 cup holders that fit both large and small cups/bottles
Center section for phones, coins etc
CONS:
Doesn't work in all cars
Sticks out into the passenger seat which can be annoying
7. Thousand Paper Cranes Cup Holder Expander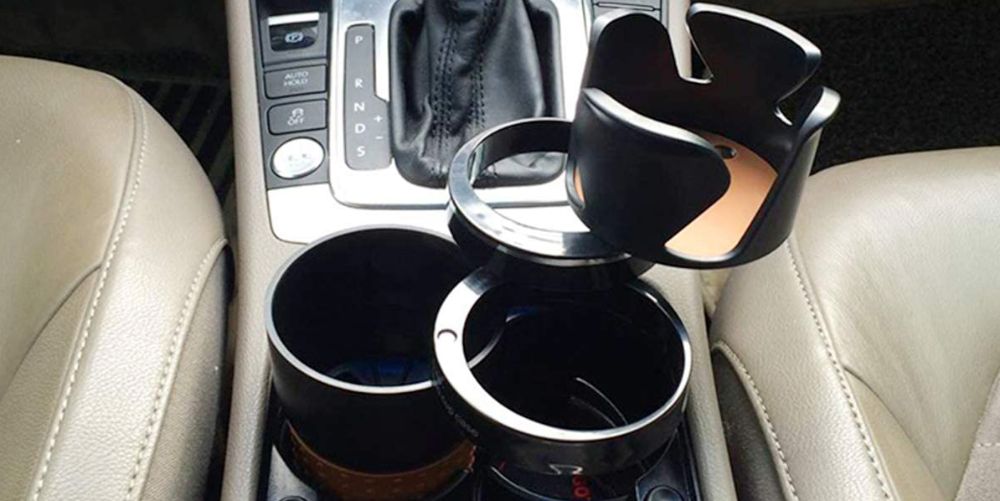 The Paper Crane cup holder expander is a really interesting design. The top rotates out to accompany up to 4 cups at a time and the design of the top cup holder allows it to store your phone, glasses or pens.
It has an anti-slip base at the bottom so it fits snuggly into your cup holder.
The downside of this one is that the top cup holder isn't very wide nor is it very high so it's not great for fitting large cups or bottles.
But if you want to expand your cup holder from 1 to 2-4 cup holders then this may be the product for you.
See the latest price of the Thousand Paper Crane Cup Holder Expander at Amazon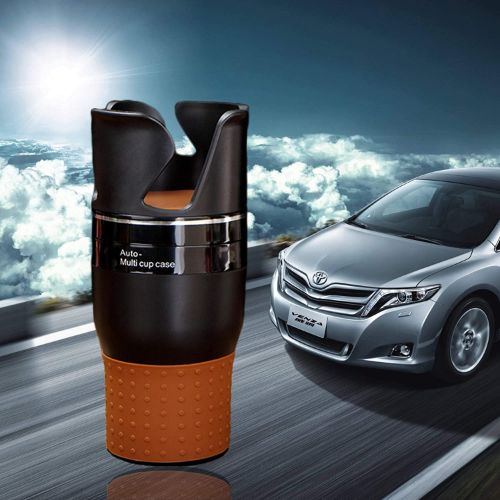 PROS:
Expands to fit up to 4 cups at a time
Top design can be used for holding phones, glasses, pens etc
CONS:
The top is not much larger than a regular cup holder
Not good for big water bottles
Might be a bit flimsy
8. Smart Flask Car Cup Adapter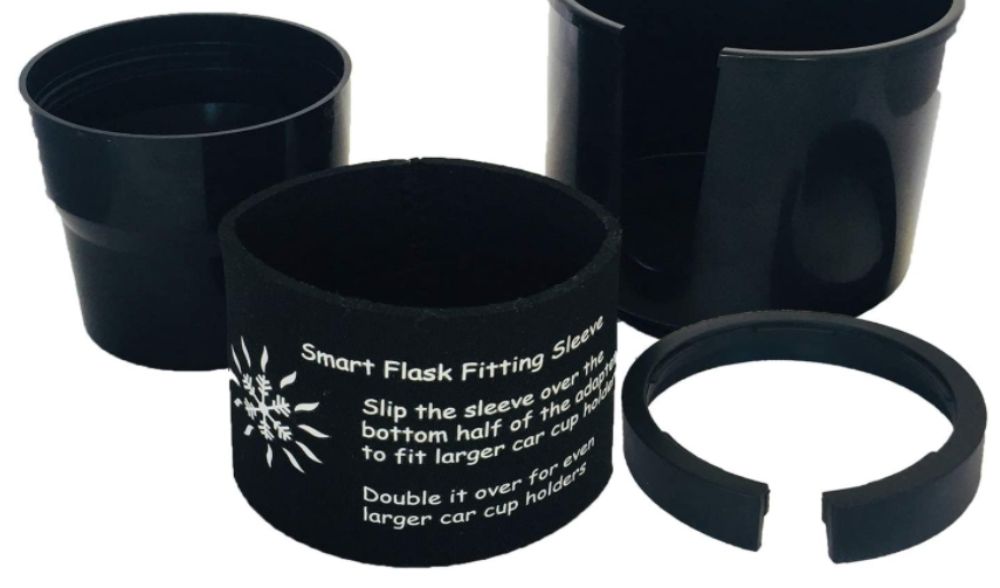 The Smart Flask Car Cup Adapter is a lot like the Smart Kup with a couple of minor improvements.
It features a foam rubber sleeve that can be placed on the bottom of the cup adapter so it can more firmly fit into your car's cup holder.
It also has a fitting ring for the top which makes the opening at the top slightly smaller if you want a tighter fit for your large cup or bottle.
See the latest price of the Smart Flask at Amazon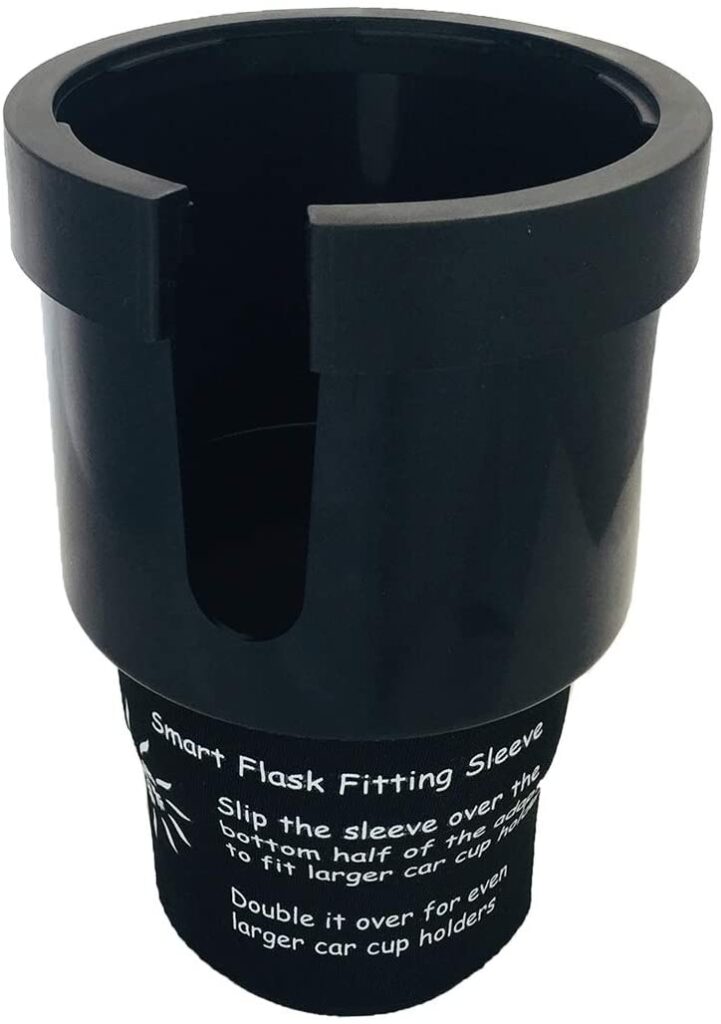 PROS:
Foam base makes it fit more firmly into cup holders
CONS:
Some people have reported it being unstable