There are lots of awesome gadgets and accessories that can be added to a 5-gallon bucket to make it more practical, more useful and overall a much better tool.
I've recently been looking at the Yeti LoadOut Bucket as well as other 5-gallon bucket options and I wanted to see what gadgets and accessories were available. I wasn't able to find a complete list with all the different options on there, so I decided to create it myself.
Here are all the best bucket gadgets and accessories I could find online. If you know of any more please let me know in the comments section down below:
Bucket Dolly/Buggy (Carry buckets with wheels)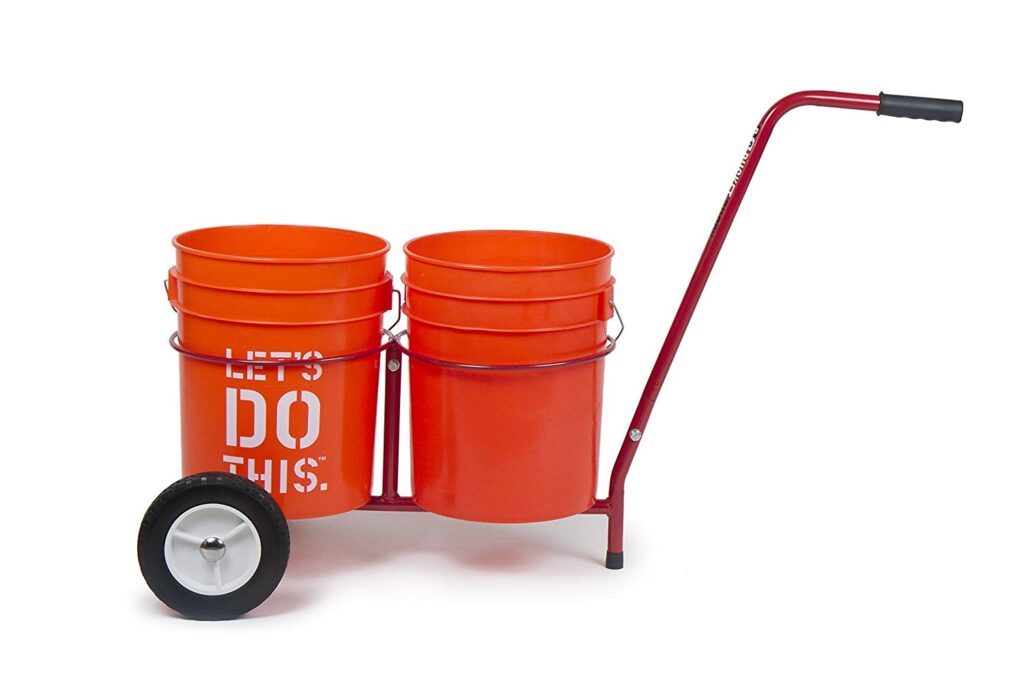 Bucket Buggy:
Bucket Buddy Mover:
5-Gallon bucket can get extremely heavy when fully loaded and carrying them can hurt your hands, arms and back if you're not careful.
Get them across the farm, warehouse or wherever you need to take them can be difficult and tiring.
A bucket buggy with wheels allows you to pull your buckets along without having to lift them. This will save your back in many situation and is a very practical way to move fully loaded buckets around.
Vacuum Seal Lid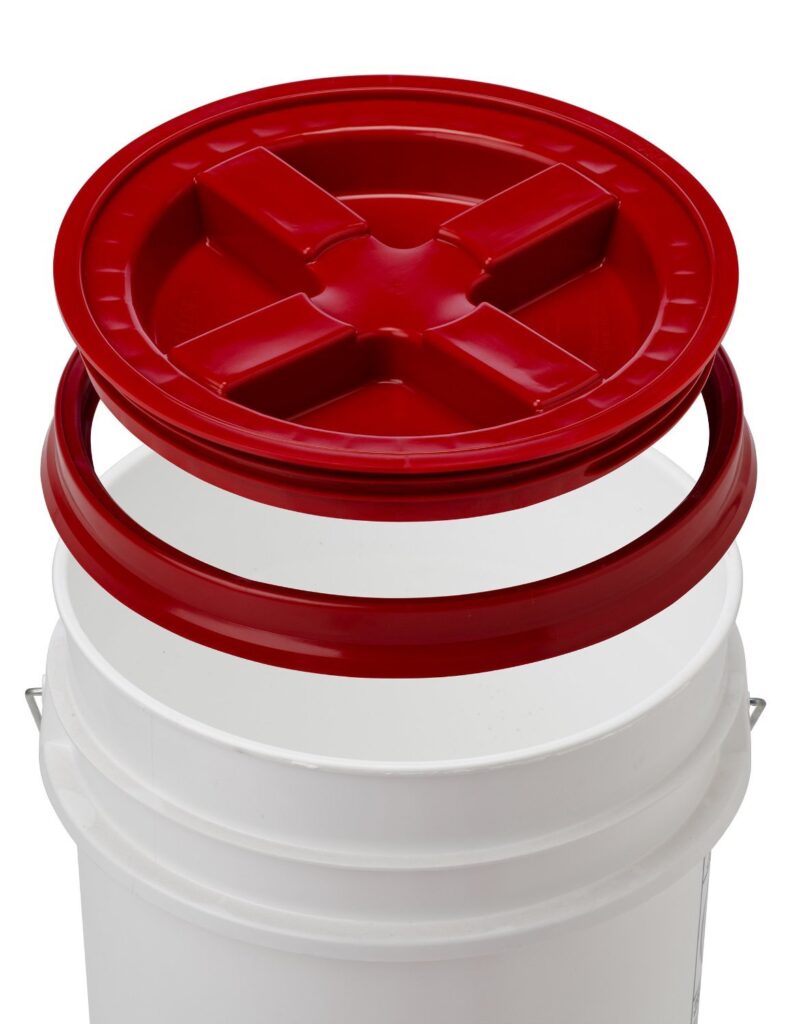 Vacuum Seal Lid:
The Gamma Vacuum Seal Lid is a great way to keep the contents of your bucket fresh. It's perfect for storing dry foods, paint, pet food, hardware or anything else you can think of.
The outer ring firmly secures to the top of your bucket and then the lid screws into place giving you an airtight seal.
This bucket gadget comes in multiple different colors and fits 3.5, 5 and 7 gallon buckets.
Bucket Caddy/Tray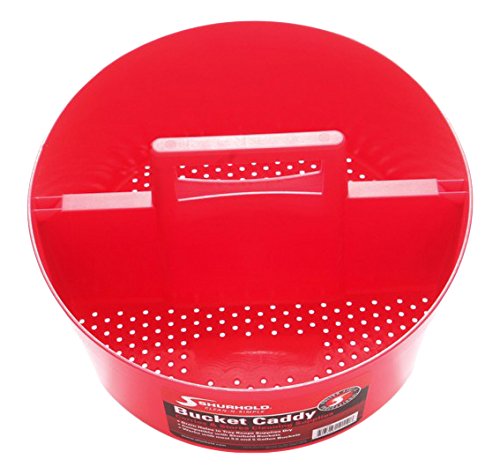 Shurhold Bucket Caddy:
Leathercraft Bucket Tray:
Bucket Boss Super Stacker:
A bucket caddy/tray sits inside your bucket and provides you a way to easily organize smaller items.
It is often slit into halves like the Shurhold bucket caddy or quarters like the Leathercraft Tray, or a mix of both.
They generally have a perforated bottom to allow water to pass through so they don't fill up with water and become mouldy.
A great accessory to keep items organized in your bucket.
Basic Lid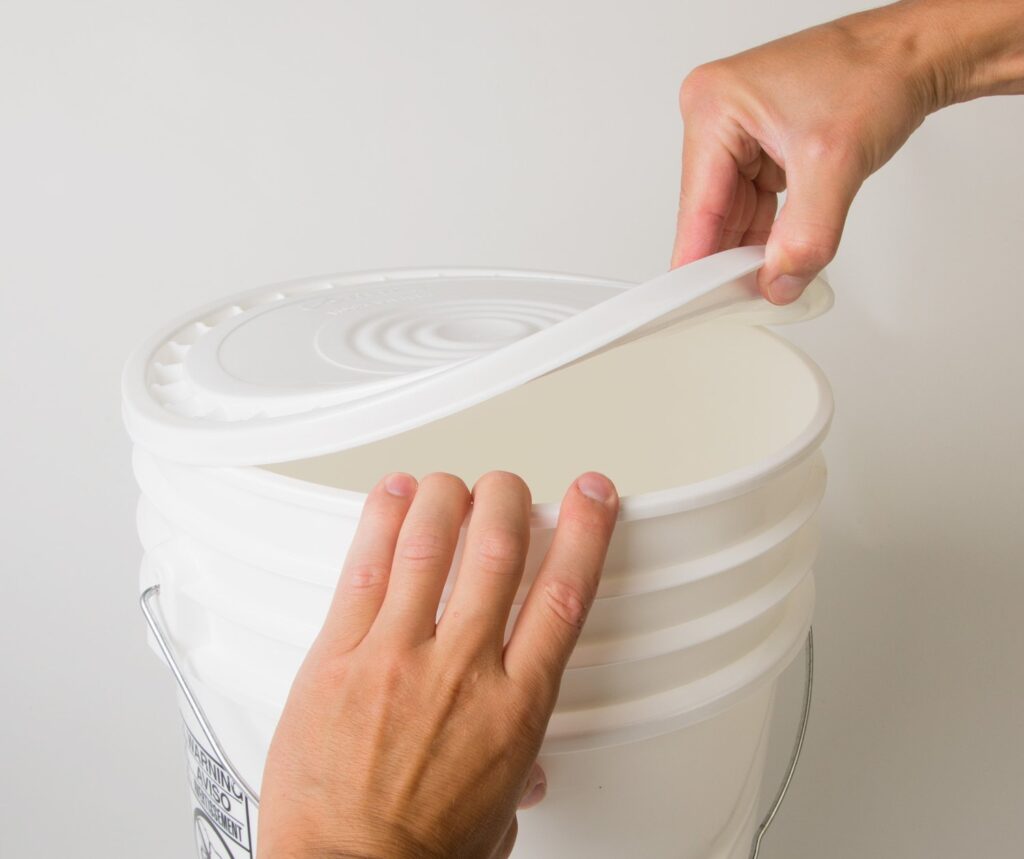 Bucket Easy Peel Lid:
If you want to keep food or other items safe from the air and safe from moisture then a basic lid will do the trick for you.
Ideally get a lid that is airtight as this will keep items fresh for longer.
Lid With Pouring Spout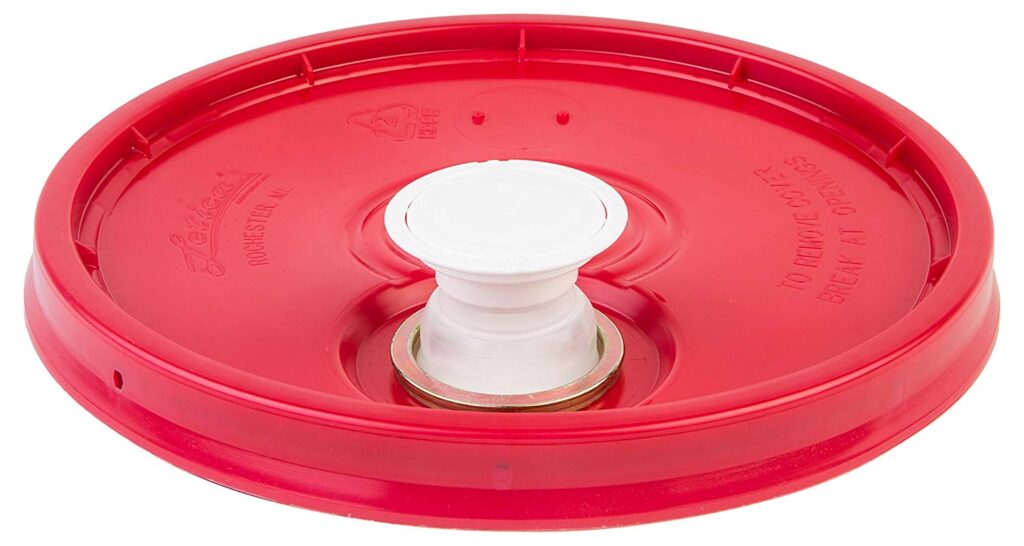 Bucket Lid With Pouring Spout:
The bucket lid with pouring spout fits firmly onto the top of your bucket and has a plastic pull up spout that makes for easy, mess free pouring.
When done the spout pops back down out of the way and has a cap to keep the contents contained and airtight.
Basic Lid Seat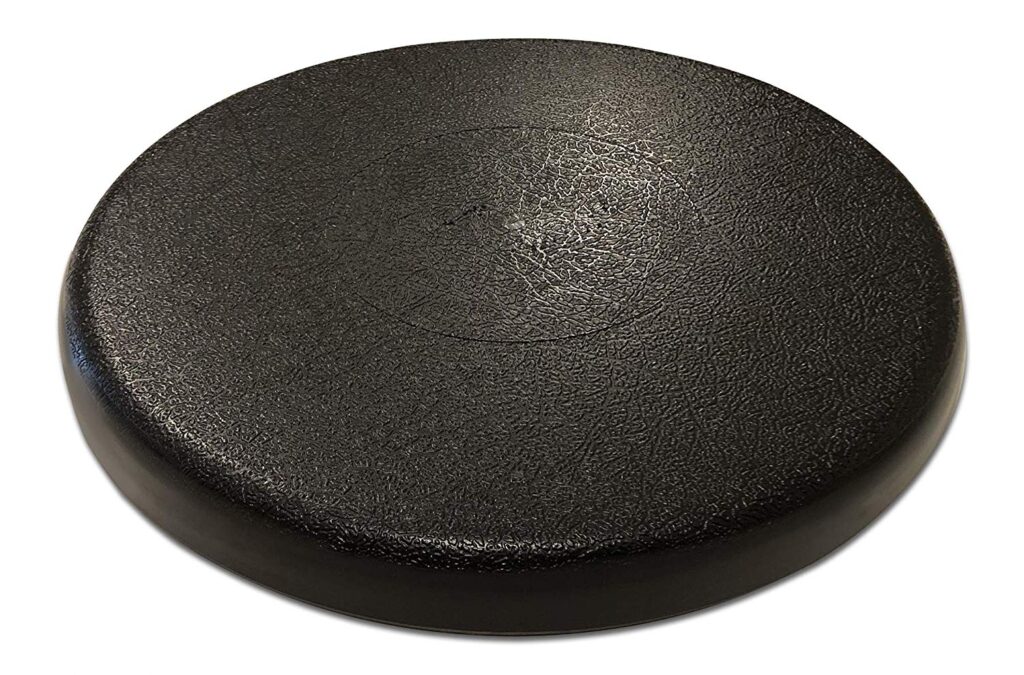 Black Bucket Lid:
Black Bucket Seat:
A basic bucket lid seat does exactly what you would expect. It provides a lid for your bucket that is strong enough to hold a person's weight so you can sit on it without worrying about it breaking.
They are generally made of hollowed plastic and sometimes have a contour to add comfort to the seat. Very affordable option if you aren't sitting for long. But if you're going to be sitting down for a long time then a padded seat is likely going to be a better option.
3/4 Bucket Lid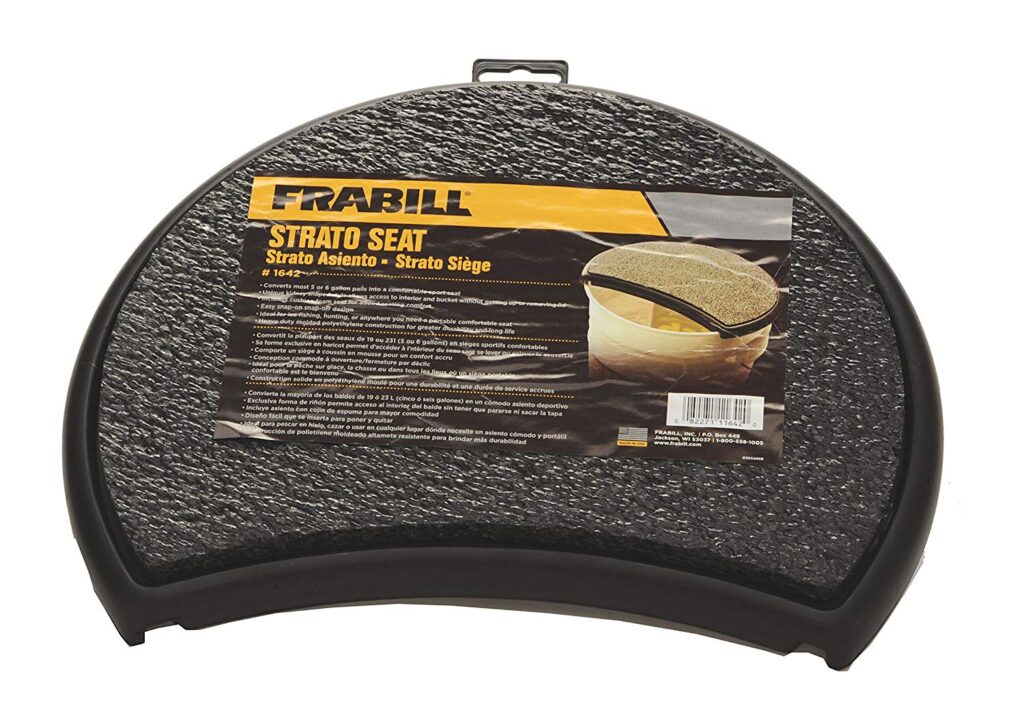 3/4 Bucket Lid/Seat:
3/4 Padded Bucket Seat:
A 3/4 bucket seat lid provides you with a comfortable seat to sit on but it has a curved opening so you can still access the contents of your bucket without having to remove the seat.
This means you can access your bucket whilst sitting down if you want to and you don't have to get up to get things out.
They come in both padded and harder versions.
Lid with Cushioned Seat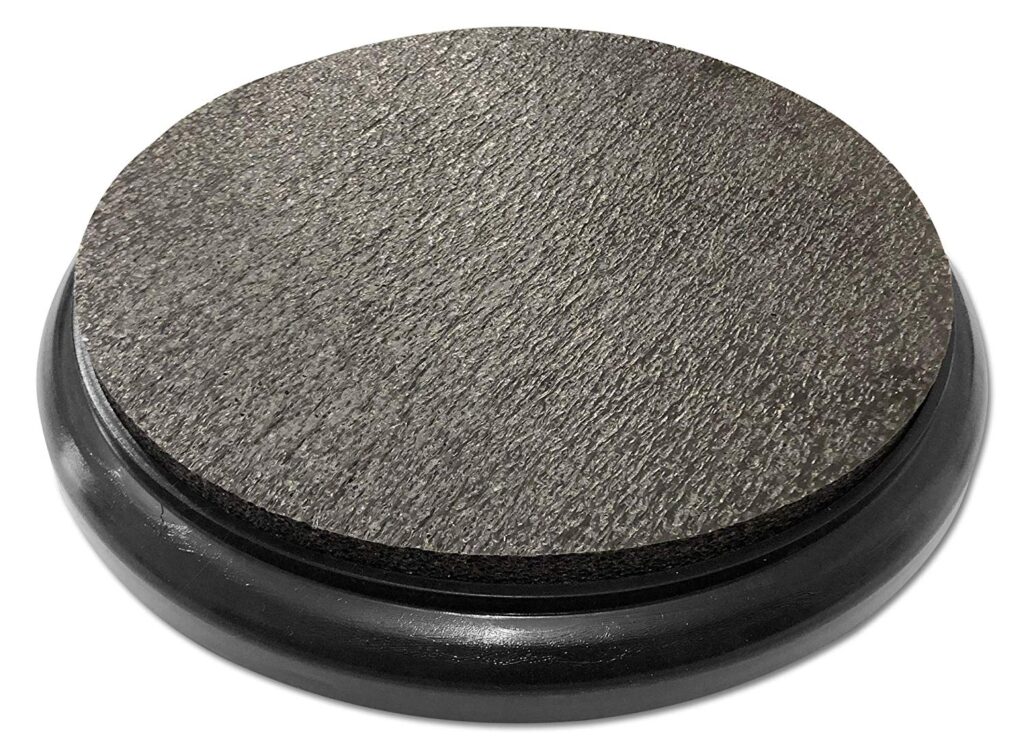 Budget Padded Bucket Seat:
Memory Foam Bucket Seat:
Turn any 5-gallon bucket into a comfortable seat by puchasing this accessory that gives you a lid for your bucket but also provides you with padding so your bum doesn't get sore.
They range from the budget options with cheap foam all the way up to more expensive options which have memory foam and are obviously much more comfortable.
Raised Lid With Access To Bucket (Bucket Stool)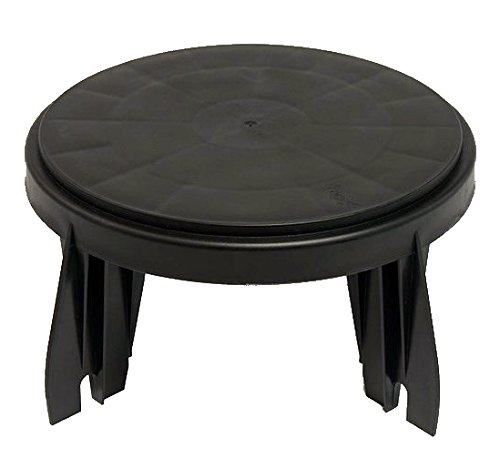 Raised Bucket Stool:
This raised bucket stool allows you to sit higher than a regular bucket lid seat which is a more comfortable height.
The stool is also raised above the opening of the bucket meaning you can still reach into your bucket and grab things while sitting down and you don't have to get up and open the lid or remove the seat in order to get it.
It also turns upside down if you want to seal your bucket.
Bucket Swivel Seat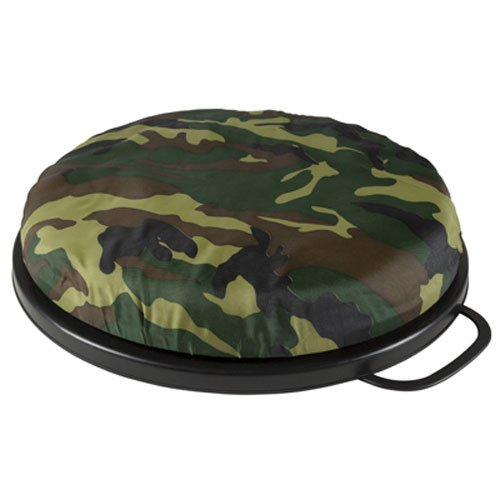 Silent Swivel Seat:
Ergo Buck Seat:
Swivel seats are great for hunters as well as fishers. They allow you to spin around 360 degrees on your bucket so you can face any direction.
The best version have a silent swivel because the last thing you want is your chair making a noise and scaring away whatever it is you're trying to catch.
Bucket Swivel Chair with Back Support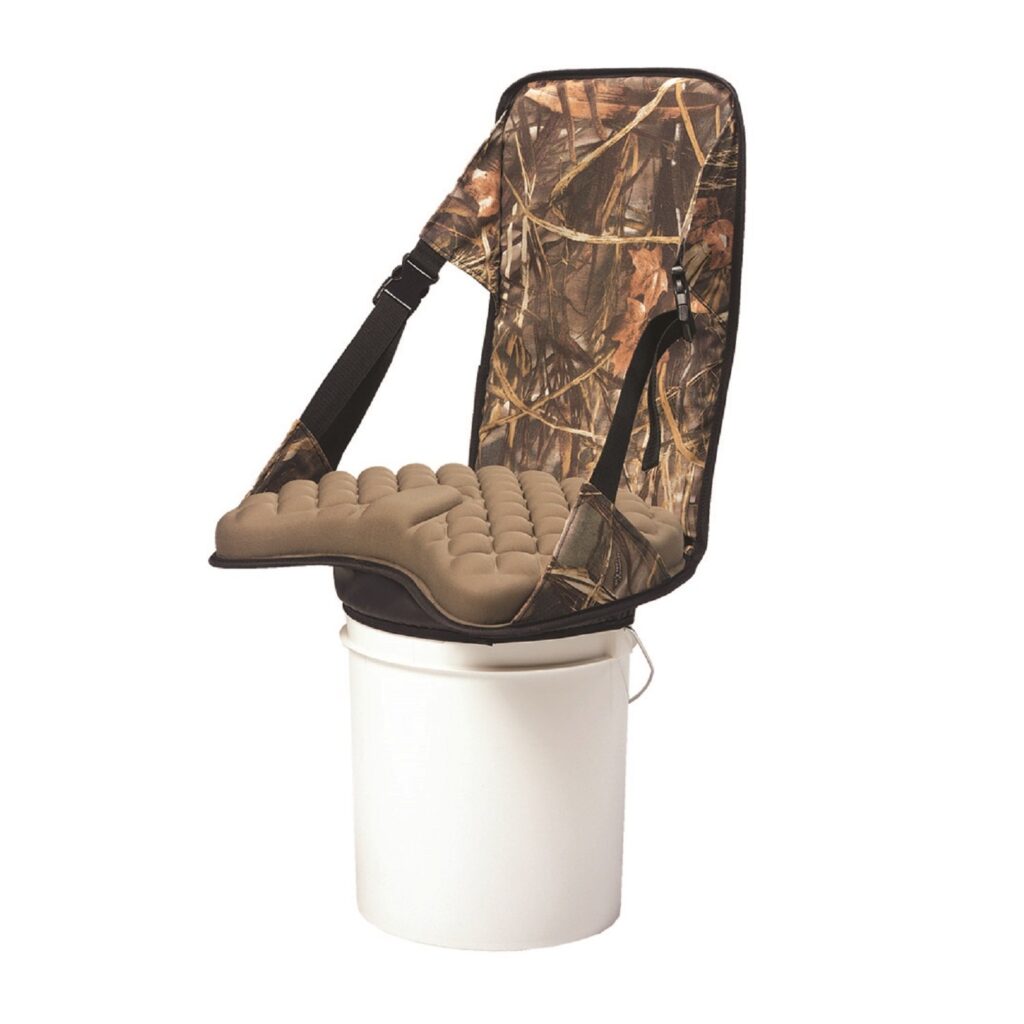 Splash Bucket Buddy Chair:
Wise Outdoor Swivel Chair:
A more advanced swivel chair this chair has a back support to give you even more comfort when you're out on a hunt or spending the day fishing.
The back support is pretty decent but you do need to use your legs to keep your center of gravity so you don't fall over backwards.
Lid with Storage Compartments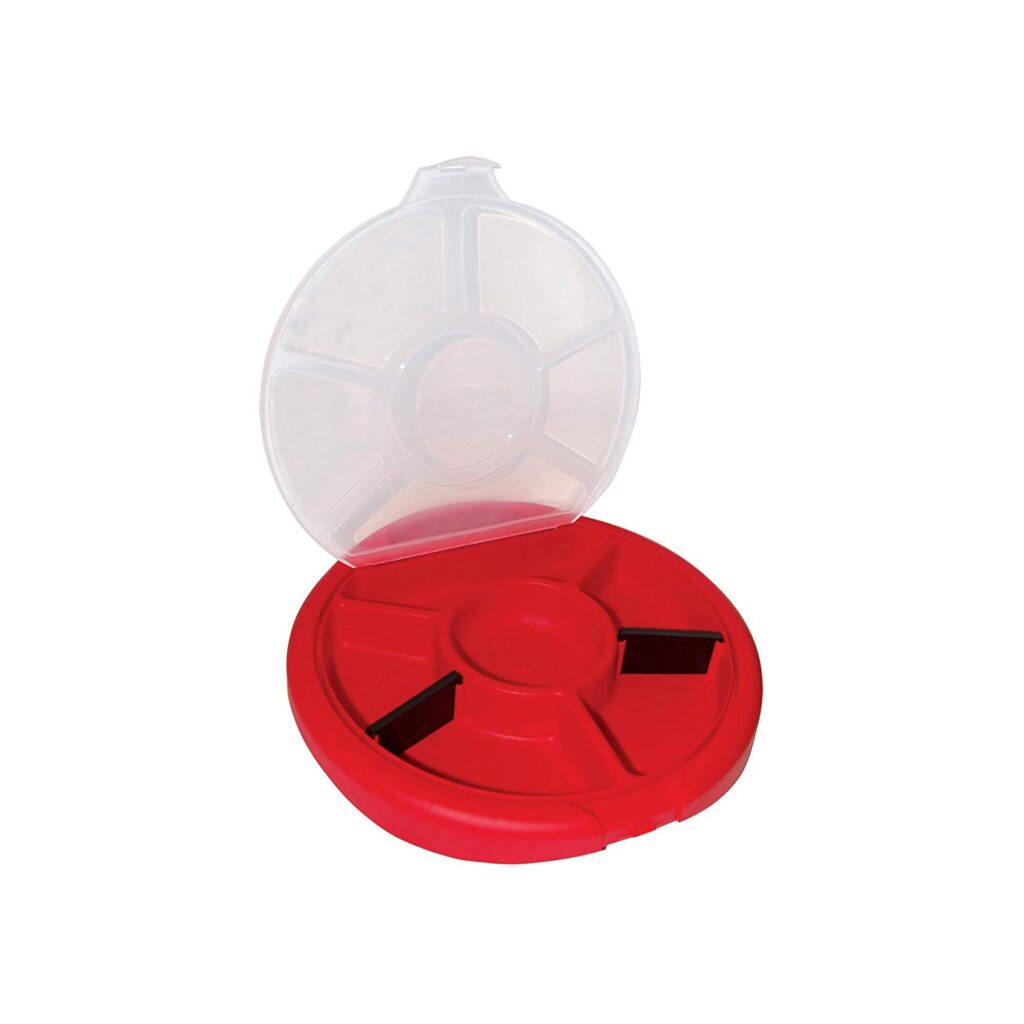 Bucket Boss Seat Organizer:
Plano Bucket Topper and Organizer:
Keep smaller items easily organizer and at hand with a bucket seat topper/organizer. There are a few different ones on the market but they all have the same idea.
They go on top of your 5-gallon bucket like a lid and have small compartments for separating and storing smaller items. They have their own see through plastic lids so you can easily see and access your items.
Most of them are made strong enough that they double as a seat as well.
Bucket External Organiser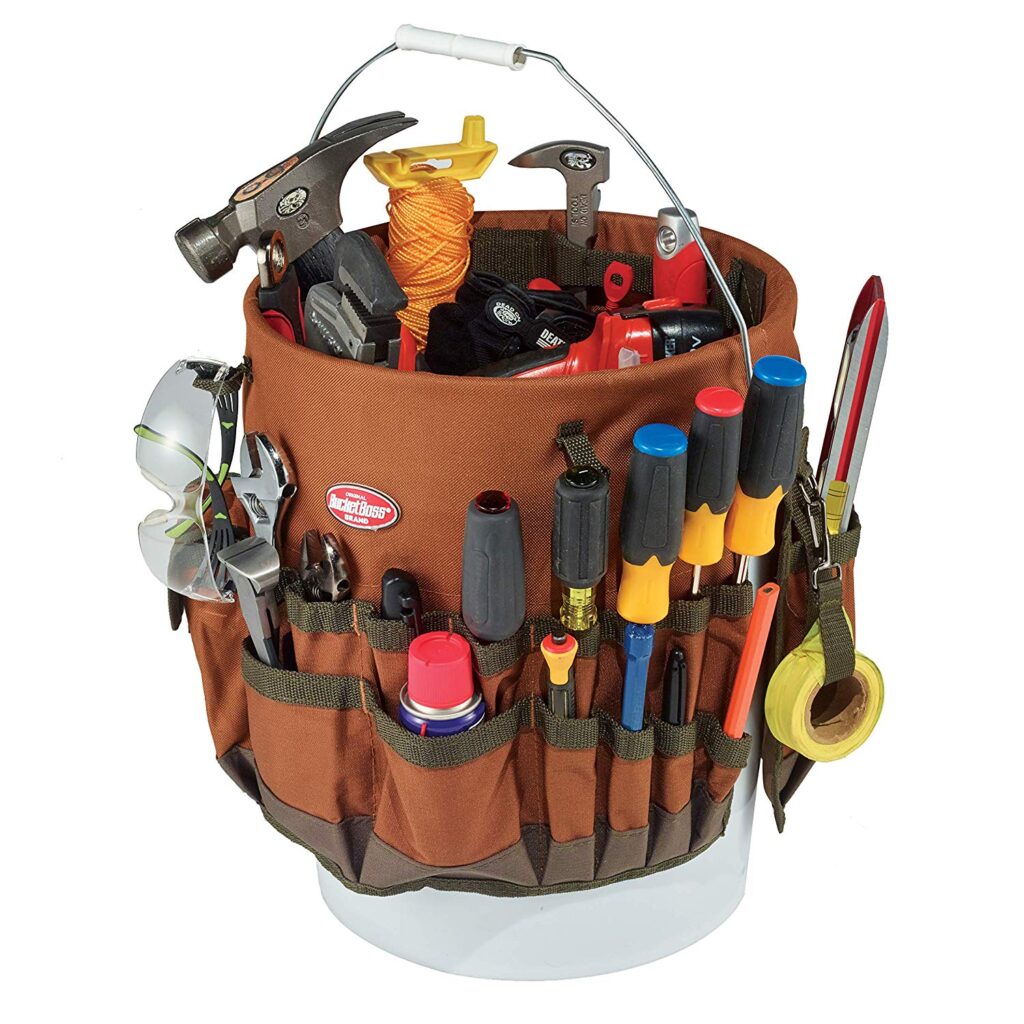 Bucket Boss Bucketeer Organizer:
Leathercraft Bucket Organizer:
Horusdy Bucket Tool Organizer:
These external oganizers slip over your bucket and provide you with pockets on the inside and outside of your bucket.
They come in various brands, different colors and each have a different arrangement of pockets.
They are great for storing tools, gardening equipment, fishing gear and all sort of other things. These bucket organizer keep everything in order and make your stuff easy to find.
Toilet Seat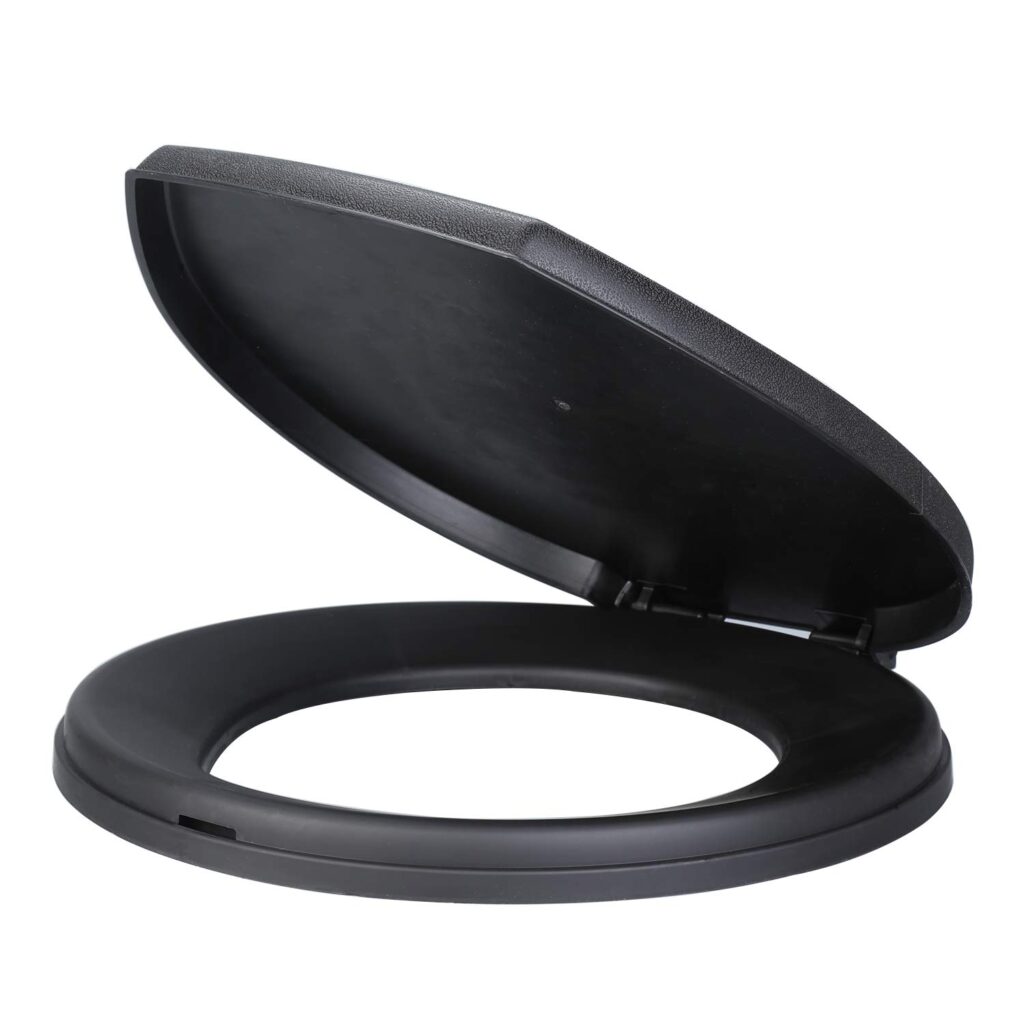 Black Bucket Seat Lid:
Black Bucket Seat Lid:
Not the most glamorous of accessories but a 5-gallon bucket can be easily turned into a makeshift emergency toilet with the addition of this simple toilet seat with lid.
The toilet seat clicks onto the rim of the 5-gallon bucket and the seat closes to help keep the smells out.
The seat is actually fairly comfortable and can be easily removed when you need to dispose of your waste somewhere safe.
Bucket Boat Trash Can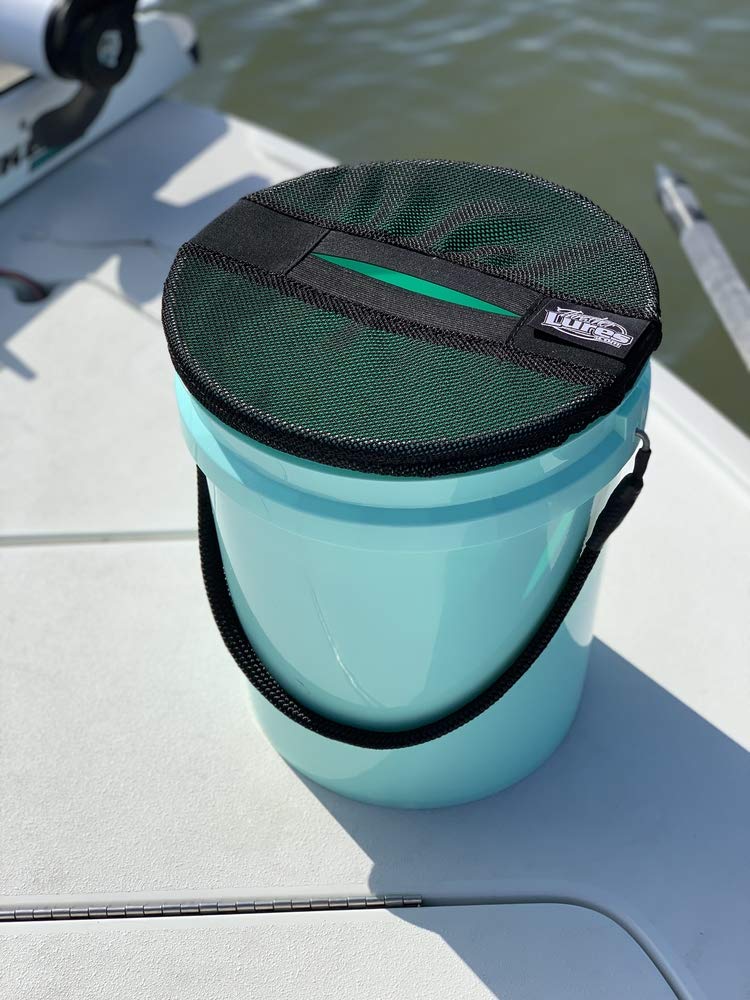 Black Bucket Seat Lid:
The bucket boat trash can attachment is the perfect way to turn your 5-gallon bucket into a bin on your boat where everything isn't going to fly away in the wind.
It has a mesh top that prevents trash from blowing out and it has a slit in the middle so you can easily place trash in it without taking the mesh cover off your bucket.
They even have a version specifically designed for the Yeti LoadOut Bucket which has a slightly different lid to regular 5-gallon buckets.
Scoop-N-Scrape Bucket Scoop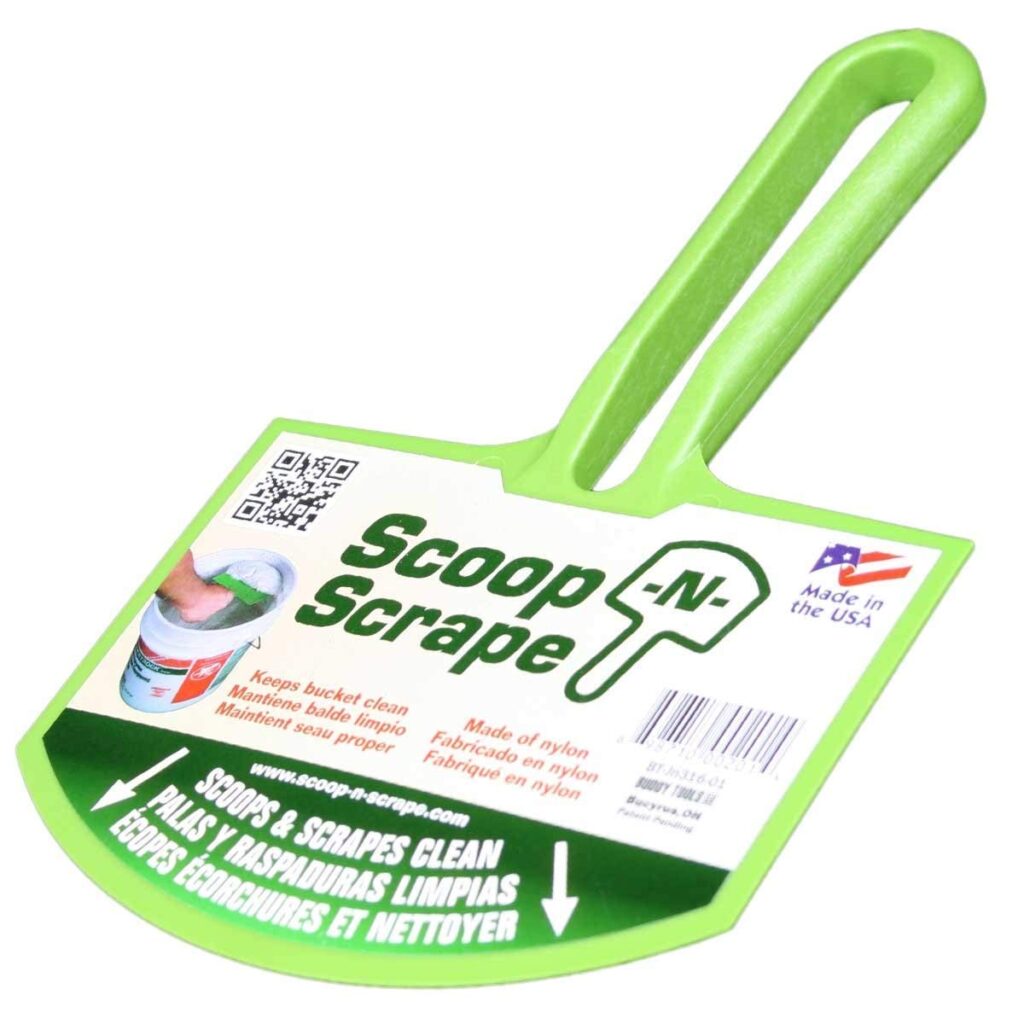 Black Bucket Seat Lid:
The Scoop-N-Scrape bucket scoop is perfectly contoured with it's curved blade so you can scoop things out of your bucket without leaving it stuck to the walls.
It's made from sturdy nylon that won't scratch your bucket and it's lightweight and easy to carry around.
You can scoop items on the way up but it's also designed to clean your bucket on the way down so you can easily clear the walls of your bucket without any issues.
Styrofoam Liner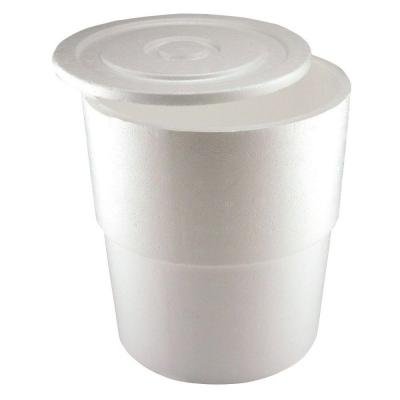 Black Bucket Seat Lid:
This affordable styrofoam liner is designed to slide perfectly into a 5-gallon bucket and adds an insulating layer so your bucket becomes a cooler.
Keep ice for longer in your bucket and stop the outside of your bucket from sweating and dripping water everywhere.
It also comes with a styrofoam lid for further insulation. This is a great way to turn any bucket into a cooler.
Dakine Party Bucket Cooler + Drinks Holder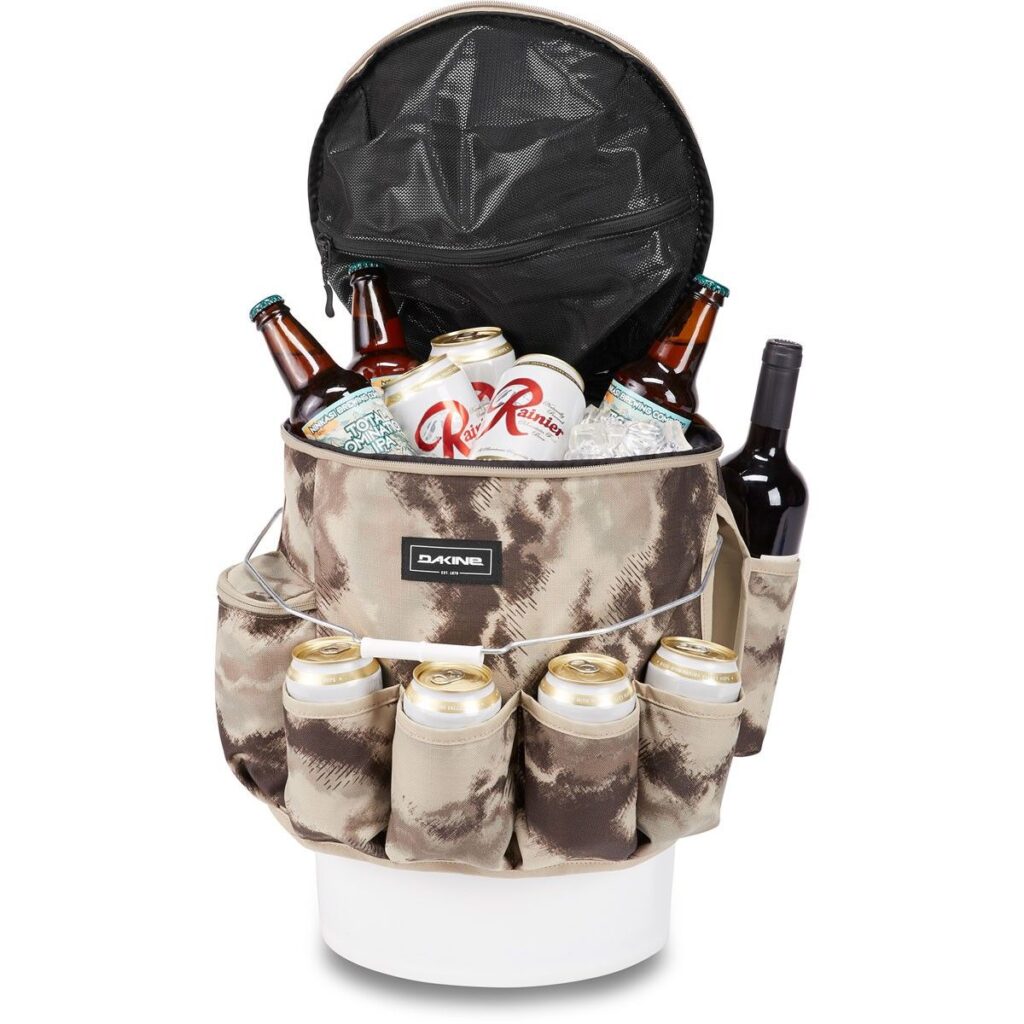 Dakine Party Bucket:
The Dakine Party Bucket turns any bucket into a ice cooler and drinks holder.
It has an insulated interior which slides into the bucket and keeps ice for most of the day. The base of the liner is mesh so water stays in the bucket making it easy to dry.
It has a zip up lid which also has a dry storage compartment and the exterior has 8 can holders and 2 larger pockets for wine or other items.
This is a more practical way or making your bucket a cooler and has more durability than a styrofoam liner.
Grit/Dirt Trap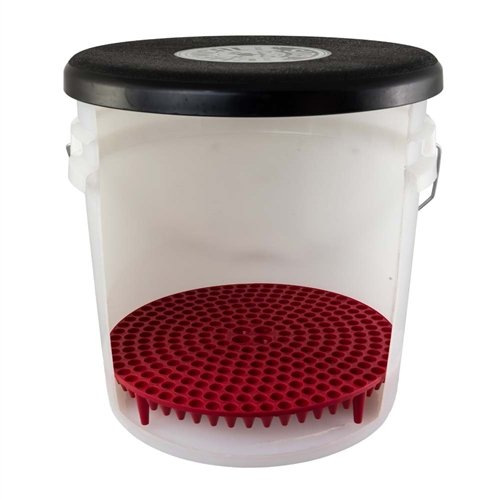 Chemical Guys Dirt Trap:
Shurhold Bucket Grate:
A dirt trap goes in the bottom of your bucket and is grated and slightly raised so that all the dirt and grime falls to the bottom of the bucket and your brushes and other items aren't sitting in dirt.
This will give you a better clean and keep your brushes from getting stuck with rocks or any other items that may scratch your boat or whatever you're cleaning.
The Shurhold Bucket Grate also has a soap measure so you know exactly how much soap to use when cleaning.
Non-Slip Base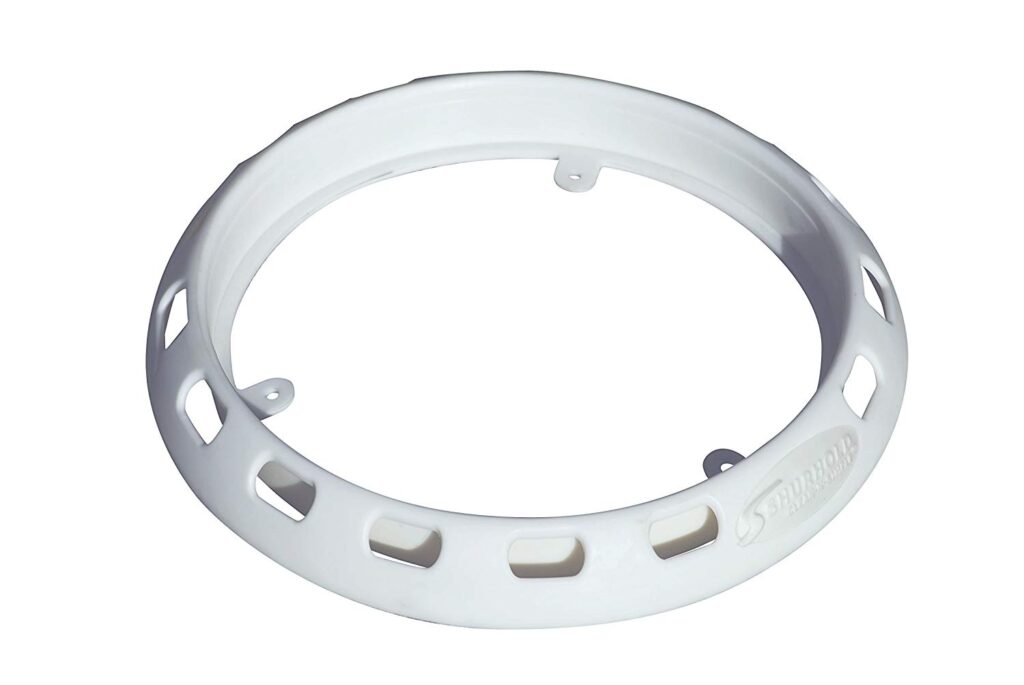 Dakine Party Bucket:
Stop your bucket from sliding around with this non-slip and non-marking rubber base.
This will keep your bucket firmly attached to wherever you place it so it won't fall of your boat or bang around the back of your truck.
This is the same non-slip material used in the Yeti LoadOut Bucket as well as the Huck Bucket which is similar to the Yeti Bucket.
Bucket Handle Grip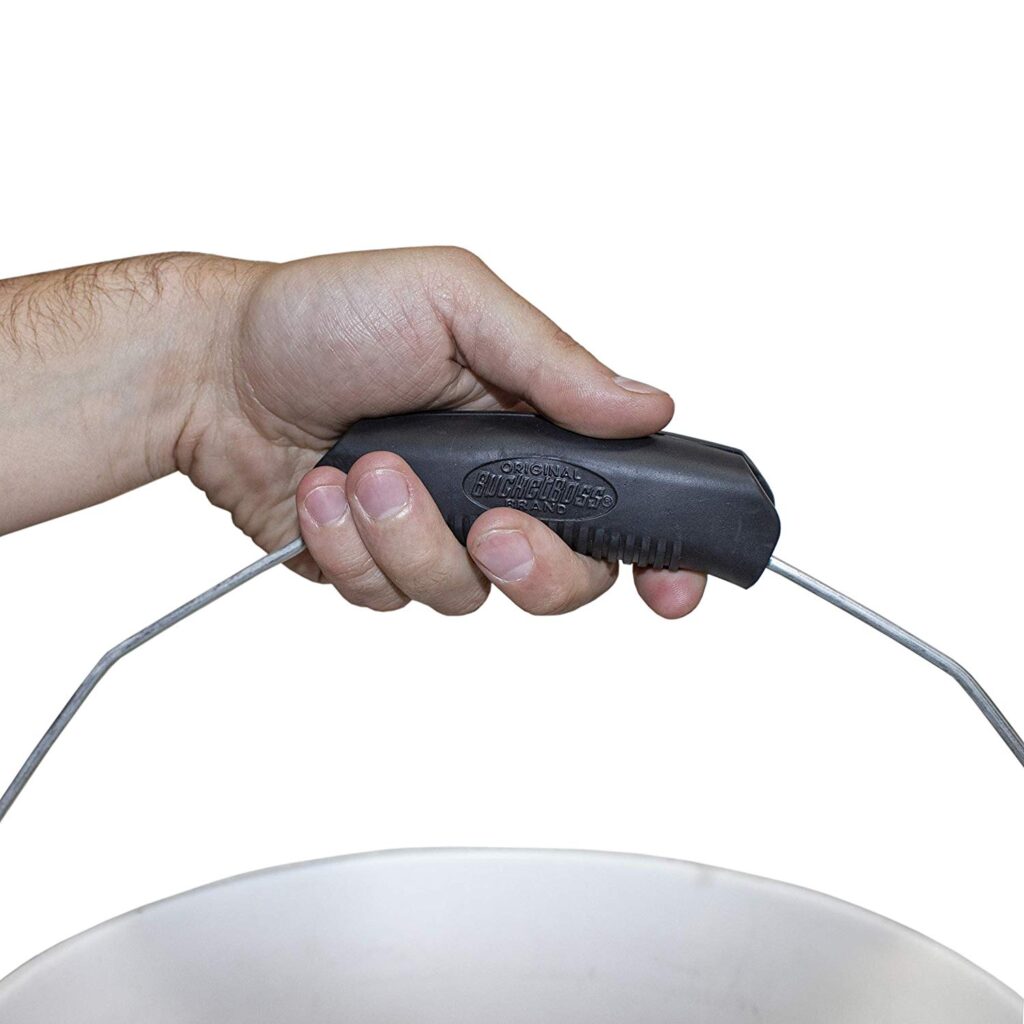 Bucket Boss Bucket Grip:
Bucket Up Comfort Handle:
5-Gallon bucket usually have really thin plastic handles that can often hurt your hand when you're carrying your bucket fully loaded. It just isn't wide enough to provide good hand support.
The handle grips solve this problem but placing a softer, larger plastic or rubber handle over the normal bucket handle giving you more support and making it much easier to carry your bucket.
Bucket Shoulder Strap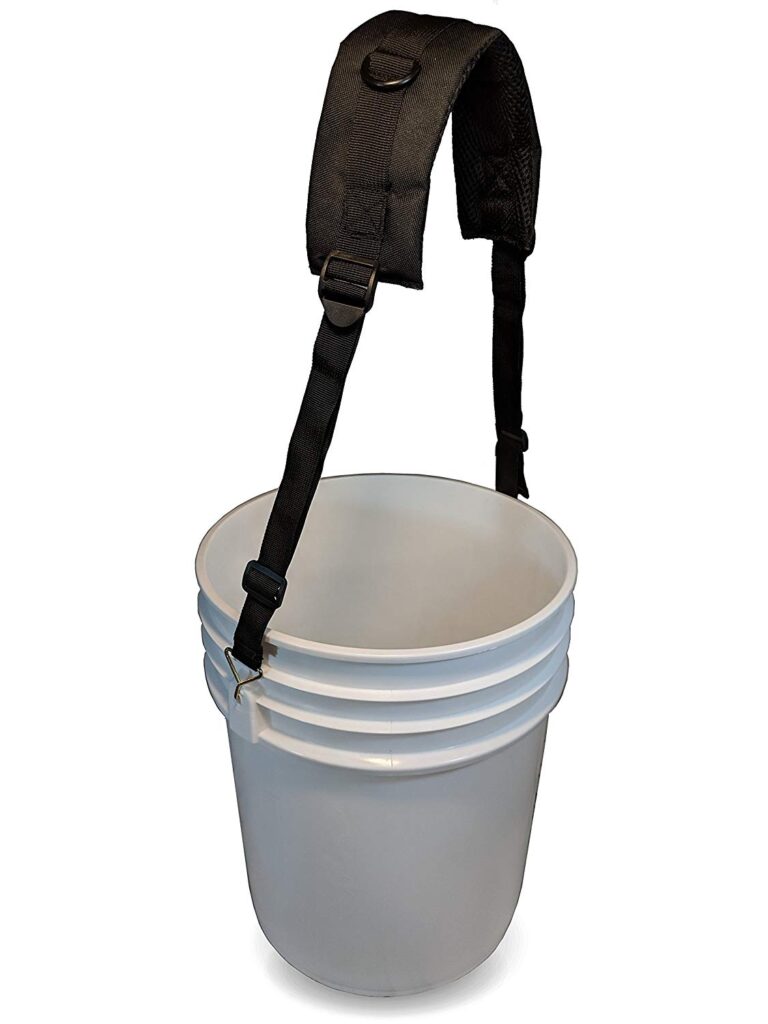 Bucket Shoulder Strap:
Replace your 5-gallon bucket metal and plastic handle with a much more comfortable and easy to use shoulder strap.
It extends up to 4 feet in length and is made from 50% polyester and 50% nylon. This device makes it much easier to haul a heavy bucket and the handle is sturdy and thick so can handle heavy loads without breaking.
Bucket Wheel Base/Dolly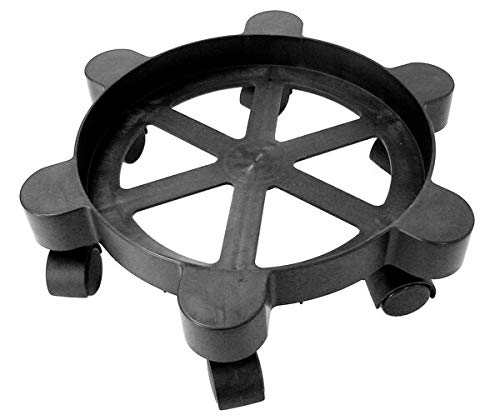 Bucket Wheel Base/Dolly:
Red Bucket Wheel Base:
A bucket dolly is a simple wheel base that your bucket can live in making it easy to roll around with you. Great for cleaning as you can pull your mop and bucket from area to area.
Some are simple where you just place the bucket in and and others have brakes on the wheels and screws so you can fix the bucket into place so it won't come out of the dolly.
Bucket Wet/Dry Vacuum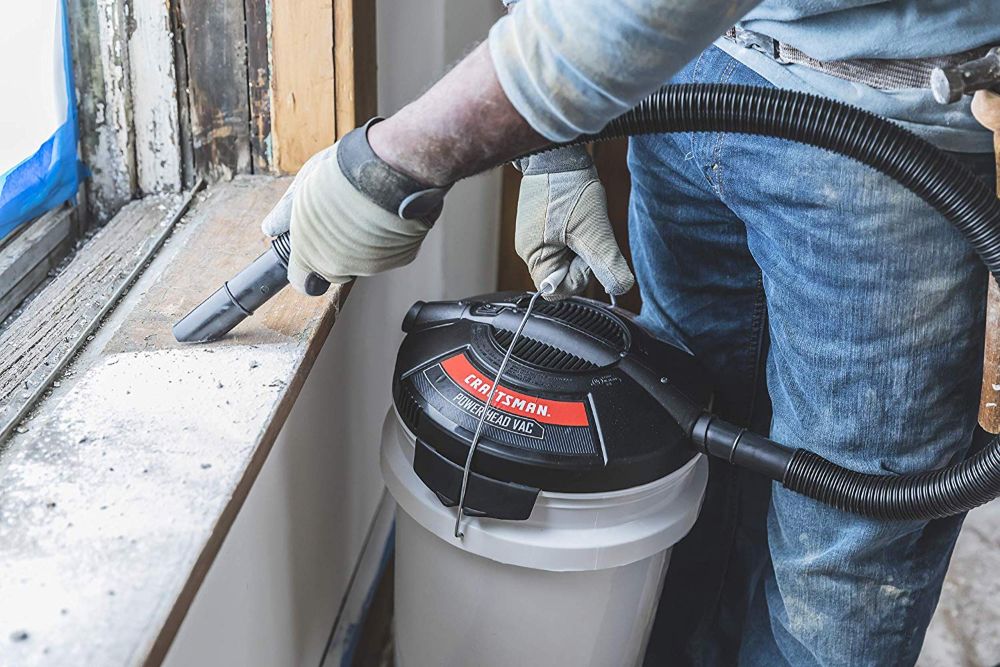 Bucket Wet/Dry Vacuum:
Turn your bucket into a vacuum to easily suck up dirt, dust or even water and liquids.
This wet/dry vacuum clicks onto the top of your 5-gallon bucket and comes with a 6-foot power chord. Just plug it in and you can begin vacuuming.
The bucket with act as the catcher for the vacuum allowing you to easily discard of whatever it is you're vacuuming up.
This is a really cool gadget that I can see being great on job sites and it packs away much smaller than a regular vacuum.
Bucket Hanger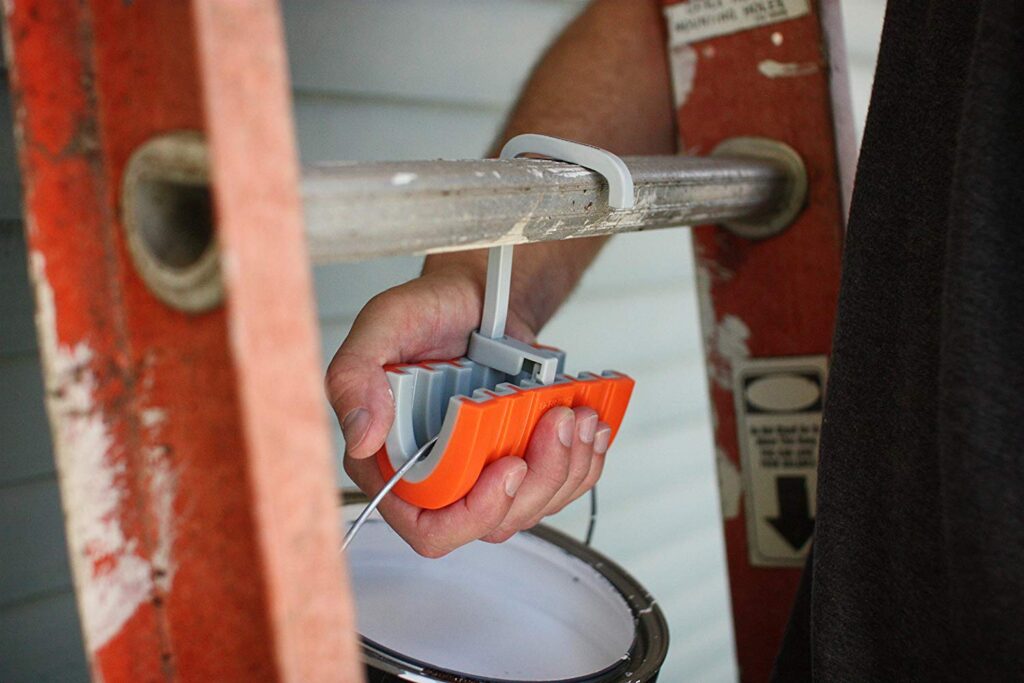 Bucket Hanger:
The bucket hanger is a super useful 5-gallon bucket accessory.
It is great for hanging your buckets or paint tins when climbing on a ladder.
The underneath is curved and makes it easy to carry your tin/bucket up the ladder. The handle goes into the bucket hanger and locks in place.
You can then hand the hook on one of you ladder rungs and you have easy access to your bucket or paint tin while remaining safe and secure.
Metal Bucket Bracket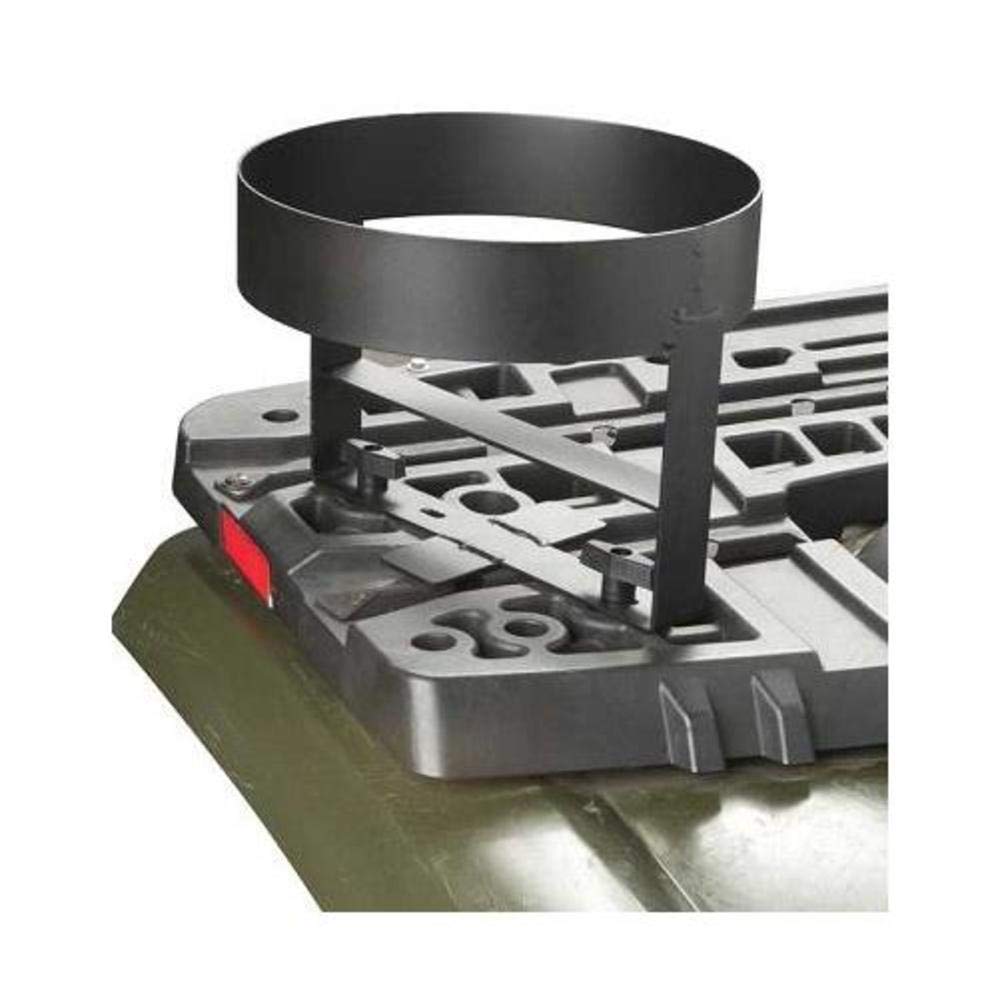 Bucket Bracket:
This metal powder coated bucket bracket allows you to fix your bucket in place when you're travelling, ensuring it doesn't go anywhere or spill everywhere.
Drum Head (Turn a Bucket Into a Drum)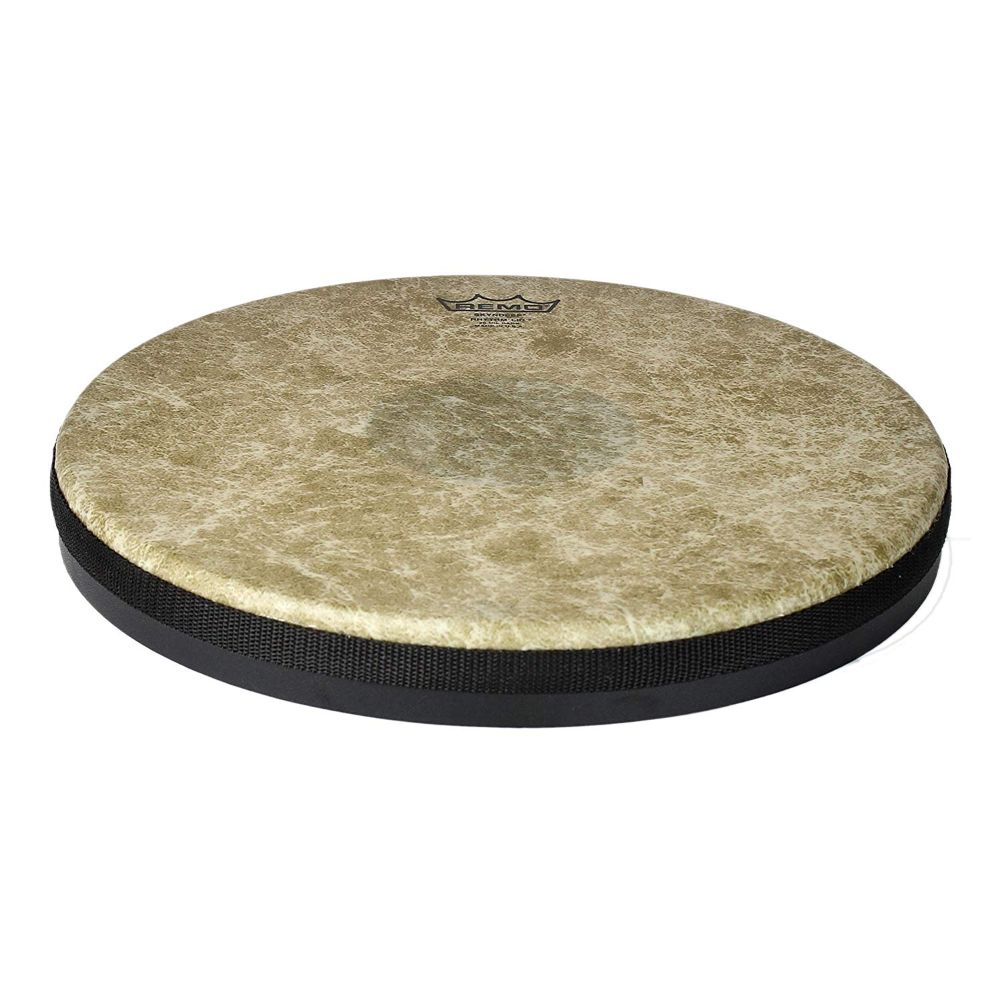 Remo Bucket Drum Skin:
Remo Snare Clip:
This is a pretty unique bucket gadget. Remo make a full set of drum skins that slip onto any 5-gallon bucket and give you a great sound.
Each skin is tuned differently so you can get different sounds from the same sized bucket. Make up an entire travel kit and play wherever you are.
They also have a snare clip than clips onto the rim on the bucket and turns any of their drum skins into a snare drum. Pretty cool product for the drummers out there.
Bucket Backpack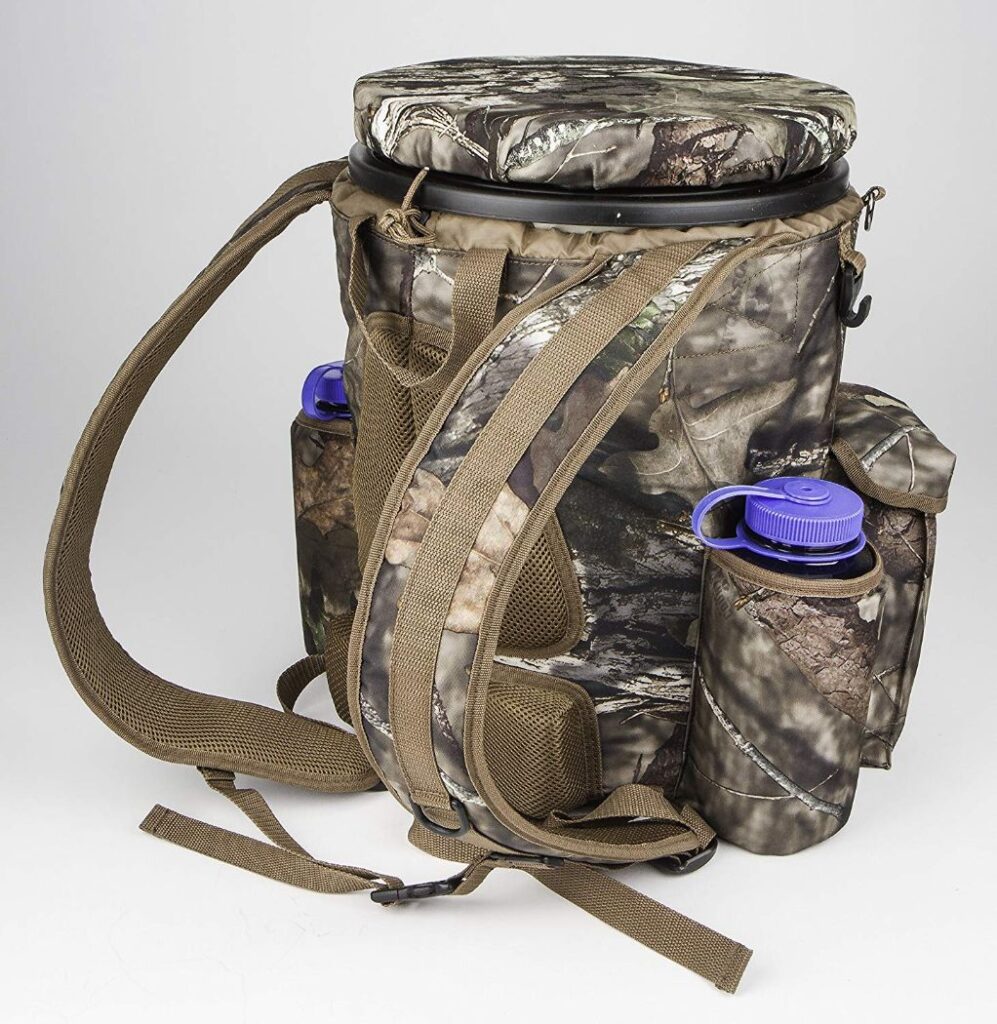 Peregrine Venture Bucket Pack:
The Peregrine Venture bucket pack allows you to turn any 5-gallon bucket into a backpack.
It has 2 wide backpack straps as well as a padded mesh back and extra padding towards the bottom of the bucket so it fits firm and comfortably on your back.
It's insulated so you can keep items colder for longer, has a reinforced non-slip base and 3 external pockets plus two external drinks pockets.
It also comes with a 360 degree silent swivel seat and the bucket is actually included in your purchase.
The Bucket Screen (For Cleaning Stuff)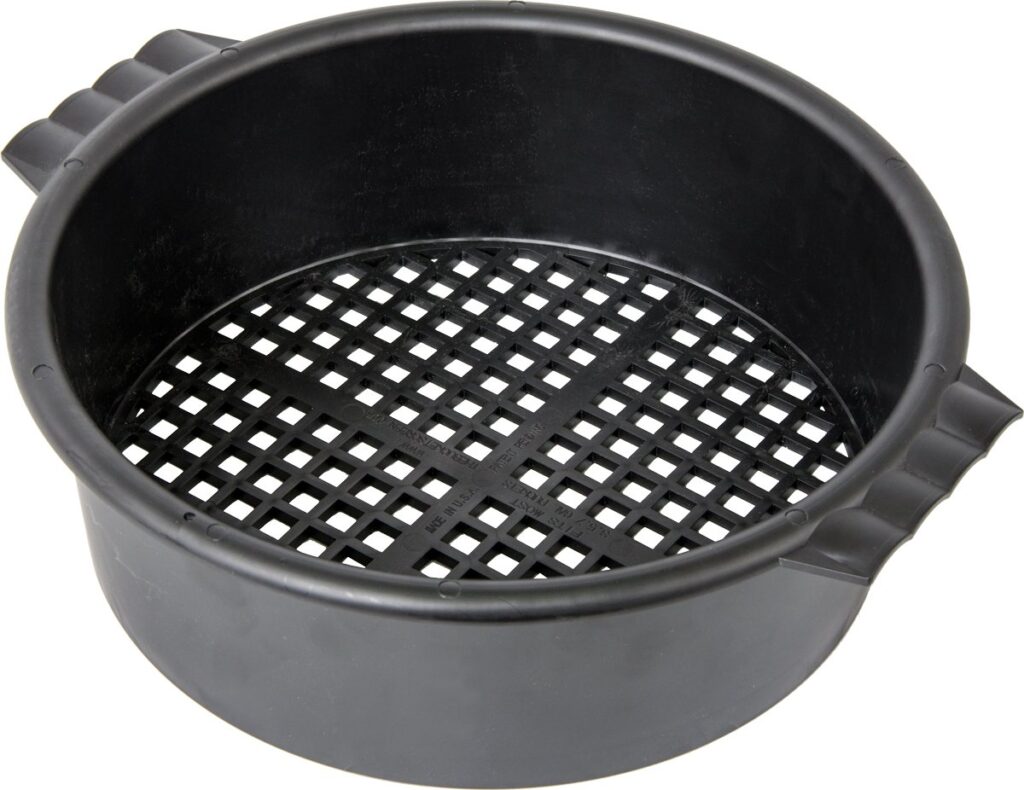 Bucket Screen:
The bucket screen sits at the top of your bucket and provide a perforated rack that easily drains.
Use it to clean any number of items, allowing the dirt and grime to fall into the bucket and away from the item you are trying to clean.
Boozie Bucket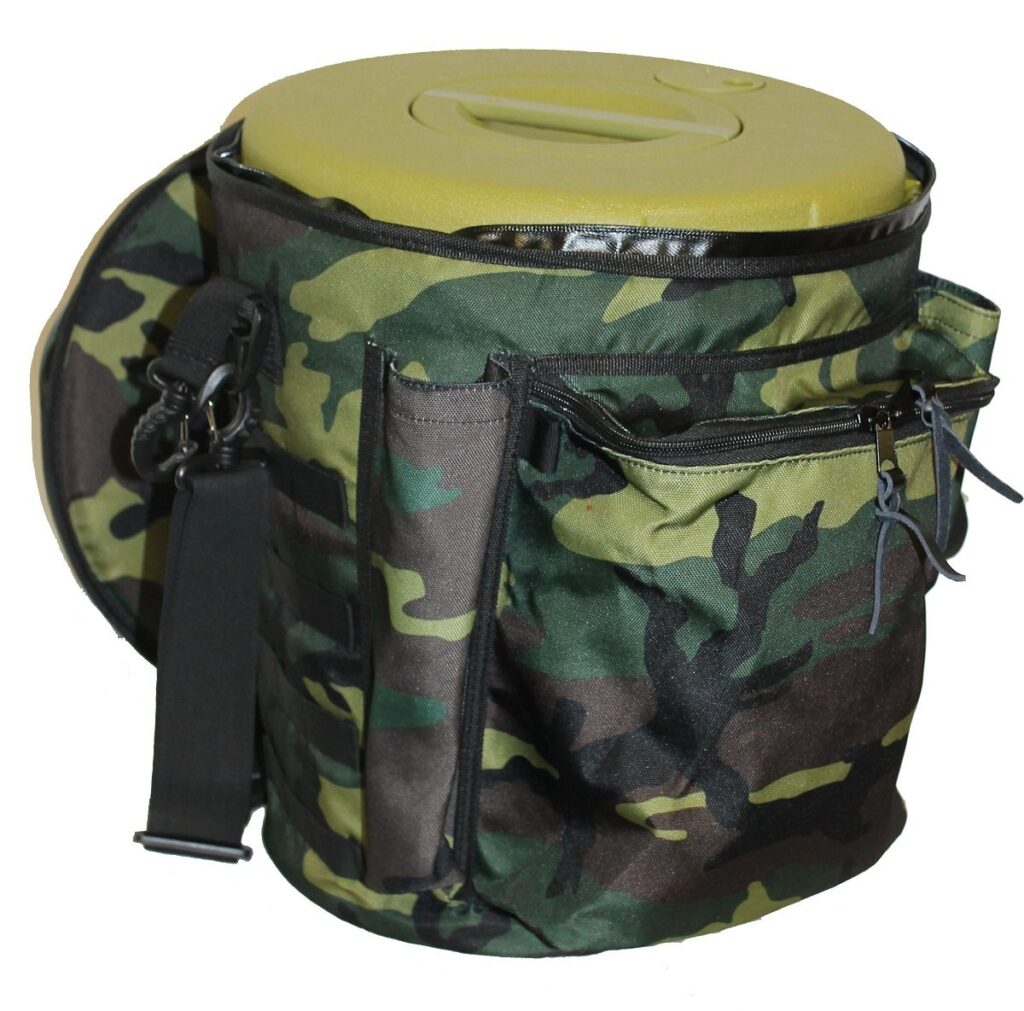 Boozie Bucket:
The Boozie Bucket is made in the USA and provides you with an insulated outer shell for your bucket so you can keep items cold for longer.
It has a shoulder strap for easy carrying and external pockets to keep things organized plus it has 2 fabric rod holders for carrying your fishing rods.
It comes with a thick lid for your bucket which is strong enough to sit on, plus the lid has an easy open access hatch so you can access your cooler without taking the entire lid off.
It also has a hole specifically for bait aerators. This is a pretty cool products designed and manufactured in the USA.
What Bucket Accessory Will You Buy?
There you have a full list of the different bucket accessories and gadgets out there that I could find. I hope this helps you find the right additions you need for your 5-gallon bucket.
If you're in the market for a new bucket check out my list of the best 5 gallon buckets.
So many of these gadgets are really cool and it's amazing the sorts of things you can do with a simple 5-gallon bucket.
What bucket gadget did you like best and which one will you get? I