Millions of 5-gallon buckets are sold every year. Most are cheap, flimsy and don't last very long. The category as a whole is pretty overlooked with most buckets being basically identical to each other. But there are actually a few really good 5-gallon bucket options out there that I want to share with you.
Here is a list of the best 5-Gallon buckets on the market sorted from best to worst.
Please note: Links to products in this article are affiliate links. If you buy a product through our links we make a small commission at no extra cost to you. Thanks for your support.
1. BEST BUCKET: Yeti LoadOut Bucket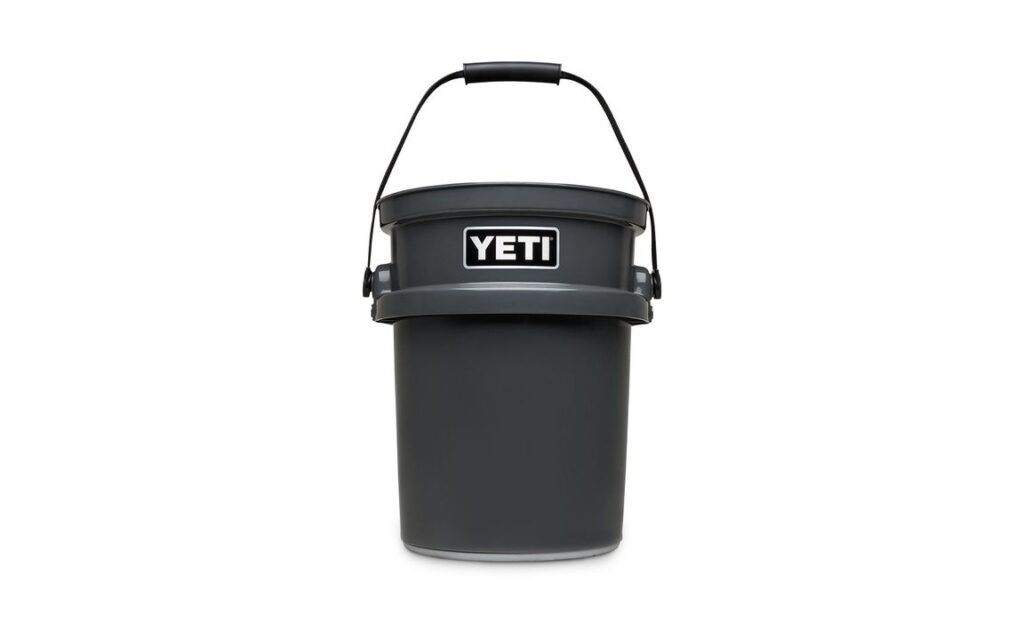 Yeti LoadOut Bucket:
The Yeti LoadOut Bucket is the best bucket on the market because it's build quality and durability is far superior to a regular bucket but it isn't too expensive (like the Huck Bucket which we will talk about soon) so it offers good value for money.
So what is it that makes the Yeti the best 5-gallon bucket on the market?
Indestructible: 3x Thicker Than a Regular Bucket
The Yeti Bucket is 3x thicker than a regular bucket which makes it significantly stronger and less likely to break.
It's made from HDPE (High-Density Polyethelene) and the build quality and finish is much better on this product when compared to a regular bucket.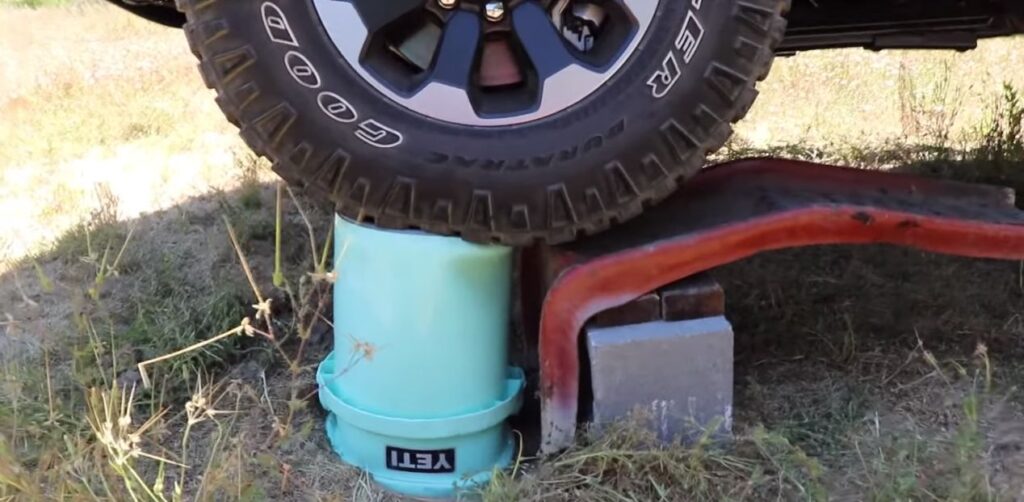 Someone on YouTube has actually driven their truck onto the Yeti Bucket to see if it could hold the weight…and it did! It did bend and destroy the bucket in the process though.
While you probably aren't going to drive over your bucket the thickness is going to add to the durability of this bucket and make it less likely to break.
You can throw it around, use and abuse it and even drop it fully loaded and not worry about it breaking.
It's also backed by a 5-year warranty, but it's highly likely to last you even longer than that.
Comfort: A Handle That Won't Break or Hurt Your Hands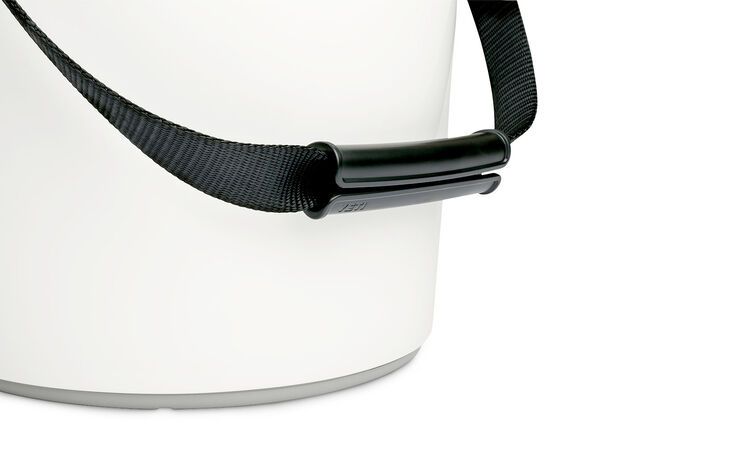 Yeti have replaced the thin metal handle with small plastic grip for a tough canvas handle with a wider plastic grip that won't hurt your hands.
It's rated to hold up to 350 lbs without breaking and because it's fabric it isn't going to rust or pull out like you so often see on regular buckets.

The plastic grip is much thicker than a regular handle, making it more comfortable to carry the bucket when fully loaded.
Another benefit of the fabric handle is that you can tuck it inside your bucket when travelling so it doesn't take up extra space or get caught on anything.
Stays Put: Non-Slip and Non-Marking Rubber Base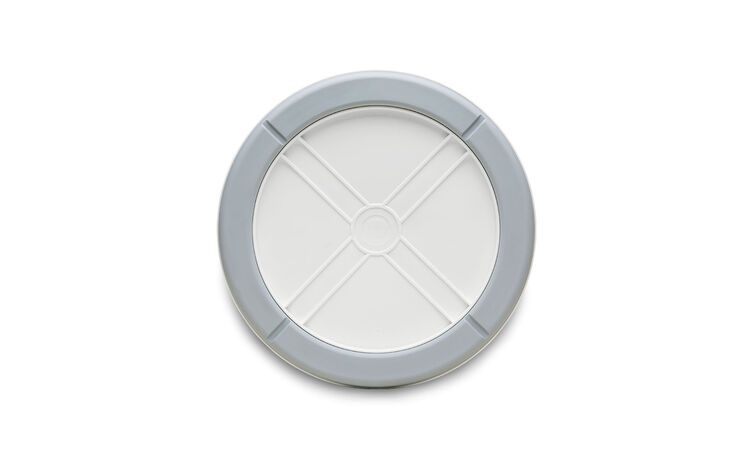 Yeti Bucket have a non-slip rubber ring at the base of the bucket which stops the bucket from moving when you put it down.
The non-slip rubber is the same type used for the feet of the Yeti coolers and it is also non-marketing so it won't scratch or mark your boat, table, floor or surface you put it on.
Food Safe
The Yeti LoadOut Bucket is also food safe, so you can use it to store any type of food you want to eat and it's BPA free too.
Affordable and Colorful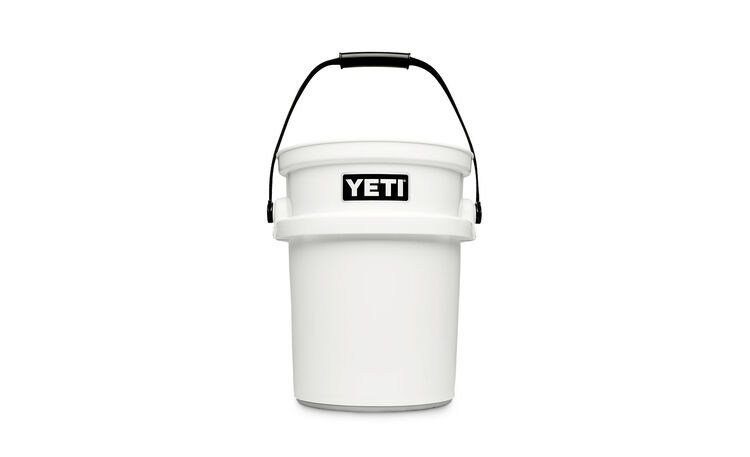 The Yeti LoadOut Bucket is more expensive than a regular bucket but it's no so expensive that it will break the bank or cost you an arm and a leg like a Yeti cooler might.
It also comes in a bunch of different colors and Yeti are constantly releasing limited edition seasonal colors, so you can express yourself with a bucket that is your style.
Click here to see all Yeti Bucket Colors at Amazon
Yeti LoadOut Bucket:
Accessorize: Make Your Bucket Even Better
Yeti also sells a few different accessories that are specifically designed for the LoadOut Bucket.
Just like all Yeti products these accessories are over engineered and extremely durable.
LoadOut Lid

Yeti LoadOut Lid:
The clear reinforced lid can handle up to 300 lbs of weight which makes it perfect for sitting or standing on.
It has a rubber gasket so it seals on well and stops if from splashing water (or smelling out your car if it's full of fish). The Dry Glide gasket combined with the 4-finger release tab and small hole to let air in makes it easy to pull off.
LoadOut Caddy

Yeti LoadOut Caddy:
The LoadOut Caddy is made of thick durable plastic that won't break when dropped and it sits nicely at the top of your Yeti Bucket and helps you keep everything organized.
It has 3 compartments (1 half and 2 quarters) and a handle that slides up when needed and slides down and away when not in use.
LoadOut Utility Belt

LoadOut Utility Belt:
The utility belt is made of thick, strong durable fabric and gives you 4 external pockets on your bucket, each with different dividers, as well as Molle webbing to add further pockets of accessories.
It slides on and off easily and is held into place with velcro tags. Perfect for organizing and carrying tools on the outside of your bucket.
2. BUDGET OPTION: Shurhold Deluxe Bucket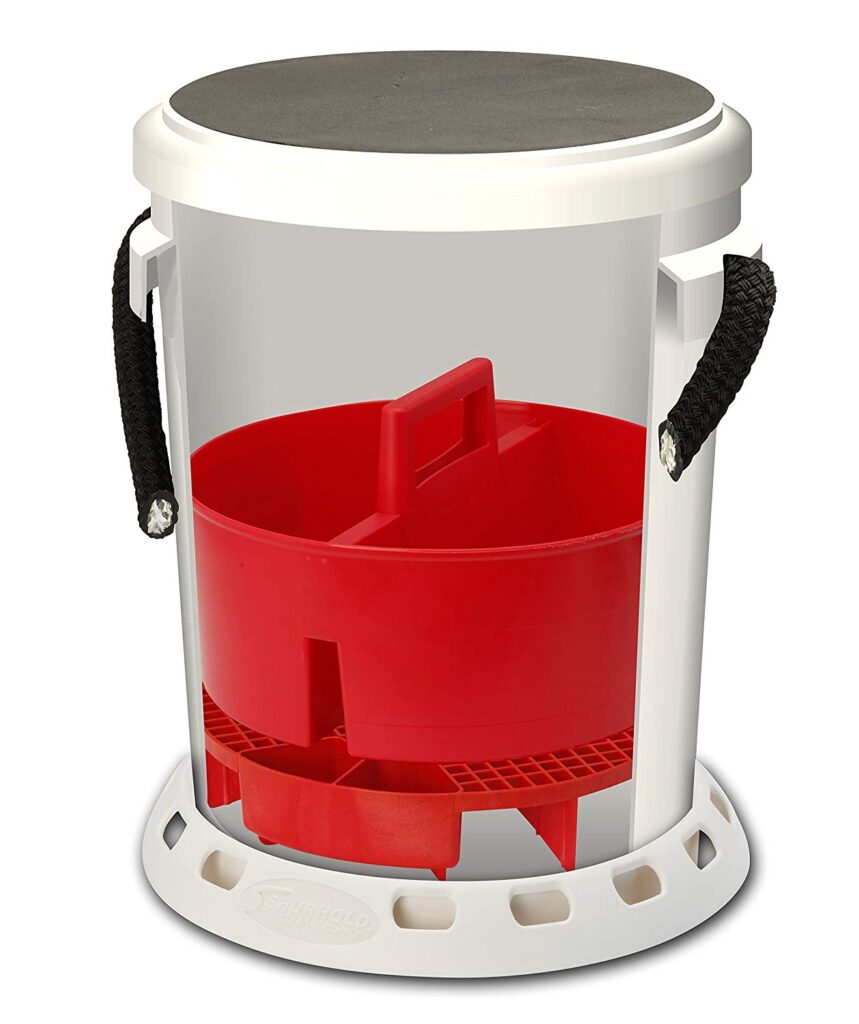 Shurhold Bucket:
Shurhold Bucket + All Accessories:
The Shurhold Deluxe Bucket is a good quality affordable bucket with some very useful accessories.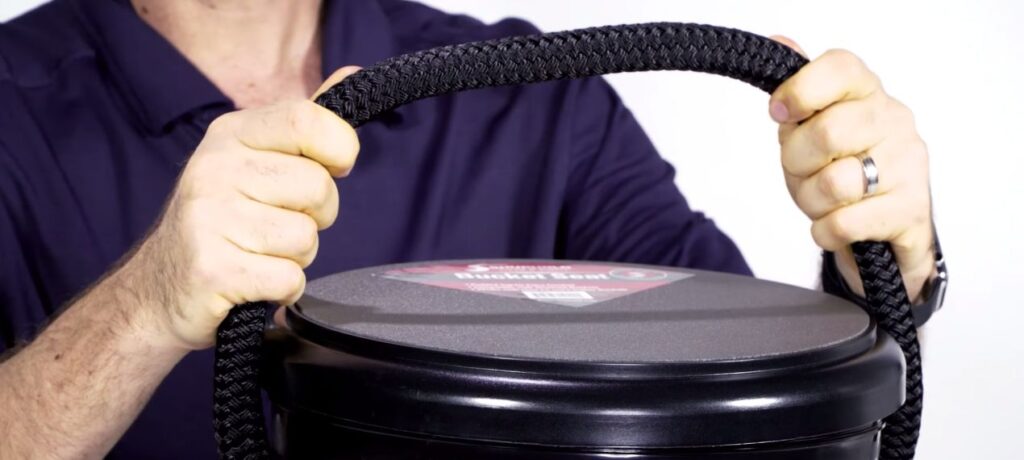 Overall it is a pretty standard 5-gallon bucket but they have replaced the thin metal handle with a thick and strong 3/4 inch nylon rope that is comfortable on the hands and won't pop out or corrode like a regular bucket handle.
The Deluxe edition also comes with a padded bucket seat, a non-slip bucket base, a perforated caddy and a bucket grate for catching dirt.
The accessories make the bucket much more practical and the bucket and accessories are much more affordable than the Yeti Bucket accessories.
If you're looking for a budget bucket that is a step up from the run-of-the-mill 5-gallon bucket then the Shurhold is the best option out there.
Below you can see a comparison between the Shurhold and Yeti Bucket and accessories.
SHURHOLD BUCKET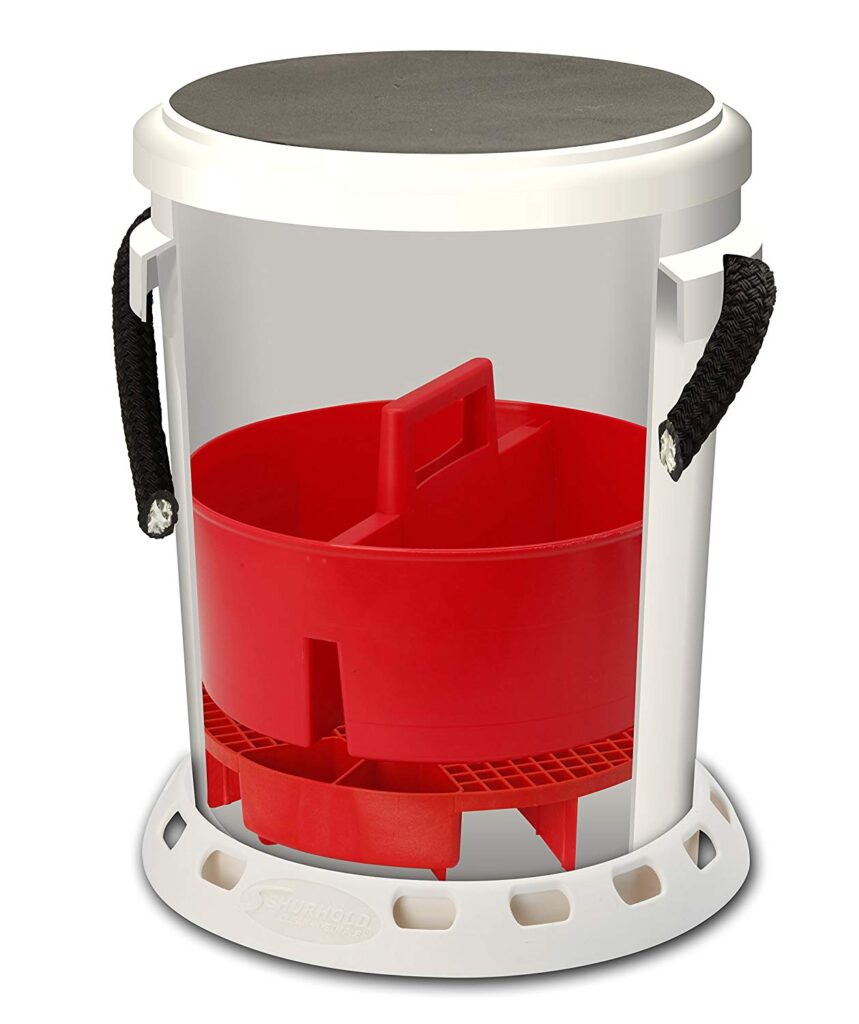 Shurhold Bucket:
---
Shurhold Lid:
---
Shurhold Caddy:
---
Shurhold Grate:
---
Shurhold Base:
YETI BUCKET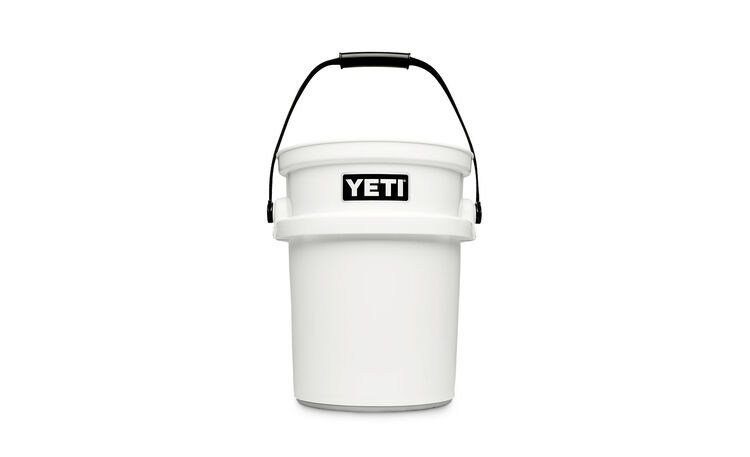 Yeti LoadOut Bucket:
---
Yeti LoadOut Lid:
---
Yeti LoadOut Caddy:
---
LoadOut Utility Belt:
3. PREMIUM QUALITY: Huck Performance Bucket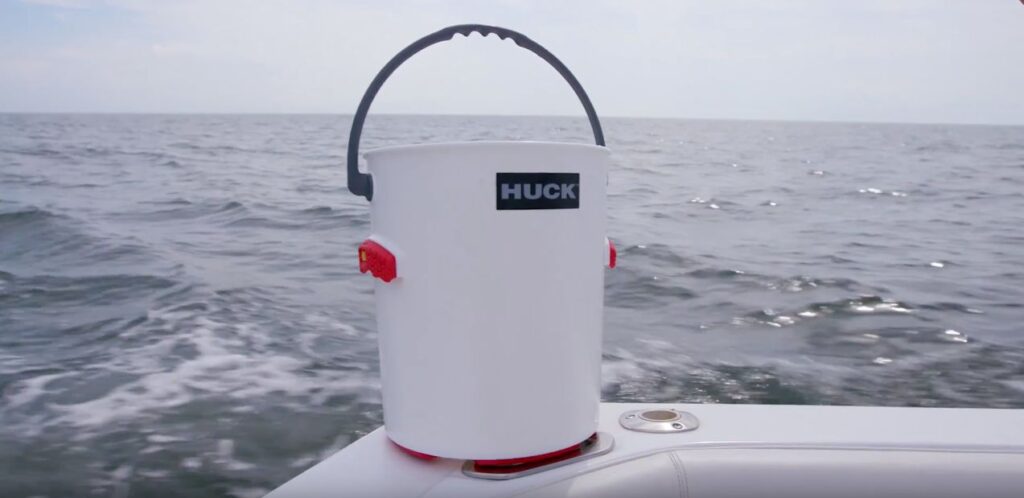 Huck Performance 5-Gallon Bucket:
The Huck Performance Bucket is the ultimate premium quality bucket that is even more rugged and durable than the Yeti, but for a much larger price tag.
Stronger Than Any Other Bucket
Rather than being made with HDPE the Huck Bucket is made from bendable performance polymer called SpryTech that is super tough and impact resistant.
It can withstand falls from as high as 2 stories without breaking (when full of water) and they even through a concrete block onto it. You can see in the pictures below the amount of flex in the bucket when the concrete block hits it, and then you can see it go straight back to shape and bounce in the air.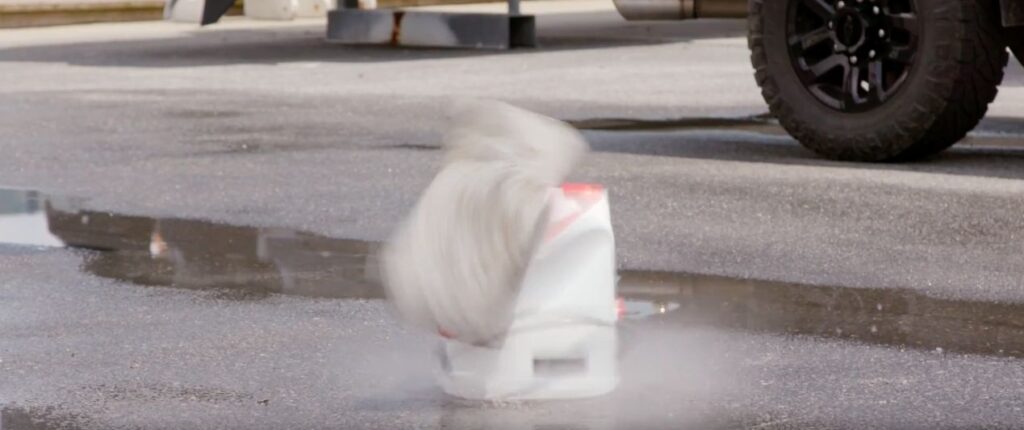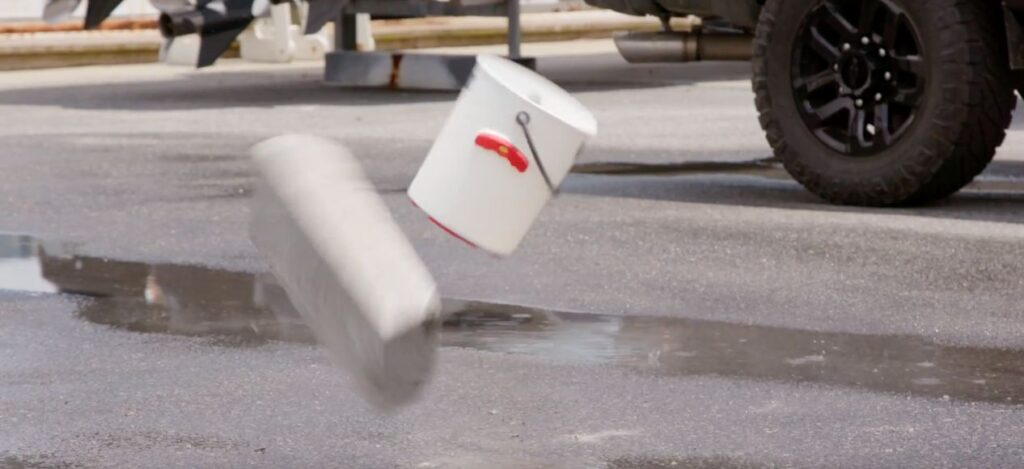 Super Strong Handle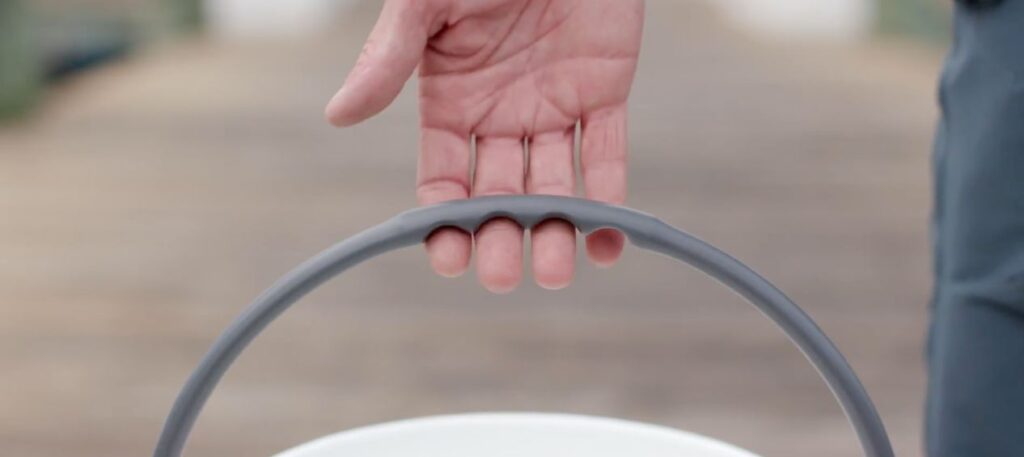 The Huck Bucket handle is thicker than a regular handle and is reinforced so that it won't pop out. It has finger grooves for comfort and has a StayPut system so it will stay in the position you leave it in without moving.
It can hld up to 600 lbs of weight without breaking, which is more than you'll even be able to fit in your bucket.
Non-Slip Feet and Side Handles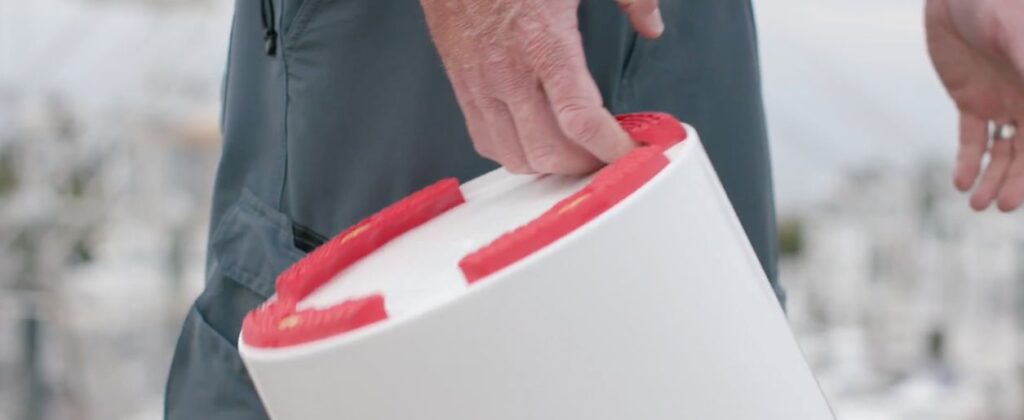 The Huck Bucket also comes with non-slip and non-marketing feet which have finger groves in them to give you more control when pouring or tipping your bucket.
You can even hold it upside down with one hand using the rubber feet.
It also has 2 rubber side handles for carrying with two hands.
Lifetime Guarantee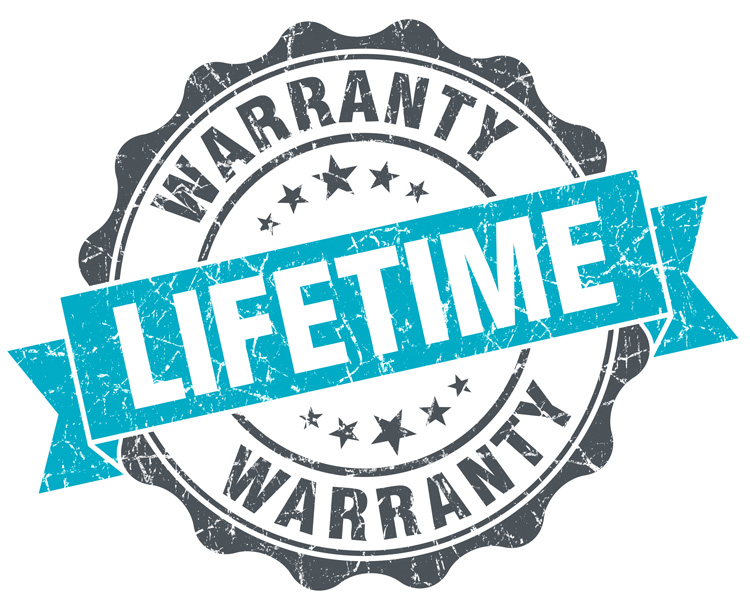 One of the best things about the Huck Bucket when compared to any other bucket on this list is that it is made in the USA and it comes with a lifetime guarantee.
Huck are so confident in their bucket if you aren't happy with it then they will replace it or refund you completely free of charge.
You'll spend more for this bucket but you can be confident in it knowing it'll last you a lifetime.
Huck Performance 5-Gallon Bucket:
4. BUCKET COOLER: Kula Cooler 5-Gallon Bucket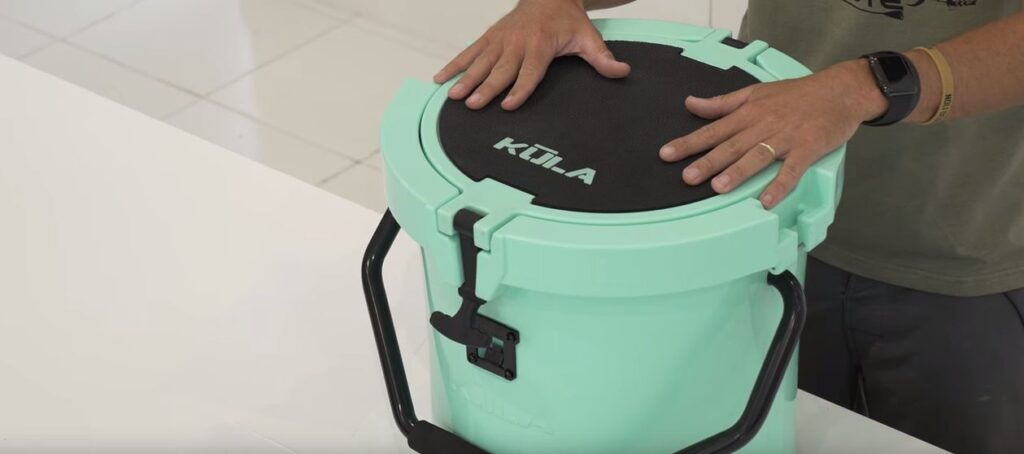 Kula 5-Gallon:
If you're looking for an insulated 5-gallon bucket that is gator-proof and can hold ice for 2-3 days then the Kula Cooler is a great option.
The Yeti LoadOut Bucket isn't insulated so it won't keep ice, and neither will the Shurhold or Huck buckets mentioned above.
The Kula Cooler has 1-1.5 inches of high-density insulating foam that both adds to it's strength as well as allowing it to keep ice for longer.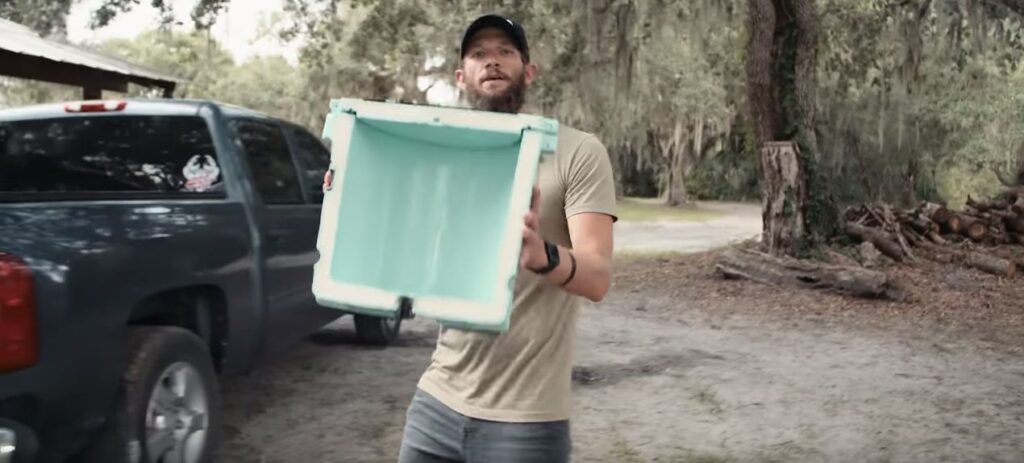 The lid is also insulated and has a freezer grade rubber gasket and pull down rubber latch to keep the cold air in and keep the warm air out.
The lid of the Kula cooler is also padded and has a Lid Trax grip which, when combined with it's non-slip and non-marking feet, make it perfect for either standing or sitting on.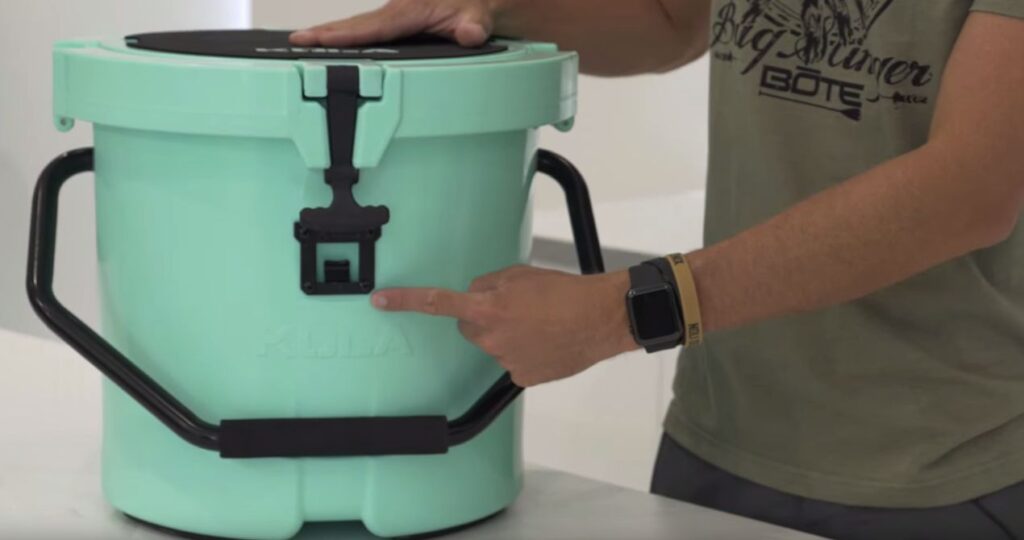 It has a thick and strong pull up padded metal handle that puts other 5-gallon bucket handles to shame.
It also has a built in bottle opener on the front as well as a drainage spout on the bottom.
If you're looking for a premium 5-gallon bucket that is insulated and can hold ice for days then the Kula cooler is a great option. Read my Kula vs Yeti comparison.
Similar Price To Yeti Coolers
The Kula is much more expensive than Yeti's LoadOut bucket and is more in line with the Yeti Roadie in terms of price.
KULA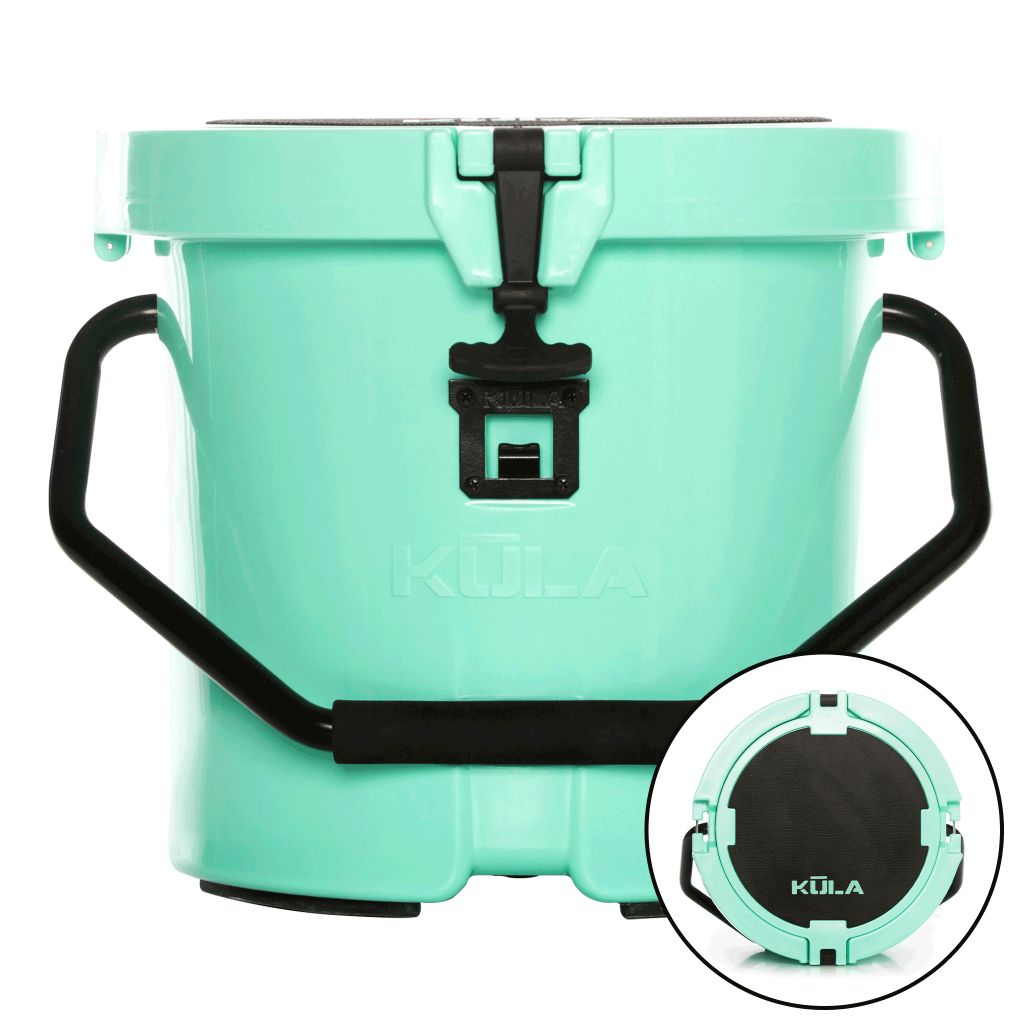 Kula 5-Gallon:
---
Kula 2.5-Gallon:
YETI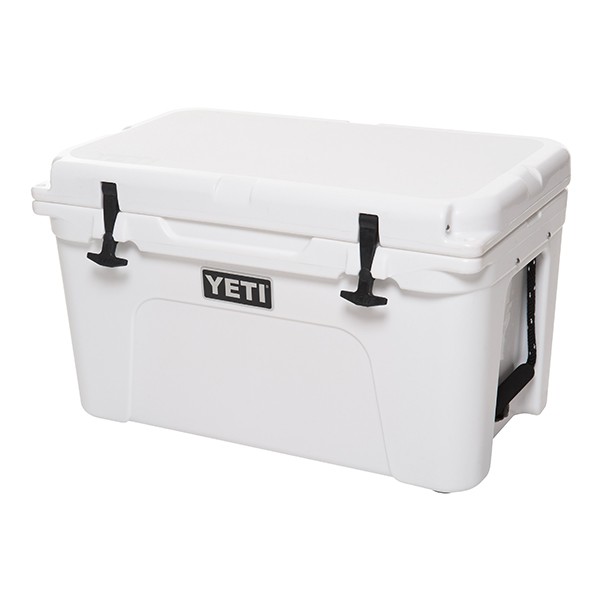 Yeti Roadie (20-Quart):
---
Yeti LoadOut Bucket:
5. Ozark Trail 5-Gallon Bucket and Water Jug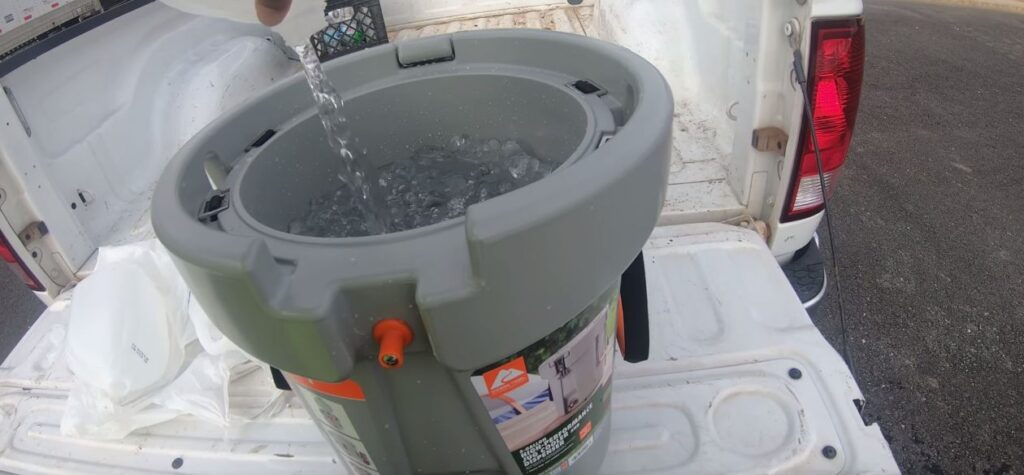 The Ozark Trail 20-Quart (5-Gallon) Cooler is the other insulated 5-Gallon bucket on the market and it is much more affordable than the Kula Cooler.
It is made from a tough roto-molded plastic and has 1-1.5 inches of insulation and can keep ice for 2-3 days.
It also has a spigot, so it can also be a drinks dispenser or water jug. The spigot is recessed so it's less likely to get caught on things and break.
Instead of a single pull up handle like most 5-gallon jugs the Ozark Trail has 2 rope handles on the sides of the bucket. So it does require two hands to carry it.
See the latest price of the Ozark Trail Round Cooler at Walmart.com
Read my full review of the Ozark Trail round cooler
6. Frabill Sit-N-Fish Insulated Bucket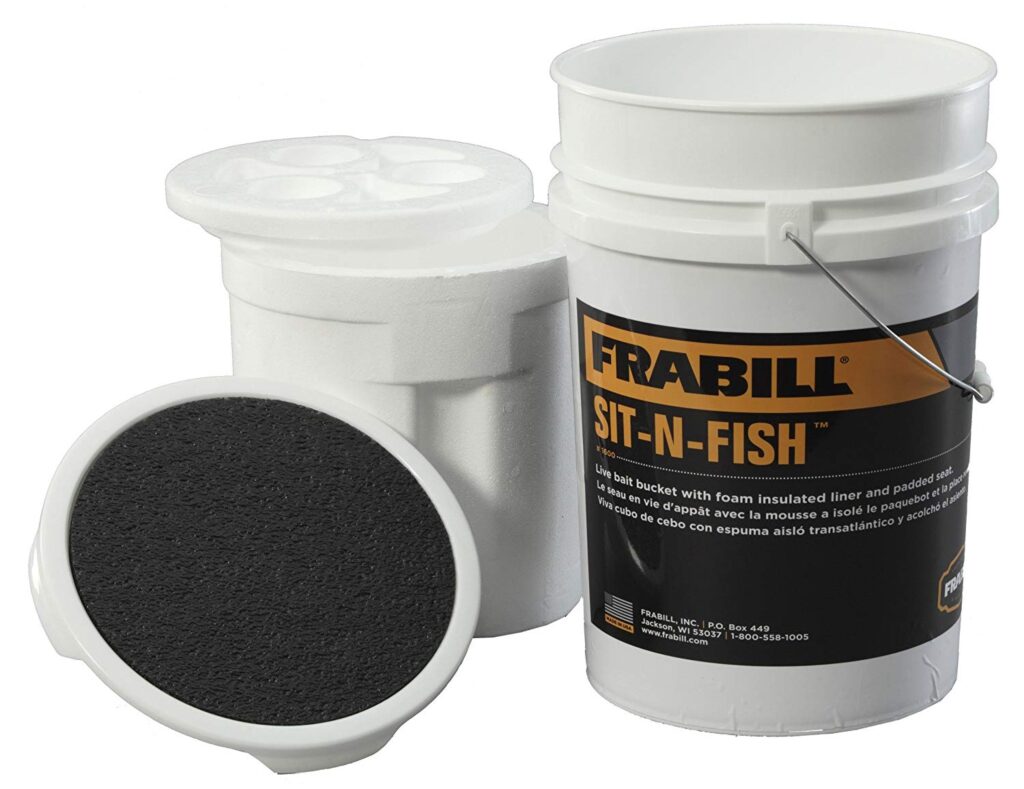 Frabill Sit-N-Fish Insulated Bucket:
The Frabill Sit-N-Fish bucket comes with an insulated styrofoam liner as well as a padded lid that you can sit on.
It's slightly taller than a regular 5-gallon bucket which makes it more comfortable to sit on. This is great for keeping your bait or your drinks cold for a full days fishing.
7. Commercial Food Grade Bucket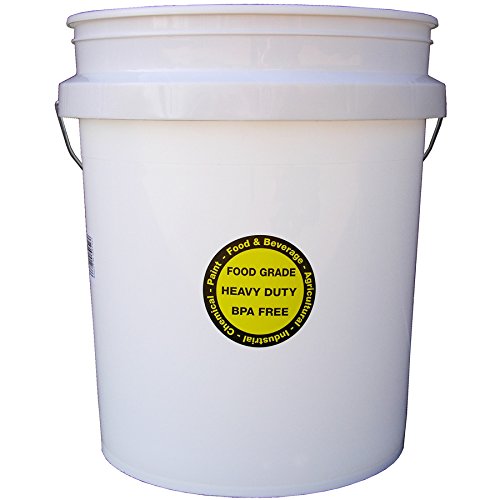 Commercial Food Grade Bucket:
Not all 5-gallon buckets are made from a food-safe plastic. But this 5-gallon bucket is FDA approved food-grade and is locally made in the USA.
The reinforced rings around the top help to stop it from deforming when carrying and also act as a good handle.
8. Argee Black Bucket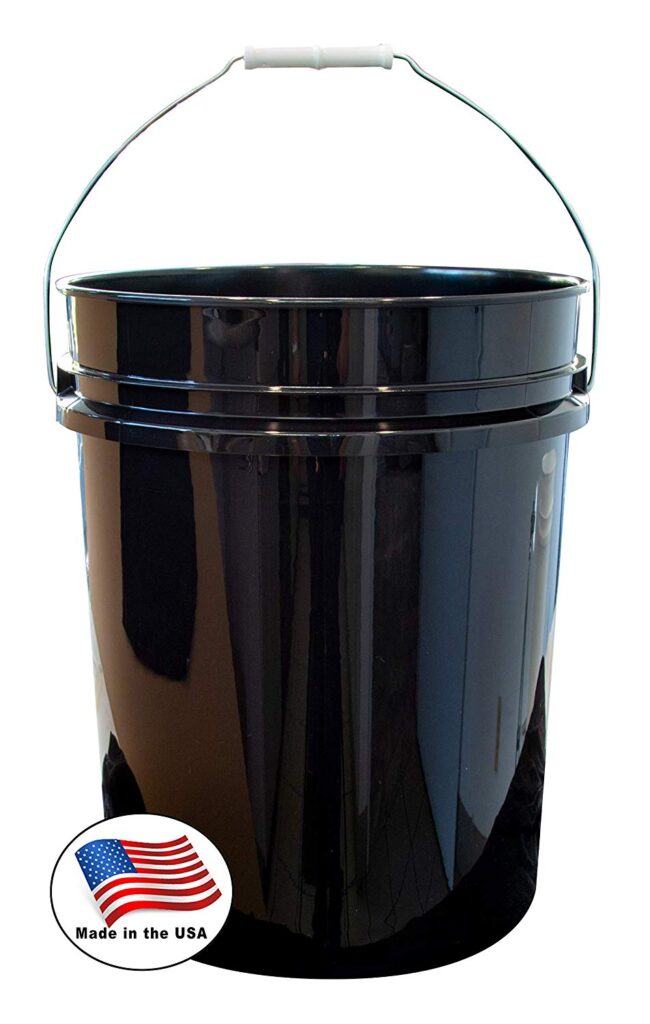 Agree Black Bucket:
The Argee Black Bucket is a heavy-duty shiny 5-gallon bucket with a reinforced upper rim. The black versions are made for general purpose work while the white versions are food safe.
They come in multiple different sizes and are made in the USA.
9. Hudson Exchange Premium Bucket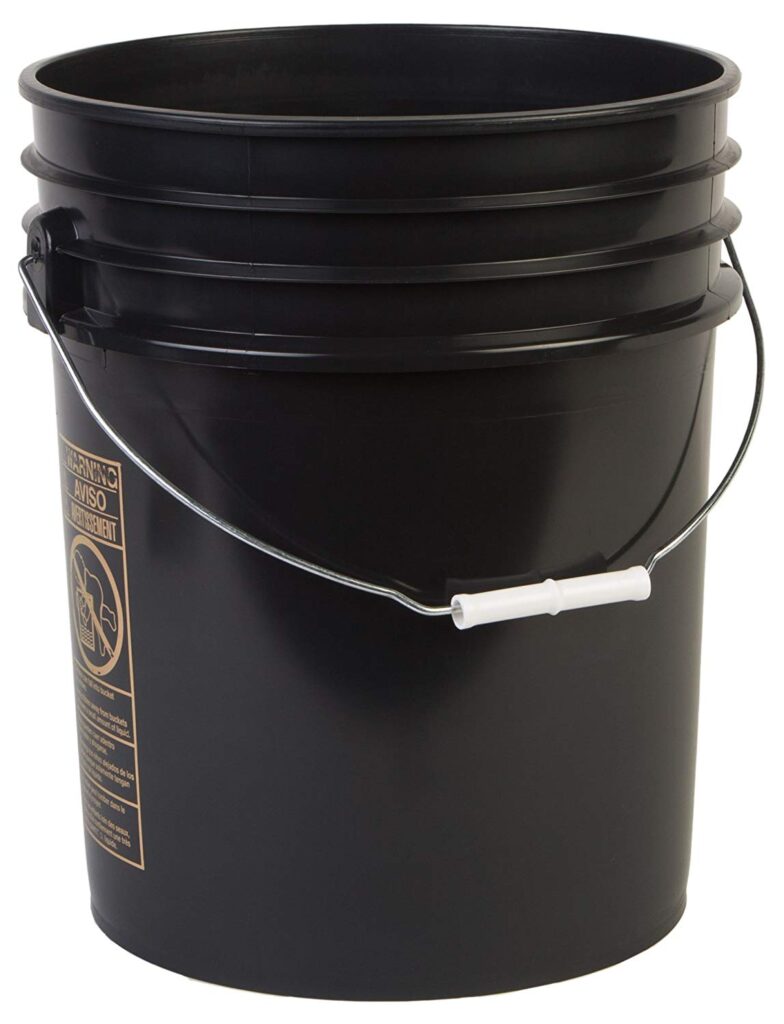 Hudson Exchange Premium Bucket:
The Hudson Exchange Premium Bucket has a slightly taller height when compared to other 5-gallon buckets and it has a shiny polished surface to make it look nicer when compared to other buckets.
It has a tapered design which allows you to stack buckets together and reinforced ribs that the top to help it maintain it's shape.
It's a good affordable bucket and you can buy them just as single buckets or you can save money by buying them in groups of 3, 6, 12 or 120.
10. SeaChoice 5-Gallon Bucket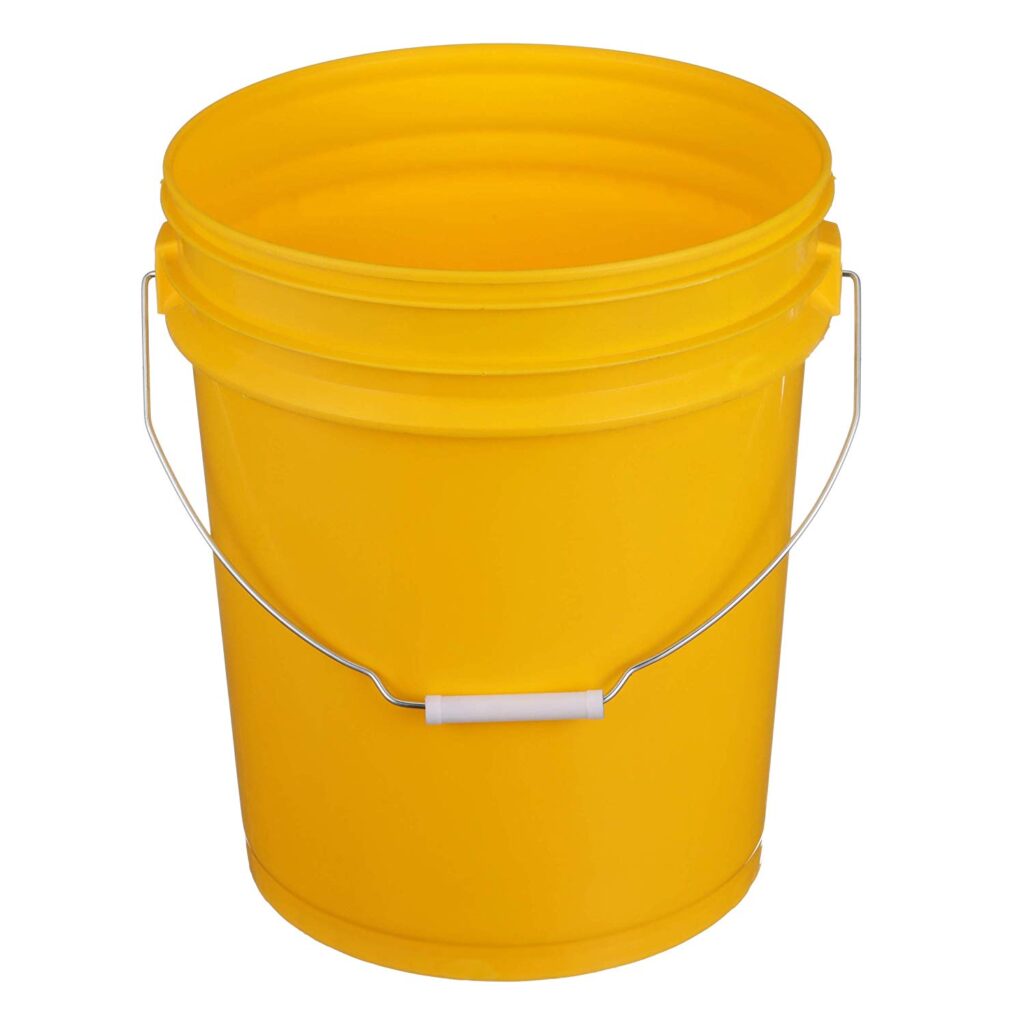 SeaChoice 5-Gallon Bucket:
The SeaChoice yellow 5-gallon bucket adds a splash of color into your life.
Otherwise it's just a basic and affordable 5-gallon bucket and there isn't a whole lot that is special about it.