The Yeti LoadOut Bucket is made from strong and thick HDPE plastic but it is it NOT insulated like a Yeti cooler and therefore it does not hold ice very well, approximately 1-day maximum.
The thick plastic does provide slightly more insulation that a regular 5-gallon bucket or a metal drinks tub but you can only expect the Yeti bucket to hold ice for approximately a few hours, if that.
Yeti coolers are made from polyethylene plastic with a thick 2-3 inches of polyurethane foam in the walls and lid. This polyurethane foam is what gives Yeti its insulating powers and allows it to keep ice for over a week.
The Yeti LoadOut Bucket doesn't have any polyurethane foam in the sides, base or lid so it's not very good at keeping ice.
The Yeti Tank is a better drinks cooler or if you're specifically looking for an insulated 5-gallon bucket then either the KULA Cooler or the Ozark Trail Round Cooler are the best round coolers.
How To Turn a Yeti LoadOut Bucket Into a Cooler
If you do want the Yeti LoadOut Bucket to hold ice then there are two different 5-gallon bucket accessories that you can buy to turn your Yeti bucket into a cooler.
Styrofoam Liner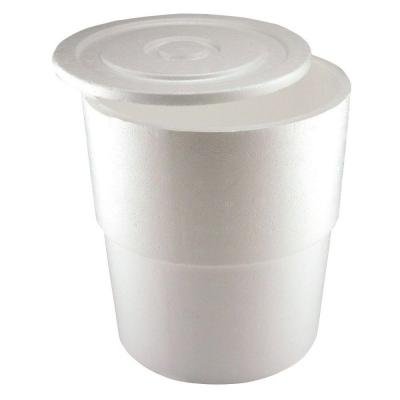 You can buy styrofoam liners that are designed specifically to slide into a 5-gallon bucket like the Yeti LoadOut Bucket. You can then put your ice and drinks in there and it'll keep ice longer.
The styrofoam liner even comes with a lid for further insulation and if you have a Yeti LoadOut Lid that will add even better insulation as it has a gasket to keep the warm air out and keep the cold air in.
This is a fairly cheap way to turn your Yeti LoadOut Bucket into a cooler.
Black Bucket Seat Lid:
Dakine Party Bucket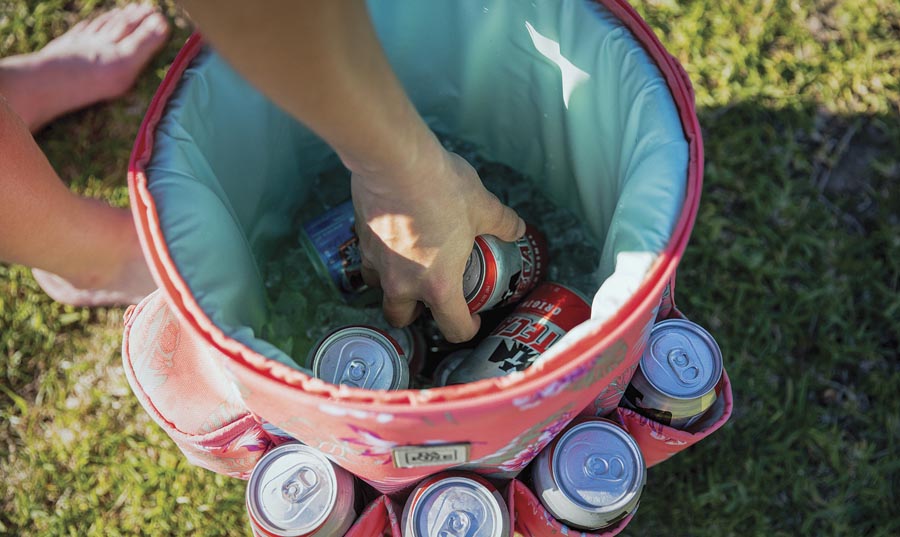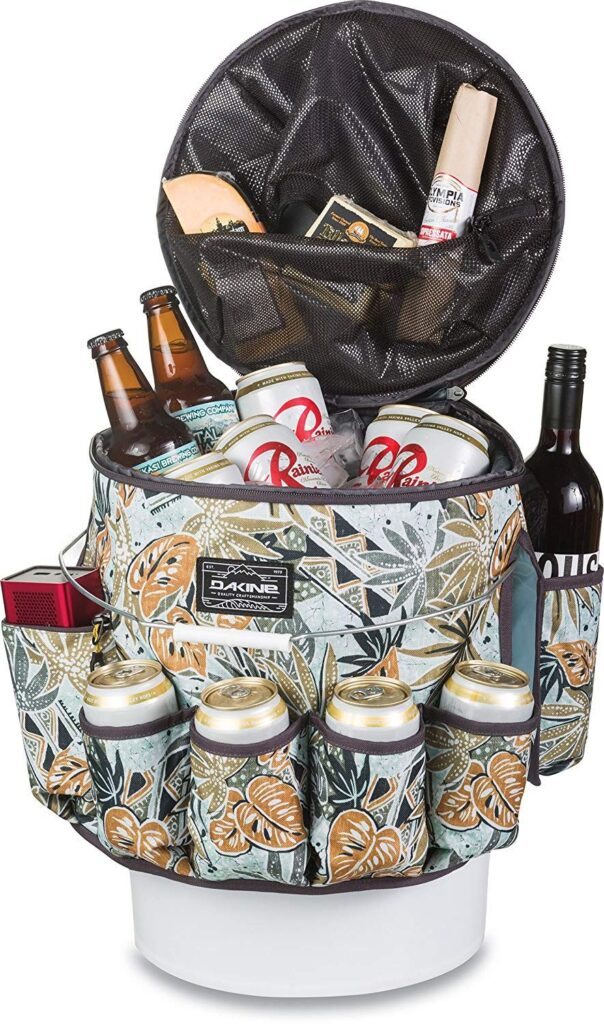 Dakine Party Bucket:
The Dakine Party Bucket is another cooler liner that turns any 5-gallon bucket into a cooler and drinks caddy.
It slides into your bucket and fits perfectly inside. The inner walls are insulated to keep ice longer and the bottom is made of mesh meaning the water will stay in the bucket so you can easily dry it.
It has a zip top lid for dry storage and 10 external drink holders. 8 for cans or small bottles and 2 for wine bottles or other items.
It comes in lots of different colors and patterns and is a pretty useful addition to a Yeti Bucket.
These accessories will help the Yeti Bucket to hold ice better and you should get a full day out of it, maybe even 1.5-2 days but it still isn't going to hold ice as well as a regular Yeti cooler.
Dakine Party Bucket:
What Is a Yeti LoadOut Bucket Used For?

Yeti LoadOut Buckets are food safe and used for so many different things from food storage to storing nails, tools and other hardware.
A Yeti LoadOut Bucket can be used for anything people traditionally use a 5-gallon bucket for.
Fishers use them to keep live bait, to store caught fish, to store gear like lures and tools they need for a day out fishing. The LoadOut lid can hold up to 300 lbs so is strong enough to sit or stand on and the caddy and utility belt can help keep things organized.
Hunters use the bucket, gardeners use the bucket, boat owners use the bucket.

A lot of people use the bucket for storing tools, nails, screws and anything else they need to get their latest job done. The utility belt is great for hammers, scream drivers, wrenches, chisels and keeps everything organised and within easy access. The internal caddy can be used to organise screw, nails and other smaller items and the handle is thick, strong and comfortable so you can carry a lot of gear without it hurting your hand.
You can use a Yeti 5-gallon bucket as a seat or as a step to get up to high to reach places. You can use it to store food as it's completely food safe plastic.
Whatever you want to use a 5-gallon bucket for you can use the Yeti LoadOut bucket for. There are so many good uses for quality products like the Yeti bucket.
Yeti LoadOut Bucket:
Is The Yeti LoadOut Bucket Insulated?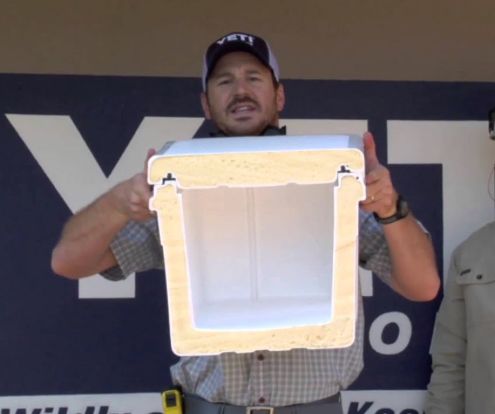 The Yeti LoadOut Bucket is NOT insulated. It is made from thick HPDE and it is 3x thicker than a traditional 5-gallon bucket, but it does not have the polyurethane insulation that Yeti coolers have.
Yeti coolers have 1.5-2 inches of insulation in the sides and 2-3 inches of insulation in the lid. It has an inner and outer shell of roto-molded plastic that is then filled with pressure injected polyurethane foam which sets hard adding further strength to the cooler.
The Yeti Bucket on the other hand doesn't have an inner and outer shell. It is just one solid piece of plastic and so there is no room to fit any insulation.
If you want to insulate the Yeti Bucket you need to do so by adding a separate styrofoam liner or bucket cooler/caddy.
Does Yeti Make an Ice Bucket?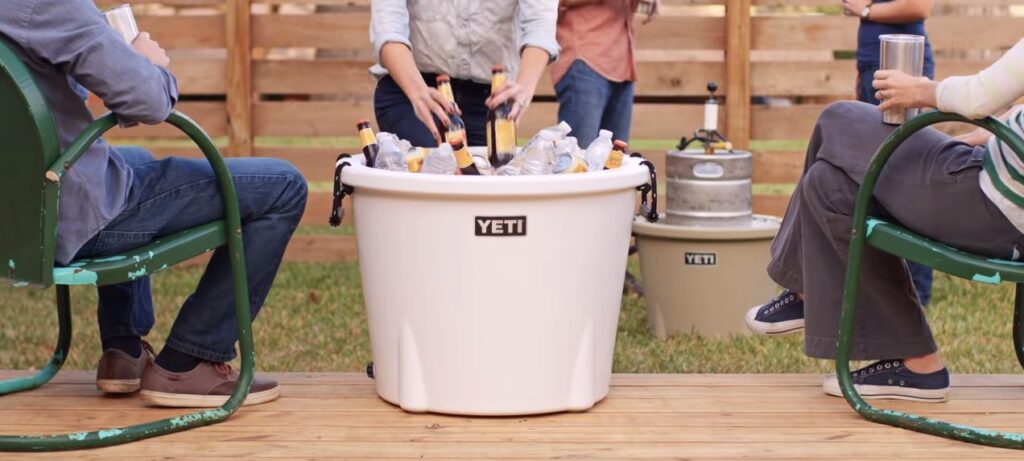 Yeti make 2 sizes of ice bucket – the Yeti Tank 45 and Yeti Tank 85. They are large, wide insulated buckets designed to be perfect for keeping drinks cold at a party, backyard barbecue or any other event.
The Yeti Tank drinks buckets are round and have 1.5-2 inches of insulation all the way around. This mean they can keep ice for around 2-3 days and it also means that they don't sweat and drip water onto the floor like a regular stainless steel drinks bucket.
The fact that they don't drip water and their non-slip and non-marking rubber feet make them perfect for inside events as they won't get your floor/table wet and they won't scratch any surfaces either.
There is an optional lid that comes at an extra cost which helps keep drinks cold even longer and doubles as both a seat and a cutting board.
The Yeti LoadOut Bucker is a 5-gallon bucket, but it isn't designed to hold ice as it doesn't have any insulation.
Below you can see the prices of the Yeti Tank ice buckets.
Yeti Tank 45:
Yeti Tank 85:
Can You Use The Yeti LoadOut Bucket as a Cooler?
You can use the Yeti LoadOut Bucket as a cooler, but as it has no insulation the ice isn't going to last very long. A Yeti Cooler can hold ice for 3-7 days whereas a Yeti Bucket would struggle to keep ice for even a single day.
If you really want to use the Yeti LoadOut Bucket as a cooler it is suggested that you buy either a styrofoam liner, which adds a layer of insulation and an extra lid to the inside of the bucket, or add a cooler/caddy slip like the Dakine Party Bucket.
What Is a Yeti LoadOut Bucket?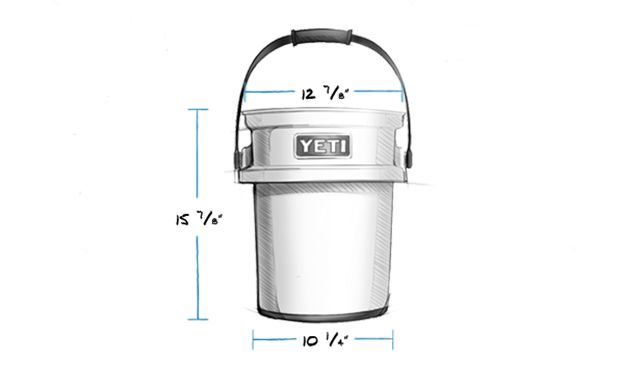 A Yeti LoadOut Bucket is an overbuilt 5-gallon bucket. It's 3x thicker than a traditional 5-gallon bucket and is virtually indestructible. It has a strong canvas handle with thick plastic hand hold that makes carrying the bucket much more comfortable. It has a non-slip base so it won't slide around and it comes with a 5-year warranty.
The Yeti LoadOut Bucket is likely going to be the last 5-gallon bucket you ever buy.
To be honest, Yeti hasn't completely reinvented the 5-gallon bucket in the same way they didn't reinvent the cooler. They just took an average product category and make something that was much better and much more durable.
The Yeti Bucket does have some cool features and accessories you can purchase for it too.
Read my full Yeti LoadOut Bucket review here
Yeti LoadOut Bucket:
What Yeti Loadout Bucket Accessories Are Available?
The Yeti LoadOut Bucket comes with 3 Yeti accessories specifically designed for the bucket.
Yeti LoadOut Lid

The Yeti LoadOut Lid is a hexagonal reinforced plastic lid that can hold up to 300 lbs making it perfect for sitting on or standing on without you ever having to worry about breaking it.
It has a dry glide gasket that keeps the lid firmly on the bucket, but is also easy to lift off. There is a 4 finger tab that sticks out from the side allowing you to get a good grip and pull the lid off.
The lid is completely clear and see through allowing you to see the contents of your bucket without having to open the lid.
This is understandably the most popular of the Yeti Bucket accessories. To see it on Amazon or to grab one yourself click the price link below.
Yeti LoadOut Lid:
Yeti LoadOut Utility Belt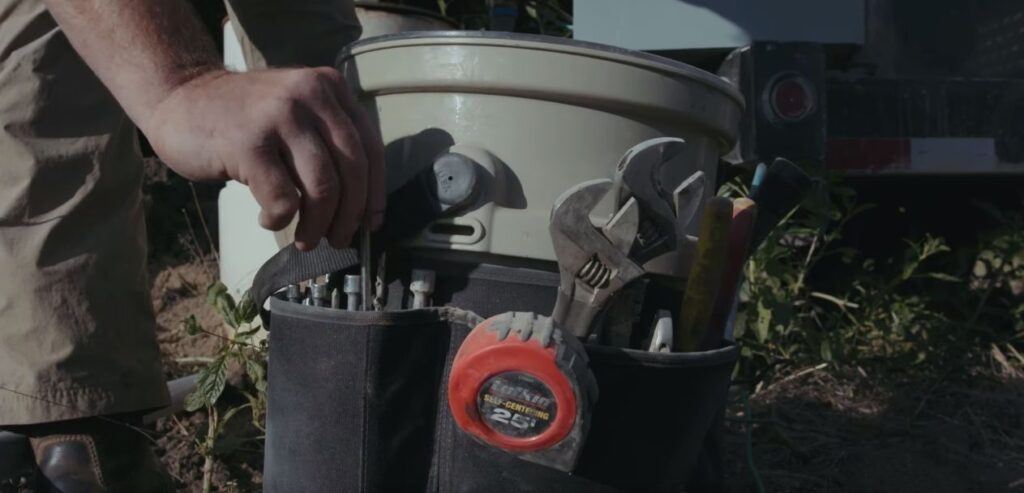 The Yeti LoadOut Utility Belt fixes easily onto the outside of your bucket and provides you with multiple pockets for storing tools or other items and allows you to keep them organized and easily in reach.
You can easily add or remove it and it fixes on to the outside with velcro straps.
There are 4 main pockets, each with different divider sizes as well as Molle webbing on the side that allows you to add any of your molle accessories.
LoadOut Utility Belt:
Yeti LoadOut Caddy

The Yeti LoadOut Caddy is designed with 3 compartments (2 quarters and 1 half) and sits nicely on the top of your Yeti Bucket so you can still store things underneath it.
This is an improvement on the Shurhold Caddy (Shurhold make the best Yeti Bucket alternative) which slides down to the bottom on the bucket.
The Yeti Caddy has a handle that slides down when in the bucket so it tucks away nicely and doesn't take up extra space, but slides up so you can easily grab the caddy and carry it wherever it needs to go.
The Yeti Caddy is built from a tough plastic that is resistant to cracks and breaking so you can throw it around, just like the bucket, without being scared of breaking it.
Yeti LoadOut Caddy:
Any Other 5-Gallon Bucket Accessories
At the end of the day the Yeti 5-gallon bucket is just an improved 5-gallon bucket, but it's still extremely similar in size and design.
This means that a lot of accessories made for regular 5-gallon buckets also work with the Yeti LoadOut Bucket.
Things like external organizers, caddies and grit traps, dollies and buggies. Even this bucket wet/dry vacuum should work with the Yeti Bucket.
Click here to read my full list of the best bucket gadgets and accessories
How Much Do Yeti LoadOut Buckets Cost?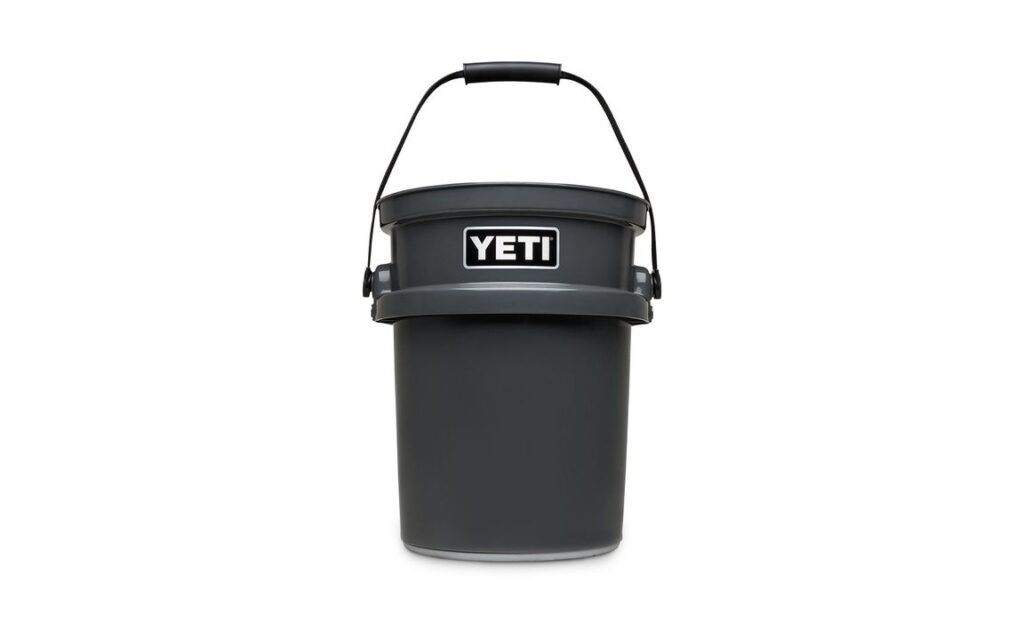 The Yeti LoadOut Bucket by itself is fairly inexpensive when compared to other Yeti products. The Yeti Bucket costs just PRICE by itself but if you want to deck it out you will also want to buy the accessories. The LoadOut Lid costs PRICE, the LoadOut Caddy costs PRICE and the LoadOut Utility Belt costs PRICE.
If you add all of these costs together you're looking at a 5-gallon bucket that costs you over $100. But for the strength, durability and practicality you get from it I personally think it will be worth it for a lot of people.
Other cheaper 5-gallon buckets may costs less but they tend not to last as long and aren't as comfortable to use. So while the Yeti Bucket may cost more upfront it can offer better value for money because it lasts longer.
Below you can see some comparisons between the Yeti Bucket and other buckets on the market.
YETI BUCKET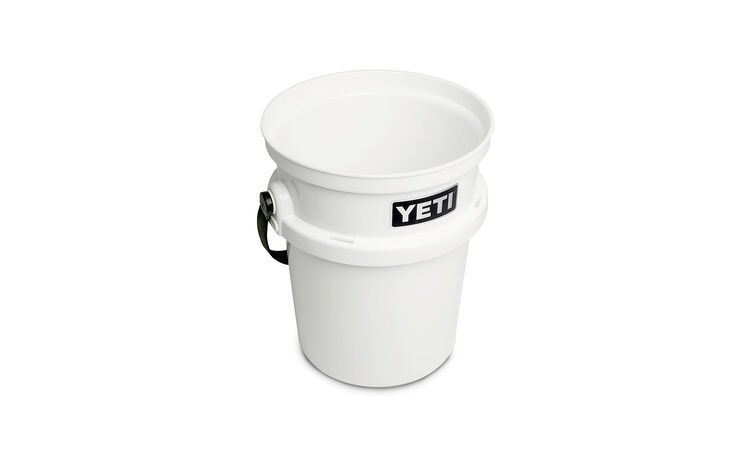 Yeti LoadOut Bucket:
---
Yeti LoadOut Lid:
---
Yeti LoadOut Caddy:
---
LoadOut Utility Belt:
OTHER BUCKETS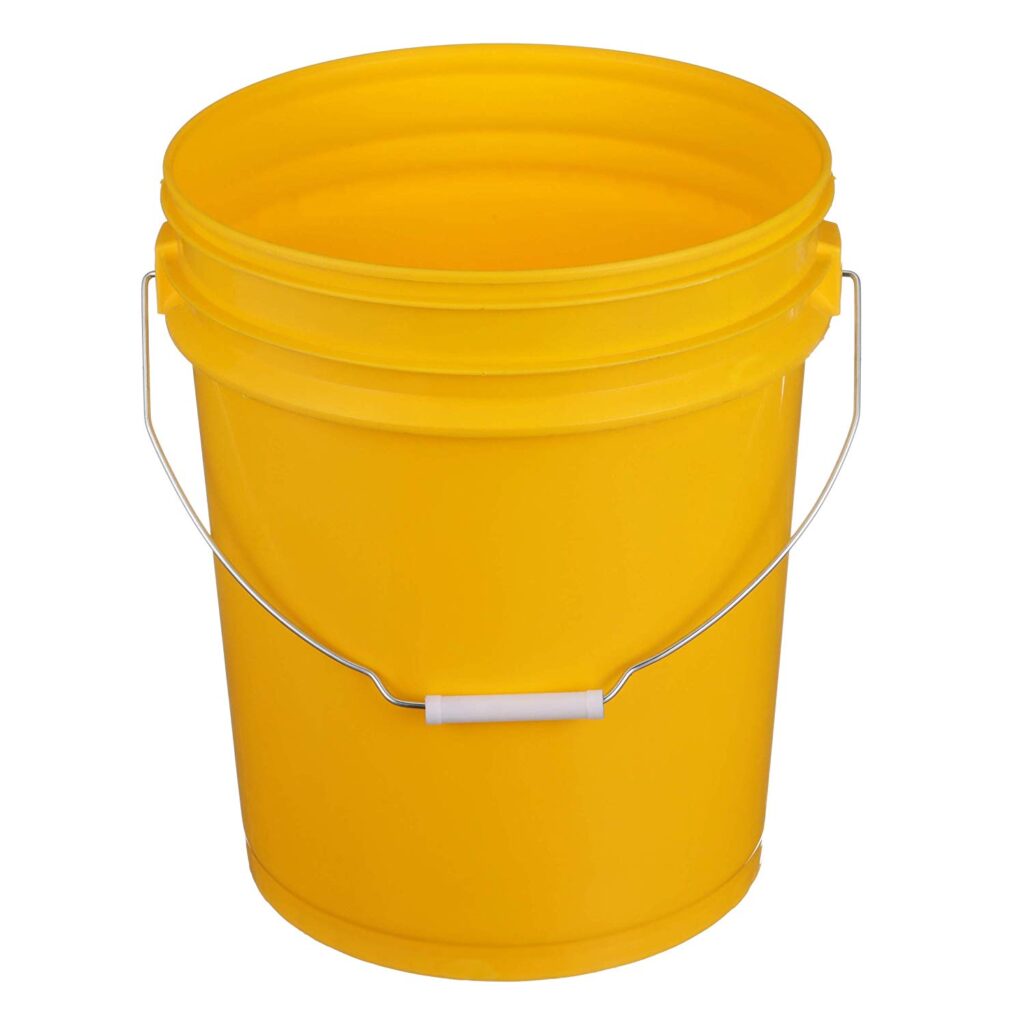 Cheap Generic Bucket:
---
Shurhold Deluxe Bucket:
---
Huck Performance Bucket: