No one likes warm beer and Yeti and Brumate some of the best insulated beer koozies on the market, keeping your beer cold up to 20x longer than a regular foam koozie. They also have options for wine, spirits and other drinks.
But when it comes to Brumate vs Yeti which is the better option and which should you spend your hard earned money on?
With summer on it's way and wanting to keep my beers as cold as possible for as long as possible I wanted to have a look at these 2 popular brands and compare them to see which is better value for money and which brand I would recommended.
Brumate are slightly cheaper than Yeti and more versatile – doubling as a can coozie and a cup. They have a lifetime warranty while Yeti only offers a 5-year warranty. But Yeti Colsters are more durable and are also dishwasher safe.
Both brands actually offer great products so it can be difficult to choose between one or the other. But in this article I want to dive deep into the difference between Brumate and Yeti so you can decide which product is right for you.
Quick Summary
For a lot of people the Brumate is going to be the better choice because it offers you better value for money and versatility.
Their 2-in-1 Hopsulator Duo is a similar size to the Yeti and sells for almost exactly the same price. But it comes with a lid allowing it to double as a vacuum insulated travel mug.
Also for the same price you can get the 3-in-1 Hopsulator TRIO which fits either a 12 oz or 16 oz can, has a sip lid that turns it into a travel mug AND it comes with a perfectly sized ice brick that will help keep your 12 oz cans or bottles colder for longer. That seems like a no brainer to me!
However, Yeti is a very well know brand name and they make some of the best quality and most durable products on the market. Their Yeti Colsters are dishwasher safe and if you're a Yeti fan or you want to go for the safer option when it comes to durability then Yeti might be the better choice for you.
Brumate is Better For:
Value for money
Doubles as a travel mug
More color and print options
Wider variety of can coolers and barware
Perfectly sized ice brick to keep drinks cold even longer
See the latest price of Brumate 3-in-1 Hopsulators at Amazon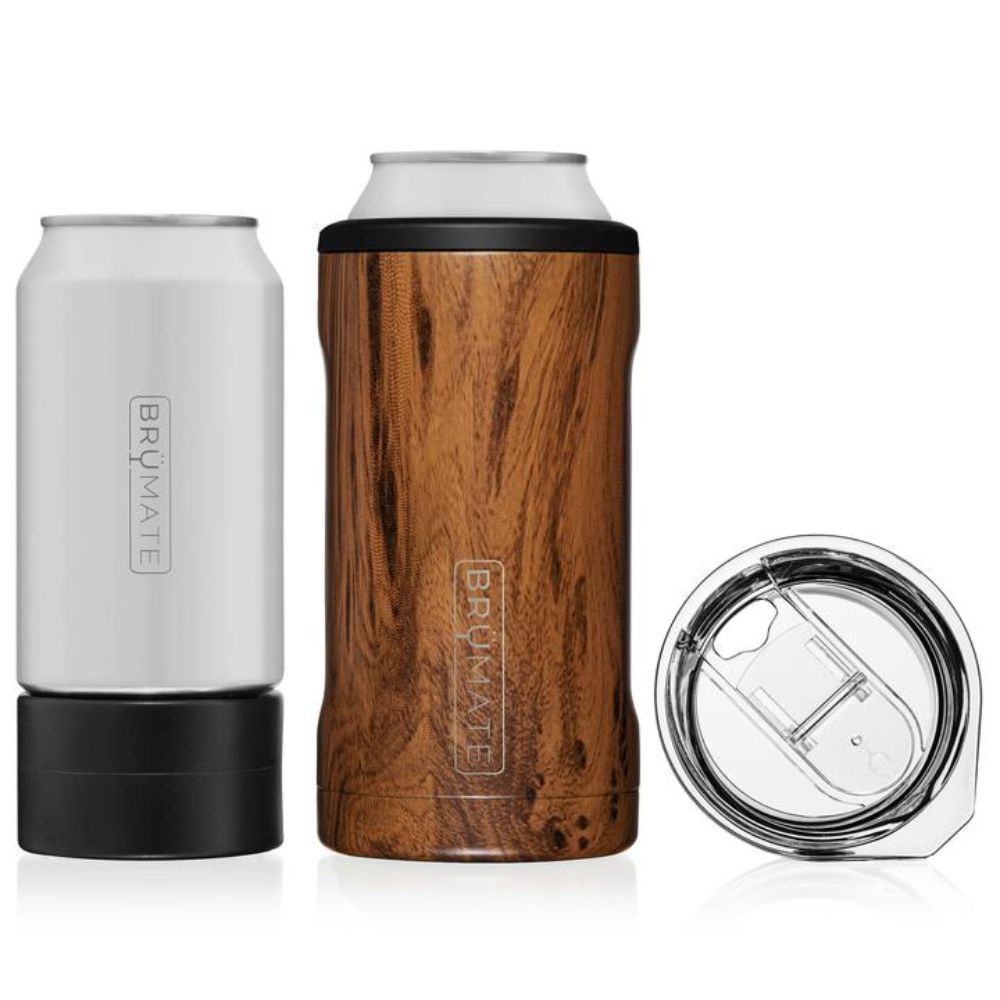 Yeti is Better For:
Durability
Dishwasher Safe
Being a well known brand
See the latest price of the Yeti Colser at Yeti.com
(or compare to the latest price of the Yeti Colster at Amazon)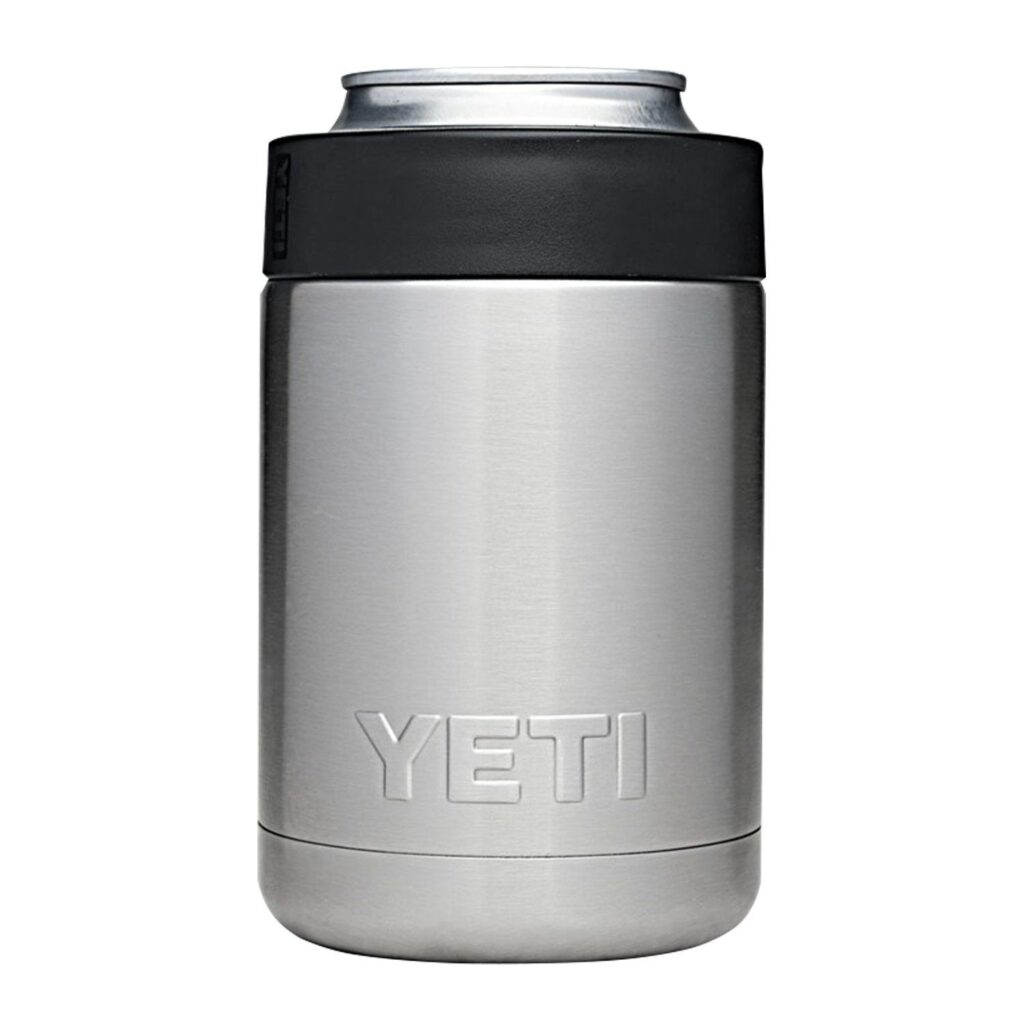 Brumate vs Yeti Comparison
BRUMATE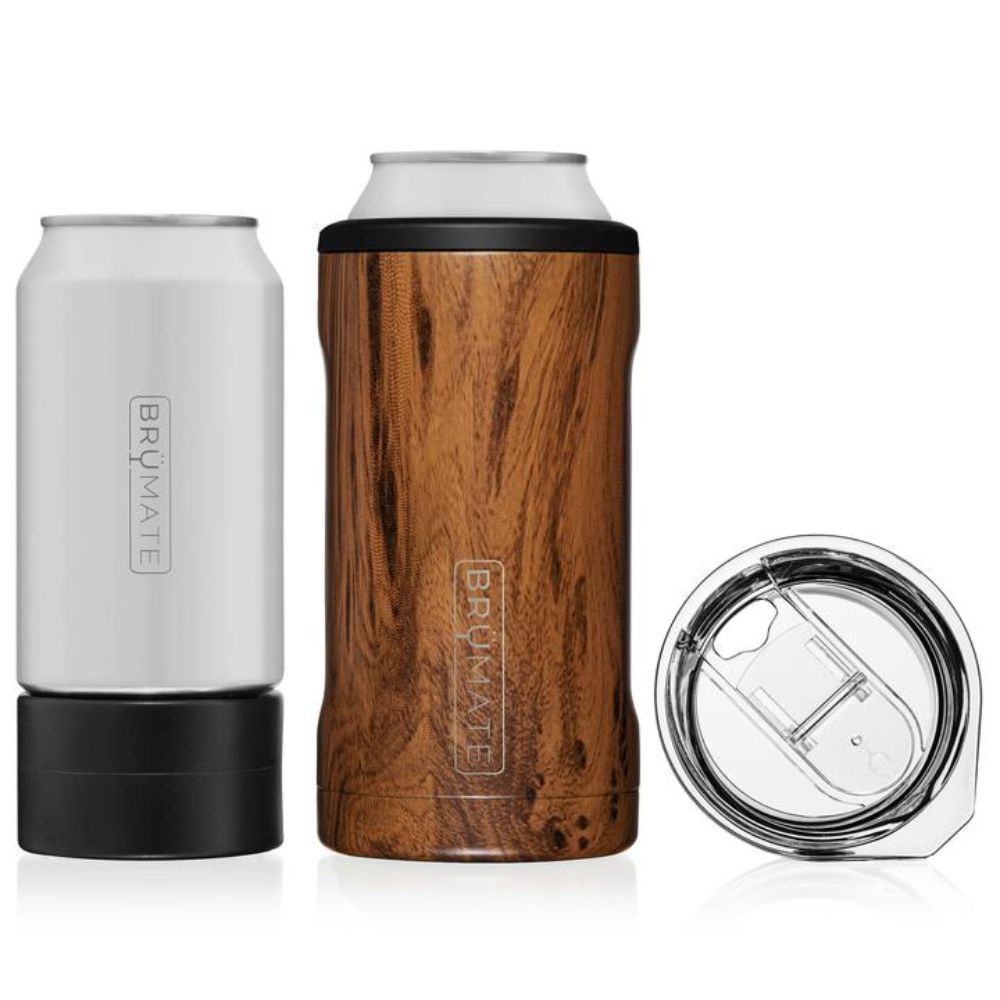 Slightly Cheaper
See latest prices at Amazon
Sizes: 12 oz, 16 oz, 24/25 oz, 12oz slim, 12 oz bottle, 16 oz bottle
Positives:
Better value for money
Ice pack means you can keep drinks colder longer
More color and design options
Doubles as a travel mug
Lifetime warranty
Negatives:
YETI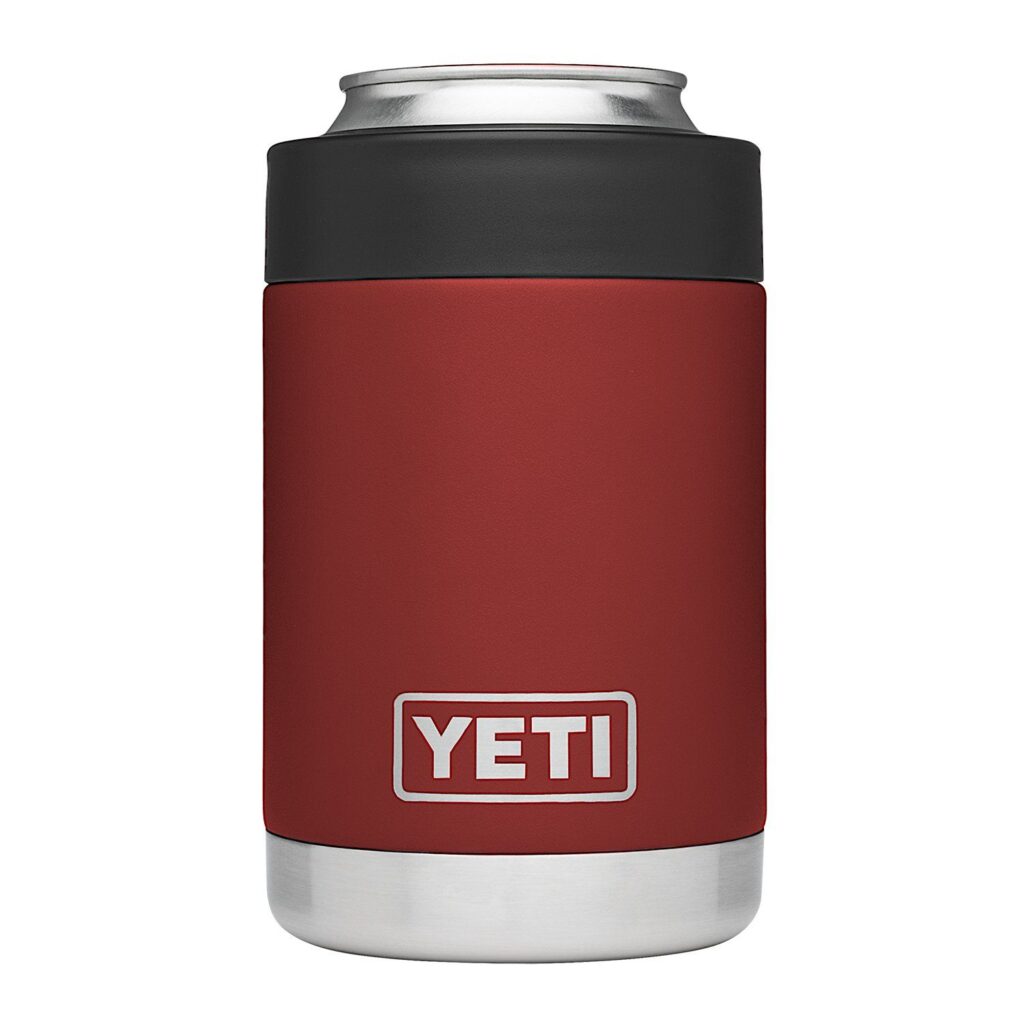 Slightly more expensive
See latest prices at Yeti.com
Sizes: 12 oz, 16 oz, 12 oz slim
Positives:
Extremely durable
Dishwasher safe
Well known brand
Negatives:
Doesn't really double as a travel mug
Only 5 year warranty
Less color and size options available
Performance
Winner: Both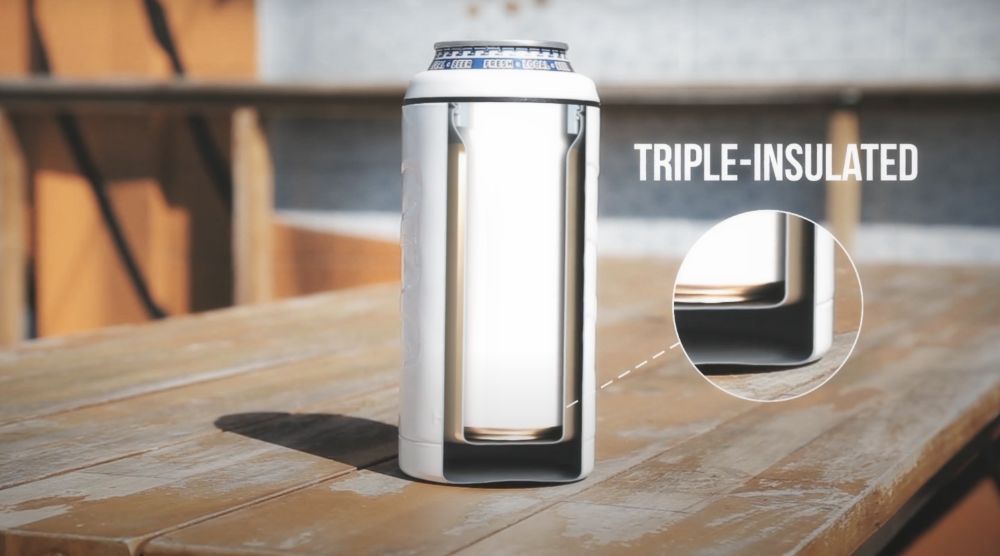 Both the Yeti Colster and the Brumate Hopsulator perform extremely well, keeping beers cold for over 2 hours (more than enough time to drink them).
They both use the same insulation (vacuum insulation) and the Brumate uses a copper lining to help keep out heat radiation. I'm unsure if Yeti uses this on their Colsters but regardless they both work similar.
In the below video you can see the Yeti outperforming the Brumate but only by a small margin.
After 30 minutes
Brumate: 48.7ºF
Yeti: 47.7ºF
Nothing: 54.0ºF
In another video below you can see the Brumate outperforming the Yeti by a decent amount in an ice test.
So it's hard to tell which is better but it's safe to say both perform extremely similar.
If anything I would expect the Brumate 3-in-1 to perform better than the standard Yeti Colster because it contains an ice pack that'll help keep your beer cold down to the last sip.
Price

When it comes to pricing Brumate are either slightly cheaper or the same price and Yeti Colsters depending on what colors and designs you choose.
The newer colors or the fancier designs cost a bit more whereas the solid and more basic colors can cost a bit less.
Below you can see a price comparison between similar products from each brand:
BRUMATE (RRP)
2-in-1 (12 oz) – $14.99 – $24.99
3-in-1 – $24.99 – $29.99
12 Slim – $19.99 – 24.99
YETI (RRP)
12 oz – $24.99
12 oz Slim – $24.99
16 oz – $29.99
It's important to note here that Brumate 12 oz and 16 oz also comes with a sip lid to turn it into a travel mug AND the 16 once comes with an ice pack that both coverts it into a 12 oz can cooler plus keeps your drinks cold for longer.
Brumate also have a rubber non-slip base whereas the base of the Yeti Colsters is just stainless steel.
Colors and Design
Winner: Brumate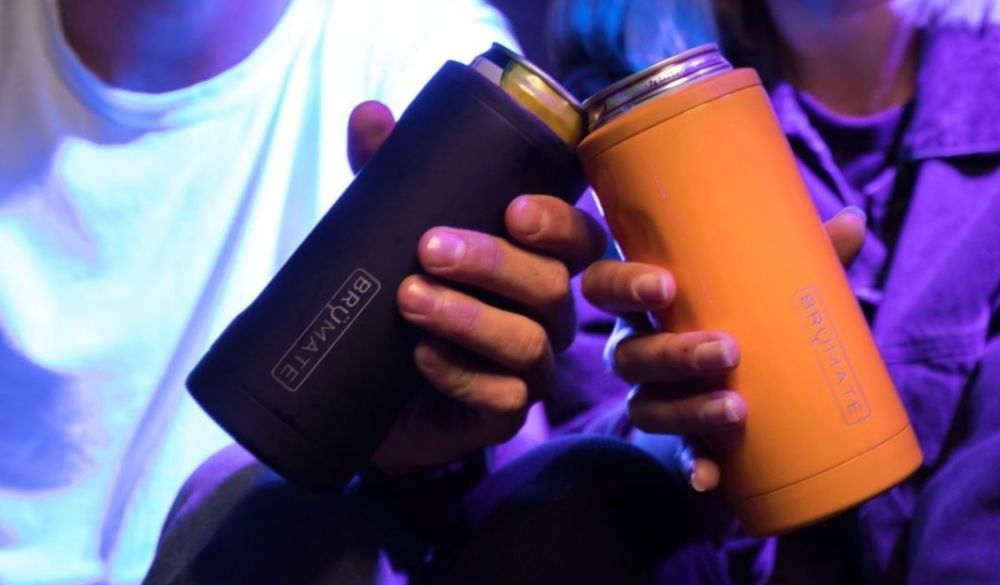 Brumate has a large variety of colors as well as cool patterns to choose from and they look great.
Yeti isn't low on color options either. At the time of writing there was 11 different color options for their Colsters so you could surely find one to suit your style.
But Yeti doesn't offer any patterns, it's all solid colors.
Brumate offers things like wood grain and marble looks as well as glitter colors and a rainbow titanium. Plus they have a wide variety of solid colors also.
Just be careful with what color you choose as some color options are more expensive than others.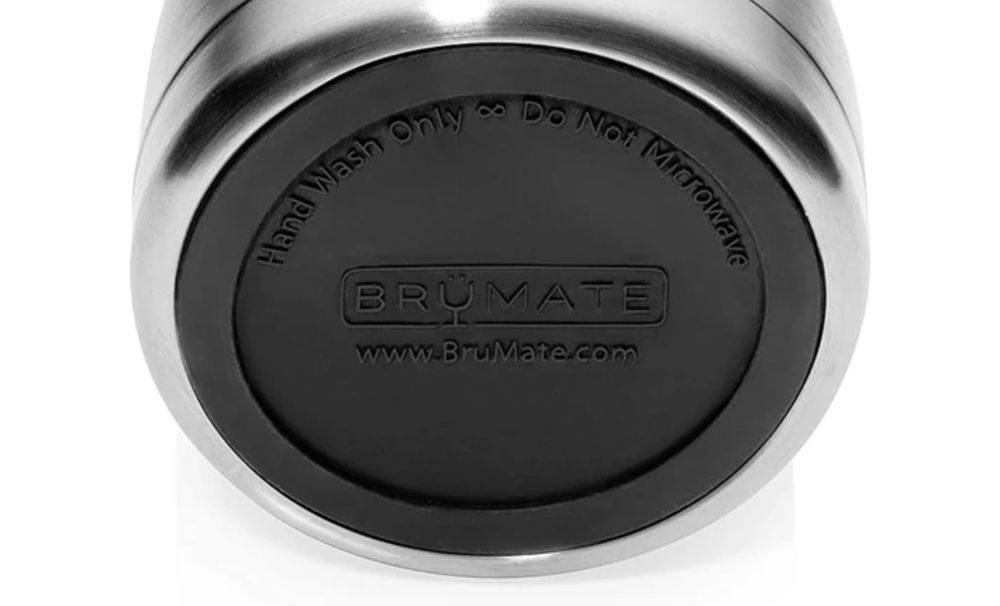 The Brumate also comes with a rubber non-slip base which will stop your beer from sliding around.
This is great for me traveling in my van and I'm not always parked on a completely flat surface.
See the latest price of Brumate 3-in-1 Hopsulators at Amazon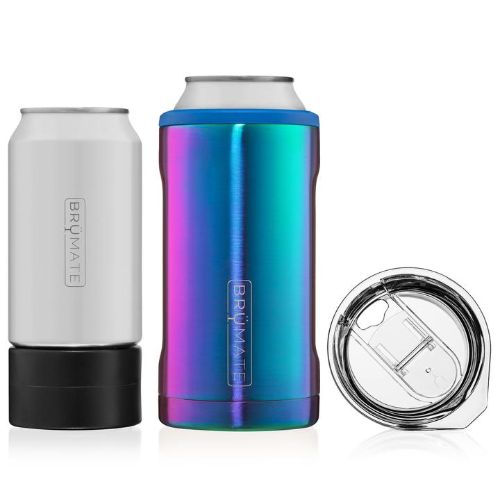 Ease of Use
Winner: Brumate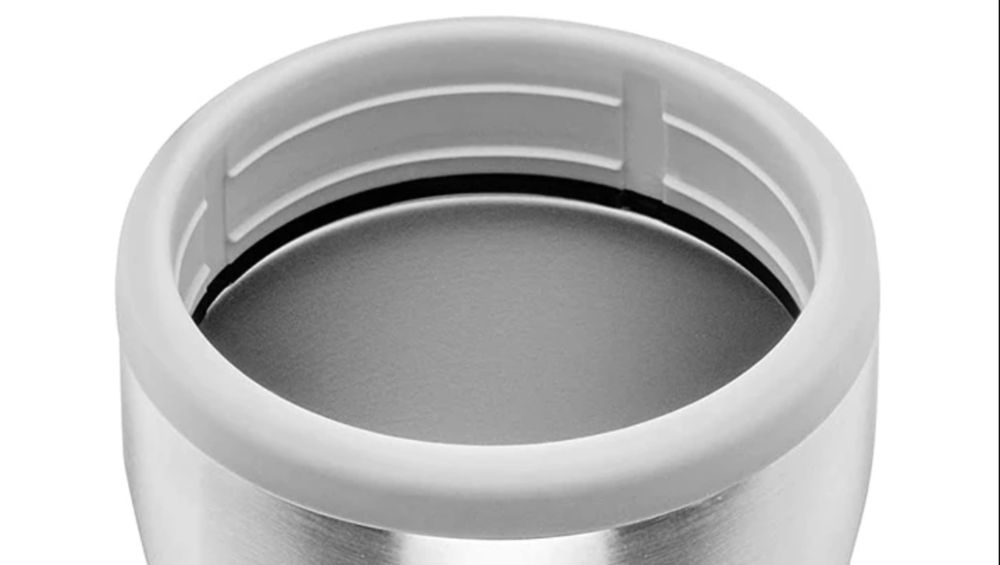 Neither the Yeti nor the Brumate is "hard" to use at all. Both have really simple designs and work really well.
The Brumate is just a little bit simpler. It has a push down gasket design where you simply slide in your can and it'll grab on the gasket and won't fall out.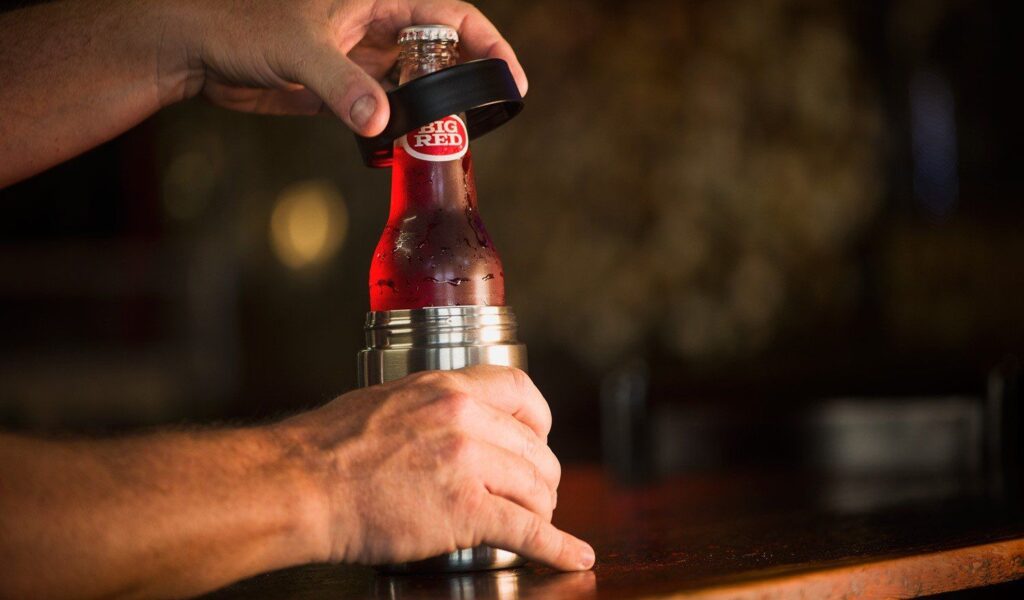 The Yeti has a screw top design where you unscrew the collar, put your can or bottle in, and then screw the collar back on.
I personally found this a little bit annoying to use and if you're drinking a lot of beers or sharing it around then the simpler the better. But it's not that hard and really isn't a big deal.
The Brumate doesn't require taking the collar on and off every time you're reloading a beer so it's less likely to get off. But Brumate do sell Hopsulators for both cans and bottles so maybe this means their gasket is less versatile? I'm not sure
Size Options
Winner: Brumate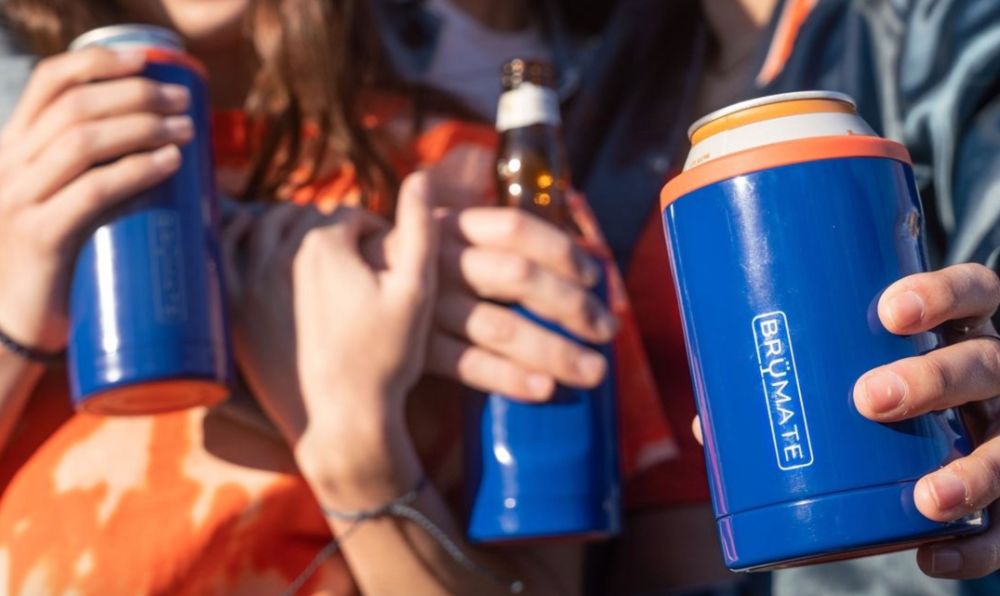 Yeti Colster has 3 different size options – 12 oz, 16 oz and 12 oz slim cans.
This will fit most people's needs and the 12 oz also easily fits a bottle as well.
Brumate has a few other options like the Juggernaut which fits 24/25 oz cans and a size for glass bottles and one for aluminum bottles.
But where their range excels and outstrips Yeti is when it comes to other barware products.
They have wine tumblers, champagne flutes and they even have tulip shaped tumblers specifically designed for whiskey. Needless to say they specialize in holding alcoholic beverages.
Yeti has more range when it comes to tumblers and drink bottles though. So one brand isn't really better than the other, they are just different.
Durability
Winner: Yeti

Yeti are known for one thing. Making extremely high quality durable products.
They started with the hard cooler, continued with soft coolers and their reputation for durability continues into the Colster.
I own a lot of vacuum insulated products including can coolers, tumblers and bottles and Yeti's products always feel just that little bit more durable than other products on the market. They are made extremely well and are extremely tough. The Colster is no exception to this.
I have found a few comments about the Brumate potentially having a paint job that is more likely to scratch. Having owned many brands I know they can all scratch (including Yeti) given enough use. But this may be something to be aware of.
Here's a comment about Brumate from this video review:
Have you noticed that the color scuffs easily? I just ordered mine and the cup has scuff marks. They offered a replacement but I know for a fact Yeti doesn't scuff easily. So now I'm kind of iffy about that brand
And another comment about Brumate from this video:
Thanks for the informative video. I tend to buy the Brumate trio for multiple functions. The only thing I worry is the thin paint cover
Warranty
Winner: Brumate

When it comes to warranty both brands off good warranties and good customer service but Brumate again takes the cake in this department.
They offer a lifetime warranty on their Hopsulator can coolers whereas Yeti Colsters only come with a 5 year warranty.
Both products should easily last longer than 5 years if you take good care of them.
Brumate vs Yeti: Which One Would I Recommend?

Both the Brumate and the Yeti are great options. Both work really well to keep your beers or soda cans cold for hours at a time and both are great quality.
If I had to choose I would personally go with the Brumate 3-in-1 as it can fit both smaller and larger cans, comes with an ice brick AND doubles as a 16 oz travel mug that you can use for everything from coffee to smoothies to water.
It comes with a lifetime warranty and just seems the better value for money for me.
See the latest price of Brumate 3-in-1 Hopsulators at Amazon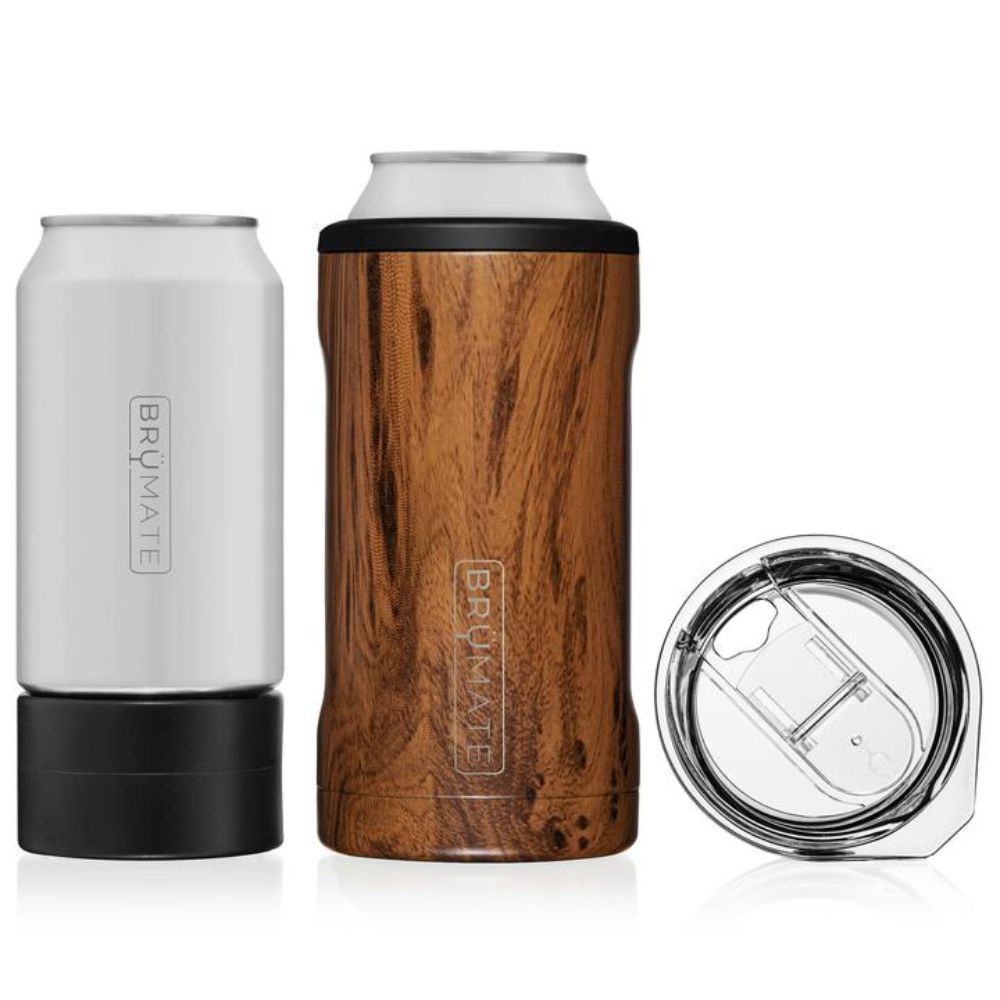 In saying that, I do own A LOT of Yeti products and I used to own a Colster (before I lost it) and it was really good.
Yeti are known for their quality and if someone wanted to own the Yeti brand or wanted a can cooler that was dishwasher safe then I would gladly recommend the Yeti.
It's still an amazing product, works really well and will last you years and years. You can't go wrong with a Yeti.
See the latest price of the Yeti Colser at Yeti.com
(or compare to the latest price of the Yeti Colster at Amazon)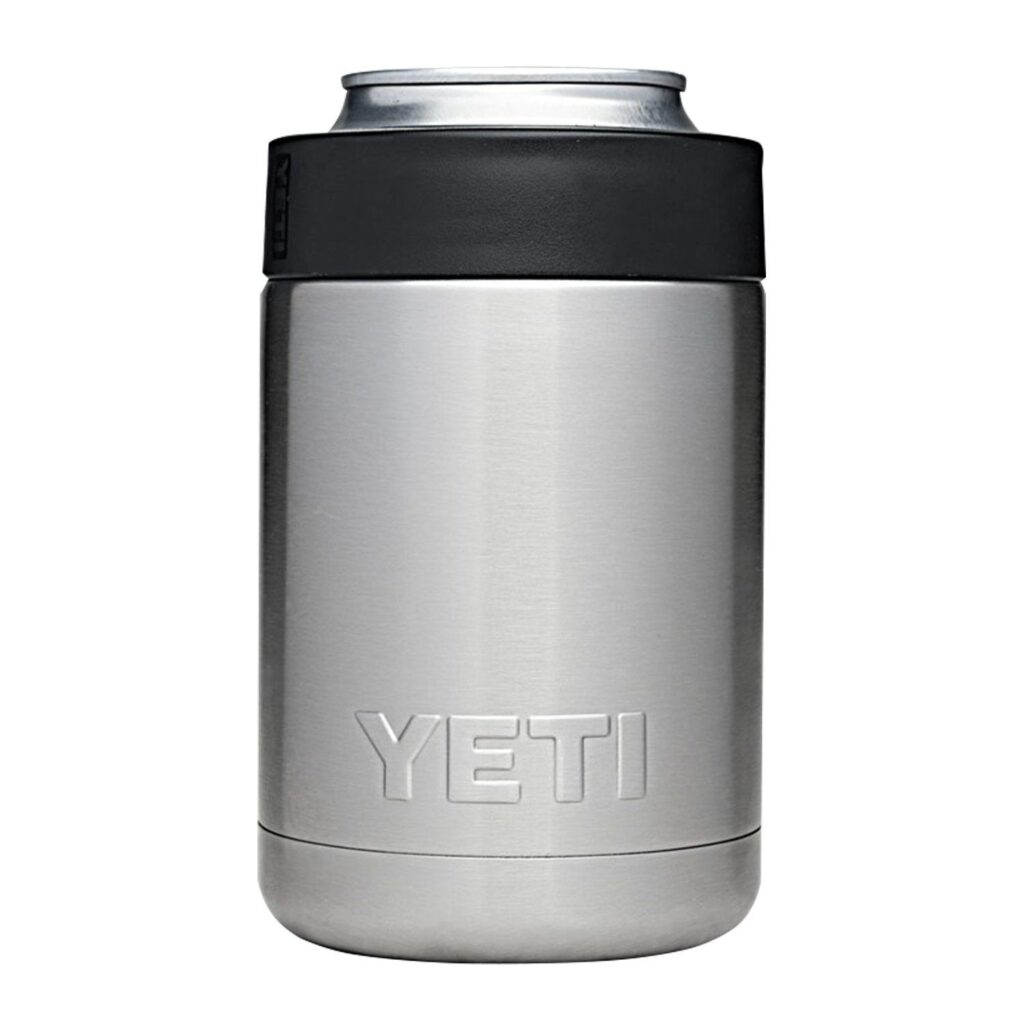 Brumate/Yeti Alternatives
Lastly I want to leave you with some alternatives to either the Yeti or the Brumate so you can see what other brands are out there.
Hydro Flask Cooler Cup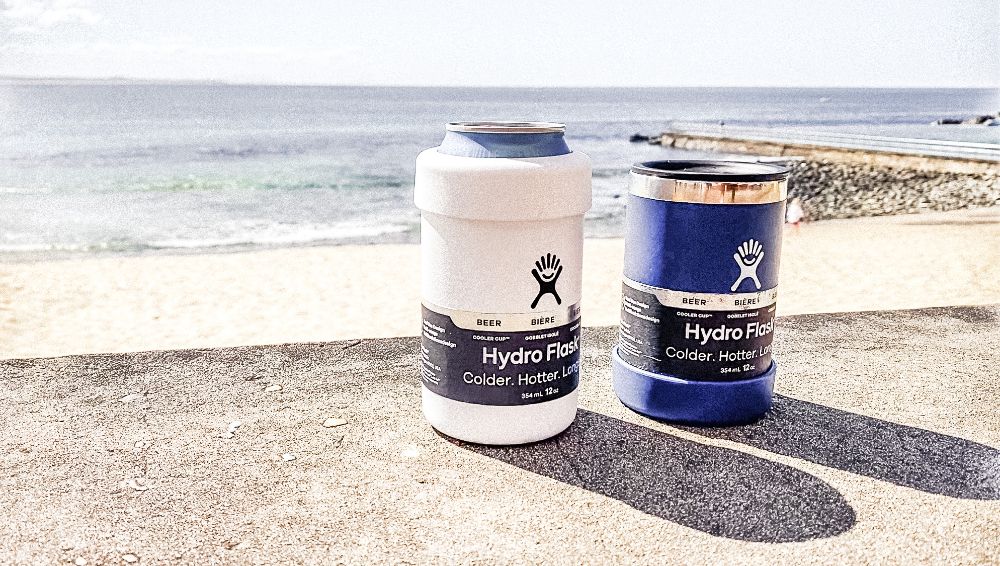 One of my personal favorite options is the Hydro Flask Cooler Cup.
Like the Brumate this doubles as both a can cooler to keep your beer can or bottle cold and as a cup.
Combined this with the 10 oz Wine Tumbler Lid (which costs an extra $7-8 at HydroFlask.com) it turns this into the best small insulated tumbler out there.
I absolutely love this for coffee during the day and then use it for beer at night.
The rubber collar that keeps your can or bottle in place can also go on the bottom of the cooler cup and turn it into a non-slip base.
This is a similar price to the Yeti at adding the Wine lid makes it a little more expensive but this is a great brand and I personally love it.
See the latest price of the Hydro Flask Cooler Cup at HydroFlask.com
(or compare to the latest price of the Hydro Flask Cooler Cup at Amazon)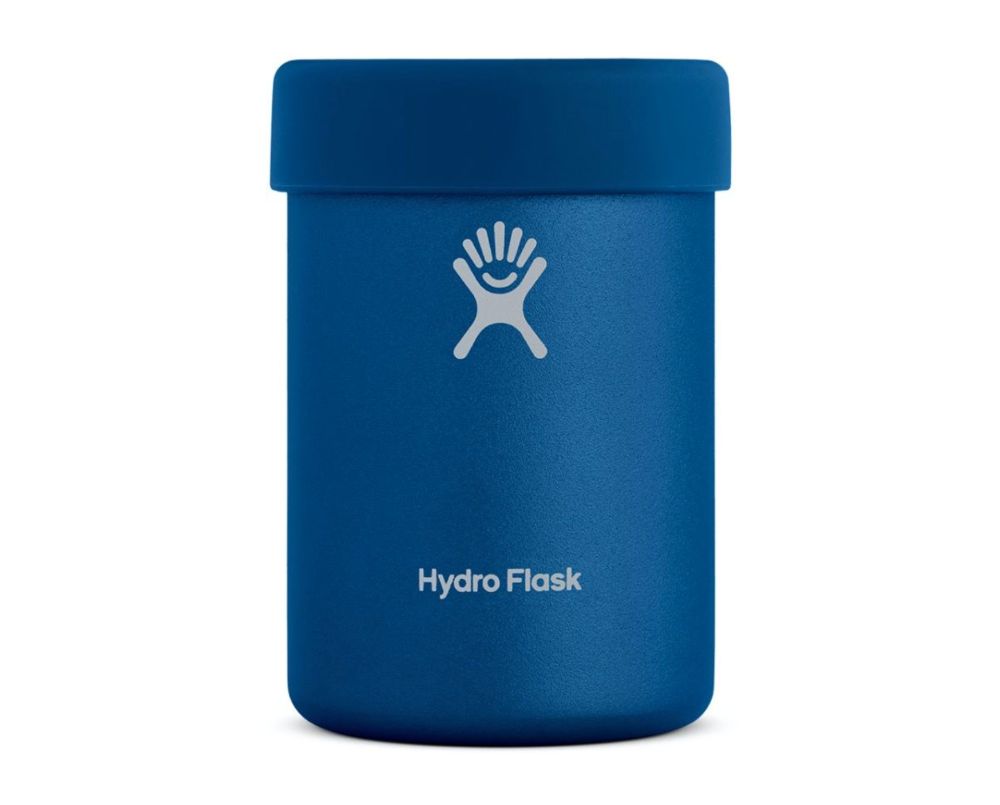 Ozark Trail Can Cooler – Most Affordable
If you're just looking for the cheapest option to keep your beer can cold then look no further than the Ozark Trail Can Cooler.
Sold in packs of 2 for around $10 they are way cheaper than both Yeti and Brumate.
They have a metal cooler – which is less flexible – and they come with a lifetime warranty. They also only come in stainless steel so you don't get to choose any colors but if you're game you could always try hydro dipping them.
See the latest price of the Ozark Trail Can Cooler at Walmart.com
(or compare to the latest price of the Ozark Trail Cooler Can at Amazon)