There are 2 main ways to turn a 5-gallon bucket into a cooler. Either add a cheap styrofoam liner or get an insulated liner and caddy for your cooler. Both of these methods will add insulation to your bucket, turning it into a cooler and helping you keep ice and cold drinks all day long.
A 5-gallon bucket isn't insulated and therefore can't hold ice very well. Even the Yeti LoadOut Bucket can't hold ice because, even though it's 3x thicker than a normal 5-gallon bucket, it has no insulation.
Insulation is what makes a cooler keep ice for so long. It stops heat from getting into your cooler melting your ice.
There are quite a few products out there that make it really easy to turn your bucket into a cooler.
1. Styrofoam Liner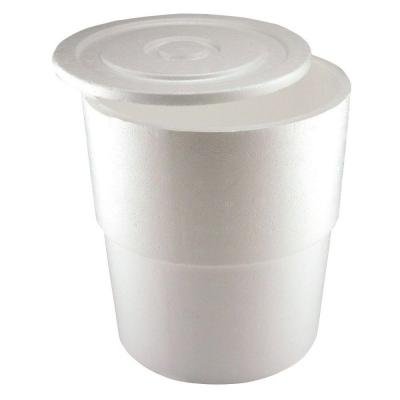 Black Bucket Seat Lid:
The styrofoam liner is a super simple way to turn your 5-gallon bucket into a cooler.
The liner is molded to slip perfectly into a 5-gallon bucket and works with both standard cheap 5-gallon buckets and the Yeti LoadOut Bucket.
The styrofoam acts as your insulator and it also comes with a styrofoam lid for further insulation.
This liner will turn your bucket into a cooler and help you keep ice for most of the day.
The downside with this product is that it's just plain styrofoam and so is easy to scratch and break and hard to store by itself because it can snap and break so easily.
But it's super affordable and ready to go. You can pick them up for just a couple of dollars at local hardware stores (if they stock them and you can find them) or you can pick them up from Amazon.
Black Bucket Seat Lid:
2. Dakine Party Bucket + Drink Caddy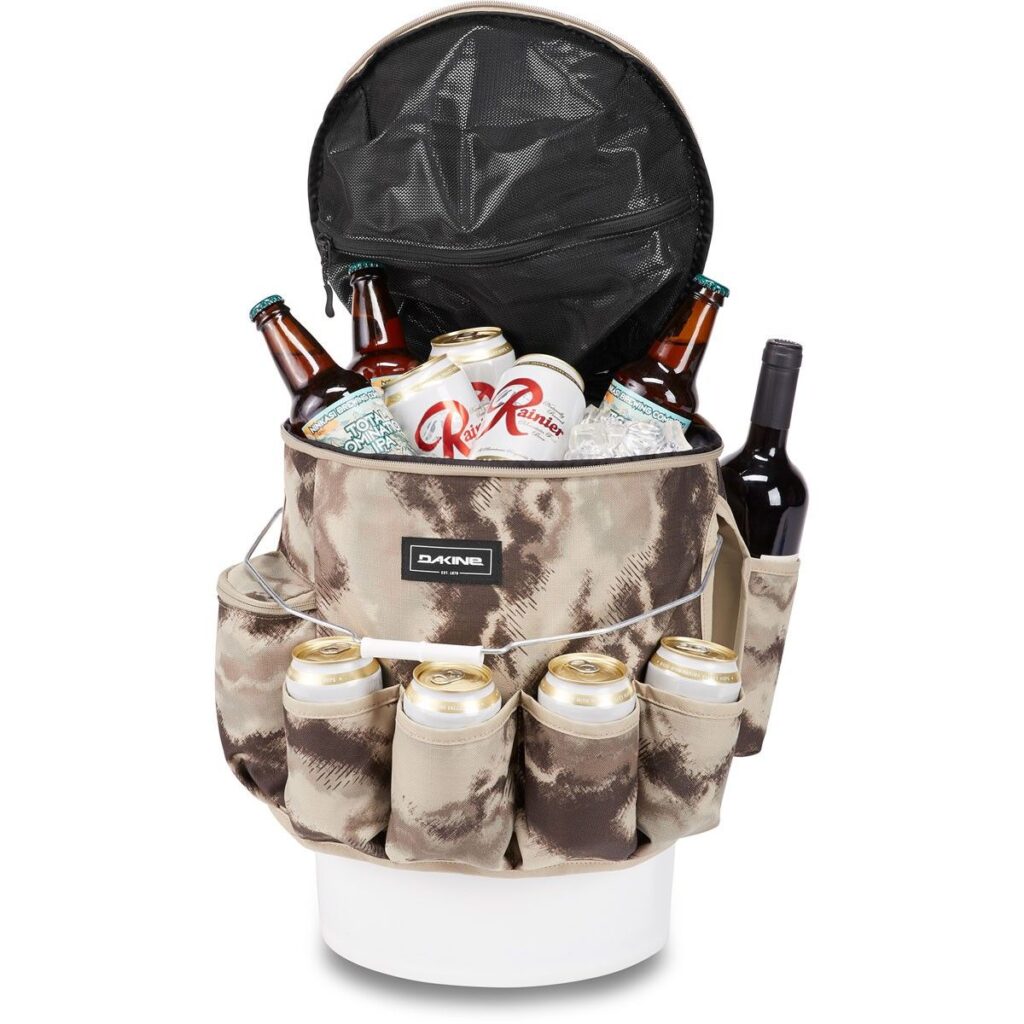 Dakine Party Bucket:
The Dakine Party Bucket works in a similar way to the styrofoam bucker liner only it uses different insulation. Styrofoam is hard and breaks easily and can't change shape but the Dakine Party Bucket uses soft insulation.
The insulation slips onto the inside of the bucket and it has a zip lid to help keep the warm air out.
The bottom is made of mesh so as the ice melts the water stays in the bucket making it easy to dry out your Dakine when you've finished using it.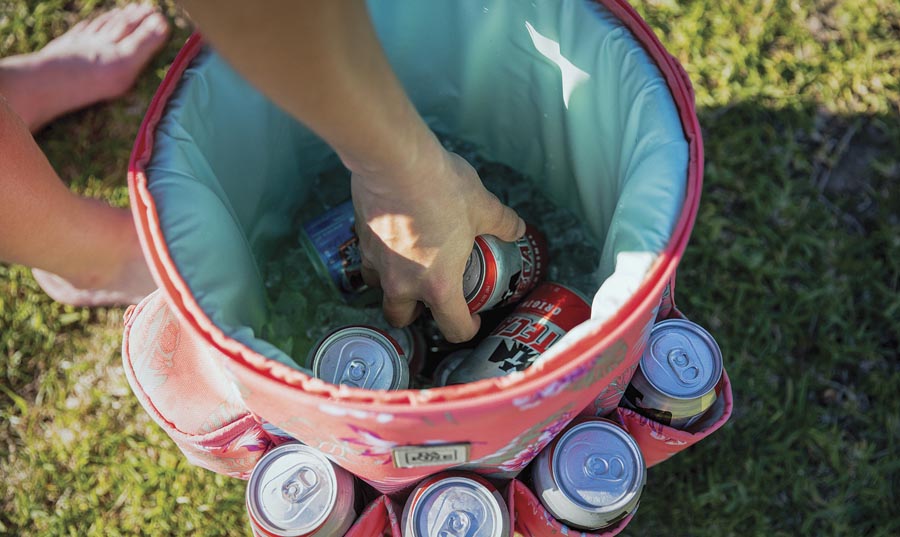 The lid has a zipper pocket for dry storage and on the outside is 8 can holders and 2 larger holder which can fit bottles of wine or other items.
There is also a built in bottle open on the outside of the party bucket so you don't have to hunt for a bottle opener to open your drinks.
They come in multiple different colors and patterns to suit your style and overall this is a pretty decent product.
It won't keep ice as long as a Yeti cooler, but it should keep ice for most of the day so your drinks stay cold.
Read my full Dakine Party Bucket Review
Dakine Party Bucket:
3. Boozie Bucket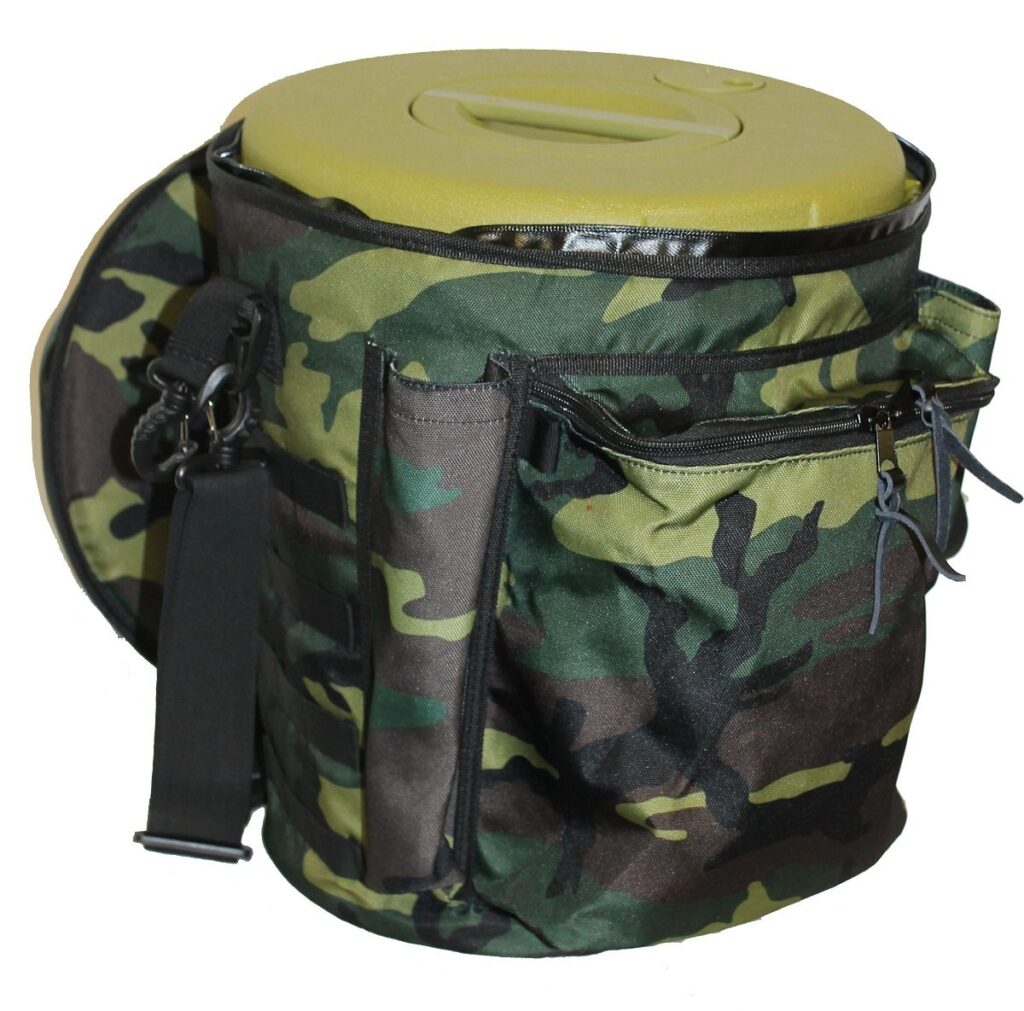 Boozie Bucket:
The Boozie Bucket has an outside layer or insulation compared to the Dakine's and styrofoam's inside layer of insulation.
So with the Boozie Bucket you put the Boozie cover over the outside of your bucket and the insulation helps to keep ice longer.
I haven't done a head-to-head comparison of this vs the Dakine so I can't say which one would hold ice longer.
The Boozie Bucket also comes with a shoulder strap for easy carrying and it has multiple external pockets for storing different items plus rod holders for holding your fishing rods.
This bucket is more designed for fishing and holding live bait than to be an actual cooler.
The Boozie Lid has an easy open hatch so you don't have to completely open the lid to access your bucket and there is also a hole specifically for bait aerators.
It is designed and manufactured in the USA and the company is run by a guy named Uncle JJ.
Boozie Bucket:
4. Insulated Bucket Backpack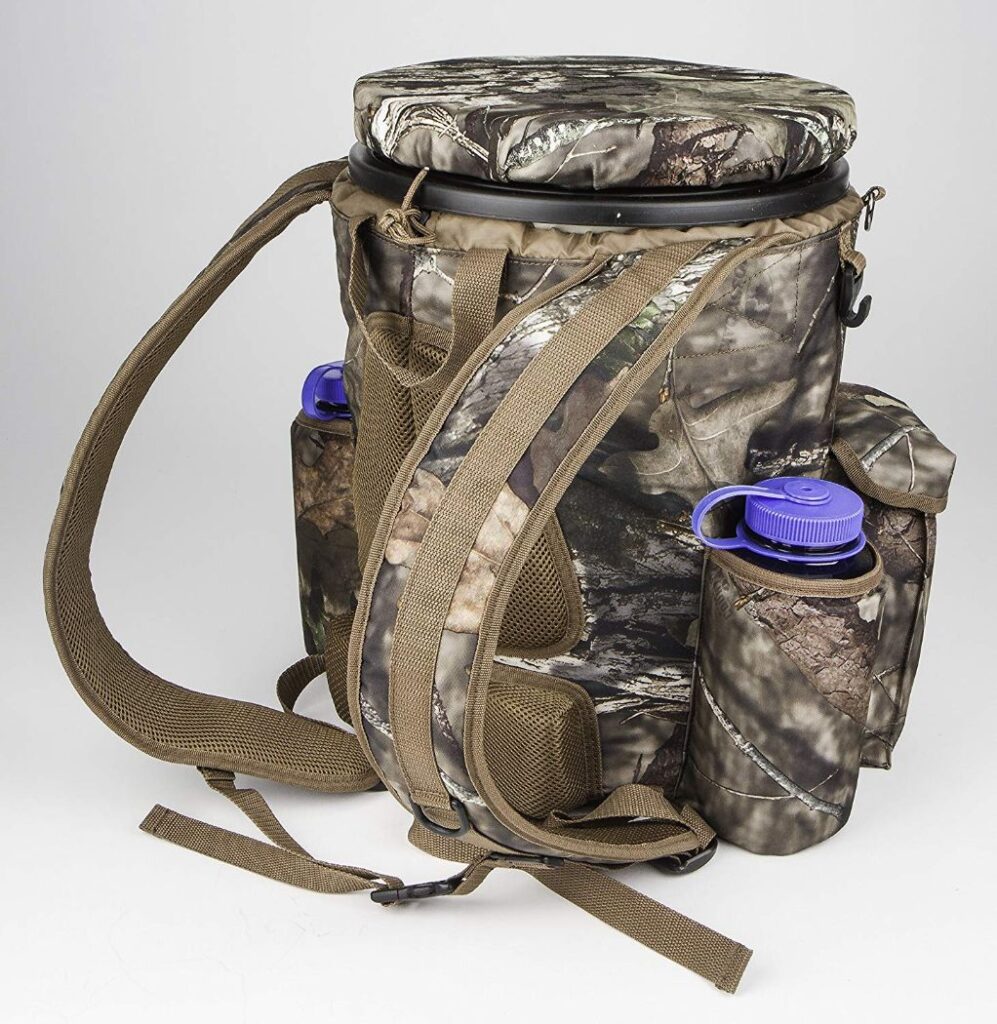 Peregrine Venture Bucket Pack:
You can turn your 5-gallon bucket into a backpack cooler with this Peregrine Venture Bucket Pack. It is an insulated backpack that fits a 5-gallon bucket, plus has external pockets and a swivel seat.
It has 2 wide shoulder straps and the back is padded to make it sit flat and comfortably against your back. The lower end of the bucket has extra padding as this is where the most weight will push against your back.
On the outside there are 3 pouches that are designed to fit shells, though they can be used to store any items. There are also 2 insulated bottle holders for holding water bottles.
There is a carry strap if you want to move it around with just one hand and there is a swivel seat on top so when you reach your destination you can use your backpack/bucket as a seat.
The swivel seat is a silent swivel so it won't make any noise.
This product is perfect for hunters but could be used by anyone who wants to turn a bucket into a backpack cooler.
Peregrine Venture Bucket Pack:
5. Stack Buckets Together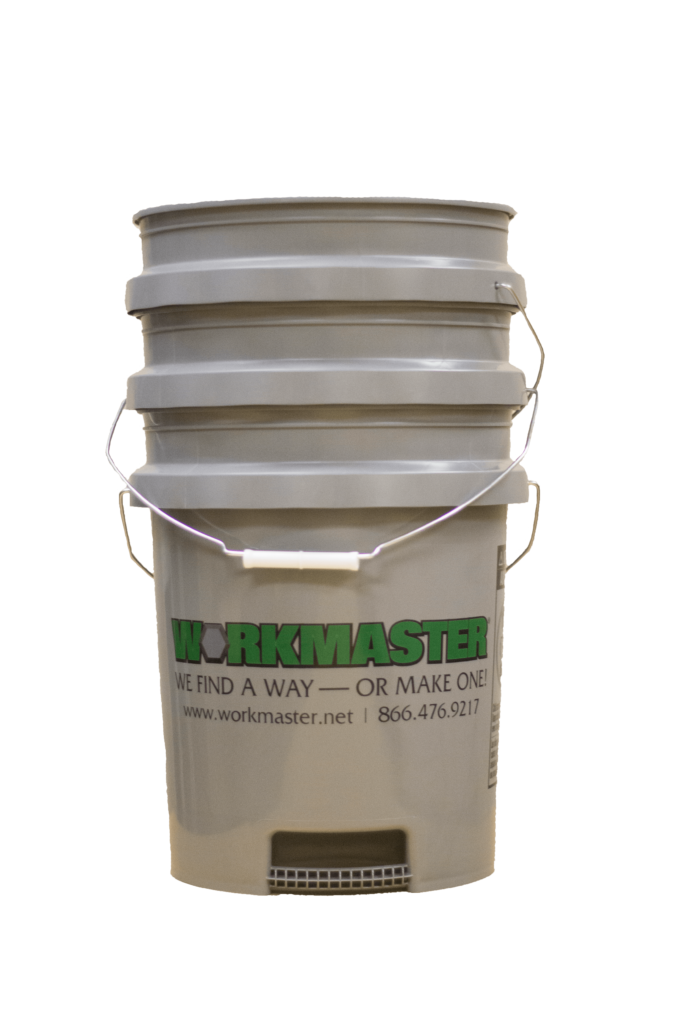 Definitely less effective than the other options but if you have multiple buckets you can stack them together to create extra layers of insulation.
Air is actually a pretty poor conductor of heat so the layers of air between the buckets, plus the plastic of the buckets themselves act as an insulating barrier to help keep ice for longer.
It's not a great solution, but if you already have multiple buckets lying around that you aren't using then it's a free solution.
Check Out These Other Bucket Accessories
There you have a few different ways to turn any bucket into a cooler but did you know there are loads of other things you can do with a bucket.
There are accessories to help turn your bucket into a tool organizer, vacuum cleaner or even a drum kit.
There are wheel bases, non-slip rubber bases, shoulder straps and internal storage caddies.
There are so many different gadgets and accessories to get more use out of your buckets.
Click here to see the best bucket gadgets and accessories
Or if you're on the hunt for a new bucket check out my list of the best 5-gallon buckets