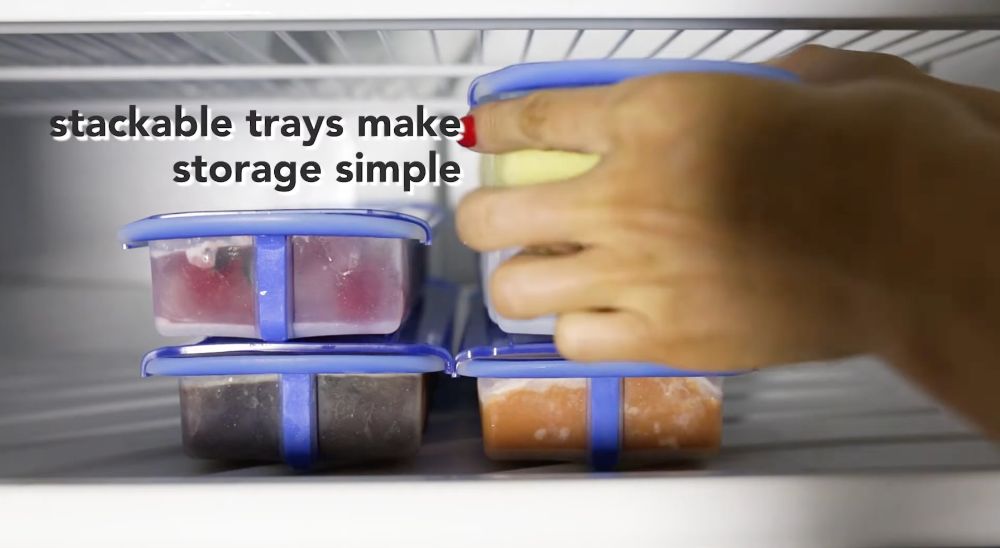 When you're looking for a good ice cube tray 2 of the factors you should consider are whether or not the trays are stackable, which allow you to fit more trays in a small space, and also whether or not the trays have lids.
Having a lid on your ice cube tray stops the ice from tasting bad even when the water is fine as it keeps out the smells and odors of your freezer and it also means the water is less likely to spill and you won't have to clean your freezer as often.
If you're looking for some of the best stackable ice cube trays with lids then I've compiled a list of some of my favorites. Some a cheap and some are more premium, some are large and some are small. Each of these trays offers something a little bit different so you should find an ice cube tray to suit your needs.
Please note: Link in this article are affiliate link so if you purchase through them Hunting Waterfalls receives a small commission at no extra cost to you. Thanks for supporting us.
4 Benefits Of Stackable Ice Cube Trays With Lids
Adding a lid to an ice cube tray is such a simple yet practical design; it's rather shocking it's only recently become popular. But, once you start thinking about the benefits, you'll wonder why we ever thought lid-free ice trays were ever a good idea.
1. Lids Make Ice Cube Trays Stackable
It doesn't matter how ample your freezer space is; if your ice trays can't stack, the extra space is useless until the cubes have frozen. Sure, after you have solid cubs, you can precariously balance your ice trays onto the irregularly shaped artisanal bread.
But that doesn't work when you're sliding the tray in fresh with water, juice, or your baby's next meal. 
2. Lids Prevent Smells And Flavors From Mingling With Your Ice
There are many reasons your ice cubes might not taste right despite the water being perfectly fine. But the main one is odors and smells from the freezer getting into the water/ice and making it taste and smell terrible.
One of the easiest ice cube tray hacks to solving this is using an ice tray with a lid. Thus, any other odors in your freezer won't get into your cubes and impact the taste. 
On the flip side, if you are freezing baby foods, pesto, or soups, your frozen cube meals won't be leaching smells and flavors into your fridge or freezer. Thus, the lid is a win-win no matter which way you look at it.
3. Lids Make Ice Cube Trays Spill Proof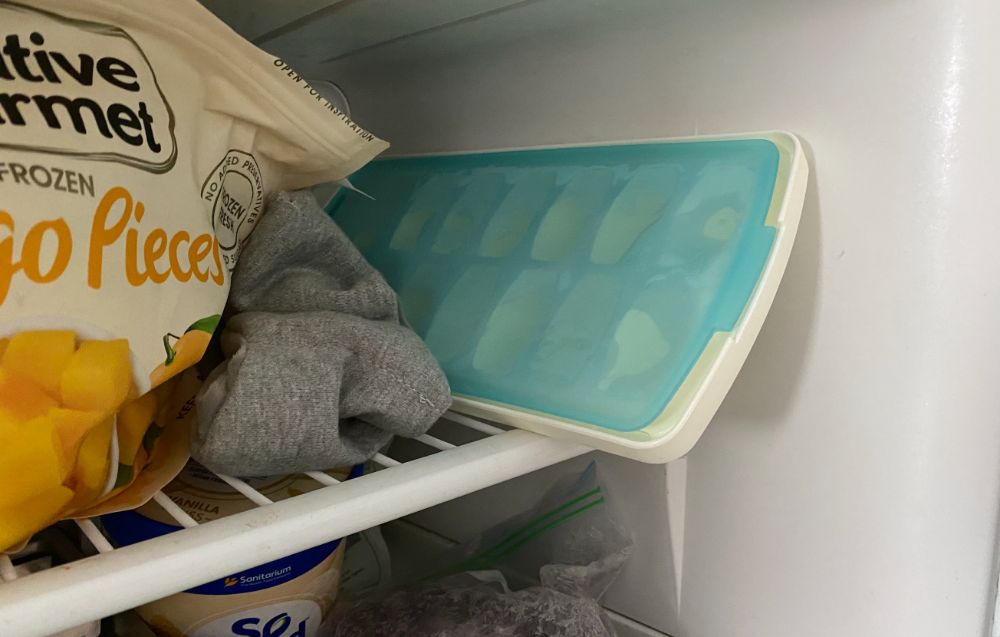 Any parent has been there: you set the ice trays gently into the freezer, but before the water has turned to ice, some child has dug into the freezer and knocked them. Now the ice cream tub is stuck fast to two loaves of bread and some child's science experiment that is best left unidentified. Ick.
Spill-proof ice trays help families cut back on drama and friction. Hey, every little bit helps.
4. Lids Make Ice Cube Trays More Hygienic
Before lids, ice was just there, in the freezer, touching whatever else was in there. Then we dumped that ice cube into our drinks and drank it.
Even better (worse), we probably touched the cube, and so did every other person who used that tray before us. (Don't even think about what happens with baby food; just don't.) 
Now ice cube trays have lids that only expose the cubes you need to use, or even have ones where the ice pours out like a juice from a bottle – genius. 
5. You Can Make More Ice Cubes Faster
If you're limited in space because your ice cube trays don't stack then you can't make much ice at once. If you've got a party coming up or (like me) your kids use a lot of ice when they get home from school then you might want to make ice faster.
Stacking ice cube trays are one of the fastest ways to make lots of ice cubes without a lot of hassle or mess.
The Best Stackable Ice Cube Trays With Lids
Yes, there are many ways to make ice cubes without a tray, and the universe knows these can save you in a pinch. But sometimes, you want a tray, and you want one with a lid.
For example, yes, freezing fruit into your cubes creates an eye-catching drink with a little touch of extra flavor. But you want that extra flavor to be that of the berry, not contaminated by Aunt Betsy's tuna-surprise casserole. 
Below are some of the best stackable ice cube trays with lids.
1. Oxo Good Grips Ice Cube Tray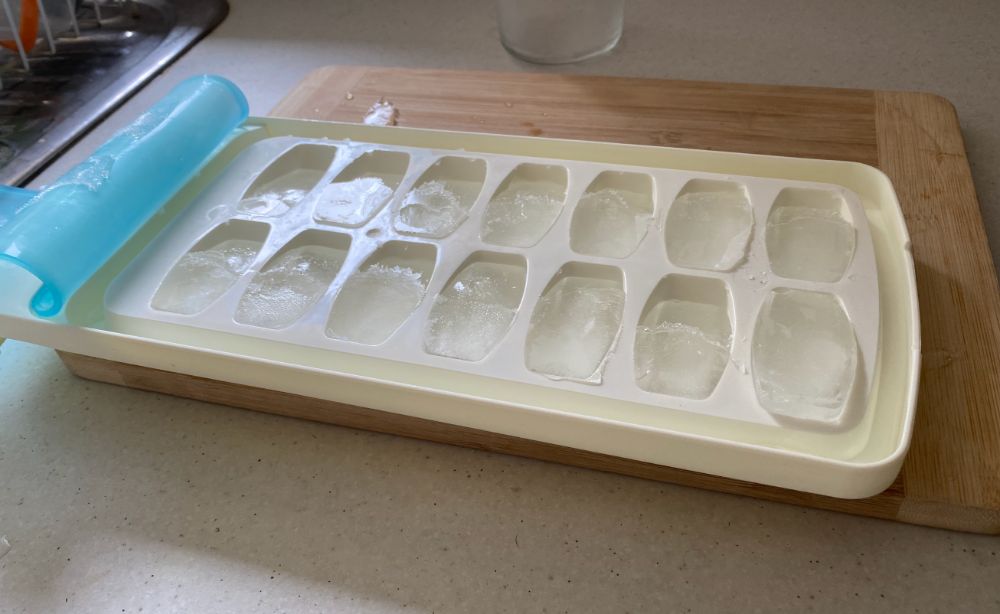 So many people adore the Oxo Good Grips Ice Cube Tray and it's one of the most popular ice cube trays on the market, even though it comes at a premium price.
The lid is made of a rubber that naturally sticks to the top of the ice cube tray allowing it to be put in your freezer on an angle of up to 45º.
It is also an easy release ice cube tray and of all the easy release ice cube trays I've tried the ice seems to fall out fo this easier than anything else. You just tip it on the side and the ice falls out with little to no effort at all.
The tray even has a drip catcher around the side of it so even if your cubes spill a bit they will get caught and no mess up your freezer.
The only downside of this tray is it's size to ice cube ratio. It only makes 14 ice cubes and it's quite large both length and width-wise. But the fact that it's stackable and can be put on an angle kind of makes up for this.
It's also one of the more premium ice cube trays on the market, but it's a good tray and if you've got the money I highly recommend it.
See the latest price of OXO Good Grips No Spill Ice Tray at Amazon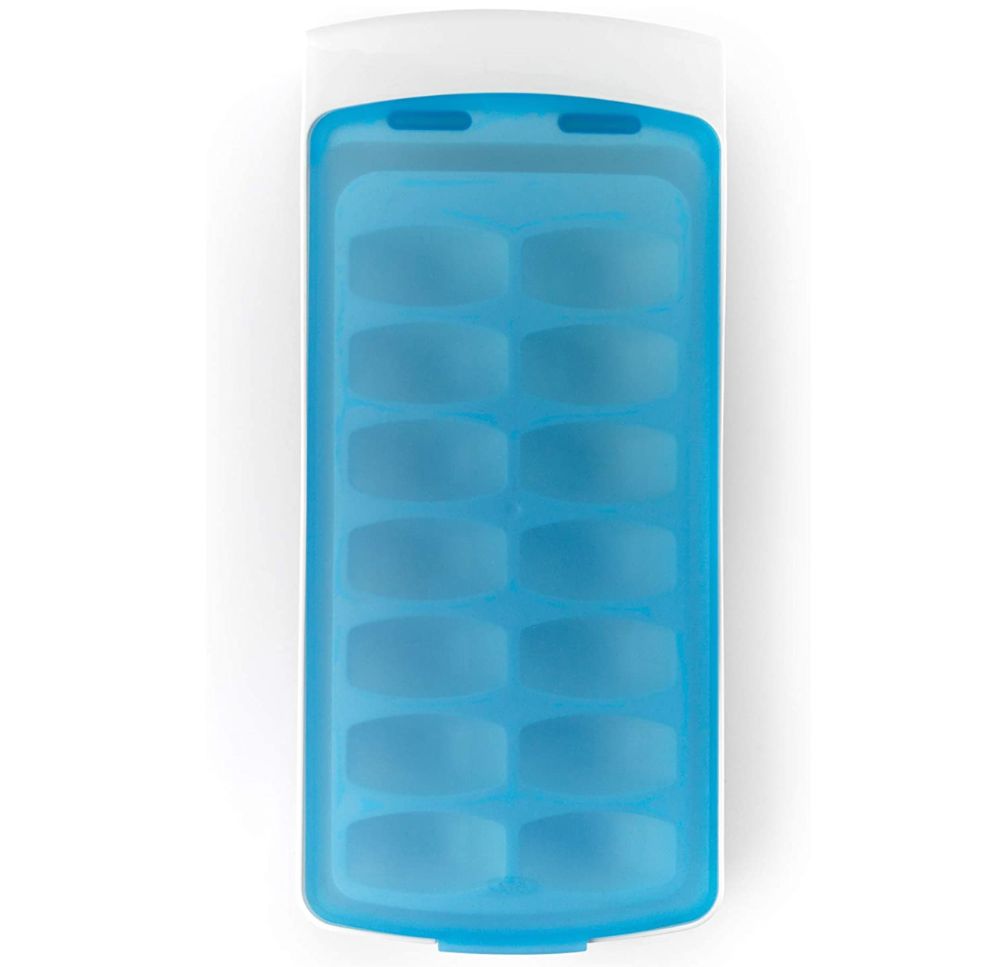 2. Icebreaker Pop Silicone Ice Cube Tray With Lid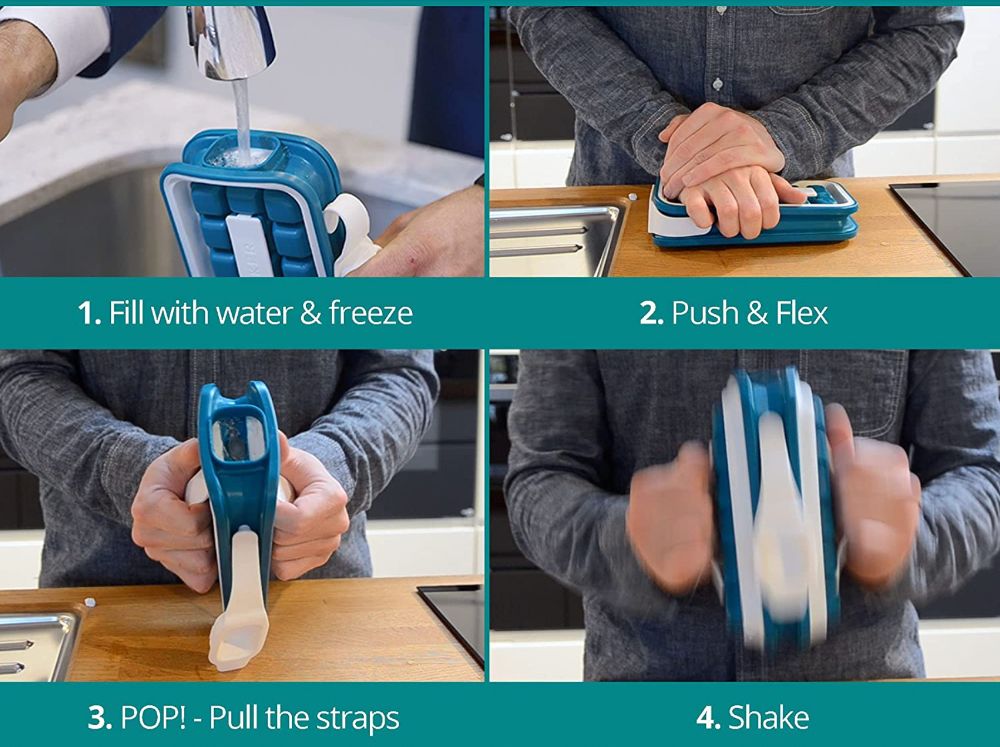 The Icebreaker Pop may not be an ice cube tray with a "lid" in the traditional sense but it is completely enclosed and stackable.
It started life as a kickstarter but is now available at Amazon and there are even a few companies making imitator products.
What makes this ice cube tray cool is you fill it up like a water bottle and put the cap on it then you can throw it into your freezer any which way without ever having to worry about spills. You can also stack them on top of each other.
Once the ice cubes are frozen then you pull the sides apart and you've now got an ice cube server. You never have to touch the ice or move it into another bucket so it's very hygienic.
A great ice cube tray, but definitely one of the most expensive ones on this list.
See the latest price of the IceBreaker Pop at Amazon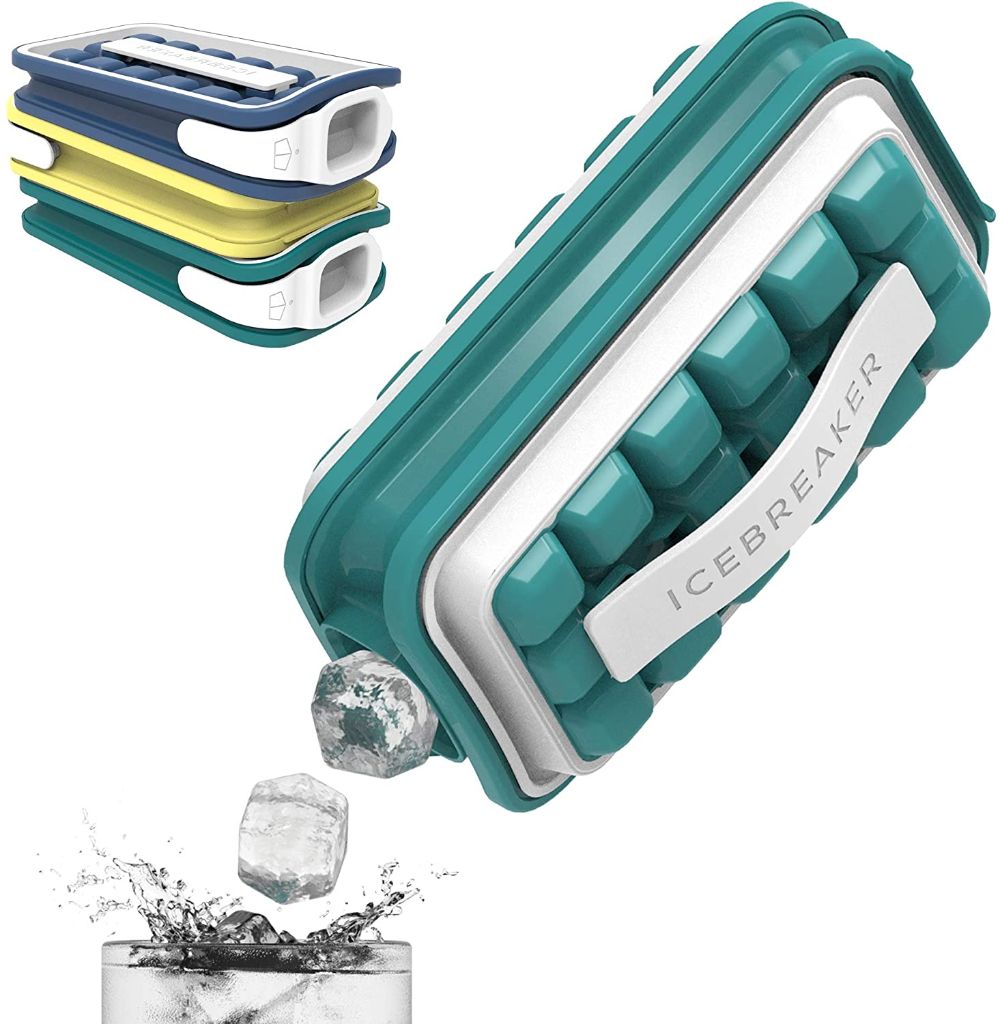 3. W&P Everyday Ice Cube Trays With Lid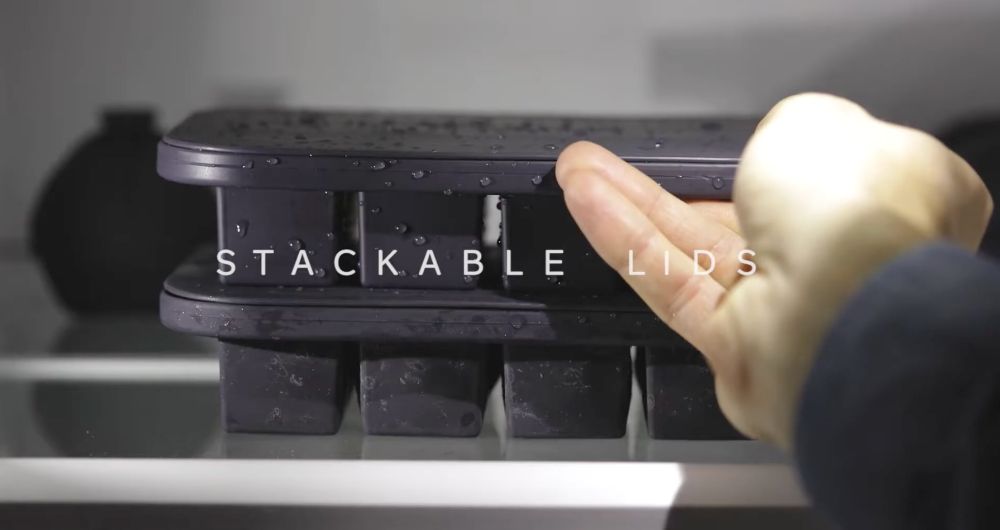 The Peak Ice Cube Trays are made from silicone so if you're looking to avoid plastic trays then these can be a good eco-friendly ice cube tray for you.
Consistently produces nicely shaped cubes that are larger than regular cubes
Cubes pop out easily
High-grade silicon
Reasonably priced
Lid is also silicon, not plastic
Stacks nicely
Dishwasher safe
See the latest price of Peak Ice Cube Trays with Lids at Amazon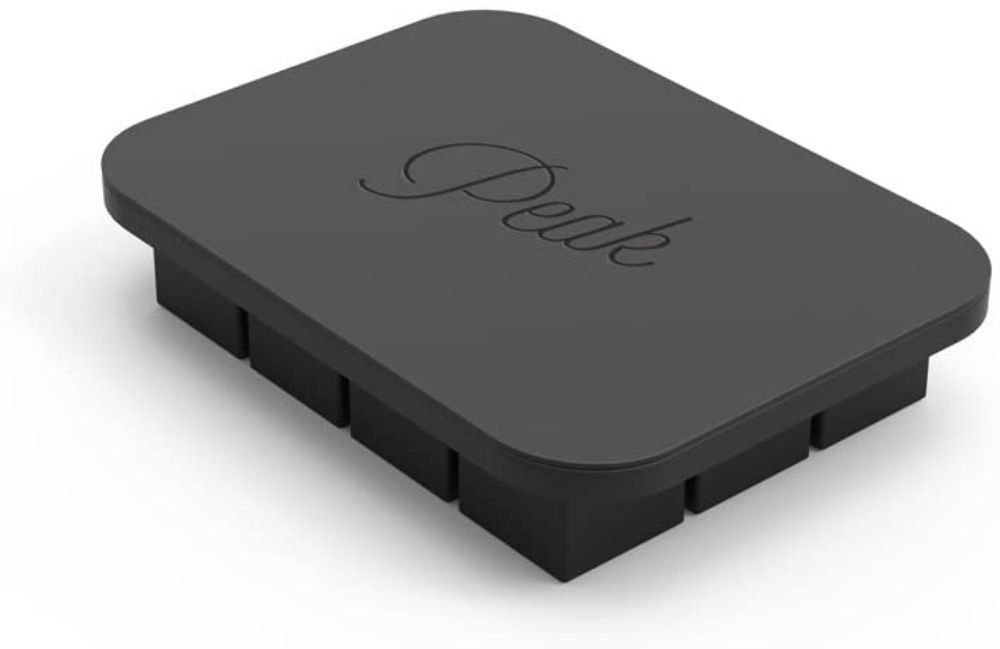 4. Ice Topper Plus Ice Cube Tray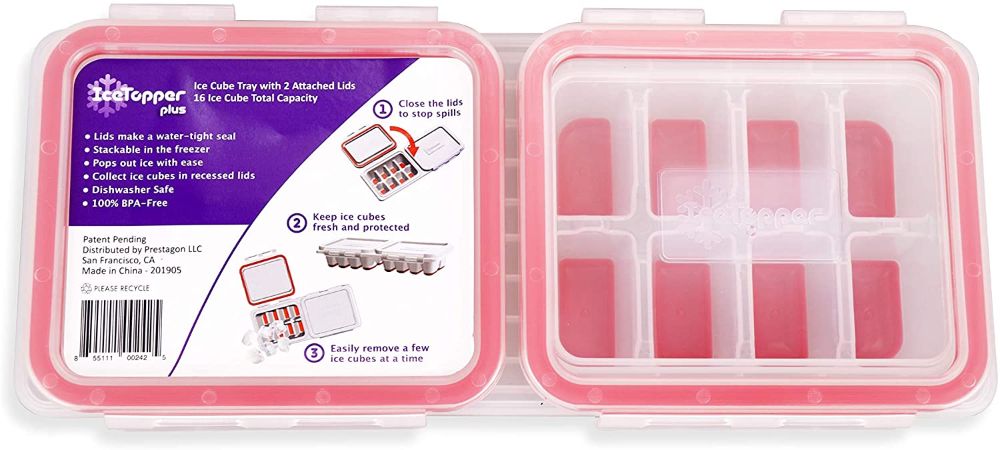 The IceTopper Plus Ice Cube Tray has a few things going for it that other trays on this lids don't.
Firstly, the lids are attached and hinged to the tray so there is no chance of losing them. There is also 2 separate lids so you don't need to get all the ice out at once.
The lids are also water tight so theres little to no chance it'll leak into your freezer and it'll completely protect the ice from nasty smells and odors.
They are made from plastic and they can a silicone bottom which makes it easy to pop out the ice cubes either by twisting the tray or pushing on the bottom.
Here are some of the other reasons why you might want to consider using these trays:
Makes 16 cubes
Should fit in most freezers and minibars
Dishwasher safe
Crack-resistant
Comes with a one-year moneyback guarantee
See the latest price of IceTopper Plus Ice Trays at Amazon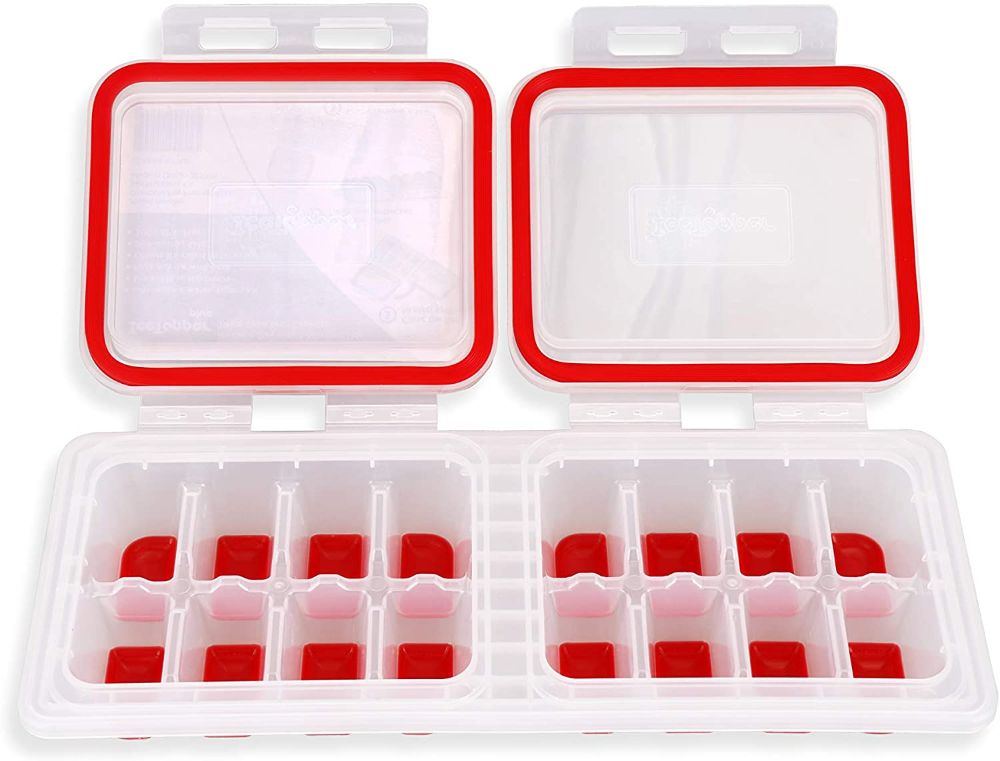 5. WIBIMEN Round Ice Cube Tray with Lid
MAKE LITTLE ICE BALLS THAT COME OUT EASILY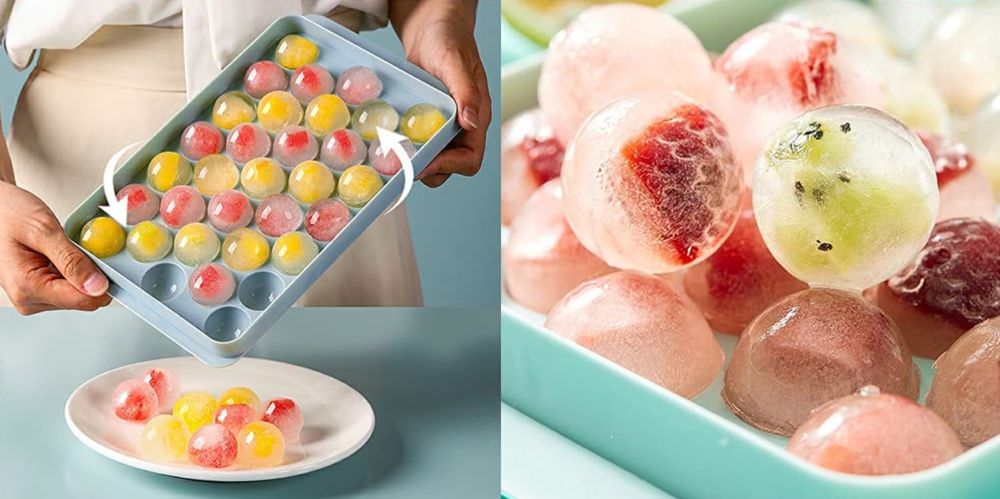 The Wibimen Round Ice Cube Trays puts a twist on your ice cubes. Instead of making cubes like a traditional ice cube tray this makes spheres, and a lot of them.
They are more visually interesting and more fun for kids. I originally didn't have them on my list of the best sphere ice cube trays because I didn't know they existed but as soon as I discovered them I updated my list.
The tray is plastic and BPA free and it's extremely easy to use. Just fill up the bottom half in the sink and place the lid on. No need to fill up individual balls.
NOTE: Some water will spill out when you first put the lid on so do it in the sink. But once the lid is on you shouldn't have any issues.
It makes a lot of ice balls for it's size and is leak proof and stackable. A really cool ice cube tray.
See the latest price of Wibimen Round Ice Cube Trays at Amazon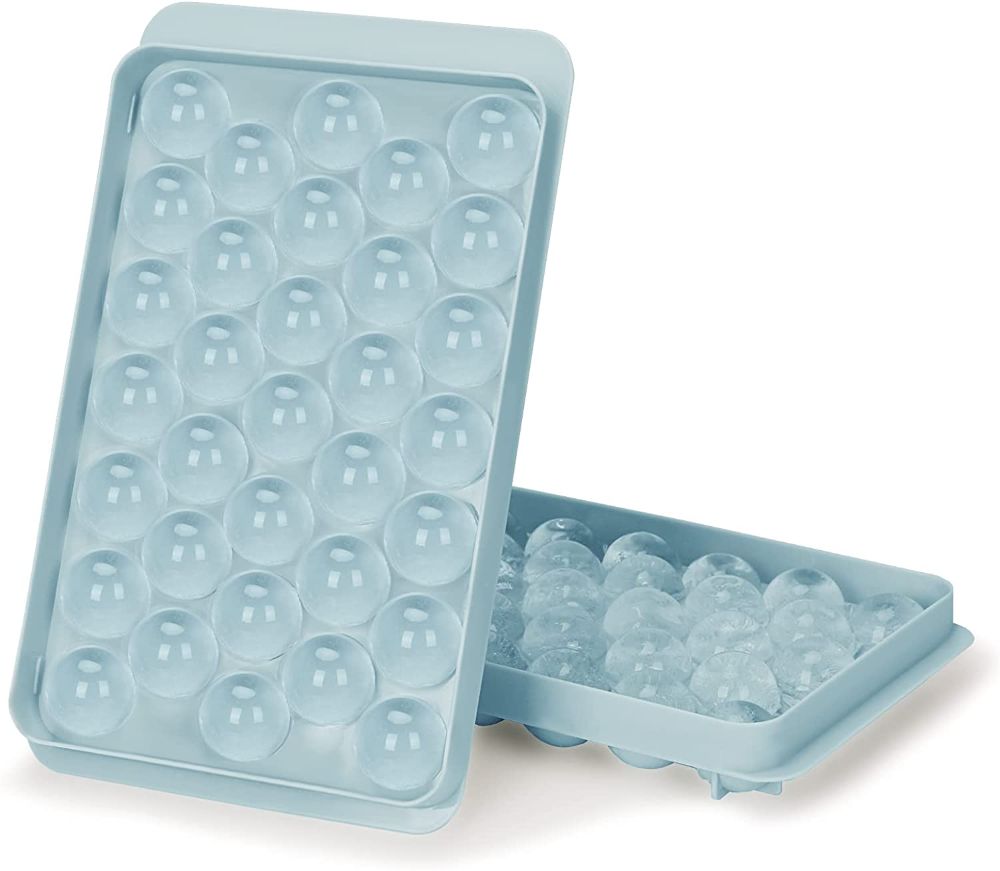 6. Clink Ice Cube Trays with Lids
SMALL CUBES, STACKABLE WITH LID AND EASY-POP BOTTOM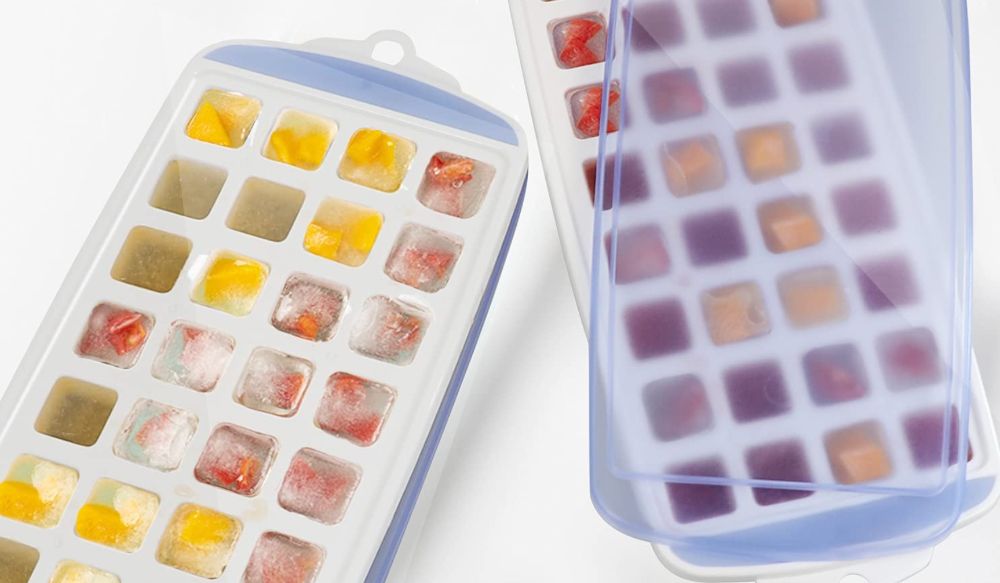 If you love smaller ice cubes like pebble ice but you don't want to spend the money on a nugget ice maker like the GE Opal Nugget Ice Maker, which can cost hundreds of dollars, then the Click Ice Cube Tray with lid might be for you.
The small ice cubes come out easily and it also has easy release silicone bottoms so you can individual pop out the ice cubes if you need to.
It comes with a click on hard plastic lid making them very stackable and this also helps to keep out odors.
If you like small ice cubes then this is the tray for you.
See the latest price of Click Ice Cube Trays at Amazon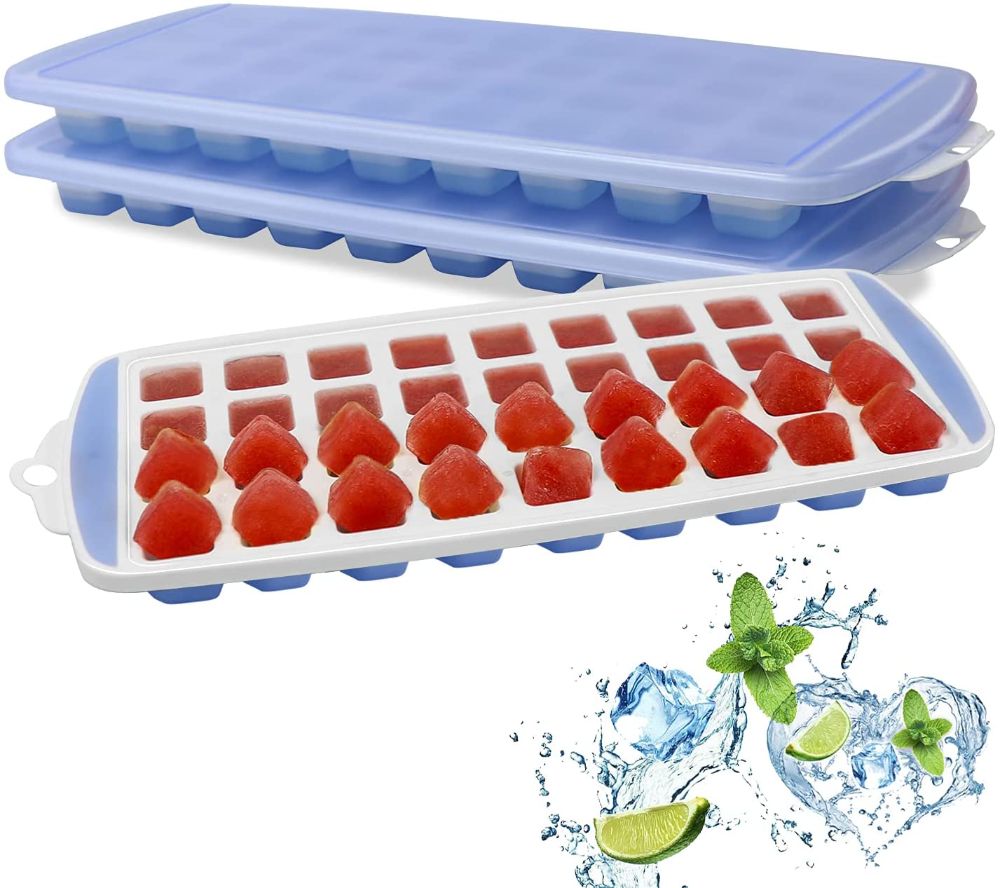 7. AiBast Ice Cube Tray Set
AiBast Ice Cube Tray Set is very handy. The three silicone ice cube trays include:
Round ice cube tray making balls perfect for whiskey
Adorable honeycomb ice tray (small cubes) 
Deep square ice cube tray perfect for whiskey, big drinks, or saving baby food
Each tray comes with its own lid. The honeycomb and deep square trays seal great, preventing spills, and stack with ease.
However, while I love sphere cubes, the hole in the top for the funnel does mean this one won't be spill-proof. Also, while the shape allows it to technically stack, it won't be as easy as a perfectly flat lid. 
See the latest price of the AiBast ice Cube Tray Set at Amazon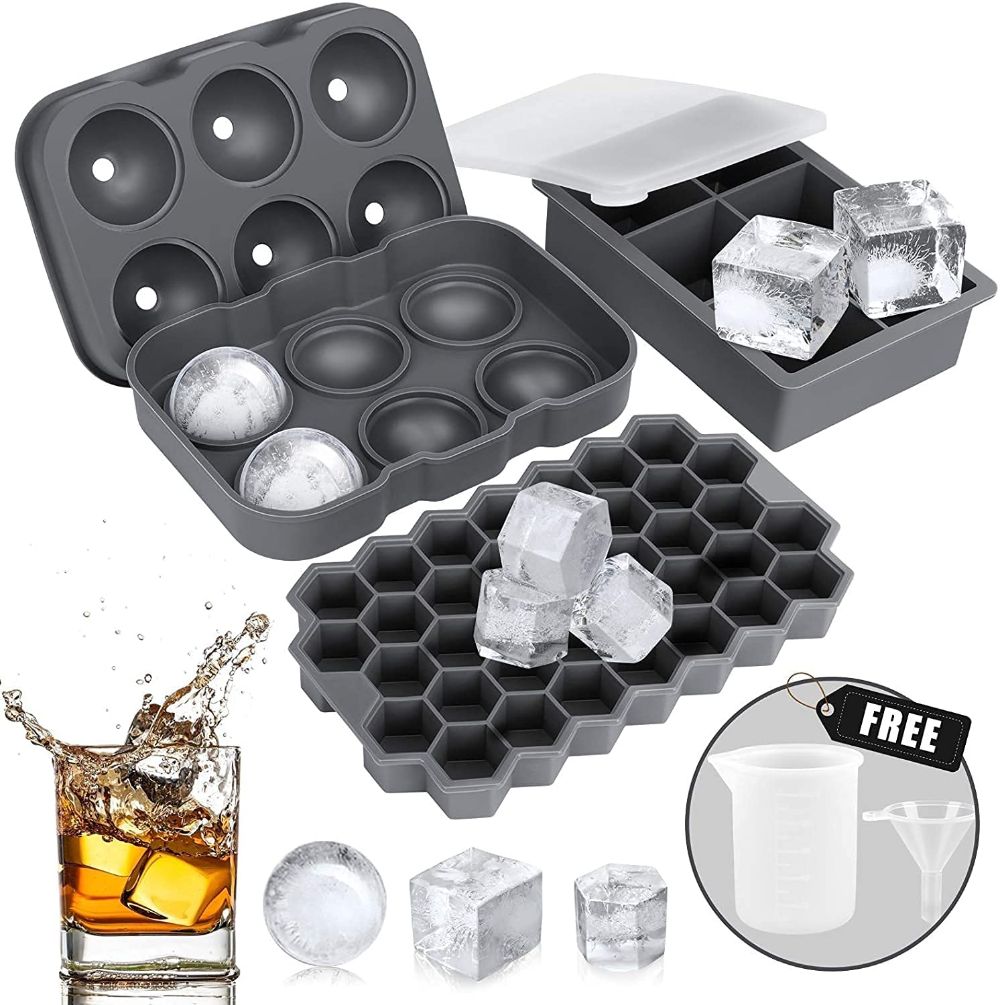 8. GoodCook Prep And Freeze Easy Release Silicone Ice Cube Tray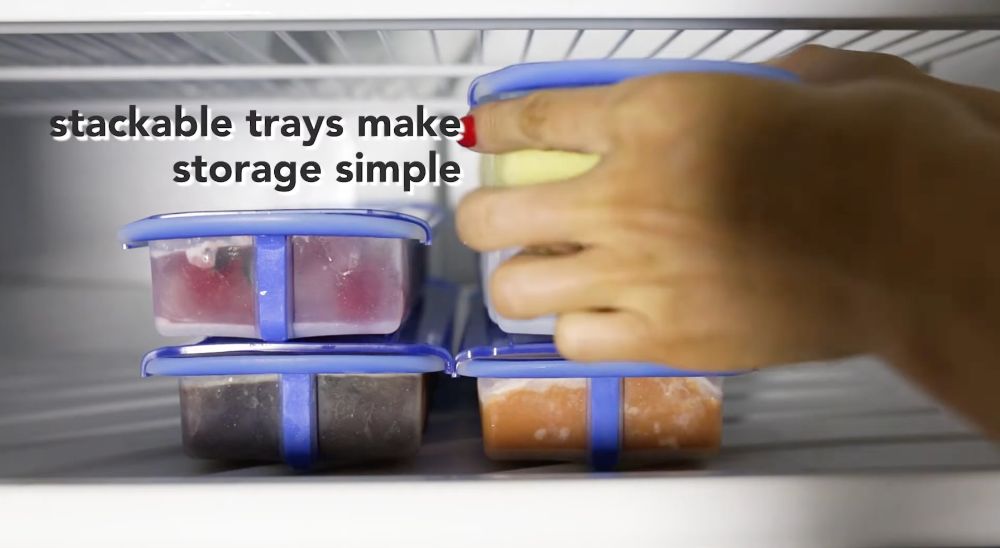 GoodCook Prep And Freeze Easy Release make larger ice cubes and have a sliding lid that allows it to not only be stackable and contain odor but also prevents the unused cubes from being exposed to the air while you fiddle with the ones you need.
A great hygienic design that's also dishwasher safe. You can see the details of it below:
They are made from high quality silicone and reinforced to make the ice cubes easier to get out. Still you can push them out individually if you want.
A high quality stackable ice cube tray with lid that you should get a few of and enjoy the larger ice cubes which tend to melt slower than smaller ice cubes.
See the latest price of GoodCook Ice Cube Trays with Lids at Amazon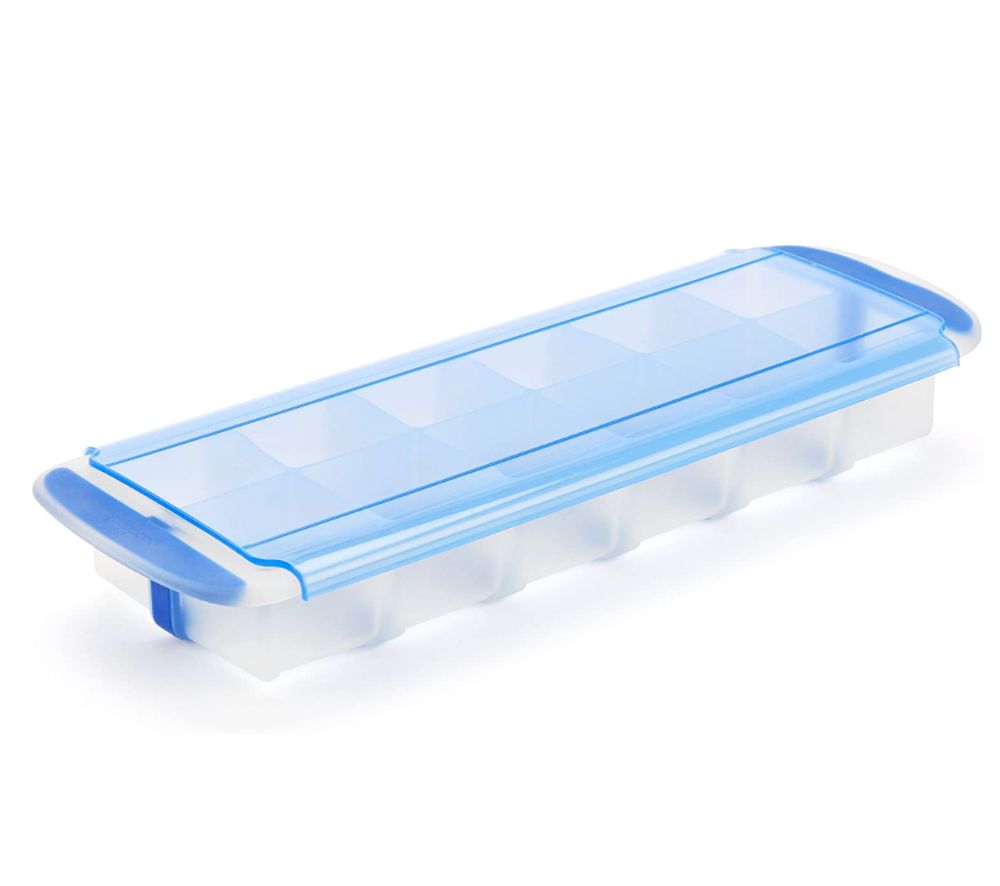 9. Mumi&Bubi Solids Start Kit (Ice Cube Tray)

MumiBubi Solids Start Kit is aimed at new parents who need to whip up batches of baby food and store them in the freezer for future use.
But childless folks, don't stop reading; this makes excellent ice cubes too. No, they are not cube-shaped, which is wonderful when trying to add ice into narrower water bottles. 
Mumi&Bubi seal tight, don't spill, easy to stack, and the ice or frozen baby food pops out without a fight. Lastly, it's easy to clean due to the lack of corners in this scoop shape. No weird dusty-gunk building up in the edges.
See the latest price of Mumi&Bubi Ice Cube Trays at Amazon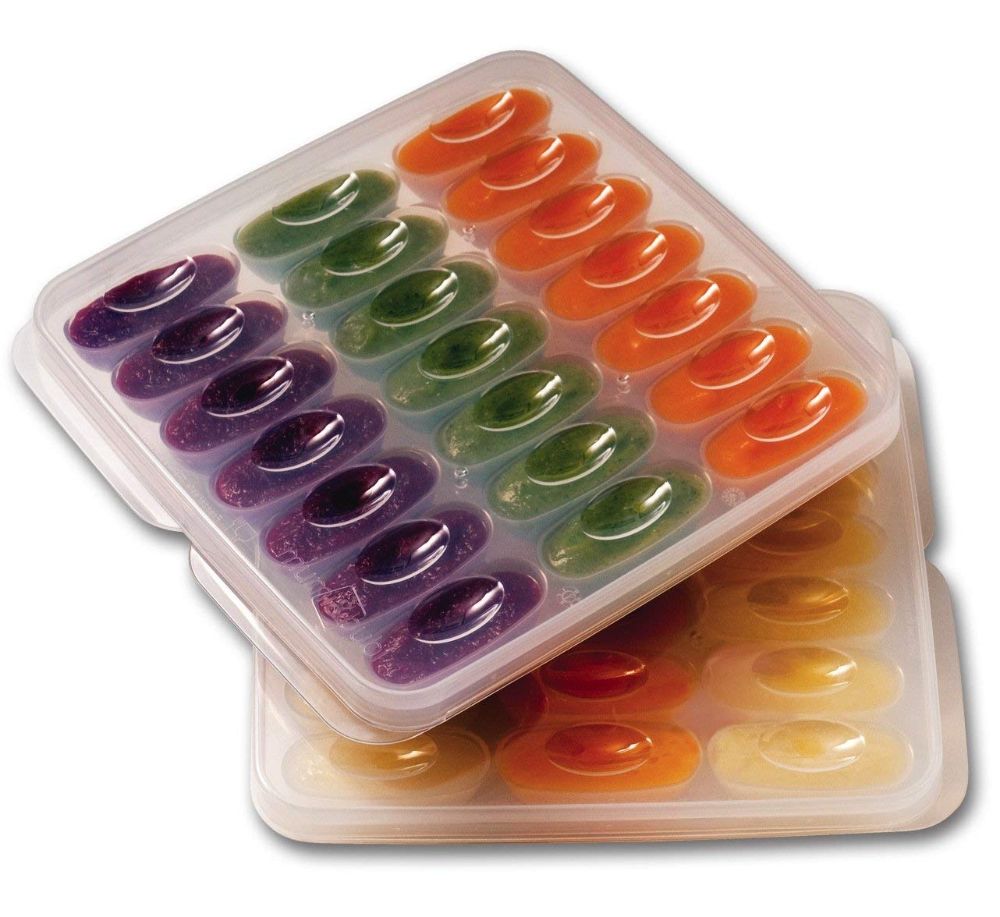 10. Souper Cubes (Ice Cube Tray)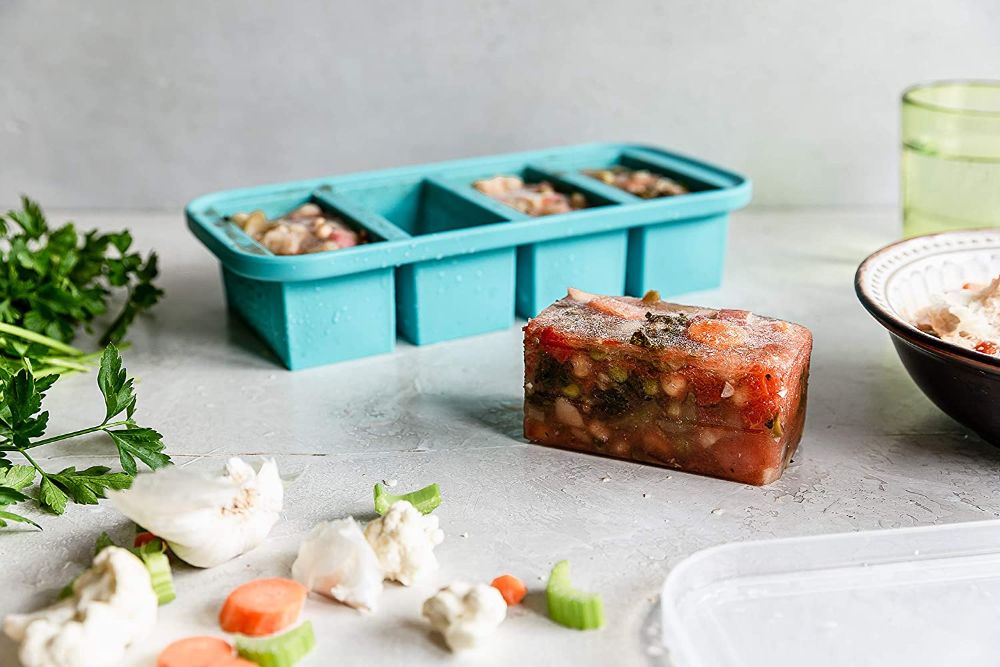 Souper Cubes is adored by Martha Stewart and was designed to store soup, baby food, and sauces such as pesto.
But if you're looking for a large ice cube tray then this one is the king of the hill and makes some of the largest ice cubes out there.
It does do those things well, all with a nice tight lid to prevent spills and freezer burn. However, it also makes thick and solid ice cubes for those big drinks where you crave maximum chill but want minimal melt. After all, the only beverage you want your ice to water down is water.  
See the latest price of Souper Cube Trays at Amazon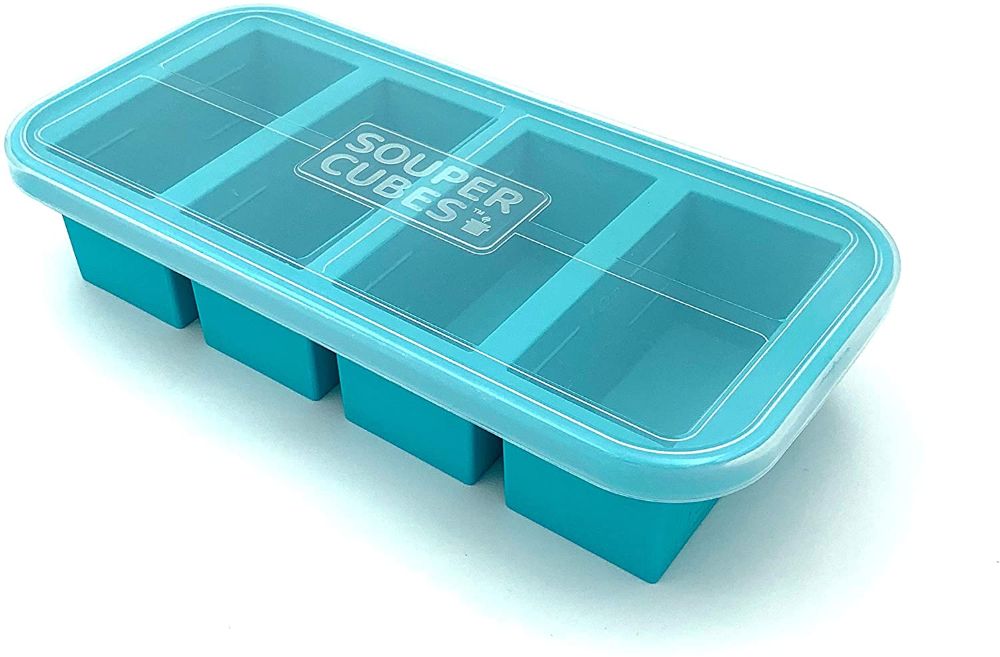 11. ARTLEO Ice Cube Tray with Bin
SMALL ICE CUBES WITH BIN FOR EASY STORAGE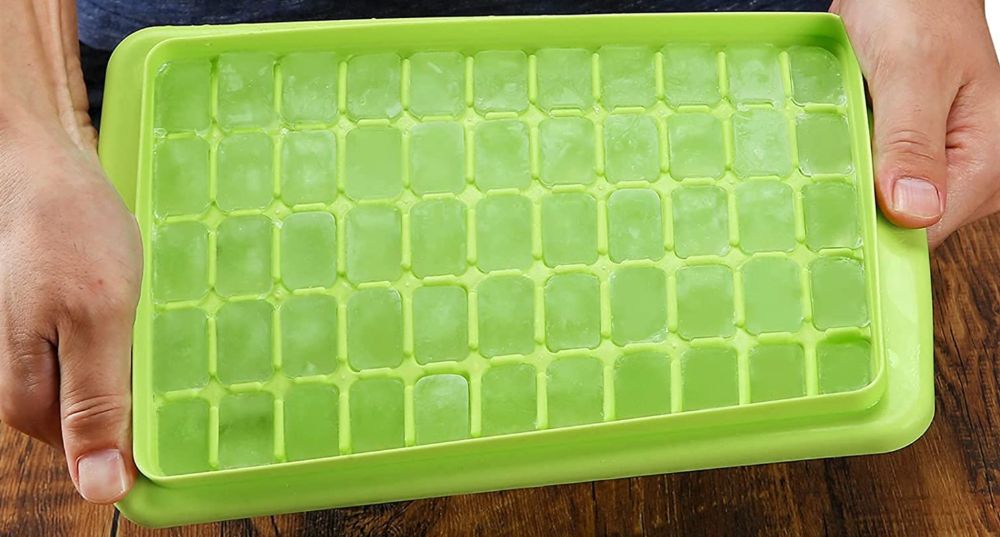 One of the major downsides of most of the ice cube trays on this list is that they don't provide you anywhere to store your ice cubes after they are frozen.
The Artleo easy release ice cube tray is one of the best options because it also provide you with a decently sized storage bin that allows you to store lots of ice cubes all at once. A contained storage bin like this is one of the best ways to store ice cubes in your freezer for longer periods of time. Just make sure to break up the ice every so often so it doesn't stick together in your freezer.

This try makes a whooping 55 ice cubes at once and the bin can store around 200 ice cubes at a time. With this product you'll always have more than enough ice in your freezer ready to go.
A cool thing about this ice cube tray is that it comes with a little scoop that allows you to collect and serve the ice without touching it yourself making it more hygienic.
This ice cube tray also comes with a lid on top which stubs odors from getting into your water.
The tray itself is wide and makes 55 ice cubes at a time and the bin can store around 200 ice cubes at a time. So you'll always have enough ice to go around.
This product even comes with a little scoop to make serving ice easy and the ice tray itself is easy release so the ice cubes come out easily and without much effort.
See the latest price of Artleo Ice Cube Tray With Bin at Amazon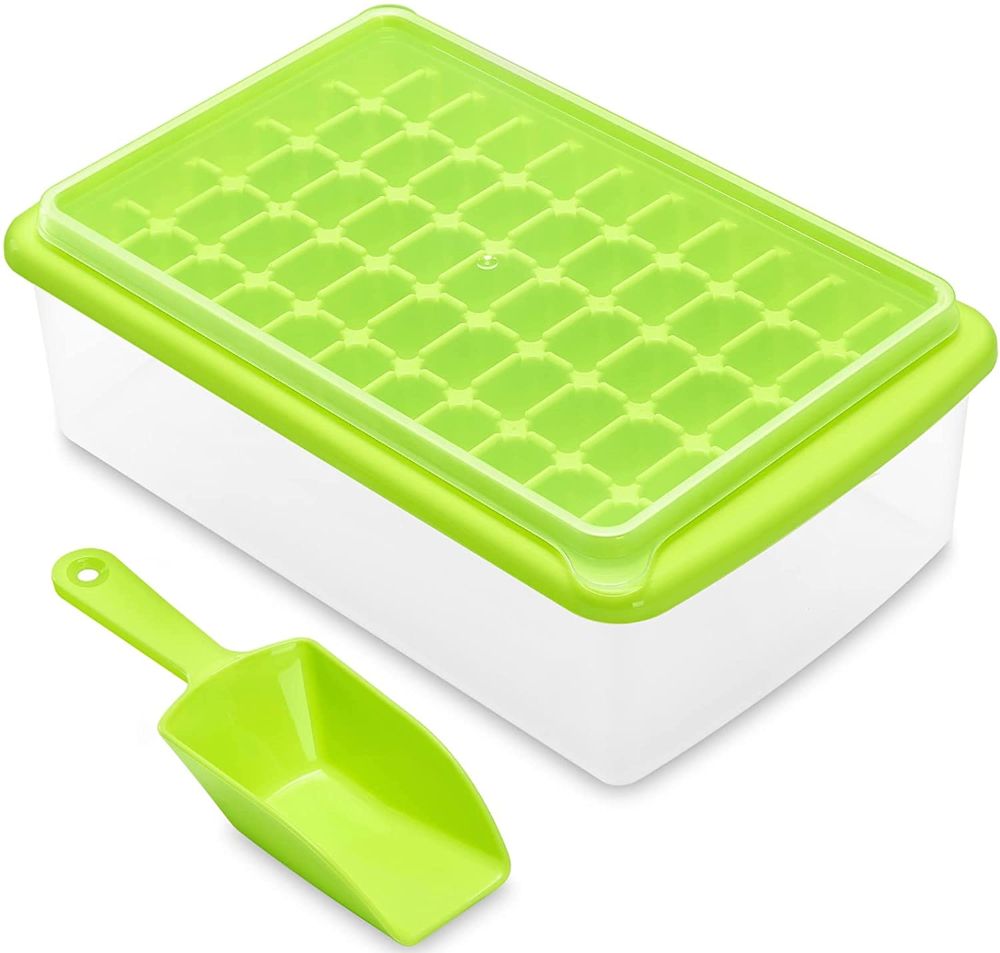 12. LiyuanQ Ice Cube Trays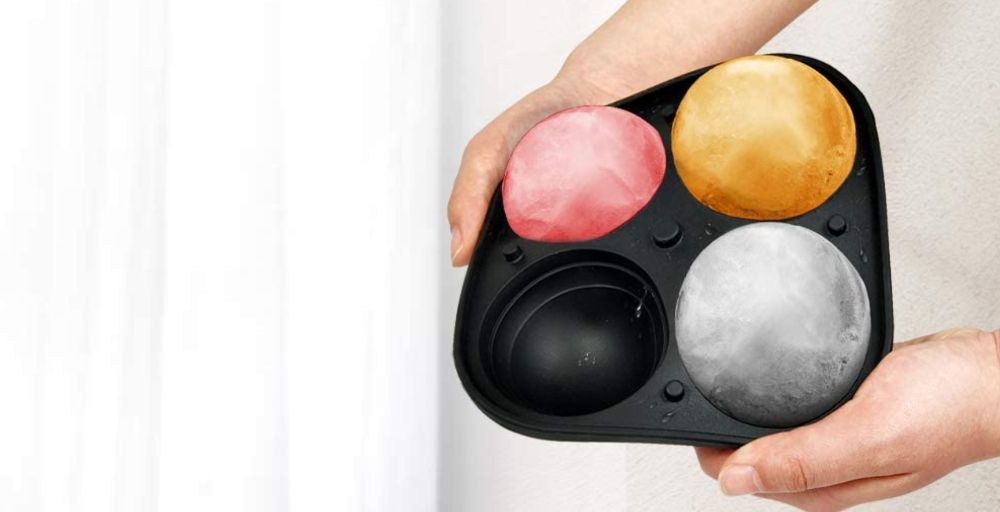 I'm a big fan of Lodge round ice cubes in my cocktails all my ice coffee and I'll often use them when I have guests over. They provide a more impressive experience to most people so it's really fun to make them and give them to people in their drink.
The LiyuanQ Ice Cube Trays are an easy to use stackable mold to make perfect ice spheres every time.
I used a Tovolo ice sphere maker that makes clear ice due to it's insulation but I almost always make a big mess when filling it up because there's nowhere for the overflow to go out the top.
However, with this ice cube tray they've got little pockets for overflow at the top so it won't spill in your freezer. This cool design also means that the spheres can stack on top of one another so you can make multiple all at once. It also has lids on it naturally so it's stop bad odors and tastes getting into your ice cubes.
Because this ice cube tray is made from silicon on the bottom it's pretty easy for you to get the ice cubes out.
See the latest price of LiquanQ Ice Cube Sphere Trays at Amazon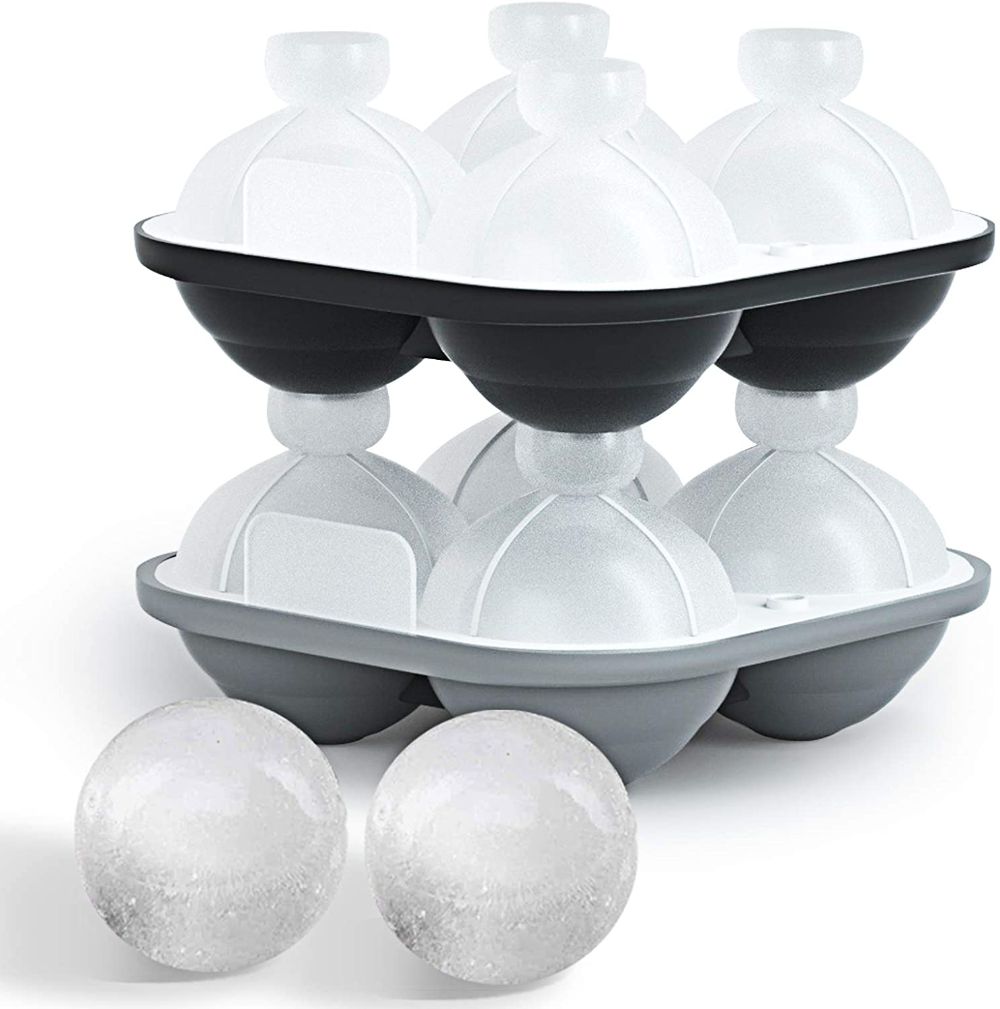 Conclusion
Lids may not quite be up there with the invention of the wheel, but they're a close second. Stick one on an ice cube tray, and you're saving space, preventing mess, eliminating odors, and making drinks a lot more hygienic. Genius.