Sometimes size does matter and when you want to make large ice cubes you need a large ice cube tray.
Larger ice cubes look great and they also melt slower than smaller cubes, releasing less water so your drink does get as diluted. Large ice cubes are great in whiskey or scotch, cocktails or I even like to use them in iced coffees. My kids also LOVE big ice cubes as a novelty in their lemonade or even their water.
There are quite a lot of large ice cube trays to choose from and some are better than others. Below I've listed my recommendations for the best large ice cube trays on the market.
1. True Cubes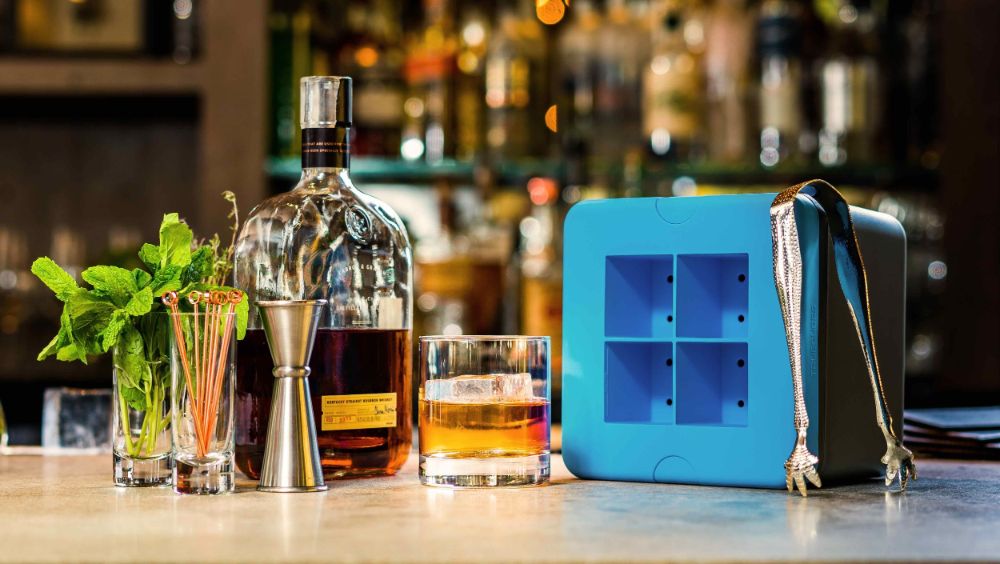 True Cubes is my #1 recommendation as the best large ice cube tray on the market because it is a simple design that makes crystal clear large square ice cubes.
It's one of the easiest ways to make clear ice cubes and it works by using omni-directional freezing (or freezing in one direction).
It has a insulated cooler base and dual silicone inserts. Simply fill up to the fill line and leave in your freezer for 18-24 hours. The top 4 cubes will be crystal clear with all the air bubbles pushed into the water in the bottom mold which can be discarded.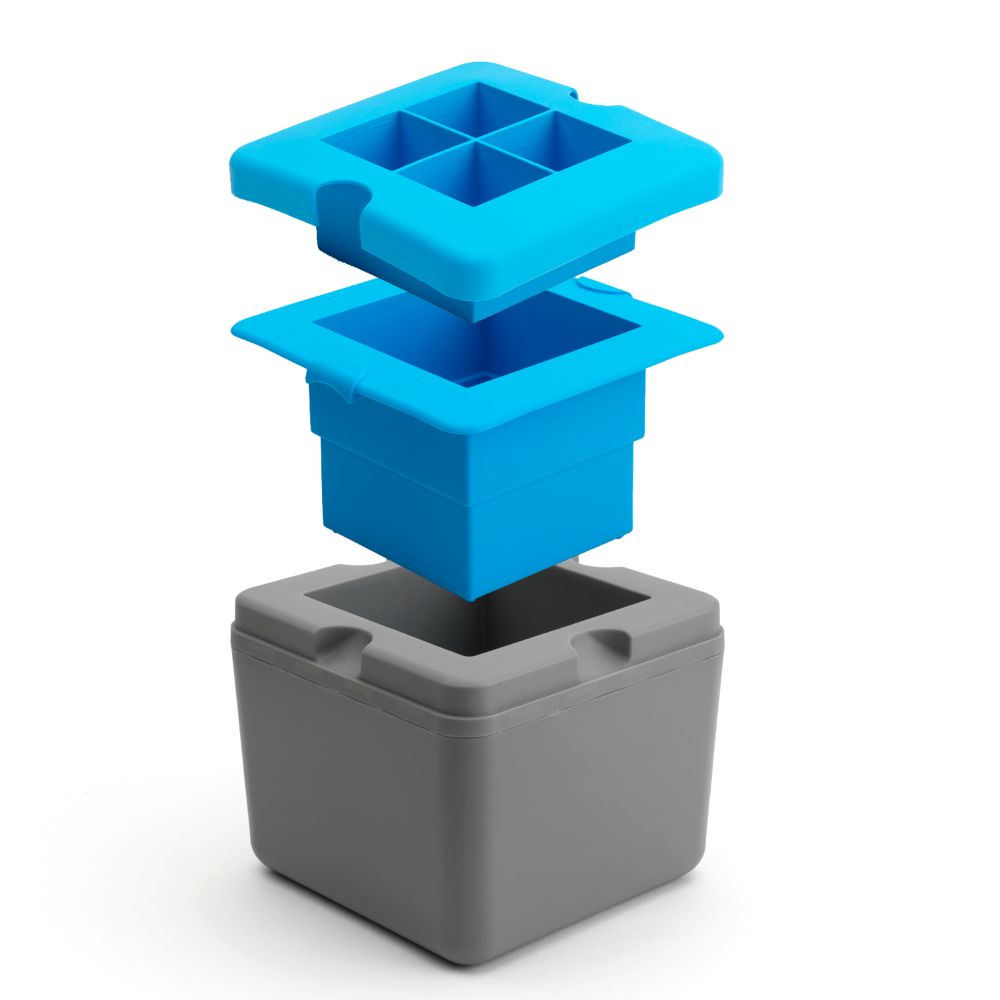 True Cubes is a tray used and recommended by a wide variety of bars and restaurants to make large clear ice cubes for their whiskeys or cocktails. It really gives that premium feel.
It's not the most space effective solution as the insulated cooler and other parts do take up extra room in your freezer but if you have the space and the time to make your ice cubes in advance then this is great product.
There are other products out there that make large clear ice cubes but I haven't seen any recommended as highly or as frequent as the True Cubes tray.
See the latest price of True Cubes at Amazon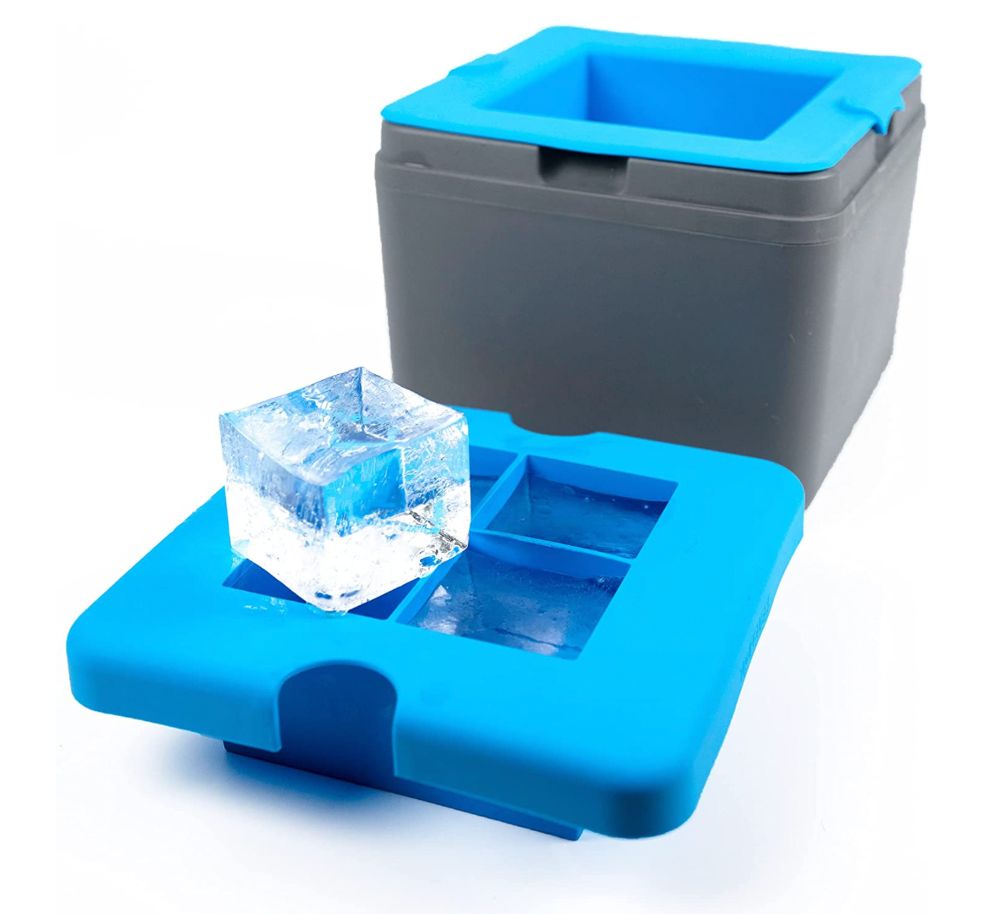 2. Peak Ice Works Everyday Silicone Ice Tray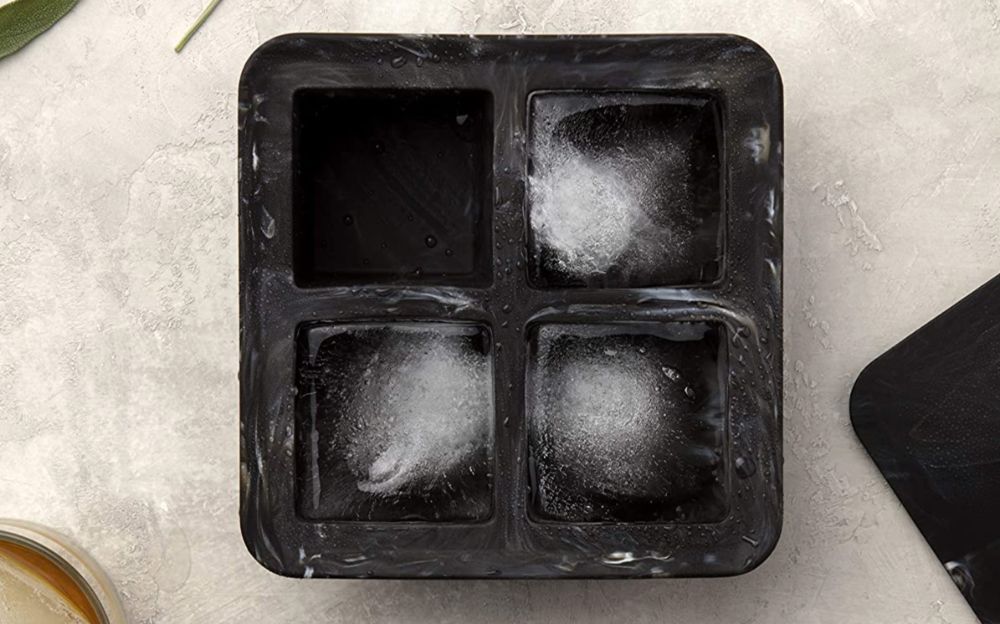 I chose the Peak large ice cube tray to place in the #2 spot because it's simple, affordable and makes some of the biggest ice cubes of any of the molds.
Most molds make ice cubes that are 2″ in size whereas this product produces ice cubes that are 2 1/4″ in size.
It's made from silicone so it's durable and it makes it really easy to get the ice cubes out. It also comes with a lid which means it's stackable and space saving.
The lid will also stop your ice from tasting bad even if the water is good. It does this by stopping bad smells from your fridge/freezer getting absorbed into the water/ice.
The lid also helps to make each of the cubes will be a uniform size and shape. The ice cubes won't be clear like the True Cubes tray but they'll still be large and last much longer than smaller ice cubes.
This is a durable tray and is easy to take care of. When you need to clean it, you can stick it into the dishwasher. It doesn't contain any BPA. It also comes in a wide range of colors.
See the latest price of Peak Large Ice Cube Trays at Amazon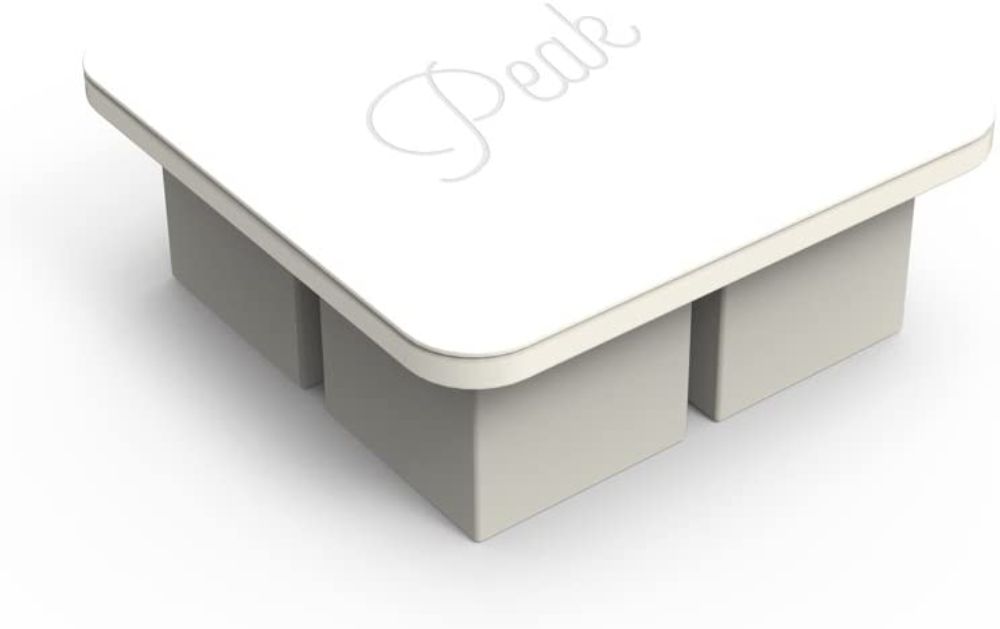 3. Tovolo Seamless Clear Sphere Ice Maker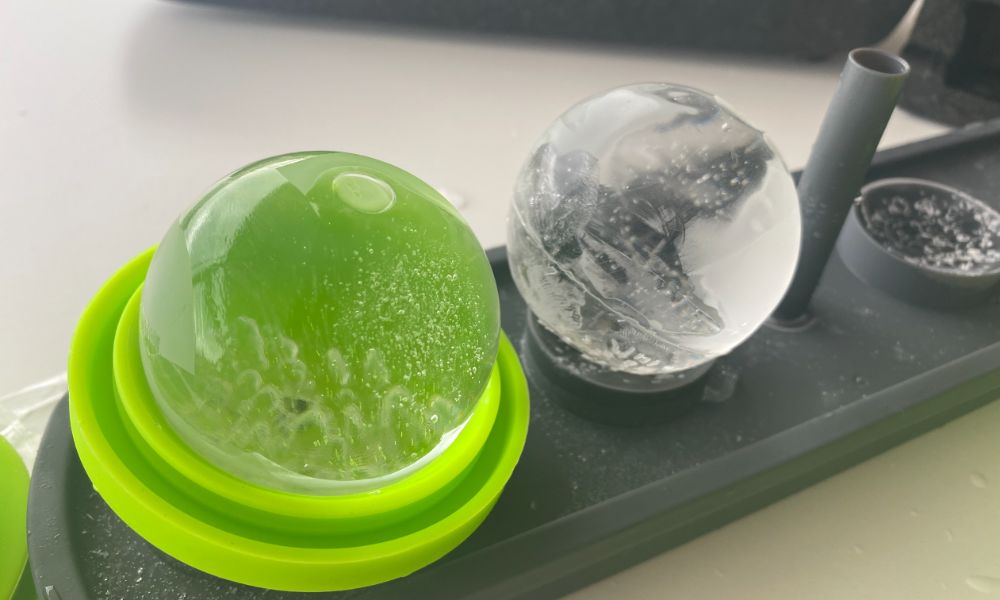 The Tovolo Seamless Clear Sphere Ice Maker is one of the best sphere ice cube trays on the market.
It doesn't make PERFECTLY clear ice spheres as they do tend to have a couple of bubbles in them but the Tovolo is much more affordable than other ice sphere makers and it also makes 4 spheres at a time and takes up less space in the freezer.
My kids absolutely love the ice cubes that these make and it's also great to put in drinks and give to friends and dates when they come over. Everyone is always surprised and wowed by the big ice balls it makes.
See the latest price of Tovolo Clear Sphere Ice Molds at Amazon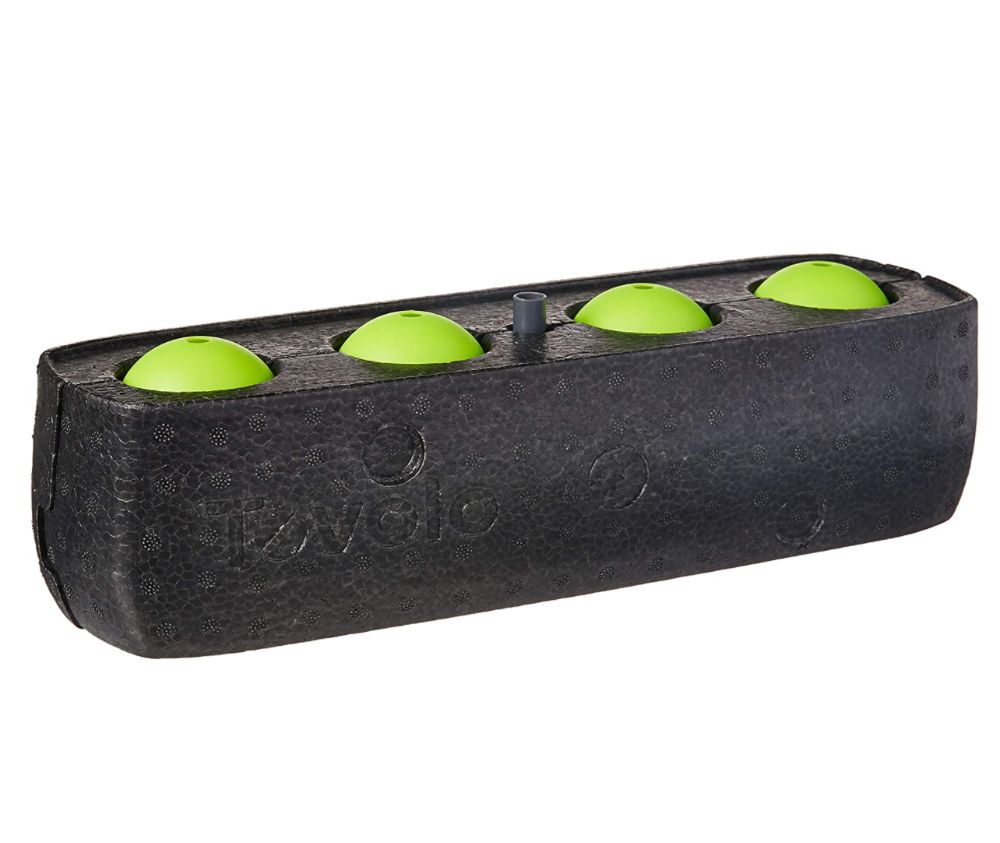 4. Kootek Ice Cube Trays 4 Pack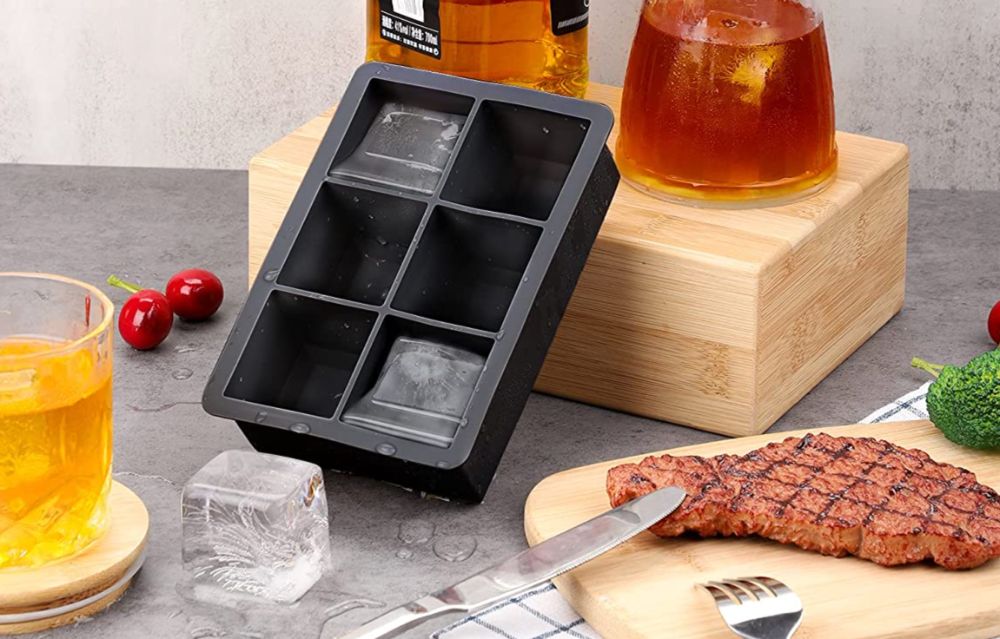 If you are seeking an alternative to the Peak tray, you might want to think about the Kootek Ice Cube Trays 4 Pack.
These large ice cube trays will come with a lid, which allows you to stack the containers. It also keeps odors out of the ice cubes, which can sometimes impact flavor. Because it comes in a pack of 4 it means that you can make 24 large ice cubes all at once.
So if you're planning a party of need a lot of big ice cubes then this is the product you'll want to go with.
There are a few other things that help make this tray so appealing, this includes:
Made of food-safe materials, so you don't need to worry about any harmful chemicals
Easy release, you just need to squeeze the base of the silicone and it will come out
Dishwasher safe, so it's easy to keep clean
See the latest price of Kootek Large Ice Cube Trays at Amazon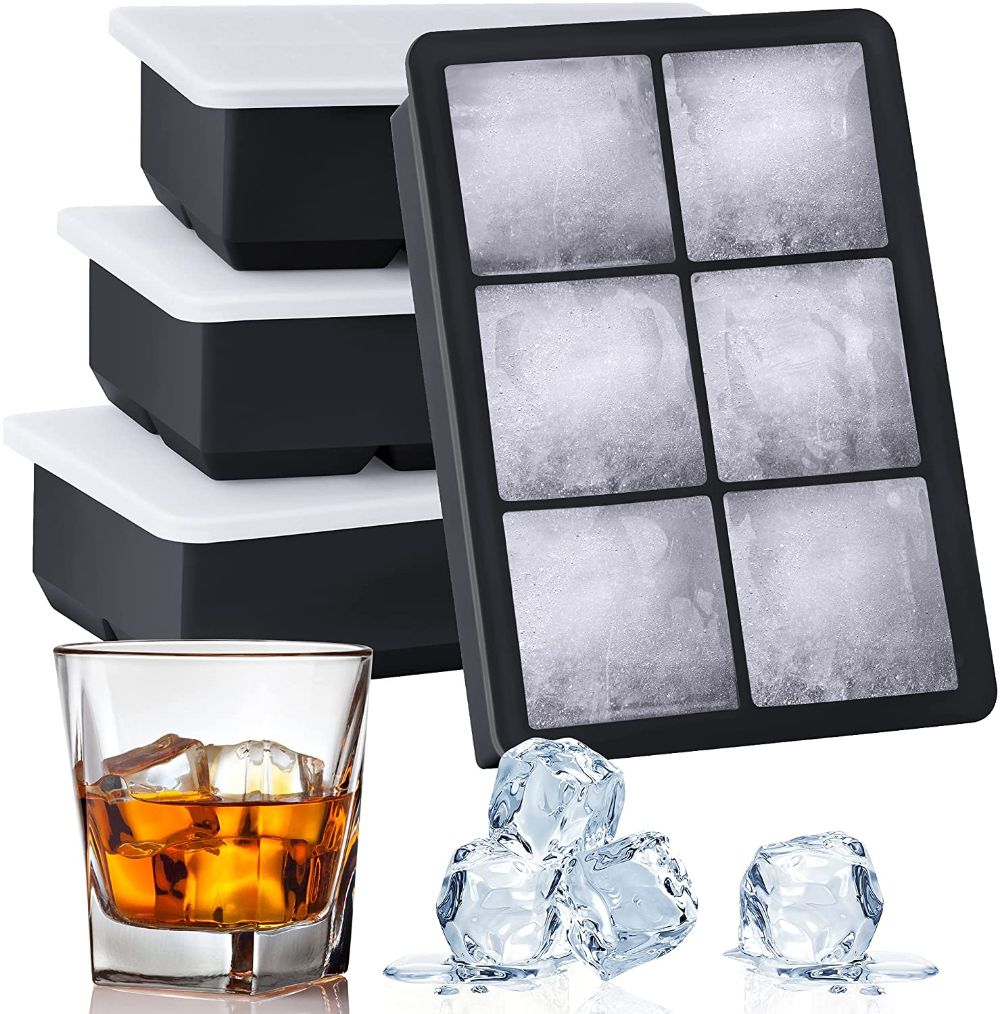 5. Ice Topper XL Ice Cube Tray with Attached Lids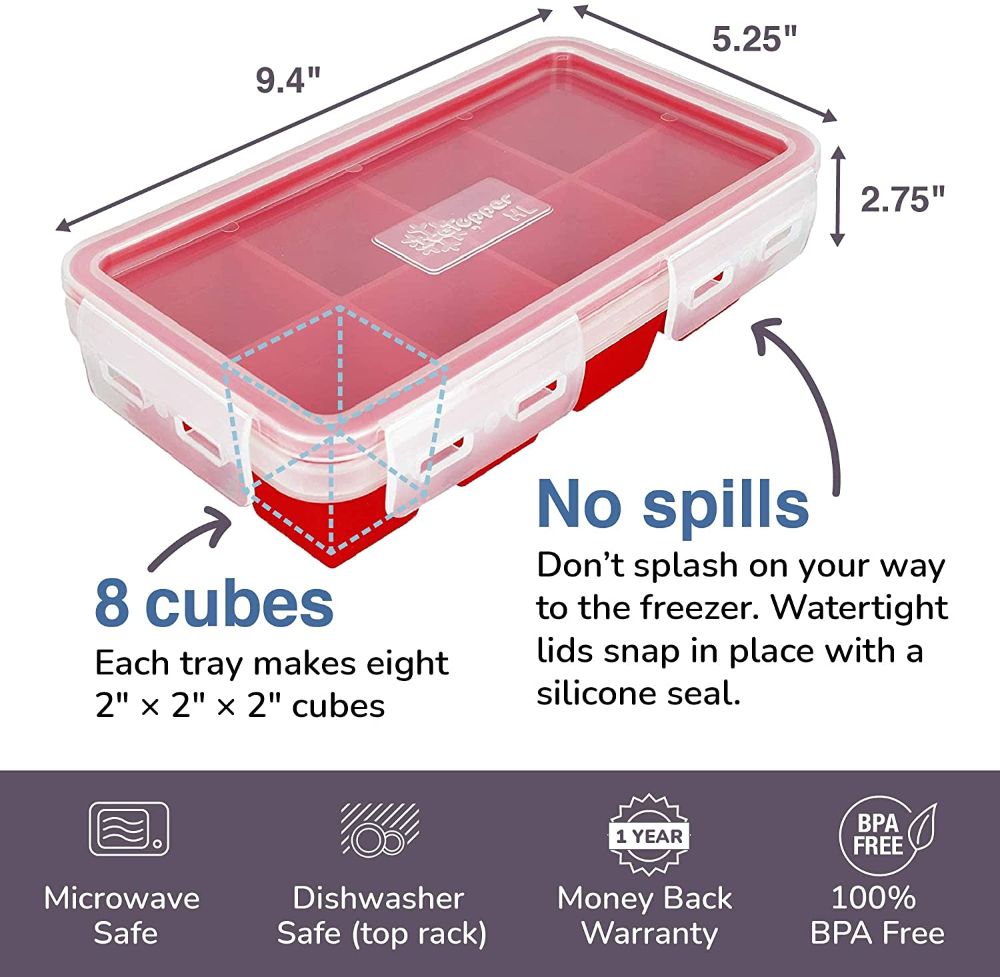 This is in a similar vein to the previous two options. You will get a large ice cube tray, made of silicone. It's rectangular and easy to put into the freezer and you shouldn't have any difficulties stacking it.
However, what makes this ice cube tray from Platetopper stand out is that the lid is attached to the tray with clips, rather than just being place on. Once you've finished pouring the water, you just need to clip it into place.
This makes the whole product water tight meaning you aren't going to get any spills in your freezer. It also means no bad odors can get into your ice at all making it taste delicious.
This product will make white ice instead of clear ice because it doesn't have any insulating walls, but it makes 8 ice cubes at a time each 2″ in diameter.
There are a few other benefits that this product can provide. First, it will be easy to keep clean. You will be able to put it into the dishwasher.
The manufacturer recommends that you wash it out with water and vinegar once a year to keep it fresh. Plus, it's crack-resistant and built to last for a long time. It comes with a one-year money-back guarantee. 
See the latest price of IceTopper XL Ice Cube Trays at Amazon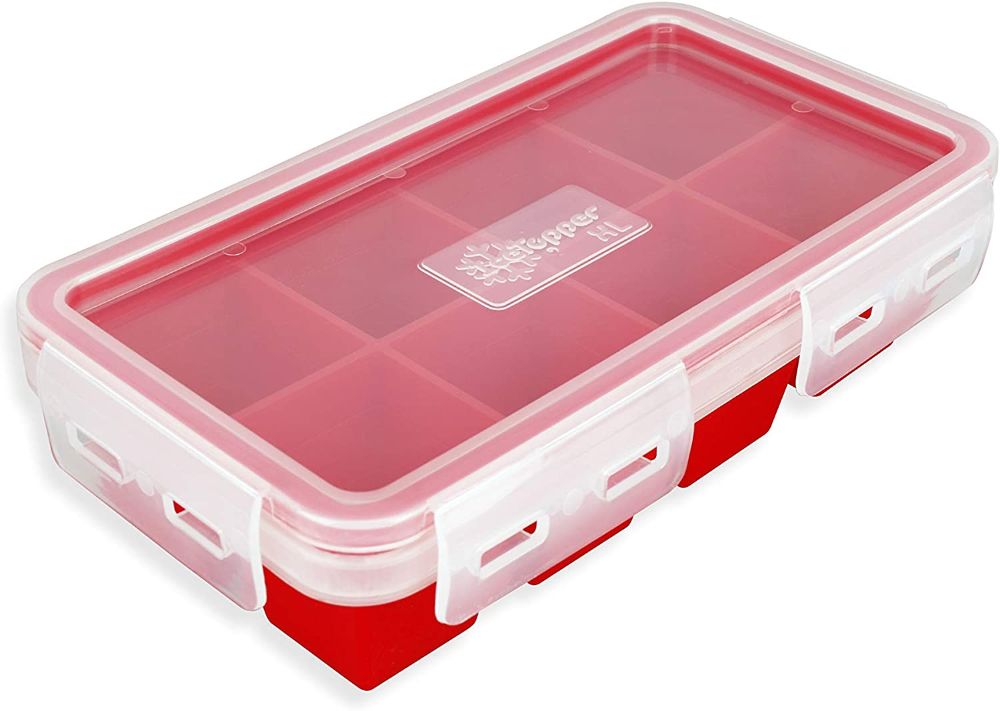 6. HOSNNER Extra Large Soup Ice Cube Tray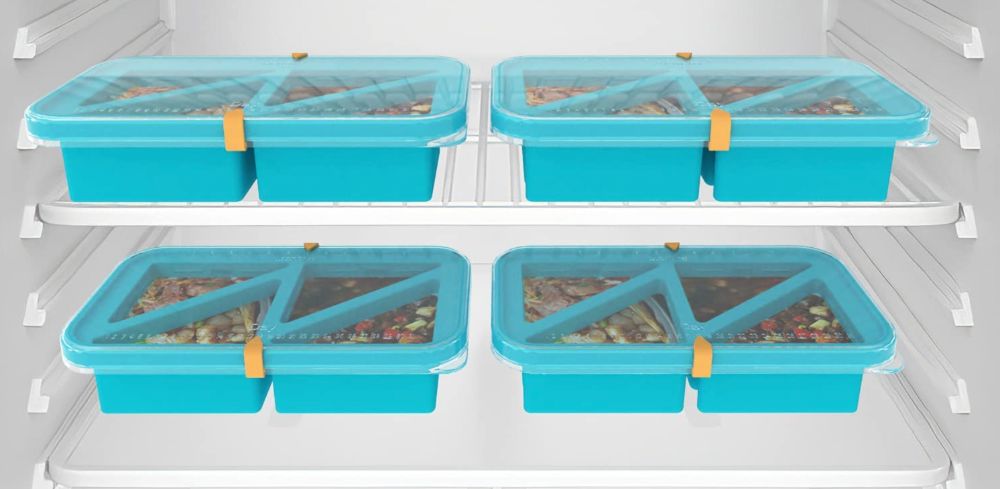 If bigger is better then these are the trays for you. Whereas the 2″ ice cubes most of these trays make only hold around 130mL in water volume these triangular trays holes 250mL of volume for the smaller triangles and up to a whopping 500mL for the larger triangles.
Ice cubes aren't the only thing that you can freeze. Some people also like to freeze things like soup, leftovers or baby food. This can be a good way of planning out your meal portions in advance. The HOSNNER tray makes this aspect easier. 
Alternatively, you can use it to make huge ice cubes. This might come in handy if you are planning on going on a camping trip or picnic and want something that will keep your drinks cool for hours. 
I wish this product had square or rectangular shaped cubes and the triangle shaped cubes are a bit hard to use in drinks, but if you want the biggest ice cube mold possible then this is going to be a product you want to look out.
There are a few aspects of this product that help set it apart:
There are sliding tabs on the lid to mark the date and month you froze the food. This makes it easy to track expiry dates.
It comes with a lid
Made of silicone, so it will be easy to get the cubes out
Doesn't contain BPA or any other potentially harmful chemicals
See the latest price of Hosnner Large Ice Cube Trays at Amazon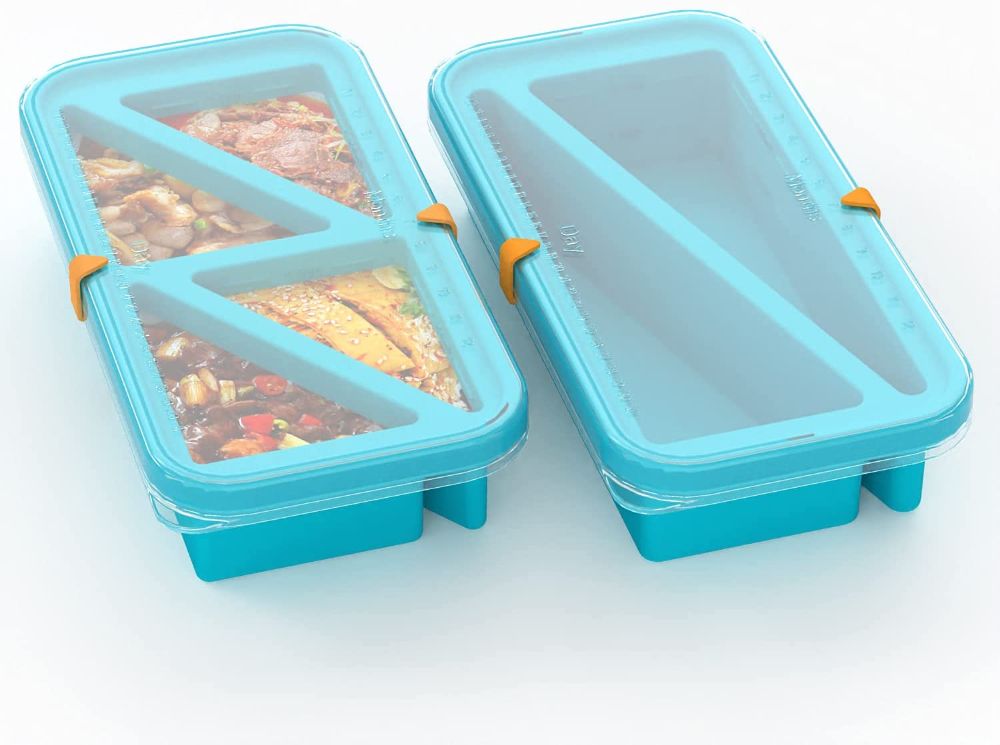 7. LiyuanQ Ice Cube Trays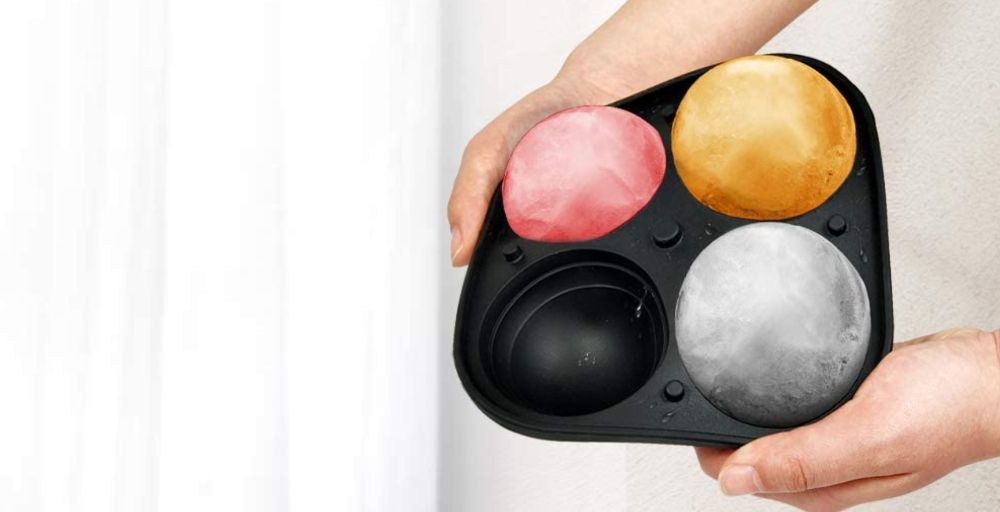 I'm a huge fan of round ice cubes in my whiskey or iced coffee over the square cubes. I just find they look better and are more impressive to most people.
The LiyuanQ Ice Cube Trays are an easy to use mold to make perfect ice spheres every time.
Something that annoys me about the Tovolo mentioned above is I usually make a mess when filling it up because there is nowhere for the overflow to go. However, this product catches the overflow at the top and means there will be less mess in your kitchen.
The design also means it's completely stackable so you can fit multiple in your freezer on top of each other, saving space and allowing you to make more large ice balls at once.
Because the molds are made from silicone, it will be fairly easy for you to force the ice cubes out. 
See the latest price of LiquanQ Ice Cube Sphere Trays at Amazon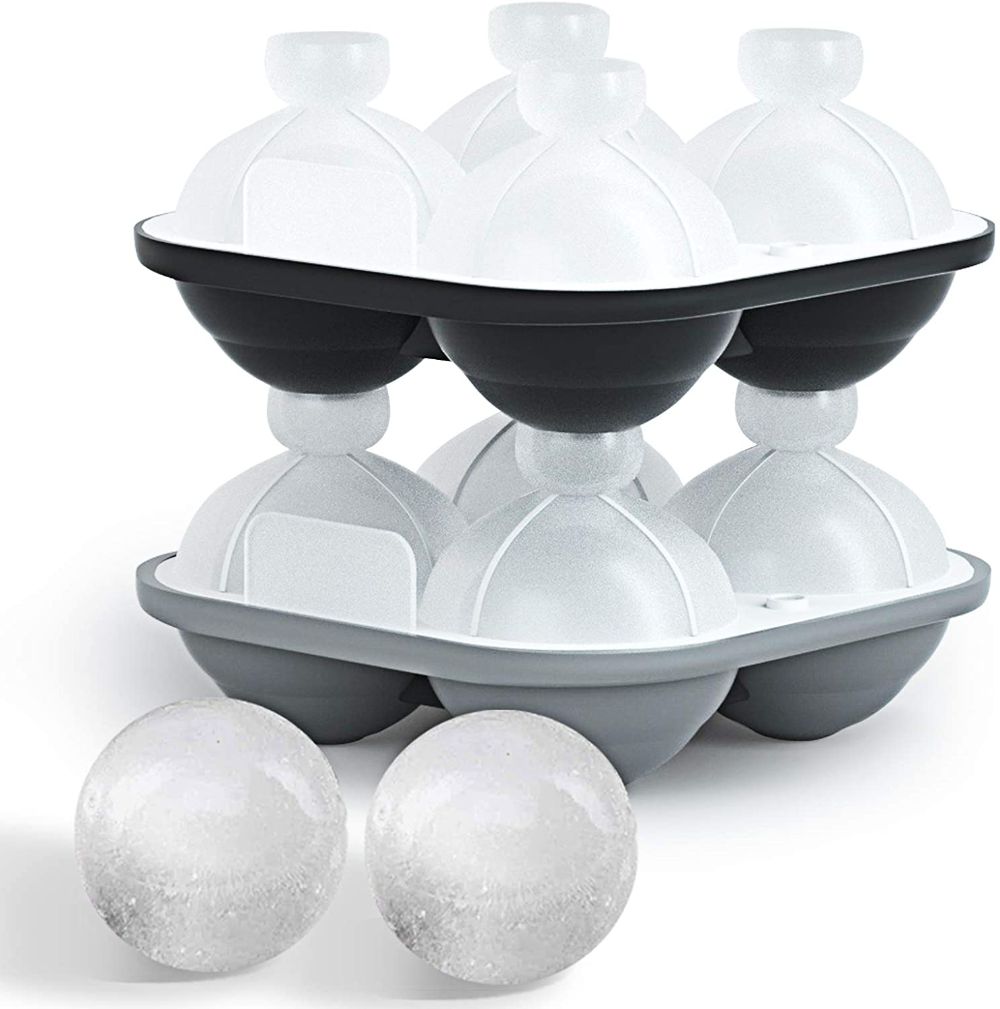 8. Coleman Flip Lid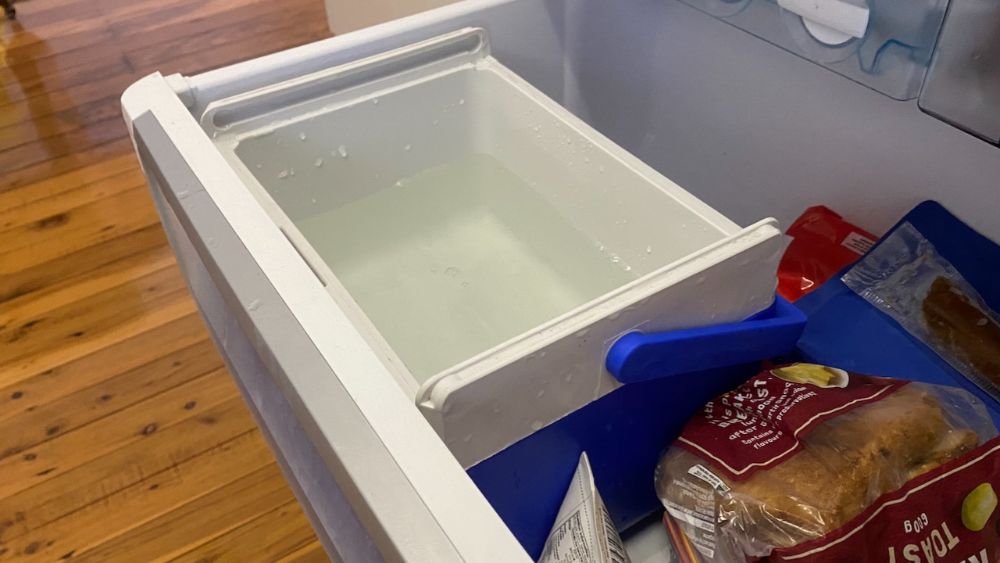 If you want to make amazing clear ice then the Coleman Flip Lid 5-Quart cooler is a great way to make a large block of clear ice that you can then cut into the desired shape.
It's one of the best and most genius ways to make ice cubes without a tray and because the cooler is insulated the ice will freeze from the top down pushing the air bubbles into the bottom, leaving the ice on top completely clear.
I recommend leaving it in the cooler for 24-48 hours and emptying it out while there is still some water on the bottom. This means you'll only have crystal clear ice and won't have to remove the white ice with bubbles in it.
However, if you leave it too long you can always cut away the white ice.
For large blocks of clear ice for your cooler or for parties this is a cheap and effective method to make them. You can then use it as a normal cooler once you've finished making ice.
See the latest price of the Coleman Flip Lid Cooler at Amazon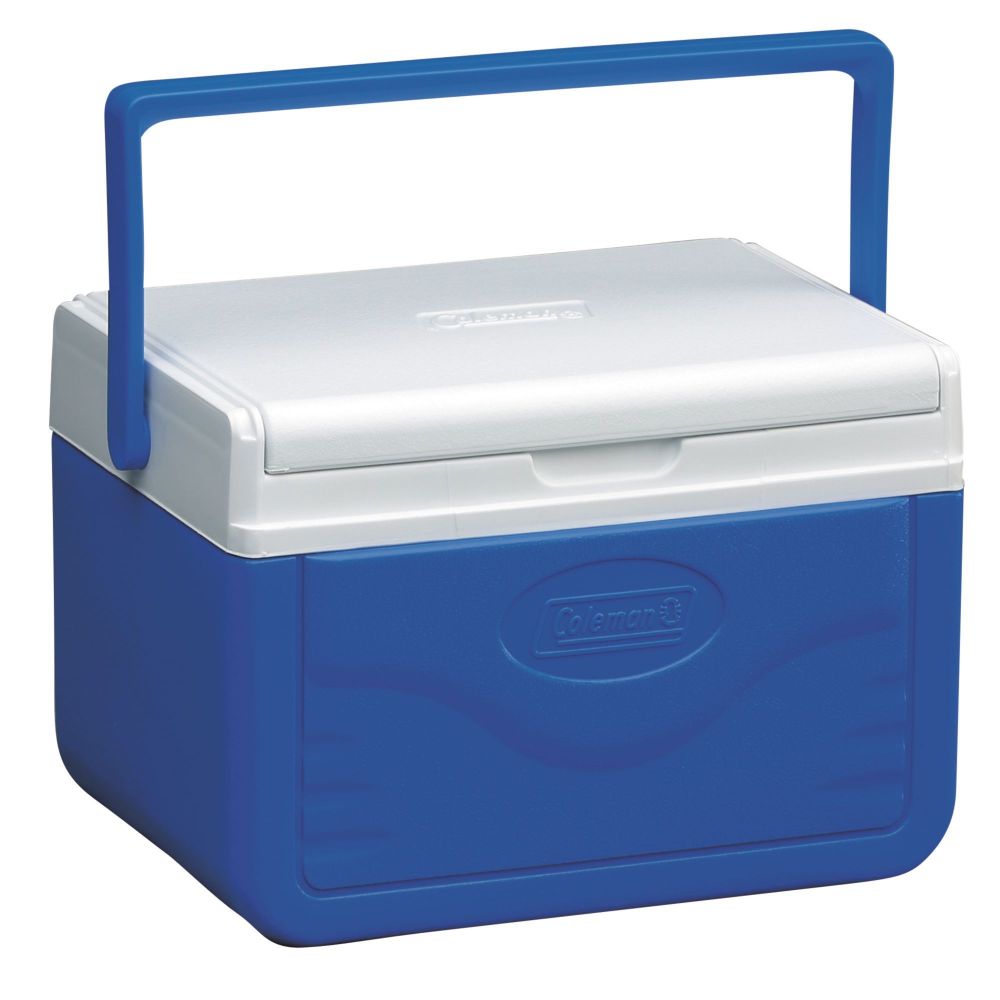 9. Silicone Cake Trays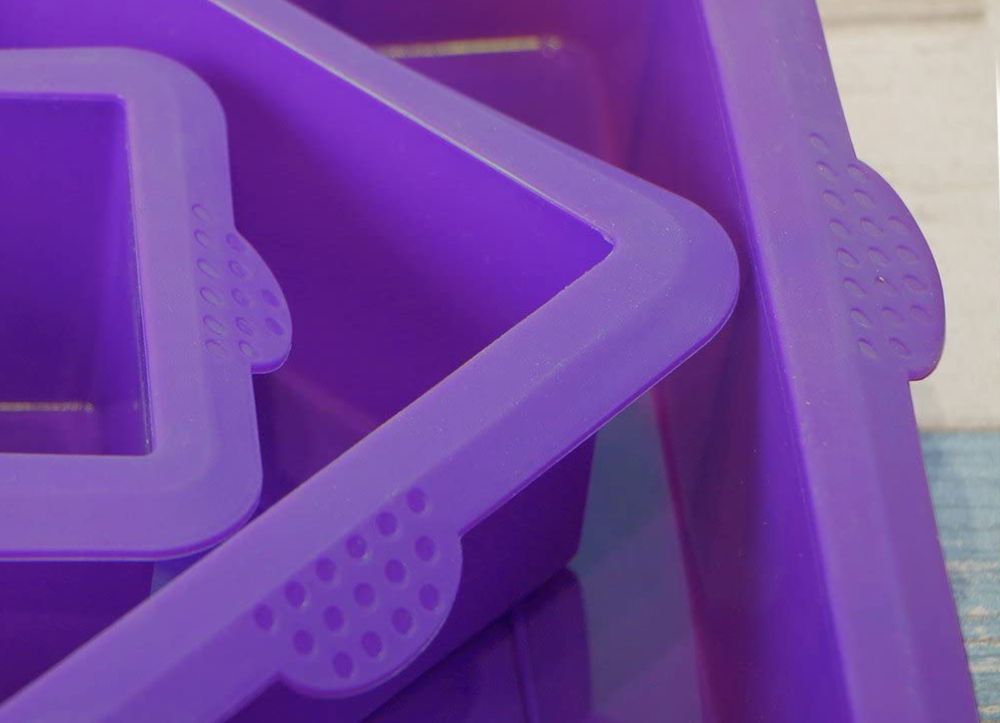 For making GIANT ice cubes skip looking for "ice cube trays" and instead look for silicone cake trays. These trays range in size from smaller cubes or rectangles up to extremely large for huge cakes.
You can even buy tiered silicone baking trays for making wedding cakes but this allows you to make really big ice cubes in a variety of different sizes.
You can also get circular cake trays and make large blocks of circular ice.
See the latest price of tiered silicone cake trays at Amazon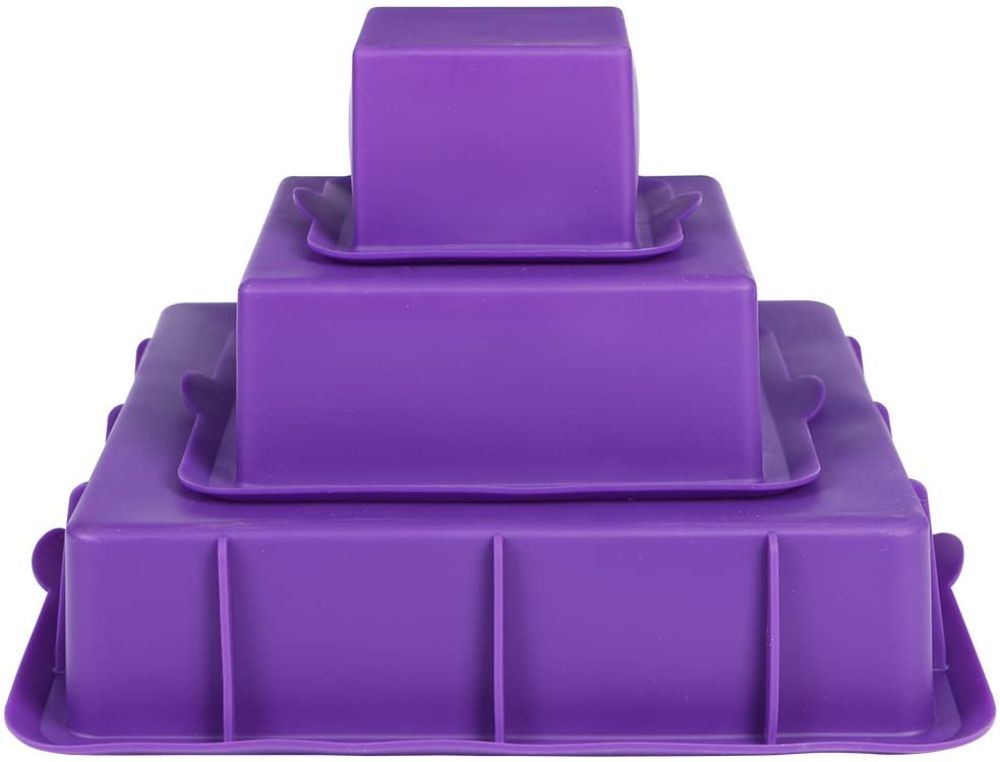 See the latest price of deep pan silicone bake tray at Amazon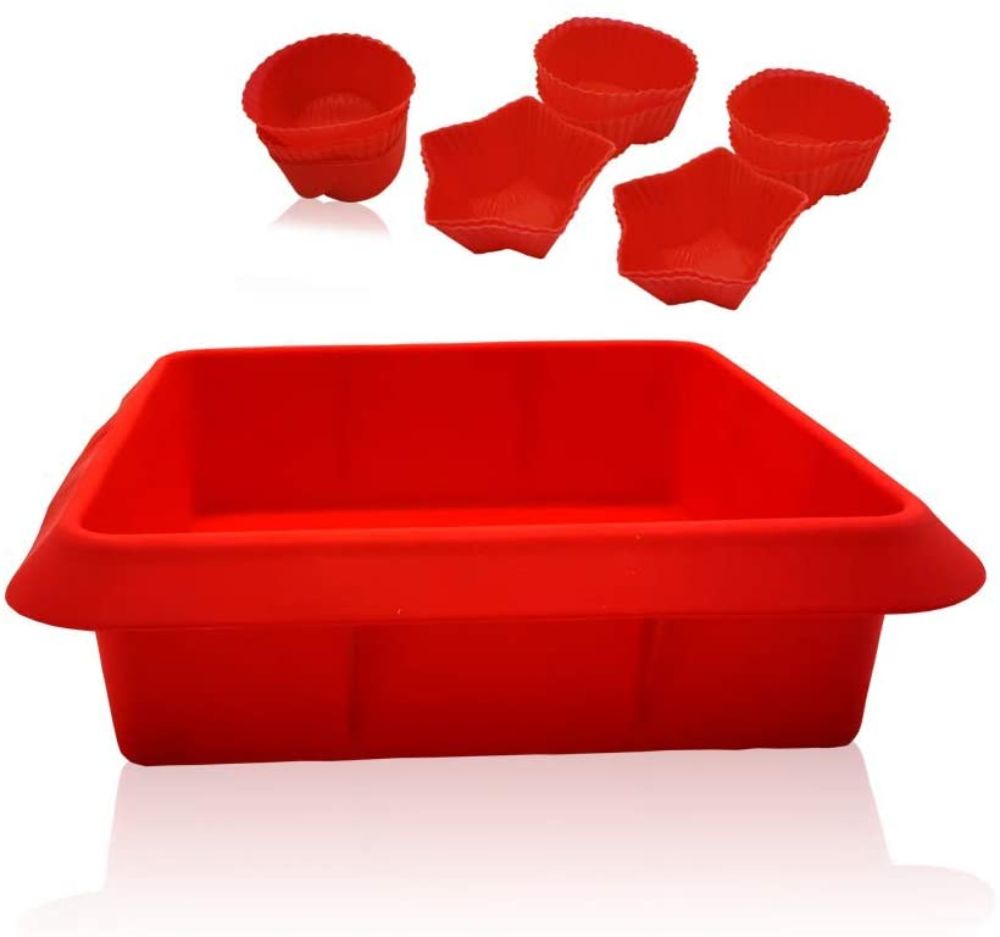 10. Shefio Round Ice Cube Mold Set of 4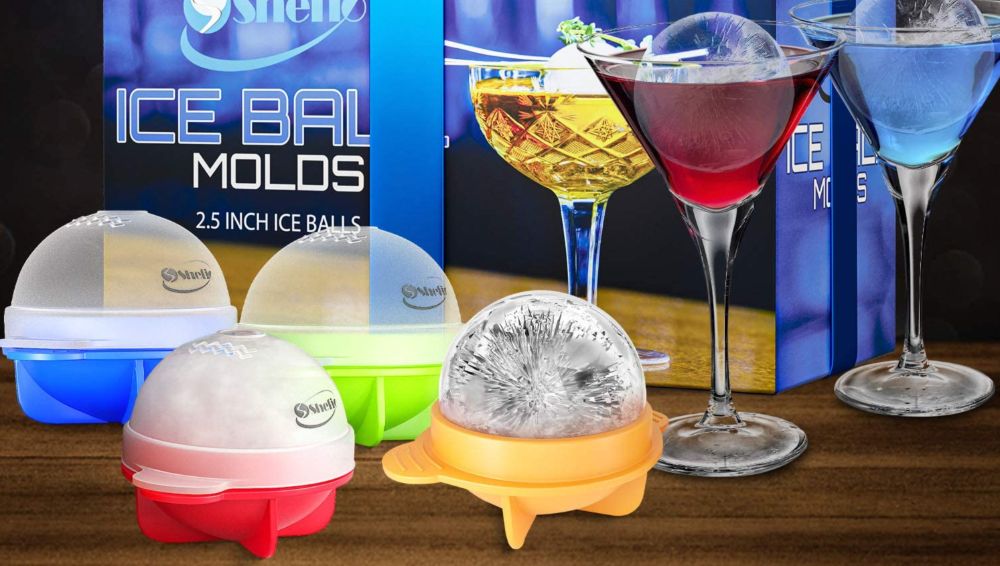 Sometimes, you don't want to make a tray of ice cubes. You just want to make up one or two. This solution is best for people who only have a limited amount of space in their freezers. If this applies to you, this option might be the best for you. This is a set of four individual ice balls. 
Here are some of the other benefits of this product:
Dishwasher proof
Strong seal, so you don't need to be worried about leaks
Clear top, so you know how full it will be
Large balls, each one is two and a half inches thick
Soft silicone, so it will be easy to release the cubes
See the latest price of Shefio Ice Sphere Molds at Amazon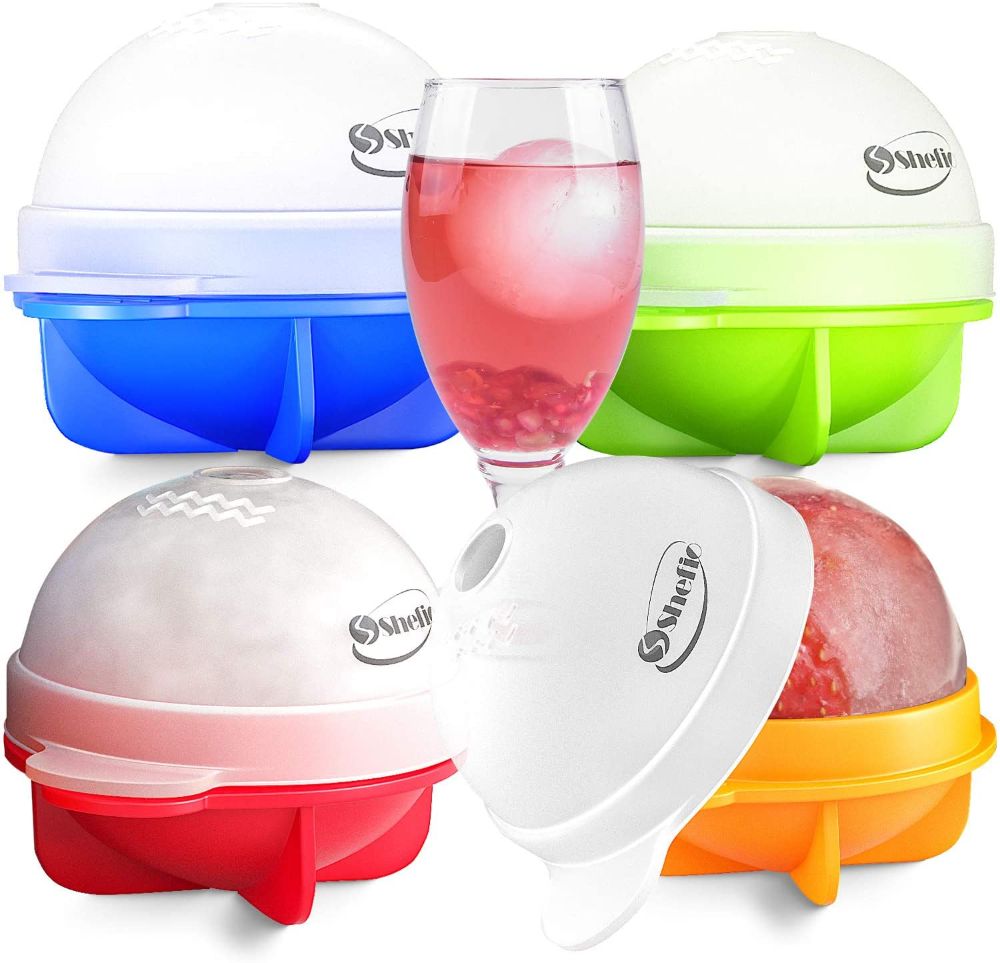 11. Stainless Steel Metal Ice Cubes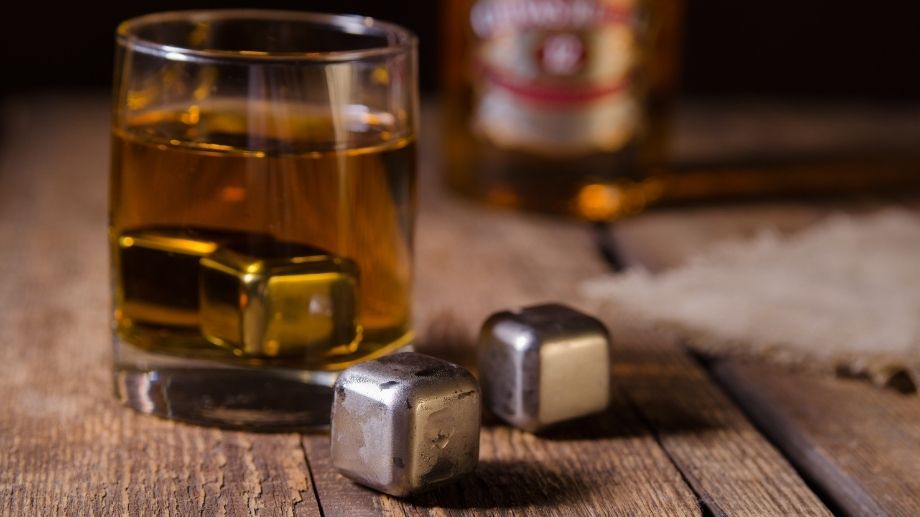 This is a different type of ice cube. Unlike the other options on this list, these cubes aren't made from water. Rather they are made from metal.
You don't fill them up you just throw them in the freezer. The great thing about these is that when you use them in your whiskey or cocktail they don't melt and thus don't dilute your drink at all.
You will also be able to wash them and reuse them and because they are kitchen grade stainless steel you can pop them into the dishwasher and they won't leech any chemicals or flavors into your drink.
This set comes with eight cubes, and a tray to store them in the freezer. It even comes with rubber tongs, so you can lift them out of the tray and put them into your glass. They even come with a 12-month warranty. 
See the latest price of stainless steel metal ice cubes at Amazon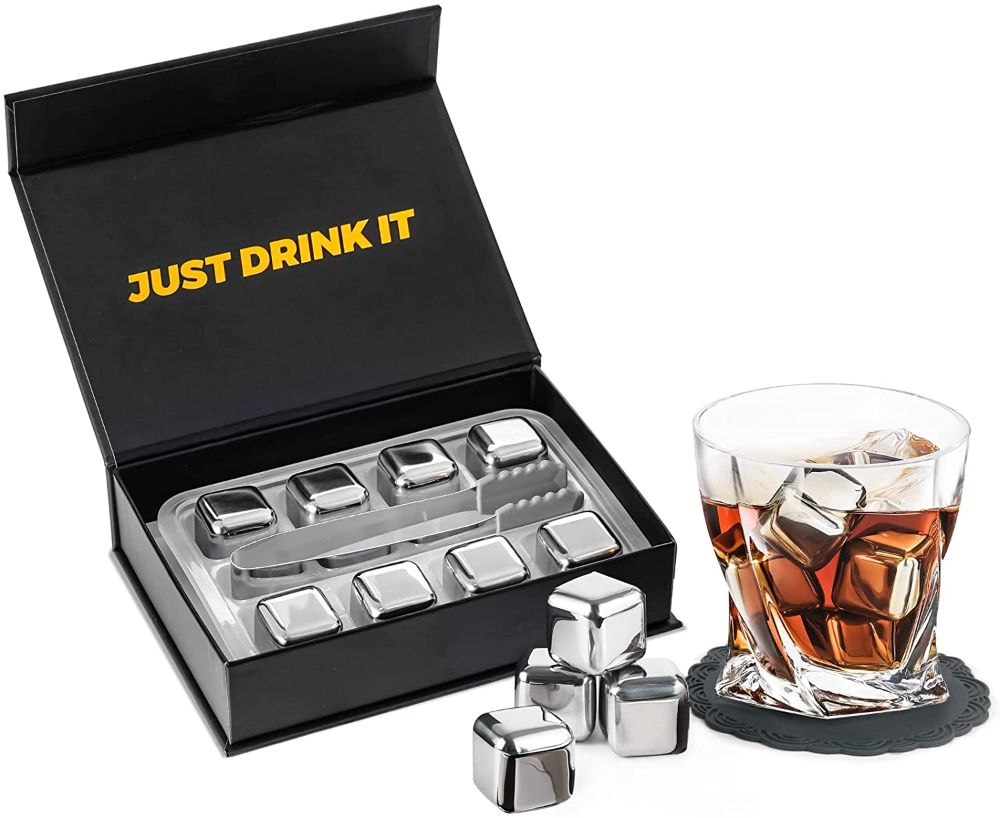 12. 3D Snake Ice Molds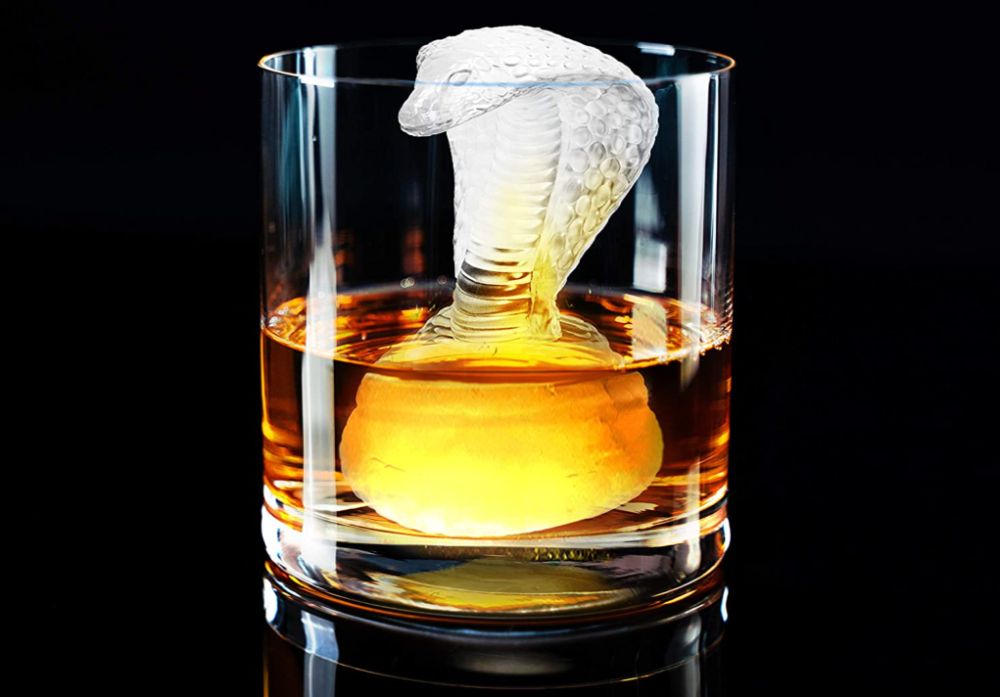 I've seen a bunch of large ice molds in the shapes of skulls or other faces but these 3D snake ice molds really stood out to me as a fascinating and unique design. I've literally never ever seen anyone using ice cubes like this.
They have a large base that will sit in your whiskey and won't float and the the cobra head will stick out from the drink.
These are amazing for parties, to wow any guests you have or just to make your drink way more fun. These could also be perfect for halloween.
See the latest price of 3d Snake Ice Molds at Amazon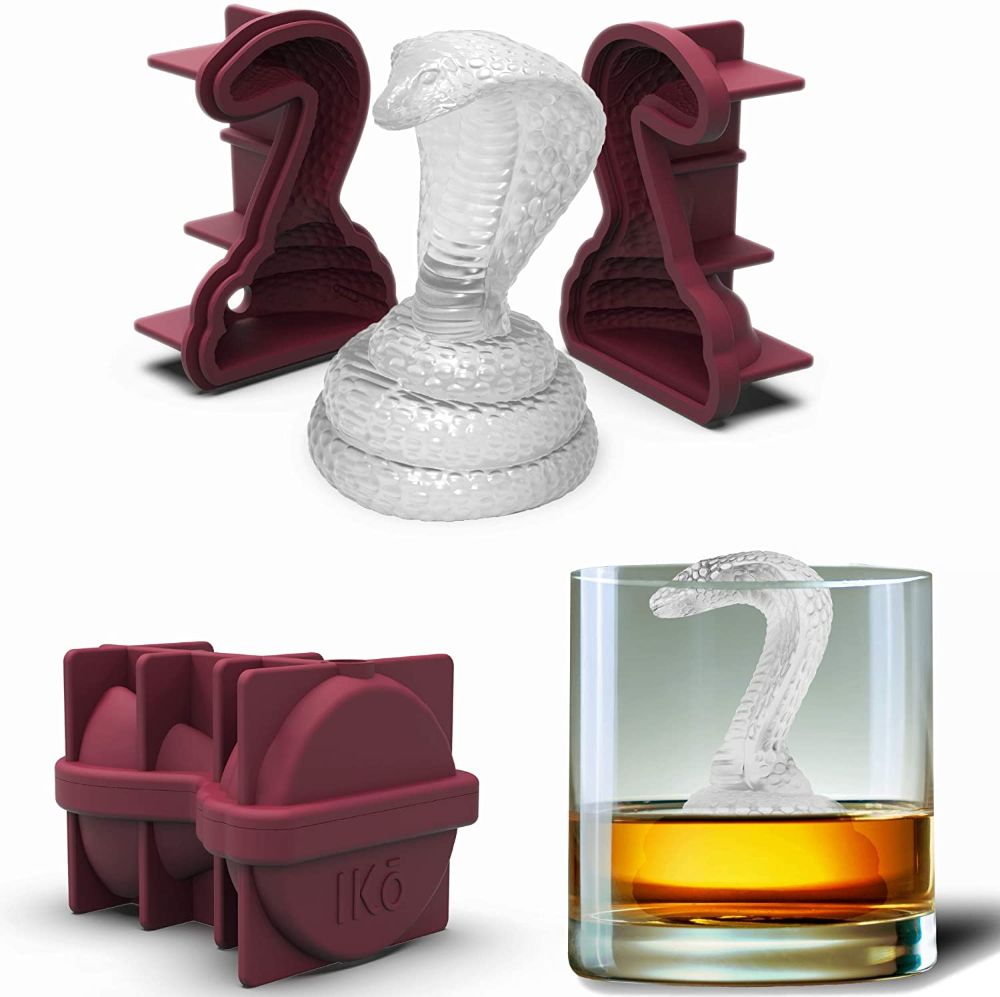 Final Thoughts
A large ice cube is a great way to keep your drink cool, without melting too fast and diluting the taste. The good news is that there are plenty of trays that will help you make these ice cubes. Hopefully, you now have a better idea of what's on the market and found a large ice cube tray that suits you.