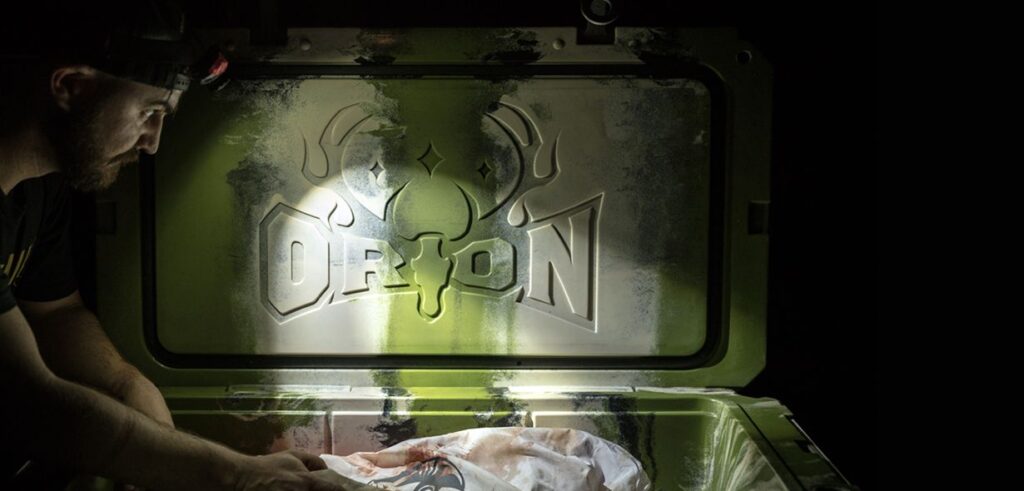 If you're anything like me, an avid cooler user, you probably want to ensure that the next cooler you buy is the perfect fit for your cooler needs.
The Orion coolers are awesome coolers, don't get me wrong, but they do have their own set of common and potential problems.
The seven problems with the Orion coolers are that the price is so high for what you get. Many users complain of poor ice retention, limited sizes, and limited colors. The cooler is also very heavy, which is a problem as there are no wheels.
Orion coolers are definitely a great choice when it comes to badass coolers, but there are several problems with the Orion cooler that you should be aware of to make an informed purchase.
1. They Are Were Expensive
EDIT: Orion coolers recently reduced their prices making their coolers a lot more competitive. Whereas they used to be more expensive than Yeti, Orion coolers now come in cheaper than Yeti across their entire range. They still aren't cheap coolers, but they are now a lot more affordable.
This potential problem is first on my list because of how expensive this cooler is. You can check out my article on the most expensive coolers to see where this one ranks. In fact, the Orion cooler may be one of the most expensive ones available. 
Spoiler alert, they cost a pretty penny! Their smallest cooler, the 25 Quart starts from $235, and the largest one, the 85 Quart starts from $450. You can find more prices here. 
The reason why these coolers are super expensive is because of the materials they are made out of, the high quality and attention to detail, the built in accessories and they fact they are made in the USA. The Orion coolers are one of the most durable and rugged coolers available. 
This is thanks to their overengineering, rubber, and metal cam latches, as well as solid handles similar to those used on motorbikes.  
2. Ice Retention Is Good But Not The Best
Unfortunately, the expensive price tag does not guarantee that the Orion cooler will be the best option for ice retention. Ice retention is one of the critical functions of a good cooler, regardless of how much the cooler costs.
In one test, the Orion 25 and Yeti 35 were compared, and both coolers performed amazingly, keeping the ice cool for 12 days. While the Orion does retain ice well, the Yeti coolers trump them slightly.
If you're looking for a cooler with excellent ice retention and willing to spend more money, I would look at getting a Kong cooler instead. 
You can learn more about ice retention by reading my guide on the best coolers for ice retention. 
3. Limited Sizes
Size matters when it comes to coolers! Coolers are such versatile products that it makes sense that they come in a variety of different sizes, suitable for every occasion. However, this is where the Orion coolers fall short of being excellent.
There is not enough variety in sizes available compared to other pricier brands like Yeti or Kong. Currently, Orion only offers its coolers in six sizes.
25 Quart
35 Quart
45 Quart
55 Quart
65 Quart
85 Quart
Yeti has over 20 different sizes available for consumers to choose from, which is quite a considerable difference between the two. 
If you're looking for more variety in cooler sizes, I suggest skipping the Orion coolers.
3. Only Camo Colors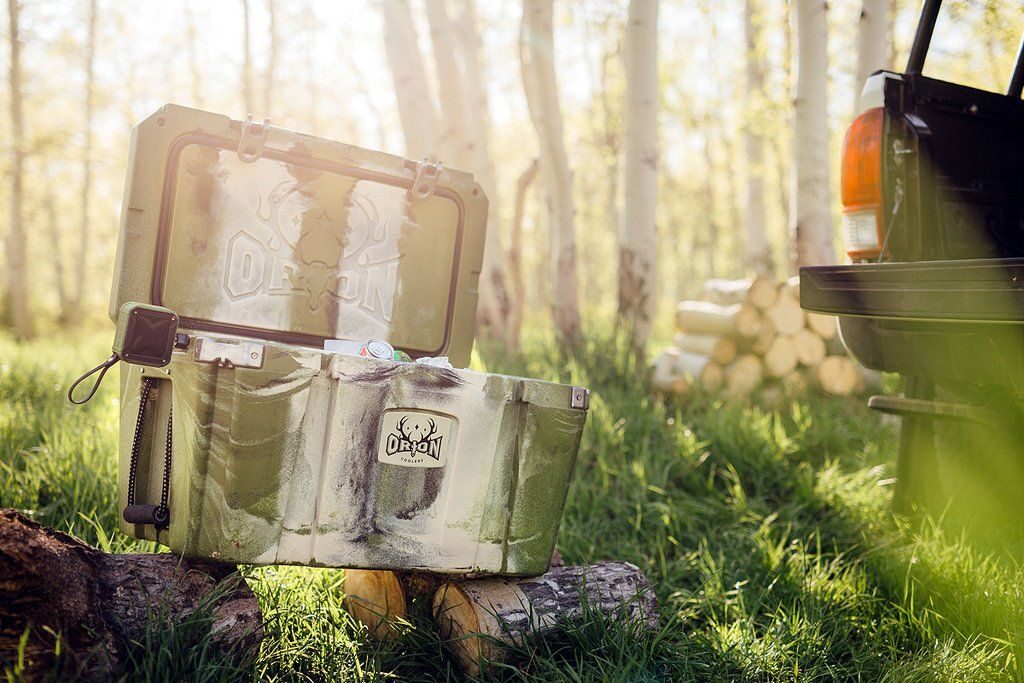 The Orion coolers are known as one of the most rugged and masculine coolers on the market, and according to Orion, nothing screams masculine as a good camo print does. 
Unlike a number of other prominent cooler brands, Orion coolers do not come in a wide variety of colors. While their camo is applied in such a way that no cooler is alike, this may not appeal to some buyers.
While they do only offer camo print, there is some choice between the colors. You can choose between green-based camo, blued-based camo, and even bright orange-based camo. You can see these colors for yourself in my article about Orion Coolers vs. Yeti coolers.  
If you do not like camo, your only other choices of colors are white and quarry. Unfortunately, Orion does not offer any different colors.
5. The Accessories Are Extremely Expensive (But Pretty Amazing)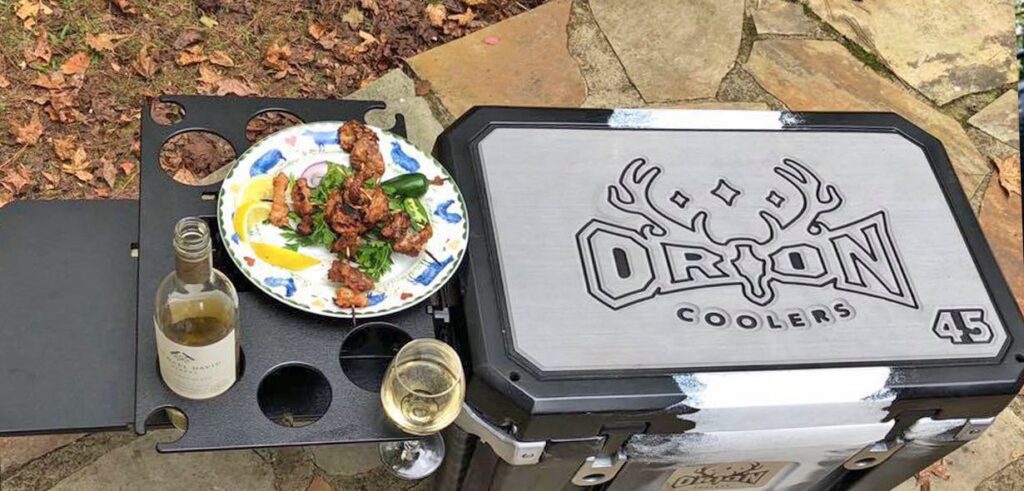 Many people love to accessorize their coolers, and cooler companies get this. Unfortunately, the Orion cooler can be pretty challenging to accessorize as much as others because these accessories are extremely expensive.
Orion does offer some really awesome accessories. For example, they have a fishing get-up, a mount for your Go-Pro, and a kitchen collection, including a board as well as a detachable backrest.
The only potential problem with these accessories is the high prices. Yeti offers a cooler divider that is $4 cheaper than Orion's cooler divider, and Yeti is the more expensive cooler!  
6. It's Heavy
One of the most common problems of the Orion coolers is that it is just so darn heavy. This isn't unique to Orion and this problem exists with most high end coolers. This is because it is a roto-molded cooler.
A roto-molded cooler is typically much heavier than other coolers because of its hard-durable sides. The sides of the cooler are much thicker to improve ice retention. Unfortunately, this means that they are heavy and are not as easy to move around.
If you're not a fan of heavy-lifting your cooler around the campsite, this may be a problem you might not want the hassle of.
7. No Wheeled Version
Because the Orion cooler is so heavy and difficult to move around, it would make sense to have a wheeled version. Unfortunately, Orion does not offer a wheeled version of its coolers.
If you have a bad back or are not strong enough to carry around a cooler without wheels, the Orion coolers may not be the best choice of cooler for you!
There is a cool solution to this problem, albeit a rather expensive one. Orion cooler owners have the option to add a set of wheels to their Orion cooler by using the wheel kits sold by Sherpa Outdoor Products.   
Are These Problems Deal Breakers
These seven products are in no way meant to be a deal breaker. They are just potential issues that you might want to know about before spending your hard-earned money on these rather expensive coolers.
That being said, there is no one true perfect cooler out there. Every cooler will have its faults and problems in one way or another.
It all comes down to personal taste, expectations, and what features you are looking for in a cooler. You may like the camo colors that are available or prefer paying extra for some of the handy cooler accessories that Orion provides.
Great Things About Orion Coolers
I know there are several common and potential problems with the Orion coolers, but there are also some really great things about the products that might help you decide which to get.
Made in the USA

Nothing beats supporting local businesses, and one of the great things about Orion coolers is that they are made in the USA.
For people who are feeling particularly patriotic, Orion has a limited edition cooler with the colors of the American flag on it.  
If you're looking for other coolers made in the USA, be sure to check out my informative article on the best coolers made in the USA. 
10-Year warranty 
Another fantastic thing about the Orion coolers is that they come with a pretty extended warranty of 10 years.
While they don't cover problems caused by misuse, abuse, or failure to care for the cooler as advised, they do cover the replacement of the following things:
The lid
The components of the cooler
The entire cooler
More information about their warranty can be found here. 
Very Premium Feel
One of the great things about Orion coolers is that they feel like they cost, premium. The build quality of these coolers is good quality, and it does look like a high-end cooler.
The metal and rubber latches of the cooler really do elevate the cooler from other brands that use plastic latches.
A Great Unique Look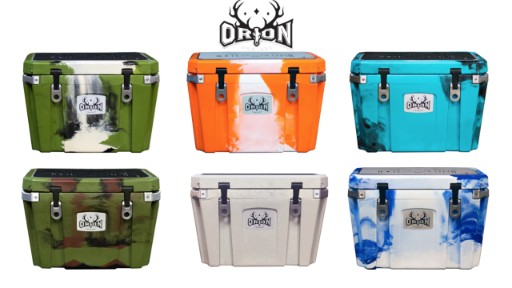 One of my favorite things about the Orion coolers is that they are so unique looking with their bright and distinctive camo patterns.
What's so cool about the camo print is the way it is manufactured. Each cool will differ slightly from the other. So you know you'll be getting a unique cooler from everyone else.
Coolers Similar To Orion
If you're still not sold on the Orion cooler, here are two other coolers that similar to the Orion one.
Kong Coolers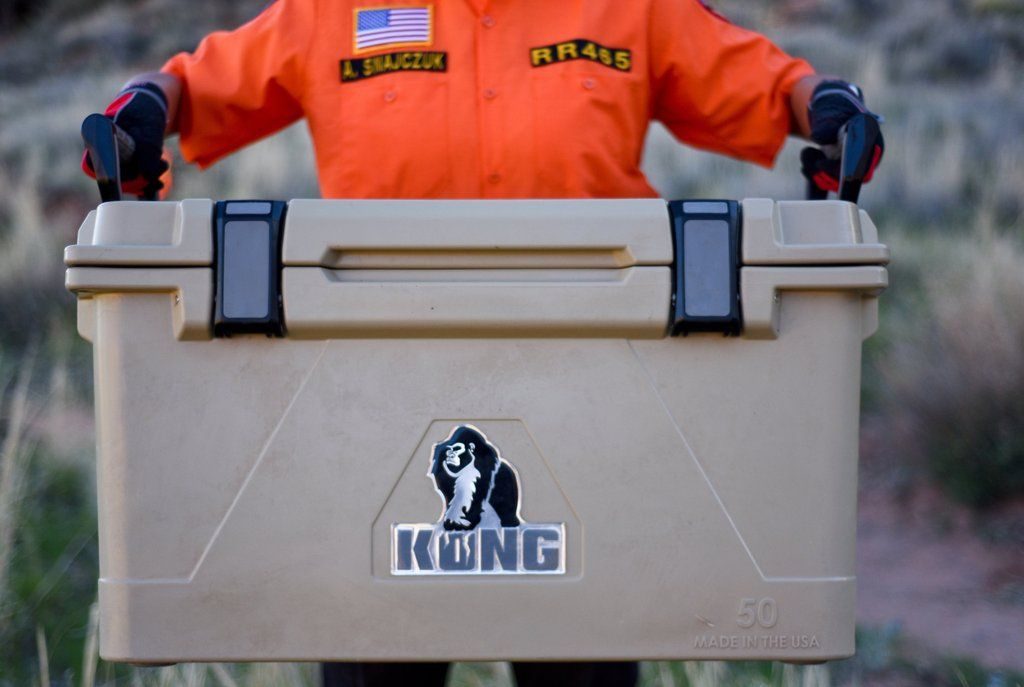 If you are searching for the best cooler for ice retention, then look no further. Kong coolers can retain ice for a whopping 9+ plus days, which is a pretty amazing feature!
Kong coolers are a great alternative to Orion and Otterbox coolers as they are roto-molded and are also made in the USA. 
Otterbox Coolers
Known mainly for their high-quality phone cases, Otterbox also makes a roto-molded cooler to compete with other big brands like Yeti and Orion.
Otterbox coolers are a great premium cooler alternative to Orion coolers because they have good ice retention, are durable, and are also made in the USA.