If you're about to head off on a long road trip you'll want the right cooler for the job.
Something that can keep ice for the entire trip so you aren't drinking warm water/soda but also something that is portable and accessible enough so you can access it while you're driving without it getting in the way massively.
Also let's not forget that you likely want something that is leak proof as no one wants their car seats to be soaked with water when you pull on the brakes and your cooler falls over.
How Did I Choose The Best Coolers For Long Road Trips
I've been on many long road trips in my time up and down the coast. I've done road trips by myself, with a single friend or partner as well as long road trips with a car full of kids (which is a whole other beast).
I've lived in a Campervan with my partner and three children and spent many days doing long drives to our next destination.
I also happen to have reviewed A LOT of different coolers and understand a lot about their specs, ice retention, usability etc.
This gives me a unique insight into what the best coolers specifically for long road trips are.
The Hard Thing With Choose an Absolute "Best"
The problem with choosing an absolute best cooler for long road trips is that everyone's needs are different.
Someone doing a long road trip by themselves have enough room in their car to dedicate the entire front seat to their cooler, so something like a Yeti Roadie would be perfect as it'll hold ice for days and be easy enough to access whilst driving.
But for someone travelling in a car with their partner and 3 children there are going to be no seats left to be dedicated to a cooler. So something that will fit on the ground and be easy to access while still holding ice for a long period of time will be best.
So in this list we are going to talk about some of the best overall coolers for those long drives but I'll also talk about who they are best for and how I recommend using them.
Thermo-Electric vs Regular Ice Coolers For Long Road Trips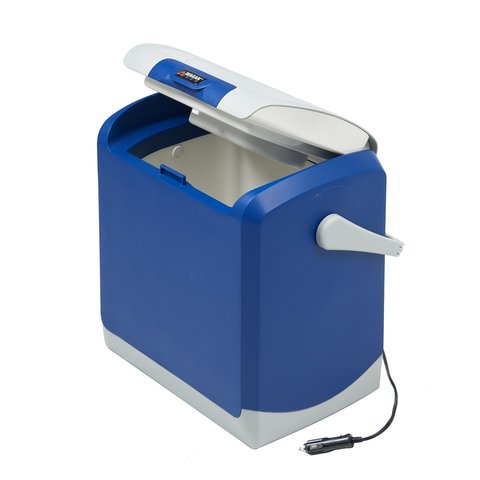 When it comes to a long road trip there's often the debate with whether or not to go with a thermo-electric cooler (on that plugs into the car) vs a regular cooler that you just fill up with ice.
My advice is: Unless you can afford the expensive fridge/freezer coolers that actually work like mini-fridges then just get a regular cooler to fill up with ice.
The cheaper thermo-electric ones work by cooling down a metal plate. Anything touching the metal plate gets cool while everything else in the cooler ends up at room temperature. This is especially true if the cooler is fully loaded.
They also don't work when you turn the car off (or if they do they drain your battery). So this means when you make a pit stop all your cold stuff warms up.
They also are bad at cooling things down and can only really keep things cool. So if you buy warm drinks you have no way to cool them down.
So for these reasons I find regular ice coolers are much better. You just need to take the extra steps to ensure you put your sandwiches in Tupperware or plastic containers so they don't get soggy. Click here to learn how to stop items getting wet in your cooler.
Make Sure You Prepare Your Cooler For a Long Road Trip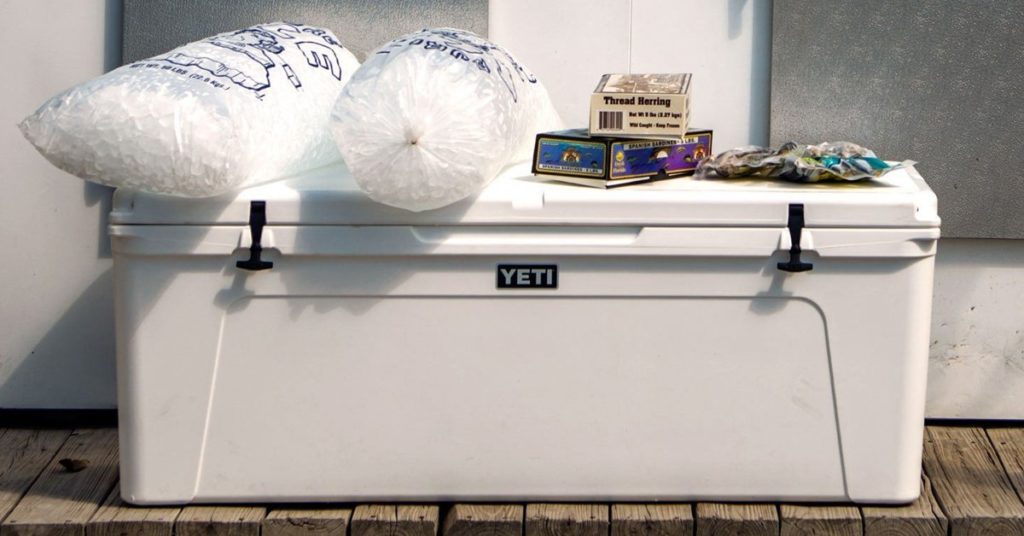 Last month my Dad took my Yeti 45 on a long road trip to a Blueberry farm in order to pick blueberries and bring them home.
The cooler was in his car in the summer heat on the way down and once the blueberries were picked he loaded it up with blueberries and a bit of ice to drive home.
The ice melted quickly because he didn't prepare the cooler ahead of time.
Coolers with thick insulation (like Yeti) can actually absorb a lot of heat when not being used. The insulation becomes hot and this will melt your ice faster as soon as you load it up.
So it's important that the night before your trip you use a sacrificial bag of ice or some frozen water bottles to bring the temperature of the cooler down. Then it will work SO MUCH BETTER and hold ice for a lot longer.
Click here to read more tips on how to keep ice longer in a cooler.
Engel HD30 or HD20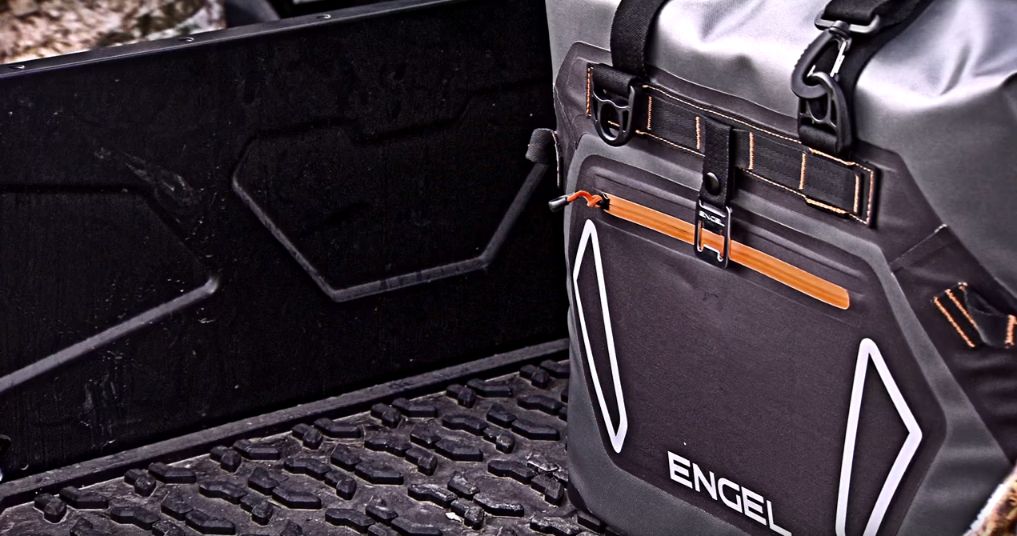 Best All Around Long RoadTrip Cooler
Engel HD30:
Engel HD20:
The Engel HD30 and the newer Engel HD20 are the best all around cooler for long road trips.
They have the best ice retention of any soft sided cooler and are able to compete with hard sided coolers when it comes to keeping ice.
This means you can load up your cooler the night before your trip and not have to worry about it running out of ice until you reach your destination.

The coolers are large enough to fit a good amount of ice, food and drinks (30-Quart and 20-Quart respectively) so you can prep everything and store it all nicely in your cooler.
Large enough for a full family trip but small enough to suit a single traveller.
But it's not so big that it's hard to fit in your car. The tote-style design means it is long and thin and this makes it perfect for fitting on the floor at your feet (or the kids feet).
It's also completely waterproof so if falls over when you brake hard because of the idiot in front of you then you don't have to worry about having water, food and drinks spill all throughout your car. It also has tie down points so you can strap it down if you're worried. Learn more about the Engel HD30 in my full review.
But the top zipper is easy enough to open that you could do it whilst driving or your road trip buddy can help you out.
It's not a budget cooler and will cost a couple of hundred dollars, but it's cheaper than big-brand alternatives like Yeti but about $100.
To see the latest prices of the Engel HD30 and HD20 click the links below:
See the latest price of the Engel HD30 at Amazon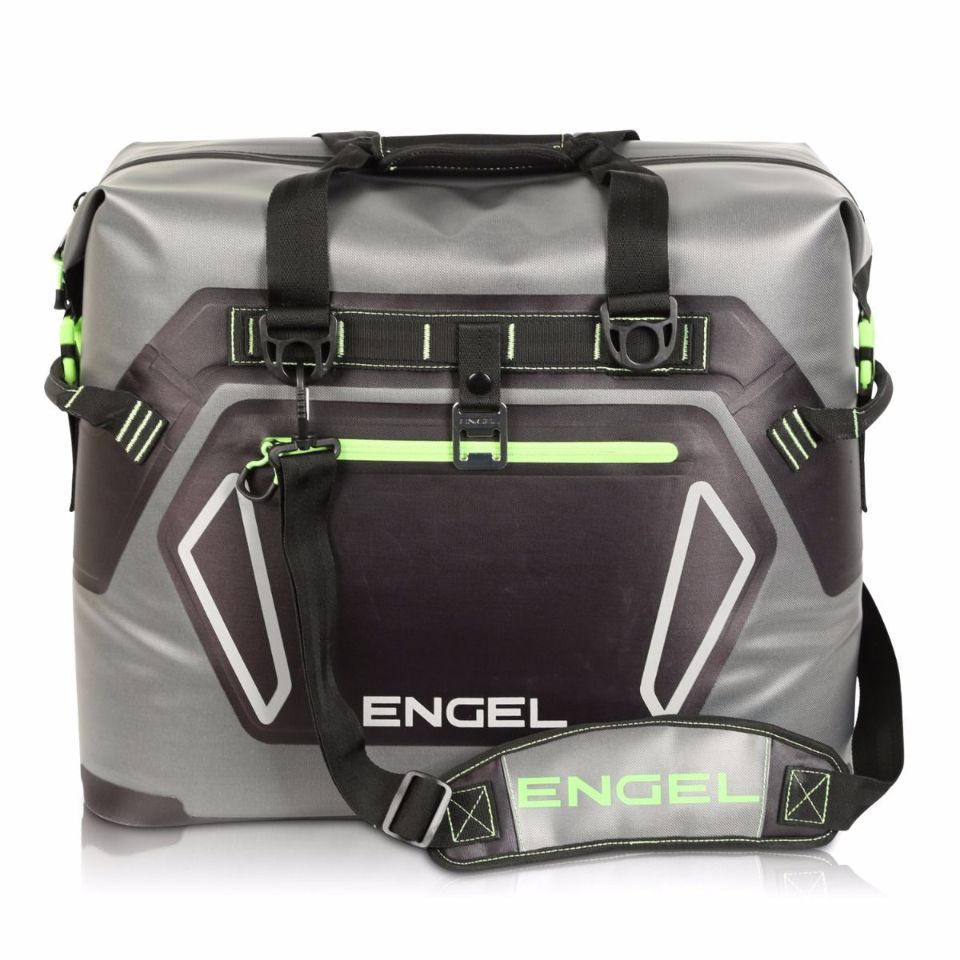 See the latest price of the Engel HD20 at Amazon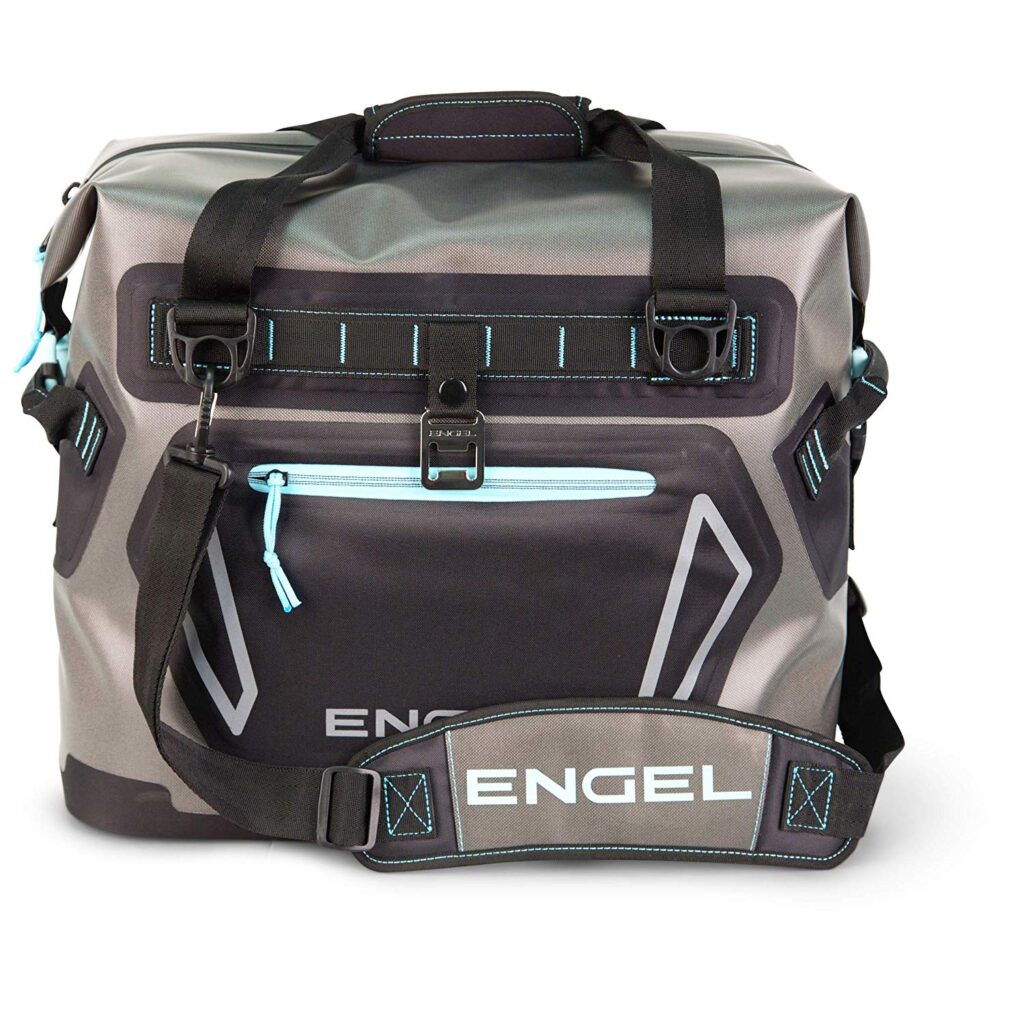 Yeti Roadie (or Similar Sized Alternative Brand)

Best For: Single trips or trips with one partner
Yeti Roadie:
The Yeti Roadie is a small 20-Quart(ish) hard cooler that can hold ice for 2-3 days.
This is the perfect little cooler to throw on the front seat if you're driving by yourself or on the back seat if you're driving with a travel buddy.
The rubber gasket makes it splash proof and mostly leak proof so you shouldn't have any spills and it has tie down points so you can strap it to the chair if you want.
It's big enough to store a good amount of ice but still be able to fit lots of drinks and food in there. It's a similar size to the Yeti Hopper Flip 18 but is actually cheaper and holds ice longer – read my Yeti Roadie vs Yeti Hopper Flip comparison to learn more.

If I was on a long road trip by myself I would put this on the front seat with the lid opening facing towards me as the driver. Whenever I needed anything I could just open the lid and grab it and then close the lid so stuff stays cold for longer.
This cooler is insulating enough that it can handle the hot car when you have your pit stops for lunch and to see the sights and you can leave it in the car overnight without having to worry about the ice melting and things getting hot.
It also comes in a bunch of fun colors and is backed by a 5-year warranty. To see the latest prices and color options of the Yeti Roadie click the link below:
See the latest price of the Yeti Roadie at Amazon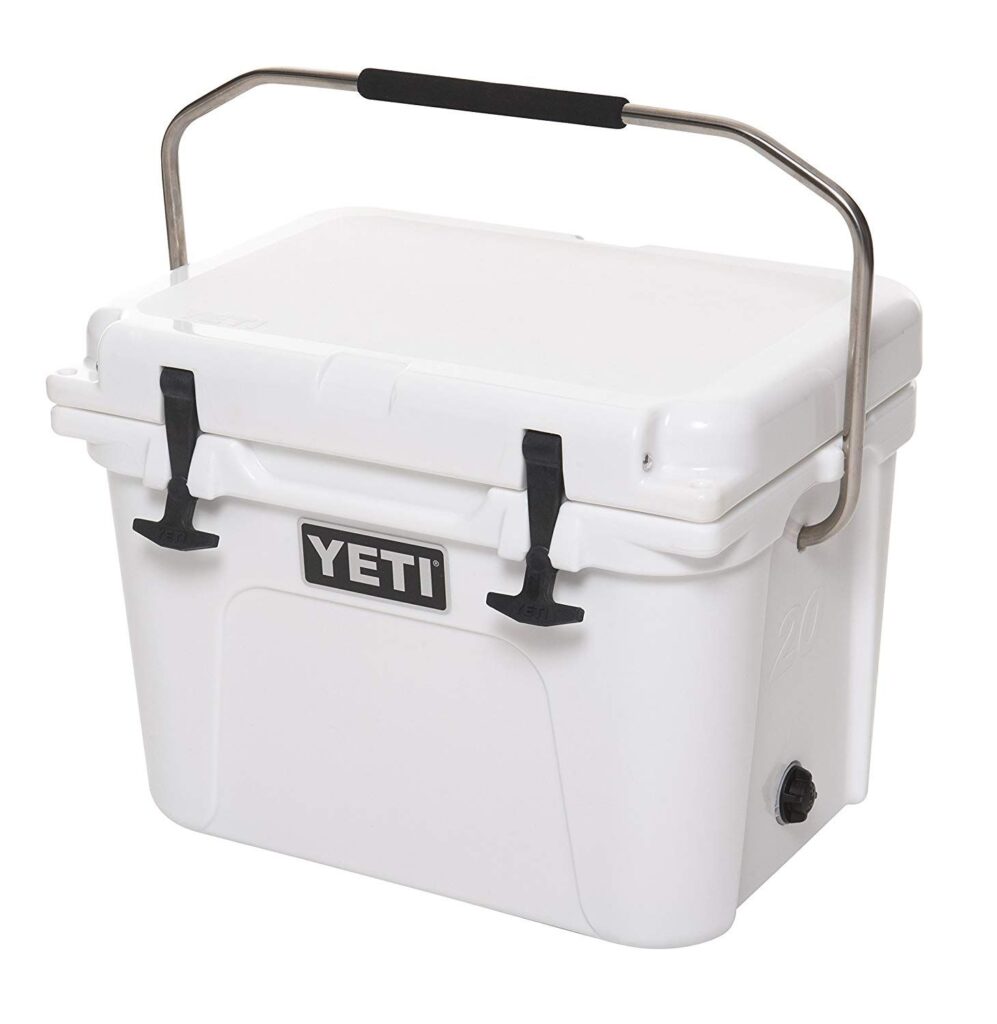 Alternatives To The Yeti Roadie
If you like the idea of the Yeti Roadie but want something a bit cheaper there are a quite a few decent options available:
RTIC 20-Quart
The RTIC 20-Quart cooler is extremely similar to Yeti in both performance, durability and design. If you're looking for something the same as the Yeti Roadie but cheaper than this cooler will save you a bit of money.
See the latest price of the RTIC 20 at Amazon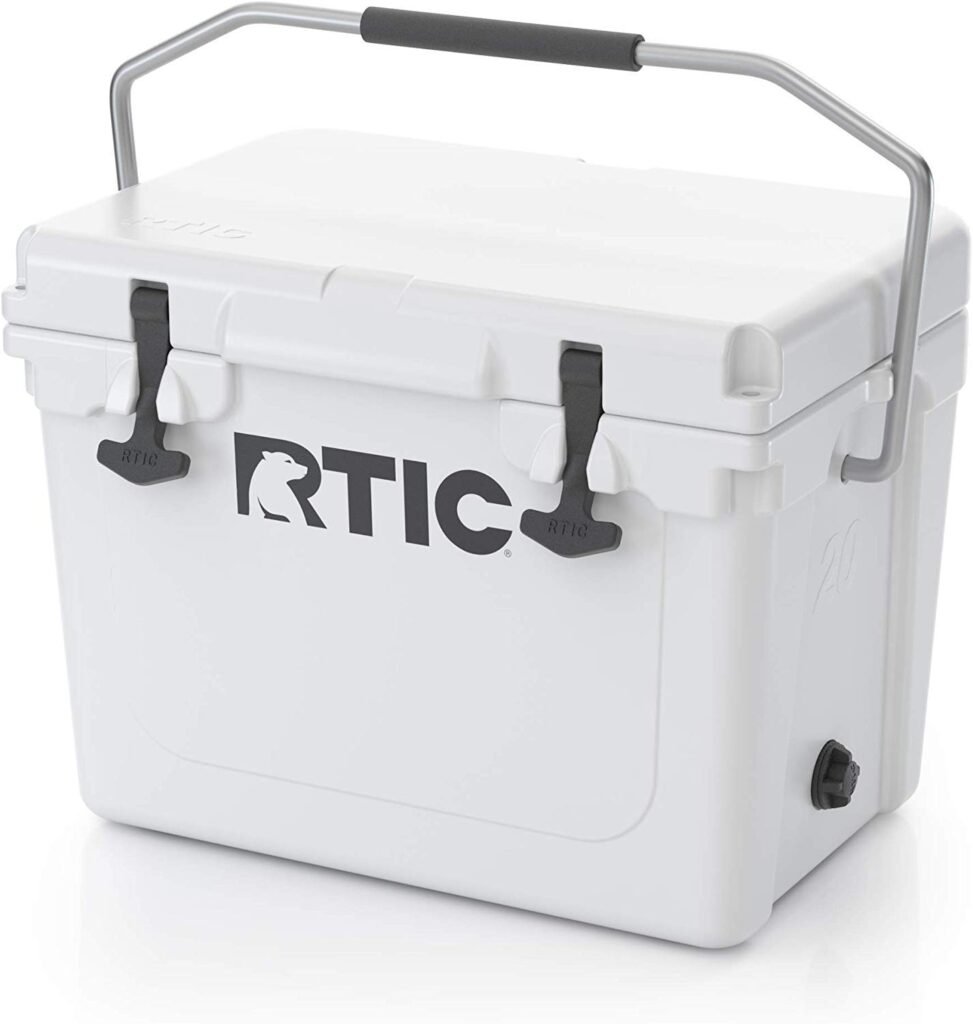 Nash Sub Z
The Nash Sub Z cooler is slightly larger than the Yeti Roadie but it's just a little bit taller so it doesn't take up much more room. Read my full Nash Sub Z vs Yeti cooler comparison.
It has similar performance when it comes to ice retention but it sells for a fraction of the price, even cheaper than the RTIC cooler.
You can also get these coolers with a soft top seat that has back support. While this isn't exactly needed in a long road trip it is a cool feature to have as it turns your personal cooler into a comfortable chair.
See the latest price of the Nash Sub Z at Amazon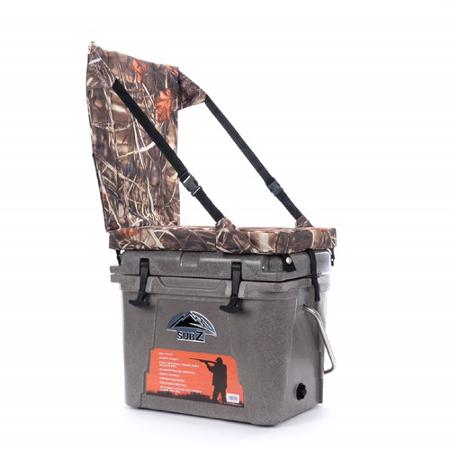 Ozark Trail
Going cheaper again this cooler is 26-Quart and generally sells for under $100 at Walmart.
While the ice retention isn't quite as good as Yeti it can still hold ice for around two days, which should be long enough for your long road trip.
If you want a personal sized roto-molded cooler but you're on a tight budget and don't wanna spend too much money then this is a great option.
See just how cheap the Ozark Trail 26 is at Walmart.com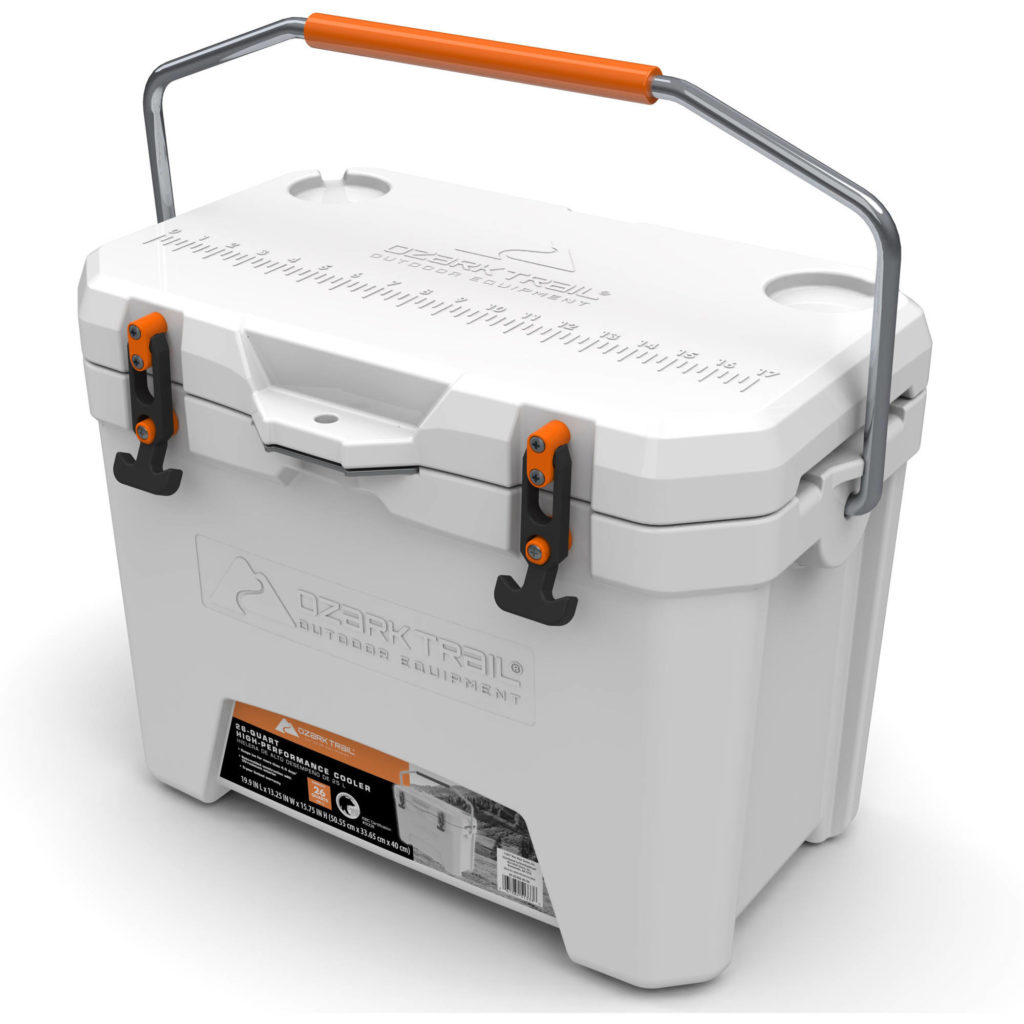 Coleman Xtreme
Best For: Affordable Cooler For The Trunk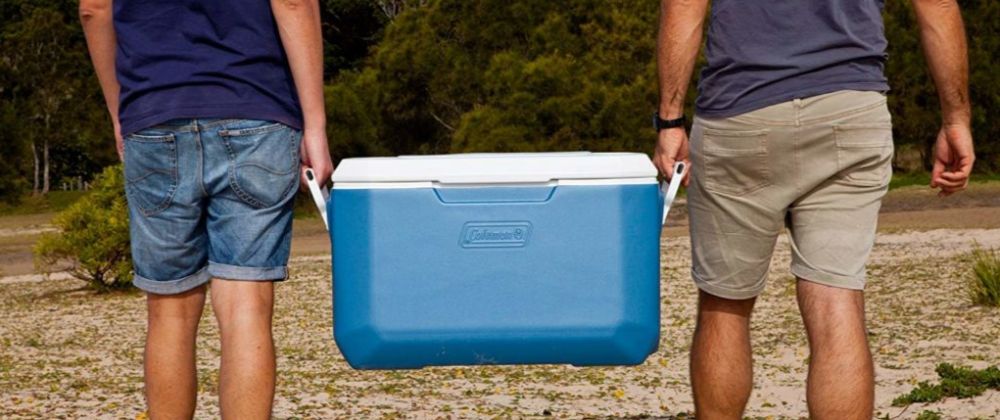 For people travelling with their family, kids or a large group it may make sense to actually have a smaller cooler in the front for things you need for the next leg of your trip and then a larger cooler in the trunk to stop everything else for your trip.
When you have a pit stop to go to the bathroom, get some lunch or see the sights you can take a moment to transfer food and drinks from the big cooler into your smaller cooler for the next leg of your trip.
The Coleman Xtreme is a great affordable option for a larger cooler in the trunk. Starting at 50-Quart these are larger coolers than some of the other ones mentioned above.
But because they don't have as much insulation as coolers like Yeti they don't take up quite as much floor space as a Yeti 65 (which is just 57-Quart).
Generally selling for under $50 these coolers are rated to hold ice for 5+ days but in general settings you can expect 2-3 days of ice retention. Still long enough for a long road trips.
I personally own one of these coolers and I love it. It my Campervan the seats are far enough apart that we put this inbetween the front two seats and use it as our main cooler for road trips. The cup holders on the top also come in handy for the kids drinks.
These coolers are incredibly cheap and if you want something that will keep ice a decent amount of time but won't break the bank then check out this cooler and grab one for your next road trip.
See just how cheap Coleman Xtreme coolers are at Amazon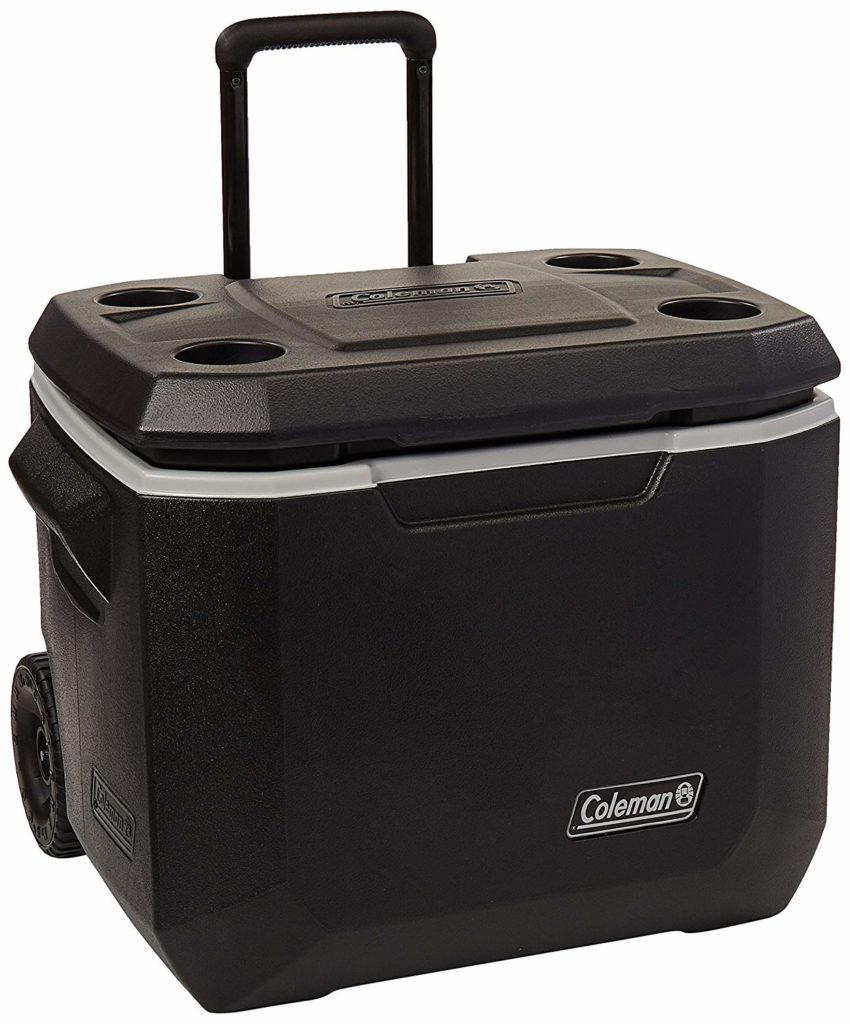 Yeti 45/65 (Or Similar)
Best For: Keeping Things Cold For 4+ Days

If your road trip is going to be longer than a couple of days it may make sense to get a larger roto-molded cooler which can keep ice longer.
The Yeti 45 or Yeti 65 (or similar sized coolers in different brands) can be filled up with ice, stored in the back of your car and you should be able to hold ice easily for 3+ days and if done right it could even last you 4-5+ days without any issues.
This is the cooler that me and my family used when we were living in the campervan and it worked great.
It's a bit too big to have at your feet and the lid is a bit heavy to open and close one-handed whilst driving, but it's a great cooler to have in the back of your car to store a large amount of items.
When travelling we would use our Yeti 45 for deep storage and would use either a smaller cooler or lighter cooler for the food we needed whilst we were driving.
These are amazing coolers and still one of the best and most reliable coolers on the market. To see the latest prices click the link below:
See the latest price of the Yeti 45 at Amazon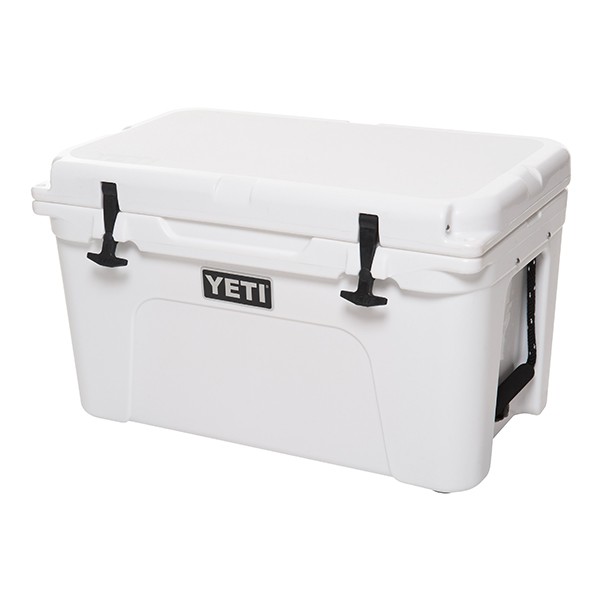 See the latest price of the Yeti 65 at Amazon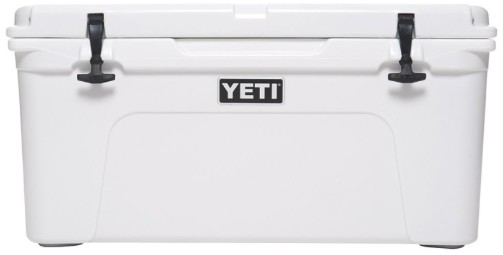 RTIC Soft Pack
Best For: Small Compact Cooler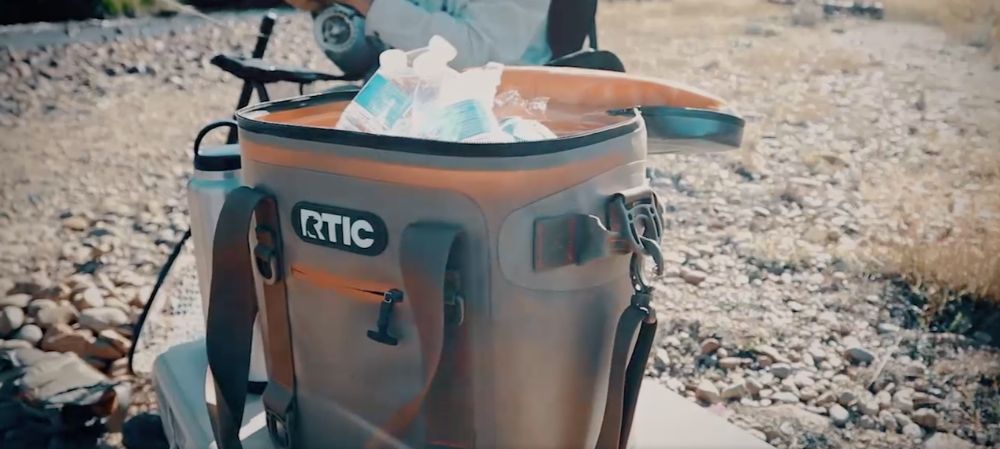 If you're looking for a small, light weight and ultraportable cooler than the RTIC Soft Pack is one of the best out there.
It has enough insolation to hold ice for 2 to 3 days, is completely water proof and leak proof and has a wide open lid so you can easily access all your stuff while you're driving. Learn more about the RTIC Soft Pack in my full review.
It starts at the small 8-can size, which is great for solo travellers and can go up to the 40-can size if you need more room because you have more people or you're travelling for longer and need to store more food and drinks before you leave.
If you're looking for a small soft-sided cooler for your road trip then this is one of the best. See my full list of the best small soft sided coolers on the market for more brands.
Overall this cooler offers great value for money. It's high-quality, durable, keeps ice for days and is waterproof. All within a very reasonable price.
See the latest price of RTIC Soft Pack coolers at Amazon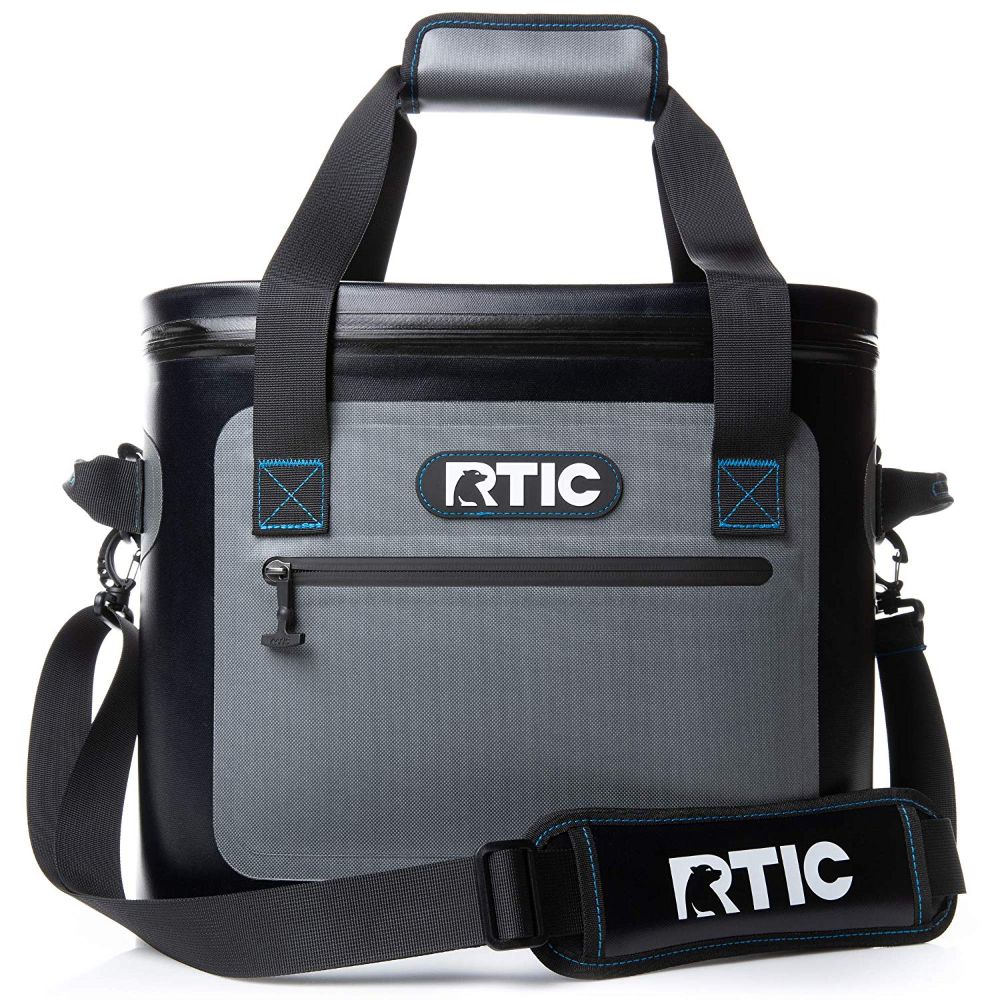 Choose The Cooler That Best Suits You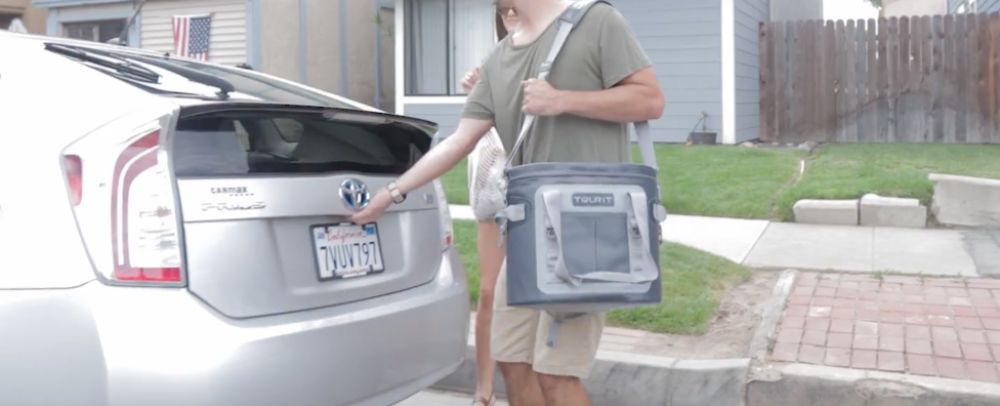 Ultimately you need to choose the cooler that best suits your needs and your budget. There are so many great options out there and you have so much to choose from it can be hard to pick the best one.
Hopefully this list helps to narrow your choices and help you find the perfect cooler for your long road trips.
If you think soft sided coolers are the best for you then click here to see the best soft sided coolers on the market
If you're more leaning towards hard sided coolers then click here to see my list of the best hard sided coolers on the market.