AO Coolers are a cheaper alternative to Yeti Hopper coolers. They don't keep ice as long, aren't waterproof and aren't as durable as Yeti but they sell for a fraction of the cost and are a good cooler for the budget conscious shopper.
In this AO Coolers vs Yeti Hopper showdown we'll be looking in detail at these two cooler and how they compare. We'll look at everything from price, to ice retention, to durability and build quality as well as the pros and cons of each cooler.
Choosing the right cooler can be a difficult task. This article is designed to help you understand exactly what each of these coolers offers so you can choose the cooler that's right for you.
Yeti Is Better Than AO Coolers

Right off the bat I want to say that Yeti coolers are better than AO Coolers. This is probably obvious from the huge price difference between the coolers but I wanted to start the article with this in mind.
Yeti coolers have:
Better ice retention
Waterproof exterior and waterproof zipper
Better build quality and durability
Better branding
This showdown is not to determine which cooler is the best, because with money taken out of the picture Yeti obviously wins.
This showdown is the help you decide which cooler is going to be best for you.
Buying an AO Cooler will save you A LOT of money compared to a Yeti. So it's about looking at the performance, features and trade offs and whether or not an AO Cooler will suit your needs and save you money or if it's worth spending the extra money and getting the better brand.
Click here to see how cheap AO Coolers are at Amazon
Different Types of AO Coolers

AO Coolers come in multiple types and form factors.
They have their basic soft cooler, the fishing cooler, the carbon cooler, the deluxe cooler, the backpack cooler and the stow-N-go cooler – plus even more custom types of coolers on their website.
The soft cooler is their baseline model and the most popular of the AO Coolers. This cooler has thousands of reviews on Amazon and offers great value for money.
This is the cooler we'll be focusing on for this head-to-head as this is the one most of you will be interested in buying as it is basically the same as AO's other coolers but for a cheaper price.
For reference here's the main difference between the other coolers and AO's basic soft cooler model
Fishing Cooler – Has a waterproof vinyl exterior instead of the canvas exterior of the regular soft cooler.
Carbon Cooler – Has a waterproof vinyl exterior in a carbon fibre pattern
Deluxe Cooler – Has the canvas exterior but features 2 extended external side pockets for more storage
Backpack Cooler – Canvas material but features backpack straps and extended side pockets
Stow-N-Go Cooler – Canvas exterior but low line cooler designed to fit in tight spaces
Price
AO Coolers are much much cheaper than Yeti coolers, which is why so many people consider them over the Yeti.
Whereas a Yeti will cost you somewhere around $200-$300, AO Coolers start at around $50-$60 and most of their coolers are under $100.
This is a huge savings and it means you don't need to sell an arm and a leg just to afford one of these coolers.
Below you can see a price comparison between AO soft coolers and the Yeti Hopper Coolers.
You can also click the price links (my affiliate links) to see the products on Amazon and confirm the pricing, as I found different colors have different prices and some are cheaper than other.
AO Coolers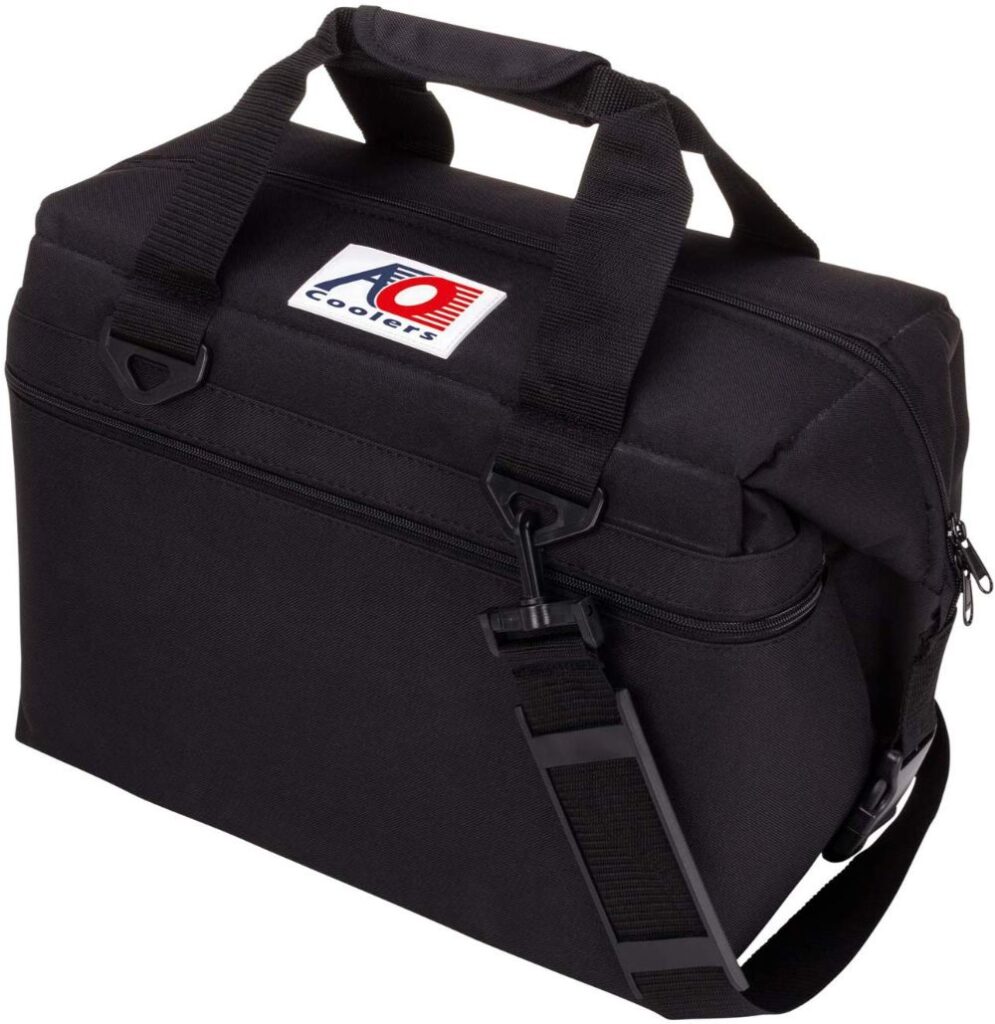 AO Coolers 12-Can:
---
AO Coolers 24-Can:
---
AO Coolers 36-Can:
---
AO Coolers 48-Can:
---
AO Backpack Cooler:
Yeti Hopper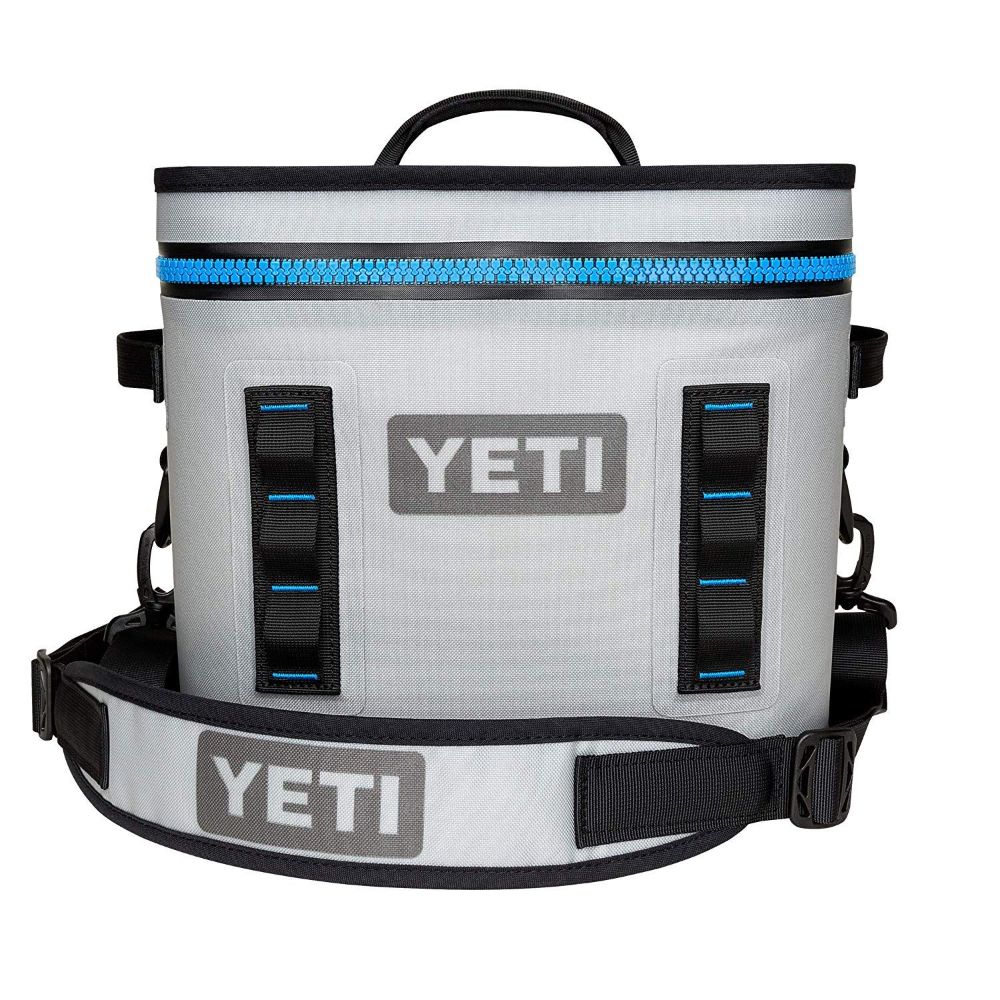 Yeti Hopper Flip 8:
---
Yeti Hopper Flip 12:
---
Yeti Hopper Flip 18:
---
Yeti Hopper M30:
---
Yeti BackFlip 24:
If you're looking for a budget cooler then AO is definitely worth considering as you'll save a lot compared to the Yeti Hopper coolers.
Who Are AO Coolers?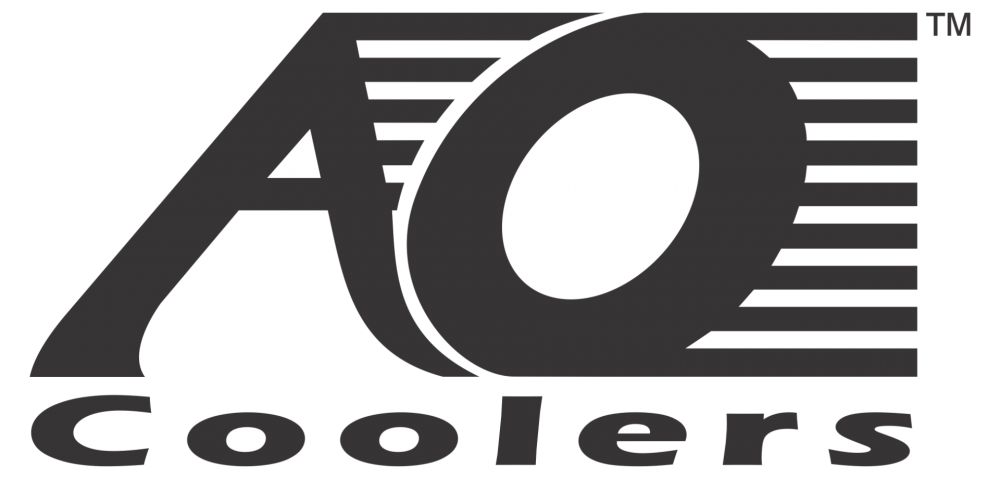 AO Coolers or American Outdoors Coolers have actually been making soft sided coolers for well over 25 years – long before Yeti first released their soft-sided Hopper cooler in October 2014.
It may have actually been the design of AO's coolers that inspired the original Yeti Hopper which has a similar form factor to AO's coolers.
So AO Coolers have been around for a long time and are a trusted company in the industry. They don't have amazing lifestyle branding like Yeti but they also aren't a fly-by-night cooler company that is here today and will be gone tomorrow.
1-2.5 Days Ice Retention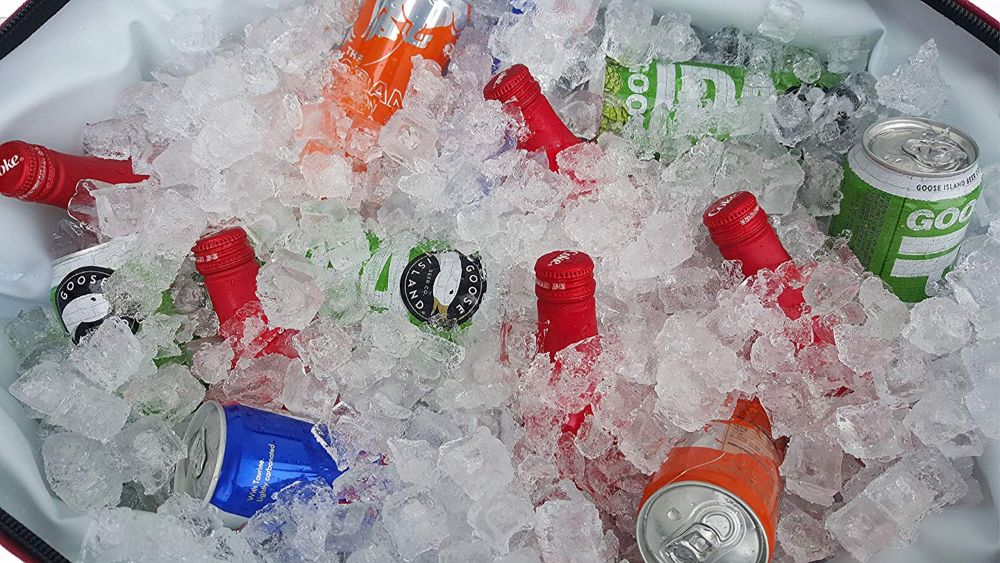 AO Coolers are packed with 0.75 inches of closed cell insulation which is actually the same thickness as the insulation in Yeti Hopper coolers.
Given the price point of the AO Coolers I was shocked with how well they held ice.
They are marketed as being able to hold ice for 24 hours but ice tests have shown that it can hold ice for much longer. AO Coolers have ice retention of more like 1-2.5 days depending on how much ice you use, how often you're opening and refilling it as well as the external temperatures the cooler is in.
It doesn't quite match up to the Yeti Hopper coolers, they can hold ice for 2-3+ days. But for the price point the AO Coolers do a good job.
If you're looking for a soft sided cooler that keeps ice the absolute longest then you need to check out my review of the Engel HD30. This cooler can keep ice an insanely long time.
Durable But Not As Durable As Yeti
AO Coolers are made to be extremely durable.
Check out the video below where this guy completely abuses his AO Cooler by rolling it down a steep hill and throwing it off a huge cliff.
It handles the torture easily while some of the cans inside explode.
AO Coolers are made from a heavy-duty nylon fabric that is tear resistant. The "Fishing" or "Sportman" versions use a thick waterproof vinyl exterior that is also heavy duty.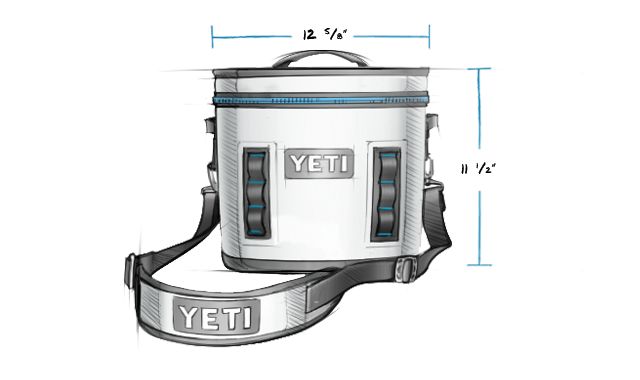 However, Yeti coolers have gone even further and made their coolers even stronger and more durable than AO Coolers.
Yeti coolers are made from a heavy-duty 840-denier nylon that is TPU laminated to give it extra strength as well as to make it waterproof.
It is puncture and tear resistant and the seams are mostly RF welded together instead of being sewn together which adds extra strength and makes them extremely unlikely to fray or split.
AO Coolers Don't Have a Waterproof Zipper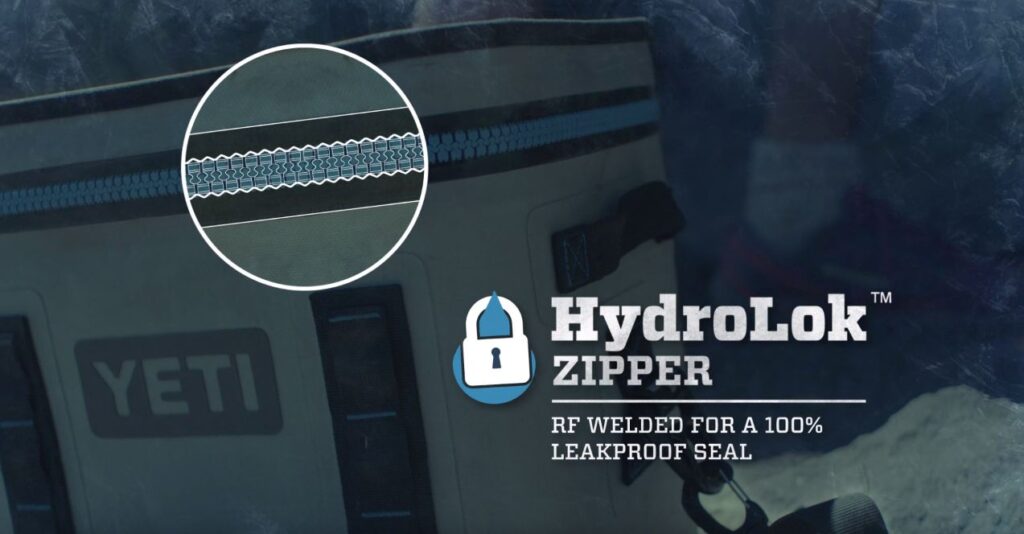 Another thing that really sets Yeti apart from AO Coolers is the fact that Yeti has a waterproof HydroLok zipper that when closed doesn't let any water in or out.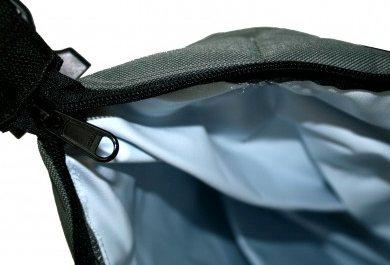 AO Coolers use YKK #10 zipper which are durable and reliable but not at all waterproof.
AO Coolers have a leak proof liner, so when the cooler is standing up no water will leak out of it. However, the cooler is not leak proof and if the cooler tips over or if water sloshes around a lot inside during travel then water will leak out of the cooler wetting you or whatever is near it.
The downside with the Yeti zippers is that they are quite tough to open and close and need a lot of force. You also need to lubricate them regularly to ensure they don't break. You don't have to do this with AO Coolers.
Other Important Features
Both the AO Coolers and the Yeti Hopper coolers are packed with lots of other features that make them more practical and useful as a cooler.
AO Coolers Have A Wide Side Pocket – Yeti Had None

One thing that AO Coolers have that Yeti coolers don't have is an external pocket.
The pocket on the outside of the cooler runs the entire length of the cooler so you have a good amount of space for storing items you want to keep dry.
Yeti, on the other hand, has no external pockets at all. They have the HitchPoint grid and you can attached a SideKick Dry pocket to the cooler but this will cost you approximately $50 on top of the cooler itself whereas AO's pocket just comes standard.
For even more space the AO Deluxe Cooler has larger expanded pockets for fitting even more items.
Wide Open Top For Easy Access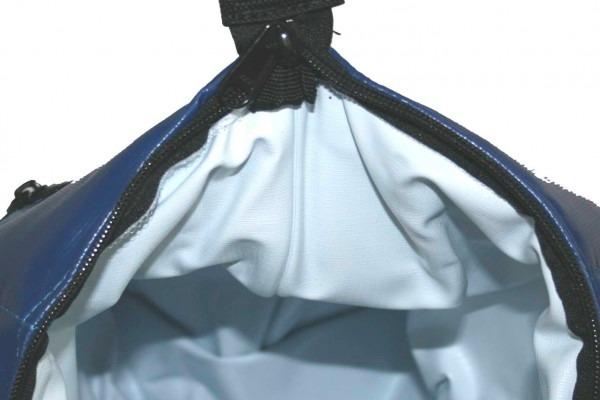 Both coolers have wide open tops for easy access loading the cooler as well as using the cooler.
AO Coolers have a single zipper down the middle of the cooler. But the zipper overlaps in such a way that the cooler top opens up completely when the zipper is undone.
Yeti Hopper Flip coolers have a square design with a flip top lip and the Yeti Hopper M30 has a magnetic lid design which also opens up to give you large access to the cooler.
The one complaint with the Yeti M30 though is that it's hard to keep the cooler open to load it as it automatically shuts. AO Coolers don't have this problem.
Food Grade Liner
Both coolers have an FDA-approved food grade interior liner. This means the lining of the cooler won't leak any nasty toxins into your food or ice so you can put whatever you want in there.
AO Cooler's liner is loose, allowing it to be pulled outwards for easy cleaning and drying.
Yeti's liner is fixed in place so you can't pull it out. It's not that hard to clean and dry out thought so it's not a big issue.
Removable Shoulder Strap (or Backpack Straps)

Both coolers come with removable padded shoulder straps for hands free carrying.
The backpack coolers have thick padded shoulder straps instead. The Yeti also has a sternum strap and removable hip strap for extra support when the cooler is full. AO Coolers don't have this added feature.
Carry Handles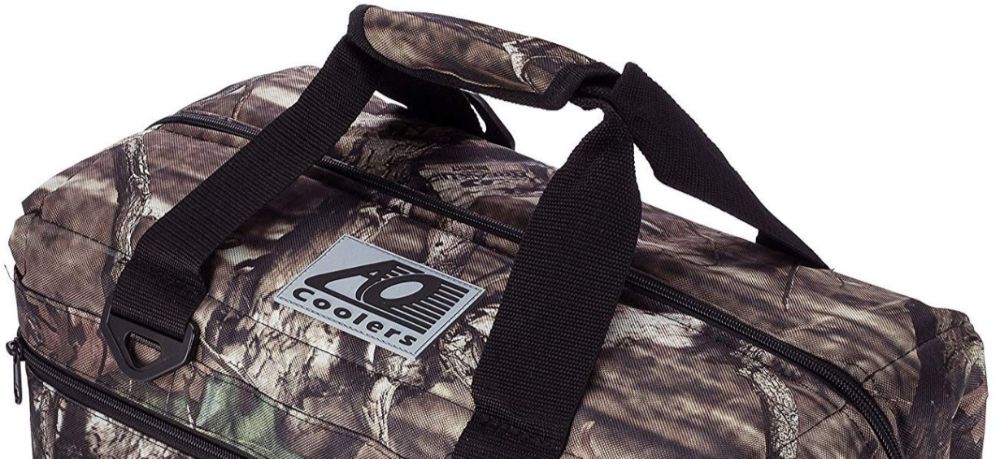 AO Coolers come with tote/duffel style carry handles that can meet in the middle for single hand carrying or be used for dual hand carrying by yourself or with a friend.
Yeti coolers have multiple handles. A single handle on the lid or near the top of the cooler for single hand carrying as well as side hands for dual hand carrying.
The Yeti M30 comes with all this plus the tote/duffel style handles the same as AO Coolers.
Multiple Color Options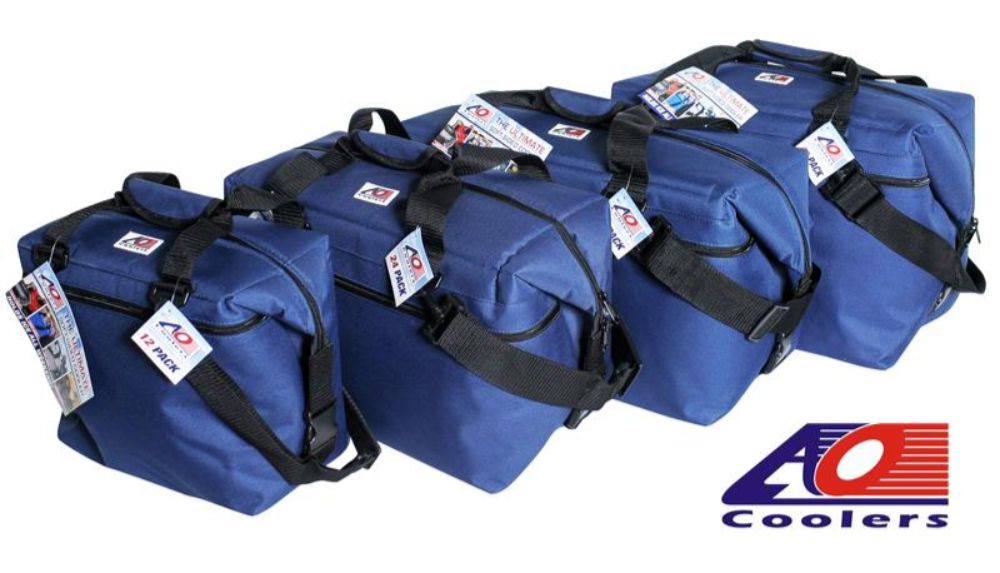 Both coolers come in multiple color options with AO Coolers colors being much more traditional – black, red, blue, grey etc.
See all AO Cooler color options at Amazon
Yeti coolers have grey/blue, tan/orange and charcoal coolers as well as limited edition colors like River Green that they release from time to time.
See all Yeti color options at Amazon
Reinforced Base
As the base is the area of the cooler that gets the most wear and tear it's important that it is reinforced so it doesn't break over time.
Yeti has a super thick reinforced base so it's highly unlikely to break even after years of use.
AO Coolers also has a strong base, but not nearly as strong or thick as Yeti's so you will need to be a bit more careful with it.
Lifetime Warranty vs 3 Year Warranty
Yeti coolers are backed by a limited 3 year warranty, but this is only to the initial purchaser of the cooler, it has to be bought through an "authorized dealer" and you need proof of purchase to claim it.
AO Coolers, on the other hand, offer a lifetime warranty to anyone who owns an AO Cooler. Even if you weren't the original owner and even if you've lost the receipt.
However, the AO Cooler warranty only applies to the inside lining and top zipper of the cooler.
Other Budget Cooler Alternatives
While AO Coolers and Yeti Coolers are both high-quality coolers that I would be happy to recommend, there are still a bunch of other coolers out there worth looking at.
I've reviewed almost every high-end soft-sided cooler and below are my recommendations for best budget soft-sided coolers.
These are not the super cheap soft sided coolers but rather the middle range of coolers that are durable enough to last you years and insulated enough to keep ice for at least 2-3 days.
Grizzly Drifter Coolers
Grizzly coolers are my personal pick for the best value for money cooler, though AO Coolers come very close.
They are a similar price to AO Cooler and the Grizzly coolers have similar ice retention to Yeti Hopper coolers, maybe even beating Yeti by a little bit. This is pretty impressive for a cooler that is less than half the price of Yeti. Click here to see the full Grizzly Drifter vs Yeti Hopper soft sided cooler showdown.
Like AO Coolers Grizzly coolers DON'T have a waterproof zipper. But they do have multiple external pockets and a really durable build quality.
I'de be very happy to recommend this cooler to any friend looking for an affordable option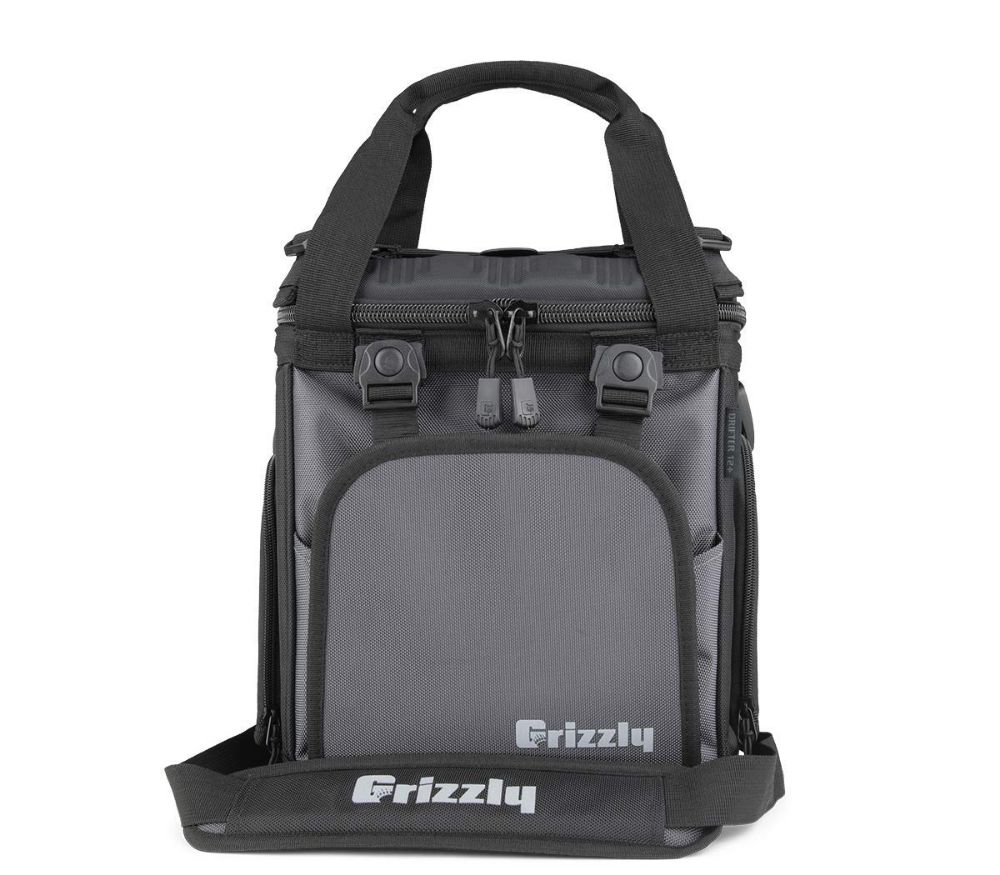 See just how cheap Grizzly coolers are at Amazon…you'll be surprised
RTIC Soft Pack Coolers
RTIC Soft Pack coolers offer very similar features to Yeti with even better ice retention, all for a fraction of the cost.
They have more insulation than Yeti and they also have a completely waterproof leak proof zipper. See how RTIC Soft Pack coolers compare to Yeti Hopper coolers and which cooler I would recommend.
The have a strong waterproof exterior, food grade liner and even a small outside pocket.
For someone wanting all the features and waterproofing that the Yeti offers but for a lower price then RTIC is a good brand to consider.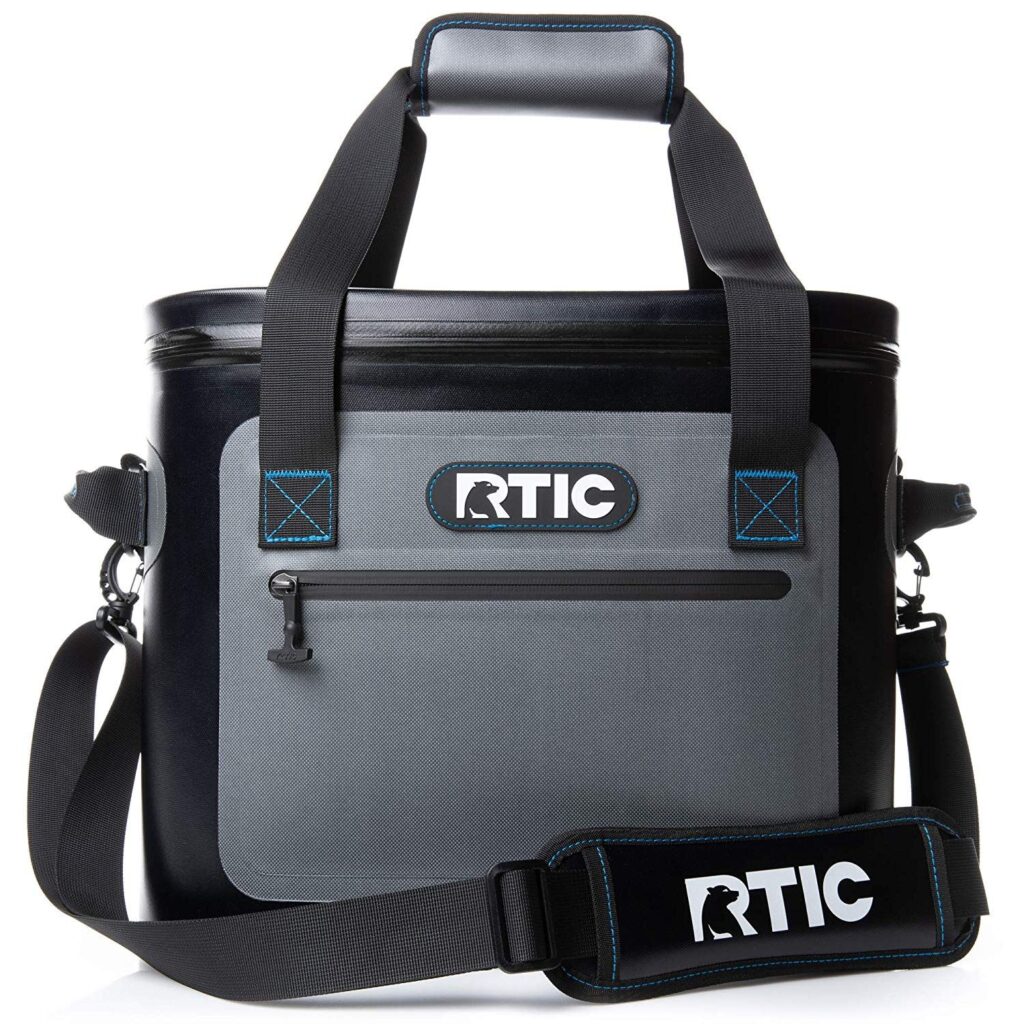 See how affordable RTIC coolers are compared to YETI at Amazon
TOURIT Coolers
TOURIT Coolers are another cheaper alternative to the Yeti Hopper. They are a lot like RTIC Coolers in that they have a similar shape and more insulation than Yeti.
They can hold ice for 2-3 days and the zipper is also completely waterproof. They are a bit more expensive than RTIC which may turn some people off but they are still much cheaper than Yeti and are very durable. Click here to see how TOURIT compares to the Yeti Hopper soft sided coolers.
TOURIT coolers also come with external pockets as well as a built in bottle opener.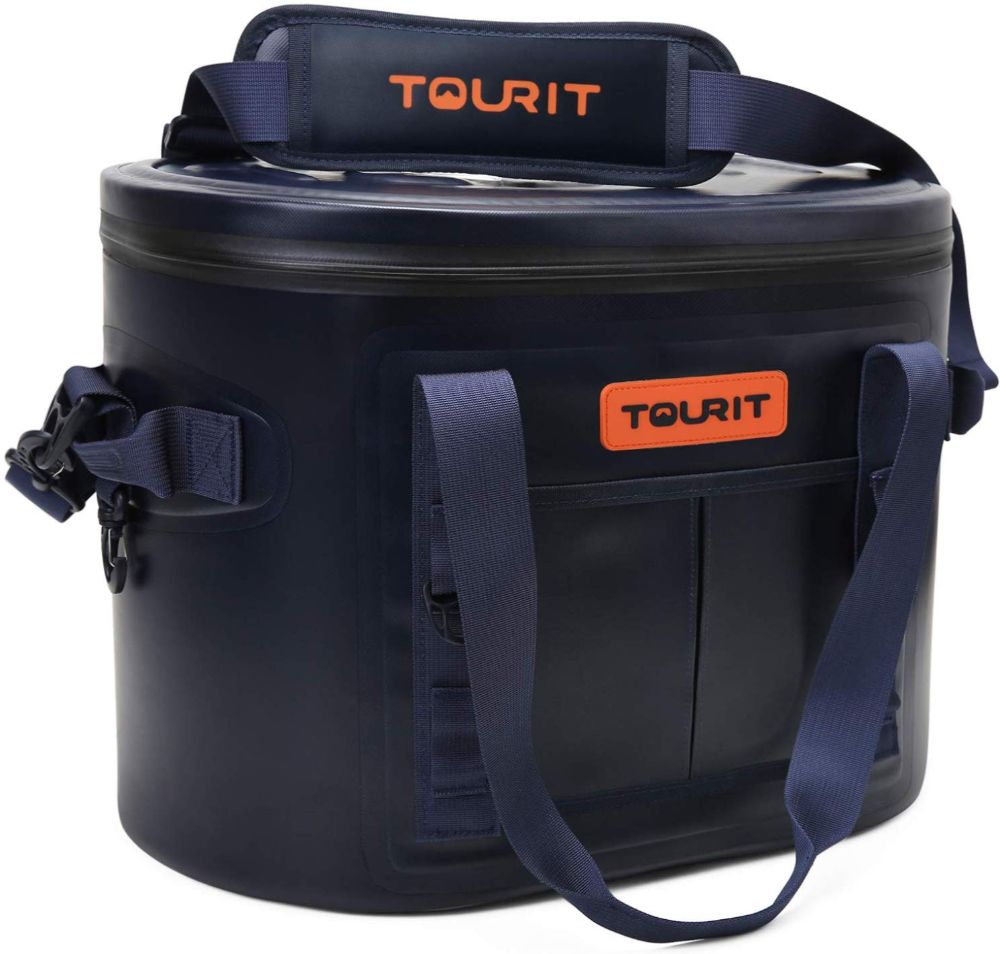 See the latest price of TOURIT soft sided coolers at Amazon
AO Coolers vs Yeti: Which Cooler Should You Buy?
AO Coolers and Yeti are both great coolers but for very different reasons.
Yeti is a super high-end soft sided cooler that is ultra-rugged and durable. It's going to keep ice for days and last you years without breaking.
It really is one of the most well made soft sided coolers on the market.
AO Coolers aren't quite as good as Yeti coolers. They don't keep ice as long, aren't quite as durable and don't have a waterproof zipper.
However, AO Coolers are significantly cheaper than Yeti coolers and offer a high-quality budget cooler for those who can't afford a Yeti or don't want to pay that much for their cooler.
Ultimately it's up to you which cooler you want to buy and which cooler best suits you needs and your budget, but I can happily recommend both of these coolers.
If you want to buy an AO Cooler or a Yeti Hopper cooler or if you want to see the latest prices and more reviews simply click my Amazon affiliate links below: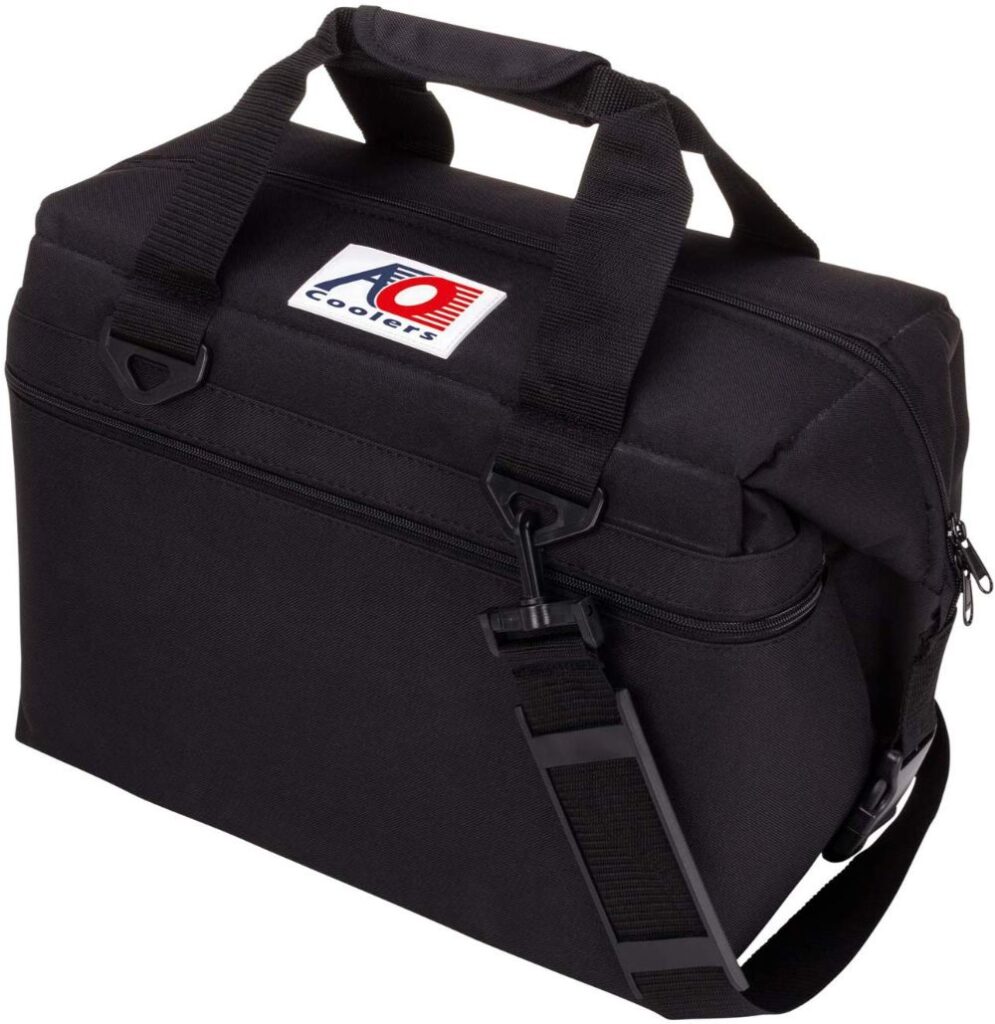 See the latest price on AO Coolers at Amazon