The Yeti Lowlands Blanket is a new luxury all terrain blanket that is waterproof, ultra-durable and very comfortable. But is it worth the hefty price tag?
In this Yeti Lowlands Blanket review we'll look at the build quality and the features of this product to see if it something you might want to invest in. We'll also look at what other customers think of it, what people are using it for and if there are any inherent flaws with the product and reasons you should avoid it.
Ultimately this is a premium blanket for a premium price, whether or not it's worth the money will come down to you. It's your budget and your life and for some people this will be totally worth it and a great investment and for others their money will be better spent on something else like a cooler.
High Quality Build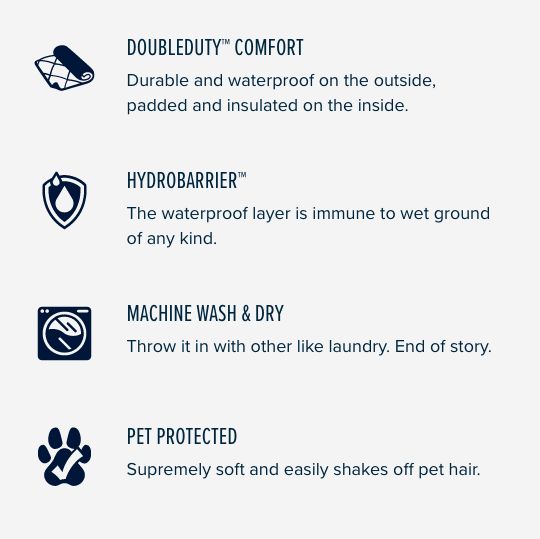 Yeti are known for the premium quality of their products and the lowlands blanket is no exception to this. It is, without a doubt, made extremely well and will be a blanket that lasts you years.
It has one cushiony side which is much softer than the other side. The top soft side is made with a very comfortable material that is durable but also waterproof with padding and insulation to make it comfortable to sit or lie on.
The underside is tougher and more rugged, more akin to a tarp, and has what Yeti calls a Hyrdobarrier, which is a waterproof layer that means no water from the ground will seep up through the blanket.
The Lowlands is not a blanket, not a tarp, not a ground cover. It's a pie-in-the-sky luxury tool with the benefits of each, all wrapped into one.

Hillary Hutchenson – Professional Fly Fishing Guide / Yeti Ambassador
Resistant To Pet Hair and Easy To Clean

A lot of the marketing materials for this product is geared towards pet owners and people who like to adventure with their pets.
The material is designed to repel pet hair as well as dirt and birrs so it can be a great product for dog owners out there. I know a lot of customers use it in their car to lay over the seat when their dog has been swimming or gotten dirty.
It keeps their dog warm and comfortable but the waterproof layer also means the car seat is completely protected.
Once you get home you can shake out the blanket and even hose it down before putting it in the washing machine.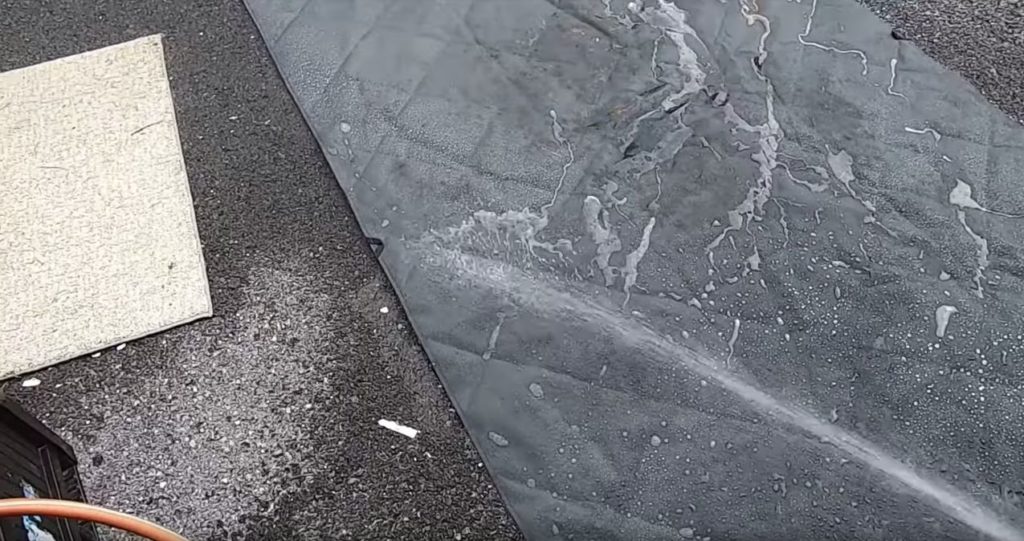 Water will just bead up on it and dirt and mud can get pushed off really easily with a high pressure hose and then you can just hang it out to dry.
It's also machine wash safe and dryer safe so you can just throw it in with any other laundry and then either hang it out to dry or put it in the dryer and have it good as new ready for your next adventure.
Waterproof Base AND Top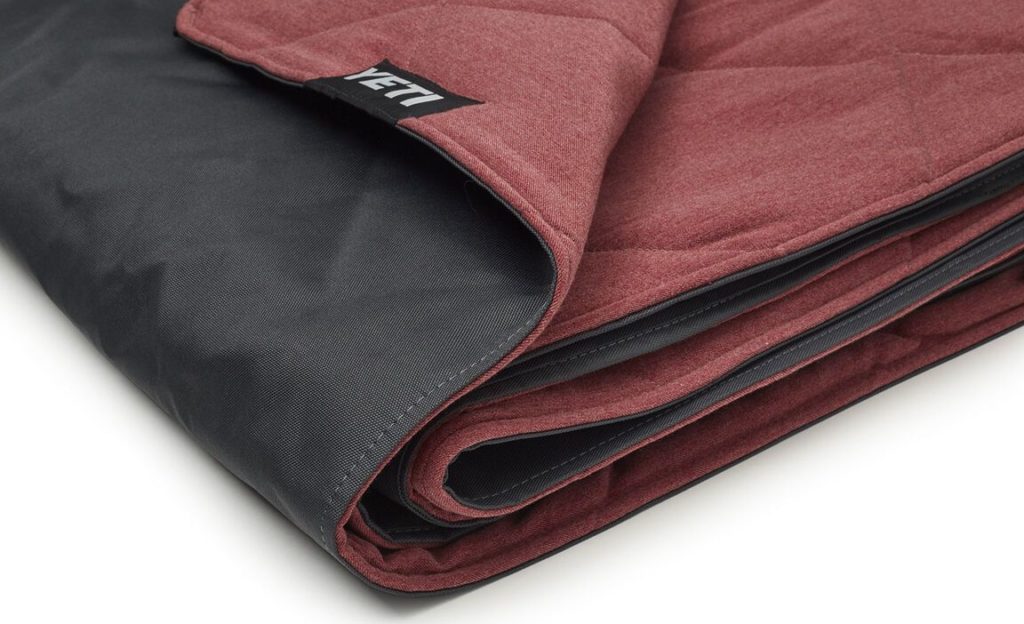 The tarp-like base has a Hydrobarrier that is a waterproof layer that means no water is going to seep through this blanket.
This means if you take it on a picnic, or to the beach or to a campsite you can lay it on the wet ground and no moisture is going to seep up through the blanket giving you a wet bum. This makes it super comfortable to sit on.
It also means that no water is going to get from the top layer through the blanket and wet something like your car seats. Throw this across your car seat and have your wet dog sit all over it and your car seat is going to remain 100% dry.
The top, softer layer, is also water resistant and water just beads up on it and rolls off.
Fabric Loops To Stake It Down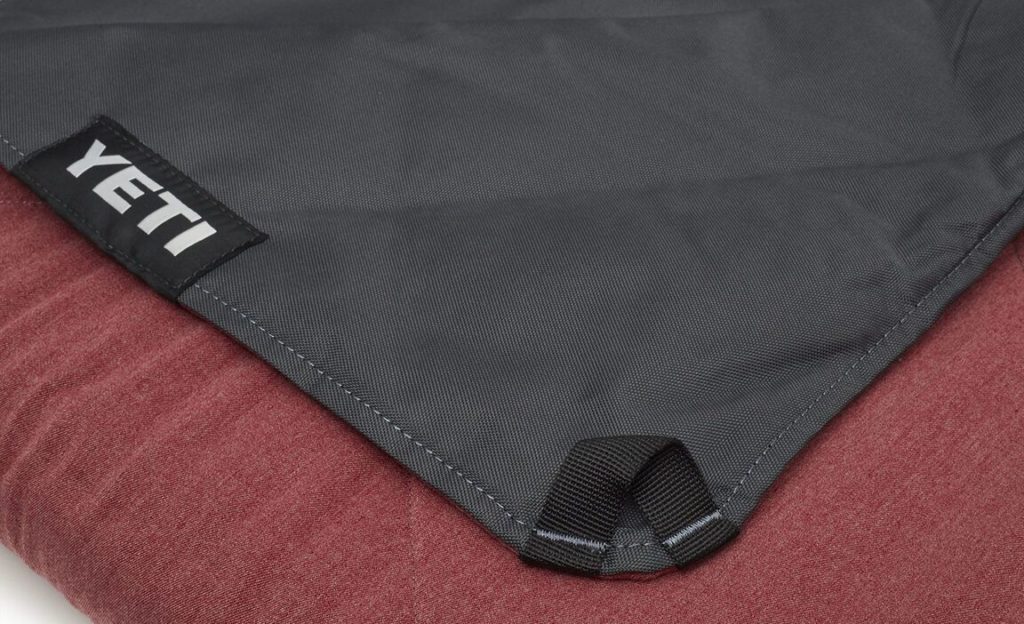 There are fabric loops in the corners and on the sides of the blanket so if you wanted to stake it down to the ground to keep it flat and stop it from moving around or bunching up and kids run on and off it you can do that.
Very Nice Carry Bag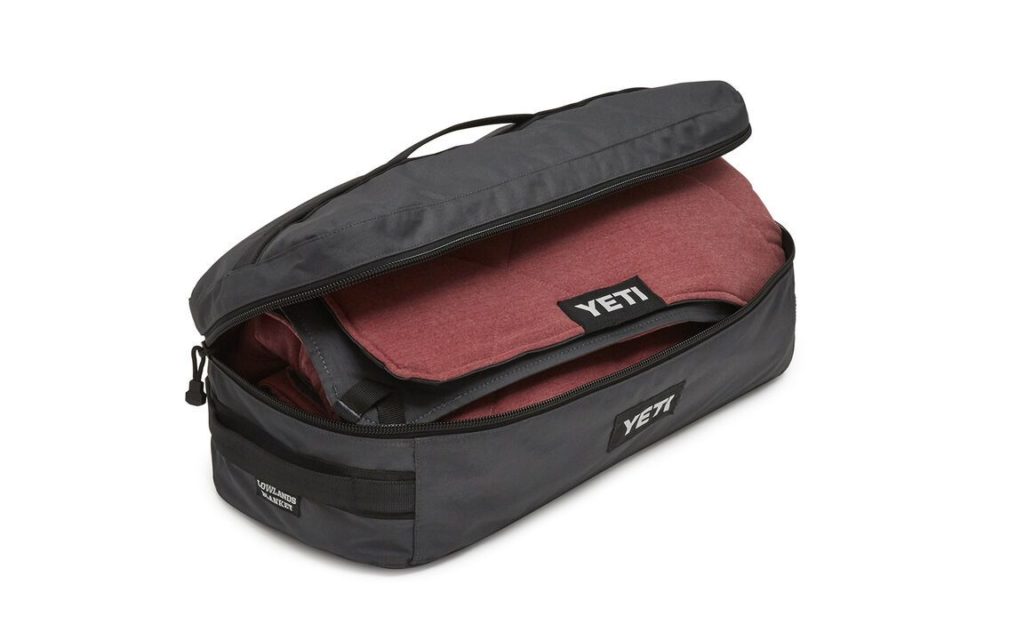 The Lowlands Blanket comes with a really nice carry bag that the blanket can easily fold up and fit into.
This means you can pack it in your car or truck easily and easily transport it to your camp or picnic or to the ballgame or park.
If it gets dirty you can fold it up and pack it away and keep that dirty contained until you get home and are able to wash it.
Loved By Those Who Own It

This is a fairly new product so there aren't a lot of customer reviews out there, but from the reviews I have seem there seems to be an overwhelmingly positive response to this product.
There are no glaring issues or problems with the product that would cause me to advise you not to buy it. It's really just the price consideration and if it's worth it for you and within your budget.
The below video by Rich and Carson (father and son) gives a good overview of the things they love about this blanket and why for them it's worth the money.
Comes in Multiple Colors, But Just One Size

Currently there is only one size of the Lowlands blanket and that's a 78 inch x 55 inch blanket. There are no smaller or larger sizes. See the current size on Amazon.
When launched the Lowlands blanket came in just two coolers – The "Fireside Red" and the "Smoke Blue" but Yeti is also releasing it in seasonal colors as they come out.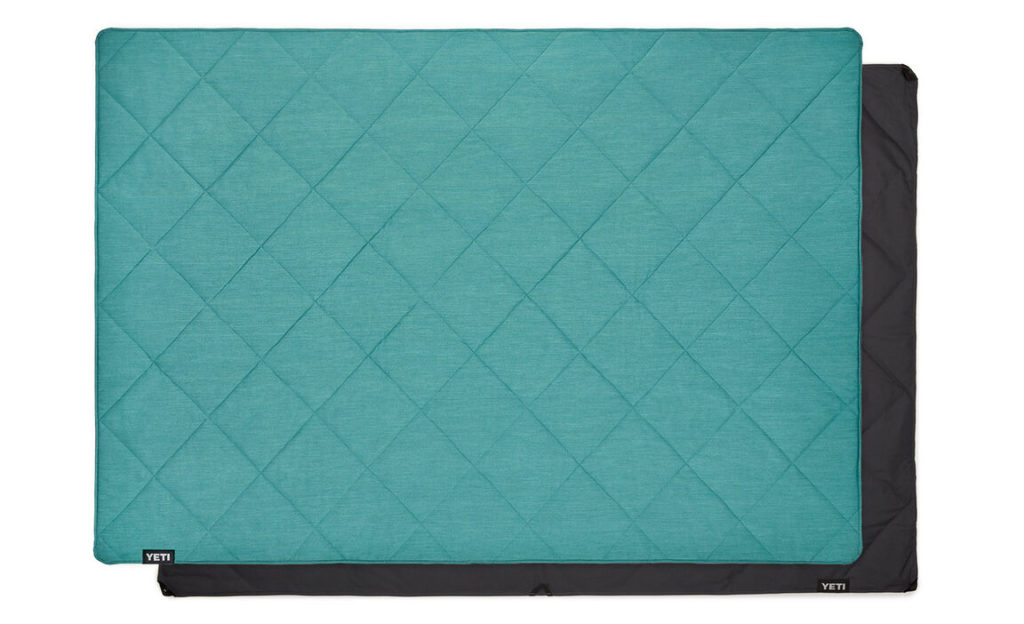 Currently at the time of writing this there is a third "River Green" color available which is much brighter than the other two colors.
They rugs aren't vibrant or bold colors, they are understated and pleasing on the eye. As a man who loves my grey blue and charcoal sort of colors the Smoke Blue is the obvious option for me. But you can choose the one that best suits you.
Amazon tends to be the best place that stocks both past and present colors for sale. To see what colors are available check out the Lowlands Blanket using my Amazon affiliate link below:
See The Latest Colors and Pricing For Yeti Lowlands Blanket (on Amazon)
Let's Talk About Price

Ok so let's talk about the thing that is on everyone's mind…the price.
This isn't, by any stretch of the imagination, a cheap blanket. It is pricey and comes in at around $200. See the latest price on Amazon
Other picnic blankets tend to be in the $20-$40 price range so this is obviously much more expensive than that.
But the fact of the matter is that it is a really great blanket.
It is soft and comfortable, it is water proof, it is pet hair resistant and easy to clean. It does everything it says it does and people seem to love it.
Ultimately it comes down to whether or not you can fit a $200 blanket in your budget and if that investment is worth it for you.
For some people they can easily spend that and it's totally worth spending $200 on the best picnic blanket on the market, for others it's out of their price range and something more affordable will do the job.
But I don't think this will be something you spend $200 on and then find out the quality sucks and you regret your decision. This is high quality, for a high price.
If you're interested in this product then I'll link up to it on Amazon below so you can see the current colors as well as other customer reviews. I'll also link up to a more affordable picnic blanket for those who are more budget conscious.
Yeti Lowlands Blanket:
VonShef Picnic Blanket:
What This Blanket Isn't Really For

I just want to make clear that while this blanket is soft and feels nice to touch there are a bunch of things this blanket isn't designed for:
It's not a sleeping bag – This blanket is primarily a picnic/outdoors blanket for sitting on, it's not intended to be a sleeping bag.
It's not a duvet – While in a pinch you could use this blanket as an extra layer to keep you warm at night that's not what it is designed for
It's not just a tarp – While it is waterproof it's not designed to be used as a tarp to keep items underneath it dry.
Other Pet Friendly Products From Yeti
Yeti has started expanding their pet friendly options lately, which makes sense because so many outdoor enthusiasts have pets that they love and take with them and need items for.
Here are some of Yeti's other pet friendly products:
Yeti Boomer Dog Bowl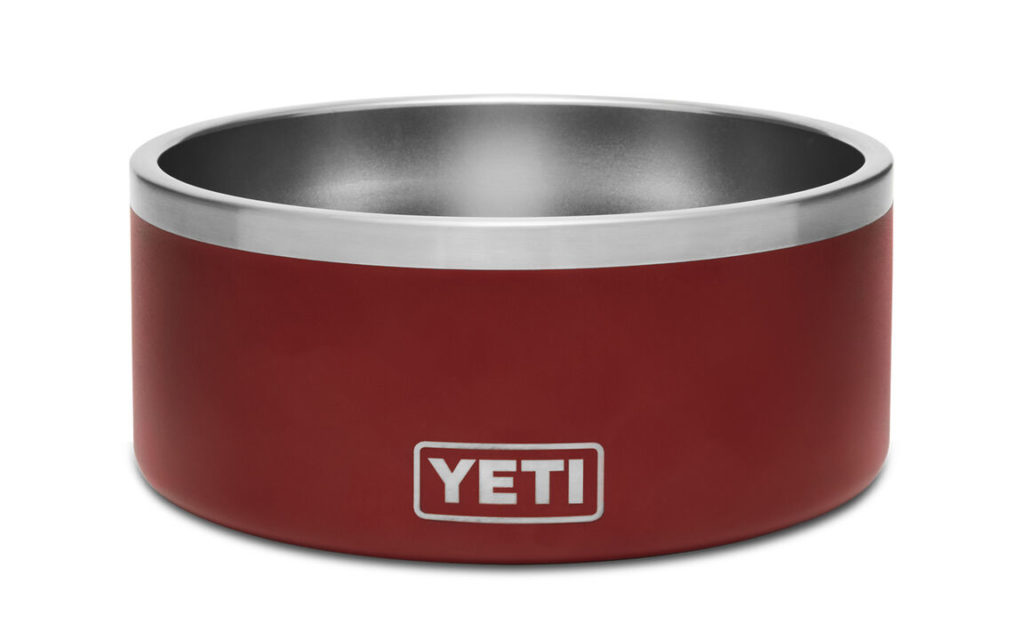 The Yeti Boomer Dog Bowl is a double walled, stainless steel dog bowl that comes in two different sizes – 64 oz and 32 oz.
It's puncture resistant, rust proof and can handle and dents or dings you throw at it and still keep rocking.
It's easy to clean, food safe and has a non-slip base so it doesn't move around no matter how enthusiastic your pup is. This is a dog bowl that will last their lifetime (and yours).
See my review of the Yeti Boomer Dog Bowl
See the latest price for the Yeti Boomer Dog Bowl (on Amazon)
Yeti TrailHead Dog Bed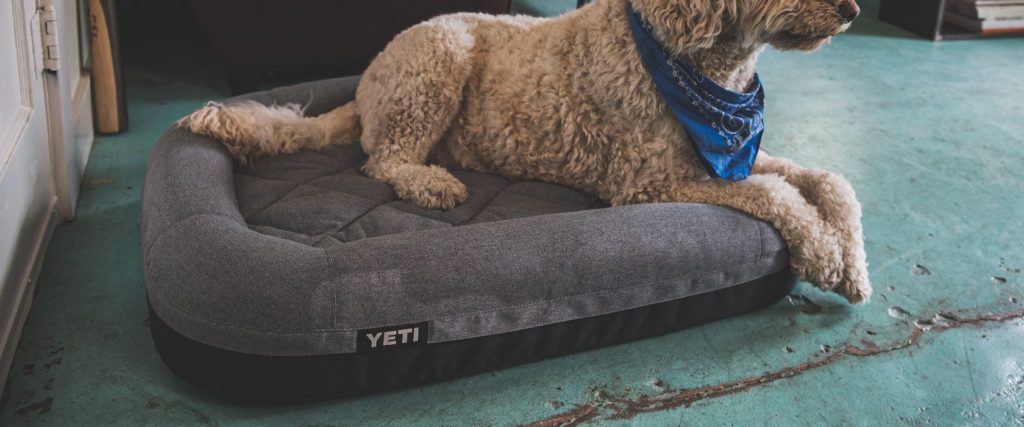 The Yeti Trailhead is a two-in-one dog bed and travel mattress that is perfect for the active pooch.
It features a comfortable "home base" with nice cushiony side rails for chin resting and has a high-density foam core to deliver comfort and support and a lighter foam sandwiched on the top and bottom for more cushion and comfort.
The interior mattress also comes out and can be taken on the road. It features a waterproof base and easy to wash fabric.
Read my review of the Yeti Trailhead Dog Bed
See The Yeti Trailhead Dog Bed (on Amazon)