The best dog deserves the best dog bowl, but is the new Yeti Boomer Dog Bowl the best dog bowl money can buy and is it worth the hefty price tag?
The Yeti Boomer Dog Bowl is one of the best dog bowls available on the market. It is made with double walled stainless steel, is heavy and rugged and the non-slip base means it won't move around. Perfect for the Yeti lover who loves their dog.
Is This A Ridiculous Price To Pay For a Dog Bowl?

At around $50 I originally thought that this may be a ridiculous price to pay for a dog bowl. Who wants to pay that much when you can get a decent dog bowl for around $15?
But then I started watching the reviews and seeing how happy this dog bowl made people and how well constructed it was and I changed my mind.
This dog bowl is absolutely worth the money for those people that love their dogs and that have the money to buy it. In fact a lot of people are buying one and then going back and buying a second so they have one for food and one for water.
See The Latest Price For The Yeti Boomer 8 (at Amazon)
See The Latest Price For The Yeti Boomer 4 (at Amazon)
So what is it about these Boomer bowls that people love so much that makes them worth the money?
It Is Built Extremely Well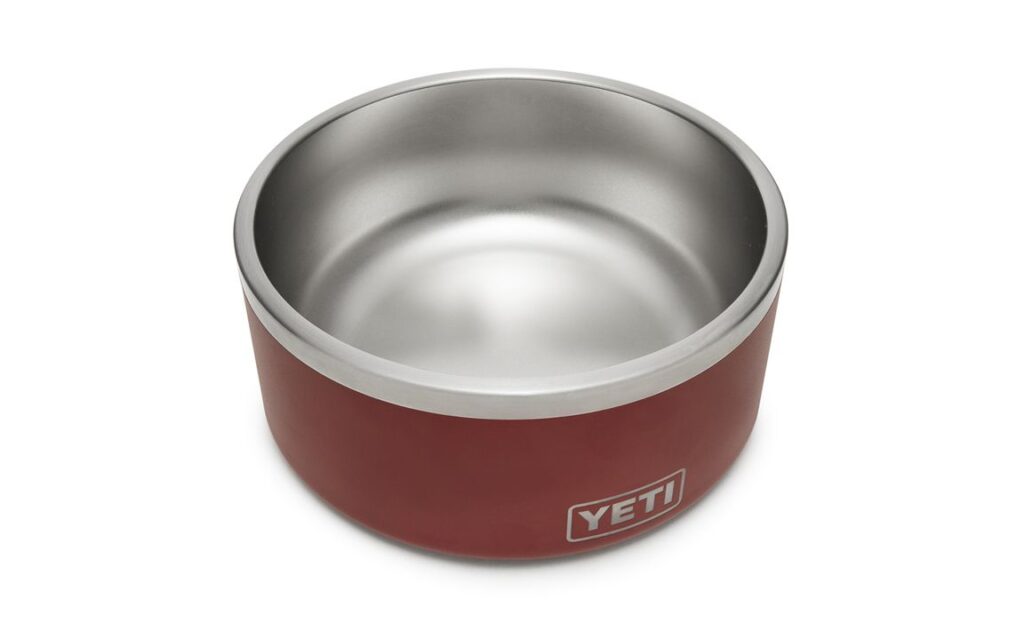 Everything Yeti makes is made to be extremely durable and to handle the toughest conditions. They make premium products that are made to last, no matter what you throw at them and the Boomer is no different.
It is made with double walled 18/8 Stainless Steel which is puncture resistant and rust resistant and strong enough to handle any dents or dings and still work great.
It isn't insulated like the Yeti Tumblers but it is food safe and holds 8 cups (64 oz) in the larger size and 4 cups (36 oz) in the smaller size. It's a great size for food or water.
It's also BPA free so you don't have to worry about those nasty chemicals.
It feels stronger than a regular dog bowl and weighs 1.9 lbs when empty. This is a solid dog bowl, and you can tell that it isn't flimsy or cheap.

This is the kind of dog bowl that you can take with you and never have to worry about it getting damaged. The weight of the bowl along with the barefoot non-slip ring on the base helps to keep the bowl stable on the ground, meaning it won't move around much as your dog is eating.
The Design And Colors Are Awesome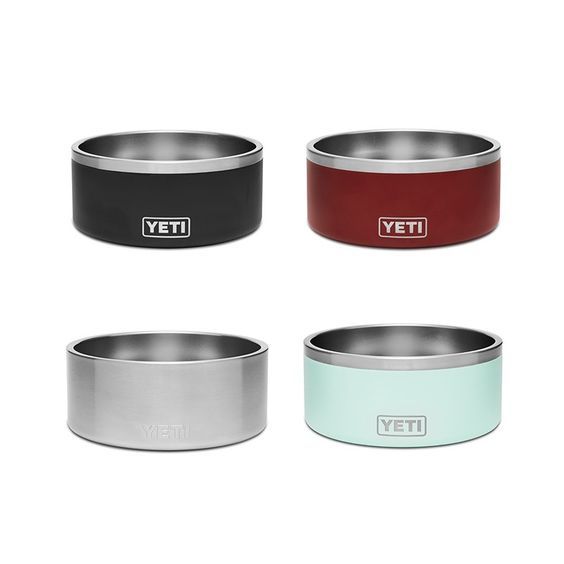 Yeti is a lifestyle brand and they have some of the best designed products on the market.
This dog bowl doesn't look like your normal cheap dog bowl and I absolutely love that about it.
In fact this bowl looks so good I could even imagine myself eating out of it. I mean I'm not going to, but it does kind of look like an oversized human bowl and I love that.
It comes in 6 different colors to suit your style – Black, Brick Red, Navy, River Green, Sea Foam and Stainless.
The Black is my favourite but I also love the basic Stainless Steel color too.
I'll link up to the different colors on Amazon below if you want to see all the images of each color.
The Non-Slip Base Works Great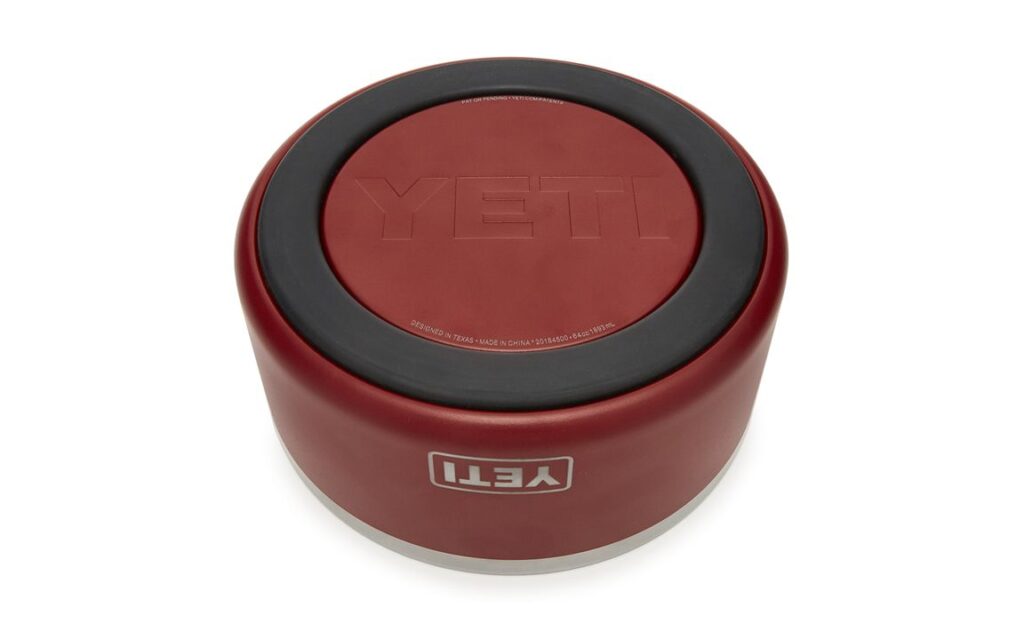 The Boomer has a rubber ring around the base that Yeti calls the "Bearfoot Non-Slip Ring" that helps to keep the bowl secure on the ground and not move around no matte how enthusiastically they eat or drink.
This is not a suction cup but is non-slip rubber similar to that on the Yeti coolers. So you can still slide this bowl around with a bit of force but it isn't going to go far and will stop really quickly.
But I think it's important to note that if your dog is very enthusiastic (and this is especially true for larger dogs) the bowl can move a little bit and won't stay in the exact same spot.
But the non-slip base works well on almost any surface – from your kitchen tiles to your wooden deck to your plush carpet or the dirty campsite. It'll stay mainly in place no matter where you take it.
It's Easy To Clean and Dishwasher Safe
The Yeti Boomer is a really easy dog bowl to clean. The Stainless Steel is simple and easy to clean and won't get stained by whatever you put in there for your pup.
It is dishwasher safe so after your dog has had his meal you can throw it in the dishwasher and wash it that way.
Being simple and easy to clean means it'll last you years and continue to be safe for your dog to eat out of.
It'll Last A Dog's Lifetime (and a Human's)

This dog bowl is built strong and it is built to last your dogs lifetime (and even your own lifetime).
While $50 seems like a lot to some it's something that you'll only ever have to buy once.
It's strong enough to handle dents and dints and just keep on rocking and the fact that it's double walled means that if the outside gets scratched or dented the inside should still be fine.
Buy this bowl once for your pet and you'll never have to buy another dog bowl again (unless you want to buy a second one).
See The Latest Price of Yeti Boomers on Amazon
Problems With The Yeti Boomer Dog Bowl
The Yeti Boomer is (in my opinion) the best dog bowl currently on the market. But it's not perfect and there are a few problems you should be aware of before you purchase it.
It's Expensive
This is the obvious one. While this is the best dog bowl on the market it's also the most expensive and not everyone can afford or justify the price of this bowl.
That's completely fine, if you don't have the money or don't feel it's worth it then there are some great affordable options for you like the Amazon Basics 2 pack of bowls for under $10.
Yeti Boomer 8 Dog Bowl:
Amazon Basics Dog Bowl 2-Pack:
It Can Still Scratch and Dent
It's made from 18/8 stainless steel and while this is puncture proof and rust proof it's not scratch proof and it can be dented.
In the below video Craig runs the bowl through some tests to show it can get smaller scratches quite easily but denting it is a lot harder. However, even after dropping in from his second story it's still in good enough condition to continue using.
It's Not Insulated
It's double walled but not vacuum sealed like the Yeti Tumblers. This means it's not going to have the same insulating properties so cold water will warm up faster in this and meals won't stay hot for as long as they would in a vacuum sealed bowl (if such a thing even exists).
The double wall does mean that you can fill it up with hot food and not worry about your hands getting hot when carrying the bowl.
Verdict: The Perfect Investment For An Active Dog

To be honest when I started this review I thought this bowl might just be a gimmick and a way for Yeti lovers to spend more money on their favorite brand.
But after looking at all the videos and customer reviews it's clear that dog owners absolutely love this bowl and while it's expensive it is well worth the money if you can afford it.
If you're interested in getting a Yeti Boomer for your pup you can click the link below to see the latest price on Amazon.
See The Latest Price For The Yeti Boomer At Amazon
Some Cheaper Alternatives To The Yeti Boomer
If this dog bowl is a little out of your budget then there are some other cheaper options out there that you can consider.
Premium Option: Ruffwear Basecamp Bowl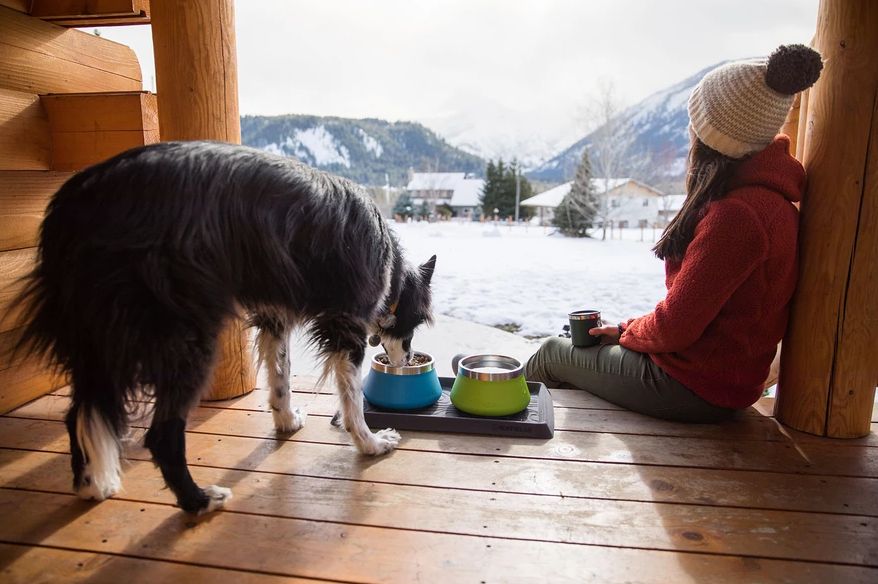 The Ruffwear Basecamp Bowl is another double walled stainless steel dog bowl that is built to last.
It fits 5 cups of food or drink (compared to Yeti's 8) and it isn't dishwasher safe.
It has a non-slip silicone base to hold the bowl in place with a deep design to keep food and water contained and to stop them spilling everywhere.
They are a bit cheaper than the Yeti Boomer, but still fairly pricey for a dog bowl.
Ruffwear Basecamp Bowl:
Budget Option: Amazon Basics Dog Bowl
For the budget conscious shopper you can't go wrong with the Amazon Basics Dog Bowl.
Made from food grade stainless steel it holds a little under 5 cups (38 ounces) and is rust resistant and dishwasher safe.
It has a rubber base that protects the floor and stops the bowl from sliding and you can often get two bowls for under $10 when they are on sale. Otherwise under $12.
Amazon Basics Dog Bowl: