RTIC makes premium coolers in a very affordable price range. It's no wonder they're becoming an increasingly popular alternative to Yeti coolers.
Best yet, they're available in even more colors and, in my opinion, more interesting colors than Yeti.
RTIC Hard Coolers traditionally come in white, blue, and tan. They've since expanded into unique color combinations like Dark Grey & Cool Grey, Patriot, Amber & Marlin Blue, and Trailblazer. RTIC Soft Coolers come in even more colors — Rose, Hot Pink, Lime, Citrus, Cardinal, Tan, Black, Coral, Slate Blue, Seafoam Green, Forest Green, and Kanati Camo.
You don't have to limit yourself to the colors available on RTIC's website either. There are plenty of historic and limited colorways out there, if you know where to look. 
RTIC Hard Cooler Colors
RTIC played it safe when they introduced their original Hard Cooler — keeping a classic White front and center. They went on to expand their offerings to Blue and Tan in 2018 and recently released a more adventurous Amber & Blue Marlin colorway. 
Click here to see the current range of RTIC hard cooler colors at RTICOutdoors.com
1. White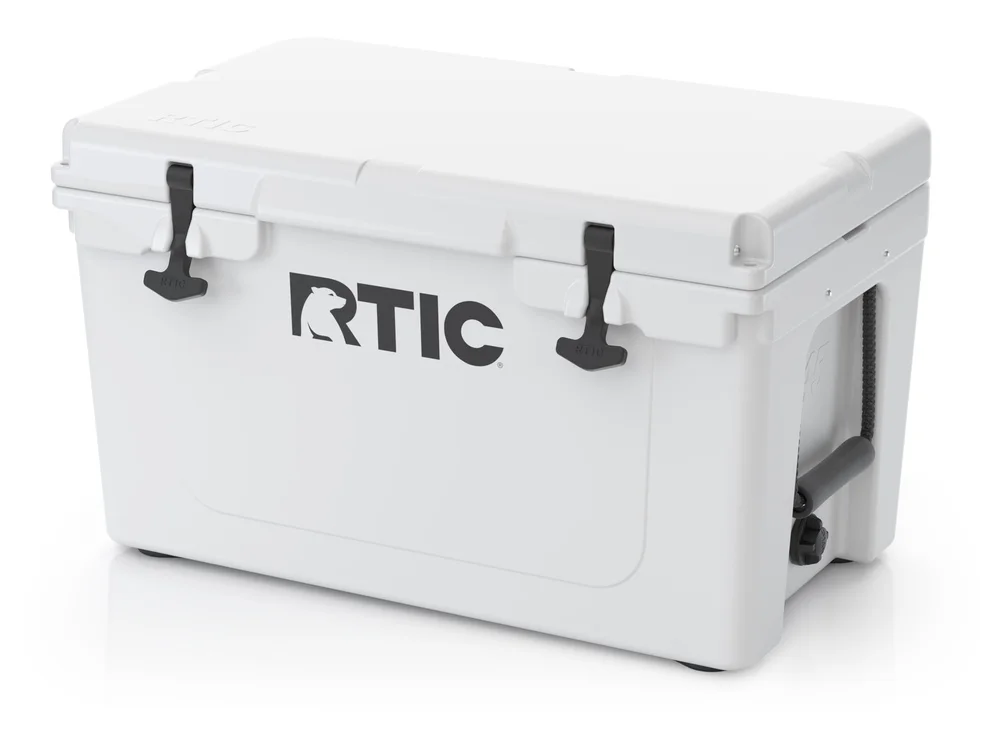 White is the color that started it all for RTIC and is still a staple of the Hard Cooler line — and for good reason.
Aside from having a clean, classic look, white coolers work the best as well. 
Because white reflects more light than darker colors, and as a result absorbs less heat, a white cooler can keep ice for as much as a half day longer than a darker one.
Luckily, it's really only noticeable in the most extreme conditions.
Any color cooler will work more than well enough in most scenarios. Don't be afraid to express yourself with some color, whether it's an RTIC cooler or one of the many Yeti cooler colors available. 
2. Tan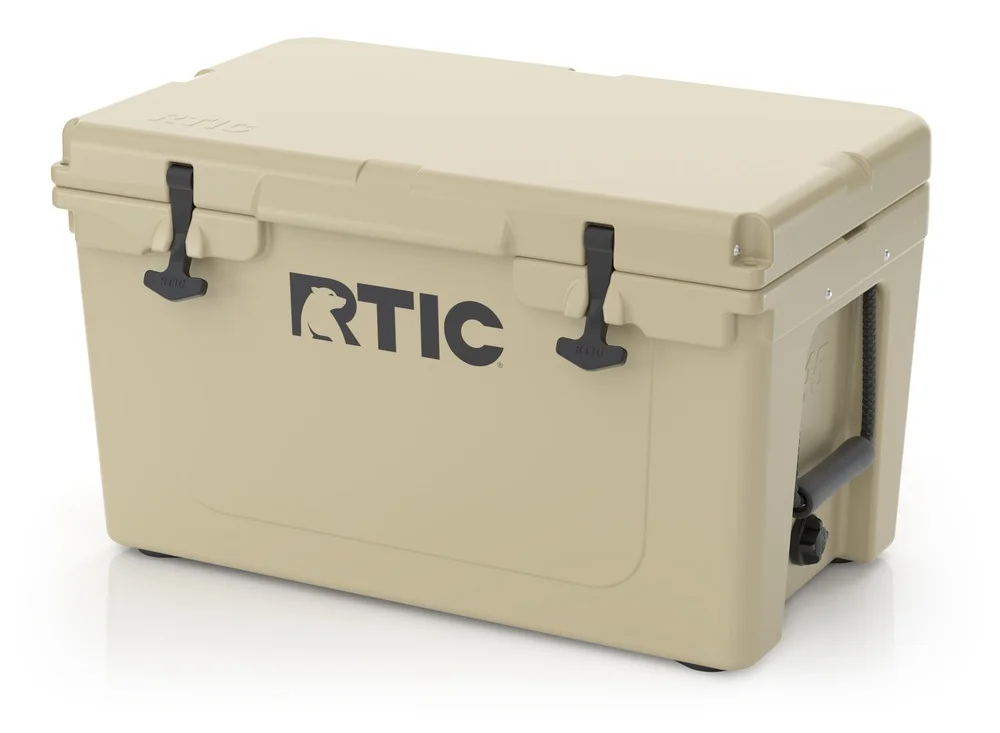 If you want to keep things simple, tan offers a nice change of pace from classic white.
It also happens to blend in better with nature than white or the other more-vibrant colors RTIC offers, making it the preferred Hard Cooler of choice of hunters and other outdoorsmen.
3. Blue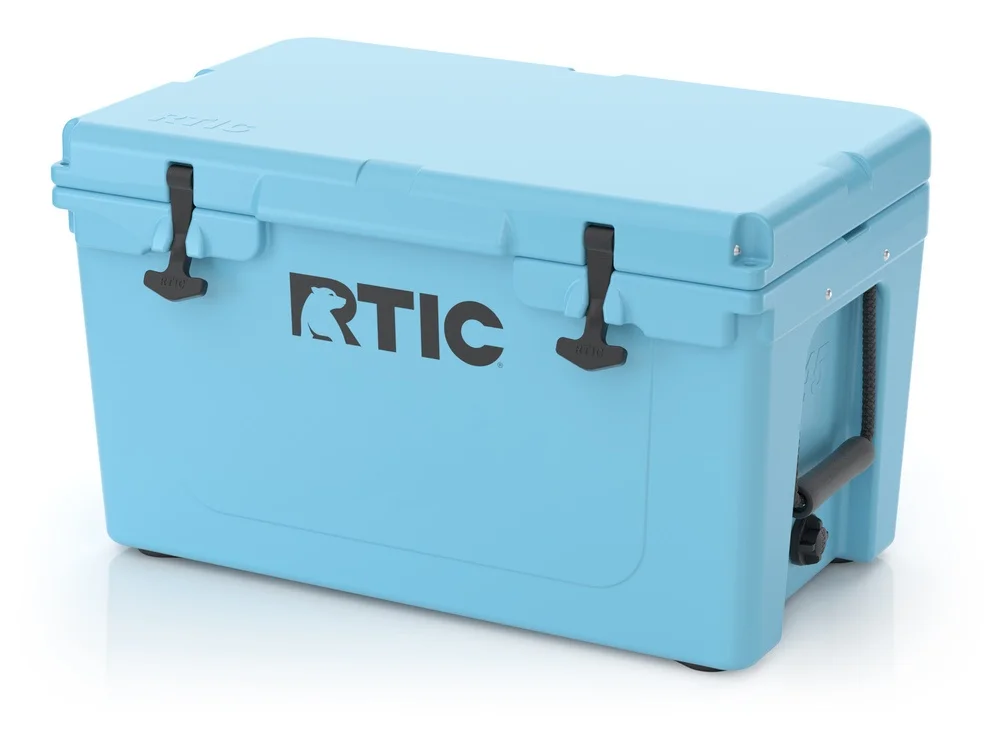 Released in 2018, alongside the tan colorway, the Blue Hard Cooler was RTIC's first foray into brighter colors — a move they've run with ever since.
4. Amber & Blue Marlin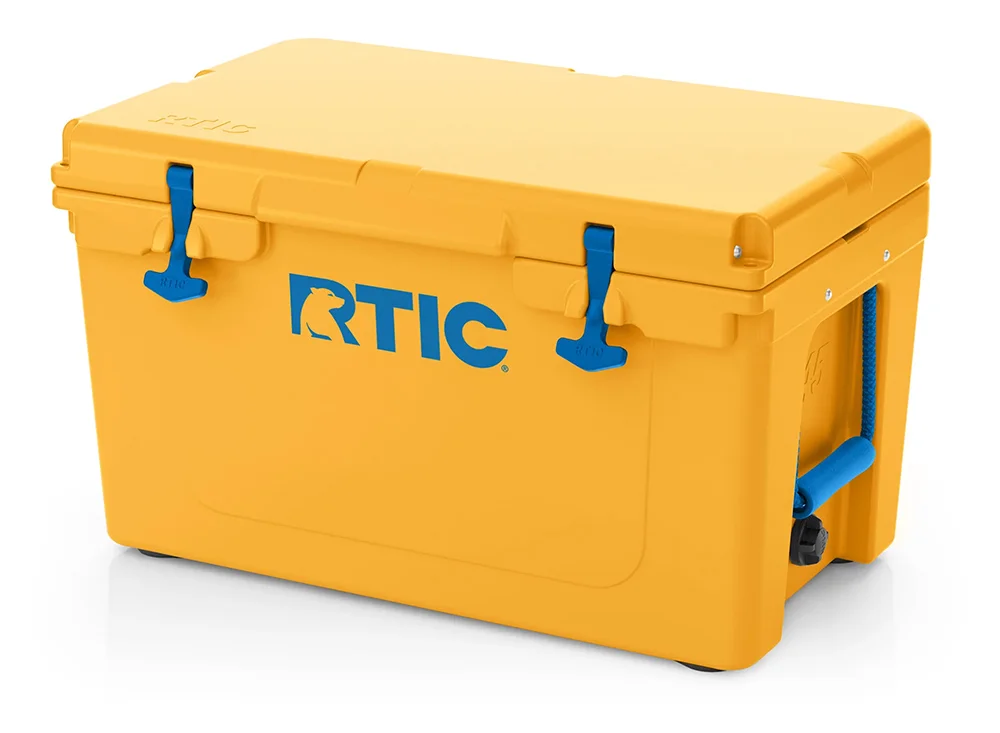 RTIC's move from basic, monochromatic colorschemes to louder, more-expressive colorways has never been more apparent.
Following up on the success of their adventurously-colored 2020 lineup of Ultra-Light coolers, RTIC dropped the limited edition Amber & Blue Marlin colorway in the summer of 2022.
The yellow really pops and is accented by a bold blue on the logo and handles — it's no wonder RTIC is having a hard time keeping these things on the shelves.
Amber & Blue Marlin is currently only available in the 45 QT Hard Cooler and Insulated Tote Bag. Hopefully they decide to add it to their standard lineup and continue to experiment with more fun colorways.
Pink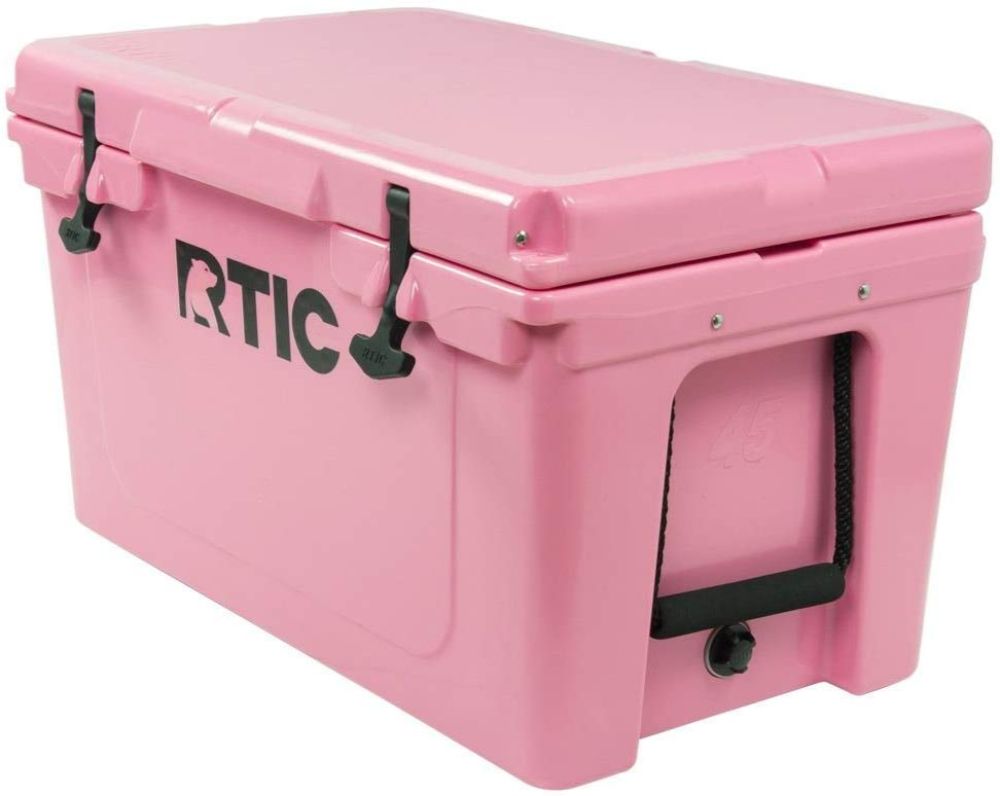 A limited release from RTIC they used to sell soft pink coolers which personally I think look amazing and are one of the best coolers for women and one of the best pink cooler options on the market. I really hope they bring this color back again soon.
Click here to see all current RTIC hard cooler colors at RTICOutdoors.com
RTIC Ultra-Light Hard Cooler Colors
When RTIC released its new line of Ultra-Light Hard Coolers in 2020, it became clear that they were stepping a bit outside of their comfort zone.
See the latest prices and colors of RTIC Ultra-Light Coolers at RTICOutdoors.com
1. Trailblazer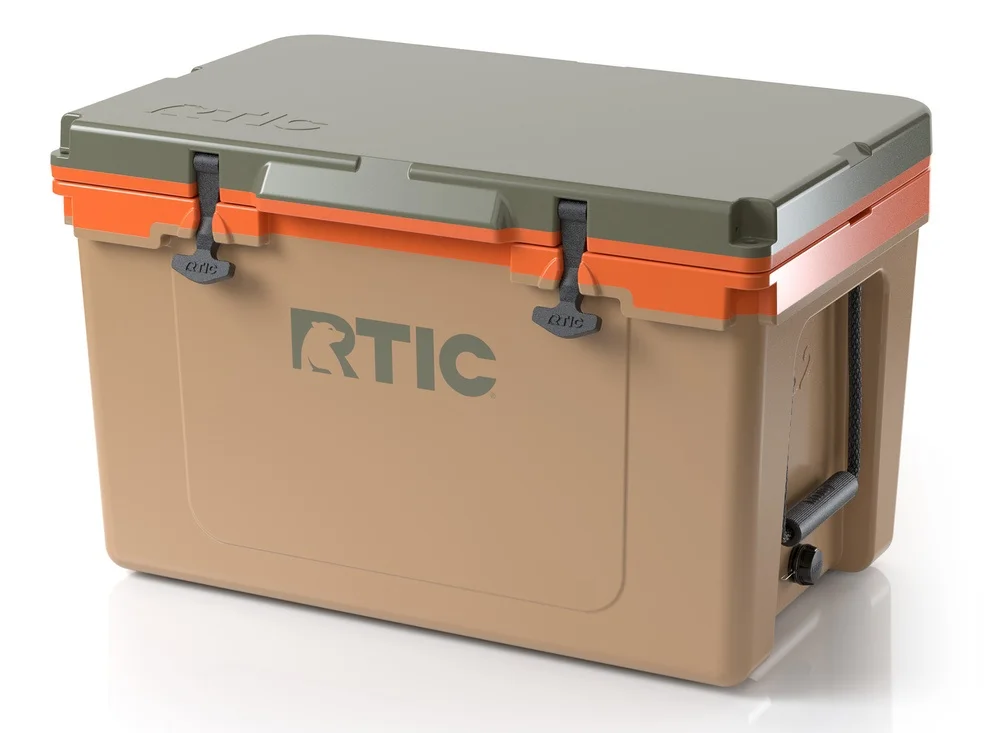 Trailblazer offers a new twist on the original Tan Hard Cooler. A tan base and hunter green lid are accented by a burnt orange stripe running between.
Like the Tan Hard Cooler, the nature-inspired color palette of the Trailblazer colorway won't stand out if you're out hunting.
2. Dark Grey & Cool Grey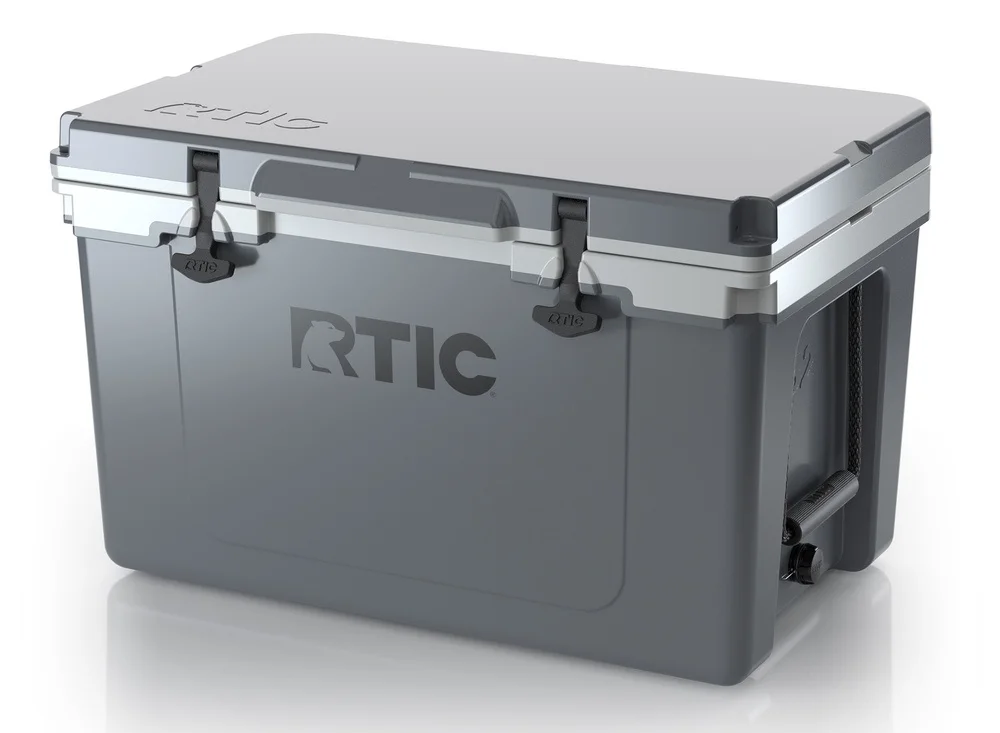 A dark grey body and lid with a cool grey accent lends the Dark Grey & Cool Grey colorway a very modern aesthetic — perfect for cookouts, beach days, and whatever other adventure you get yourself into.
3. White & Grey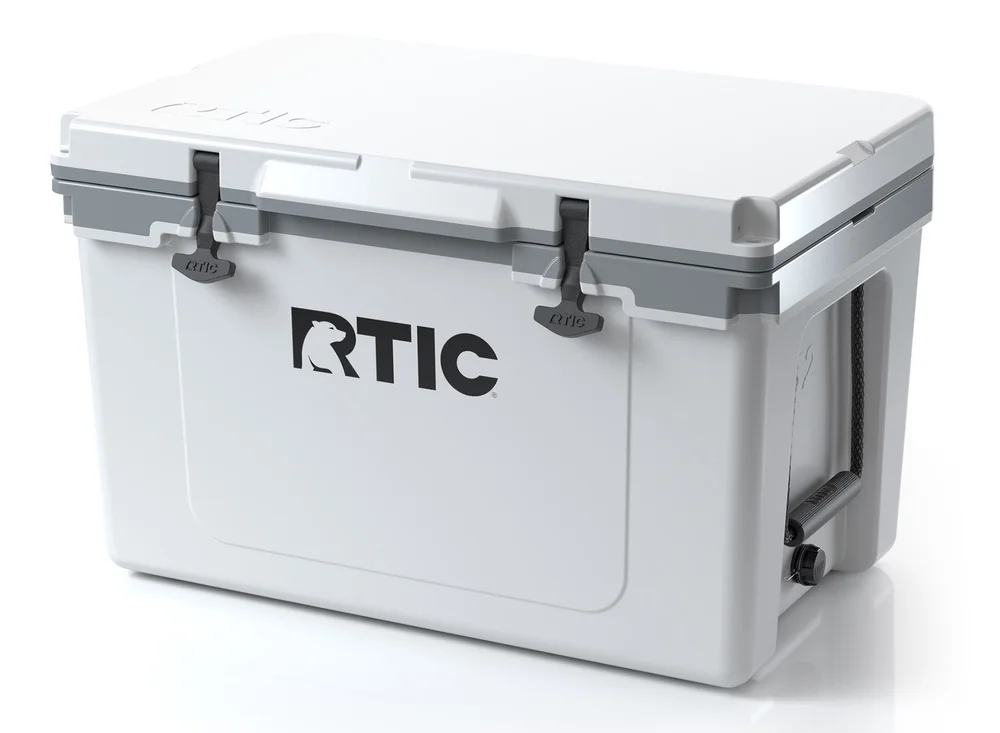 A lineup of RTIC coolers wouldn't be complete without a classic white option.
The White & Grey colorway adds a cool grey accent to the base White Hard Cooler, adding style without compromising function.
4. Patriot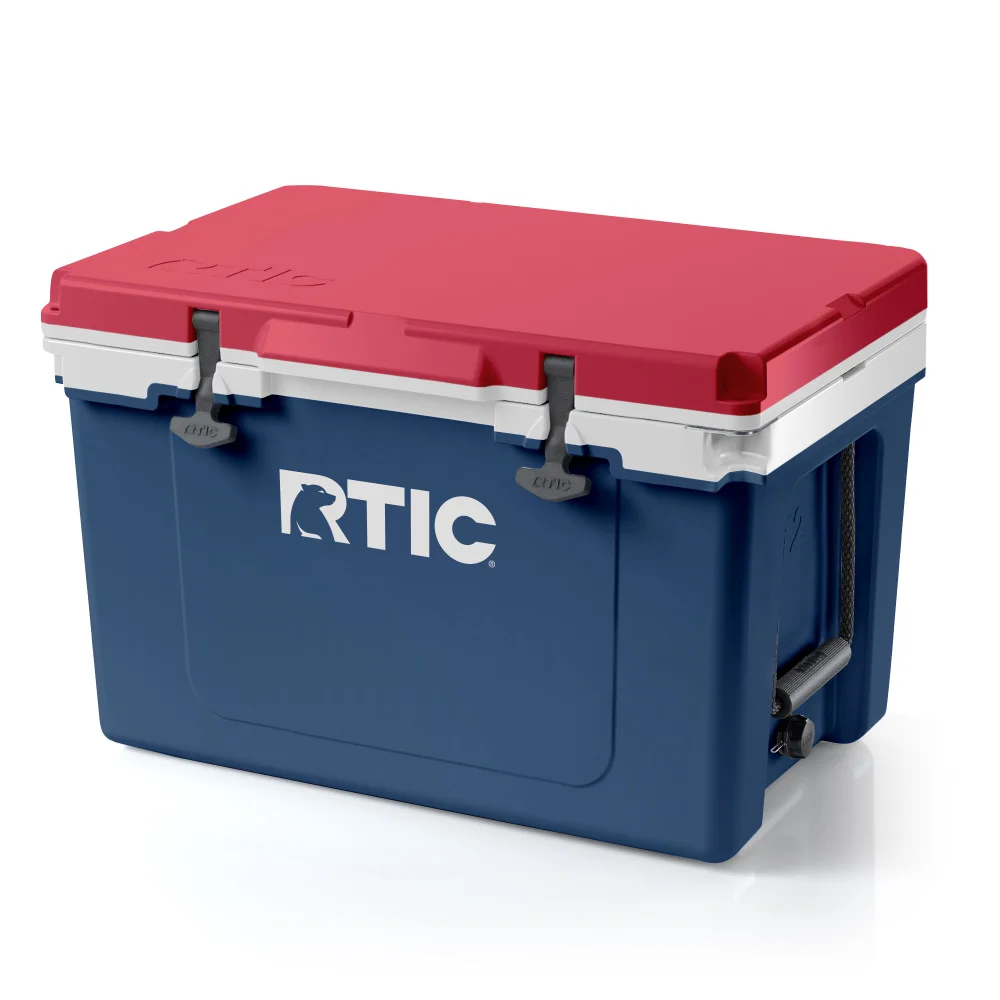 The appropriately-named Patriot colorway dropped in the Fall of 2021 — instantly becoming a Fourth of July cookout staple.
Show your patriotic side with the bold red, clean white, and deep blue of the Patriot colorway. 
RTIC Soft Pack Cooler Colors
RTIC's Soft Pack Coolers come in a wide variety of colors, pretty much anything you could want.  
See the latest prices and colors of RTIC Soft Pack Coolers at RTICOutdoors.com
1. Slate Blue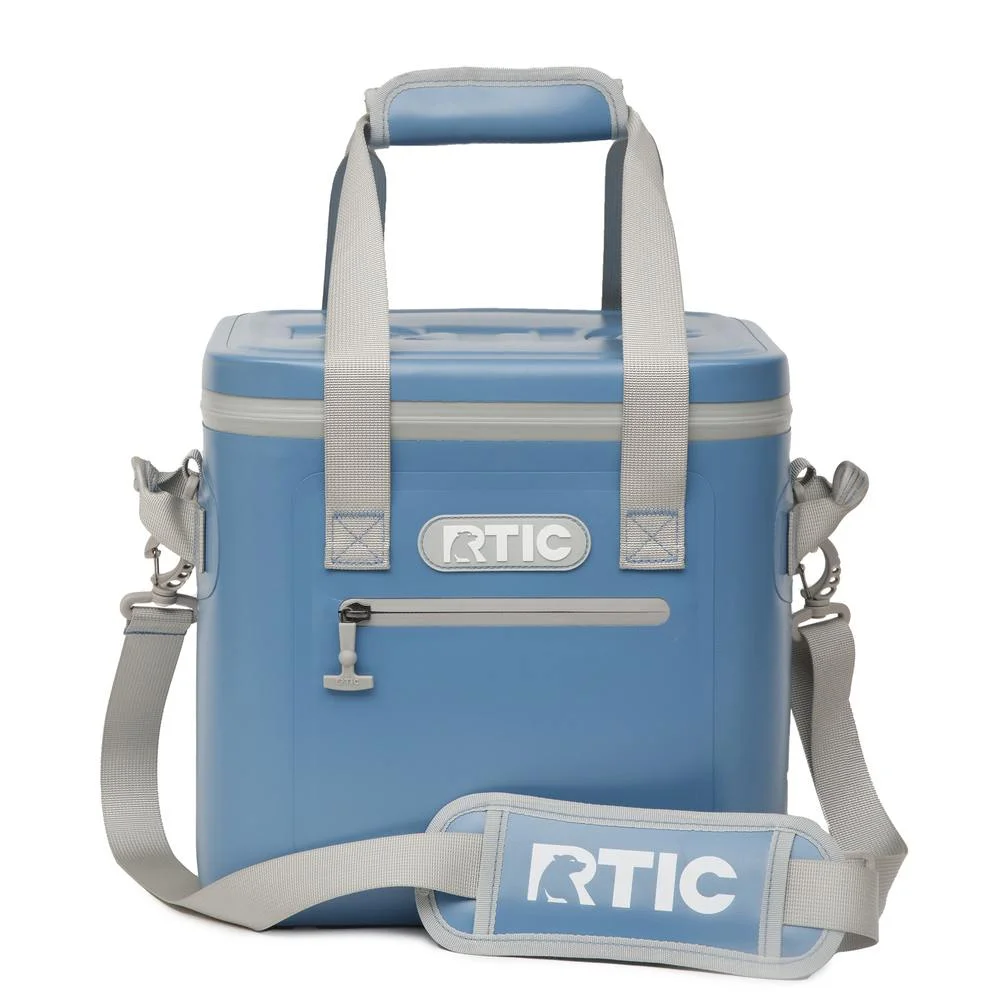 The Slate Blue Soft Pack Cooler is vibrant, cool, and really enhanced by the light grey accents on the straps and zippers. The perfect colorway to float alongside you on a lazy day of tubing.
2. Coral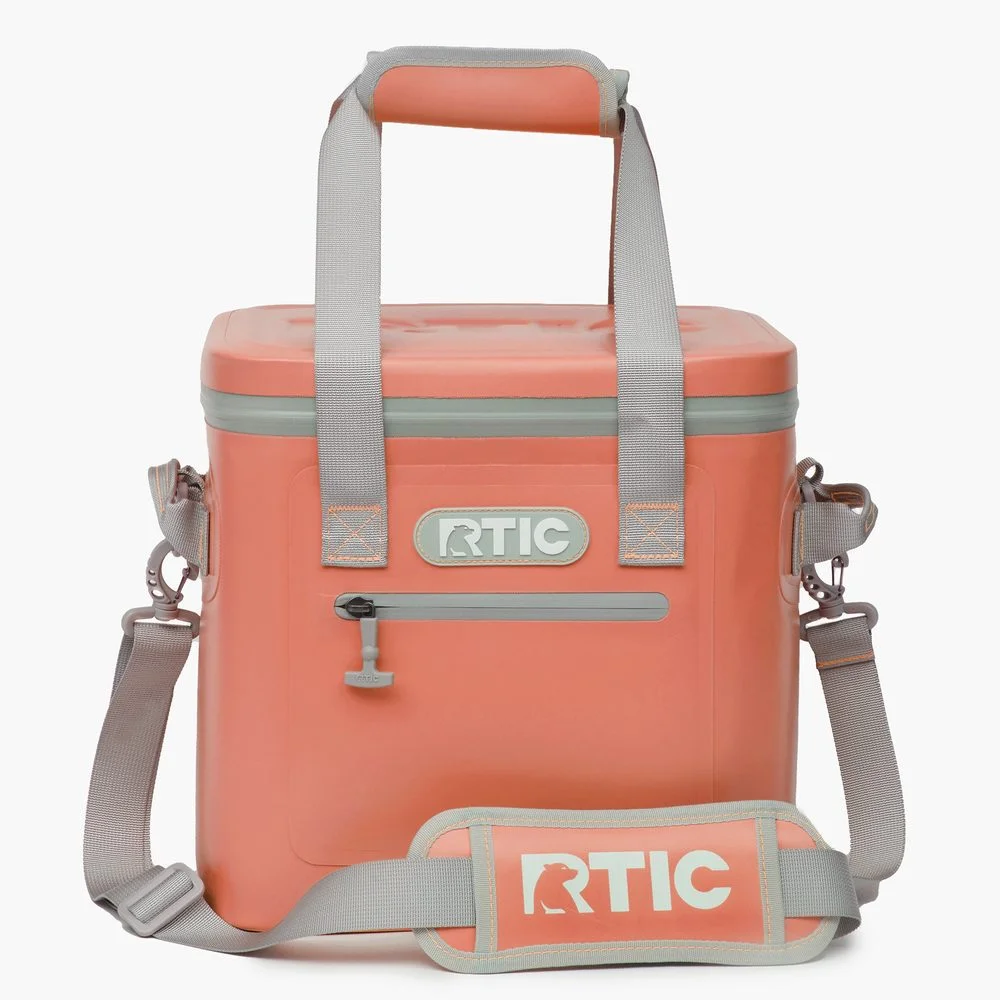 Pastel pinkish orange with cool grey accents makes RTIC's Coral Soft Pack Cooler the perfect match for a sunny picnic or a relaxing day at the beach.
3. Citrus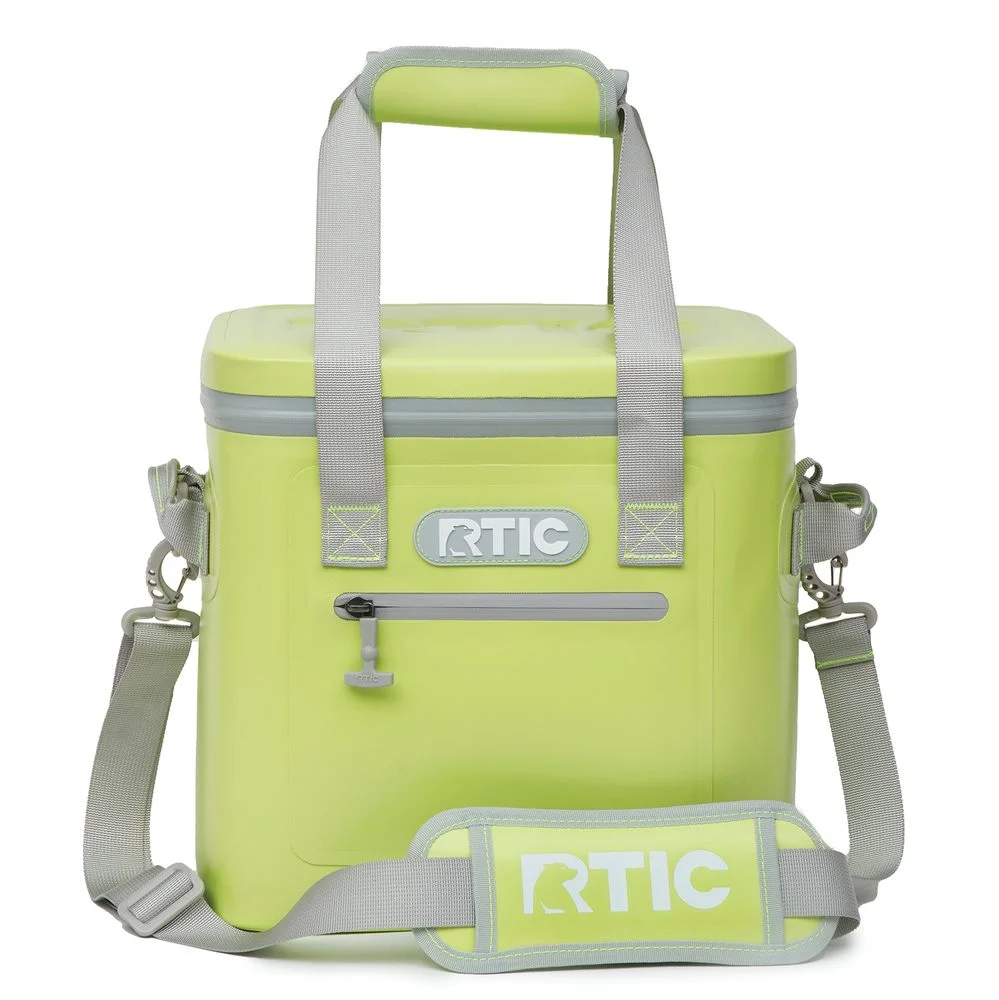 If you're looking for a cooler with a bit more flair, the bright yellow of the Citrus Soft Pack Cooler screams fun, sun, and good times.
4. Cardinal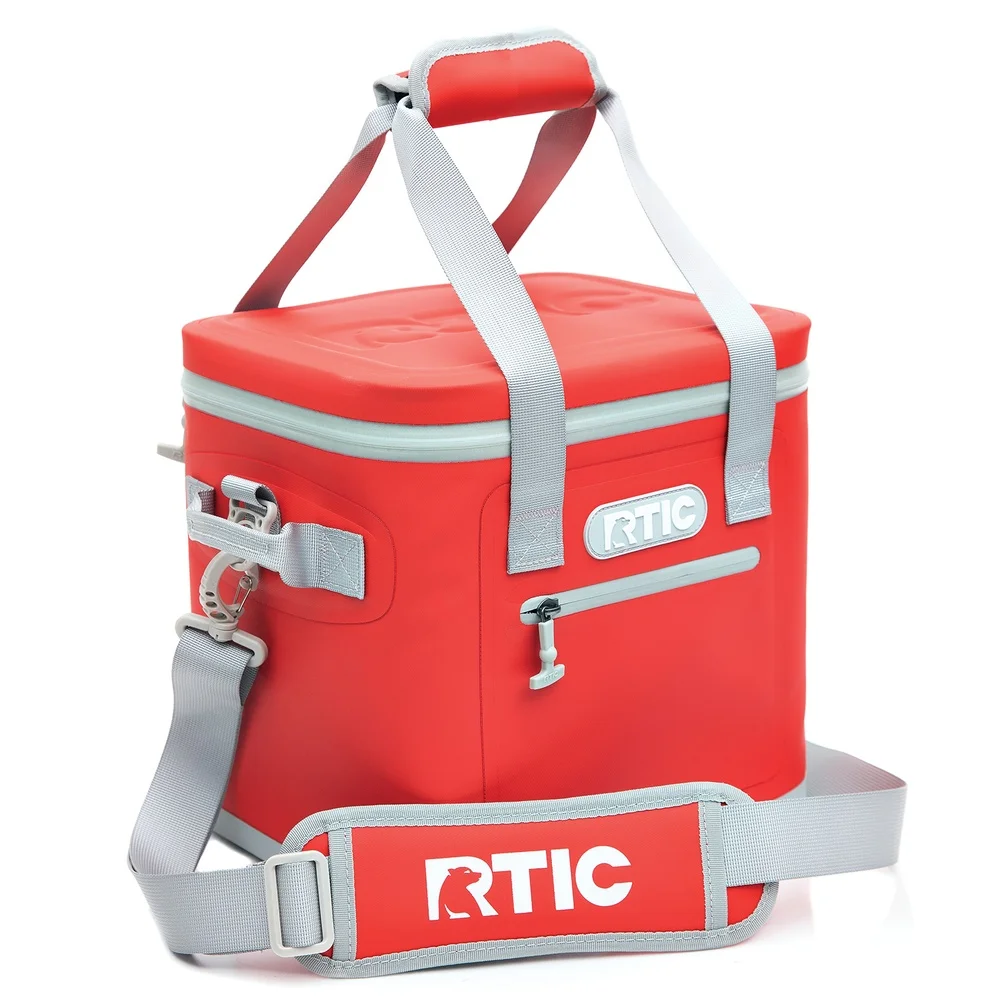 Rich bright red with grey accents make the Cardinal Soft Pack Cooler look classic but still fun.
Reminds me of those old Coca-Cola signs from back in the day. It's a really unique and interesting color.
5. Tan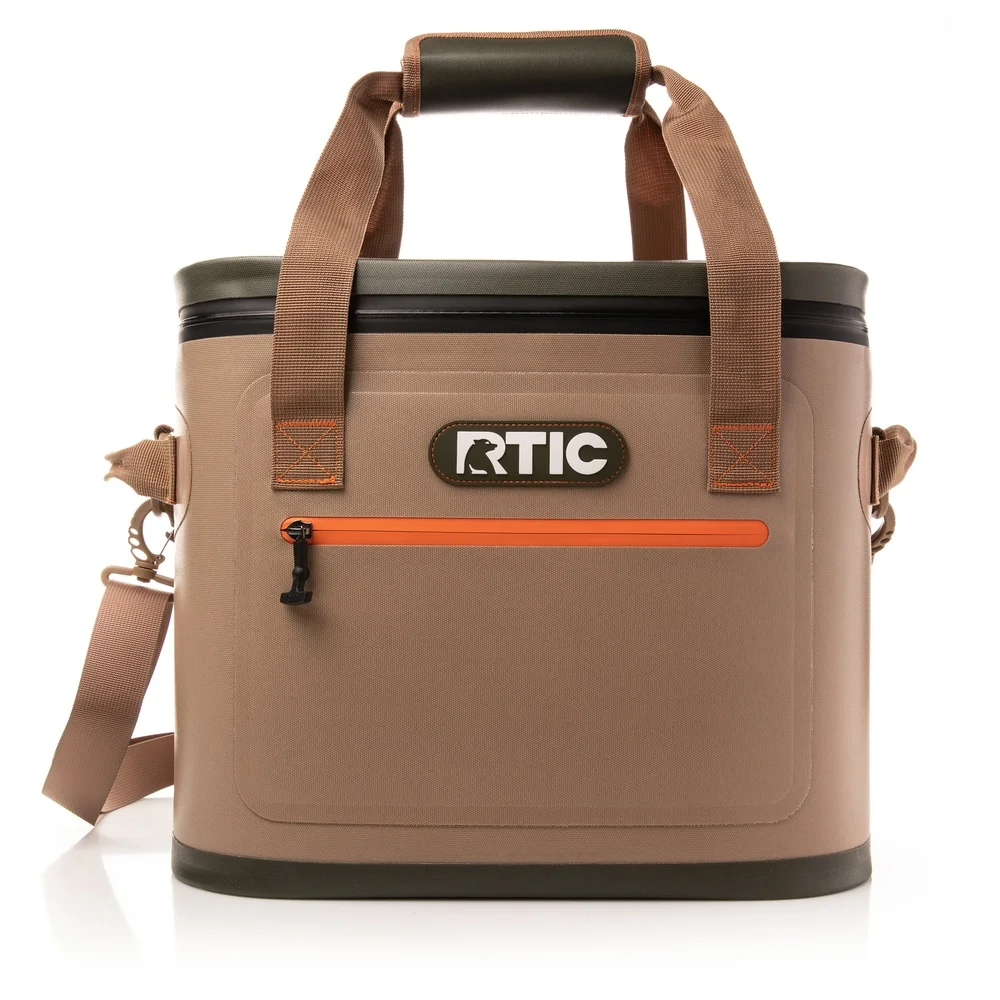 Nature-inspired colors, tan with orange and brown accents, make the Tan Soft Pack Cooler perfect for a day in the woods.
6. Forest Green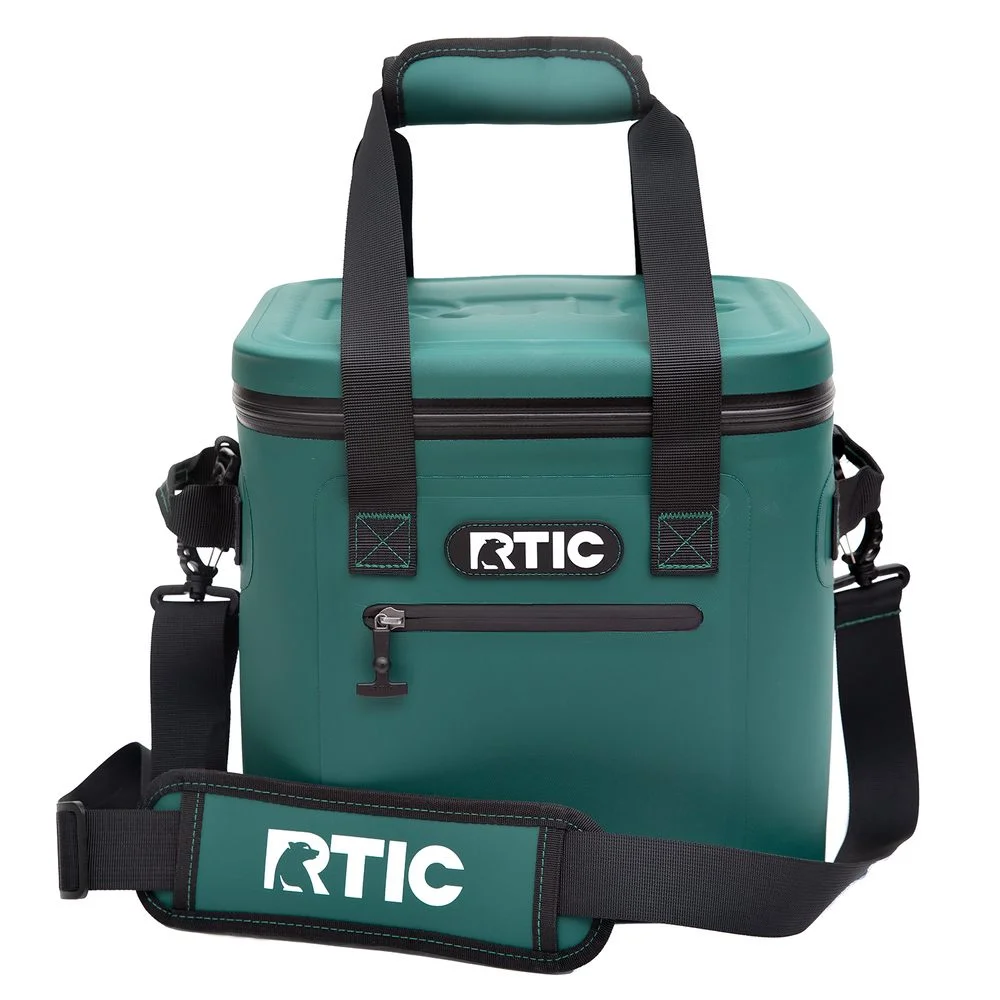 Speaking of nature-inspired color palettes, the Forest Green Soft Pack Cooler is the perfect colorway to inspire camping, picnicking, and enjoying everything Mother Nature has to offer.
7. Blue/Grey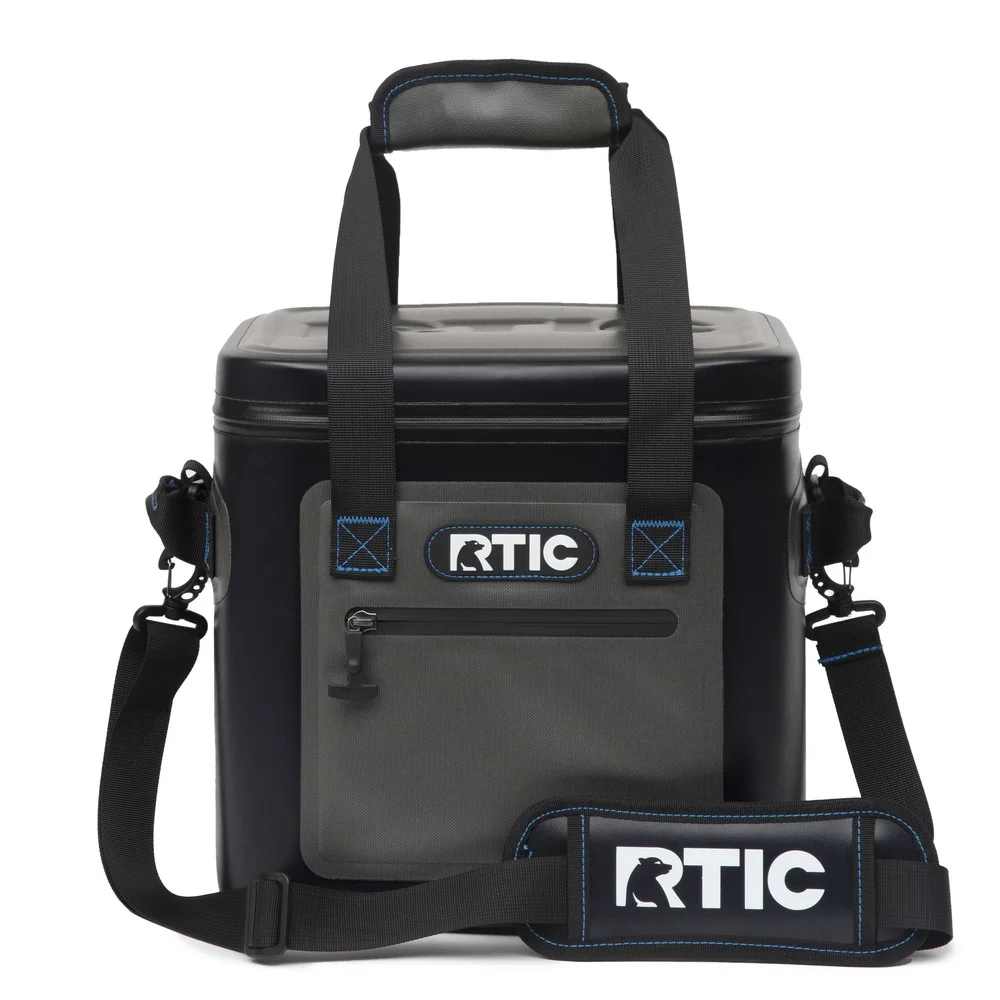 Blue accent stitching turns a pretty ordinary colorway into one of my personal favorites.
8. Seafoam Green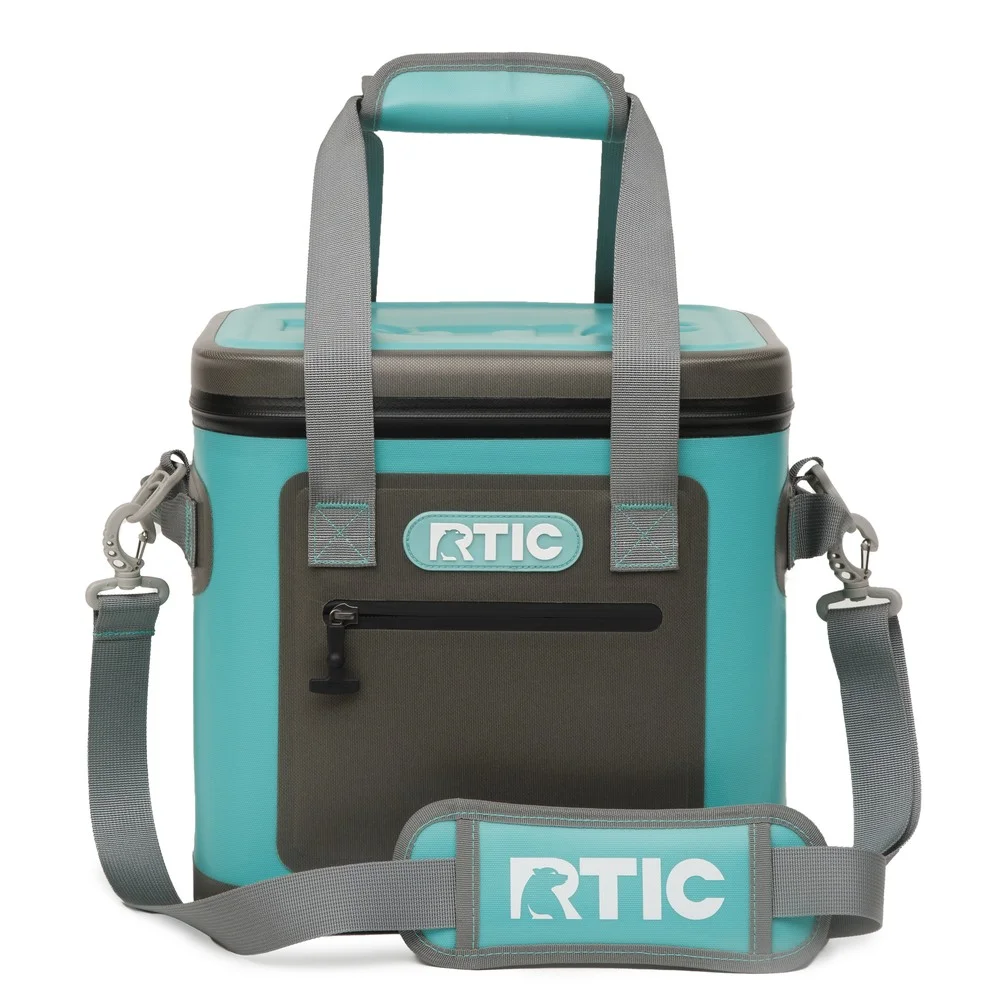 No lineup of coolers is complete without Seafoam Green — the perfect colorway for a day on the beach, on the boat, or by water.
9. Black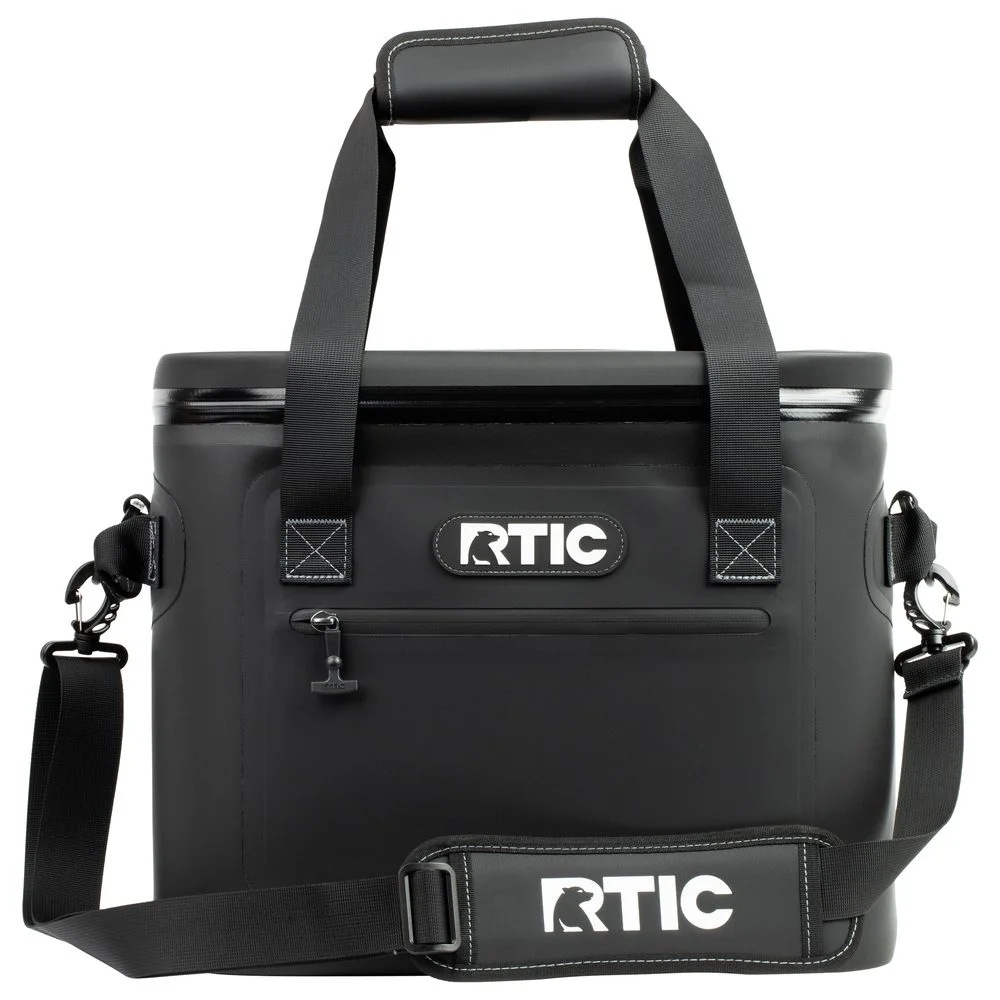 The all-black Soft Pack Cooler is versatile, sleek, and immune to stains — great for activities like dirt biking and other messy motorsports.
This actually happens to be the RTIC Soft Pack cooler I myself own and love. It looks sleek and sexy.
10. Sky Blue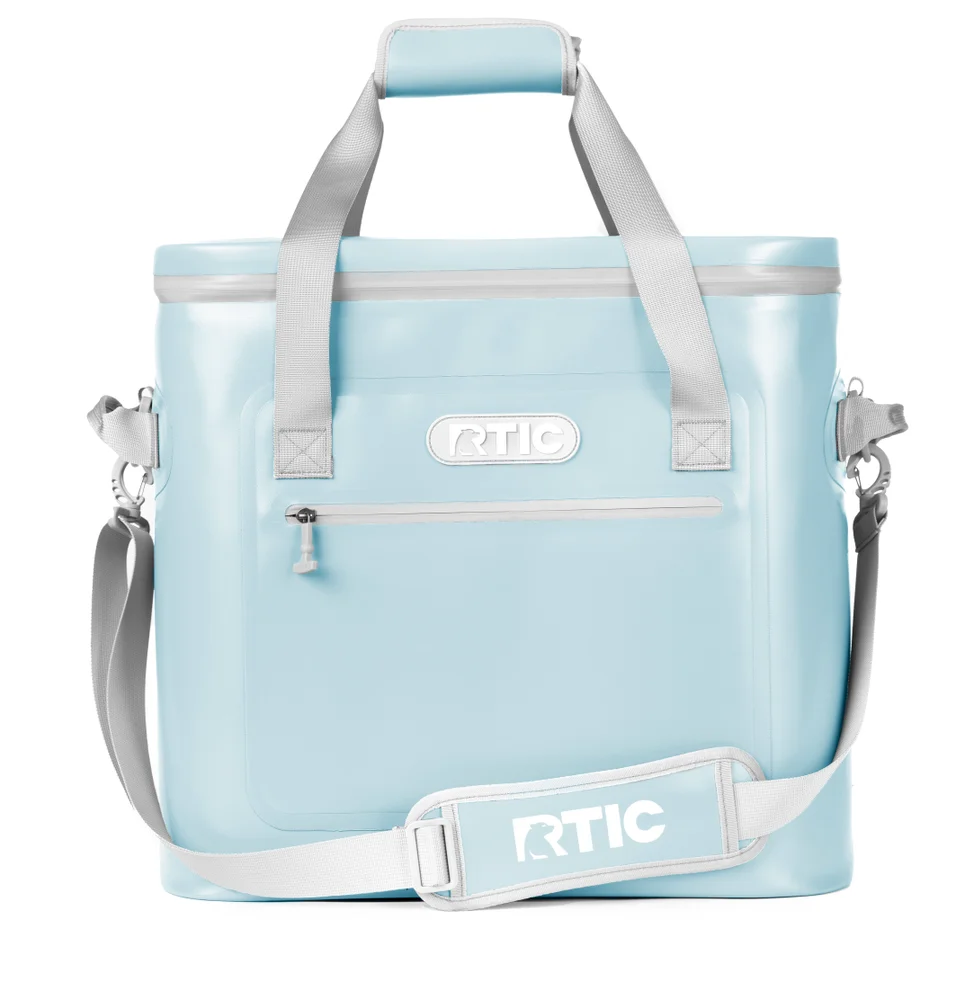 A cheerful, light powder blue gives the Sky Blue Soft Pack Cooler pleasant, laid-back vibes. My partner loves this one.
11. Kanati Camo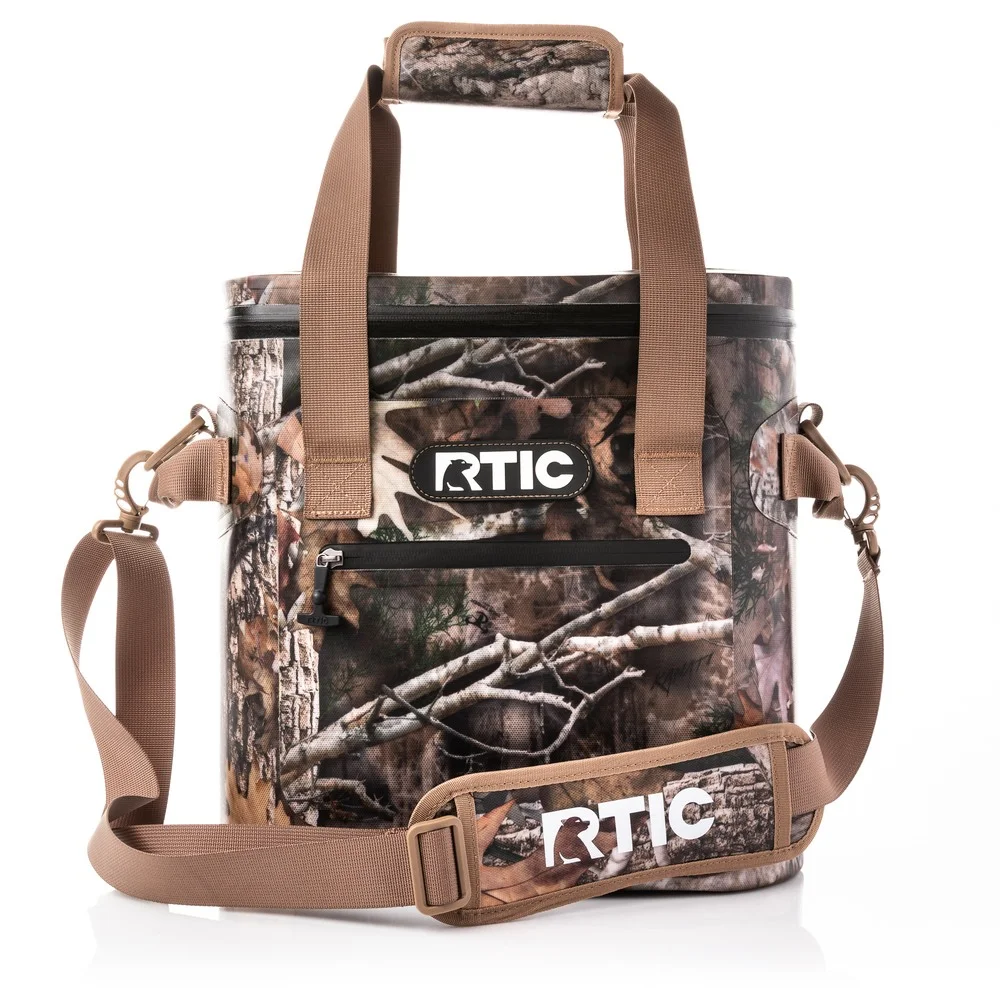 Realtree camo makes the Kanati Camo Soft Pack Cooler a favorite of hunters, trappers, and outdoorsmen alike.
RTIC Day Cooler Colors
Like the Soft Pack Cooler, the RTIC Day Cooler is available in a wide variety of colors — unfortunately, several are discontinued or can only be found at Amazon. 
The good news is, if you're interested in any of the historic colorways, you can still find many on Amazon and eBay.  
See the latest prices and colors of RTIC Day Coolers at RTICOutdoors.com
1. Rose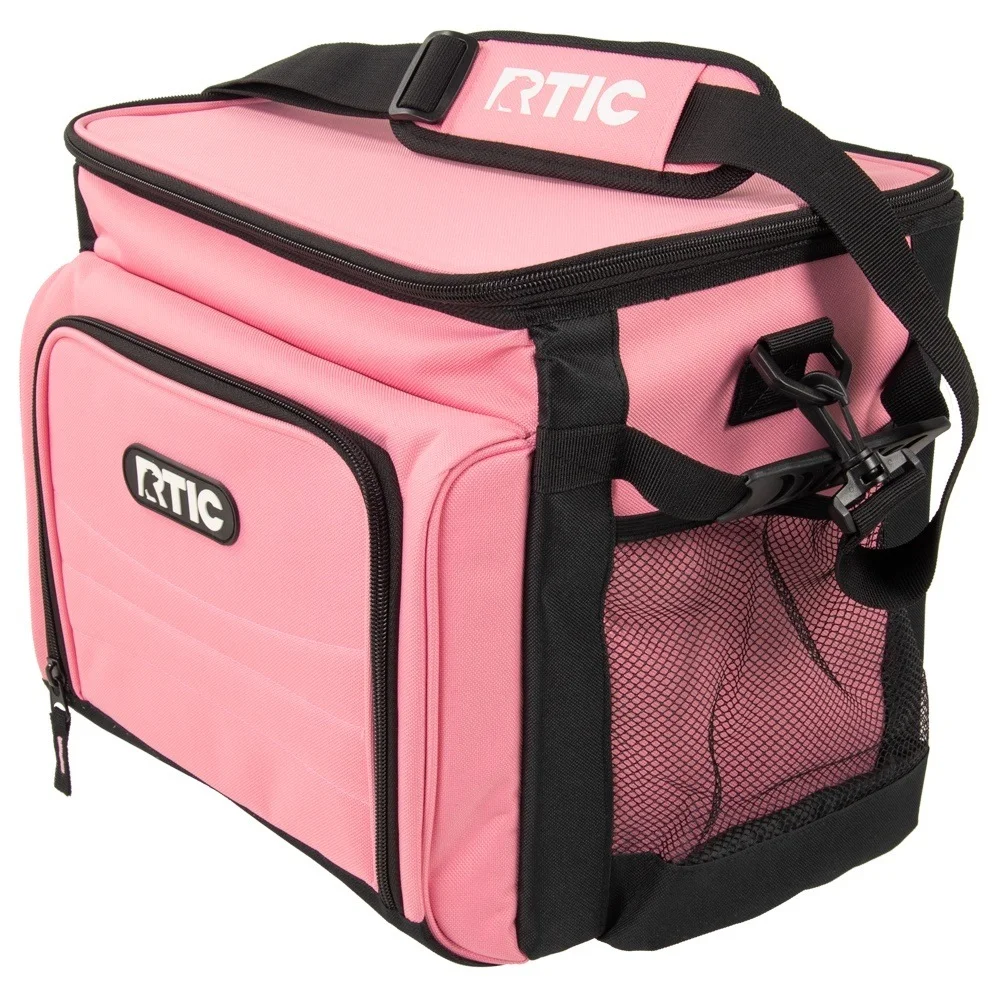 If you want a cooler with more of a feminine touch, the muted pink of the Rose Day Cooler fits the bill.
2 Hot Pink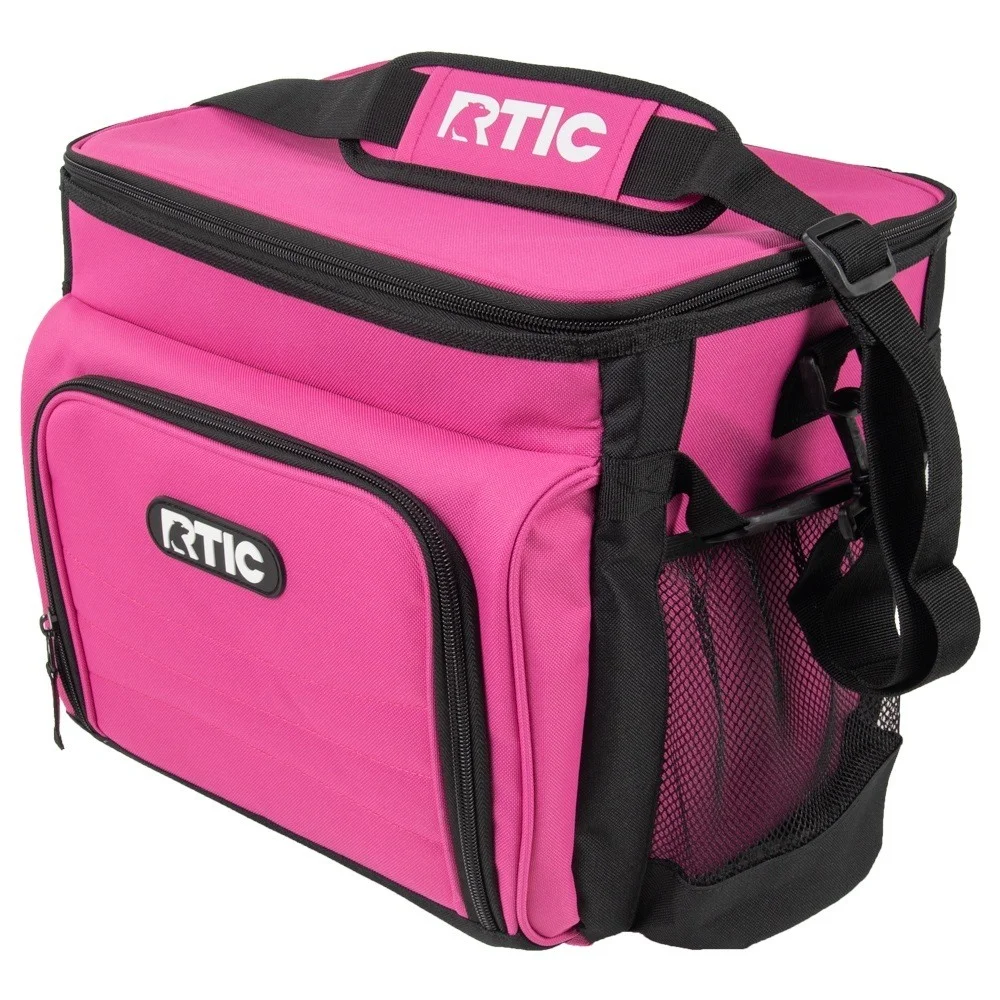 If you want a feminine touch with some attitude, the Hot Pink Day Cooler may turn some heads. It's hard to tell in pictures, but the Hot Pink really pops when you see it in person.
3. Navy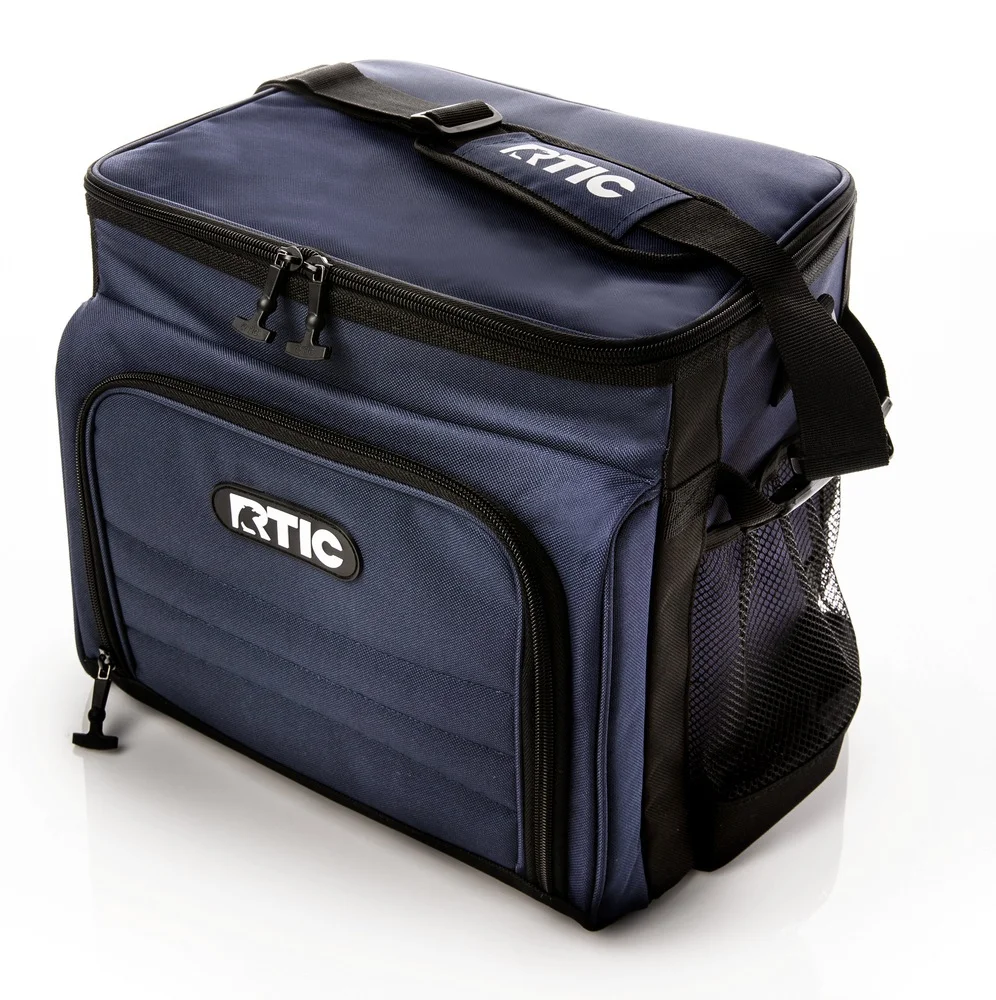 RTIC went back to basics with a few of their Day Cooler colorways — and there's nothing wrong with that. It's hard to go wrong with a classic color like navy blue.
4. Red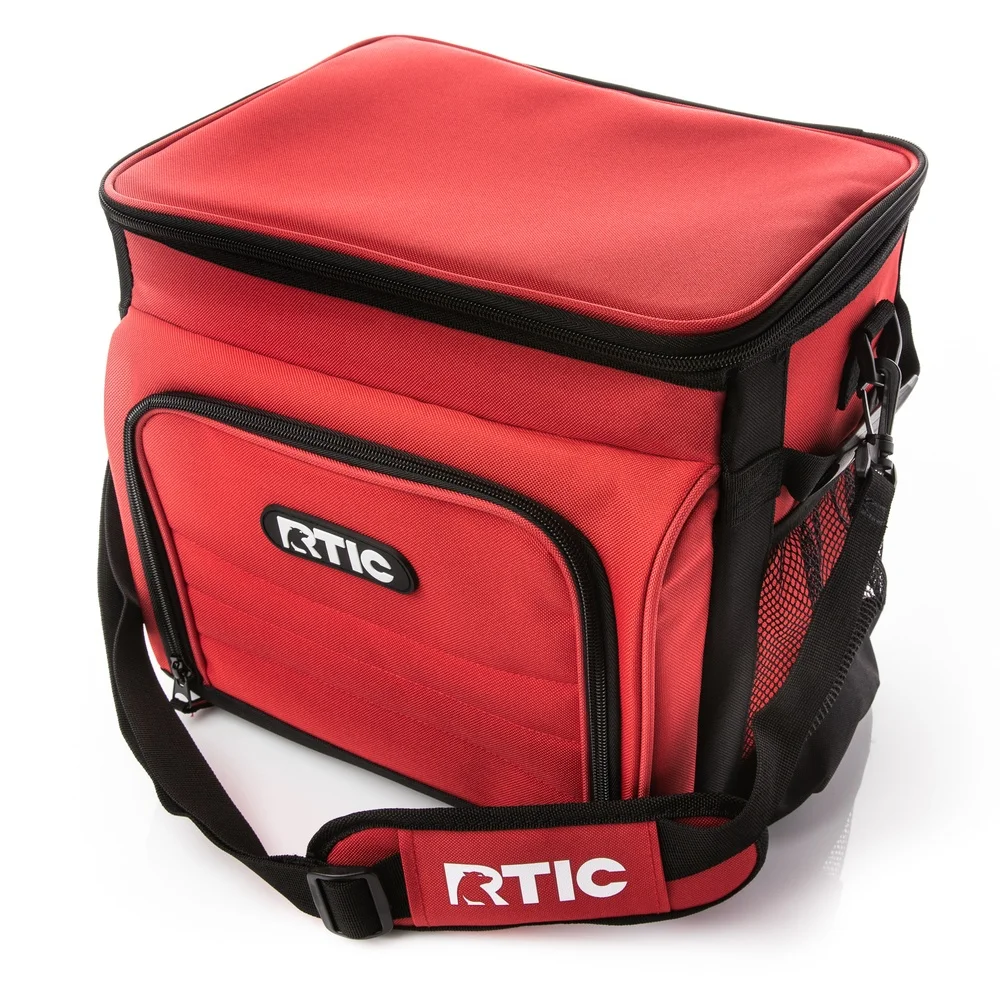 Speaking of basics, a red cooler is about as classic as it gets.
5. Green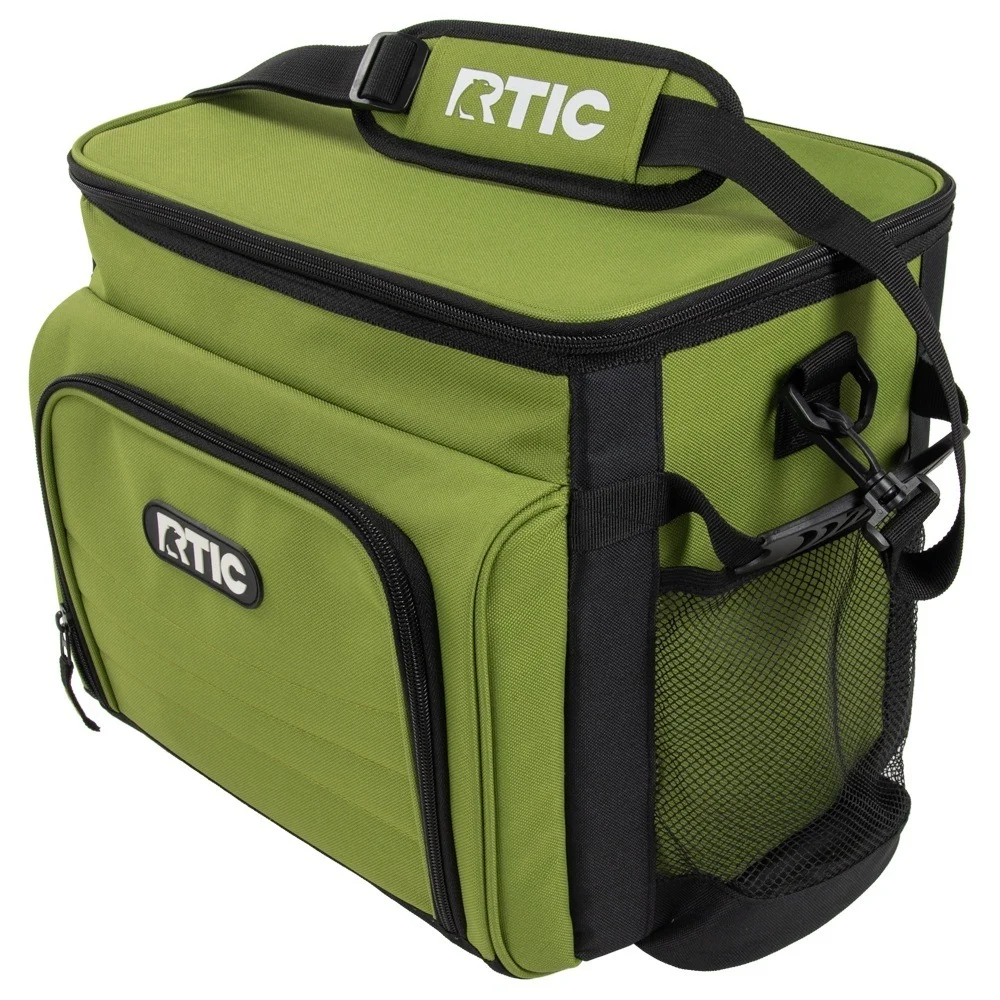 Green rounds out the basic colorways still being offered by RTIC — but more on that below.
6. Light Coral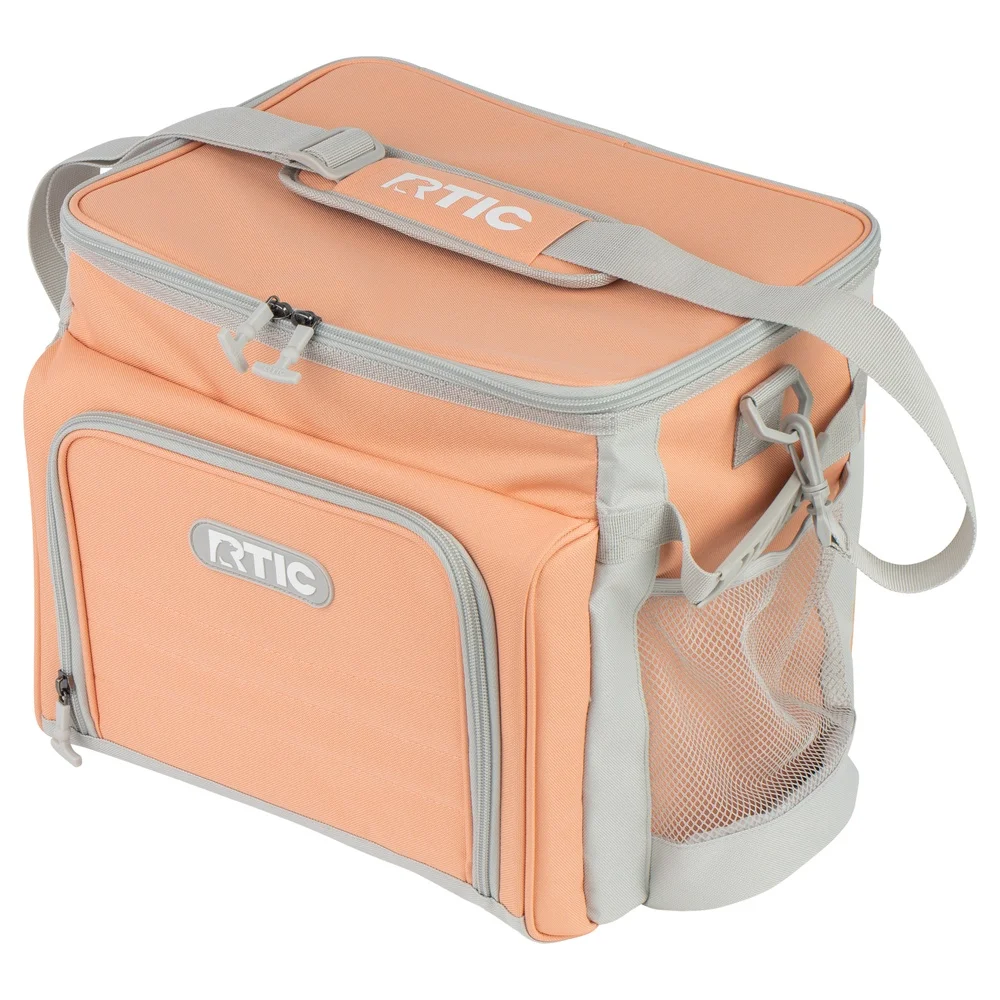 The Light Coral Day Cooler was born to be on the beach — might as well be with you.
7. Light Blue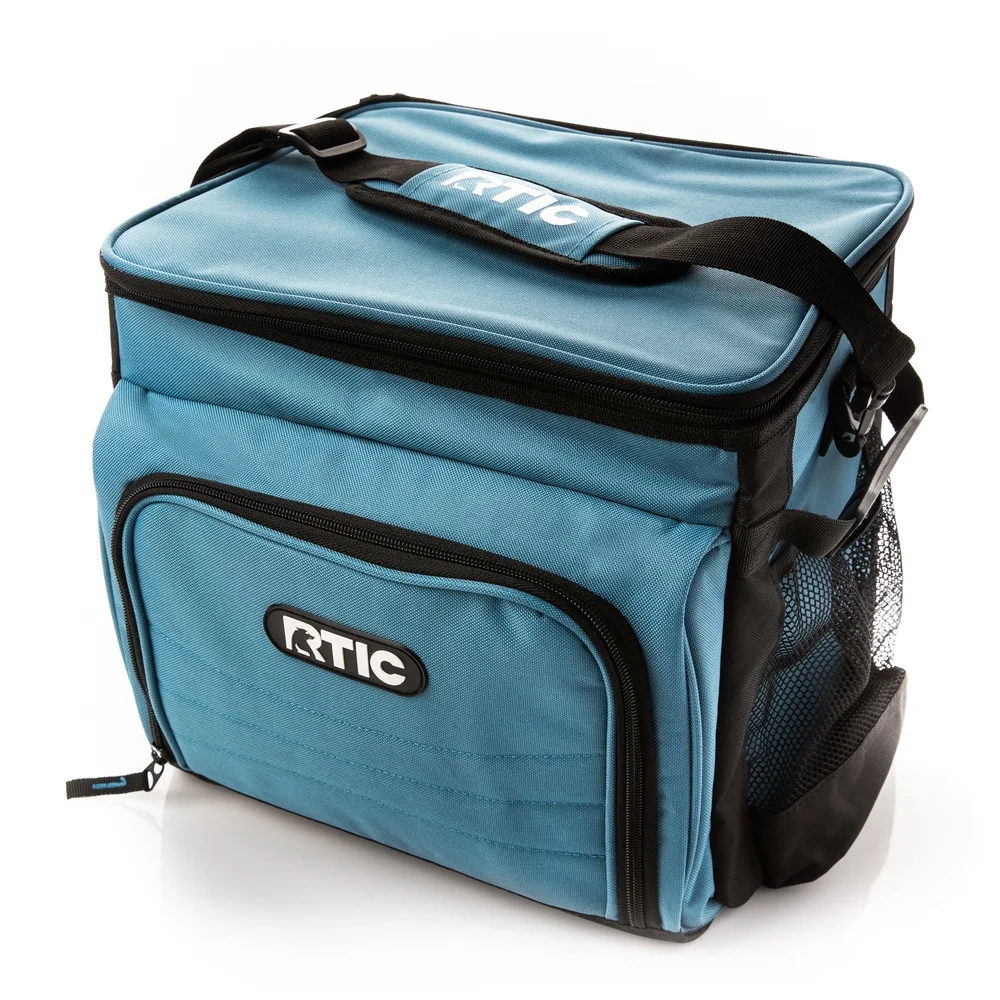 The Light Blue Day Cooler looks chill and happens to do a great job of chilling your drinks as well.
8. Orange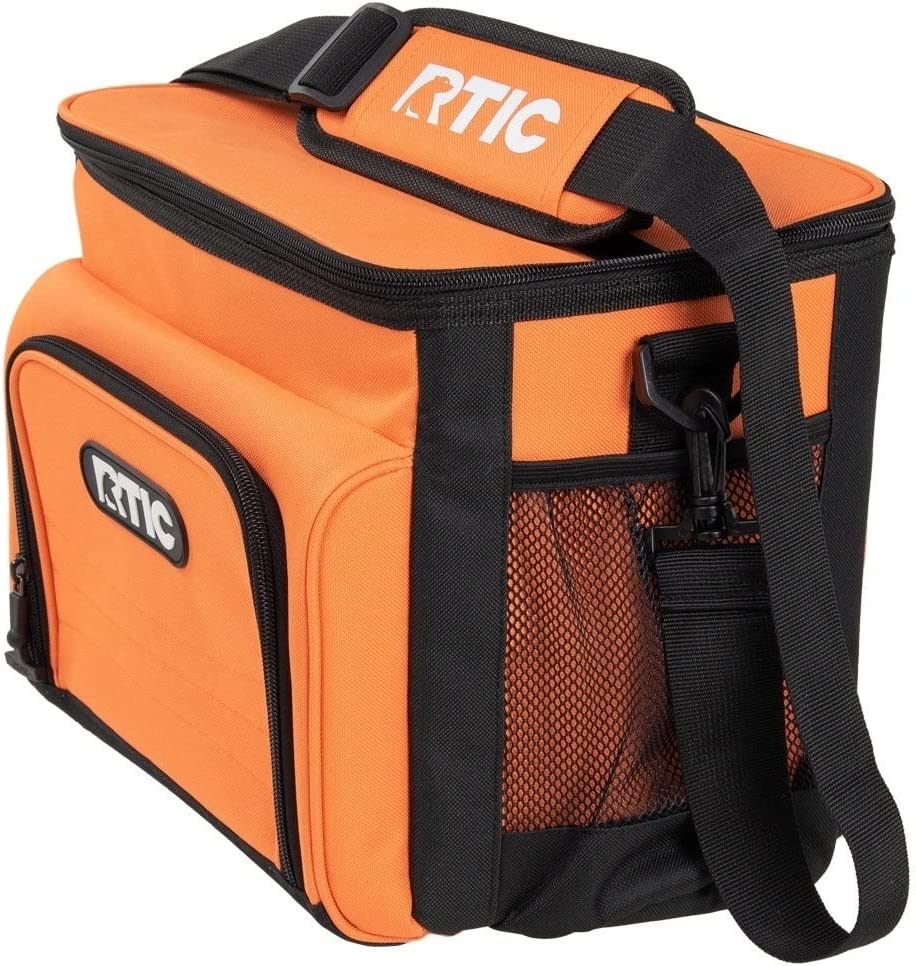 Orange and the other colors remaining on this list are no longer available directly from RTIC — but can still be found on Amazon, eBay, and from other third-party sellers with a bit of digging. 
9. Purple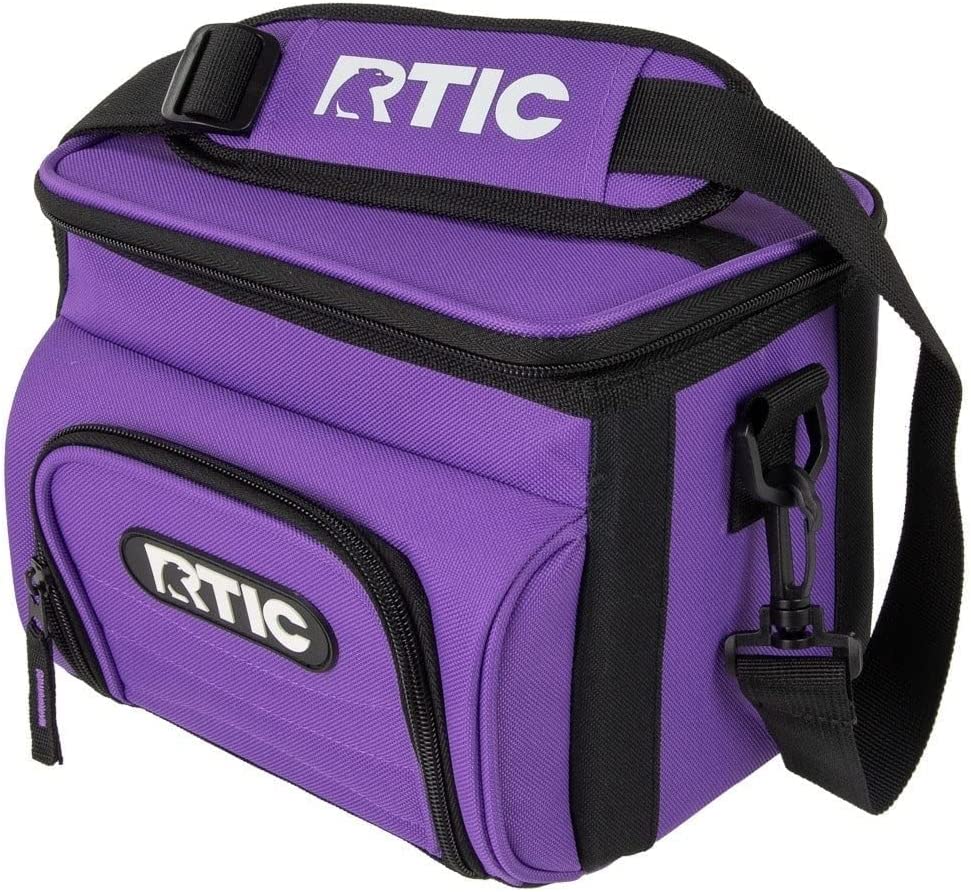 One of the few true purple soft coolers on the market, I was a bit upset when it was discontinued.
10. Lime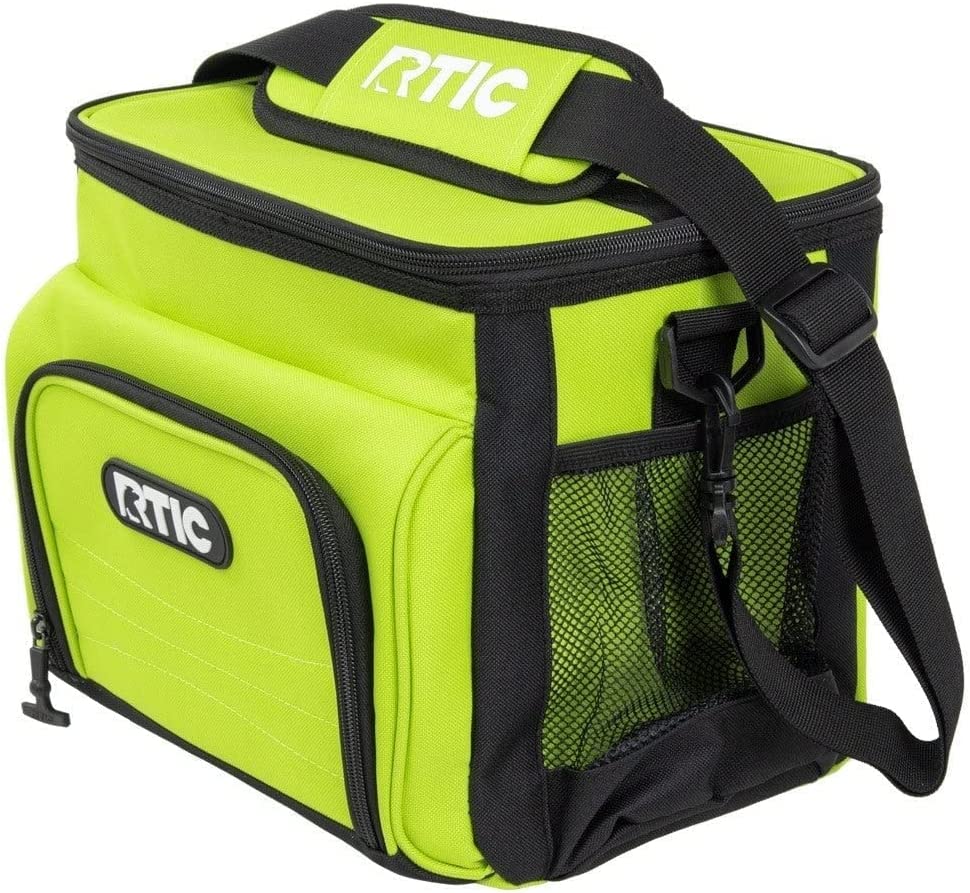 A super-bright, cheery lime green makes the Lime Day Cooler stand out in a world full of boring coolers. 
11. Black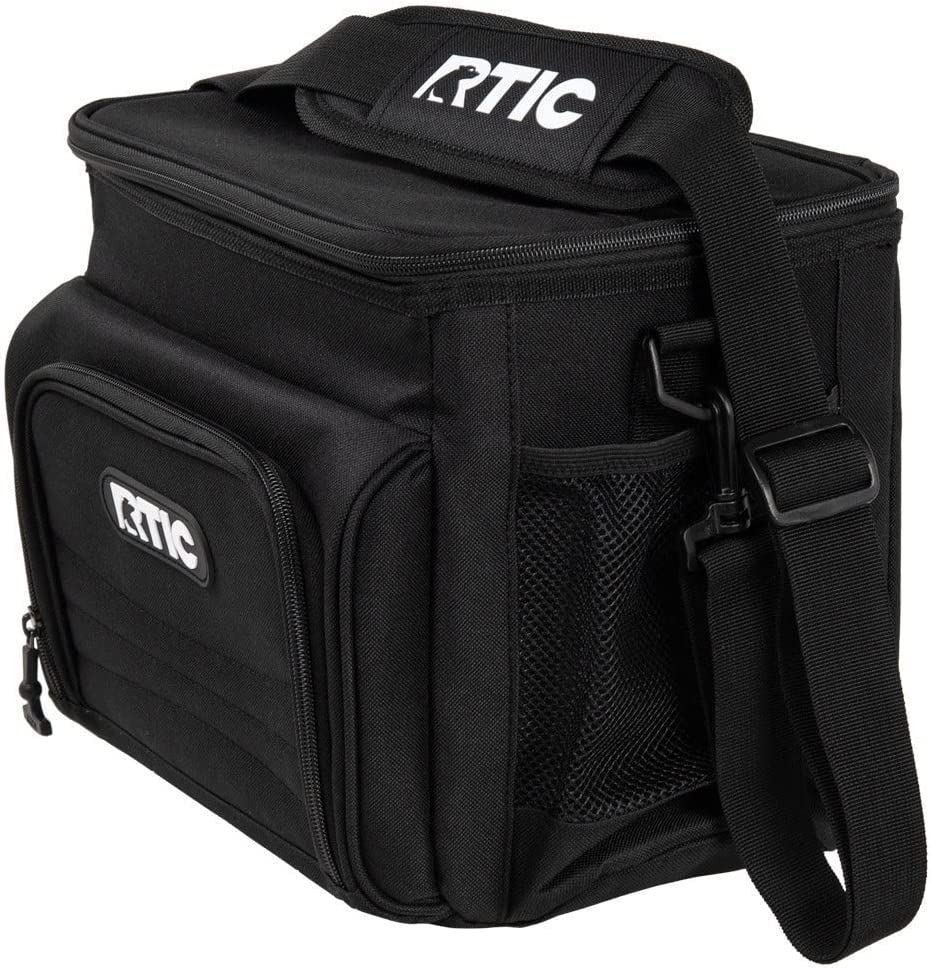 Professional looking and great for your daily commute the Black Day Cooler is black all over with a white RTIC logo.
12. Aqua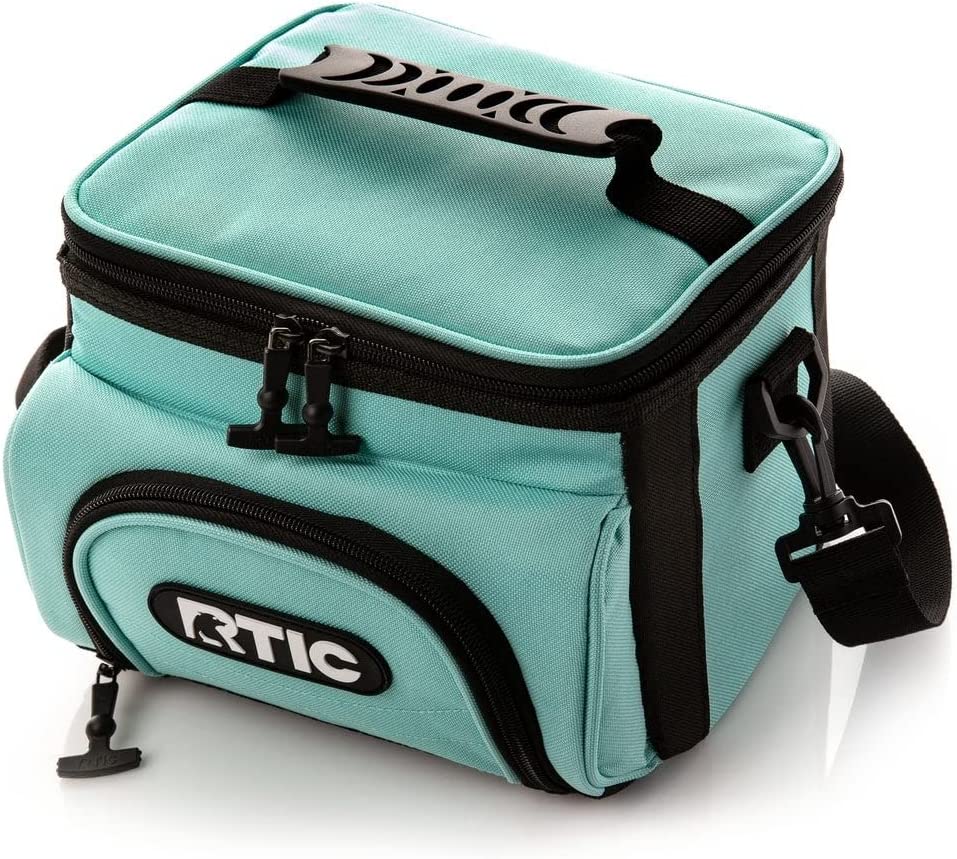 Last but certainly not least, the Aqua Day Cooler falls somewhere between slate blue and seafoam green.
Other RTIC Cooler Colors
While the Hard Cooler, Ultra-Light Cooler, Soft Pack Cooler, and Day Cooler are RTIC's main lines, they offer a few other coolers too — some of which come in exclusive colorways.
RTIC Chillout Backpack Cooler Exclusive Colors
Black/Graphite
Lake/Green Apple
Olive/Burnt Orange
See the latest prices and colors of RTIC Chillout Backpack Coolers at RTICOutdoors.com
RTIC Everyday Cooler Exclusive Colors
RTIC Ice
Olive 
Very Berry
Burnt Orange
Black
Navy
See the latest prices and colors of RTIC Everyday Coolers at RTICOutdoors.com
RTIC Lightweight Backpack Cooler Exclusive Colors
Light Blue & Black
Aqua & Black
Lavender & Grey
Katani Camo
See the latest prices and colors of RTIC Lightweight Backpack Coolers at RTICOutdoors.com
RTIC Insulated Tote Bag Exclusive Colors
Palm
Citrus
Patriot
Coral
Amber
See the latest prices and colors of RTIC Insulated Tote Coolers at RTICOutdoors.com
RTIC Ice Lunch Bag Exclusive Colors
Lake Blue
Burnt Orange
Black
Navy
Green Camp Dinos
Pink Dragonflies
Purple Orcas
Navy Sharks
When RTIC launched their line of Ice Lunch Bags, we saw the first RTIC products with printed designs — Green Camp with a dinosaur and volcano print and Pink Dragonflies with a pink, slate, and coral dragonfly print.
It may be a sign of things to come. 
See the latest prices and colors of RTIC Ice Lunch Bags at RTICOutdoors.com
Final Thoughts
RTIC coolers come in a rapidly-expanding range of colors. From white to camo to hot pink, you're sure to find something that fits your personal style.
RTIC Hard Cooler Colors:
White
Tan
Blue
Amber & Blue Marlin
Pink
RTIC Ultra-Light Hard Cooler Colors:
Trailblazer
Dark grey & Cool Grey
White & Grey
Patriot
RTIC Soft Pack Cooler Colors:
Slate Blue
Coral
Citrus
Cardinal
Tan
Forest Green
Blue/Grey
Seafoam Green
Black
Sky Blue
Kanati Camo
RTIC Day Cooler Colors:
Rose
Hot Pink
Navy
Red
Green
Light Coral
Light Blue
Orange
Purple
Lime
Black
Aqua