RovR Coolers are tough roto-molded coolers that can be pulled along, attached to a bike and can keep ice for 10+ days. They are a fairly new cooler to the market and offer some unique features that no other coolers offer. But how do they compare to Yeti?
In the RovR Coolers vs Yeti comparison we'll look at everything from the price, to the features, to the build quality to the problems of these coolers to help you decide if a RovR cooler is right for you or if you're better off purchasing a Yeti cooler instead.
Let's start by looking at the price of these coolers and then we'll look at ice retention, features and quality.
Price – Similar Price to Yeti
RovR RollR Coolers are priced almost identically to Yeti coolers with the pricing matching up almost perfectly to a similar sized Yeti cooler.
You can see a price comparison below between the RovR coolers and the Yeti Coolers. Click on the affiliate price links to see more details at Amazon:
RovR COOLERS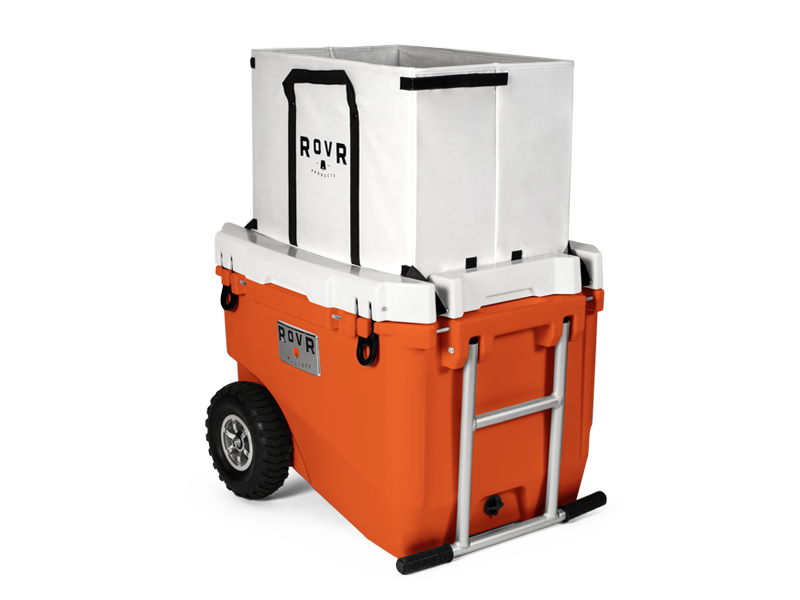 RovR 45-Quart:
---
RovR 60-Quart:
---
RovR 80-Quart:
YETI COOLERS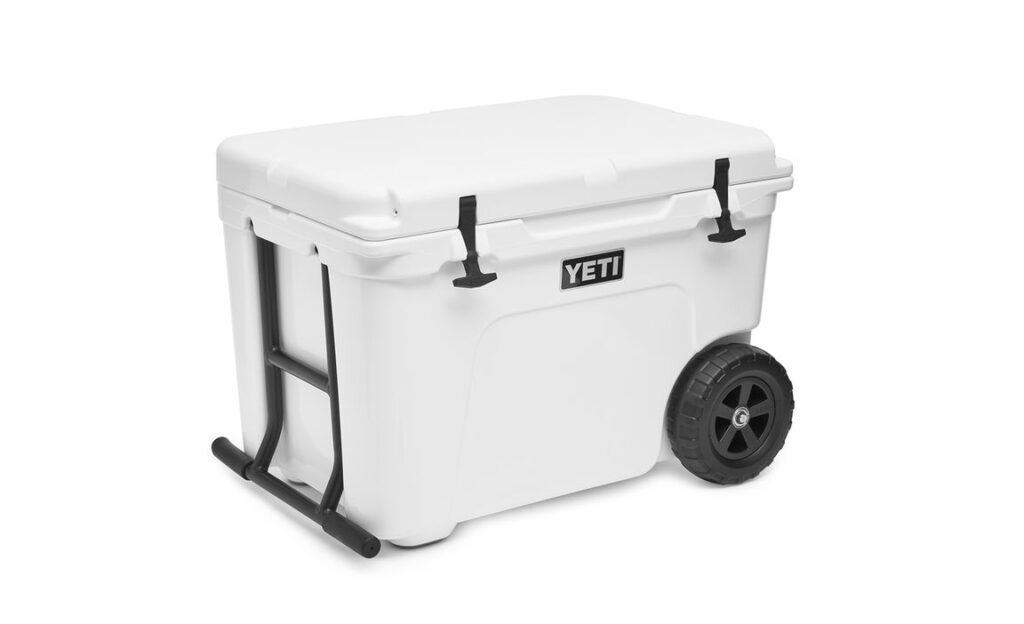 Yeti 45 (37.8-Quart):
---
Yeti Tundra Haul (65-Quart):
---
Yeti 75 (74.8-Quart):
As you can see both coolers are similarly priced.
Instead of trying to be a cooler that is cheaper than Yeti it is clear that RovR is trying to compete by adding more features to their cooler for the same price.
Ice Retention: 10+ Days Ice Retention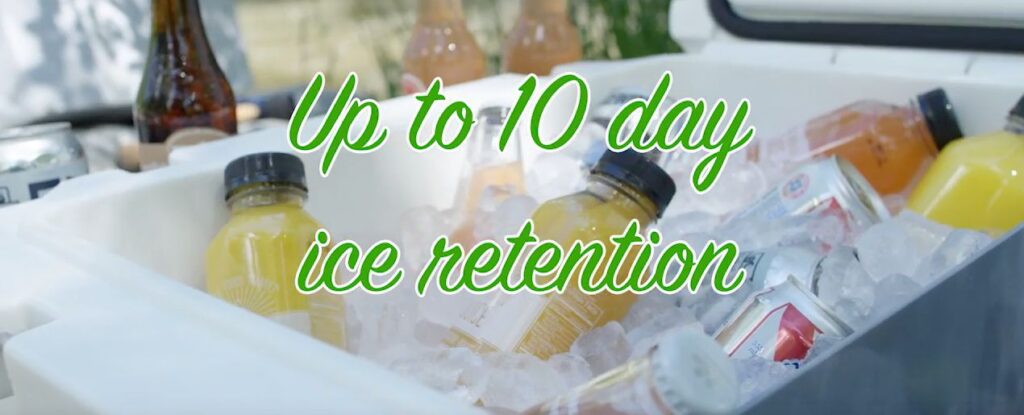 The RovR claims 10+ day ice retention for their cooler, and while this may be possible with the largest size it's unlikely with regular use of the 45-Quart size.
While there are no direct head-to-head comparisons between Yeti and RovR in terms of ice retention there is a company video showing 10 days ice retention. But this was performed inside, with the cooler completely filled with ice and it was unclear how much the cooler was opened each day.
Customers have reported that it can keep ice for 4+ days with regular use, which is similar to what you would get with the Yeti.
I couldn't find any specs on the thickness of the insulation for the RovR, but it does appear to have a similar thickness the Yeti, leading me to believe it would perform similar, or maybe even slightly better than Yeti in an ice test.
Who is RovR?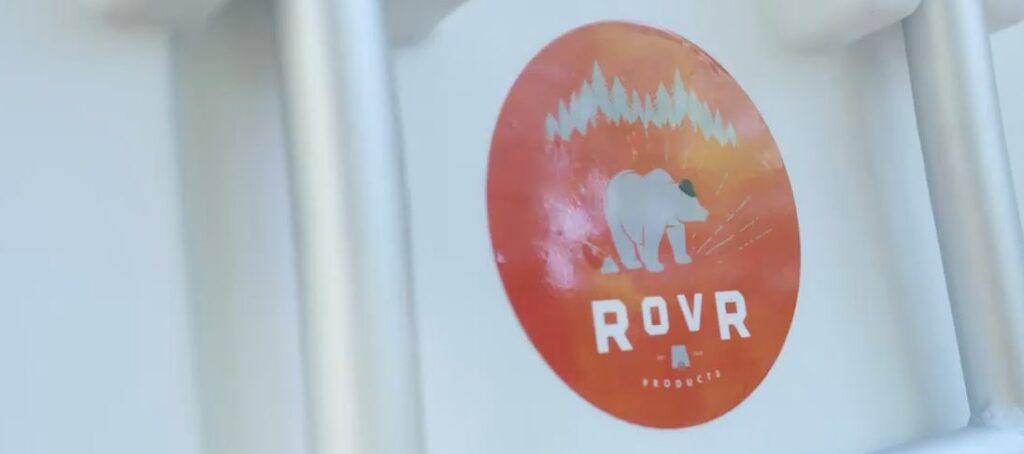 RovR coolers were launched in September 2017 on Kickstarter and Indiegogo and they raised a combined $533,889 to launch the RovR into full scale production.
Their goal was to bring the most feature packed cooler ever to market and it seems they have done just that.
With the exception of the Coolest Cooler I don't know of any cooler on the market to have as many great features at the RovR.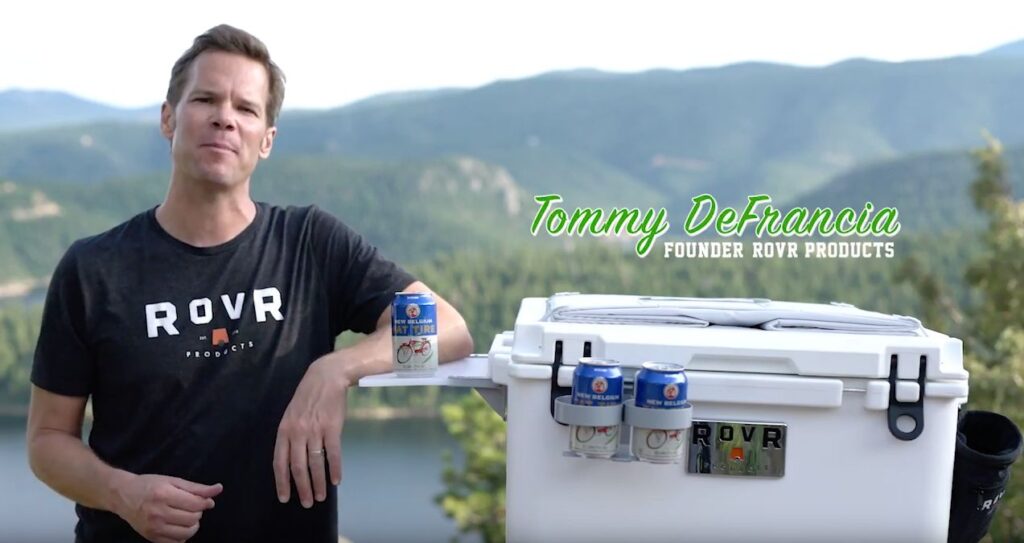 The company was founded by Tommy Defrancia and located in Boulder, Colorado.
The company launched with just a single size, the 60-Quart, and have since expanded to now sell a smaller 45-Quart cooler and a larger 80-Quart cooler.
Build Construction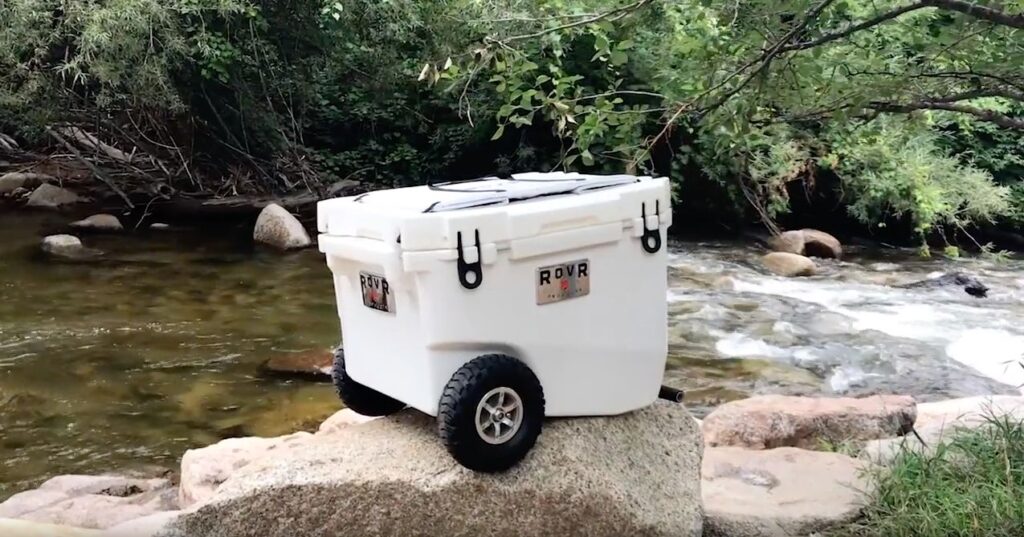 The build construction of RovR coolers seems extremely high quality. Both the RovR and the Yeti are made from a roto-molded construction (meaning they are super strong) and then pressure injected with insulation (allowing them to keep ice for days). Learn more about how a Yeti cooler is made here.
Some coolers like Yeti but cheaper skimp on the quality of their coolers in order to sell them for a cheaper price. Ozark Trail coolers have problems of warping for example.
But RovR have built a very high quality cooler that looks great and will stand the test of time.
In my personal opinion Yeti still has the best build quality of any cooler on the market. There is something about their plastic that feels premium and the coolers don't have any blemishes, scuff marks or errors on them. They are almost flawless compared to other coolers.
Bear Proof
Both the RovR and Yeti coolers are bear proof. In order for the cooler to be bear proof you must first lock the two front corners with padlocks.
Learn more about how coolers are tested to become certified bear proof.
Warranty
Both the Yeti and the RovR come with a 5-year limited lifetime warranty. This will cover you in the case of a manufacturing default on the cooler.
If your cooler has issues within the first 5 years you can send it back to the company to have it repaired or replaced free of charge.
This doesn't cover you breaking the cooler by accident or through negligence, it just covers manufacturing errors in the cooler.
Wheels For Easy Pulling

Roto-molded coolers are heavy even when they are empty, and even more so when they are full.
Most Yeti coolers, with the exception of the Yeti Haul, don't have wheels but instead must be carried using the rope handles or molded in handles.
I own a Yeti 45 and when full I can hardly carry it by myself without causing some serious injury to my back and making my hands and arms sore.
The addition of wheels makes moving the cooler around so much easier.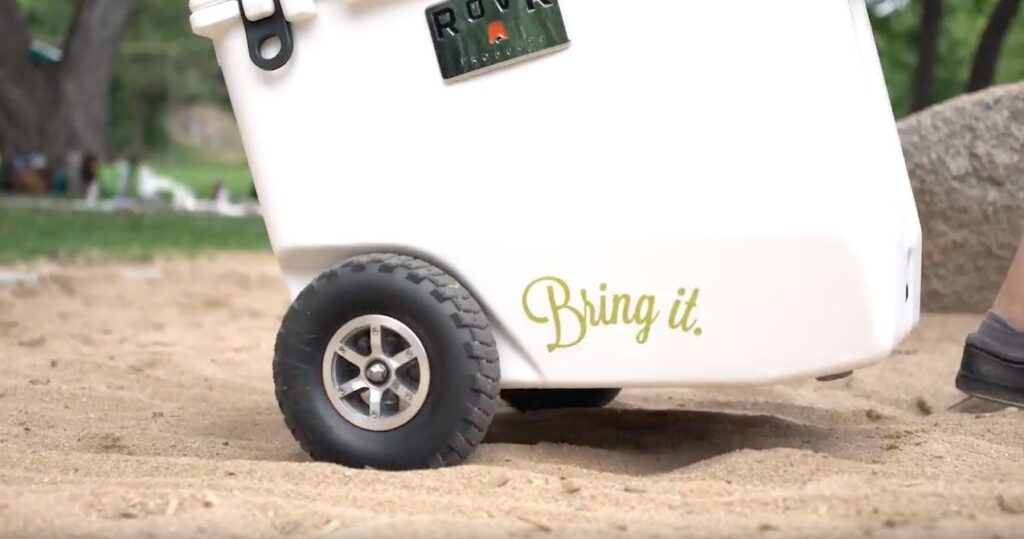 RovR coolers have large 9-inch inflatable wheels and the larger sizes have a pull up metal handle with wide grips for carrying.
These wide grips allow you to pull the cooler along side you, meaning the cooler is less likely to clip and hurt your heels. You can also pull from the center if you wish to.
The smaller 45-Quart size has a central suitcase style handle which works just fine as the cooler isn't as large and won't get as heavy.
The Yeti Tundra Haul has a very similar style handle to the RovR but uses "Never Flat" wheels which aren't inflatable and thus can't be punctured. The wheels are made from a single piece of tyre which makes them a bit more bumpy, but they are still large enough to pull a fully loaded cooler over rough and difficult terrain.
Attach This Cooler To Your Bike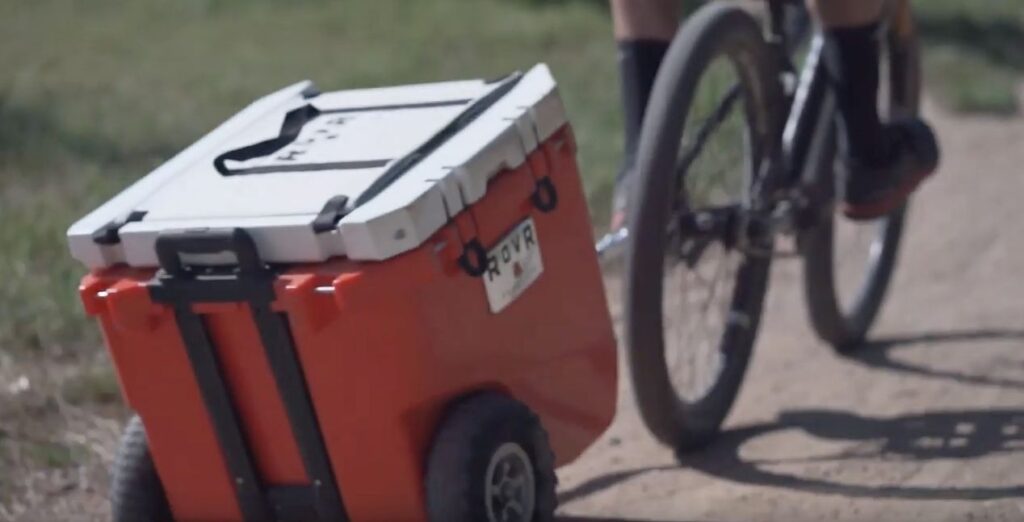 RovR has something that no other cooler on the market has – that's the ability to attach the cooler to your bike.
This is a really unique feature and one I can see being extremely practical for some people.
Not only can you pull your cooler by hand, making it easier to transport than a non-wheeled cooler, but you can also attach it to the back and your bike and ride it wherever you want to go.
You do need to pay extra for the BikR Kit – which costs around the $50-$60 range – but it is well worth it if you think you might use something like this.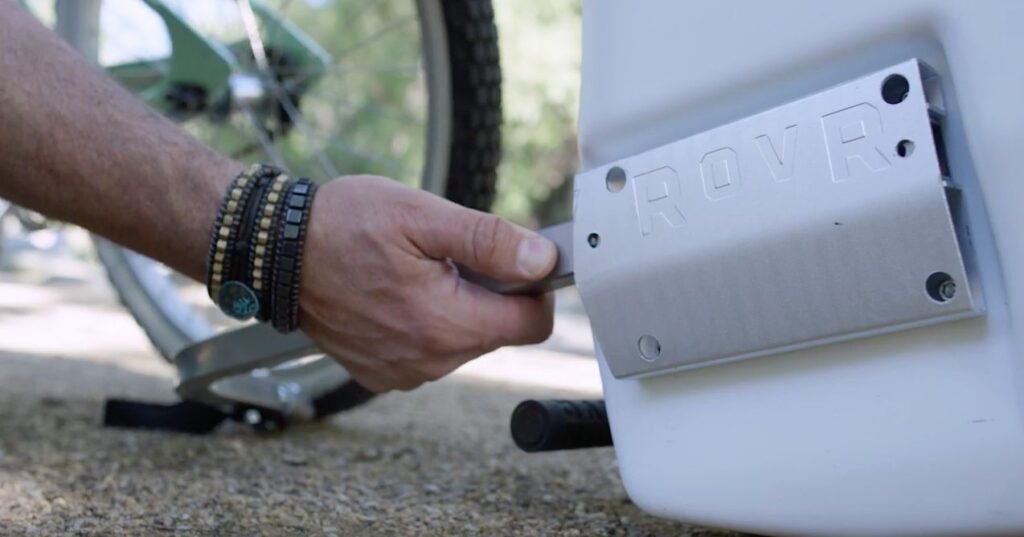 It has been put through some rigorous testing with mountain bikers and can easily travel over rough terrain and even go over jumps with ease.
RovR BikR Kit:
Features The RovR Has That The Yeti Doesn't
The RovR is trying to be the most feature packed cooler ever and they have provided a bunch of unique features that Yeti coolers don't have.
Internal Dry Storage Bin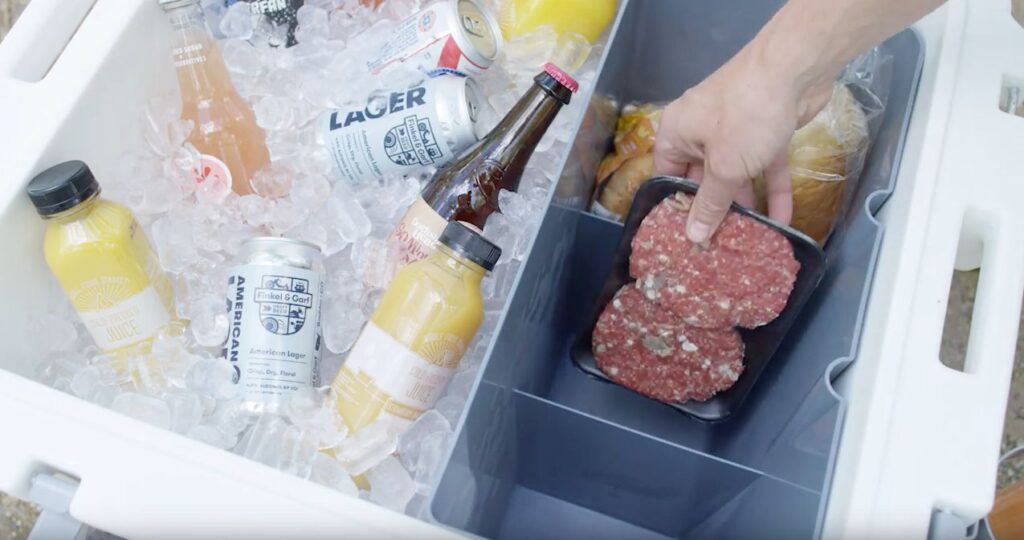 Many coolers offer a "dry basket" that sits above the ice, and while this works fairly well I have personally found it annoying to use as you often need to access items below it.
It also tends to be a bit too small as it sits so close to the lid so items often get squashed if you aren't careful.
The RovR has an innovative internal dry bin that comes standard with every cooler.
The dry bin extends the full height of the cooler, meaning items put inside it will be level with the ice and thus receive that cooling benefit.
It is also compartmentalized into 3 smaller compartments allowing you to easily organise your stuff.
Gone are the days of random juices mixing in with your ice and your sandwiches getting soggy.
External Wagon Bin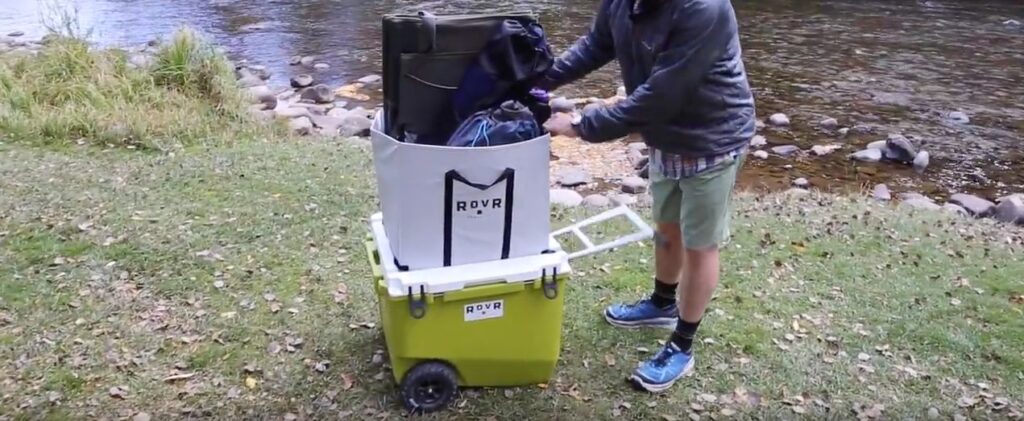 The external wagon bin is another feature that RovR has that I haven't seen any other cooler have.
It completely folds down when not in use and provides cushion, making sitting on the cooler much more comfortable.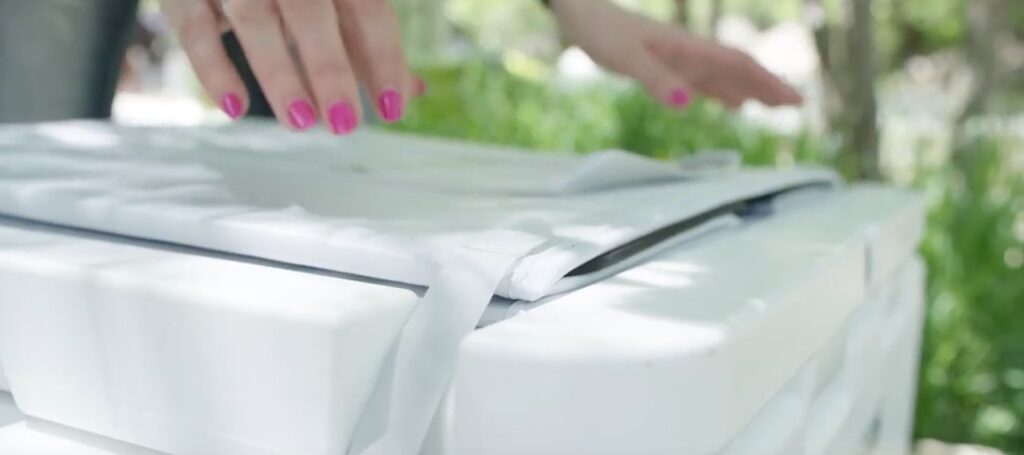 Then when you need it you can unfold it and it turns into a large box ready to be packed full of any gear you need to carry.
Given the cooler has wheels and call be pulled or towed this is a great feature allowing you to carry so much more stuff so easily.
The wagon bin box also completely detaches from the cooler so you can carry items away from the cooler or store them in your car (or anywhere else).
Features Similar To Yeti
The RovR and the Yeti have a lot of features that are similar which makes them much higher performing than your regular cheap cooler.
Let's look at some of the features they have in common:
Thick Insulation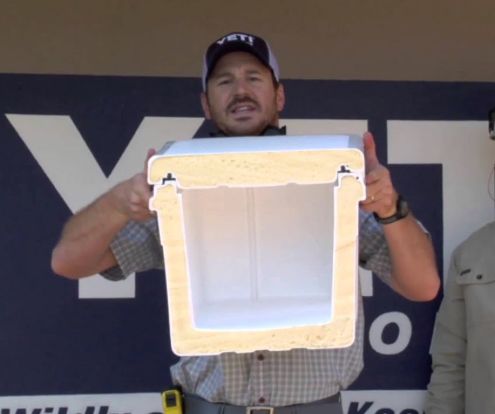 Both coolers have 2-3 inches of insulation in the walls and lid. Compare that to a regular cooler that might have 0.75-1 inch of insulation in the walls and a completely empty lid with no insulation in it.
It is this insulation that allows the coolers to keep ice for so long.
Rubber Gasket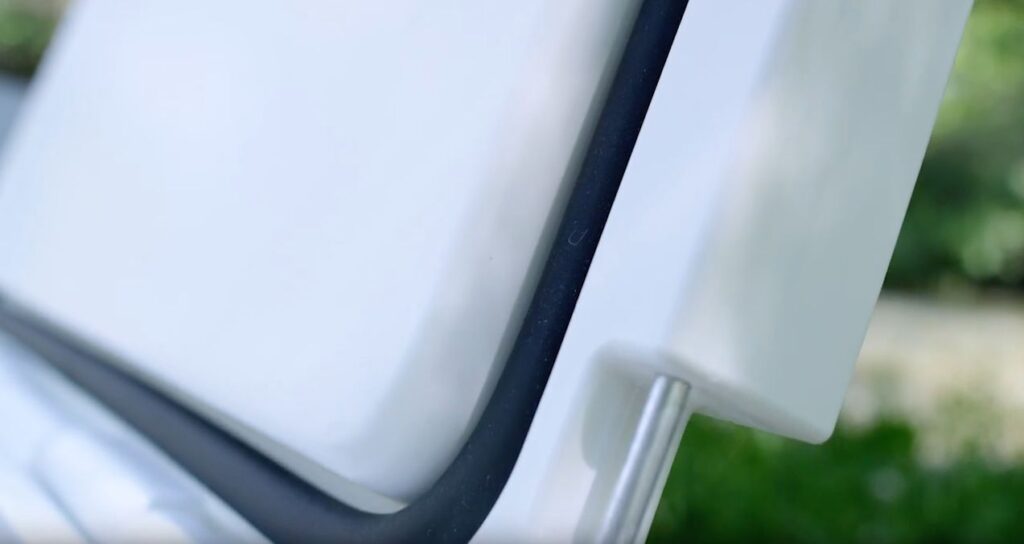 Both coolers have a rubber gasket in the lid helping to make the cooler airtight.
When closed this creates a firm seal between the lid and body of the cooler and keeps the cold air in and the warm air out, adding further to the ice retention of the coolers.
Rubber Latches

Both coolers have pull down rubber latches to lock the lid of the cooler to the body of the cooler when not in use.
The rubber latches are slightly different. Yeti uses a T-style latch that you pull with 2 fingers to latch the lid down. RovR coolers have a hole to put your fingers in to pull down the latch.
Both work in a similar way and it's much of a muchness but I do slightly prefer the Yeti style latches as they are a bit easier to use.
1-Inch Drainage Plug
Both coolers have a 1-inch drain plug that can be partially unscrewed to allow draining without removing the plug.
Or if you wish you can fully detach the plug to drain your cooler. Just be careful not to lose it as neither plugs are attached to the main body of the cooler in any way.
Single Pin Hinge
Both coolers have a strong single pin hinge to connect the lid of the cooler to the body of the cooler.
This means the hinge has immense strength and is unlikely to be broken, which is one of the problems with cheaper coolers like the Coleman Xtreme.
RovR Accessories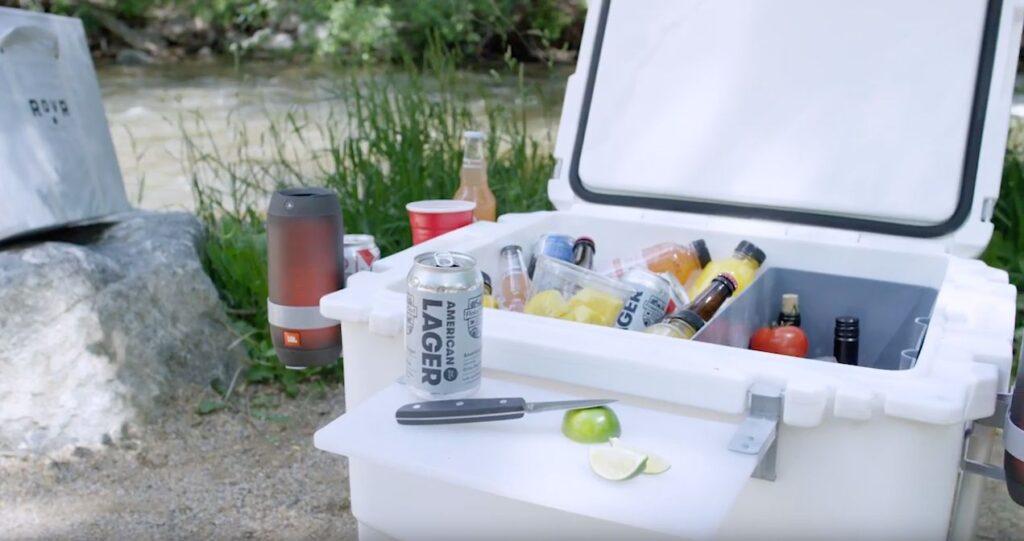 For a cooler trying to be "The most feature packed cooler" RovR only have a select few accessories. But the accessories they do have are pretty neat and they all clip easily onto the side of the cooler.
Prepping board – This little cutting board attaches onto your cooler and doubles as a table.
Dual Cup Holders – There are no molded cup holders in the lid so this dual cup holders attachment is really handy for your bottles or cups.
Stash Bag – This is the perfect place for wallets, keys, utensils, lighters or pretty much anything you want to store in there. Features one main compartment with a smaller zipper compartment
Umbrella/Rod Holder – For those considering the RovR for a fishing cooler the rod holder can be a great place to store your fishing Rod.
Problems with RovR Coolers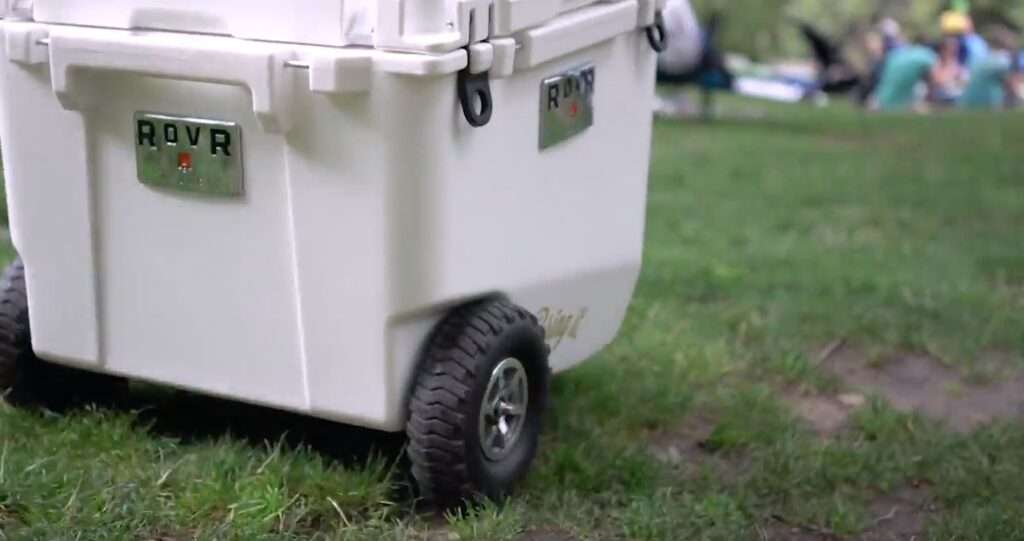 While the RovR cooler is a great cooler, and while it does pack more features than the Yeti it isn't perfect. The RovR does have some problems that you should be aware of being purchasing it.
It's Heavy
Like all roto-molded coolers the RovR is heavy and adding in all it's extra features doesn't make it any lighter.
While it has wheels that makes pulling along the ground easy, this doesn't help you lift the cooler in and out of your car or truck.
When empty it is heavy, but still fine for one person to lift, but when it's full it really is a 2-person job to lift this cooler.
Internal Dry Storage Compartment Floats
While the internal dry storage compartment is great, it does sit at the lowest point of the cooler.
This means as soon as the ice in the cooler starts melting it runs under the dry storage bin and makes the bin float. When this happens ice can get under there making it hard to close the cooler.
External Basket Can Be Unstable
The external basket is strapped on with 4 velcros (when flat packed) but when expanded it is only held down by 2 velcos on one side. This can make it unstable to carry and it can tip off if you're not careful.
Wheels Aren't Big Enough For Soft Sand
While 9-inch wheels may sound big, and while they are fine for compacted dirt and hard sand, they don't work very well on soft sand.
If you have a full cooler expect to be dragging it along soft sand or carrying it.
Wheels Deflate Over Time
Because the wheels are inflatable this means over time they do deflate and need to be pumped up. This means you need to own a bike pump.
It Smells
Some customers have complained of it smelling strongly of plastic.
While most new coolers have this issue the complaint is that the RovR plastic smell takes longer to dissipate when compared to other coolers.
More Expensive Than Other Coolers
The RovR is a similar price to Yeti meaning it is one of the most expensive coolers on the market.
There are other cheaper roto-molded coolers out there and other cheaper wheeled coolers out there that you may want to consider before spending your money on a RovR.
See my list of the best wheeled coolers
Smaller Distribution Than Yeti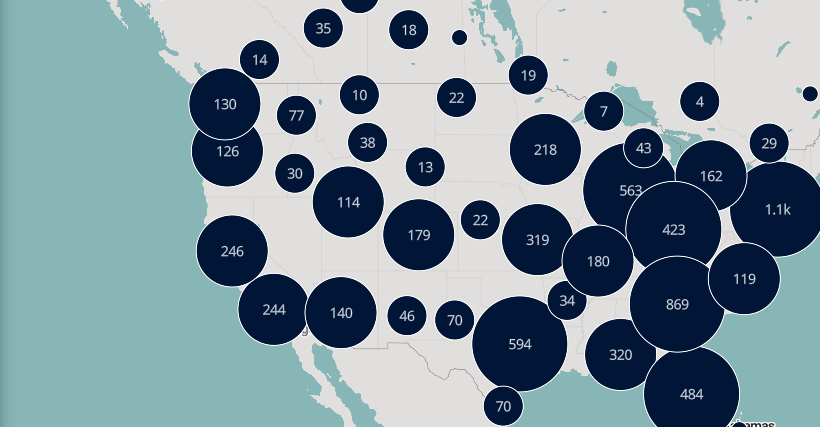 Yeti has an expansive national distribution across the US and an ever growing global distribution.
RovR coolers are currently only sold in a few stores in each state and only ship to the US mainland states. Hopefully soon they will expand into more countries.
Where Can You Buy RovR Coolers?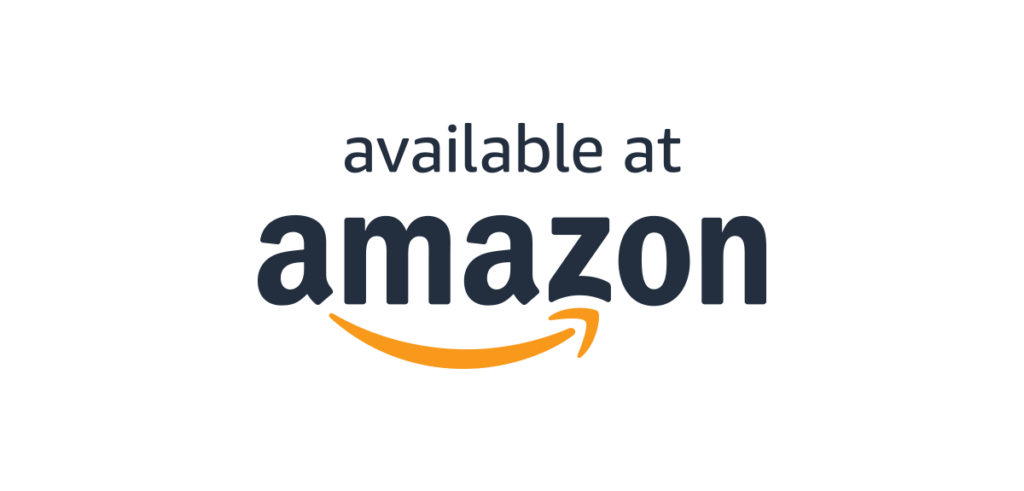 RovR coolers are sold through their website and well as through some local stores, but overall the easiest place for most people to purchase a RovR cooler is on Amazon.
Amazon stock a range of sizes and colors and the pricing is generally the same, or slightly cheaper, than you would find at RovR's own website.
To see the current price of these coolers on Amazon please click my affiliate links below
RovR RollR 45-Quart Wheeled Cooler (see details at Amazon)
RovR RollR 60-Quart Wheeled Cooler (see details at Amazon)
RovR RollR 80-Quart Wheeled Cooler (see details at Amazon)
My Recommendation: RovR For Features, Yeti For Brand
Sometimes in these head-to-head cooler battles I have a clear favorite, but when it comes to RovR coolers vs Yeti there is no clear favorite for me.
I own a Yeti and absolutely love it. The quality is superb and it has brand recognition that makes it more valuable than just a white box that keeps ice for a week.
On the other hand the RovR looks awesome, comes in bright colors and has more and better features that the Yeti.
I love the cutting board, I love the bike attachment, I love the internal and external bins and overall it is a much more practical cooler that is more useful in more situations.
So it's a really tough call for me. The Yeti Tundra Haul, which is effectively the same as the RovR but with less features, or the RovR which has more features but isn't a desirable "brand" like the Yeti.
Ultimately I think both coolers are great so it's up to you which cooler would suit you better.
Buy RovR or Yeti Coolers
If you're interested in purchasing either a RovR cooler or a Yeti Cooler then simply click the pricelinks below to see the product on Amazon:
RovR COOLERS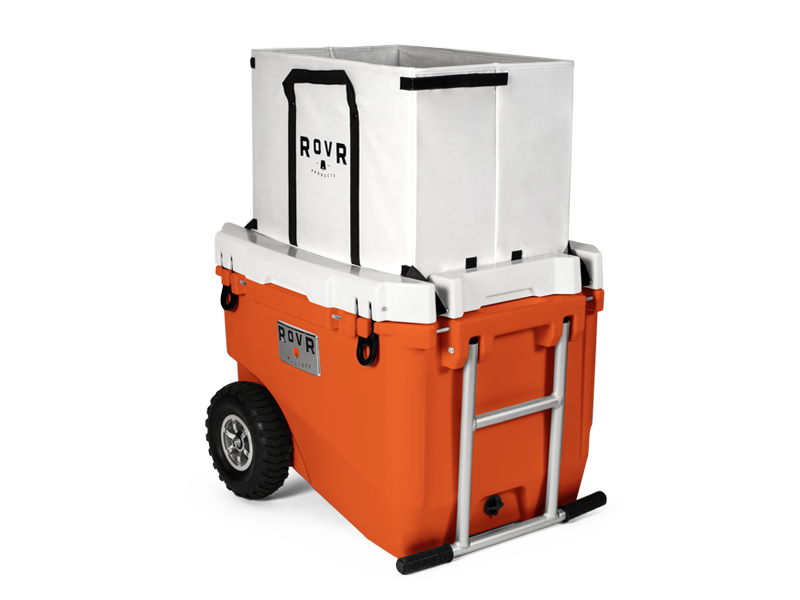 RovR 45-Quart:
---
RovR 60-Quart:
---
RovR 80-Quart: $449.00 RRP (see more details)
YETI COOLERS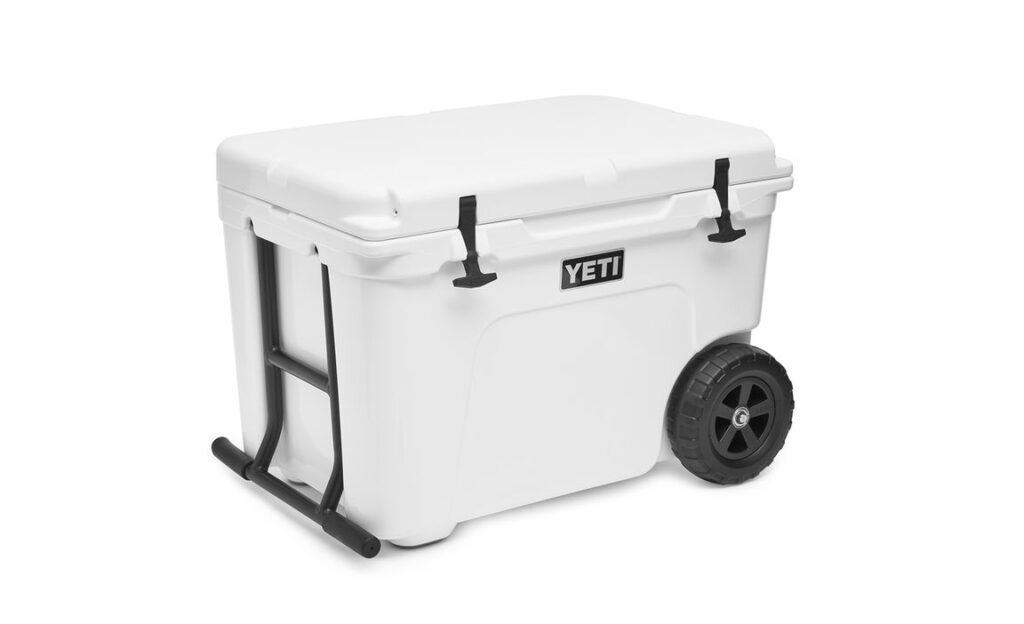 Yeti 45 (37.8-Quart):
---
Yeti Tundra Haul (65-Quart):
---
Yeti 75 (74.8-Quart):
Other Wheeled Cooler Recommendations
There are a few other wheeled coolers like Yeti worth considering, but some of them are better than others.
If the RovR isn't exactly what you're looking for consider one of the following coolers:
Ozark Trail Wheeled Cooler: BUDGET PICK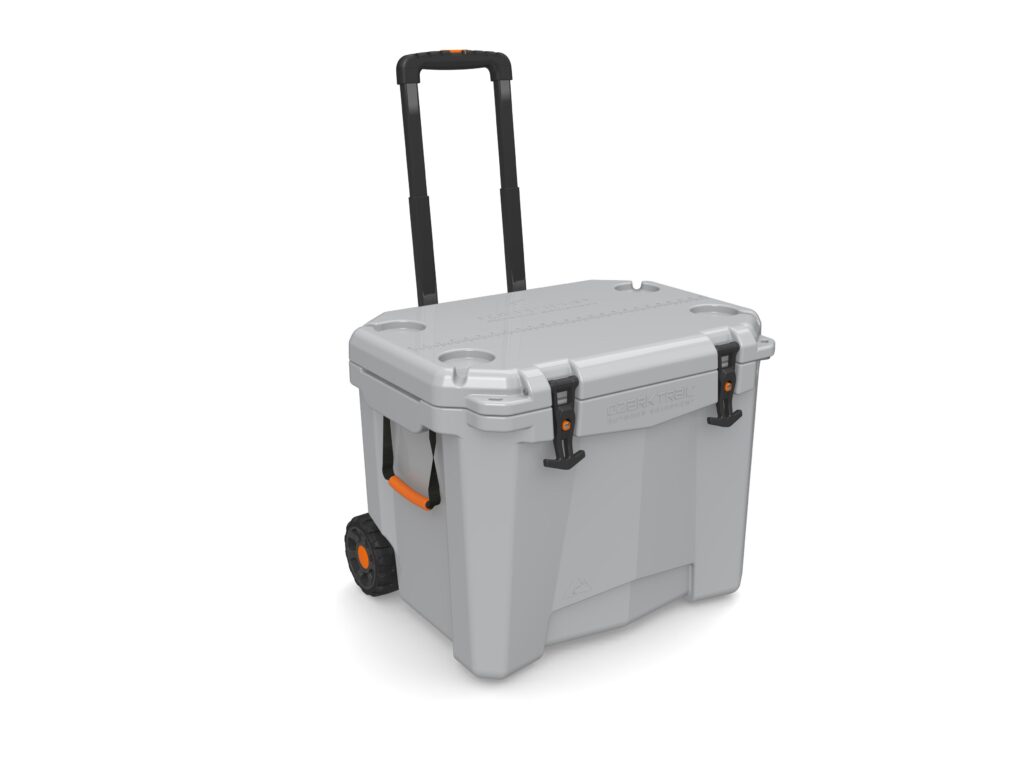 Ozark Trail coolers are Walmart's brand of cooler and while they aren't as good as RovR or Yeti in terms of build quality or ice retention they are still solid coolers and they sell for a fraction of the price.
The 60-Quart size comes with built in wheels and a suitcase style handle similar to the RovR 45.
It has molded in cup holders in the lid and is certified bear proof.
If you're looking for a wheeled cooler that is tough and has good ice retention but that won't break the bank, the the Ozark is a great option.
See my full Ozark Trail vs Yeti comparison
Ozark Trail 60-Quart Wheeled Cooler:
Pelican Wheeled Cooler: MADE IN USA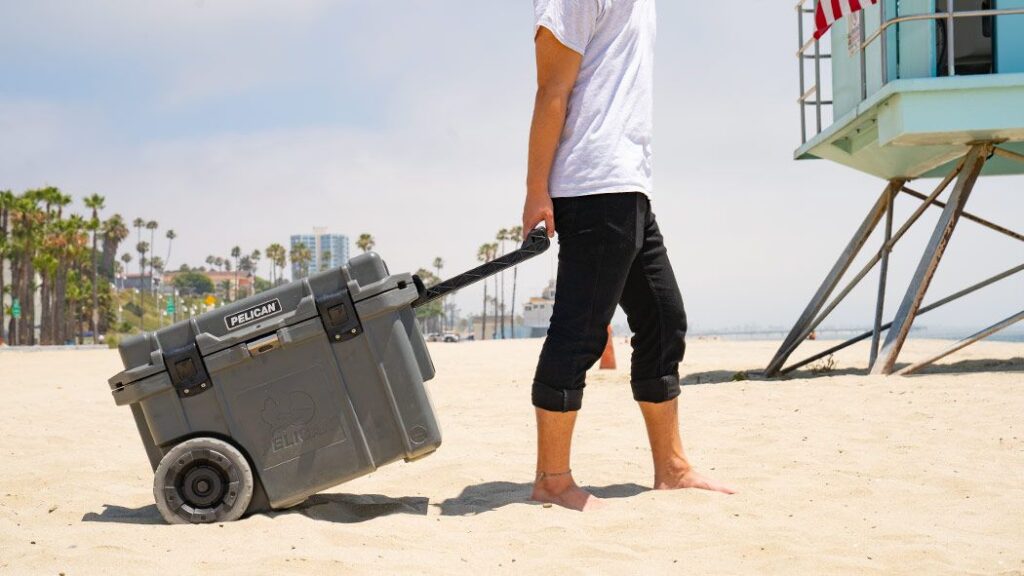 The Pelican ProGear Elite is a great wheeled cooler. This thing looks like an absolute tank and it performs like one too.
It's not really cheaper than Yeti or RovR but it is manufactured in the USA, not overseas like where Yeti coolers are made.
The 55-Quart tailgate edition also has a unique 2-lid opening system to make accessing the items in your cooler much more convenient.
Pelican Elite Wheeled 45-Quart:
Pelican Elite Tailgater 55-Quart Wheeled:
Igloo Trailmate: PACKED WITH FEATURES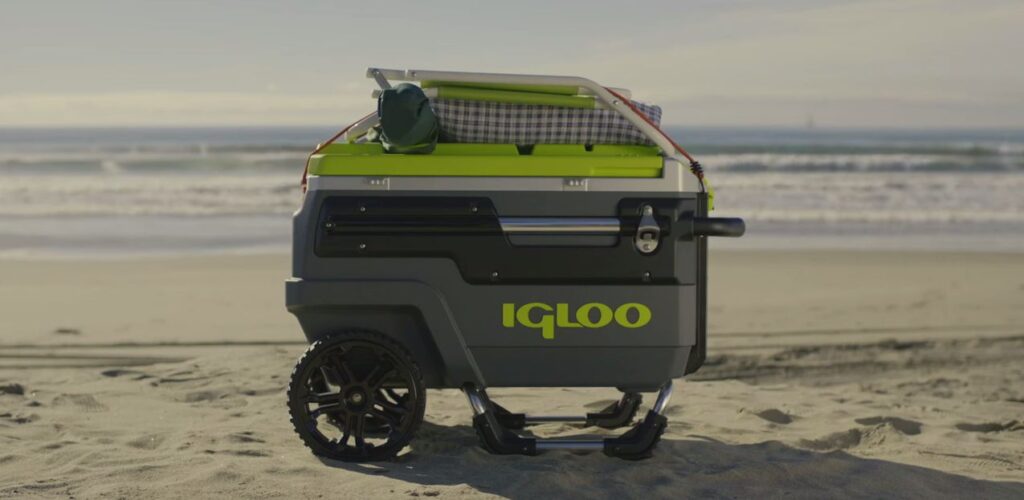 The Igloo Trailmate isn't roto-molded or bear proof but it has an extremely unique design and it is packed with features.
It has some of the largest wheels I have ever seen on a cooler, so it make travelling over rough terrain or soft sand a breeze.
It has good ice retention and the features like bottle openers, rod holders, cup holders, dry storage compartments etc make it a very practical cooler.
It also looks like a Mars Rover which speaks to the nerd in me
Igloo Trailmate 70-Quart Wheeled Cooler: