Whether it's a picnic or a party, in the colder times of the year it can be great to have a nice warm cup of hot chocolate, coffee, tea or even warm cider or mulled wine while you're outside.
However, keeping drinks hot whilst outside can be tricky if you don't know what you are doing or don't have the right supplies.
It's always a disappointment to grab a hot drink and have it ready to warm you up only to find it's gone lukewarm or cold.
While I'm all for cold drinks in the summer months I like to keep drinks warm for me and my family in the colder months and I've found a wide variety of ways to do it.
Your budget, supplies at hand as well as what drink you're serving and how many people you plan on serving will all determine which of these methods is going to be best for you.
I don't expect you to use all of these methods but for me this is the ultimate list for the best ways to keep drinks warm whilst outside.
Some Important Practical Tips For Keeping Drinks Hot Outside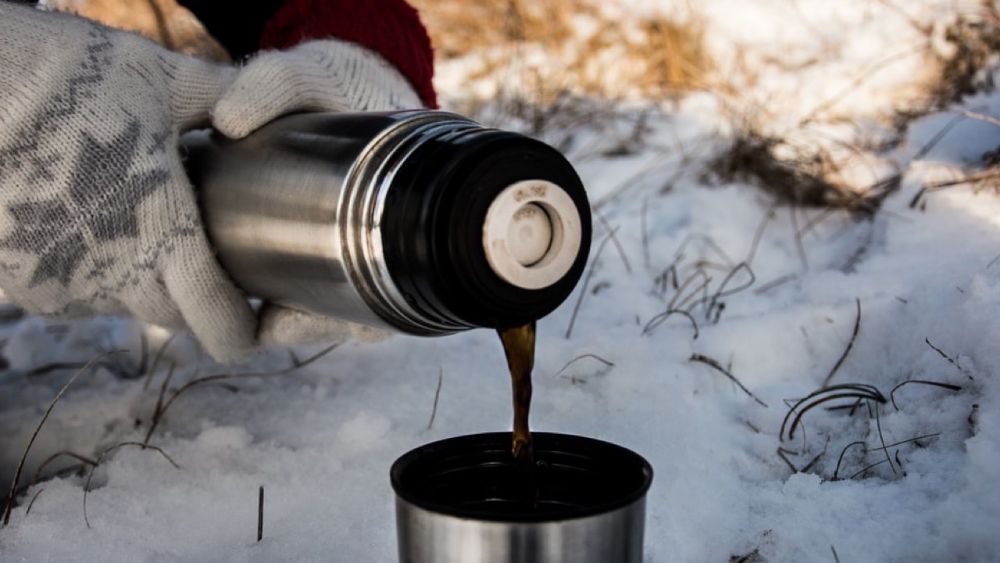 Before we jump into the different methods for keeping your drinks warm outside there are a few key points that apply to almost everyone trying to keep drinks warm.
Understanding these will help you keep hotter beverages no matter what method you use.
The More Liquid You Use The Hotter It Will Stay
You know how a small cup of hot water cools down much faster than the same temperature water in a bath? The same principle applies to the drinks for you party.
The larger the quantity of hot drink you bring the more overall "heat capacity" it will have.
The means it will take more time for the heat to dissipate if you have a larger quantity vs a smaller quantity. A 2-quart (or 2 liter) thermal cooker will keep drinks hotter for a lot longer than a small 18 oz (0.5 L) water bottle.
Sometimes it can be a good idea to prepare MORE DRINK than you plan on using just so it can stay hot longer.
Start Hotter Than You Plan To Drink It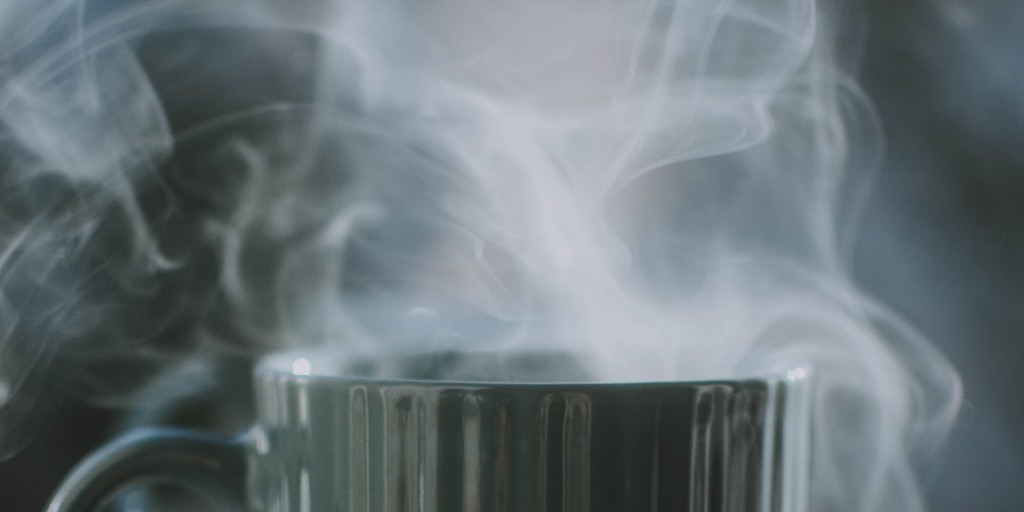 No matter what sort of drink you're making it can be a good idea to prepare it hotter than you plan on drinking it.
You drink will cool down as your event goes on and it won't stay exactly the same temperature.
But making it too hot to begin with then it should be a good temperature when the time comes to drink it.
Insulate Your Container
The key to keeping your drinks hot while you're outside is to insulate your drinks container as best as physically possible.
Vacuum is the best insulator which is why many suggestions at the top of this list use vacuum insulation to keep drinks hot for hours. Other forms of insulation include foam or even aluminum foil and blankets.
Pre-Heat Your Container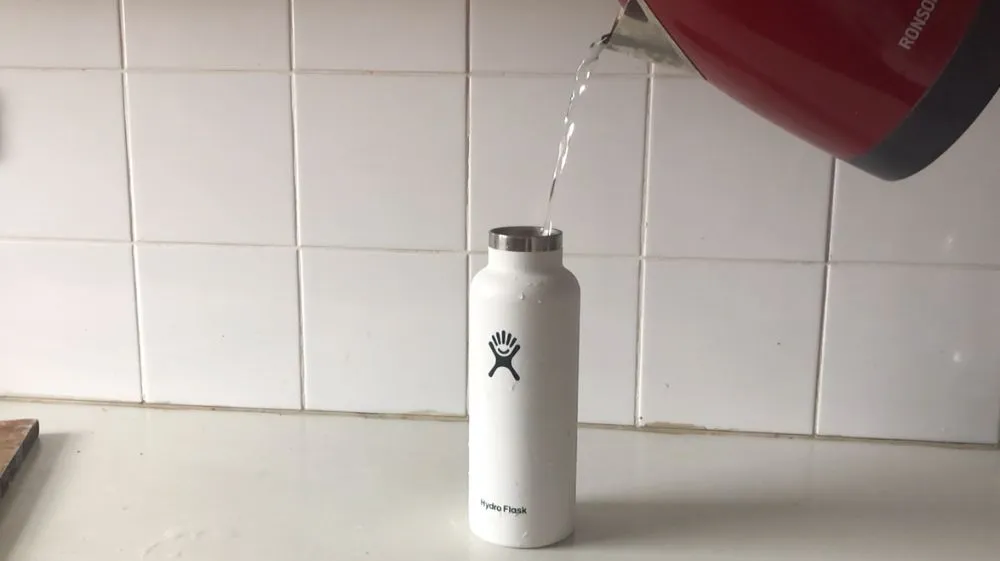 No matter whether you're using a coffee dispenser, carafe, water bottle or thermal cooker it's a good idea to pre-heat your container by filling it up with boiling water and leaving for 1-2 minutes before discarding the water and filling it with your drink.
Otherwise the container you use may be cold and will instantly suck away heat from your drink making it colder straight away.
But pre-heating your container it should be hotter than your drink and will not instantly sap heat from the drinks you're trying to keep hot.
How This List Is Ordered
Below is a comprehensive list of the best ways to keep drinks hot outside.
The list is ordered from the most effective, most common and most practical ways to keep drinks hot outside and works it's way down to more obscure and less effective ways to keep drinks hot.
Some methods towards the bottom still work great if you don't have the items mentioned in the earlier methods, and some of them provide a unique and interesting drinking experience (which can be great for parties) but are definitely more out there.
1. Use an Insulated Pump Carafe
One of the best ways to keep any drink hot at an outdoor party is to use a vacuum-insulated pump carafe.
These comes in fairly large sizes around 100 oz (3 liters) meaning you can serve around 15-17 drinks before it runs out. The larger volume also means your drinks will stay hotter than in smaller insulated flasks.
The pump action spout makes it great for guests to easily serve themselves without any risk of spilling or burning.
You can fill it with everything from just boiling water to coffee or tea or even pre-made hot chocolate, mulled wine or cider.
The Cresimo Airpot coffee pump carafe at Amazon is one of the most popular and highest rated coffee carafes. It also happens to be extremely affordable for it's size and comes with an easy carry handle making it perfect for carrying from your car to your outdoor location.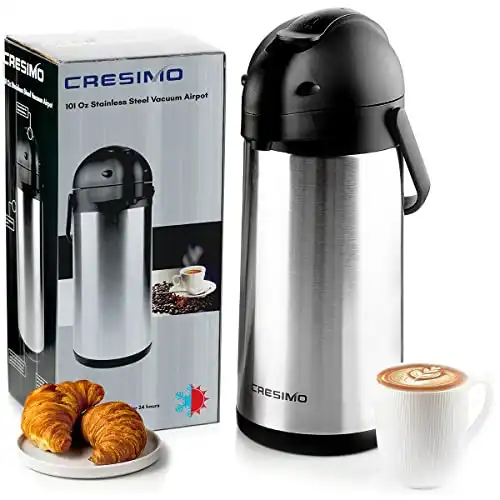 Cresimo Thermal Insulated Coffee Pump Carafe (101 oz)
Made from durable vacuum-insulated 18/8 stainless steel this carafe can keep drinks piping hot for up to 12 hours and is simple and easy to clean.
Easy to use pump action spout allows guests to serve themselves with no risk of buring and it can hold up to 17 x 6oz cups of coffee.
Buy Now at Amazon
2. Use an Insulated Carafe Flask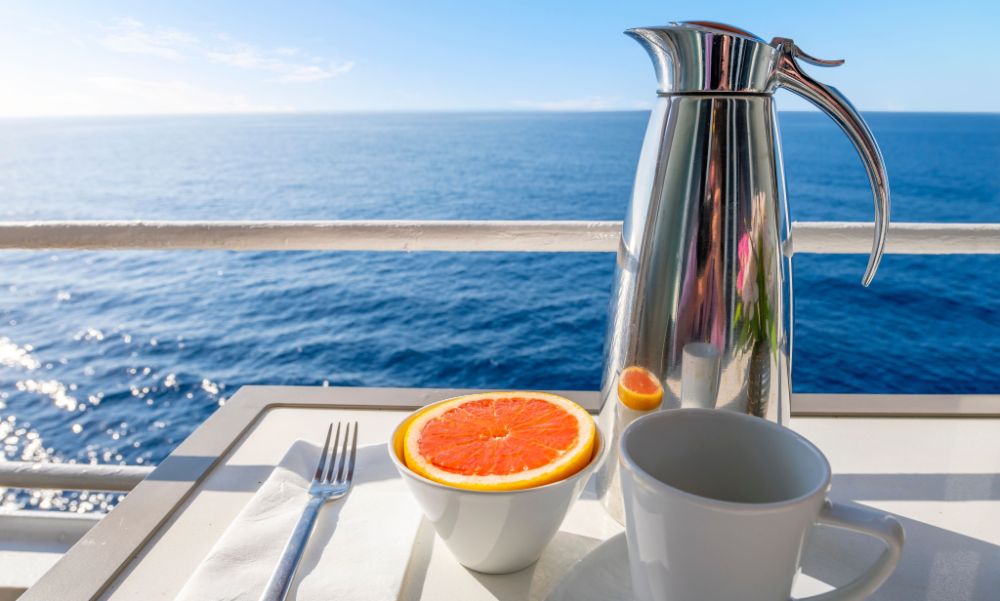 A smaller and simpler alternative to the pump action carafe is the standard pour insulated carafe.
Again these carafes are made from vacuum insulated 18/8 stainless steel making them safe to store hot drink, but also keeping those drinks piping hot for 8-12 hours at a time.
They come in a variety of different sizes but are usually a bit smaller than the pump action ones, so they won't keep drinks hot for quite as long.
Still you can expect drinks to be extremely hot at least for a few hours and over an 8-12 hour period they will slowly cool down. Anything longer than 12 hours and the drink will be extremely lukewarm or cold.
There are also some electronic options that brew and maintain heat via heating elements, however you need electricity to run these and than can be less practical for outdoor adventures.
The good thing about these is they are usually even cheaper than the pump action carafes. The Cresimo 68 oz Thermal Coffee Carafe at Amazon is an excellent affordable option with tens of thousands of positive reviews and a very affordable price.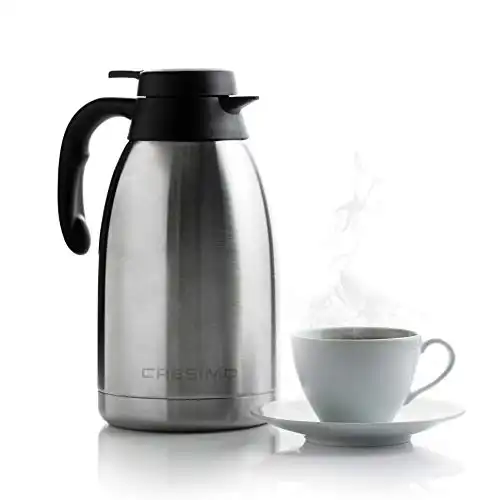 3. Use a Standard Thermos Flask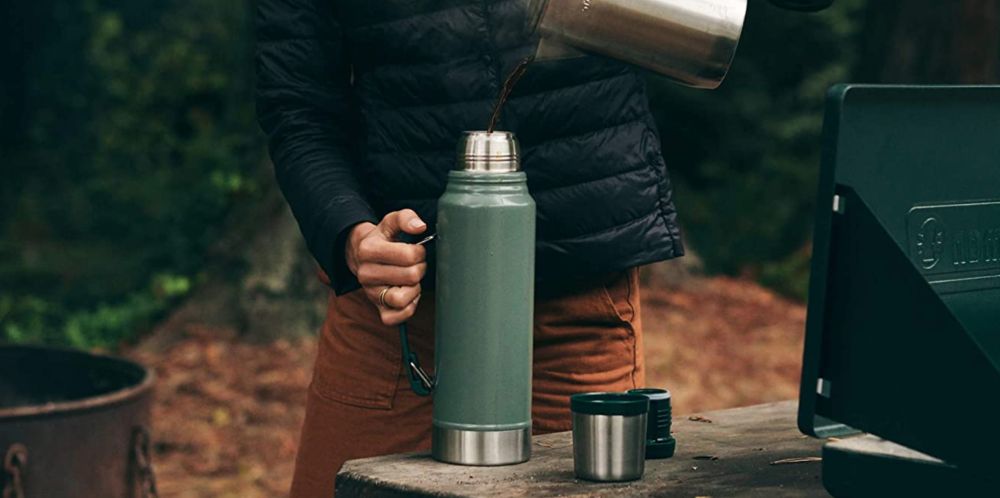 I recently got myself an old school style Stanley thermos from Amazon for this very reason.
I love doing picnics with my kids and friends and partners and family and it's always nice to bring along hot water so we can make tea, coffee or even hot chocolate for the kids.
The year I used my Stanley a fair bit for Christmas concerts and late night sunsets by the beach.
The large size of this thermos flask means that it can keep drinks hot for around 4-8 hours and the lid can double as a cup if you need it to (though I usually bring my own cups).
These flasks are great because they come in large sizes and have lids where you can slightly unscrew them and pour out the hot liquid. This means there's less chance of burning, especially when you have kids using them.

4. Use a Thermal Cooler (Camp Crock) and Ladle
I've got a Stanley Adventure Camp Crock which I use during the colder months to cook dinner (or take dinner) on the go with my kids when we are climbing or off on some adventure.
A camp crock is vacuum insulated just like the coffee carafes mentioned above of the thermos flasks, water bottles and tumblers mentioned below.
The large size (mine is 3-quart or about 3 liters) and the vacuum insulation means that your drinks will stay extremely hot for a very long period of time. Expect drinks to still be fairly hot 8-12 hours later and super hot even 4-6 hours later.
The more you fill it up the hotter it will stay but towards the end when it's getting empty you'll notice drinks will cool down faster (at least that's how it works with food).
In order to serve drinks from this though you'll need a ladle as you can't expect to try and pour out of this beast.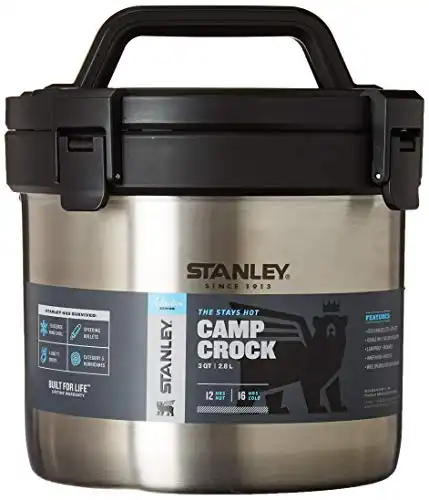 5. Plug In A Slow Cooker (or Rice Cooker)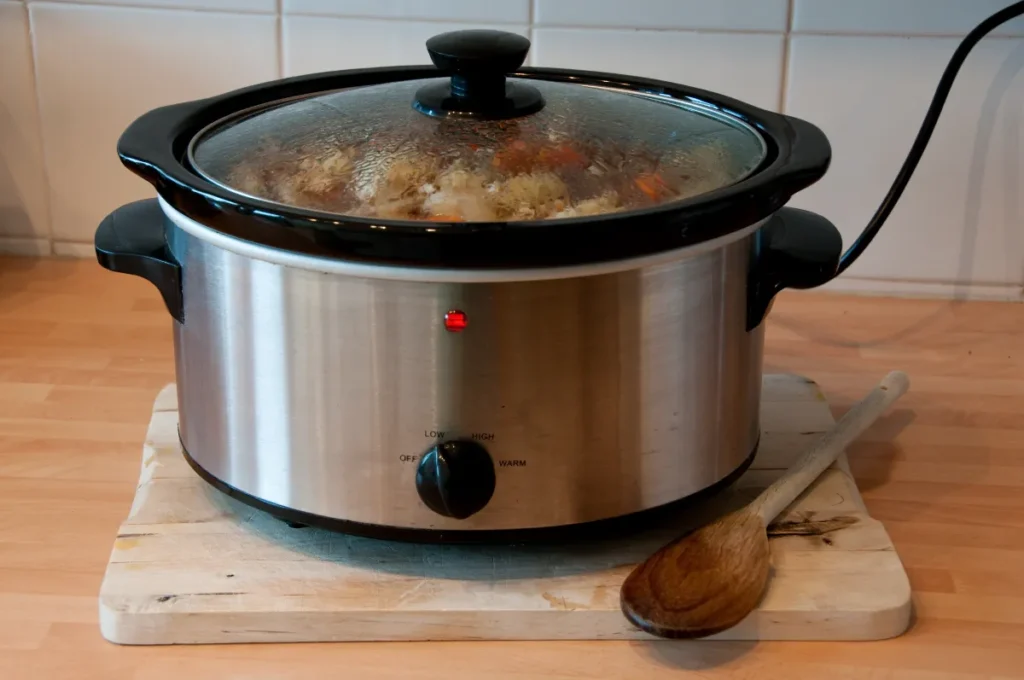 A slow cooker is your powered alternative to the thermal cooker.
It's not vacuum insulated so it won't keep drinks hot without power, but if you end up being outdoors somewhere that has a power point and access to electricity a slow cooker can be a great way to keep drinks hot outdoors for hours at a time.
If you don't have a slow cooker (I don't) then you can use a rice cooker and leave it on the warm setting for a similar result.
Set up a table with your crockpots, covered cups, and a serving ladle to create a DIY drink station. You'll also need extension cords and an outdoor power strip if you're not near a plug.
A cool idea is to keep your partygoers and drink table safe by wrapping Christmas lights around your extension cord if your event is in the evening.
6. Use Any Insulated Water Bottle (Larger The Better)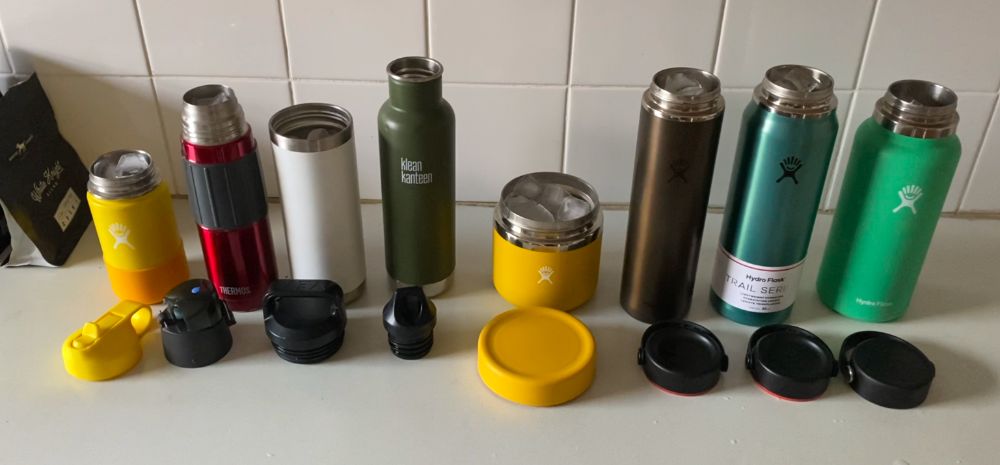 Just the other day my kids had a Christmas concert at their school and I boiled some water and took it in a Hydro Flask 32 oz water bottle and then took some cups and tea bags.
I was able to make tea for myself, my mom and my daughter while we watched my youngest sing Christmas Carols. It was a great night.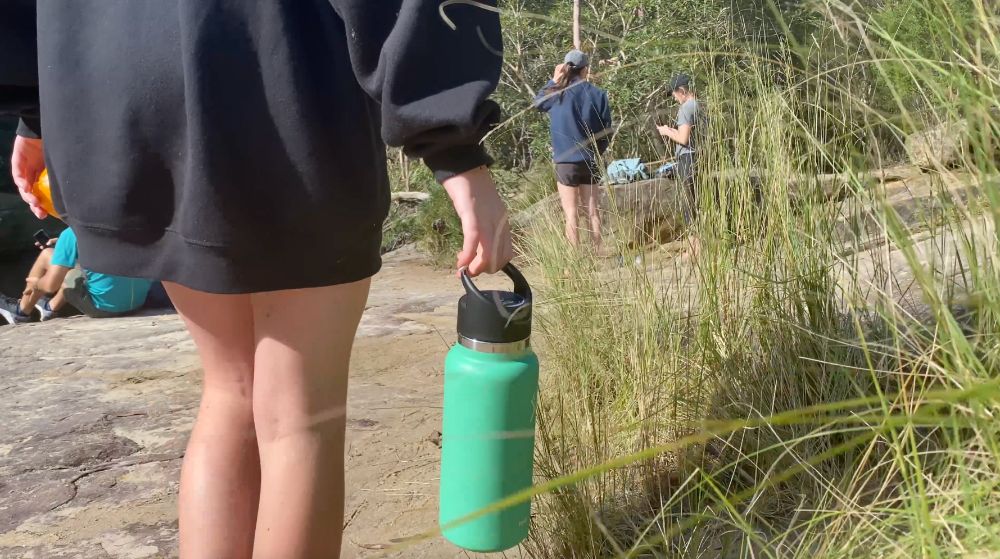 Vacuum insulated water bottles are an amazing water to keep a medium amount of drink hot for a few hours at a time. You can get 4-6 cups from a single 32 oz bottle and I've found drinks stay very very hot for 4-6 hours.
For smaller trips and bush walks I'll take smaller bottles and fill them up with pre-made coffee (I'm a coffee snob so I like to make and take good coffee) and a few hours later when I get to the waterfall or swimming hold the coffee is still super hot.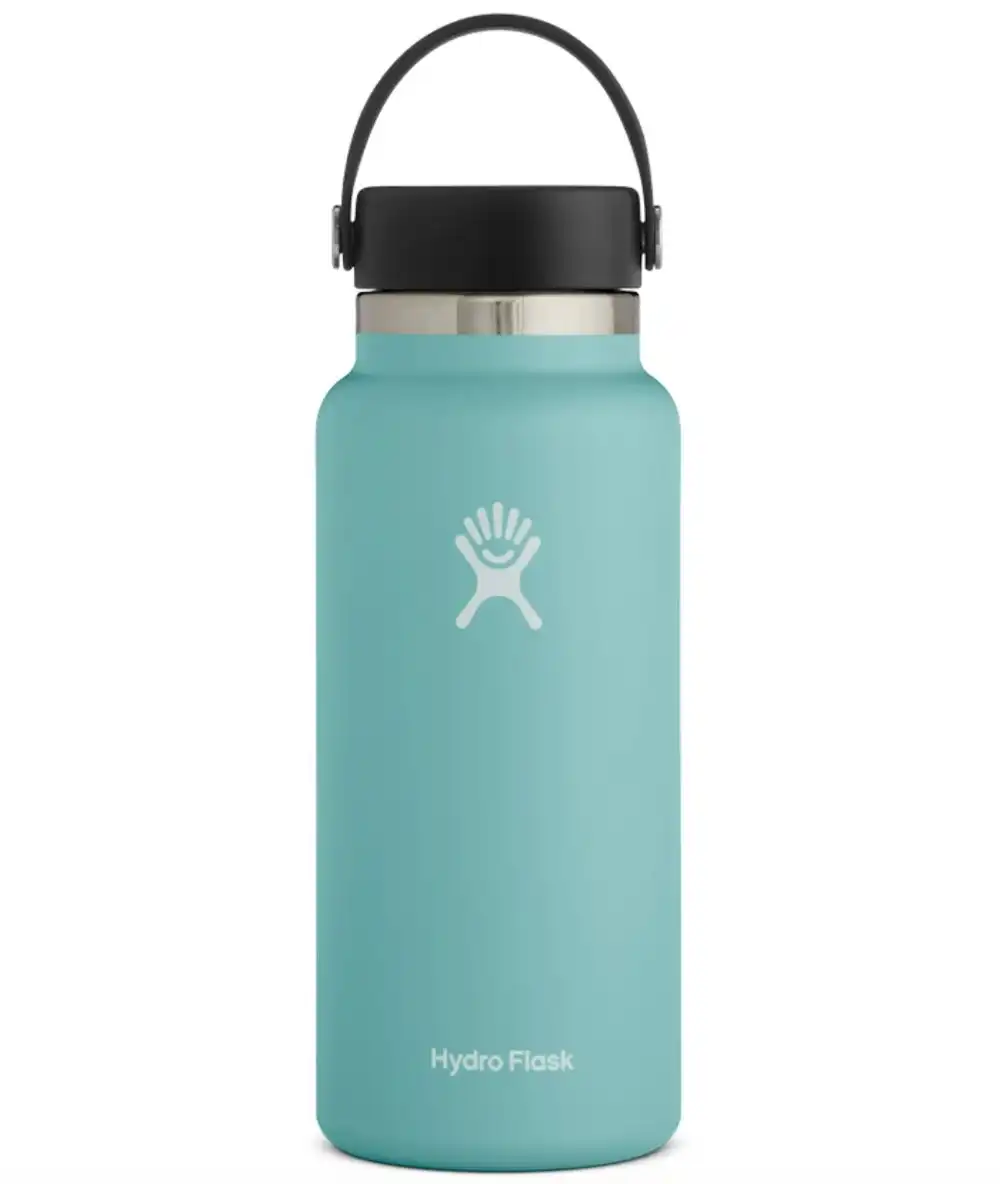 7. FOR LARGE QUANTITIES: Drink Jug Cooler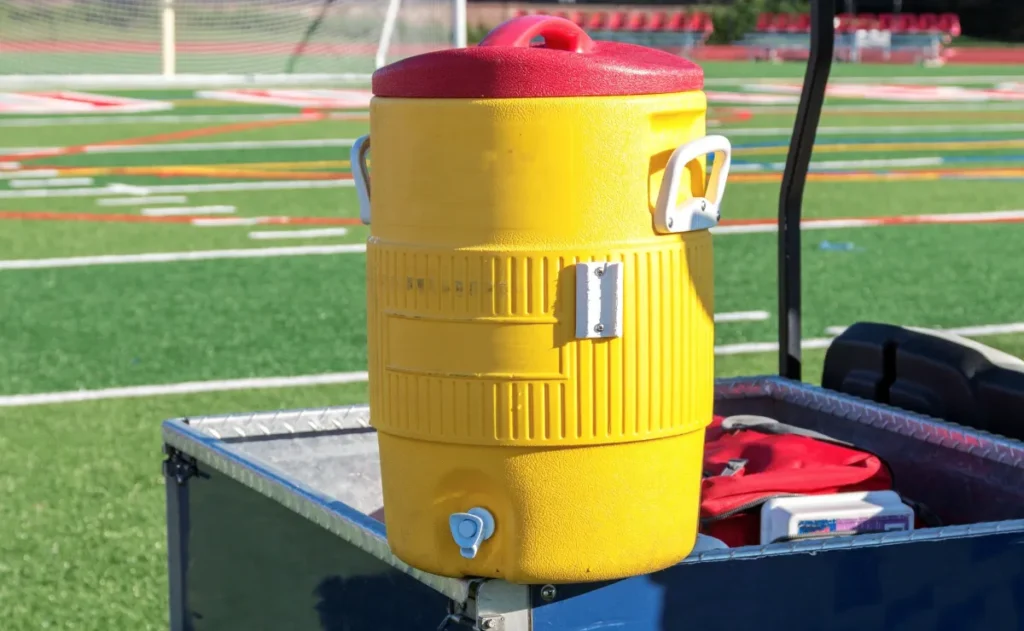 While drink jug coolers are mainly used for keeping drinks cold they can also be used to keep drinks hot as well.
If you have a large amount of guests you need to serve hot drinks then you can fill up a drink jug cooler with a giant batch of your warm drink. The large quantity of liquid will help keep everything hot for hours.
However, these don't work as well as the smaller vacuum insulated jugs and as it get's more and more empty your drink will become lukewarm fairly quickly.
These drink jugs are usually made from polypropylene plastic (PP) or polyethylene (PET) plastic which is BPA free. However, I personally don't like putting hot drinks in plastic due to potential chemical leaching so I tend to avoid this option.
8. Keep Hot Drinks in a Cooler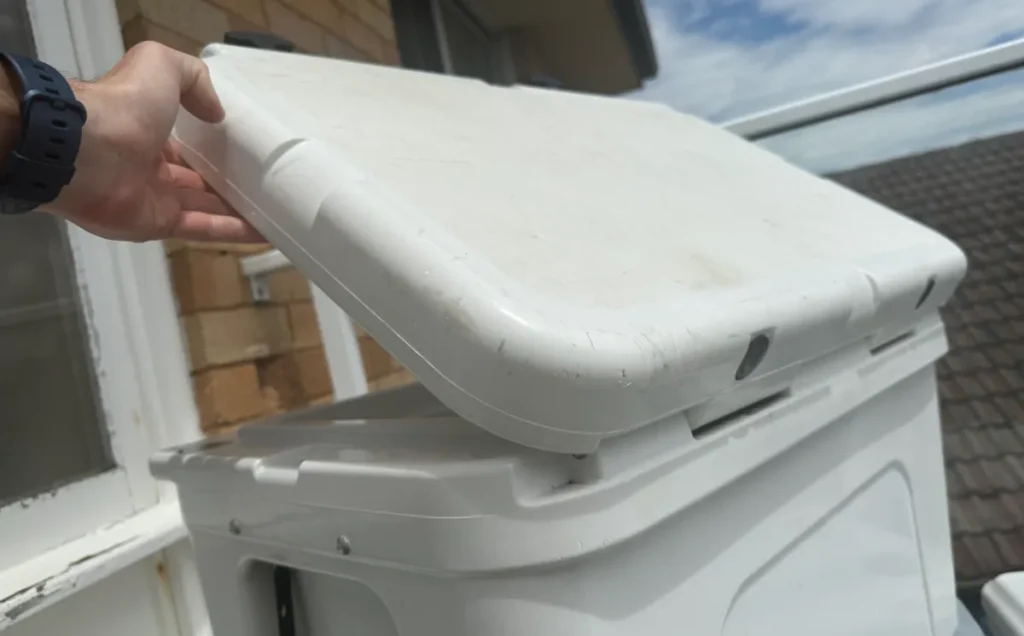 While coolers are another item that are usually used to keep drinks cold, the same insulation will also work to keep drinks hot.
Yes, you can actually keep items warm in a cooler and you can even put boiling water in some coolers without any issues.
There are a couple of different ways to keep drinks warm in a cooler but before you do that you should pre-heat your cooler so everything stays hot for longer.
You do this by pouring in hot water into your cooler and letting it sit for 30-60 minutes to warm up the insulation. Then pour out the water and place your closed drink containers inside.
There are a few different ways you can keep drinks hot in a cooler:
Simply place your drinks in the cooler and shut the lid (least effective)
Wrap hot drinks in aluminum foil and towels/blankets (filling all air space in the cooler) and then shut the lid.
Place hot drinks but also supplementary hot water bottles filled with hot or boiling water in the cooler with them. The heat from the hot water bottles will keep your drinks hot longer.
Combine tips 2 + 3 for great results
Use hot bricks wrapped in towels instead of hot water bottles
Fill up your cooler with hot water and place your drinks (in waterproof containers) into the hot water like they are floating in a bath. This can be messy though if your cooler isn't waterproof.
9. Use Insulated Travel Mugs For Individual Cups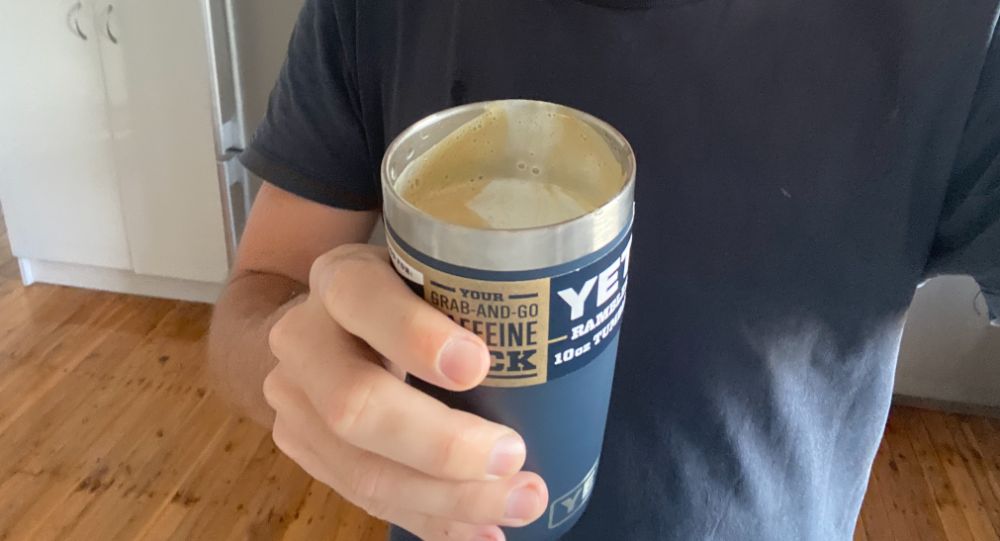 If you're having a small gathering or plan on enjoying your hot beverage yourself on a hike or at the park, use an insulated travel mug or thermos.
I do this regularly when I am going to pick up the kids from school or am heading down to the beach in the morning. It'll keep my own coffee warm for a couple of hours which is more than long enough for me to drink it.
Prepare your hot beverages in advance and transfer them to a double-walled, vacuum-insulated, stainless steel tumbler, travel mug or cup.
10. Wrap in Foil and Blankets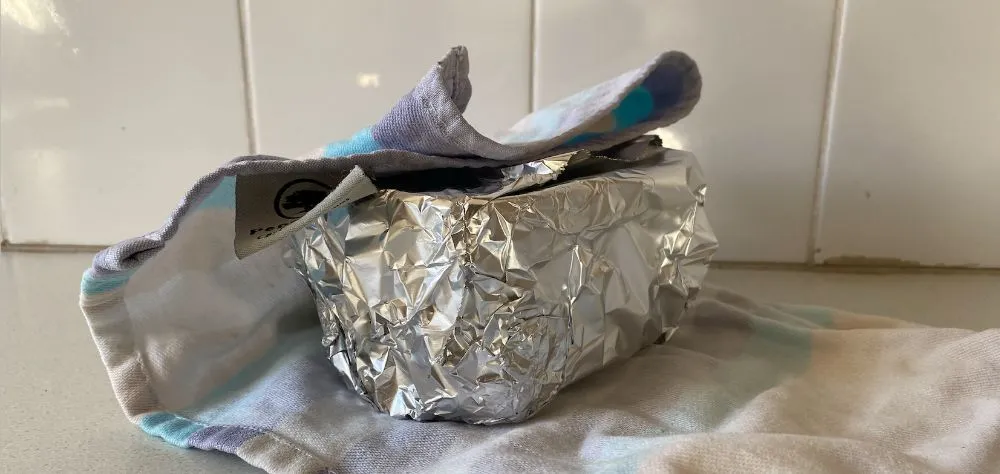 Aluminum foil is a good insulator for heat radiation but a terrible insulator for heat conduction.
Aluminum foil by itself will keep your drinks hotter than using nothing at all, but aluminum foil combined with towels, blankets, sweaters or some other type of insulator will work best.
If you don't have a cooler or any insulated containers to keep things warm then place your warm drinks inside any container and wrap it in aluminum foil and then wrap everything in a warm blanket (the warmer the better).
Ideally for this technique to work really well you want to do this with large batches of drink as the bigger heat capacity means things will stay hot for longer.
11. Add A Hot Water Bottle To Keep Things Hot Even Longer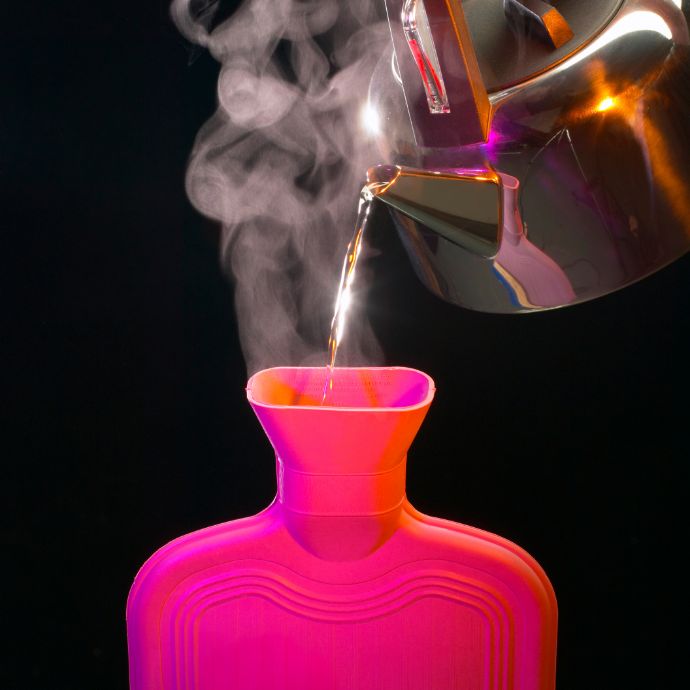 Using the above method might not be enough if you want drinks to stay hot for hours whilst outside.
Combine the above method and wrap your drink container in aluminum foil as mentioned above.
But before your wrap in it a blanket throw in a hot water bottle and then wrap it all up together.
I like to use boiling water in my hot water bottle as this keeps everything extra hot. However, you do need to be careful using boiling water as sometimes hot water bottles can burst.
12. Use A Portable Gas Stove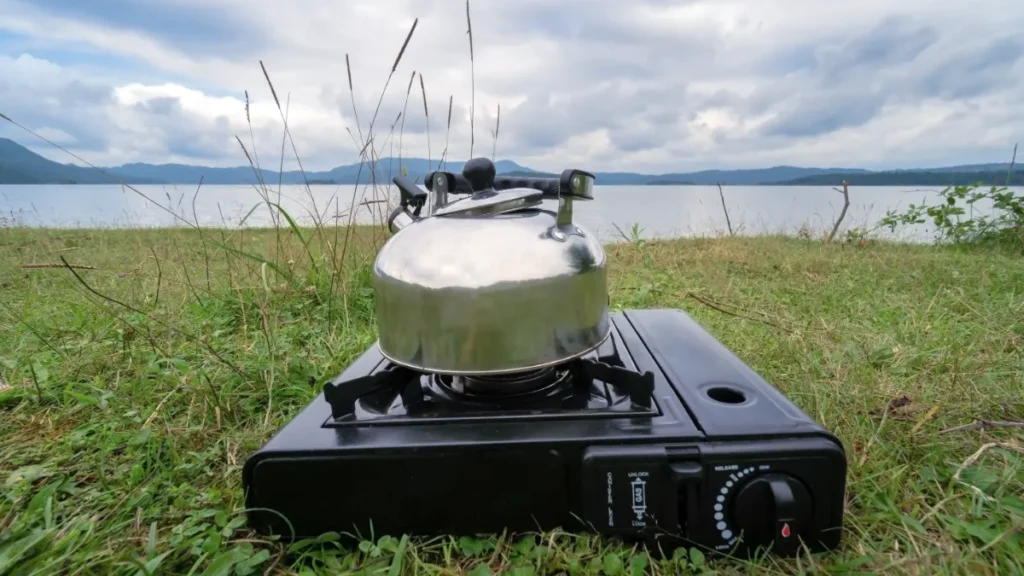 Whether are you camping or going to a picnic at the local park, a portable gas stove is a cheap and convenient way to keep your drinks hot for a long period of time.
I think I don't like about keeping drinks hot for a long period of time in a thermos is that it can alter the taste of the drinks.
My coffee (for example) that has been hot for 2-3 hours tastes way worse than freshly made coffee.
The benefit of taking a portable stove is that you can heat your drinks on demand meaning you can get just the right temperature but also amazing flavors.
While I personally have a Coleman butane stove which works great I really like this Gas One Camping Stove at Amazon which can work with both propane and butane. It's super affordable and the fact that it works with both types of fuel is very convenient.
13. Use Tealights and Teapot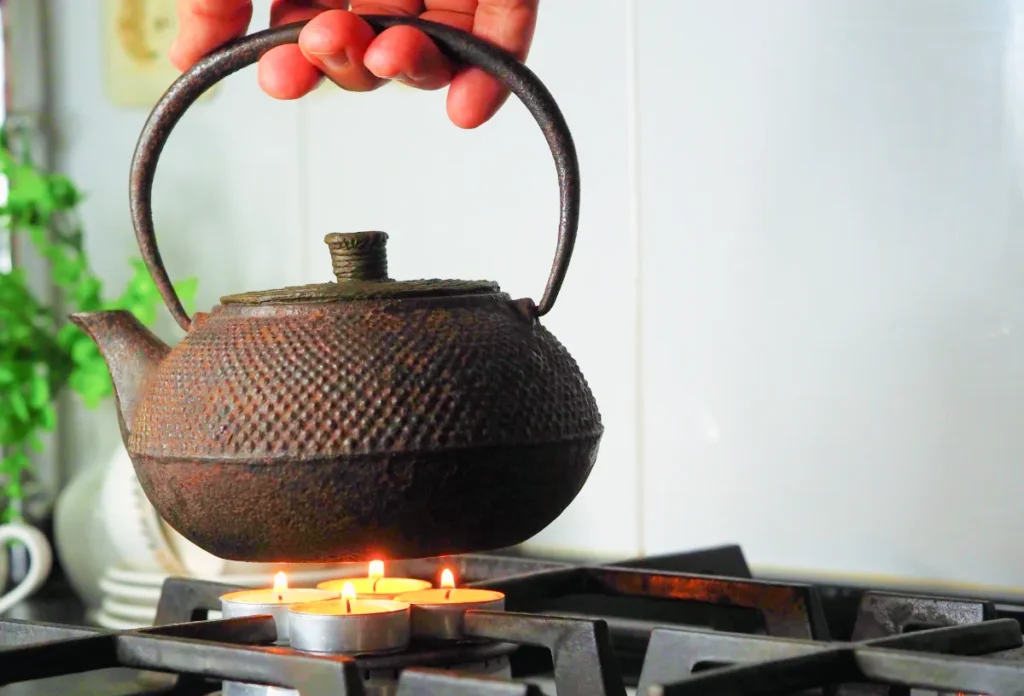 Tealights were originally developed in Japan to keep the tea warm during a tea ceremony and are often used in food service.
Ideally with this method you want to use a few tealight and a cast iron teapot. However, glass teapots and ceramic teapots also work, you'll just need to do a solid cleaning of them afterwards from the soot.
The metal casing helps conduct heat and keep things warm for up to four hours when used properly and you can always replace the tea lights as they burn out.
It's a cute little setup that actually works really well. The downside of this method is that if it's windy your candles are highly likely to blow out.
You can even serve your beverages in metal or ceramic cups and offer a tealight warming plate to set them upon. You can purchase one online like this tealight warmer from Amazon or create a DIY tealight warmer yourself with wood and aluminum.
14. Use Chafing Dishes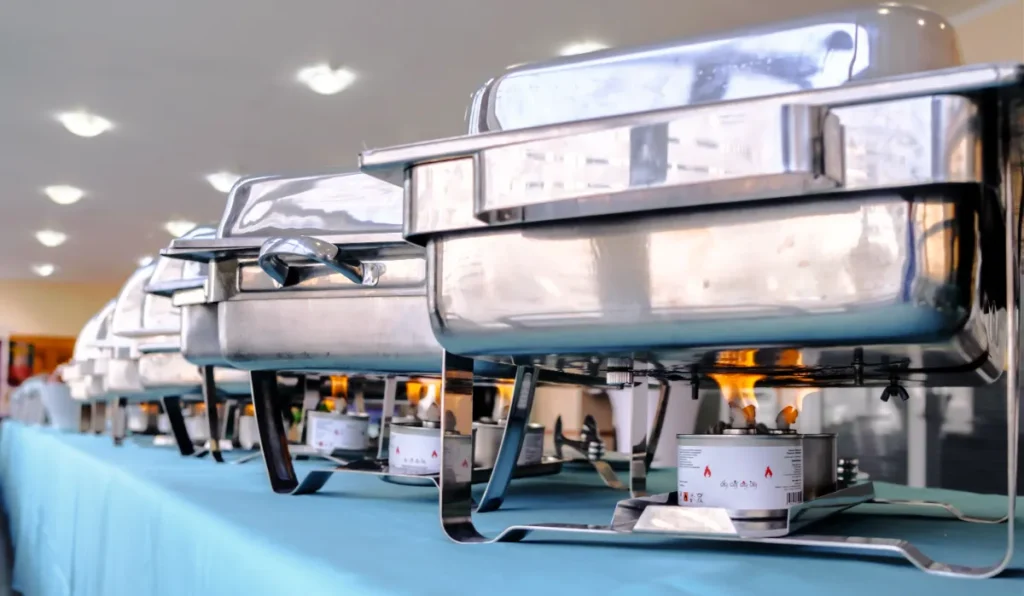 Chafing dishes use a fuel source similar to tealights (but bigger) and they are one of the best ways to keep food hot without electricity.
However, you can also use them to keep drinks hot when you're outside. Just make sure you also bring a ladle so guests can serve their own drinks without a lot of spillage and you may need to pay attention to how hot your drinks are getting and adjust accordingly as you don't want them to get too hot.
I personally like this 4-quart round buffet chafer at Amazon as it's one of the most affordable options out there (others cost over $150) and it's also a smaller and more compact design.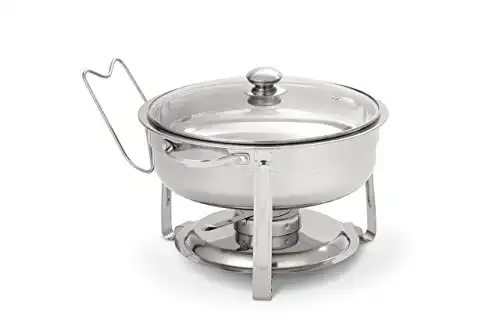 15. Use an Immersion Heater (Electricity Required)
Immersion heaters work similarly to immersion blenders: you place them in liquid and let them do their work.
Immersion water heaters were originally designed for hot water tanks, but have since been adapted for heating drinks on the go. This is an option if you don't have a crockpot or carafe.
To use simply place the immersion heater into the drink you are trying to keep hot and let it warm up the drink. Once warm, turn off and remove the immersion heater and enjoy your hot beverage.
Note that most immersion heaters are marketed as portable, but they do require an electric outlet to work.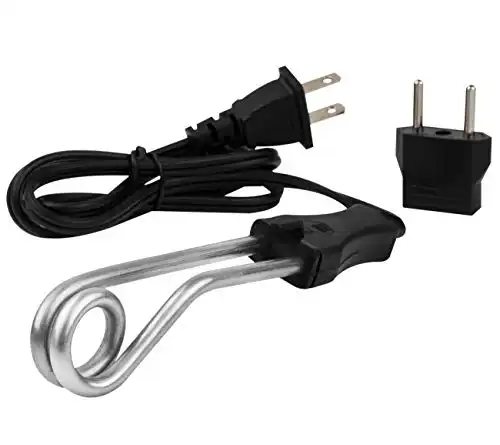 Electric Immersion Water Heater (300W - 120/240V)
Boil water or keep drinks hot easily with this 300W immersion water heater. It's simple to use - just fill up your container and put the heater in the liquid and turn it on (keep your hands off while in action).
Once water is hot turn off and remove immersion heater and enjoy your hot beverage.
Buy Now at Amazon
16. Set Up Your Fire Pit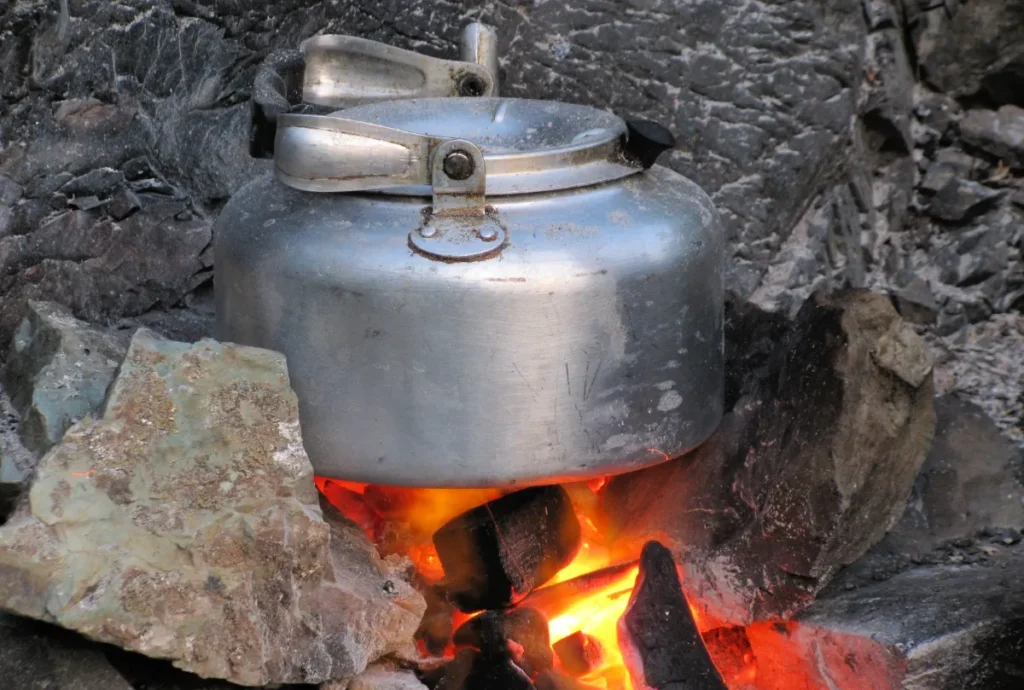 If you're lighting an outdoor fire for your event, you can use it as a heat source to keep your drinks warm. This method should be approached with caution.
Let your fire burn down to low flames or coals and set a grate overtop. Put your beverages in a metal kettle or container and leave it to rest atop the flames.
Alternatively, you can fill a dutch oven or pot with water and submerge stainless steel water bottles or thermoses with your beverage inside.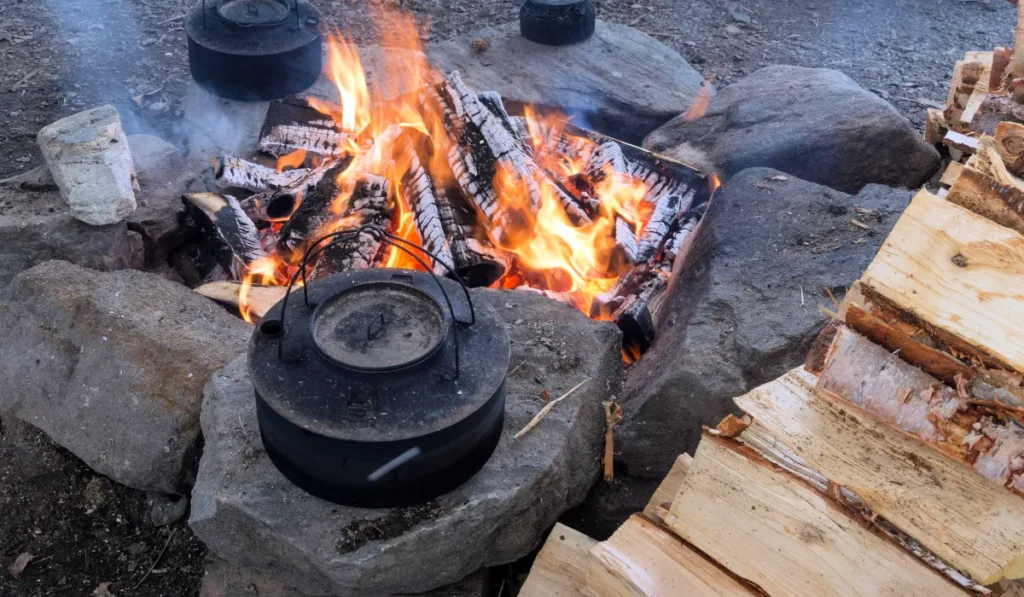 If you want your fire to burn high throughout the evening, you can also set your stainless steel thermoses on the ground near the fire. Be cautious when picking up metal objects, as the exterior can heat enough to cause burns.
17. Rent or Buy a Samovar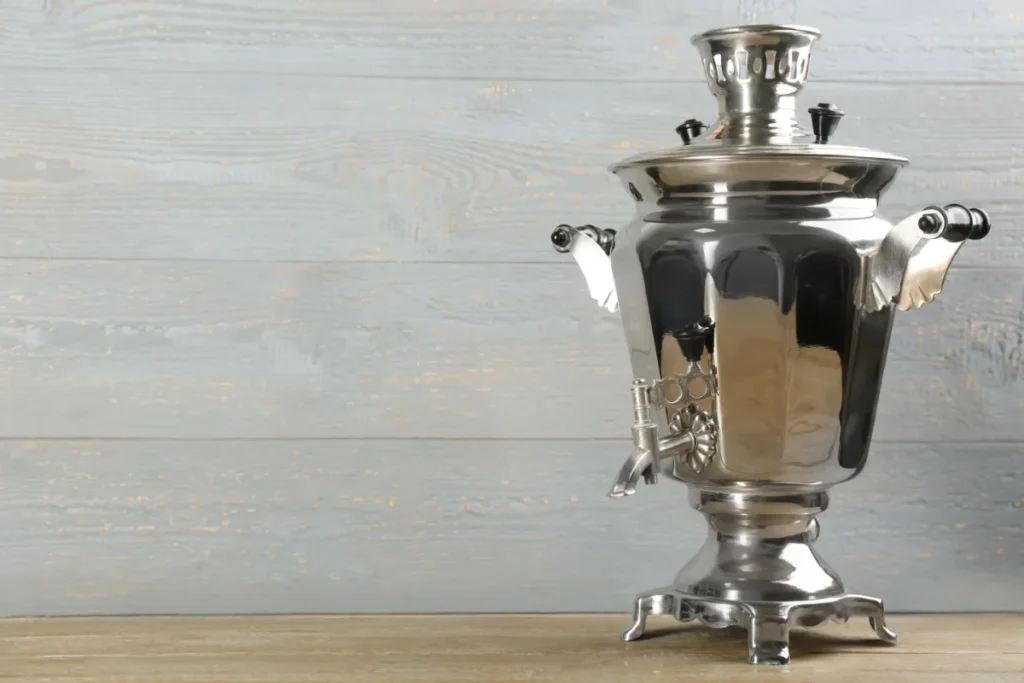 This is one of those ideas that is a bit out there but can be amazing for parties, be a good conversation start and it's just really great for brewing tea. It can be also used just to keep water hot or to keep other drinks hot (but that's less common).
One of my close friends is Russian and Samovars are a traditional Russian method of brewing tea and they are still used a family events and gatherings today.
You can buy one yourself or you can hire them from many party hire businesses.
The way it works is you have a big urn with an outer and inner compartment. You fill up the outer compartment with water and fill up the inner compartment with hot, burning charcoals.
The charcoals will heat up the water in the urn bringing it to a boil. You then pour the hot water into a tea pot with loose leaf tea and place the tea pot on top of the samovar for the tea to brew but also to keep the tea hot.
You can then pour tea for yourself and your guests and you can top your cup up with hot water directly from the spout on the side of the samovar.
Below is a video showing a traditional samovar in action:
You don't have to use a samovar for tea. You can also use it to keep water hot which can be used for single cups of tea (with tea bags), for coffee or hot cocoa.
You could even fill the tea pot on top up with milk to keep the milk warm without making it too hot that it curdles. Or you can just offer guests cold milk to add to their tea, coffee or hot chocolate.
18. Offer Cup Koozies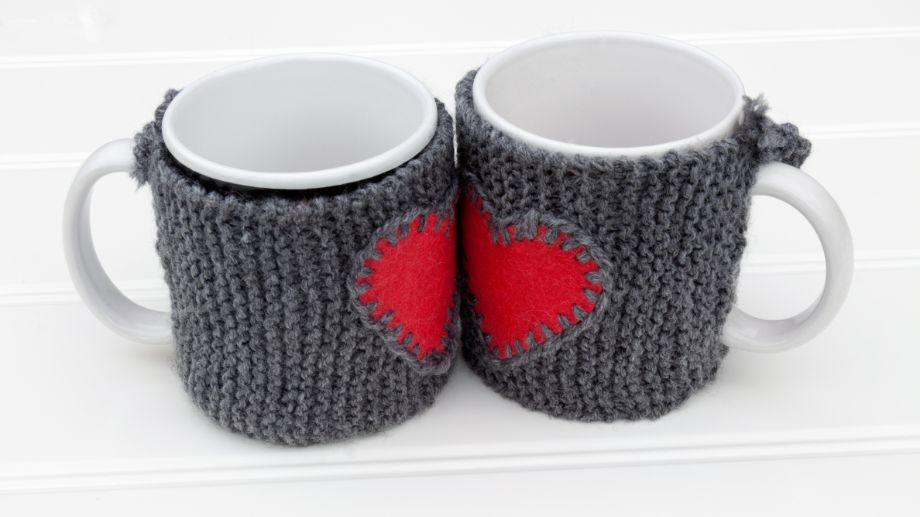 It would be a waste to go to all the effort to keep your drinks hot to serve to your family and friends only for the drink to go cold in their cup a couple of minutes after they get it.
Cup koozies (or cozies) that wrap around your mugs are a great way to keep drinks hot for longer. You can get affordable foam cozies for cups without handles or custom cup cozies for ones with handles.
These cup koozies from Etsy are super cute.
19. Use A Smart Mug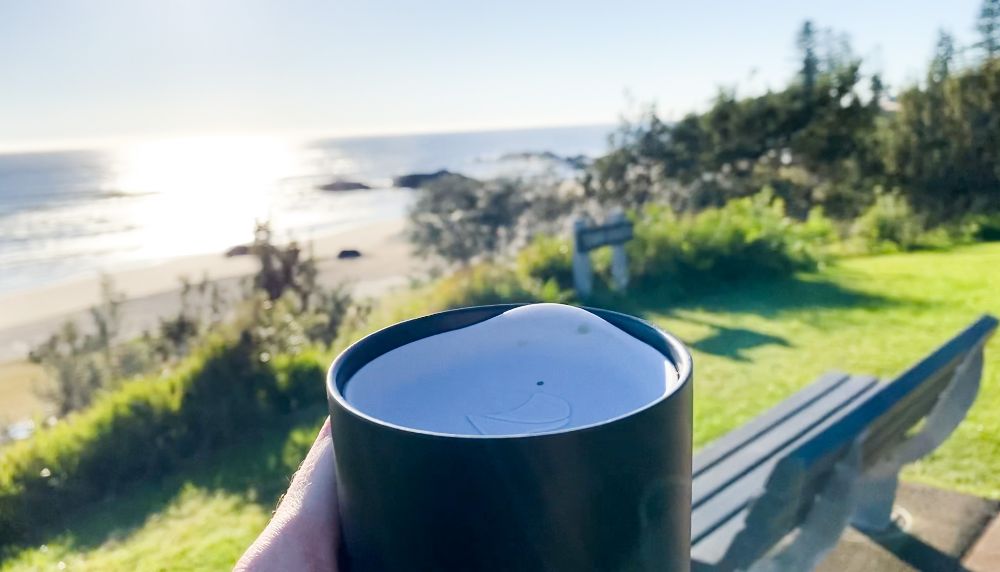 While this is last on the list it is most certainly not least!
This is one of the best ways to keep your tea, coffee or hot chocolate at EXACTLY the right temperature for hours while you're outside.
The way it works is the mug has a battery in it that you charge and a small heating element and thermometer that can keep your drink at a consistent temperature – usually for 1-3 hours.
I own an Ember Smart Mug and have it set to 135ºF (57ºC) and it will keep my coffee at this exact temperature for about 1.5-2 hours.
These mugs don't come cheap, but they are actually well worth the cost and can be great gift ideas for loved ones. Click here to see the full list of the best heated smart mugs on the market.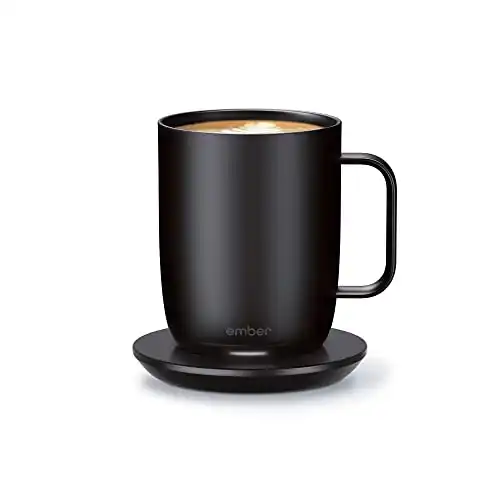 DON'T USE STYROFOAM CUPS!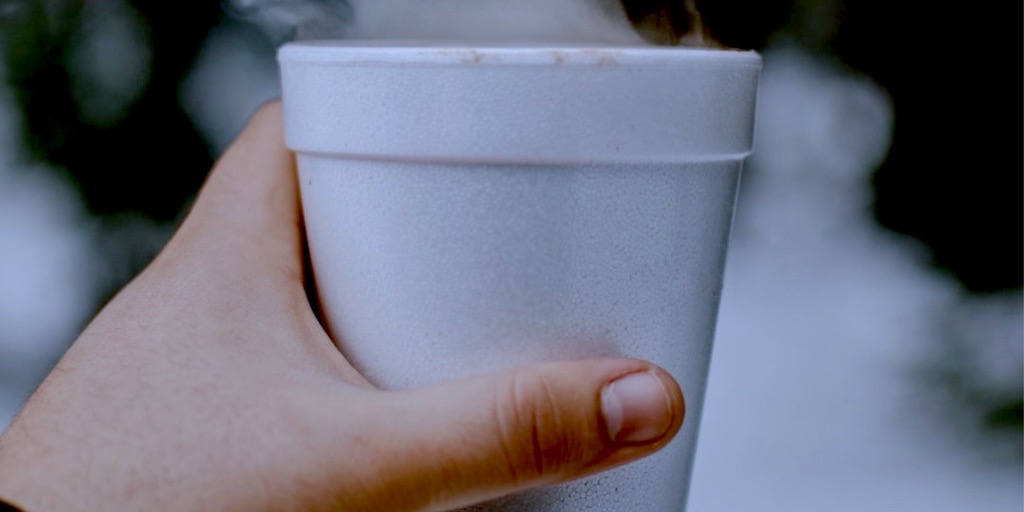 While styrofoam is a great insulator and you can buy cheap disposable styrofoam cups that will keep drinks hot longer than a regular cup I would HIGHLY ADVISE against not using styrofoam.
I looked into Styrofoam and its potential cancerous effects in a previous article inspired by myself microwaving noodles in a styrofoam cup.
Turns out that polystyrene leaches the "probable carcinogen" styrene into drinks and this happens more at higher temperatures!
This medical article shows how temperature plays a big role in how much leaching of styrene occurs. Notice how warm drinks leach more styrene?
| | |
| --- | --- |
| Temperature (ºC) | Styrene (µg/L) |
| Ambient | 0.00 |
| 50 | 0.00 |
| 70 | 1.16 |
| 90 | 9.35 |
| 100 | 17.37 |
So while yes, styrofoam cups are great at keeping drinks warm for your guests when you're outside. I would personally avoid them at all costs for health reasons. There are so many better options out there.