If you've ever had your coffee or tea get too cold before you had time to drink it, a smart coffee cup is the perfect thing to fix that problem.
Only recently has portable battery and heating technology combined become good enough that companies can make smart coffee cups that can keep your coffee at the exactly right temperature or even boil and make a cup of joe on the go.
Whether you're too busy at work, drink slowly, or are prone to forgetting your coffee exists, a smart cup helps keep your coffee warm in the most technologically advanced ways.
Some of these cups even allow you to set the temperature with your phone.
Whether you've been looking for a smart coffee cup for a while or just finding out about them now, there are a bunch of things to consider before buying one. Some smart coffee cups are great and I would happily recommend while other companies seem to come and go from the space making poor quality "me too" products that seem to have more faults than features.
At the moment it's an area where it's difficult to get a smart coffee mug for cheap and it still be good. But if you're willing to invest the money then some of these mugs really are amazing and well worth the investment.
The Ember Mug 2 and the Ember Travel Mug 2 are the best smart coffee cups on the market today. They can keep your coffee at the exact right temperature for 1.5-3 hours on the go on indefinitely when placed on their charging coaster. They are one of the more expensive mugs out there but they have been in the market for years, are extremely high quality and unlikely to break and they are incredibly feature rich and aimed at the coffee lover.
See the latest price of the Ember Mug 2 at Amazon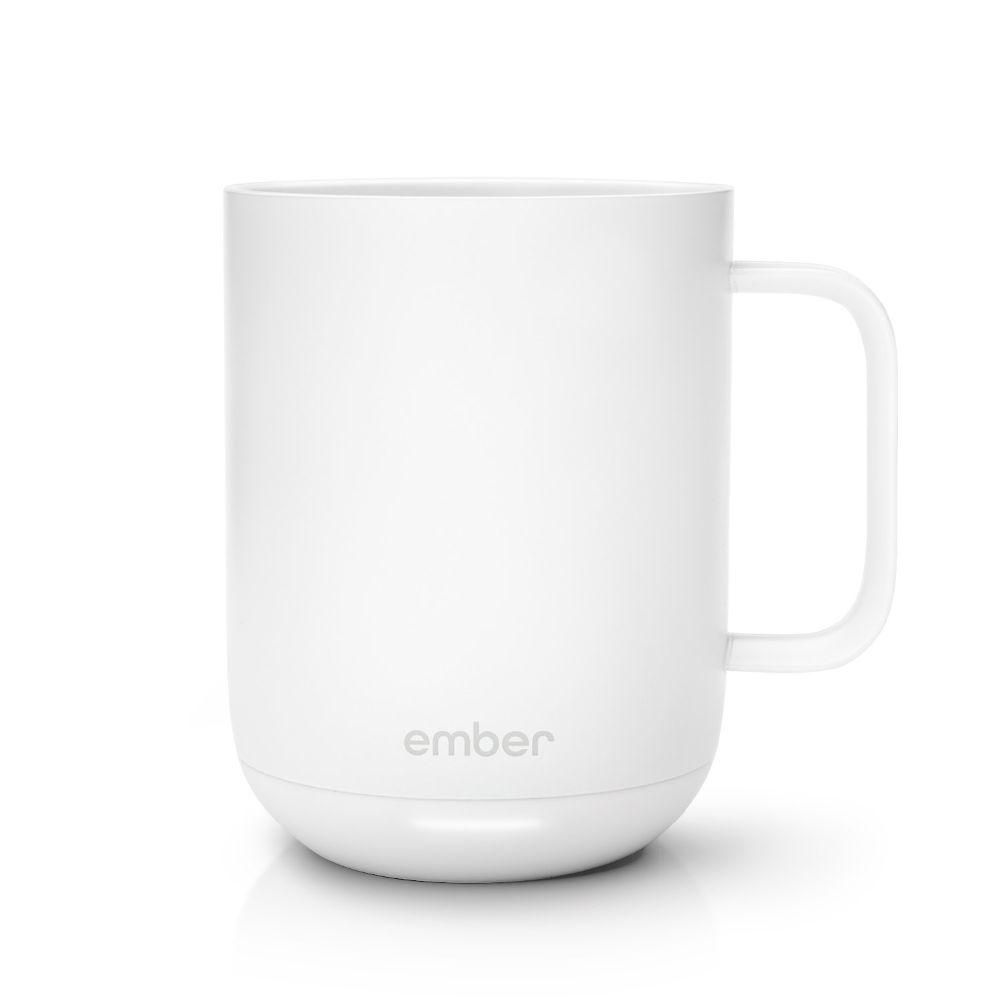 See the latest price of the Ember Travel Mug 2 at Amazon
The Ember isn't the only smart mug out there and there are a lot of different options available today.
It is essential to find out as much as you can about a smart mug before buying one, and this will ensure you do not waste your money.
Luckily, we can show you what to look for, and we even have a couple of recommendations.
What Is A Smart Coffee Cup?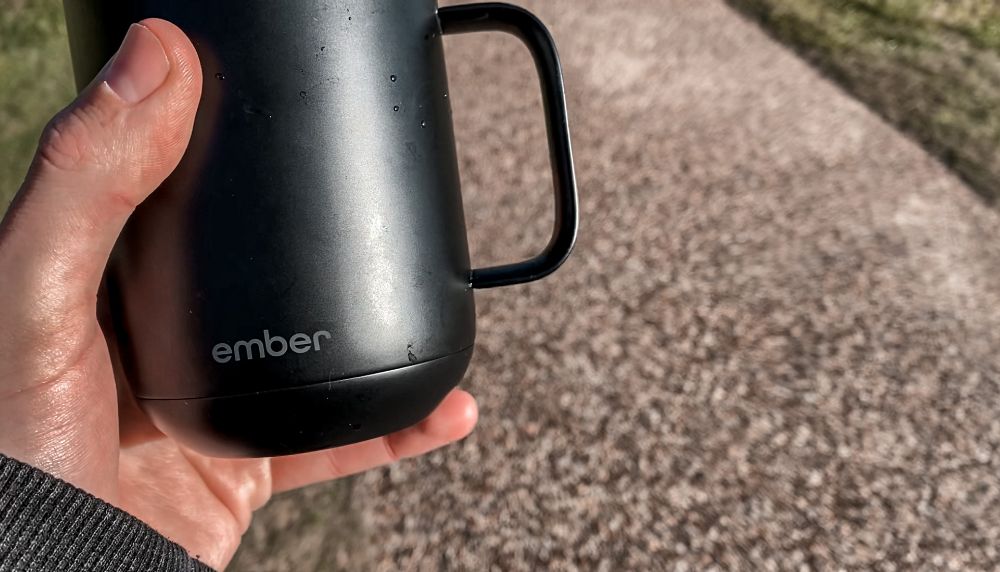 A smart coffee cup's "smart" element is that it heats the contents by itself and usually monitors the heat to keep it stable.
Additionally, most of them allow you to set the temperature using your Bluetooth-connected phone.
It's not common to say or hear the sentence "I need to charge my cup," but with a smart coffee cup, that is a very valid expression.
Though the Ember Mug may be one of the most popular versions of a smart coffee mug, there are plenty of alternatives. To choose the right one for you you need to know exactly what to look for.
What To Look For In A Smart Coffee Cup
Before buying a smart coffee cup, you should consider a couple of things to ensure you get your money's worth.
Even if none of these aspects are the reason you choose a specific smart coffee cup, they are essential to know about and can help you make the choice clearer.
Temperature Control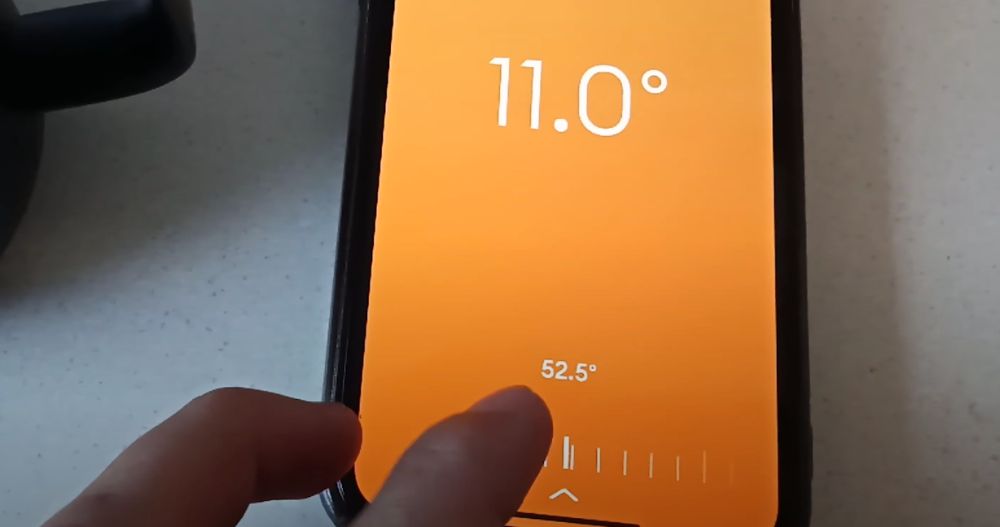 One of the most significant things you need to consider before buying a smart coffee cup is temperature control and range.
Some of the best temperature-controlling coffee cups, like those manufactured by Ember, have a heat range that centers around the recommended temperature for barista-made coffee.
For Ember specifically this is between 120-145ºF (49-62.5ºC) but with other mugs this can vary. The Glowstone Mug for example has a fixed temperature around 140ºF (60ºC) or slightly lower and this cannot be changed.
You may want to consider whether or not you can set the preferred temperature your cup before you buy one. While Ember allows you to set your temperature one of the problems with Ember Mugs is it requires an app to do so and this app just so happens to track a lot of personal information. You can use the Ember Mug without the app but then you won't be able to adjust the temperature.
Other mugs like the Cauldryn or the Ember Travel Mug allow you to adjust the temperature on the mug itself. So not connection to your phone (and no collection of your data) is required.
Temperature control is important to an extent. Personally I'm happy as long as the temperature is around 135-140ºF (57-60ºC) and I don't need to regularly adjust this.
So while temperature control may sound amazing and important in day to day usage you'll actually rarely change the temperature. Most likely you'll set it to your desired temperature and just leave it at that.
Battery Life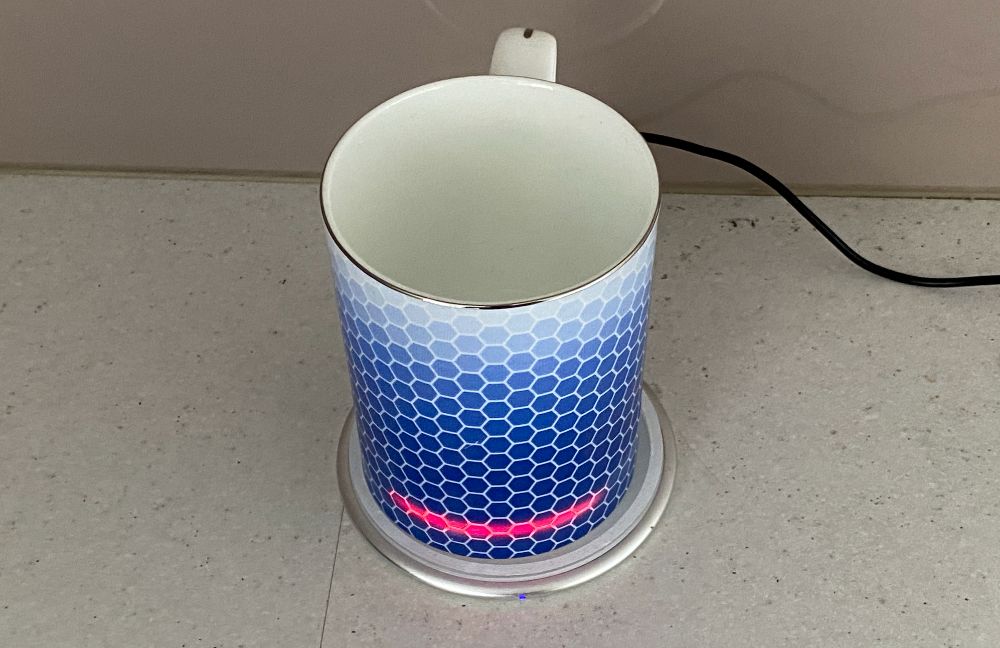 Another vital thing to look at is the battery life of a smart coffee cup. Most of these mugs run on batteries and these have limited capacities and can only run for so long before needing to be recharged.
Since you buy this cup to keep your beverage of choice at the proper heat, it only makes sense to find out how long your drink will reliably stay on temperature.
If the battery of your temperature-controlling cup needs to charge every thirty minutes, that makes the cup less useful than one that can keep coffee hot for 1 hour or more.
For example, the original Glowstone had enough battery to do 2 cycles of 30 minutes. But this effectively meant it would only keep your coffee hot for 30 minutes at a time.
After discussions with the founder and some feedback I gave him this was adjusted to a single cycle of 1 hour and there are plans to add even more battery capacity to the Glowstone making it a better mug.
Ideally the longer the battery life the better but also the ability for the mug to work indefinitely while charging is another huge poisitive.
Quality Construction + Durability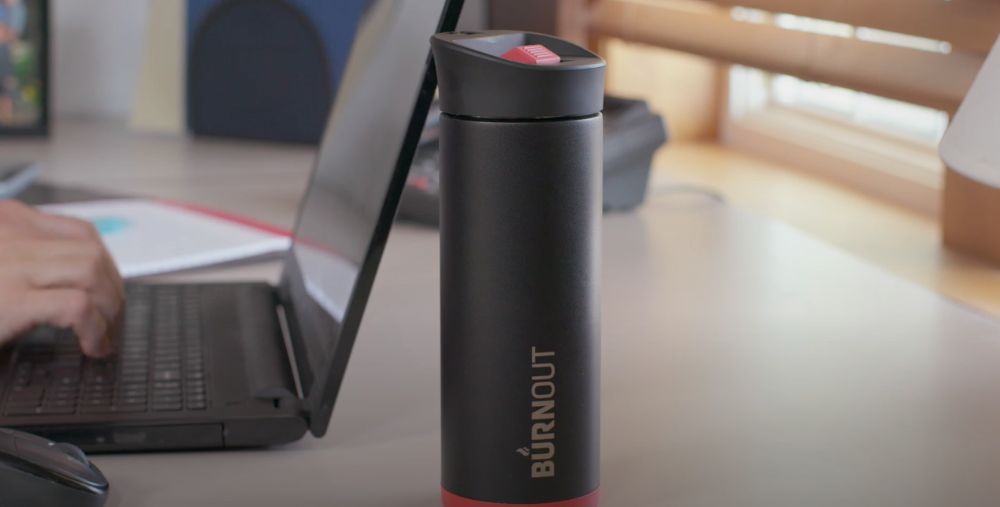 If you are going out of your way to buy a more expensive coffee cup that should heat and keep your drink heated, it is essential to look at the quality and durability of that cup.
The material a cup gets manufactured of can affect how long it lasts and even how long it keeps your drink warm, so it is always best to buy a cup made from high-quality materials.
Given the high cost of these products there are a lot of companies that come into the space offering a cheaper version of Ember or Glowstone or the other premium brands. BEWARE!
Sometimes these will be a great bargain and saving, but more often than not the quality will be worse and you'll be more likely to have issues with them.
You can also look at other aspects that need to be durable, like the battery, charger, or any buttons on the cup.
Price
Looking at the price of a temperature-controlling and regulating cup for your warm beverages is a two-fold consideration. The first aspect you need to consider is that cheaper versions are more likely not to work well, have no support services, or not be durable.
However, just because a smart cup costs a lot doesn't mean it'll be any better than a cheaper version.
You should always look around to find the best price for what you want without sacrificing your standards or wants. Remember that the brand name can often push the price up but is more likely to be reliable.
In the smart coffee cup category it's generally worth it to invest a bit more money into a better brand. But that decision is ultimately up to you.
There are some cheaper options that aren't quite as good or lack some features, but will still do the job well enough for you.
Good Customer Reviews
No matter what you're buying, if you're buying it online, you should always consider the customer reviews before finalizing your purchase.
Though customer reviews aren't always the be-all-and-end-all, they can provide valuable information about your product, especially if it is supposed to be high-tech, like the smart cups.
Waterproofing and Dishwasher Safety
Lastly you might want to consider how waterproof a smart coffee mug is and whether or not it can go in the dishwasher.
For example, the Ember Mug is NOT dishwasher safe and must be hand washed and dried before charging.
The Glowstone Mug on the other hand is dishwasher safe which makes cleaning the product a lot easier.
1. Ember Mug
BEST OVERALL SMART COFFEE CUP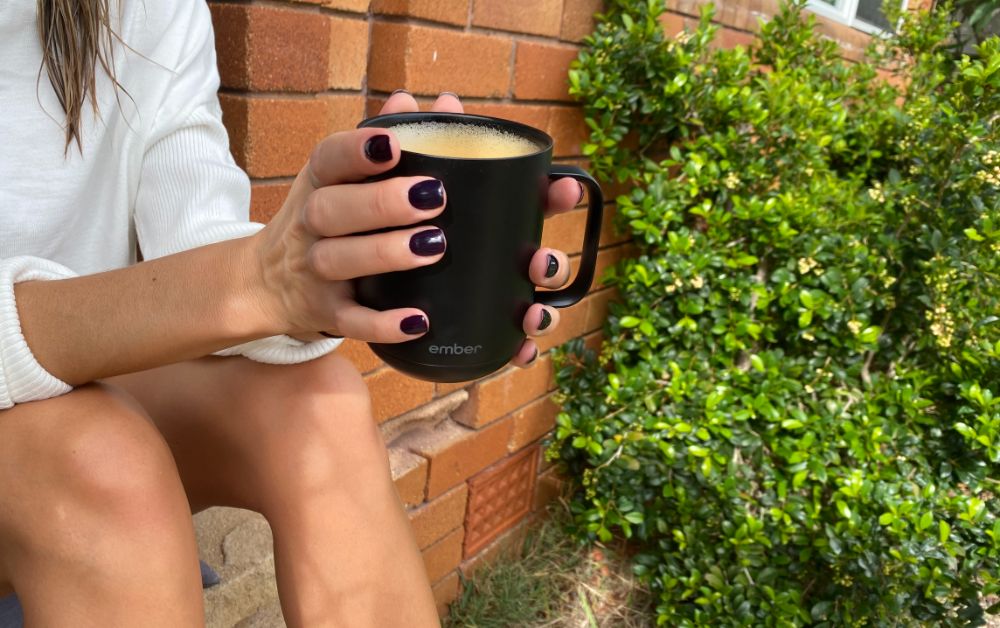 The Ember Mug is one of the first-ever temperature-controlling coffee cups made to keep your coffee at the perfect temperature for your preferences…and it's still one of if not THE BEST smart coffee mug on the market today.
The reason the Ember Mug still ranks as the best is down to its quality, battery life and ability to work indefinitely when place on its charging coaster.
The Ember Mug is a high quality mug in everything from its design, manufacturing and packaging. It works flawlessly, looks great and will last you years.
After the first release of the Ember Mug, there has also been a second release called the Ember Mug 2, which has improved some of the technology used in the original design. See the differences between Ember Mug 1 and 2.
Basically the 2nd generation added more battery life and fixed some issues with flaking and delamination of the ceramic coating. There were also some minor design changes, especially to the travel version. I would personally advise to avoid purchasing an Ember Mug 1 and to spend a little bit extra to get the Ember Mug 2.
The Ember mug uses lithium-ion batteries to power a heating element in the bottom of the stainless-steel ceramic-coated mug that heats your coffee to your exact desired temperature.
The cup also has a couple of sensors to detect the temperature of the contents. It'll even turn itself on when it detects hot beverages and turn itself off when it detects that it's empty.
You can use an app to set your preferred temperature or use the last preferred temperature without needing to select it.
The only real downsides of the Ember Mug are the fact that the battery life feels a bit short at 1.5 hours and you can't actively heat drinks in this mug you can only keep them warm.
It's also one of the most expensive mugs out there so for budget conscious shoppers this might not be the best option.
However, if you have the money or want to buy someone a gift they will love for years to come you can't go wrong with the Ember Mug. It comes in a 10 oz and 14 oz size.
See the latest price of the Ember Mug 2 at Amazon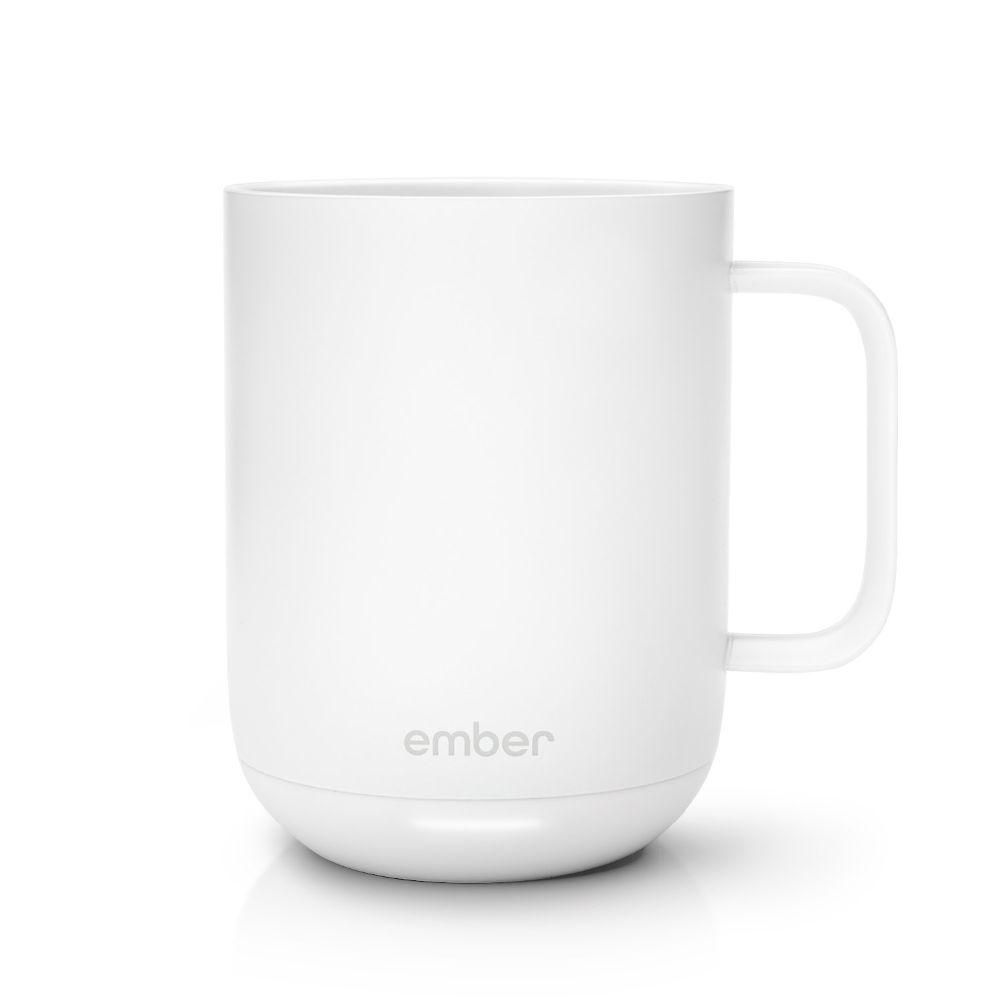 There is also a travel mug version that is 12 oz in size and has a much longer 3 hour battery life. It also comes with a watertight lid and thinner form factor making it easy to fit into you car cup holder.
It's quite a bit more expensive than the regular Ember Mug but for the traveller or commuter this is a great option.
See the latest price of the Ember Travel Mug 2 at Amazon
2. Glowstone Mug
MADE WITH FINE BONE CHINA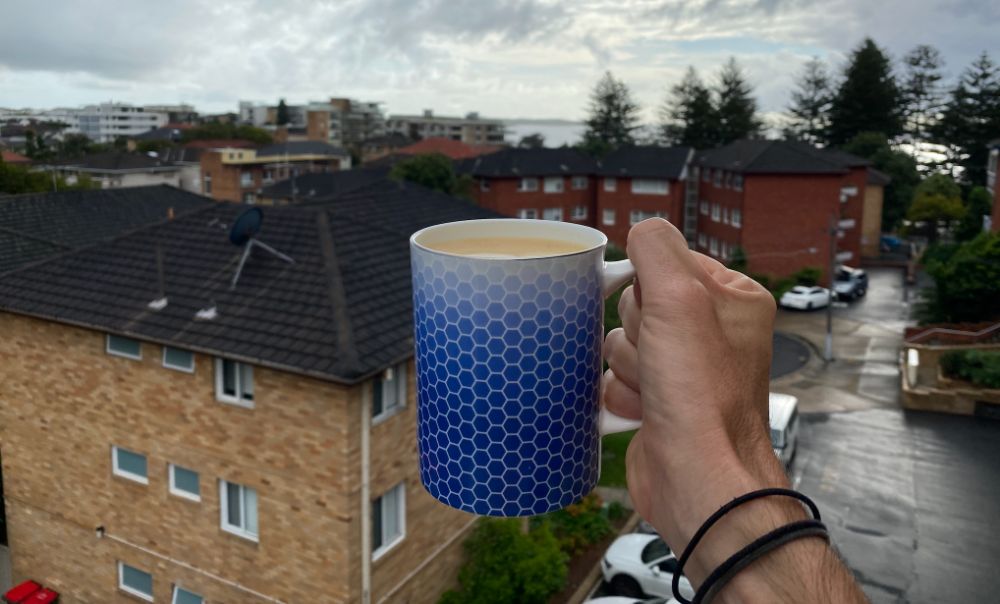 Where the Glowstone Mug shines over the Ember Mug is in materials, ease of use and dishwasher safety.
The Glowstone Mug is made completely from fine bone china (whereas the Ember is made from stainless steel with a ceramic coating) and the Glowstone Mug charges wirelessly which allows it to be dishwasher safe.
If you're less interested in a mug that you can control using an app and just want something easy to use and dishwasher safe, the Glowstone Mug is perfect for you.
This temperature-controlling mug is made with fine bone china and is said to be scratch and chip resistant.
This mug also comes with a wireless charging pad, and the heating cycle lasts for around an hour. One of the downsides of this mug is you cannot use it while it's on it's charging pad, so you get the 1 hour of battery usage and that's it.
It then takes around 5 hours or so to completely recharge.
This mug will keep your coffee at around 140ºF (60ºC) or a little bit lower as long as it remains charged. I have found this to be slightly hotter than my ideal temperature but not so hot that it's scalding so it's still extremely pleasant to drink from.
While I have no stake in this company I may be slightly biased here as it was largely my suggestions and feedback that went into making the 2nd version better than the first version with longer battery life and different temperature settings.
The founder is a great guy and is constantly making improvements to the mug. I expect future models to have even longer battery life, faster charging and even work indefinitely while placed on the charging pad.
See the latest price of the Glowstone Smart Mug 2 at Amazon
(or compare price to Glowstone's website)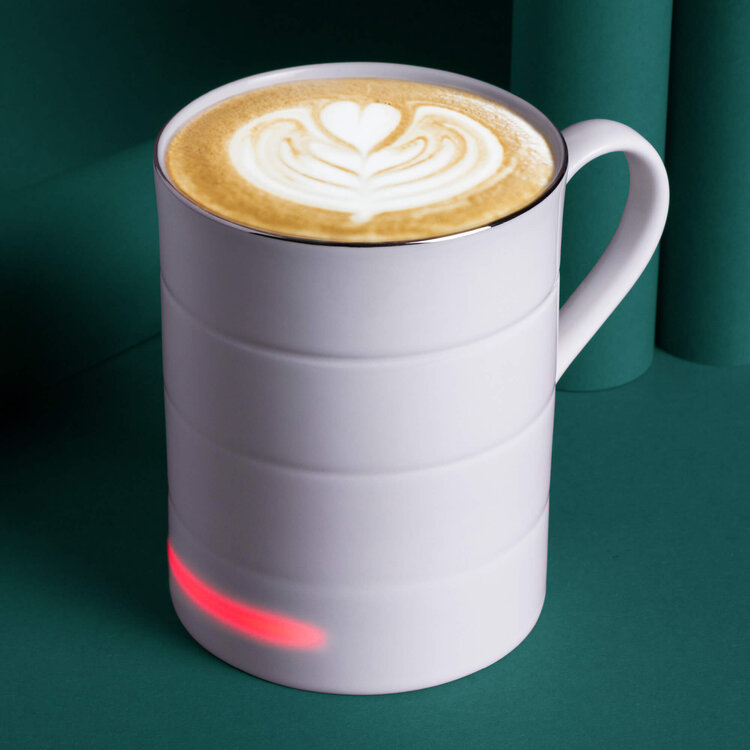 3. Cauldryn Mug
MOST VERSATILE, LONGEST LASTING, CAN BOIL WATER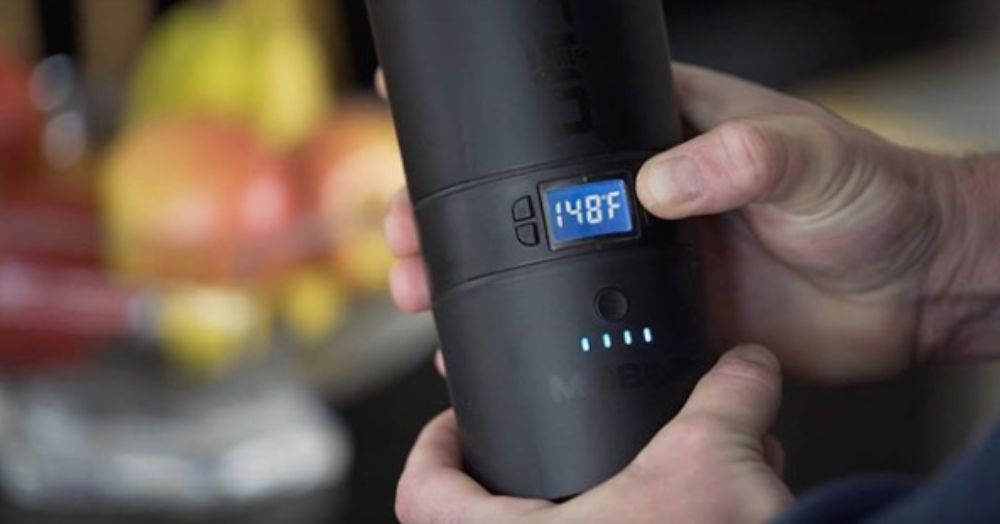 The Cauldryn smart coffee mug is the only battery powered smart mug that can boil water on the go, all whilst running on battery power.
The Cauldryn uses a vacuum insulated flask to keep your coffee hot and to stop it cooling down. Combined with a heating element and rechargeable battery it can actually keep you coffee hot for up to 10 hours.
No other smart coffee mug really comes close to that!
This smart mug features buttons on the device and allows you to set the content's temperature via a Bluetooth-connected app.
Additionally, the contents of the mug can get heated to the boiling point allowing you to boil water if you want to make a drink while on the road, hike, or otherwise occupied.
Though this travel mug is expensive, it is in the range of other Mugs of the sort.
The only major downside with this mug is the fact that it's made from stainless steel with no ceramic coating – so it may impart some flavors into your drink. But most people won't notice this and for the fact that you can boil water in this on the go I think this is an amazing mug.
See the latest price of the Cauldryn Coffee Mug
4. Burnout Mug
POWER-FREE PHASE-CHANGE TECHNOLOGY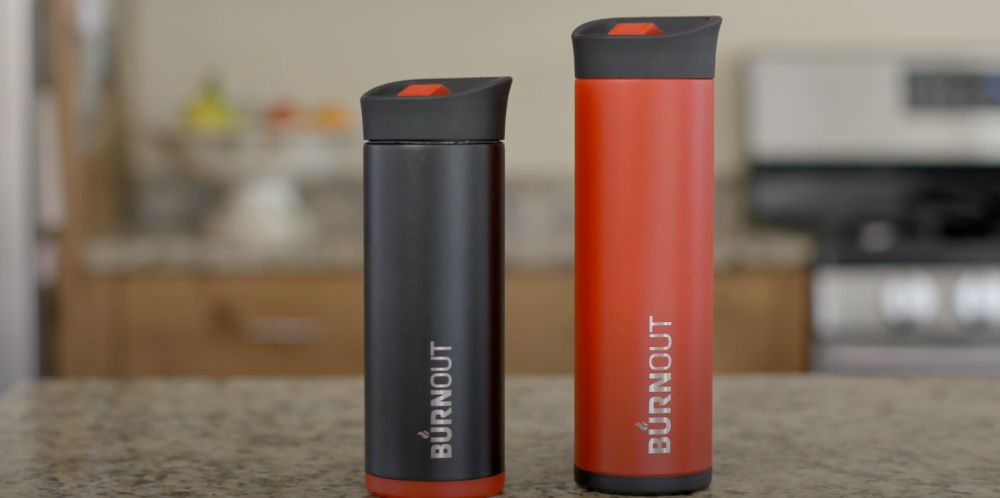 Though the Burnout Mug does not allow you to control the temperature of your beverage by using an app or buttons, its technology is very advanced.
The Burnout Mug achieves instant "drinkability" using Phase-Change technology.
There is a material inside the walls of the burnout mug that quickly absorb heat when you place hot water or coffee into your mug. This cools down your drink to approximately 140ºF (60ºC) quickly and keep it there.
Then as this material cools down it releases heat keeping your drink at that 140ºF (60ºC) temperature for hours at a time.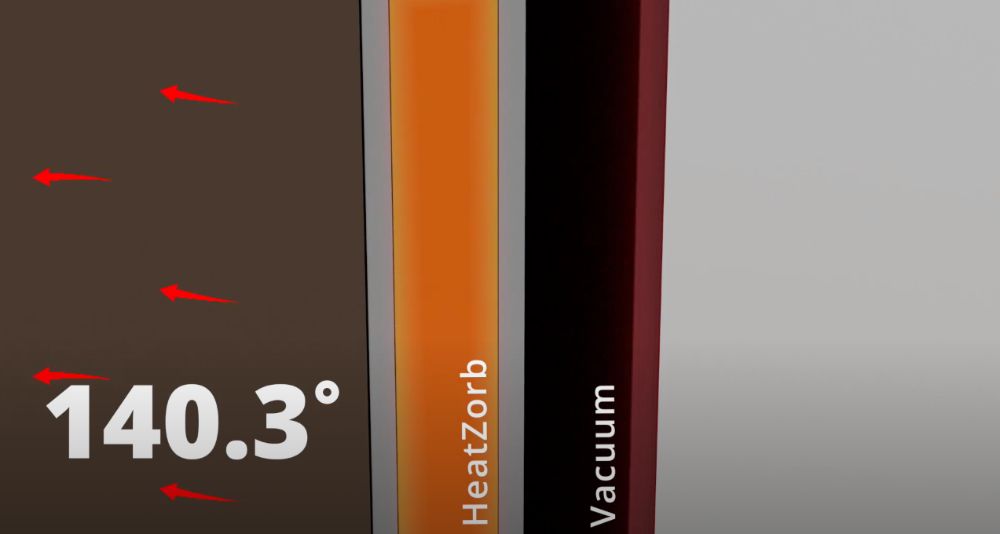 It also has a vacuum insulation layer which stops heat escaping so you can have a perfectly warm coffee for hours at a time. This also means it's one of the only triple insulated travel mugs.
The added benefit of this mug is that you do not need any batteries or charging stations since the cup uses the material it gets made of to keep your drink at the perfect temperature. You can even pre-heat it to have your coffee stay hot for even longer. Read more in my full Burnout Mug review.
There are a variety of sizes and form factors available. This mug is made by a literal rocket scientist and it shows in the quality of its build and its manufacturing.
See the latest price of the Burnout Triple Walled Mug at Amazon
5. VSITOO S3 Pro Smart Mug
Another excellent choice of smart coffee cup is the VSITOO S3 Pro, which allows you to control your preferred coffee temperature through an app or the touch button on the mug itself.
The battery life of this smart mug is also quite impressive, allowing you to keep your drink warm for up to 4 hours without needing to charge, or the whole day if it is on the charging platform.
I was skeptical of this cup at first as I have seen too many cheap imitations of the Ember but it seems that the quality of this product holds up to the Ember and when it does end up breaking customers have reported that their customer service is fantastic.
If you want to save a little bit of money and get a longer lasting battery life then this is a good option. It's also a slightly larger mug holding around 12-14 oz of liquid.
Similar to the Ember Mug, this coffee cup gets made with double-layered stainless steel with a food-grade ceramic coating.
Though this mug isn't dishwasher safe, if you don't mind getting your hands wet to keep your coffee warm, the heating elements and stainless steel will ensure you have warm coffee for hours.
See the latest price of the Vsitoo S3 Pro Smart Mug at Amazon
6. BESTINNKITS Smart Coffee Cup Warmer Set
Suppose you want the comfort of using a dishwasher-safe mug or any other cup of your liking while also saving some money.
In that case, the BESTINNKITS smart coffee coaster is a brilliant alternative. It's not a smart mug but it's a smart coaster that will keep your coffee hot by heating the bottom of your regular mug.
This coffee coaster will detect whenever a cup is placed on it, which will allow the coaster plate to heat up and ensure your coffee stays warm.
There is no need to worry about battery life when using this coaster, as it operates by plugging into a nearby wall to allow it to heat up.
Though this coaster comes with a mug made to suit this device, you can use almost any cup that fits inside the white circle, allowing you to use your favorite 14oz coffee mug.
See the latest price of the BESTINNKITS Smart Coffee Cup at Amazon
7. Kitvchef Coffee Cup and Candle Warmer
MOST AFFORDABLE CUP WARMER
Sticking with cup warmers that allow you to use your cups or mugs to keep your drinks warm, the Kitvchef Candle Warmer is the best cup warmer for a smaller budget.
This cup warmer allows you to use almost any cup with a flat surface, excluding double-walled or plastic cups. The temperature range also ensures you won't burn your mouth with your next sip.
This cup warmer detects when a cup gets placed on the surface, so it won't be activating the heating element the whole time, only when your cup is on.
This device is also valuable for releasing candle scents without lighting a candle at all.
See the latest price of the Kitvchef Electric Mug Warmer at Amazon
8. Hurkins Smug Self-Heated Mug Warmer
The Hurkins Smug Self-Heated Mug Warmer is a brilliant way to stay safe and keep your desk clutter-free, as this smart mug warmer can double as a wireless phone charger.
The contents of your cup get warmed using magnetic field technology, meaning no heating element can cause a burn or other injuries.
Additionally, you do not need a phone charger on your desk if you've got this brilliant device, as it allows you to charge your phone wirelessly.
In addition to these aspects, the price of this self-heated mug kit is also a fraction of what you may pay for other similar devices.
See the latest price of the Hurkin Smug Self-Heating Mug Warmer at Amazon
9. VSITOO Blue Coffee Mug Warmer
If you're looking for a new table-top companion to keep your coffee warm while you go about your day, you can't go wrong with the VSITOO Mug warmer set.
This set comes with a unique mug and warming platform that keeps your drink at the perfect temperature and can even remind you to stay hydrated.
The warming pad gets controlled via an app or button on the pad, which allows you to set a reminder to drink and set your temperature.
See the latest price of the Vsitoo Blue Coffee Mug Warmer at Amazon
10. COSORI Coffee Mug Warmer & Mug Set
This drink warming set comes with a heating pad and mug to ensure you have the perfect conditions to keep your coffee, tea, or any other drink warm for as long as you want.
The intuitive buttons on the device make it easy to select your temperature, and both parts of the set are made of high-quality materials to ensure they will last you a long time.
See the latest price of the Cosori Mug Warmer and Mug Set at Amazon
11. GEEZO Smart 12V Temperature Control Travel Coffee Mug
If you're always on the road but still want your hot beverage to stay warm, the GEEZO Smart Travel Mug is the perfect device for your needs. This electric travel mug can plug into your car, truck, or most vehicles to keep your beverages warm. It's one of the best heated coffee mugs for the car and runs off your car's 12V power outlet.
Not only is this device easy to get set up, but it is also easy to control with the + and – buttons that allow you to choose the temperature of your drink.
See the latest price of the Geezo Smart 12V Travel Mug at Amazon