Lincoln Outfitters Coolers are extremely budget-friendly roto-molded coolers sold in Rural King stores. They are similar to Yeti hard coolers, but retailing for about half the price and often found on sale for as low as ¼ the price.
Sounds tempting, right?
But before you drop your hard earned cash on a cooler you're probably not all that familiar with, you may be wondering who exactly makes Lincoln Outfitters Coolers and where they're manufactured.
Lincoln Outfitters Coolers are made by the Illinois-based RK Holdings, LLP, the same family-owned company that owns and operates Rural King home stores.
Lincoln Outfitters is Rural King's in-house brand of apparel, drinkware, and coolers — which are proudly manufactured right here in the USA. The coolers are
If you're looking for a budget-friendly alternative to a Yeti hard cooler, they don't really get much more affordable than a Lincoln Outfitters Cooler. The only brand that comes close are Lifetime coolers – which are another great affordable brand often sold in Walmart.
Who Makes Lincoln Outfitters Coolers?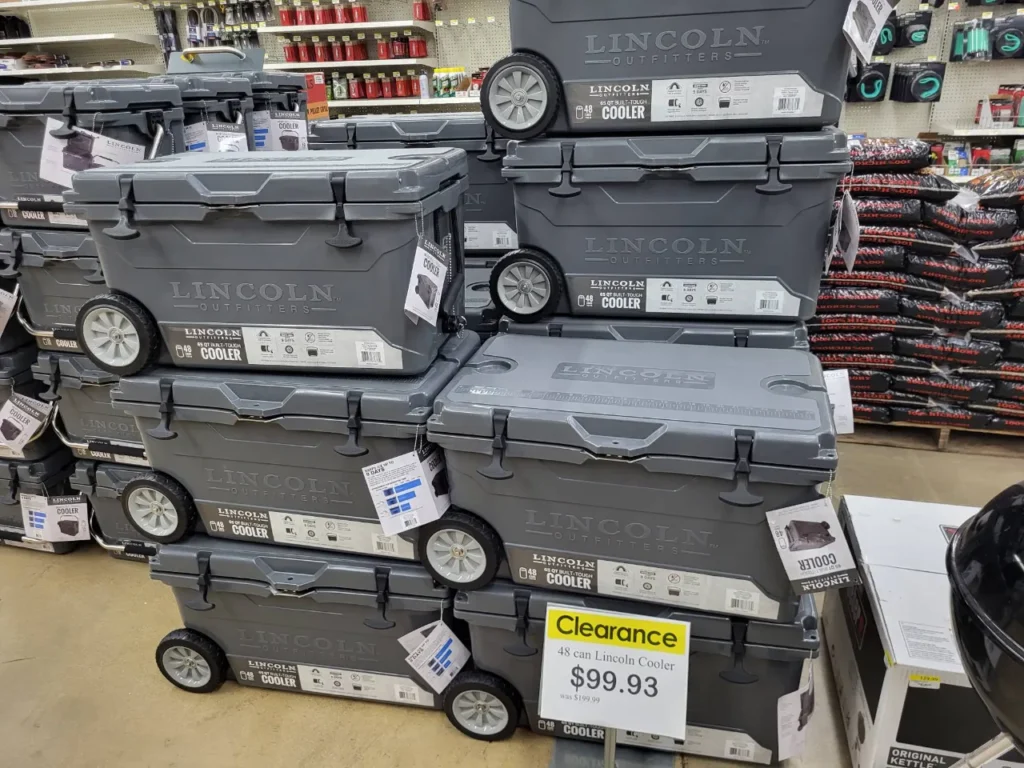 Lincoln Outfitters is an in-house brand of coolers, apparel, and drinkware, manufactured by RK Holdings, LLP, the same company that owns and operates Rural King Home Stores — a family owned chain of big box stores, specializing in home goods, food, feed, seed, and agricultural equipment.
Founded in 1960 in Illinois, Rural King has since expanded into over 130 locations across thirteen states, spanning the Midwest and parts of the Eastern Shore.
In 2017, RK Holdings, LLP registered the Lincoln Outfitters trademark, and by mid 2018 released their own lineup of roto-molded hard coolers, pretty clearly inspired by Yetis massive surge in popularity around that time.
As of today, Lincoln Outfitters Coolers are only available at Rural King home stores or through the Rural King webstore. 
Where Are Lincoln Outfitters Coolers Made?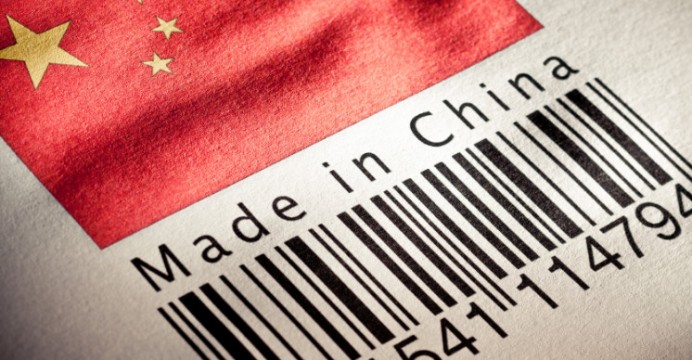 Lincoln Outfitter Coolers are manufactured in China and shipped and sold by Rural King, a US owned and operated company. 
On their Lincoln Outfitter 65-Quart cooler page the user Tom S asks: "What is the country of origin" and Allison A answers:
Lincoln coolers are made in China
This makes sense given their price.
While originally I suspected these coolers to simply be generic white labelled coolers (coolers made in bulk and different labels stuck on them) it appears that Lincoln Outfitters has created their own unique design with the branding roto-molded directly into the cooler shell.
If you're looking for an American made cooler, you can check out my list of the best coolers made in the USA for even more options. 
How Do Lincoln Outfitters Coolers Stack Up To Yeti Coolers?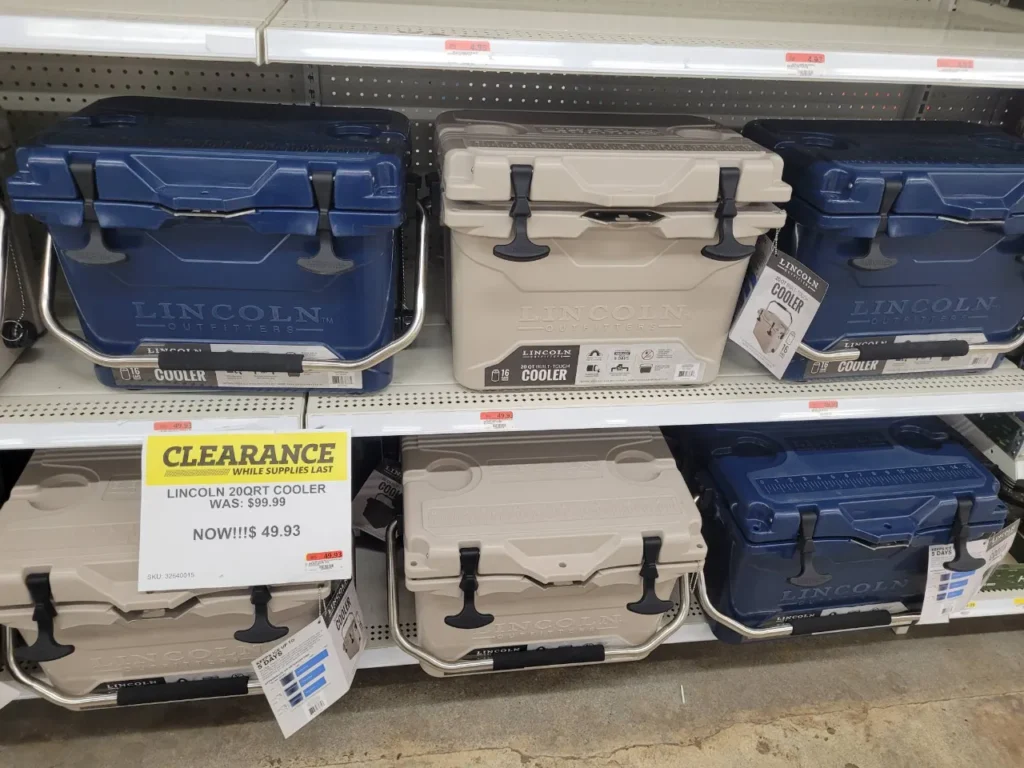 Like most roto-molded hard coolers of the last decade, Lincoln Outfitters clearly took a lot of cues from Yeti.
Both Yeti and Lincoln Outfitters coolers offer an interlocking lid with a freezer-grade gasket to keep the cold in, T-latch handles to secure the lid, a simple vortex drain plug to remove ice melt, and a durable, one-piece roto-molded frame. 
Their Ice Retention Is Hit-And-Miss
Insulation-wise, they're both pressure injected with several inches of dense foam to provide several day's worth of ice retention.
Looking at the reviews across Rural King's website there were quite a few complaints about the coolers not keep ice well and it struggling to keep ice for more than a day.
This could be due to user error as people need to pre-chill their cooler before using it and maybe this wasn't done. But there was also a review stating that in cold temperatures everything inside the cooler gets cold as well. So this indicates a potential insulation issue.
It could be gaps in the insulation of some models and potentially their quality assurance isn't as high as Yeti's but I cannot confirm this.
There were also other customers who stated it holds ice for 4-7+ days in summer weather.
So to me it sounds like there is luck of the draw when it comes to getting a good cooler without insulation gaps.
MY ADVICE: Take a torch with you and shine it from the inside of the cooler and if you see light shining through in gaps that reveals gaps in the insulation. Try to find a cooler without any of these gaps and you should be fine.
The Rubber Latches Can Break Easier Than Yeti
There were also complaints about the rubber latches falling off rather quickly.
They Only Have a 30-Day Warranty
Lincoln Outfitter coolers only come with a 30 day warranty (compared to Yeti's 5 year warranty) so if you have issues you need to recognize them and deal with them quickly if you want a replacement or refund.
Yeti Coolers Are Much More Durable and Reliable
The main downside is that Lincoln Outfitters Coolers haven't yet proven to be nearly as durable or long-lasting as Yetis, and with the pretty obvious lower build quality you'd expect from a cooler in this price range, I'm a bit of a skeptic. 
My Yeti cooler has lasted me 7+ years so far and has experienced no warping or degradation despite me leaving my cooler outside in the sun for about 2 years straight. I wouldn't expect the same quality from Lincoln Outfitters – and I don't think anyone would given the price difference in the 2 brands.
Lincoln Outfitter Coolers Offer A Budget Option To Yeti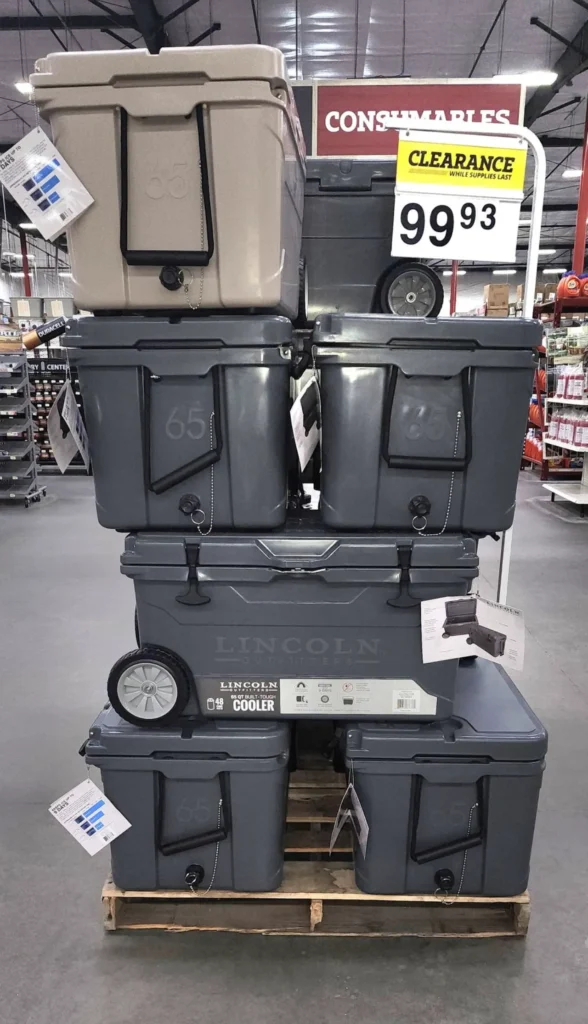 Lincoln Outfitters Coolers make a reasonable budget alternative to a Yeti hard cooler, without sacrificing too much in terms of function.
That being said, it's hard to argue with the price. Just be sure to also check out my deep dive on the best and cheapest alternatives to Yeti Coolers — as there are plenty of other affordable, more-proven Yeti copycats on the market that may be worth considering.