When it comes to buying a new Hydro Flask it can be extremely difficult to know which color to get. There are so many different color options and Hydro Flask are releasing new colors all the time as well as discontinuing old colors.
I own a few Hydro Flasks myself and I understand how difficult it can be looking at all the different colors online or in store and trying to pick the best color for yourself or for someone you're buying this for as a gift.
Below are a few tips that helped me in choosing the right color as well as a list of the best colors for different types of people.
Go through these tips and apply them yourself and read through my list of the best Hydro Flask colors and who they are best for and see if a particular color resonates with you.
Ultimately, no ONE color is "best" it's just about finding the color that is best for you. So if you love a particular shade then go ahead and get it and enjoy it.
Tips On Choosing The Color That Is Right For You
Here are my top tips on choosing the right Hydro Flask color for you:
Listen To Your Gut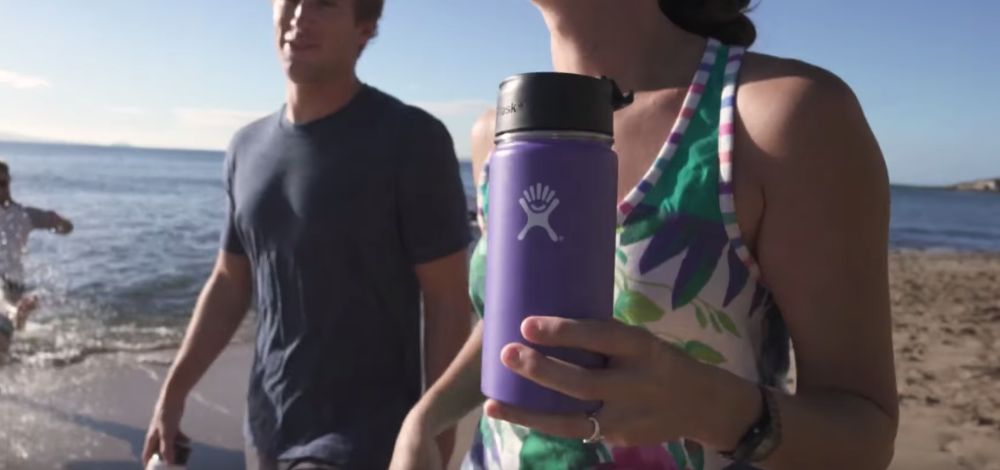 Your brain can take in more information than you can consciously think about and so sometimes your subconscious mind will give you that 'gut feeling' about something.
For me, I've learnt to trust my gut feeling as it means my subconscious brain is trying to tell me something, even though it might not make logical sense.
When I listen to my gut 9 times out of 10 I'm happy with the purchase and I find that when I don't listen to my gut and instead make a conscious logical choice I'm often disappointed with what I chose.
My got tells me that I love the spearmint and pacific colors even though logically they seem a little bit bright and bold for me. I already own a white Hydro Flask which I love but when it comes time to buy a new one (I'm in the market for a 32 oz) then you can bet I'm going to go with my car.
Look At Them In Store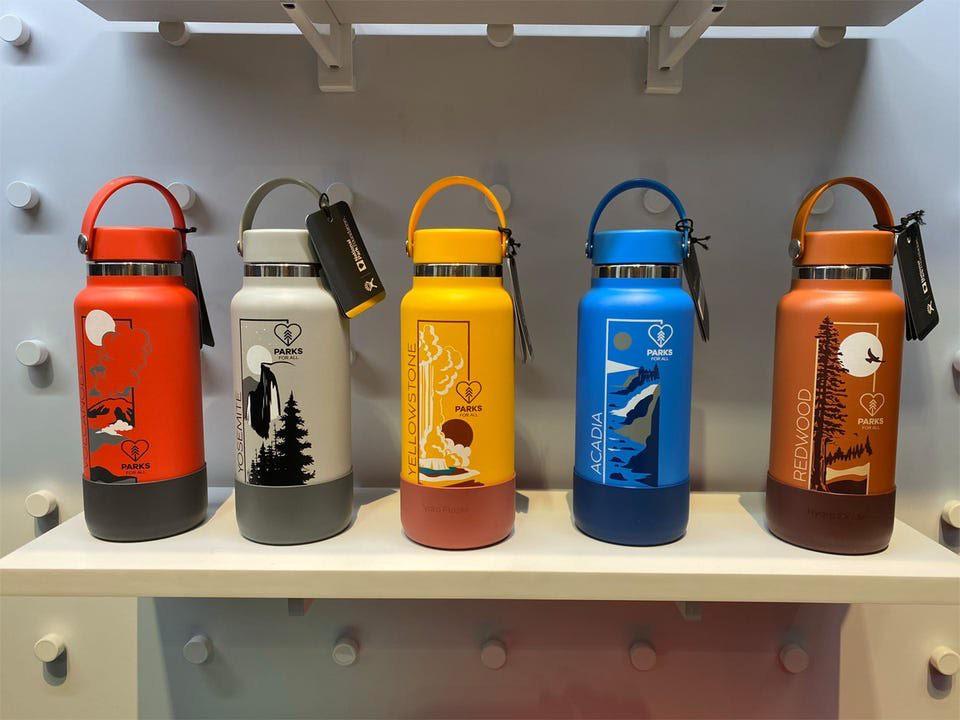 The colors always look a little bit different online then they do in person. It can be hard to really get a feel for what is going to be the best color for you if you're only looking at them online.
Head down to your local store that stocks Hydro Flask and have a look at all the colors in person. Pick up the bottles and hold them and see how they feel and see what you are drawn to.
See What People You Admire Own
May want to buy a Hydro Flask because you seeing your friends with them all because you've seen someone on social media with them and it's inspired you to get one yourself.
There's nothing wrong with copying the color of a friend or an influencer who inspires you. If you love the color that they have more than any other color then just go ahead and get it.
Avoid The Fakes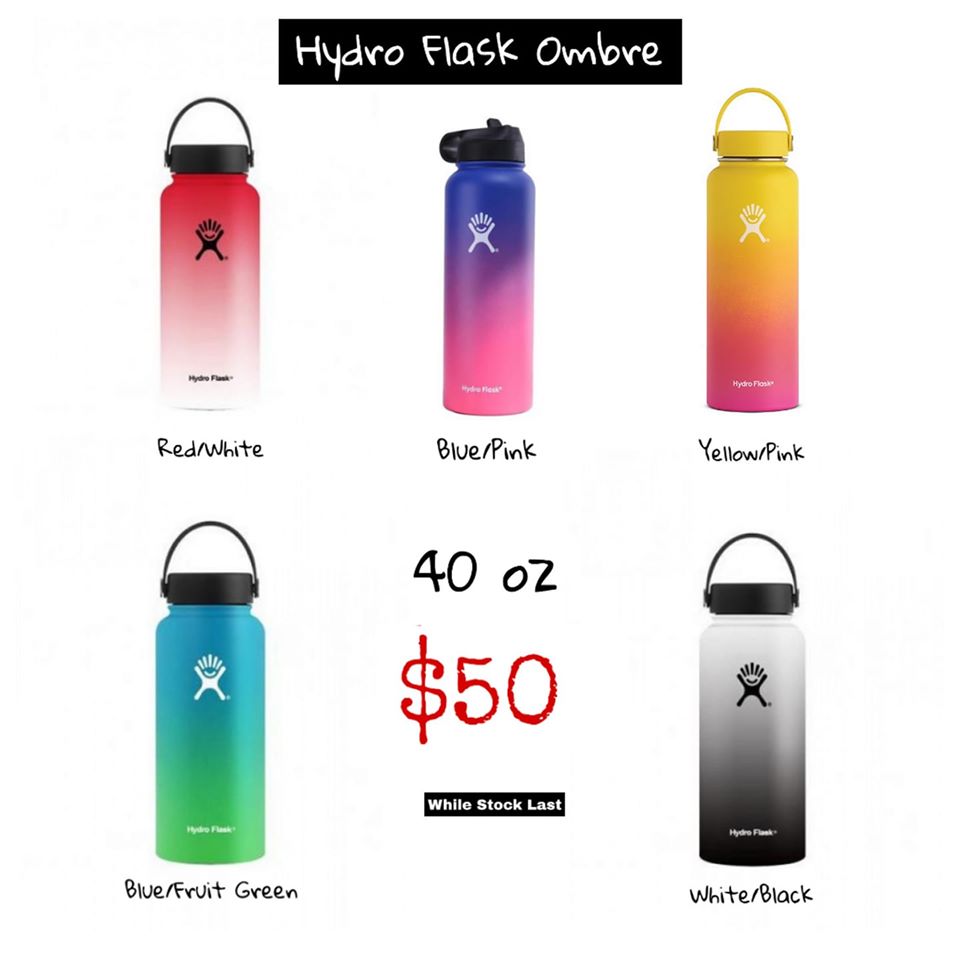 There are a lot of people selling fake Hydro Flask that come in colors that Hydro Flask don't even make. Be very careful when shopping that you're buying a genuine Hydro Flask as they are generally better quality and are made without lead.
If you're looking for a fancy color then Hydro Flask did make 2 and 3 tone ombre colors as limited edition runs. You can still buy these on Amazon or Ebay and they are genuine Hydro Flasks but you will likely pay a premium given that these types are rare.
You can also still get access to discontinued colors and other limited edition colors through Amazon or Ebay too. Click here to see the full list of discontinued and limited edition Hydro Flasks.
The best way to ensure you're getting a genuine Hydro Flask is to buy from a local store, Hydro Flask's website or through Hydro Flask's real Amazon store.
See genuine Hydro Flasks at Amazon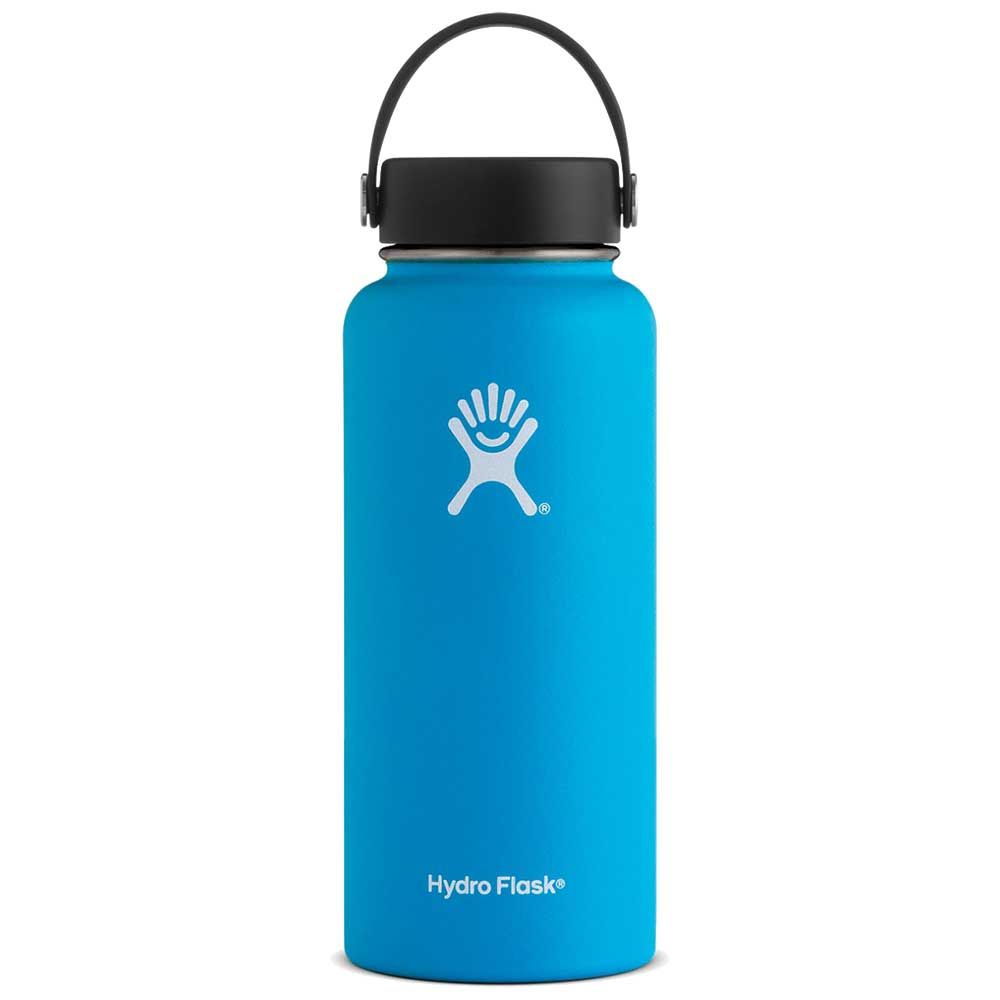 Take A Quiz
If you're still having trouble picking the best color for you then why not take a quiz to help you decide what to get? A quiz will lead you through a bunch of questions designed to help you choose the colour that suits you and your personality.
Click here to take the What Color Hydro Flask Should You Get QUIZ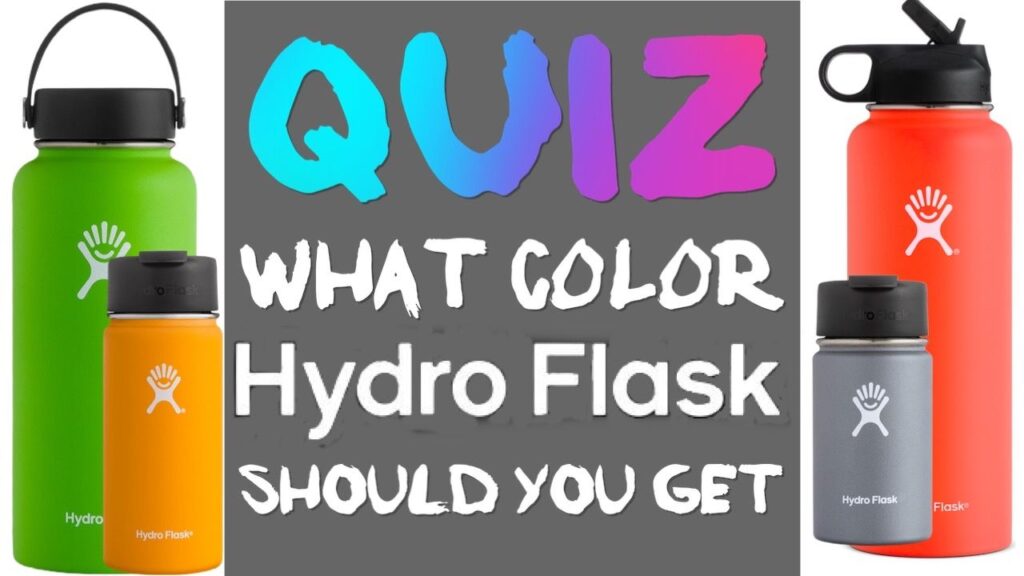 Stand out With Discontinued Colors
If you REALLY want to stand out from your friends then you won't want to choose a standard color. You'll want to go with a limited edition or a discontinued color.
You will pay a premium for this because these bottles are no longer made and stock is limited, but it's a sure fire way to have a unique color.
Click here to see all discontinued and limited edition Hydro Flask colors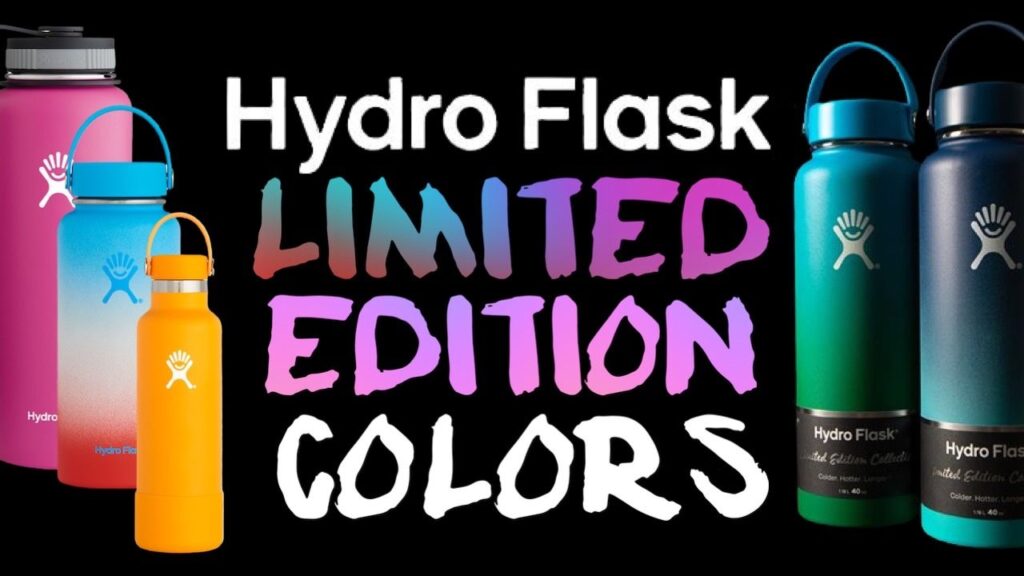 Have Fun With It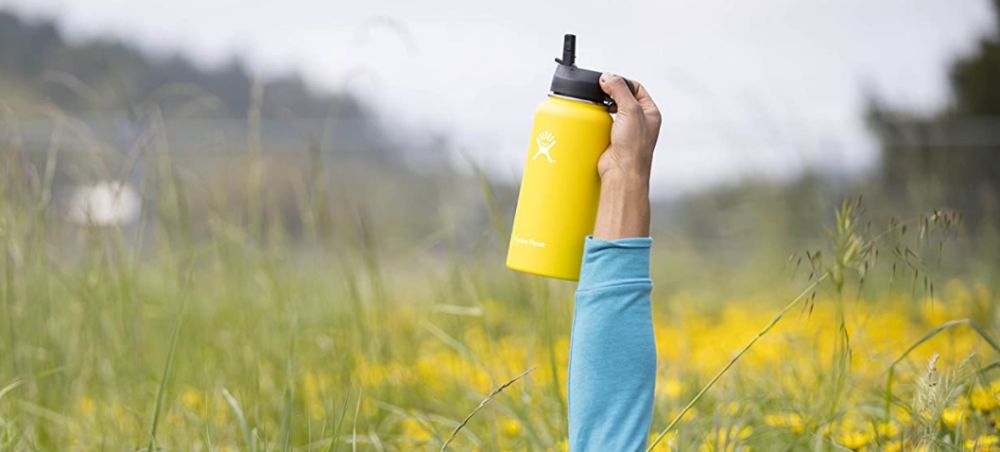 Hydro Flask became so popular in part because they sell a variety of bright and super fun colors. These water bottles are meant to be fun and meant to add vibrance to your life.
You're on the fence between choosing a bright bold color and a more safe color then my advice would be to go with the bright and bold because that's exactly what Hydro Flasks are meant to be.
Don't Forget About Choosing The Right Size

When focusing on what color to get don't forget to spend some time thinking about what size Hydro Flask to get. There are 15 different sizes of bottle as well as different lid types.
Click here for help on choosing the best sized Hydro Flask for you
Alternatively, I've also created a quiz to help you discover the size that is best suited to you.
Click here to take the QUIZ: What size Hydro Flask Should I Get?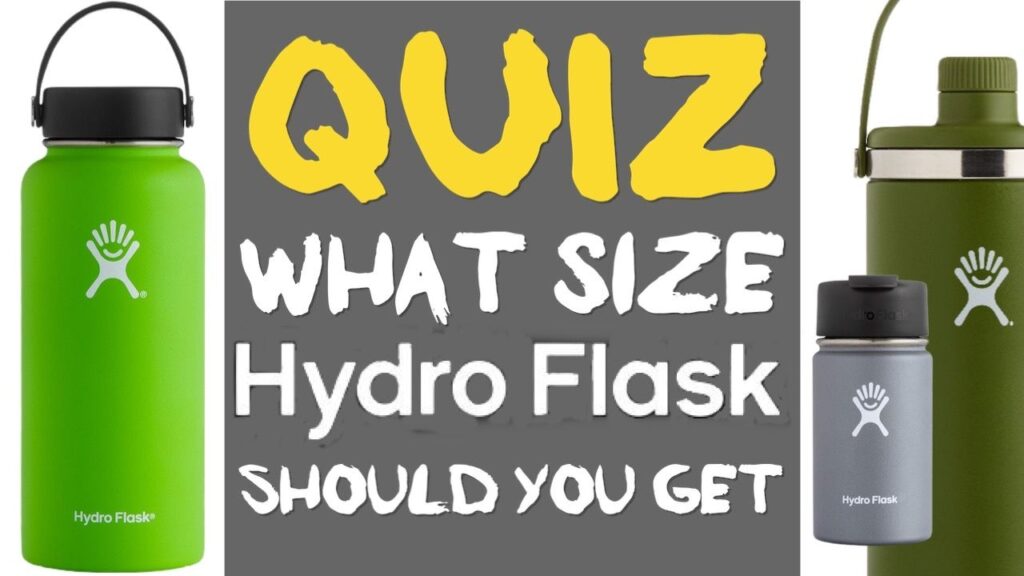 Funnest Color: Sunflower, Spearmint or Pacific
If you're fun, flamboyant and outgoing and love a bit of flair in your life then you're going to want to go with one of the bright Hydro Flask colors. These colors are the boldest and brightest and in my opinion the most fun options available:
Sunflower
A girl I work with has this color and it is the perfect color for her. She's a bit silly and fun and full of life but isn't super girly girl so the pink watermelon color would feel wrong for her.
Her Sunflower Hydro Flask is something she really enjoys and she loves the color. She also has an Olive one which works just as well but she doesn't LOVE it like she loves her sunflower one.
See Sunflower colored Hydro Flasks at Amazon

Spearmint
When I took the Hydro Flask color quiz it told me that spearmint was the best color for me and I tend to agree. It's bright and fun but it's also a gender neutral color that all genders can enjoy.
It's also a little bit different and off centre which I like. Not many people have bright green water bottles so it's great for someone who's a little edgy, but in a fun way.
See Spearmint colored Hydro Flasks at Amazon

Pacific
Pacific is a super bright blue. Hydro Flask also has Cobalt which is a darker duller blue for those who are more laid back.
I can see the color being loved by boisterous boys and boys who love sport and playing rough with their friends. My daughter's favorite color is blue so I can see her loving this one too even though it's not exactly girly, but she doesn't care…she just loves blue.
See Pacific colored Hydro Flasks at Amazon

Sleekest Color: Black or White
You may not want your water bottle to scream "crazy and fun" but you also don't want to be boring. If you want to be smart, sleek and stylish then the black and white bottles are great options for you.
Black
Black is bold, strong and decisive and it makes a solid statement.
It's not out there are crazy but it's not boring either. It's a really strong color for someone who is pretty laid back and comfortable in who they are.
See Black colored Hydro Flasks at Amazon

White
This is the color that I went with. I don't exactly know why I was first drawn to the white but I went with my gut.
It feels really stylish and funky and stands out just by the fact that you rarely see bright white water bottles. I like that it's not too masculine (I'm not that masculine) but it also doesn't feel feminine.
It's just right for a career guy like me who wants to feel sophisticated.
See White colored Hydro Flasks at Amazon

Girliest Color: Watermelon or Hibiscus
If you're a girly girl and want to show off then the bright pink watermelon or the coral coloered Hibiscus are going to be great options for you.
Watermelon
I've never seen a watermelon this PINK. This color is bright and fun and vibrant and feminine.
If you want to stand out and if you love pink then this is going to be your perfect color
See Watermelon colored Hydro Flasks at Amazon

Hibiscus
Not quite is pink as watermelon but still really bright and really feminine Hibiscus is a great color for girls who are a little bit different and who want to stand out.
See Hibiscus colored Hydro Flasks at Amazon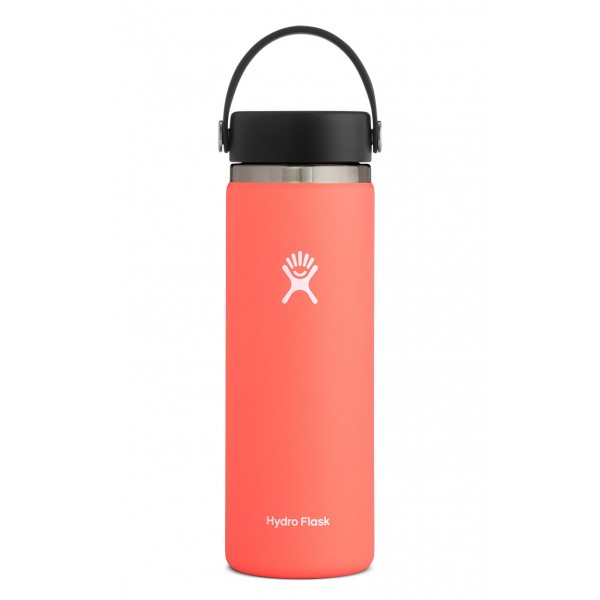 Best For Kids: Lemon or Frost
Hydro Flask recently released kids bottles and they come in 2 different colors to choose from. Each of them comes with a straw lid as well as a protective rubber boot that also helps them to be non-slip and non-marking. Plus it protects the bottles from kids dropping them (which my kids always seem to do).
Lemon
We own this color and my kids all loved the bright yellow color and the fact that this has a straw lid. Everyone from my 4 year old boy to my 10 year old girl were a far of the Lemon.
It's just fun and colorful and feels like you have no cares in the world, which is exactly how being a kid should be.
See lemon colored Hydro Flasks at Amazon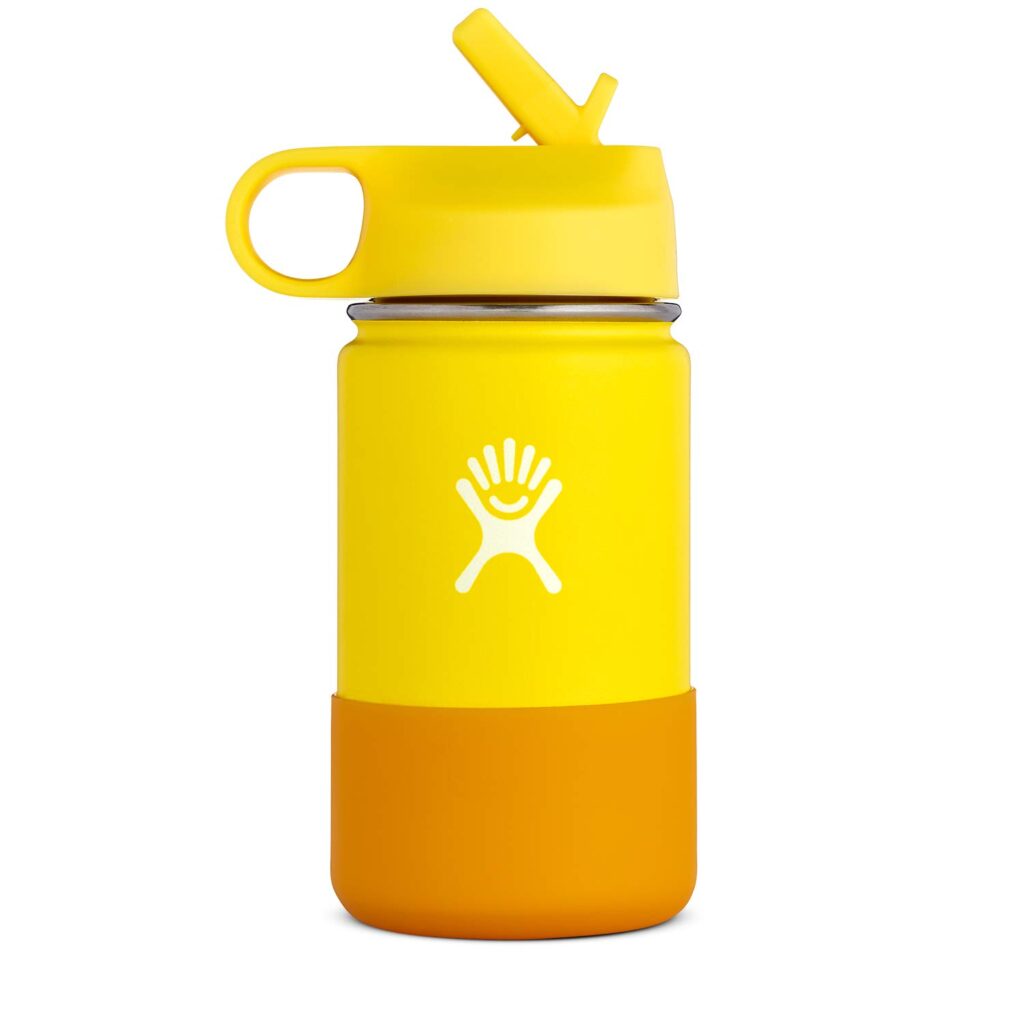 Frost
Frost is the more laid back kids color. It's blue but it's a light blue that is gender neutral. Kind of reminds me of Elsa from Frozen so could definitely suit girls just as well as boys.
See Frost colored Hydro Flasks at Amazon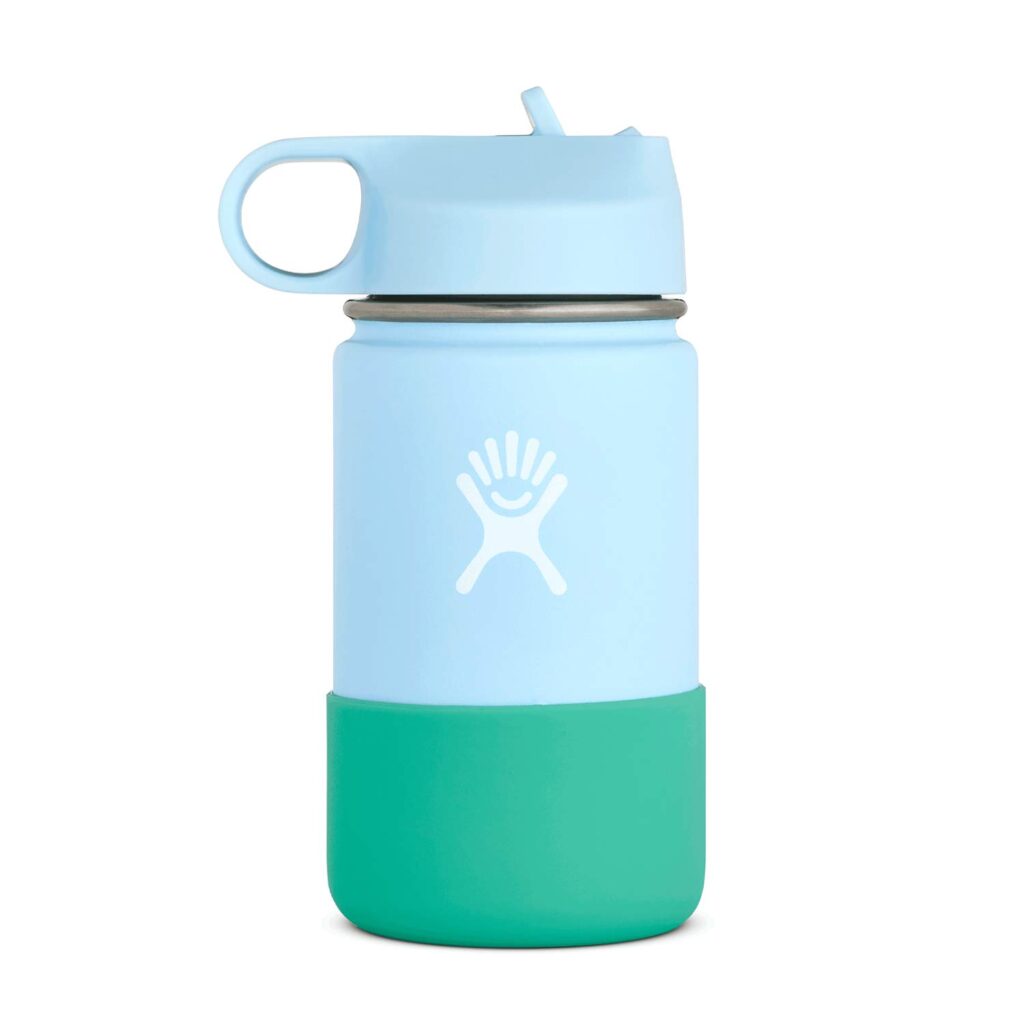 Understated Color: Olive or Cobalt
If you want a Hydro Flask but you don't want a bold color then you might love the Olive or the Cobalt, which are both a more subdued color and don't stand out as much.
Olive
Olive is actually my personal least favorite color, but that's because I'm a bit bold and out there.
My girlfriend on the other hand LOVES the Olive and it's her favorite color out of all the colors.
I can also see this being a favorite of outdoor enthusiasts as the Olive color would go nicely with camo and camping gear.
See Olive colored Hydro Flasks at Amazon

Cobalt
Cobalt is the more laid back and chilled out version of pacific. It's less 'boy' and more 'MAN'.
It's still colorful and fun and allows you to show some personality, but not so bright that you stand out too much.
See Cobalt colored Hydro Flasks at Amazon

Most Masculine Color: Obsidian or Stone
If you're looking for the color that is the most masculine then I think obsidian or stone are going to be best for you, maybe with black or cobalt as another manly option.
Stone
Stone looks exactly like the name describes. It's a deep dark grey and reminds me of a wet slate mountain side on a rainy day.
This is sleek and stylish and masculine and I can see this as being great for career driven corporate men as well as laborers and tradespeople.
It's more laid back and subdued compared to the bright colors, but at the same time it's strong and sophisticated.
See Stone colored Hydro Flasks at Amazon

Obsidian
Obsidian is a part of the newer lightweight trail range that Hydro Flask have released. These bottles are 25% lighter than normal Hydro Flask bottles but still have the great performance you've come to expect.
It's a dark brown metallic color and has a really strong and rugged feel to it.
See Obsidian colored Hydro Flasks at Amazon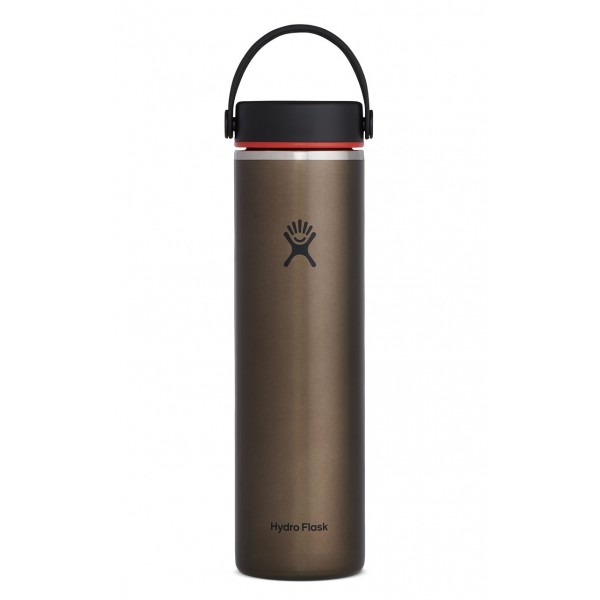 Sophisticated Woman: Fog
If you're a sophisticated woman then the light pastel purple color of Fog will be a great option for you.
I love how chilled and relaxed this is. To me it says "I'm a woman, but I'm smart and sassy and don't you dare mess with me"
See Fog colored Hydro Flasks at Amazon

Best Discontinued Color: Blueberry or Mango or Lava
Hydro Flask have a full range of colors that they used to make but have now been discontinued. This means they are no longer being manufactured and sold in stores or on Hydro Flask's website.
However, these colors are still available on places like Amazon and Ebay. While they do carry a bit of a price premium because they are now rare it's a really cool way to stand out and get a color no one else has.
Click here to see my full list of discontinued colors as there are so many different ones, but below is my top pick for the best discontinued colors.
Blueberry
I love this color and I wish they still made it. It's so bright and fun and it's the perfect kind of bleu that I would want to get because it's not your standard blue.
It's a really unique color and I hope they bring it back.
See Blueberry colored Hydro Flasks at Amazon

Mango
Hydro Flask don't make any orange bottles at the moment and I love just how bright and fun the mango color is.
Looking at it just makes me happy.
See Mango colored Hydro Flasks at Amazon

Lava
To me the Lava color is just WOW.
I mean can you even get a brighter bolder red? Is it even possible?
See Lava Colored Hydro Flasks at Amazon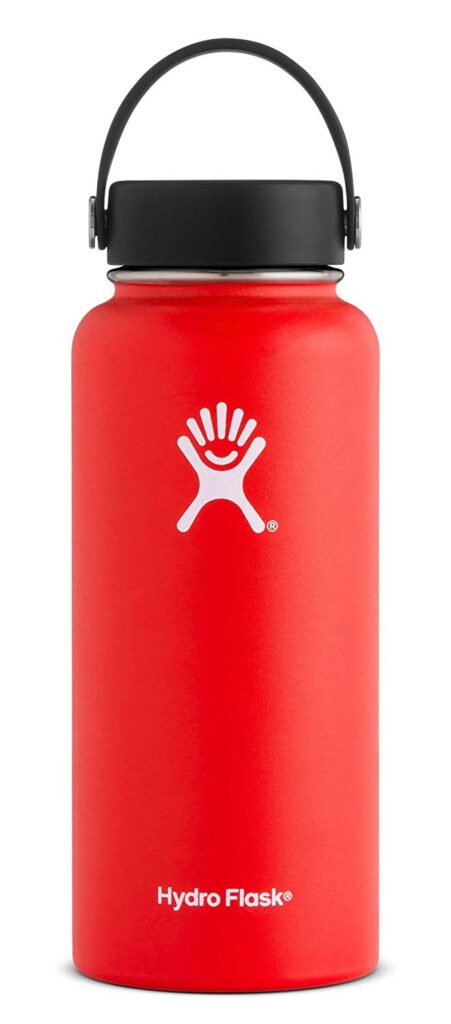 Best Limited Edition Colors: Ombre, Fuchsia or Flint
From time to time Hydro Flask release limited edition colors and patterns that they sell for a very short period of time.
These colors are always in high demand and always end up selling out quite quickly.
Click here to see the full list of limited edition colors as there have been quite a few over the years. Below are my pick of the best 3 limited edition colors.
Ombre
Hydro Flask have had 2 different limited edition ombre (or multi-tone) colors with 7 different shades in total.
The original PNW limited edition bottles had 2 tone colors and then the Shaved Ice limited editions had 3 colors.
My favorite is the Coconut Rainbow ombre Hydro Flask pictured below, but honestly all the ombre colors are really cool and unique.
See Ombre colored Hydro Flasks at Ebay

Fuchsia
There's nothing quite like the Fuchsia.
A bright playful pink mixed with a strong royal blue and a blue boot. This contrasting color set looks really cool.
See Fuchsia colored Hydro Flasks at Amazon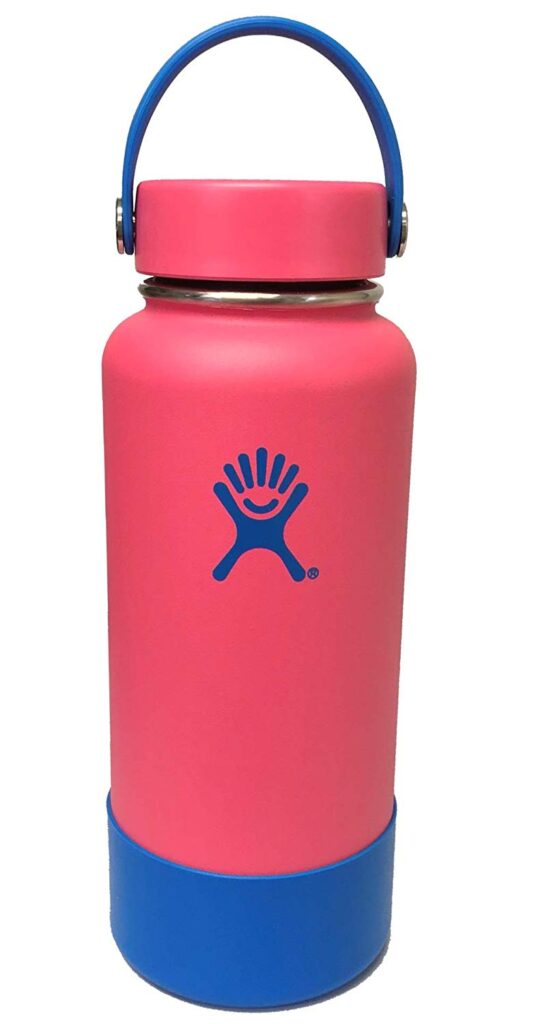 Flint
Flint is like the chilled out older brother to Fuchsia. A stoney grey/blue bottle with light blue logos and lid handle plus a light blue boot.
This color is as cool as a cucumber.
See Flint colored Hydro Flasks at Amazon

Worst Hydro Flask Colors: Citron, Sage or Marlin
While I don't actually think Hydro Flask has really made "bad" colors I do think there are some colors that just aren't as good as the rest.
You won't be surprised that these colors are actually discontinued. Below are (in my opinion) the 3 worst colored Hydro Flasks
Citron
To me the Citron color just isn't the nicest to look at.
Rather than being a bright fun yellow like Lemon or Sunflower if feels like a yellow that isn't quite right. I'm really not vibing on this color.
See Citron colored Hydro Flasks at Amazon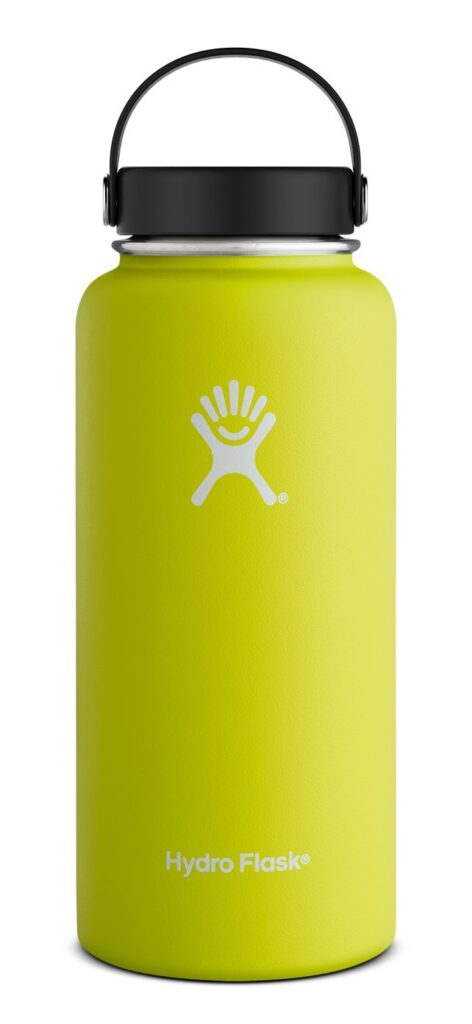 Sage
They should have called this "safe sage". There's nothing wrong with the color other than the fact that it's just completely BORING.
There's nothing about this color that I find exciting and Hydro Flasks are meant to be fun and exciting.
See Sage colored Hydro Flasks at Amazon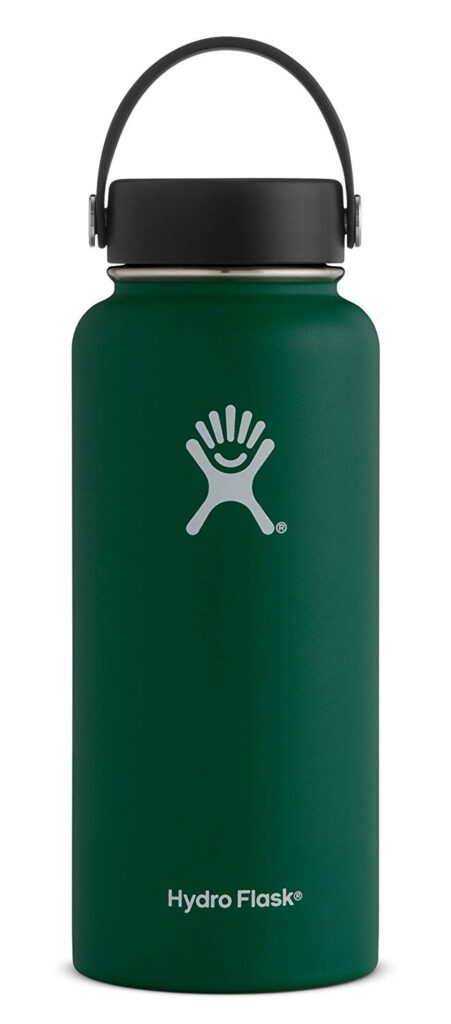 Marlin
I find this color offensive. Some people may love it but the ugly blue mixed with the grey logo and grey boot just makes me want to look away.
See Marlin colored Hydro Flasks at Amazon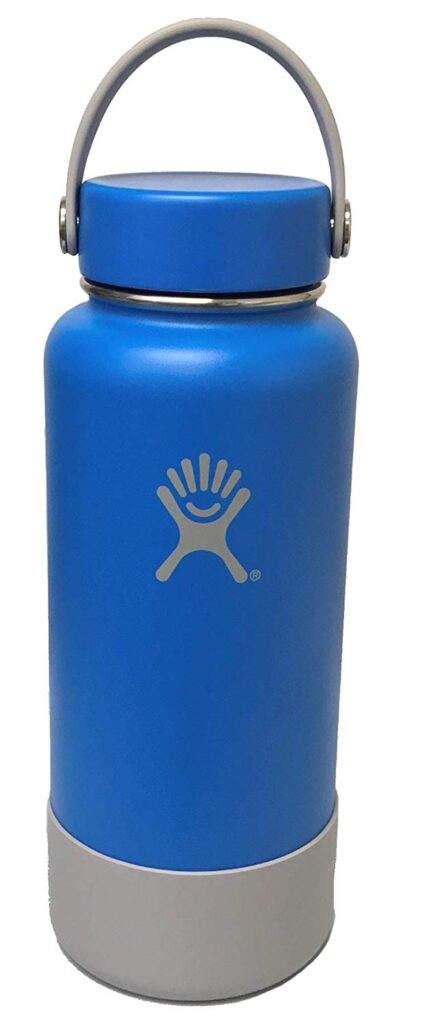 Let Us Know: What Color Will You Be Getting?

Loading ...