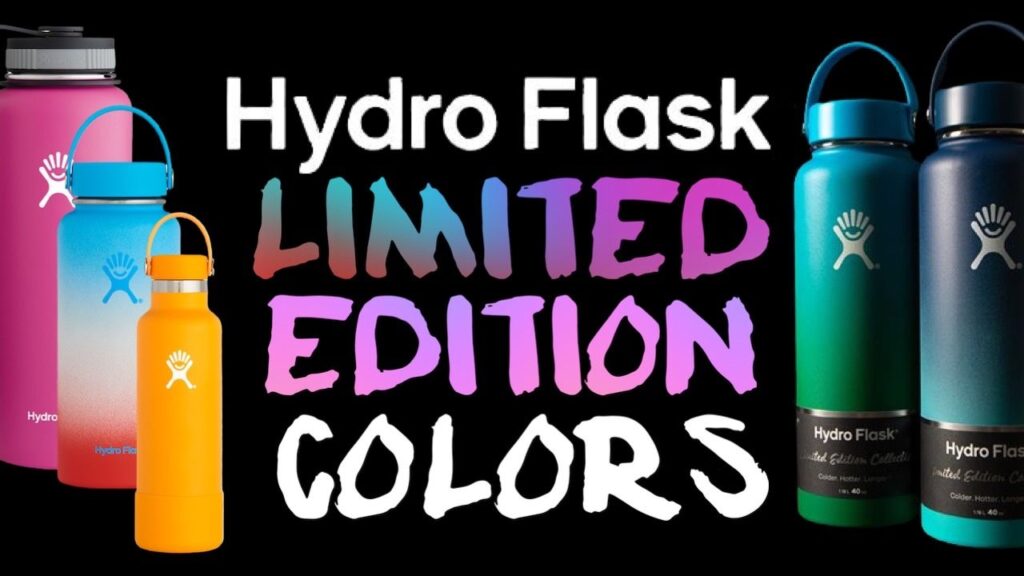 Hydro Flasks come in a variety of fun and exciting colors, but from time to time Hydro Flask will discontinue colors and stop making them.
They also do limited edition runs of some special colors or patterns for a special moment in time or for a special event.
I love that they do this and it keeps the product fun and exciting.
But while they always have a great variety of colors to choose from – click here to see every color Hydro Flask currently available – you may find yourself wanting a specific color that Hydro Flask don't sell anymore.
Where To Buy Discontinued Hydro Flask Colors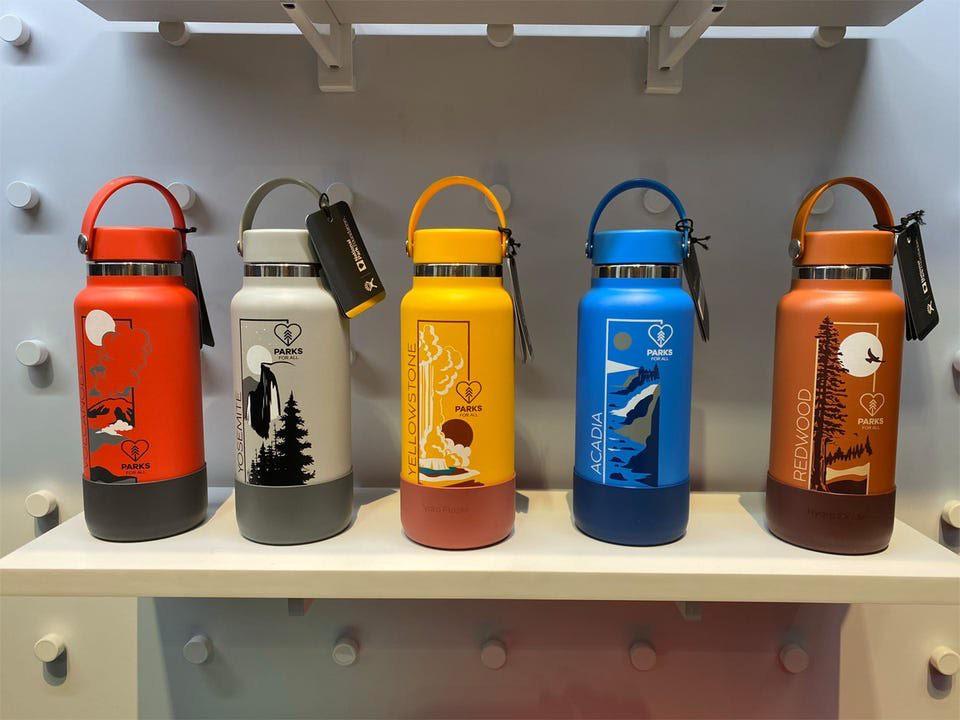 Luckily, even though the colors aren't manufactured by Hydro Flask anymore they are still out there and available for purchase either brand new or second hand through websites like Amazon and Ebay.
While Hydro Flask don't sell them on their website anymore and don't seem to send them to stores sometimes their official Amazon listing still has stock of the old colors.
Or you can also find the colors from other sellers on Amazon or Ebay. But always be careful you're getting a genuine Hydro Flask as not a fake.
Need Help Picking Your Perfect Hydro Flask Color?
If you're struggling to know what Hydro Flask color best suits you and which one you should pick then I've created some resources to help you.
These resources mainly focus on the current and easily available colors, but there are also some tips if you want to choose discontinued or limited edition colors:
FUN QUIZ: What's your perfect Hydro Flask color?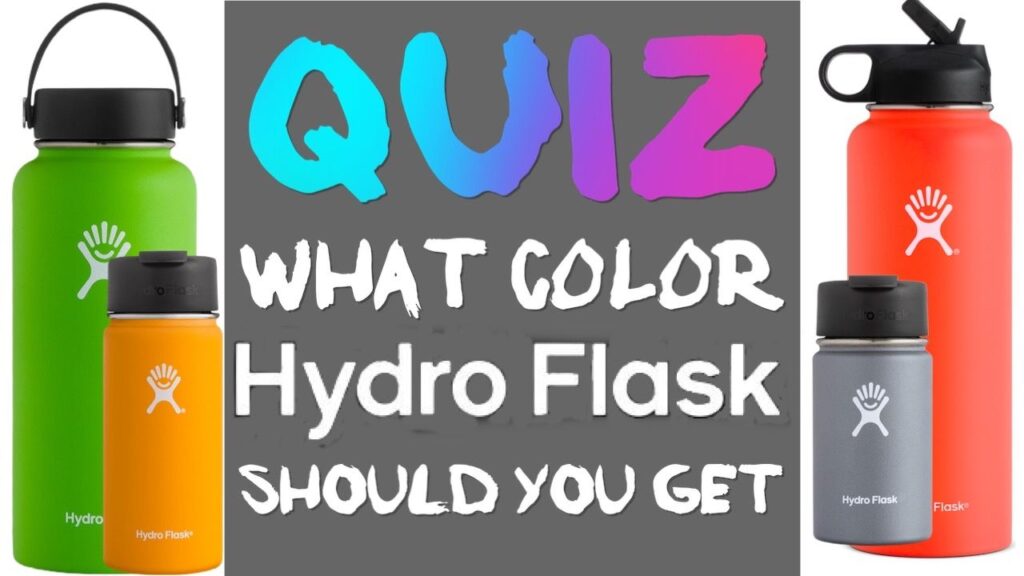 What color Hydro Flask should you pick? The best Hydro Flask colors
Every current Hydro Flask color listed
All Discontinued Hydro Flask Colors
Below is a full list of every discontinued color Hydro Flask used to sell but no longer do. If there's a color you know about that isn't on this list please let us know in the comments section below:
Blueberry

See Blueberry colored Hydro Flasks at Amazon
The Blueberry color is bright blue with a hue of purple that makes it's a really cool unique color.
I'm actually surprised they discontinued this one as I can imagine it would have been quite popular. The closest currently available color to Blueberry would be the Cobalt colored Hydro Flasks, but they are more of a grey/blue than the purple/blue of the blueberry.
Kiwi

See Kiwi colored Hydro Flasks at Amazon
If you've ever seen the inside of a Kiwi fruit then you'll understand exactly why this color is called Kiwi.
This color is what you would imagine another brand to call "lime" but Hydro Flask are more playful than that so have gone with a funner more unusual fruit.
The bright green color is really nice and there aren't really any other alternatives at the moment.
Lava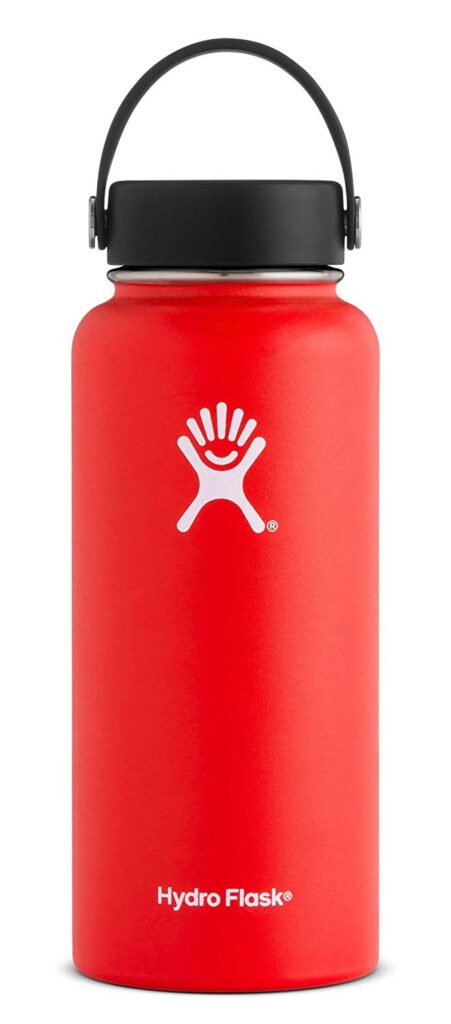 See Lava colored Hydro Flasks at Amazon
I don't know if you could get a brighter red if you tried. This lava color is bold and bright and definitely stands out from the crowd.
Graphite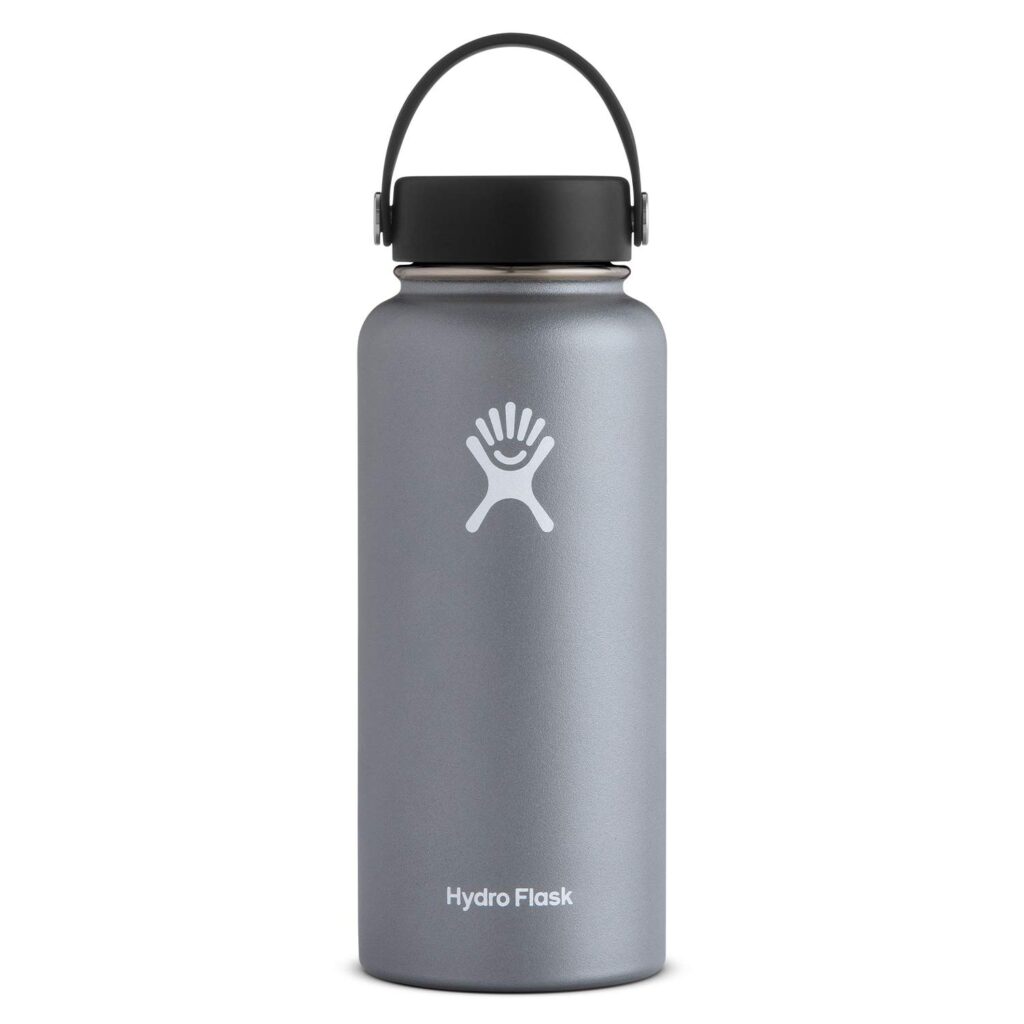 See Graphite colored Hydro Flasks at Amazon
The graphite color has recently been replace by the new "Stone" color (see full list of current Hydro Flask colors).
The Stone color is a bit of a darker grey when compared to the graphite which is a bit on the lighter side.
Forest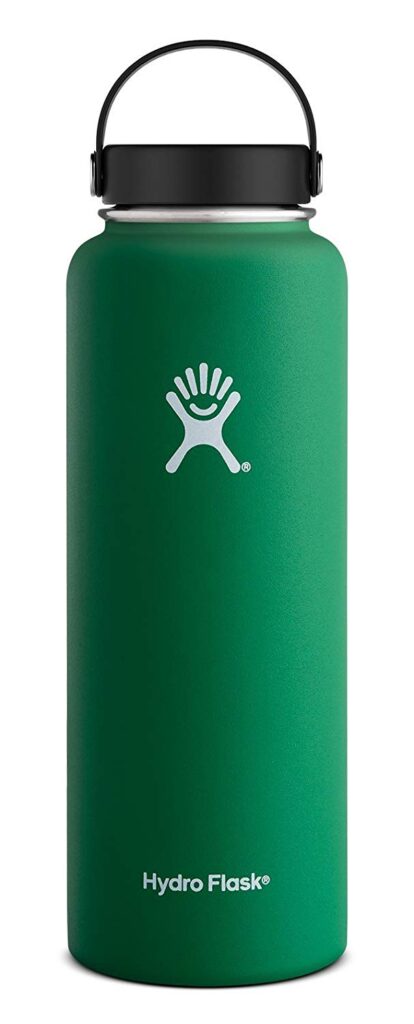 See Forest colored Hydro Flasks at Amazon
Forest is a deep green color that isn't quite as bland and neutral as the Olive color that Hydro Flask are currently selling but it's also not as bright and in your face as the new spearmint color.
It's just a really nice green, and if you love green, you'll love this.
Tangelo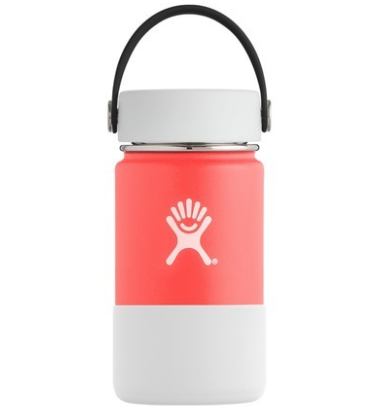 This one I could only find on the MyHydro section of Hydro Flask's website. This color was released back in 2016 so it's been a while since it was sold.
It's kind of like the current Hibiscus color but a bit stronger.
Citron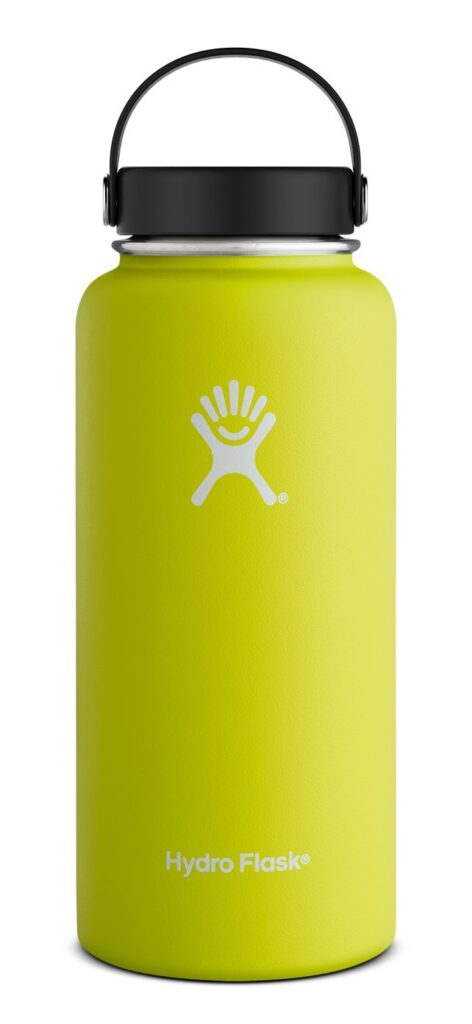 See citron colored Hydro Flasks at Amazon
The citron color looks like a lemon. It's a bright yellow with a little bit of green mixed in so it's slightly off color to what you would expect a company to use.
Hydro Flask's Lemon color and their sunflower color are more standard yellows that are nicer to look at than the Citron (in my opinion).
Mint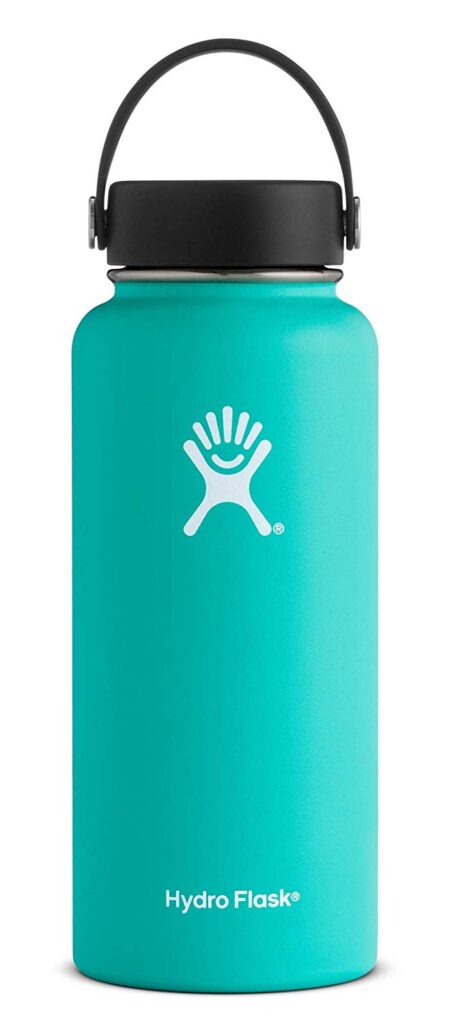 See mint colored Hydro Flasks at Amazon
Mint is a really cool blueish green color that has been phased out and replaced with the newer spearmint colored Hydro Flasks which are a bit more green and a bit less blue.
Still a really cool color and I like this one a lot.
Plum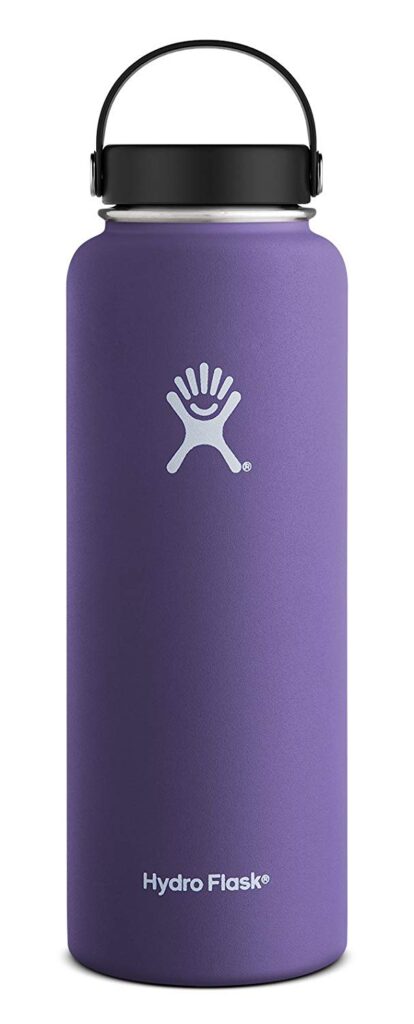 See plum colored Hydro Flasks at Amazon
It's kind of unfortunate that this color has been discontinued because as far as I can tell there is no purple or similar Hydro Flasks available at the moment.
So if you're a purple person and just love the color purple then this is going to be your best option.
Mango

See mango colored Hydro Flasks at Amazon
Just like the purple Plum color mentioned up above it seems that Hydro Flask have also discontinued this orange Mango color and haven't replaced it with another Orange alternative.
There is the new Sunflower color but that is mostly yellow with just a tinge of orange in it.
Sage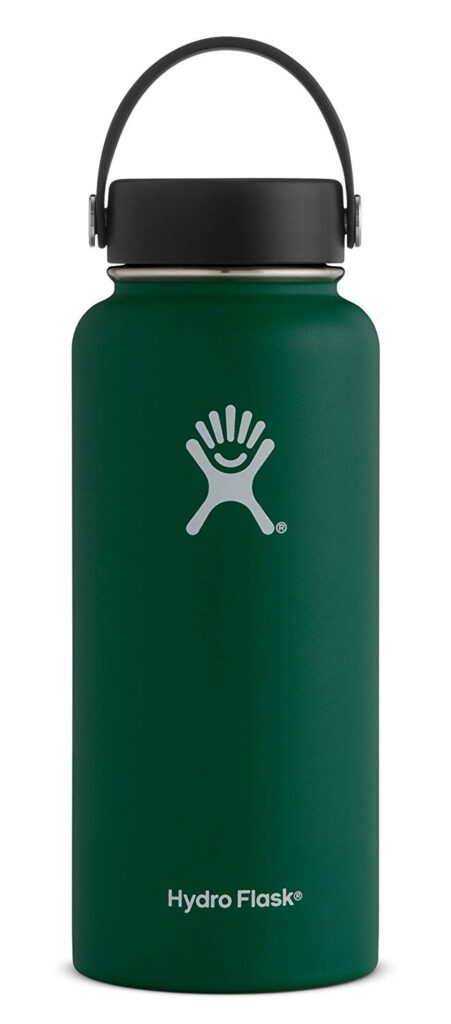 See sage colored Hydro Flasks at Amazon
To me Sage looks super similar to Forest, only it's a bit of a darker shade of green.
Don't get me wrong it's really nice, but it does feel a little bit boring for a Hydro Flask so I can understand why they no longer manufacture this color.
Raspberry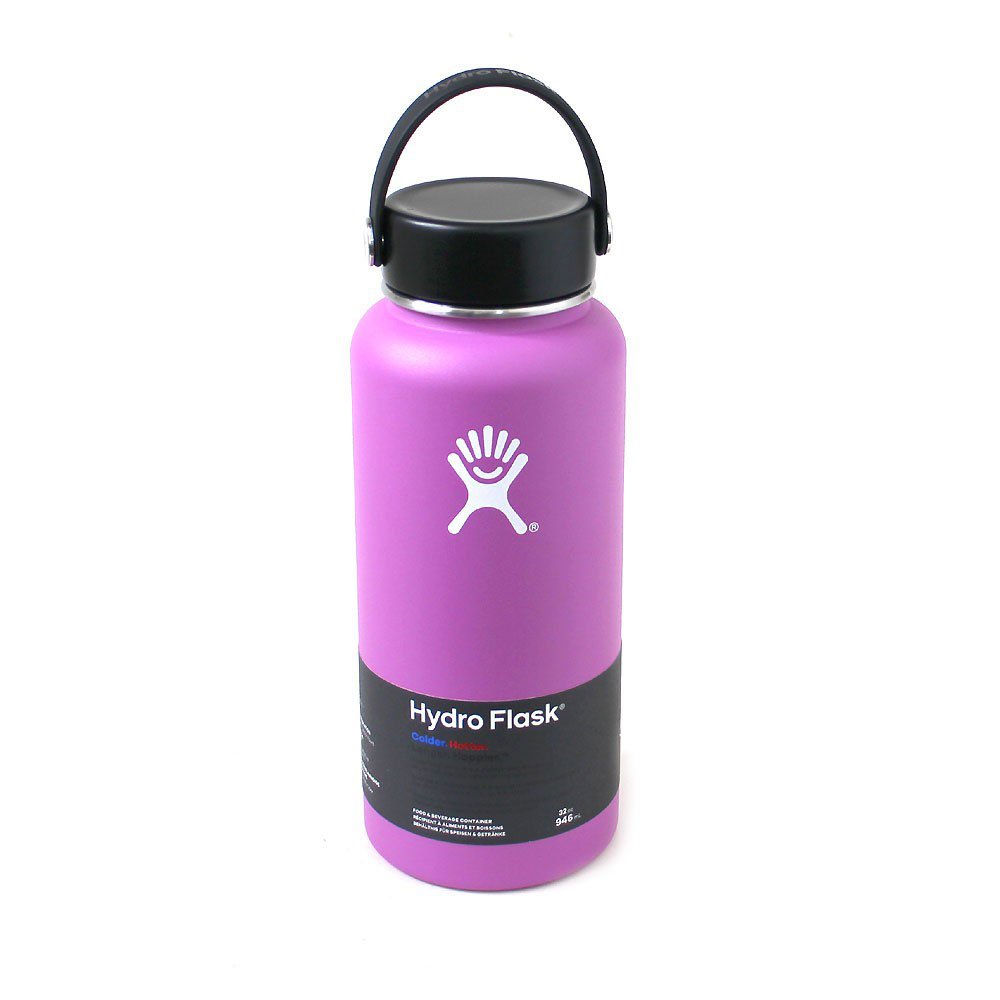 See raspberry colored Hydro Flasks at Amazon
I have to say it…raspberries are NOT this color! They are way more red and way less pinky/purple.
So I'm not quite sure how this color go it's name.
It is a very feminine color and Hydro Flask now have Watermellon which is a bright pink so maybe they felt like they didn't have room in their lineup for both.
Stainless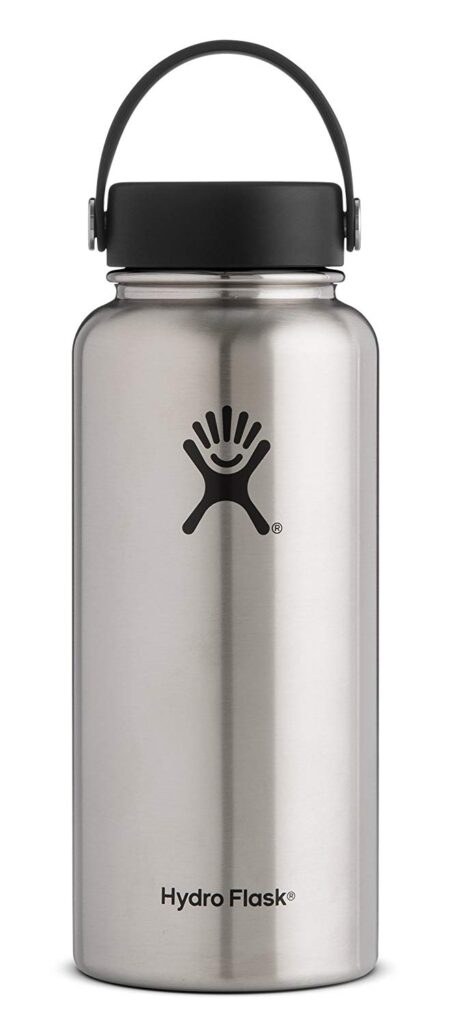 See stainless colored Hydro Flasks at Amazon
I really like this one as it's so unique compared to all the other painted Hydro Flasks.
It's minimalistic and I like the fact that there is no paint to get scratched off this Hydro Flask.
I don't know why they stopped making these but I'm sure they'll bring them back at some point.
Lychee Red

See Lychee Red Hydro Flasks at Amazon
This one is old school like the old school and features an old Hydro Flask logo as well as different text towards the bottom.
New bottles just say "Hydro Flask" down the bottom. This one says "INSULATED" as well as "Hydro Flask.com" and states the volume and that it is 18/8 Stainless on the front not on the bottom like newer models.
It also comes with a completely different lid that is actually attached to the bottle.
Dawn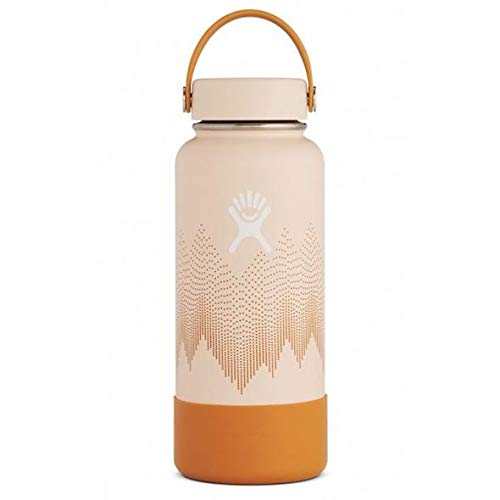 See Wonder Dawn Hydro Flasks at Amazon
Hydro Flask launched the limited edition "Wonder Series" of bottles in October 2019. They did a 5 days of Wonder challenge and teamed up with Outdoor Project which is an ultimate adventure guide.
These colors and prints are completely unique and were only sold for a limited time.
Dusk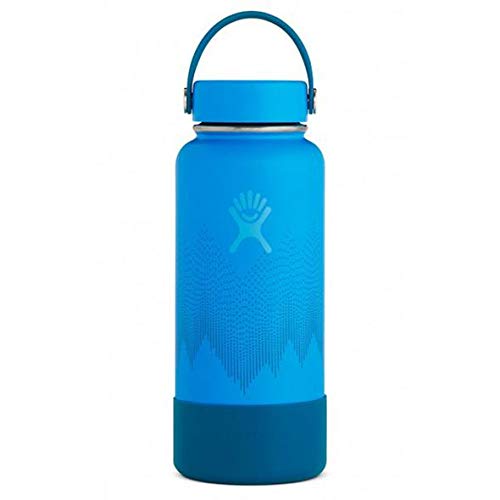 See Wonder Dusk Hydro Flasks at Amazon
The Dusk blue color is also a part of the Wonder series and is probably my favorite color of the set.
Alpenglow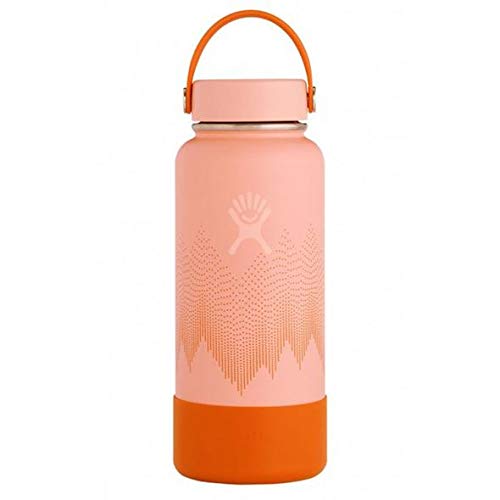 See Wonder Alpenglow Hydro Flasks at Amazon
Alpenglow means "The rosy light of the setting or rising sun seen on high mountains" which totally makes sense for this Wonder series and totally makes sense for this color.
This one of super unique with it's orangey/pink vibe with the mountain print and the orange boot.
Marlin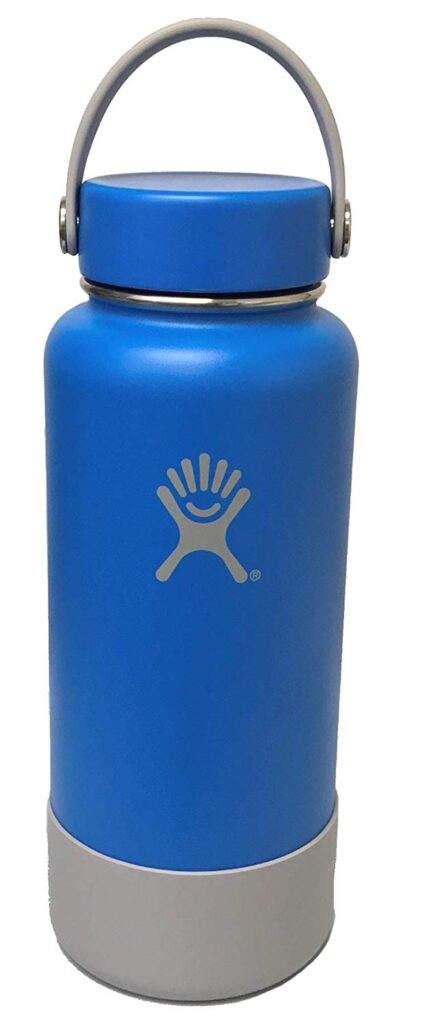 See Marlin Hydro Flasks at Amazon
The Marlin is part of the Hydro Flask Movement collection. I couldn't find a release date of these bottles but I do know that in 2020 Hydro Flask released a new movement collection with a similar color style, albeit subdued compared to this original collection.
Fuchsia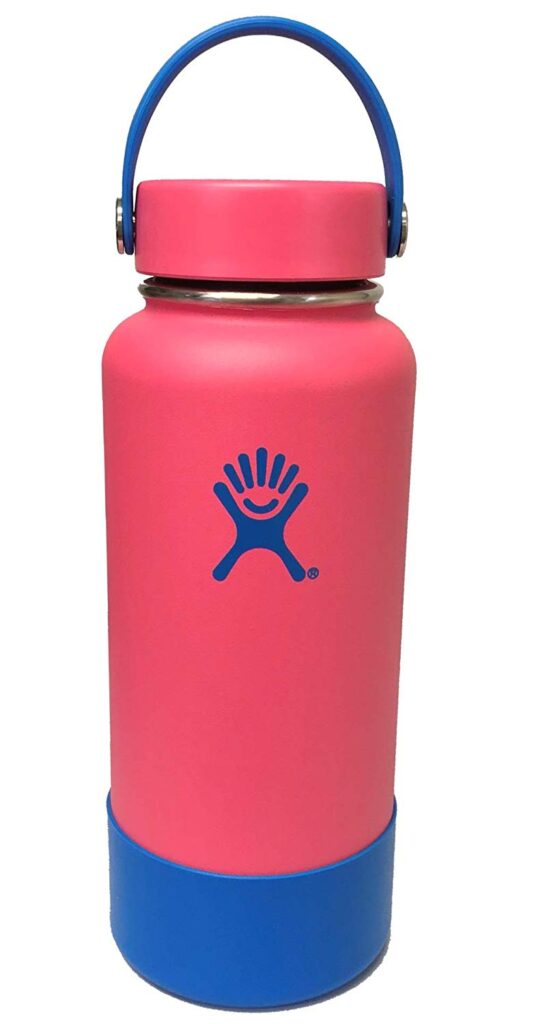 See Fushsia Hydro Flasks at Amazon
I think the Fuchsia is one of the best Hydro Flask colors out there. I can see girls loving the bright pink color and the bright blue to contrast it looks really cool.
Flint

See Flint Hydro Flasks at Amazon
The Flint is another great color from Hydro Flask. The grey/blue is right up my alley and if I was personally looking to buy a discontinued Hydro Flask color this would be right up there as one of my top choices.
Aquamarine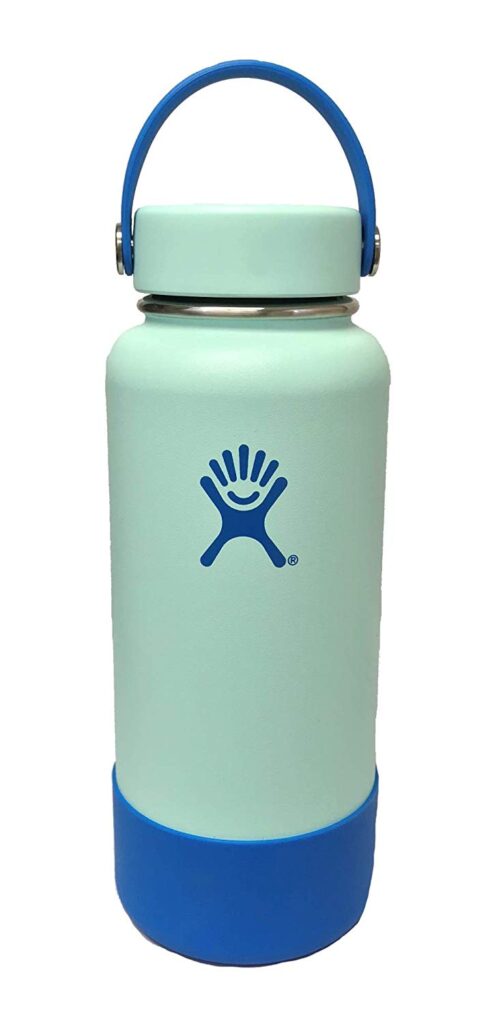 See Aquamarine Hydro Flasks at Amazon
The Aquamarine color is a limited edition color from Hydro Flask that has a seafoam green exterior as well as a seafoam green cap.
The Hydro Flask logo is printed in a bright blue as is the lid strap. It also comes with a bright blue boot.
The 2018 Escape Collection
The 2018 Escape collection features 3 unique colors and prints.
Mountains
The mountains print doesn't actually feature mountains but rather features a foresty treeline print on a vibrant green painted Hydro Flask with a super deep and dark green lid and boot cover.
Desert
The Desert color and print with it pinkish cream and bright maroon red looks very ladylike. I can see this being perfect for an outdoor adventuring gal.
Coast
I'm a coastal boy so this on is my favorite of the 3. I love the beach and have always lived near the ocean so being able to rep it on my Hydro Flask is pretty cool.
2017/2018 PNW Ombre Colors
Hydro Flask made 4 different ombre colored bottles in 2017 (sold in 2018) to celebrate the Pacific Northwest where the company was started.
I wrote a full article on if Hydro Flask actually released ombre colors and I con confirm that they did.
But I will also say that a lot of ombre Hydro Flasks sold online are fakes so you do need to be careful.
PNW WildFlower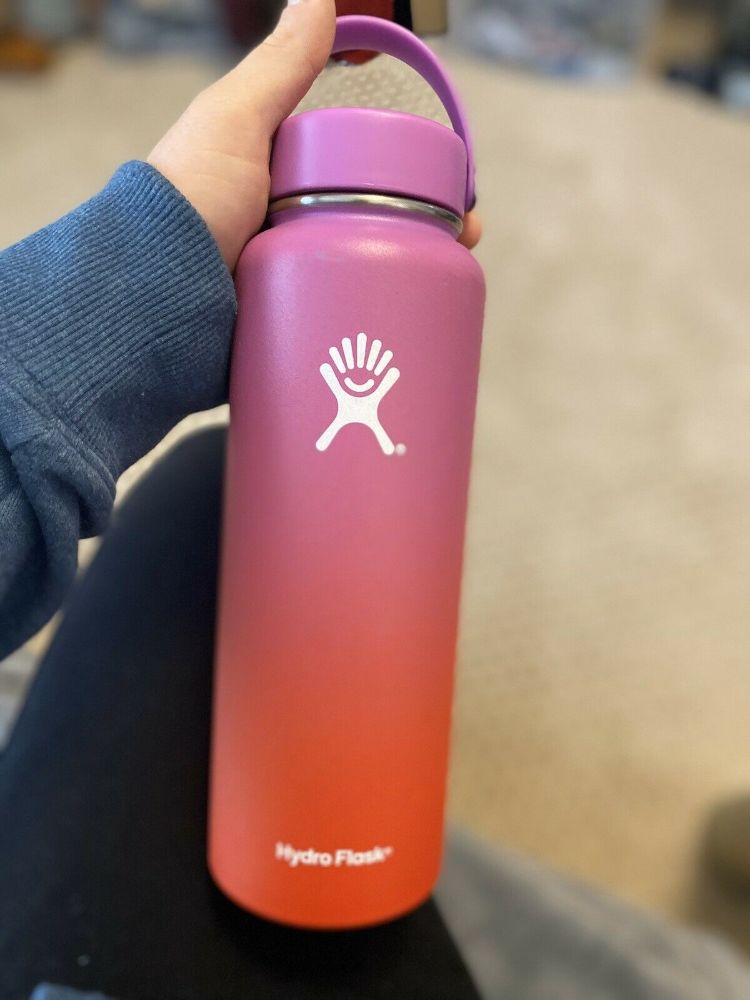 PNW Sunset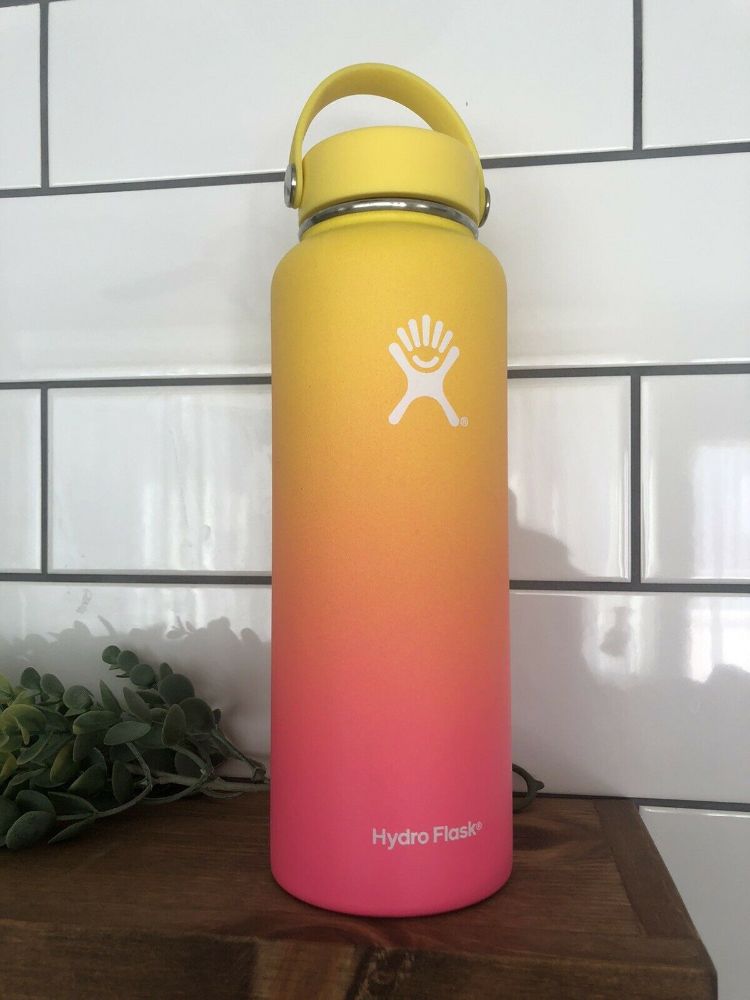 PNW Timberline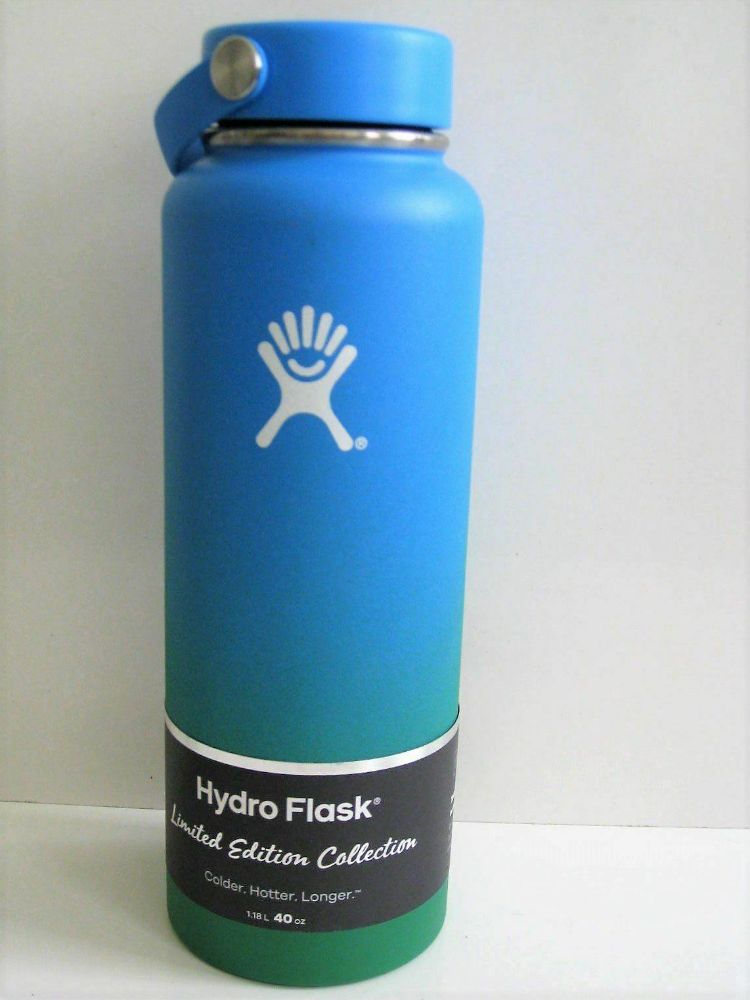 PNW Waterfall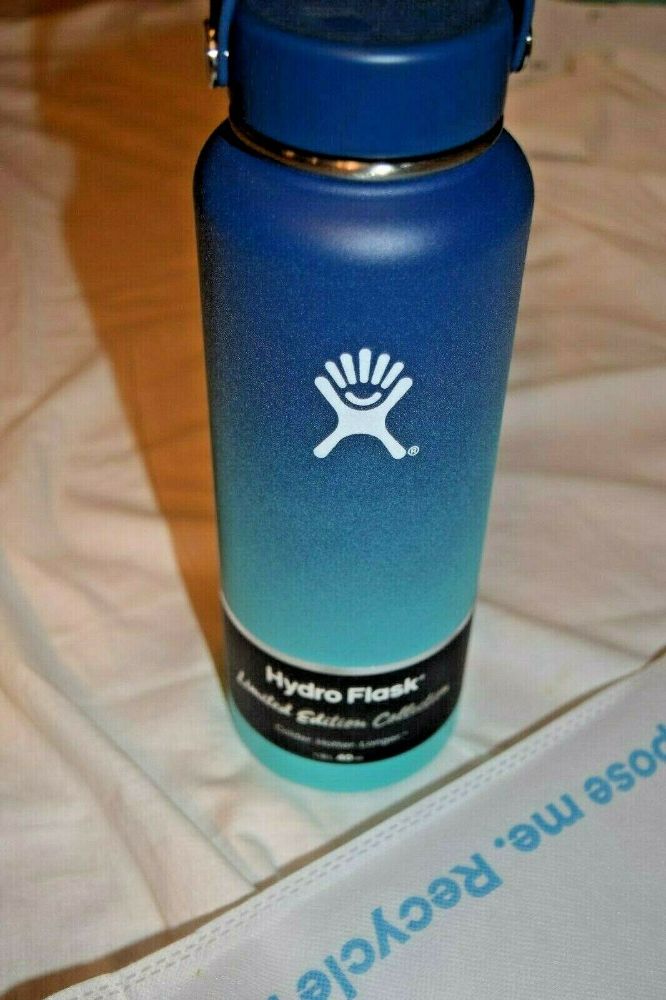 2019 Ombre Colors
2019 saw the release of some new ombre colors, this time with 3 color tones instead of two.
They were marketed as "The Shave Ice Collection" in some places but also had Hawaiian names in other areas. So the names can be interchangable:
Mai Tai/Keiki Rainbow (REd Top_)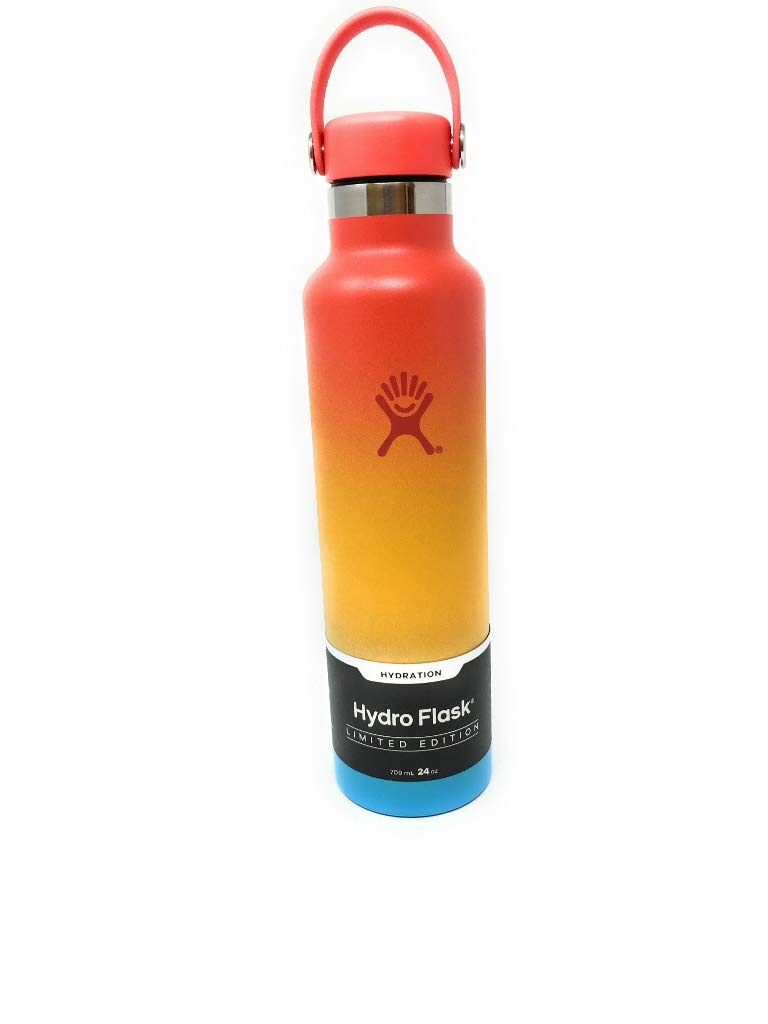 See Mai Tai/Keiki Rainbow Hydro Flask at Amazon
Blue Hawaii/Coconut Rainbow (Blue Top)

See Blue Hawaii/Coconut Rainbow Hydro Flask at Amazon
Hawaiian Sunset/Hawaiian Rain (Pink Top)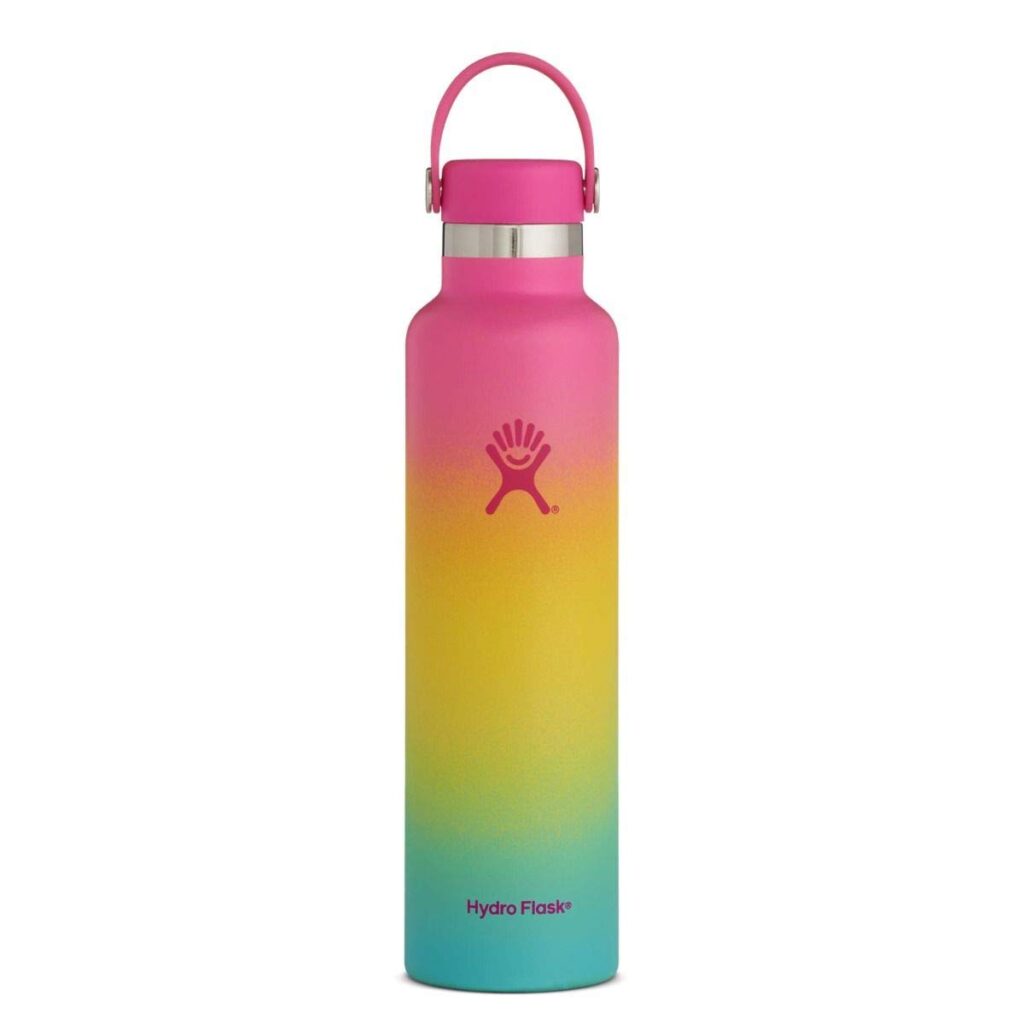 See Hawaiian Rain Hydro Flasks at Amazon
Hawaii Collection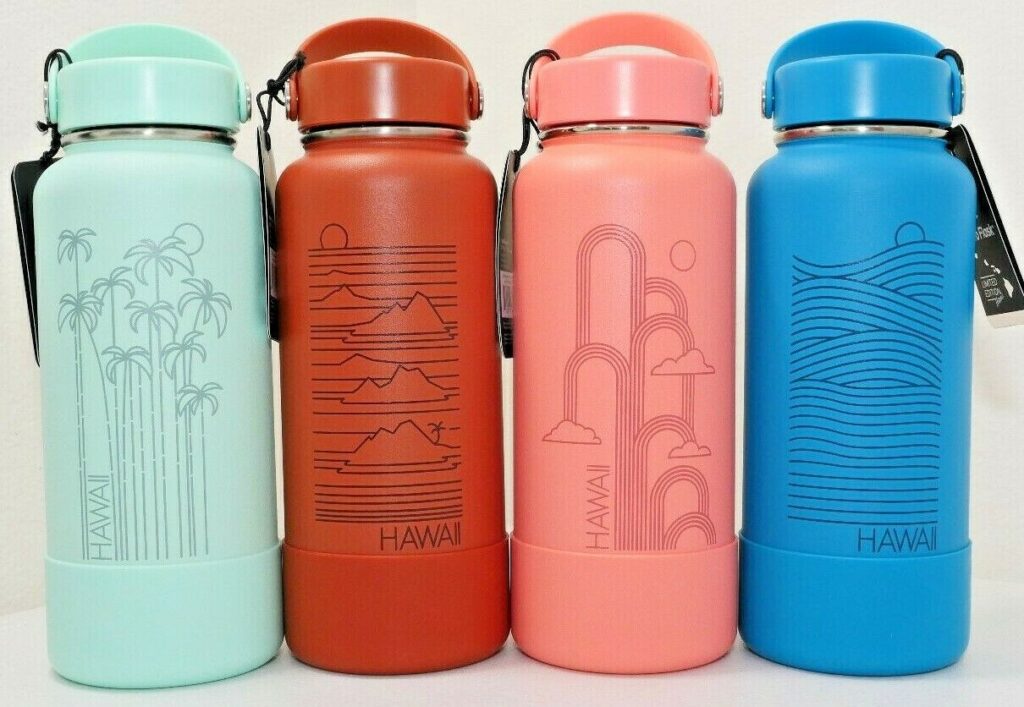 In October 2019 Hydro Flask released a limited edition Hawaii Collection which contained 4 different colors each with unique patterns printed on them.
Hawaii Seafoam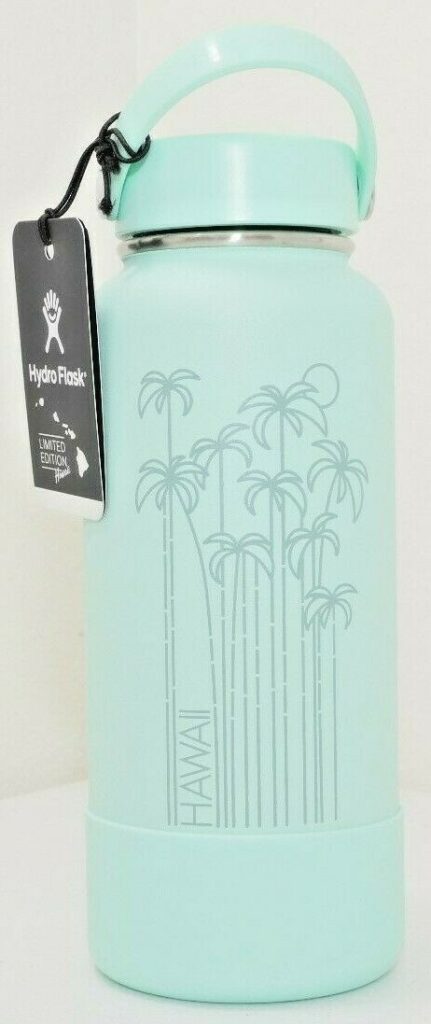 See Hawaii Seafoam colored Hydro Flasks at Amazon
Hawaii Coral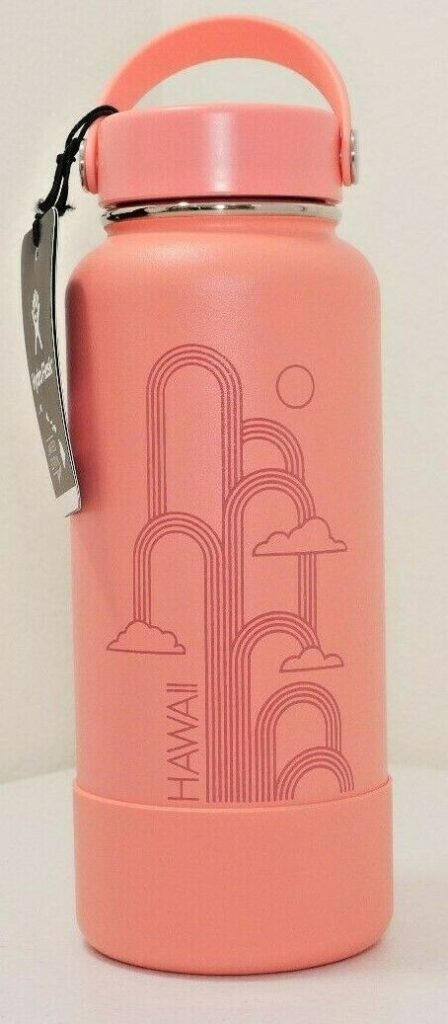 See Hawaii Coral Hydro Flasks at Amazon
Hawaii Dirt

See Hawaii Dirt Hydro Flasks at Amazon
Hawaii Tide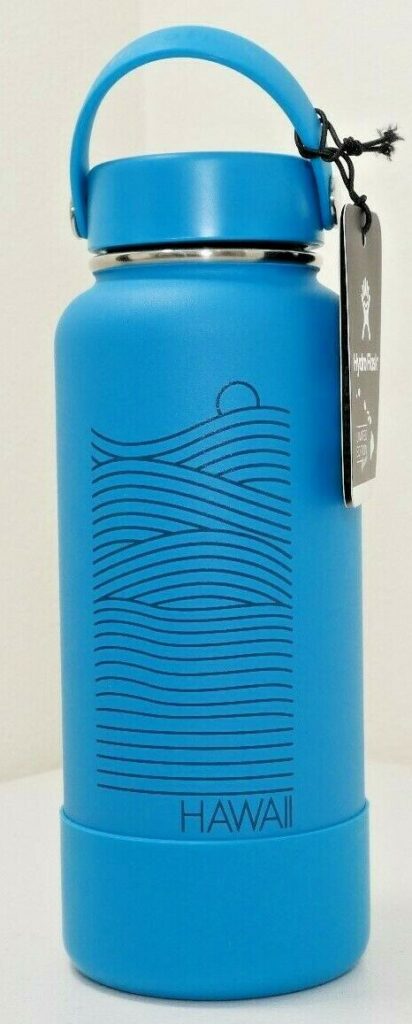 See Hawaii Tide Hydro Flasks at Amazon
National Parks Collection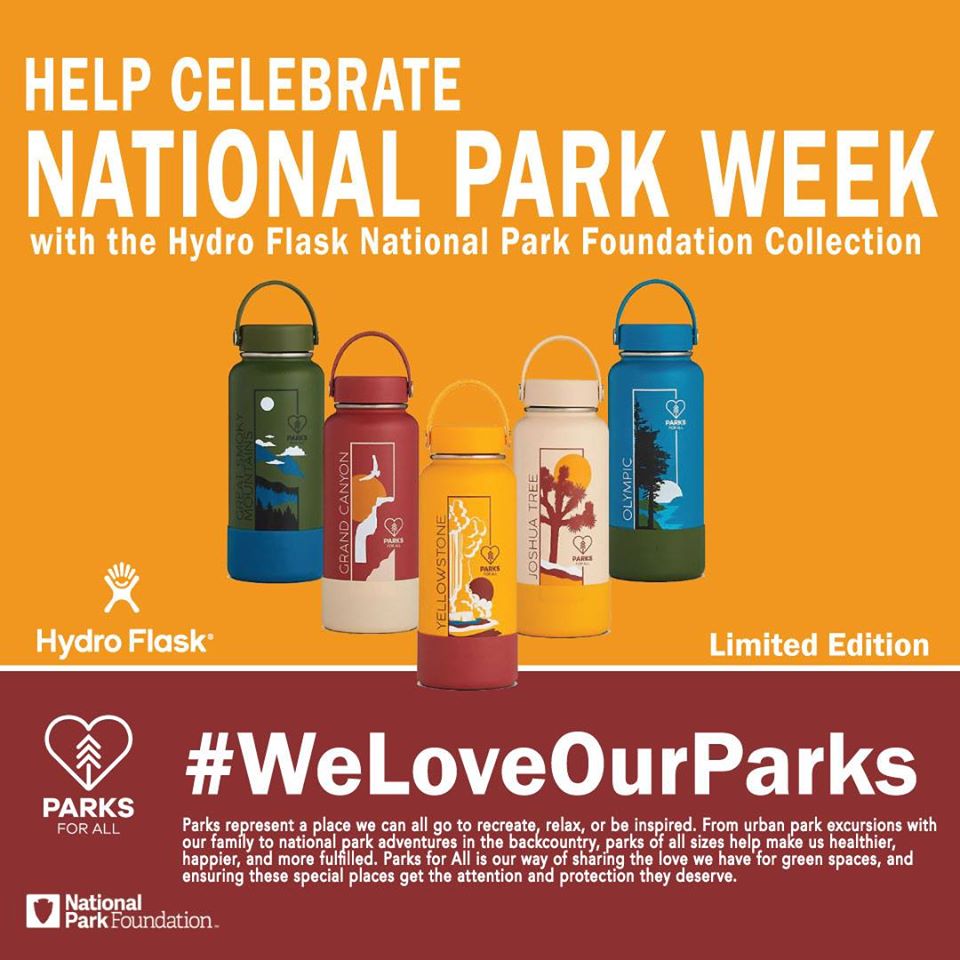 Grand Canyon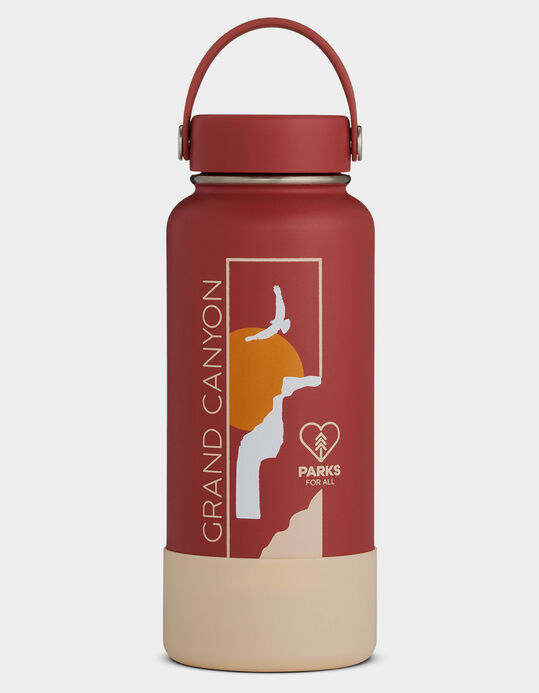 See Grand Canyon Hydro Flasks at Amazon
Great Smoky Mt National Park

See Great Smoky Mt Hydro Flasks at Amazon
Yellowstone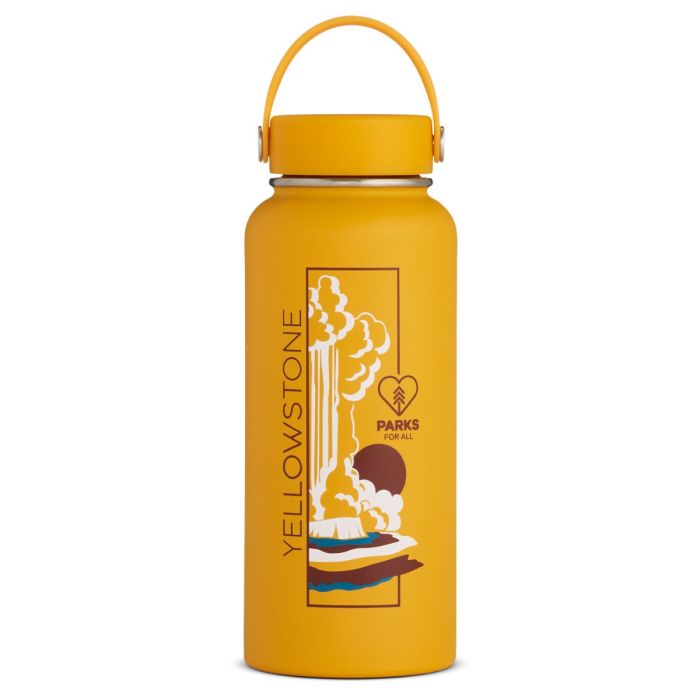 Joshua Tree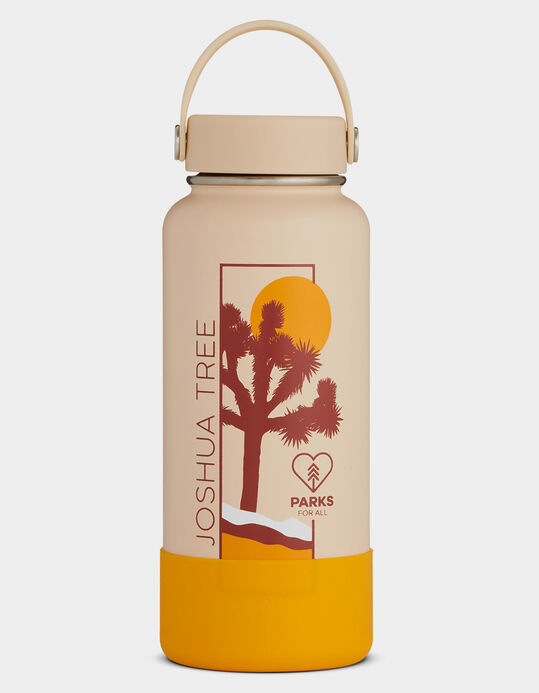 Olympic