When it comes to buying a new Hydro Flask it can be very hard to know which size to get. There are so many different size options available and it's difficult to know if you should go for a larger or a smaller size.
I own a few Hydro Flasks myself and I understand how difficult it can be looking at the different sizes online or in store and trying to pick out the one that's going to suit you best. If you're buying it as a gift for someone else the decision can be even harder.
Below are a few tips that helps me in choosing the right size as well as a list of the best sizes for different types of people and different situations.
Go through these tips and apply them to your decision and read through my list of the best Hydro Flask sizes and who they are best for and see if he particular size feels good for you.
Ultimately, no single size is "the best" as it's about finding the size that best suits you. If you feel like a certain size is right for you then go ahead and get it and enjoy it even though other people may have different sizes.
Tips On Choosing The Right Size For You
Here are some of my best tips for choosing the right size Hydro Flask for you:
Go With Your Gut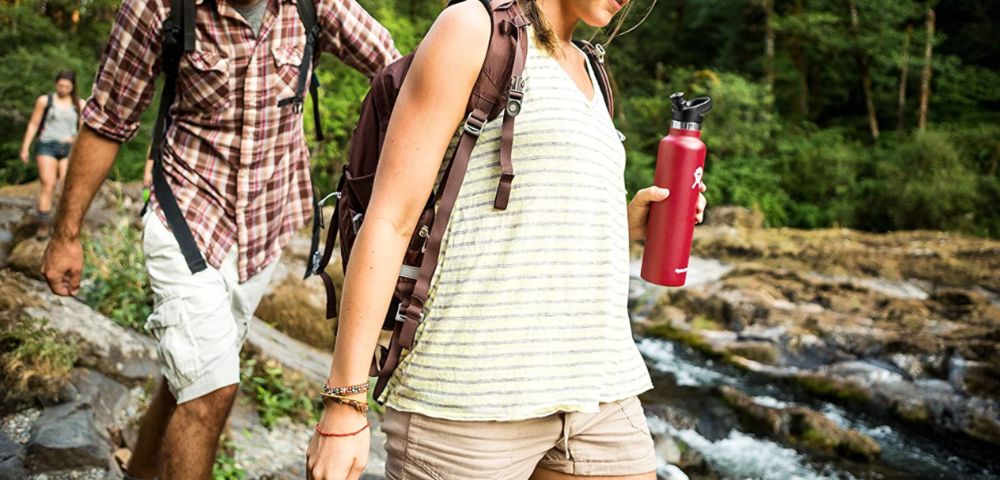 When you're looking at all the different size options that are available it can be quite overwhelming. How do you know how many ounces you want and whether or not a 32 ounce will be too big for an 18 ounce will be too small.
Hydro flask are expensive and so picking the right size is a big decision. Your mind can take in so much more information than you can consciously understand and you often get a 'gut feeling' when your subconscious mind is trying to tell you something.
Over the years I've learnt to trust this gut feeling of mine and 9 times out of 10 when I do I'm very happy with the purchasing decision that I make.
Often when I go against my gut feeling, even if it makes logical sense, I end up regretting my decision and having buyers remorse.
So if you've got a gut feeling towards a certain size than my advice is to go with that size even if it might not make complete logical sense.
Bigger Is Often Better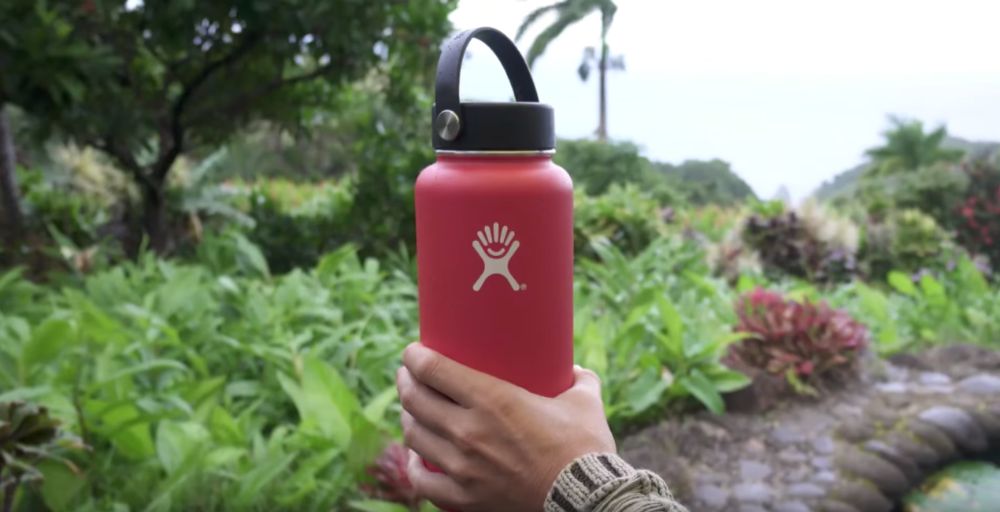 If you're unsure whether to buy a bigger size or a smaller size then I would recommend going for the larger size.
It can be very frustrating to be partway through your day and have run out of cold water. Sure you can fill up your smaller Hydro Flask at the tap but the water is going to be lukewarm at best and nowhere near as nice as iced cold water.
Well larger size maybe slightly more inconvenient, because it's heavier and they don't fit in car cupholders, at least you can just fill them up half the way if you don't want as much water.
By going big you've got the extra size if you need it.
I currently own an 18 oz Hydro Flask which I thought would be more than enough for me. But since seeing how good it is at keeping water cold I now drink more water and I've found myself wanting the 32 oz size.
See the 32 oz Hydro Flask at Amazon (most recommended size)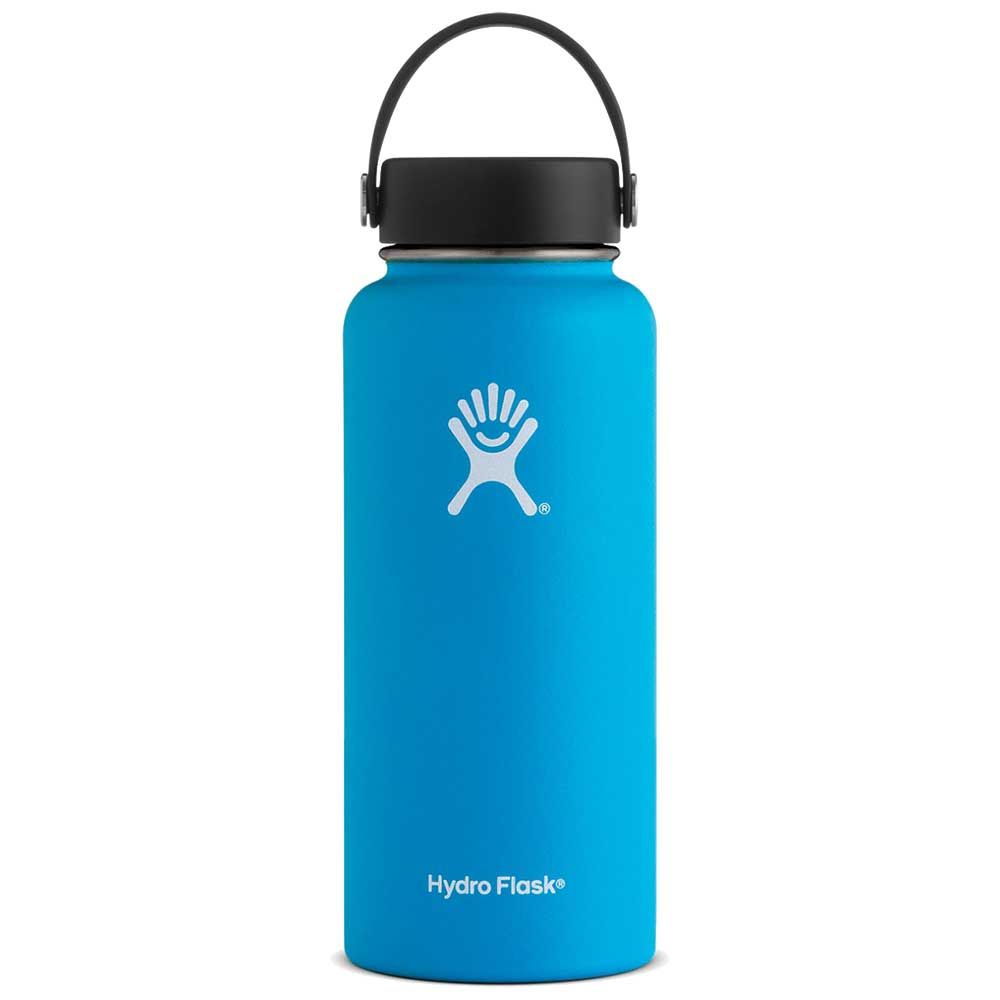 What Will You Use It For MOST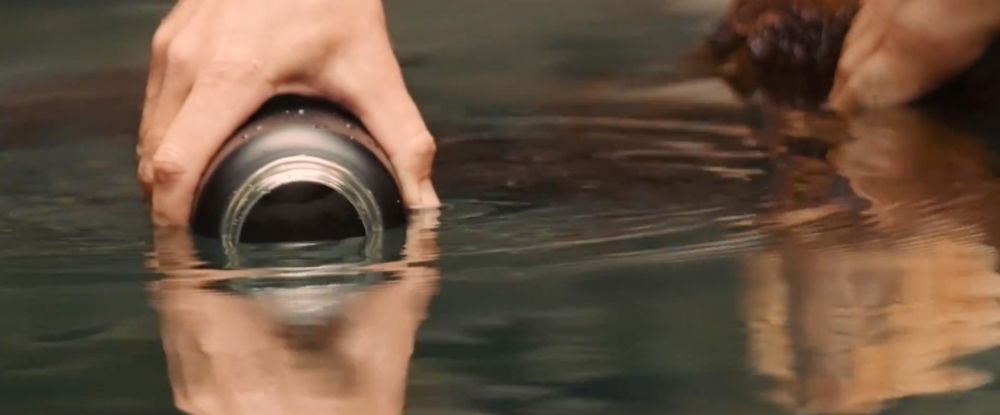 Rather than trying to think of EVERY POSSIBLE SITUATION that you use your Hydro Flask and trying to get the exact size for every situation just think about what you're going to be using it for most.
If that's going to work, or for using it at school, or for sports games or golf days – whatever it may be – get the best size for that thing.
For me that's having at work when I'm at the cafe or having on my desk when I'm working at my computer and a 32 ounce is the best size for me in that situation as it means I don't have to refill very often.
For my kids, the best size for them is 18 ounce as it's big enough to carry a good amount of water but small enough to fit in their school backpacks.
Some situations might call for a different size, but those situations are rare and you just make do.
So get the size that's right for when you'll be using your Hydro Flask most.
The Lid You Want May Help You Choose Your Size
Hydro flask come in both standard mouth and wide mouth variants. They both come with a screw on cap but you can also get either a sports cap for the standard mouth or a straw cap or flip cap for the wide mouth.
If you want a particular lead chances are it only fits on certain sizes of Hydro Flask. This helps to narrow down your search as you will have less sizes to choose from.
See the full list of the best Hydro Flask lid options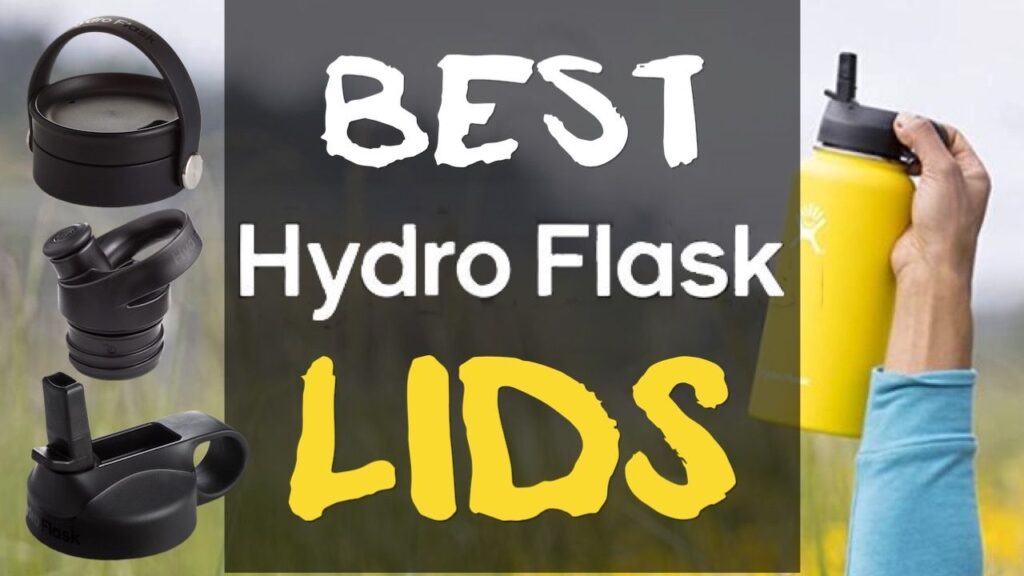 Choosing The Right Color Can Be Just As Hard
Once you've chosen the size Hydro Flask you want to get you then need to choose what color you're going to get that in and this can be a very difficult decision too.
There are 11 different standard colors plus limited edition colors as well as discontinued colors. You can choose from bold and bright colors to more mellow and subdued colors.
To help you in choosing the right color Hydro Flask for you check out the following resources:
How to choose the best color Hydro Flask for you
QUIZ: What Hydro Flask color should you get? 9 EASY QUESTIONS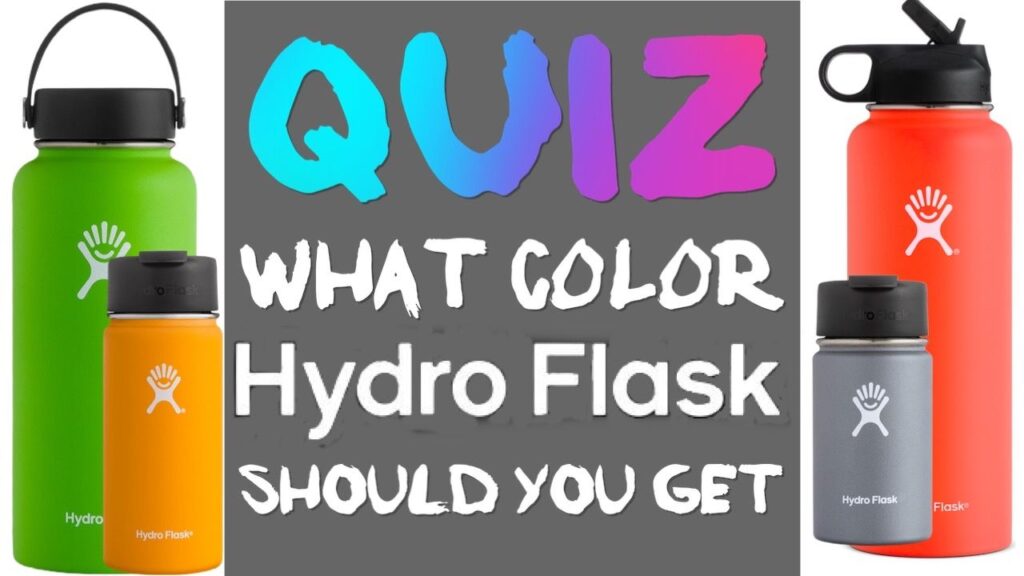 Every Hydro Flask Color Listed and Shown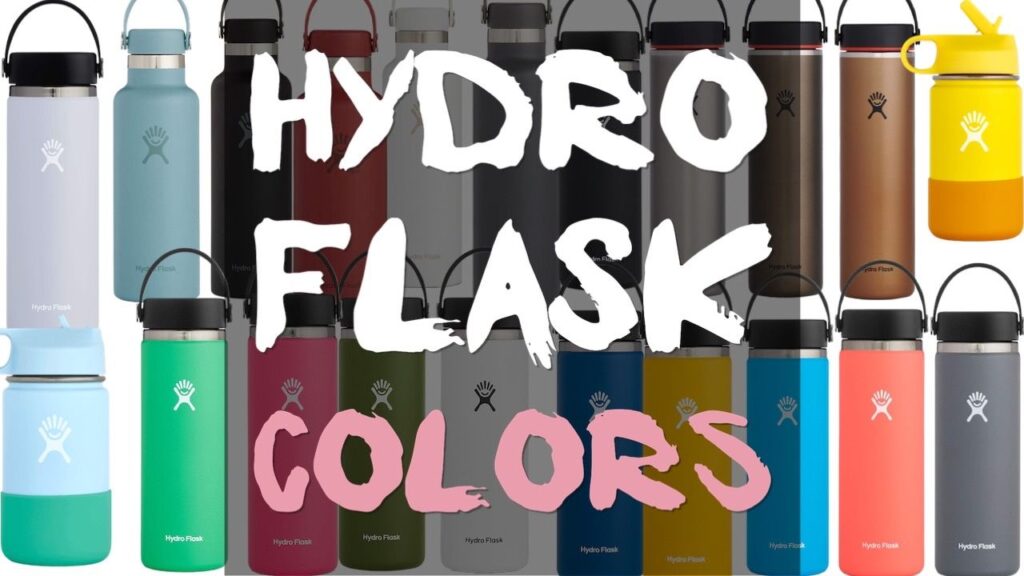 The Best Hydro Flask Sizes
With those tips in mind I'm now going to share what I believe are the best Hydro Flask sizes for most people.
Under each size I will talk about who the size is good for so you can get an idea as to whether or not it's going to be right for you.
Most Popular and Versatile: 32 oz Wide Mouth
Best For Workouts, Sports, Hard Workers and Water Drinkers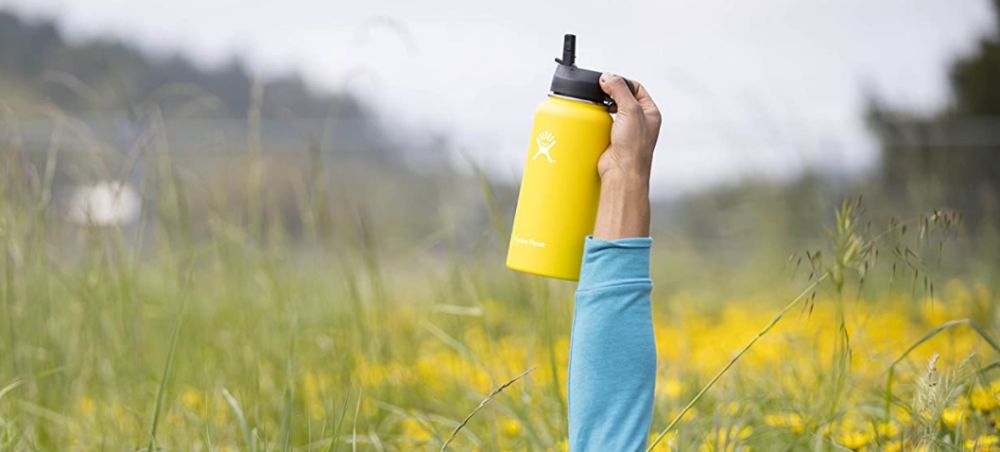 The 32 ounce is one of the most popular and definitely the most versatile sized Hydro Flask available. You see this as being very popular with high school and college students as well as people who are serious about drinking a decent amount of water each day.
Originally I thought this bottle would be huge and too big to carry but because of it's wider diameter it's actually not much taller than an 18 or 20 oz bottle which has half the capacity.
The powder coated paint also helps to make it easy to hold. It's rough and non-slip so using the water bottle with one hand is easy.
Is the most versatile bottle as you can fill it up and it will last most people the entire day without requiring a refill. It's still small enough to fit in a backpack and easy enough to carry around.
It doesn't feel as big and bulky as you would think a 32 ounce or approximately 1 L bottle would.
After buying an 18 ounce myself and seeing my work colleague's 32 ounce I'm ready to upgrade to the larger size because it's just a better bottle.
See the latest price of 32 oz Hydro Flasks at Amazon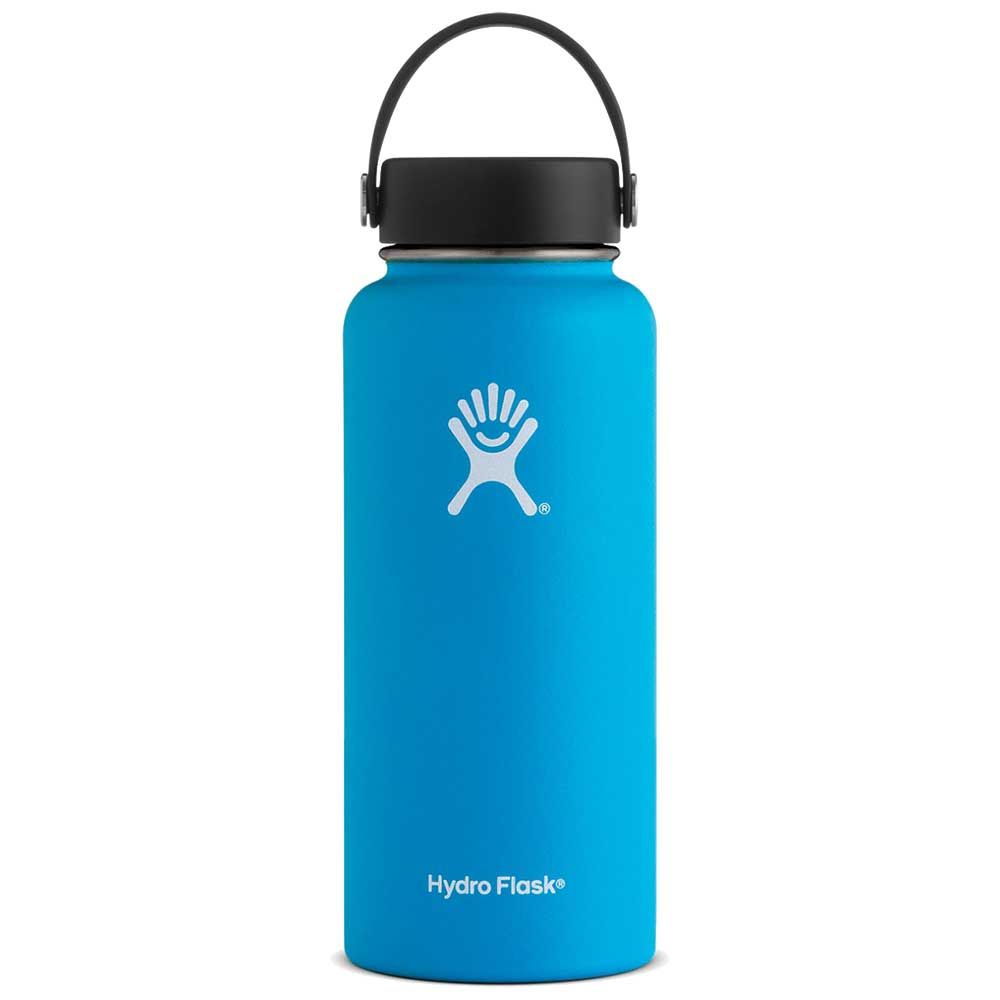 Best Everyday Bottle: 21 oz Standard Bottle
Not too big, not to small, just right
If you want something smaller than the 32 oz mentioned above then the 21 oz standard bottle is a great all-around everyday bottle.
For a lot of people the 18 oz will be just a little bit too small and the 24 oz will feel just a little bit too big.
The 21 oz is in that goldilocks zone where it's not too big and not too small, it's just right.
Small enough and short enough to fit into most car cup holders as well as backpacks and tote bags, but larger enough to fit a good amount of water so you don't feel like you're refilling too often.
It's big enough for enough water for a solid workout or Yoga session and for people will easy access to cold water it's easy to refill but you're not refilling too often.
Alternatively the 20 oz wide mouth is a similar size if you specifically want the wide mouth of the straw lid.
See the latest price of 21 oz Hydro Flasks at Amazon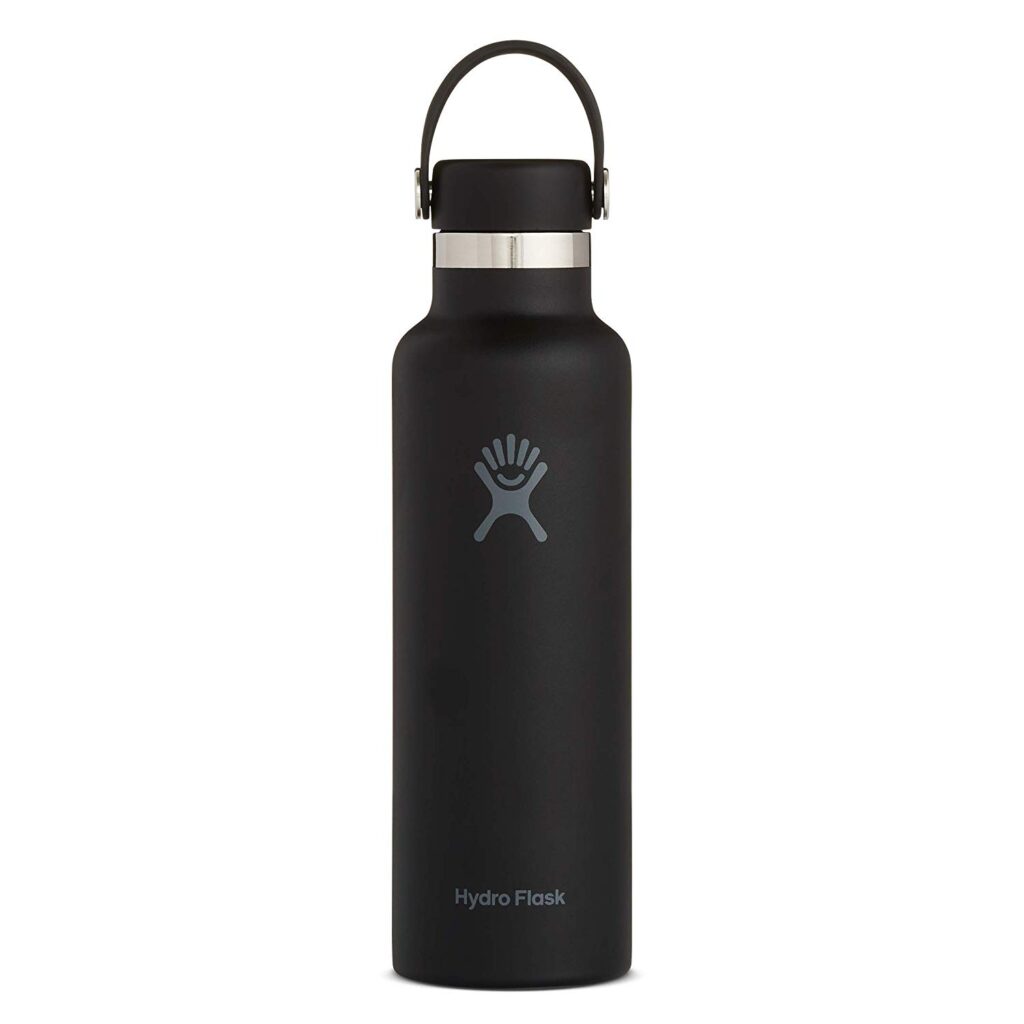 See the latest price of 20 oz Hydro Flasks at Amazon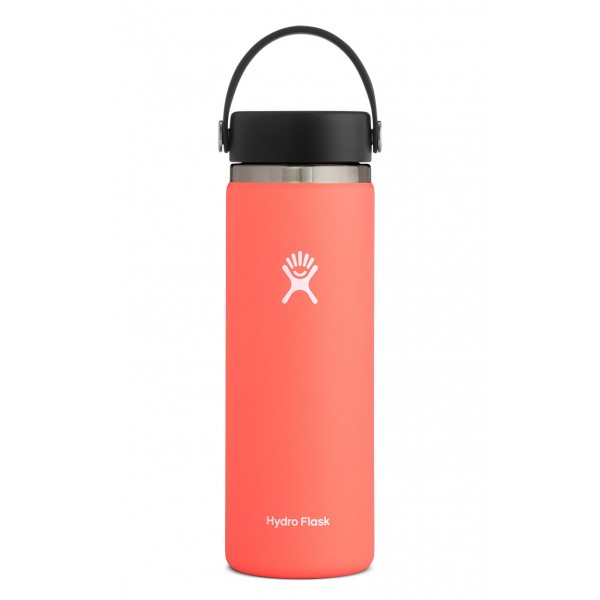 For The Big Drinker: 40 oz or 64 oz Wide Mouth
For those who like to drink A LOT
If you like drinking a lot of water and don't have easy access to cold water for refills than a larger size 40 oz or 64 oz wide mouth Hydro Flask is going to suit you best.
This size is great for laborers and trade people who are taking water to work each day and who are working up a sweat. I can also see this being great for truck drivers as well as other people who spend the day on the road.
You can fill up your bottle in the morning with ice and cold water and you'll have enough water to last you until you get home. Because Hydro Flask of vacuum insulated your water will be cold all day long even if you leave your bottle out in the sun or in a hot car.
The 40 oz seem to be more popular than the 64 oz, shown by the quiz my readers have done below.
See the latest price of 40 oz Hydro Flasks at Amazon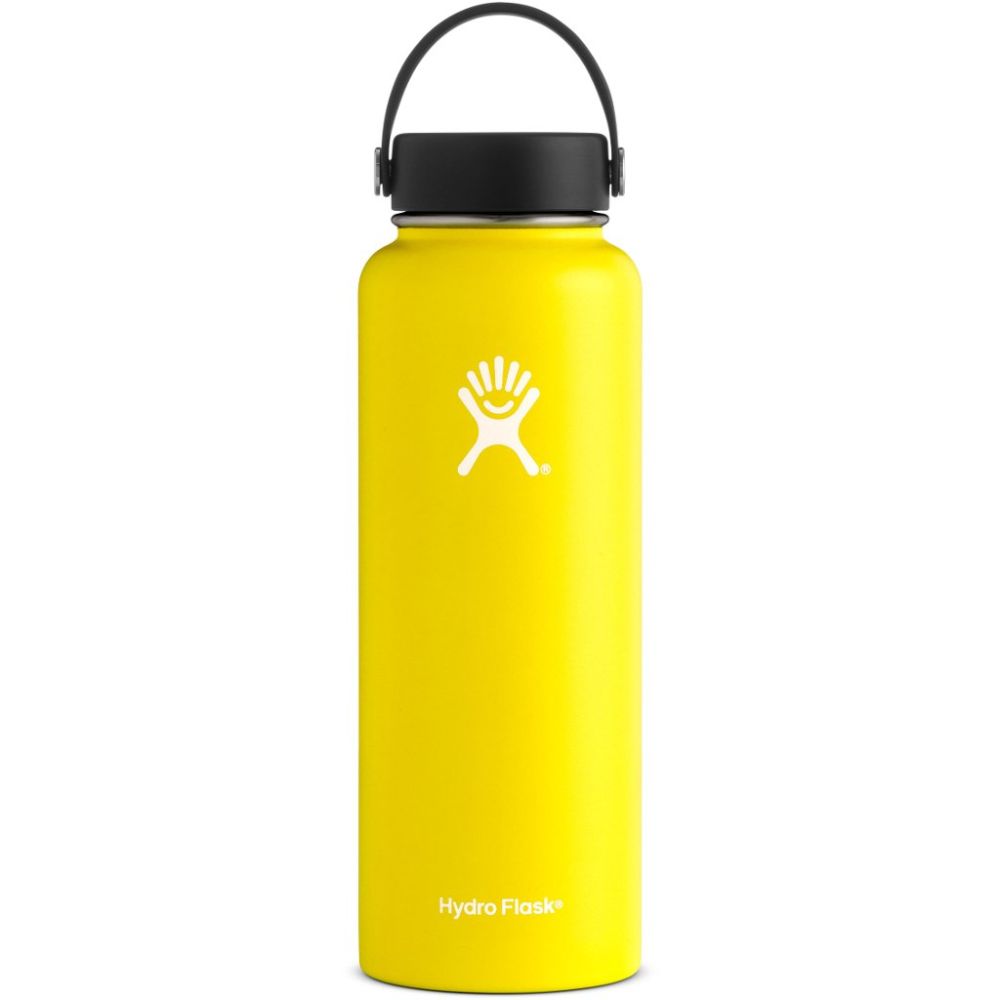 See the latest price of 64 oz Hydro Flasks at Amazon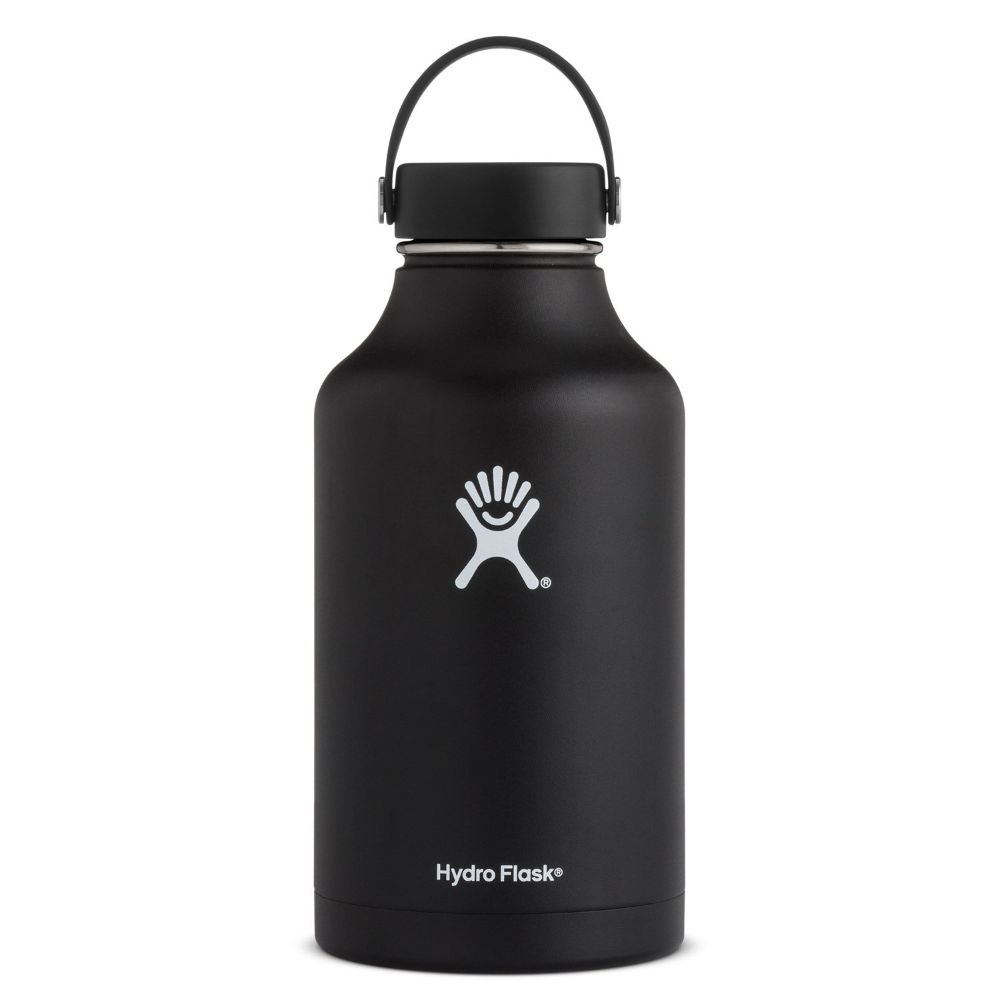 Best Size For Little Kids: 12 oz Kids Bottle
Fun colors and durable for little kids
Hydro flask make 12 ounce kids bottles which are the perfect size for young children. They come in fun colours with a straw lid for easy drinking and they are robust and durable.
The small size with the single or dual finger carry handle seems to work well for the kids and the bottle isn't too heavy when full for a small child to carry.
My bigger kids who are 8 and 10 found this size to be a little too small for them as they drink more water and preferred something a little bit bigger. But my 4 year old loved it and it was the perfect size for him to take to kindy or to the beach.
See the latest price of 12 oz Kid's Hydro Flasks at Amazon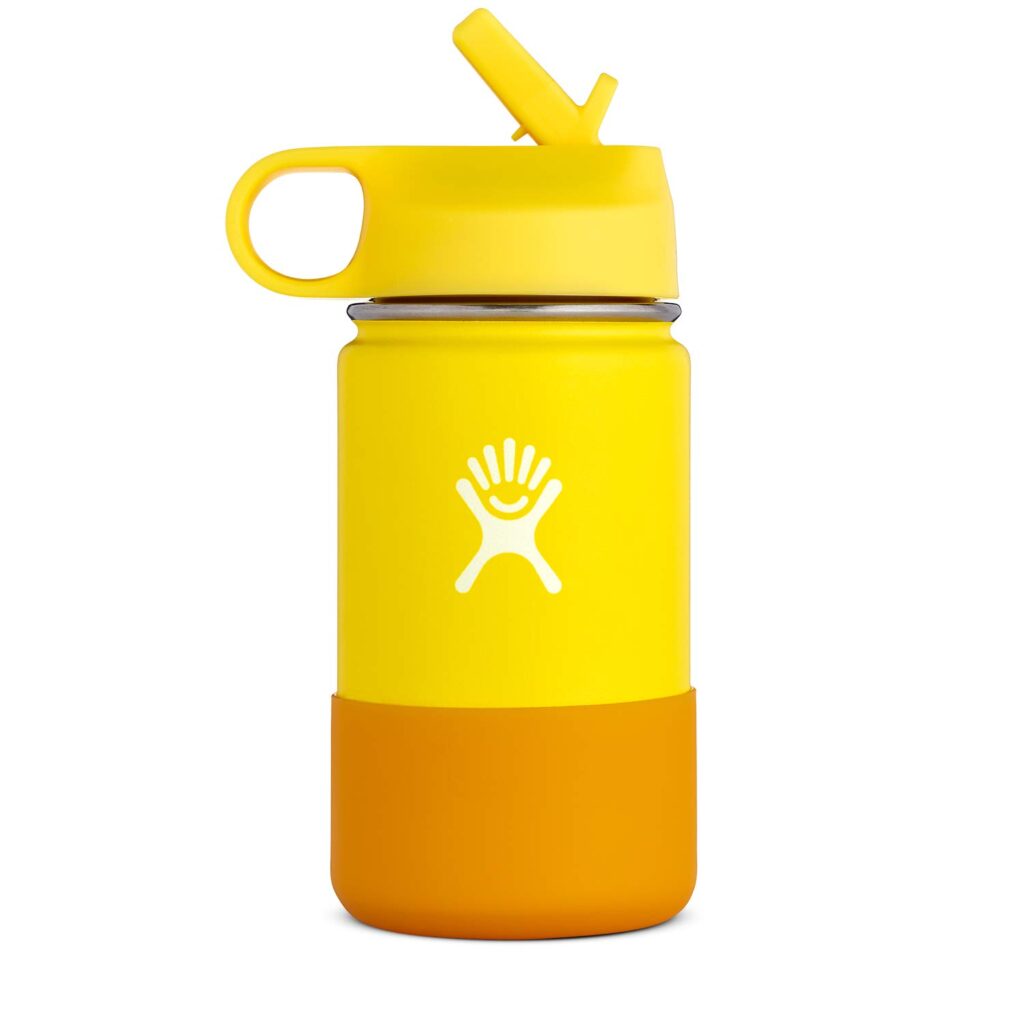 Best Size For Big Kids: 20 oz Wide Mouth w/ Straw Lid
Perfect size for growing kids
As I mentioned above the 12 oz was a little bit small for my older children who are 8 and 10.
The larger 20 oz size was perfect because it small enough to fit in their backpack, light enough for them to carry around and widemouth means that they can have a straw lid which all kids seem to love for some reason.
This size is great for a trip to the beach and I love taking this bottle to school.
See the latest price of 20 oz Hydro Flasks at Amazon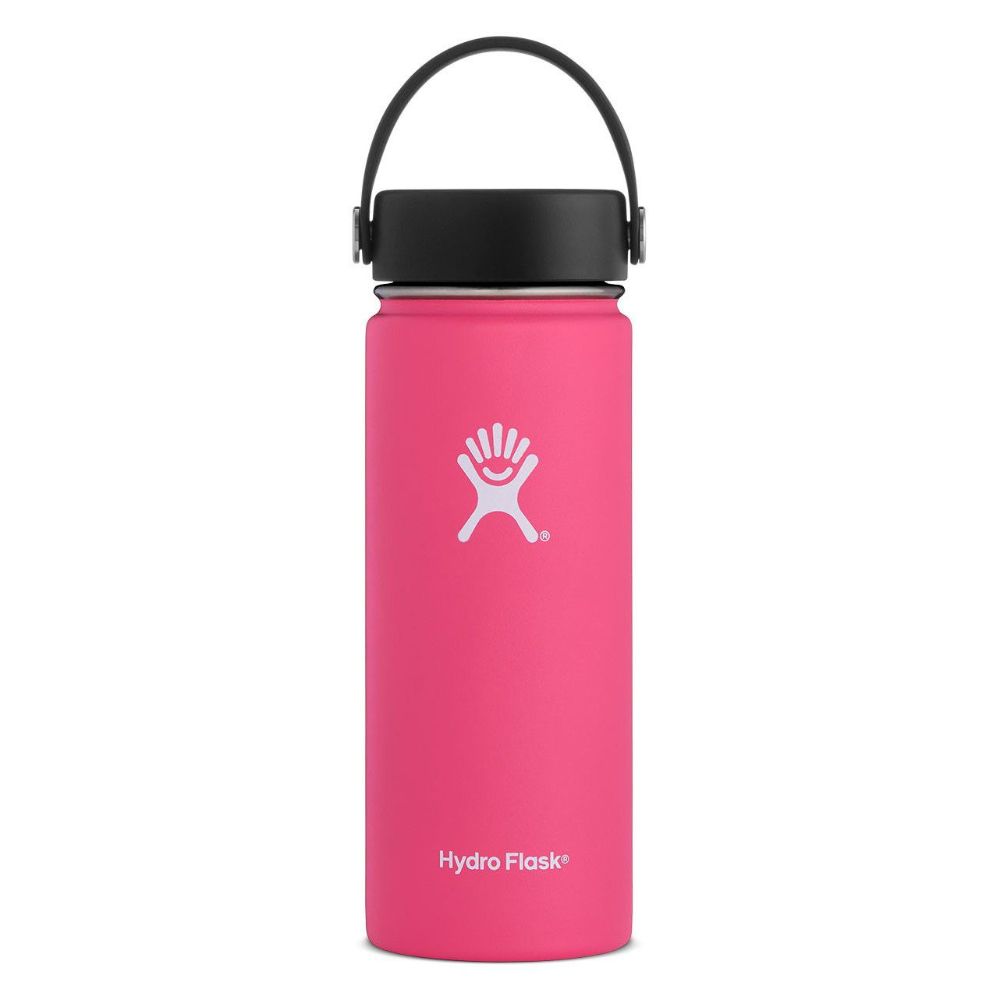 See the latest price of the Hydro Flask Straw Lid at Amazon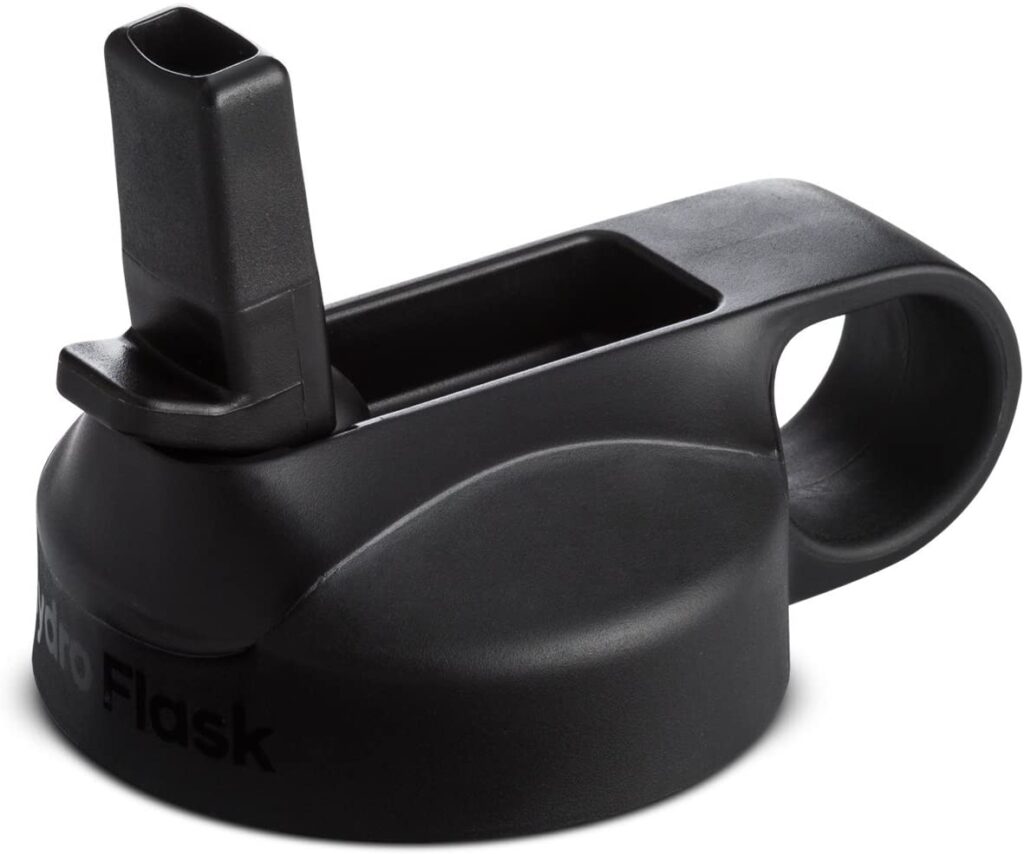 Best For Coffee: 12 oz Coffee w/ Flip Cap or 10 oz Rocks
Keep your lattes hot
If you're looking for a hydro flask to keep your coffee hot then the 12 oz is the perfect size for a medium to large size coffee.
The wide mouth is just white enough for barristers to create latte art and 12 oz is a standard coffee size.
The flip cap feels similar to the spouts you get in takeaway coffee cups so it really gives you the feeling you're drinking coffee out of a coffee cup, not out of a bottle.
The downside of this cap is that it's not 100% leak proof.
For people who like really large coffee's you can also get a 16 oz or even 20 oz coffee cup or for people like me who prefer a small strong latte then the 10 oz Rocks is actually the best option.
See the latest price of Hydro Flask Coffee Cups at Amazon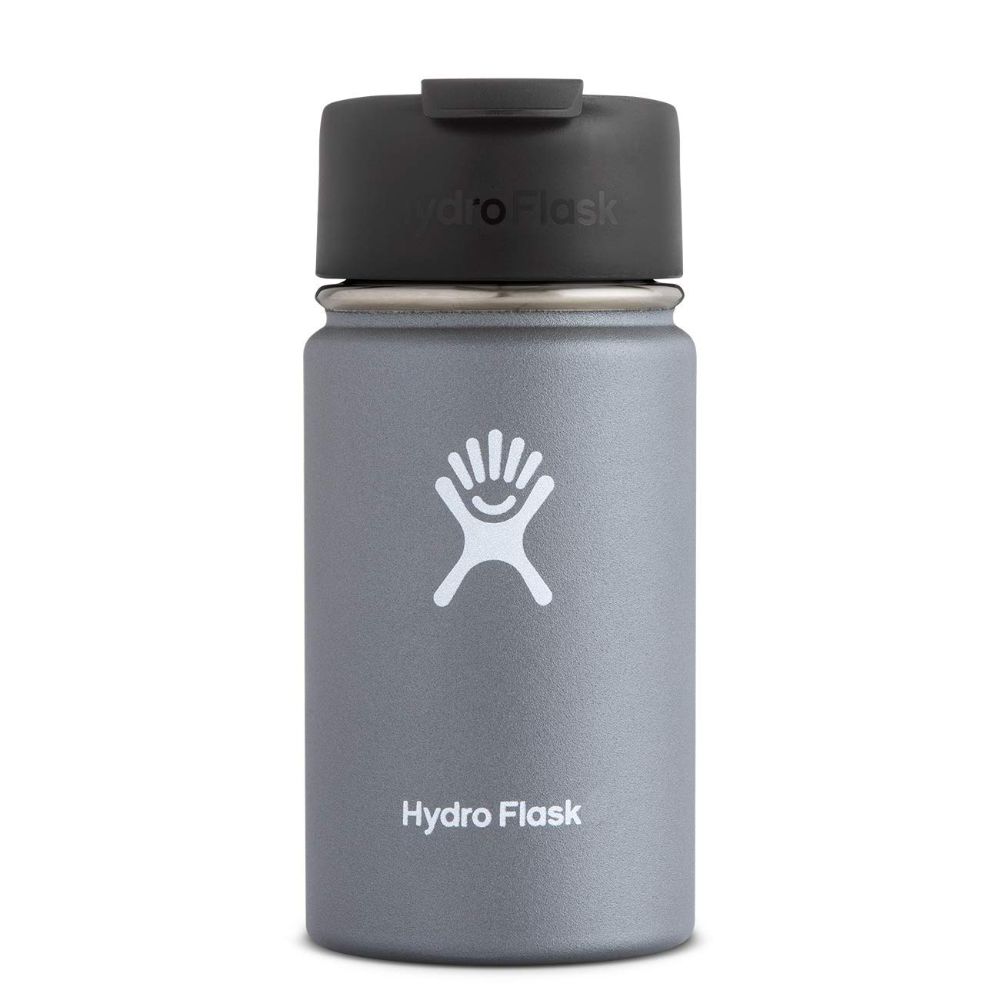 See the latest price of 10 oz Rocks Hydro Flasks at Amazon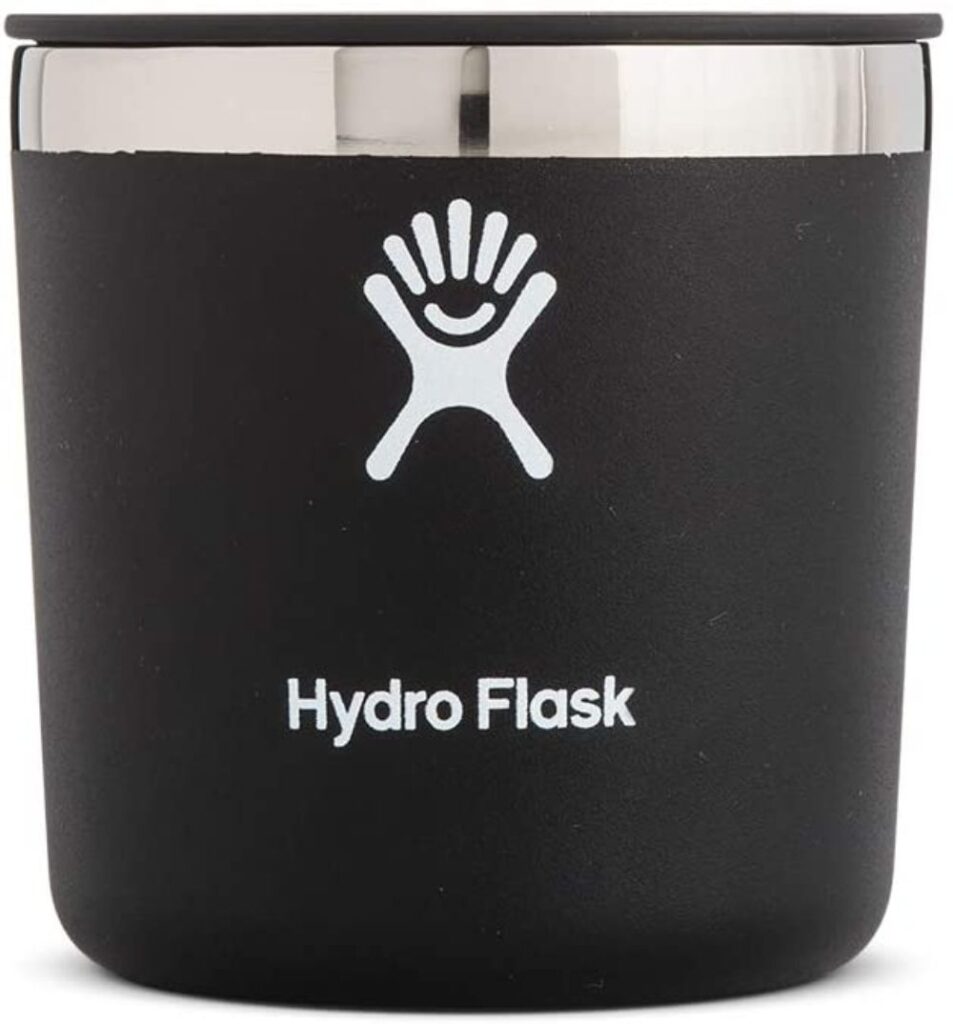 Best For Groups/Families: 128 oz Oasis
Cold water for everyone
If you want to carry enough water to have cold drinks for the whole family or for a big group of people then the 128 oz Oasis is going to be the best bottle for you.
This is the largest size bottle that Hydro Flask sell and it has both a small little opening for easy pouring as well as a larger lid opening to quickly and easily fill it up and pack it with ice.
See the latest price of 128 oz Oasis Hydro Flasks at Amazon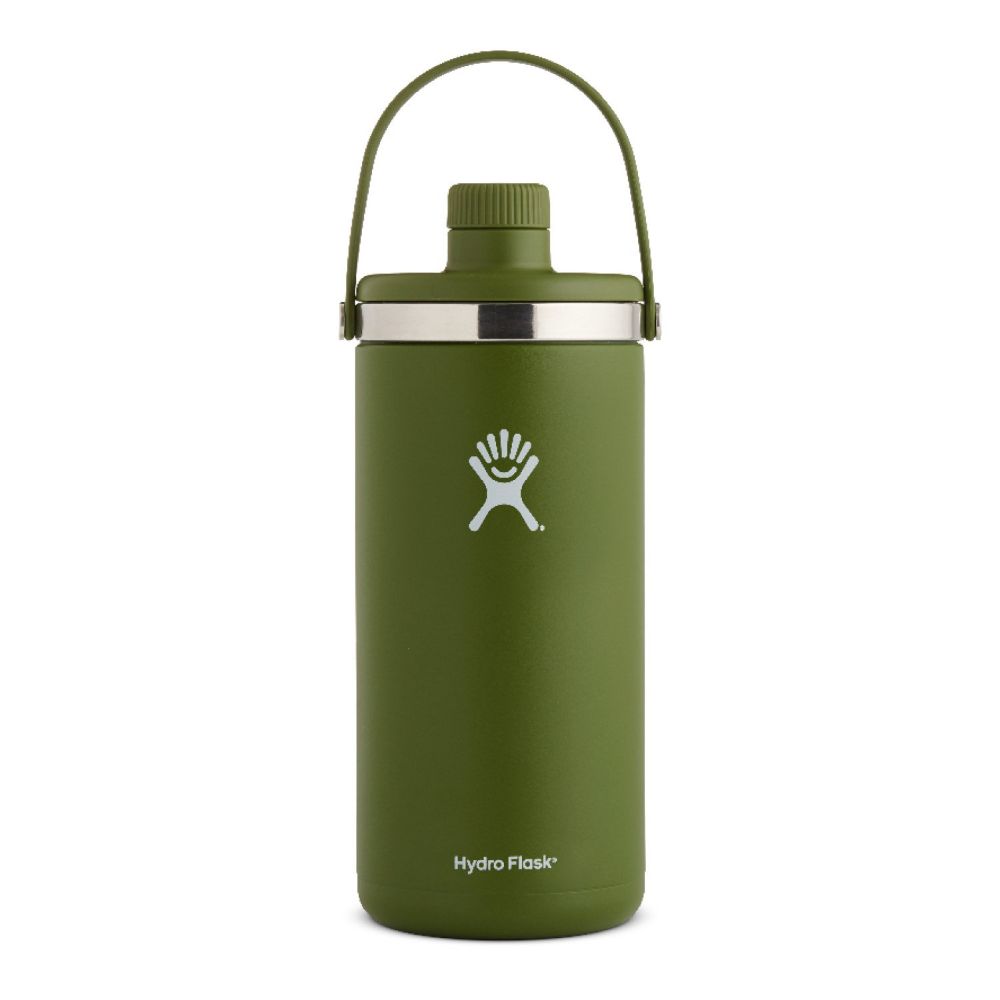 Best For Food: Food Flask
Keep food cold or hot
If you're looking to keep food hot or cold then the little Hydro Flask 12 oz food flask is a great size for snacks or smaller meals.
It's not very deep which makes it easier to reach things in the bottom and it's insulated just like the water bottles so it does really well and keeping items cool or keeping them hot.
Great for cold fruit or soup.
See the latest price of the 12 oz Food Flask at Amazon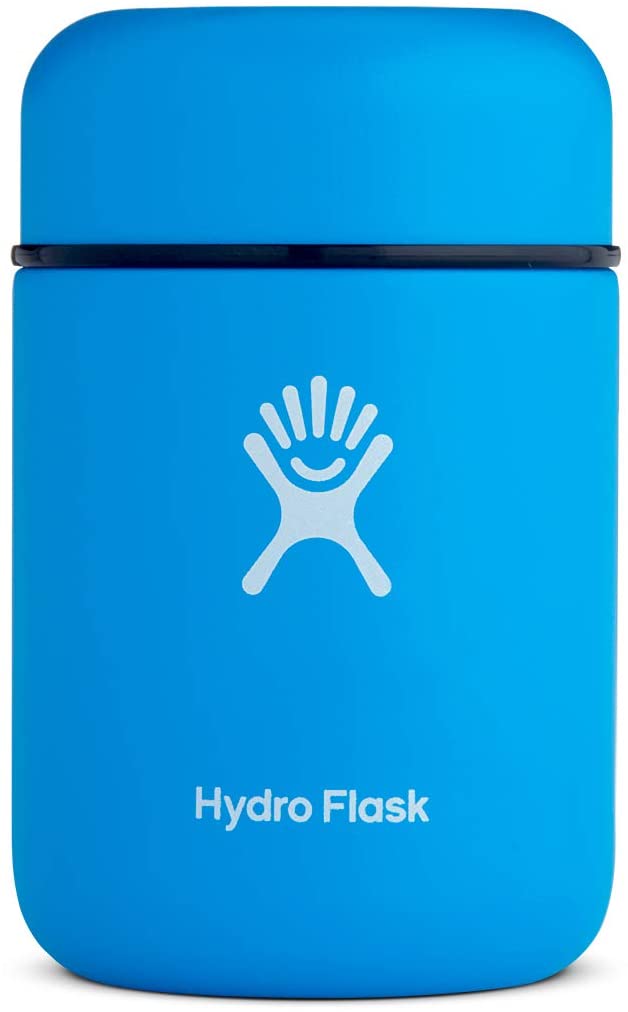 Best For Beer: 64 oz Growler or 16 oz Tumbler
Get beer from your local brewery
If you're a beer enthusiast then growlers can be a great way to get craft beer as well as to save money on your favourite beer.
The Hydro Flask growler is a standard 64 oz size and it features double wall insulation to keep your beer cold as well as a rubber gasket on the lid to lock in the carbonation.
It'll keep your beer cold and well carbonated so you've got a great beer wherever your adventure takes you.
See the latest price of Hydro Flask Growlers at Amazon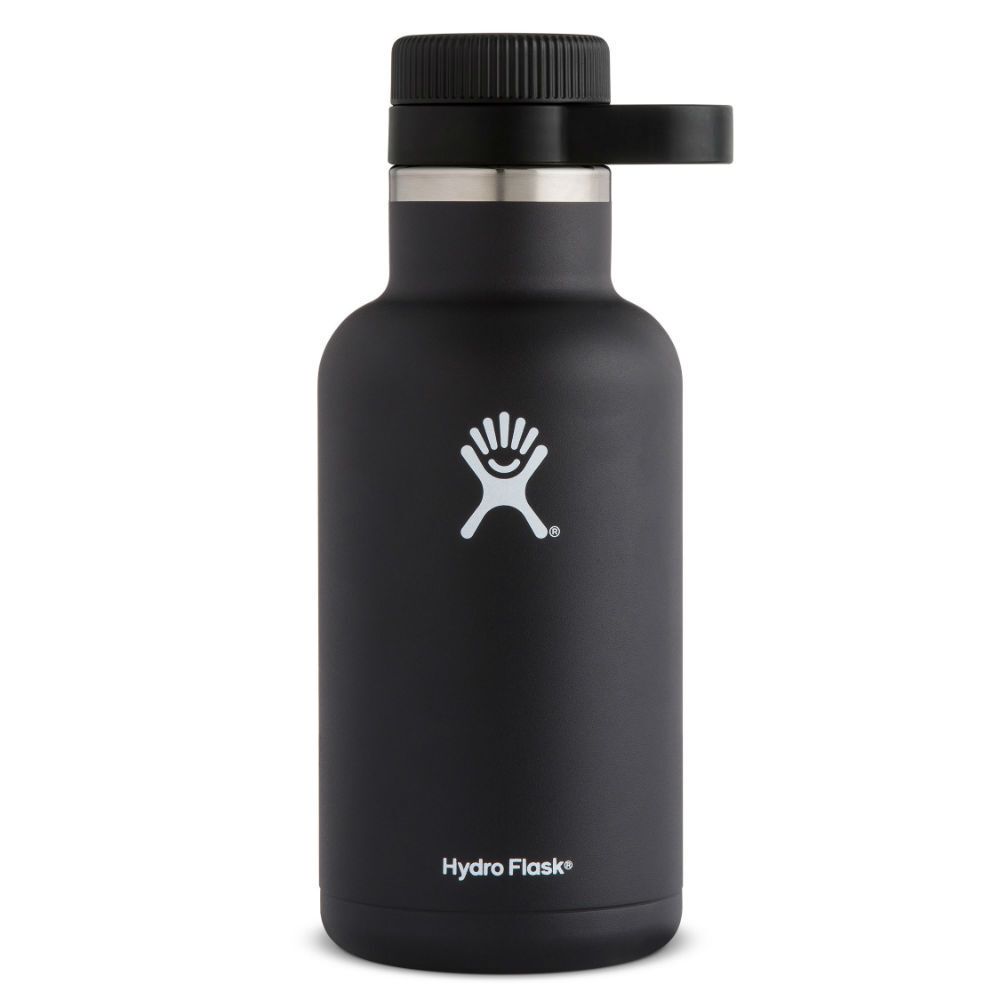 Best for Wine: 25 oz Wine Bottle or 10 oz Wine Tumbler
If you love wine then the 25 oz wine bottle is specifically designed to fit a full bottle of wine and it has a longer neck then other Hydro Flask bottles which makes for easy pouring.
The lid has a rubber gasket so it's water tight but also keeps your wine fresh. It's double insulated to keep wine cold or to keep your reds at room temperature and to stop them getting too hot on a warm evening.
The 10oz wine tumbler is durable but classy. It won't break like glass as it saves you from drinking out of a cheap plastic cup.
See the latest price of Hydro Flask Wine Bottles at Amazon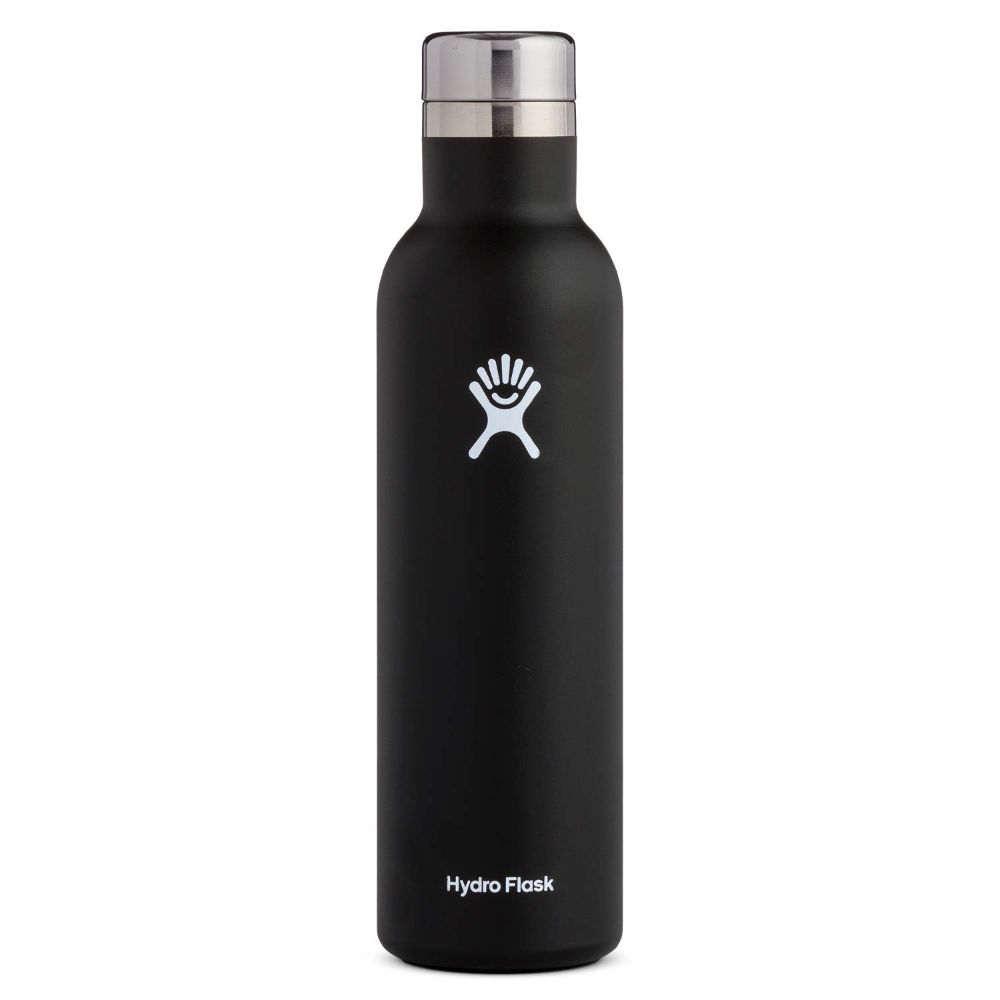 See the latest price of Hydro Flask 10oz Wine Tumblers at Amazon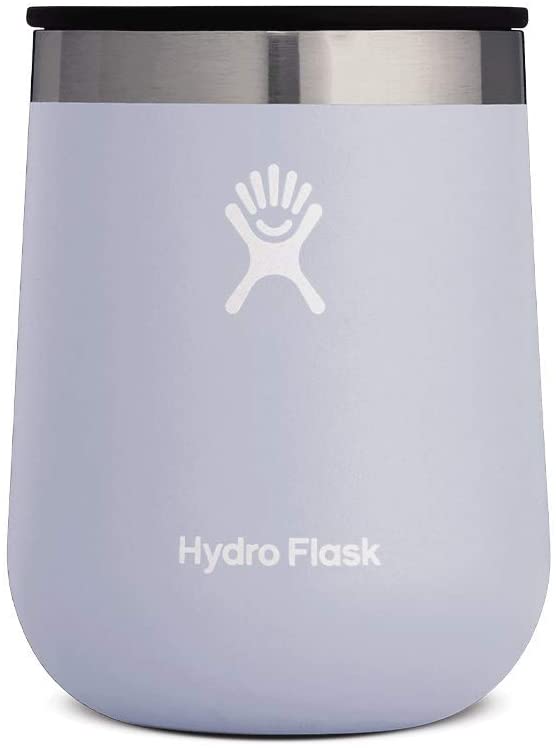 Hydro Flask Sizes NOT To Get
Oh no hydro flask bottles are a bad size per se there are some sizes that are less recommended compared to other sizes:
The less recommended sizes
18 oz standard lid
I actually own the 18 oz standard lid and honestly it is a great bottle but as an adult it just feels a little bit too small and my kids prefer the straw lead which only works on the 20 oz wide mouth.
See the latest price of 18 oz Hydro Flasks at Amazon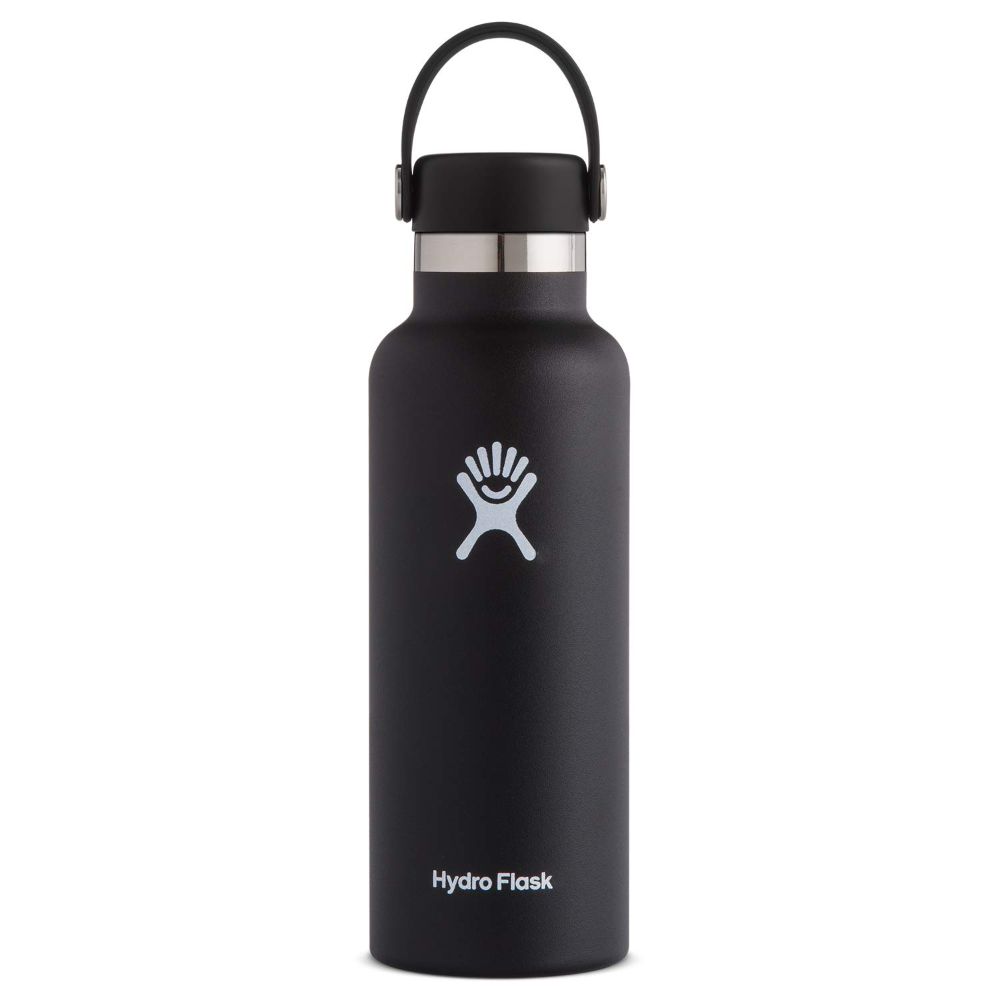 24 oz standard lid
The 24 oz was one of the first sizes that Hydro Flask offered but really now the 20 oz or 21 oz are more popular sizes as well as the 32 oz for those who want to fit more water.
This means the 24 oz is kind of in an area where it's a bit too big to be compact and portable but a bit too small for people who want to drink a lot of water.
See the latest price of the 24 oz Hydro Flask at Amazon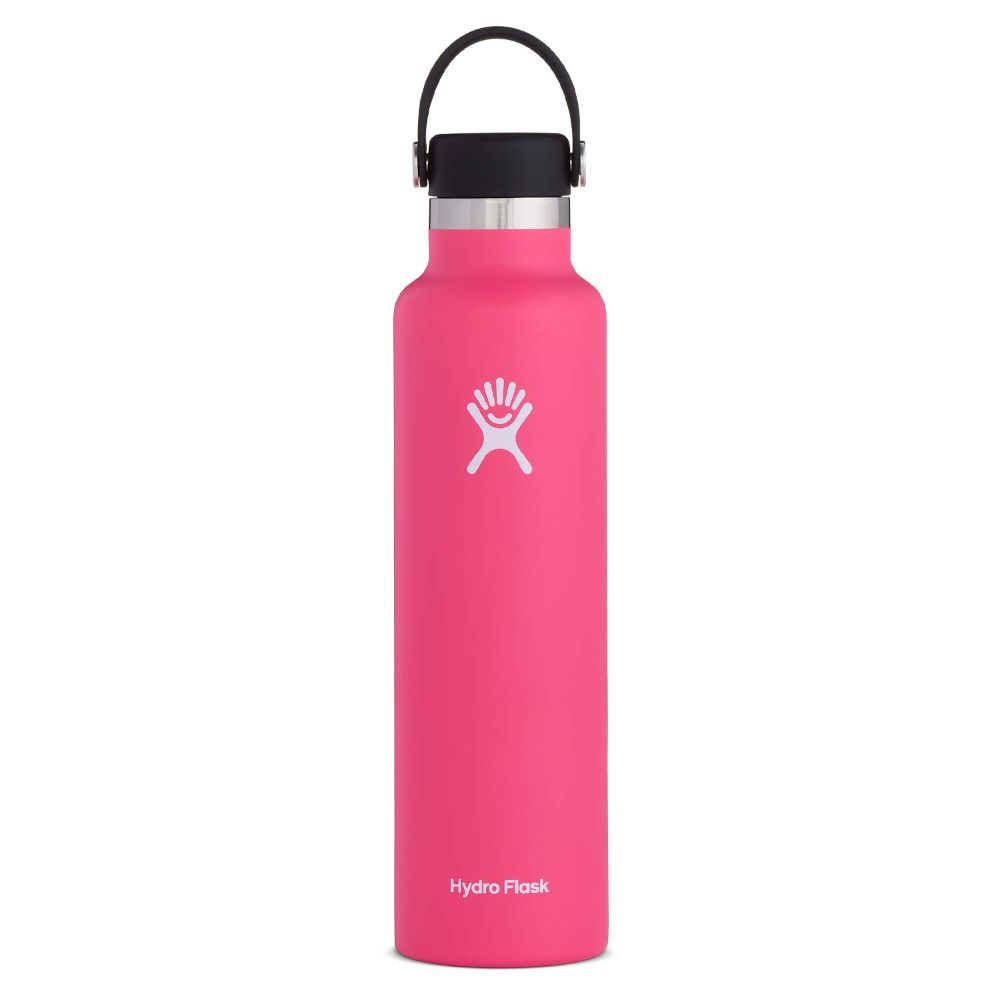 64 oz Oasis
There are actually 3 different 64 oz Hydro Flasks – the Wide Mouth, the Growler and the Oasis.
The Wide Mouth is the most popular and is compatible with lids like the straw lid. Great for personal or group use.
I find the Oasis to be a bit wide and bulky compared to the Wide Mouth which feels like a better shape.
See the latest price of the 64 oz Oasis at Amazon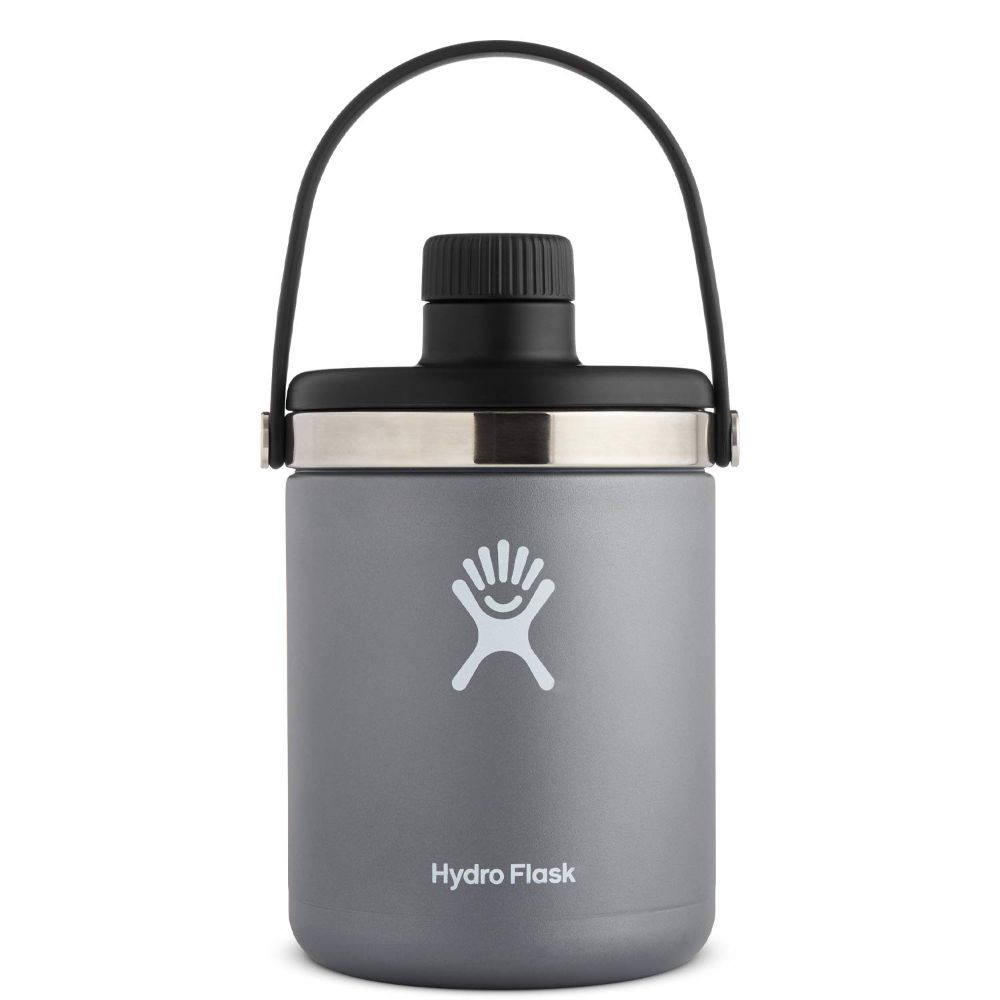 Let Us Know: What Size Hydro Flask Will You Be Getting?

Loading ...