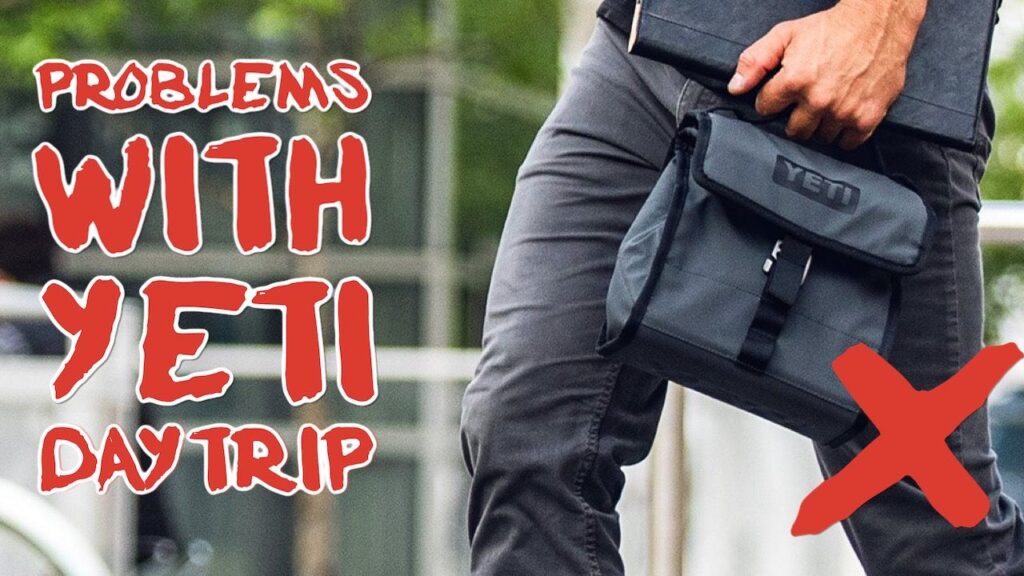 The Yeti DayTrip is a pretty cool piece of engineering. A little lunch bag that can keep ice for up to a full day and durable enough to last you years without ever breaking.
I did a full Yeti DayTrip review where I talked in detail about the features of this lunch bag and whether or not it was worth the high price tag.
Overall it's a great product that I highly recommend to anyone wanting to buy it.
But it's not perfect and there are some problems with the Yeti DayTrip that you should be aware of before going out and purchasing one.
1. It's Expensive

It's pretty obvious that this thing isn't cheap. It retails for around $80 – click here to see the current price on Amazon.
Not everyone can afford to spend $80 on a lunch bag and for a lot of people spending that kind of money on this product doesn't make sense.
But Yeti is a lifestyle brand and Yeti is known for making really great products. So you know that for the price you are getting something extremely high quality with a good brand behind it.
For some people it will be too expensive but for others it will be totally worth it.
See The Latest Price For The Yeti DayTrip (at Amazon)
See RTIC's Comparable Lunch Bag (at Amazon)
See A Cheap Insulated Lunch Bag (on Amazon)
2. Condensation
Some customers have noticed condensation on the outside of the lunch bag which make the lunch bag wet.
This is only reported by come customers and other people who have reviewed this product haven't been able to get condensation to happen.
My theory is that the metal clasp does get cold when the cooler is closed and ice is right up against the wall where the metal clasp is touching. Then the metal clasp gets some condensation.
Overall this problems is small (if it even does happen) and it isn't a big deal.
3. Not Made In The USA – Made in China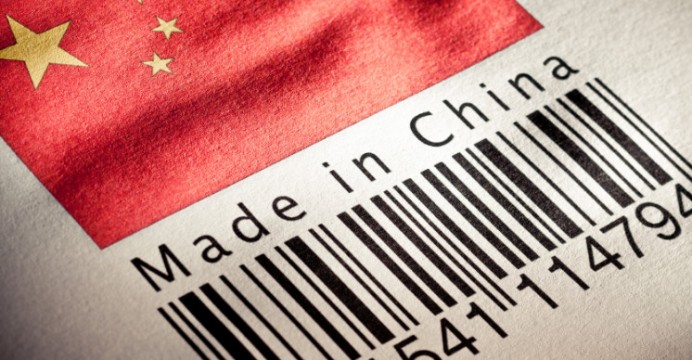 The majority of Yeti products are not made in the USA. Their hard sided coolers are manufactured in the Philippines and their soft sided coolers (which included the Yeti DayTrip) are manufactured in China.
If buying products that are made in the USA is important to you then this may be an issue.
4. Needs Ice To Keep Items Cold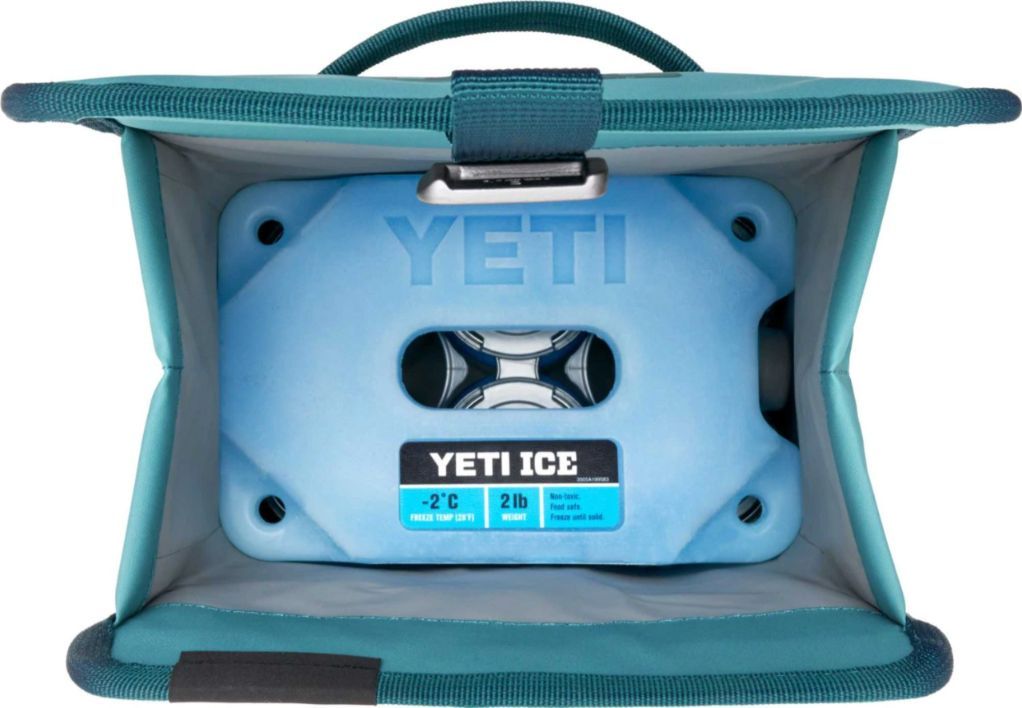 This lunch bag is compact and lightweight and therefore it does require ice to keep items cold.
If you put a cold bottle of water in here without any ice to keep it cool then within a couple of hours that bottle of water is going to be back to room temperature.
Unless you have a Yeti Insulated Bottle that is…haha
This is no roto-molded cooler and it won't work that well. So freeze yourself a water bottle or get a Yeti 2 lb Ice Brick if you want to keep your items cold inside this lunch bag.
5. It's Quite Small
The Yeti DayTrip isn't a big cooler. It can keep approximately 6-cans of beer or soda with a little bit of room left over.
When full extended it is enough to fit a water bottle, a lunch box and an ice brick.
By no means is this a cooler for keeping a full days worth of food in. It's simply a good sized lunch bag that will keep your lunch cold (or hot) for most of the day.
6. Securing The Hook Can Be Difficult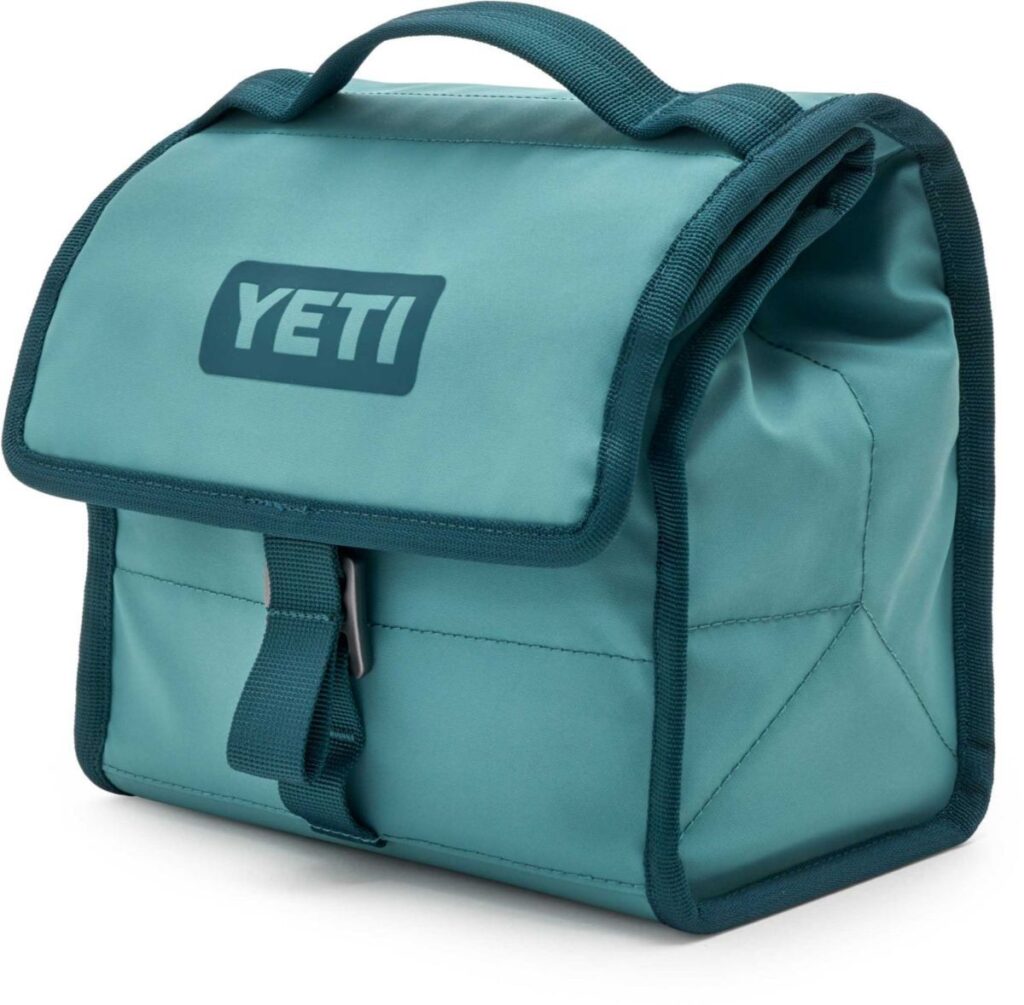 The DayTrip has 6 loops down the front face of the cooler and a metal latch on the lid that hooks into each of those loops depending on how large or compact you want your lunch bag to be.
However, sometimes hooking that latch into the looks can be a little bit difficult and tedious. Most other lunch bags have velcro which is extremely quick as easy to open and close.
The benefit of the metal latch over something like velcro is that is a more durable material. Velco wears down over time and stops working, while this loop and latch system will still work just as well in 5 years as it does the day you buy it.
7. It's Stiff To Fold
The DayTrip is filled with Coldcell Flex Insulation which is lightweight and flexible and allows your to fold the lunch bag into multiple sizes.
But is it stiff to fold. The combination of the insulation with the thick water resistant exterior material can just make it a bit tough to fold to the right size.
Sometimes it just needs a little bit of force.
8. You Need To Pre-Chill It For Best Results
For the best results with this cooler it is advised that you pre-chill it. This means keeping it in the fridge or freezer before using it.
This will cool down the insulation and ensure that the insulation isn't retaining any heat, which will melt your ice quicker and heat up your items faster.
Obviously if you're going to be using it for warm food storage then don't cool it down as you want the insulation to be warm.
9. No Exterior Storage Pockets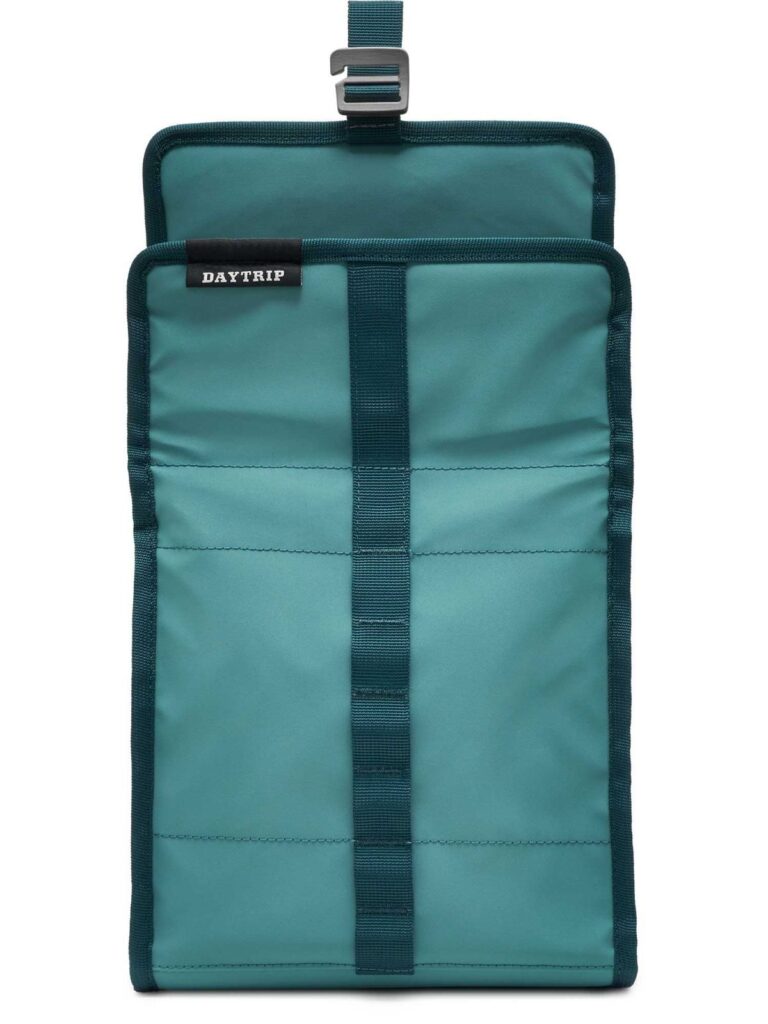 There are no external pockets on the DayTrip that could be used to store lunch items that you don't want to keep cold, or that you want to avoid the internal moisture that will happen from condensation on your ice brick.
It would be great to have an external pocket just to allow for a little bit more flexibility in how you use the lunch box and what you can carry in it.
10. No Shoulder Strap (or Hooks For One)
While the DayTrip does have a strong but comfortable carry handle it doesn't have a shoulder strap or any hooks to connect a shoulder strap.
Now most people won't want to use a should strap so this isn't going to be an issue. But it would be cooler if you could take the shoulder strap off your Yeti Hopper cooler and clip it onto your DayTrip lunch bag. Throw the bag over your shoulder for easy carrying and off you go to the picnic or ball game or wherever and your hands are completely free to carry other items.
None Of These Problems Are Deal Breakers

The Yeti DayTrip is an extremely well constructed lunch bag and there is no doubt in my mind that this is THE BEST lunch bag on the market at the moment.
Really nothing comes close to it's durability, ice retention and flexibility of use. Plus Yeti is a lifestyle brand so you feel really good owning this product and you can buy it knowing it's going to last you years.
So while it does have its shortcomings none of the above issues are really deal breakers in my opinion, except maybe price which may be a deal breaker for some people.
So what do you think? After reading this do you still want to grab yourself a Yeti DayTrip?
For more details on the features of this product I did a full Yeti DayTrip review or you can click the link below to see the latest price on Amazon: