The LARQ self-cleaning water bottles are great. They use UV-C light from an LED in the lid to kill bacteria, protozoa and viruses which helps to both sterilize your water and keep your bottle clean at the same time.
However, as will all products the LARQ bottle is far from perfect and there are a variety of issues with this bottle that customers have or that may make it unsuitable to you as your daily driver water bottle.
I'm not creating this list to say that LARQ bottles aren't good. In fact, the opposite is true.
LARQ makes really great water bottles that do work as they say to sterilize water and to keep your bottle much cleaner than a normal bottle would be. They are high-quality water bottles that do what they say they will do.
However, when spending this much money on something like a water bottle (we are talking around $100 here) then I think it's important to know the downsides as well so you can make a more informed decision as to whether or not this water bottle is right for you.
So here are the problems that I personally see with the LARQ water bottle.
1. Price
The first and most obvious issue is the price. LARQ water bottles are one of, if not THE, most expensive water bottle on the market today.
I'm sure there are other more expensive water bottles out there but LARQ bottles certainly don't come cheap.
Below you can see some example pricing from LARQ's website and you can see that most of their bottles are around that $100 mark.
| Product | PureVis UV |
| --- | --- |
| Insulated 17 oz | $99.00 |
| PureVis Insulated 25 oz | $118.00 |
| PureVis Movement 24 oz | $89.00 |
| PureVis Movement 32 oz | $98.00 |
Pricing Source: LARQ's website (Spring 2023)
The Insulated bottles are more expensive than the Movement bottles that aren't insulated and this makes sense.
But even still the bottles cost between $90-$120, which is a lot of money to spend on a water bottle.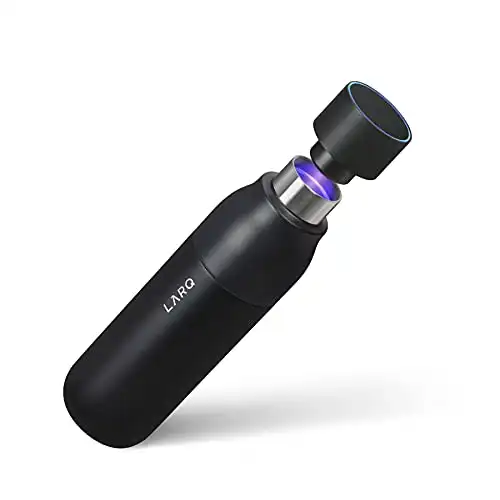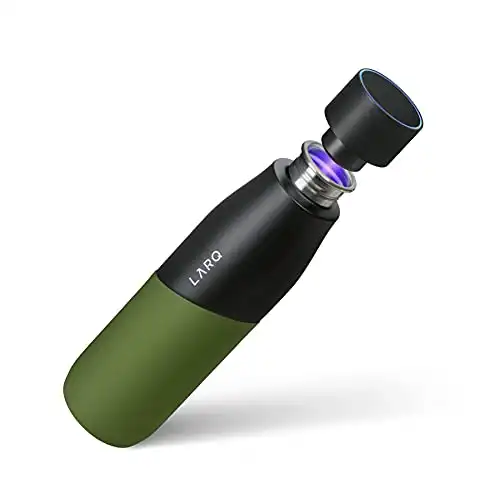 Even Hydro Flask bottles which are expensive water bottles aren't nearly this expensive.
But to be fair, in the LARQ PureVis you get all the technology that is built into the lid of the bottle to kill over 99.999% of bacteria, protozoa and viruses.
While it would be nice to have this sort of water bottle available at a cheaper price to give everyone personalized access to clean water, that just isn't the reality of the situation at the moment.
There are some cheaper LARQ bottle alternatives, but these generally aren't nearly as well built and are more likely to break over time.
2. It Isn't Technically "Self Cleaning" And They Can Smell Over Time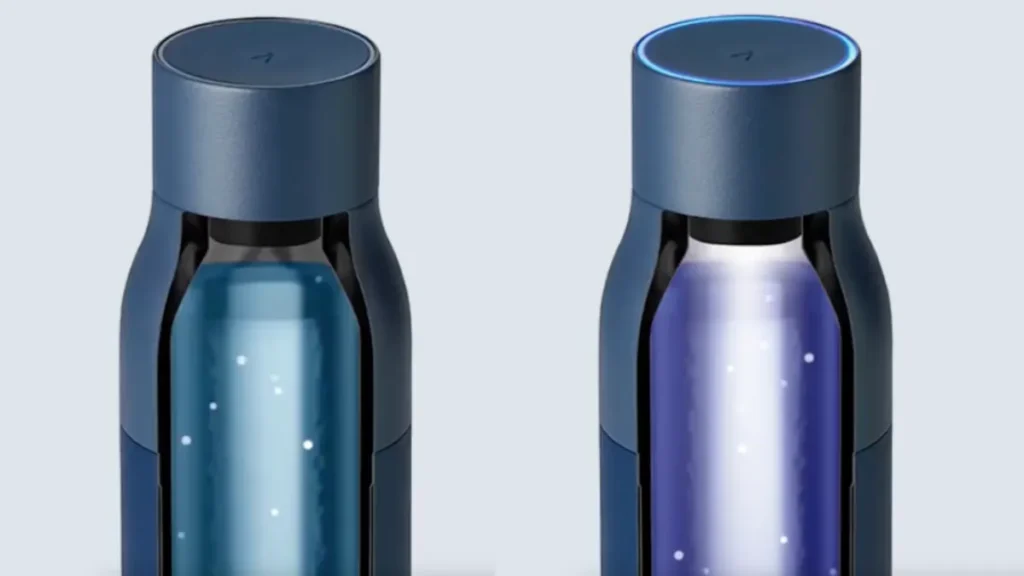 While LARQ markets itself a "self cleaning" it isn't actually self cleaning in the way most people would think.
The way the LARQ "self cleans" is it shoots UV-C light down into your water bottle for 10 seconds every 2 hours.
UV-C light is proven to kill bacteria, protozoa and viruses and these are the microorganisms that lead to bottles smelling over time, growing mold and becoming gross and unhealthy to drink out of.
So yes, the LARQ does keep these bacteria at bay but it doesn't kill all of them and over time your LARQ bottle will begin to smell if you don't clean it.
It can also build up an abundance of biofilm over time. This is because the LARQ doesn't clean away the dead microorganisms and UV light can't destroy biofilm. Over time this can even provide a protective layer for microorganisms against UV light.
The light also only reaching the bottle below the neck and does not work around the neck and mouth of the bottle so these areas absolutely need to be cleaned over time.
All in all this means you really need to wash your LARQ bottle regularly and it's not completely self cleaning. You don't need to clean it as often as a regular water bottle and it's less likely to develop smells as quickly – but cleaning is still required.
The LARQ has a small opening which can make it difficult to clean. Check out this article on how to clear narrow mouth water bottles effectively.
3. There Are Some Longevity Issues
Some customers have complained about longevity issues with the product and the lid failing over time through water damage or other unknown errors.
If you have a purple light on your LARQ cap or a red light on your LARQ cap then these are all signs of terminal failure and you need to contact the company to resolve the issue.
LARQ does offer a 1 year warranty for their bottles, but when you're spending around $100 on a bottle for the sole reason it has a UV-C self cleaning light you'd be pretty disappointed if it broke after 1 year and no longer worked.
Compare this to the 10 year warranty offered by alternative bottles like the Hydro Cap by Waatr and LARQ's warranty isn't that good.
4. It Has an Old Micro USB Charging Port
The lid of the LARQ bottle is still charged with a micro-USB cable.
While this cable is still OK and this isn't a huge issue I'm really shocked that LARQ haven't been bothered to move to USB-C type cable.
It just means you need to have another cable lying around to charge your LARQ.
Luckily it only needs charging every few weeks so this doesn't cause me too much pain.
5. The Opening Is Small So Ice Doesn't Fit In It Easily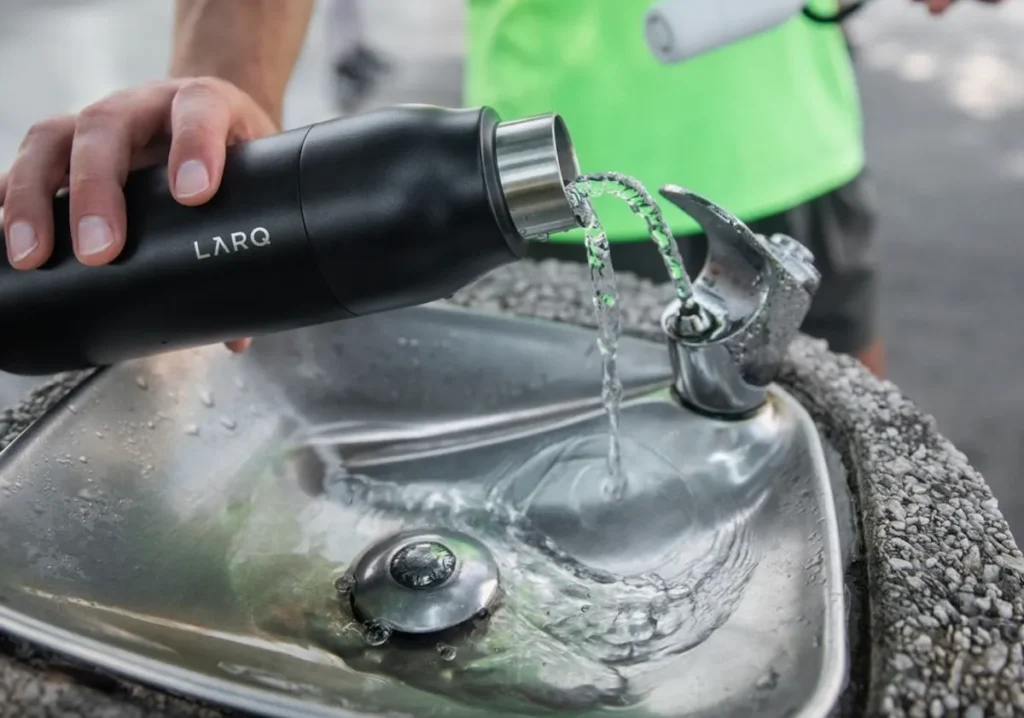 Another issue with the LARQ bottles is that the mouth opening is quite small so I struggle to fit ice cubes in there unless they are small ice cubes.
It's fine to fill up and drink out of but it does also making cleaning the inside of the bottle more difficult as it's harder to get in there with a bottle brush and clean everything.
I much prefer the wide mouth of the Nalgene bottles or the wide Hydro Flasks and I would love if LARQ made a bottle like that.
6. The Bottle Size Is Too Small
The insulated LARQ PureVis bottle comes in 2 sizes – 17 oz and 25 oz. Personally, I find these sizes a bit too small for me and they require constant refilling throughout the day if I'm going to hit my water consumption goals.
LARQ does also make "Movement" bottles which aren't insulated and these comes in 24 oz and 32 sizes which I think are much more appropriate.
7. Their Customer Support Isn't Great
Multiple people in YouTube reviews and on Amazon reviews have talked about the poor service offered by LARQ's customer support.
The biggest issue people have is their slow response time and for this I have to agree.
For me personally I reached out to them on March 2nd and I had a question about the product. They responded to me on March 15th…a full 13 days (around 2 weeks) later.
2 weeks is a long time to get back to customers. Other people have reported similar response times.
If you look at their reviews you can see one customer had an issue with their cap where it corroded and stopped working. They requested a replacement cap only to have customer support tell their their bottle is outside of the warranty period and they can't help them.
The product did look defective and potentially harmful to the customer so I'm really surprised the company didn't replace this one.
It's a bummer that a company selling such a premium product refuses to invest into creating a premium customer support experience.
8. It Needs Power To Work and Charging Can Become Tedious
This isn't a problem with just LARQ but with all UV powered water bottles. One of the downsides of UV water bottles is that you need electricity in order to power the lights.
Run out of battery and your bottle can't sterilize water anymore.
While the LARQ only needs to be charged every 3-4 weeks it does need to be charged more often if you use it in Adventure mode regularly and over a period of months and years it can become tedious to remember to charge your water bottle.
9. Some Customers Experience Issues With The Orange Light Turning On
A common issue with LARQ bottles seems to be that the lid stops working and turns an orange color when you're trying to work it.
When you use the LARQ bottle the lid is meant to breath or pulse blue when in use.
Orange is the safety color and turns on when you take the cap off when it's being operated. See full list of all LARQ lights and what they mean.
So if the orange light is turning on when the lid is actually on the bottle this isn't ideal. It seems to have randomly for some people and for others it seems it happens when water gets under the glass of the LED light.
I have the new design cap and I've somehow managed to get some mist/water trapped on the other side of the glass/plastic and can't get it out. I started getting the orange light quite a lot and I believe it was for that reason, I emailed them but by the time they responded I ended up fixing it (for now anyway) by turning it off completely for a day and turning it on again.

Rando Media
10. It Doesn't Filter Chemicals or Particulates From Water
The LARQ PureVis UV self cleaning bottle does NOT filter out any chemicals, heavy metals, particulates or microplastics – like you might expect it to do.
It just uses UV light to sterilize the water but doesn't change the water or improve it's taste at all.
However, LARQ does make a filtered water bottle which is different from the PureVis.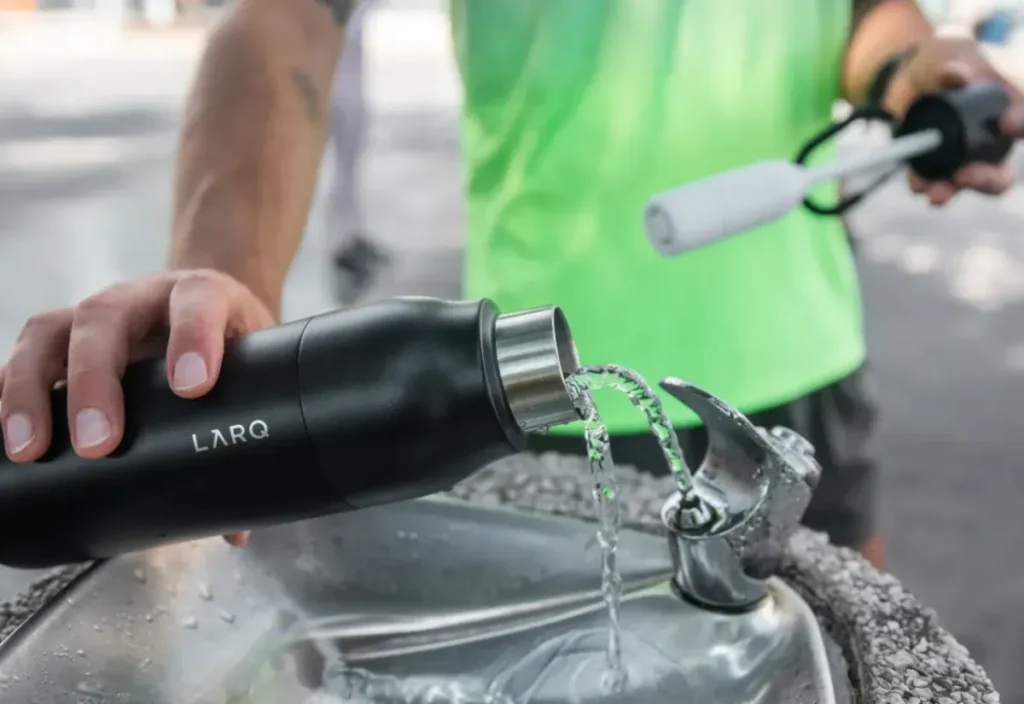 The filtered bottle DOES in fact filter out heavy metal, chemicals and other particulates and uses a combination of nano zero technology and activated charcoal filters to filter your water.
This particular LARQ bottle doesn't have the UV light, and the filter does need to be replaced regularly. But it will make your water taste better whereas the PureVis version will not.