LARQ PureVis UV bottles are great because they are self cleaning and they can sterilize your water making it safe to drink.
But there are 2 different versions of the PureVis bottle. The original or regular "PureVis" and the "PureVis Movement" and it can be difficult to know which one you should buy.
The main difference between the regular LARQ PureVis and the PureVis movement is the regular is vacuum insulated while the Movement isn't. The movement also has a removable silicone sleeve on the bottom to help protect the bottle, is slightly cheaper and comes in different sizes.
Both have exactly the same self-cleaning lid that uses UV-C rays to clean your bottle and treat your water, so there is no difference there.
The benefits to having an insulated bottle is that it will keep your water cold for longer periods of time and the benefit of the non-insualted Movement bottle is that it's lighter weight, making it easier to carry around.
The Biggest Difference: Vacuum Insulation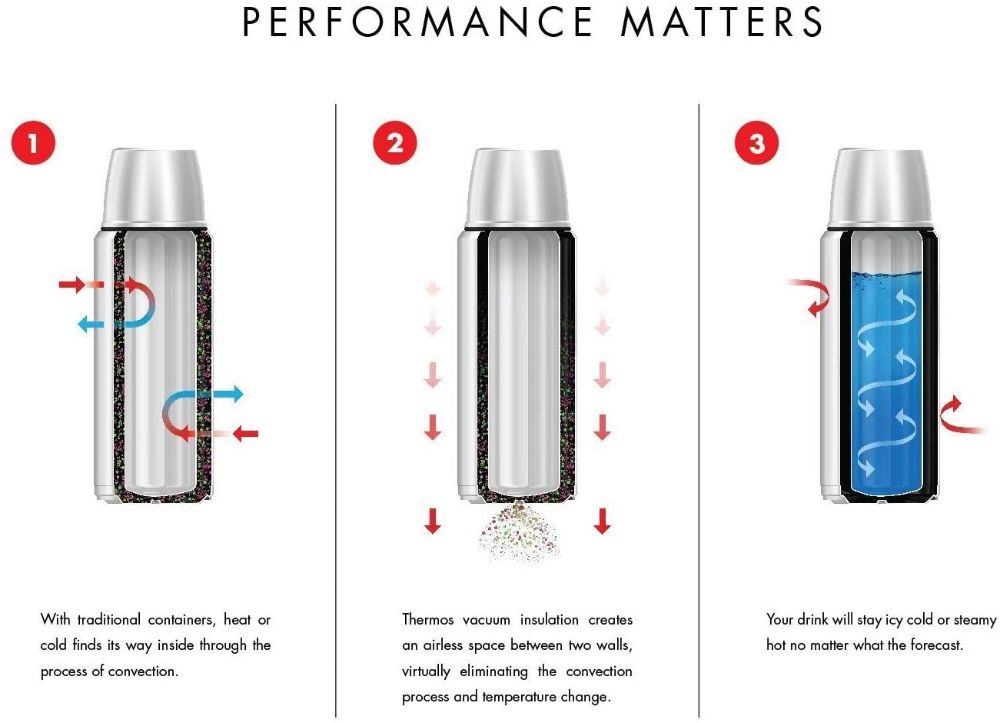 The regular LARQ bottle is made from dual-wall vacuum-insulated stainless steel.
This means that between the inner and outer wall of the bottle air is sucked out to create a vacuum. Vacuum is one of the best insulators and is used in a variety of bottles to help keep your drinks cold.
In fact, the regular LARQ can keep drinks cold for up to 24+ hours if it's filled with ice water. (However, one of the problems with LARQ bottles is the cap is quite small so it can be hard to fit ice in).
The LARQ Movement bottle is only single walled and therefore does not have any insulation at all.
Drinks inside the LARQ movement will not stay cold for more and a couple of hours (less in really warm weather) and the bottle will also sweat from condensation.
Both Feature LARQ's Self Cleaning and Sterilizing Lid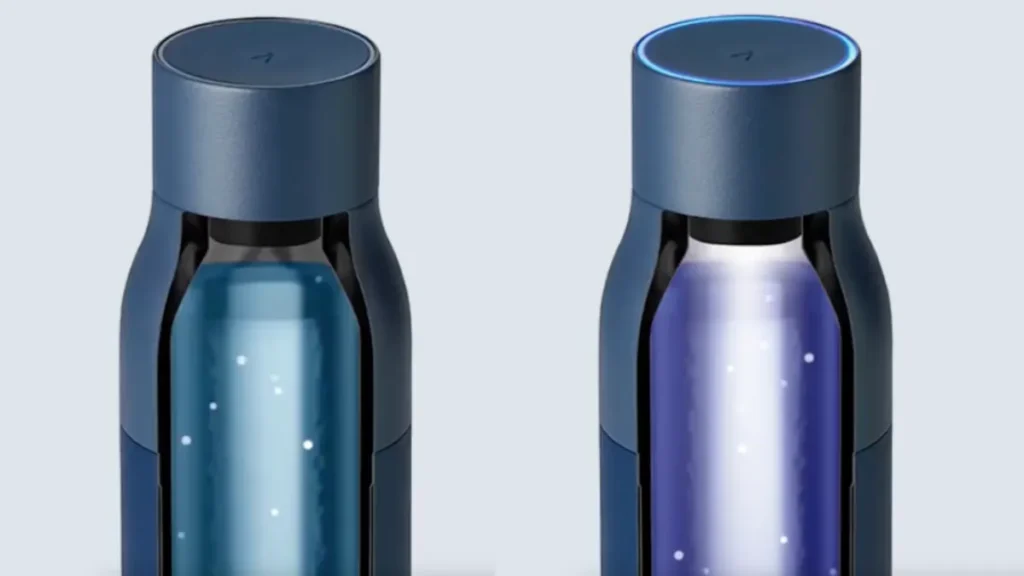 Both the regular PureVis and the PureVis Movement use the exact same self cleaning lid.
The LARQ self-cleaning lid works by shining UV-C light down into your bottle. This kills over 99.999% of bacteria, protozoa and viruses, making your water safe to drink from without getting sick.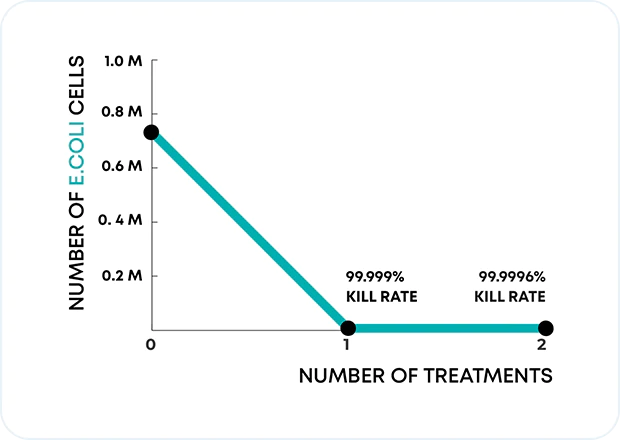 There is no difference between the two products in terms of the self cleaning features or water sterilization.
Price Differences
There is also a price difference between the regular PureVis and the PureVis Movement, with the Movement being cheaper.
The most comparable are the 24 oz Movement vs the 25 oz Insulated and there was a $29 difference between the 2. That makes the Movement about 25% cheaper than the insulated version.
| Product | PureVis UV |
| --- | --- |
| Insulated 17 oz | $99.00 |
| PureVis Insulated 25 oz | $118.00 |
| PureVis Movement 24 oz | $89.00 |
| PureVis Movement 32 oz | $98.00 |
Pricing Source: LARQ's website (Spring 2023)
It makes sense that the Movement is cheaper as it has less materials and isn't vacuum insulated so my guess is that the manufacturing would be cheaper.
However, prices are obviously subject to change over time as well as discounts. Below you can see links to the current bottle pricing on Amazon for both versions of the bottles and in all sizes so you can compare the prices yourself.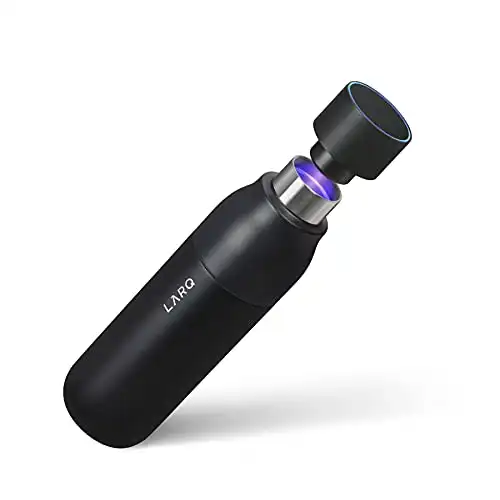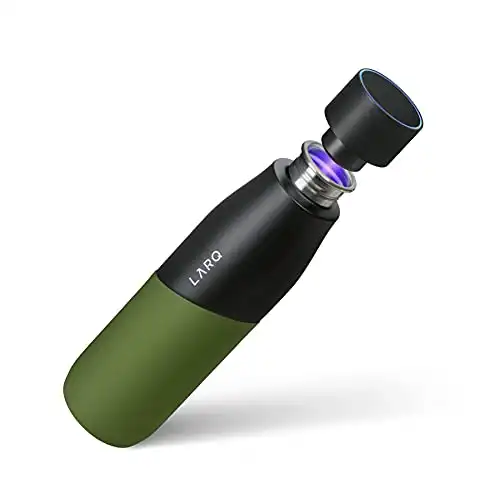 Size Options
Another difference in the 2 bottles is the size options.
The regular insulated PureVis comes in 17 oz and 25 oz sizes. Bother of which are quite small and I personally would definitely opt for the 25 oz as if you want to drink a lot of water each day like I do then 17 oz will just be too small.
The PureVis Movement comes in 24 oz and 32 oz sizes. Honestly, I feel like these are much better sizes and I wish they offered a 32 oz or 40 oz size in the insulated version as for me bigger is better.
Weight Differences
The Movement is marketed as a lightweight version of the regular PureVis LARQ bottle and it certainly is a fair bit lighter.
If weight matters to you more than your drink being able to stay cold then the Movement is going to be a good options for you.
Weight Of LARQ Bottles When Empty
The closest comparison is the 24 oz Movement and the 25 oz Regular where the Movement version is a full 37% lighter than the regular version.
This is a significant improvement in weight.
| Size | PureVis | PureVis Movement | Hydro Flask Trail |
| --- | --- | --- | --- |
| 17 oz | 13.5 oz / 383 g | | |
| 24 oz | | 10.7 oz / 303 g | 10 oz / 284 g |
| 25 oz | 17 oz / 482 g | | |
| 32 oz | | 12.5 oz / 907 g | 12.4 oz / 353 g |
Weight of LARQ Bottles When Full
However, once full the differences in weight become a lot less noticeable.
The movement which was 37% lighter when empty is only 17% lighter when full. Take out the extra 1 oz of water due to the larger size of the regular version and it's only 15% lighter.
Still an improvement, but it's not that drastic.
If you're actually looking for a lightweight bottle then a plastic bottle like the Nalgene UltraLite is probably a better option or something made from titanium instead of stainless steel.
| Size | PureVis | PureVis Movement |
| --- | --- | --- |
| 17 oz | 20.5 oz / 581 g | |
| 24 oz | | 34.7 oz / 983 g |
| 25 oz | 42 oz / 1,191 g | |
| 32 oz | | 44.5 oz / 1,261 g |
Color Options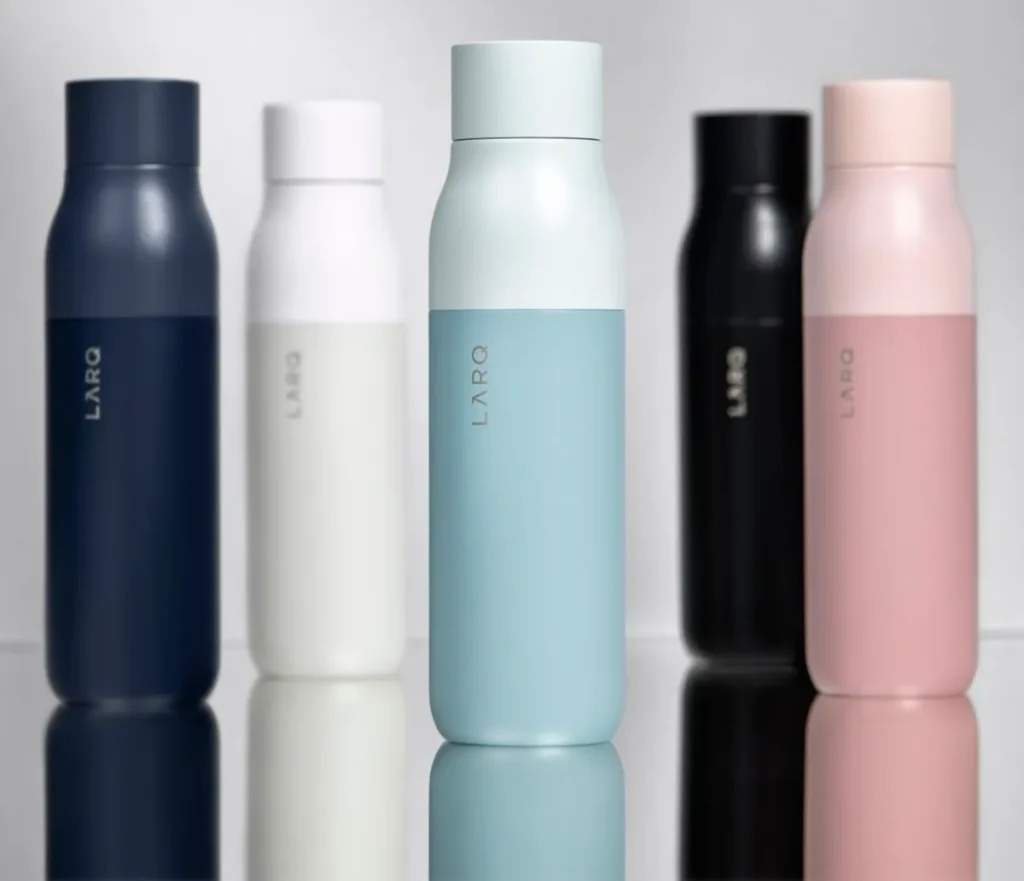 The LARQ PureVis regular insulated bottle comes in a 2 tone painted color and has 5 main color options plus some limited edition colors that LARQ release from time to time. The regular PureVis is available in:
Monaco Blue (Navy)
Obsidian Black
Seaside Mint (Light Blue)
Granite White
Himalayan Pink
Eucalyptus Green (Limited Edition)
The PureVis Movement bottle comes in just a single tone color but does feature a silicone base cover which makes it appear like a 2 tone bottle. There are only 2 colored bottles available – white and black. But a variety of different silicone boot colors are available.
The silicone boot also protects the bottle from dings and scratches and does provide a little bit of insulation as well. The Movement is available in:
Black/Onyx
White/Dune
White/Pebble
Black/Pine
White/Coral
LARQ PureVis Original vs Movement: Which Should You Get?
For me being able to drink cold water all day long is an absolute must. I hate going on a hike and drinking lukewarm or warm water – it just ruins the experience for me.
For that reason I would personally choose the insulated PureVis version even though it's a bit more expensive.
I would also certainly opt for the larger 25 oz size but I personally think 17 oz is just too small given I try to drink around 64 oz (2 Liters) per day.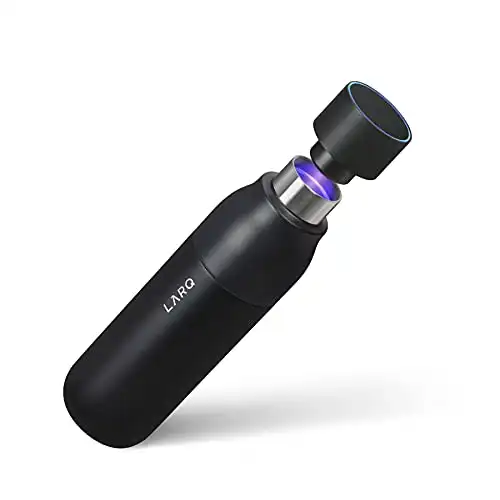 However, if you're in a colder climate or don't care as much about cold water as I do then the PureVis Movement might be a better option for you.
It's more lightweight and does come in larger sizes. I love the 32 oz size and I think it's my ideal water bottle size, so I would choose this bigger bottle personally.