I've never been great at regularly cleaning my water bottles and this means over time they can build up bacteria, mold and other nasties that can be unhealthy to drink.
The LARQ bottle is a self cleaning bottle that also sterilizes your water and I love these features. It also makes the bottle great for my bushwalks as I can sterilize and drink water directly from the river.
It uses UV-C LED lights to shine down into the bottle purifying your water but also cleaning the bottle for you.
The lid has several different LED color indicators signifying different statuses such as the cleaning mode and charging progress.
A purple light on the LARQ Bottle lid indicates that the UV-C light is no longer working or some sort of terminal failure has occurred. If your LARQ bottle shows a purple light you'll unfortunately need to complete their Warranty Claims form and wait for a customer service representative to reach out.
There are a number of different colors that the LARQ lid displays and knowing what each means is very important to the overall care of your bottle.
While these colors usually signify the charging status or cleaning mode that the bottle is in, there is a rare case in which some sort of failure has occurred and the purple light is displayed.
Luckily LARQ seems to have established a clear way to get in contact with and provide a solution to customers experiencing this issue, which I'll go into further detail about below.
What Does a Purple Light on my LARQ Bottle Mean Exactly?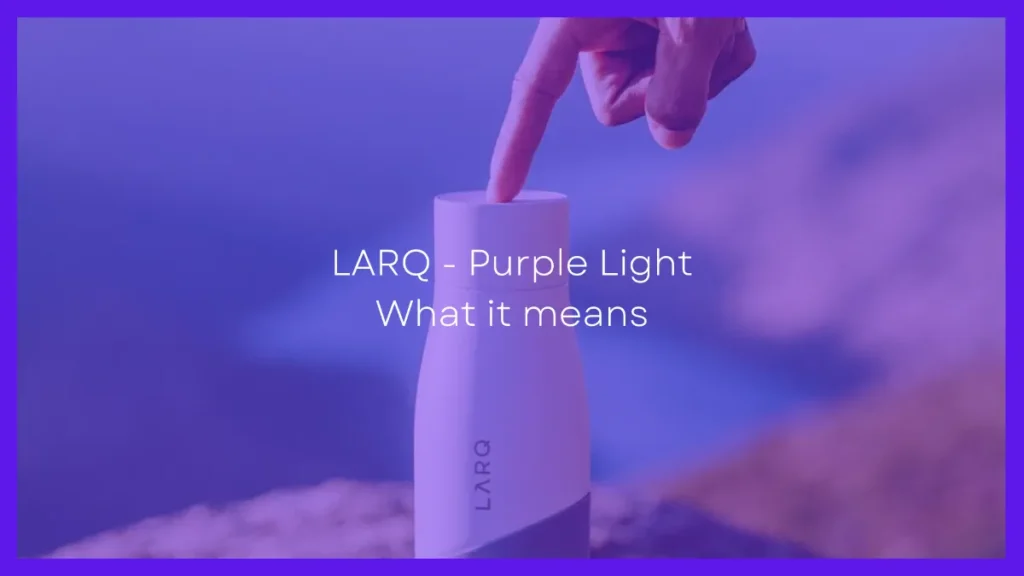 If you notice that the lid of your LARQ Bottle is emitting a purple LED, this means that there has been some sort of terminal failure with your bottle (see FAQ).
Something has become faulty with the UV-C light that cleans and purifies the bottle.
LARQ state on their FAQ page:
RED/PURPLE LIGHT
Oh no! Something is wrong. Please complete the Warranty Claims Form, and our Customer Experience team will have you drinking brilliantly again in no time!
I personally reached out to LARQ customer support and they graciously gave me some extra details about the purple light and what it means:
Hi Ryan‍,

Thank you for reaching out to us. The purple light LED indicator is designed to turn on if there is a malfunction, after this is triggered we are unable to fix it remotely and the customer would need to contact us for assistance.

This lid will not contaminate the bottle, the purple light is an indication that the UV cleaning cycle will no longer work. We would recommend contacting our team for further details should this issue arise.

Hope this helps!

Drink brilliantly,
Marissa
You may notice the purple light appear if your lid has some sort of collision or is dropped.
After spending some time researching the purple light I found that LARQ does not go into much detail about what exactly the purple light means other than some sort of "terminal failure", presumably with the UV light.
One of the biggest downsides to UV light bottles is that there's hardly any visible signs of how effective it is and without the purple light you probably wouldn't be able to tell that anything was wrong at all.
"Terminal failure" along with several other problems can cause your LARQ bottle to smell, as your lid will no longer be sanitizing the water and killing the bacteria and viruses in the water. So it's important to catch the purple light quickly if it occurs.
If you notice a purple light then you should not drink water from your LARQ bottle where you are unsure of it's safety/quality. The sterilization feature of the bottle is not working when a purple light is showing.
However, if you are confident in the water source you're drinking from the LARQ bottle is still safe to use but it will no longer be self cleaning.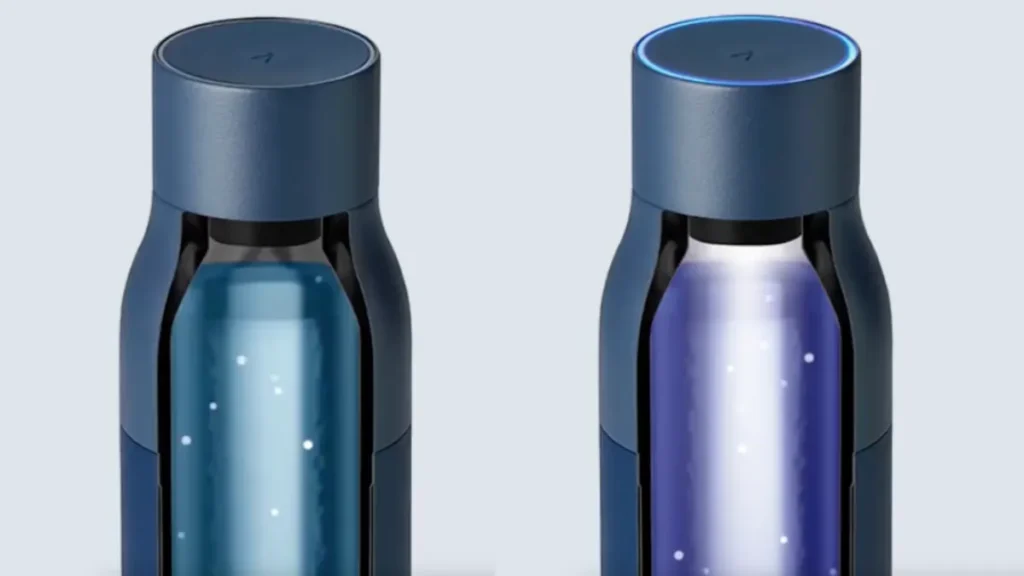 Read my article for more tips on safely drinking UV treated water.
It does however seem rare for this problem to occur and I even had trouble finding any accounts from customers who have encountered the purple ring of death.
What Should I Do About The Purple Light on my LARQ Bottle?
If the lid of your LARQ Bottle starts emitting a purple light, stop drinking out of it right away as the cleanliness of the bottle is no longer guaranteed.
According to LARQ your next step should be getting in contact with them via their Warrant Claims Form.
From there you'll have to wait for a customer service representative to reach out and give you further details on how to replace your faulty bottle/lid.