Eggs are the ultimate camping food as they are versatile, filling and easy to cook. However, packing eggs in an egg carton will inevitably end up in a soggy mess inside your cooler and you run the risk of broken eggs.
But there are actually a variety of smart ways to pack eggs in a cooler so they remain fresh and don't get damaged.
The best way to safely pack eggs in a cooler is to store the eggs in a plastic egg carrier. Alternatively you can pour the eggs into plastic bottles or sealed ziploc bags for easy scrambled eggs.
You can also make your watertight egg storage container or even use powdered eggs.
Wet and disintegrating egg cartons can really put a damper on the fun, especially if you're the one left cleaning up the mess!
I suggest trying some of these hacks to see which works best for you.
1. Get A Plastic Egg Storage Container For Storing Whole Eggs In Your Cooler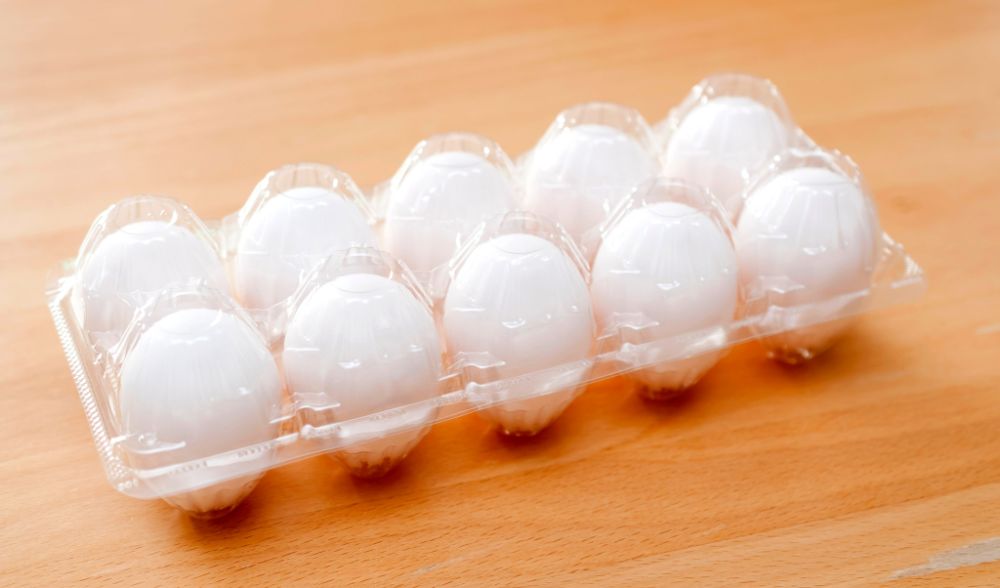 If you want to transport your eggs whole and untouched to the campsite, I suggest getting an egg storage container. These work pretty much like an egg carton, except they are much more durable and won't turn to pulp when they get wet.
The great thing about these containers is that there is one for every budget.
If you're looking for a high-end option, you can try the LocknLock egg container. This product can securely hold up to 12 eggs and is made from plastic. The best thing about this container is that it's watertight, so your eggs won't get wet even if they are on the very bottom of your cooler and end up swimming in water.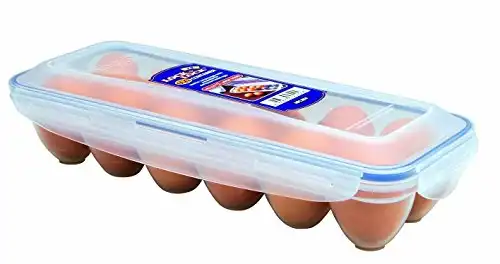 Camco offers an affordable egg carrier holder that holds 12 eggs and comes with a handle for easy transport. It's a cheaper option and the 4×3 layout can help to save space and more easily fits into smaller coolers.
It's kind of like a mini briefcase for eggs.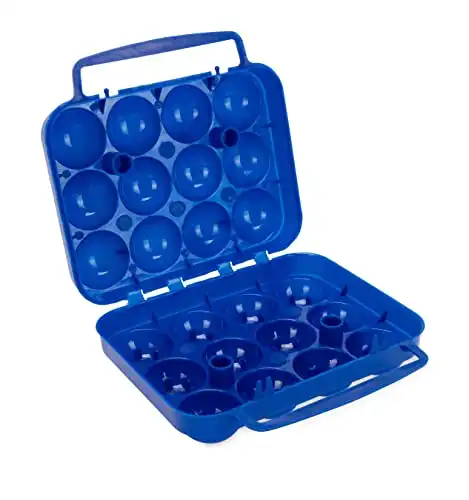 Camco Egg Carrier - Great For Camping
This affordable plastic egg carrier comes in a 6-pack and 12-pack variety and is perfect for safely storing eggs in your RV fridge or cooler.
The 3 x 4 layout helps to save space and the cover locks tightly and features a built in handle for easy carrying.
Buy Now at Amazon
2. Crack Eggs at Home and Transfer Them Into A Reusable Bottle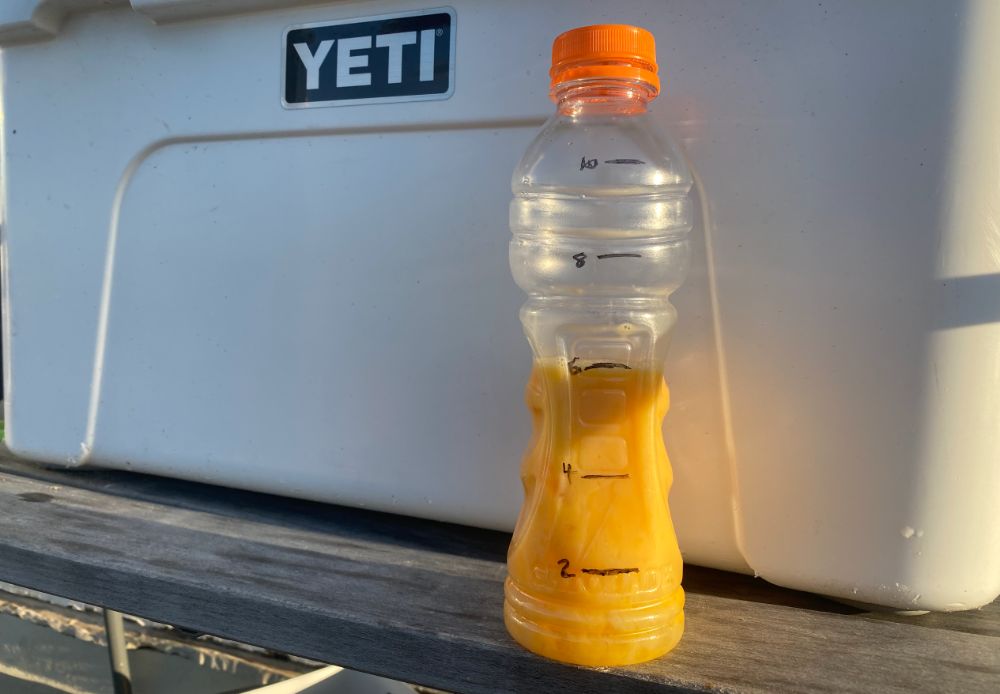 This is my favorite hack to use when going camping. It's super convenient, it saves a lot of space and it makes cooking eggs extremely quick and easy with less waste.
Simply pour your eggs into the pan with no fuss or mess. All you need to do is crack your eggs and pour both the egg white and yolk into the bottle.
A bottle is much more durable and compact than an egg carton. There's also the added benefit of not having to crack eggs at a campsite.
A handy tip to remember is always to note how many eggs were poured into the bottle. You can mark the number of eggs with lines using a permanent marker.
This is great if you enjoy your eggs scrambled or an omelet.
You can even pre-create your omelet and mix in your veges or anything else you want in it and then when it comes time to cook just pour it all in your fry pan.
NOTE: Some people have commented that storing eggs like this can actually change the flavor of the eggs.
This could be caused by adding milk or other items that can more easily spoil to the eggs or it could be from not cleaning out the bottle properly or the plastic imparting flavor into your eggs.
To ensure this doesn't happen you can use a glass bottle instead of a plastic one and don't add anything to your eggs until you go to cook them.
3. DIY Egg Holder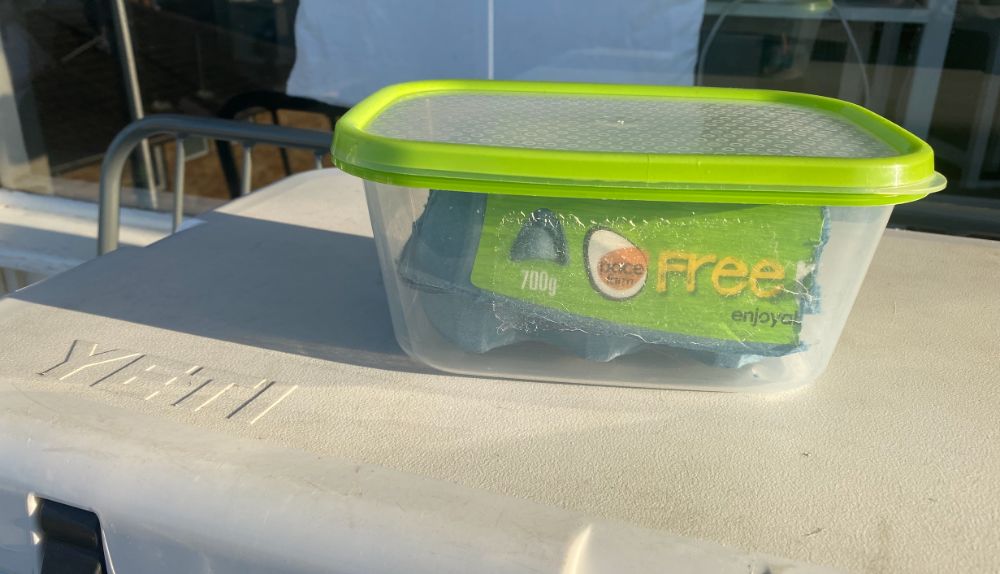 Why spend money when you can make your own egg holder? If you only go camping a few times a year, then you probably would prefer to make your own holder as you can use the egg carton the eggs come in and a tupperware container you have lying around the house.
How to DIY an egg holder:
Decide on a plastic container with a lid. The best containers to use are those with the lockable lids. But any old lunchbox you've got lying around will work.
Place the cardboard egg carton inside the container. The fit should be snug, so the carton does not slide around too much.
Place tissue paper around the sides and on top of the eggs if you feel it's needed. This will cushion the eggs and prevent any damage.
When using this trick, be extra gentle when carrying your cooler, as there is still a chance that the eggs can still be broken.
I suggest placing your egg holder at the top of the cooler to avoid being squashed by heavy items.
Egg holders are great if you prefer your eggs fried or boiled over scrambled and the eggs will stay fresh longer than if you pre-crack them into a container.
The downside of this homemade method is that it tends to waste more space than a dedicated egg holder or the bottle method mentioned above. So if space is at a premium this may not be the best option.
4. Carry Eggs In Tupperware Container with Paper or Tea Towels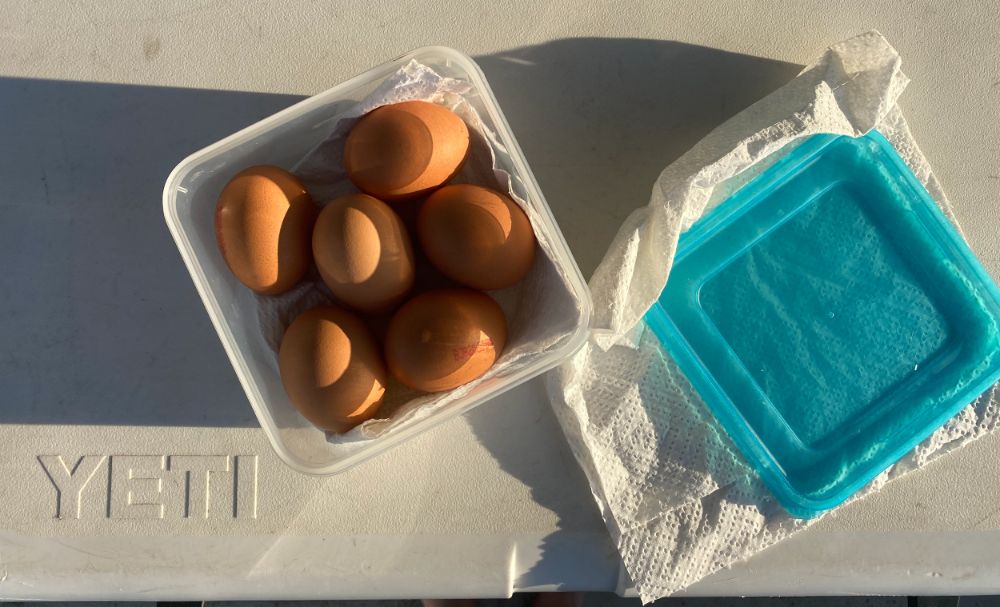 If you do not want to waste space with an egg carton inside a container, you can choose to pack the eggs directly into the container. Doing this you can fit more eggs into a smaller container.
You will need to add something soft to protect your eggs to cushion them.
You can either use paper or tea towels to add cushion. I found adding some on the top and on the bottom was more than enough to keep the eggs safe. But if you're worried you might want to add padding between each egg.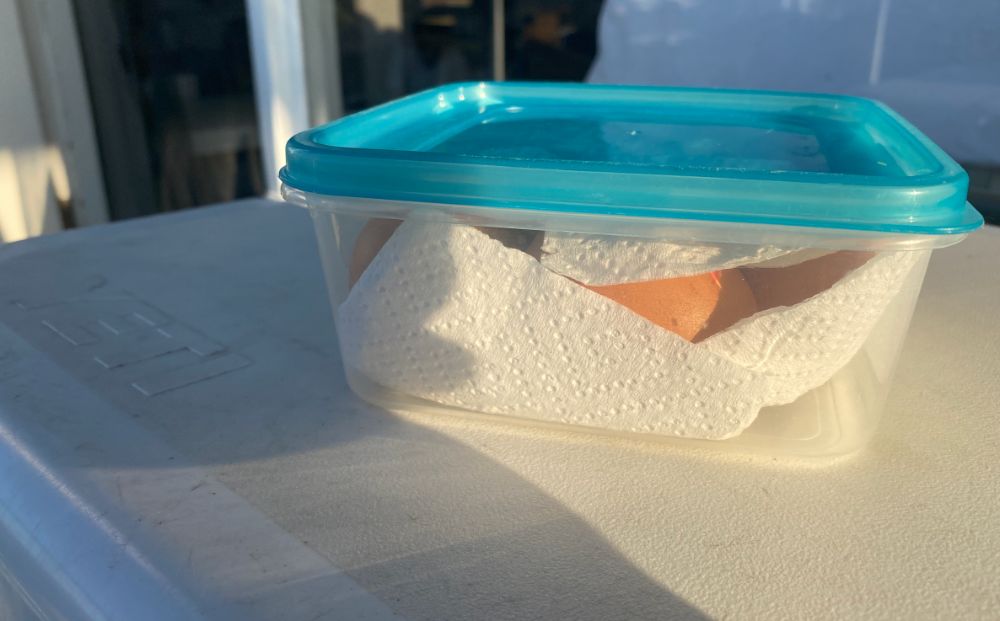 While both towels are a great choice, a tea towel offers more protection than paper but does take up more space. If you do want to use paper towels, then this is the best space saving option.
5. Crack Eggs Into Ziploc Bags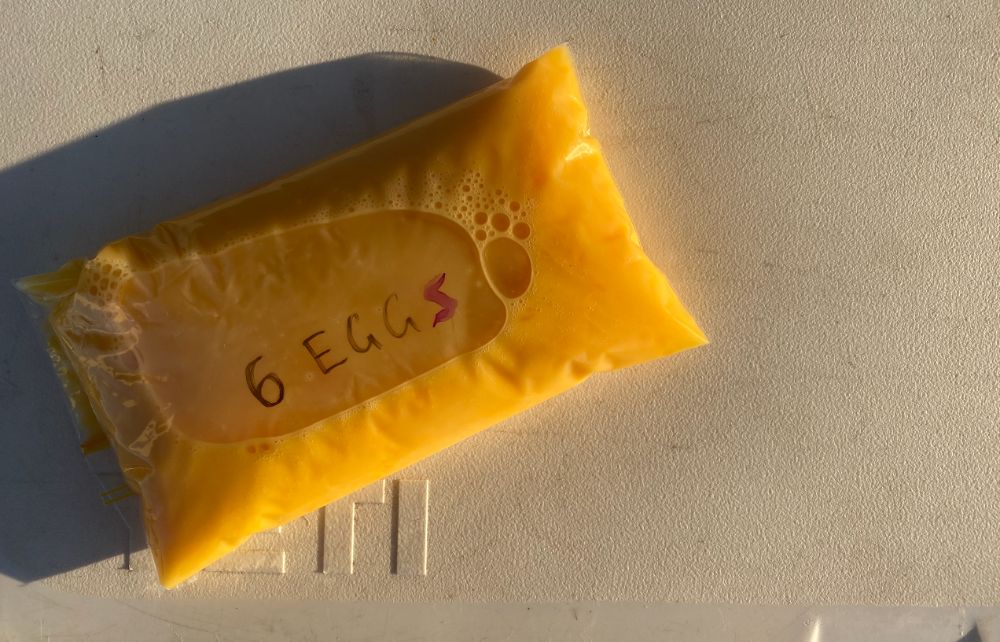 Ziploc bags are a camper's best friend. As an alternative to using a plastic bottle, you could pour the egg whites and yolk into a Ziploc bag.
When you are ready to use the eggs, you can simply unseal the bag and pour the eggs into your cooker.
Or another handy trick is to snip a 1 cm hole in the bottom corner of the bag to have better control when you pour the eggs out.
The bag of eggs can also be frozen. This is an excellent alternative for an ice pack in the cooler, leaving you with more space in your cooler.
6. Just Use The Egg Carton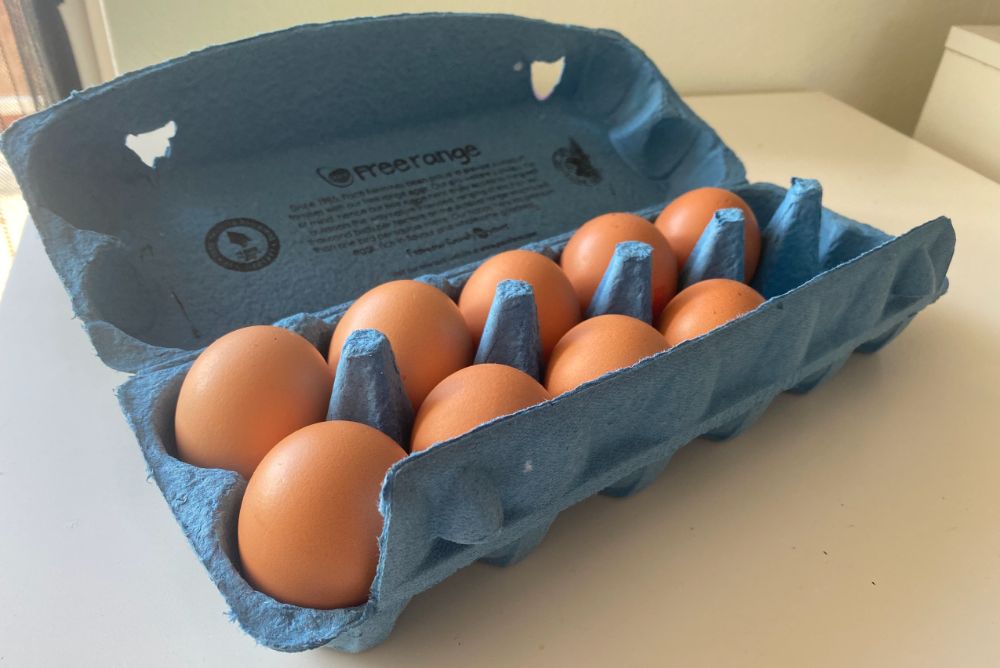 If push comes to shove and you really don't mind your egg carton getting a little wet, then just use the carton as is.
To stop them from getting really wet and falling apart, avoid placing them near or against ice packs or if you're using loose ice then place them on the top of the ice and not underneath (where they will get really wet).
Sometimes ice packs and frozen goods will leave water on the bottom of the cooler, so you'll want to avoid leaving the carton there. Ideally, putting them in a dry rack on the top of your cooler so they don't touch ice directly will keep the egg carton from turning to pulp. Click here for more great cooler organization ideas.
Using the egg carton is better for the environment as you either burn the carton when finished with it or repurpose it by using it as an egg holder for a boiled egg.
7. Powdered Eggs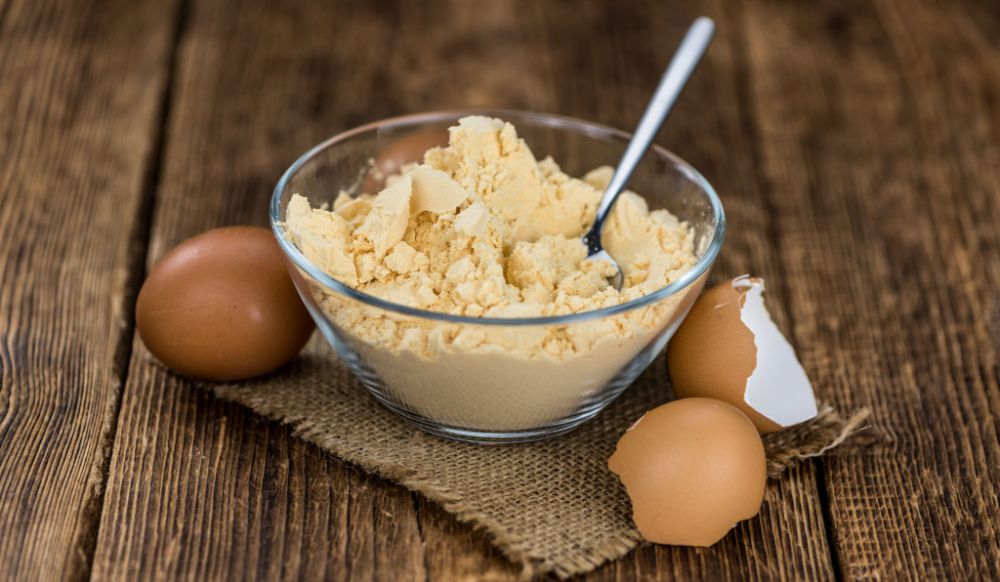 To avoid any risk of broken eggs and disintegrating pulp, you could skip shelled eggs altogether and use powdered eggs.
Powdered eggs are great to use when camping as they have a longer shelf life and take up less space in your cooler than a whole egg would.
If you're hiking or backpacking these have the added benefit of being extremely light to take with you and the good news is they taste almost as good as regular eggs (if you buy a good brand).
All you need to do is add some water, stir and pour into the pan for scrambled eggs or an omelet.
I suggest trying some at home first to ensure you bought a good brand and like the flavor. You don't want to finish a hard day's hike only to wake up the next morning and be unable to stomach your breakfast because your powdered eggs taste like garbage.
Pack Your Food Safely With Other Cooler Hacks For Camping
By using one of the provided methods, your eggs should arrive at your campsite in one piece and not a soggy mess in your cooler.
If you're an avid camper, you'll want to check out my best cooler hacks for camping so you can spend more time having fun and less time worrying about packing.