I'm not really that big into TikTok, so when Stanley Quencher H2.0 Tumblers made it onto all three of my kid's Christmas lists, I was a little confused at first – but anything to encourage my kids to stay hydrated is okay by me. 
The problem was, the color my daughter wanted was a super rare limited edition colorway and I couldn't find one anywhere on short notice. She ended up with a different color and still loves her Stanley and I've become a convert too.
For my kids, and anyone watching TikTok they specifically want the Stanley brand because it's what's cool at the moment. However, Stanley cups aren't cheap and aren't for everyone. Stanley cups also have some problems (they aren't perfect shock horror).
If you're going to invest into a high-quality cup you want to get one that suits you needs.
Luckily, there are plenty of similar tumblers out there – some that even have benefits over Stanley Tumblers.
The best alternatives to Stanley Quencher Tumblers are the Yeti Rambler Straw Mug, Hydro Flask All Around Travel Tumbler, and Simple Modern Trek Tumbler.
Or if you're looking for something similar at a lower price point, the Maars Charger 40 oz Travel Mug and Ozark Trail 40 oz Tumbler are solid, budget-friendly alternatives. 
However, if you're shopping for a gift just know that it's Stanley Brand most people want despite it maybe not being the best value for money.
But if you don't personally care about brand here are some great options for you.
Why Stanley?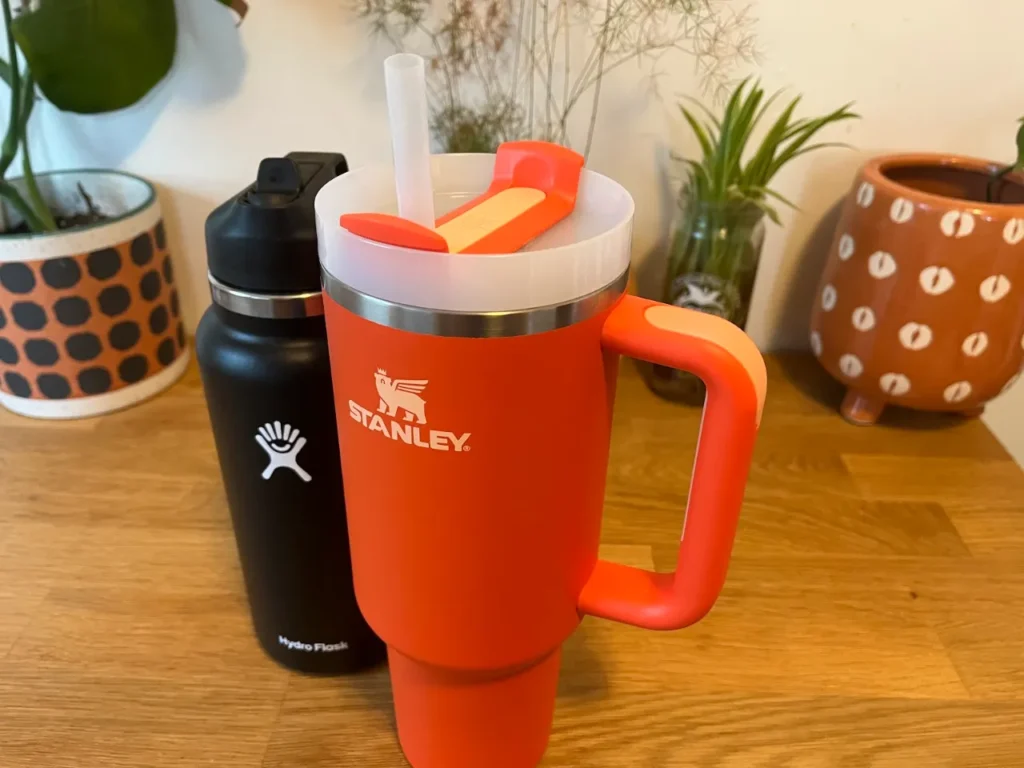 Like Hydro Flask bottles and Yeti cups before them Stanley cups managed to insert themselves into the public zeitgeist and quickly grew in popularity as they were featured by influencers all over TikTok and Instagram.
The cups are good, hold ice for hours, coming a variety of colors and the straw lid is unique and fun to use – but so many other brands have similar travel mugs available.
Word of mouth marketing made this a "must have" cup and people appreciate the handle, straw and the ability to keep water cold for hours.
But really Stanley Quencher cups are popular…because they are popular. The most popular size is the 40 oz.
1. Yeti Rambler Mug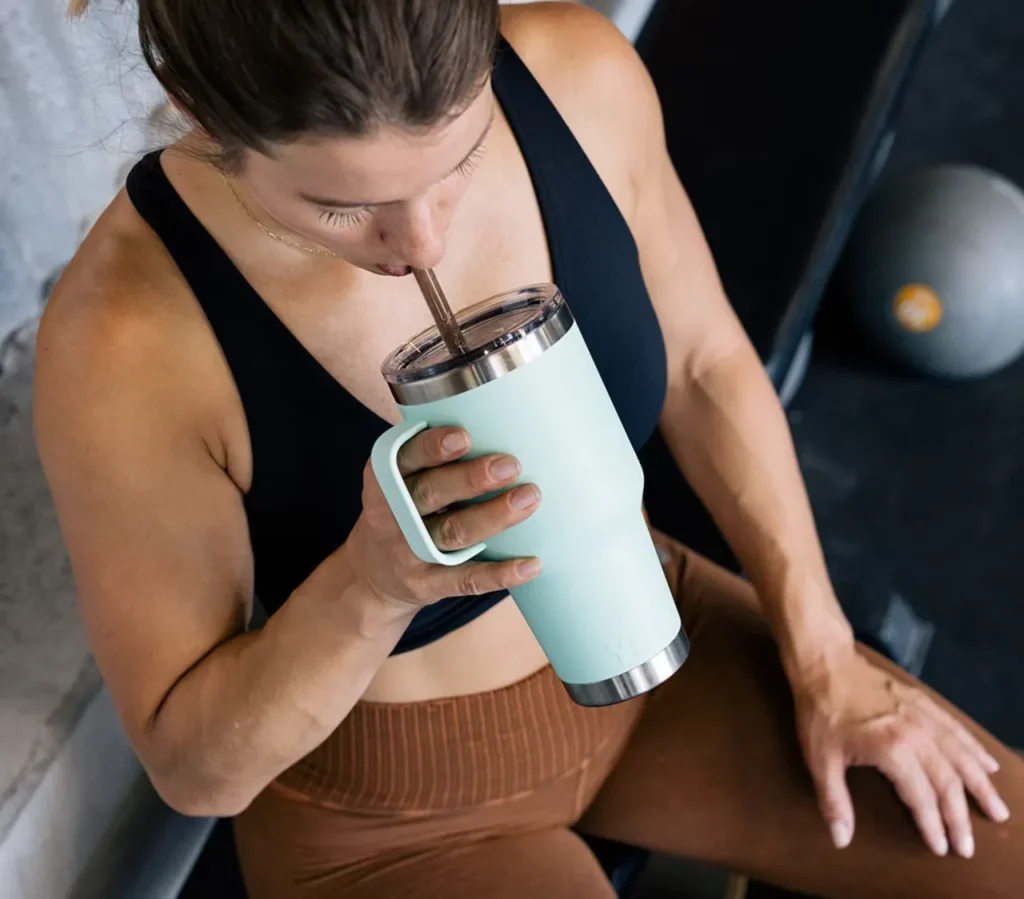 Unless you've been living off grid for the past ten years, you've probably heard a lot of the hype around Yeti Coolers (which is mostly well deserved). But you may not have realized that Yeti also makes some equally awesome drinkware. 
The Rambler 35 oz Straw Mug is nearly a perfect one for one alternative to Stanley Quencher Tumblers. 
It shares the same vacuum-insulated stainless steel design, the same cup holder-friendly form, a leak-proof removable straw, and an ergonomic handle.
And while Stanley tumblers are honestly pretty great, there are still a couple of solid reasons that you might prefer a Yeti Rambler instead.
For starters, Yeti's a great company. They've earned a reputation for making super high-quality products and I can personally attest to their amazing customer support.
It's a brand I've grown to trust over the years and want to support. So, all else being equal, I tend to lean toward Yeti products.
Second, the Rambler comes in a smaller 25 oz size (in addition to a 35 oz size). So if you want something similar to a Quencher but a little less bulky, the 25 oz Rambler is a good choice, at 4.8"W x 7.4"H compared to the 30 oz Quencher at 5.4"W x 10.8"H.
2. Simple Modern Trek Tumbler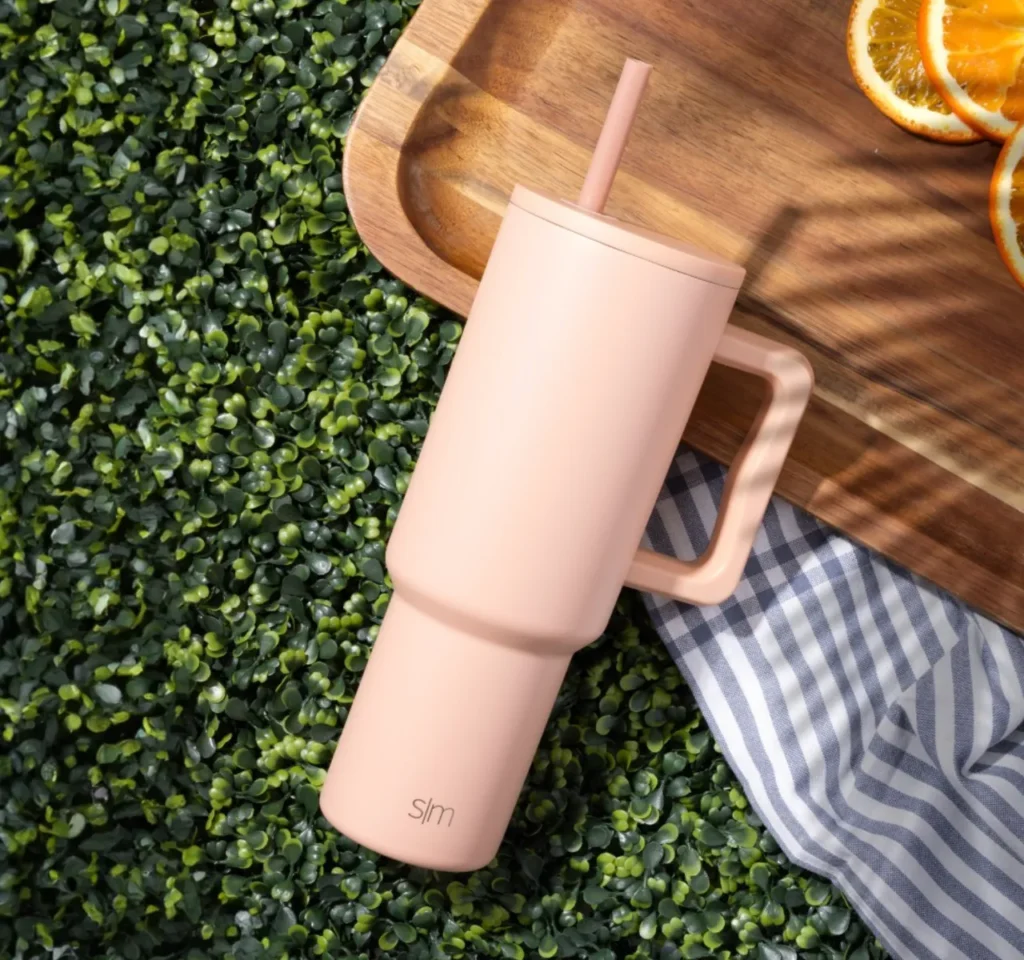 Simple Modern is a pretty under the radar brand, but they actually make some pretty solid water bottles and drinkware. 
They have gotten huge selling colors alternatives to bottles like Hydro Flask and Yeti and the Trek Tumbler is their answer to the Stanley Quencher.
Boasting an 18/8 stainless steel dual-wall insulated body, a leak-proof straw lid, and an ergonomic handle — the Trek Tumbler is is a great product.
But perhaps my favorite feature is the absolutely ridiculous number of color and style options Simple Modern offers. If you thought you'd have trouble picking a color for your Stanley Cup, you'll really be in over your head here. 
The Trek Tumbler comes in an excessive 40 colorways, including solids, hombre, animal prints, and landscapes. And if that's not enough, you can even get the Trek Tumbler rocking your favorite NFL or College Football team's logo.
Heck, they have even partnered with Dude Perfect to offer cups with their logo on it. For the guys in your life this could be the perfect choice.
And while the 40 oz is closest to a Stanley Tumbler, the Trek also comes in a largest-on-this-list 50 oz version — but it doesn't quite fit the bill because its wide base means it's not cup holder ready. 
3. Hydro Flask All Around Tumbler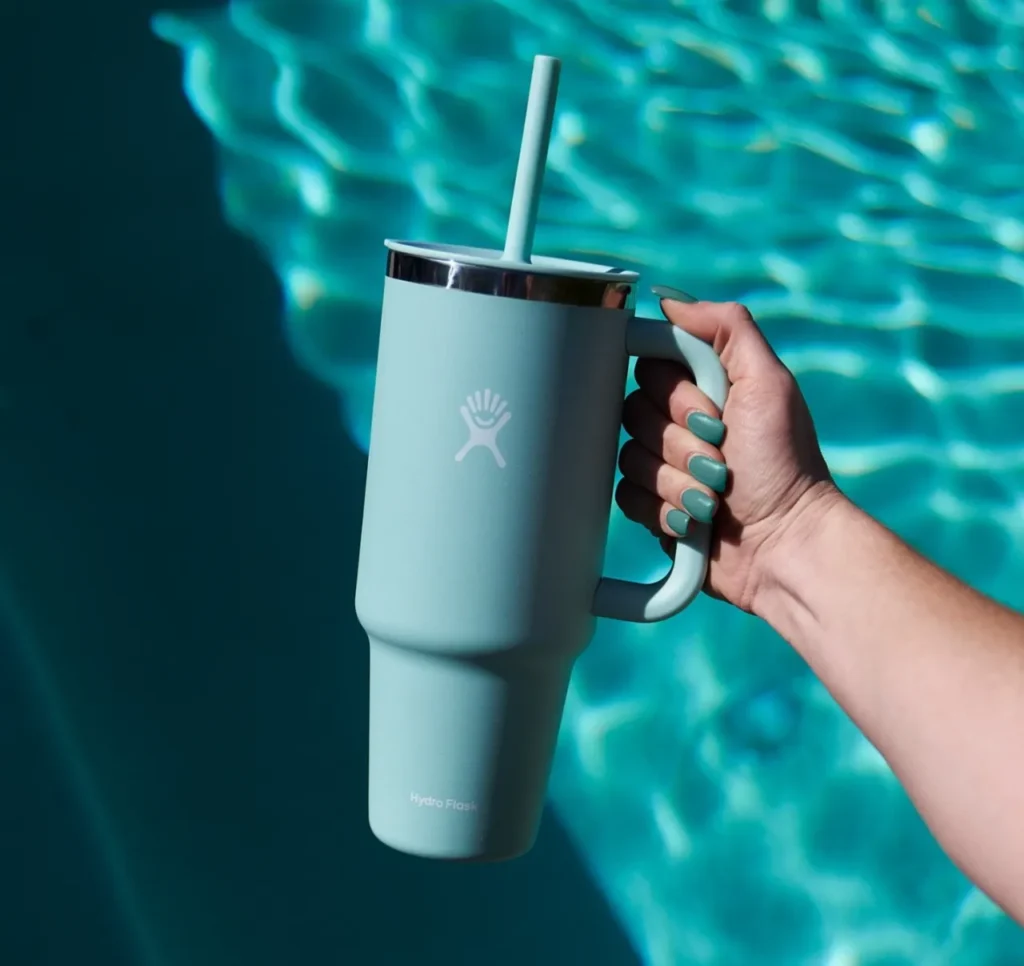 When Stanley Cups went viral, Hydro Flask wasn't going to just sit idly by.
They quickly released their own version of the Quencher soon thereafter and, in true Hydro Flask fashion, it's a little pricey but super high quality.
If you want "cool" and "fun" factor but don't want a Stanley then Hydro Flask is probably the brand I would choose. I love their products and their brand is well known.
Of all the cups on this list, aside from maybe the Yeti Rambler, the All Around Travel Tumbler just has that premium feel. 
The heavy-duty ergonomic handle in particular stands out as comfy, sturdy, and easy to use.
My only real complaint is that, because it's still pretty new, there isn't a huge selection of color options. Yet. 
4. Ozark Trail 40 oz Tumbler (Cheapest Alternative)
If you want to save some cash, the next three tumblers on the list are meant to do just that.
Unlike the options above, they don't necessarily do anything better than a Stanley Quencher. But they're really not too far off and cost less than half the price.
Ozark Trail is Wal-Mart's in-house brand of outdoor equipment. And while they're not necessarily doing anything groundbreaking, they make some surprisingly decent gear.
Like the Stanley Quencher, the Ozark Trail 40 oz Tumbler is vacuum-insulated stainless steel, cup holder-ready, leak-proof, and can keep drinks cold for over 24 hours. 
Not bad for 20 bucks. 
5. KissKind Adventure Quencher 40 oz Travel Mug
KissKind is an up and coming brand that seems to be launched just to make this Stanley Cup alternative. 
Sticking to their simple, clean design approach, the KissKind Adventure Quencher 40 oz Travel Mug is a solid, no-frills alternative to a Stanley Quencher. 
For only around $20, you get a durable tumbler, with all-day ice retention, and 6 different colors to choose from — by far the most of the budget-friendly alternatives. 
It looks closer to the Stanley when compared to the Ozark Trail and given it's around the same price it's a good option for the budget conscious shopper.
6. Generic 40 oz Tumbler from Amazon
These generic 40 oz Tumblers on Amazon are about the closest you'll find to a Stanley in terms of looks. 
If you removed the label from a Quencher and put these side by side, I'm not so sure I could actually tell the difference.
That being said, the ice retention is just okay (around 8 hours), the color options are a bit limited (even compared to the other budget options), and the longevity is TBD.