I've used my Stanley Quencher H2.0 Flowstate Tumbler every day for about the last six months now (and my kids for even longer) and while they've treated us pretty well, there are still a few I wish I could change.
In my experience, the biggest problems I've had with my Stanley cup are:
They're expensive compared to some similar alternatives.
They're heavy and bulky compared to many other 30 and 40 oz straw tumblers.
They're not leak-proof like most reusable water bottles.
The straw is always exposed to bugs and germs.
They're top rack dishwasher safe, but are too tall to sit upright in most dishwashers.
Some people complain that they make their drinks have a strange metallic taste.
To me, none of these problems are deal breakers, but it's always nice to understand the good and bad with any product before dropping your hard earned cash — especially when it's a relatively large expense for a cup.  
1. Stanley Cups Are Sort Of Expensive
Paying over forty bucks for a tumbler would have been unheard of even just a few years back.
Don't get me wrong, I know $40 isn't going to break the bank — but when there are other similar options that cost less than half the price, it makes me wonder if I should have gone down that route instead.
Ultimately I'm happy with my purchase, but if you're having second thoughts about dropping $40 on a cup, you can always check out my list of the best Stanley cup alternatives for some solid budget-friendly alternatives.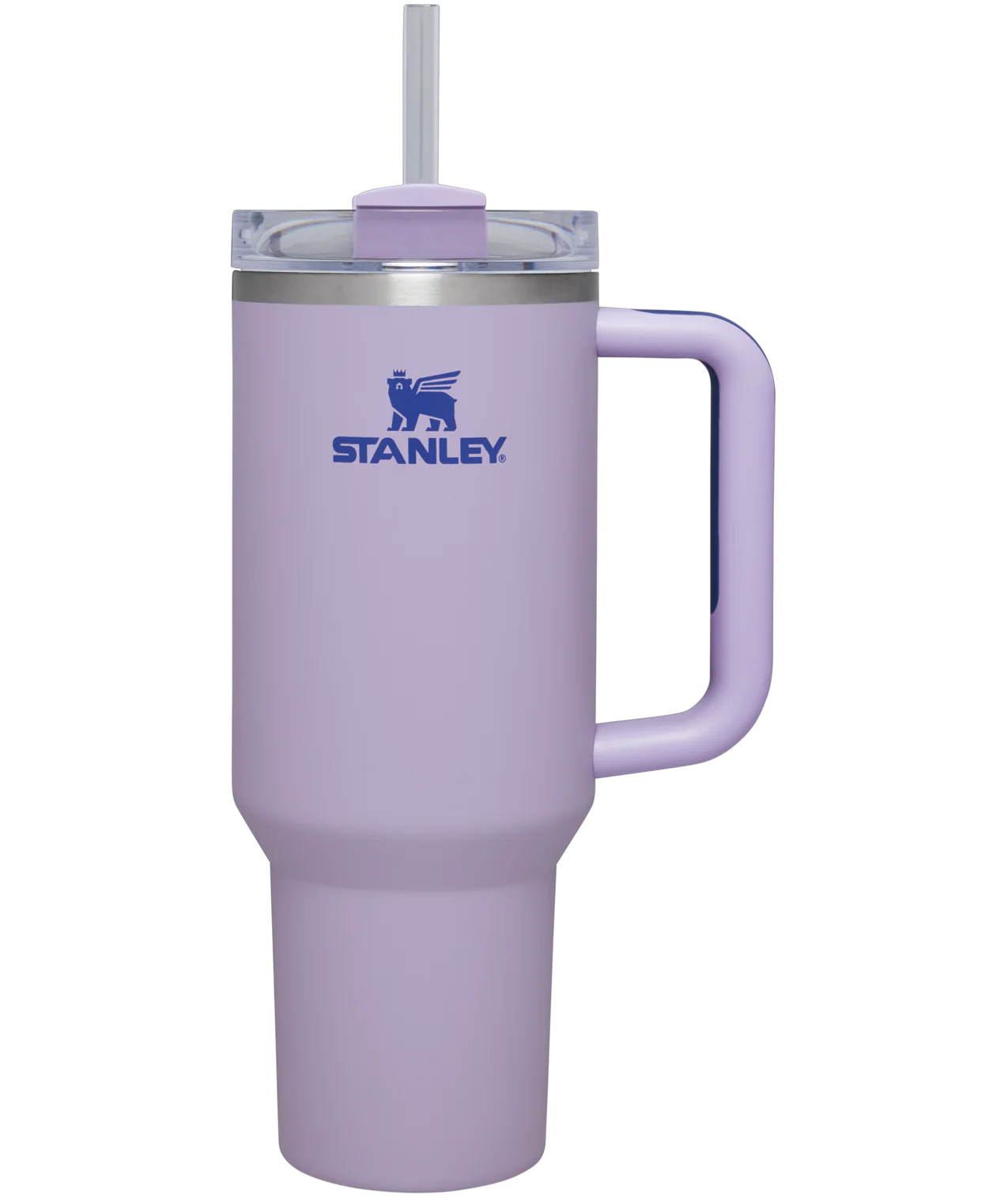 Stanley Quencher H2.0 Vacuum Insulated Travel Mug (40 oz)
Commuting, studio workouts, day trips or your front porch—you'll want this tumbler by your side. Thanks to Stanley's vacuum insulation, your water will stay ice-cold, hour after hour. The advanced FlowState™ lid features a rotating cover with three positions: a straw opening designed to resist splashes while holding the reusable straw in place, a drink opening, and a full-cover top. The ergonomic handle includes comfort-grip inserts for easy carrying, and the narrow base fits just about any car cup holder.
See Latest Price at Stanley.com
See Latest Price at Amazon
2. Stanley Cups Are Heavy, Bulky, and Tip Over Easily
One of the most common complaints with Stanley cups are how chunky and heavy they are, especially when they're full.
And to make matters worse, they're also top-heavy — making them surprisingly easy to tip or knock over. Just ask my youngest son.
Sure, the design and a lot of that size is necessary to make them so well insulated and to fit in most cup holders (though not all), but I can fully understand preferring a smaller, lighter tumbler or bottle instead. 
While it's not enough of an issue to make me consider making a switch, I still occasionally wish my Stanley was a few inches smaller — like my trusty Hydro Flask that's almost three inches shorter.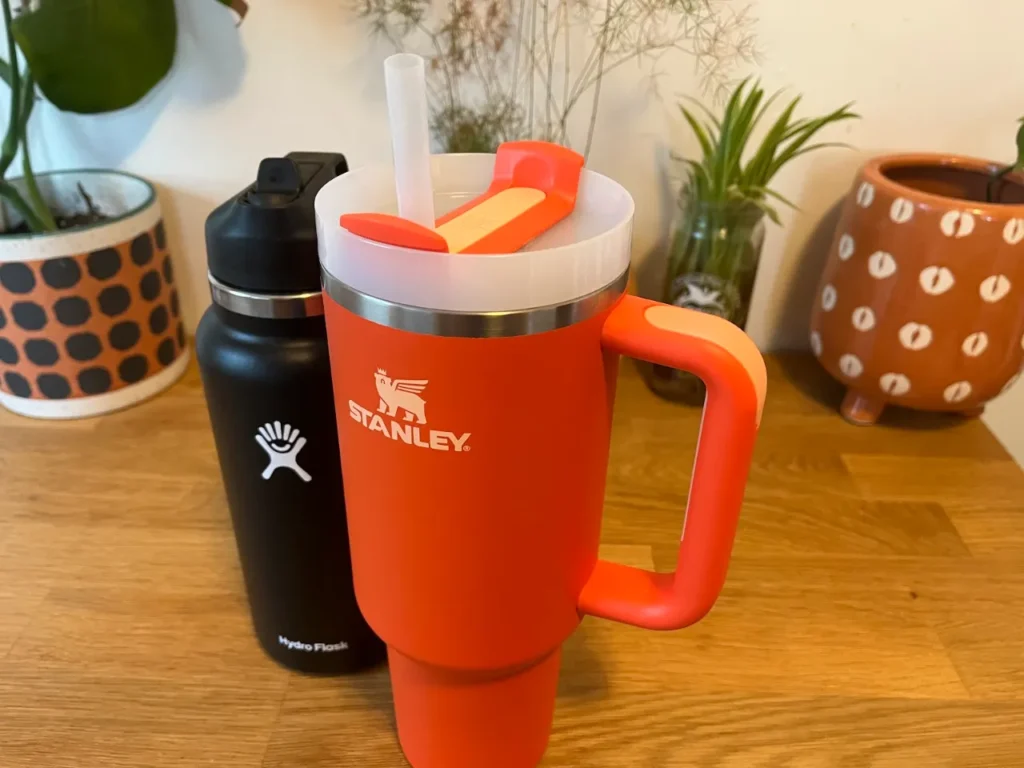 3. Stanley Cups Aren't Leak-Proof
When I'm carrying my laptop, breakfast, and planner on my way to my office, it's super convenient to just stick one of my leak-proof bottles in the front pocket of my laptop bag and not have to worry about it.
But unfortunately, Stanley cups aren't completely watertight, meaning I'm left juggling my Stanley cup too.
As a result, I usually find myself taking a water bottle if I'm going out and only using my Stanley cup around the house. 
The straw covers mentioned below also help to reduce leaking, but I can never count on them 100% when in my backpack.
4. The Straw Is Always Exposed
While I love how wide and easy the straw on the Quencher H2.0 is to drink from, I don't really love how it's always open and exposed.
All I had to hear was one story from a friend at the climbing gym taking a pull of iced coffee and spitting out an ant for me to start taking a peek into my Stanley's straw before each sip.
It's particularly an issue if you drink anything sweetened from your Stanley cup that may attract bugs — like sweetened coffee, juice, or smoothies.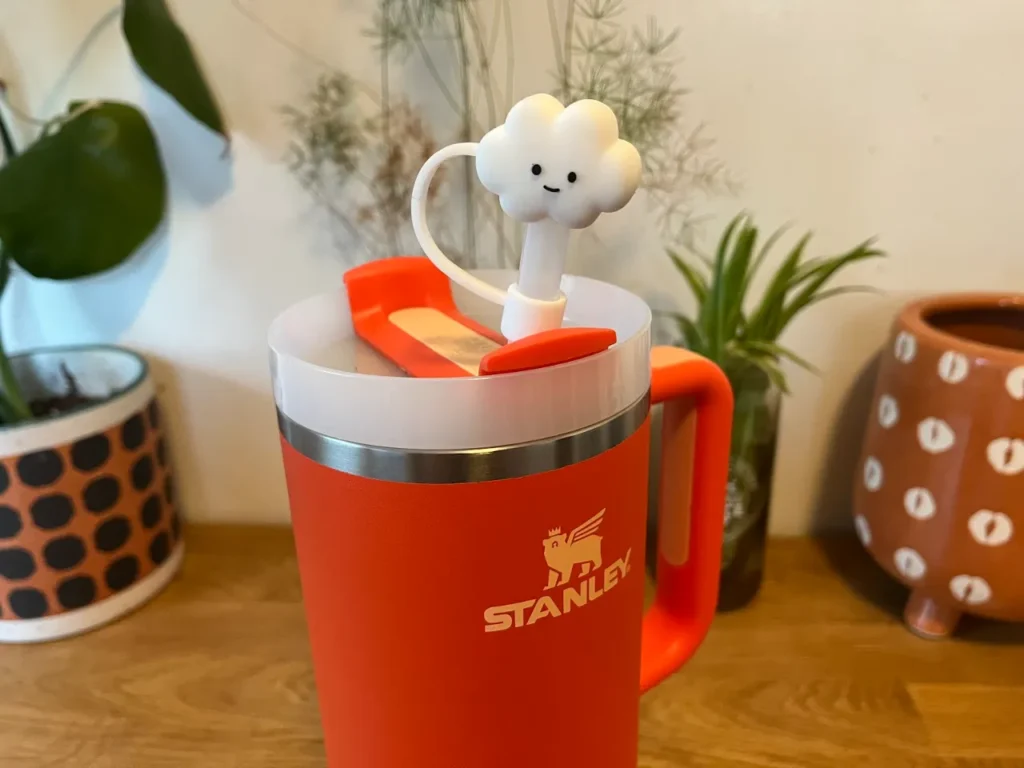 If so, do yourself a favor and get a straw cover (my daughter loves these cute smiley face cloud straw covers) or the less exciting spill-proof stopper. Otherwise, just pretend that you never read this so you're not too paranoid every time you take a drink.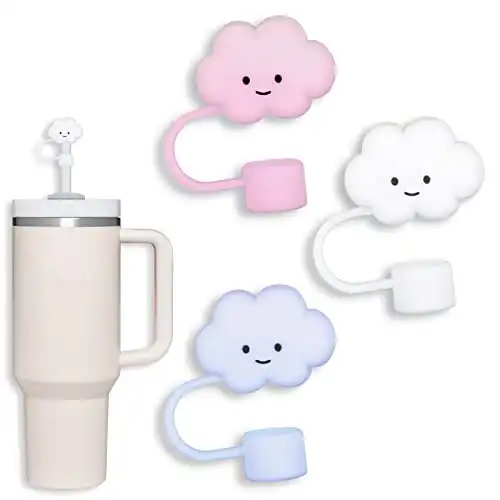 5. They're Dishwasher Safe, But Don't Fit Most Dishwashers
Stanley cups are top rack dishwasher safe. But the problem is, they don't actually fit correctly in many dishwashers. 
For your Stanley to be thoroughly cleaned in a dishwasher, it has to sit upside down and upright on the top rack. This allows hot soapy water to reach and clean the interior of the cup.
But because Stanley cups are so tall, many top racks don't have enough clearance for them to sit upright — meaning you'd still need to hand wash the interior of the cup before using it. 
You should be fine to brave them on the bottom and I do it when I'm in a rush but Stanley don't recommend you do this.
Thankfully, hand washing a Stanley cup is a lot easier than hand washing most water bottles, thanks to their wide mouth and relatively simple lid. 
6. Stanley Cups Might Make Your Drink Taste Weird
While I've never noticed any strange taste drinking from my Stanley cup, my partner has had problems with hers giving off a weird metallic taste since day one, especially when drinking hot beverages.
And she's not alone.
There are tons of Tik Toks complaining about the same issue. 
The good news is, if you're experiencing this, it's likely nothing to be concerned about. It won't affect your health in any way (unless you happen to have allergies to nickel or chromium that could potentially leach from the steel).
The bad news is, if a thorough cleaning doesn't help, there's really nothing else you can do about it — aside from opting for a high-quality reusable plastic bottle instead, like a CamelBak Eddy+.