There's nothing worse than having your soft cooler get knocked over in the car and water spilling out everywhere wetting everything.
Most soft sided coolers are designed so that they don't leak when standing up but rarely are the zippers waterproof so if they get knocked over water can leak everywhere. Some soft coolers are so bad that the motion of carrying them makes water leak out of the zipper all over you.
If you're looking for a completely leak proof soft sided cooler then this list is for you.
All of the coolers below are 100% waterproof and leak proof.
This means you can fill them with water and completely tip them upside down and no water will leak out.
Things To Look For In Leak Proof Soft Coolers
Not all leak-proof soft coolers are made equal and some are better than other. Coolers that start out leak proof can quickly become leaky if you don't buy the right cooler.
Below are some things to look out for when shopping for a leak proof cooler.
A Durable Zipper/Opening

The zippers of waterproof soft coolers are rubberized in order to make them completely waterproof.
This is generally the single greatest point of failure for these coolers and the zippers can break fairly easily if you're not careful.
There are a couple of different ways to do this and some are more durable than others. The thick zippers like the ones on the Pelican and Yeti are harder to open and close but more durable than the thin zippers like that on the Ozark Trail.
Also make sure you keep your zipper lubricated otherwise they can break easier.
RF Welded Liner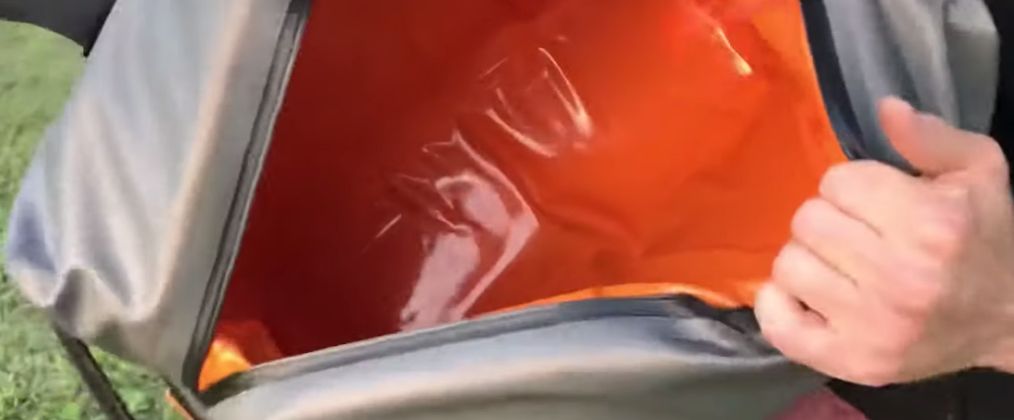 You want the inner liner of your cooler to be RF welded together instead of stitched together.
RF Welding is a way to melt the plastic together and makes a stronger and completely waterproof connection between the different parts.
Inner liners that are stitched together on the other hand may start out life being waterproof but deterioration of the stitching can change that pretty quickly.
Reinforced Base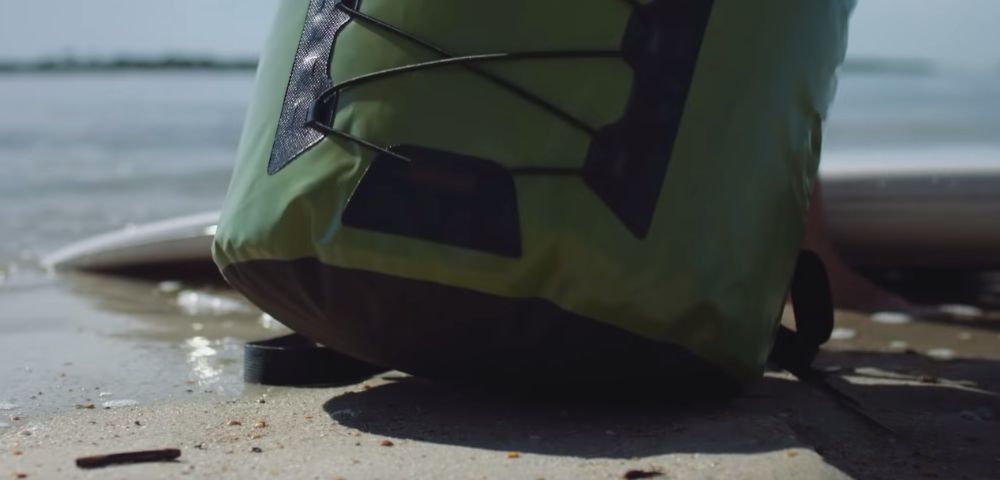 If you're going to be using your soft cooler a lot then you'll want a cooler with a thick reinforced base.
The bottom of your cooler receives the most wear and tear as it's picked up and put on the ground over and over.
No reinforced base means that in just a matter of months the cooler can get a hole in the bottom and start leaking.
Price
Some of the coolers on this list and high-end and expensive. Some are much more affordable.
In this category a higher price generally does mean a more durable leak proof cooler.
So don't skimp out, but find something you like within your budget.
The Best Soft Coolers That Don't Leak
Below I listed the 10 best soft coolers that don't leak. I've started with the cooler I recommend the most and believe is the best and then worked my way down to less recommended coolers.
However, you need to choose the cooler that is best for you based on the features you value and the budget you want to work with.
Here are the best waterproof coolers that don't leak:
1. Engel HD30
When it comes to soft sided coolers the Engel HD30 excels in almost every category and has everything you could feasibly want in a soft sided coolers
Waterproof and Durable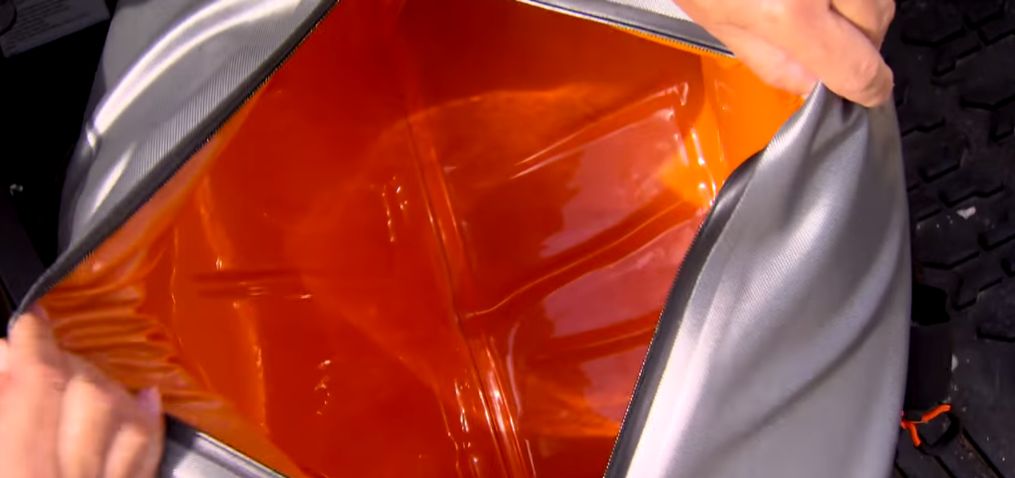 The outside of the cooler is made with extremely durable 840-denier nylon that is TPU laminated to make it waterproof and puncture resistant.
Most of, if not all of, the seams inside and out are RF welded together adding extra strength and durability. It's one of the most durable soft sided coolers on this list. Read the full Engel HD30 review for more details on it's build quality.
And the top zipper is rubberized and waterproof so when closed no water will leak out even if it completely tips over.
The Best Ice Retention Of Any Soft Sided Cooler

The Engel HD30 has amazing ice retention and can hold ice longer than any other cooler on this list, or any other cooler I could find. It's definitely the best soft cooler for keeping ice and even competes with hard sided coolers of a similar size.
It uses thick insulation and a patent-pending vacuum seal technology that allows you to suck the air out of the insulation increasing insulation and ice retention. It's a very innovative cooler.
Great Features and 2 Size Options
The Engel HD30 also comes with a bunch of features you would want from a completely leak proof and high-end soft sided cooler:
Waterproof zipper
Padded shoulder strap
Multiple carry handles
Food safe lining
External pocket
Reinforced base
Tie down points
Built in bottle opener
1 year warranty
Engel also recently released a new smaller size the Engel HD20 which will suit some people better as the HD30 is quite big (at around 30-Quart).
About $100 Cheaper Than Other Models
While not a cheap cooler this cooler does save you around $100 compared to more expensive than other high-end models.
This cooler offers great value for the price. If you're interested in seeing the latest price of this cooler plus more images and customer reviews check it out on Amazon by clicking the links below:
See the latest price of the Engel HD30 at Amazon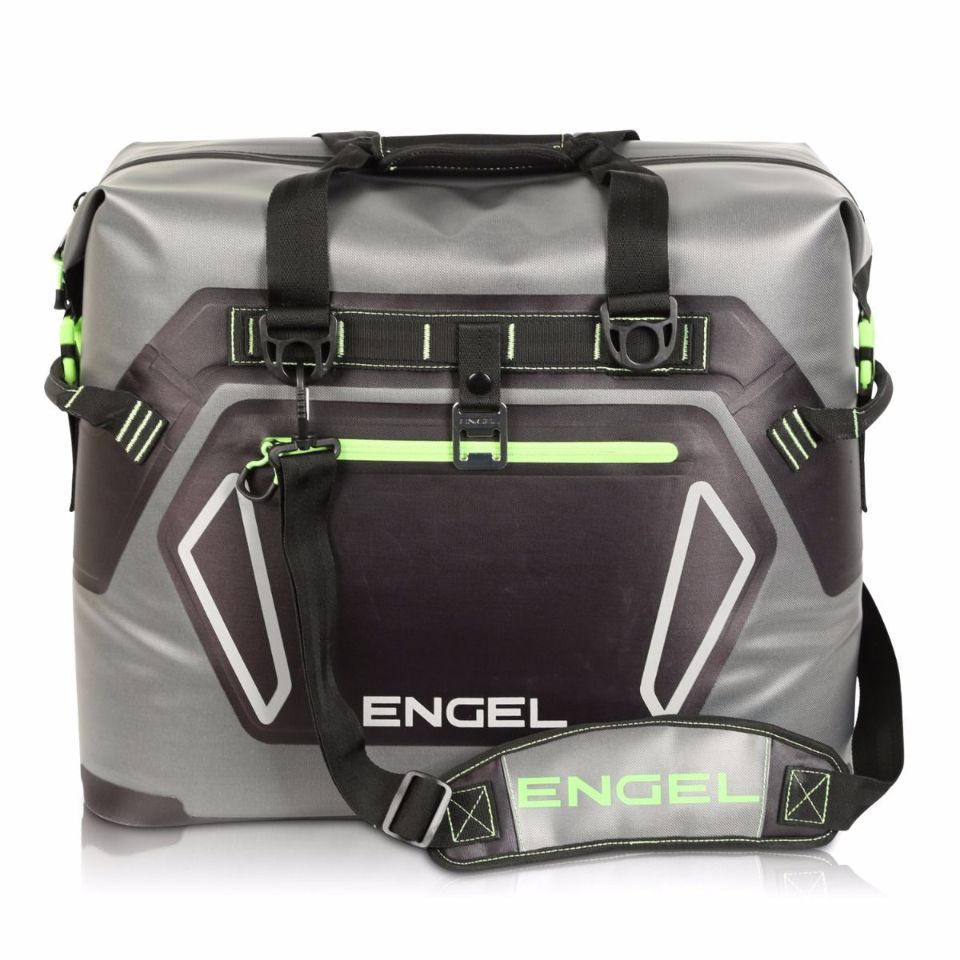 See the latest price of the Engel HD20 at Amazon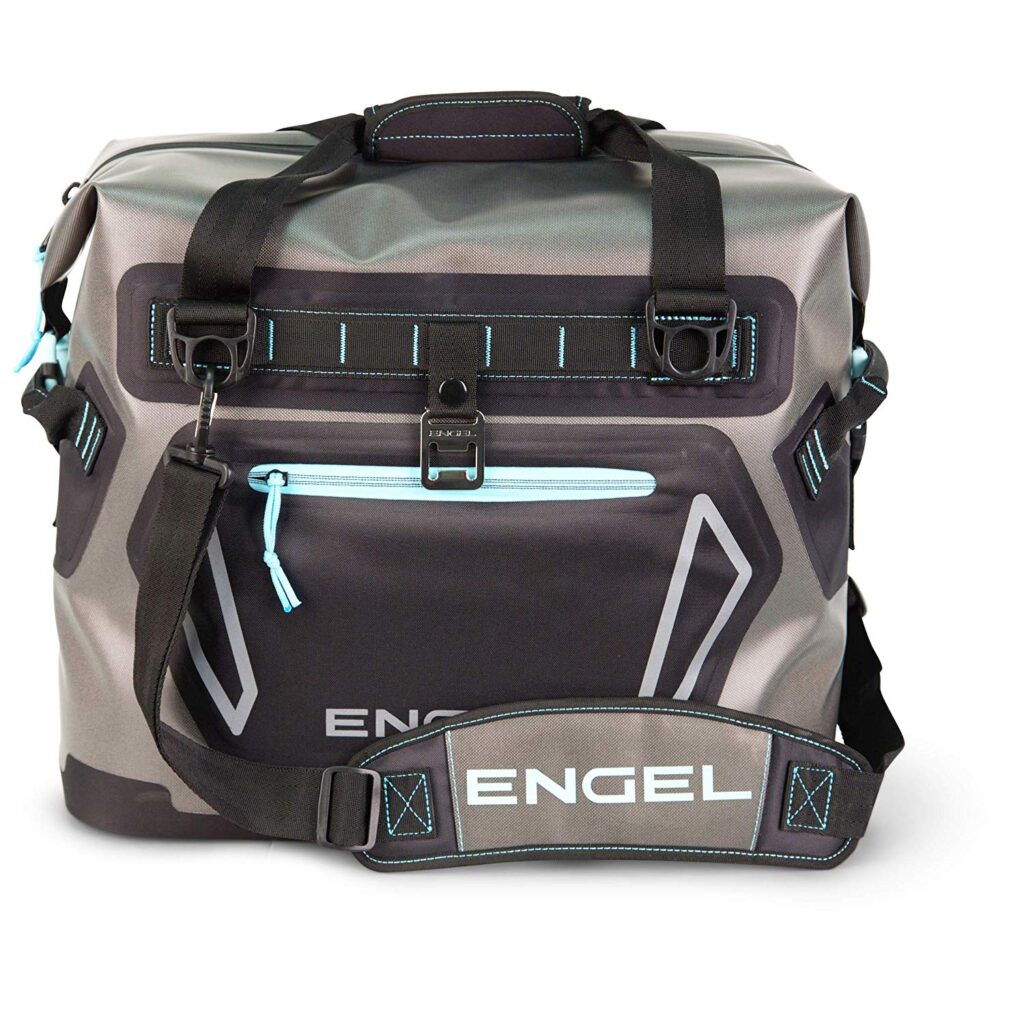 2. Pelican Soft Coolers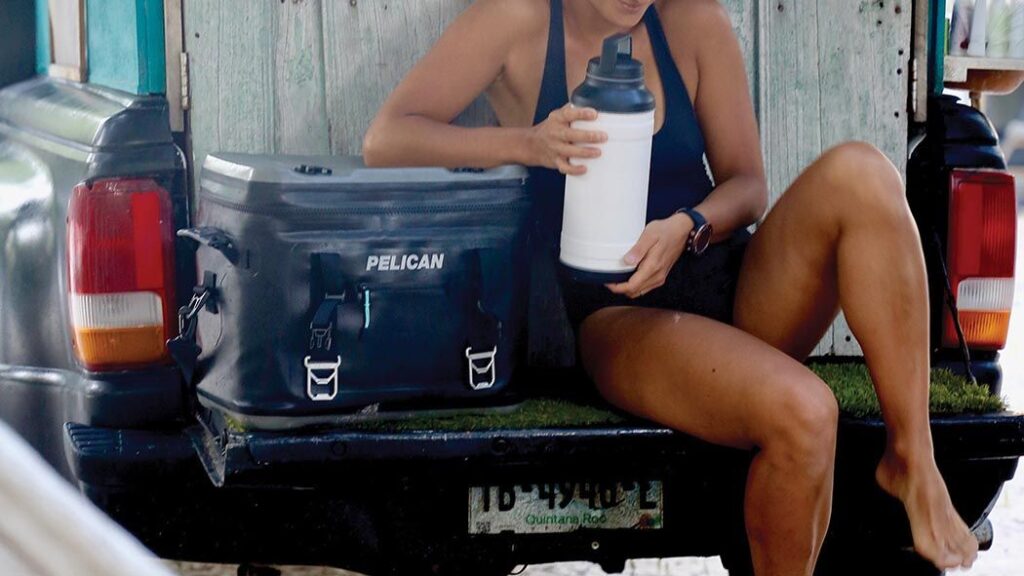 Pelican soft coolers are one of the most durable soft sided coolers on the market and their boxy design means the lid opens wide for easy access.
They are packed with insulation in both the walls and the lid of the cooler and they can hold ice for approximately 2-3 days depending on which size you get.
Pelican is known for their quality and these coolers are no exception to that rule.
The exterior as well as the interior is made from tough durable fabric (like the Engel) and the zipper is thick, tough, durable and (of course) completely leak proof. The base is reinforced and super strong and this cooler will last yo a long time.
These coolers are one of the few soft coolers made in the USA and has some cool features:
Built in bottle opener
Lid buckles for easier opening/closing
Front pocket
It's one of the more expensive coolers on this list, but it is a little bit cheaper than Yeti, which is arguably the most popular cooler on this list.
See the latest price of the Pelican Soft Coolers at Amazon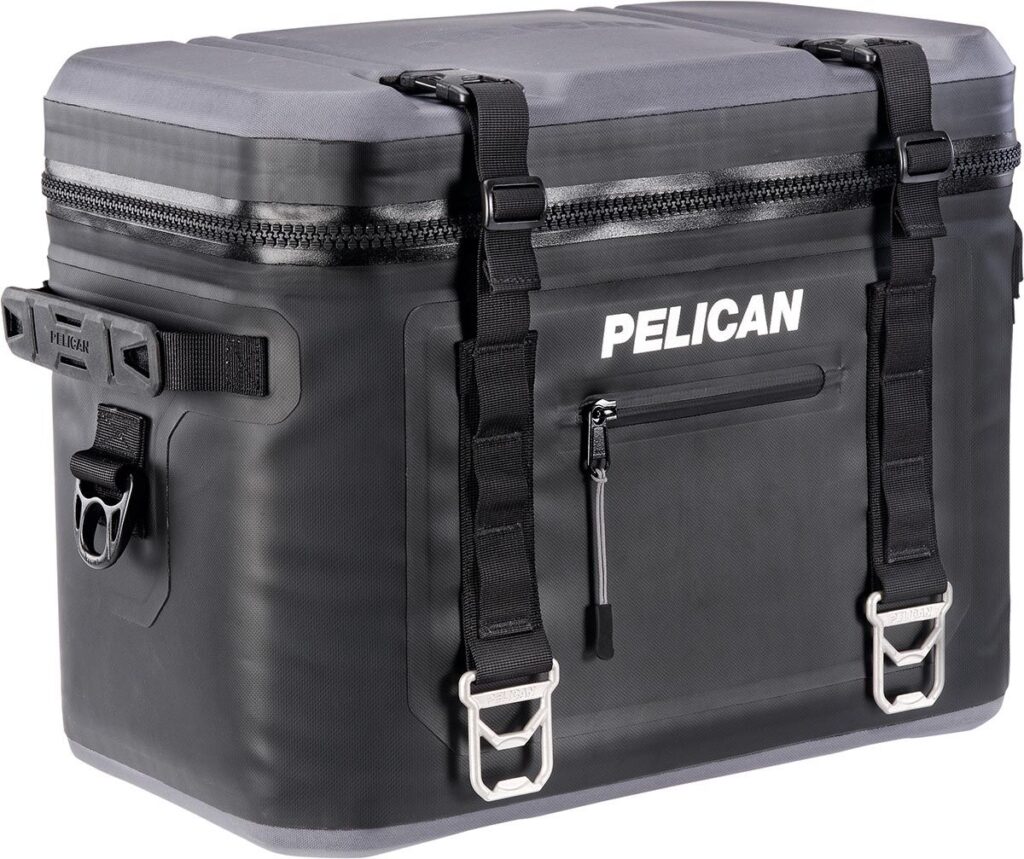 3. Yeti Hopper Coolers

Yeti are the biggest brand name in coolers and they make some of the highest quality coolers on the market.
The Yeti Hopper coolers are Yeti's line of soft sided coolers and they come in 3 different forms.
Hopper Flip – Boxy soft coolers with a shoulder strap
Hopper BackFlip – Back pack cooler
Hopper M30 – Tote cooler with magnetic opening
All Yeti coolers are completely waterproof and leak proof so they won't let out any water when knocked over.
They are made of extremely durable 840-denier nylon that is TPU laminated and RF welded for extra strength and durability.
The are arguably the most robust and durable soft sided cooler on this list.
They also have an awesome design and come in multiple different colors, with new seasonal colors being released from time to time.
If you love and trust in the Yeti brand like I do and you're happy to pay a premium for the best then a Yeti Hopper is a good option for you.
See the latest prices of Yeti Hopper soft coolers at Amazon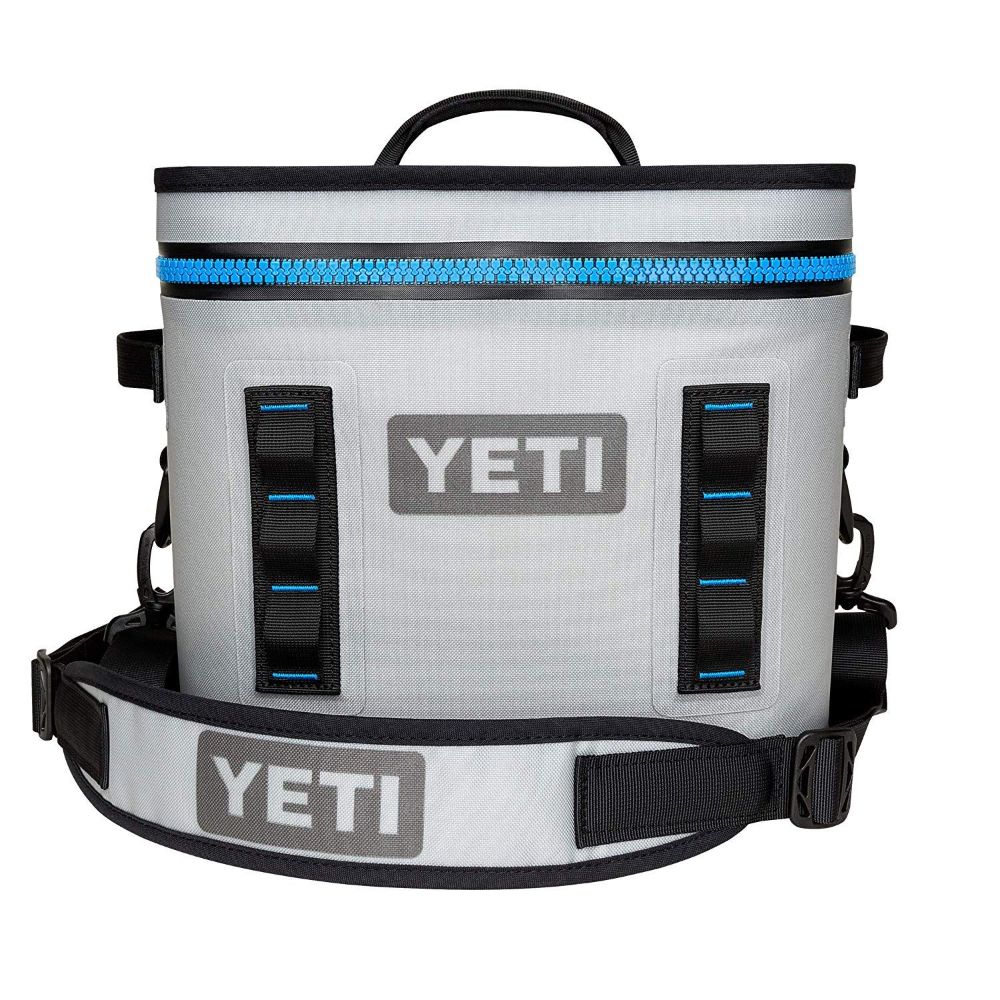 4. Polar Bear Deluxe Coolers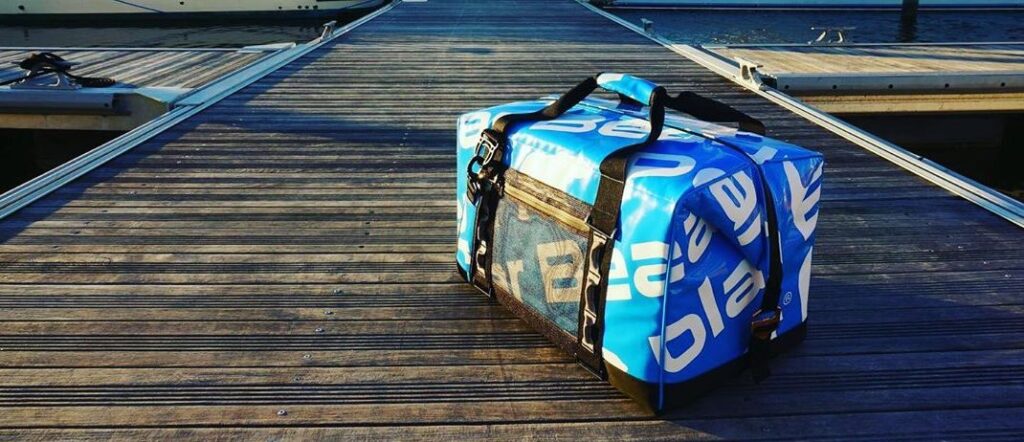 Polar Bear Deluxe coolers (previous called Polar Bear H20 coolers) have the best ice retention of any soft sided cooler other than the Engel HD30. They perform better than Yeti and Pelican in holding ice.
They are made from a heavy-duty waterproof tarpaulin and they have a YKK #10 leak proof and weatherproof zipper. This zipper is easier to open than the Yeti and Pelican and extends over the sides of the cooler so the top can open wide for easy access.
The external design with the big "Polar Bear" name is…interesting but they sell for about half the price of the Yeti and so are a more affordable option than any of the soft coolers mentioned above.
See the latest price of Polar Bear Deluxe coolers at Amazon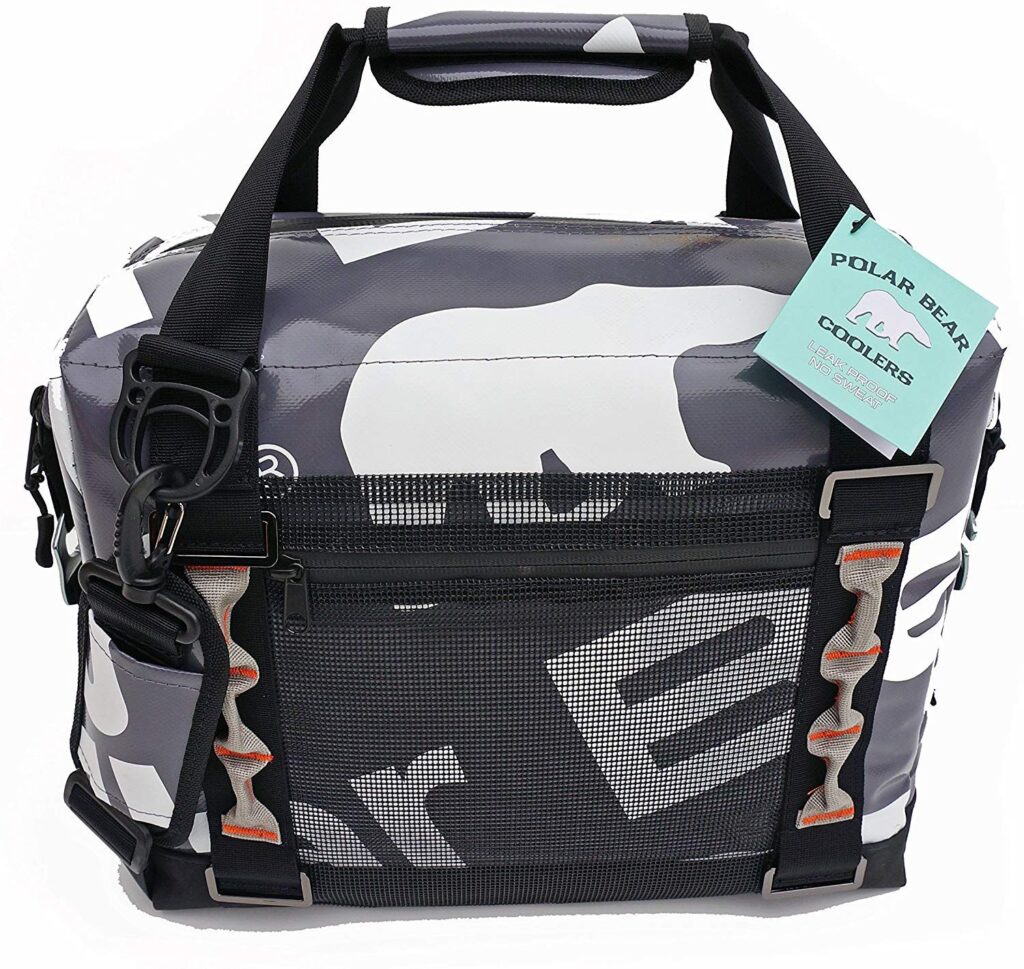 5. BUDGET PICK: RTIC Soft Pack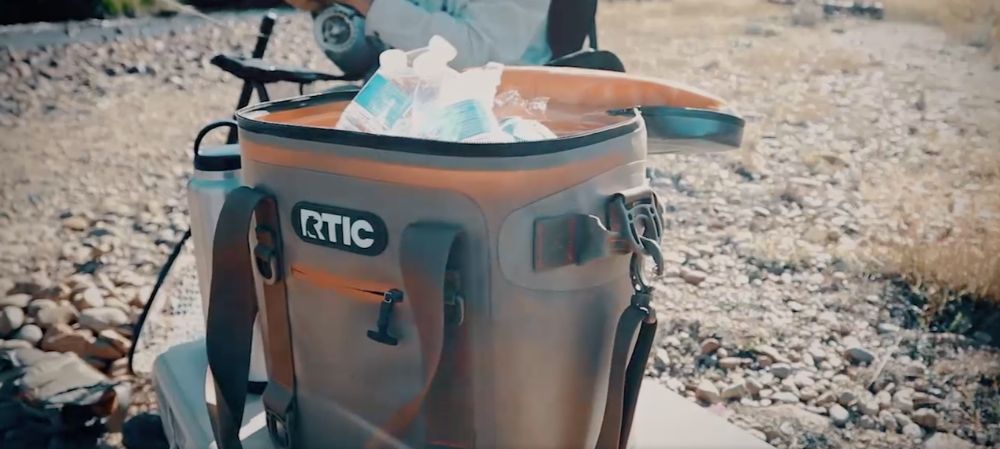 RTIC Coolers are one of Yeti's biggest competitors and their Soft Pack cooler offers some of the best value for money.
Compared to the coolers mentioned above RTIC's leak proof soft coolers are much more affordable.
They have more insulation and thus hold ice better than many other soft sided coolers and they have a waterproof nylon exterior and rubberized zipper that won't leak any water.
The downside of these coolers is they aren't quite as durable as the ones mentioned above. But they are still good quality, especially for the price.
If you want a good quality, leak proof soft cooler and you're on a budget then you need to check out the low prices of these coolers.
See just how cheap RTIC Soft Pack coolers are at Amazon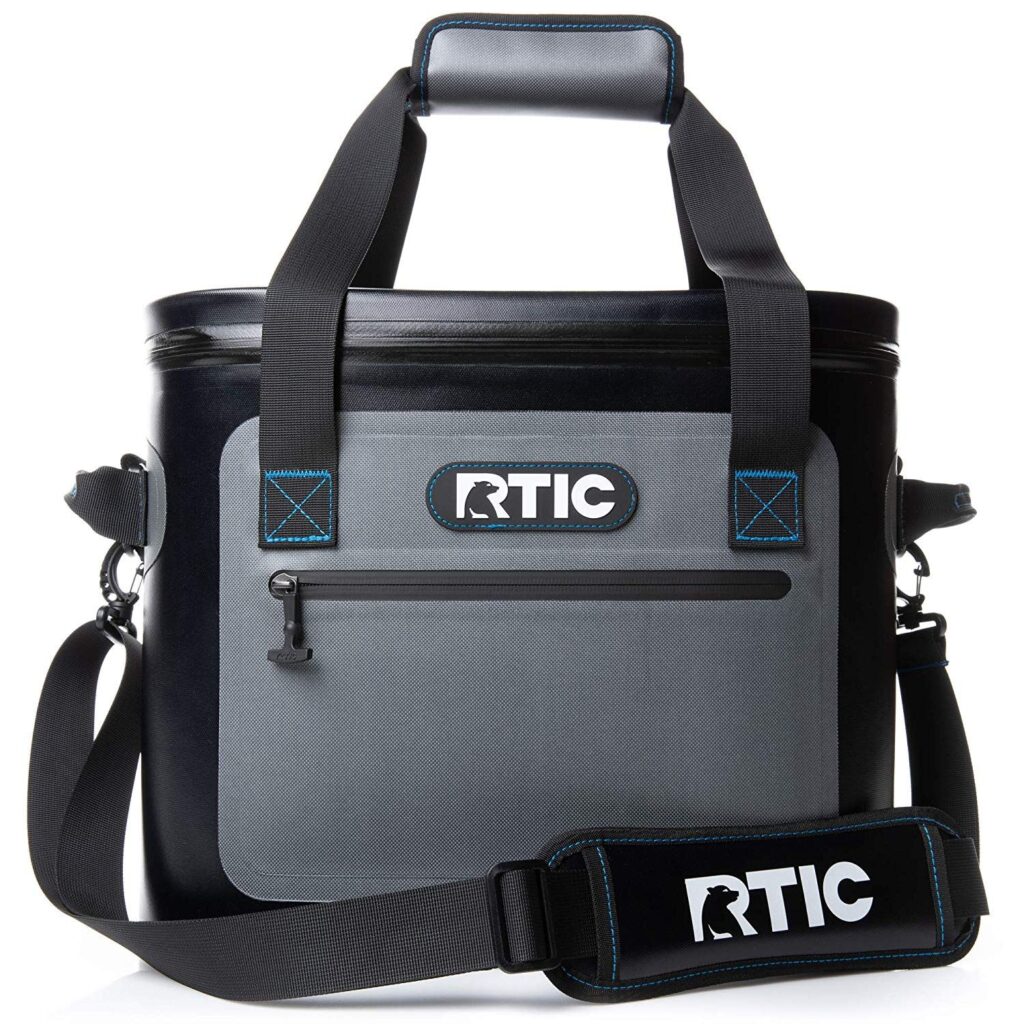 6. Hydro Flask Unbound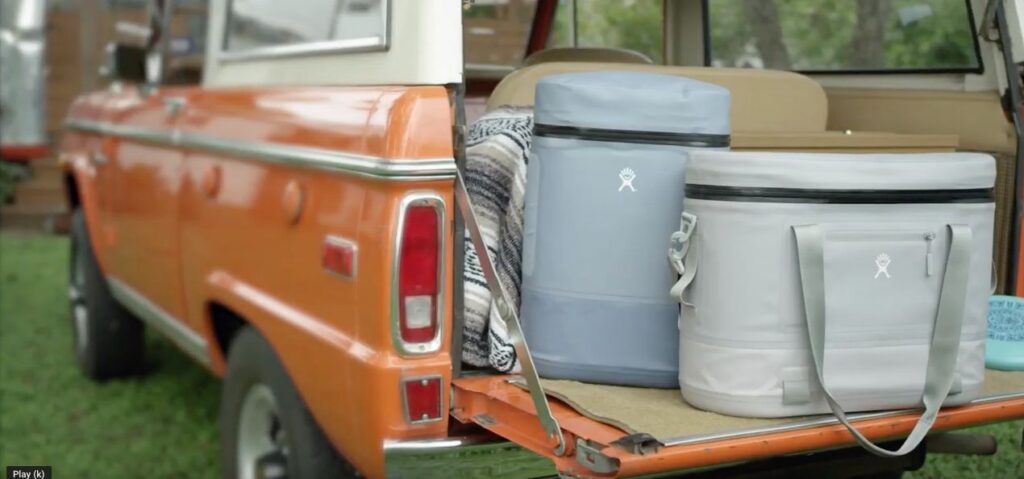 Hydro Flask are well known for their water bottles but they have recently released tote and backpack coolers that comes in a variety of fun colers and they have a really nice design.
There are lots of external pockets for storing items you don't want to get wet and, while they aren't as durable as the Yeti, they do come with a BIG 5-year warranty, which is one of the best warranties of any cooler on this list.
They can hold ice about 1-2 days, so not the best on this list, but still good enough for most people. The feature a waterproof exterior and interior and a leak proof zipper.
They are a bit cheaper than the most expensive soft sided coolers though and they sometimes go on sale making them even more affordable. If you want a fun vibrant cooler that doesn't leak then this one is for you:
See the latest prices of Hydro Flask coolers at Amazon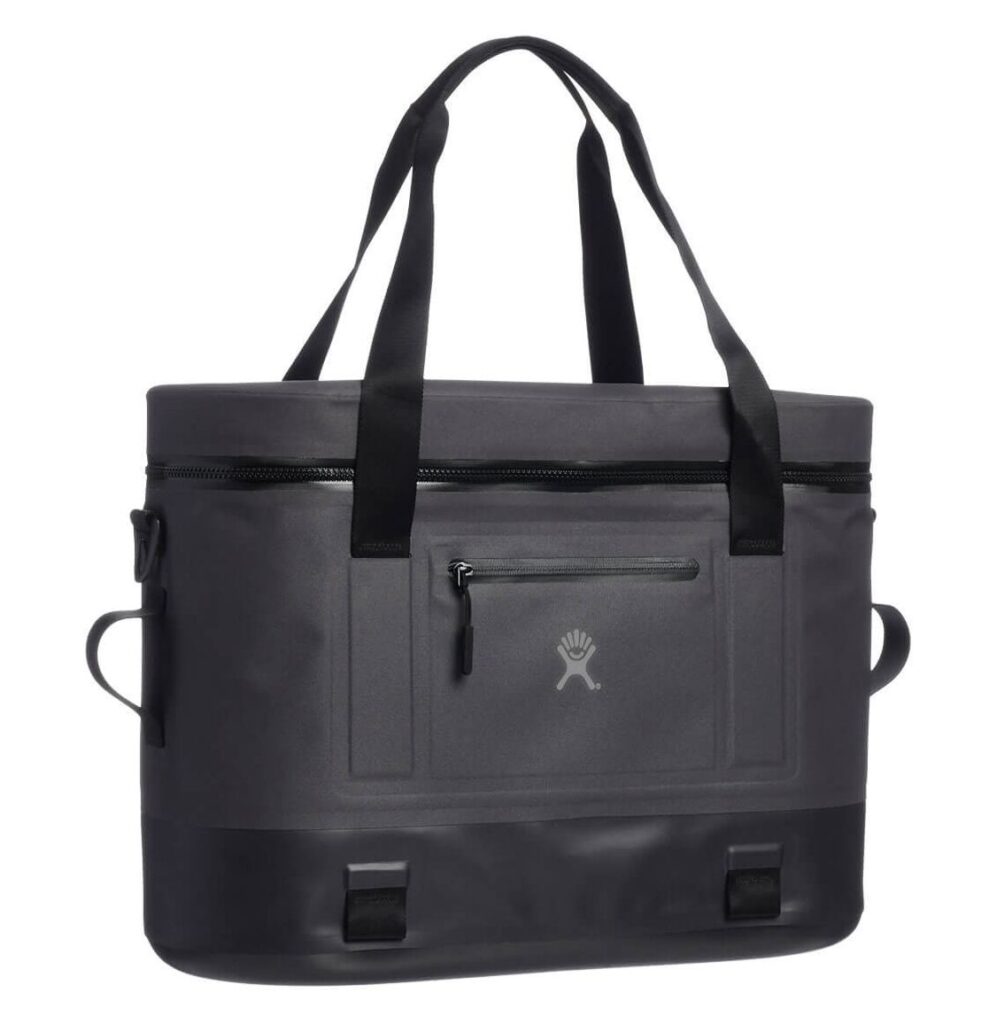 7. Tourit Soft Coolers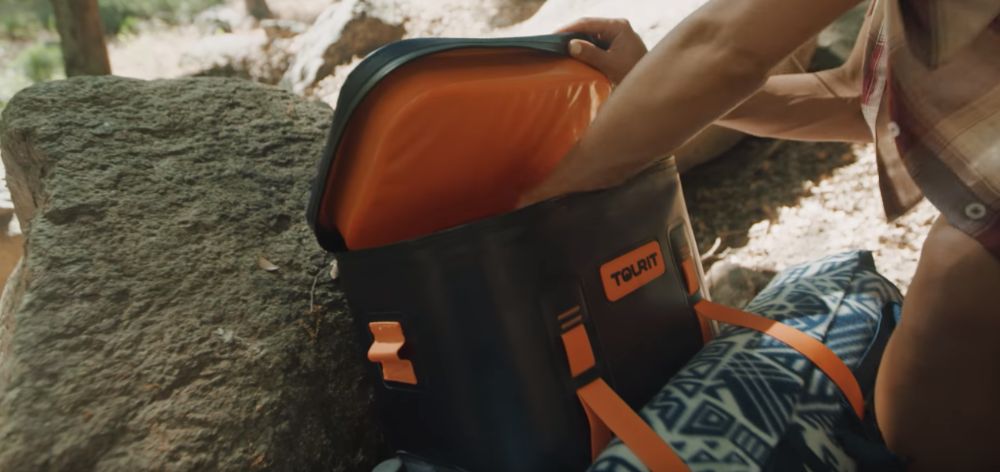 Tourit coolers are a high-performance cooler that is only really sold on Amazon.
It has good solid insulation and can keep ice longer than a Yeti. They are very similar in design and durability to the RTIC coolers.
They are waterproof and leakproof and sell for a good discount compared to the more expensive brands.
See the latest price of Tourit Coolers at Amazon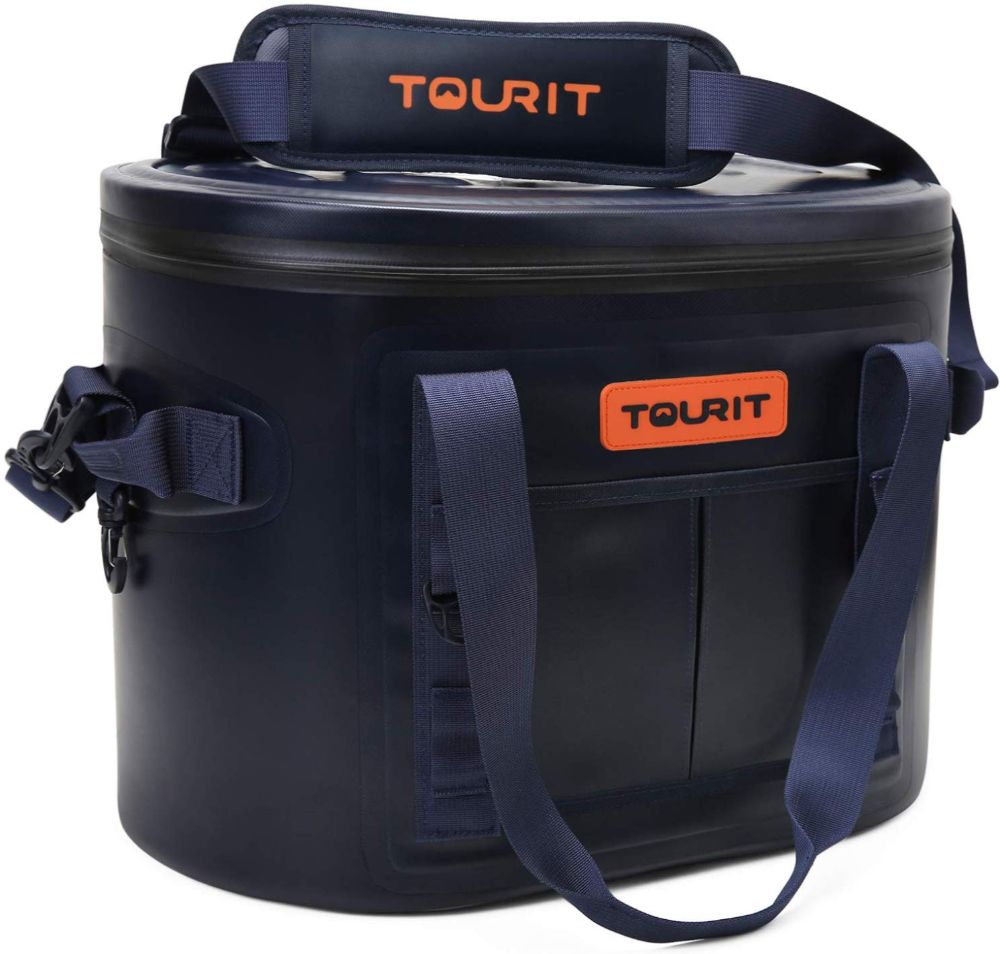 8. IceMule Coolers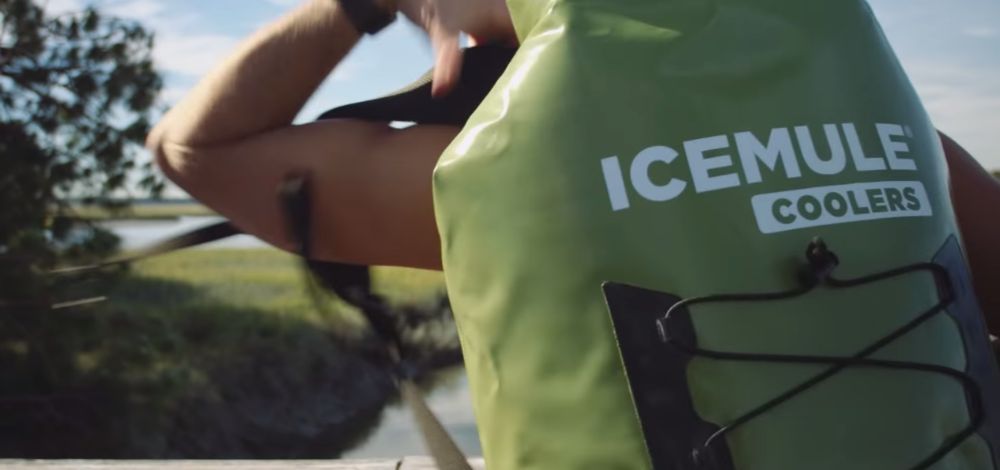 IceMule coolers are a fun, lightweight and waterproof cooler bag that can hold ice for around1-1.5 days.
Instead of using a zipper they use a roll down and clip design just like dry bags. Once rolled down the cooler won't leak any water.
This is a bit more tedious than a zipper but also much less likely to break.
These coolers are extremely lightweight compared to other coolers on this list and the Classic style coolers are super affordable too which makes them a good option for people looking for something stylish and on a budget.
See the affordable prices of IceMule Classic coolers at Amazon
See the latest prices of IceMule Pro coolers at Amazon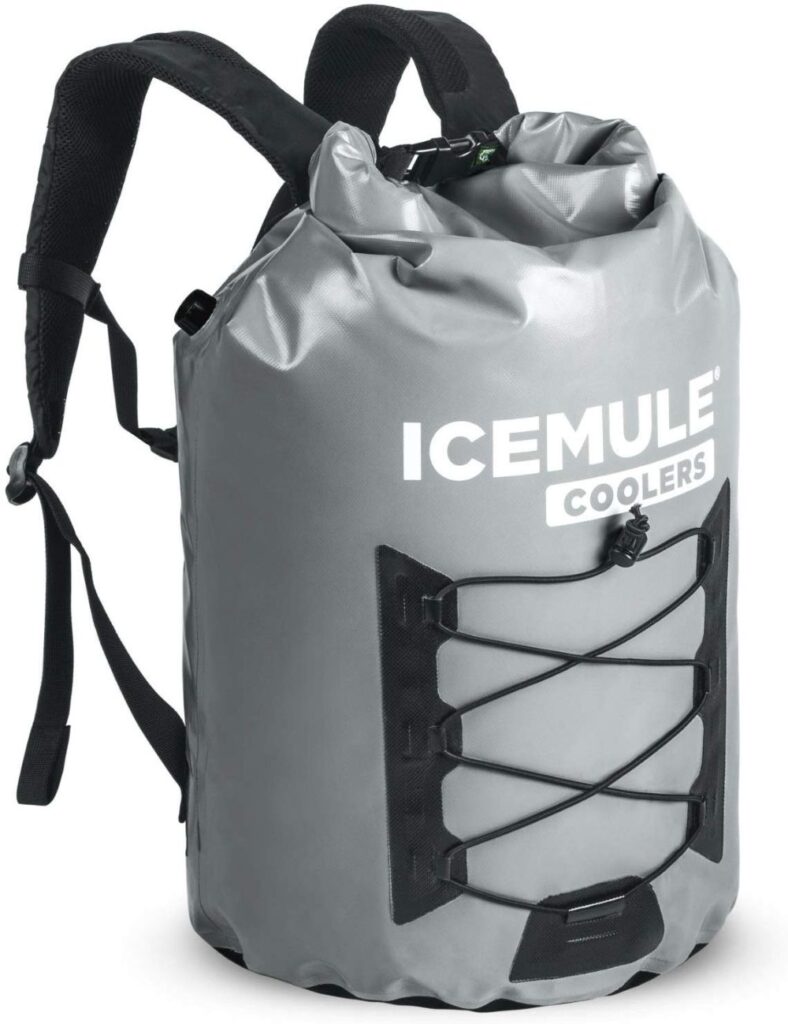 9. Otterbox Trooper Coolers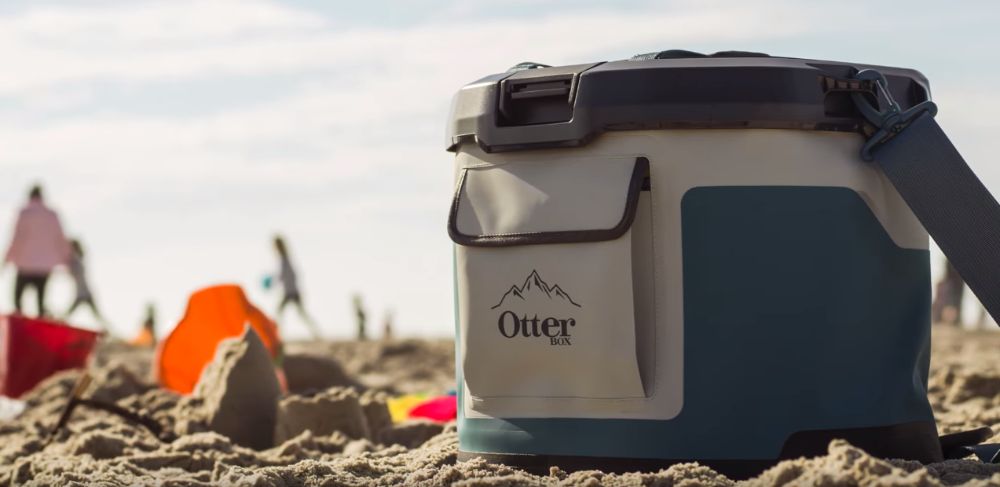 The Otterbox Trooper coolers are a combination of soft sided and hard sided cooler.
The majority of the cooler is made from soft fabric but the lids are hard. The plastic lids use easy open/close mechanisms and seem to be more durable than a zipper and easier to use, but still completely leak proof.
They have similar ice retention to coolers like Yeti and Pelican and they are just as durable, using heavy-duty nylon that is TPU laminated and RF welded and having a reinforced base that can handle years of wear and tear.
They are one of the more expensive coolers on this list, but the quality is right up there. These are very well made coolers.
See the latest prices of Otterbox Trooper coolers at Amazon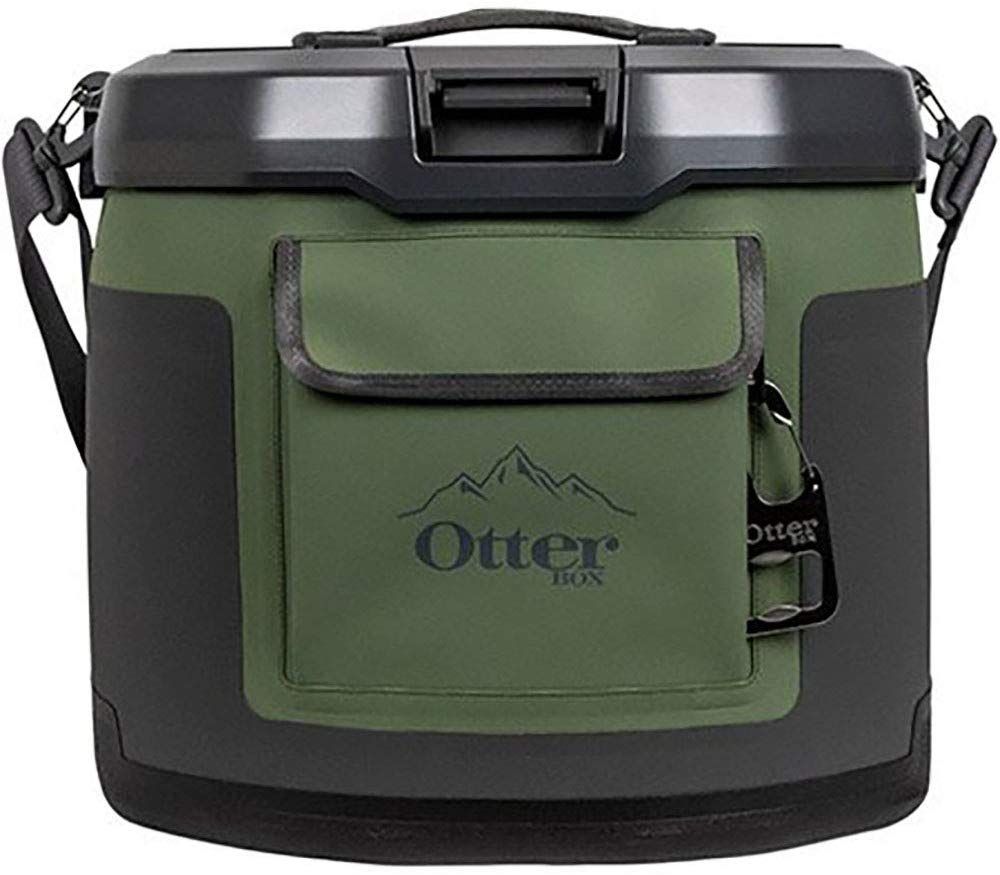 10. Ozark Trail Coolers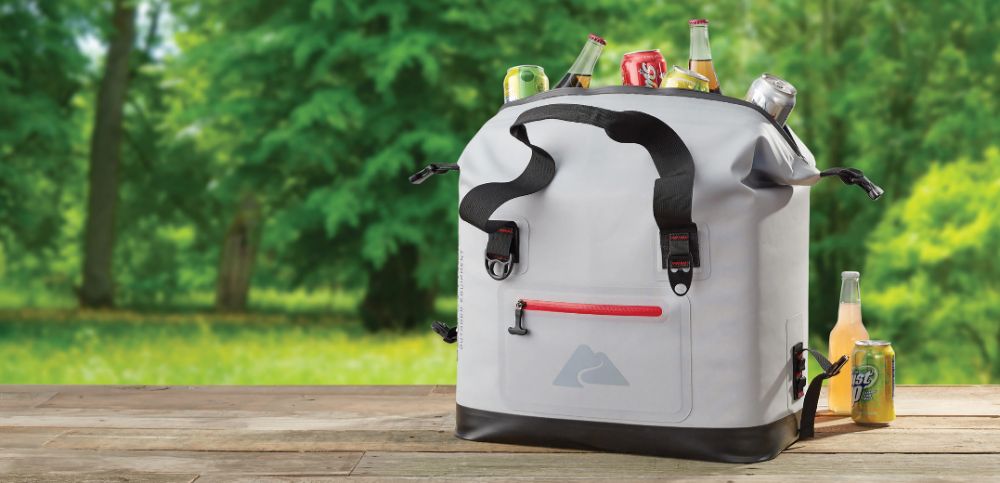 If you're looking for a SUPER CHEAP soft cooler that won't leak then Ozark Trail (Walmart's Brand) is going to be the best cooler for you.
It has all the features of a high-end cooler – like waterproof exterior, leak proof zipper, thick insulation etc – but the price of a cheap soft sided cooler.
The ice retention is decent at 1-2 days and the cooler is really impressive for the price.
The downside with these coolers is the durability. There are many reports of zippers and liners breaking and so if you're going to be using this cooler a lot and want it to last a long time it's probably not the cooler for you.
But if you're just looking for a budget cooler and you'll be using it infrequently then this is definitely the most affordable option.
See the latest prices of Ozark Trail coolers at Walmart – they are super cheap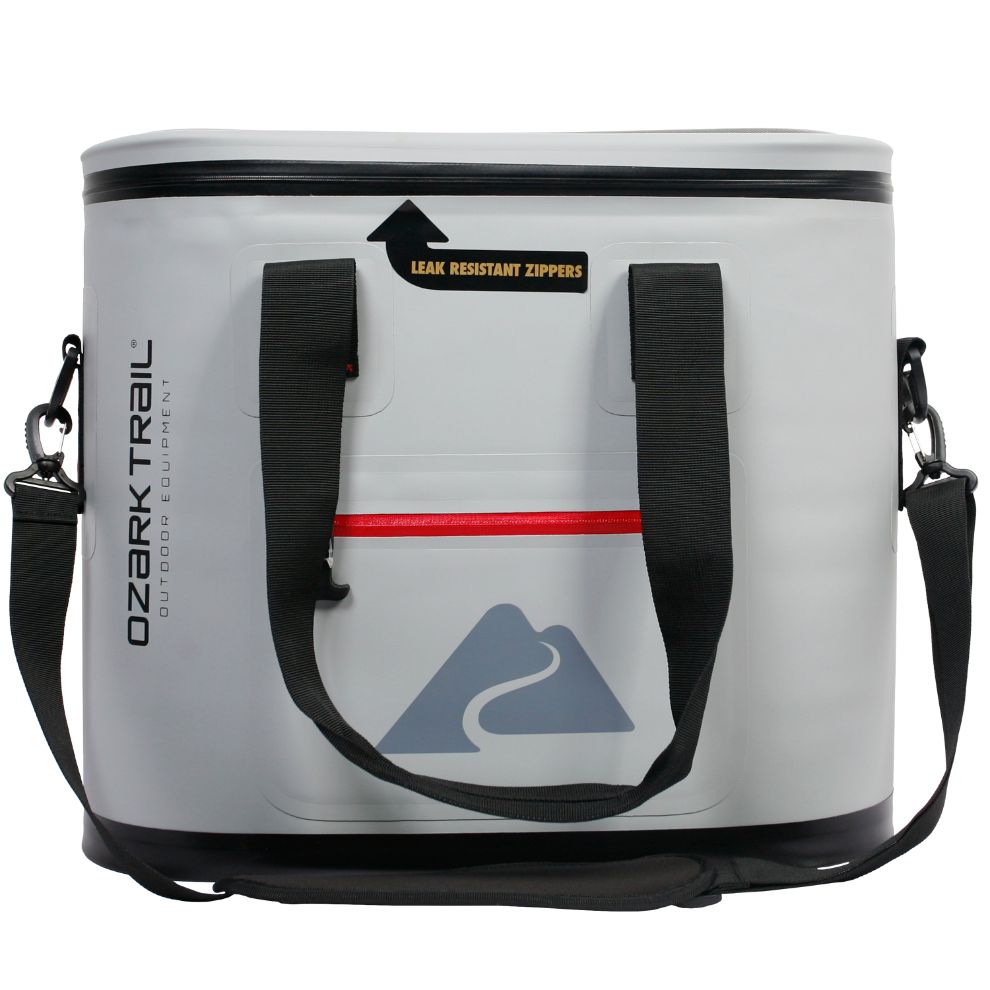 Get The Best Leak Proof Cooler For You
There you have my life of the best waterproof soft coolers that won't leak.
You've got a bunch of different options to choose from. You can get the premium brand Yeti or Pelican coolers, you could get the high performance Engel or Polar Bear coolers or maybe go with the cheaper and more affordable RTIC or Ozark Trail coolers.
No cooler on this list is the absolute best for everyone.
Have a look through all the listings, check out the coolers on Amazon and compare the prices and then choose the one that you like the best and that fits your price range.
If you need more help choosing a soft sided cooler check out some of the resources below:
The best soft sided coolers on the market
The best soft sided coolers for ice retention