There are a lot of great coolers out there. Determining what is going to be the best cooler under $100 for you will depend on your needs.
It's impossible for me to go out and say "THIS is the absolute best cooler for under $100". It might be a great cooler, high quality with beautiful design, but everyone's need are different.
Some of you may want a smaller more portable cooler that is great for your lunch and drinks while at work, others will want the biggest capacity for a party or camping trip, while others still may way an electric cooler for their car.
So that is why I have broken this buying guide into 7 categories. Click any one of the categories below to jump to that specific recommendation.
So whatever type of cooler you are after we've got you covered, all for under $100.
PLEASE NOTE: Product links on this page are Amazon affiliate links. If you go through these links it won't cost you any more but we will make a small commission which helps to fund this site. Thanks 🙂
Best Overall Cooler Under $100
Coleman Xtreme 5-Day Cooler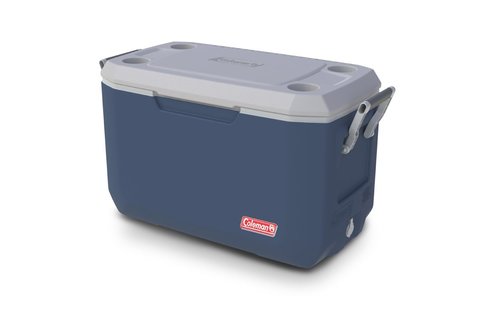 If you're after a simple, solid, practical and top quality cooler then my #1 recommended is the Coleman Xtreme range.
There has been an explosion lately of high-end coolers that cost around the $500 range of more. These cooler have a lot of bells and whistles and one of their most loved features is their ability to keep ice for up to 5-7 days.
The Coleman Xtreme range comes really close to the performance of those high end coolers but is 10-20% of the price.
Check out the video below to see how well it performed:
For just $60-$70 you are going to be really happy with the cooler.
What Makes This The Best Cooler?
When looking for the best affordable coolers I took into account a few different things.
Size – Size does matter. The larger the unit the more flexibility you have. You can use it for parties, BBQs, picnics or even long road trips.
Price – Price was obviously a major determining factor. The cooler had to be under $100 but I also didn't want the cheapest cooler available as they aren't very good.
Performance – This was the #1 factor in determining the best overall cooler. How well does it perform and for how long does it hold ice. The Coleman Xtreme won this test.
Brand/Reputation – Choosing a cooler with a reputable brand gives you a better chance of getting a great cooler that will last a long time. If you buy from some brand you've never heard of there is a chance that the cooler will be a dud.
Design and Build Quality – It unlikely you'll want something that looks like it was designed in the 1950's or something that looks downright cheap. You'll also want a cooler that is built to last.
Why the Coleman Xtreme?
It's lightweight compared to other models which makes it easier to move around. It has a no tilt drainage channel so draining out excess water is quite simple.
The lid is strong and sturdy and can double as a seat or even a table with a relatively flat top and 4 built in cup holders.
If you want a good sized cooler than will keep your items cool for days then this is the best overall cooler you can buy for under $100.
NOTE: The smaller versions of the Xtreme range arent as good. Be sure to get 50-Quart or above. The link above is to the to the 70-Quart model which in my opinion is the best.
---
Best Small Cooler
Coleman FlipLid 6 Personal Cooler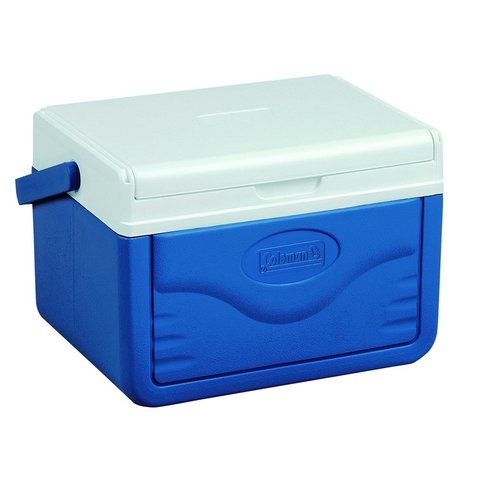 Small compact coolers are basically always going to under $100 (usually under $30-$50) so you are set in terms of budget.
I had one of these small coolers for years when I was a road rep and it would basically spend the entire day in my car. I didn't know about electric coolers at the time, but this served me well regardless.
A small cooler isn't going to fit food for a family, or be good for beers at a BBQ but it is great for fitting a couple of drinks and your lunch in for a single person.
Smaller coolers aren't the best at keeping in the cold and keeping out the heat. I would use 1-2 ice packs for the day and they would almost be completely melted and warm by the end of the day…though it did sit in a hot car for a lot of that time.
About The Coleman FlipLid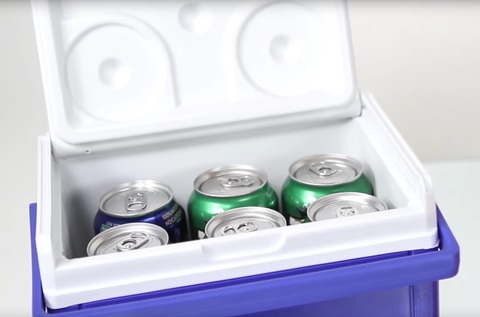 There are a lot of great small coolers out there so anything you buy is going to likely work out fine. However, the Coleman flip lid has a couple of things going for it that allow it to stand out in the sea of "me-too" products.
Firstly, Coleman is a great brand that is known for good quality coolers. The chance of buying a dud is extremely low so that's good for peace of mind.
Secondly, the price as I am writing this is around the $12 mark which makes it easily affordable for anyone. You aren't going to be complaining how expensive this thing is.
Lastly, the lid is awesome. Having an attached lid may sound like a trivial thing but it's actually really important. Loose lids get lost while you are driving in the car or get sandy/dirty when at a beach or picnic. Plus you then need to find a separate area to put your lid down once you open your cooler.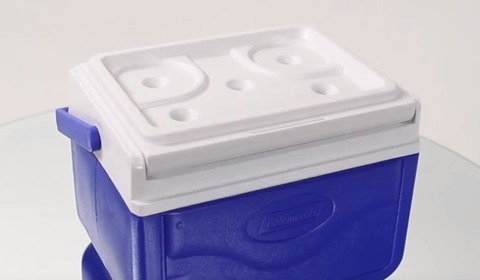 With the FlipLid the lid is attached which is convenient, but wait there's more! (Is it just me or is this starting to sound like a Shamwow commercial…haha). The lid flips over and doubles are a serving tray with built-in cup holders.
Now these cup holders won't be any good for your car, but if you're on a work site or eating whilst on a hill (beach/picnics) then it will help to keep your drinks steady.
Seriously you could buy any small cooler and be happy with it so feel free to search around, but this cooler is a great product that I'm happy to recommend.
Comes in blue and red.
---
Best Large Cooler
Igloo Polar Cooler 120-Quart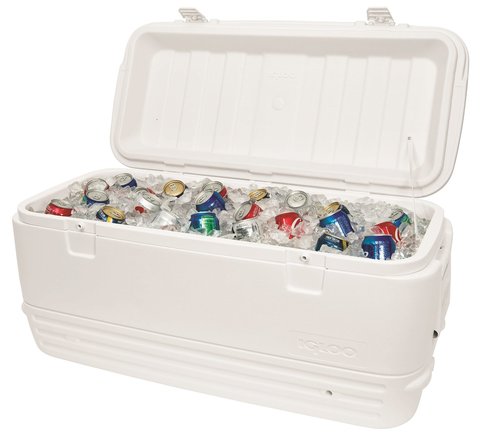 The large cooler market is now dominated by hyper-expensive coolers like the Yeti Coolers that retail for upwards of $800+.
If you've got a lazy $1K to spend on a cooler then that's great but what about the rest of us who want to spend under $100?
How Did We Choose The Best Large Cooler Under $100?
For this category I wanted to choose the cooler with the highest storage capacity per dollar. The cooler still had to perform well and keep ice for a good period of time.
To be in the running the cooler had to be over 100-quart, and of course, had to be under $100.
All About The Igloo Polar Cooler
The Igloo Polar Cooler packs a punch for the price, this thing is gigantic. With a 120-Quart capacity and priced around $56 you're only paying $0.47 per quart of storage space.
The white color (as opposed to the blues of similar models) helps to reflect sunlight and heat and given its size and insulation it'll keep ice for up to 5 days. Now most of the ice will be melted after those 5 days but it's still a good effort for the price.
Remember the expensive models like the Yeti Tundra will cost you 10 times and much and will keep ice up to 7 days or more. So it's a couple of days less for a lot less money.
This cooler has swing up handles like a lot of coolers this size and the handles have a tie-down loop feature so if you need to secure it to your car, truck or camper then this is useful. Good luck trying to carry this while it is full though.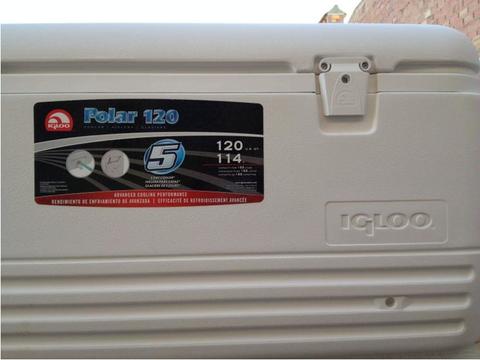 The thing that lets this cooler down is its latches. Without a good tight seal your cooler is going to gain heat much faster.
The latches are plastic and work well at first but through extended use and exposure to the sun they get worn pretty quickly and stop working properly. You can buy replacement stainless steel latches for around $12 each.
By the time you buy 2 sets of latches and metal hinges (oh did I mention the hinges on the lids have a similar problem as they are plastic too) you've spent $38 on accessories…almost as much as the cooler itself.
While a major flaw in the design of this cooler with moderate use and without excessive exposure to the sun it's not a deal breaker as they'll likely last a decent amount of time.
All in all, this cooler is going to give you the biggest bang for your buck. You'll have ample space to store whatever you want (beers, soda, food, dead bodies…I mean fish). It'll break your back if you try to carry this while it's full but one thing it won't break is the bank.
A More Practical Option – Coleman 100-Quart Xtreme 5 Wheeled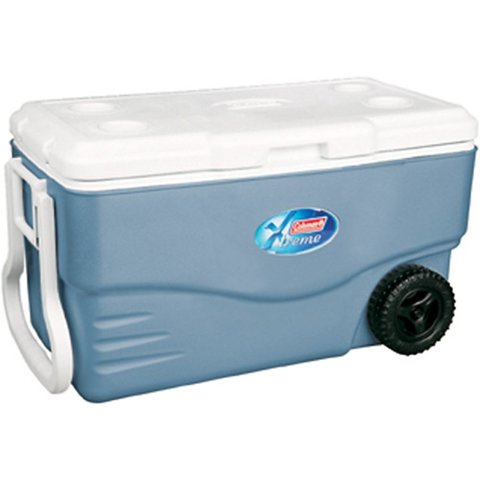 This Coleman cooler didn't pack as much space per dollar. It's more expensive than the Polar Igloo at around $88 for 100-quart at the time of writing ($0.88 per quart vs $0.47/quart) which is why it didn't take out the top spot.
BUT (and it's a big but), this cooler does have wheels and a pull handle. The reason I didn't promote this to the #1 spot is that the wheels span the shorter side of the cooler with the handle on the opposite side.
This means if you try to lift and move this cooler while it is full you'll basically need to lift the entire weight of the cooler just to get it onto it's wheels. So it's not as practical as you might imagine. Still, it's more practical than no wheels at all.
---
Best Soft Cooler
Coleman 30-Can Soft Cooler With Hard Liner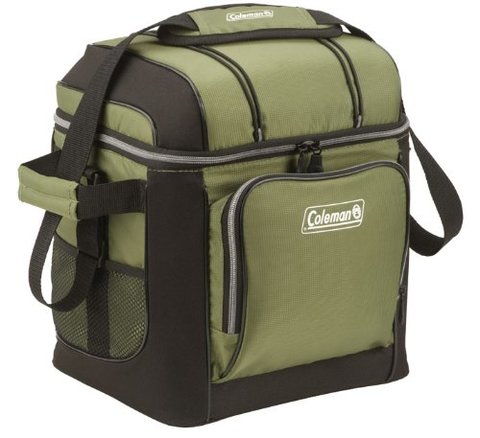 The benefit of buying a soft cooler over a hard one is the sheer fact that they are easier to carry.
A soft exterior mixed with (often) a shoulder strap makes carrying a few drinks to the beach or to your picnic way easier than a hard cooler with a single plastic handle.
So if you want something that is going to be easy to take with you then a soft cooler is going to be a good option to look at.
This Coleman 30-Can Soft Cooler combines a good size (there are smaller options available) with nice tough and durable material to make a really decent soft cooler.
A Soft Cooler Isn't A Long Term Solution
Now I would never recommend a soft cooler as a good long-term solution for storing things. While this product does have a hard plastic liner and heat welded seams to keep the moisture in and heat out it just isn't going to work as well as a traditional cooler.
I also don't recommend using a lot of ice in any soft cooler. Ice pack will keep your food cold just as well but won't turn into water as it melts, which has a tendency to make your bag all wet.
Features that I like in this bag are the rounded top, which gives you a little bit of extra space and allows you to completely fill up the cooler. I also like the decent sized front zipper pocket. It has side mesh pockets to store stuff in but I never trust the plastic they put on those. I would hate to put my keys or cutlery in them only to find out it fell out somewhere at a the beach.
I also like that it gives me the option of a shoulder strap OR the two side handles. I could carry this with a 2nd person if I was finding it to be too heavy if I wanted to.
What I don't like is more reflective of soft coolers in general and not this specific model. I'm not quick to clean out my cooler and while both soft and hard coolers get equally disgusting with mouldy uneaten fruit I find soft coolers are much harder to completely clean out.
My kids have soft coolers for school and we have to replacement them every 6 months or so because they develop a smell you can't get rid of. Moral of the story, don't leave uneaten fruit in your soft cooler for long periods of time like I do.
All in all this Coleman is a good soft cooler. See the bottom of this post for a backpack cooler which makes carrying your items even easier.
---
Best Car Cooler
Black & Decker TC212B Travel Cooler & Warmer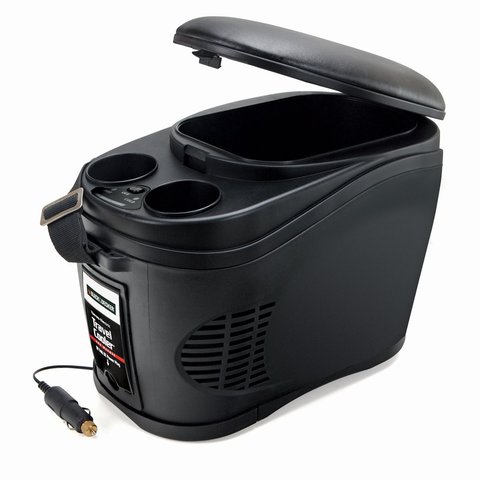 Now when it comes to the more compact thermoelectric coolers none of these products are going to be AMAZING for under $100. Let's just get that out of the way.
They aren't going to cool stuff down for you, they definitely aren't going to freeze anything either. What they will do is help cool items maintain their cool temperature.
As I mentioned above I used to be a road rep, meaning I would spend basically all day in my car. I absolutely hated it when my yoghurt got warm or my drinks got super hot. I personally used a small ice cooler, but that was because I didn't know about electric coolers.
What To Look For In A Car Cooler
When you are considering an electric cooler for your car there are a few things you want to consider.
Size and ease of access – There are larger, more serious electric coolers, but if you're on the road you don't want to have to stop to get things out. This is why compact units you can have next to you or just sitting in the back seat are ideal.
Noise produced – Electric coolers run a fan which will create a noise. Generally these a pretty quiet and won't be noticed over the sound of your engine anyway
Power consumption and chord – Electric coolers can sometimes pull a lot of power. Many people have mentioned that some chords get SUPER HOT in particular models and need to be replaced frequently, we don't want this.
Why the Black and Decker?
There are quite a few compact models to choose from and the Black and Decker is the more expensive of the compact models, but I believe it is worth paying that little bit extra.
It has the highest star rating of all the coolers out there (4.2 stars vs 3-3.5 stars for most other models) which is a good first sign. There are no complaints of the cable getting hot and needing to be replaced like with other models either. So overall it's a better build product than it's comparables.
It's got a 2.7 gallon capacity which can hold 2 cans. But the way that it works it that the cooling device is located in the bottom half of the storage compartment. This means the bottom half is going to be a lot cooler than the top half.
It is therefore recommended that your cool stuff (drinks, dairy etc) is kept down the bottom while stuff that doesn't matter as much (eg. Sandwiches) are put closer to the top.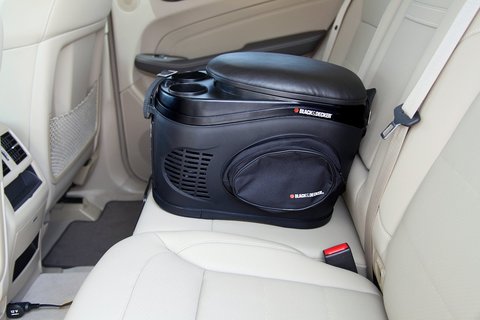 It's fairly slimline but likely going to be too wide to fit between the two front seats in most cars. This means it is generally best kept between the back seats or on the floor in the rear or your car or on the floor of the front passenger seat (if you have no passenger).
All devices can take time to cool down (up to two hours to cool down completely) so having an ice brick or something similar can help speed things up. Ice is NOT recommended as the moisture can ruin the device.
Get the right adapter – There are complaints of people breaking this product when using an adapter. Make sure to get the (which is only about $1-2 more than other converters) if you want to be able to plug this into a regular wall socket.
This cooler also has a warming function which can be a neat feature if you're picking up some takeaway and want to keep it toasty hot on the way home. It takes a long time to cool down once you've heated it up though so don't expect to use the heat and then put cool food inside 10 minutes later.
It claims to have a low battery detection so it won't drain your battery. It will! So be careful to turn this off when your car is off.
All in all this is a good compact electric cooler that is more reliable than most other models one the market. It's got a great look and some great features and would be good for anyone spending a lot of time in their car/truck and wants to be able to keep their food and drinks cold without needing ice.
---
Best Electric Cooler
Wagan (EL6224) 12V Cooler/Warmer – 24L Capacity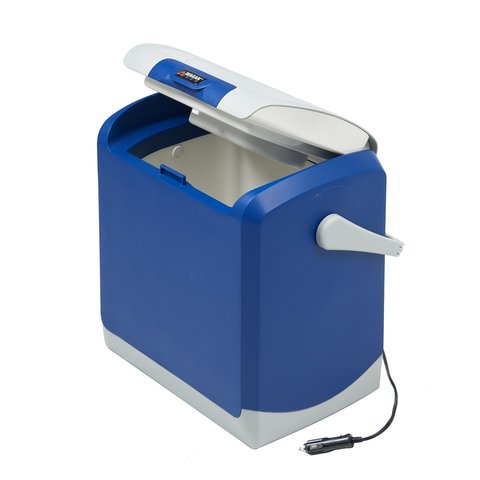 Once you start getting away from the compact coolers into the larger electric coolers you seem to get better quality products for under $100.
There are a lot of great brands making electric coolers under $100. The most notable are Coleman, Koolatron and Wagan.
Why the Wagan Cooler?
The Wagan cooler packs in everything you expect in an electric cooler. The ability to cool the internal temperature around 35 degree below the exterior temperature as well as the ability to keep things warm if you need to.
But there are a few things that stood out to me about the Wagan that made me recommend it over the close second the .
Size and Convenience – This model is slightly smaller than other electric coolers and while you may think this is a downside it actually makes it way more convenient than other models.
Other electric coolers need to either go in the trunk of your car. The Wagan is small enough to go on the floor in the front passenger seat or on the floor in the rear of your car.
Top Lid – Having the lid on the top again increases the convenience because you can easily access whatever is in your cooler while driving. Other units have large doors which makes accessing the contents you are storing easier when it is set up, it's almost impossible to access them while driving which is a deal breaker for me and many other people.
2 Year Warranty – Wagan offers a 2-year warranty with this product. If you trawl through the reviews of all the electric coolers you will find the chance of having an issue is relatively high (especially compared to an ice cooler). By having a 2 year warranty you are protected again these issues.
As the product is a competitive price (under $100), does all the same things but is more conveient and comes with the peace of mind of a 2-year warranty I've got to give it my #1 pick.
---
Best Wheeled Cooler
Coleman 50 Quart Xtreme 5 Wheeled Cooler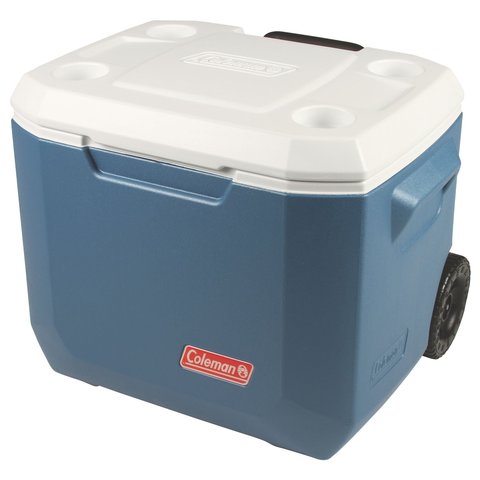 Have you ever tried to move a cooler while it is full? Or even while it is partially full?
You'll quickly realise that it is back breaking work.
If you want a decent sized cooler and you want to be able to move it from your car to your picnic or camping spot then having wheels on your cooler is definitely recommended.
Two Types Of Wheel Coolers
There are two main types of wheeled coolers.
Suitcase Style – They aren't 'technically' called this. But suitcase style coolers (like this Coleman) are my favourite type.
The handle telescopes up to a good length and the wheels span the longer side of the cooler. This makes you feel like you are pulling a lot less weight and are quite easy to move around.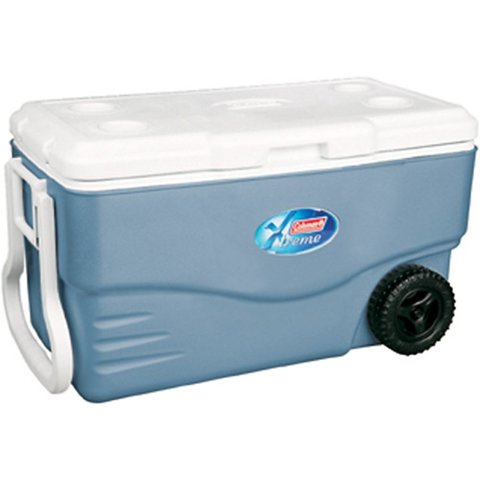 Pull Handle – Again I am sure this is not the 'technical' term. But pull handle coolers are the ones where the wheels span across the smaller side of the cooler and one of the side handles doubles as a pull handle.
While these are better than no wheels at all they still feel like they are going to pull your arm out of your socket when you try to move them around.
Why the Coleman 50-Quart Xtreme?
There are a few things I really love about the Coleman 50-Quart Extreme.
Super easy to move – It's got a long telescoping handle that is strong and sturdy. Pulling this things is easy to do and won't make your arm feel like it's about to be pulled from your socket.
Keeps Ice For Days – It claims that it stores ice for up to 5 days. While that may be true in colder areas and with less use getting 5 days of ice out of this cooler is unlikely for most people. However you should easily get 2-3 days of ice with moderate use.
Doubles As Furniture – It's got a strong sturdy lid that can support up to 250lbs. So whether you're having a BBQ or going camping this can double as a seat. It also have 4 cup holders inbuilt into the lid which is a nice feature if you wanted to use the lid more like a coffee table.
All in all this is a solidly built cooler and performs better than other coolers in the lower price range. The suitcase style pulling system is better than the alternative. Even girls or men who aren't really strong (I'll admit if I'm probably one of those) this will be a breeze to move around…ok breeze is maybe too strong a word. It's still heavy when full, but doable to move without popping a hernia.
Great multipurpose cooler.
---
Best Boat Cooler
Igloo Marine Ultra Cooler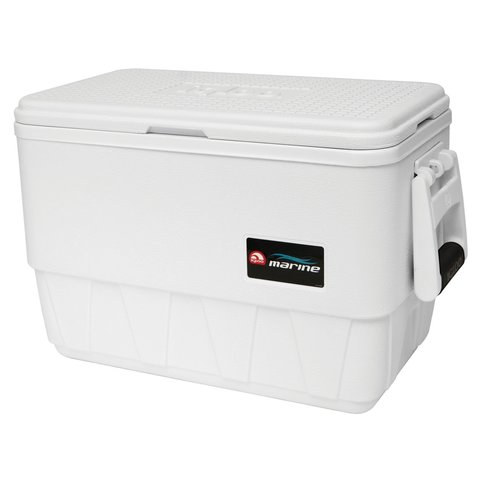 The Igloo Marine Ultra Cooler comes in multiple sizes. Anywhere from 25 or 36-quart at around $40 up to 72-quart at $99. It even extends up for 162-quart at $165 but that is over our price range of $100.
Combined with the Attwood Cooler Mounting Kit (~$15) this cooler will keep your bait or your lunch cool without worrying about it sliding around your boat.
It's got reinforced comfort grip handles that won't slip while you are carrying it. All in all a great cooler for your next fishing trip.
---
Less Common Coolers Under $100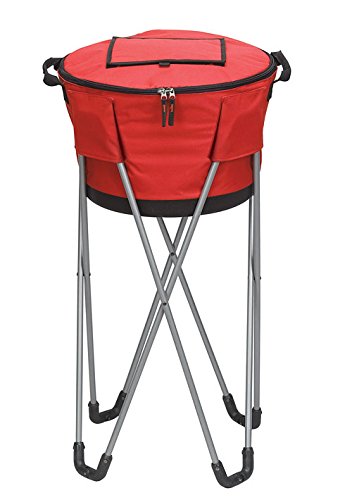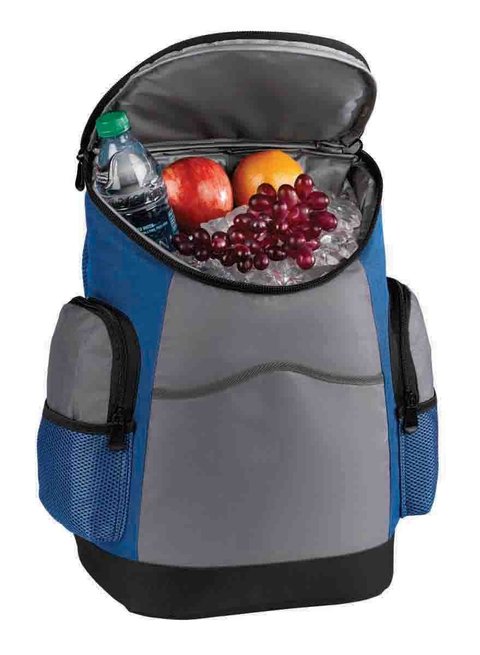 Best Collapsible Cooler: – This cooler comes with a stand and an attached bottle openers which makes accessing (and drinking) your beers or other beverages easier than a standard cooler.
​
Backpack Cooler: – This cooler backpack makes for easy carrying with padded shoulder straps and heat sealed no-leak liners. With 2 side pockets for extra storage this is a great backpack cooler.