With a not-too-big-not-too-small size, cooling and warming capabilities and a 2-year manufacturer's warranty, the is the best electric cooler for most people.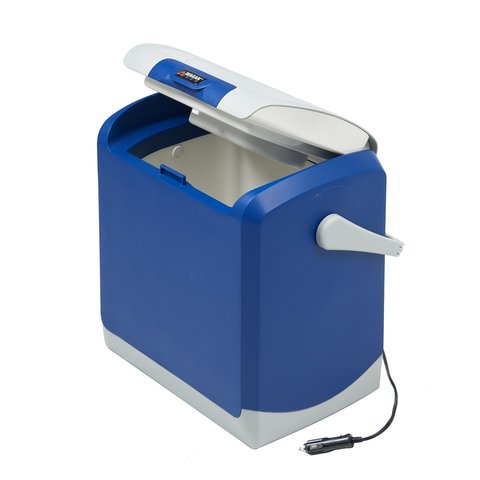 [yasr_overall_rating]
The Wagan EL6224 is a 12V cooler with a large 24L (~25-quart) capacity that will cool its interior to about 36°F (20°C) below the ambient temperature.
It is the design of this cooler that makes it the most versatile and practical electric cooler on the market.
It's big enough to store multiple drinks, large bottles and ample amount of food but remains small enough to fit on the floor and be easily accessed while driving. It also has a long power chord which means it can be placed anywhere in your car.
Important Things To Be Aware Of When Buying An Electric Cooler
Ice coolers are simple, you just go out there, buy one, put some ice in it and you're good to go. Electric coolers are a bit more complicated. Here are some things to consider when buying/using an electric cooler.
They Aren't Fridges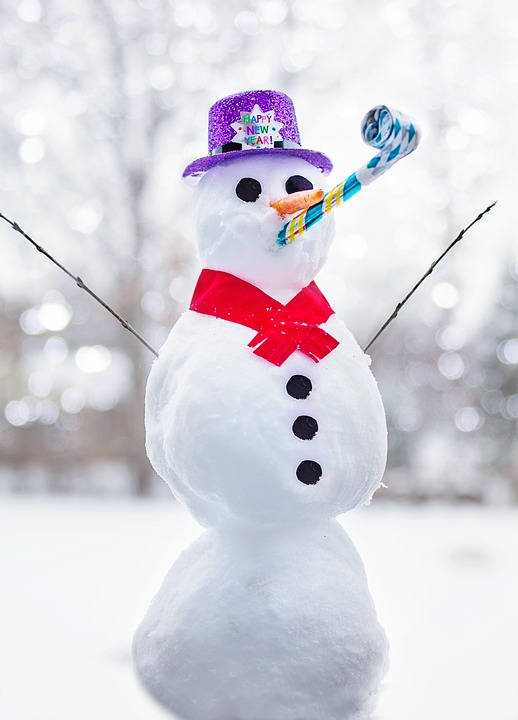 The first thing to know about electric coolers is that they are just that…coolers. Just because they run off electricity doesn't mean they are going to be as good as your fridge at home.
If you're spending under $400 chances are the cooler you are buying will only cool the inside to a max of 40°F below the ambient temperature.
This means they won't cool items down they will just keep it cool. That's not completely true because they can cool items a bit, but it's not going to cool it down much.
They are best used with already cool items.
The exception to this rule are the expensive models which specifically say they are fridges or freezers.
They Can Kill Your Battery
Thermoelectric cooling technology isn't widely used in our home fridges because they aren't very efficient. While most of these coolers are small enough that they can easily run off your vehicle's 12V battery if you leave them on while your car is off you may wake up to find your car won't start anymore.
So always turn them off when not in use or when you are going to be away from the car for a long time.
For me I have a solar setup in my campervan and I run all my powered items off that. It's not even linked to my car battery so there is no risk of killing my battery.
You Can't Use Ice (In Most Models)
Many models have the cooling fan on the side of the unit. As ice melts the water can get into the electrics and stop it from working.
This also makes them hard to clean properly meaning if you aren't careful they can start to stink…yuk!
One of the benefits of the Wagan EL6224 is that the cooling mechanism is located in the lid and thus you can use ice without worrying (though there is still some risk if you have a lot of water in there). The lid is also removable thus making cleaning easy.
If want to use an ice cooler check out this list of high-end (but affordable) coolers that are the best on the market.
Some Adapters Can Kill Your Cooler
Most electric coolers are built with plugs that suit your 12V power outlet in your car. Adapters can be bought so the device can also be plugged into a regular wall socket.
Be careful to note the required Voltage/Amps though as using the wrong adapter can burn your circuits and destroy your cooler.
Some Chords Get Hot and Burn Out
Especially on the smaller cheaper units the power chord can get EXTREMELY hot and can burn out and die, meaning you'll need a replacement or your cooler won't work.
Check the Amazon reviews of the model you want to buy to make sure this isn't an issue.
You May Need An Extension Chord
Some units don't have very long power chords. Depending on where you 12V outlet is and where you want to keep the cooler an extension chord may be required.
These only cost and are generally worth the investment.
Choosing The Right Electric Cooler For You
Electric coolers come in many shapes, sizes and price ranges. You'll need to choose the cooler that is right for you. Here is a quick overview of the main types of electric coolers available.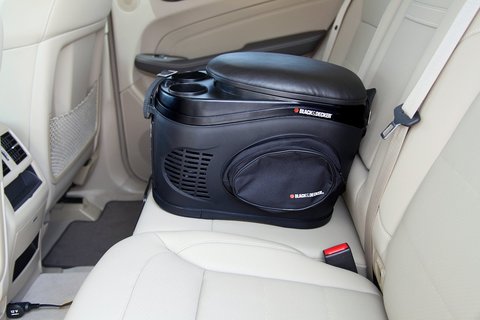 Compact Car Coolers – These coolers and small (fitting 6-12 cans) and generally have some sort of arm rest padding on top and maybe even some cup holders. They are cheap ($35-$80) but generally not built with quality in mind. performs the best in the compact range.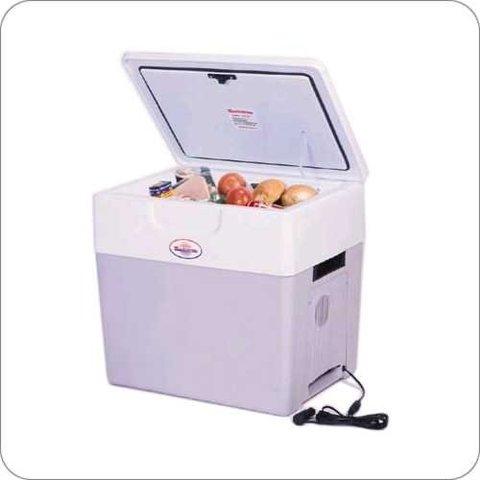 Large Storage Coolers – These coolers are generally around 40-quart or more and are designed to be stored in the rear of your vehicle. Some models turn on their side as the act like "mini-fridges", though they still have limited cooling capacity. The is the largest affordable model.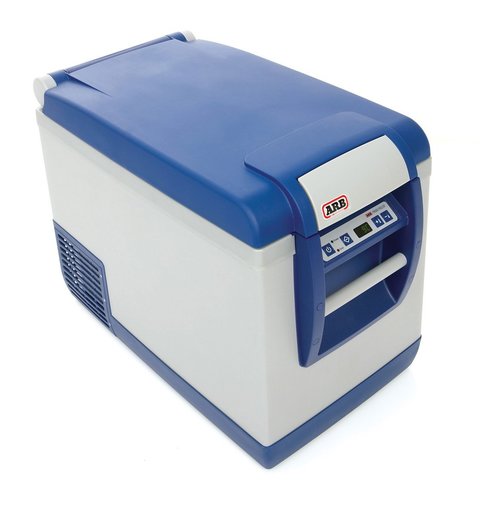 Fridge/Freezer Coolers – Rather than simply keeping items cool these coolers work as a fridge or freezer allowing you to cool warm items and even freeze items. These tend to be a lot more expensive with models starting around $350 and working their way up to over $1,000. They are the best, but you have to pay for it. For the best of the best I recommend the which ranges from 37-quart to 82-quart.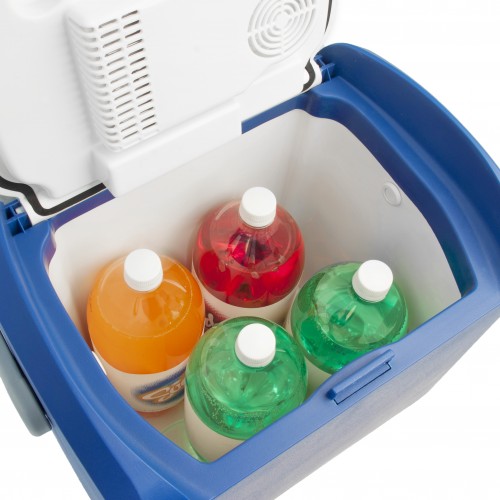 Large Compact Coolers – The Wagan EL6224 fits in this range of cooler. They are closer in form and function to the large coolers and don't have arm rests and cup holders. They have good storage capacity however, they are designed to be small enough to fit on the floor in the cabin of your vehicle and to be easily accessible whilst driving.
For the serious road-tripper, camper or long haul trucker a fridge/freezer cooler may be worth the investment but for the majority of us the cheaper, more standard coolers will do just fine.
What Makes The Wagan EL6224 The Best Electric Cooler For Most People?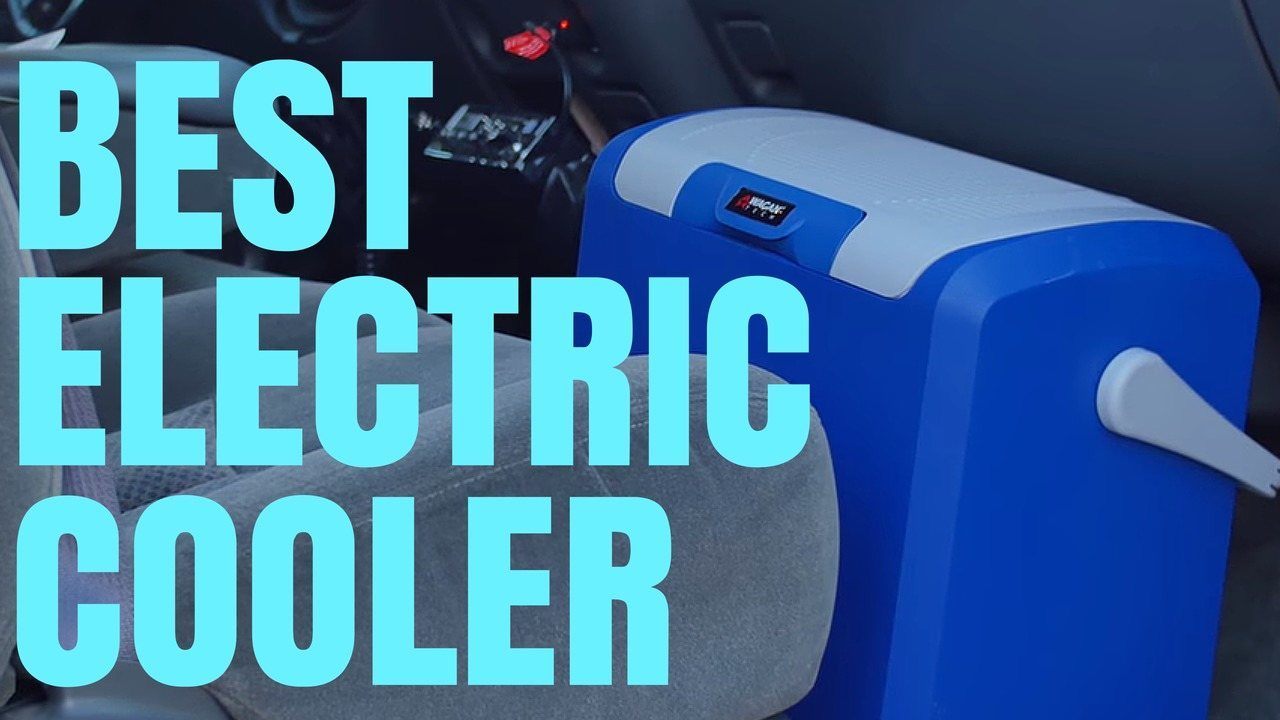 There are a lot of coolers on the market and narrowing it down to the best electric cooler to recommend was a difficult task.
To make this recommendation I looked a variety of factors that I believe are important in an electric cooler. While the Wagan wasn't #1 in every category, it was the best overall product.
Thanks to InnerBark Outdoors for the photos.
Cooling Functionality
Some electric coolers just don't work very well. With the cheaper models they will have a portion of the interior that is metal and will get cold. But basically only things touching the metal will get cold while the rest remains only slightly below room temperature.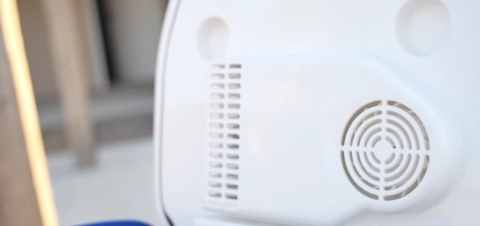 The cooling mechanism in the Wagan is located in the lid of the product with the fan in the middle of the lid to blow cool air around.
This means products near the top will remain coolest and it is advised to leave as much air space as possible between your food and drinks so they can get maximum exposure to the cool air.
All in all, this model does a better job of cooling everything inside your cooler rather than just cooling some things and not others.
Quality Of The Build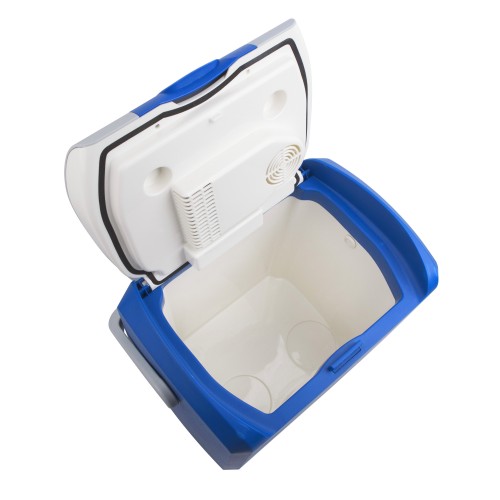 Picture this, you buy your cooler and it gets delivered to you. You use it for a couple of days and it works fine and then you don't need it for another month. You go to use it again for a family road trip and you find that for some reason it doesn't work.
You're outside your money-back period and you're basically left with a really expensive and useless box that (in most cases) you can't even put ice in.
You try to contact the company to get it fixed or get a refund and they just palm you off basically saying "bad luck". This is what we want to avoid.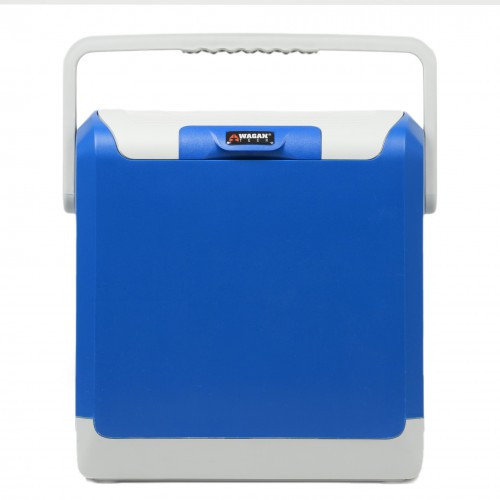 What we want is a quality build that is going to last a long time and an extended warranty in case something does happen.
Enter Wagan, they are a reputable brand in the electric cooler space. They aren't "the" brand to buy but they are decent enough. Plus they back all their products with a 2-year warranty.
While Wagan are unlikely to win any awards for the durability and long lasting nature of their products this isn't a cooler that is going to stop working in a couple of months.
In fact it's highly likely that this will outlive the 2 year warranty period.
Size
Whoever said size doesn't matter obviously wasn't talking about coolers.
The really small models fit hardly anything. Sure they might be able to fit 6 cans stacked tightly together but many of they can't even fit a water bottle standing up. Want to store a couple of drinks and your lunch and you'll quickly run out of space.
Large coolers are great and have ample storage space. However, these models are too large to fit in the cabin of your vehicle with you.
For long road trips it is imperative that you can access your food and drink whilst driving. Large coolers fail this test and thus won't be very useful for a lot of people looking at electric coolers.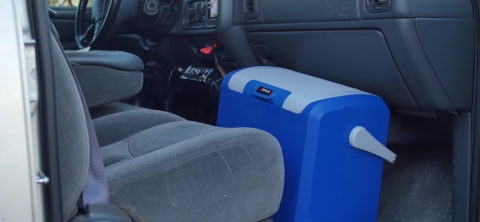 The Wagan EL6224 is large enough to fit LOTS of food and drink and can even fit really large bottles standing up.
But it is also small enough to go on the floor on the passenger side or to fit on the floor in the back where it is still easily accessible to the driver.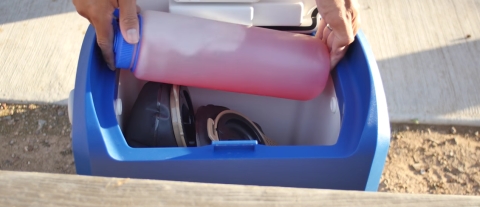 You can fit a lot of stuff in this cooler. They is enough space for food and drinks for a road trip for a family or enough space for a long haul trucker taking a couple of days of food with them on the road.
If you are going to be using this externally (eg. For camping) then you may want a large unit or what I would prefer is an ice cooler that stores easily in the trunk that you can use to supplement your electric cooler when you stop for extended periods of time.
Price
Here is a price comparison at the time of writing between the Wagan and some other popular models of similar size.
Wagan EL6225: ~$89
Koolatron P25 26-Quart Cooler: ~$71
Igloo Iceless Thermoelectric Cooler: ~$80
Coleman 40-Quart PowerChill: ~$103
Knox 27-Quart Cooler: ~$80
ARB 37-Quart Fridge/Freezer: ~$785
As you can see the Wagan is comparable to other models around a similar size. It's not the cheapest on the market but as we have already discussed, we don't want the cheapest product.
The cheapest products have poor cooling ability, break easily and overall aren't very good.
I also included to ARB Fridge/Freezer in the list so you can see the HUGE difference between a regular electric cooler and a premium electric cooler. The Wagan is about 10% the value of the ARB.
So yes fridge/freezers are great, but they don't come cheap and most people aren't going to want to pay $800 for a fridge that goes in their car. Heck many of us didn't even pay $800 for our big fridge at home.
I think $90 for the Wagan is a good price. Not too cheap that it's going to break quickly, but not too expensive that you have to sell your car to buy it.
Convenience
This is one of the main reasons I prefer the Wagan over the other brands out there. It has many features that make it more convenient than other models.
Small enough to fit in front of a seat – This unit is just the right size to sit on the floor either in front of the passenger seat or in front of the rear seats. The lid opening at the top on a hinge makes access easy.
Large enough to fit a good amount of food – It's not so small that you can't keep much in there. It's large enough to fit a decent amount of food and drink and even holds large bottles.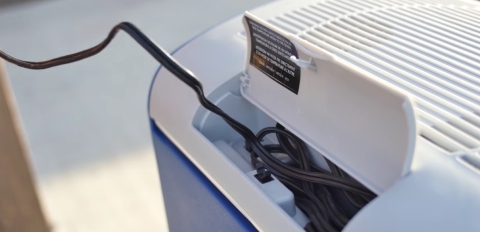 A long cable so you don't need an extension – The cable that plugs into the 12V outlet in your car is quite long. This means you can fit it basically anywhere in the cabin without needing an extention chord. Extensions chords are less than $7 if you do require one.
Cooler on the top so you can use ice – Having the cooling device on top means you can put ice in the cooler without risk of the water getting into the electrics. The same is true one of your drinks spill whilst driving.
Lid removes for easy cleaning – The lid comes off making the rest of the unit really simple to clean with a hose or water without fear of damaging the electrics.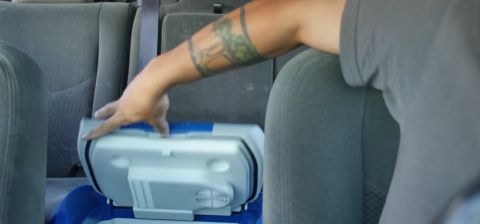 Easy to access whilst driving – The front latch on the lid is easy to press making it easy to open the lid and get access to your food and drink whilst driving.
Tall enough to fit big drink bottles – The tall design means that you can fit large water bottles standing upright. No fear or spilling or need to buy smaller water bottles.
Customer Ratings
When looking at all the available models there were a lot of models with less than 4 stars. The smaller car units all seemed to have around 3.5 stars with the Black and Decker being the only one over 4 stars with a rating of 4.2 (88 reviews)
Even the Coleman 40-Quart PowerChill which is often stated on other websites as the best electric cooler had only a 3.7 star rating (362 reviews). Some models had a lot of negative reviews with recurring issues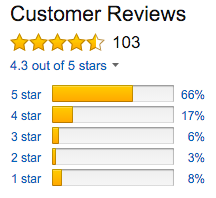 The Wagan had a 4.3 star rating, which is one of the best in the category. 83% of people rated it 4 or 5 starts with only 8% of people giving it a single star.
It doesn't have as many reviews as the more popular Coleman model, but it does have over 100 reviews which is a pretty solid sample size.
It's also important to note most people who gave it a negative review did so because they though this was a refridgerator that cooled your items, not a cooler than simply keeps them cool.
Positive Ratings
At the time of writing this unit had 86 positive ratings. Here is an example of a positive rating below.

I could post more positive ratings but I know it's always the negative ratings you guys want to know about.
Critical Ratings
At the time of writing this unit had 17 critical ratings. 3 of these critical ratings were due to a major flaw that made the product unusable. Here's an example below

But the majority of negative reviews were all due to the fact that this cooler didn't ACTIVELY cool items for people like a fridge does. People purchased it assuming it would act like a refridgerator and actively cool things instead of a cooler that keeps things cool. This is an important distinction to make so please be sure you are aware of this before purchasing.
Here are some examples of those reviews.



Portability
The last criteria I had for choosing the best electric cooler was portability. How easy is it to take this product in and out of your car? Could you take it with you for a picnic?
Smaller units are obviously easier to carry but require a shoulder strap to move around. Larger units have side handle to carry them which makes them more practical for outings like a picnic, but likely unpractical for a single person taking it in and out of the car.
So again the medium size coolers won the prize for most practically portable.
Flaws But Not Deal Breakers
No product is without its flaws and the Wagan doesn't get a pass on this either.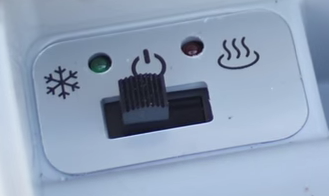 Unplug before turning car on – The manual advised that you need to turn the cooler to the off position (switch in the middle) and unplug it before turning your car on the avoid any chance of an electrical surge destroying the unit.
While there was one reviewer who this seemed to happen for a lot of people didn't seem to have any issues.
Chord storage not large enough – The storage space for the chord isn't quiet large enough. It's quite difficult to get the chord back in, not impossible but difficult.
Chord storage latch isn't very good – The latch used for the chord storage unit is prone to breaking meaning you don't get a tight seal on the chord storage. A magnetic seal or basically any other mechanism would likely be better than the one they went with.
Is The Wagan EL6224 Electric Cooler The Best Option For You?
Well that completes my review of what I think is the best electric cooler on the market today.
I believe this cooler will be a great fit for most people however you may want a smaller model or a larger model depending on your needs.
What do you think? Does this cooler suit your needs? If it does you can purchase it from Amazon using my affiliate link below.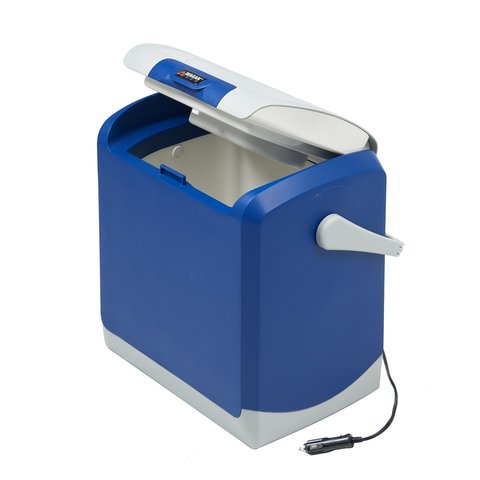 Wagan EL6224 Electic Cooler
[yasr_overall_rating]