The small Yeti Roadie and the medium Yeti Tundra 45 are Yeti's 2 most popular coolers in terms of sales. Both are great sized coolers for different reasons and it can be difficult to know which version to buy.
The Yeti Roadie is the smallest and most popular Yeti hard-sided cooler. It's got a metal carry handle for single hand carrying, is approximately 20-Quart and can hold ice for 2-3 days. The Yeti 45 has a 37-Quart capacity (nearly twice the size), can hold ice for 3-7 days but is much less portable.
So should you buy a Yeti Roadie or should you buy a Yeti 45?
In this article we are going to be looking at these two coolers side by side and analyzing the different features of them, the difference in capacity as well as ice retention and what situations each cooler is best for. All to help you decide which cooler is best for you.
Ultimately, It Depends On Your Needs
Ultimately the best option for you will depend on your needs and what you'll be using the cooler for.
I personally own a Yeti 45 and at the time I bought it it perfectly fit my needs of living in a van with my family. Now that I am not living in the van the smaller and more portable Roadie would be better for me for little getaways with my partner or with the kids.
As you'll see in this comparison both the Roadie and the Yeti 45 are great coolers. Whichever suits your needs best should be the cooler you buy.
INSERT COMPARION CHART
Yeti Roadie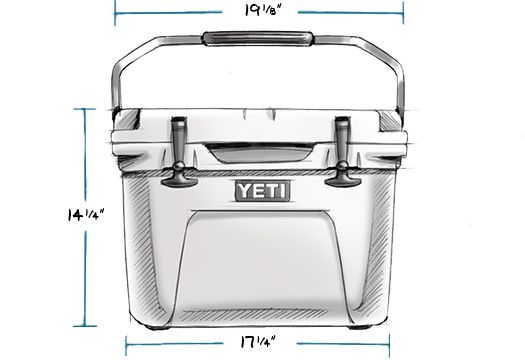 Capacity: 20.8-Quart
Weight: 15 lbs (6.8 kgs)
Dimensions: 14.25" (H) x 19.125" (W) x 13.625" (D)
Handle: Single padded metal handle
Fits: 16 cans of beer (2:1 ice ratio) or 20 lbs of ice
Price:
Yeti Tundra 45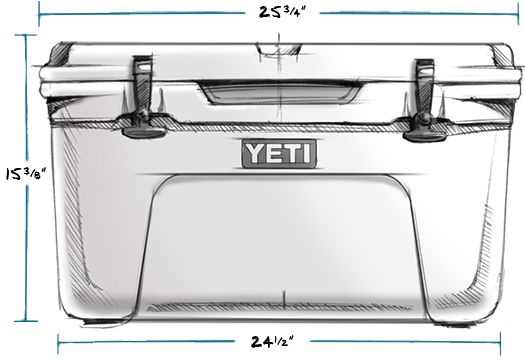 Capacity: 37.6-Quart
Weight: 23 lbs (10.4 kgs)
Dimensions: 15.375" (H) x 25.75" (W) x 16.125" (D)
Handle: Two side nylon rope handles
Fits: 28 cans of beer (2:1 ice ratio) or 34 lbs of ice
Price:
The 3 Big Differences: Capacity, Portability + Ice Retention
Really when it comes down to comparing these coolers to each other there are 3 main features that will be the most important when comparing these two different coolers.
1. Capacity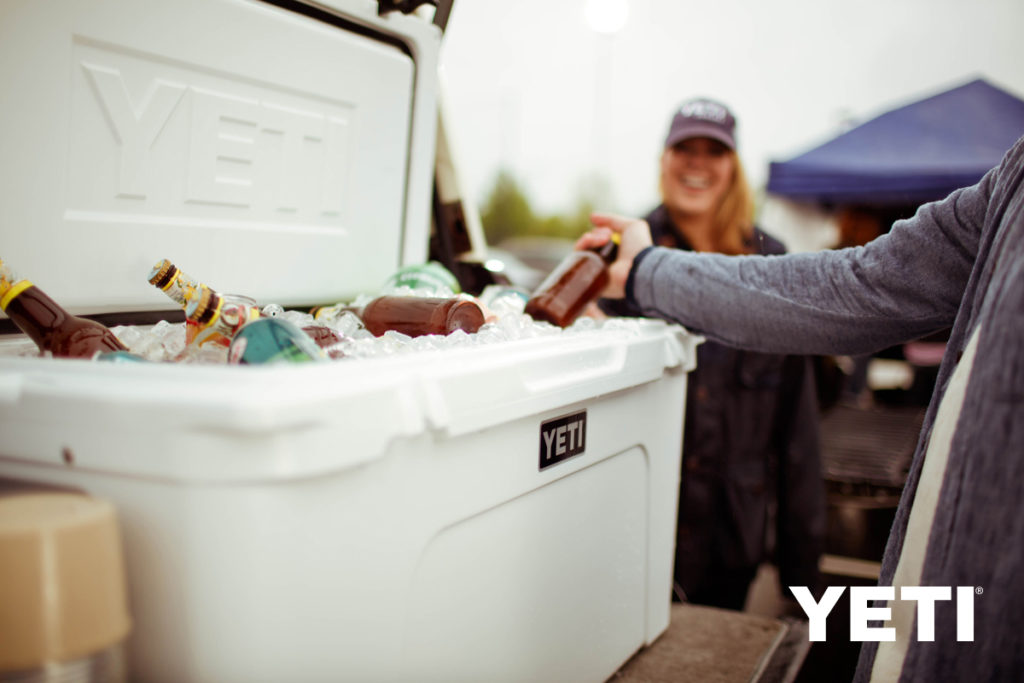 Obviously the Roadie is smaller than the Yeti 45 which means it has less carrying capacity. Understanding capacity by just reading about it is hard so let me give some examples.
The Roadie has a capacity of 20.8-Quart vs the Tundra 45 having a capacity of 37.6-Quart.
Another way to look at it is the Roadie will hold 20 lbs of ice by itself or 16 cans of beer with ice (at a 2:1 ice to beer ratio) while the Tundra 45 will hold 34 lbs of ice or 28 cans of beer (at a 2:1 ice ratio).
A case of beer is usually 24 cans, so a Roadie can't quite hold a case of beer while the Tundra 45 can hold a case of beer and then some.
For me I was able to use the Yeti 45 to store most cold items for me and my family when we live in a van. The cooler was half filled with ice and we are vegetarians, but even then it was a little bit squishy and we had to shop a lot.
For a couple going away camping the Tundra 45 would be great for storing all their food and drinks. I would recommend the larger Yeti 65 for families.
The Roadie on the other hand is more of a personal style cooler. If you were camping by yourself it would be fine or for a couple going away just for 1-2 nights it would work as well. It's also great for a day at the beach where you don't need a giant cooler just enough for drinks + lunch.
2. Portability

With a larger capacity comes less portability. The Roadie is much more portable for a single person when compared with the Yeti 45.
Even completely empty the width and weight of the Yeti 45 makes it kind of awkward to carry very far as a single person. Once it's full it becomes extremely heavy and while I could still lift it by myself I could only move it very short distances as it was so heavy and hard to carry.
The Roadie on the other hand is much smaller and has a rotting padded metal handle that allows you to carry it one handed.
When it's not completely full carrying it one handed works fine. When it is completely full it is a bit too heavy to carry one handed so there are moulded in side handles so you can carry it with two hands.
While it's heavy I'm fine to carry the Roadie by myself when it's full without worrying about my back.
3. Ice Retention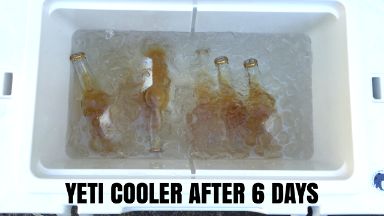 According to the Yeti Owner's Manual Roadie's have less insulation in them than the Yeti 45 with the lid being the main difference.
Less insulation and a smaller size (thus using less ice) leads to less ice retention.
This means a Roadie won't hold ice as long as a Yeti 45.
With normal use you should get about 2-3 days of ice retention from a Yeti Roadie whereas you will get between 3-7 days of ice retention with a Yeti 45.
2-3 days is fine if you're going for a short getaway by yourself or with a friend/partner and will be good enough. For longer periods spent camping or off-grid the extra ice retention of the Yeti 45 will come in handy.
Other Features That Are Different
The Roadie and the Yeti 45 are very very similar in terms of their design with the handle being the only major exception.
The Roadie is like a miniature version of the Yeti 45.
Below are some of the features that are different between the two coolers that we haven't already mentioned:
Single Metal Handle vs Two Side Handles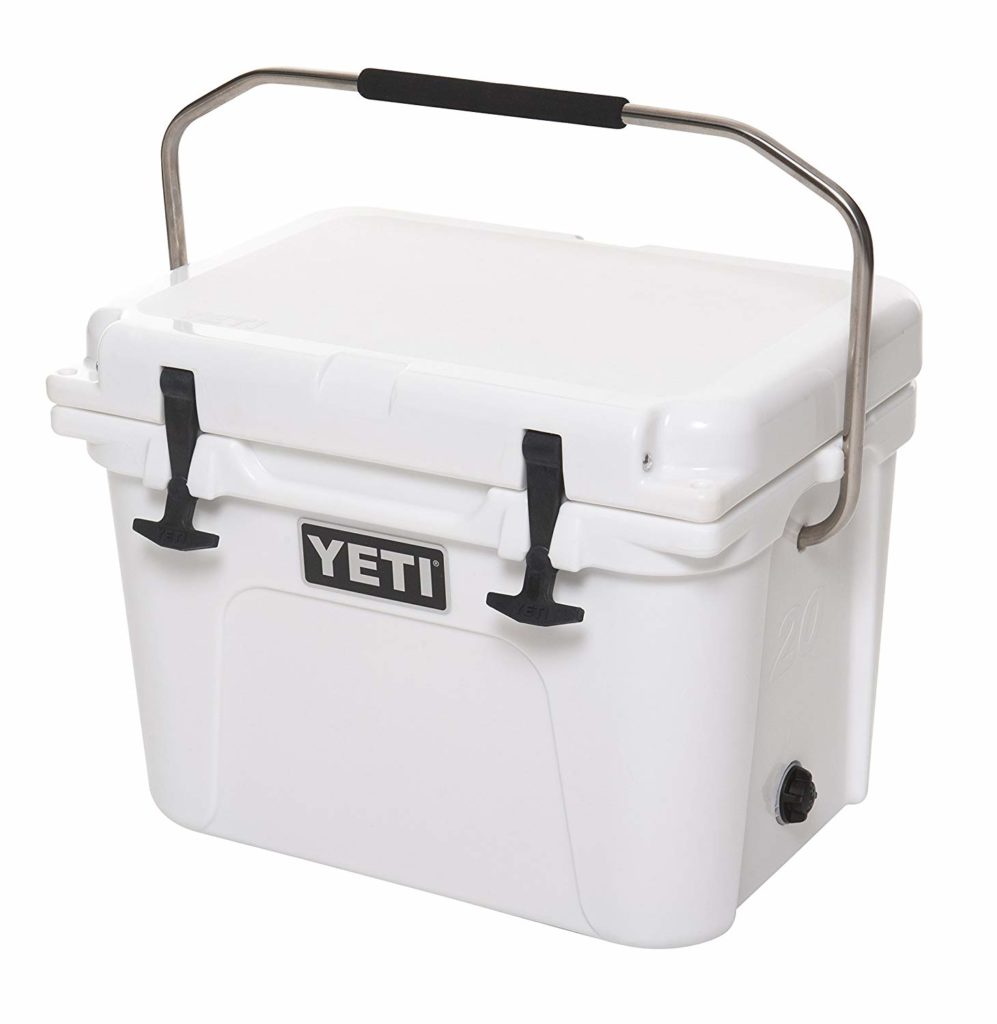 This is THE MAJOR DIFFERENCE between these two coolers other than size and ice retention. They have different style handles.
The Roadie has a swivelling metal handle that rotates down when the cooler is stationary or rotates up and clicks into place above the cooler for easy one handed carrying.
The metal handle has padding in the center to make it more comfortable on your hand. The Roadie is the only Yeti cooler with this type of handle.

The Yeti Tundra 45 has two nylon rope handles on the sides of the cooler with hard rubber grips for carrying.
These handles are used on every standard Yeti hard sided cooler other than the Roadie. The Yeti 35 has them, the Yeti 65 has them and so do all the larger Yetis.
Both the Roadie and the Yeti have molded in side handles for carrying the cooler with two hands.
Less Insulation in The Roadie
We already touched on this up above when we talked about ice retention but the Yeti Roadie has less insulation than the Yeti Tundra 45.
While the walls are a similar thickness the lid of the Yeti Roadie is thinner than that of the Yeti 45. About 2 inches instead of 3 inches.
Height Is Actually Very Close

The height of the two coolers is actually very similar with the Yeti 45 only being about 1 inch higher than the Yeti Roadie.
This means the Yeti Roadie is still great to sit on as it has a decent height to it. But it also means it's not as stable to stand on or cast off if you're using it for fishing.
No Dry Goods Tray For The Roadie
The Yeti 45 usually comes with a free dry goods tray that sits on the top of your cooler and keeps items away from the ice and stops them from getting wet.
The Yeti Roadie doesn't come with this.
You Should Buy a Yeti Roadie If…

A Yeti Roadie is smaller and more portable than a Yeti 45 but it doesn't hold ice as long.
You should buy a Yeti Roadie if:
You're using the cooler just for yourself
You're using to cooler for single day usage (beach trips, picnics, lunch at work etc)
You're using the cooler for short trips away by yourself or with a partner
Being able to carry your cooler by yourself is important
You want to carry your cooler one handed
You won't use the extra capacity of a larger cooler
There is a reason Yeti Roadies are the most popular Yeti cooler size. They are great little coolers and have so many different uses. The capacity is big, but not too big and they can be carried by yourself.
I love this cooler and can't recommend it enough.
To see the latest price of the Yeti Roadie and to read what other customers had to say about it click the link below:
See the latest price of Yeti Roadie Coolers at Amazon
You May Want To Consider A Yeti Soft Sided Cooler

You also may want to consider if the smaller soft sided Yeti Hopper Flip coolers would be a better fit for you than the Roadie.
These soft sided coolers are much lighter than the Roadie and even more portable. They have a soft (but tough) fabric exterior and they come with either a shoulder strap of backpack straps for easier carrying.
They don't keep ice as long as the Roadie and they are a bit more expensive but the portability is so much higher and they are still extremely high quality.
Read my Yeti Hopper Flip vs Yeti Roadie comparison
See all Yeti soft-sided coolers at Amazon
You Should Buy The Yeti Tundra 45 If…

The Yeti Tundra 45 is larger and has longer ice retention than the Roadie, but it's not nearly as portable.
You should buy a Yeti 45 if:
You need to store lots of drinks/food
You're going camping/off-grid for an extended period of time and want the longer ice retention
You're using the cooler for more than 2 people
The cooler will be mostly stationary and doesn't need to be moved
You want a dry goods basket to keep food away from the wet ice
A Roadie won't fit everything you need
A Yeti Tundra 45 is a good medium sized cooler. It's not too small so it gives you flexibility of what you can use it for, but it's also not so big that it's hard to store in your car or requires multiple people to move it around.
It can be small enough to use by yourself or for a night away with a friend or partner and still hold ice well, but large enough to fit food and drinks for a family of 5 (albeit a bit squished for space).
This is the cooler I personally own and I love it. It's still going strong after 3+ years and I used it just the other weekend to go away with my partner.
To see the latest price of the Yeti Tundra 45 and to read what other customers had to say about it click the link below:
See the latest price of the Yeti Tundra 45 at Amazon
You May Want To Consider a Yeti 65

Depending on your needs a Yeti 45 may actually be too small for you and you may want to opt for a 65 which is going to give you that little bit more space for your stuff.
A Yeti 65 is approximately 57-Quart in capacity so it has a similar capacity of about 3 roadies or is about 1.5 times the size of a Yeti 45.
Above the Yeti 65 you're starting to get into the realm of large coolers, which can still be great but they are less versatile. The Yeti 65 is another extremely popular size because it is big enough for most uses, but not too big that it's only really used commercially.
To see the latest price of the Yeti Tundra 65 and to read what other customers had to say about it click the link below: