Yeti tumblers cups are great a keeping drinks cold or hot for hours at a time and people love them, but costing around $20-$40 they aren't cheap.
However, there are a lot of good yeti knockoff tumbler cups on the market that perform just as well but cost a fraction of the price.
There are literally too many brands out there to list all of them so in this article I'm going to list the best yeti knockoff cups that I think are actually worth your money or have something unique about them and avoid the "me too" cups that don't really differentiate themselves in any way.
The best Yeti knockoff tumbler cup is the Ozark Trail. It's suer affordable, performs just as well as has a lifetime warranty. The RTIC Tumbler is also a good value-for-money option
Premium Option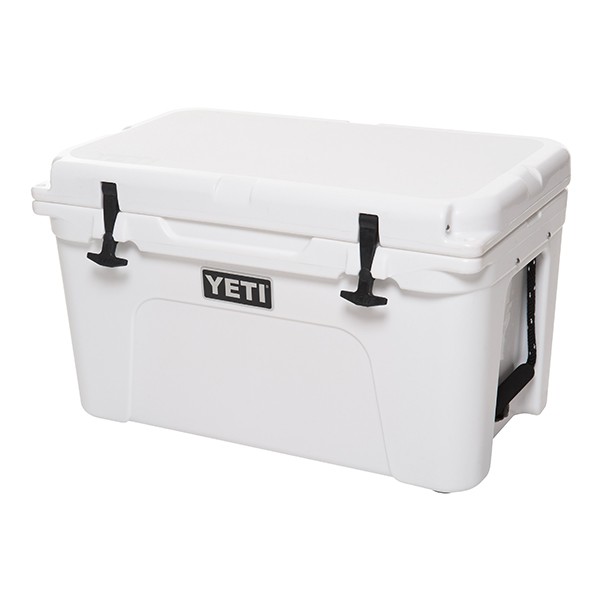 RTIC Tumblers
Ice Retention: 5-7+ Days
~$199-$1,000+
Price: See at Yeti.com
BEST YETI KNOCKOFF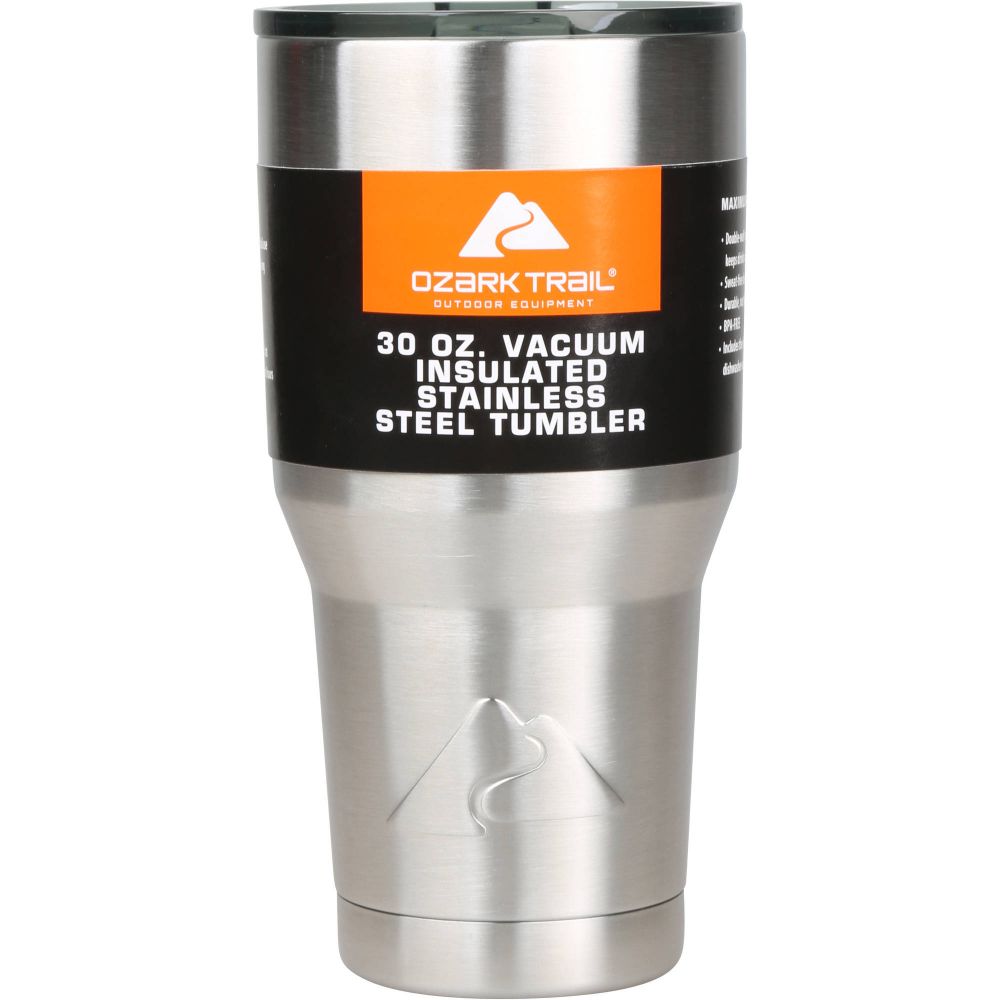 Ozark Trail Tumblers
Sizes:
~$200-$400
Price: See at Walmart.com
Most Similar To Yeti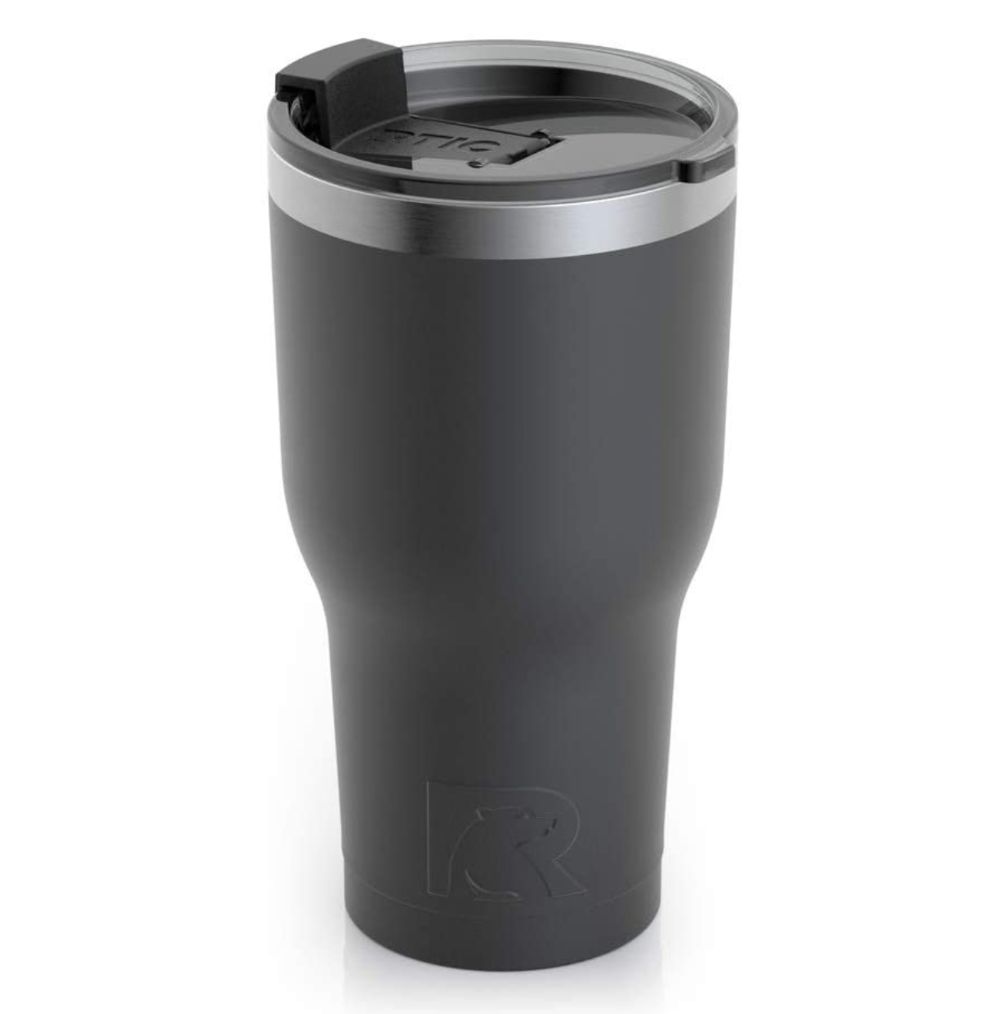 RTIC Tumblers
Sizes: 20, 30 oz
~$75-$155
Price: See at RTICProducts.com
But first let's have a look at why you might want to buy a Yeti cup instead of a knockoff.
Why Buy an Authentic Yeti Cup?

Why would people spend $20-$40 on a cup?! Should you actually consider buying an authentic Yeti tumbler cup or should you just opt for a cheaper knockoff?
Believe it or not but there are actually a few good reasons that Yeti cups are worth the extra money for some people.
Dishwasher Safe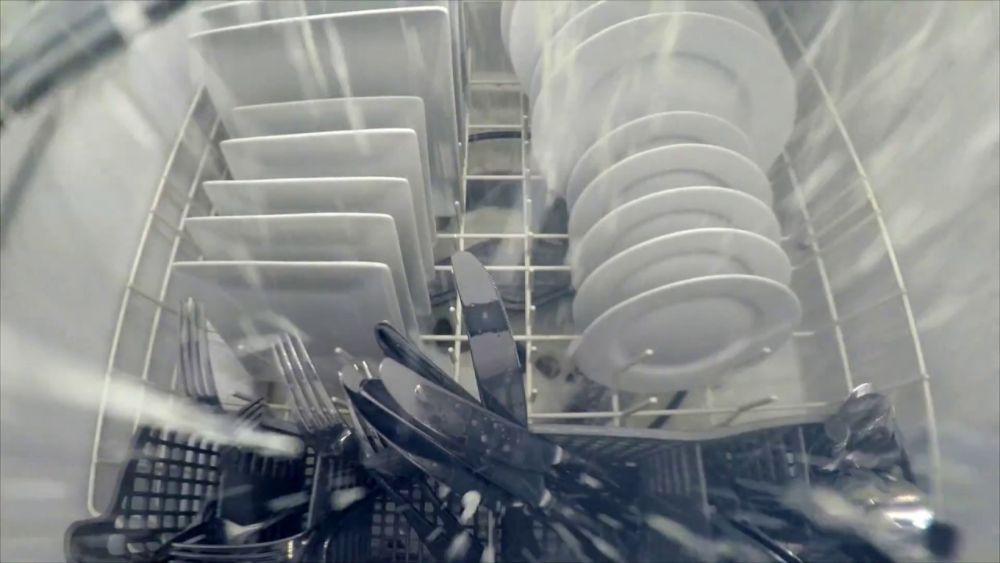 Yeti are one of the few brands that sell insulated tumblers that are dishwasher safe. You can see the full list of dishwasher safe tumblers here.
The combination of high heat and water pressure can break the vacuum seal of lesser cups causing them to stop insulating.
On the other hand, Yeti cups are fine to put in the dishwasher. This makes them one of the easiest cups to clean and you can just throw it in the dishwasher with your dirty dishes.
Quality and Durability
As a premium brand Yeti is well known for their high-quality products. Their coolers (at least to me) have noticeably better finishes than other brands and this quality also extends to their cups.
Their cups are built to be tough and handle a beating and are backed by a 5-year warranty.
I can personally notice that my Yeti tumbler cups and bottles seem to have thicker and stronger metal when compared to other brands. They just feel more rugged.
While the difference between other cups is small when you first buy them, the Yeti cups are built just a little bit better and thus last longer.
See the latest price of Yeti tumbler cups at Yeti.com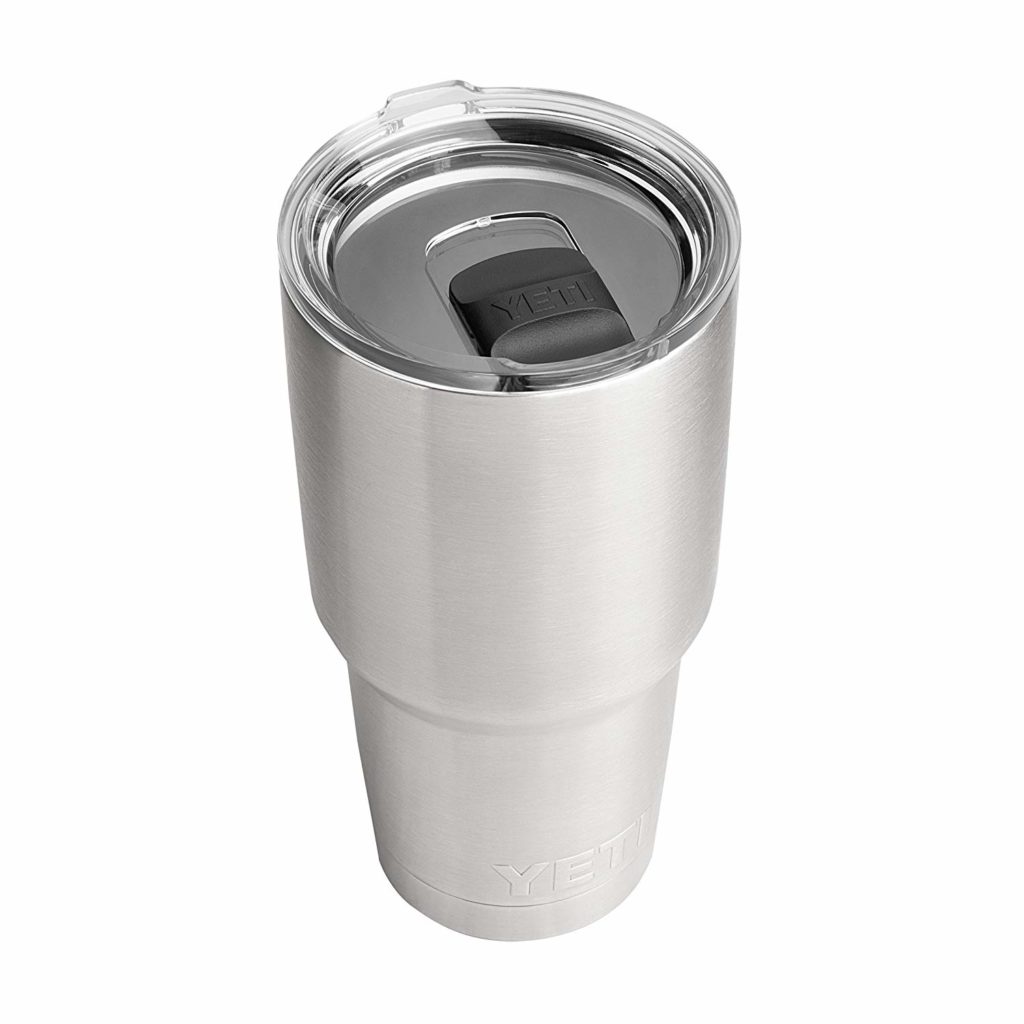 Brand

Yeti is a well known brand and is a growing lifestyle brand. If you love the Yeti brand and like repping the Yeti logo then this is a legitimate reason to buy a Yeti cup.
Having a brand you believe in is going to make you love the product more, make you happier when you use it and will lead to you using it more making it better value for money.
Why Buy a Yeti Knockoff Cup?
There are also a bunch of reasons not to buy an authentic Yeti and to instead buy a Yeti knockoff cup.
Price
The biggest reason is the price. You can get a Yeti knockoff cup for a fraction of the price of a Yeti.
Instead of spending $40 or so on a 30 oz tumbler you can spend $10-$20 and still get a cup that insulates just as well.
Similar Performance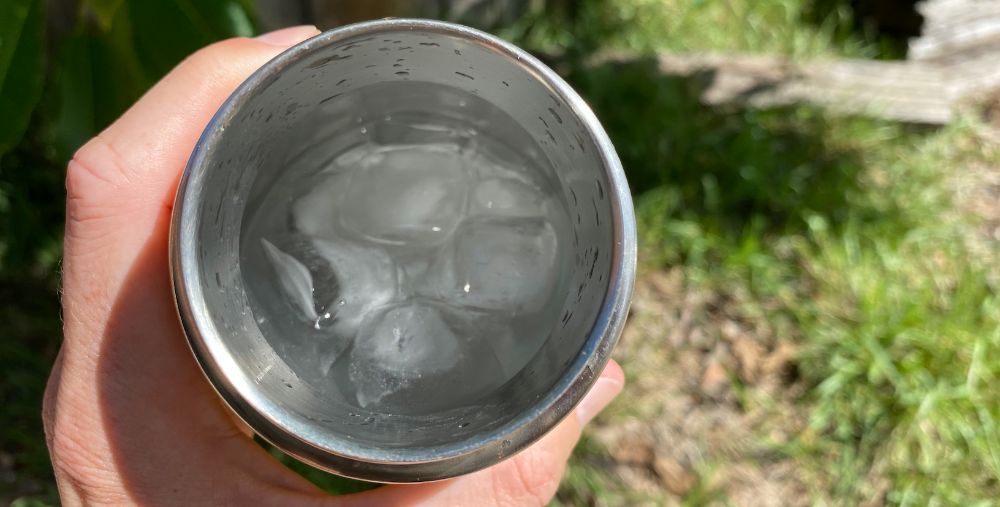 Other brands that are similar to Yeti actually perform just as well and sometimes even a little bit better.
They all use the same vacuum seal insulation technology to keep drinks cold or hot and this doesn't change from brand to brand.
Similar Look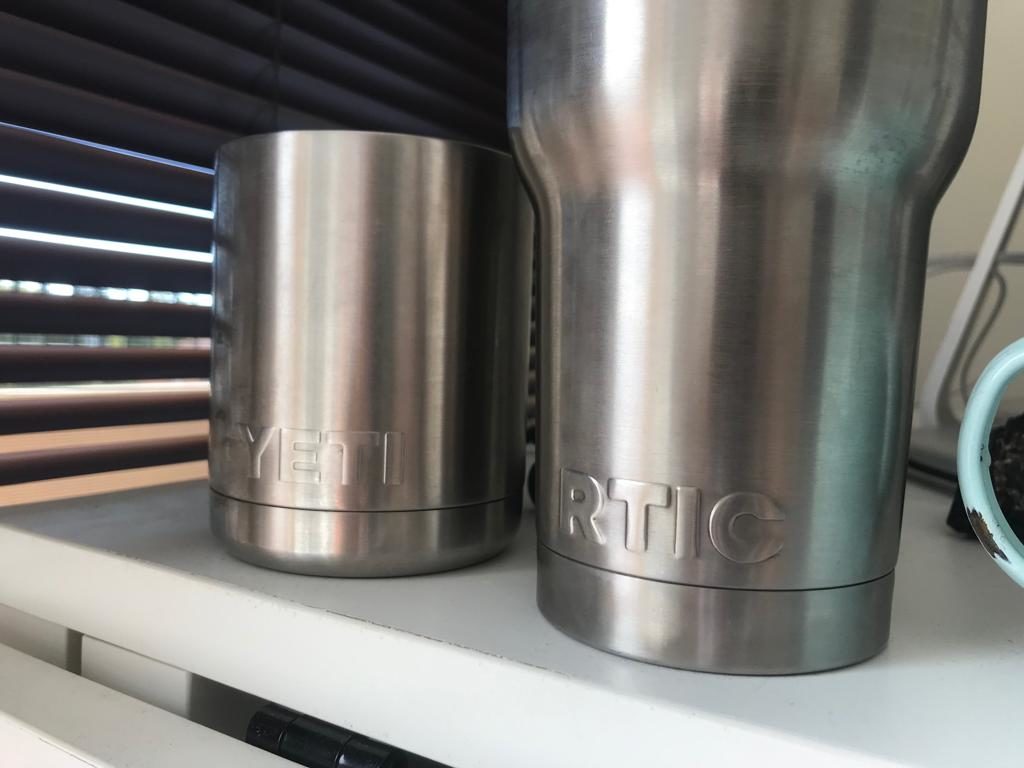 Honestly, other than the branding and slight differences in size or shape most of the tumblers look extremely similar to each other.
So while you might not get the Yeti branding on your cup you'll likely get a cup that looks almost identical.
Different Colors/Designs
Yeti offers a variety of different colors of their cups but other brands have even more options available.
For example check out this leopard print tumbler cup that looks just like a Yeti but has a cool design and is way cheaper.
Should You Buy a Fake Yeti Cup?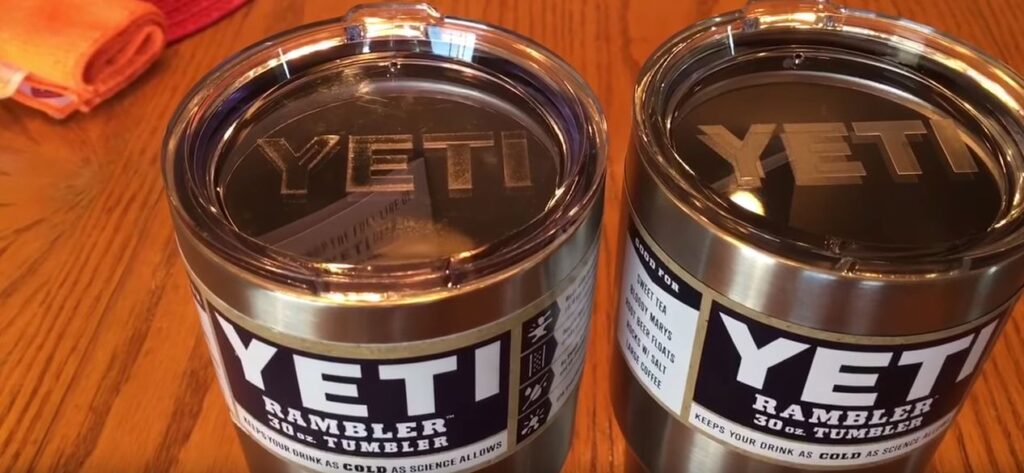 What about actual fake ripoff counterfeit Yeti cups? As in a cup with the Yeti logo, made to look like a Yeti but is definitely not a Yeti.
I wrote a full article about fake counterfeit Yetis which you can read more about if you're interested.
These are actually pretty common and look extremely similar to the real Yeti tumblers. They also work just as well.
Unless you put them side-by-side with a real Yeti cup it's extremely difficult to tell the difference between the real and the fake Yeti.
Fake Yeti's used to be super common on Amazon, Ebay and other online sellers. When writing this article I tried to find an example of a fake Yeti for sale and they were actually pretty hard to find.
I found a couple on Ebay but even those were selling for $25-$30 plus shipping. I'd rather just spend the extra $10 to buy an authentic Yeti or get a different brand and save a lot of money.
The best place to buy a Yeti cup so you KNOW it's authentic is directly from Yeti.com. Click here to see Yeti cups at Yeti.com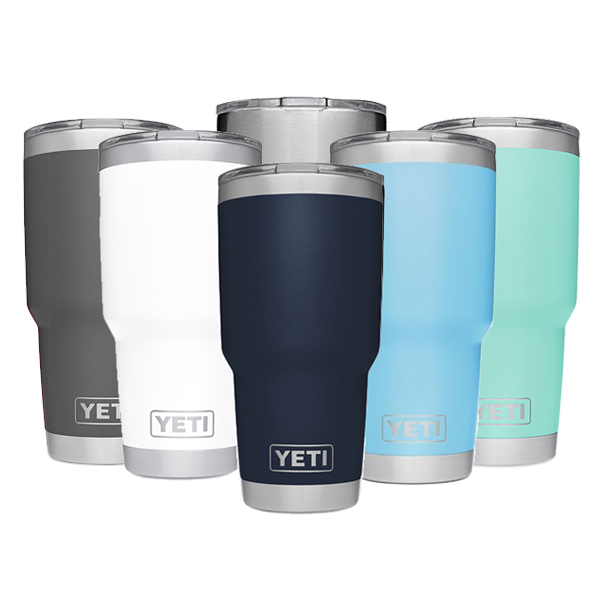 Best Yeti Knockoff Cups
Below is my list of the best Yeti knockoff cups on the market. I've listed the most affordable cups (still from reputable brands) first and then highlighted some unique Yeti knockoffs that have interesting designs or features that Yeti doesn't have.
1. Ozark Trail Tumblers (Walmart's Brand)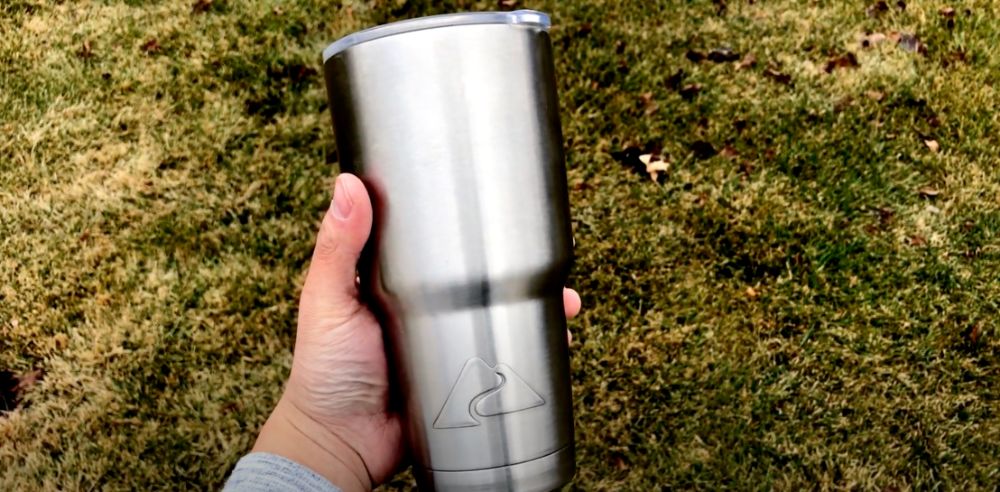 Ozark Trail tumblers are hands down one of the most affordable and widely purchased Yeti tumbler knockoffs on the market.
Yeti actually sued Walmart on multiple occasions for allegedly selling knockoff tumblers and claiming they infringed on Yeti's trade dress.
Regardless of these lawsuits Walmart continues to see a tumbler that looks almost identical to a Yeti tumbler except for the logo printed into the cup. A true Yeti knockoff if there ever was one.
Ozark Trail cups sell for a fraction of the price of Yeti's often going for under $10 for a 30oz tumbler compared to around $40 for a Yeti 30 oz tumbler.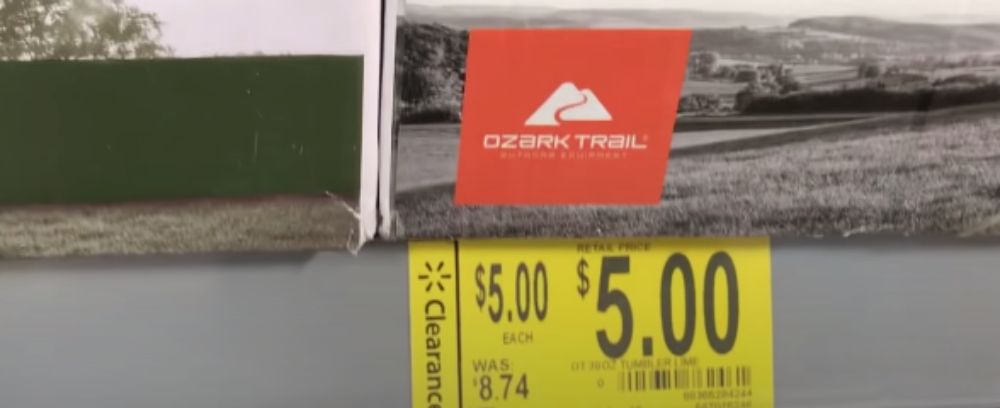 This is a huge saving to be had! And sometimes they even go on sale for cheaper than that. Some people have purchased them for $4-$5 and some people even got them for $1 each!!! Click here to see if Ozark Trail tumblers are on sale at the moment.
Walmart tumblers also come with a lifetime warranty so if you have any issues with the insulation or the product you can get it fixed or replaced.
These tumblers aren't perfect and there are some Ozark Trail tumbler problems you should be aware of but overall they offer amazing value for money.
They surprisingly work just as good as Yeti tumblers, performing almost identically in most ice retention tests or hot beverages tests with Yeti sometimes winning out but by a slim margin and Ozark Trail sometimes winning out but only by a slim margin.
If you're looking for a Yeti knockoff tumbler cup that is cheap, easy to buy and isn't from some unknown brand then Ozark Trail is going to be a great option for you.
See just how cheap Ozark Trail tumblers are at Walmart.com
(or compare price to amazon)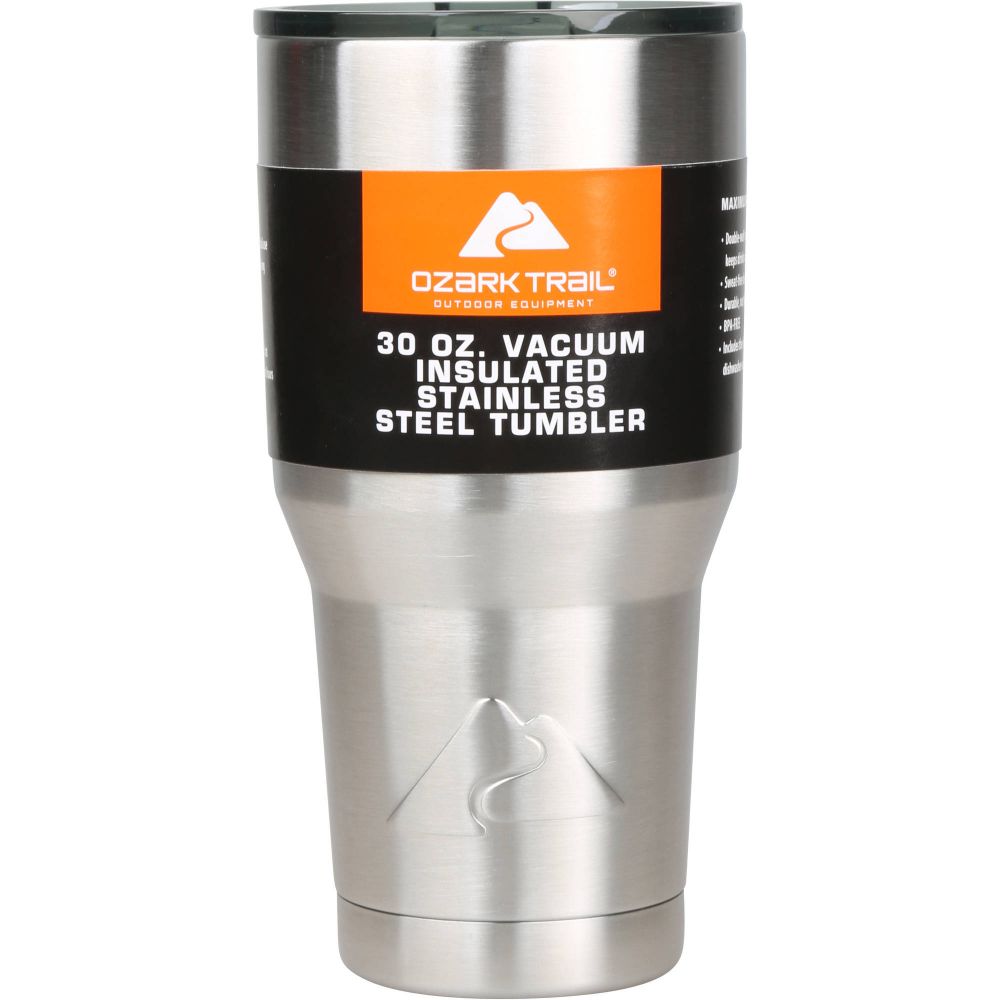 PROS:
Cheapest tumbler on the market
Lifetime warranty
Works really well
Sometimes go on sale and sell for even cheaper
CONS:
Open spout lid isn't leak proof
Some quality issues (but covered under warranty)
2. Closest Knockoff: RTIC Tumbler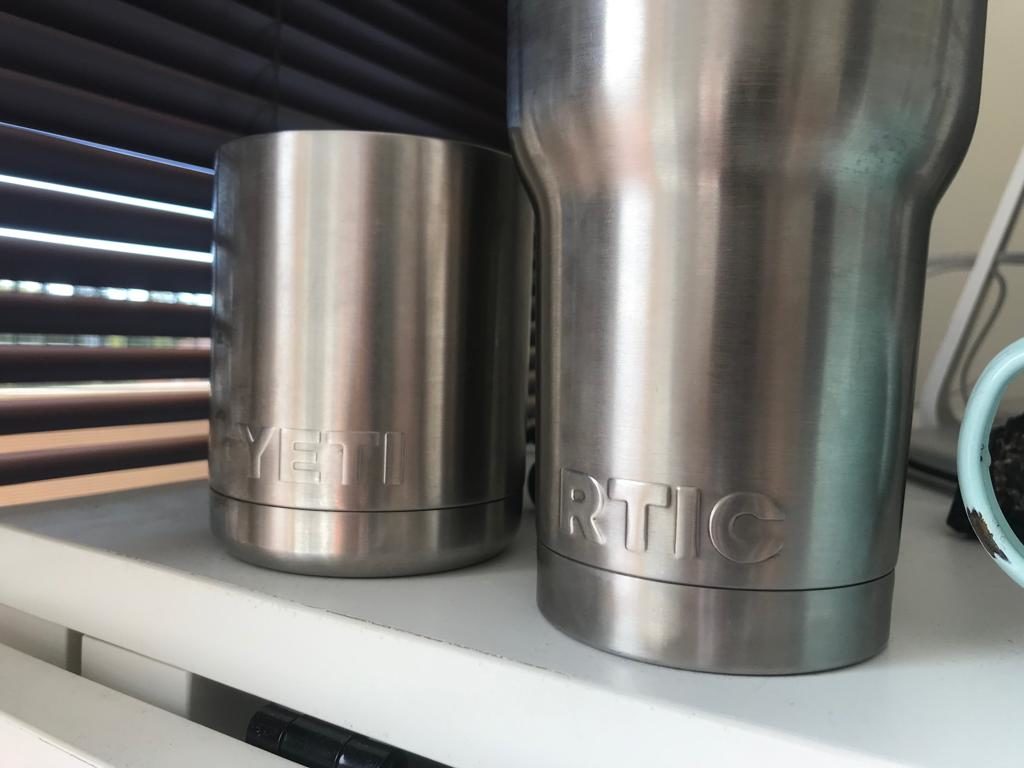 If you're looking for the brand of tumbler that looks most similar to Yeti in look then the RTIC Tumbler is almost identical to Yeti in shape and design.
RTIC was sued by Yeti in the past for making coolers that looked just like Yeti and their tumblers also look extremely similar.
RTIC Tumblers work great and have very similar performance to Yeti, but they sell for a small fraction of the price.
They are usually a little bit more expensive than Ozark Trail, but not by a lot, and you can buy multiple RTIC Tumblers for the price of a single Yeti tumbler.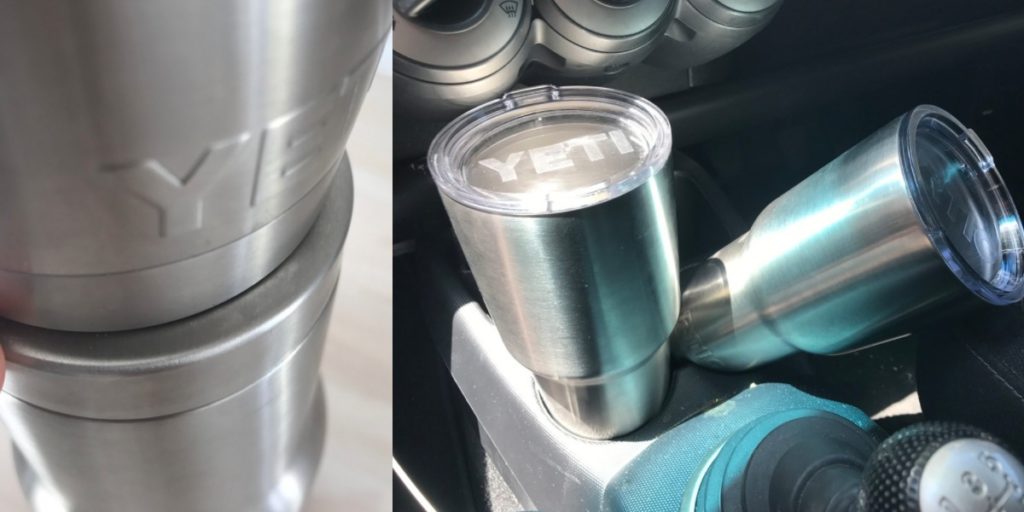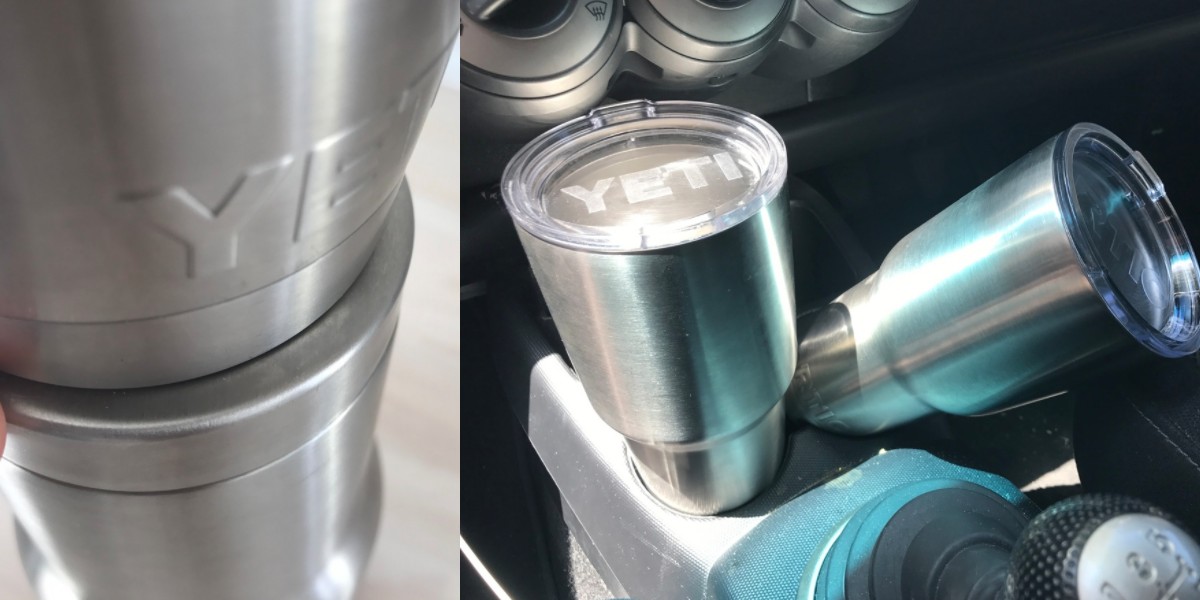 I personally own an RTIC 30oz Tumbler and it's work great. The only big difference between and RTIC and a Yeti is that the RTIC tumblers have a little bit of a wider base than the Yeti which can make them a little more difficult to fit into cup holders.
These are great cups, they work just as well as Yeti and they come in multiple different sizes.
See the latest price of RTIC tumbler cups at RTICProducts.com
(or compare to the price of RTIC tumblers at Amazon)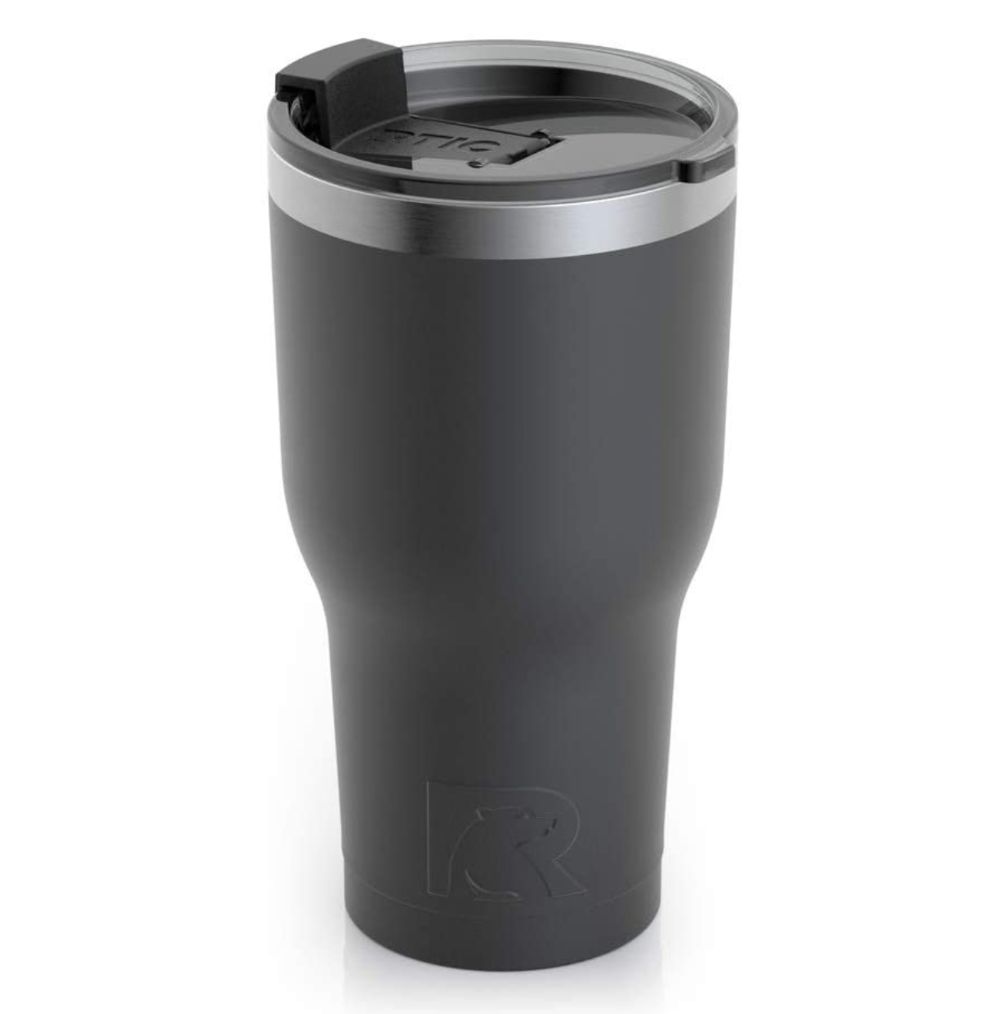 PROS:
Super affordable
Great value for money
Lots of different color options
Leak resistant lid
CONS:
Only 90-Day warranty
No smaller sizes
Flip cap can mess up makeup
Base is wider and may not fit in cup holders
3. Great Ice Retention and Design: Simple Modern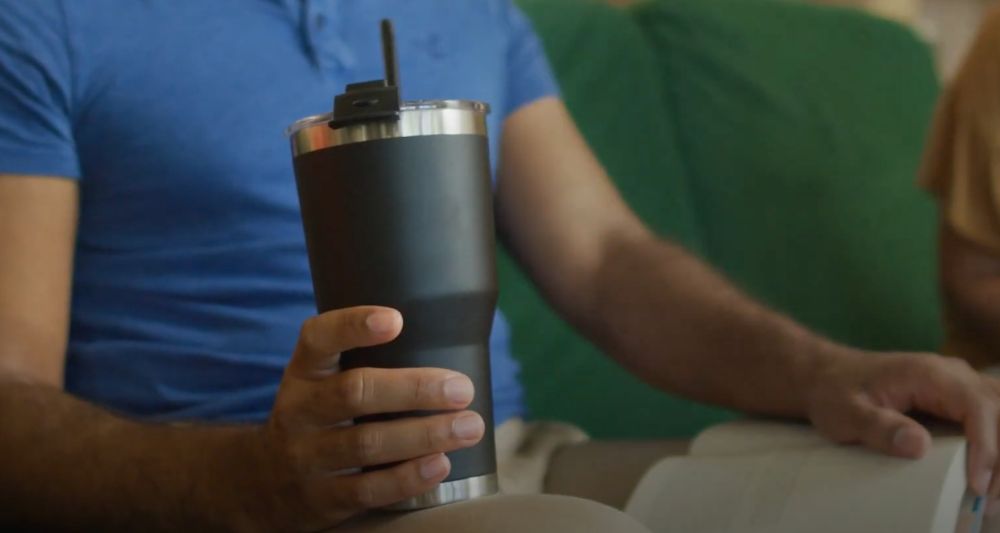 Simple Modern took me by surprise when I found out they were one of the best insulated tumblers for ice retention, outlasting the Yeti in a few different tests.
They have a few different shapes of tumblers but the "slim cruiser" looks particularly similar to the Yeti tumbler if not a downright knockoff of Yeti's design.
One of the things I love about Simple Modern is that their tumblers come in so many different cool colers and desgined.
From two-tone ombre colors, to prints that look like wood or marble to even paints with glitter in them. You can also get something more simple like black or navy blue. So there is a design for everyone.
These cups work great, keep ice extremely long and are more affordable than Yeti.
See the latest price of Simple Modern Slim Tumblers at Amazon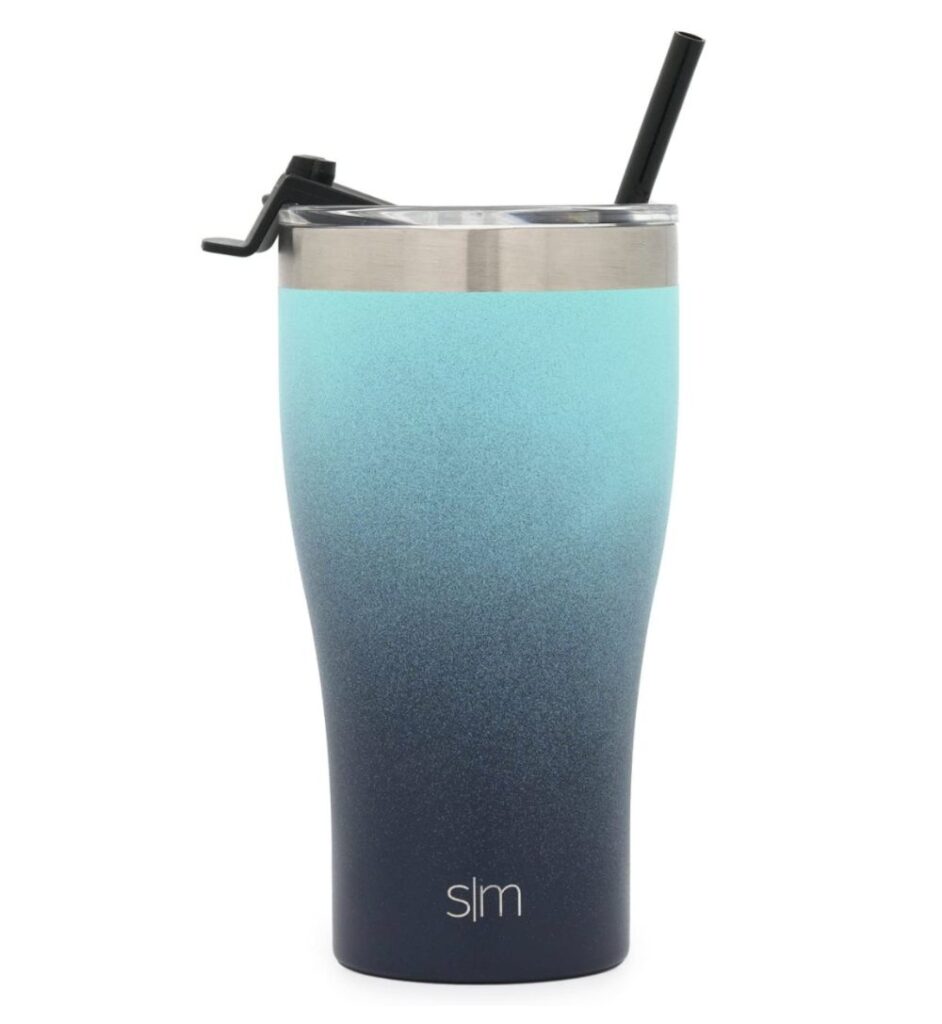 PROS:
Amazing selection of colors and designs
Fits into most cup holders
Company donates 10% of profits to helping others
CONS:
Only a 90-Day warranty
Brand relatively unknown
4. Amazon Special: Beast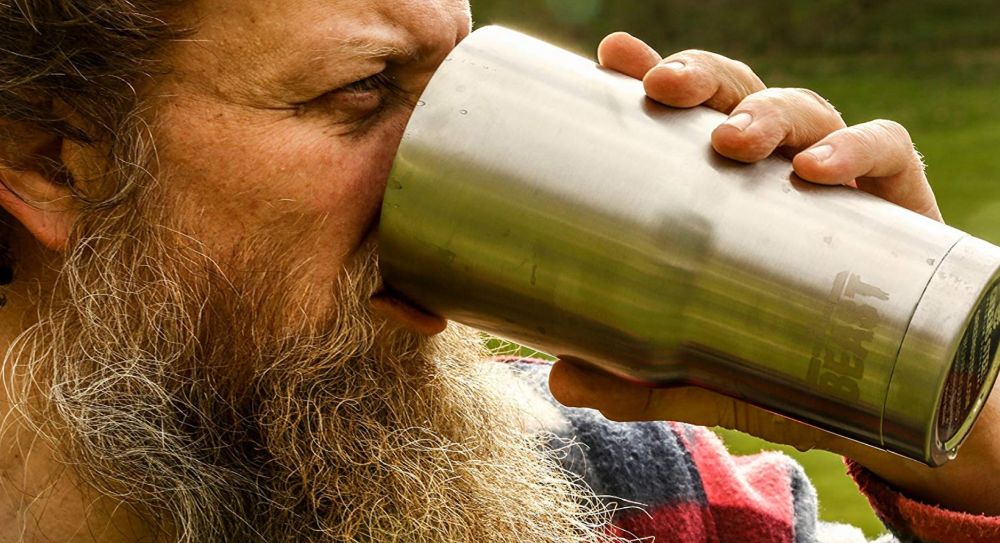 Beast are a newer brand of tumbler but they are already making waves on Amazon, racking up 10's of thousands of positive reviews for their Yeti-like tumblers.
They have similar performance to a Yeti but sell for a cheaper price. But not only that they also come with 2 metal straws and a straw cleaner, which is a nice little add on.
They are available in lots of different colors so you can choose a design that best suits you. They are built to last and are backed by a lifetime guarantee so if anything happens to it that isn't your fault you know you're covered.
See the latest price of Beast tumbler cups at Amazon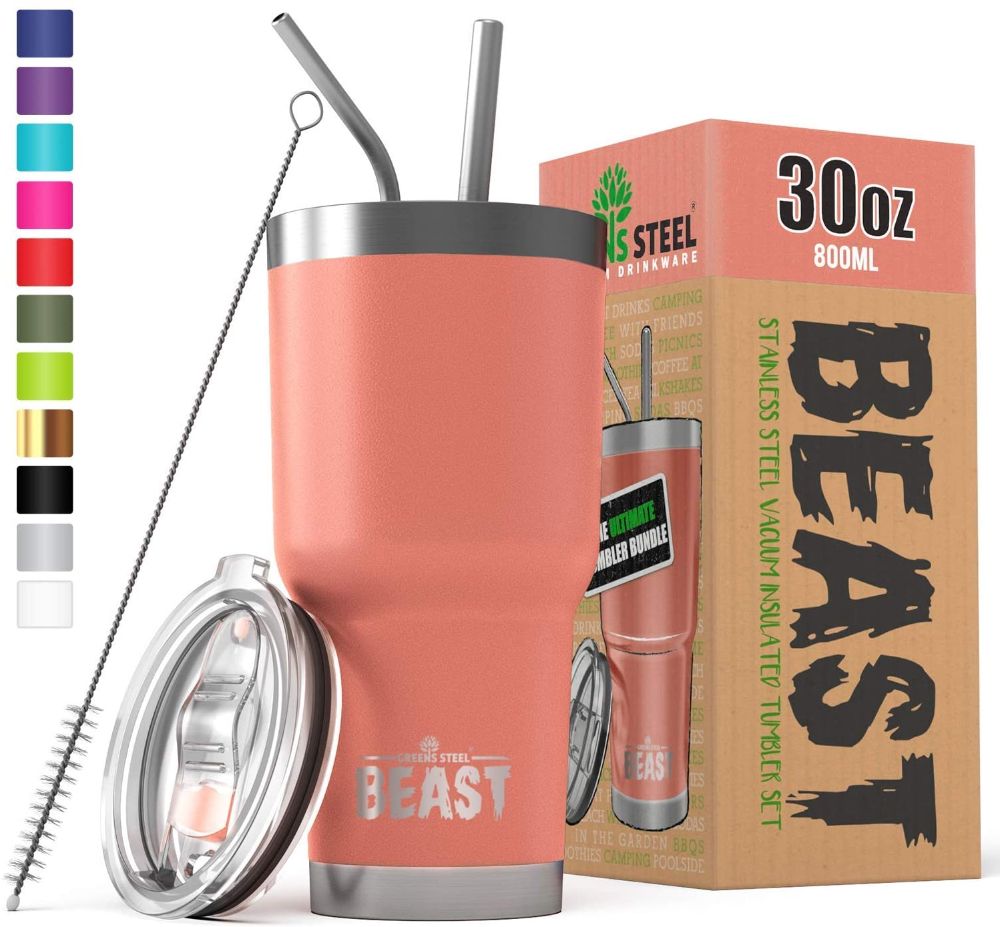 5. Ceramic Lined: Taste The Earth Ceramic Coated Tumbler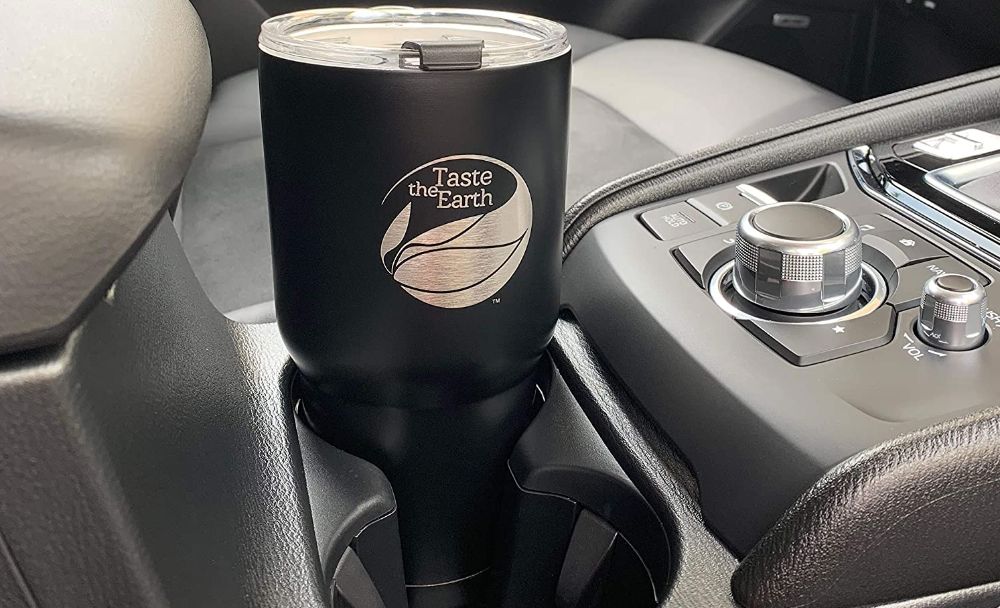 If you want a Yeti tumbler but you don't like the idea of drinking out of stainless steel the the Taste The Earth tumbler is ceramic coated so it doesn't impart flavors.
It looks and feels like a Yeti tumbler and seems to be well loved by a lot of people. The ceramic lining is thin, but it does the job to keep away any metallic taste from your drinks and it works well to keep drinks hot or cold for hours.
It's thin enough to fit into most car cup holder and there's a cute little 10 oz size which would be great for coffee or a larger 30 oz size for people who drink larger coffee/tea or who want it for drinking water out of.
See the price of the Taste The Earth Tumbler at Amazon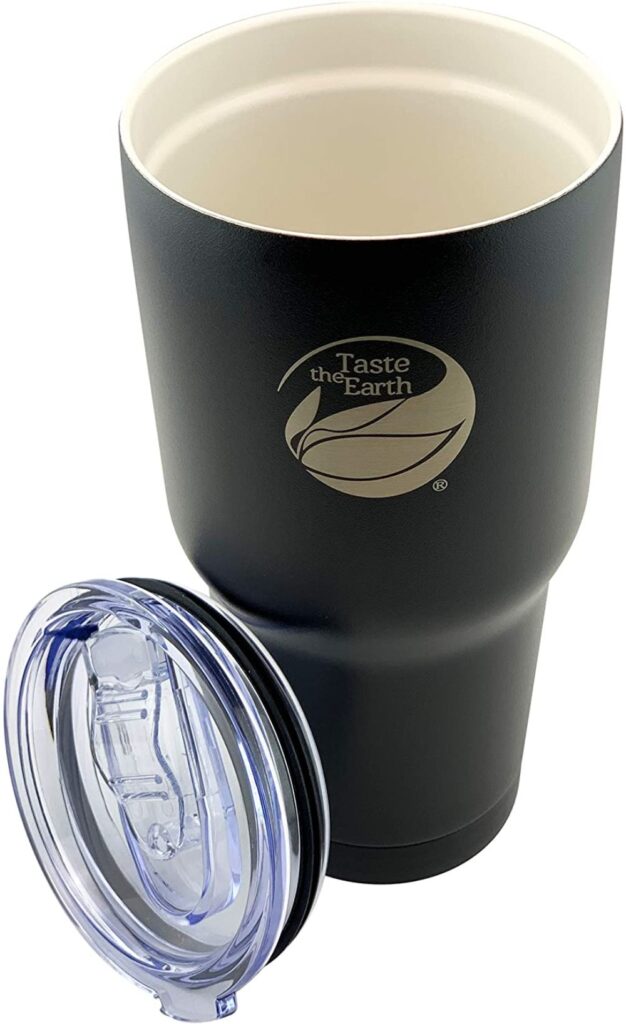 6. Cheap Lookalike: Atlin Tumbler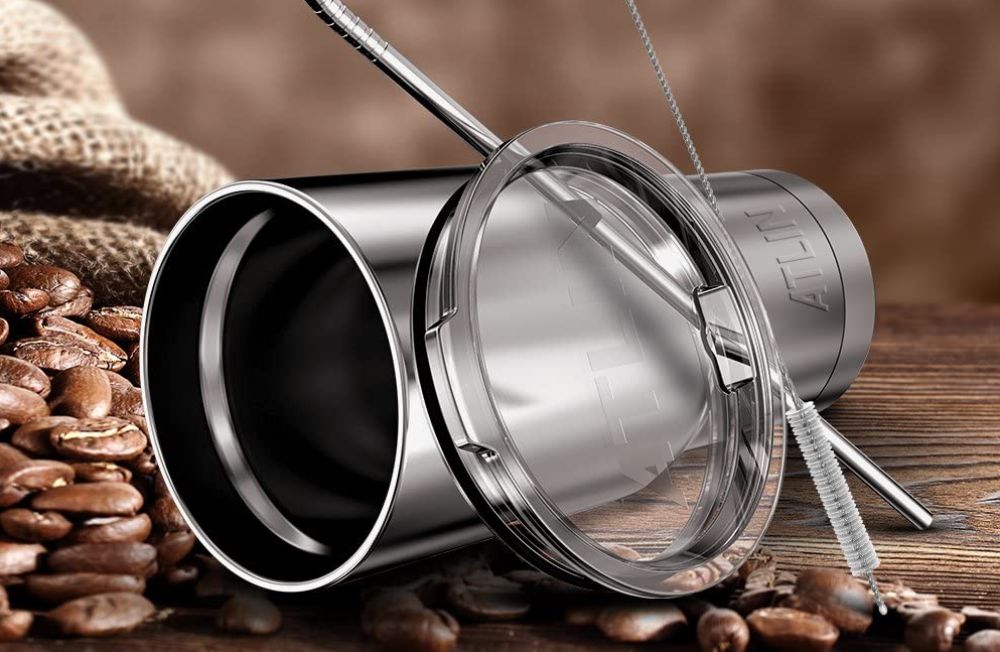 The Atlin is another Yeti lookalike tumbler that comes in 20 oz and 30 oz sizes and has thousands of positive reviews on Amazon.
It sells for much cheaper than the Yeti and comes with a free metal straw and straw cleaner.
The lid has a permanent open hole like the original Yeti tumbler lid's so it's definitely not leak proof.
But it's double walled vacuum insulated and keeps drinks hot and cold for hours.
See the latest price of the Atlin Tumbler at Amazon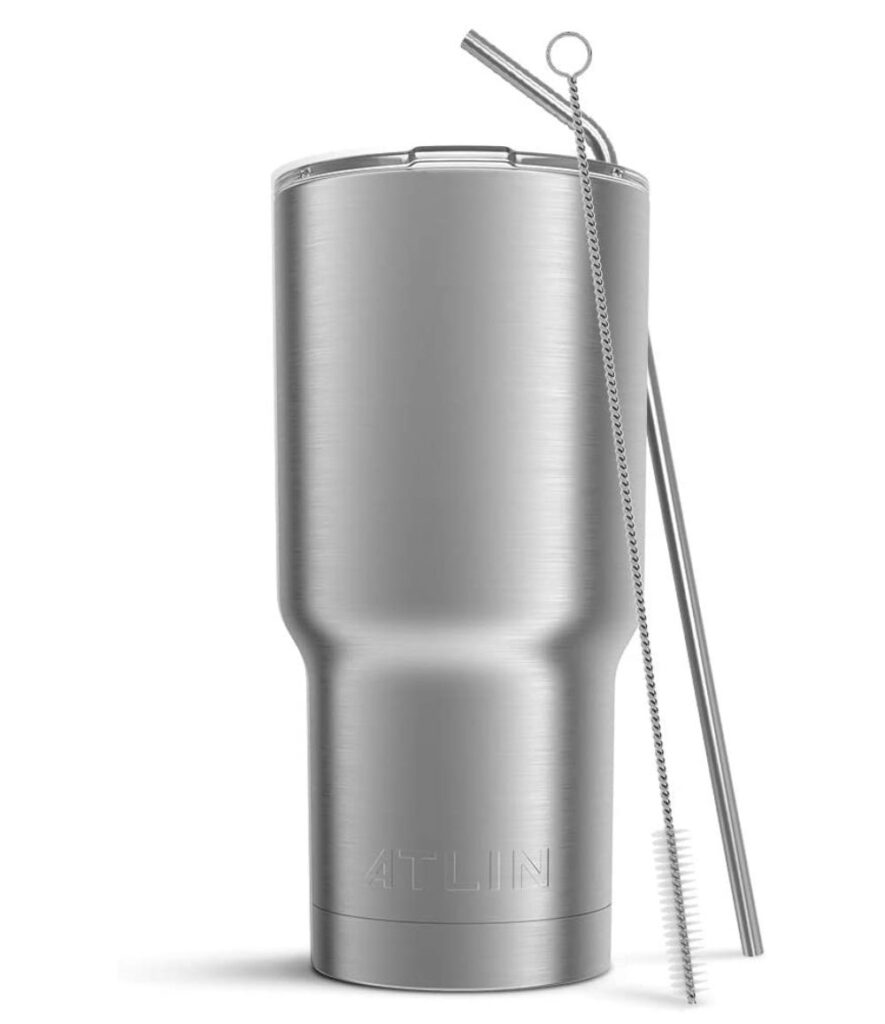 7. Big Brand: Hydro Flask Cup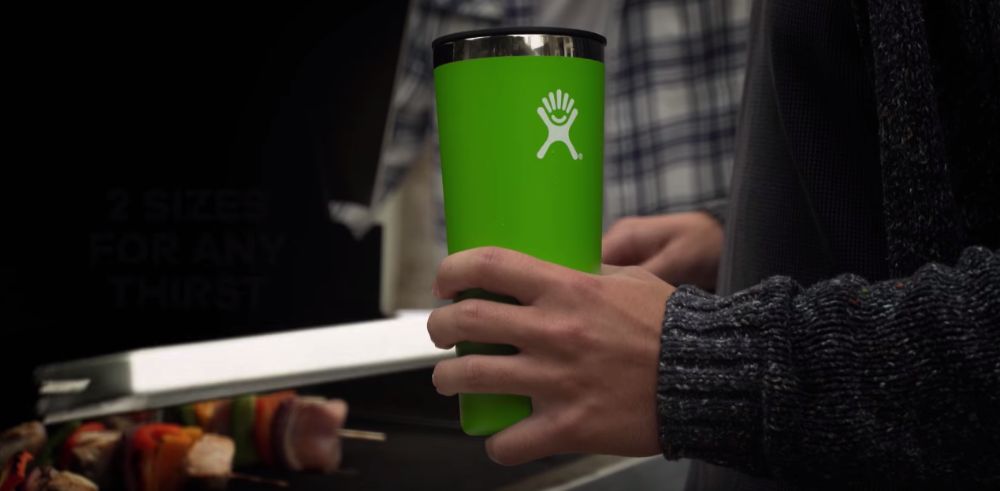 When it comes to coolers and tumblers Yeti is one of the biggest and most well known brands on the market. However, when it comes to insulated water bottles Hydro Flask is arguably the biggest brand out there.
And they also happen to make a pretty awesome tumbler too which can keep ice longer than any other tumbler out there.
Hydro Flask tumblers come in bold colors, a tapered design to fit into most cup holders and they are backed by Hydro Flask's lifetime guarantee.
I own multiple Hydro Flask bottles and I love them. If you're looking for a big brand Yeti knockoff tumbler then Hydro Flask could be the one for you.
See the latest prices of Hydro Flask tumblers at HydroFlask.com
(or compare to the prices at Amazon)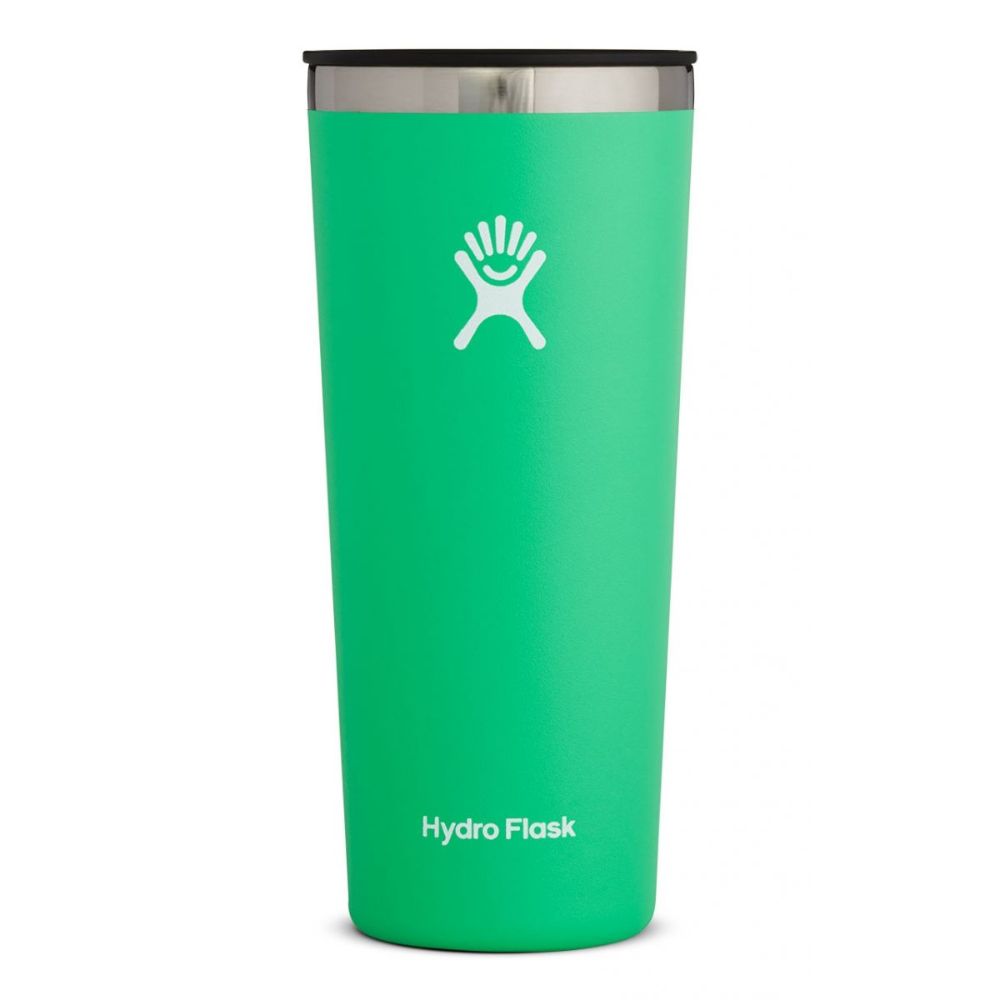 PROS:
Best ice retention out of any tumbler cup
Lifetime warranty
Fun colors
Lightweight
Tapered design means they fit in cup holders well
CONS:
One of the most expensive tumblers
Lid has an open spout so isn't leak proof
8. Unique: S'well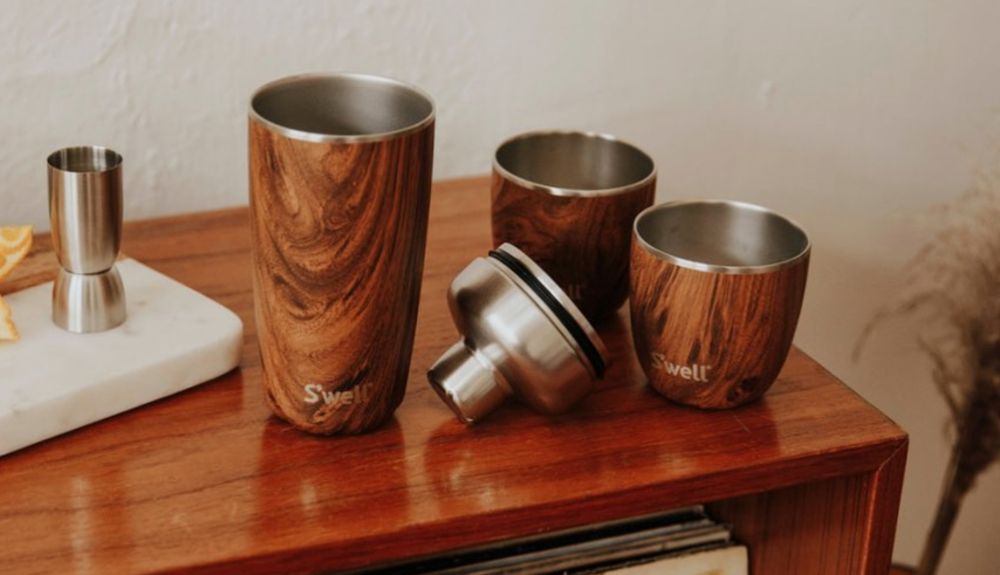 S'well is another well known brand like Yeti and Hydro Flask in the water bottle space. They make a lot of great water bottles but they also have a range a tumblers too.
However, their tumblers don't look like Yeti knockoff. They don't have the same shape and sizes like the Ozark Trail and the RTIC Tumblers do but rather have their own beautiful curved design.
They are smaller in size that the Yeti, coming in just 8, 10 and 18 oz sizes, but this may suit people who don't want a 30 oz cup anyway.
S'well make some AMAZING designs. Like this wooden finish or they have tumblers that look like marble and even a one that looks like shiny gold.
They keep ice great, just like Yeti, but are a good fancy alternative.
See the latest price of S'well Tumblers at Amazon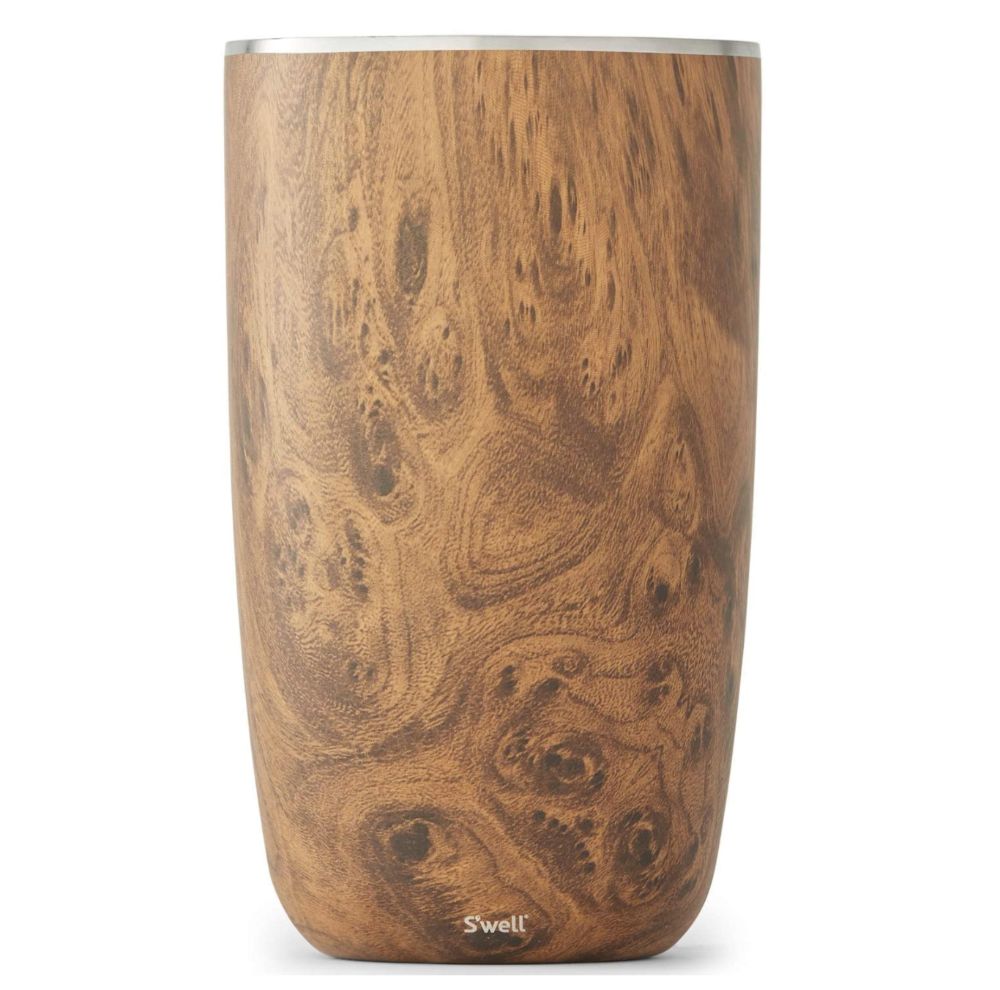 9. Best Leak Proof: Contigo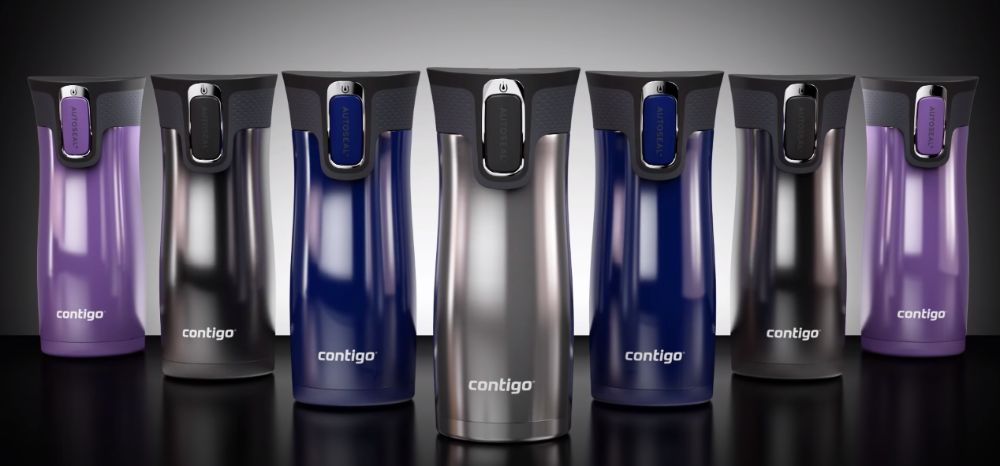 Contigo tumblers are an affordable brand but what makes them so good is the unique ways they are able to make their tumblers easy to use but also make them completely leak proof.
They have two different types of leak proof lids which screw onto the tumbler so they can't pop off easily when dropped like a Yeti lid might.
SNAPSEAL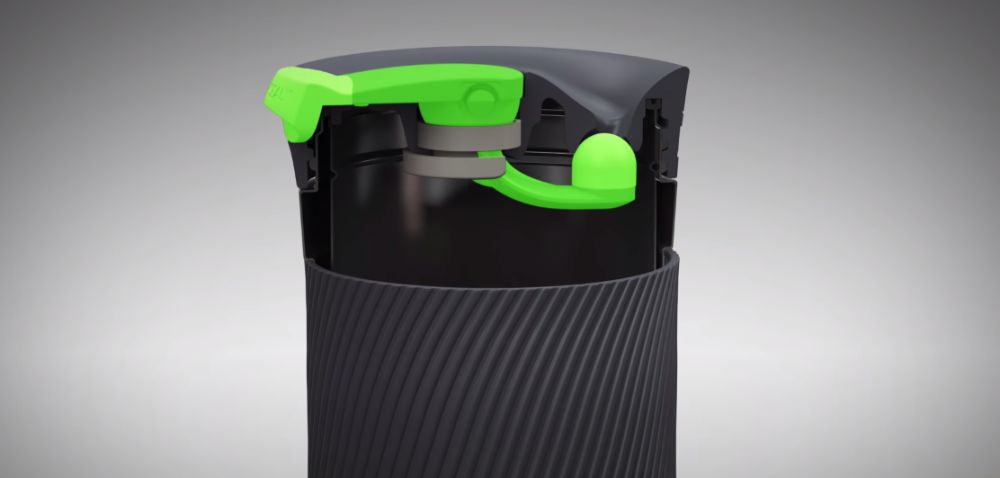 With the snap seal Contigo tumbler you simply lift up the seal and it opens up the spout for you to drink.
You can easily open it with one finger and then when you're done drinking you close it again and it completely seals off. It's simple and easy to do and this is the more affordable option.
AUTOSEAL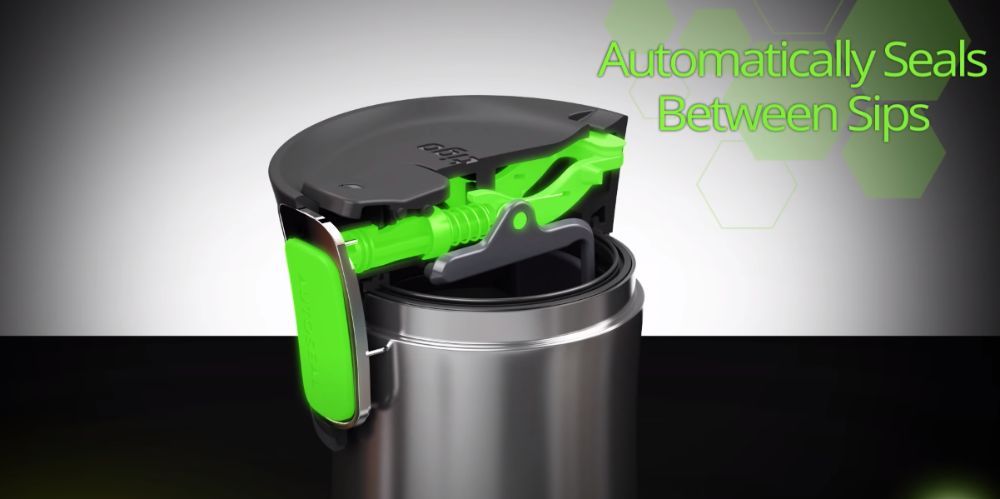 The autoseal Contigo tumbler works just how the name suggests, it automatically seals.
Whenever you want to take a drink from your tumbler you press down on the button and it opens up the seal so you can drink. Then when you take your finger off the button springs automatically seal it back up.
This means you never have to worry about whether or not you've closed your lid properly as it's always going to be seal.
Contigo are a reputable brand and they make a variety of good water bottles and tumblers. They are good quality and good value for money.
See the latest price of Contigo tumblers at Amazon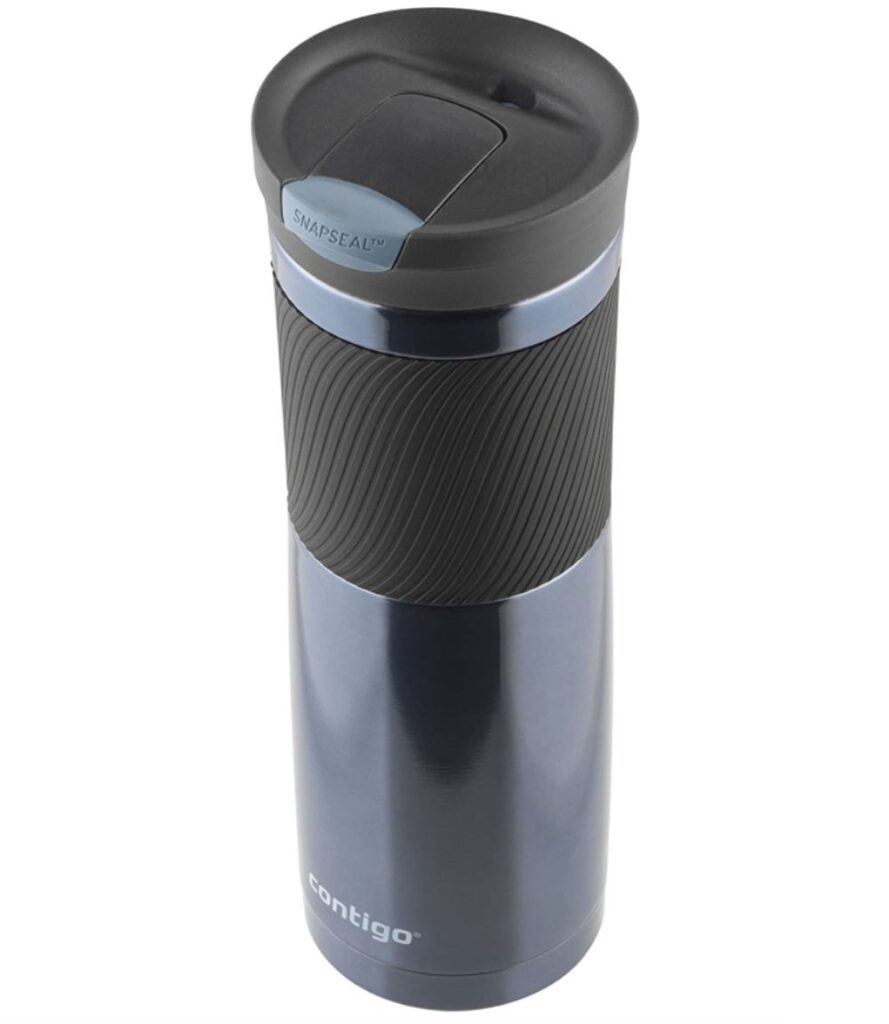 10. Cheapest Option: Rubbermaid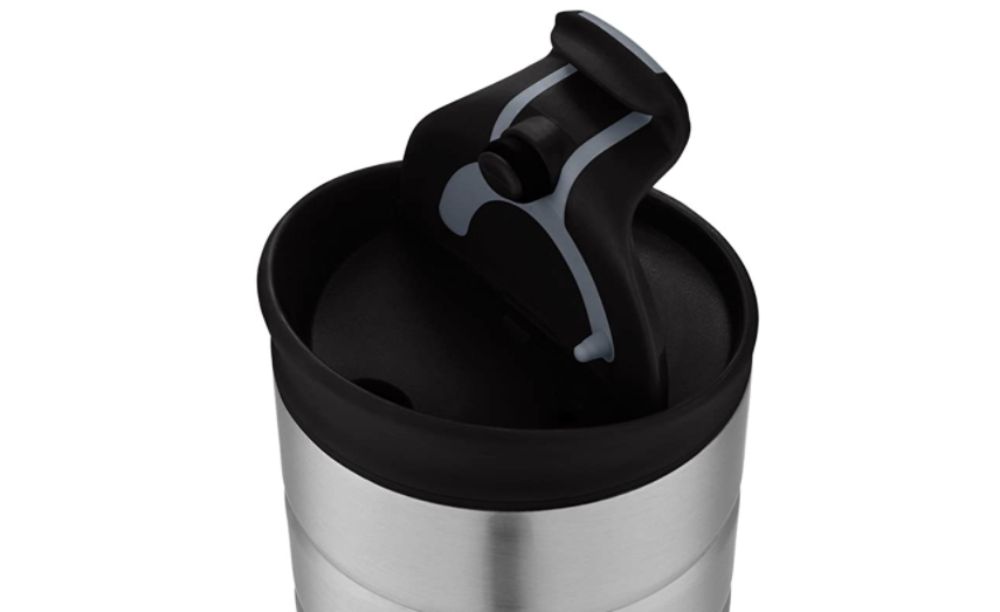 I thought you couldn't get cheaper than the Ozark Trail tumbler, which I rate as the best Yeti knockoff, and when they are on sale nothing beats them when it comes to price and affordability.
However, the Rubbermaid is actually cheaper than the regular price of the Ozark Trail making it the cheapest vacuum insulated tumbler I could find on the market.
I discovered it when I was looking into the best dishwasher safe tumblers and one great thing about this tumbler is the lid screws on and is completely leak proof. So you don't have to worry about your drink spilling in your bag or in your car as you drive.
If you're looking for the absolute cheapest insulated tumbler out there then the Rubbermaid is likely it. Check out how cheap it is using the link below:
See just how cheap the Rubbermaid Tumbler is at Amazon