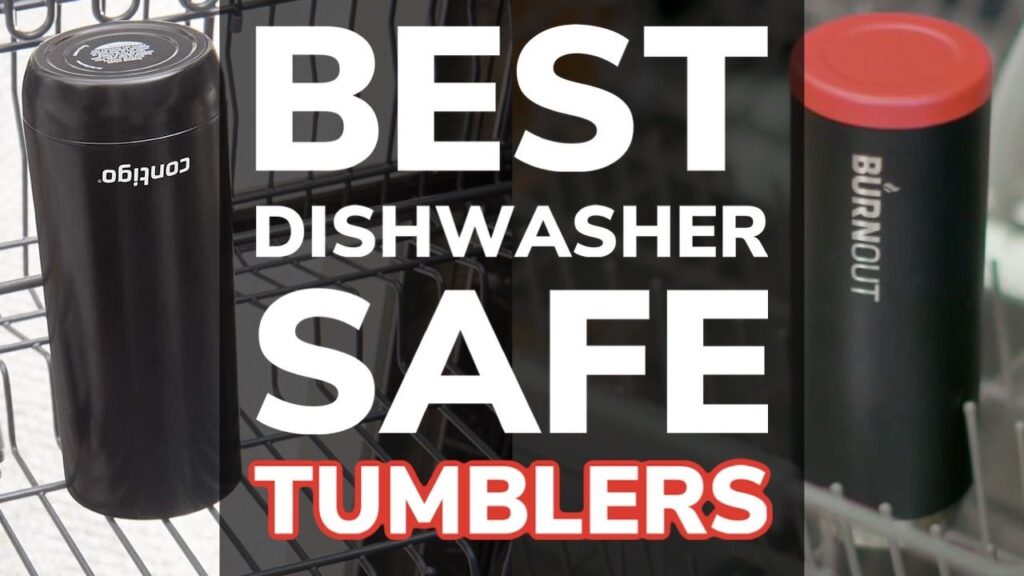 There are a lot of great insulated tumblers out there that can keep drinks hot or cold for hours. But very few of them are dishwasher safe.
Sometimes I just want to get home from a hard day, throw my tumbler in the dishwasher with my other dirty dishes and have in clean for the morning. However, most brands tell you to "handwash only" and not to put your tumbler in the dishwasher.
I used to think Yeti were the only brand who were dishwasher safe, but with a little research I was able to find 10 brands of dishwasher safe insulated tumblers.
The best dishwasher safe insulated tumbler is the Yeti Rambler tumblers. They are built tough, keep drinks hot for 6-12+ hours and cold for 24+ hours and can easily handle the dishwasher. For a more affordable option the Bubba Envy straw lid tumbler offers good value for money and is dishwasher safe.
Ceramic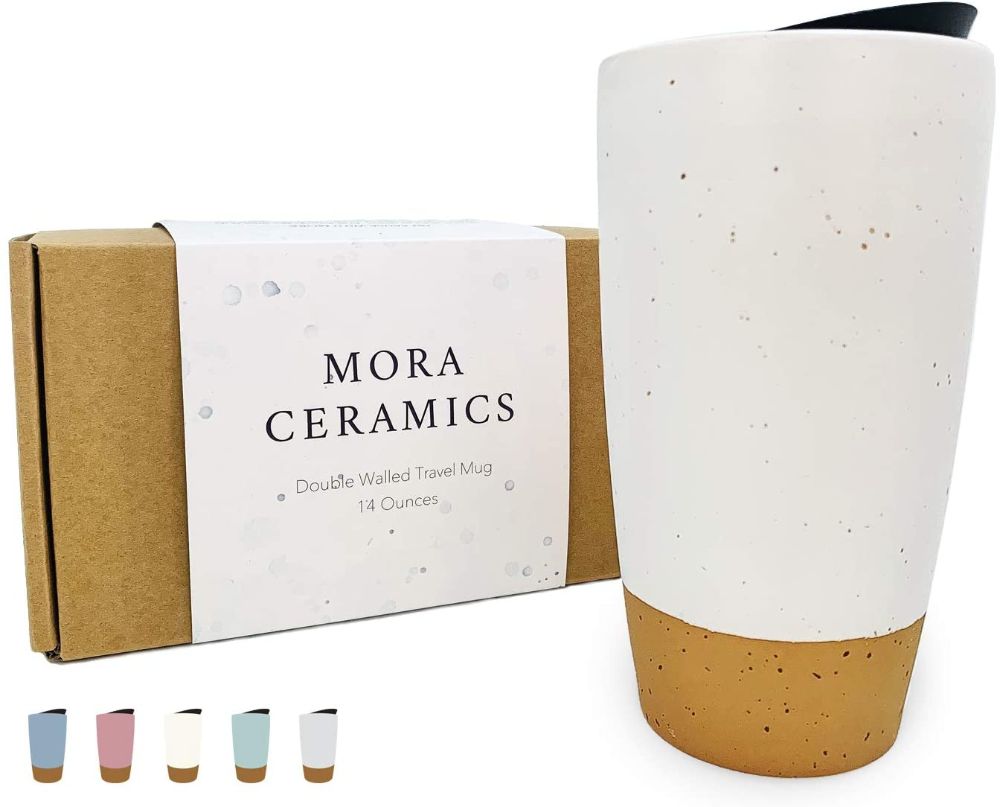 Mora Double Walled
Price: See at Amazon
BEST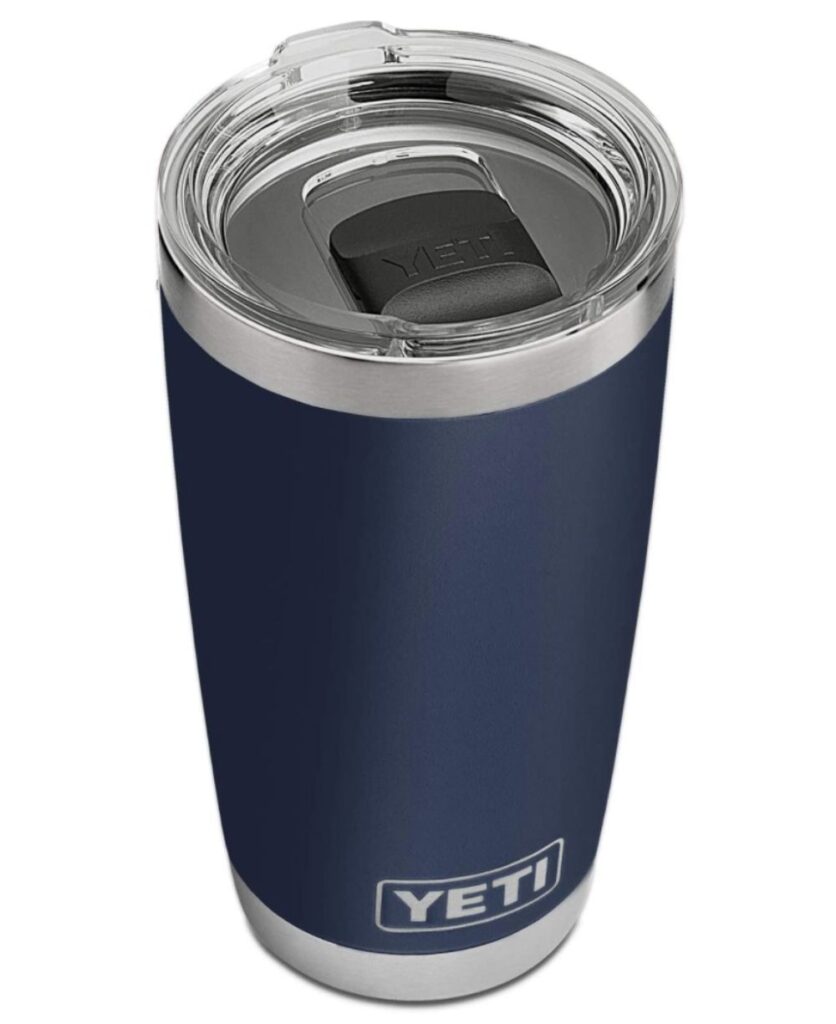 Yeti Rambler Tumblers
Price: See at Yeti.com
Value For Money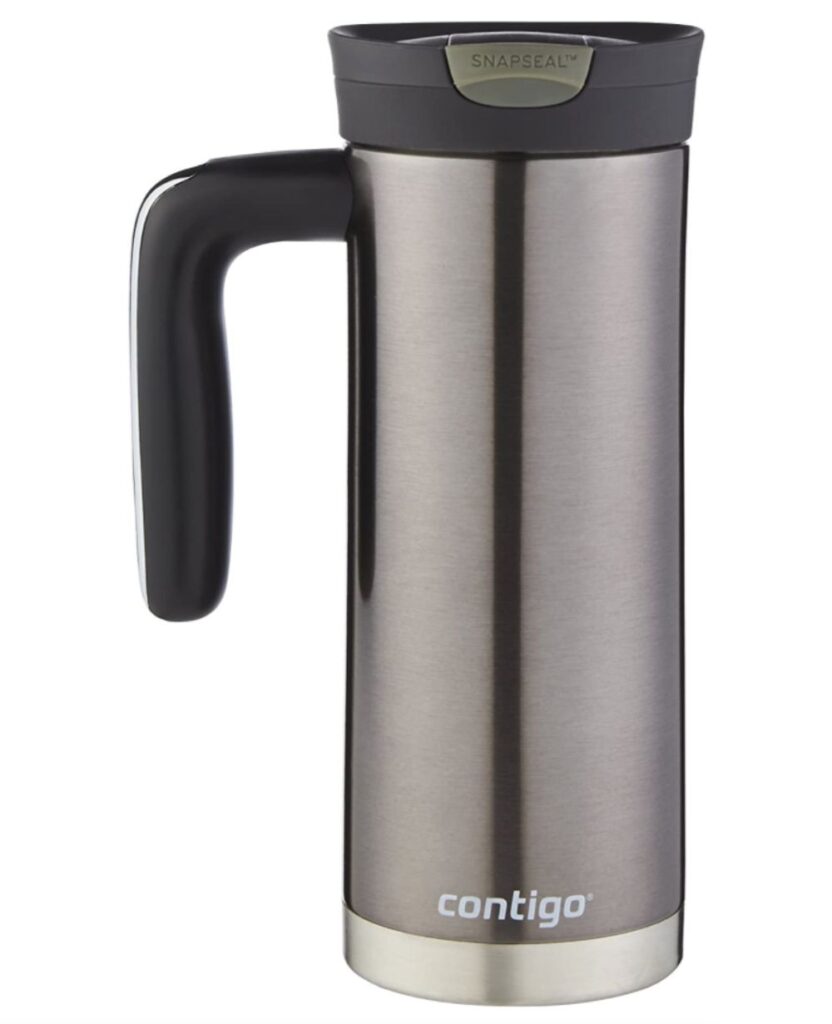 Contigo SnapSeal
Price: See at Amazon
My full list below ranks them in order from best to worst but I've also tried to outline some of the pros and cons of each and who they may be suited for.
Ultimately you should just choose the cup that best suits your needs. Affiliate links to all the cups are provides so you can easily buy it from Amazon or other retailers if you want.
1. Yeti Insulated Tumblers

When it comes to tumblers Yeti is one of if not THE most popular brand of tumbler on the market at the moment, and for good reason too.
Their tumblers, like their coolers, are made to be tough. They feel just a little bit stronger and more durable than most competitor cups out there and having owned multiple Yeti tumblers I can attest to their ability to keep drinks cold or hot for hours or even days at a time. They are one of the best tumblers for ice retention.
They were one of the first brands to test their tumblers well enough and declare them dishwasher safe, which other big brands like Hydro Flask, RTIC and Klean Kanteen still say to handwash only.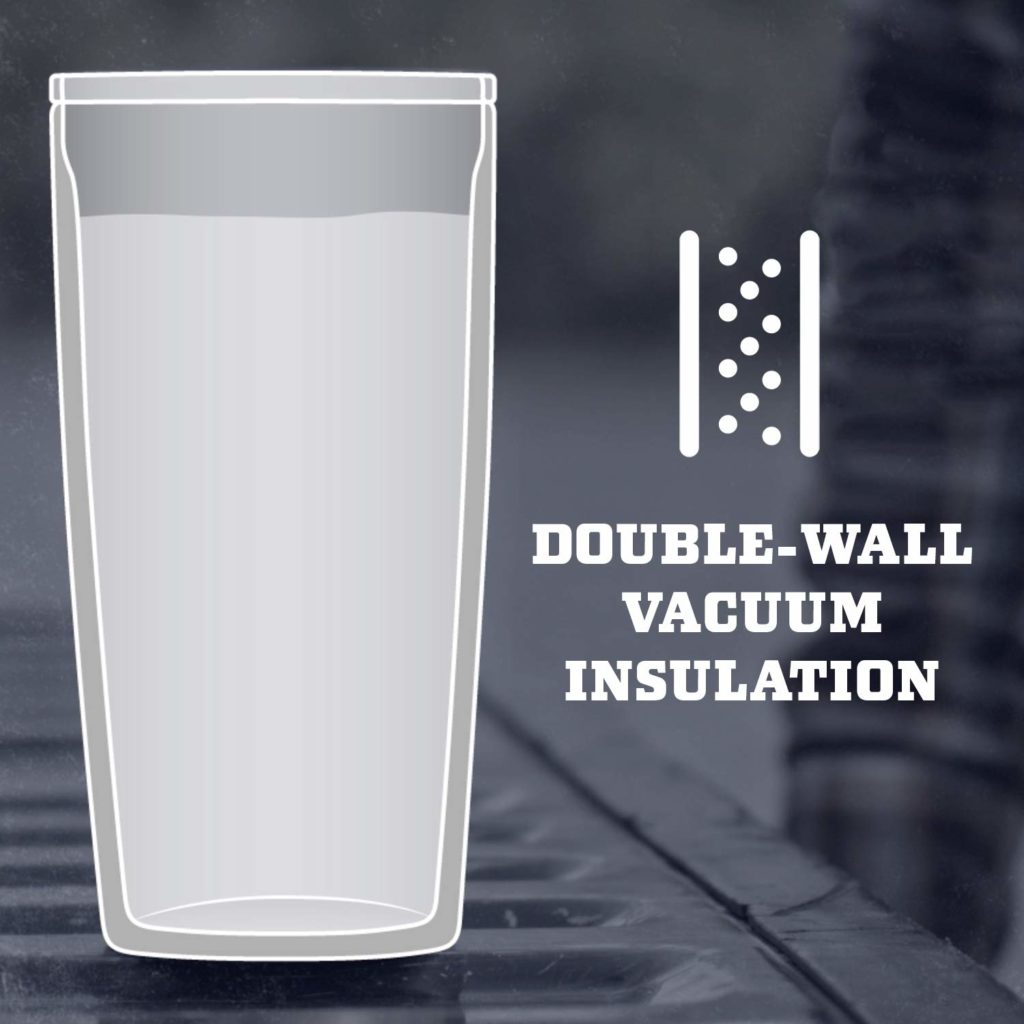 Yeti Tumbler cups are double walled and vacuum insulated so they are great at keeping out heat or holding in heat.
They come in a variety of sizes – you can choose 10 oz, 16 oz, 20 oz, 26 oz and 30 oz – as well as a wide variety of different color options. See all sizes and color options at Yeti.com.
I really like that the 16 oz and the 26 oz cups are stackable. As someone who owns a lot of tumblers I wish they all did this.
The MagSlider lid is splash proof but isn't completely leak proof and you can get straw lids and other Yeti tumbler accessories if you want to deck out your Yeti and make it even better.
It's one of the more expensive tumblers on the market, but at the same time I personally think it's worth the extra cost to buy a big brand that's more durable and backed by a 5 year warranty.
See the latest price of the Yeti Tumbler at Yeti.com
(or compared to the price of the Yeti Tumbler at Amazon)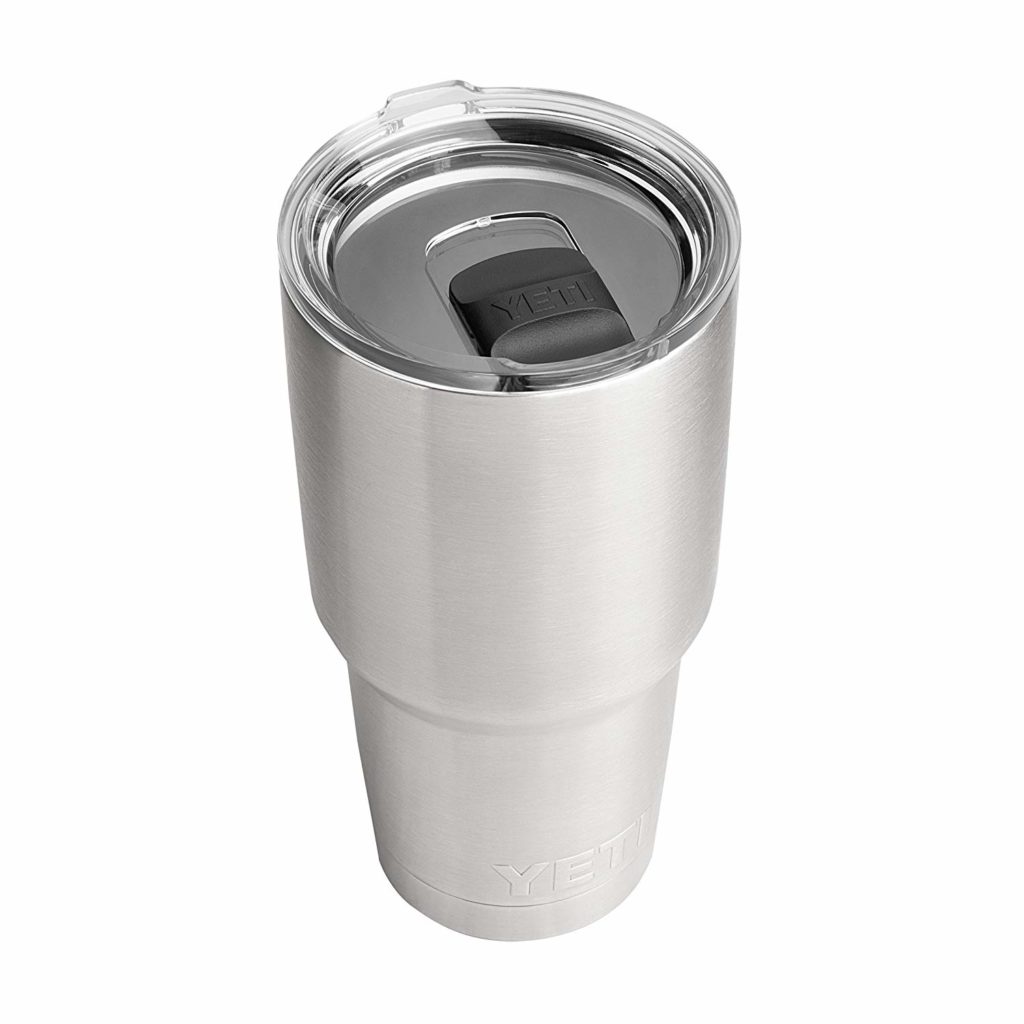 PROS:
Biggest brand
More durable than most tumblers
Lots of sizes and colors
Dishwasher safe
CONS:
One of the most expensive tumblers
Lid isn't leak proof
2. VALUE FOR MONEY: Bubba Vacuum Insulated Tumbler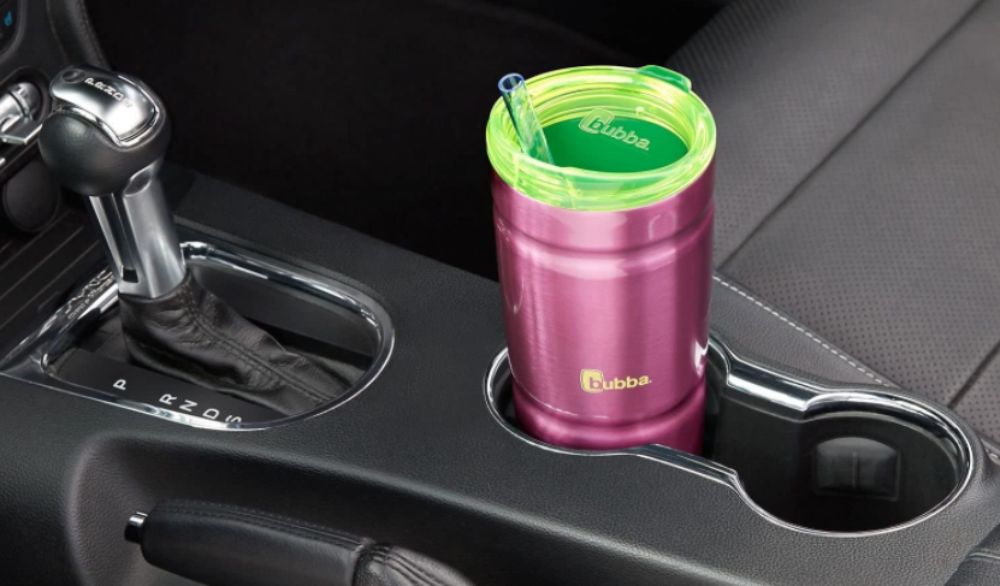 If you're on a budget then the Bubba Straw Envy tumbler is one of the best value for money dishwasher safe tumblers.
It's about half the price of a similar sized Yeti tumbler but is also vacuum insulated so keeps drinks cold or hot just as well.
The lid is spill proof (not leak proof) and comes with a large plastic straw. If you're going to be drinking hot drinks from this tumbler I would advise getting a metal straw.
It comes it lots of different colors, is thin enough to fit in more car cup holders and is backed by a lifetime guarantee.
If you really want a dishwasher safe insulated tumbler but don't want to spend too much money then this is going to be the option for you.
See the latest price of the Bubba Tumbler at Amazon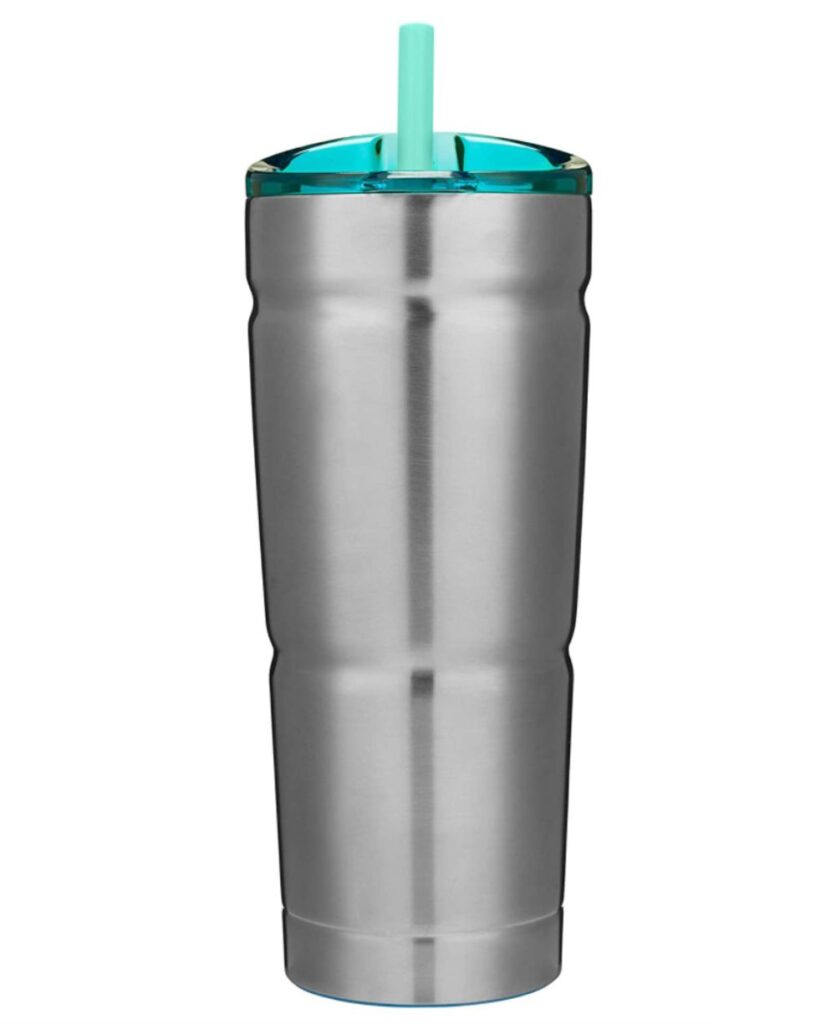 PROS:
Great value-for-money
Dishwasher safe
Fits in most car cup holders
Vibrant colors
Lifetime guarantee
CONS:
Only comes in one size
Plastic straw not designed for high temperatures
3. Contigo Luxe Tumbler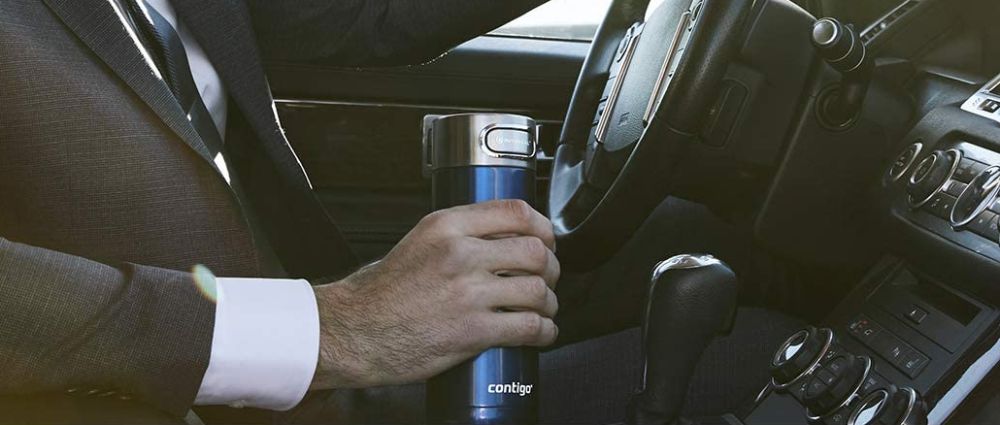 Contigo is a well known brand that makes great insulated tumblers at an affordable price.
All of their tumblers are designed to be top rack dishwasher safe making them easy to clean.
They have two different types of tumblers. The autoseal lid is completely leak proof and opens for drinking with the easy push of a button and then automatically closes when not in use.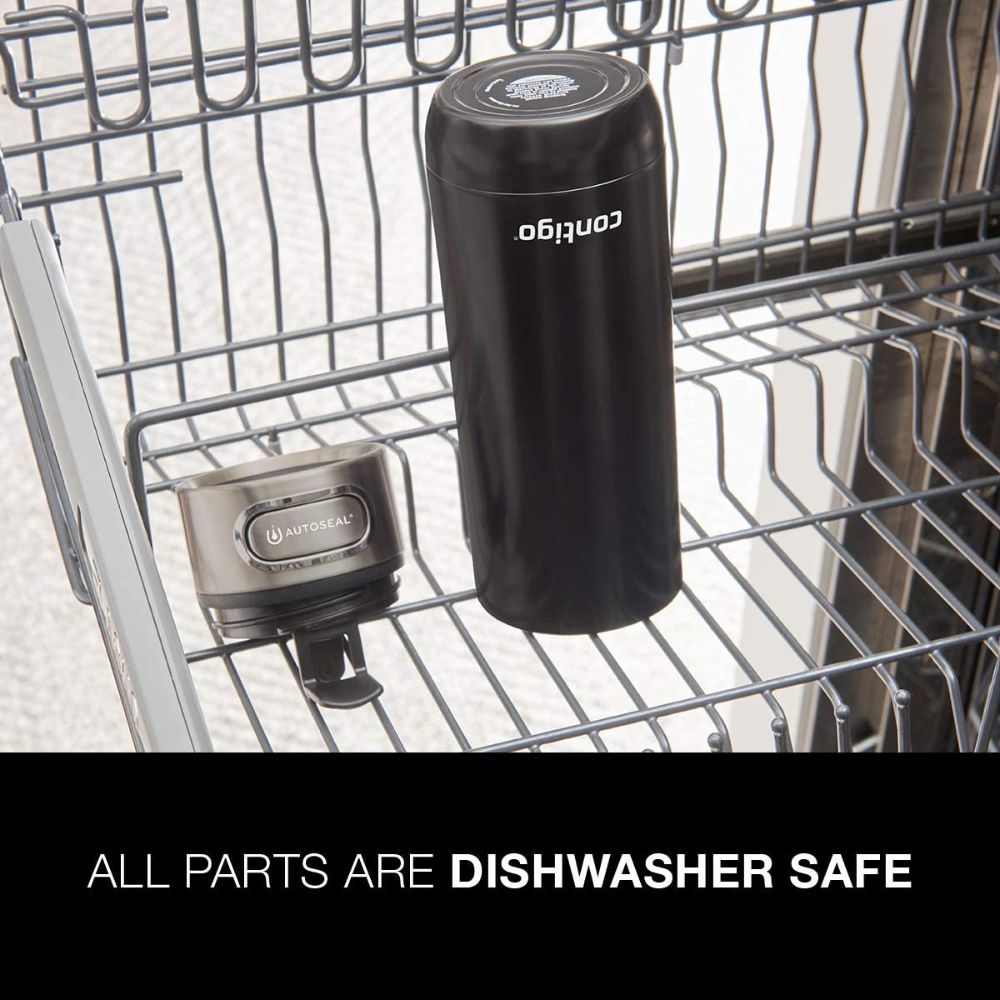 The straw lid is (in my opinion) one of the best straw lids for a tumbler out there because it's actually completely leak proof.
The straw have a valve in it to ensure liquids won't spill even if you accidentally drop your cup which is a really cool feature.
They keep drinks cold for around 14 hours, which isn't quite the performance of the Yeti but it still going to be more than enough for most people.
The autoseal version is a bit cheaper than the strawed version but both a good options and both are backed by Contigo's lifetime warranty.
See the latest price of the Contigo Autoseal Tumbler at Amazon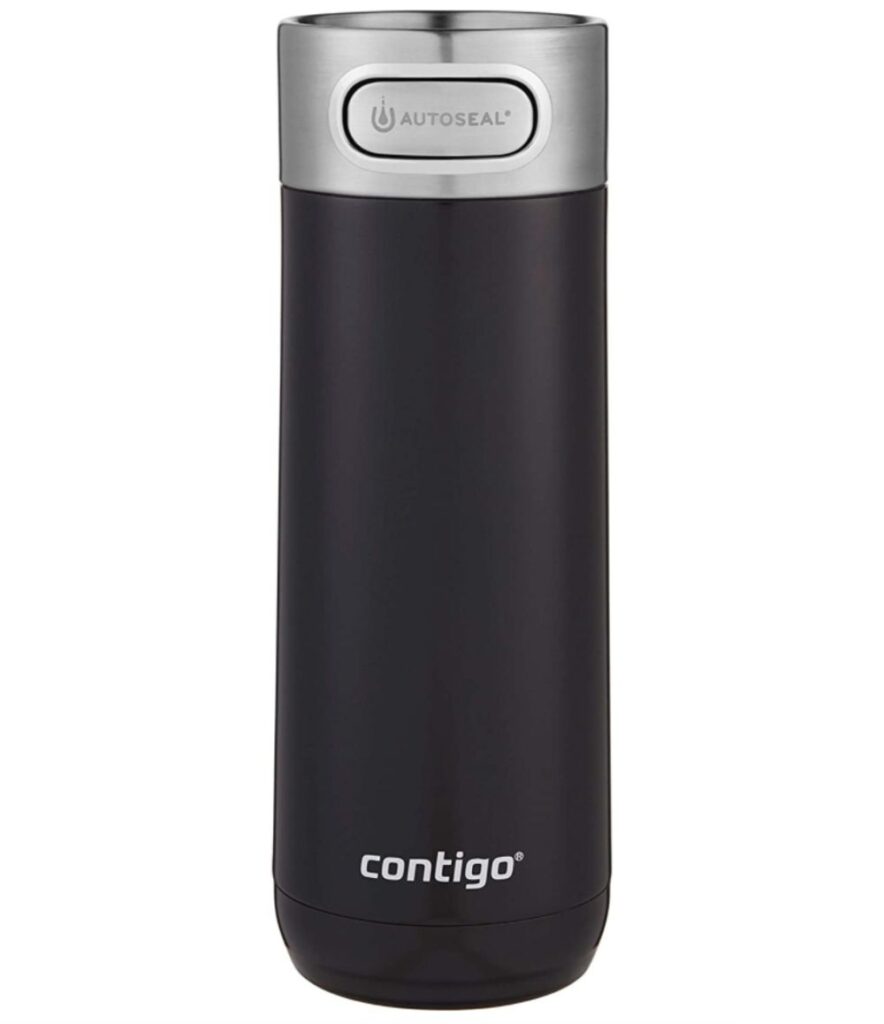 See the latest price of the Contigo Straw Tumbler at Amazon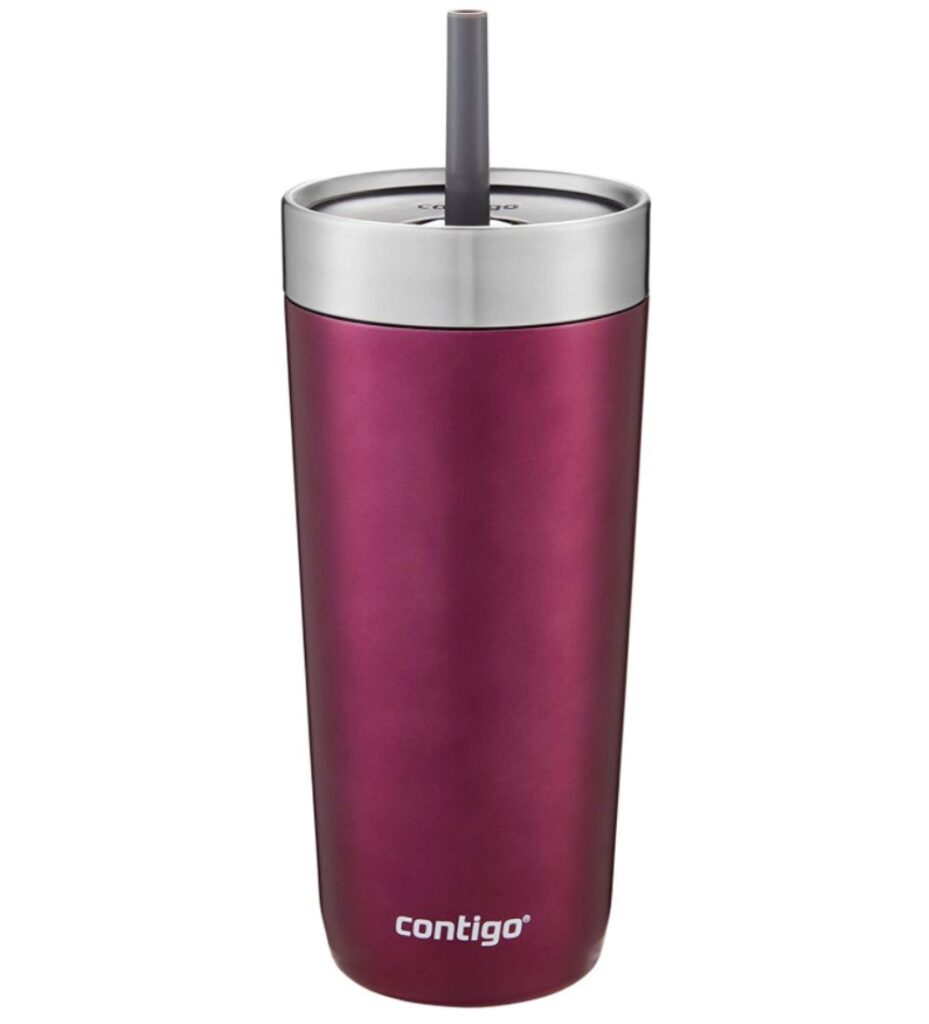 PROS:
Leak proof
Dishwasher safe
Choice of autoseal or straw option
Lifetime warranty
CONS:
Ice retention not as good as Yeti
4. Mora Double Wall Ceramic Travel Coffee Mug with Lid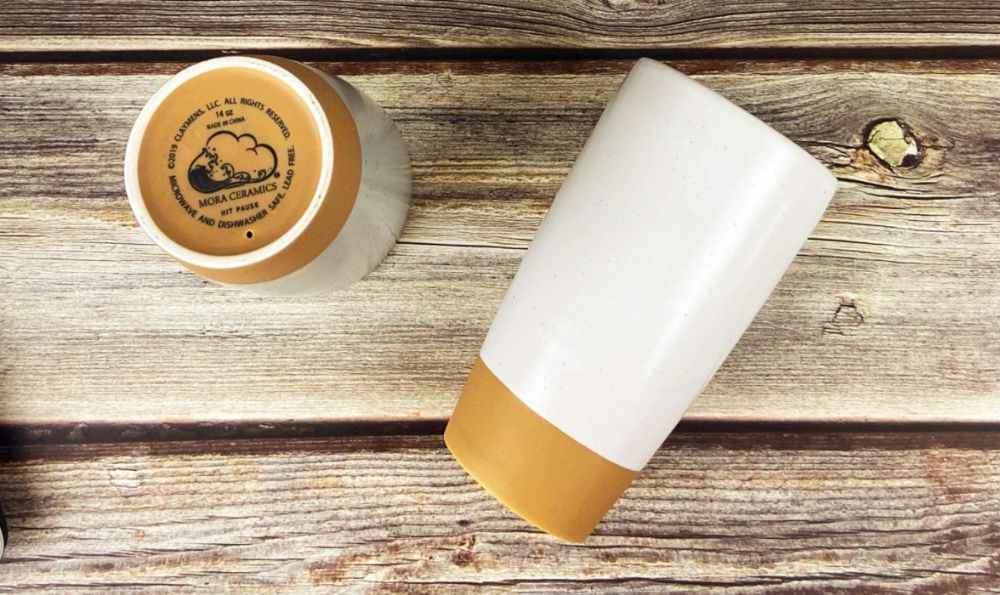 If you're like my partner and you prefer to drink out of a ceramic cup instead of a stainless steel cup then the Mora double wall ceramic travel cup is going to be the best option for you.
It's not vacuum insulated like the stainless steel tumblers in this list so it won't keep drinks hot or cold for as long. But it'll still outperform a traditional single walled ceramic cup when it comes to ice and heat retention.
Mora features a splash resistant spinning lid which stays shut until you spin it open.
It's made from Paladin Clay which is 20% stronger than regular ceramic and it's designed to fit into any car cup holder.
It's backed by a 30 day "love it or return it" policy so if you're not happy you can send it back.
The 14 oz size isn't as large as some of the stainless steel tumblers on the market, but I've found it's a good size for a tea or coffee and it's dishwasher safe which makes it easy to clean.
It isn't the cheapest mug on this list, but for high quality ceramic I think it's well priced.
See the latest price of the Mora Insulated Ceramic Tumbler at Amazon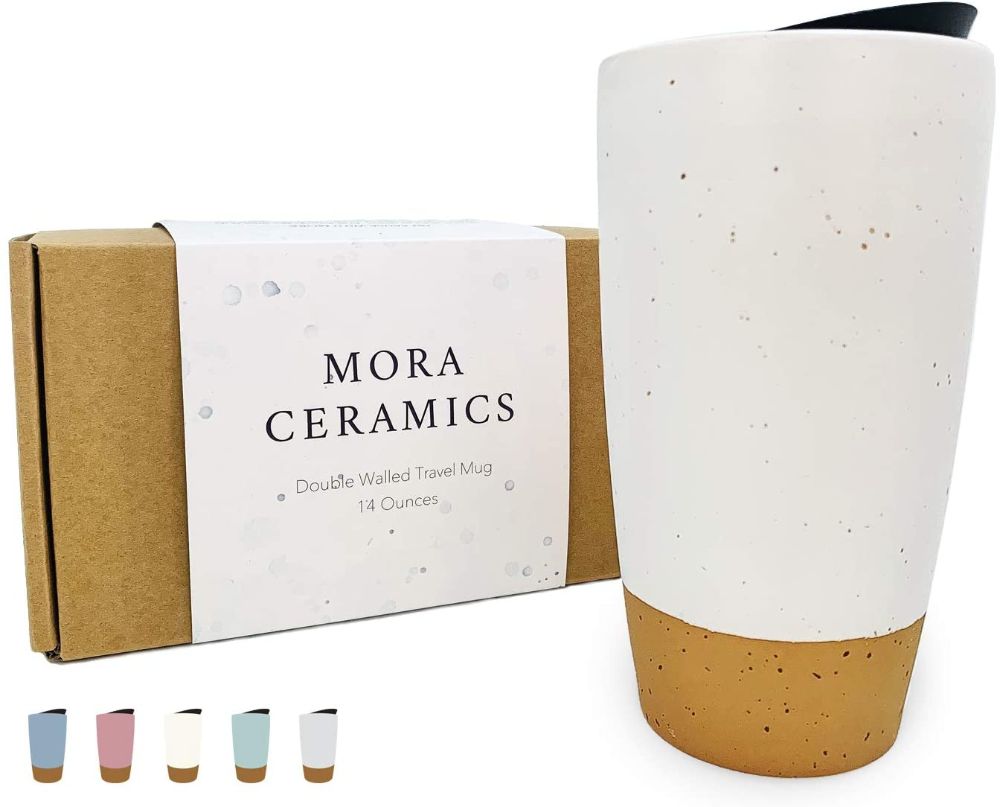 PROS:
Double walled ceramic so it won't burn your hands
Spill proof lid
Dishwasher safe
Great design
Made from strong Paladin ceramic
CONS:
Not vacuum insulated
Size may be too small for some people
Still prone to breaking when dropped
5. Burnout Mug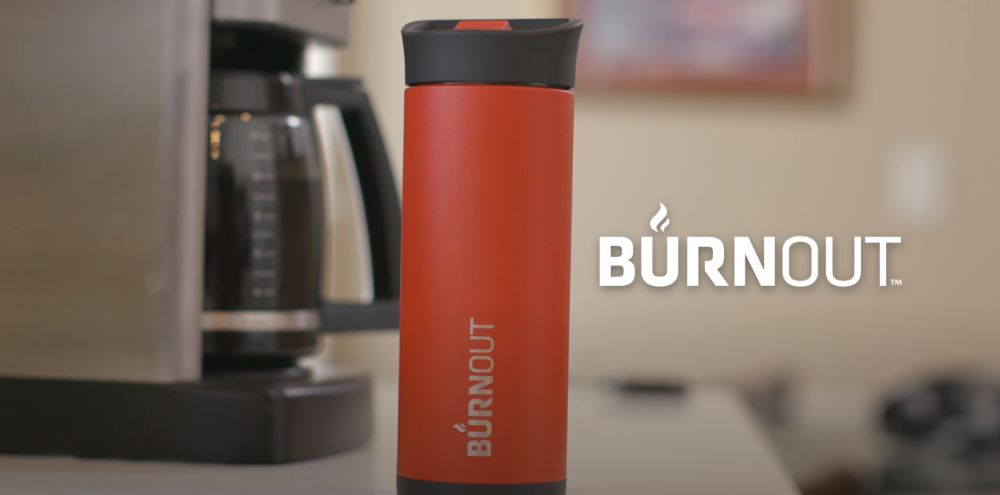 The Burnout Mug is a unique insulated mug in the fact that it uses a phase change material to quickly cool down your coffee to the optimal drinking temperature (so it doesn't scald you) but then keep it at that temperature all day long.
It does this by having a triple walled stainless steel cup. Between the outer and middle wall is a vacuum which insulates against heat loss.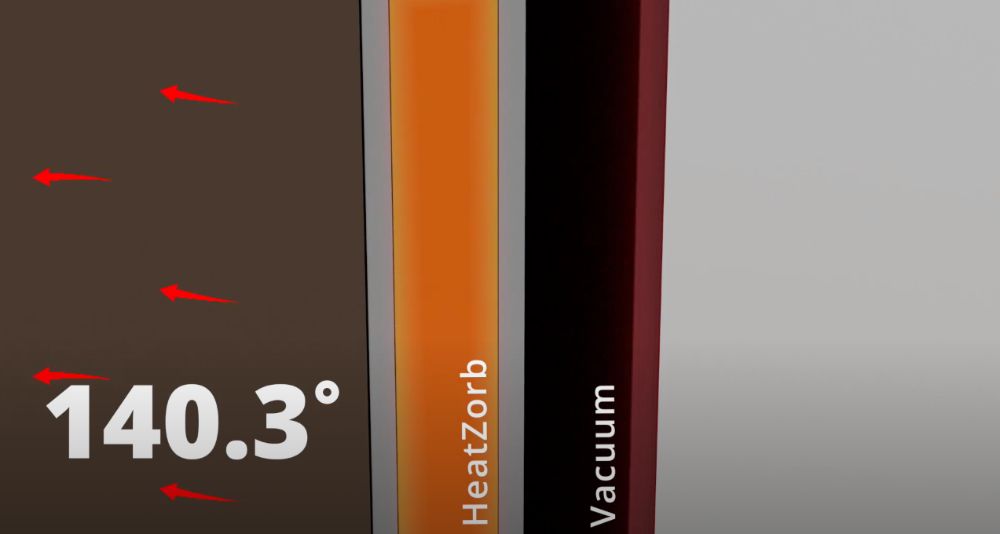 Then between the inner and middle wall is a material that at room temperature is a phase change material that absorbs the heat when your coffee or drink is hot but then gives back heat as your drink starts to cool.
It's completely dishwasher safe making it easy to clean and ready for your daily commute.
It comes in a 12 oz and 16 oz size and it's a high quality cup designed by rocket scientists. However, it is about twice the price of the Yeti so this cup is not for the budget conscious.
This is for the serious coffee or tea drinker who want just the exact right temperature and who want to avoid scalding their mouth.
See the latest price of the Burnout Triple Walled Mug at Amazon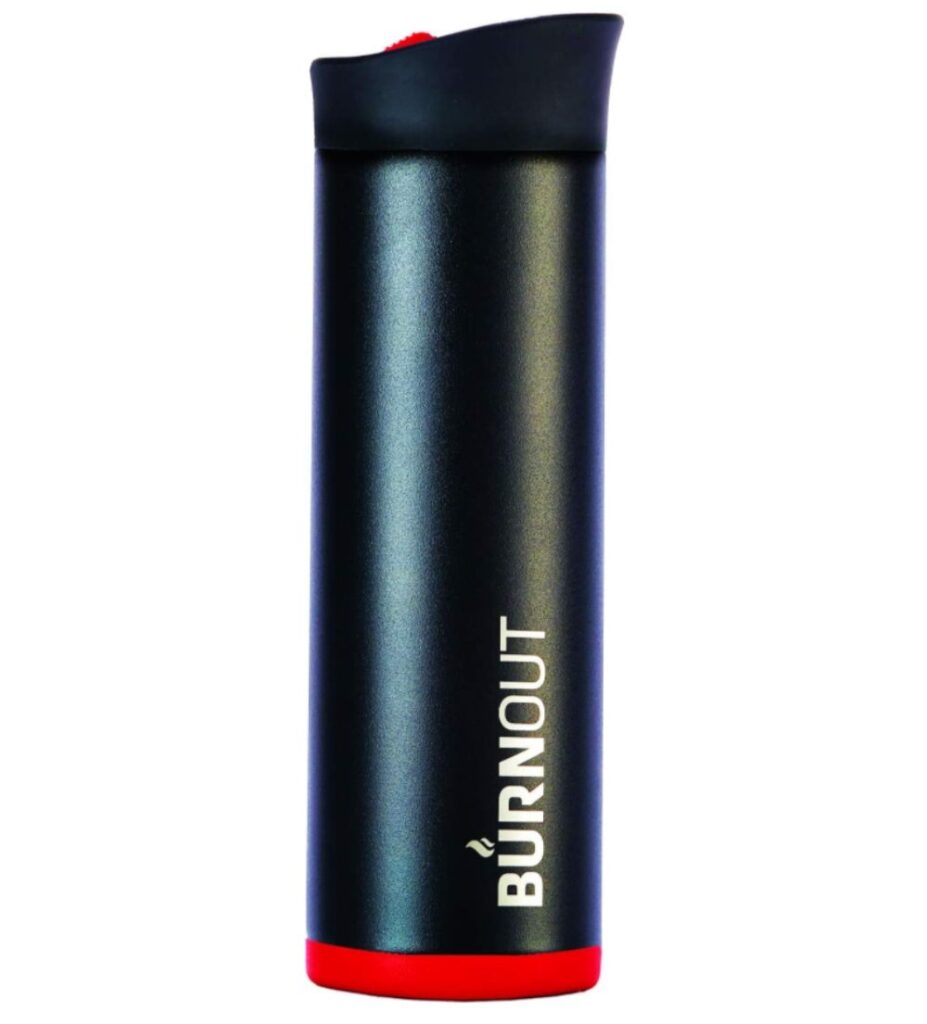 PROS:
Quickly cools down hot drinks to perfect drinking temperature and keeps it there all day
Triple wall and vacuum insulated
Dishwasher safe
CONS:
Much more expensive than regular insulated mugs
Lid can be a big annoying to use at times
6. Swig Life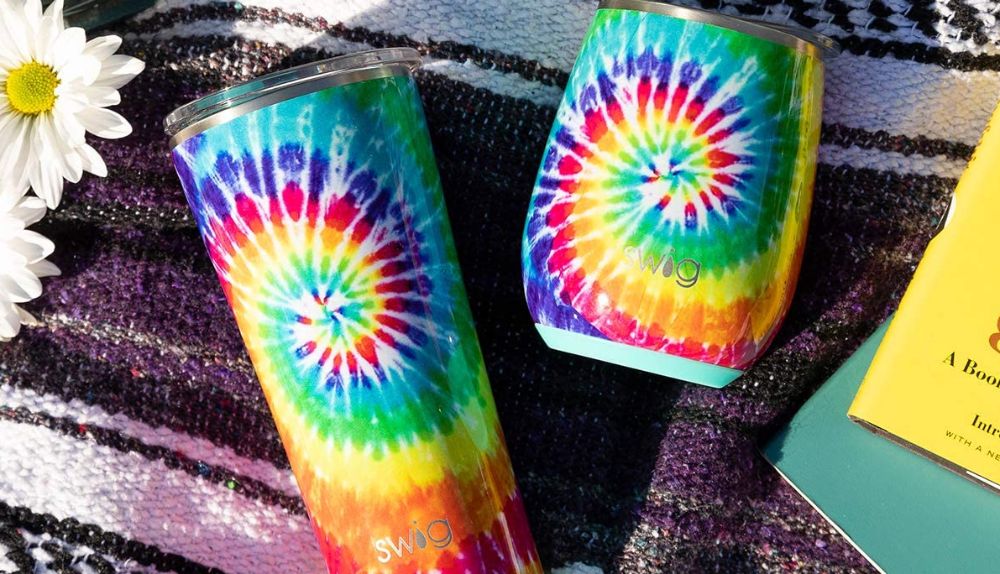 If you want a bright and colorful tumbler then the Swig Life has lots of bright and fun patterns for you to choose from.
They get really creative with their designs of which there are 20 colors and prints to choose from. Some people are going to love the crazy designs while some of you might want something more plain and subdued.
It's "triple insulated" which just means it's a vacuum insulated but also has a copper coating the help keep the aliens away keep out or trap in infrared heat.
It is dishwasher safe and comes with a slider lid that is spill resistant but not leak proof.
It's skinny enough to fit in most cup holders and it has a non-slip and scratch-free silicone base to stop your tumbler tipping over or sliding around easily.
It's quite an expensive tumbler given it's not a well known brand but you get to pick a fun design and it's very highly rated on Amazon.
See the latest price of the Swig Life Tumbler at Amazon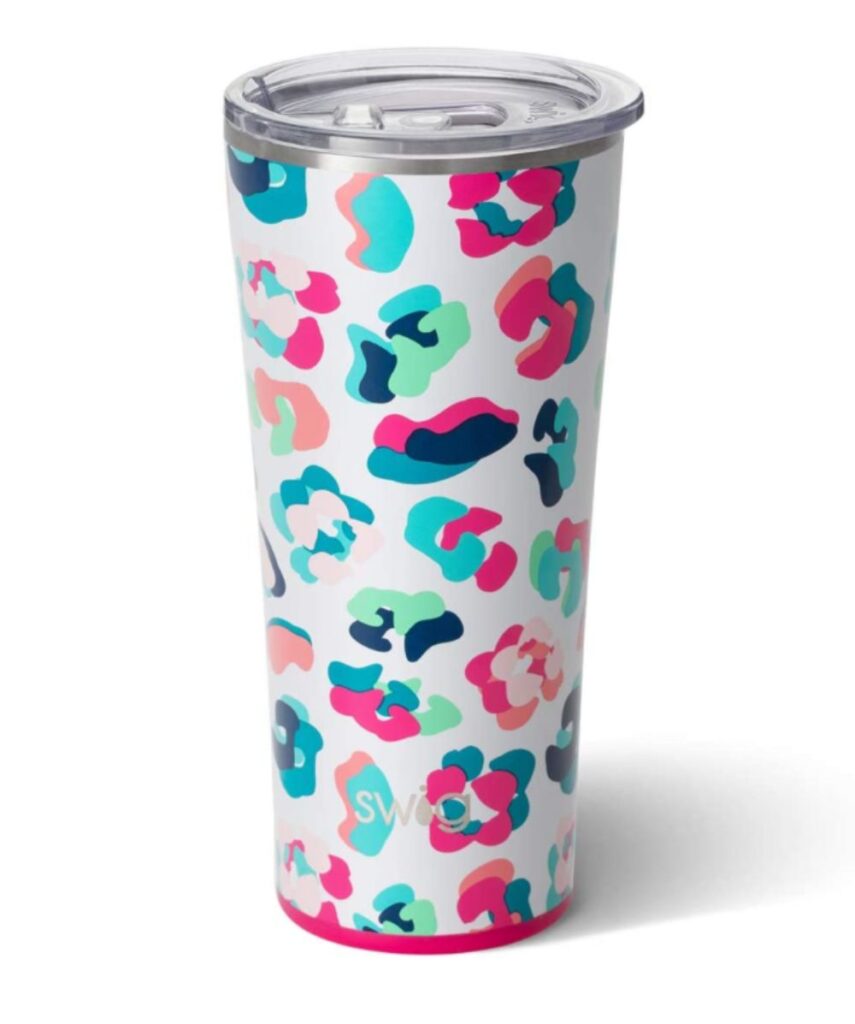 PROS:
20 fun and bright designs to choose from
Dishwasher safe
Skinny enough to fit most cup holders
Non-slip silicone base
CONS:
One of the more expensive tumblers
7. Atlin Tumbler: Big and Affordable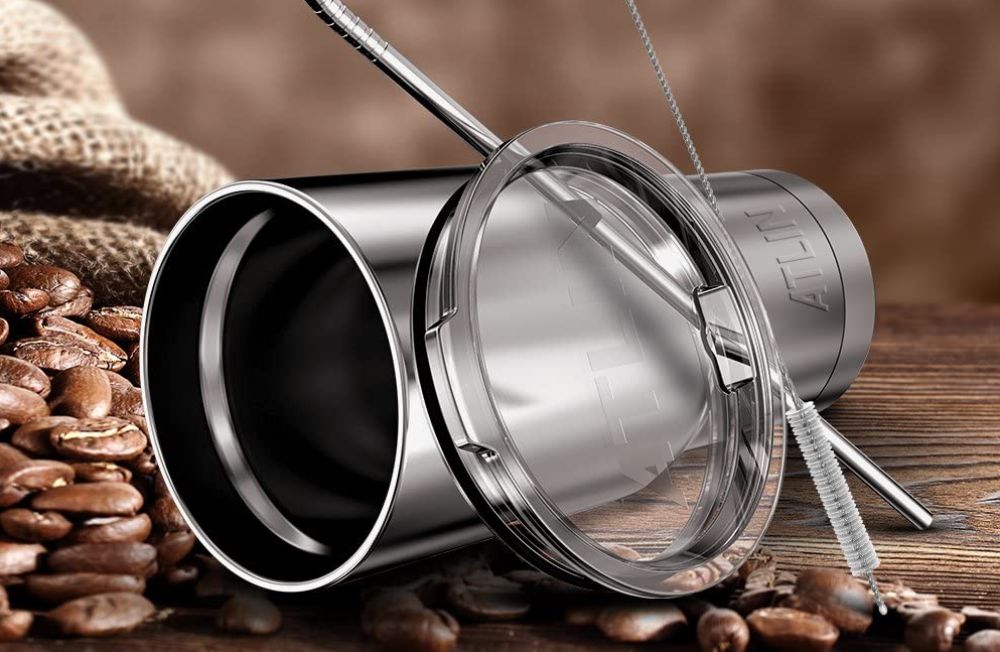 The Atlin tumbler is another tumbler perfect for the budget conscious shopper and it comes in the large 30 oz size that the Yeti comes in but not many other tumblers that are dishwasher safe do..
It's vacuum insulated to keep drinks hot for 6 hours or cold for 24 and it's dishwasher safe. Atlin also offer their customers a lifetime warranty on their cup and it has high ratings from thousands and thousands of customers.
If you're someone who wants a large tumbler to fit lots of coffee or water or whatever you're drinking in there then this one's for you.
It looks a lot like a Yeti tumbler, but sells for a lot cheaper and comes with a metal straw too.
See the latest price of the Atlin Tumbler at Amazon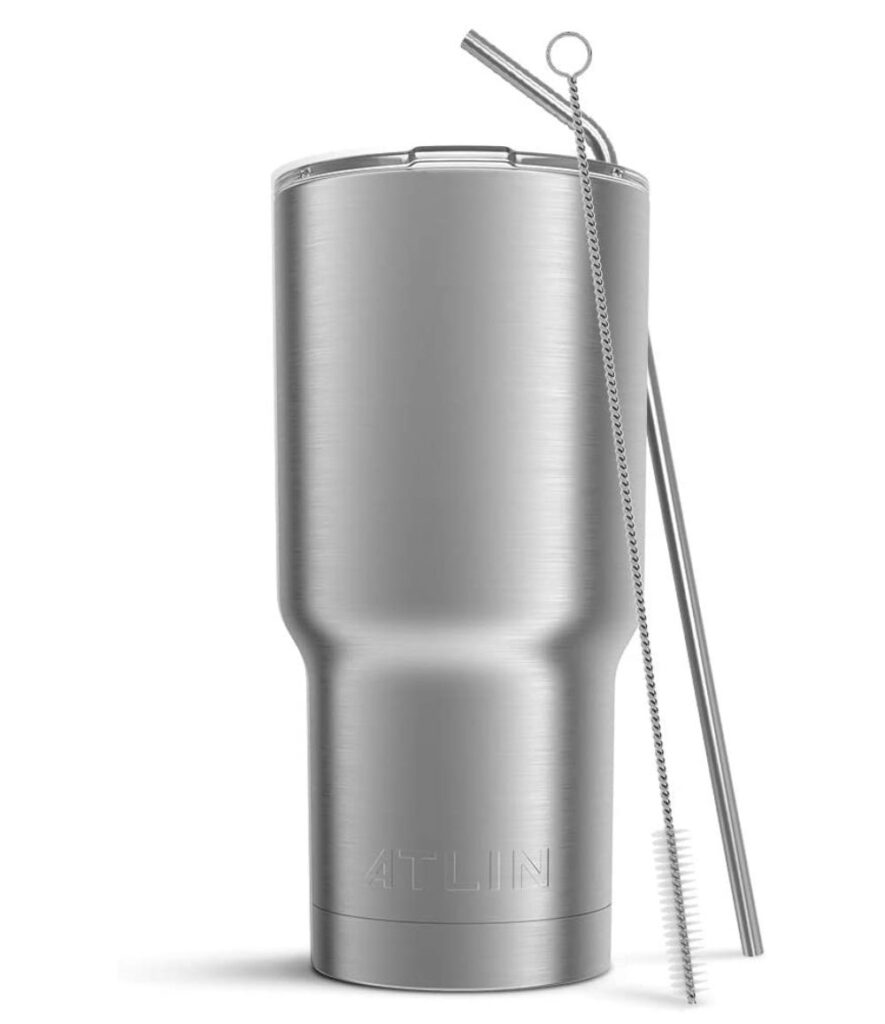 PROS:
One of the cheapest tumblers
Dishwasher safe
Lifetime warranty
Comes with metal straw
CONS:
You pay a little more for a colored option
Not a well known brand
8. CHEAPEST OPTION: Rubbermaid Thermal Tumbler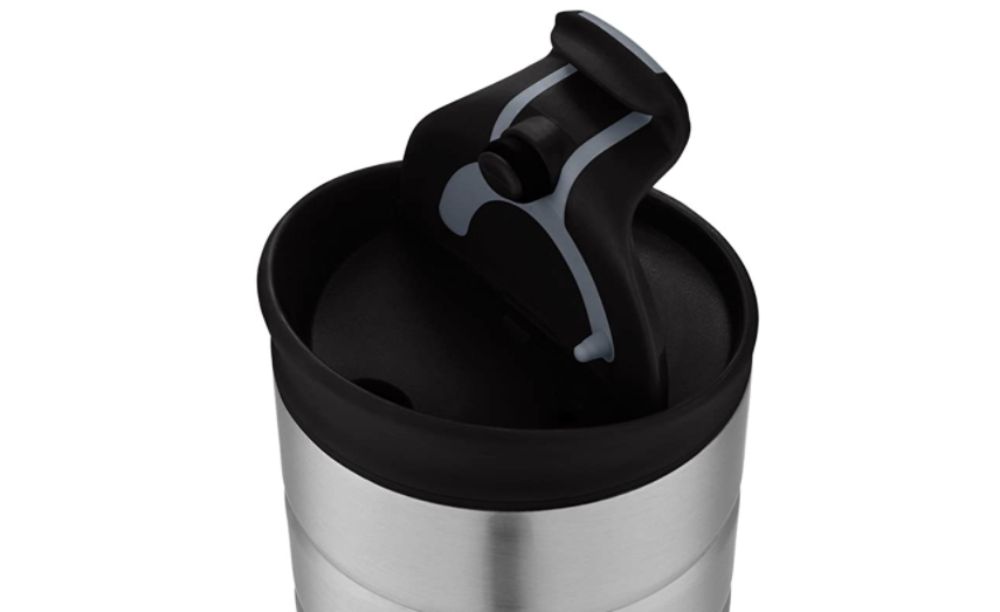 You may have heard of rubbermaid for their plastic coolers, food containers or kitchenware but they also make one of the most affordable insulated tumblers on the market.
At the time of writing this was the cheapest tumbler in this list and actually one of the cheapest vacuum insulated tumblers I have ever seen (except maybe the Ozark Trail from Walmart but that's not dishwasher safe).
This comes in a 10 oz or 16 oz size and the body only comes in stainless steel color but you can choose from 4 different colored lids.
The lid is leak proof, the cup is thin enough to fit in most cup holders and it's top rack dishwasher safe.
If you want the cheapest dishwasher safe vacuum insulated tumbler then the Rubbermaid is for you.
See the latest price of the Rubbermaid Tumbler at Amazon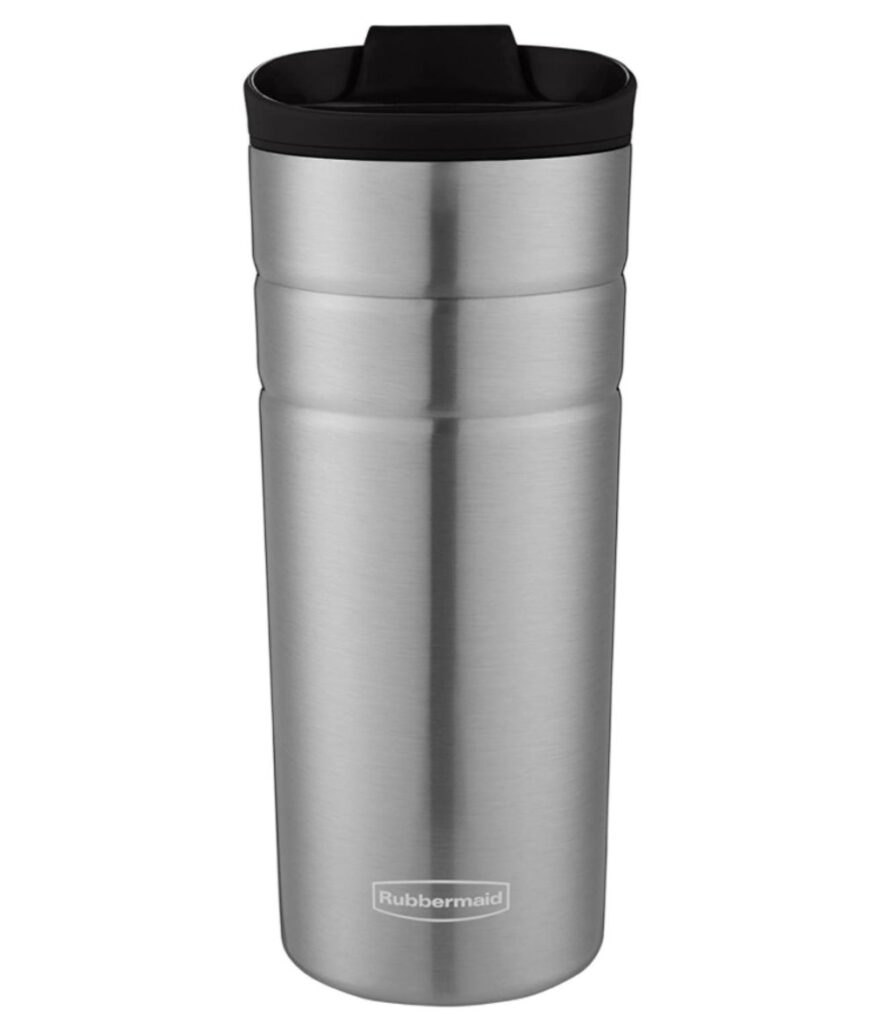 PROS:
Cheapest option on this list
Dishwasher safe
Leak proof lid
Fits in most cup holders
CONS:
Only comes in stainless steel
Only comes in smaller sizes
9. Stanley Ceramivac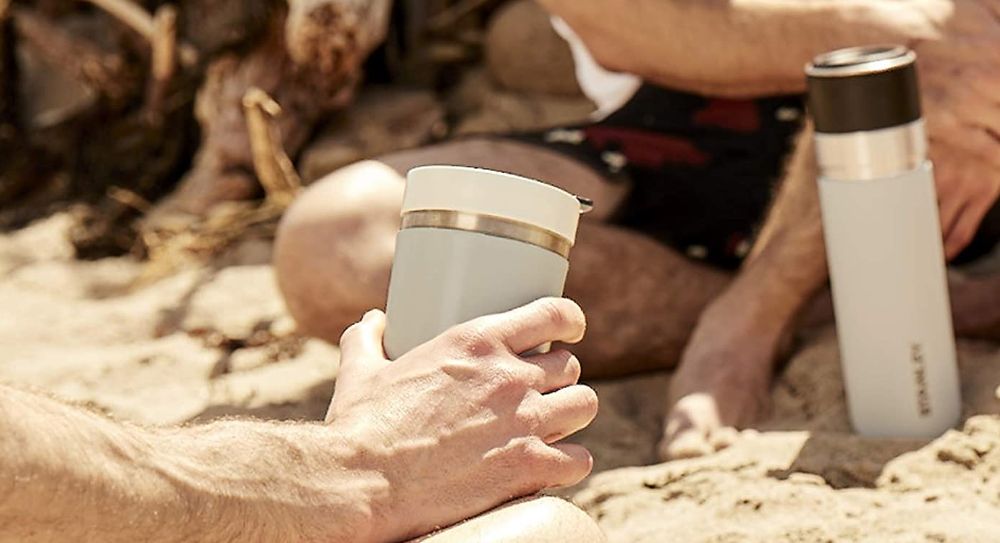 For those who want the insulating ability of a stainless steel tumbler but who don't want the metal imparting flavors into their drink the Stanley Ceramivac has a ceramic lining.
The ceramic covers the metal of the inside of the cup and protrudes upwards so you get to put your lips in ceramic and not metal.
While I like the design I do have some concerns with quality and it doesn't have the best customer ratings. There are other better ceramic lined insulated tumblers that I would recommend more highly, but none of them are dishwasher proof.
These are backed by a lifetime warranty and if you like the ceramic coating they may be worth a try. I recommend reading some of the reviews on Amazon before making your purchasing decision though.
See the latest price of Stanley Ceramivac at Amazon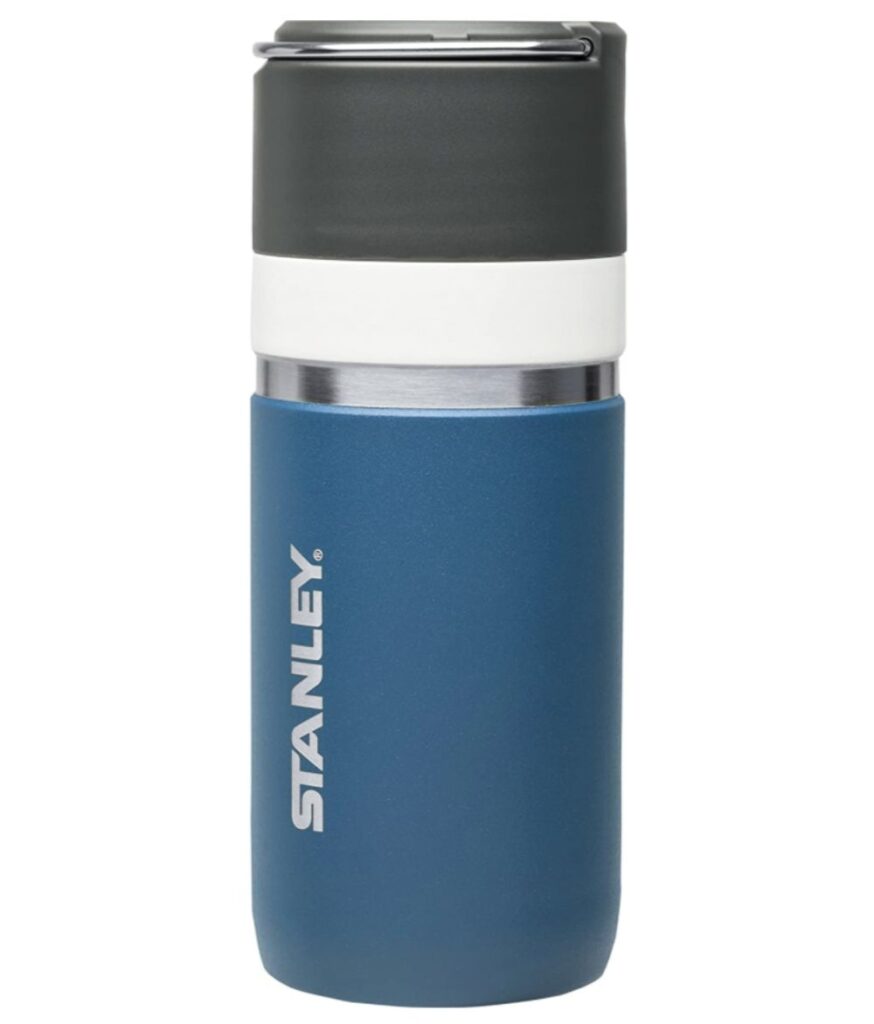 PROS:
Ceramic lining won't impart flavors into your drink
Dishwasher safe
Comes in tumbler or bottle form
CONS:
Customers have reported some quality issues
Not the greatest insulation compared to other brands on this list
10. Glowstone Mug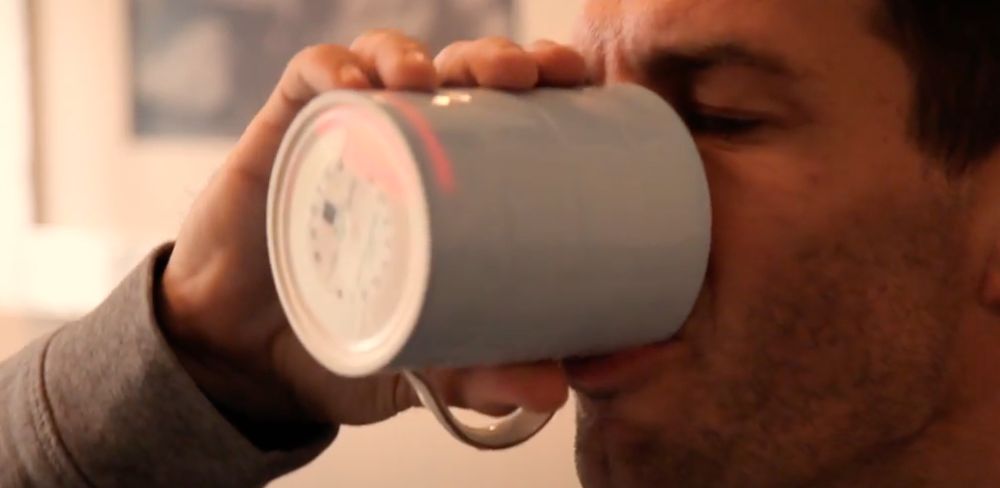 The Glowstone mug isn't technically an insulated tumbler or mug, but rather it keeps your drinks warm through a battery and a heating element.
It uses wireless charging to charge the battery and it'll keep your tea or coffee at a 140-149ºF (60-65ºC) temperature for up to an hour.
It's made of fine bone china, looks just like a regular mug and is completely dishwasher safe (which isn't true for other battery powered heated coffee mugs)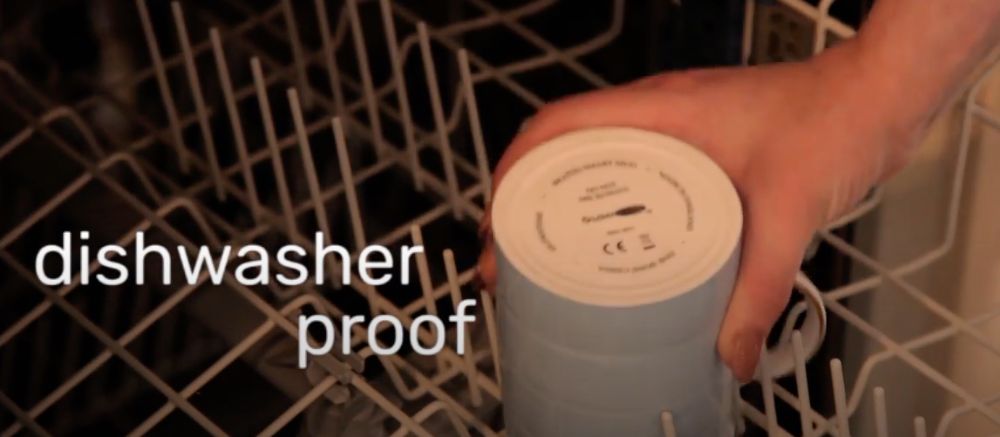 It's new to the market and it's quite expensive and currently I could only find it for sale from their UK website. But maybe in future it'll be cheaper and more widely available.
See the latest price of the Glowstone Mug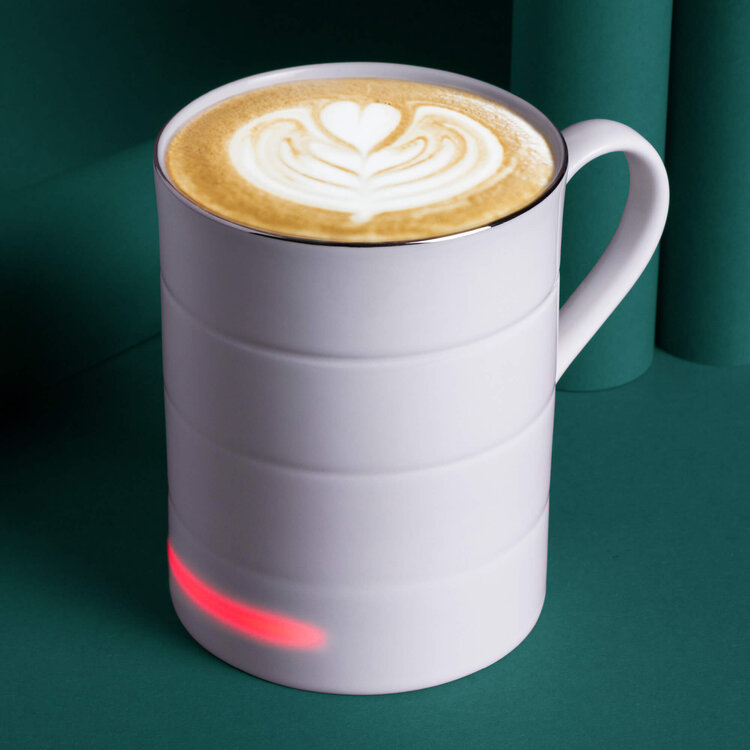 PROS:
Keeps drinks at the perfect drinking temperature
Battery operated
Dishwasher safe
Made of fine bone china
CONS:
Won't keep things cold
Not insulating after battery dies
Quite expensive
Only sold in the UK
Which Dishwasher Safe Insulated Tumbler Will You Get?

As you can see there are quite a few different options if you're looking for an insulated tumbler that you can safely put in the dishwasher.
All of these are good tumblers and all of them have their pros and their cons. None of them are perfect and no single one is the absolute "best".
Ultimately it comes down to you and which cup you like best. Which one fits your budget and has the features you want.
Will you get the biggest brand with the Yeti Rambler tumbler or will you go for the cheapest option and snap up a Rubbermaid Thermal Tumbler.
Or maybe you're a coffee snob (like myself) and want your coffee at the perfect temperature and so the Burnout Mug is going to be the best option for you.
I hope you find the dishwasher safe tumbler that perfectly suits you and if you used any of the links in this article I massively appreciate you.
Best of luck and until next time, stay cool.
For more lists of the best tumblers on the market check out one of my articles below: