Travel mugs are great for taking tea or coffee with you on the go but no one wants to taste metal in their coffee from stainless steel and plastic and heat are big no-nos health wise.
Ceramic is great as it doesn't transfer any flavor and it's a pleasure to drink from but purely ceramic mugs are fragile, break easily and don't keep your drink warm for very long.
Ceramic lined travel mugs combine the best of an insulating stainless steel mug that can keep drinks hot for hours with the best taste of a ceramic mug. But what are the best ceramic lined travel mugs?
Well there are a few good options out there and the good news is they aren't too expensive either.
The best ceramic lined travel mug is the Contigo Twistseal Glaze. It's leak proof, dishwasher safe and vacuum insulated keeping drinks hot for up to 7 hours. For a premium option the Ember Travel Mug uses battery power to keep drinks at the perfect drinking temperature.
Premium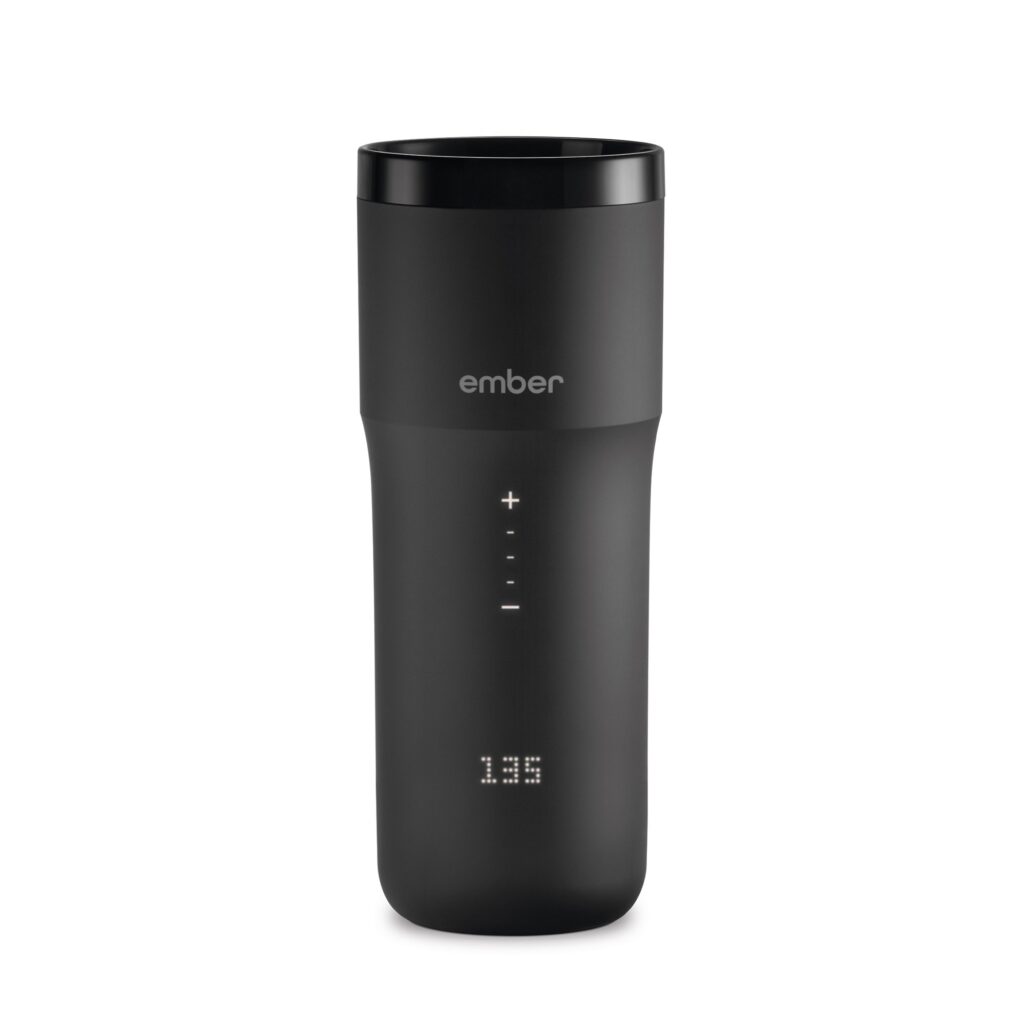 Ember Battery Heated Travel Mug
~$100-$180
Price: See at Amazon
BEST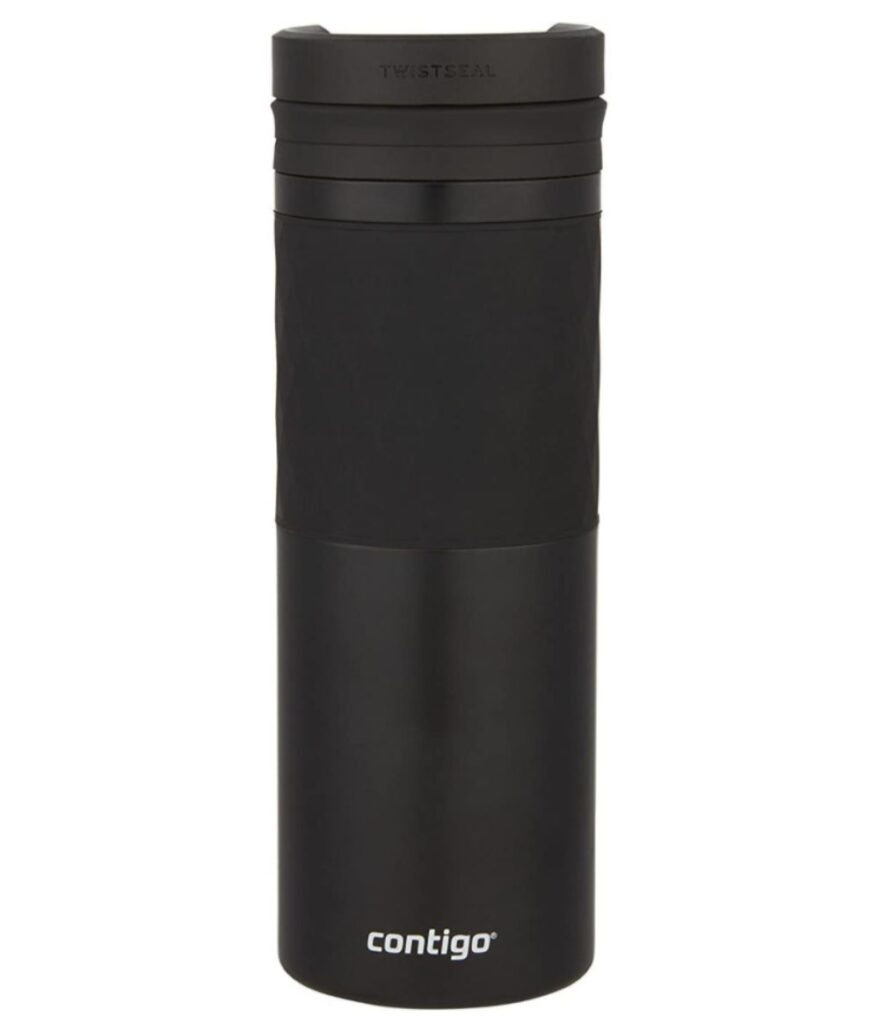 Contigo Glaze Twistseal
~$20
Price: See at Amazon
Runner Up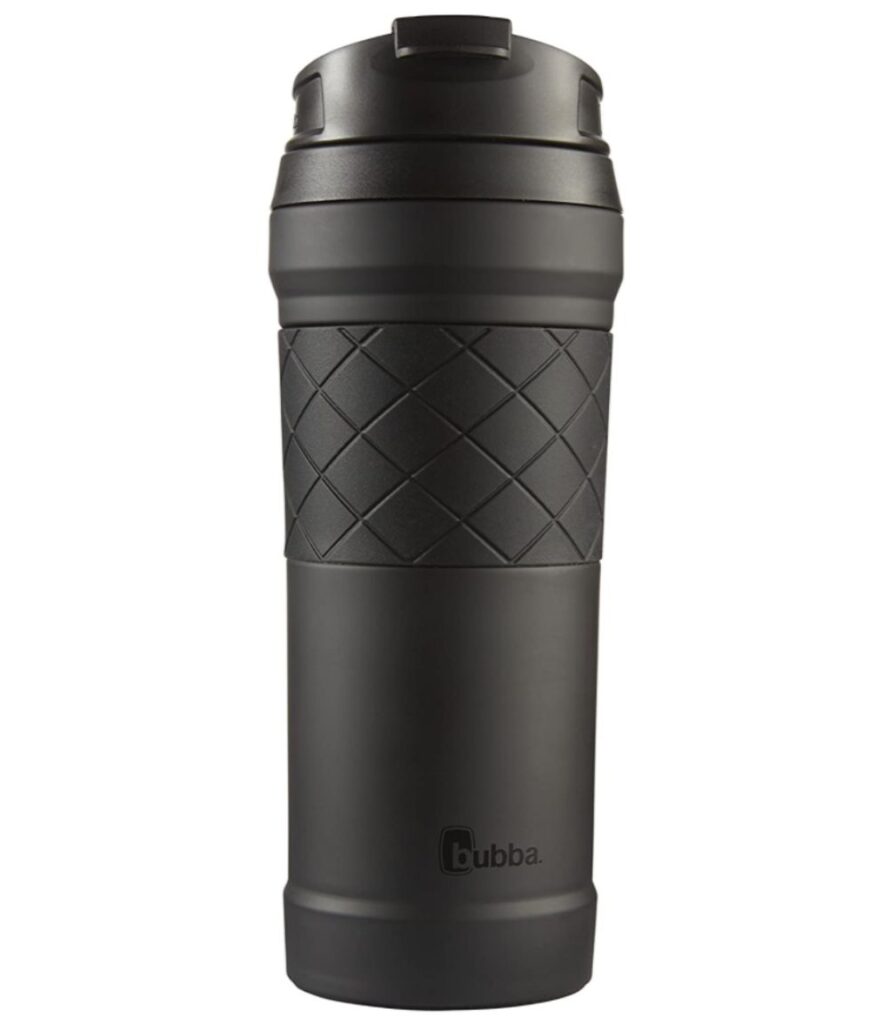 Bubba Hero
~$20
Price: See at Amazon
1. Contigo TWISTSEAL Glaze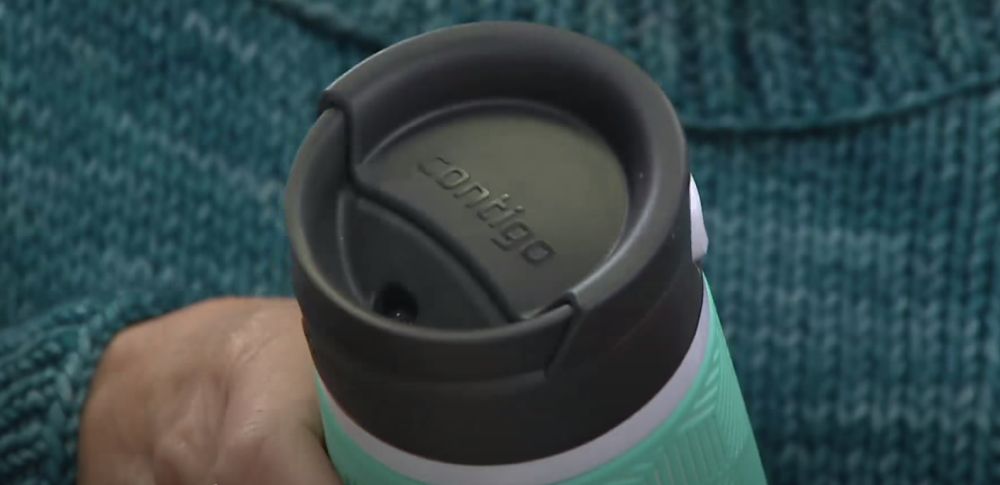 While a lot of the vacuum insulated tumblers with ceramic liners on this list are pretty similar with a pretty similar price range I had to rank Contigo as #1 because they are a well known brand and they make a great product for an affordable price.
The Twistseal lid is leakproof which is super convenient so you can throw it in your bag and not have to worry about it spilling.
It's also a pleasant drinking experience as the lid allows your drink to pool as you drink it giving you more of the aromas than other mugs on this list.
Internally it's got a layer of traditional ceramic material to protect your flavor and one amazing thing about this mug is that it's dishwasher safe so you don't have to handwash it if you don't want to.
It's vacuum insulated and can keep drinks hot for 7+ hours or cold for 18+ hours, more than long enough to finish your cup of joe. It's well priced and a great option for your coffee, tea or water.
See the latest price of Contigo Twistseal Glaze Travel Mug at Amazon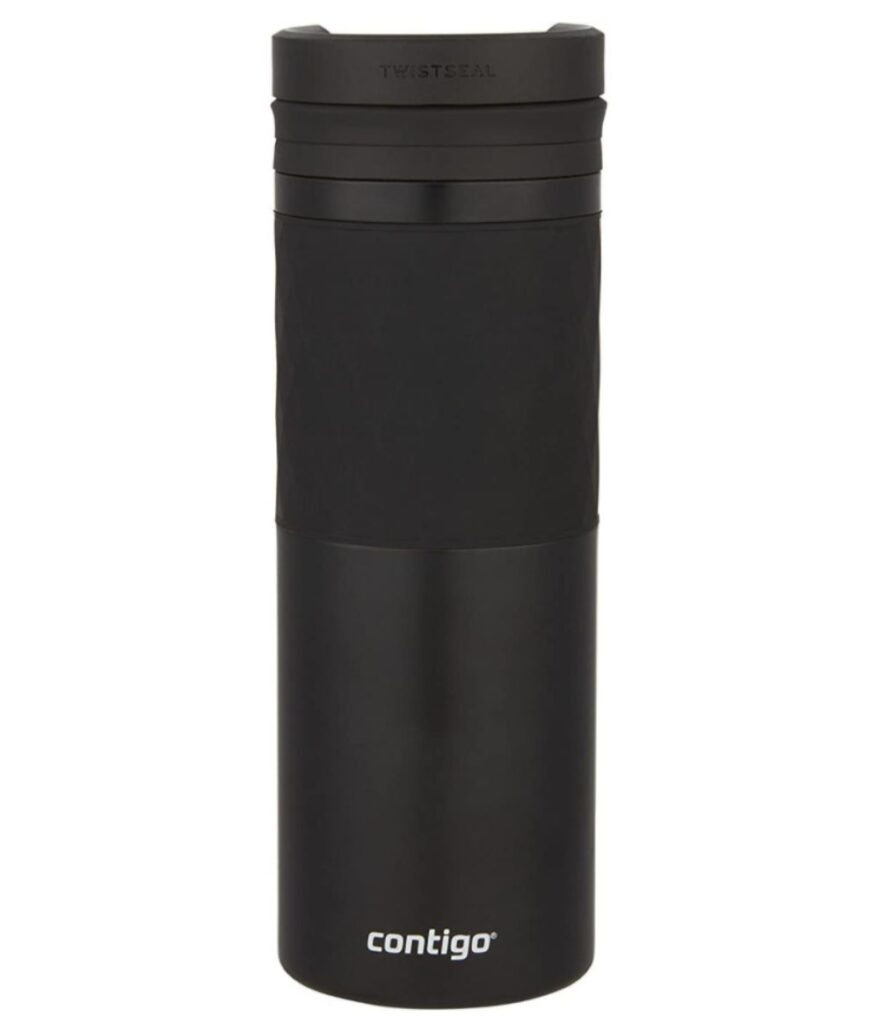 PROS:
Well known brand
Ceramic lined
Dishwasher safe
Leak proof lid
2. Bubba HERO Elite Vacuum-Insulated Stainless Steel Travel Mug with TasteGuard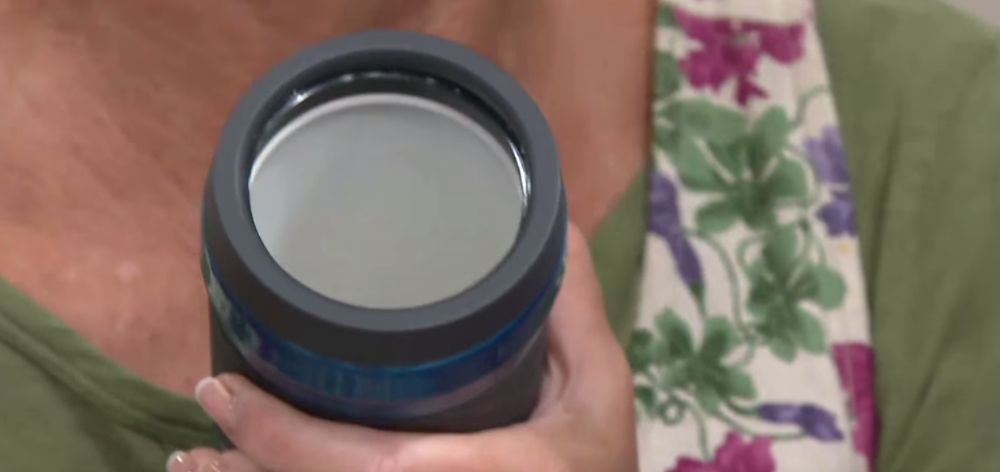 The Bubba Hero has a thin easy grip design that looks great, is easy to hold and thin enough to fit in a cup holder.
It's vacuum insulated to keep drinks hot for up to 6 hours and the lid is leak proof and simple to use.
It's got a non-slid gripping base that prevents sliding around and prevents it knocking over.
The ceramic lining known as "TasteGuard" doesn't impart any flavors into your drinks.
See the latest price of the Bubba HERO Travel Mug at Amazon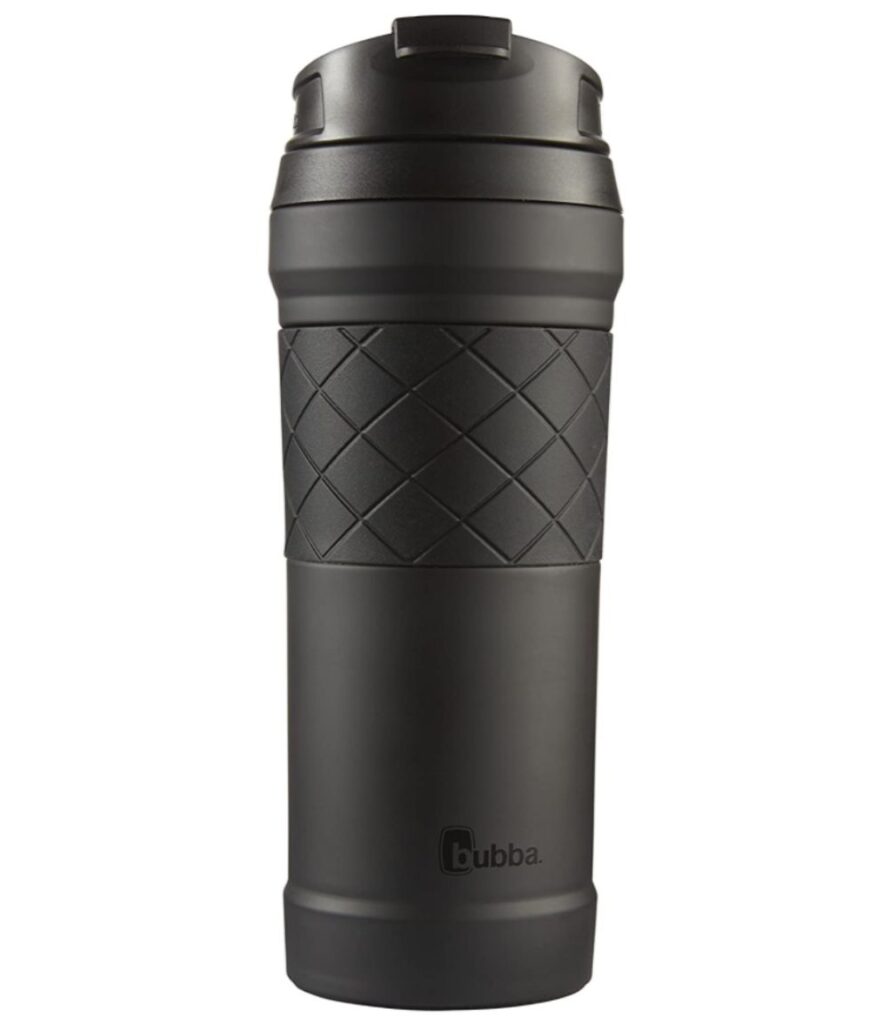 PROS:
Leak proof lid
Thick ceramic interior
Non-slip base
3. Ember Travel Mug: Battery Powered Heated Mug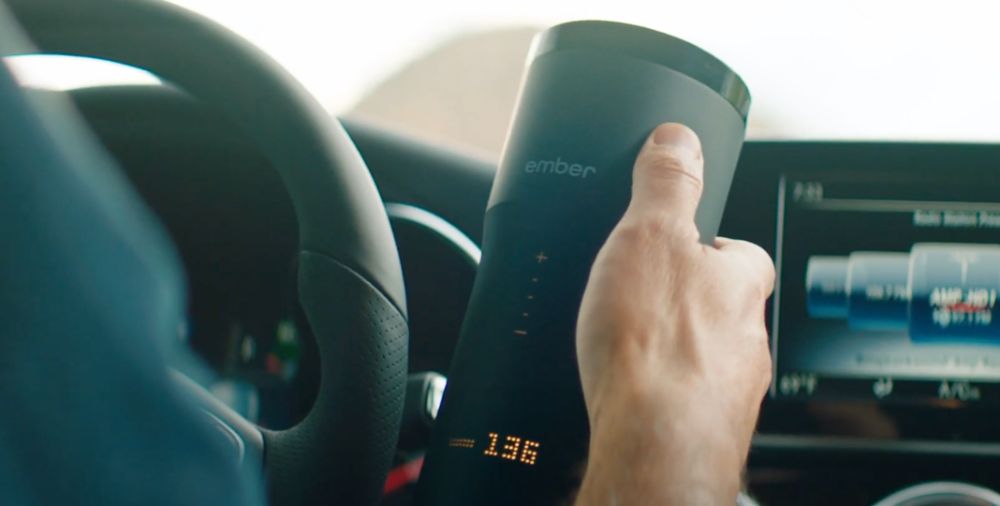 If you're looking for the absolute best ceramic lined travel mug that money can buy then look no further than the Ember Mug.
This is SUPER different to other mugs on this list because it's batter powered and has a heating element that allows you to keep your coffee, tea or other drink at the EXACT temperature you want. It's one of the best batter powered heated travel mugs on the market.
It'll keep drinks hot anywhere from 120-145ºF (49-62.5ºC) and it has a built in battery pack that lasts 3 hours on the go or all day when placed on it's easy charging coaster.
It's ceramic coasted stainless steel. It isn't vacuum insulated but the heating element makes up for that.
It's got a beautiful design and a premium build quality. Great for gifts of great for that lover of coffee or tea who wants to drink it at the perfect temperature all day long.
See the latest price of the Ember Travel Mug at Amazon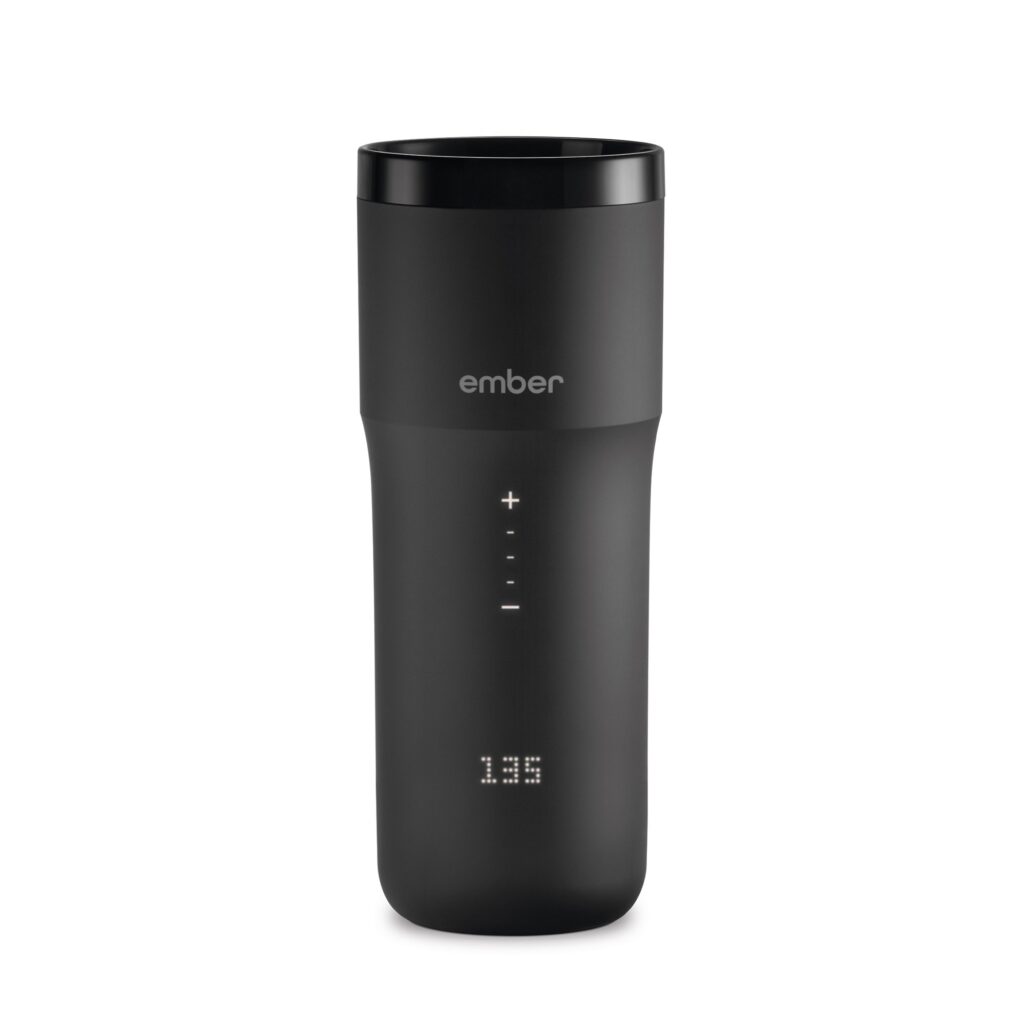 PROS:
Battery powered heated travel mug
Battery life lasts up to 3 hours or all day on charging coaster
Ceramic plated so you don't taste the stainless steel
Keep your drink at the perfect temperature
CONS:
Not dishwasher proof
Expensive
4. Asobu Stainless Steel Ceramic Coating Insulated Mug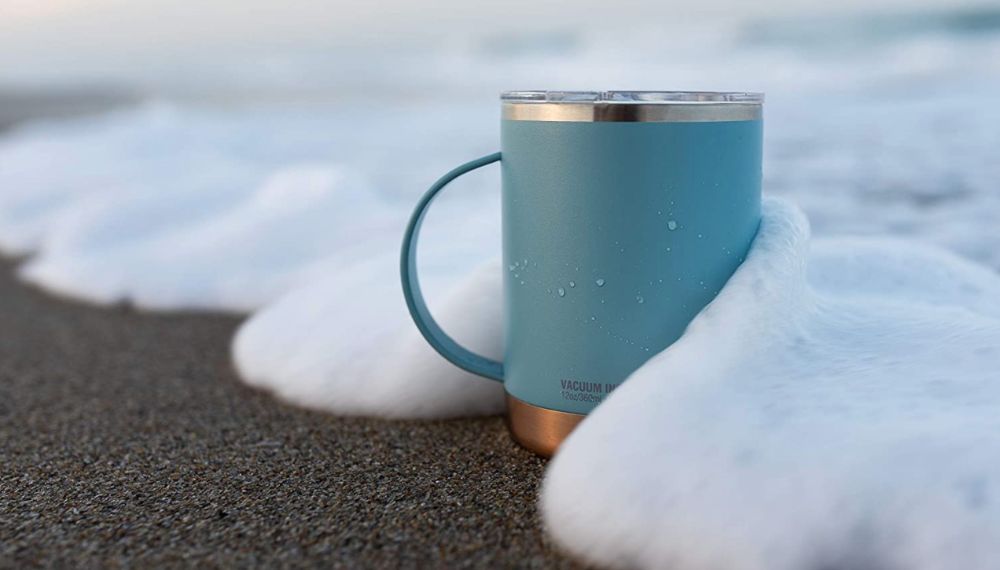 The Asobu is the closest thing to a traditional ceramic mug you'll find in this list. It looks just like a regular tea cup or coffee mug except for the fact that the exterior is stainless steel.
It's vacuum insulated so it'll keep your drinks warm much longer than a regular ceramic mug but it's got a good ceramic lining so it won't impart flavors into your drinks.
It's not perfect – the lid is pretty cheap quality and the handle isn't the most comfortable but it insulates well and if you're looking for a ceramic lined insulated mug with a handle then this is your go to.
See the latest price of the Asobu Insulated Mug at Amazon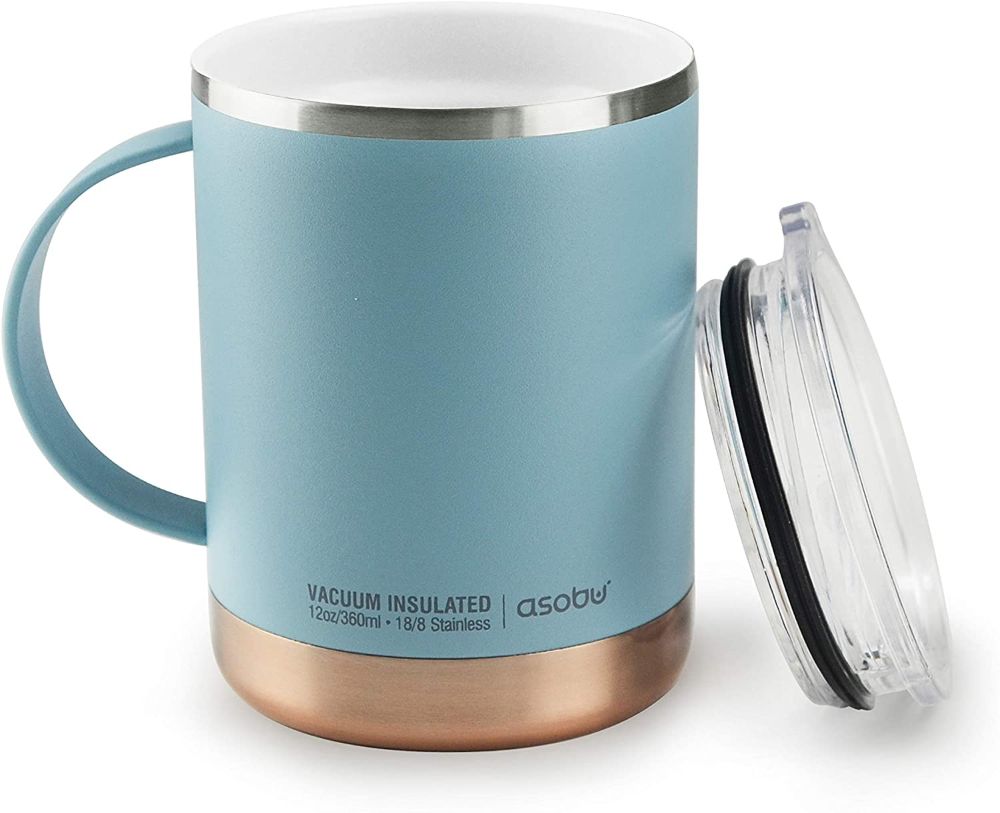 PROS:
Looks like a regular ceramic mug
Great heat retention
Ceramic interior works well
CONS:
Handle isn't the most comfortable
Lid is poor quality
5. Ceramivac by Stanley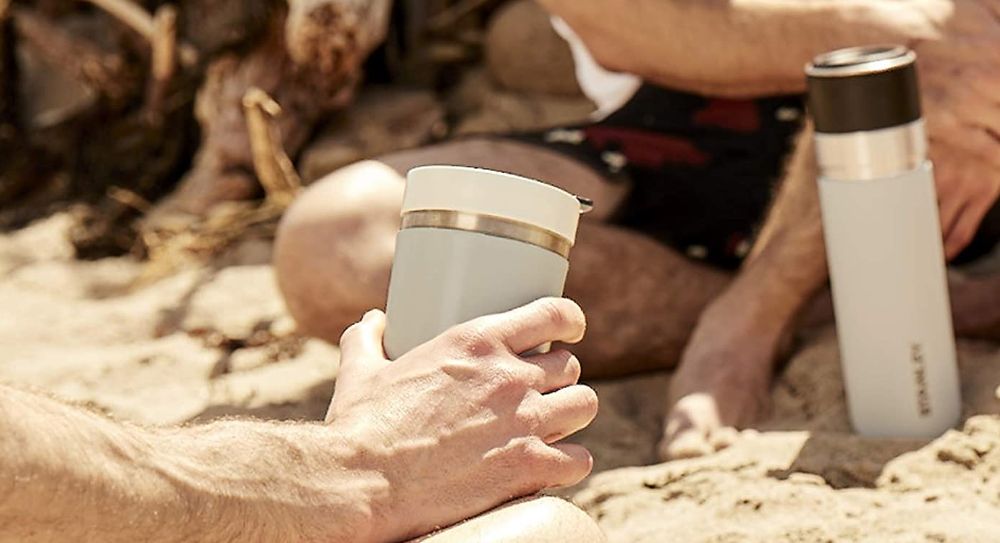 The Stanley Ceramivac comes in both a tumbler and a bottle design with the bottle being completely leak proof but the tumbler isn't.
While I like the design of this and that the ceramic protrudes above the metal so you aren't putting your lips on the metal this cup does have some problems with it.
It isn't as insulating as some of the other cups in this list and weird things like the lid of the bottle actually has metal on the inside. So your drinks will still be touching metal which seems to defeat the purpose.
I like Stanley as a brand and these are backed by a lifetime warranty but their problems means I couldn't rank them higher.
See the latest price of Stanley Ceramivac at Amazon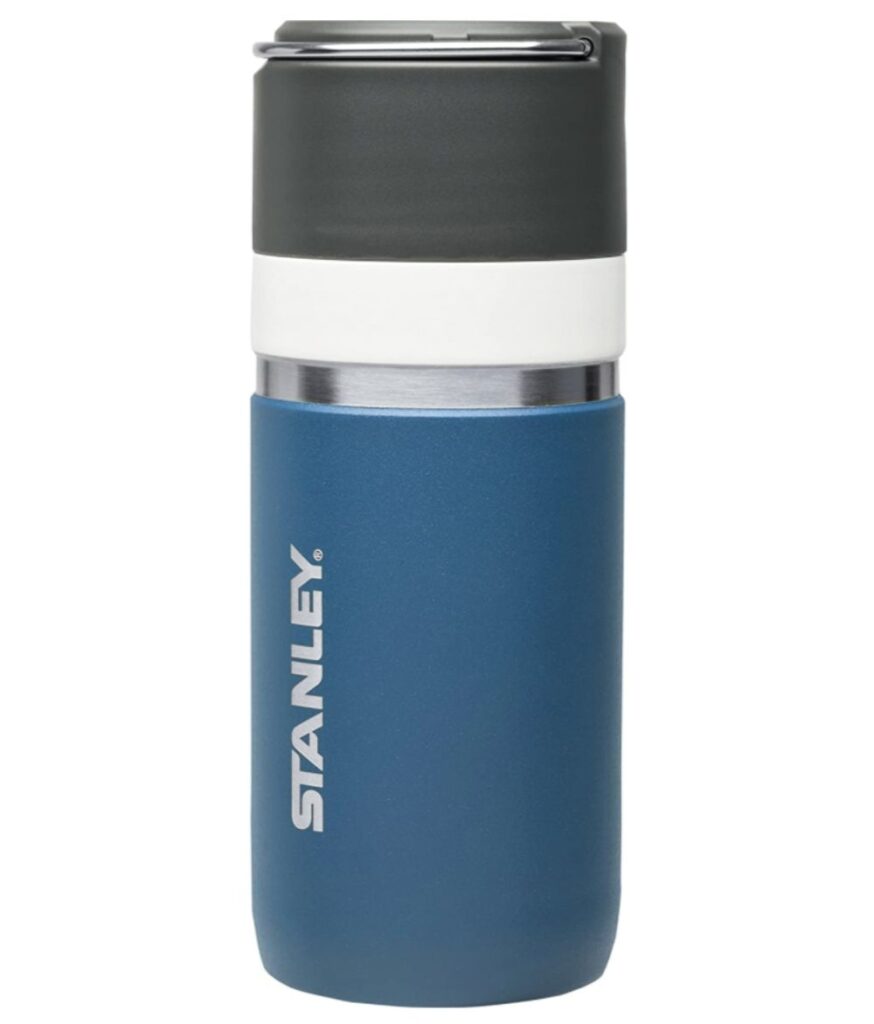 PROS:
Lifetime warranty
Ceramic where you put your lips
CONS:
Tumbler lid not leak proof
Bottle lid has metal inside
Doesn't insulate as well as other brands
6. CeramiSteel Ultimate Insulated Travel Mug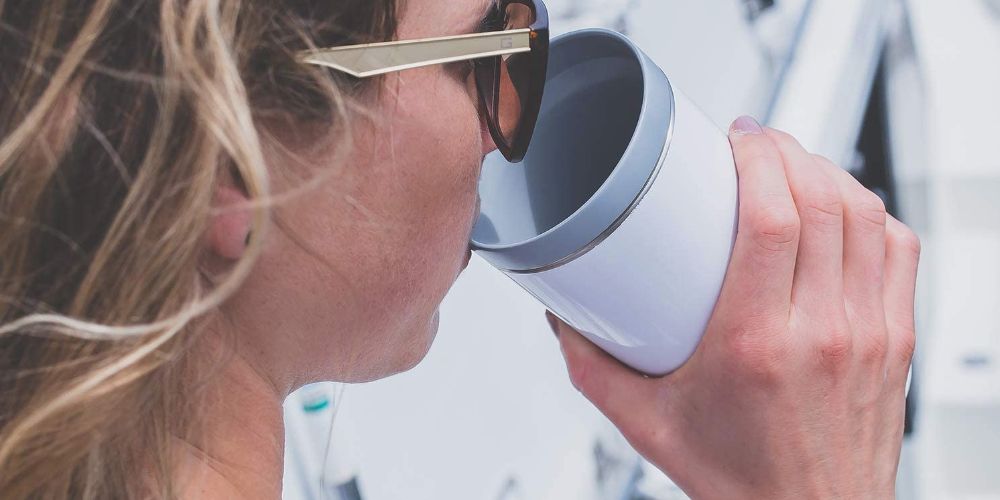 Unfortunately the quality seems to take a bit of a fall from here on out with the CeramiSteel and other ceramic lined cups below receiving more negative reviews related to quality than the mugs above.
I like that this mug has the ceramic layer right up to the top so your lips don't have to touch the metal.
There are a bunch of great reviews but also some poor reviews saying the exterior paint chips easily, the lid isn't the best quality and even the interior ceramic can chip after a few months of use.
It comes in a variety of sizes from the small 9 oz wine tumbler up to the 32 oz large tumbler.
See the latest price of the CeramiSteel Travel Mug at Amazon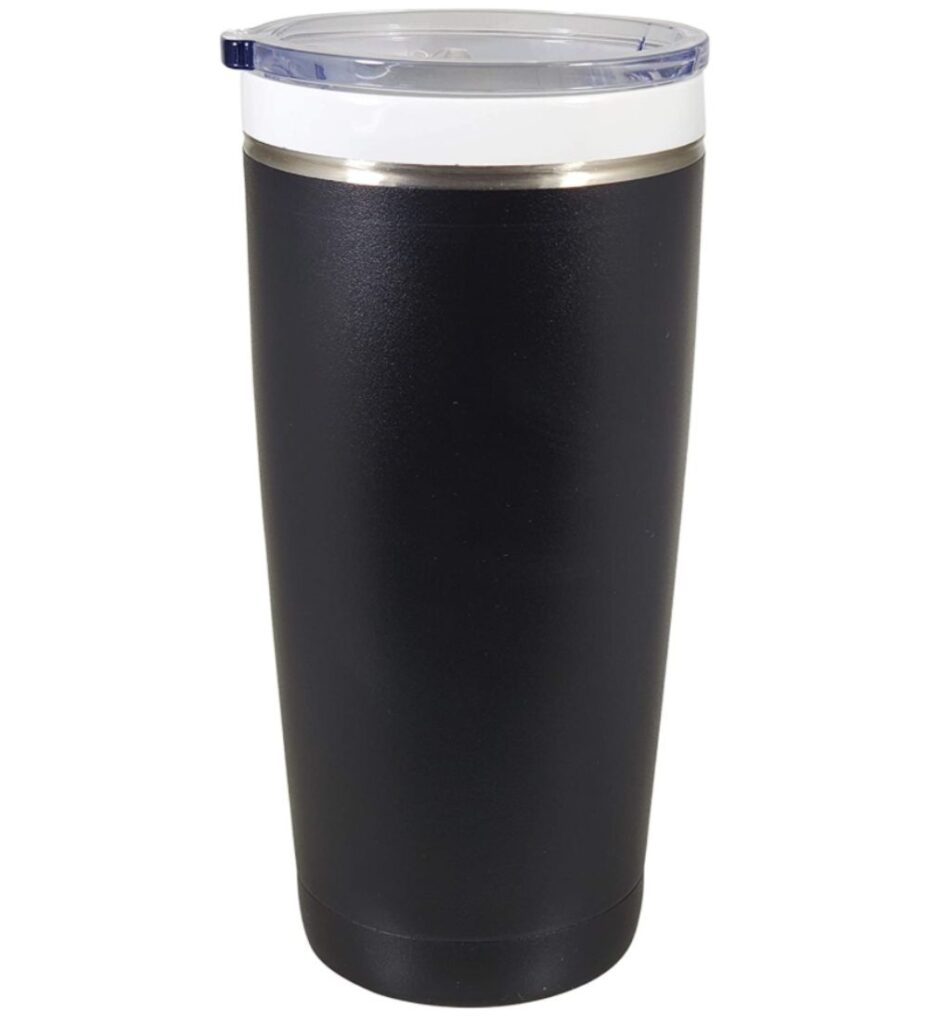 PROS:
Ceramic all the way up to the top
Comes in lots of sizes
CONS:
Exterior paint chips
Lid isn't the best quality
7. Kyocera Ceramic Coated Vacuum Insulated Travel Mug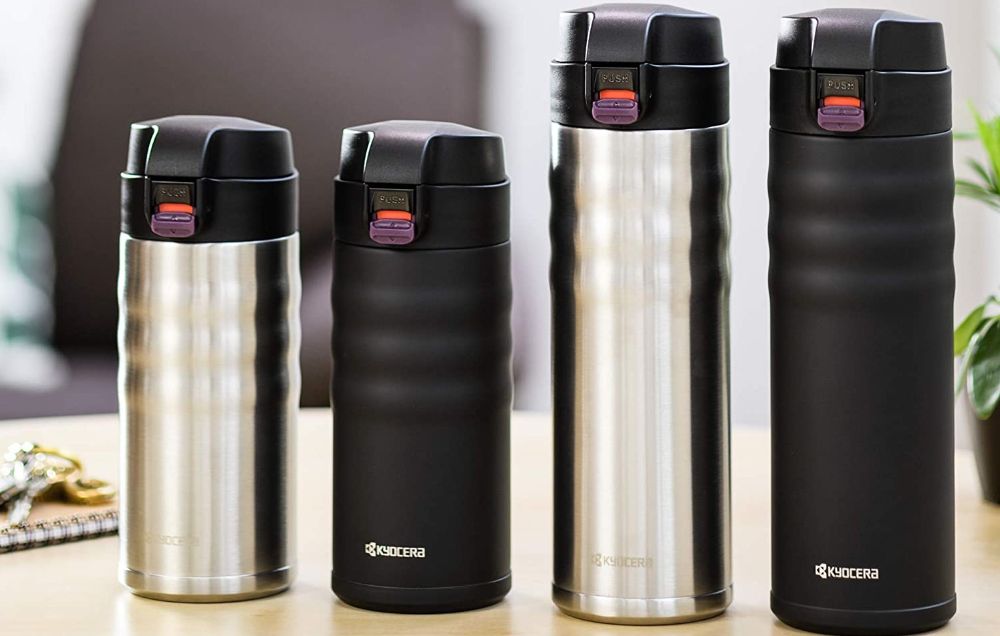 The Kyocera is a thin compact vacuum insulated mug that keeps drink hot for hours and fits easily into the cup holders of your car.
It's got a good ceramic interior that won't impart flavors into your drink.
This bottle works great the only major flaw is the lid design. It's a bizarre design and means your chin hits the closing mechanism whenever you drink.
You're almost better using it without the lid, but obviously then it doesn't insulate as well and isn't leak proof.
See the latest price of the Kyocera Travel Mug at Amazon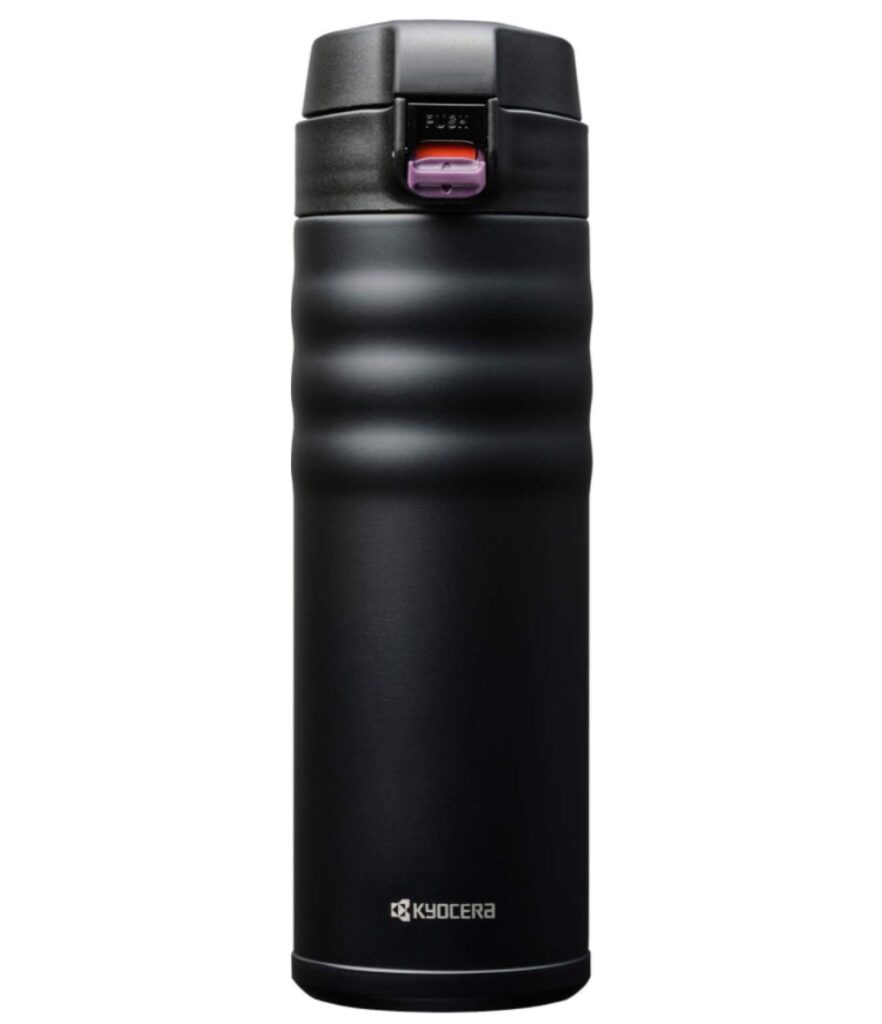 PROS:
Slimlined design great for fitting into cup holders
Great at heat retention
8. Taste The Earth Ceramic Coated Tumbler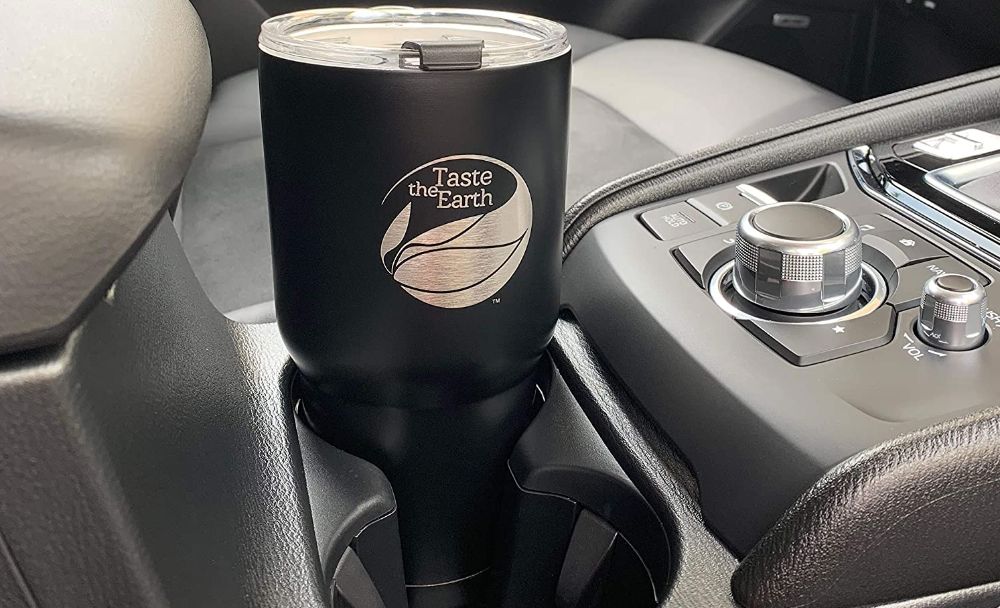 The Taste The Earth ceramic coated looks and feels like a Yeti tumbler.
The ceramic liner is thin and looks more like it's painted in vs something like the Bubba which has a thicker ceramic liner. The lid also isn't the best quality but they did improve it in 2020 so maybe it's gotten better.
It claims to be 100% dishwasher safe but a few people have said it's gotten damaged from the dishwasher. I personally would hand wash it.
But other than those few issues it seems to be really well loved by a lot of people. It keeps drinks hot or cold for hours and is thin enough to fit into most cup holders.
There's a cute little 10 oz size which would be perfect for coffee or you can get the larger 30 oz size for larger coffee/tea drinkers or for drinking water from.
See the price of the Taste The Earth Tumbler at Amazon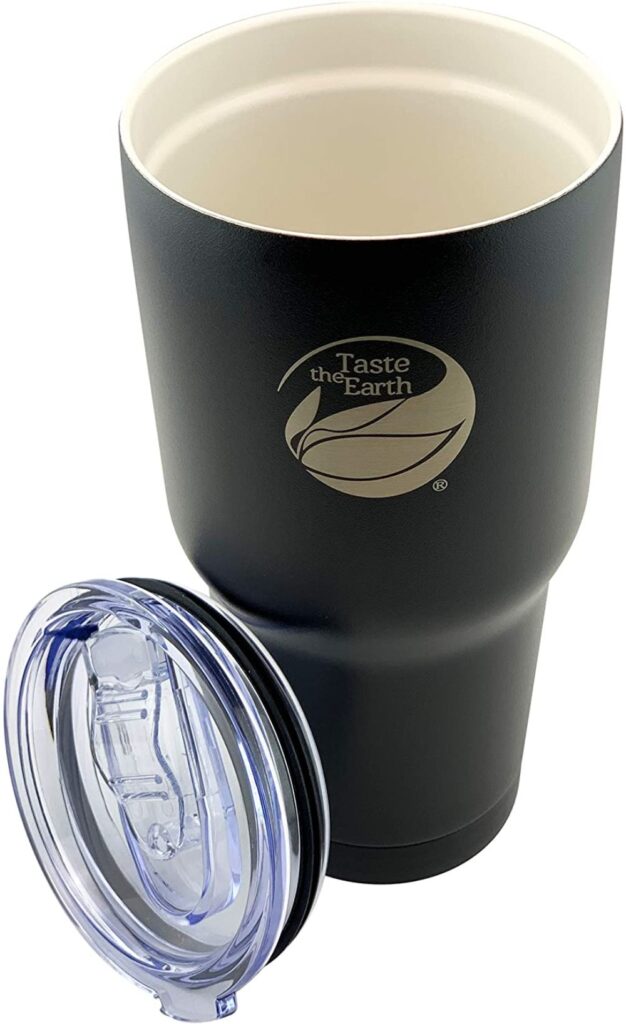 BONUS: EWater Glass Liner Vacuum Flask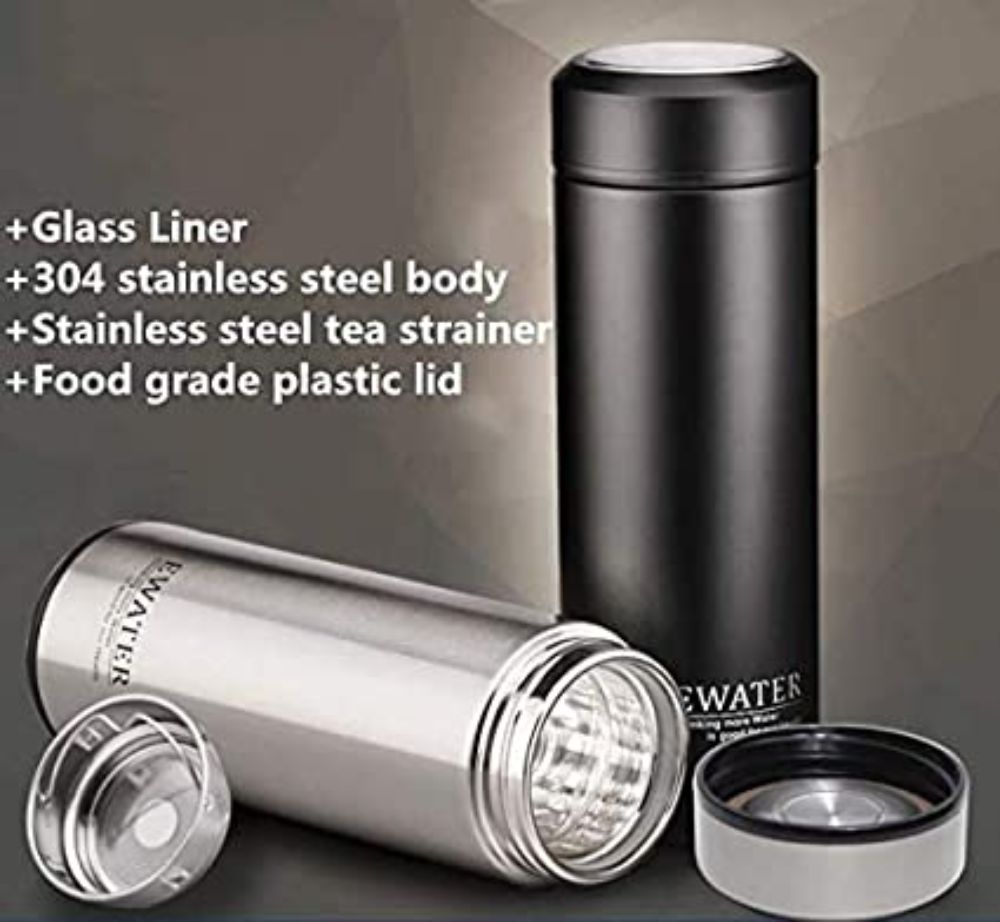 If ceramic isn't your thing or you're not convinced with any of the options in this list then maybe stainless steel mug with a glass coated interior will suit you.
It's got a high boron glass liner so you don't have to worry about plastics or metal leeching into your drinks. You can also see my list of the best glass lined insulated thermoses.
The glass is still prone to breaking if you drop the bottle so it's not exactly the most robust design but it's an innovative and interesting product.
It's insulated and will keep your drink warm or cold all day which a glass bottle simply won't do.
See the latest price of EWater Glass Liner Mug at Amazon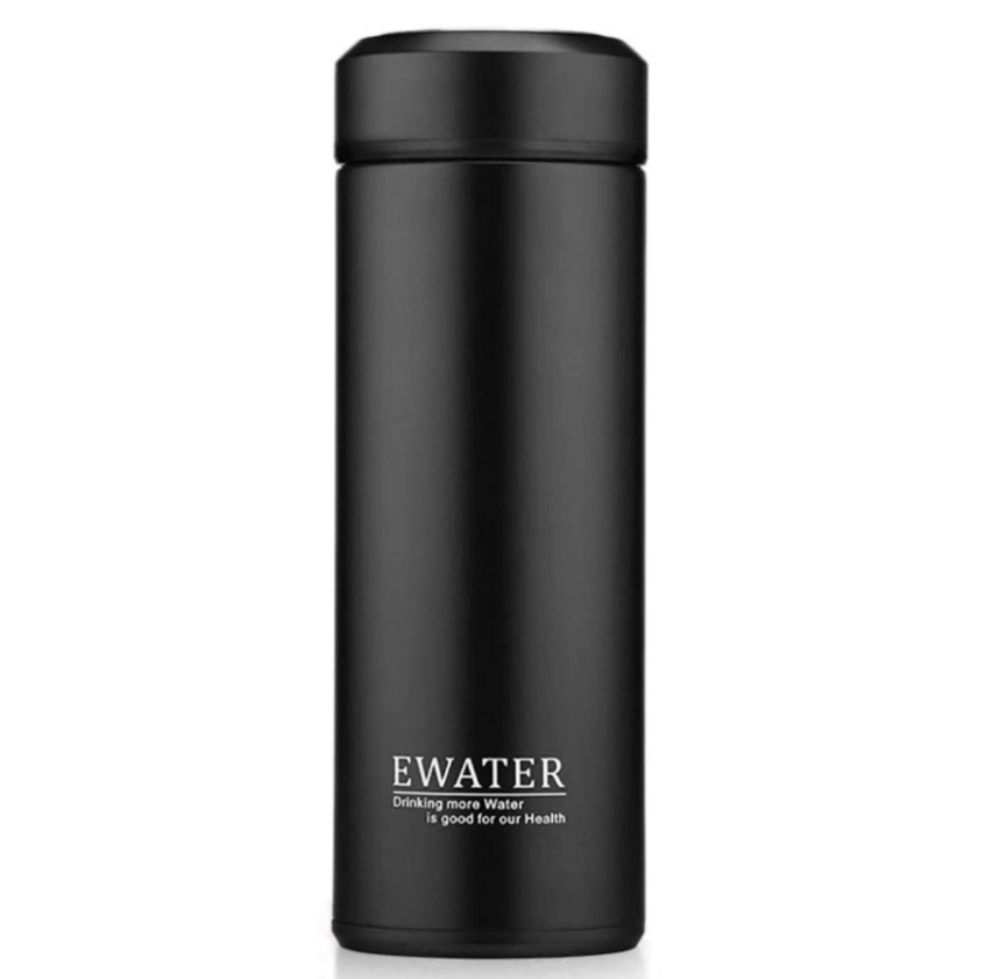 PROS:
Only vacuum insulated bottle with a glass liner
No metalic taste
CONS:
Still fragile and glass can break easily
Only comes in small sizes